LET'S GO, VOLTRON FORCE! FIRST-EVER APPEARANCE AT NEW YORK COMIC CON
10/12/11 @ 2:19 pm EST
Source:
NYCC
|
Comments
(0) |
E-mail Article
|
Add a Comment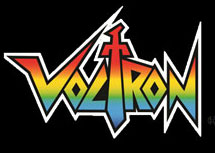 PANEL PRESENTATION FROM THQ, DYNAMITE ENTERTAINMENT, VIZ MEDIA AND WORLD EVENTS PRODUCTIONS WITH VOLTRON PRODUCT GIVEAWAYS FROM MATTEL AND CLASSIC MEDIA OCTOBER 16

WHAT:
Voltron®
, the franchise that began when the 1980s robot-themed television action series
Voltron: Defender of the Universe®
launched, will take part in New York Comic Con with a panel presentation, product giveaways, signing events and
Voltron
costume character appearances. The panel will feature all-new and classic
Voltron
content including
toys and merchandise
, a sneak peak of
the Voltron video game presented by THQ,
an early glance at
Dynamite Entertainment Voltron comics,
an exclusive preview of
VIZ Kids' Voltron Force™ graphic novels
and a quick look at
upcoming episodes of the
television series
Voltron Force
on Nicktoons.
Voltron
-themed items including a Mattycollector.com "Club Lion Force" membership for
Voltron
collectibles from Mattel, t-shirts and DVDs will be given away as prizes throughout the panel presentation.


WHO:

Jeremy Corray,
Voltron Force
Supervising Producer, will moderate the event that will include artists, writers, producers and designers from the entire
Voltron
universe:
· From
THQ
, Peter Armstrong, Executive Producer;
· From
World Events Productions
, Jeremy Corray and Bob Koplar, Vice President of WEP
· From
Dynamite Entertainment
, Nick Barrucci, President, Dynamite Entertainment
· From
VIZ Media
, Traci Todd, Senior Editor, Jacob Chabot, Cartoonist and Illustrator for VIZ Media graphic novels, and Brian "Smitty" Smith, Writer
· From
Mattel
, Natalie So, Associate Marketing Manager
WHEN:

Panel – Sunday, October 16 from 1:30 p.m. to 2:30 p.m. in Room #1A24
Media Room – Sunday, October 16 noon to 1:00 p.m. in Room #1E15
Mattel Booth (#1222) – During the convention, the upcoming line of
Voltron
collectible toys will be displayed, and a limited number of "Blazing Sword Voltron" figures will be available for purchase.
VIZ Media Booth (#932) – Artists and writers of the
Voltron Force
graphic novels will be signing posters and greeting fans:
Saturday October 15th, 3-4PM Brian Smith (Writer) & Dario Brizuela (Artist) for
Voltron Force, Volume 3

Sunday October 16th, 3-4PMBrian Smith (Writer) & Jacob Chabot (Artist) for
Voltron Force, Volume 1


WHERE:
New York Comic Con The Jacob K. Javits Convention Center 655 West 34th StreetNew York, NY 10001
MORE DEADPOOL THAN YOU WANTED IN YOUR NEW LOOK AT DEADPOOL #
10/07/15 @ 12:42 pm EST
Source:
Marvel
| Categories:
Deadpool
|
Comments
(0) |
E-mail Article
|
Add a Comment


He's annoying, he's dangerous and he smells terrible. But the public loves him! You heard right – Wade Wilson is the world's most popular superhero! Take that Spidey! Today, Marvel is pleased to present your new look atDEADPOOL #1, the new ongoing series from fan-favorites Gerry Duggan and Mike Hawthorne! The Merc with a Mouth is now the Man With The Fans, and Wade is loving every second of it. Not to mention he's an Avenger now. Yes we're serious. But what happened in the eight months since Secret Wars to make him so popular? We're not telling here! It's Wade's world and we're just living in it. Bo be there for the start of his most successful adventure yet when DEADPOOL #1 crashes comic shops this November!

DEADPOOL #1 (SEP150699)Written by GERRY DUGGAN
Art by MIKE HAWTHORNE
Cover by TONY MOORE
Variant Covers by KATIE COOK (SEP150704),KRIS ANKA (SEP150705), KAMOME SHIRAHAMA (SEP150706)Secret Comic Variant by SCOTT KOBLISH (SEP150700)
Hip-Hop Variant by KAARE ANDREWS (SEP150701)Candy Variant by DAVE JOHNSON (SEP150702)Blank Cover Also Available (SEP150703)
Candy Sketch Variant Also Available (JUL158432)FOC – 10/12/15, On-Sale – 11/04/15
MEET DISNEY'S NEWEST PRINCESS, MOANA
10/07/15 @ 12:39 pm EST
Source:
Comic Book Resources
| Categories:
MIsc
|
Comments
(0) |
E-mail Article
|
Add a Comment
Disney has unveiled the first look at its next princess, Moana, and the 14-year-old actress who'll play her.
"From baby time to now, I wanted to be a Disney princess and then I wanted to be a singer or an actress," Auli'i Cravalho of Oahu, Hawaii, tells "People" magazine.
She stars opposite Dwayne Johnson in the animated adventure "Moana," about a born navigator in ancient Oceania who sets out in search of a fabled island, teaming with the legendary demigod Maui along the way.
"Moana is such an amazing character," Cravalho said. "She's brave, she is so empowered, she knows what she wants and she's not afraid to get it, and I think that's something that I can relate to as well. I just love watching how she goes along in this wonderful movie and grows as a person and helps her culture along the way."
Johnson welcomed Cravalho this morning on Instagram, adding, "What's amazing about this story is that she didn't think she was good enough so she never auditioned. Fortunately, one of our Oahu casting agents discovered her singing at a charity competition and the rest is history. An awesome lesson to all young kids out there… work hard, have confidence in yourselves and never think you're not good enough because you never know what the future holds."
Directed by Ron Clements and John Musker, "Moana" opens Nov. 23, 2016.
GRAPHIC NOVEL 'STRYX' GETTING LIVE-ACTION ADAPTATION WITH ELEMENT 8, GRID & JOHN HARRISON
10/07/15 @ 12:31 pm EST
Source:
Deadline
| Categories:
MIsc
|
Comments
(0) |
E-mail Article
|
Add a Comment
LA-based Element 8 Entertainment and GRID/AT-Anim are partnering to develop a live-action TV adaptation of best-selling French graphic novel
The Call Of The Stryx
and have brought writer-director John Harrisononboard. Harrison's credits include the Emmy-winning adaptation of iconic sci-fi work
Dune
and he recently created, wrote and directed
Residue
for Netflix. Harrison has also worked extensively with George A. Romero on his
Tales From The Darkside
, and other productions.
The
Stryx
series has been among the most popular adult graphic novels in France for nearly two decades and sold millions of copies. It is published by Delcourt Group, the leading French indie comic book publisher. Stryx has has been translated into nine languages. Amazon's comiXology most recently launched the English version in the U.S.
Stryx
follows an American secret agent, disgraced and on the run, who teams up with a mysterious female mercenary in his effort to clear his name. What they uncover along the way is a web of powerful interests that transcend governments, and a race of super creatures that have long inhabited the Earth.
"Provocative characters, epic storytelling, exotic locales, and a mythical creature that may not be all that it first appears, what more could I want?" said Harrison. "
Stryx
is that rare graphic novel series that is a writers' dream come true."
ARCHIE COMICS RELAUNCHES JUGHEAD SERIES WITH ZDARSKY AND HENDERSON
10/07/15 @ 12:27 pm EST
Source:
Archie Comics
| Categories:
Archie
|
Comments
(0) |
E-mail Article
|
Add a Comment
Archie Comics, the acclaimed and bestselling comic book publisher that is home to some of the best-known pop culture creations in the world, including Archie, Jughead, Betty & Veronica, Josie & The Pussycats, Sabrina the Teenage Witch and the hit AFTERLIFE WITH ARCHIE series, today unveiled plans for an expansive presence at New York Comic Con 2015 —hot on the heels of the launch of the all-new JUGHEAD #1 from the unbelievable creative team of acclaimed writer Chip Zdarsky (
Sex Criminals, Howard the Duck)
and rising star artist Erica Henderson (
The Unbeatable Squirrel Girl
).
JUGHEAD #1, hitting comic shops and digital retailers on Wednesday, October 7th— arrives after the record-setting launch of ARCHIE #1 earlier this year from the superstar tandem of writer Mark Waid and artist Fiona Staples. ARCHIE opened the doors to a new, vibrant Riverdale – a town and world that is expanded and stretched to its limits in the hilarious, off-the-wall and must-have Jughead adventures found in the new series.
JUGHEAD embraces and amplifies offbeat and bizarre Jughead stories like JUGHEAD'S TIME POLICE while grounding the series in a modern reality via Zdarsky's of-the-moment humor and Henderson's expressive artwork, reintroducing and revitalizing Riverdale's resident glutton.
The relaunch sets the stage for an amazing weekend of events, panels, exclusives and announcements at New York Comic Con 2015 —including an exclusive-to-the-show variant cover edition of JUGHEAD #1 by Francesco Francavilla!
Limited to 1000 copies, this convention exclusive cover will be available for $10 at the Archie Comics Booth #1836 while supplies last!
MARVEL, NETFLIX DEBUT FREE "JESSICA JONES" DIGITAL COMIC
10/07/15 @ 12:22 pm EST
Source:
Comic Book Resources
| Categories:
Marvel
|
Comments
(0) |
E-mail Article
|
Add a Comment
Marvel and Netflix have debuted a free "Jessica Jones" digital comic, billed as an exclusive preview of the upcoming television drama. It's available for free on comiXology and Marvel's Digital Comics Shop.
Written by Brian Michael Bendis and illustrated byMichael Gaydos, the 12-page comic features a cover by David Mack. Bendis and Gaydos created JessicaJones in 2001 for the Marvel Comics series "Alias."
"It is in the Marvel TV Universe, and it celebrates thenew show and the connective tissue that will build between the series," Bendis explained this morning onhis blog. "And a big THANK YOU to all of you for your support, excitement and enthusiasm for Jessica and everything else."
Premiering Nov. 20 on Netflix, "Jessica Jones" stars Krysten Ritter as the former superhero turned private detective. The series also features David Tennant, Mike Colter, Rachael Taylor, Carrie-Anne Moss and Rosario Dawson.
LEAKED "BATMAN AND ROBIN ETERNAL" #3 COVER SPOILS MAJOR CHARACTER RETURN
10/07/15 @ 12:14 pm EST
Source:
Comic Book Resources
| Categories:
Batman and Robin Eternal
|
Comments
(0) |
E-mail Article
|
Add a Comment
SPOILER WARNING:
This article contains spoilers for "Batman and Robin Eternal," which debuts this Wednesday, Oct. 7, with issue #1.
It's been known for months that Cassandra Cain -- the former Batgirl through much of the previous decade -- would return in weekly series "Batman and Robin Eternal." Though the details of how the character fits in to the current Bat-landscape remains to be revealed, the first look at the character in "Eternal" has been revealed, as seen prominently on Tony S. Daniel's cover to issue #3, scheduled for release on Oct. 21.
The cover originally leaked to Reddit, prompting DC Comics to release it through official channels late Tuesday. "Batman and Robin Eternal" #3 is written by James Tynion IV, Scott Snyder and Tim Seeley, and illustrated by Paul Pelletier, Tony Kordos and Rainier Beredo.
Created by Kelley Puckett and Damion Scott, Cassandra Cain debuted in 1999's "Batman" #567, before headlining 73 issues of a "Batgirl" solo series from 2000 to 2006, and a six-issue series in 2008. The character -- likely the most famous Batgirl other than Barbara Gordon -- later took the identity of Black Bat, but has mostly been in limbo since the dawn of the New 52 era in fall 2011.
STEPHEN GRAHAM TO STAR IN USA PILOT 'BROOKLYN ANIMAL CONTROL'
10/06/15 @ 7:35 pm EST
Source:
Deadline
| Categories:
MIsc
|
Comments
(0) |
E-mail Article
|
Add a Comment
Boardwalk Empire alum Stephen Graham is set to topline USA Network's drama pilot Brooklyn Animal Control, based on the IDW Publishing comic created by JT Petty. Additionally, Brian Kirk (Game Of Thrones) has signed on to direct the pilot and will also executive produce alongside David S. Goyer.

Written and executive produced by Petty,Brooklyn Animal Control follows the inner workings of a secret subdivision of the NYPD that functions as social services for some of the city's most unique citizens — werewolves. It centers on John Crean (Graham), an officer of the Brooklyn Animal Control who is well-acquainted with the small community of werewolves to which he plays cop, counselor, and diplomat. When backed against a wall, he will buck tradition and risk everything to protect his miscreant son.

Best known for his starring role as Al Capone on HBO's Boardwalk Empire, English actor Graham is currently shooting indie feature HHHH, alongside Jason Clarke, Rosamunde Pike and Jack O'Connell, as well as BBC's The Secret Agent based on the Joseph Conrad book. Graham also starred in A Patch Of Fog which premiered at TIFF this year and he recently wrapped feature Pirates Of The Carribean: Dead Men Tell No Tales. He is repped by ICM Partners, LINK and UK's Independent Talent Group . Brooklyn Animal Control is a co-production with Universal Cable Productions and IDW Entertainment. The pilot also is executive produced by Circle of Confusion's Rick Jacobs and David Alpert and IDW Entertainment's David Ozer and Ted Adams.

NOTE: DF NEWS' OWN INTERVIEW WITH CREATOR JT PETTY ABOUT THE PILOT CAN BE READ HERE: https://www.dynamicforces.com/htmlfiles/interviews.html?showinterview=IN09251573013
"DEADPOOL SECRET COMIC" PLAYS OUT OVER 20 VARIANT COVERS
10/06/15 @ 7:12 pm EST
Source:
Comic Book Resources
| Categories:
Deadpool
|
Comments
(0) |
E-mail Article
|
Add a Comment
Love them or hate them, variant covers have been a fixture in the industry for years, with no signs of slowing down. They're deployed at publishers big and small; Marvel and DC Comics both regularly unveil monthly themed variants (think Marvel's hip-hop variants or DC's movie poster tributes), and commonly promote new launches with multiple variant covers.
So now that Marvel has had action figure variants, manga variants, '90s homage variants and Gwen Stacy variants, what's next? In either a shameless marketing ploy or subversive piece of meta-commentary (or both?), the publisher looks to take things to a different level by telling an actual story over the course of 20 variant covers, equaling the length of a typical single issue. And what better character than Deadpool, a character extremely familiar with appearing on variant covers?
CBR has the
exclusive
first details on the "Deadpool Secret Comic," which will launch in November with "Deadpool" #1, and continue for the first 20 issues of the series; with no wordyet on if the story will be collected once it's all released. The story will be told by series writerGerry Duggan and artist Scott Koblish (Mike Hawthorne illustrates the interiors of the book), and is said by Marvel to introduce a new character "that is already vitally important to every Marvel Comic in recent history."
"Koblish is the perfect artist to smash down the last bit of the fourth wall... this is Deadpool's final frontier," Duggan said. "We're doing it for the fans. And the angry letters."
MEET THE SUPER POWERED FAMILY NEXT DOOR IN THE VISION #1
10/06/15 @ 7:02 pm EST
Source:
Marvel
| Categories:
Marvel
|
Comments
(0) |
E-mail Article
|
Add a Comment
What does it mean to be human? Is it to have emotions? Is it to have a family? This November, join Marvel's synthezoid super hero as he searches for the answers in
THE VISION #1
– a brand new ongoing series from writer Tom King and artist Gabriel Hernandez Walta! Be there as the longtime Avenger embarks on his most harrowing journey yet – being a family man.
"What I find fascinating about the Vision is his desire to be human," says writer Tom King in an interview with Marvel.com. "I wanted to push on this idea, twist it, until maybe it breaks. Maybe Vision wants to be ordinary, he wants to be human – and what's more ordinary than family? So Vision creates a family, finds them a home and tries to live an ordinary life. But that act, creating life, leads to problems he could not possibly imagine…"
Meet his wife, Virginia. His two teen twins – Viv and Vin. They look like him. They have his powers. They share in his greatest ambition – to be normal. But they are anything but. They're the family next door and they have the power to destroy us all. And they're holding a secret. What could possibly go wrong? Behold The Visions! Making their debut this November in the can't-miss
THE VISION #1
!
THE VISION #1 (SEP150758)Written by TOM KING
Art by GABRIEL HERNANDEZ WALTACover by MIKE DEL MUNDO
Variant Covers by MARCOS MARTIN (SEP150759) & RYAN SOOK (SEP150760)Hip Hop Variant by VANESA DEL REY (SEP150761)FOC – 10/12/15, On-Sale – 11/04/15
SONY PICTURES EYES 'DANGER MOUSE' FOR AN ANIMATED FILM
10/06/15 @ 6:54 pm EST
Source:
Comic Book Resources
| Categories:
MIsc
|
Comments
(0) |
E-mail Article
|
Add a Comment
Shortly following the television show's United Kingdom debut, Sony Pictures has picked up "Danger Mouse" for an animated feature. According to Tracking Board, the movie may offer clues about the origins of the titular character. Original Film, Fremantle Media and Neal Mortiz will produce.
Originally airing from 1981 to 1992, "Danger Mouse" followed the exploits of the world's best secret agent and his timid assistant Penfold, who had a tendency to get in the way or, worse, get kidnapped.
Announced last year, the new series updates the world's greatest super-spy for the 21st century. Alexander Armstrong and Kevin Eldon star as Danger Mouse and Penfold, joined by Stephen Fry as Colonel K, Ed Gaughan as Baron Silas von Greenback, David Lamb as Stiletto Mafiosa and the Narrator, Rasmus Hardiker as Count Duckula, John Oliver as Doctor Augustus P. Crumhorn III, and Lena Headey as Jeopardy Mouse.
The updated series currently airs on CBBC and will be available on Netflix this spring.