LET'S GO, VOLTRON FORCE! FIRST-EVER APPEARANCE AT NEW YORK COMIC CON
10/12/11 @ 2:19 pm EST
Source:
NYCC
|
Comments
(0) |
E-mail Article
|
Add a Comment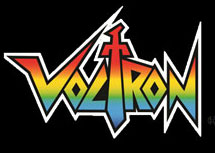 PANEL PRESENTATION FROM THQ, DYNAMITE ENTERTAINMENT, VIZ MEDIA AND WORLD EVENTS PRODUCTIONS WITH VOLTRON PRODUCT GIVEAWAYS FROM MATTEL AND CLASSIC MEDIA OCTOBER 16

WHAT:
Voltron®
, the franchise that began when the 1980s robot-themed television action series
Voltron: Defender of the Universe®
launched, will take part in New York Comic Con with a panel presentation, product giveaways, signing events and
Voltron
costume character appearances. The panel will feature all-new and classic
Voltron
content including
toys and merchandise
, a sneak peak of
the Voltron video game presented by THQ,
an early glance at
Dynamite Entertainment Voltron comics,
an exclusive preview of
VIZ Kids' Voltron Force™ graphic novels
and a quick look at
upcoming episodes of the
television series
Voltron Force
on Nicktoons.
Voltron
-themed items including a Mattycollector.com "Club Lion Force" membership for
Voltron
collectibles from Mattel, t-shirts and DVDs will be given away as prizes throughout the panel presentation.


WHO:

Jeremy Corray,
Voltron Force
Supervising Producer, will moderate the event that will include artists, writers, producers and designers from the entire
Voltron
universe:
· From
THQ
, Peter Armstrong, Executive Producer;
· From
World Events Productions
, Jeremy Corray and Bob Koplar, Vice President of WEP
· From
Dynamite Entertainment
, Nick Barrucci, President, Dynamite Entertainment
· From
VIZ Media
, Traci Todd, Senior Editor, Jacob Chabot, Cartoonist and Illustrator for VIZ Media graphic novels, and Brian "Smitty" Smith, Writer
· From
Mattel
, Natalie So, Associate Marketing Manager
WHEN:

Panel – Sunday, October 16 from 1:30 p.m. to 2:30 p.m. in Room #1A24
Media Room – Sunday, October 16 noon to 1:00 p.m. in Room #1E15
Mattel Booth (#1222) – During the convention, the upcoming line of
Voltron
collectible toys will be displayed, and a limited number of "Blazing Sword Voltron" figures will be available for purchase.
VIZ Media Booth (#932) – Artists and writers of the
Voltron Force
graphic novels will be signing posters and greeting fans:
Saturday October 15th, 3-4PM Brian Smith (Writer) & Dario Brizuela (Artist) for
Voltron Force, Volume 3

Sunday October 16th, 3-4PMBrian Smith (Writer) & Jacob Chabot (Artist) for
Voltron Force, Volume 1


WHERE:
New York Comic Con The Jacob K. Javits Convention Center 655 West 34th StreetNew York, NY 10001
HUGO STRANGE, MR. FREEZE TAKE ACTION IN "GOTHAM" PROMO
02/08/16 @ 4:17 pm EST
Source:
Comic Book Resources
| Categories:
Gotham
|
Comments
(0) |
E-mail Article
|
Add a Comment
Fox has unleashed a new promo for the second half of "Gotham's" second season, which has been subtitled "Wrath of the Villains." The spot focuses heavily on the incoming villain Mr. Freeze (Nathan Darrow), showing off the horrific effects of his freeze ray. Cops, bullets, Freeze's ice cold abilities can stand up against pretty much anything.
Clip:
https://youtu.be/hwMSswV14to
ANDREW LINCOLN TEASES TIME JUMP ON THE WALKING DEAD
02/08/16 @ 4:10 pm EST
Source:
Comicbook
| Categories:
Walking Dead
|
Comments
(0) |
E-mail Article
|
Add a Comment
While it feels like we need a time jump for the
The Walking Dead
to finally return this weekend, Andrew Lincoln is already looking ahead and teasing a time jump in the series' plot.
While time jumps have happened on the television series before, never have they been more than a few months which usually corresponded with how long the show was off air between seasons. However, fans of the comic book know that a two-year time jump takes place shortly after the All Out War storyline.
While talking about the group's desire to stay at Alexandria, Lincoln dropped the major hint about the show's future. "Rick's strength is seeing that we can fortify [Alexandria]," Lincoln tells EW. "A lot of these concerns and questions get answered relatively quickly in the first two or three episodes of this back eight. There is a time jump, I will say, at some point. And you will see why we stay in Alexandria."
Whether or not the time jump will be the same as it was in the comics is to be seen but if its timing parallels the comics, it is still quite a good distance away in terms of episodes. Spoilers for the comics are inbound, which could also mean for the show, as we break down things to come.
Prior to the comic book time jump, not only was Negan introduced, but Rick and Negan go to a long war over the course of 12 issues. A handful of characters are killed off during the war, we won't get into specifics, but somewhere in the time jump, Michonne banishes herself from the community.
Making an educated guess about when this time jump would actually arrive on television, one would have to say the midseason break of season seven or even between season seven and eight. The Negan/All Out War storyline is one which the showrunners will surely explore for the entirety of season seven and possibly even longer.
The Walking Dead
returns February 14 at 9 PM ET on AMC.
FIRST LOOK AT BD WONG AS HUGO STRANGE ON GOTHAM
02/08/16 @ 4:04 pm EST
Source:
Comicbook
| Categories:
Gotham
|
Comments
(0) |
E-mail Article
|
Add a Comment
BD Wong's look as Hugo Strange on
Gotham
was revealed today on
TVInsider.com
. The actor's look is based on recent looks from the pages of DC Comics.
Wong joins the cast of
Gotham
as the villain for the second half of season 2, experimenting on people and trying to make superhumans in the mysterious Indian Hill facility.
"What [he] is doing in there is indeed very, very bad. Imagine the worst thing someone might do, then multiply that by 10," Wong teased to the site. It also teased that Penguin will head to Arkham Asylum - and be making a stop at Indian Hill too.
Gotham
returns Monday, February 29 at 8pm on FOX.
SPOILERY 'X-FILES' PHOTO TEASES SCULLY'S TRUE CONNECTION TO HER CASES
02/08/16 @ 11:25 am EST
Source:
Comic Book Resources
| Categories:
X-Files
|
Comments
(0) |
E-mail Article
|
Add a Comment
In a two-and-a-half minute preview for the "X-Files" season finale, Scully may have shown her true colors.
As revealed in the video, which ran during Super Bowl 50, the finale opens in much the same way the season premiere did: with an extensive monologue from one of the lead characters. However, instead of Mulder, Scully is the one recounting her cases, and her final moment hints at her rather intimate connection to them all.
Though the video has since been removed, TVLine snagged a photo of the final(and potentially spoilery) image, which hints there's more to Scully than meets the eye.
Set to run for six episodes, "The X-Files" airs Mondays on Fox at 8 p.m. EST. Theseason finale bows on February 22.
CINESITE TO PRODUCE NINE ANIMATED MOVIES IN MONTREAL IN FIVE YEARS
02/08/16 @ 10:41 am EST
Source:
Variety
| Categories:
MIsc
|
Comments
(0) |
E-mail Article
|
Add a Comment
Visual effects and animation studio Cinesite has launched its animated production division Cinesite Animation, and unveiled a slate of nine animated feature films that will go into production over the next five years in Montreal, Canada, with backing from the Quebec government. The first project will be "Klaus," written and directed by Sergio Pablos, the co-creator of "Despicable Me."
Investissement Quebec, acting on behalf of the Quebec government, is advancing a loan of C$2.4 million ($1.72 million) to Cinesite Animation to help set up the production infrastructure in Montreal. An additional loan guarantee of C$19.6 million ($14.1 million) towards an overall budget of at least C$90 million ($64.6 million) is being advanced to the production company to help with the financing of each of the first three animated films.
Six more films are planned to follow, which will see the facility at full capacity with more than 500 new permanent jobs by 2020.
Pablos' "Klaus," Cinesite Animation's first animated production, will be co-produced with SPA Studios, Atresmedia Cine and Comic Animations. It is the story of Santa Claus told from the perspective of a young, Scandinavian mailman, Jesper.
Cinesite Animation's second animated feature is inspired by the stage show "Riverdance," and will feature the Grammy-award winning music from the production, composed by Bill Whelan. The movie is being developed by Comic Animations and Ireland's River Productions.
Cinesite Animation will be both a service and production company. Cinesite's existing service deal with 3QU to make their four films remains in place with "Charming" and a second project in full swing, and the third film about to start.
"Klaus" video:
https://youtu.be/tP_lqTq8Mck
ONI PRESS GRAPHIC NOVELS SELECTED FOR YALSA BOOK LISTS
02/08/16 @ 10:33 am EST
Source:
Oni Press
| Categories:
MIsc
|
Comments
(0) |
E-mail Article
|
Add a Comment
Oni Press is proud to announce that the
Young Adult Library Services Associate (YALSA)
committee has chosen four Oni Press graphic novels for their 2016 book lists.
Bad Machinery Volume 4: The Case of the Lonely One
by John Allison,
Junior Braves of the Apocalypse Volume 1: A Brave is a Brave
by Greg Smith, Michael Tanner, and Zach Lehner,
Meteor Men
by Jeff Parker and Sandy Jarrell with Kevin Volo, and
Princess Ugg Volume 1
by Ted Naifeh were chosen for YALSA's 2016
"Great Graphic Novels for Teens"
list.
Junior Braves of the Apocalypse Vol. 1
was also chosen for the 2016 "
Quick Picks for Reluctant Young Adult Readers"
list.
INTERNATIONAL "WALKING DEAD" TEASER POTENTIALLY SPOILS MAJOR STORYLINE
02/08/16 @ 10:26 am EST
Source:
Comic Book Resources
| Categories:
Walking Dead
|
Comments
(0) |
E-mail Article
|
Add a Comment
SPOILER WARNING: The following article contains major spoilers for upcoming storylines for AMC's "The Walking Dead" and past plot points from the Image Comics series.
What appears to be a new promotional photo for the second half of "The Walking Dead's" sixth season could very well spoil a major plot point for the television show.
The photo, which appears to originate from a Russian FOX affiliate, shows star Carl Grimes (Chandler Riggs) with a bandaged eye.
In the comics, Carl received a similar wound when he was accidentally shot in the face by Douglas Monroe, a character who has already died in the AMC drama. In the comics, Carl survives but loses his eye completely, initially wearing the bandage to cover the gaping wound that never fully healed before making the change to dark sunglasses.
Carl's injury, as illustrated by "Walking Dead" artist Charlie Adlard
BOBBI MORSE GOES SOLO IN YOUR FIRST LOOK AT MOCKINGBIRD #1
02/08/16 @ 10:11 am EST
Source:
Marvel
| Categories:
Marvel
|
Comments
(0) |
E-mail Article
|
Add a Comment
Spinning out of the smash-hit sold out SHIELD 50th Anniversary Special comes her very first ongoing series! Today, Marvel is pleased to present your first look inside
MOCKINGBIRD #1
– from New York Times bestselling author Chelsea Cain and Marvel newcomer Kate Niemczyk! Bobbi Morse. Codename: Mockingbird. S.H.I.E.L.D.'s most versatile, resourceful and in-demand agent. But a string of missions gone wrong point to something rotten going on in S.H.I.E.L.D.'s own medical and recovery network. The more she digs, the more widespread the conspiracy becomes. How deep does it go? Can she find the culprit before it's too late? Find out as
MOCKINGBIRD #1
by Cain and Niemczyk comes to comic shops and digital devices this March!
MOCKINGBIRD #1 (JAN160756)Written by CHELSEA CAINArt by KATE NIEMCZYKCover by JOELLE JONESVariant Cover by AFU CHAN (JAN160757)Hip-Hop Variant by JEFF DEKAL (JAN160759)Young Variant by SKOTTIE YOUNG (JAN160760)Action Figure Variant by JOHN TYLER CHRISTOPHER (JAN160761)Women of Power Variant by KIRBI FAGAN (JAN160758)FOC – 02/08/16, On-Sale – 03/02/16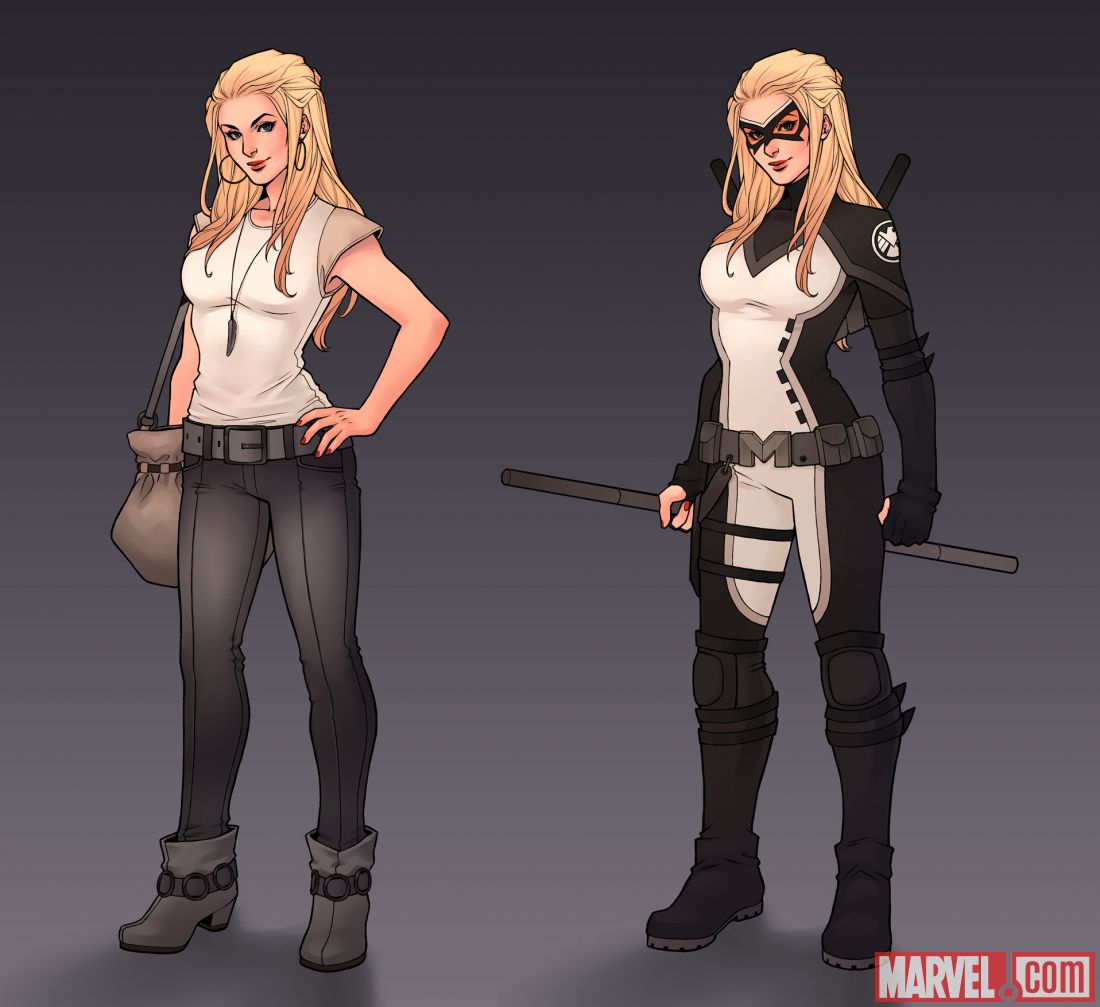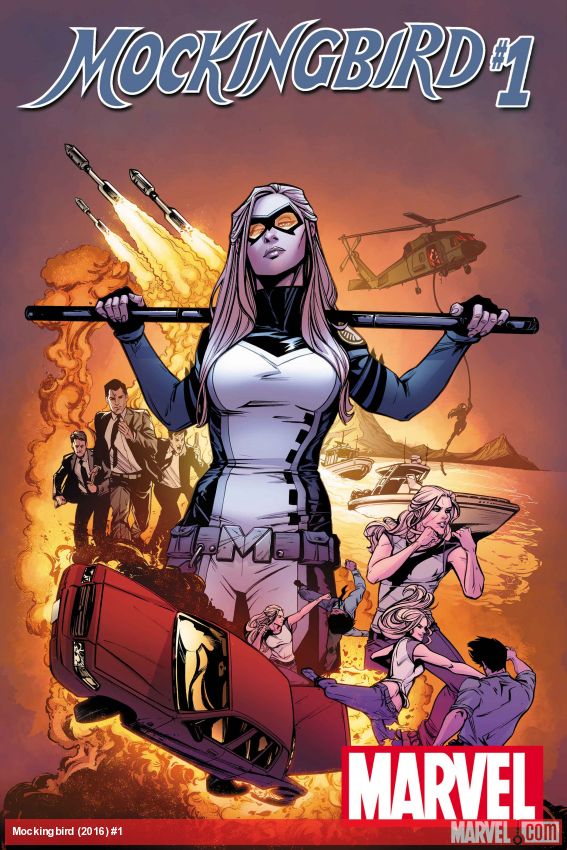 PAPER PUNK TEAMS WITH MY LITTLE PONY
02/08/16 @ 10:05 am EST
Source:
Licensemag.com
| Categories:
My Little Pony
|
Comments
(0) |
E-mail Article
|
Add a Comment
Paper Punk has teamed with Hasbro's My Little Pony to release six new Paper Punk kits featuring characters from the franchise.
Each kit will offer colorful 2D flat shapes for consumers to transform into 3D geometric paper blocks that are part toy and part art.
The Paper Punk My Little Pony Kits will debut at the New York Toy Fair in New York City on Feb. 13-16.
MARVEL EVENTS GET NEW LEADERSHIP
02/08/16 @ 10:04 am EST
Source:
Licensemag.com
| Categories:
Marvel
|
Comments
(0) |
E-mail Article
|
Add a Comment
Victory Hill Exhibitions, a global production and distribution company, has appointed Daniel Pearce and Michael Mattox to open its "The Transformers Experience" and "Avengers S.T.A.T.I.O.N." in Las Vegas, Nev.
Pearce will serve as the general manager, while Mattox will serve as director of technical operations.
Prior to joining Victory Hill, Pearce served as director of retail operations for the MGM Grand Las Vegas Hotel and Casino and oversaw the development of five retail offerings and was integral in opening "CSI: The Experience at MGM Grand."
Mattox joins Victory Hill after serving as director of theatrical services and entertainment operations at SeaWorld San Diego.
"Entering the Las Vegas market, it is vital to have experts on the ground who know the Southern Nevada and entertainment landscapes," says Ron Tan, chief executive officer and president, Victory Hill. "Daniel and Michael are well-equipped to not only launch these spectacular attractions in Vegas, but help keep our momentum going for the months and years to come."
"The Transformers Experience" and "Avengers S.T.A.T.I.O.N." will occupy nearly 30,000-square-feet of the Treasure Island Hotel and Casino in Las Vegas. "Avengers S.T.A.T.I.O.N." is slated to open this spring while "The Transformers Experience" will open later this year.