THE AVENGERS STORM UTOPIA IN AVENGERS VS X-MEN #2 – ON SALE NOW!
04/18/12 @ 3:28 pm EST
Source:
Marvel
|
Comments
(0) |
E-mail Article
|
Add a Comment
The war is here! Today, in
Avengers VS. X-Men #2
by the blockbuster creative team of Jason Aaron and John Romita Jr., Captain America leads the assault against the X-Men in a brawl that no-one will forget. The Mutant Messiah, Hope, is the target and Earth's Mightiest are not leaving Utopia without her. But to get to Hope, they'll have to go through Cyclops and his team of X-Men who are putting up the fight of their lives.
Plus! Join the
Marvel ReEvolution
as Marvel brings fans a new comic reading experience! Every issue of
Avengers VS X-Men
comes packaged with a code for a FREE digital copy on the
Marvel Comics app
.
And that's not all! Take the
Avengers VS X-Men
enjoyment even further by unlocking access to exclusive behind the scenes extras utilizing special augmented reality technology with the
Marvel AR
app powered by Aurasma. This is exciting bonus content that you cannot access anywhere else!
Which team will reign supreme? Join the conversation on Twitter with
#AvX
!
Here comes the pain as all your favorite super heroes enter—and only one team will emerge victorious! Don't miss out on this once in a lifetime comic event in,
Avengers VS X-Men #2,
on sale now in comic shops everywhere, on the
Marvel Comics app
, and the all-new
Marvel Comics Webstore
!
For more on
Avengers VS X-Men
, please visit
http://avx.marvel.com
AVENGERS VS X-MEN #2 (FEB120534)
Written by JASON AARON
Pencils by JOHN ROMITA JR.
Cover by JIM CHEUNG
Rated T+…$3.99
ON SALE NOW!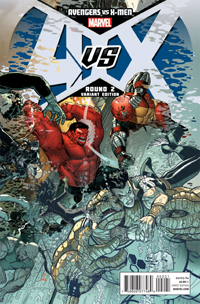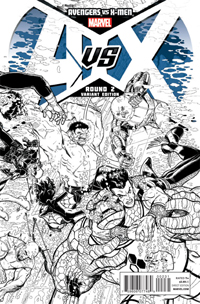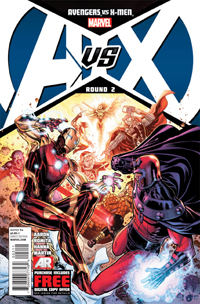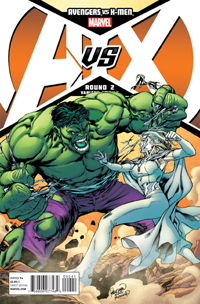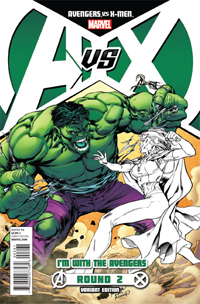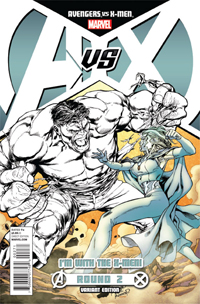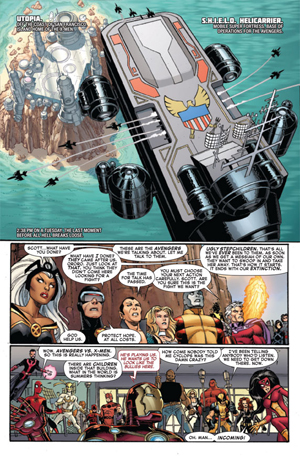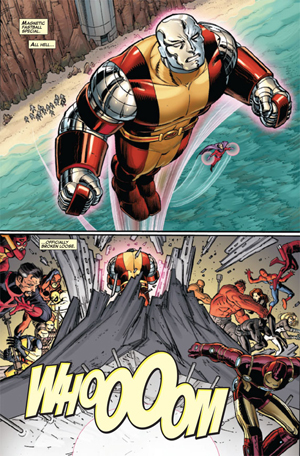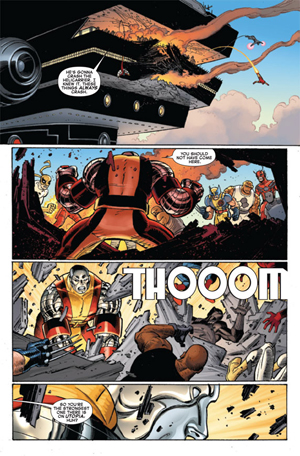 To find a comic shop near you, visit
www.comicshoplocator.com
or call 1-888-comicbook.


Marvel Entertainment, LLC, a wholly-owned subsidiary of The Walt Disney Company, is one of the world's most prominent character-based entertainment companies, built on a proven library of over 8,000 characters featured in a variety of media over seventy years. Marvel utilizes its character franchises in entertainment, licensing and publishing. For more information visit
www.marvel.com
DEFENDERS REVEALS MAJOR DAREDEVIL CHARACTER AHEAD OF SEASON 3
08/19/17 @ 6:53 am EST
Source:
ComicBook
| Categories:
Marvel
|
Comments
(0) |
E-mail Article
|
Add a Comment
Major spoilers for The Defenders.
The Defenders
— the long awaited crossover between the
Daredevil
,
Jessica Jones
,
Luke Cage
, and
Iron Fist
series — is now streaming on Netflix, and it introduced a character likely to have a big impact on the upcoming third season of
Daredevil
: Matt Murdock's (Charlie Cox) mother, Margaret Murdock.
At the end of
The Defenders
, Daredevil had seemingly gone out by way of heroic sacrifice, caught in the implosion of Midland Circle. Thought dead by close friends and confidants Karen Page (Deborah Ann Woll) and Foggy Nelson (Elden Henson), as well as newfound ally Danny Rand (Finn Jones), it was revealed Matt actually survived — albeit laid up in bed, badly bruised and in the care of a nunnery. Matt wakes to a surprised nun, who says, "Get Maggie — tell her he's awake." To be continued.
In the Marvel comics, Sister Maggie, aka Margaret Murdock, was the wife of Jack Murdock and mother of Matthew Murdock. After attempting to harm baby Matt during a struggle with postpartum depression, Maggie fled and was given solace by the Catholic church. Feeling she was a "dark cloud" over both her husband and her son, Maggie would never return home.
THE DEFENDERS SETS UP A DAREDEVIL SEASON 3 'BORN AGAIN' STORYLINE
08/19/17 @ 6:50 am EST
Source:
ComicBook
| Categories:
Marvel
|
Comments
(0) |
E-mail Article
|
Add a Comment
Facing the evil of The Hand is a challenge that will change each respective member of The Defenders by the time the Marvel Netflix miniseries ends. But for Matt Murdock/Daredevil, the battle will be especially personal.
As we learned in
Daredevil
seasons 1 & 2, Matt Murdock's life has been heavily affected by The Hand's war with their sworn enemies, The Chaste - including Daredevil's mentor, Stick. Matt has been investigating The Hand's threat to NYCever since he first suited up - and in
The Defenders
, he'll have to deal with the added pain of seeing The Hand bring back Elektra as the soulless killing machine known as The Black Sky.
With
Daredevil
season 3 already set for production in the fall, the next chapter of Matt Murdock's story is set for some drastic changes - and
The Defenders
sets it all up.
RON HOWARD SHARES BEHIND-THE-SCENES PIC OF CHEWBACCA
08/19/17 @ 6:45 am EST
Source:
ComicBook
| Categories:
Star Wars
|
Comments
(0) |
E-mail Article
|
Add a Comment
It's tough to say what Ron Howard's recent strategies have been when it comes to revealing images and videos from the set of the Han Solo spin-off. While they began with very cryptic looks, they have started getting more and more obvious, including his most recent shot of Chewbacca on a monitor.
Previous glimpses of the set have been much more cryptic and open forinterpretation, but this was clearly just a direct look at Chewbacca in the middle of what appears to be a crowded interior location.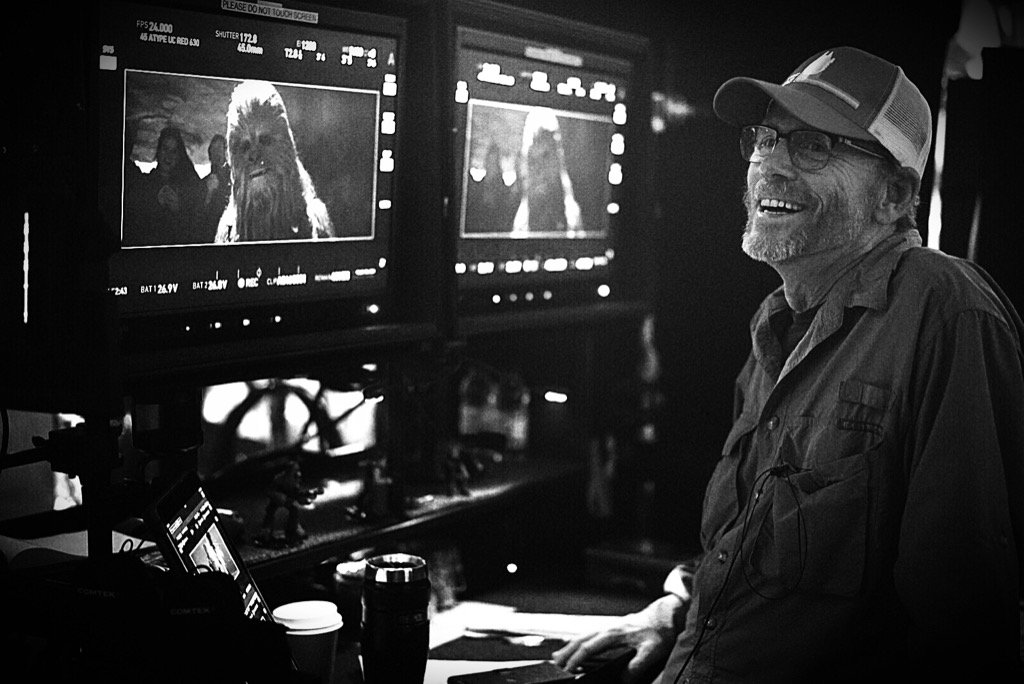 DEFENDERS EPS ADDRESS [SPOILER] BURIED UNDER NEW YORK CITY
08/19/17 @ 6:40 am EST
Source:
ComicBook
| Categories:
Marvel
|
Comments
(0) |
E-mail Article
|
Add a Comment
The latest Netflix series tied up a lot of loose ends and disparate threads from the various Marvel series with the revelation of the Hand's intentions for New York City.
Spoilers for Marvel's The Defenders below.
Weaving threads from Madame Gao's mysterious drug trade, a giant hole in the middle of New York City, the resurrection of Elektra, various villains returning from the dead, and the mystical city of K'un-Lun
, The Defenders
finally revealed what the villainous cabal was truly after.
And it all has to do with a giant dragon skeleton buried under New York City.
"The idea of that was that there had always been this kind of mystery that the Hand can bring people back from the dead,"
Defenders
EP Marco Ramirez said to EW, "but we never knew exactly how, and it made sense to connect the life-force idea of the chi in the Iron Fist to the idea of the life force [the Hand members] use for various purposes, so we're just saying it's dragon bone that they use, that that's the substance. That felt like the cleanest way to tie everything in."
Ramirez clarified that the dragon skeleton was not Shou-Lao the Undying, but one of many dragons that used to roam our planet.
"And it's been set up since
Daredevil
season 1; Gao operates in the background of New York with drugs made from that ground into powder," Ramirez said. "It felt like we could make back alley drug deals in New York and dragon mythology all part of the same story, so that was my way of trying to tie them all in."
DID IMAX SHORTEN THE INHUMANS' THEATRICAL RUN?
08/19/17 @ 6:36 am EST
Source:
ComicBook
| Categories:
Marvel
|
Comments
(0) |
E-mail Article
|
Add a Comment
With all of the criticism surrounding Marvel's
The Inhumans
, fans aren't expressing their excitement for the new series like they are for the movies or the Netflix shows. All of the negative hype might have impacted the screenings at IMAX theaters.
Marvel Television, the ABC Network, and IMAX's initial announcement stated that the first two episodes would be aired in a big-screen version exclusive to the theaters for two weeks following its premiere.
But with the announcement that
Stephen King's IT
would be coming to IMAX on September 8, just one week after
The Inhumans
premieres on screens, came speculation that IMAX was ending the Marvel program's theatrical run short.
MCU Exchange reports that IMAX theaters are not selling tickets beyond September 7, despite the initial announcement stating it would be in theaters for two weeks which would put the last date at September 14.
When reached for comment, Marvel Television responded that IMAX was letting its theaters decide how long they would screen the show on a case-by-case basis.
ADAM DRIVER TEASES KYLO REN'S JOURNEY WILL BE 'UNEXPECTED' IN THE LAST JEDI
08/19/17 @ 6:33 am EST
Source:
ComicBook
| Categories:
Star Wars
|
Comments
(0) |
E-mail Article
|
Add a Comment
Kylo Ren's debut in
The Force Awakens
demonstrated that the Sith modeled most of his life after his grandfather Darth Vader, hoping to become even more powerful than any Sith who came before him. While this might make audiences feel like they can predict Kylo's trajectory through the next few films, star Adam Driver revealed to
Sunday Today
that the new film will take viewers to "unexpected" places.
The show's host inquired if audiences will be satisfied with the upcoming film, with Driver responding, "God, I hope. I hope they will. I think it will be hopefully unexpected."
Audiences have only seen one teaser and a behind-the-scenes reel of footage, so there's much to discover about the film. Driver's comments, while relatively vague, could be an elaboration on comments made by Daisy Ridley to
Entertainment Weekly
.
The actress explained, "What's wonderful is it's not so cut and dry, who's good and who's bad and that's not me saying, 'Oh, my God, some people are gonna go bad,'"
She adds, "There's always room for bad people to make good decisions and vice versa. Again, that could be nothing to do with your parents and it could be everything to do with your parents."
BLACK LIGHTNING: COLD DEAD HANDS BRINGS BACK CO-CREATOR FOR NEW SERIES
08/18/17 @ 10:04 pm EST
Source:
Newsarama
| Categories:
DC
|
Comments
(0) |
E-mail Article
|
Add a Comment
DC has announced
Black Lightning: Cold Dead Hands
, a new six-issue mini-series written by the character's co-creator Tony Isabella with art by Clayton Henry.
Black Lightning: Cold Dead Hands
is a slight departure from Black Lightning's pre-
Flashpoint
history. Jefferson Pierce is still a teacher who moonlights as a gangbusting superhero, but in
Cold Dead Hands
he's been de-aged to 28 years old.
And also unlike his previous continuity - and unlike CW's upcoming
Black Lightning
show - he is not married and does not have any daughters.
However, along with Isabella, another old name is returning to Black Lightning's world - Tobias Whale, one of his earliest foes, and a primary villain in the upcoming TV show.
Black Lightning: Cold Dead Hands #1
is due out on shelves November 1.
GET READY TO RUN! MARVEL'S RUNAWAYS BRINGS THE TEAM BACK TOGETHER
08/18/17 @ 10:00 pm EST
Source:
Marvel
| Categories:
Marvel
|
Comments
(0) |
E-mail Article
|
Add a Comment
Nico, Karolina, Molly, Chase, Old Lace and even Gert are back – and better than ever! This fall, best-selling YA writer Rainbow Rowell (
Carry On
,
Eleanor and Park
), superstar artist Kris Anka (
All-New X-Men, Star-Lord)
and Eisner-winning colorist Matt Wilson (
The Mighty Thor
,
Black Widow
)
team up to bring the universe's pluckiest team of super heroes back to where they belong: in the pages of a Marvel comic book.
"As a
Runaways
fan, it's been such a thrill for me to see these characters together again," said writer Rainbow Rowell. "I can't wait to let everyone else into the party."
"For years I batted other editors and creators back from the Runaways," said Executive Editor Nick Lowe. "I was the last Editor to edit them and they are precious to me, so I didn't want just ANYBODY to bring them back. So when my new favorite writer (Rainbow's
Eleanor & Park
slayed me in the best way) said they were her favorites, I knew I had half of the lightning I needed. Kris [Anka] was the other missing link for the PERFECT RUNAWAYS creative team and I'm so excited to share them with the world!"
RUNAWAYS #1
Written by RAINBOW ROWELL Art and Cover by KRIS ANKAFOC – 8/21/17, On-Sale 9/13/17
'DEADPOOL 2' CRASH: DETAILS EMERGE IN DEATH OF STUNTWOMAN JOI HARRIS
08/18/17 @ 9:55 pm EST
Source:
Deadline
| Categories:
Deadpool
|
Comments
(0) |
E-mail Article
|
Add a Comment
A preliminary investigation into the accident that took the life of stuntwoman Joi "SJ" Harris this week on the Vancouver set of the Ryan Reynolds-starring
Deadpool 2
suggests that the stunt might not have been all that difficult and that her death was the result of a freak low-speed accident.
An investigation report by WorkSafeBC, British Columbia's version of the U.S. government's Occupational Safety and Health Administration, obtained by Deadline and dated August 15, found that:
"a temporary worksite had been setup to record a film scene for a movie production. The site had been cordoned off from general public and traffic by the Vancouver Police Department. The worker had been rehearsing a stunt scene that involved driving a motorcycle, Dictate 939 Hyperstrada, out of the open doors of a building, across a concrete pad and down a ramp that had been built over three stairs and coming to a stop on the stair landing. During the first shooting of the scene the stunt driver continued driving beyond the planned stopping spot on the stairway landing, and continued to drive down a second ramp built over the bottom stairs and across the roadway. The motorcycle struck the concrete sidewalk curb, the worker was thrown off the motorcycle and propelled through a plate glass window of a building."
Deadline also learned that the crash Monday happened in second unit photography after Harris had completed five takes on the 20th Century Fox film already. It was after the sixth take that the motorcycle hit the curb.
"In the maneuver, which was never more than 15 kilometers per hour – [a little less than] 10 miles an hour – she rode on a flat surface through two open doors and then turned left and went out of camera range," a source close to the production said. "Her exit was a safety ramp to a big platform where the bike was supposed to stop, but she overshot the platform, hit a curb, and was thrown from the bike through a glass window."
Harris was an experienced motorcycle rider, but this was her first movie stunt. The source said rumors that she was not qualified for the job, and was hired only because she was black and was doubling for an actress of mixed race, are untrue. "To say an unqualified person was put in this position is absolutely untrue," the source said. "She was the best candidate for the job."
Production was halted immediately after the crash. The British Columbia Coroner told Deadline that day "a coroner attended the scene and an investigation is underway with The Vancouver Police Department and WorkSafeBC, which also is investigating this incident." Harris reportedly was not wearing a helmet during the stunt work.
Production started up again 48 hours later and the cast and crew reportedly held for a moment of silence in remembrance of the 32-year-old Harris.
Deadpool 2
is skedded for release on June 1. (Via Deadline)
STAN LEE'S CAMEO IN 'THE DEFENDERS' REVEALED
08/18/17 @ 4:57 pm EST
Source:
ComicBook
| Categories:
Marvel
|
Comments
(0) |
E-mail Article
|
Add a Comment
Marvel creator Stan Lee has been featured in many of the company's screen adaptations over the years, and
The Defenders series on Netflix is no exception.

All eight episodes of the series were made available on the streaming service early this morning, and fans have already started looking out for any potential Marvel Easter eggs. Very quickly, viewers noticed the iconic smile of Stan The Man.

In the third episode of The Defenders, Matt Murdock is walking down a crowded New York street. As he does, a poster comes into view over his right shoulder. Almost instantly, you'll recognize the man on the poster as Stan Lee.

The poster is advertising something for the police department, which many fans of the Marvel shows on Netflix likely expected.

Throughout the other shows in this series - Daredevil, Jessica Jones, Luke Cage, Iron Fist - Stan Lee has been the face of the NYPD. Posters around the city have shown Lee as an important figure in the department, smiling out at all of the busy passers-by.