THE AVENGERS STORM UTOPIA IN AVENGERS VS X-MEN #2 – ON SALE NOW!
04/18/12 @ 3:28 pm EST
Source:
Marvel
|
Comments
(0) |
E-mail Article
|
Add a Comment
The war is here! Today, in
Avengers VS. X-Men #2
by the blockbuster creative team of Jason Aaron and John Romita Jr., Captain America leads the assault against the X-Men in a brawl that no-one will forget. The Mutant Messiah, Hope, is the target and Earth's Mightiest are not leaving Utopia without her. But to get to Hope, they'll have to go through Cyclops and his team of X-Men who are putting up the fight of their lives.
Plus! Join the
Marvel ReEvolution
as Marvel brings fans a new comic reading experience! Every issue of
Avengers VS X-Men
comes packaged with a code for a FREE digital copy on the
Marvel Comics app
.
And that's not all! Take the
Avengers VS X-Men
enjoyment even further by unlocking access to exclusive behind the scenes extras utilizing special augmented reality technology with the
Marvel AR
app powered by Aurasma. This is exciting bonus content that you cannot access anywhere else!
Which team will reign supreme? Join the conversation on Twitter with
#AvX
!
Here comes the pain as all your favorite super heroes enter—and only one team will emerge victorious! Don't miss out on this once in a lifetime comic event in,
Avengers VS X-Men #2,
on sale now in comic shops everywhere, on the
Marvel Comics app
, and the all-new
Marvel Comics Webstore
!
For more on
Avengers VS X-Men
, please visit
http://avx.marvel.com
AVENGERS VS X-MEN #2 (FEB120534)
Written by JASON AARON
Pencils by JOHN ROMITA JR.
Cover by JIM CHEUNG
Rated T+…$3.99
ON SALE NOW!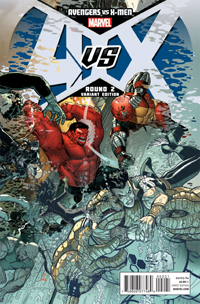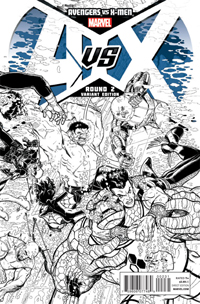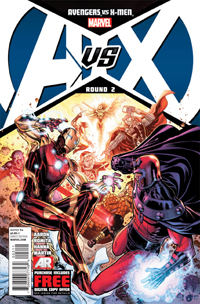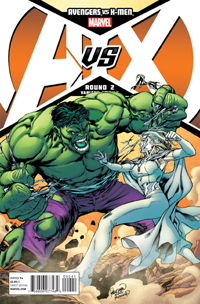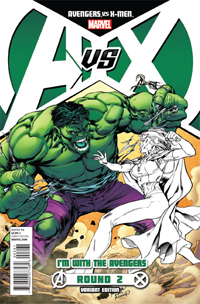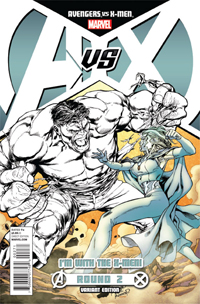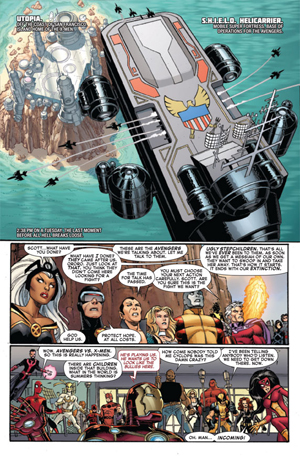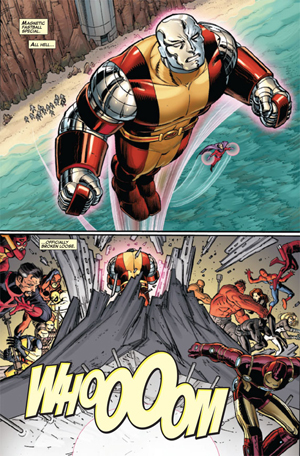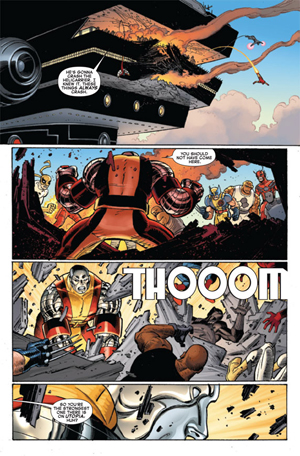 To find a comic shop near you, visit
www.comicshoplocator.com
or call 1-888-comicbook.


Marvel Entertainment, LLC, a wholly-owned subsidiary of The Walt Disney Company, is one of the world's most prominent character-based entertainment companies, built on a proven library of over 8,000 characters featured in a variety of media over seventy years. Marvel utilizes its character franchises in entertainment, licensing and publishing. For more information visit
www.marvel.com
THERAPY IS IN SESSION FOR THE "X-MEN: APOCALYPSE" CAST
05/29/16 @ 2:39 am EST
Source:
Comic Book Resources
| Categories:
X-Men
|
Comments
(0) |
E-mail Article
|
Add a Comment
In this hilarious video from MTV, each of the young mutants from "X-Men: Apocalypse" share what's been bothering them at Xavier's School for Gifted Youngsters.Evan Peters, Tye Sheridan, Alexandra Shipp and Lana Condor answer questions as their characters, with Storm complaining about Mystique's nudity, Quicksilver giving Cyclops a hard time about Jean Grey, and all of them taking jabs at father figures Magneto, Professor X and Apocalypse.
"
I
can rip on my dad, because he's my dad," Quicksilver cautions Jubilee, shortly before revealing he's a
little
self-conscious about his hair.
The video features profanity and sexual references, but it's a hilarious look at what these gifted youngsters might say in a therapy session.
Video:
https://youtu.be/_rFyHJ1pSyg
THREE NEW TEENAGE MUTANT NINJA TURTLES TV SPOTS RELEASED
05/29/16 @ 2:35 am EST
Source:
Comicbook
| Categories:
TMNT
|
Comments
(0) |
E-mail Article
|
Add a Comment
The Turtles are back to save the world in
Teenage Mutant Ninja Turtles: Out of the Shadows
, and with the film only a week or so away from release, the studio has released a few more snippets of footage.
Clip 1:
https://youtu.be/M8T4VNxlFjw
Clip 2:
https://youtu.be/TtUcY2_7DOE
Clip 3:
https://youtu.be/jH-PezDpQXk
DEADPOOL MOVIE LADIES DAY JAPANESE PROMO RELEASED
05/29/16 @ 2:29 am EST
Source:
Comicbook
| Categories:
Deadpool
|
Comments
(0) |
E-mail Article
|
Add a Comment
While Deadpool has already racked up an impressive $362,781,653 million domestically and $763,177,218 million worldwide, it has done so without being released in Japan.

The long wait for Japanese moviegoers is almost over, however, as Deadpool finally brings his patented blend of raunchy humor and action-packed set pieces to Japan starting on June 1st. To celebrate the occasion, the merc with a mouth shot a small video, commemorating not only the release of his film but also of Ladies Day.

"Hello, Japan, Deadpool here. Good news. June 1st is ladies day. It's no coincidence that's the exact same day that my movie is penetrating theatres. So you can see me take on the bad guys in a very tight, very sweaty full body condom. Feel free to pack the theatre with as many ladies as can handle it, and fellas, probably a good idea to show up. There's going to be energized young ladies looking for a place to swoon, so, get plenty of fluids and vitamin E. Oh, that's good."

Video: https://youtu.be/Eczf7uPuB6I
THE ROCK GIVES A FIRST LOOK AT FAST 8'S HOBBS
05/29/16 @ 2:24 am EST
Source:
Comicbook
| Categories:
MIsc
|
Comments
(0) |
E-mail Article
|
Add a Comment
Dwayne "The Rock" Johnson took to Facebook earlier today to provide fans with a first look at his character in the forthcoming
Fast 8
.
According to the caption that ran with the Facebook post, it sounds like this installment will be a game-changer for Hobbs, the character who first appeared in 2011's
Fast Five
.
"When you strip a man of all he has. All that's important to him. You force him to return to his roots.. and sometimes that's a very dangerous and twisted place," Johnson teased.
"If I was going to return for another
Fast & Furious
I wanted to come in and disrupt the franchise in a cool way that got fans fired up and their blood pumping to see a new version of Hobbs and his "Daddy's gotta go to work" mentality and set the table in a cool way for where the character goes in the future," the star added.
OLIVIA MUNN REVEALS STRESS BEHIND EPIC FIGHT SCENE IN X-MEN: APOCALYPSE
05/29/16 @ 2:20 am EST
Source:
Comicbook
| Categories:
X-Men
|
Comments
(0) |
E-mail Article
|
Add a Comment
Olivia Munn's Psylocke doesn't have as much screen time as some of her fellow castmates, but she definitely made the most of the time she had.
If she looks completely comfortable onscreen, it's because of all the hard work she put in behind the scenes. In an interview with Entertainment Weekly, the actress spoke a bit about her training for those scenes.
"I knew it was up to me to be able to deliver. So thankfully my fight scene was the last thing we shot. So when I wasn't on set shooting, I was able to go and train. The producers and [director] Bryan [Singer] and everyone was so supportive. I started training six to seven hours a day from stunts to wire work and martial arts and swords. One thing you can't cheat is sword work. The more I can do, the more I could learn, the more they had to use and the more options they had for Psylocke. I was lucky that by the time we got to shooting I had been training for so long so that anything they asked I was able to do for the most part."
She was so prepared that she somewhat stunned fellow actor Nicholas Hoult, who plays Beast in the film. He said: "Olivia went to like level-seven ninja. And then I kind of rolled up on the day and I was totally under-prepared — I must admit on that. I was so lucky it wasn't a fight for real or she would have definitely done me in."
One of her big scenes was filmed at the very end of production, and they were cutting things pretty close.
"We were literally pushing into overtime. It's one of those things where I know no one is gonna approve another couple hundred thousand dollars to go an extra day for me. It's literally the last hour. I had to get on top of this really high platform and jump off, flip and land on a dime with swords and make sure I don't face plant into the camera. And we had 30 minutes. That was a scary but very satisfying finish."
X-Men: Apocalypse is in theatres now.
GAME OF THRONES TITLES REVEALED FOR FINAL 3 EPISODES OF SEASON 6
05/29/16 @ 2:15 am EST
Source:
Comicbook
| Categories:
MIsc
|
Comments
(0) |
E-mail Article
|
Add a Comment
SKY Germany
(via
Spoiler TV
) airs new episodes of
Game of Thrones
the next day after they premiere on HBO, and they updated their schedule with the episode titles of the final three episodes of Season 6.
The titles have been translated from German to English, so they may not be exact.
Episode 8, airing June 12 and directed by Mark Mylod, is titled "No One," suggesting a major focus on Arya (Maisie Williams). Episode 9, airing June 19 and directed by Miguel Sapochnik, is titled "Battle of Bastards," suggesting a showdown between Ramsay Bolton and Jon Snow. Episode 10, airing June 26 and also directed by Sapochnik, is titled "The Winds of Winter," suggesting the Night's King and his undead army will travel farther into the lands of the living.
X-MEN APOCALYPSE: THE REASON NIGHTCRAWLER GOT A NEW LOOK REVEALED
05/29/16 @ 2:12 am EST
Source:
Comicbook
| Categories:
X-Men
|
Comments
(0) |
E-mail Article
|
Add a Comment
When
X-Men: Apocalypse
hit theaters in the U.S. this weekend, audiences were reintroduced to Nightcrawler, a hero who had appeared in
X2: X-Men United
.
Originally played by Alan Cumming, the role was handed off to Kodi Smit-McPhee, who played the character somewhat differently. He also had a different look, different wardrobe -- and in the case of this film, he was playing off a number of other blue-skinned characters: Mystique, Beast, and Apocalypse.
"Kodi is a younger-looking actor than Alan was in
X-Men 2,
" Academy Award-winning makeup effects department head Adrien Morot toldVariety
. "
Also, Alan was a grey-black in the original movie, and they had a problem lighting him. So we had to make sure Nightcrawler's look was camera-friendly. But they didn't want him to look painted. So we had to come up with a skin that was not the same as the other blue characters; he had to look somewhat different."
He also arguably played a more significant role in the film than Cumming's version played in
X2
, making the re-envisioning of the character even more important to make work.
AGENTS OF S.H.I.E.L.D. CONCEPT ART OF HIVE'S TRUE FORM
05/29/16 @ 2:10 am EST
Source:
Comicbook
| Categories:
SHIELD
|
Comments
(0) |
E-mail Article
|
Add a Comment
Check out some cool concept art for
Marvel's Agents of S.H.I.E.L.D.
showing the details of Hive's white, semi-translucent skin, serrated teeth, dark red eyes, and creepy tentacles.
In the third season finale of
Marvel's Agents of S.H.I.E.L.D.
, audiences finally got to see Hive's true form — which strongly resembles Davy Jones from
Pirates of the Caribbean: Dead Man's Chest
(2006) — when he prepared to kill Phil Coulson and possess his body at the docking station. When Hive lunged for Coulson, the parasitic Inhuman learned that he had been duped by a hologram.
Check out the Hive concept art, created by conceptual artist Joshua James Shaw (
Deadpool
), below.
BEHIND THE SCENES LOOK AT SUICIDE SQUAD SCORING SESSION
05/29/16 @ 2:05 am EST
Source:
Comicbook
| Categories:
Suicide Squad
|
Comments
(0) |
E-mail Article
|
Add a Comment
Once director David Ayer and film composer Steven Price figured out where the music was going to be and what it was going to do in
Suicide Squad
, Price could bring his orchestra into the studio for a scoring session.
As you can see in the behind-the-scenes below, the scoring sessions have begun! Now the musicians can watch sequences from the film — in this case, a scene with Harley Quinn (Margot Robbie) — as they perform the score, allowing the composer and the director to check how the music sits on any given scene.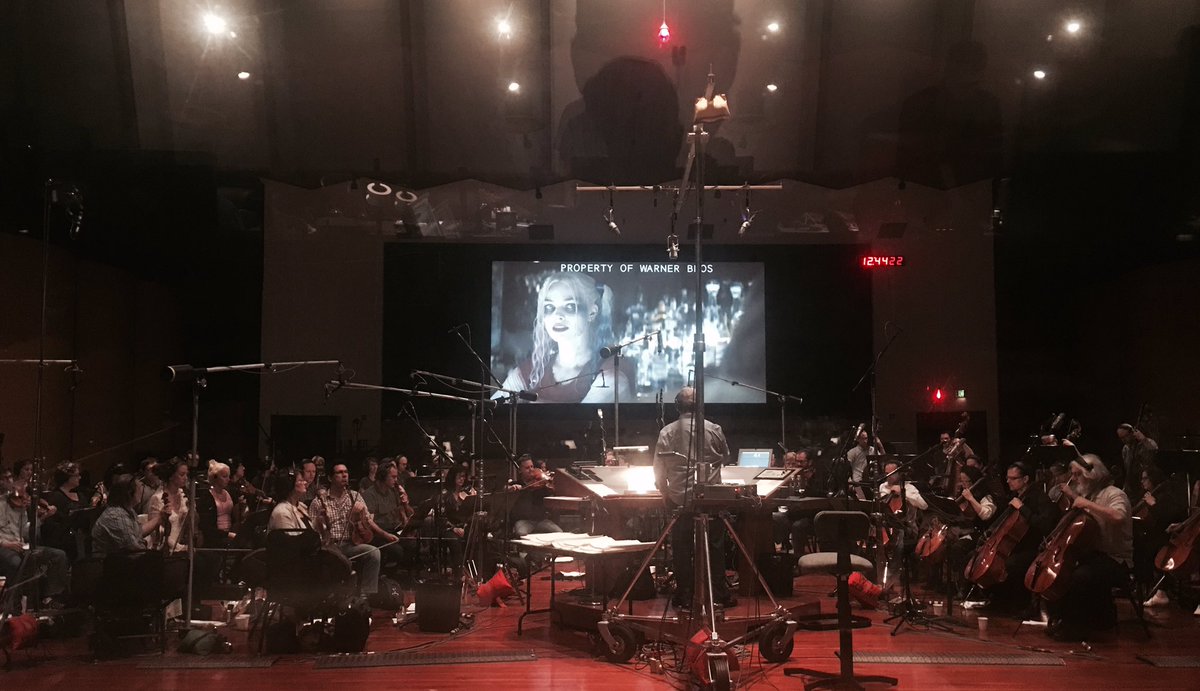 SAM MENDES WON'T DIRECT THE NEXT JAMES BOND FILM
05/29/16 @ 2:00 am EST
Source:
Variety
| Categories:
James Bond
|
Comments
(0) |
E-mail Article
|
Add a Comment
Sam Mendes, the Oscar-winning filmmaker who directed the last two James Bond films, "Spectre" and "Skyfall," is done with the 007 franchise.
"It was an incredible adventure, I loved every second of it," Mendes said at the Hay festival, according to The Guardian. "But I think it's time for somebody else."
"I'm a storyteller," he added. "And at the end of the day, I want to make stories with new characters."