THE AVENGERS STORM UTOPIA IN AVENGERS VS X-MEN #2 – ON SALE NOW!
04/18/12 @ 3:28 pm EST
Source:
Marvel
|
Comments
(0) |
E-mail Article
|
Add a Comment
The war is here! Today, in
Avengers VS. X-Men #2
by the blockbuster creative team of Jason Aaron and John Romita Jr., Captain America leads the assault against the X-Men in a brawl that no-one will forget. The Mutant Messiah, Hope, is the target and Earth's Mightiest are not leaving Utopia without her. But to get to Hope, they'll have to go through Cyclops and his team of X-Men who are putting up the fight of their lives.
Plus! Join the
Marvel ReEvolution
as Marvel brings fans a new comic reading experience! Every issue of
Avengers VS X-Men
comes packaged with a code for a FREE digital copy on the
Marvel Comics app
.
And that's not all! Take the
Avengers VS X-Men
enjoyment even further by unlocking access to exclusive behind the scenes extras utilizing special augmented reality technology with the
Marvel AR
app powered by Aurasma. This is exciting bonus content that you cannot access anywhere else!
Which team will reign supreme? Join the conversation on Twitter with
#AvX
!
Here comes the pain as all your favorite super heroes enter—and only one team will emerge victorious! Don't miss out on this once in a lifetime comic event in,
Avengers VS X-Men #2,
on sale now in comic shops everywhere, on the
Marvel Comics app
, and the all-new
Marvel Comics Webstore
!
For more on
Avengers VS X-Men
, please visit
http://avx.marvel.com
AVENGERS VS X-MEN #2 (FEB120534)
Written by JASON AARON
Pencils by JOHN ROMITA JR.
Cover by JIM CHEUNG
Rated T+…$3.99
ON SALE NOW!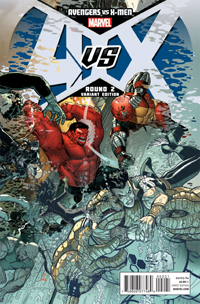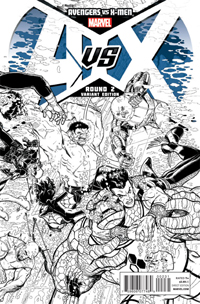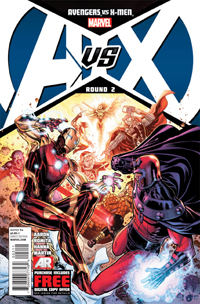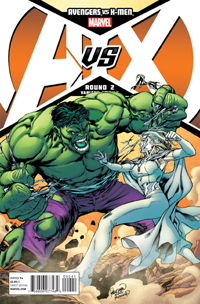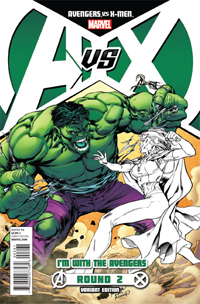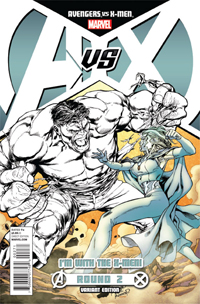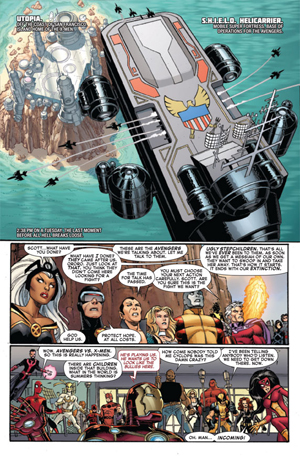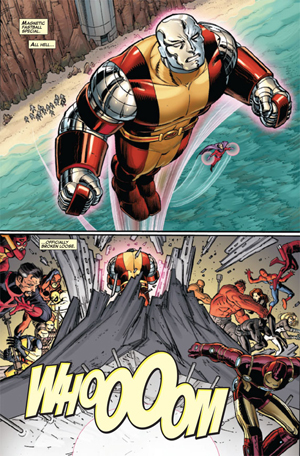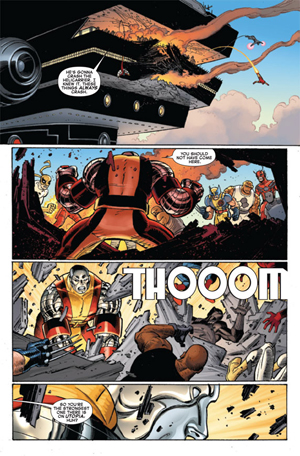 To find a comic shop near you, visit
www.comicshoplocator.com
or call 1-888-comicbook.


Marvel Entertainment, LLC, a wholly-owned subsidiary of The Walt Disney Company, is one of the world's most prominent character-based entertainment companies, built on a proven library of over 8,000 characters featured in a variety of media over seventy years. Marvel utilizes its character franchises in entertainment, licensing and publishing. For more information visit
www.marvel.com
HOPE YOU HAD A GREAT STAR WARS DAY. MAY THE FOURTH BE WITH YOU!
05/04/16 @ 8:46 pm EST
Source:
Google
| Categories:
Star Wars
|
Comments
(0) |
E-mail Article
|
Add a Comment
HEROIC BLOODLINES – MICHAEL USLAN TALKS LONE RANGER / GREEN HORNET
05/04/16 @ 8:35 pm EST
Source:
Bleeding Cool
| Categories:
Dynamite
|
Comments
(0) |
E-mail Article
|
Add a Comment
Michael Uslan
talks
Lone Ranger / Green Hornet
#1, on sale in July from
Dynamite
. Main cover is by
John Cassaday
with two incentive covers by
Giovanni Timpano
.
BYRON BREWER: Well, Michael, Dynamite is known for its wild mash-ups. However did the concept of the Lone Ranger and the Green Hornet come about for you? Was this something you pitched?MICHAEL USLAN:
Many, many years ago, long before the rights to making a Lone Ranger movie and the rights to making a Green Hornet movie were parsed out by the respective right holders to two different movie studios, I had a dream of combining the two characters into one great family saga. Unfortunately at that time, the owners of one property had no interest in going down that road, and the owners of the other property wanted a large fortune on the table for the rights. Needless to say, little old me was quickly outbid by one of the major studios.
And so, I placed my notes for what that motion picture might've been into a file and moved on. Many years later, when I became friendly with Nick Barrucci at Dynamite Comics, and he began amassing rights to some great classic pulp, radio and TV properties, I told him that if, after some 80 years, he could be the one to bring together legal rights to the Lone Ranger and the Green Hornet for one joint family story, that I would give my left whatever to write it. Nick had always enjoyed the crossover I wrote for DC back in the 1970s in The Shadow #11, when the Shadow met the Avenger. On that basis, he asked me if I would be interested in writing the first crossover of the Shadow with the Green Hornet. I jumped at that, and we had a great experience together with The Shadow/Green Hornet: Dark Nights. That led to my giving Nick my graphic novel writing bucket list. I said that if he could ever get the rights for a first-ever crossover of the three Street & Smith pulp heroes, Doc Savage, the Shadow, and the Avenger, I would love to write that. He did it. And so I wrote Justice, Inc. I then told him if he could get the rights to the Lone Ranger and the Green Hornet appearing in one story, that I would love to write that. He did it. And now, here we are…
By the way, the opening of this saga in issue #1 of "The Lone Ranger Meets the Green Hornet: Champions of Justice" is based on my original notes as to how I envisioned the opening of the movie that I had wanted to make. One more note of historic interest is that I wanted Ronald Reagan after he left the presidency to play John Reid in his 80s in this opening scene. One last note of historic interest is that there are still three crossovers left on the bucket list I gave Nick. I am hoping that one day he will also reach out to me to write those when and if the magical days happen.
BB: That is so cool, Michael. Can you tell us about the LR/GH storyline?MU:
In its essence, this is a family story of three generations who are bound together by blood and traditions and who are torn apart by generational rifts. It's a story of hope, tragedy, choices and consequences, love, integrity, redemption and adventure.
Like my last three graphic novels, Batman: Detective #27, The Shadow/Green Hornet: Dark Nights and Justice, Inc., this too is a tale of alternative history. I've taken these legendary fictional characters and mixed them together with real legends of history in true historic events interwoven with fictional events. It's a story grounded in real life, as it may have actually unfolded in a parallel universe to ours.
BB: Can you compare and contrast your two stars?MU:
Both men are Reids. They are connected by DNA.
Both have chosen to wear a mask and to allow themselves to be perceived as villains.
Both have partners… Tonto and Kato.
One rides an amazing horse called Silver, and the other rides an amazing car called Black Beauty.Both refuse to kill.
Both lead the fight for law and order in a daring and resourceful way.
BB: Why is Giovanni Timpano the right artist for this book?MU:
Gio and I previously worked together on Justice, Inc. He knows how to portray legendary, classic characters and respect their integrity. He does his research carefully and when we are doing stories that are alternative history, this becomes very important to the ultimate effectiveness of what we are trying to accomplish visually. In addition, creatively, we are on the same wavelength. We communicate with each other often and he offers suggestions, modifications and new ideas, and the end result is based on a full partnership between us. Not only is he an excellent illustrator, he is a cutting edge, dynamic, bold graphic story-teller. And he is as crazed about every detail as I am!
MARVEL WILL TACKLE ITS ONE-DIMENSIONAL VILLAINS ISSUE WITH THANOS' "AVENGERS: INFINITY WAR" ARC
05/04/16 @ 8:25 pm EST
Source:
Comic Book Resources
| Categories:
Marvel
|
Comments
(0) |
E-mail Article
|
Add a Comment
Marvel Studios has a villain problem; while their films are generally well-received, their antagonists frequently are not. In an interview with JoBlo, "Captain America: Civil War"screenwriters Steve McFeely and Chris Markus addressed the Marvel Cinematic Universe's trouble with creating well-rounded villains.
"If you think about it, I get the criticism, but the early phases were all origin stories," McFeely explained. "It tends to create a similar villain. When it is no longer an origin story, I think you might have a little bit more freedom to create different villains. I'm sensitive to the problem. I get it. But it wasn't the Robert Redford story, it was 'Captain America: The Winter Soldier.' It wasn't the Red Skull's journey, it was the journey of one guy going from ninety pound weakling to American hero and then going into the ice."
"So in a 120-minute movie it is difficult, and Thanos will possibly change that, but you want time spent," he continued. "Excuse me for going on a tangent but I love the Marvel Netflix shows because you have so much more time to spend with your villains. It's literally minutes and hours spent. We have 120-minutes and 'Jessica Jones' had how ever many it had."
As to their approach to Thanos, he added, "As you said, we tend to take the ingredients and make a different meal out of it. 'Winter Soldier' owes a great deal to the [Ed] Brubaker run but it's not the Brubaker run. 'Civil War' owes a great deal to [Mark] Millar, but it's not close to the 'Civil War' run. So we'll do the same thing with Thanos and his gauntlet."
Directed by Joe and Anthony Russo and starring Chris Evans, Robert Downey Jr., Scarlett Johansson, Anthony Mackie, Sebastian Stan and more, "Captain America: Civil War" opens on May 6, 2016.
"CAPTAIN AMERICA: CIVIL WAR" WRITERS ADMIT NEW VIEWERS MAY BE LOST...AND THAT'S OK
05/04/16 @ 8:19 pm EST
Source:
Comic Book Resources
| Categories:
Civil War
|
Comments
(0) |
E-mail Article
|
Add a Comment
Stan Lee is often quoted (apocryphal or not) as saying that every comic is somebody's first one. But as Marvel Studios prepares its 13th big screen adventure, the same logic won't apply to "Captain America: Civil War."
As part of a new interview with The Wrap, "Civil War" screenwriters Stephen McFeely andChristopher Markus admitted that there was no way for them to make the franchise film that some have referred to as "Avengers 2.5" totally inviting for brand new viewers.
"We had to make a decision early that we were OK losing virgin audience members," McFeely said, stressing that such an idea wasn't the end of the world. "If you don't know some of these movies before you walk in you might be lost, but hopefully you'll still be entertained. We can't do a 'previously in the Marvel Cinematic Universe,' because it will take 25 minutes."
At least the writers have good tabs on things, having already written both the first two "Captain America" movies and serving as creators and executive producers for two seasons of the "Agent Carter" spinoff TV series.
"This isn't a new thing, it's an ongoing story that's organically evolving movie to movie," Markus added. "In the beginning I think [Marvel] did operate as, 'If this is your first one, it should be as fun as if it were your third one.' Its a dense ongoing novel at this point."
"Captain America: Civil War" opens this weekend.
NEW "LEGENDS OF TOMORROW" IMAGES FOR "DESTINY" REVEAL A RESCUE MISSION
05/04/16 @ 8:10 pm EST
Source:
Comic Book Resources
| Categories:
DC
|
Comments
(0) |
E-mail Article
|
Add a Comment
As "Legends of Tomorrow's" freshman season draws to a close, the team will have to make vital decisions to become the legends they believe they can become. They will also have to call on the alliance of the Time Masters to bring down Vandal Savage once and for all.
In these new promotional images for episode 15, "Destiny," the Vanishing Point is having adverse effects on the team, Heat Wave is taken into custody, and Leonard Snart is up against someone that looks a lot like Chronos.
"CAPTAIN AMERICA: CIVIL WAR" DIRECTORS WANT WOLVERINE, GREAT LAKES AVENGERS IN THE MCU
05/04/16 @ 8:06 pm EST
Source:
Comic Book Resources
| Categories:
Civil War
|
Comments
(0) |
E-mail Article
|
Add a Comment
"Captain America: Civil War" directors Joeand Anthony Russo are in with the Marvel Cinematic Universe for the long haul. The brothers will stick with Marvel Studios through the second "Avengers: Infinity War" film in 2019, and they don't seem to be slowing down. During an interview with Collider, they discussed who they'd love to bring into the MCU and if they'll stick with Marvel after "Infinity War."
When asked which character he'd most like to bring into the MCU fold, Joe Russo said, "Wolverine."
"Yeah," Anthony Russo agreed.
"First favorite character growing up was Spider-Man, second was Wolverine. One of my most-prized possessions is 'Incredible Hulk' #181. It was his first appearance," Joe Russo shared. "It's in my collection. It's sitting in a safe. I won't disclose where it is."
"I know where it is," Anthony Russo pitched in. "And I would say Wolverine as well, for all of the exciting reasons that we all gravitate to."
Of course, Fox currently holds the rights to the X-Men franchise, including Wolverine, but stranger things have happened than two studios making an agreement; after all, Sony and Marvel Studios reached a deal to share Spider-Man's rights, enabling the character to appear in "Captain America: Civil War."
Wolverine isn't the only character the Russos would like to include. Asked to select a more obscure character, Anthony Russo responded, "Great Lakes Avengers."
"Great Lakes Avengers, yeah. I'll pick Groo the Wanderer," added Joe Russo. "It was a big character in my childhood."
As to whether or not they'll stick around after the final "Infinity War" film in 2019, Joe Russo said, "It's so hard to say because we're working through 2019, which is a long way from now. So it's very difficult to say what our headspace will be like then and what we'll be interested in, whether we'll still be invigorated to keep working on larger stories, or whether we'll want to do some smaller stories, what the business is going to be … There are so many opportunities out there, it's tough to say. Probably something we could answer in 2019."
"I will say this: Our experience with Marvel has been amazing and we really do feel like we're in our creative sweet spot there. So it's definitely a place that we'll always think about," Anthony Russo shared.
"One of the great things about Marvel is that they like to marry genre, and who knows where it's going to go from here," Joe Russo explained. "You have to keep varying up the storytelling to surprise audiences. I think there are going to be some fun surprises in store over the next few years."
"SUICIDE SQUAD" IS THE 'NEXT STEP IN THE EVOLUTION OF SUPERHERO MOVIES,' SAYS JAY HERNANDEZ
05/04/16 @ 7:56 pm EST
Source:
Comic Book Resources
| Categories:
Suicide Squad
|
Comments
(0) |
E-mail Article
|
Add a Comment
In Warner Bros.' "Suicide Squad," El Diablo will make his big screen debut -- and Jay Hernandez, the actor bringing him to life, couldn't be more excited about it. During an interview with SuperHeroHype, he discussed the significance of the film in the larger superhero film landscape, his approach to the role and more.
"Suicide Squad is the next step," he explained. "Everything starts somewhere and is going to end somewhere. I think this is that next step in the evolution of superhero movies… [There are] characters from the other movies that have come in onto our project. It's interesting because, as a filmmaker and as a writer, you have to make it make sense. You have to find some way to infuse characters that aren't really part of the narrative, but still have it make sense and have it not just be this weird piece where you're setting up the other movie. It's fluid and it has to feel right."
"As a lesser known member of the squad, there wasn't as much anticipation and there wasn't people saying, 'You're veering off doctrine,'" he shared. "There's a certain level of freedom that I thought was great."
"Suicide Squad," based on the DC Comics team and starring Jared Leto as the Joker, Margot Robbie as Harley Quinn, Will Smith as Deadshot, Jai Courtney as Captain Boomerang, Cara Delevingne as Enchantress, Adewale Akinnuoye-Agbaje as Killer Croc, Karen Fukuhara as Katana, Joel Kinnaman as Rick Flag, Jay Hernandez as El Diablo and Adam Beach as Slipknot, is scheduled for release on Aug. 5, 2016.
CIVIL WAR II: THE FALLEN #1 & CIVIL WAR II: THE ACCUSED #1
05/04/16 @ 4:50 pm EST
Source:
Marvel
| Categories:
Civil War II
|
Comments
(0) |
E-mail Article
|
Add a Comment
A pair of CLASSIFIED Civil War II one-shots coming to comic shops and digital devices from Marvel Comics this August!
CIVIL WAR II: THE FALLEN #1
Written by CLASSIFED Art by CLASSIFIED Cover by CLASSIFED
On Sale in August
CIVIL WAR II: THE ACCUSED #1
Written by CLASSIFED Art by CLASSIFIED Cover by CLASSIFED
On Sale in August
RUSSELL CROWE JOINING TOM CRUISE IN 'THE MUMMY' DEADLINE HOLLYWOOD REPLY
05/04/16 @ 4:46 pm EST
Source:
Deadline
| Categories:
MIsc
|
Comments
(0) |
E-mail Article
|
Add a Comment
Russell Crowe is poised to join the growing legion of big stars with global brands taking part in Universal Pictures' classic monsters universe. I'm told that Crowe is in early talks to play a Jekyll-like role opposite Tom Cruise in The Mummy. It is unclear whether this could lead to a future spinoff; right now the discussion is this film. Alex Kurtzman is directing. Jon Spaihts wrote the script and Chris Morgan is overseeing the whole monsters initiative with Kurtzman. Sean Daniel is producing with Morgan and Kurtzman.

The studio recently set a June 9, 2017 release date for The Mummy, and the studiohas taken out an April 13, 2018 release date for an undisclosed monster film. That might well be The Invisible Man, which Deadline revealed Johnny Depp was poisedto play the role originated by Claude Rains. Men In Black scribe Ed Solomon is writing it.
SPOILERS: CLOONAN & DILLON'S "PUNISHER" #1 IS SILENT, DEADLY -- AND CRAZY-VIOLENT
05/04/16 @ 4:39 pm EST
Source:
Comic Book Resources
| Categories:
Punisher
|
Comments
(0) |
E-mail Article
|
Add a Comment
Though it bears the same 12+ rating as most Marvel titles, from "Nova" and Ms. Marvel" to "New Avengers" and "Uncanny X-Men", Marvel's new "Punisher" series has a lot in common with its Marvel MAX predecessor.
Under the creative team of writer Becky Cloonan and artist Steve Dillon, the all-new "Punisher" #1 offers a silent Frank Castle, who makes up for his lack of speech with a creative display of over-the-top, often incredibly bloody, violence.
Check out some of Punisher's relentless badassery in the first issue, below:
Cloonan spoke with CBR about her new series, remarking on Frank Castle as a character she can push beyond his limits: "I found out really quickly that Frank is a character you can push to his limit and beyond. He won't break, and he doesn't have any safe words. As I've challenged him as a character, he's challenged me as a writer. And I think I've come out tougher for it -- and I know a lot more about guns now than I did one year ago! [
Laughs
]."
She added, "I hope people get a few chuckles out of this book! It's a lot of fun -- in a violent, bullet-riddled, bleeding kind of way. I like to think this book walks a line between some very serious moments and situations, balanced by the gallows humor that accompanies them. And as an artist too, I'm trying to write scripts that will be fun to draw -- and Steve is knocking every page out of the park!!"
"Punisher" #1 is in stores today.