THE AVENGERS STORM UTOPIA IN AVENGERS VS X-MEN #2 – ON SALE NOW!
04/18/12 @ 3:28 pm EST
Source:
Marvel
|
Comments
(0) |
E-mail Article
|
Add a Comment
The war is here! Today, in
Avengers VS. X-Men #2
by the blockbuster creative team of Jason Aaron and John Romita Jr., Captain America leads the assault against the X-Men in a brawl that no-one will forget. The Mutant Messiah, Hope, is the target and Earth's Mightiest are not leaving Utopia without her. But to get to Hope, they'll have to go through Cyclops and his team of X-Men who are putting up the fight of their lives.
Plus! Join the
Marvel ReEvolution
as Marvel brings fans a new comic reading experience! Every issue of
Avengers VS X-Men
comes packaged with a code for a FREE digital copy on the
Marvel Comics app
.
And that's not all! Take the
Avengers VS X-Men
enjoyment even further by unlocking access to exclusive behind the scenes extras utilizing special augmented reality technology with the
Marvel AR
app powered by Aurasma. This is exciting bonus content that you cannot access anywhere else!
Which team will reign supreme? Join the conversation on Twitter with
#AvX
!
Here comes the pain as all your favorite super heroes enter—and only one team will emerge victorious! Don't miss out on this once in a lifetime comic event in,
Avengers VS X-Men #2,
on sale now in comic shops everywhere, on the
Marvel Comics app
, and the all-new
Marvel Comics Webstore
!
For more on
Avengers VS X-Men
, please visit
http://avx.marvel.com
AVENGERS VS X-MEN #2 (FEB120534)
Written by JASON AARON
Pencils by JOHN ROMITA JR.
Cover by JIM CHEUNG
Rated T+…$3.99
ON SALE NOW!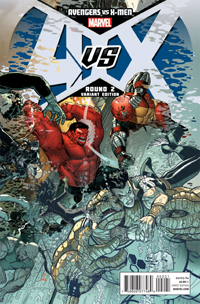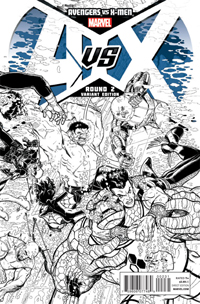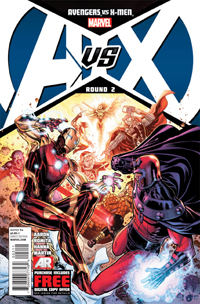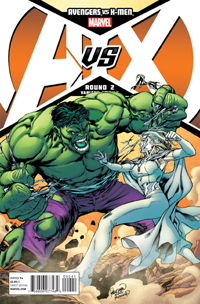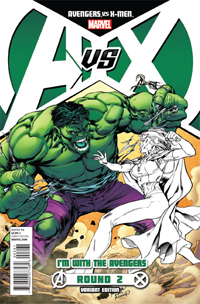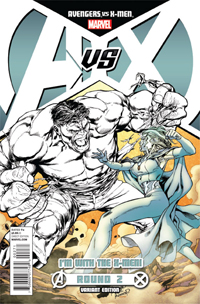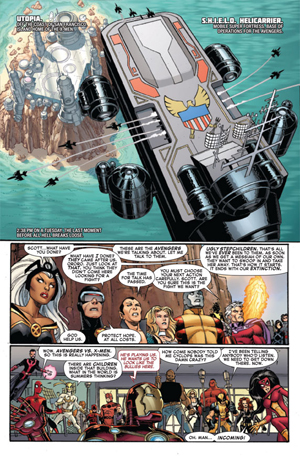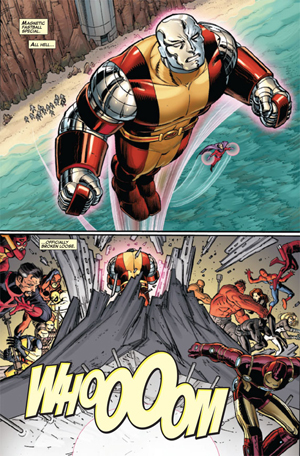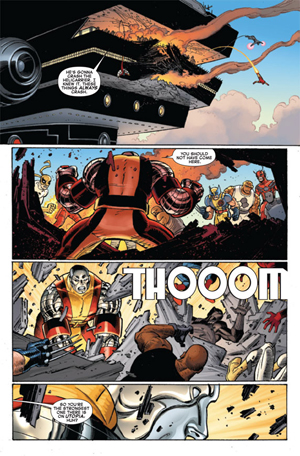 To find a comic shop near you, visit
www.comicshoplocator.com
or call 1-888-comicbook.


Marvel Entertainment, LLC, a wholly-owned subsidiary of The Walt Disney Company, is one of the world's most prominent character-based entertainment companies, built on a proven library of over 8,000 characters featured in a variety of media over seventy years. Marvel utilizes its character franchises in entertainment, licensing and publishing. For more information visit
www.marvel.com
DRIVER DIES AFTER CAR CRASHES INTO MILE HIGH COMICS
03/30/15 @ 9:55 am EST
Source:
Bleeding Cool
| Categories:
Namor
|
Comments
(0) |
E-mail Article
|
Add a Comment


Denver CBS News is reporting that yesterday a car drove into the Mile High Comics warehouse in Denver, killing the driver.

No one else was on premises at the time.

Owner Chuck Rozanski talked to the TV station, telling them that the police told him the driver was a 17-year-old woman. She has not been named at this time.
HOLY REPEATS! WEST, WARD TO REPRISE BATMAN & ROBIN ROLES IN 50TH ANNIVERSARY FILM
03/30/15 @ 9:49 am EST
Source:
Comic Book Resources
| Categories:
Batman
|
Comments
(0) |
E-mail Article
|
Add a Comment
Adam West and Burt Ward are suiting up as Batman and Robin one more time (well, kinda), according to a report over on Consequence of Sound.
The former dynamic duo revealed during the Mad Monster Party horror convention in Charlotte, North Carolina, that they will be involved in a new animated Batman feature film created to commemorate the 50th anniversary of the iconic "Batman '66" TV show.
Ward told the audience that they can "look forward to a new animated Batman full-length 90-minute feature coming out on the 50th anniversary -- one of possibly two, but for sure one that Adam and I are going to be doing the voices for."
The news comes after a resurgence in interest in the classic series, which has included the release of "Batman '66" on Blu-ray, a new digital-first comic series from DC Comics, and the introduction of aline of action figures. No further details have been revealed. (Source: CBR)
THE ROCK "HULKS OUT" AS OBAMA ON SNL
03/30/15 @ 7:11 am EST
Source:
Vulture
| Categories:
MIsc
|
Comments
(0) |
E-mail Article
|
Add a Comment
Dwayne "The Rock" Johnson hosted "Saturday Night Live" over the weekend, and both he and Sasheer Zamata's Obamas literally Huked out!
An excellent series of sketches involving Luther, President Obama's "anger translator," may be better at expressing what Obama seems to be suppressing, but in terms of a pure sight gag, The Rock Obama rules.
The return of this character provides a flipbook's worth of great reaction shots from Jay Pharoah's Barack before his Hulk-like transition. After he gets fed up with Ted Cruz, John Boehner, and Tom Cotton, thus satisfying the topical demands of a cold open, Pharoah morphs into Johnson, and people start flying through windows.
The twist of this iteration is that when Zamata's Michelle Obama gets mad, she undergoes a similar transformation into She Rock Obama, played by Leslie Jones ... in the exact way you would want it to be!
KIDS TAKE 'SUPERHERO CHALLENGE' TO FIGHT CHILD ABUSE
03/30/15 @ 7:00 am EST
Source:
News on 6 (OK)
| Categories:
MIsc
|
Comments
(0) |
E-mail Article
|
Add a Comment
In Tulsa, Oklahoma, superheroes of all shapes and sizes competed in the second annual Superhero Challenge.
The obstacle course event is held to support the Child Abuse Network.Parents and their children dress up as superheroes, and then compete in obstacle courses designed for various age groups.
"The costumes are amazing. I didn't think I was going to see anything better than what I saw last year, but I've been totally wrong. The kids have so much fun," said Adrienne Barnett of the Child Abuse Network.
Proceeds from the event went to the Child Abuse Network. The non-profit works to assist in child abuse investigations in the Tulsa area.
FEAR THE WALKING DEAD TEASER TRAILER
03/30/15 @ 6:54 am EST
Source:
Bleeding Cool
| Categories:
Walking Dead
|
Comments
(0) |
E-mail Article
|
Add a Comment
"A strange virus is going around…" The teaser trailer for
the Walking Dead
spinoff…
Fear The Walking Dead
, has been released, This time they focus on the start of the outbreak in Los Angeles.
Fear the Walking Dead
premieres Summer 2015. Only on
AMC
.
Watch the video here:
https://www.youtube.com/watch?v=unWdvWPmiPk
ECCC: IT'S MARVEL ON SUNDAY, WITH STAR WARS NEWS
03/30/15 @ 6:47 am EST
Source:
Comic Book Resources
| Categories:
Star Wars
|
Comments
(0) |
E-mail Article
|
Add a Comment
On Sunday at the Emerald City Comicon, "Darth Vader" writer Kieron Gillen, "Princess Leia" artist Terry Dodson, "Silk" artist Stacey Lee, "Spider-Gwen" artist Robbi Rodriguez, Marvel VP of International Business Development C.B. Cebulski and Marvel Executive Editor Mike Marts were all on hand for Marvel's final panel of the convention, "Marvel: Next Big Thing."
And we have Star Wars news!
In lieu of a presentation, the panelists opened things up to audience Q&A from the start. Chance for a "Star Wars"/"Guardians of the Galaxy" crossover? "The Marvel Universe and the Star Wars Universe have existed independently for so long and so successfully, the plan for now is to keep them separate," Marts replied.
"Prince Leia" #5 cover by Terry Dodson.
Is it limiting at all to tell "Star Wars" stories between Episode IV and V? "No," Gillen said. "I always write with an end in mind. Even 'Uncanny X-Men.' I know these larger structures -- what's the most interesting thing to happen between A and B? It's less of a limitation and more of an opportunity."
Dodson agreed. "We know it's a fairly narrow scope, we're not trying to fill the whole gap in," he said of "Princess Leia," adding that the title character has a lot of potential to explore further.
"You never know exactly how much time has passed," Cebulski said of the gap between "A New Hope" and "Empire Strikes Back," as opposed to the period between "Empire Strikes Back" and "Return of the Jedi."
Cebulski told the panel that as a kid, "Star Wars" first arc series artist John Cassaday drew a comic with what he guessed might happen after "Star Wars," pre-"Empire Strikes Back."
A fan asked why the "Star Wars" comics are under the Marvel banner, not a separate imprint. Cebulski pointed out that the first "Star Wars" comics were published by Marvel, so it was a "natural fit" to do it again. "It really was just a marketing decision that worked well for both [Marvel and Lucasfilm]."
Cebulski said that next month's Star Wars Celebration event will include announcements of new Marvel Star Wars comics. (Source: CBR)
ECCC: KEVIN EASTMAN IS NOW EXCLUSIVE TO IDW
03/30/15 @ 6:30 am EST
Source:
Bleeding Cool
| Categories:
IDW
|
Comments
(0) |
E-mail Article
|
Add a Comment
He just killed off one of his turtles. Okay, not really.
But
Kevin Eastman
is definitely back on track as far as comic books are concerned.
And now the co-creator of the
Teenage Mutant Ninja Turtles
has signed an exclusive contract with IDW, announced at ECCC.
Wich means, as well as the Turtles, the reprints and the IDW Limited editions, he has a number of new projects coming from the publisher, And will be working from IDW's headquarters in San Diego, with an office in the building and his artwork in the San Diego Comic Art Gallery. (Source: Bleeding Cool)
ECCC: GAMORA SOLO COMIC SCHEDULED FOR AFTER SECRET WARS...
03/30/15 @ 6:31 am EST
Source:
Bleeding Cool
| Categories:
Guardians of the Galaxy
|
Comments
(0) |
E-mail Article
|
Add a Comment
Bleeding Cool
was the first to tell us about a
Gamora
ongoing comic by screenplay writer
Nicole Perlman
last year. But since the official announcement at New York Comic Con, nothing.
Rocket Raccoon, Star Lord
, even
Groot
now have their own series, and there are three Guardians monthlies. But of Gamora's own book? Not a peep.
Well, at the Marvel panel Sunday at ECCC in Seattle, editor
Mike Marts
confirmed that the series is happening, but will be published after
Secret Wars
, so as not to get lost in the event.
Basically, it's late. But is coming.
Kieron Gillen
also stated that he has a
Secret Wars
series yet to be announced that might be a little villain-centric. (Source: Bleeding Cool)
ECCC: ANTHONY MACKIE: UNLEASH THE FALCON
03/30/15 @ 6:11 am EST
Source:
Comic Book Resources
| Categories:
Marvel
|
Comments
(0) |
E-mail Article
|
Add a Comment
In one of very last panels of Emerald City Comicon 2015, Anthony Mackie -- Falcon/Sam Wilson in the Marvel Studios' film franchise -- took the Washington State Convention Center's main stage to answer questions from fans.
Panel moderator Clare Kramer started the session by asking Mackie about the origins of his role as Falcon.
Mackie said after his breakout role in 2009's "The Hurt Locker," he wrote Marvel Studios asking to get involved with the franchise. "I was initially writing them because I wanted to be Black Panther," Mackie said.Eventually, Marvel Studios did contact him, though it wasn't clear it was for the role of Falcon at first.
Mackie then shared his enthusiasm for the forthcoming "Avengers: Age of Ultron." "Remember the first time you saw a 3D movie, and got a headache, and were like, 'What happened to my brain?' 'Age of Ultron' is like that, with The Rock punching you in the face. It's like Disneyland for adults. It's like going to Vegas with an unlimited credit card. It's by far the most stupendous film experience you'll have. It's just ridiculous."
Moving quickly to fan questions, an audience member asked what Mackie would advise Steve Rogers to catch up on from the decades he was frozen: rock out to the Sugarhill Gang ("just once"), buy every Earth, Wind & Fire and CD, eat an In-N-Out burger and go skydiving.
A fan asked Mackie for his thoughts on the impact his role as Falcon has on a young audience. "It's a huge responsibility," Mackie said. "I do events like this because so many people become superheroes and celebrities, and they detach themselves from reality. That scares me. When I meet people, when I meet kids, that informs characters I play down the line. I tell kids, when you think something can't happen, you think you can't read that well, when certain people didn't expect anything of you -- I was that kid. I was the kid they wanted to put on Ritalin and kick out of school because they thought I was a bad kid." (Source: CBR)
ECCC: THE MOST EXTRAORDINARY COSPLAY
03/30/15 @ 5:56 am EST
Source:
Facebook
| Categories:
MIsc
|
Comments
(0) |
E-mail Article
|
Add a Comment