THE AVENGERS STORM UTOPIA IN AVENGERS VS X-MEN #2 – ON SALE NOW!
04/18/12 @ 3:28 pm EST
Source:
Marvel
|
Comments
(0) |
E-mail Article
|
Add a Comment
The war is here! Today, in
Avengers VS. X-Men #2
by the blockbuster creative team of Jason Aaron and John Romita Jr., Captain America leads the assault against the X-Men in a brawl that no-one will forget. The Mutant Messiah, Hope, is the target and Earth's Mightiest are not leaving Utopia without her. But to get to Hope, they'll have to go through Cyclops and his team of X-Men who are putting up the fight of their lives.
Plus! Join the
Marvel ReEvolution
as Marvel brings fans a new comic reading experience! Every issue of
Avengers VS X-Men
comes packaged with a code for a FREE digital copy on the
Marvel Comics app
.
And that's not all! Take the
Avengers VS X-Men
enjoyment even further by unlocking access to exclusive behind the scenes extras utilizing special augmented reality technology with the
Marvel AR
app powered by Aurasma. This is exciting bonus content that you cannot access anywhere else!
Which team will reign supreme? Join the conversation on Twitter with
#AvX
!
Here comes the pain as all your favorite super heroes enter—and only one team will emerge victorious! Don't miss out on this once in a lifetime comic event in,
Avengers VS X-Men #2,
on sale now in comic shops everywhere, on the
Marvel Comics app
, and the all-new
Marvel Comics Webstore
!
For more on
Avengers VS X-Men
, please visit
http://avx.marvel.com
AVENGERS VS X-MEN #2 (FEB120534)
Written by JASON AARON
Pencils by JOHN ROMITA JR.
Cover by JIM CHEUNG
Rated T+…$3.99
ON SALE NOW!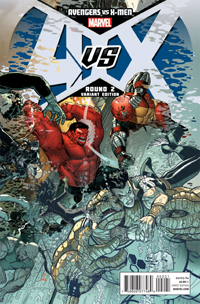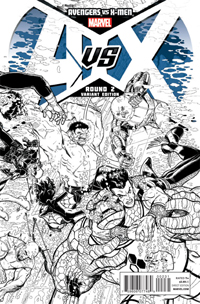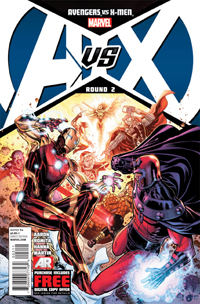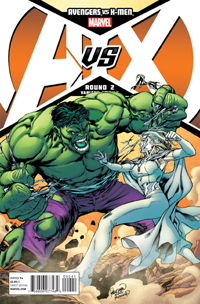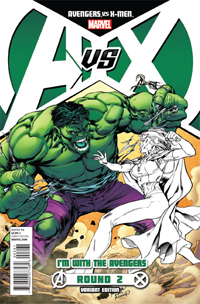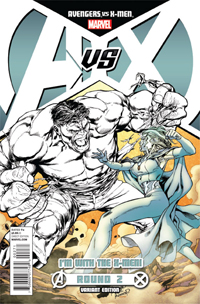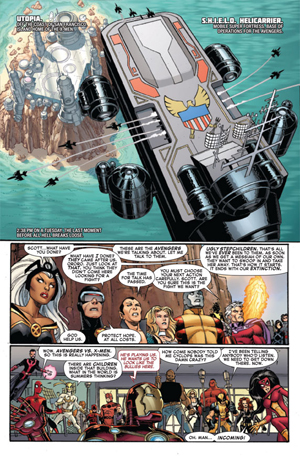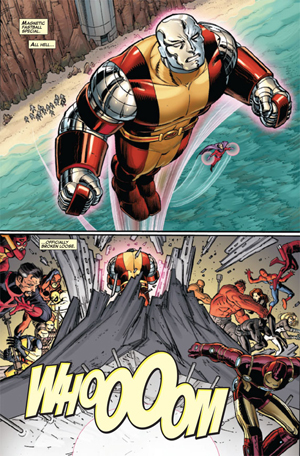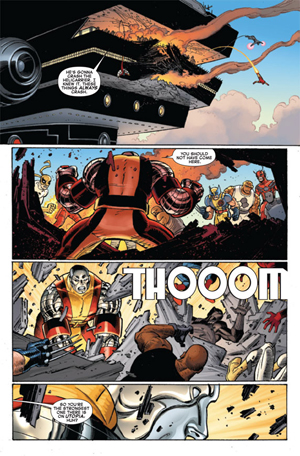 To find a comic shop near you, visit
www.comicshoplocator.com
or call 1-888-comicbook.


Marvel Entertainment, LLC, a wholly-owned subsidiary of The Walt Disney Company, is one of the world's most prominent character-based entertainment companies, built on a proven library of over 8,000 characters featured in a variety of media over seventy years. Marvel utilizes its character franchises in entertainment, licensing and publishing. For more information visit
www.marvel.com
THOR: RAGNAROK DIRECTOR SAYS GOODBYE TO CHRIS HEMSWORTH AND TOM HIDDLESTON
10/26/16 @ 6:57 pm EST
Source:
Comicbook
| Categories:
Marvel
|
Comments
(0) |
E-mail Article
|
Add a Comment
The third part of
Thor
's trilogy in the Marvel Cinematic Universe will wrap filming in just two more days. This keeps the film on pace for its November 2017 release date as it will need a significant amount of time for CGI and special effects.
Director Taika Waititi is making his debut in the world of blockbuster films, and has brought fresh life into a
Thor
franchise that many fans felt was dead in the water. By bringing in his big personality, and dry sense of humor, Waititi has found a way for the entire project seem like a party.
If you follow the director on Twitter, you've noticed his jokes aimed at super hero movies, and the Marvel Universe, since he took on the project. One of his first jokes was calling out two other Marvel directors, Peyton Reed and James Gunn, asking how many explosions were required for his film to be released.
Taika's latest troll was a farewell to Chris Hemsworth and Tom Hiddleston, the two stars of the film. On his Twitter account, the director posted a picture of himself between the two set chairs with the names of the characters Thor and Loki. With a smirk on his face, Waititi gives both empty chairs a big middle finger.
The photo is captioned: "Two days left. Gonna miss this pair of idiots." Take a look!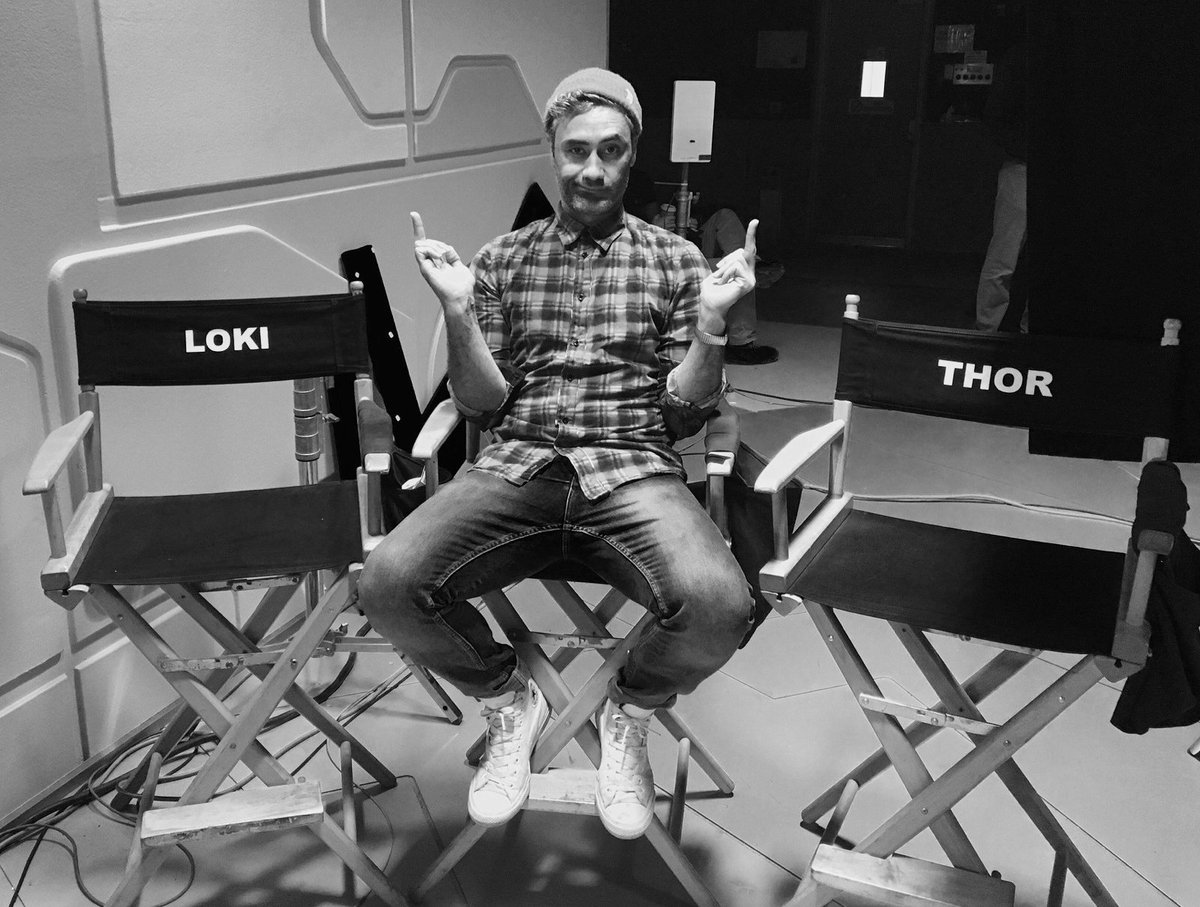 AVENGERS: INFINITY WAR WORKING TITLE REVEALED
10/26/16 @ 6:50 pm EST
Source:
Comicbook
| Categories:
Marvel
|
Comments
(0) |
E-mail Article
|
Add a Comment
The working title for the next Marvel
Avengers
movie,
Avengers: Infinity War
, has been revealed by Production Weekly.
Avengers: infinity War
is operasting under the working title "Mary Lou" during production. This follows
Marvel's The Avengers
, which operated under the working title "Group Hug," and
Avengers: Age of Ultron
, which operated under the working title "After Party."
Avengers: Infinity War
is directed by Anthony and Joe Russo, from a screenplay by Christopher Markus & Stephen McFeely.
Avengers: Infinity War
still does not have a firm plot synopsis, but is expected to bring together most of the characters so far introduced into the Marvel Cinematic Universe. They will face down the threat of Thanos, who has been lurking and scheming in the background since at least as far back as
The Avengers
.
DEADPOOL 2 WORKING TITLE REVEALED
10/26/16 @ 6:47 pm EST
Source:
Comicbook
| Categories:
Marvel
|
Comments
(0) |
E-mail Article
|
Add a Comment
The working title for
Deadpool 2
has been revealed in a new production note. The film, currently looking for a new director and finalizing main castmembers, will be known as "Love Machine" while in production. The name is likely a joke about newcomer character Cable, who has cybernetic parts including an arm and eye that give him an array of additional abilities beyond his mutant powers.
Deadpool 2
isn't exactly feeling the love in the last week, though, as director Tim Miller, who helmed the first film and had a large hand in it even being made with his Blur Studio sample reel, left the movie, reportedly over creative differences with star Ryan Reynolds. Later reports revealed the two couldn't come to terms on casting Cable, Deadpool's mutant pal in the comics who time-travels his way into the X-Men movie universe in the sequel, as well as arguing about the tone of the film. Miller wanted it to be more bombastic than the first, and Reynolds wants a stronger focus on the whit and humor of the first (hopefully he and the new director come to a nice balance).
'FANTASTIC BEASTS AND WHERE TO FIND THEM' GETS CHINA RELEASE DATE
10/26/16 @ 6:42 pm EST
Source:
Variety
| Categories:
MIsc
|
Comments
(0) |
E-mail Article
|
Add a Comment
"Fantastic Beasts and Where to Find Them" has an official Chinese release date,
Variety
has learned.
The "Harry Potter" spin-off will open in the Middle Kingdom on Nov. 25. That's seven days after the fantasy adventure lands in the United States. Last week,
Variety
reported that the picture had been cleared by censors, but a final release date had yet to be determined. "Harry Potter" author J.K. Rowling announced the date on her Chinese Twitter feed.
The most recent "Harry Potter" film made just north of $60 million when it opened in China five years ago. Since that time, the Chinese box office has grown exponentially, spurred by a massive amount of movie theater construction. However, that film hit theaters five years ago, and China's box office has continued to grow exponentially since that time. Many blockbusters make more than $100 million exclusively from their Chinese runs.
'THE INCREDIBLES 2' MOVES UP TO SUMMER 2018; 'TOY STORY 4' PUSHED TO 2019
10/26/16 @ 6:42 pm EST
Source:
The Hollywood Reporter
| Categories:
Disney
|
Comments
(0) |
E-mail Article
|
Add a Comment
Disney has changed release dates for two high-profile Pixar sequels.
The Incredibles 2
will now hit theaters on June 15, 2018, while
Toy Story 4
will hit theaters on June 21, 2019. The two films are swapping dates due to an accelerated production schedule for
Incredibles 2
, according to Disney insiders.
Oscar-winning director Brad Bird is helming
Incredibles 2
, the follow-up to his hit 2004 film that grossed north of $633 million globally following its early November launch, including $70.4 million domestically, the second-biggest opening at the time for an animated title.
The mid-June corridor has always been a favorite landing place for Pixar movies.
Toy Story 3
debuted on June 18, 2010, on its way to earning a record-breaking $1.067 billion at the global box office, becoming the first animated movie to join the billion-dollar club, not accounting for inflation. (Disney Animation Studios'
Frozen
and
Zootopia
and Pixar's
Finding Dory,
along with Universal and Illumination Entertainment's
Minions
, would later become members of that club as well).
Pixar has been cautious when it comes to making sequels. Walt Disney Company CEO Bob Iger announced the
Incredibles 2
sequel in March 2014, a full decade after the first film played in theaters.
KEVIN HART IN TALKS TO PLAY SANTA CLAUS IN DISNEY'S 'DASHING THROUGH THE SNOW'
10/26/16 @ 6:36 pm EST
Source:
The Hollywood Reporter
| Categories:
MIsc
|
Comments
(0) |
E-mail Article
|
Add a Comment
Kevin Hart is in negotiations to star in
Dashing Through the Snow,
a family Christmas comedy being developed by Disney.
Will Packer, who worked with Hart on the
Ride Along
movies and was an exec producer on
Roots
, is producing with John Jacobs (
Ted
).
The story tells of a New York City detective who is a workaholic and has a strained relationship with his son. The only thing that may be able to repair the father-son relationship is the one true Santa Claus who has to make the man believe in Christmas magic.
Hart would play Santa.
The project is based on an original idea by Scott Rosenberg (
Con Air
), and Rob Burnett is writing the current draft.
Liar Liar
and
Elf
have been said to be the tonal analogues.
A search for a director is about to get underway. Kristin Burr is overseeing.
IT'S GOOD TO BE BAD – YOUR NEW LOOK AT VENOM #1
10/26/16 @ 6:32 pm EST
Source:
Marvel
| Categories:
Marvel
|
Comments
(0) |
E-mail Article
|
Add a Comment
This November, it's good to be bad. From the far reaches of space the symbiote returns to the choked alleys and darkened streets of New York City in the all-new
VENOM #1
! Fan-Favorite creators Mike Costa (
Web Warriors
) and Gerardo Sandoval (
New Avengers
) spin an iconic new Venom tale for Marvel NOW!. No more "Agent of the Cosmos", no more "Lethal Protector". It's time for a new Venom. But the question remains, who's under the mask? More importantly – who's in control? Find out as Venom begins anew on
November 23rd
in the highly anticipated debut of
VENOM #1
!
VENOM #1 (SEP160951)Written by MIKE COSTAArt & Cover by GERARDO SANDOVALVariant Covers by RON LIM (SEP160952) and RICK LEONARDI (SEP160953)Action Figure Variant by JOHN TYLER CHRISTOPHER (SEP160955)Hip-Hop Variant by BILL SIENKIEWICZ (SEP160954)Top Secret Artist Variant by TODD MCFARLANE (AUG168725)Blank Cover Also Available (SEP160956)FOC – 10/31/16, On-Sale – 11/23/16
FANTASTIC BEASTS AND WHERE TO FIND THEM GETS A TV SPOT TO WARN US ABOUT THE SHADOW
10/26/16 @ 2:33 pm EST
Source:
Bleeding Cool
| Categories:
MIsc
|
Comments
(0) |
E-mail Article
|
Add a Comment
Fantastic Beasts and Where To Find Them
is almost certainly the biggest film left on the film calendar and Warner Brothers are going to be sure you know it. The marketing campaign is already kicking.
Case in point, here is a new TV Spot for the film. It shows off the 'shadow' that the characters will be facing off against, as well as a whole bunch of those fantastic beasts.
You can take a look here:
https://youtu.be/YTC4aSztWhw
MICHAEL FASSBENDER AND JUSTIN KURZEL TALKS ABOUT GETTING ASSASSIN'S CREED RIGHT
10/26/16 @ 2:29 pm EST
Source:
Bleeding Cool
| Categories:
MIsc
|
Comments
(0) |
E-mail Article
|
Add a Comment
20th Century Fox
has released a new featurette for their upcoming film
Assassin's Creed.
The video talks about the filming of the movie and includes interviews with star
Michael Fassbender
and director
Justin Kurzel
. The take about the visuals and how important it is for them to get the parkour elements right.
Assassin's Creed
opens December 21st.
Video:
https://youtu.be/n2WLsmw5oHg
NEW TEAM ARROW ISN'T A TEAM YET AND A BLUE BEETLE REFERENCE
10/26/16 @ 2:24 pm EST
Source:
Bleeding Cool
| Categories:
DC
|
Comments
(0) |
E-mail Article
|
Add a Comment
Green Arrow
may have taken his new team into the field last week, but it doesn't mean that they're ready. As we see in the clip from tonight's new episode,
Wild Dog
still doesn't listen and
Mr. Terrific
is quite so terrific yet. But fans of the
Blue Beetle
will like seeing the
Kord Industries
reference.
Arrow
airs Wednesday at 8 PM on the
CW
.
Clip:
https://youtu.be/WZ_iUPeXigg