THE AVENGERS STORM UTOPIA IN AVENGERS VS X-MEN #2 – ON SALE NOW!
04/18/12 @ 3:28 pm EST
Source:
Marvel
|
Comments
(0) |
E-mail Article
|
Add a Comment
The war is here! Today, in
Avengers VS. X-Men #2
by the blockbuster creative team of Jason Aaron and John Romita Jr., Captain America leads the assault against the X-Men in a brawl that no-one will forget. The Mutant Messiah, Hope, is the target and Earth's Mightiest are not leaving Utopia without her. But to get to Hope, they'll have to go through Cyclops and his team of X-Men who are putting up the fight of their lives.
Plus! Join the
Marvel ReEvolution
as Marvel brings fans a new comic reading experience! Every issue of
Avengers VS X-Men
comes packaged with a code for a FREE digital copy on the
Marvel Comics app
.
And that's not all! Take the
Avengers VS X-Men
enjoyment even further by unlocking access to exclusive behind the scenes extras utilizing special augmented reality technology with the
Marvel AR
app powered by Aurasma. This is exciting bonus content that you cannot access anywhere else!
Which team will reign supreme? Join the conversation on Twitter with
#AvX
!
Here comes the pain as all your favorite super heroes enter—and only one team will emerge victorious! Don't miss out on this once in a lifetime comic event in,
Avengers VS X-Men #2,
on sale now in comic shops everywhere, on the
Marvel Comics app
, and the all-new
Marvel Comics Webstore
!
For more on
Avengers VS X-Men
, please visit
http://avx.marvel.com
AVENGERS VS X-MEN #2 (FEB120534)
Written by JASON AARON
Pencils by JOHN ROMITA JR.
Cover by JIM CHEUNG
Rated T+…$3.99
ON SALE NOW!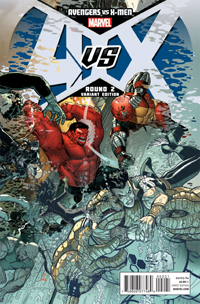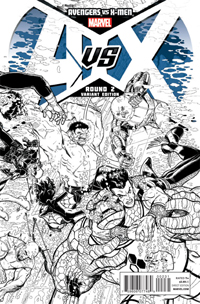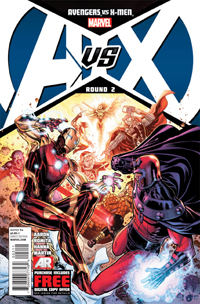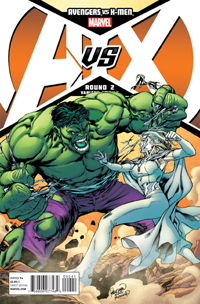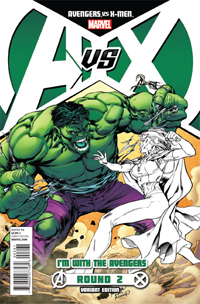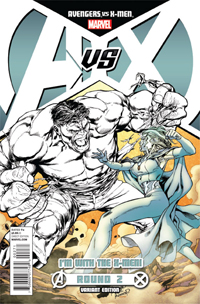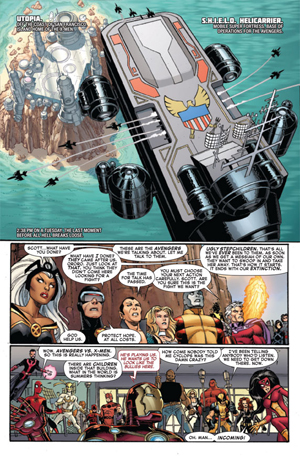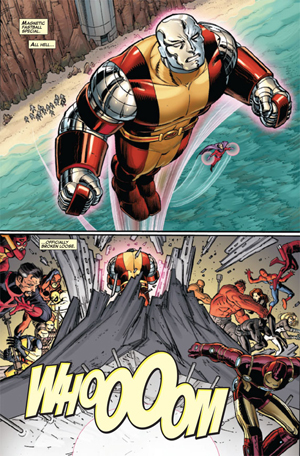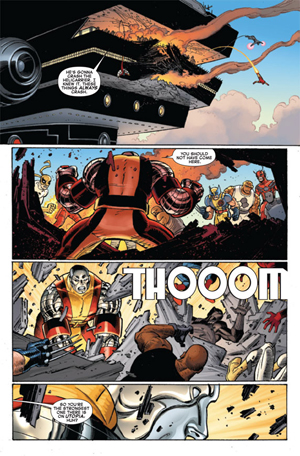 To find a comic shop near you, visit
www.comicshoplocator.com
or call 1-888-comicbook.


Marvel Entertainment, LLC, a wholly-owned subsidiary of The Walt Disney Company, is one of the world's most prominent character-based entertainment companies, built on a proven library of over 8,000 characters featured in a variety of media over seventy years. Marvel utilizes its character franchises in entertainment, licensing and publishing. For more information visit
www.marvel.com
"WELCOME TO EARTH-2" HAS A MAJOR IMPACT ON "THE FLASH"
02/09/16 @ 9:48 pm EST
Source:
Comic Book Resources
| Categories:
Flash
|
Comments
(0) |
E-mail Article
|
Add a Comment
SPOILER WARNING:
This article contains major spoilers for "Welcome to Earth-2,"tonight's episode of "The Flash," which has not yet aired on the west coast at the time of publication.
Barry (Grant Gustin), Wells (Tom Cavanagh) and Cisco (Carlos Valdes) took a trip to Earth-2 in tonight's episode of "The Flash," and as these things tend to happen, it did not go according to plan. The major developments from "Welcome to Earth-2" included meeting Cisco's Earth-2 counterpart, Reverb -- possessing powers advanced far beyond "our" Cisco's current levels. Which could be good news for the Earth-1 version.
"I feel like once you're exposed to something that's possible -- it's like the first time Tony Hawk did a 720 on a skateboard, everyone could then do it -- and so once Cisco saw the magnitude of the power he's capable of, anything's possible now in his mind, and we may explore that," "Flash" executive producer Aaron Helbing told reporters at a press event this week at The CW's Burbank headquarters.
Yet Reverb won't exactly be able to tutor Cisco -- he's killed in the episode by Zoom. Though anything is possible in the world of "The Flash," it doesn't sound like a return is likely.
"I think for the purpose of where we want to take Cisco, having [Reverb] die there was the best way to get what we want out of the character," fellow "Flash" EP Todd Helbing said.
Reverb wasn't the only Earth-2 doppelgänger introduced in the episode, which also included the debut of Killer Frost (Danielle Panabanker as the evil version of Caitlin Snow familiar to comics readers) and Robbie Amell as Deathstorm, a dark take on Firestorm. On top of that, Zoom imprisons Barry, leaving the hero of the show in peril as the first half of the two-part episode -- which concludes next week with "Escape from Earth-2" -- ends.
JOHNNY DEPP TO STAR IN 'THE INVISIBLE MAN' AT UNIVERSAL
02/09/16 @ 9:42 pm EST
Source:
Deadline
| Categories:
MIsc
|
Comments
(0) |
E-mail Article
|
Add a Comment
Johnny Depp has been set to star in
The Invisible Man
for Universal Pictures, part of the studio's new production initiative to reestablish the classic movie monsters that is a cornerstone legacy for the studio. That effort is being led by Alex Kurtzman and Chris Morgan, who'll produce.
Universal's first foray into the character was a 1933 adaptation of the H.G. Wells novel that starred Claude Rains as a scientist who finds a way to become invisible. The price is his sanity. The film was directed by James Whale, the immortal who also helmed
Frankenstein
and
Bride of Frankenstein
, and it was produced by Carl Laemmle Jr, whose name, I'm pretty sure, is emblazoned on a building on the Universal lot. I could not get details on who is writing the script, or what the timing is on this picture. Kurtzman and Morgan have been hashing out the monsters universe in a writers room, but you cannot argue with the studio's wisdom in putting those classic franchises on the slab and reanimating them.
This has been a big priority for Donna Langley, who has gotten going on two movies so far. They've managed a feat that Marvel Studios might envy: With Depp, they've now landed two of the biggest global stars in the world, after Tom Cruise was set to star in
The Mummy
, which Kurtzman will direct for a June 9, 2017, release.
The Invisible Man
character is an intriguing choice with depth and franchise potential for Depp, who's coming off a lauded performance as Whitey Bulger in
Black Mass
and next will star in his other major franchises
Alice in Wonderland: Through the Looking Glass
, coming in May, and
Pirates of the Caribbean: Dead Men Tell No Tales
.
'FAST 8' WILL RIDE WITH A NEW FEMALE VILLAIN
02/09/16 @ 9:39 pm EST
Source:
Deadline
| Categories:
MIsc
|
Comments
(0) |
E-mail Article
|
Add a Comment
In a time when females are stepping into superhero roles and
Ghostbusters
was remade with a cast of women, now comes word that the eighth installment of the
Fast And Furious
franchise will have a sole female villain. The script is not even done, but sources tell Deadline that newly minted
Fast 8
directorF. Gary Gray and screenwriter Chris Morgan are inserting a fierce female villain into the story. They are said to have their eye on a particular actress, too: Charlize Theron, whose gritty performance in
Mad Max
:
Fury Road
, certainly was a welcome force in the multiple Oscar-nominated George Miller film. It appears her dance card may be open during that time, too.
Gray and Theron have worked together before — on
The Italian Job
years ago. Universal had no comment on any casting speculation for its successful franchise, and no offer has been made to Theron. Sources say she hasn't seen any part of a script yet.
So right now, its way too early to predict an outcome, but those agents representing strong female talent should take note. This is said to be a juicy role and, given the international reach of the multibillion-dollar franchise, is a primo spot for any actress. Whomever gets the plum role won't be the only strong female in the cast: Michelle Rodriguez is expected to return.
'DEADPOOL' SEQUEL ALREADY IN THE WORKS
02/09/16 @ 9:35 pm EST
Source:
The Hollywood Reporter
| Categories:
Deadpool
|
Comments
(0) |
E-mail Article
|
Add a Comment
Fox is betting that audiences will not get a load of
Deadpool
when the movie opens this weekend but will immediately want more, which is why the studio is already working on a sequel.
Rhett Reese and Paul Wernick, who wrote
Deadpool
, are writing the script for a follow-up, which has already been greenlighted, insiders tell
The Hollywood Reporter
.
The fact that a sequel is in the works should not be a surprise at this point.
Deadpool
is tracking to open to at least $65 million over the upcoming four-day holiday weekend, with some estimates pointing north of $70 million.
Tim Miller directed
Deadpool
and although is he has not signed on to helm the sequel, Fox is intent on keeping the creative team together.
Reese, Wernick and Miller, as well as star Ryan Reynolds, have fought an uphill battle within the studio system to get the movie made, forging themselves into a compact unit. Wernick and Reese, who also acted as executive producers on the movie, remained on board throughout the development and production, a rarity in a system that interchanges scribes at high rates.
Deadpool
is an R-rated action comedy based on an irreverent Marvel Comics character who is part of the universe of
X-Men
heroes, to which Fox has the license.
Reese and Wernick's other credits include
Zombieland
and
G.I. Joe: Retaliation
. The duo is repped by WME and Hansen Jacobson.
ANDY MIENTUS TO RETURN AS PIED PIPER ON "THE FLASH"
02/09/16 @ 9:31 pm EST
Source:
Comic Book Resources
| Categories:
Flash
|
Comments
(0) |
E-mail Article
|
Add a Comment
"Smash" star Andy Mientus is set to reprise his role as Pied Piper on "The Flash." Entertainment Weekly reports he'll appear in season two's 17th episode, which is titled "Flash Back." Barry will encounter Pied Piper in an earlier timeline, while Piper attacks his former STAR Labs coworkers.
In the season one episode "The Sound and the Fury," Hartley Rathaway -- a.k.a. Pied Piper -- was a former STAR Labs tech who gained mysterious sonic powers after he lost his hearing in the particle accelerator explosion. He crossed paths with the Flash during his quest for revenge against STAR head Dr. Harrison Wells.
As Barry will return to an earlier timeline in "Flash Back," it seems likely he will encounter Pied Piper at this point: at the beginning of the character's villainous career.
Starring Grant Gustin, Carlos Valdes and Jesse L. Martin, "The Flash" returns airs Tuesdays at 8 pm EST on The CW.
CW'S ARCHIE ADAPTATION "RIVERDALE" CASTS ITS BETTY AND JUGHEAD
02/09/16 @ 3:51 pm EST
Source:
Comic Book Resources
| Categories:
Archie
|
Comments
(0) |
E-mail Article
|
Add a Comment
The CW has cast two for its Archie Comics-inspired "Riverdale" pilot, as reported byDeadline: Lili Reinhart ("Surviving Jack") as Betty Cooper and Cole Sprouse ("Suite Life of Zach and Cody") as Jughead Jones.
Reinhart's Betty is described as a "sweet, studious, eager-to-please and wholesome with a huge crush on her longtime best friend, Archie. Tired of being the perfect daughter, student, sister, etc., she turns to her new friend, Veronica, for life advice -- much to the consternation of her emotionally brittle mother."
Jughead, as played by Disney Channel alum Sprouse, is described as a "heartthrob with aphilosophical bent and former best friend of Archie Andrews. He is still smarting from the rift that took place between the two."
"Riverdale" is currently at the pilot stage at The CW after initially starting development at Fox, and has been described as a "subversive" and "surreal" take on the famed Riverdale gang, set to explore the "darkness and weirdness bubbling beneath Riverdale's wholesome façade." Greg Berlanti -- of current comic book-based CW series "The Flash," "Arrow" and "DC's Legends of Tomorrow" -- is on board as a producer, and Archie Comics Chief Creative Officer Roberto Aguirre-Sacasa wrote the pilot and will executive produce, along with Berlanti, Berlanti Productions President Sarah Schechter and Archie Comics CEO Jon Goldwater.
FOX OPTIONS BOOM! GRAPHIC NOVEL 'THE EMPTY MAN', GETS DAVID PRIOR TO FILL IT
02/09/16 @ 3:47 pm EST
Source:
Deadline
| Categories:
MIsc
|
Comments
(0) |
E-mail Article
|
Add a Comment
20th Century Fox has optioned
The Empty Man
, the Boom! graphic novel written by Eisner Award-winner Cullen Bunn and illustrated by Vanesa R. Del Rey that was published in 2014. The studio has set emerging dircetor David Prior to write and helm the adaptation in the latest to come from Fox's first-look deal with Boom! Studios.
Although the film's plot is being kept under wraps, the graphic novel is a supernatural thriller about a terrifying entity that may be responsible for a string of mysterious disappearances in a small midwestern town. Boom! Studios CEO and founder Ross Richie and president of development Stephen Christy will produce the pic, with Adam Yoelin co-producing. Fox's Mark Roybal and Ryan Jones brought the project into the studio.
Boom! and Fox are already in development on several projects as part of their deal including an adaptation of James Wan's graphic novel
Malignant Man
,
Imagine Agents
with Michael Keaton attached to star and Anonymous Content producing,
Lumberjanes
with Will Widger (
The Munchkin
) attached to write, and
The Foundation
with Evan Daugherty adapting. Boom! also has a TV-side deal with 20th and has several projects in development with the likes of the UK's Channel 4 (
Butterfly
) and DreamWorks Animation TV (
Cow Boy
).
CBS' 'STAR TREK' TAPS BRYAN FULLER AS SHOWRUNNER
02/09/16 @ 3:43 pm EST
Source:
The Hollywood Reporter
| Categories:
Star Trek
|
Comments
(0) |
E-mail Article
|
Add a Comment
Bryan Fuller is going back to his roots.
The veteran writer-producer has been tapped to serve as co-creator and showrunner on CBS'
Star Trek
reboot and will serve alongside ALex Kurtzman,
The Hollywood Reporter
has learned.
CBS' new
Star Trek
— picked up straight to series to air on CBS' digital platform All Access, hails from prolific producer Kurtzman. The series is a new take on the beloved sci-fi classic, with the premiere slated to air on the network in January 2017 before subsequence episodes air on its digital and VOD platform.
Star Trek
marks the first original series developed specifically for CBS All Access.
For Fuller, CBS'
Star Trek
marks his return to the franchise, starting as a freelancer and rising through the ranks to co-producer. The
Wonderfalls, Pushing Daises
alum started his career on
Star Trek: Deep Space Nine
and
Star Trek: Voyager.
He wrote a combined 22 episodes in the franchise, with that tally likely to grow with the CBS All Access take.
"My very first experience of
Star Trek
is my oldest brother turning off all the lights in the house and flying his model of a D7 Class Klingon Battle Cruiser through the darkened halls. Before seeing a frame of the television series, the
Star Trek
universe lit my imagination on fire," Fuller said. "It is without exaggeration a dream come true to be crafting a brand new iteration of
Star Trek
with fellow franchise alum Alex Kurtzman and boldly going where no Star Trek series has gone before."
Added Kurtzman: "Bringing
Star Trek
back to television means returning it to its roots, and for years those roots flourished under Bryan's devoted care. His encyclopedic knowledge of
Trek
canon is surpassed only by his love for Gene Roddenberry's optimistic future, a vision that continues to guide us as we explore strange new worlds."
Added David Stapf, president of
Star Trek
producers CBS Television Studios: "For the past 50 years,
Star Trek
has been a groundbreaking franchise that not only changed the landscape of television, but made a significant impact on pop culture. When we began discussions about the series returning to television, we immediately knew that Bryan Fuller would be the ideal person to work alongside Alex Kurtzman to create a fresh and authentic take on this classic and timeless series. Bryan is not only an extremely gifted writer, but a genuine fan of
Star Trek
. Having someone at the helm with his gravitas who also understands and appreciates the significance of the franchise and the worldwide fan base was essential to us."
ADAM WARLOCK BATTLES ACROSS TIME & SPACE IN THE INFINITY ENTITY #1
02/09/16 @ 3:38 pm EST
Source:
Marvel
| Categories:
Marvel
|
Comments
(0) |
E-mail Article
|
Add a Comment
This March, he will travel to the ends of the universe and even back in time in an effort to regain his memories. He is Adam Warlock, and his story will be told in
THE INFINITY ENTITY #1
! – a brand-new limited series from comic legends Jim Starlin and Alan Davis! Spinning directly out of the New York Times Bestselling
Thanos: The Infinity Revelation
and
Thanos: The Infinity Relativity
– follow Adam Warlock on a desperate quest that leads directly into the final chapter of Starlin's epic trilogy,
Thanos: The Infinity Finale
! A quest that will cross paths with the original Avengers, the Guardians of the Galaxy, and cosmic beings with the power to unmake entire universes! Can he reclaim his memories and become the hero he once was? Find out as Starlin and Davis bring you a cosmic thrill ride this March in
THE INFINITY ENTITY #1
!
THE INFINITY ENTITY #1 (of 4) (JAN160725)Written by JIM STARLIN
Art & Cover by ALAN DAVISVariant Covers by RON LIM (JAN160726) & MARCO RUDY (JAN160727)FOC – 02/15/16, On-Sale – 03/09/16
FOC – 02/15/16, On-Sale – 03/09/16
SMOAK TOWER IS ON FIRE IN NEW DC'S LEGENDS OF TOMORROW PHOTO
02/09/16 @ 3:31 pm EST
Source:
Comicbook
| Categories:
DC
|
Comments
(0) |
E-mail Article
|
Add a Comment
It looks like Felicity Smoak will do pretty well for herself in the future - you know, until the entire future falls apart, of course.
In a preview still from executive producer Marc Guggenheim, we see that Palmer Tech is no longer going by Ray's name. Instead, in the future Star City visited by the cast of
Legends of Tomorrow
, the building says SMOAK.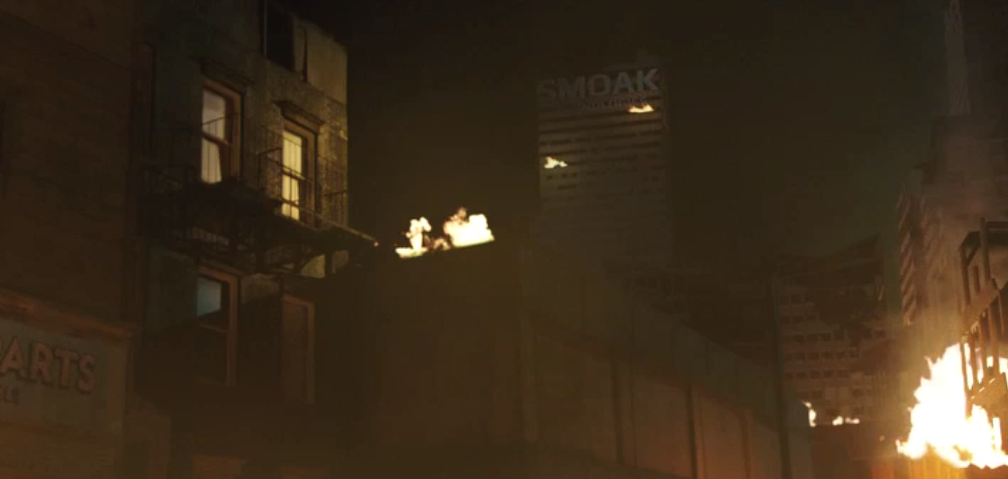 It also happens to be on fire, which gives us our puntacular headline.
This indicates that Felicity will be around for awhile, it seems, and eventually fully takeover the Palmer company, which was formerly Queen Industries. Don't read too much into "Smoak," though, Olicity fans - it doesn't mean they don't wind up together, it could very well just be that a self-made professional didn't want to change her name.
DC's Legends of Tomorrow
visits the future in Star City, 2046, where they'll also come across a wartorn Green Arrow missing an arm (but sporting a goatee), played by
Arrow
star Stephen Amell.