THE AVENGERS STORM UTOPIA IN AVENGERS VS X-MEN #2 – ON SALE NOW!
04/18/12 @ 3:28 pm EST
Source:
Marvel
|
Comments
(0) |
E-mail Article
|
Add a Comment
The war is here! Today, in
Avengers VS. X-Men #2
by the blockbuster creative team of Jason Aaron and John Romita Jr., Captain America leads the assault against the X-Men in a brawl that no-one will forget. The Mutant Messiah, Hope, is the target and Earth's Mightiest are not leaving Utopia without her. But to get to Hope, they'll have to go through Cyclops and his team of X-Men who are putting up the fight of their lives.
Plus! Join the
Marvel ReEvolution
as Marvel brings fans a new comic reading experience! Every issue of
Avengers VS X-Men
comes packaged with a code for a FREE digital copy on the
Marvel Comics app
.
And that's not all! Take the
Avengers VS X-Men
enjoyment even further by unlocking access to exclusive behind the scenes extras utilizing special augmented reality technology with the
Marvel AR
app powered by Aurasma. This is exciting bonus content that you cannot access anywhere else!
Which team will reign supreme? Join the conversation on Twitter with
#AvX
!
Here comes the pain as all your favorite super heroes enter—and only one team will emerge victorious! Don't miss out on this once in a lifetime comic event in,
Avengers VS X-Men #2,
on sale now in comic shops everywhere, on the
Marvel Comics app
, and the all-new
Marvel Comics Webstore
!
For more on
Avengers VS X-Men
, please visit
http://avx.marvel.com
AVENGERS VS X-MEN #2 (FEB120534)
Written by JASON AARON
Pencils by JOHN ROMITA JR.
Cover by JIM CHEUNG
Rated T+…$3.99
ON SALE NOW!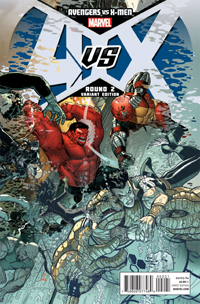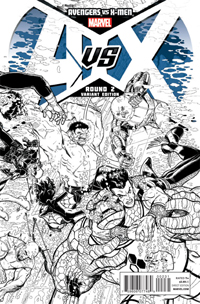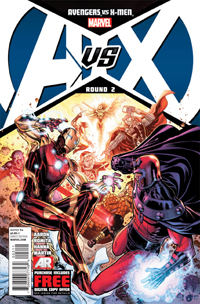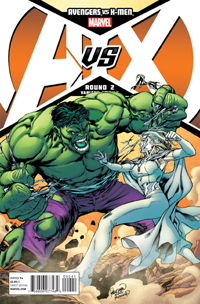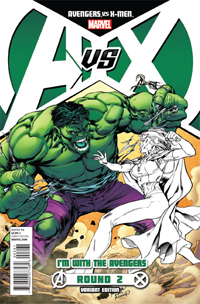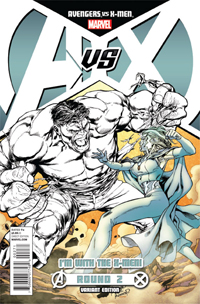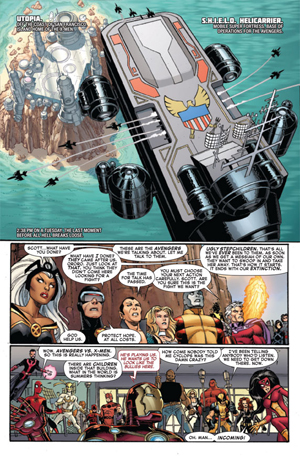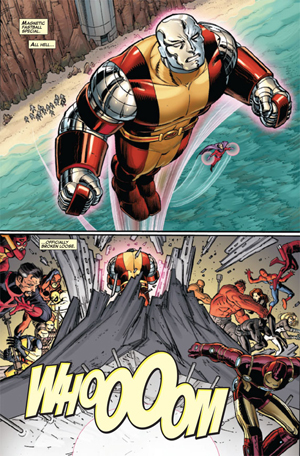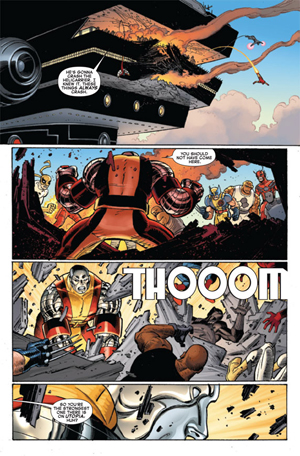 To find a comic shop near you, visit
www.comicshoplocator.com
or call 1-888-comicbook.


Marvel Entertainment, LLC, a wholly-owned subsidiary of The Walt Disney Company, is one of the world's most prominent character-based entertainment companies, built on a proven library of over 8,000 characters featured in a variety of media over seventy years. Marvel utilizes its character franchises in entertainment, licensing and publishing. For more information visit
www.marvel.com
CAPTAIN BOOMERANG CAST TO APPEAR ON ARROW
09/17/14 @ 1:17 pm EST
Source:
Bleeding Cool
| Categories:
Arrow
|
Comments
(0) |
E-mail Article
|
Add a Comment


Digger Harkness / Captain Boomerang is one of the most popular members of The Flash's Rogues Gallery… and he's also one of the members of the Suicide Squad which is part of the Arrow series which is where he's going to make his debut.

And the casting director on Arrow seems to love former Spartacus stars – Manu Bennett (Slade Wilson), Cynthia Addai-Robinson (Amanda Waller) and Katrina Law (Nyssa Raatko al Ghul) – so it's not surprising that they've gone to the well once more to get Nick Tarabay.

Harkness is slated to appear in Episodes 7 and 8 of Arrow with Episode 8 being a crossover with The Flash.
GONE BUT NOT FORGOTTEN – YOUR NEW LOOK AT DEATH OF WOLVERINE: THE LOGAN LEGACY #1
09/17/14 @ 1:09 pm EST
Source:
Marvel
| Categories:
Death of Wolverine
|
Comments
(0) |
E-mail Article
|
Add a Comment
From the ashes of
Death of Wolverine
comes a new beginning.
Today, Marvel is pleased to present your first look at
DEATH OF WOLVERINE: THE LOGAN LEGACY #1
, the first issue in a blockbuster 7-issue limited series aiming to explore the gaping hole left in the Marvel Universe following the death of one of its most prominent super heroes. Written by superstar writer Charles Soule with art by Oliver Nome, this epic first issue, setting the stage for a world without Wolverine!
Each issue of
Death of Wolverine: The Logan Legacy
features a hot new creative team made up of some of the industry's brightest rising stars as they explore the unique solo adventures of
X-23
,
Sabretooth
,
Daken
,
Lady Deathstrike
and
Mystique
!
"Think of the death of Wolverine as an inciting event, one thing that has seismic-level effects on the lives of a great deal of the Marvel Universe," says Charles Soule. "We'll start in
Death of Wolverine: The Logan Legacy
by examining those effects on people close to Wolverine, but over time, we'll range far and wide to see what sort of black hole Logan's death actually leaves."
With the mutant powerhouse now out of the picture, who or what will be left to pick up the pieces? Will Wolverine's legacy be shaped by heroes who valiantly fought alongside him…or by the villains who he spent his whole life protecting the world against? The answers will be revealed this October when the Marvel Universe faces a world without Wolverine in
DEATH OF WOLVERINE: THE LOGAN LEGACY #1
!
DEATH OF WOLVERINE: THE LOGAN LEGACY #1 (AUG140748) Written by CHARLES SOULE Art & Cover by OLIVER NOME
Variant Cover by SKOTTIE YOUNG (AUG140749) Canada Variant by OLIVER NOME (JUL148308) FOC – 09/22/14, On-Sale 10/15/14
DYNAMITE DIGITAL ADDS BITCOIN PAYMENT OPTION
09/17/14 @ 7:13 am EST
Source:
Dynamite
| Categories:
Dynamite
|
Comments
(0) |
E-mail Article
|
Add a Comment
Dynamite Entertainment is excited to announce the addition of Bitcoin as an accepted form of payment at Dynamite.com/digital, the company's recently-launched digital store for DRM-Free digital comics. The Bitcoins payment system joins existing payment options that include Visa, Mastercard, American Express, Discover, and PayPal. Fans who wish to make purchases through Dynamite Digital using Bitcoin need only login with the Bitcoin client of their choice. Fans can now use the virtual currency to purchase Dynamite's increasing collection of digital comics and bundles, including this week's latest digital comics bundle featuring 25 of Dynamite's top comics for a discounted price of $10 to help commemorate Dynamite's 10th Anniversary. A sweet Dynamite bundle at an incredible offer that adds up to only .40 cents a book! In addition, Dynamite's DRM Free Digital Store showcases free wallpapers for fans to enjoy, with new ones added every week. These include Bob's Burgers, Neil Gaiman's Last Temptation, Red Sonja, Vampirella, Boys, Cryptozoic Man, Dresden, and this week adding Purgatori and other new wallpapers.
The bundle gives fans the opportunity to add award-winning art by Alex Ross, Gail Simone's Red Sonja, Kevin Smith's Green Hornet, Legenderry by Bill Willingham, Chaos! by Tim Seeley, and much more to their digital collections DRM-Free at a fantastic value. From debut issues of classic titles, to recent best-sellers that have sold-out in print. This new Dynamite Bundle continues the next phase of the Dynamite Digital program. With 10% of each sale going to the Comic Book Legal Defense fund. This promotion is available to fans for a limited time.
"This is an exciting day here at Dynamite combining both, our accepting Bitcoin as an option for payments, and at the same time announcing our biggest introductory bundle to date to commemorate our 10th Anniversary. Setting up Bitcoin payments through our DRM-Free store has been a goal since Day One," says Nick Barrucci, CEO and Publisher of Dynamite Entertainment. "As we continue to blaze a new trail with Dynamite Digital, we are proud to provide existing fans and expand our fan base with increasingly accessible means of participating in the digital comics experience, which - as recent data has proven - benefits the overall comics market through consumer transition to printed material."
Dynamite's CEO continues "We took a look at what fans kept asking for in creating an introductory bundle to allow them to try new titles at a great price, and combined 25 of our top selling books into a nice discount bundle to promote a nice mix of new titles at an incredible entry price point of $10.00 for our 10th Anniversary. Its Dynamite's biggest deal yet offered directly from the Dynamite Digital DRM Free store, with quite a few pluses in supporting us through the bundle: Fans get to try great new books at an incredibly low price DRM-Free, they get to help support creators that we work with in addition to Dynamite, and help out the Comic Book Legal Defense Fund. A win all around for everyone!"
Introduced in 2009, Bitcoin is a software-based online payment system. Bitcoins are created as a reward for payment processing work in which users offer their computing power to verify and record payments into the public ledger. Payments work peer-to-peer, which is an exciting new way to purchase for consumers. The addition of Bitcoin to Dynamite Digital follows the news of Dynamite's new discount digital bundle offerings, launched just last week.
This latest bundle includes award-winning titles from some of today's best creators. Kevin Smith, Gail Simone, Bill Willingham, award-winning artist Alex Ross and more have multiple books included in the offer. Giving fans the perfect taste of everything Dynamite has to offer. The full list includes:
Project Superpowers #0 – 3
– by Alex Ross and Jim Kruegar
Jungle Girl #0 -1
– by Frank Cho and Doug Murray
Mocking Dead #1
– by Fred Van Lente
Sherlock Holmes: Trial #1 – 2
– by Leah Moore, John Reppion and Aaron Campbell
Kevin Smith's Green Hornet #1
– by Kevin Smith, Phil Hester and Jonathan Lau
Red Sonja #1 – 2
– by Gail Simone and Walter Geovanni
Robert Jordan's The Wheel of Time #1 – 3
– by Chuck Dixon
Legenderry #1
– by Bill Willingham and Sergio Fernandez Davila
Chaos! #1
– by Tim Seeley and Mirka Andolfo, main cover by J. Scott Campbell
Jim Butcher's Dresden War Cry #1
– by Jim Butcher and Mark Powers
Pathfinder: Dark Waters #1
– by Jim Zub
Miss Fury #1 – 2
– by Rob Williams
American Flagg #1- 2
– by Howard Chaykin
Vampirella #1
– by Eric Trautmann
This new bundle follows last week's limited promotion (which ended yesterday) of the 5 Star, 5 book starter set where fans were invited to pick up the top 5 best-selling books of Dynamite's impressive library. This latest offer continues Dynamite's commitment to fans as the publisher celebrates its 10 year anniversary this year.
Dynamite's new online storefront has already proven to be a huge success with fans since it started in August of this year, featuring DRM-Free editions of some of Dynamite's biggest hits to-date, including
Bob's Burgers
,
Alice Cooper
,
Dawn/Vampirella
, and more.
For more on Dynamite 25 books for $10 bundle, and the latest DRM-Free offers from Dynamite Digital, check out dynamite.com/digital today.
EXTENDED PREVIEW ON BLEEDING COOL – PURGATORI #1, DEVILERS #3 AND SHADOW: MIDNIGHT IN MOSCOW #4
09/17/14 @ 7:02 am EST
Source:
Bleeding Cool
| Categories:
Dynamite
|
Comments
(0) |
E-mail Article
|
Add a Comment
Bleeding Cool
is featuring three exclusive extended previews from
Dynamite
this week:
Purgatori
#1,
Joshua Hale Fialkov's
The Devilers
#3 and the doomsday clock keeps ticking in
Howard Chaykin's
The Shadow: Midnight In Moscow
#4.
Click here to chexk them out.
'HARBINGER: FAITH #0': ONE-SHOT LEADS INTO NEW 'UNITY' ARC
09/17/14 @ 6:53 am EST
Source:
ICv2
| Categories:
MIsc
|
Comments
(0) |
E-mail Article
|
Add a Comment
Valiant has announced the new one-shot origin tale
Harbinger: Faith
#0 in December, which will correlate to the new story arc beginning in
Unity #12
releasing in November.
Faith Herbert, aka Zephyr, is Unity's newest team member, and after the events in
Armor Hunters: Harbinger
, she need some time to recuperate. The story will reveal the origin of the super-powered, lighter-than-air teenager.
'LUCIFER' HEADED TO TV: VERTIGO COMIC GETS PILOT COMMITMENT
09/17/14 @ 6:49 am EST
Source:
ICv2
| Categories:
MIsc
|
Comments
(0) |
E-mail Article
|
Add a Comment
Fox has given a put pilot commitment to
Lucifer
, the
Sandman
character that was spun offf into its own comic series from DC imprint Vertigo, according to Variety (via ICv2). A put pilot commitment means that the network is guaranteeing to air the pilot before it's produced, which generally means the series is likely to be picked up.
In the TV series, the Lord of Hell gets bored and moves to Los Angeles, where he opens an exclusive piano bar called Lux. It will be produced by Tom Kapinos (
Californication, Dawson's Creek
).
THE COMPLETE JUNIOR AND SUNNY CATCHES EYES THIS DECEMBER
09/17/14 @ 6:43 am EST
Source:
IDW
| Categories:
IDW
|
Comments
(0) |
E-mail Article
|
Add a Comment
IDW Publishing is proud to announce the release of The Complete Junior and Sunny, which presents the full run of these historic comics created, written, and illustrated by the legendary E.C. Comics artist/writer/editor Al Feldstein.
Imagine a young Betty Page type meeting up with some late-1940s, typical-teenage types (a la Archie), and you will get an idea of what is to be found in The Complete Junior and Sunny. Along with an in-depth Introduction by Grant Geissman, the book also presents the issue of Meet Corliss Archer that Feldstein also produced for the notorious Victor Fox, of Fox Feature Publications.
Done between 1947 and 1948 in the period right before he moved to E.C. Comics, Feldstein's bold artwork and salacious figures are on full display, providing a wonderfully guilty pleasure. Long considered to be prime examples of late 1940s "headlight" and "Good Girl" art comics, issues of Junior and Sunny have been quite difficult to find and very expensive to obtain. Until now!
"Although the stories are basically charming, 'typical teenage' period pieces, Feldstein's artwork for them often pushes the envelope for the time," says Geissman. "With titillating covers and often-suggestive images in the stories themselves, it's probably a good thing that Dr. Fredric Wertham never found out about Junior and Sunny!" Seduction of the innocent, indeed!
Look for the complete collection this December!
DARK HORSE ANNOUNCES ROSE CITY COMIC CON 2014 SCHEDULE
09/16/14 @ 10:01 pm EST
Source:
Dark Horse
| Categories:
Dark Horse
|
Comments
(0) |
E-mail Article
|
Add a Comment


Join Dark Horse Comics at Rose City Comic Con! We'll be at the booth handing out giveaways and offering free signings with comics creators! Come check out our comics, books, and products for sale!

SCHEDULE OF EVENTS

Certain restrictions may apply. All events are subject to change.


SCHEDULE OF EVENTS
Certain restrictions may apply. All events are subject to change.

SIGNINGS
Below are featured comics and the writers and/or artists who will be signing them. Free comics, prints, or posters will be available at each signing while supplies last. Comics will also be available for sale, availability pending.

SATURDAY, SEPTEMBER 20

10:00 a.m.–10:50 a.m. NEVERBOY Tyler Jenkins, Kelly Fitzpatrick
11:00 a.m.–11:50 a.m. THE VICTORIES Michael Avon Oeming
12:00 p.m.–12:50 p.m. NEXUS Mike Baron, Steve Rude
1:00 p.m.–1:50 p.m. HELLBOY AND THE B.P.R.D. Alex Maleev
2:00 p.m.–2:50 p.m. POP Jason Copland
3:00 p.m.–3:50 p.m. STAR WARS Jeremy Barlow (Darth Maul), Corinna Bechko and Gabriel Hardman (Legacy)
4:00 p.m.–4:50 p.m. DREAM THIEF Jai Nitz
5:00 p.m.–5:50 p.m. SUNDOWNERS Tim Seeley LADY KILLER Joëlle Jones, Jamie S. Rich
6:00 p.m.–6:50 p.m. FIRE AND STONE Chris Roberson and Patric Reynolds (Aliens), Joshua Williamson (Predator), Christopher Sebela (Alien vs. Predator), Paul Tobin (Prometheus)
6:00 p.m.–6:50 p.m. BUFFY THE VAMPIRE SLAYER Nicholas Brendon**This is a ticketed event. Only Buffy the Vampire Slayer comics or materials provided by Dark Horse Comics, please. Two items per person. No photos. Wristbands will be distributed on Saturday at show opening at the Dark Horse booth.

SUNDAY, SEPTEMBER 21

10:00 a.m.–10:50 a.m. PROJECT BLACK SKY Joshua Williamson (Captain Midnight), Christopher Sebela (Ghost)
10:00 a.m. .–11:50 a.m. LEAVING MEGALOPOLIS, TOMB RAIDER, CONAN RED SONJA Gail Simone
11:00 a.m.–11:50 a.m. EMILY AND THE STRANGERS Cat Farris
12:00 p.m.–12:50 p.m. TERMINATOR SALVATION Pete Woods TREKKER Ron Randall
1:00 p.m.–2:50 p.m. LEAVING MEGALOPOLIS, TOMB RAIDER, CONAN RED SONJA Gail Simone
1:00 p.m.–1:50 p.m. CONAN RED SONJA Jim Zub BAD HOUSES Sara Ryan
2:00 p.m.–2:50 p.m. BANDETTE Paul Tobin, Colleen Coover PLANTS VS. ZOMBIES Paul Tobin, Ron Chan
3:00 p.m.–3:50 p.m. GRENDEL VS. THE SHADOW Matt Wagner, Brennan WagnerFEAR AGENT Tony MooreDREAM THIEF Jai Nitz

PANELS
Check out these panels featuring our creators!

SATURDAY, SEPTEMBER 20
Spotlight: Alex MaleevRoom: Panel Room 7Time: 11:00 a.m.–11:50 a.m.Alex Maleev, best known for multiple collaborations with Brian Michael Bendis for Marvel comics, is returning to the world of Mike Mignola's Hellboy this fall. In December, Dark Horse will launch Hellboy and the B.P.R.D., Maleev's first work on the beloved beast of the apocalypse since 2003's "Still Born" from the anthology seriesHellboy: Weird Tales. Join us for an exclusive first look at the upcoming series, as well as a career-spanning discussion.
Spotlight: Greg RuckaRoom: Panel Room 7Time: 1:00 p.m.–1:50 p.m.Eisner Award–winning writer and novelist Greg Rucka has made a name for himself by crafting powerfully complex and human stories that can make the most fantastical characters feel real. Sit in on a conversation with the writer of Lazarus, Stumptown, Whiteout, and Veil that gets to the heart of how he gives characters souls.
Reading Comics For College CreditRoom: Panel Room 4Time: 2:00PM - 2:50PMHigh-School teachers and professional librarians have long recognized the educational value of comics and graphic novels. But "Comics Studies" is now also emerging as a new academic discipline. What does Comics Studies at the college level involve? And what does the future hold for the field? Join Professor Ben Saunders (University of Oregon), Diana Schutz (Portland Community College), Brian Michael Bendis (University of Oregon), and Professor Susan Kirtley (Portland State University) and learn about what it means to read comics for college credit.
Demented Heroes: The Dark Side of Superhero ComicsRoom: Panel Room 2Time: 2:00 p.m.–2:50 p.m.While film may favor the classic depiction of capes and cowls, many of today's comics continue to push the definition of "hero." Some of the industry's biggest and brightest have taken the superhero concept and turned it on its head. Many are creating characters and worlds that revel in a much darker vision of high-powered heroes and villains, making it hard to determine whom the reader should be rooting for. Join us for a discussion about the darker take on costumed characters with writers Tim Seeley (Sundowners), Jai Nitz (Dream Thief), and writer/artist Michael Avon Oeming (The Victories), moderated by Dark Horse editor in chief Scott Allie.
Buffy the Vampire Slayer PanelRoom: Panel Room 1Time: 3:00 p.m.–3:50 p.m.The heart of the Scooby gang and one of the most powerful big bads join forces for a panel guaranteed to slay the audience. Join Nicholas Brendon (Xander Harris), and Clare Kramer (Glory) as they give you all the details and answer every question about working on one of the greatest shows in pop culture. Moderated by the editor in chief of Dark Horse Comics, Scott Allie.
Baron and Rude: 30 Years on NexusRoom: Panel Room 6Time: 3:00 p.m.–3:50 p.m.Join writer Mike Baron and artist Steve Rude, the award-winning creators of the long-running comic seriesNexus. After three decades and three publishers, the creators reveal for the first time the behind-the-scenes trials involved in creating such an enduring book.
Spotlight: Tony MooreRoom: Panel Room 7Time: 3:00 p.m.–3:50 p.m.Tony Moore is an Eisner-nominated artist and the cocreator of The Walking Dead and Fear Agent. He's worked on some of the biggest characters in comics, including the Punisher, Ghost Rider, and Deadpool. Join Tony to find out what it takes to be one of the most influential comic artists of the last decade.
A Universe of Terror Drawn to One Panel: Prometheus, Aliens, Predator, and Beyond!Room: Panel Room 2Time: 5:00 p.m.–5:50 p.m.Nearly thirty years ago, Dark Horse rewrote the rules of licensed comics with the release of Aliens, continuing the story of Ridley Scott's iconic film franchise! Predator and the iconic crossover Aliens vs. Predator followed. Now, the publisher partners with 20th Century Fox again, to bring sci-fi epic Prometheus to comics! Two months away from the launch of the ambitious and highly anticipated crossover Fire and Stone, join Dark Horse editor in chief Scott Allie, writers Paul Tobin (Prometheus), Joshua Williamson (Predator), Christopher Sebela (Alien vs. Predator), and the Aliens team of writer Chris Roberson and artist Patric Reynolds, to discover what's in store for this grand universe!

SUNDAY, SEPTEMBER 21
Dark Horse Manga: An Afternoon with Carl HornRoom: Panel Room 2Time: 12:00 p.m.–12:50 p.m.Dark Horse's history with Japanese comics can be traced back to the company's earliest years, with a legacy that includes such legendary series as Oh My Goddess!, Lone Wolf and Cub, Berserk, and many more! Today Dark Horse continues to publish some of the industry's best-selling titles, like Neon Genesis Evangelion, Oreimo, and the works of the creative powerhouse CLAMP. Join Dark Horse's resident manga guru and editor extraordinaire, Carl Horn, for a look at the past, present, and future of manga at Dark Horse.
Spotlight: Matt WagnerRoom: Panel Room 7Time: 1:00 p.m.–1:50 p.m.Writer/artist Matt Wagner began his career in 1982 with the publication of his most well-known character,Grendel. Since that time, in addition to his own creations, he has lent his talents to the likes of such notable characters as Batman and the Shadow, along with many others, and is currently pitting Grendel against the latter in an upcoming series copublished by Dark Horse and Dynamite Entertainment. Join us for a look back at Wagner's storied career, as well as current and future projects.
30 Years of Masters of the UniverseRoom: Panel Room 2Time: 3:00 p.m.–3:50 p.m.Next year, one of the most beloved toy and entertainment franchises of the 1980s will receive a deluxe hardcover treatment from Dark Horse chronicling thirty years of the powers of Eternia! Now, we invite you to join writer Tim Seeley, original series animator Tom Cook, and more for a sneak peek of the upcoming The Art of He-Man and the Masters of the Universe, and a discussion of what makes He-Man one of the most enduring cartoon legacies of all time!
Spotlight: Ethan NicolleRoom: Panel Room 7Time: 3:00 p.m.–3:50 p.m.Ethan Nicolle is one half of the dynamic duo that brought you the hit comics series and animated series Axe Cop. Sit in on this already-legendary panel that is all about the world he and his little brother made. If you're lucky, you'll even get to ask some questions.
THE WICKED + THE DIVINE—WELCOME TO FANDEMONIUM
09/16/14 @ 9:46 pm EST
Source:
Image
| Categories:
Image
|
Comments
(0) |
E-mail Article
|
Add a Comment


THE WICKED + THE DIVINE, the white-hot new series by writer Kieron Gillen and artist Jamie McKelvie about gods being briefly reincarnated as pop stars before dying, drew crowds of worshippers and is heading into a thrilling new story arc that will leave fans shocked and breathless. With each issue of the first arc flying off the shelves at record speed, this new story arc promises an even higher degree of electrifying story this December.

The Faust Act is over. Welcome to Fandemonium. The second arc of THE WICKED + THE DIVINE begins with issue #6 in its traditional manner (i.e. a ludicrous pun) and something like "nothing will ever be the same again." But if you think about it, you can say that about literally everything, ever. Also, some comic story. Probably.

Writer Gillen remained coy about the second arc's plot twists, but hinted that each issue would pack a punch readers wouldn't see coming. "With the first arc, we wanted an intense, classic comics' build, rising towards the fifth issue as this big, earthquake-sized heart-attack climax," said Gillen. "Our second arc—FANDEMONIUM—is different. It's a line of chasers on the bar, each a micro-nuke cocktail, served with a wink and distilled for concentrated effect. The first arc was a week or so in the gods' two-year lives. In the second arc, each issue is separated by a whole month and focuses around a single gathering of fans. Time's running out. Time's always running out."

THE WICKED + THE DIVINE #6 arrives in stores this 12/17 and can be pre-ordered using Diamond Code OCT140611.
STEPHANIE BROWN RETURNS AS THE SPOILER
09/16/14 @ 9:42 pm EST
Source:
DC
| Categories:
Batman
|
Comments
(0) |
E-mail Article
|
Add a Comment
It isn't exactly a news flash around here to say that we love Barbara Gordon. But that doesn't mean we haven't missed Stephanie Brown. If you're like us—and we know that there are many, many of you out there who are—you're not going to want to miss Batman Eternal this week. In fact, if you've fallen behind in our weekly Bat-series, you may want to spend this afternoon getting caught up. Why? Well, let's just say when it comes to this week's BATMAN ETERNAL #24, you CAN judge this book by its cover.
Yes, this week's action packed new issue marks the full-on return of the Spoiler. Okay to clarify, we met Stephanie quite a few issues ago, and have already seen her adopt the Spoiler moniker. But we haven't seen her in action until this week. This is the issue that will remind everyone how much they loved her and show newer fans why Stephanie Brown remains such a popular character. It features a confrontation with her father, the Cluemaster, and a ton of don't-try-this-at-home moments including a thrilling—Well, that would be telling. Just believe us when we say that if you miss Stephanie Brown, this is the issue for you!