THE AVENGERS STORM UTOPIA IN AVENGERS VS X-MEN #2 – ON SALE NOW!
04/18/12 @ 3:28 pm EST
Source:
Marvel
|
Comments
(0) |
E-mail Article
|
Add a Comment
The war is here! Today, in
Avengers VS. X-Men #2
by the blockbuster creative team of Jason Aaron and John Romita Jr., Captain America leads the assault against the X-Men in a brawl that no-one will forget. The Mutant Messiah, Hope, is the target and Earth's Mightiest are not leaving Utopia without her. But to get to Hope, they'll have to go through Cyclops and his team of X-Men who are putting up the fight of their lives.
Plus! Join the
Marvel ReEvolution
as Marvel brings fans a new comic reading experience! Every issue of
Avengers VS X-Men
comes packaged with a code for a FREE digital copy on the
Marvel Comics app
.
And that's not all! Take the
Avengers VS X-Men
enjoyment even further by unlocking access to exclusive behind the scenes extras utilizing special augmented reality technology with the
Marvel AR
app powered by Aurasma. This is exciting bonus content that you cannot access anywhere else!
Which team will reign supreme? Join the conversation on Twitter with
#AvX
!
Here comes the pain as all your favorite super heroes enter—and only one team will emerge victorious! Don't miss out on this once in a lifetime comic event in,
Avengers VS X-Men #2,
on sale now in comic shops everywhere, on the
Marvel Comics app
, and the all-new
Marvel Comics Webstore
!
For more on
Avengers VS X-Men
, please visit
http://avx.marvel.com
AVENGERS VS X-MEN #2 (FEB120534)
Written by JASON AARON
Pencils by JOHN ROMITA JR.
Cover by JIM CHEUNG
Rated T+…$3.99
ON SALE NOW!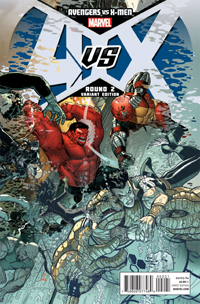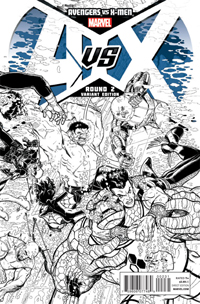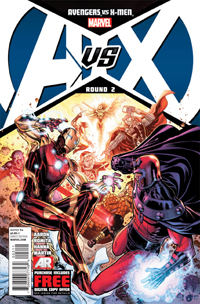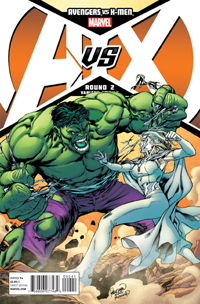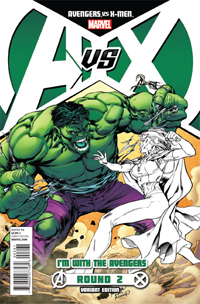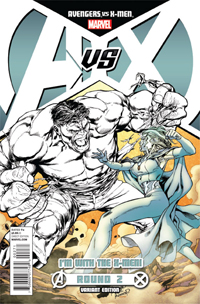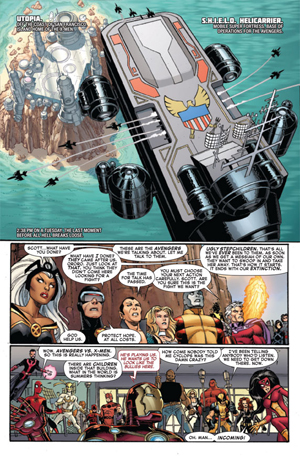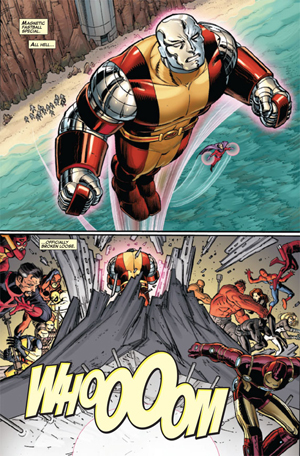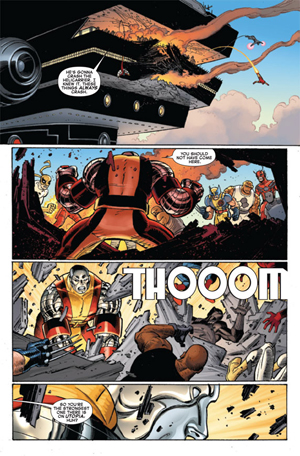 To find a comic shop near you, visit
www.comicshoplocator.com
or call 1-888-comicbook.


Marvel Entertainment, LLC, a wholly-owned subsidiary of The Walt Disney Company, is one of the world's most prominent character-based entertainment companies, built on a proven library of over 8,000 characters featured in a variety of media over seventy years. Marvel utilizes its character franchises in entertainment, licensing and publishing. For more information visit
www.marvel.com
MOONSTONE BRINGS BACK THE BLACK BAT PROSE
07/06/15 @ 1:43 am EST
Source:
Bleeding Cool
| Categories:
MIsc
|
Comments
(0) |
E-mail Article
|
Add a Comment
Moonstone Books
has a new release coming up later this year,
The Black Bat Returns
. The 270 page prose contains stories of the classic pulp character along with
the Green Lama
,
Golden Amazon
and
Domino Lady
. It includes stories by
Ron Fortier, Bobby Nash, Adam L. Garcia, Colin B. Harvey, Sean Taylor, James Palmer, David Boop, David White
, and
Josh Vogt
with a cover by
Mike Fyles
.
The Black Bat Returns
is due out in November 2015.
"I THINK IRENE WOULD MAKE A FANTASTIC SOLO BOOK" - LEAH MOORE ON IRENE ADLER
07/06/15 @ 1:37 am EST
Source:
Bleeding Cool
| Categories:
Dynamite
|
Comments
(0) |
E-mail Article
|
Add a Comment
Writer
Leah Moore
discusses
Swords of Sorrow: Dejah Thoris/Irene Adler
#2, on sale now. Cover by
Jay Anacleto
.
BYRON BREWER: Leah, have you been surprised at the positive fan reaction and great critical acclaim Swords of Sorrow has received this summer?LEAH MOORE:
Not at all, I knew people would love it. Gail has a very loyal fan base, and there are so many great creators on board, it was always going to be a great event. Personally though, I have been pleasantly surprised with so many good reviews! Seems like people are really enjoying it so far, and I really hope they enjoy #3. It's very nice to see the things you write having the desired effect!
BB: What have you found the most challenging about bringing these two female heroes, Dejah Thoris and Irene Adler, together?LM:
I think the most challenging thing was the hugeness of the project, with all the worlds colliding, and then the very small space to make that work in. Re-reading my story as it comes out, I'm glad I fitted so much in, but it really felt like a squeeze at the time. Writing two women on two worlds, and have them both have adventures, and have it all make sense, in only 66 pages? That was the tough part!
BB: In the telling of your tale, have there been any unexpected surprises that kind of caught you off guard as the writer of the piece?LM:
I think the vehemence of the characters when they met surprised me. I was all ready to fill in some pretty ho hum fighting chat, and then the voices just came out, and the characters wrote themselves really fun and badass and with a real warmth. Writing is always magic, but when your characters decide to hijack their dialogue, that actually feels incredible.
BB: Which of these two heroines would you most like to get in a solo series if that came about?LM:
I think Irene would make a fantastic solo book, she's a really flexible character, I an see her perfectly at home in any setting. I think her wit and her bravery make her just about the perfect hero for a series, and she can change her look or her public identity whenever you like, because she's a master of disguise. Saying that, a book where maybe Dejah Thoris got to go to Virginia and take on John Carter's world? A red skinned Martian woman in Civil War-era America? I'd write that, no doubt. She'd have a derby, and a duster jacket and ride a horse and dispense justice! Gimme all the books to write please!
BB: What have you found most pleasing or challenging about participating in the Swords of Sorrow crossover event?LM:
The most pleasing thing has been the emails back and forth amongst all the women writing it. With normal comics jobs, you send in your script, you might get notes, and then art to approve, and stuff, but its not usually a chatty place to be. On SOS we've been in this big email group talking about our own stories, and each others, and just enjoying the company of all these other badass female writers. I wish more projects were like that, it's been a blast.
For more information on
Swords of Sorrow: Dejah Thoris & Irene Adler
#2,
click here
.
JURASSIC WORLD IS NOW FIFTH HIGHEST GROSSING MOVIE OF ALL TIME WORLDWIDE
07/06/15 @ 1:11 am EST
Source:
Comicbook
| Categories:
MIsc
|
Comments
(0) |
E-mail Article
|
Add a Comment
In four short weeks,
Jurassic World
has roared up the worldwide box office charts and is now the fifth highest grossing film ever.
The fourth Jurassic film squeezed past Marvel's
Avengers: Age Of Ultron
($1.383.5B)to become the 5th biggest worldwide grosser ever with $1.385B.
The film added $30.9M domestically and $42M internationally this weekend.
Now the question is: Does
Jurassic World
have enough teeth to chase down
Furious 7
? It currently sits in fourth place with $1,511.6B, but Furious 7 is only slightly behind Marvel's
The Avengers,
which is in third with $1,518.6B.
DEADPOOL FEATURED ON EW COMIC-CON VARIANT COVER
07/06/15 @ 1:07 am EST
Source:
Comicbook
| Categories:
Deadpool
|
Comments
(0) |
E-mail Article
|
Add a Comment
Sweet chimichanga! Ryan Reynolds' R-rated superhero
Deadpool
is featured onEntertainment Weekly's Comic-Con Bonus Issue.
20th Century Fox could own Hall H this year. With many people suspecting that attendees will get see the first official footage from
Deadpool
. Maybe it too will leak?
The cover, which you view below, has our favorite anti-hero giving a thumbs up and cracking a fourth wall joke about Reynolds, who was PEOPLE's Sexiest Men Alive in 2010
NEW FANTASTIC FOUR PREVIEW IMAGE FEATURES REED RICHARDS AND SUE STORM
07/06/15 @ 1:02 am EST
Source:
Comicbook
| Categories:
Fantastic Four
|
Comments
(0) |
E-mail Article
|
Add a Comment
Reed Richards and Sue Storm, arguably the most iconic couple in comics this side of Lois Lane and Clark Kent, are featured in a new preview image for Fox's upcoming adaptation of
Fantastic Four
.
You can check it out above.
Miles Teller and Kate Mara star as the characters, who are referred to as brilliant minds ho want to "invent the future." The original tweet, which characterized them as "fighting for change," almost sounded like it should be Doctor Doom instead of Sue.
Fantastic Four
, a contemporary re-imagining of Marvel's original and longest-running superhero team, centers on four young outsiders who teleport to an alternate and dangerous universe, which alters their physical form in shocking ways. Their lives irrevocably upended, the team must learn to harness their daunting new abilities and work together to save Earth from a former friend turned enemy.
The film stars Miles Teller, Kate Mara, Michael B. Jordan and Jamie Bell.
Fantastic Four
is scheduled to be released in theaters on August 7, 2015.
NEW ANT-MAN TV SPOT REVEALS AVENGER GUEST STAR IN NEW COSTUME
07/06/15 @ 12:58 pm EST
Source:
Comicbook
| Categories:
Ant Man
|
Comments
(0) |
E-mail Article
|
Add a Comment
Marvel Entertainment tweeted a new
Ant-Man
television spot today that features Sam Wilson/Falcon (Anthony Mackie). They quickly removed it from their timeline, but we were able to hunt it down.
At the 18-second mark of this international TV spot, you can see Falcon, in his
Avengers: Age of Ultron
costume, step into frame. What's he doing there? You'll just have to find out when the film opens later this month.
Check it out in the video here:
https://www.youtube.com/watch?v=s28O0JS11UY
FANTASTIC FOUR: THE THING SPEAKS IN DENNY'S TV SPOT
07/06/15 @ 12:52 pm EST
Source:
Comicbook
| Categories:
Fantastic Four
|
Comments
(0) |
E-mail Article
|
Add a Comment
Latest Denny's commercial provides us with a new look at The Thing/Ben Grimm (Jamie Bell) from Josh Trank's
Fantastic Four
reboot.
The Thing grunts and groans because an outside disturbance prevents him fromclobberin' Denny's new Thing Burger. It sounds delicious! "A 100% beef burger, melted cheddar with crispy hash browns and an egg your way!"
Check it out in the video here:
https://youtu.be/jCCZA4oyY2o
CHRISTOPHER REEVE'S DAUGHTER NAMES HER SON AFTER HER FATHER
07/03/15 @ 10:51 pm EST
Source:
Comicbook
| Categories:
Superman
|
Comments
(0) |
E-mail Article
|
Add a Comment
On Saturday, June 13, the daughter of Christopher Reeve (
Superman
), Alexandra Reeve Givens, gave birth to a baby boy and named him Christopher Russel Reeve Givens in honor of her late father.
"He was named after his grandfathers on each side, two very important role models for Garren and Alexandra," a representative of the family tells PEOPLE.
This the first child for Alexandra, 31, and her husband Garren Givens, 33.
Little Christopher was born in Washington, D.C., and weighed 8 lbs., 3 oz.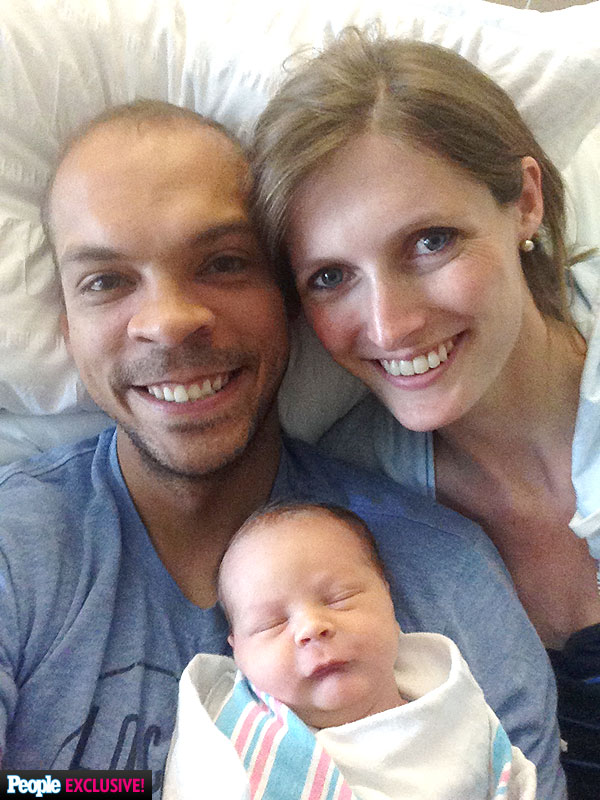 PAUL RUDD WANTS TO CALL THE AVENGERS IN THE FINAL ANT-MAN TRAILER
07/03/15 @ 10:36 pm EST
Source:
Comicbook
| Categories:
Ant Man
|
Comments
(0) |
E-mail Article
|
Add a Comment
Marvel has just released the final trailer for Ant-Man and in it, quite a few connections to the larger Mavel Cinematic Universe get mentioned.
The latest look at Marvel Studios' upcoming film features Scott Lang (Paul Rudd) in action while Hank Pym (Michael Douglas) gives a brief history about the super hero's suit. With an Iron Man name drop, and Lang thinking that the movie's main dilemma might be best suited for the Avengers, we can't wait to see what other connections the film will make.
You can check out the full video here:
https://youtu.be/3C5y02QYj78
CHRIS HARDWICK GEEKS OUT OVER ANT-MAN & THE WALKING DEAD
07/03/15 @ 10:31 pm EST
Source:
Comicbook
| Categories:
Walking Dead
|
Comments
(0) |
E-mail Article
|
Add a Comment
Among the stars on the red carpet for
Ant-Man
's World Premiere in Hollywood on Monday was
Talking Dead
and
@midnight
host, Chris Hardwick.
Hardwick stopped to chat with ComicBook.com about
Ant-Man
, some Marvel hero hypotheticals, the upcoming season of
The Walking Dead
, and a few too many laughs.
Join us in the video here:
https://youtu.be/XLblW9DD6Es