PRAISE FOR THE SHADOW #1!
04/18/12 @ 4:40 pm EST
Source:
Just About Comics
|
Comments
(0) |
E-mail Article
|
Add a Comment
Dynamite Entertainment once again brings a classic pulp hero back to comic shops with this brand new series. I have to admit I have a rather limited exposure to The Shadow as a character beyond the few issues I read of Howard Chaykin's series years ago at DC Comics. I come into this new series from Garth Ennis and Aaron Campbell wide-eyed and curious to really get to know who The Shadow is and the world that he operates within.
Ennis wastes no time in opening this issue with a clear understanding to what the world has been through leading up to the present day of this series. Times have definitely been gruesome and troubling to say the least, and Ennis shows how The Shadow has placed himself in all of it. The opening narration, or internal monologue, from The Shadow shows the reader what his mindset is like against these evil forces in this world and then drops readers right in the middle of one of The Shadow's missions.
The pacing of the issue is good and does not over complicate anything, but gives the reader just enough information about these characters to help them move along to the next panel, page, and scene. The more interesting character of this issue is not The Shadow himself, but more his true identity – Lamont Cranston, who is arrogant in a way that makes him partial a jerk but confident in his surroundings. The conversations Cranston has with various characters in this issue as himself are strong and provide an interesting look at his character in contrast to The Shadow.
The art in this issue by Aaron Campbell, Carlos Lopez, and Rob Steen is strong and sets a strong mood and expresses the time period well. The art never falters from the first to the last page remaining strong. Dynamite has a knack of putting great talent on their books and the work of Campbell, Lopez, and Steen prove that.
Readers will not be able to help themselves by getting pulled into this world of The Shadow. Dynamite has taken a number of iconic pulp characters and made them come alive again for an all new audience as well as those of us who have enjoyed them in the past.
The Shadow
is a book I will easily recommend to everyone I meet.
Story:
4 out of 5
Art:
4 out of 5
Overall:
4 out of 5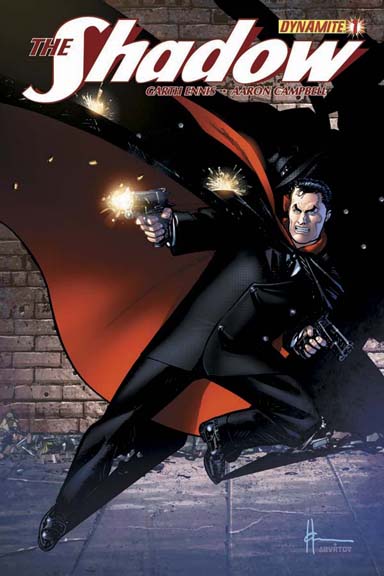 A DYNAMITE.COM EXCLUSIVE! ROBERT NAPTON INTERVIEWS FRANK BARBIERE ABOUT SOLAR!
04/24/14 @ 5:06 pm EST
Source:
Dynamite
|
Comments
(0) |
E-mail Article
|
Add a Comment
Robert Napton - Frank, there have been different iterations of Solar, starting with the classic Gold Key character. What elements did you decide to focus on in your reboot of the series?

Frank Barbiere - We really wanted to hone in on the way that such an immense power set would affect a pretty mild-mannered scientist. I really wanted to increase the lens on that though, to think how this change would affect not only Phil, but his family as well. I love the feel and aesthetic of a lot of the classic Solar stories, and I really wanted to infuse our take with those as well.

Robert Napton - Family and the impact of Solar's transformation is a key theme to your new take. How did you arrive at that?

Frank Barbiere - I really thought that Solar had been a very insular character and story in most of its inceptions. I wanted to open up the scope of it, to see how his change would affect a family unit, rather than just Phil. I think family conflict is very relatable as well, and goes a long way to humanizing a character who has near limitless power and brings the story down to a more personal level.

Robert Napton - Lots of Science Fiction action -- what can you tell us about the setting of this new series?

Frank Barbiere - We're definitely starting a bit more grounded, but the story will be opening up to a lot of bigger, sci-fi locales. Part of the fun of having a character like Solar is the fact that we can take it to places that a lot of other superhero stories can't go--and definitely no one else in the current Gold Key universe. It has a lot of great potential for fun and exciting stories.

Robert Napton - I like that the design is very much the classic Solar. Why did you and Joe Bennett decide to keep Solar iconic?

Frank Barbiere - With Phil, (our male Solar), we wanted readers to be able to jump right in and recognize him. He's the big aesthetic of the story, the icon, and we didn't want to mess with that--at least upfront. We've revealed that we will have a new character taking the mantle of Solar, and that's a big change, but we wanted to keep the costume iconic and keep the aesthetic of the original series.

Robert Napton - Perhaps this is too serious a question, but Solar is born of a nuclear crisis in the original story. In the 60s this was very much on people's minds. Post Fukushima, nuclear meltdowns are a very real and scary proposition. Do current events inform a modern take on this character?

Frank Barbiere - Definitely. We live in a very different landscape, and nuclear power has a lot of new problems and stories attached to it. We very much do want the story to reflect the real world in that nature--and not to make light of the dangerous times we live in, but it almost re-ignites that interest…as with the 60's, this was all new territory, and now we know the all too real dangers.

Robert Napton - Anything else you'd like to tell the fans about this new reboot?

Frank Barbiere - We're taking a whole new approach to Solar and really want to bring as many people as we can on board. We're excited and thrilled to be working with such an iconic character, and I think readers are going to be very pleased with the new direction we take things in!
BLEEDING COOL INTERVIEWS - GOLD KEY BOOKS AND WARLORD OF MARS #100!
04/22/14 @ 5:02 pm EST
Source:
Dynamite
|
Comments
(0) |
E-mail Article
|
Add a Comment
JOSHUA HALE FIALKOV - THE DEVILERS INTERVIEW AT CBR!
04/18/14 @ 4:55 pm EST
Source:
CBR
|
Comments
(0) |
E-mail Article
|
Add a Comment
NATHAN EDMONDSON - TOM CLANCY'S SPLINTER CELL: ECHOES INTERVIEW AT CBR!
04/18/14 @ 4:51 pm EST
Source:
CBR
|
Comments
(0) |
E-mail Article
|
Add a Comment
PAK, WAID, BARBIERE & VAN LENTE TALK GOLD KEY AT NEWSARAMA!
04/18/14 @ 4:21 pm EST
Source:
Newsarama
|
Comments
(0) |
E-mail Article
|
Add a Comment
VAMPIRELLA #1 - FIRST LOOK INTERIOR PAGES
04/18/14 @ 4:07 pm EST
Source:
Dynamite
|
Comments
(0) |
E-mail Article
|
Add a Comment
THE BLOOD QUEEN #1 - FIRST LOOK INTERIOR PAGES
04/18/14 @ 3:56 pm EST
Source:
Dynamite
|
Comments
(0) |
E-mail Article
|
Add a Comment
JIM BUTCHER'S DRESDEN FILES: WAR CRY #1 - FIRST LOOK INTERIOR PAGES
04/18/14 @ 3:56 pm EST
Source:
Dynamite
|
Comments
(0) |
E-mail Article
|
Add a Comment
COMIC VINE - FLASH GORDON WRITER COMMENTARY WITH JEFF PARKER
04/16/14 @ 12:22 pm EST
Source:
Dynamite
|
Comments
(0) |
E-mail Article
|
Add a Comment
BLEEDING COOL - FRED VAN LENTE'S WRITER COMMENTARY ON THE NEW MAGNUS: ROBOT FIGHTER #2
04/15/14 @ 4:54 pm EST
Source:
Dynamite
|
Comments
(0) |
E-mail Article
|
Add a Comment