PRAISE FOR THE SHADOW #1!
04/18/12 @ 4:40 pm EST
Source:
Just About Comics
|
Comments
(0) |
E-mail Article
|
Add a Comment
Dynamite Entertainment once again brings a classic pulp hero back to comic shops with this brand new series. I have to admit I have a rather limited exposure to The Shadow as a character beyond the few issues I read of Howard Chaykin's series years ago at DC Comics. I come into this new series from Garth Ennis and Aaron Campbell wide-eyed and curious to really get to know who The Shadow is and the world that he operates within.
Ennis wastes no time in opening this issue with a clear understanding to what the world has been through leading up to the present day of this series. Times have definitely been gruesome and troubling to say the least, and Ennis shows how The Shadow has placed himself in all of it. The opening narration, or internal monologue, from The Shadow shows the reader what his mindset is like against these evil forces in this world and then drops readers right in the middle of one of The Shadow's missions.
The pacing of the issue is good and does not over complicate anything, but gives the reader just enough information about these characters to help them move along to the next panel, page, and scene. The more interesting character of this issue is not The Shadow himself, but more his true identity – Lamont Cranston, who is arrogant in a way that makes him partial a jerk but confident in his surroundings. The conversations Cranston has with various characters in this issue as himself are strong and provide an interesting look at his character in contrast to The Shadow.
The art in this issue by Aaron Campbell, Carlos Lopez, and Rob Steen is strong and sets a strong mood and expresses the time period well. The art never falters from the first to the last page remaining strong. Dynamite has a knack of putting great talent on their books and the work of Campbell, Lopez, and Steen prove that.
Readers will not be able to help themselves by getting pulled into this world of The Shadow. Dynamite has taken a number of iconic pulp characters and made them come alive again for an all new audience as well as those of us who have enjoyed them in the past.
The Shadow
is a book I will easily recommend to everyone I meet.
Story:
4 out of 5
Art:
4 out of 5
Overall:
4 out of 5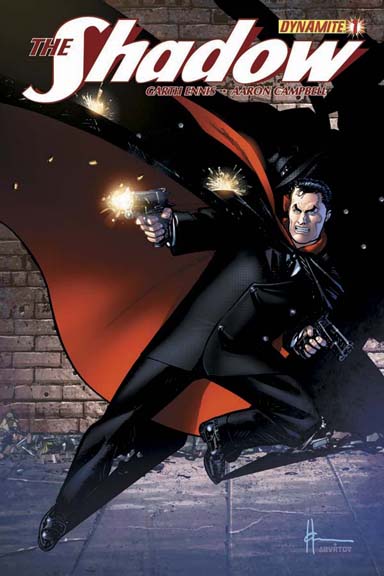 'THE MARVEL EXPERIENCE' TOUR ABRUPTLY CANCELED
07/06/15 @ 3:58 pm EST
Source:
Comic Book Resources
| Categories:
Marvel
|
Comments
(0) |
E-mail Article
|
Add a Comment
The Marvel Experience
, the $30 million high-tech traveling theme park, has abruptly come to the end of the road.The Associated Press reports the "hyper-reality" show announced Sunday that Philadelphia, intended as the kickoff of its summer tour, will be its only stop. Planned multi-day runs in New York, Chicago and St. Louis have been canceled, but no reason has been given. Refunds will be available.Announced in August 2013, The Marvel Experience was described as a "first-person superhero adventure," with audiences becoming part of the action through state-of-the-art multimedia technology, including a 4D motion ride and 3D-animated features. Covering more than 80,000 square feet, the attraction resembled a S.H.I.E.L.D. mobile command center, with a six-story dome.The AP characterizes the cancellation as "another black eye" for co-producers Michael Cohl and Jeremiah J. Harris, the team behind the big-budget Broadway flop
Spider-Man: Turn Off the Dark
(plans to reopen that show in Las Vegas have yet to materialize). Marvel and Los Angeles-based Hero Ventures produced the tour.The Marvel Experience held previews in December in Phoenix before moving on in January to Dallas and San Diego; a scheduled stop in San Francisco was postponed until spring 2016. Theshow underwent a retooling before reopening, later than planned, June 24 in Philadelphia.
SILVESTRI TO BRING NEW 'CYBER FORCE' CHAPTERS TO LINE WEBTOON
07/06/15 @ 3:42 pm EST
Source:
c
| Categories:
MIsc
|
Comments
(0) |
E-mail Article
|
Add a Comment
Marc Silvestri's "Cyber Force" is returning in a format that truly lives up to it's tech-forward name. As announced via press release, the series will return as an exclusive part of LINE Webtoon's digital offerings, with new comic book chapters of the series arriving this fall. The new installments will be written by Matt Hawkins, who preciously co-wrote a number of issues in the most recent "Cyber Force" print series with Silvestri. No artist has yet been announced for the new chapters."
LINE Webtoon is at the forefront of digital comics technology, as well as an innovator in how comics are experienced by readers and in developing the future of digital platforms for creators," said Silvestri in the release.
"We've already been deeply involved in developing the next 'Cyber Force' storyline for the app, and the results are going to truly blow our fans away."LINE Webtoon launched in the United States in 2014 after more than a decade of existence in Korea. Founder and Head of the serivce, JunKoo Kim, said that the addition of "Cyber Force" to their roster of titles is a "key part" of their strategy for translating their overseas success to America."We're thrilled to be able to offer 'Cyber Force' exclusively on the Webtoon platform for free to all our readers and we can't wait to have our fans experience the comic in this new format for the first time -- something only LINE Webtoon can provide," said Kim in the statement.
"Cyber Force" debuted back in 1992 as one of the first offerings from Image Comics; the series went on to spearhead Silvestri's Top Cow Productions and was relaunched in 2012 through Top Cow and financed through Kickstarter.
Additionally, Top Cow will team up with LINE Webtoon to make the new "Cyber Force" a "multi-platform experience" that will allow fans to explore the Top Cow universe. Hawkin's "Aprodite IX"is expected to be "deeply tied" to the events of LINE Webtoon's "Cyber Force" series. New chapters of "Cyber Force" will be made available on LINE Webtoon "in the near future."
DARK HORSE COMICS ANNOUNCES "DRAGON AGE: MAGEKILLER" SERIES FROM RUCKA & CARNERO
07/06/15 @ 3:32 pm EST
Source:
Comic Book Resources
| Categories:
Dark Horse
|
Comments
(0) |
E-mail Article
|
Add a Comment
This December, Greg Rucka and Carmen Carnero will enter the world of BioWare and Electronic Arts' "Dragon Age" in"Dragon Age: Magekiller," a new series published by Dark Horse Comics.
"Magekiller" will follow two new characters, Tessa and Marius, who are mercenary partners who hunt down those who use blood magic with ill intent. The series starts off after the duo take a job from a powerful patron and realize that they are in over their heads, so much so that the task may just be their last. A new addition to "Dragon Age" canon, Tessa and Marius' adventure will take place in the world of Thedas alongside the events of the award-winning "Dragon Age: Inquisition" video game.
"I think the effort that Bioware has consistently put into every on of their roleplaying games -- we can talk about 'Mass Effect,' we can talk about 'Dragon Age,' we can talk about 'Jade Empire,' you can go down the list -- is really stunning," Rucka said in aninterview with Polygon. "I know with 'Dragon Age' in particular, we're talking about a fantasy setting that is probably one of the most fully and beautifully realized examples of world building that we've seen."
To be officially announced at San Diego Comic Con 2015, "Dragon Age: Magekiller" is scheduled to arrive at retailers on December 16 for $3.99
.
"WALKING DEAD" SHOWRUNNER SCOTT M. GIMPLE PROMISES MORE BACKSTORY IN SEASON 6
07/06/15 @ 3:27 pm EST
Source:
Comic Book Resources
| Categories:
Walking Dead
|
Comments
(0) |
E-mail Article
|
Add a Comment
"The Walking Dead" showrunner Scott M. Gimple weighed in on the direction of season 6 in a new interview with Entertainment Weekly, including the aftermath at Alexandria, Rick's impending confrontation with Morgan and never-before-seen backstory.
"I think there's a really cool aspect to the first half of the season that serves almost as a prequel to some direct comic stuff in the second half of the season," Gimple shared. "I think there's a way that Robert [Kirkman] did some of the story that we're reaching that had a real past to it, where people are referring to some things in the past in the comic. And we're able to portray some of that backstory in some ways that you didn't get to see in the comic."
Whether or not this new backstory will involve Rick, his past will certainly catch up with him, and Gimple teased that his reunion with Morgan may not go smoothly. "More importantly, right after he pulled the trigger, Morgan was there and they're face-to-face. What have we heard from Morgan? What have we seen from him? He said, 'All life is precious,' and the first thing he sees Rick do is shoot a man in the face. So right there, the facts point towards a bit of conflict there, a bit of an issue. And will the Alexandrians after that gunshot be completely down with what Rick was saying just a few moments before? Bit of a question mark there."
"As I was working on the finale, it was just very interesting to me that the stakes weren't that Rick was going to be kicked out, but oh, is Rick going to have to kill a lot of people? The onus was completely on him, but in the end he found a way, and providence found a way, that he could demonstrate to these people what they need to do and who he really is. And now that he's done that, he seems to be in a terrific position to bring these people around to his way of thinking, and have it not be based in antagonism. But I will say, the world often gets in the way of Rick's plans," he added.
Based on the Image Comics series by Robert Kirkman, Tony Moore and Charlie Adlard, "The Walking Dead" returns to AMC this October.
"ANT-MAN" PULLS OFF A HEIST IN NEW EXTENDED CLIP
07/06/15 @ 3:23 pm EST
Source:
Comic Book Resources
| Categories:
Ant Man
|
Comments
(0) |
E-mail Article
|
Add a Comment
Marvel Studios has released a new extended clip from the upcoming "Ant-Man" showcasing Scott Lang's safe-cracking skills as he MacGyvers his way through a thick steel door. Consulting with his team (Michael Pena, T.I., David Dastmalchian), Lang blasts into the safe and pulls off the heist, but what he finds inside isn't exactly the treasure he's hoping for.
The cliip:
https://youtu.be/o1OD2IDehJs
BREAKING: DISNEY XD DEBUTS ANIMATED "GUARDIANS OF THE GALAXY" POSTER, ANNOUNCES AIRDATE
07/06/15 @ 3:20 pm EST
Source:
Comic Book Resources
| Categories:
Guardians of The Galaxy
|
Comments
(0) |
E-mail Article
|
Add a Comment
"Guardians of the Galaxy", Disney XD's newest animated Marvel series, makes its official debut Saturday, September 27, but viewers can tune in earlier in the month to catch a sneak peekwhen the first episode airs on Sept. 5.
As announced on TV Line, the series' official timeslot will be Saturday mornings at 9:30 a.m., but the first episode will air several weeks earlier, on Saturday, September 5 at 9 p.m.
In addition to the series' regular episode, Disney XD will also air 10 two-minute shorts, detailing the secret origins of each Guardians member. These will air as follows:
Aug. 1: Star Lord, Part 1 (8:58 pm) and Part 2 (10:28 pm)
Aug. 8: Groot, Part 1 (8:58 pm) and Part 2 (9:58 pm)
Aug. 15: Rocket Raccoon, Part 1 (8:58 pm) and Part 2 (9:58 pm)
Aug. 22: Drax, Part 1 (8:58 pm) and Part 2 (9:58 pm)
Aug. 29: Gamora, Part 1 (8:58 pm) and Part 2 (9:58 pm)
As part of its announcement, Disney XD released the following poster, offering a fresh look at the series' animated stars, clearly inspired by the 2014 hit live-action feature film.
DC ANNOUNCES NEW LIMITED SERIES FOR SWAMP THING, POISON IVY, FIRESTORM AND MORE
07/06/15 @ 2:27 pm EST
Source:
Comic Book Resources
| Categories:
DC
|
Comments
(0) |
E-mail Article
|
Add a Comment
USA Today has revealed that DC Comics will bring a number of characters back into the fold via eight six-issue limited series launching in early 2016.
Among the limited series are "Swamp Thing," "Metal Men," "Raven," "Firestorm," "Katana: Cult of theKobra," "Poison Ivy: Cycle of Life and Death,""Metamorpho" and "Sugar & Spike." The new serieswill feature a mix of creators both classic and modern and, as DC Editor-in-Chief Bob Harras said in the announcement, will spotlight "what's so fantastic about these characters."
Len Wein will write both "Swamp Thing" and "Metal Men." Wein co-created Swamp Thing in 1971 with artist Berni Wrightson, and this new series will reintroduce the character following the end of his ongoing series earlier this year. '80s "Teen Titans" architect Marv Wolfman will return to write the new adventures of "Raven" while Firestorm co-creator Gerry Conway will handle writing duties on "Firestorm." This will be Firestorm's first lead role since the end of "Fury of Firestorm: The Nuclear Men" in 2013. Mike W. Barr, who created Katana in 1983, will write "Katana: Cult of the Kobra."
The new voices involved in the initiative include Amy Chu, who will write "Poison Ivy: Cycle of Life and Death," and artist-turned-writer Aaron Lopresti, who will tackle "Metamorpho." Lastly,Keith Giffen will handle "Sugar & Spike," a series described as a "grownup spin on Sheldon Mayer's popular comic-book toddlers of the 1950s and '60s."
"They're not spoiled kids anymore, but they're older and they're operating as private investigators handling problems and mysteries that the superheroes can't handle themselves," said DC co-publisher Dan DiDio about Giffen's surprising new series. Artists for the eight new limited series have yet to be announced.
Katana, Swamp Thing, Metamorpho and Poison Ivy will all be receiving new limited series

GARTH ENNIS RETURNS TO DYNAMITE, WELCOMES FANS ABOARD A TRAIN CALLED LOVE, THE NEW 10-ISSUE MAXISERIES OF ROMANCE AND VIOLENCE
07/06/15 @ 2:52 pm EST
Source:
Dynamite
| Categories:
Dynamite
|
Comments
(0) |
E-mail Article
|
Add a Comment
Dynamite Entertainment is pleased to announce that fan-favorite writer Garth Ennis will launch a brand new creator-owned series,
A Train Called Love
, this coming October. A volatile comic book exploration of romance as only Garth Ennis can deliver,
A Train Called Love
will feature Mark Dos Santos (
Grimm Fairy Tales
,
Cthulhu Tales
) as regular artist and Russ Braun (
The Boys
,
Fables
) on cover duties.
"
A Train Called Love
is a story I've been wanting to tell for some time, largely because people keep asking me about doing a romance comic and the idea just wouldn't go away," says Garth Ennis. "This is what I came up with: guns, gangsters, mayhem, big white hoods, dubious films with horses, mad Germans, obscene phone calls, crazy ladies, total losers, hot chicks, dishy guys, movie stars, lots of narcotics, terrible bands from Williamsburg, taxidermy, incontinence, unrequited crushes, a big fluffy white rabbit and a rather unpleasant scene involving an escalator. Thus shall I explore the highs and lows of love."
The first issue of
A Train Called Love
introduces Valerie, a woman who has been getting dirty phone calls and wants revenge... and in its pursuit, she meets Myles, the man of her dreams. However, Myles has been targeted by Emil and Gustav, two mentally unstable guns-for-hire. Meanwhile, the budding romance gets more complicated as the rest of the cast is introduced: Valerie's sister Penny, her friend friend Marcy (who's chasing her musical dreams), a handful of shady characters with a dubious scheme to get rich, and a certain organisation with a lot of Ks in its name. And then there's Mister Fluffy...
Over the years, Dynamite Entertainment has been the proud home to numerous Garth Ennis projects, including the superhero genre-busting
The Boys
(with co-creator Darick Robertson), terse cop drama
Red Team
, gut-wrenching war story
Battlefields
, revenge fantasy-come-true
Jennifer Blood
, and pulp hero revival
The Shadow
. The publisher has also collected several additional titles from the author's earlier works, including
Just a Pilgrim
,
Dan Dare
, and
Seven Brothers
. Outside of Dynamite, the author is revered for his prolific work on such titles as
Preacher
,
The Punisher
,
Hellblazer
,
The Pro
,
The Darkness
, and
The Authority: Kev
.
"With so many groundbreaking, industry-shaking titles under his belt, it's not like Garth Ennis has anything left to prove... and yet here he goes again, knocking us over with one of the most fantastic scripts I've read in a long, long time. I can't wait to see
A Train Called Love
hit store shelves -- his fans are going to be ravenous," says Nick Barrucci, Publisher and CEO of Dynamite Entertainment. "He's one of the best comic book writers in the history of the medium, and we're proud to publish his all-new series. It's a series that's completely unlike any he's ever done before, something gloriously fresh and unpredictable!
Joseph Rybandt, Senior Editor of Dynamite Entertainment, says, "'Ennis: Unchained'… not that he was ever chained, but that just seems to fit here."
A Train Called Love #1
will be solicited in Diamond Comic Distributors' August
Previews
catalog, the premiere source of merchandise for the comic book specialty market, corresponding to items shipping in October 2015. Comic book fans are encouraged to reserve copies of
A Train Called Love
with their local comic book retailers.
A Train Called Love
will also be available for individual customer purchase through digital platforms courtesy of Comixology, Dynamite Digital, iVerse, and Dark Horse Digital.
ATARI® AND DYNAMITE INK PUBLISHING DEAL
07/06/15 @ 2:09 pm EST
Source:
Dynamite
| Categories:
Dynamite
|
Comments
(0) |
E-mail Article
|
Add a Comment
Dynamite is very proud to announce a collaborative publishing agreement with Atari®, one of the world's most recognized publishers and producers of interactive entertainment. The deal includes rights for a comprehensive retrospective hardcover book, collecting game production and concept artwork, photos, behind-the-scenes info, marketing art, other details on the company and its games, and interviews with key people involved in Atari's rich history. The deal also includes the right to create original comics and graphic novels in all sizes, as well as reprint existing comic material.
"We are excited to be teaming up with Dynamite Entertainment to bring a modern twist to a classic series of comics and table top books that are rich with historic art," said Fred Chesnais, Chief Executive Officer, Atari, Inc. "Atari's roots in the comic book world and iconic art is a collector and video game enthusiast's dream. Our partnership is a fun way to expose our brand to a new generation and resonate with our long-time fans."
Atari was originally founded in 1972 and was a pioneer in arcade games and home video game consoles. The company's products, such as
Pong
® and the Atari 2600 helped define the electronic entertainment industry from the 1970s to the mid-1980s, and beyond.
"Atari is a touchstone for so many people," says Dynamite Director of Business Development Rich Young. "Their games and game system exposed a lot of folks to video games for the first time…and frankly, got them hooked! I have fond memories of playing games on the 2600 with friends growing up, and am quite happy that we have a chance to work with Atari on this publishing program."
In addition to the hardcover retrospective art book, Dynamite has plans to create new comics based on a select list of Atari properties that help reimagine games with new story and art from some of today's best creators. The list includes
Asteroids
®,
Centipede
®,
Crystal Castles
®,
Missile Command
®,
Tempest
®,
Yar's Revenge
®, and more. Dynamite also plans to reprint existing comics material, such as the
Atari Force
comics that were originally published from 1982-1986 and featured well known and impressive talent such as Gerry Conway, Roy Thomas, Ross Andru, Gil Kane, Dick Giordano, Mike DeCarlo, Jose Luis Garcia-Lopez, Eduardo Barreto, and Mike Baron.
Dynamite Entertainment's Atari's art book, comic books, and graphic novels will be available to consumers through the comic book specialty market, and the graphic novel collection will be available at major bookstore chains, online booksellers, and independent bookstores courtesy of Diamond Book Distributors. Atari comics will also be available for purchase through digital platforms courtesy of Comixology, Dynamite Digital, iVerse, and Dark Horse Digital. Fans and retailers are encouraged to follow Dynamite Entertainment and Atari's official social media channel for the latest updates regarding creative teams and release dates.
Dynamite on Facebook:
http://facebook.com/dynamitecomics
Dynamite on Twitter:
http://twitter.com/DynamiteComics
For art and more information, please visit:
http://dynamite.com
ATARI on Facebook:
https://www.facebook.com/atari
ATARI on Twitter:
https://twitter.com/atari
ATARI Site:
https://www.atari.com/
DYNAMITE ENTERTAINMENT EXPANDS WITH NEW BRANCH OFFICE IN NEW YORK CITY'S FLATIRON DISTRICT
07/06/15 @ 2:04 pm EST
Source:
Dynamite
| Categories:
Dynamite
|
Comments
(0) |
E-mail Article
|
Add a Comment


Dynamite Entertainment is proud to announce the expansion of their company into a branch office located in the Flatiron District of Manhattan. Located at 27th Street and 5th Avenue, the office will initially host current Dynamite team members local to New York City, with the objective of growing the business with additional hires in the metropolitan area.

Nick Barrucci, CEO and Publisher of Dynamite Entertainment, says, "This is a huge step for Dynamite, opening a new office and expanding our operations. We're now closer to our partners and closer to the creative community. It's a very exciting time to be a part of Dynamite."

Named for the 1902 skyscraper whose Beaux-Arts three-facade design presides over the intersection of Fifth Avenue and Broadway, the Flatiron District is a haven for well-known design, photography, clothing, and stationery stores, styled with cast-iron architecture. The area is also home to Madison Square Park, a green oasis that hosts concerts, readings and public art exhibitions.

Dynamite's expansion into the Flatiron District finds them in good company, as the area is home to prominent publishers including The Macmillan Publishing Group. With continued growth of their product categories and the recent addition of editorial and production staff members, Dynamite's establishment of a satellite office in New York City reflects the continued rise of a leading comic book and graphic novel publisher. Fans, retailers, and industry professionals are encouraged to follow Dynamite Entertainment's official social media channels for the latest updates.