PRAISE FOR THE SHADOW #1!
04/18/12 @ 4:40 pm EST
Source:
Just About Comics
|
Comments
(0) |
E-mail Article
|
Add a Comment
Dynamite Entertainment once again brings a classic pulp hero back to comic shops with this brand new series. I have to admit I have a rather limited exposure to The Shadow as a character beyond the few issues I read of Howard Chaykin's series years ago at DC Comics. I come into this new series from Garth Ennis and Aaron Campbell wide-eyed and curious to really get to know who The Shadow is and the world that he operates within.
Ennis wastes no time in opening this issue with a clear understanding to what the world has been through leading up to the present day of this series. Times have definitely been gruesome and troubling to say the least, and Ennis shows how The Shadow has placed himself in all of it. The opening narration, or internal monologue, from The Shadow shows the reader what his mindset is like against these evil forces in this world and then drops readers right in the middle of one of The Shadow's missions.
The pacing of the issue is good and does not over complicate anything, but gives the reader just enough information about these characters to help them move along to the next panel, page, and scene. The more interesting character of this issue is not The Shadow himself, but more his true identity – Lamont Cranston, who is arrogant in a way that makes him partial a jerk but confident in his surroundings. The conversations Cranston has with various characters in this issue as himself are strong and provide an interesting look at his character in contrast to The Shadow.
The art in this issue by Aaron Campbell, Carlos Lopez, and Rob Steen is strong and sets a strong mood and expresses the time period well. The art never falters from the first to the last page remaining strong. Dynamite has a knack of putting great talent on their books and the work of Campbell, Lopez, and Steen prove that.
Readers will not be able to help themselves by getting pulled into this world of The Shadow. Dynamite has taken a number of iconic pulp characters and made them come alive again for an all new audience as well as those of us who have enjoyed them in the past.
The Shadow
is a book I will easily recommend to everyone I meet.
Story:
4 out of 5
Art:
4 out of 5
Overall:
4 out of 5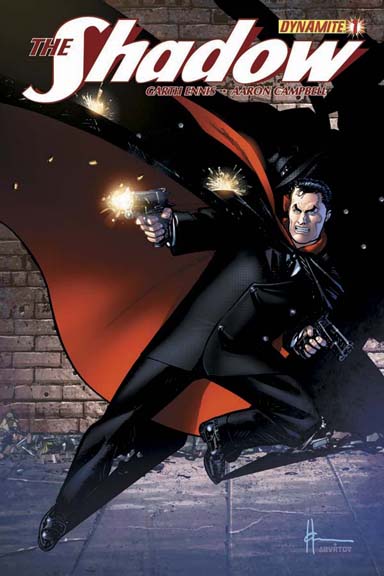 IDW PRESENTS THE GREATEST SHADOW SHOW ON EARTH
07/29/14 @ 10:09 pm EST
Source:
IDW
| Categories:
IDW
|
Comments
(0) |
E-mail Article
|
Add a Comment


In the prose anthology Shadow Show, acclaimed writers gathered to pay tribute to the work of the incomparable Ray Bradbury, known for such timeless classics as Fahrenheit 451, The Martian Chronicles, and The Illustrated Man. What resulted was a collection of remarkable and unique stories that beautifully illustrate Bradbury's enduring imprint on the fantasy, science fiction, and mystery genres.

This November, IDW Publishing will take a selection of these stories and pair them with some of comic book's biggest and brightest artists for a 5-issue series of comic-book adaptations. Shadow Show #1 starts with the haunting and melancholy "By The Silver Water of Lake Champlain," written by Joe Hill (Locke & Key) and adapted by Jason Ciaramella (The Cape) with art byCharles Paul Wilson III (Wraith) and a gorgeous cover by Locke & Key co-creator Gabriel Rodriquez.

"The pairing of Bradbury-inspired stories written by some of the best prose writers working today made for an amazing tribute book," saidChris Ryall, IDW's Chief Creative Officer/Editor-in-Chief, "and to see them brought to life by such amazing artistic talents not only helps further Bradbury's legacy, but it's making for some damned good comics, too."

"The anthology Shadow Show is a loving homage to Mr. B, so it's great to see some of these stories in comics format. Ray considered comic strips central to his education and inspiration and Bradbury stories adapted for the classic EC stories helped raise the bar for all the comics that followed," said Sam Weller and Mort Castle agreed.

Issue 2 will see Neil Gaiman's "The Man Who Forgot Ray Bradbury," brought to life with artist Maria Fröhlich, and artist Eddie Campbellwill tackle Audrey Niffenegger's "Backward In Seville." Writer/EditorMort Castle and Bradbury biographer Sam Weller, who compiled theShadow Show prose anthology, are onboard to help bring these stories to life in comic form.

Other Shadow Show stories to be included are Harlan Ellison's "Weariness," Dave Eggers' "Who Knocks?" and Alice Hoffman's "Conjure" with accompanying artists to be announced. Haunting paintings by Shane Pierce will grace all subscription variant covers for this series.
ABRAMS ANNOUNCES NEW 'PEANUTS' BOOK
07/29/14 @ 9:22 pm EST
Source:
Abrams
| Categories:
MIsc
|
Comments
(0) |
E-mail Article
|
Add a Comment


A new book that looks at the work of "Peanuts" creator Charles Schultz as an artist is the centerpiece of the Spring 2015 line announced by Abrams ComicArts at SDCC,

The book, "Only What Is Necessary," will be written and designed by Chip Kidd, author of the 2001 book "Peanuts: The Art of Charles Schulz."

"This has been one of the books I have wanted to do forever," said Charles Kochman, Abrams editorial director. "When Chip did the first Peanuts book, it was the best book--if you are a 'Peanuts' fan, there can be no other--and then I was thinking, 'Why don't we do what we do at Abrams, which is focus on him as an artist?'"


SINGAPORE BANNED KEVIN KELLERíS WEDDING COMIC BUT NOT NORTHSTARíS
07/29/14 @ 9:12 pm EST
Source:
Today
| Categories:
MIsc
|
Comments
(0) |
E-mail Article
|
Add a Comment


An Archie comic book which featured a gay marriage was removed from local bookstores earlier this year in Singapore — but another comic with a similar theme — Astonishing X-Men Issue 51 — can still be found on the shelves, Today reports.

This is because the X-Men comic, published by Marvel Comics in 2012, offered a balanced treatment of the issue, the Media Development Authority of Singapore (MDA) told Today.

In the X-Men comic, gay superhero character Northstar marries his partner Kyle Jinadu — a plotline similar to Archie: The Married Life Volume Three, which was removed from bookstore chain Kinokuniya in March.Archie: The Married Life features the marriage of Kevin Keller, the popular series' first openly gay character.

Referring to X-Men Issue 51, an MDA spokesman said: "The issue featured characters who objected to the wedding and this offered a balanced treatment on the issue of gay marriage."
WALKING DEAD CONFIRMS NEW CHARACTER, PROMISES S5 WILL 'DEFINE' SURVIVORS
07/29/14 @ 9:08 pm EST
Source:
Blastr
| Categories:
Walking Dead
|
Comments
(0) |
E-mail Article
|
Add a Comment
During the AMC Panel for The Walking Dead at SDCC, executive producer David Alpert revealed the role actor Seth Gilliam will play on Season 5 – Father Gabriel.

According to Blastr, Alpert confirmed that The Wire star Seth Gilliam will play Father Gabriel, a character that originated in the comics. The actor's involvement in Season 5 as a regular was announced in May, but his role was not revealed until now.

In the comics, Father Gabriel appears in Issue #61 and joins Rick's group.
BOOM! PUBLISHER TALKS 'CYANIDE & HAPPINESS'
07/29/14 @ 8:48 pm EST
Source:
ICv2
| Categories:
MIsc
|
Comments
(0) |
E-mail Article
|
Add a Comment
BOOM! Studios will release Cyanide & Happiness: Punching Zoo under its BOOM! Box imprint on August 20th, and ICv2 caught up with BOOM! publisher Filip Sablik, who explained the appeal of the license and the opportunity.

"The first two collections were released in hardcover by Harper Collins," he explained. "It's a real big opportunity for us: they were really successful; there's a huge fan base there. It's a signal of what we're trying to do with licenses, which is looking at things that are on the periphery, but have built up this real great ecosystem. The Cyanide and Happiness guys are at shows all over the country, they've built up this really terrific direct sales portal, and it really fits nicely with BOOM! Box, which has a lot of Web cartoonists coming over and doing original work."

The 200-page trade paperback is written and illustrated by Rob DenBleyker, Kris Wilson, Dave McElfatrick, and Matt Melvin, and will include a forward by Alexis Ohanian, one of the founders of reddit.
AARON CONLEY WINS THE 2014 RUSS MANNING PROMISING NEWCOMER AWARD
07/29/14 @ 8:39 pm EST
Source:
Dark Horse
| Categories:
Dark Horse
|
Comments
(0) |
E-mail Article
|
Add a Comment


Artist Aaron Conley won the 2014 Russ Manning Newcomer Award at the Will Eisner Comic Industry Awards, held on Friday, July 25 at Comic-Con International.

Conley is the artist of The Sabertooth Swordsman published by Dark Horse Comics. Former Manning Award recipient Jeff Smith (BONE) presented the award.

The Manning Award has been given out annually at the San Diego Comic-Con since 1982. It is presented to a comics artist who, early in his or her career, shows a superior knowledge and ability in the art of creating comics. It is named for Russ Manning, the artist best known for his work on the Tarzan and Star Wars newspaper strips and the Magnus, Robot Fighter comic book. Russ was a popular guest at the San Diego convention in the 1970s.

The first recipient of the award was former Manning assistant Dave Stevens.

Other past recipients include Jan Duursema, Steve Rude, Scott McCloud, Art Adams, Eric Shanower, Dan Brereton, Jeff Smith, Gene Ha, Alexander Maleev, Goran Sudzuka, Eric Wight, David Petersen, Cathy Malkasian, Eleanor Davis, Marion Churchland, and Tyler Crook.
THE MYSTERY BUILDS IN 'OUTCAST' BY KIRKMAN AND AZACETA
07/29/14 @ 8:34 pm EST
Source:
Image
| Categories:
Image
|
Comments
(0) |
E-mail Article
|
Add a Comment


The second issue of Robert Kirkman's hot new horror series sells out immediately, goes to 2nd printing to meet demand

On track to match the worldwide success of THE WALKING DEAD, the second issue of Skybound/Image Comics' OUTCAST BY ROBERT KIRKMAN & PAUL AZACETA has sold out completely and is slated for a second printing. The first new series written by Kirkman himself in years, this demonic possession-focused horror comic builds on the mystery and mounting terror in its second issue and has hooked fans of classic horror and the entertainment phenomenon THE WALKING DEAD. Robert Kirkman and Fox International Channels announced late last week that Cinemax has green lit the pilot for Outcast. More news regarding casting and production to follow in the upcoming weeks.

Still reeling from the revelations of issue #1, Kyle Barnes is faced with the implications of what he's learned about demonic possession and the time during his childhood when his mother was possessed by evil. Kyle must put the pieces together and uncover the truth behind why he seems to attract darkness and demonic activity at every corner.

After the momentum-building, successful launch of OUTCAST BY KIRKMAN & AZACETA #1, readers snapped up this second issue to unravel more of the mystery behind Kyle's nature. The issue will go into a second printing in order to meet customer demand. For fans of digital editions, OUTCAST BY KIRKMAN & AZACETA #2 remains available for purchase across all platforms, including the Image Comics website (imagecomics.com) the official Image Comics iOS app, Comixology's website (comixology.com), iOS, Android, and Google Play.

This second printing of OUTCAST BY KIRKMAN & AZACETA #2 (Diamond Code JUN148240) will be available on 8/27.

OUTCAST BY KIRKMAN & AZACETA #3 (Diamond Code JUN140563) will hit shelves on 8/27.
'SAGA' GETS THE DELUXE TREAMENT
07/29/14 @ 8:12 pm EST
Source:
Image
| Categories:
Image
|
Comments
(0) |
E-mail Article
|
Add a Comment
On Saturday, July 26 at the San Diego Comic-Con, Brian K. Vaughan and Fiona Staples announced to a packed audience at the SAGA panel the November release of SAGA: BOOK ONE, the first in a series of deluxe hardcover volumes of their award-winning and beloved Image Comics series. Collecting the first three paperback volumes of SAGA, the 500-page-plus BOOK ONE will feature brand-new cover art by Staples. It will be released on November 25.
As Vaughan and Staples revealed in their Comic-Con panel, the cover of each hardcover edition will feature the series' main character, Hazel, at a different stage in her life. BOOK ONE's cover depicts Hazel breastfeeding as an infant.
"
Saga
is the story of Hazel, and each hardcover edition will feature her at a different stage of life in a new cover from co-creator Fiona Staples," said writer Vaughan. "I have no idea how Staples will top this first one, which perfectly captures our heroine's first few months in the universe. But we're even more proud of what's under the cover, 500 pages of story and never-before-seen extras, including a weirdly detailed creator roundtable about how the team makes a complete issue of our comic, from daydreaming to shipping."
Vaughan's and Staples' announcement came the day after they received three Eisner Awards at the annual ceremony held during Comic-Con. SAGA received a Best Continuing Series Eisner, Vaughan received Best Writer, and Staples was awarded Best Painter/Multimedia Artist.
Telling the story of a family escaping an interplanetary war, SAGA is an ongoing comic book series, released monthly by Image Comics. It has won a Hugo Award, a British Fantasy Award, and multiple Eisner and Harvey Awards. All three volumes of SAGA have reached number one on the New York Times best sellers list, and volume one has been in the top ten for more than seventy weeks. SAGA's next issue, #22, will be in comic book stores on August 27. Three trade paperback collections are now available, and SAGA: VOLUME 4 will be in stores in December.
ISBN 978-1-63215-078-3 Diamond Comic order code MAR148090, 504 pages, $49.99, In stores November 25, Collects issues #1-18 of SAGA, Rated Mature
SECRET TIME TRAVELING TALE OF EVA BELL REVEALED IN UNCANNY X-MEN ANNUAL #1
07/29/14 @ 5:29 pm EST
Source:
Marvel
| Categories:
Uncanny X-Men
|
Comments
(0) |
E-mail Article
|
Add a Comment


This December, spinning directly out of the pages of the New York Times Bestselling Uncanny X-Men, superstar writer Brian Michael Bendis teams with critically-acclaimed artist Andrea Sorrentino to finally answer one of the burning questions on fan's minds – what happened to Eva Bell?

Revealed this past weekend at San Diego Comic-Con, the answers you've been waiting for are in the oversized UNCANNY X-MEN ANNUAL #1 – and the accidental adventures of the young, time-travelling X-Man will shock you!

"It is the utmost grandest X-Men tradition to have your mutant power be the coolest thing about you and the scariest thing," says writer Brian Michael Bendis. "It was only a matter of time before [Eva] was thrust into a situation that revealed the scary side of time related powers."

Unable to fully control her powers, Eva Bell, Codename: Tempus had disappeared in the blink of an eye during an X-Men training mission. Though she re-appeared moments later, she had aged many years. Trapped in her own time bubble, Tempus embarked on a journey into the far future of the Marvel Universe. A journey that would change the young X-Man forever! This oversized annual also marks the first ever Marvel project for critically acclaimed artist Andrea Sorrentino (Green Arrow).

"Andrea is someone we've been dying to work with for some time," says Executive Editor Mike Marts. "It seemed like the perfect tale to capitalize on Andrea's strengths as an artist, especially his talent of establishing expansive and panoramic settings – which this issue has PLENTY of!"

How long was Eva trapped inside her temporal sphere? What horrors did she witness in an uncertain and dangerous future? And more importantly – why would she keep it a secret from her teammates? All will be revealed when Eva Bell takes center stage in Bendis & Sorrentino's UNCANNY X-MEN ANNUAL #1 – and she'll never be the same again!

UNCANNY X-MEN ANNUAL #1
Written by BRIAN MICHAEL BENDISArt & Cover by ANDREA SORRENTINO
Coming in December!
MAD TITAN RETURNS IN 'THANOS: THE INFINITY REVELATION' OGN
07/29/14 @ 5:19 pm EST
Source:
Marvel
| Categories:
Thanos
|
Comments
(0) |
E-mail Article
|
Add a Comment
Next week, the Mad Titan embarks on a new journey. But first, Marvel is proud to present
Thanos: The Infinity Revelation OGN
– the next original graphic novel in Marvel's all new OGN line.
Featuring the world's most popular characters brought to life by the best creators, Marvel's new OGNs debut in a high-end, oversized format featuring sophisticated packaging and design.
Thanos: The Infinity Revelation OGN
sees comic master Jim Starlin (
The Infinity Gauntlet, Captain Marvel)
return to his most famous creation Thanos for an all-new adventure and a new quest for one of the galaxy's most ruthless villans. A crusade that will cross paths with the Guardians of the Galaxy, Adam Warlock, the Silver Surfer, the Annihilators and ultimately his one true love, Death!
With his once sworn enemy Adam Warlock at his side, Thanos will square off against the most powerful beings in the universe. But to what ends? And when the dust settles, what will remain? Prepare yourself as comic legend Jim Starlin returns to the cosmic arena for a tale of death and rebirth that will leave the Mad Titan changed in
Thanos: The Infinity Revelation OGN
!
THANOS: THE INFINITY REVELATION OGN
is on sale wherever comics and books are sold next Wednesday, August 6th! THANOS: THE INFINITY REVELATION OGN (APR140765)
Written by JIM STARLIN
Art & Cover by JIM STARLINOn Sale 08/06/14!