PRAISE FOR THE SHADOW #1!
04/18/12 @ 4:40 pm EST
Source:
Just About Comics
|
Comments
(0) |
E-mail Article
|
Add a Comment
Dynamite Entertainment once again brings a classic pulp hero back to comic shops with this brand new series. I have to admit I have a rather limited exposure to The Shadow as a character beyond the few issues I read of Howard Chaykin's series years ago at DC Comics. I come into this new series from Garth Ennis and Aaron Campbell wide-eyed and curious to really get to know who The Shadow is and the world that he operates within.
Ennis wastes no time in opening this issue with a clear understanding to what the world has been through leading up to the present day of this series. Times have definitely been gruesome and troubling to say the least, and Ennis shows how The Shadow has placed himself in all of it. The opening narration, or internal monologue, from The Shadow shows the reader what his mindset is like against these evil forces in this world and then drops readers right in the middle of one of The Shadow's missions.
The pacing of the issue is good and does not over complicate anything, but gives the reader just enough information about these characters to help them move along to the next panel, page, and scene. The more interesting character of this issue is not The Shadow himself, but more his true identity – Lamont Cranston, who is arrogant in a way that makes him partial a jerk but confident in his surroundings. The conversations Cranston has with various characters in this issue as himself are strong and provide an interesting look at his character in contrast to The Shadow.
The art in this issue by Aaron Campbell, Carlos Lopez, and Rob Steen is strong and sets a strong mood and expresses the time period well. The art never falters from the first to the last page remaining strong. Dynamite has a knack of putting great talent on their books and the work of Campbell, Lopez, and Steen prove that.
Readers will not be able to help themselves by getting pulled into this world of The Shadow. Dynamite has taken a number of iconic pulp characters and made them come alive again for an all new audience as well as those of us who have enjoyed them in the past.
The Shadow
is a book I will easily recommend to everyone I meet.
Story:
4 out of 5
Art:
4 out of 5
Overall:
4 out of 5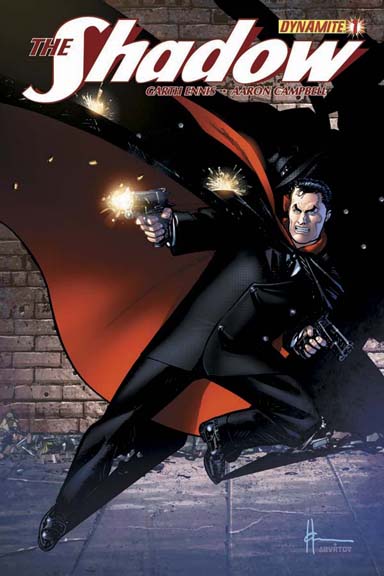 OFFICIAL STAR WARS GALAXY MAP REVEALS NEW FORCE AWAKENS PLANETS
11/28/15 @ 1:00 am EST
Source:
Comicbook
| Categories:
Star Wars
|
Comments
(0) |
E-mail Article
|
Add a Comment
A new official map of the Star Wars galaxy was created (and shared on twitter) by Pablo Hidalgo and the Star Wars story group team, updated to include new planets explored in Star Wars: The Force Awakens. The film, debuting on December 18, introduces new locations, not the least of which is Jakku, the desert planet seen in each of the full trailers.While the map will be seen in the upcoming book Star Wars: The Force Awakens: The Visual Dictionary from DK Books, also arriving on December 18, 2015, it made its print debut in this week's special issue ofEmpire Magazine, dedicated to the upcoming release. The magazine shipped several covers dedicated to the heroes and villains of the movie.The new map has some notable features to it, especially the additional planets that we should be seeing in the movie and in upcoming short stories, novels, and comic books. In addition to Jakku, we can see Takodana, D'Qar and Hosnian Prime. The map also shows the origin point to the Starkiller Base, the mobile, planet-sized headquarters of the First Order in the film, out in the unknown regions of the galaxy. That seemingly eliminates any rumor or possibility that Hoth was converted into the base, as that particular ice planet is still listed on the map, from a different section of the Galaxy.Check out the complete map below.
FORCE AWAKENS RETRO POSTER IMAGES RECALL A MORE INNOCENT TIME
11/28/15 @ 12:42 pm EST
Source:
Bleeding Cool
| Categories:
Star Wars
|
Comments
(0) |
E-mail Article
|
Add a Comment
IGN debuted a trio of
Star Wars: The Force Awakens
posters that hearken back to the early days of the series before we knew the Emperor's full name, Hammerhead's backstory or how much a Blue Suited Snagletooth goes for at conventions.
The film will be released on December 18th, hopefully creating new fond memories.
NEW LOOK AT BATMAN V. SUPERMAN: DAWN OF JUSTICE ON SCHOLASTIC BOOK COVER
11/28/15 @ 12:37 pm EST
Source:
Comicbook
| Categories:
Batman Superman
|
Comments
(0) |
E-mail Article
|
Add a Comment
New look at Henry Cavill as the Man of Steel and Ben Affleck as The Dark Knight has been revealed (via batman-news) on the cover of Scholastic's
Batman V. Superman: Dawn of Justice
companion novel: "Cross Fire."
"After saving Metropolis from an alien invasion, Superman is now famous around the world," reads the book's synopsis (via Amazon). "Meanwhile Gotham City's own guardian, Batman, would rather fight crime from the shadows. But when the devious Doctor Aesop escapes from Arkham Asylum, the two very different heroes begin investigating the same case and a young boy is caught in the cross fire. This action-packed junior novel tells an original story about the stars of
Batman v Superman: Dawn of Justice
. The book also includes a full-color insert with images from the feature film"
Check out the book cover in the image below.
SUPERMAN HENRY CAVILL ADOPTS BABY BAT NAMED BEN
11/28/15 @ 12:31 pm EST
Source:
Comicbook
| Categories:
Superman
|
Comments
(0) |
E-mail Article
|
Add a Comment
Back in October of 2014, Warner Bros. released a video in which
Batman v Superman: Dawn of Justice
director Zack Snyder and two of its stars, Ben Affleck and Amy Adams, raised awareness for bats and how many of them are dying off from a fungus called white-nose syndrome.
Now
Batman v Superman
and
Man of Steel
star Henry Cavill is using his celebrity status to help these winged-mammals too. He even adopted a baby bat and fittingly named him... Ben.
"Watch Henry Cavill meeting Livingstone's fruit bats at Durrell Wildlife Park in Jersey," Durrell Wildlife Conservation Trust posted. "Henry came face to face with our latest arrival, a baby bat that's the latest hope for a species at serious risk of extinction in the wild. Henry wanted to help, and is doing so by naming him 'Ben', and becoming the first to adopt him.
"You can join Henry and Durrell in showing your support, and get a fantastic adoption pack with a range of exclusive items, including a hand-signed photo of Henry with his adopted bat Ben, by adopting him too!"
If you would like to adopt Ben the bat, please visit cavillconservation.
Check it out in the video here:
http://comicbook.com/2015/11/28/superman-henry-cavill-adopts-baby-bat-named-ben/?utm_source=Comicbook.com&utm_medium=email&utm_campaign=151127_231400_Comicbook.com%20Daily%20Newsletter&utm_content=Link
WATCH THE CAPTAIN AMERICA: CIVIL WAR TRAILER WITH SPIDER-MAN ADDED IN
11/28/15 @ 12:25 pm EST
Source:
Comicbook
| Categories:
Captain America
|
Comments
(0) |
E-mail Article
|
Add a Comment
Captain America: Civil War
's trailer finally hit the interwebs this week and despite much hype about Spider-Man heading to Marvel Studios for a Civil War debut, Tom Holland's portrayal of the role wasn't revealed in the first look.
That didn't stop us from re-imagining the trailer, picturing what it might look like to see Spider-Man in action alongside the Avengers we've come to know on the silver screen. (Via Comicbook.com)
Video:
https://youtu.be/DzrfG7eRJjA
RON MARZ TALKS JOHN CARTER AND THE CHARACTER'S CHALLENGES
11/27/15 @ 7:15 pm EST
Source:
Comic Vine
| Categories:
Dynamite
|
Comments
(0) |
E-mail Article
|
Add a Comment
Mark Waid, writer of Justice Inc.: The Avenger #6, talks with writer Ron Marz about John Carter: Warlord of Mars #13, both on sale now.
MARK WAID: What appeals to you about John Carter?RON MARZ:
I think what grabbed me when I first read the novels as a kid was the sense of wonder and discovery.Burroughs had an unparalleled imagination, so everything was fantastic in the true sense of the word. That, coupled with breakneck pacing, is impossible to resist when you're 11 years old. It's stayed with me ever since. And, when you get right down to it, John's got a pretty hot girlfriend.
MW: What motivates him? What is his greatest challenge?RM:
The short answer is he's motivated by love of his princess,Dejah Thoris. He does what he does for her, always for her. But I think the larger answer is that he's motivated by honor, by doing the right thing. Compared to a lot of contemporary heroes, John Carter is a throwback. He does the right thing because it's the right thing, not because he's driven by guilt or angst, or because there's something to be gained. John's greatest challenge is a little tougher, because he's a virtual superman on Mars. That's why I gave him an opposite number in my first arc on the series, a Union cavalry officer who is John's equal on Mars.
MW: How far afield from the original Burroughs material do you wander? Do you want to go farther?RM:
My goal is to stay true to the spirit of the canon, but not be constrained by it. I don't want to do a series that only appeals to hardcore Burroughs fans, I want the material to be inviting to a wide audience. I'd love to go farther, because I think that's the best way to honor the original material -- to engage in creation rather than just imitation. So much of what Burroughs did was about unleashing wild imagination. Anyone who follows in his footsteps needs to do the same.
MW: Man, how underrated was that movie?RM:
Don't get me started. I love Andrew Stanton's movie, not just because it's John Carter, but because it's a damn good movie. It's kind of criminal how botched the marketing was, and then how the film's fate was decided even before it opened. It was doomed before opening day thanks to a combination of studio ineptitude and the media looking to stick a shiv in it because it had the temerity to have a large budget. The failure at the box office breaks my heart, but my heartache is soothed by how great the movie is. I re-watch it often, and I think over time its reputation will be burnished.
MW: For those readers still on the fence, fill in the blank: If you like ____________, you should read John Carter.RM:
"Star Wars" is the obvious one, right? "Star Wars" isn't really science fiction, it is a lot closer to heroic fantasy, or more to the point, planetary romance. George Lucas borrowed a lot more from Edgar Rice Burroughs than he ever did from Heinlein or Asimov. I remember when the John Carter movie came out, a lot of people and even some critics complained about the arena battle with the white apes being ripped off from Episode 2.Well, where to do you think George Lucas got it? That kind of sequence is right out of the John Carter stories. John Carter might have swords instead of light sabers, and airships instead of X-Wings, but they're absolutely cut from the same cloth.
Check out the rest of the extended preview of November 25th's issue!
AGENT CARTERíS JUST GETTING STARTED IN NEW PROMO
11/27/15 @ 7:02 pm EST
Source:
Bleeding Cool
| Categories:
Marvel
|
Comments
(0) |
E-mail Article
|
Add a Comment
A new ad for the second season of Marvel's Agent Carter sees Peggy just getting started:

TV Ad: https://www.youtube.com/watch?feature=player_embedded&v=GOwxiOMZeto

The second season of the show brings Peggy Carter, played by Hayley Atwell, James D'Arcy's Mr. Jarvis and the SSR to Los Angeles. But according to the official description, "even as she discovers new friends, a new home – and perhaps even a new love – she's about to find out that the bright lights of the post-war Hollywood mask a more sinister threat to everyone she is sworn to protect." Chad Michael Murray and Enver Gjokajalso return as SSR Agent Jack Thompson and Chief Daniel Sousa. Wynn Everett, Lotte Verbeek, Currie Graham, Kurtwood Smith, Reggie Austin and Ken Marino are also set to appear.

Agent Carter returns to ABC on January 5th, 2016.
BARRY ASKS THE BIG QUESTION IN NEW ZEALAND TV SPOT FOR FLASH/ARROW CROSSOVER
11/27/15 @ 6:57 pm EST
Source:
Bleeding Cool
| Categories:
DC
|
Comments
(0) |
E-mail Article
|
Add a Comment
In this New Zealand TV ad (spotted by Comic Book Movie) for the upcoming The Flashand Arrow crossover, Barry asks a question we've all been dying to know about Oliver Queen:

TV Ad: https://youtu.be/q5pQIuTgyBg

Part 1 of the Crossover, "Legends of Today" airs December 1st.
HOW PROFESSOR X GOES BALD IN X-MEN: APOCALYPSE, REVEALED
11/27/15 @ 6:48 pm EST
Source:
Bleeding Cool
| Categories:
X-Men
|
Comments
(0) |
E-mail Article
|
Add a Comment
On the Graham Norton Show, currently airing on BBC 1, with a guest list including
Daniel Radcliffe, Johnny Depp, Benedict Cumberbatch
and
James MacAvoy,
we got a tease as to a certain plot point from the upcoming
X-Men: Apocalypse.
Noting that Daniel Radcliffe has shaved his head for
Imperium
, a film where he plays an FBI agent infiltrating a group of Nazi skinhead, Norton asked MacAvoy about his own head shaving experience for
X-Men: Apocalypse
. And confirming that we will discover how Professor Xavier goes bald.
Norton asked "Is there a good reason for why he goes bald or is it really dull?
MacAvoy replied "He ends up going through something so horrible and painful that he literally half pulls his hair out half… it falls out" to winces from Graham and the audience. "Maybe or maybe not"
Asked if he should have told the audience that he admitted: "I just sh*t myself because I know, Fox Studios who own me might be angry with me for sharing that."
BRITANNIA, A BRAND NEW COMIC FROM VALIANT FOR 2016
11/27/15 @ 6:34 pm EST
Source:
Bleeding Cool
| Categories:
MIsc
|
Comments
(0) |
E-mail Article
|
Add a Comment
In a recent podcast with the Valiant big boss
Dinesh Shamdasani
, he announced an upcoming new comic book from the publisher called
Britannia
, saying that Valiant is as excited by this as much as they were the smash hit
Divinity
.
Britannia was the Roman term for Great Britain, and also the female personification of the land as a goddess, armed with trident and shield. wearing a Corinthian helmet. She appeared on all the coins until seven years ago, nowadays she is just on the £2 coin.