PRAISE FOR THE SHADOW #1!
04/18/12 @ 4:40 pm EST
Source:
Just About Comics
|
Comments
(0) |
E-mail Article
|
Add a Comment
Dynamite Entertainment once again brings a classic pulp hero back to comic shops with this brand new series. I have to admit I have a rather limited exposure to The Shadow as a character beyond the few issues I read of Howard Chaykin's series years ago at DC Comics. I come into this new series from Garth Ennis and Aaron Campbell wide-eyed and curious to really get to know who The Shadow is and the world that he operates within.
Ennis wastes no time in opening this issue with a clear understanding to what the world has been through leading up to the present day of this series. Times have definitely been gruesome and troubling to say the least, and Ennis shows how The Shadow has placed himself in all of it. The opening narration, or internal monologue, from The Shadow shows the reader what his mindset is like against these evil forces in this world and then drops readers right in the middle of one of The Shadow's missions.
The pacing of the issue is good and does not over complicate anything, but gives the reader just enough information about these characters to help them move along to the next panel, page, and scene. The more interesting character of this issue is not The Shadow himself, but more his true identity – Lamont Cranston, who is arrogant in a way that makes him partial a jerk but confident in his surroundings. The conversations Cranston has with various characters in this issue as himself are strong and provide an interesting look at his character in contrast to The Shadow.
The art in this issue by Aaron Campbell, Carlos Lopez, and Rob Steen is strong and sets a strong mood and expresses the time period well. The art never falters from the first to the last page remaining strong. Dynamite has a knack of putting great talent on their books and the work of Campbell, Lopez, and Steen prove that.
Readers will not be able to help themselves by getting pulled into this world of The Shadow. Dynamite has taken a number of iconic pulp characters and made them come alive again for an all new audience as well as those of us who have enjoyed them in the past.
The Shadow
is a book I will easily recommend to everyone I meet.
Story:
4 out of 5
Art:
4 out of 5
Overall:
4 out of 5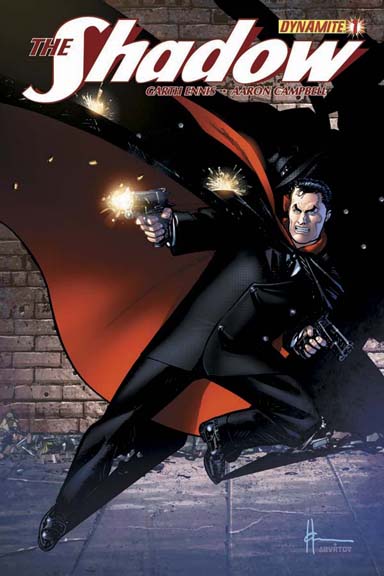 CBS JUMPS INTO COMIC GAME WITH SERIES COMMITMENT TO SUPERGIRL
09/19/14 @ 2:43 pm EST
Source:
Bleeding Cool
| Categories:
DC
|
Comments
(0) |
E-mail Article
|
Add a Comment


The one network who hadn't jumped on the comic book adaptation bandwagon now has.

Entertainment Weekly (via Bleeding Cool) is reporting that CBS has given a series commitment to Warner Bros. TV for Supergirl.

The show is being developed by Greg Berlanti (Arrow, The Flash) and will focus on a 24-year-old Kara Zor-El who has been hiding her powers that she shares with her famous cousin, but decides to finally embrace her abilities and become a hero.
GODZILLA SEQUEL LOCKS IN SKULL ISLAND SCREENWRITER
09/19/14 @ 2:39 pm EST
Source:
Bleeding Cool
| Categories:
Godzilla
|
Comments
(0) |
E-mail Article
|
Add a Comment


Legendary Pictures has found their screenwriter for the plannedGodzilla sequel. According to Deadline (via Bleeding Cool), Max Borenstein will write the screenplay for the sequel. Gareth Edwards will return as director.

There was talk at Comic Con this year about adding King Ghidorah, Mothra and Rodan to the second film, so Borenstein has some big monster action in his future. The writer also penned the script for Skull Island, the King Kong origin story, that just added Tom Hiddleston to star.

The Godzilla sequel is planned for June 8, 2018.
TIM SEELEY TALKS EVIL ERNIE: A DYNAMITE INTERVIEW ON BLEEDING COOL
09/19/14 @ 2:27 pm EST
Source:
Bleeding Cool
| Categories:
Evil Ernie
|
Comments
(0) |
E-mail Article
|
Add a Comment
With the success of the Chaos miniseries and the upcoming Evil Ernie #1 from Dynamite, now seemed like a good time to catch up with the man who lead the relaunch, Tim Seeley. Byron Brewer chatted with the Evil Ernie series writer about what he has in store for the demonic fiend.
BYRON BREWER: Tim, many look upon you as the main architect of this Chaos! Universe revival since you wrote the initial limited series? Do you feel that responsibility?TS:
Yeah, somewhat! But, I also know I have a lot of work from the original material, and I have a bunch of great people to help me out, as well as a host of great writers and artist running with what we set up. Did you read PURGATORI 1? It was awesome.
BB: Of all the Chaos properties, why did you chose to tackle Evil Ernie next after the Chaos LS came to a close?TS:
Ernie was my first. He was my first Chaos! character, and he was my first horror comic really. And you just never forget your first. Plus, my brother Steve had a great idea for an ongoing Ernie series, so I didn't have to do as much work!
BB: We are just to issue #2 so tell us about the Ernie in your book. How is he different from the Evil Ernie other readers may be used to from past tales?TS:
Well, hopefully he ISN'T too different as a character. The main adjustment we've made is to change his mission form one of MEGADEATH and killing the entire world, to having to fight against Mistress Hel's followers at the behest of Lucifur. So, though Ernie is still doing some terrible stuff, he's actually sort of the hero of the tale…
BB: Will we see any Chaos U. guest stars in Evil Ernie?
TS:
YES! A lot of them actually! Mistress Hel, Pagan, the Hells Belles, Mary Young and Lucifur all show up right away!
BB: Servant of Lucifer?? How will Ernie survive these job responsibilities?TS:
Ha, well that undead thing will certainly help. And he's got Smiley at his side. I think the qiestion will be; "Will everyone ELSE survive Ernie new job responsibilities?"
BB: What is Mary Price's place in this upcoming arcane war?TS:
Mary Young is tagging along to minimize casualties, and to act as a counter-Smiley…the angel on his shoulder rather than the devil. But she's also got her own agenda. She wants to understand what made her brother what he is, while also trying to find a way to save him for his own purgatory!
BB: So how is it working with your little brother Steve?
TS:
It's always easier when ya keep it in the gene pool. Plus, Steve knows exactly what I mean when I reference weird shit like "remember that one slasher movie we saw when we were kids?"
BB: Why is artist Rafael Lanhellas right for a book like Ernie?TS:
Y'know at first, I wasn't sure he WAS. But then we got the first issue, and I got to see how well he draws gore and mayhem, I was made a believer. So far, Rafael has mangled to make what we describe creepier and gorier, which isn't easy to do!
JEREMY ATKINS LEAVES DARK HORSE
09/19/14 @ 2:22 pm EST
Source:
ICv2
| Categories:
Dark Horse
|
Comments
(0) |
E-mail Article
|
Add a Comment


Longtime Dark Horse Comics Director of Publicity Jeremy Atkins announced on his Facebook page that he is leaving Dark Horse for a career in the world of craft beer, in the marketing team of Rogue Ales, after this weekend's Rose City Comic Con.

Atkins has been with the company for ten years, including over seven in his current position.

Atkins said Dark Horse was "...where I have learned so much, made lifelong friends and been lucky enough to see the world preaching the four color gospel."

Atkins promised that a webcomic on which he is collaborating with the CBLDF's Alex Cox would make its debut soon.

Jeremy has been a faithful source and friend as well as a fantastic cheerleader for Dark Horse Comics. He will be missed in the DH PR chair by Dynamic Forces,
IMAGE COMICS ROSE CITY COMIC CON PANELS
09/19/14 @ 2:02 pm EST
Source:
Image
| Categories:
Image
|
Comments
(0) |
E-mail Article
|
Add a Comment


Image Comics is pleased to host two exciting panels at Rose City Comic Con this weekend in Portland, Oregon. The panels will be held on Saturday, Sept 20th from 12-12:50 p.m. and on Sunday, Sept 21st from 11-11:50 a.m. Come join us and listen to the the insight, advice, and anecdotes of the bestselling and award winning writers and artists making the best creator-owned comics the industry has to offer. See you there!

SATURDAY:

Image Comics Presents I is for Immediate

Room: Panel Room 2

Time: 12:00PM - 12:50PM

Separately, Kelly Sue DeConnick (Pretty Deadly), Matt Fraction (Sex Criminals), and Greg Rucka (Lazarus) have written some of the most compelling and intensely relatable comics on the stands. Together, these three writers are part of a wave of creators creating stories that reflect life as live it and the world as we know it. Join them as they discuss writing comics and striving for more.

SUNDAY:

Image Comics Presents I is for Irresistible

Room: Panel Room 2

Time: 11:00AM - 11:50AM

Comics art is better than ever and reaching new heights on a daily basis. Sloane Leong (From Under Mountains), Leila Del Duca (Shutter), and Ben Dewey (Tooth & Claw) share the secret to making great comics, sustaining creativity, and just how important artists are when it comes to storytelling in comics.
DEADPOOLíS ART OF WAR #1 REWRITES THE BOOK ON COMBAT THIS OCTOBERD
09/19/14 @ 1:33 pm EST
Source:
Marvel
| Categories:
Deadpool
|
Comments
(0) |
E-mail Article
|
Add a Comment
It's been called the definitive work on military strategy and tactics. Sun Tzu's seminal Art of War has influenced warfare for hundreds of years. From battlefields to Boardrooms and beyond, there has never been a work more important when it comes to strategy and preparation. Until now! Today, Marvel is proud to present your first look at
DEADPOOL'S ART OF WAR #1
– the first chapter in a new 4-issue limited series adapting its classic and iconic namesake! from New York Times Bestselling writer Peter David (All-New X-Factor, The Incredible Hulk) and fan-favorite artist Scott Koblish (Deadpool)!
The Merc With a Mouth knows a thing or two about combat and tactics, and he's gearing up to write his own version of Art of War. It's in the public domain so it's totally ripe for being ripped off. Times change, and today we have heat seeking missiles and automatic machine guns so how accurate can the original book really be?
Only it'll take more than a great book if Deadpool wants to outsell the original. His plan? Cause enough war and chaos around the globe so that they'll have to buy his book! Though he'll get more than he bargained for when the Asgardians, Avengers, X-Men and more get involved. Be there when military strategy takes a gigantic leap forward in
DEADPOOL'S ART OF WAR #1
this October!
DEADPOOL'S ART OF WAR #1 (AUG140882) Written by PETER DAVID
Art & Cover by SCOTT KOBLISH
Variant Cover by CHRIS BURNHAM (AUG140883) FOC – 09/22/14, On-Sale 10/15/14
'X-MEN' SPINOFF 'DEADPOOL' GETS WINTER 2016 RELEASE DATE
09/18/14 @ 9:26 pm EST
Source:
The Hollywood Reporter
| Categories:
Deadpool
|
Comments
(0) |
E-mail Article
|
Add a Comment


Twentieth Century Fox and Marvel Comics are moving ahead with their long-gestating X-Men spinoff Deadpool.

The beloved Marvel character, aka Wade Wilson, is a talkative mercenary with a host of powers, including the ability to heal rapidly. Ryan Reynolds played Wilson in 2009's X-Men Origins: Wolverine, while Scott Adkins played the character of Deadpool after Wilson had transformed.

On Thursday, the studio announced that the movie will hit theaters Feb. 12, 2016. Tim Miller is set to direct the film.

News of Deadpool's release comes weeks after test footage of the project leaked briefly online. The sequence, featuring Reynolds, was shot several years ago, but nevertheless sparked intense conversation on social media.

Meanwhile, reports are Josh Trank's Fantastic Four reboot will move from June 19, 2015, to the Aug. 7 spot, while YA film adaptation Paper Townz -- based on the book by John Green — will move up from July 31, 2015, to June 19, the same corridor Fox used to release YA blockbuster The Fault in Our Stars, also based on a Green novel.

Fox is taking a cue from Disney and Marvel in relocating Fantastic Four to August, where Guardians of the Galaxy prospered this summer.
TNT NABS RIGHTS TO FIVE UPCOMING MARVEL PICS INCLUDING ĎAVENGERS: AGE OF ULTRONí
09/18/14 @ 8:52 pm EST
Source:
Deadline
| Categories:
Marvel
|
Comments
(0) |
E-mail Article
|
Add a Comment


Move over FX. TNT is clearly stepping up its game in the area of blockbuster movie acquisition deals.

The network has inked a licensing agreement with Marvel for the next five theatrical releases from Marvel Studios. This comes on the heels of its recent deal with Lionsgate to acquire network TV rights to the Hunger Games and Divergent movie franchises.

TNT's most recent pact includes the network television premiere windows for Marvel's Avengers: Age of Ultron, due in theaters next summer, and the third installment in the Captain America franchise, slated for release in 2016. Each of the five films is tentatively scheduled to premiere on TNT a little over two years after its theatrical release.

Avengers: Age of Ultron is the anticipated follow-up to Marvel's The Avengers, reuniting the team of Marvel Comics characters including Iron Man, Captain America, Thor, The Incredible Hulk, Black Widow, Hawkeye, Nick Fury and more.

Based on the Marvel comic book series first published in 1941, the third chapter in the Captain America series will follow the alter ego of Steve Rogers as he continues his heroic adventures in a world of constant change.
MARVEL COMICS CREATES NEW CAPTAIN CITRUS
09/18/14 @ 8:44 pm EST
Source:
Miami CBS Local
| Categories:
Marvel
|
Comments
(0) |
E-mail Article
|
Add a Comment
Marvel Comics transformed the original fat-headed, green cape-wearing Captain Orange into a buff hero who can fight evil with the likes of Captain America.
The newly minted superhero already has his first mission. He has to promote the benefits of orange juice in a country where carb-conscious dieters are increasingly turning away from even seemingly healthy beverages that nutritionists have slammed for having too much sugar.
The Florida Department of Citrus paid Marvel Comics $1 million to recreate the character in hopes of bolstering orange juice's reputation as a healthy and wholesome drink.
The new Captain Citrus will be fit and promote healthy choices, starring alongside the Avengers in a custom Marvel Comic. The comic will reveal Captain Citrus' background (he is born and raised as John Polk, the son of citrus growers) and his challenge (to fight an evil enemy called the Leader alongside other superheroes, including Captain America).
Bill Rosemann, the creative director of Marvel Comics, said Captain Citrus is given a choice by the Leader: "Join me and we can take over the world," said Rosemann. "Should he betray his family and the Avengers?"
Fear not: Captain Citrus makes the right choice.
TIM DUNCAN TO APPEAR ON MARVEL COMIC COVER
09/18/14 @ 8:29 pm EST
Source:
NBA
| Categories:
Marvel
|
Comments
(0) |
E-mail Article
|
Add a Comment
Tim Duncan's passion for comics and automobiles will come together this October when Duncan will appear on the front cover of Marvel's
The Punisher. The front cover of the comic was drawn by Michael Choi, a San Antonio-native and self-proclaimed "bigger basketball nerd than comic book nerd." Choi, who has been illustrating comics for Marvel for almost a decade, shared details with Spurs.com on how the front cover came to be:

"None of this would have happened if Tim wasn't a huge Marvel fan and The Punisher specifically. I really love that he's proud of the fact that he's a big comic book fan, and I always got a kick out of reading about him dressing up as The Punisher for Halloween, and incorporating the Punisher's logo on his knee brace. Everyone who knows about Tim Duncan beyond what he does on the court knows that about him, and as a comic book guy myself, I think that's awesome.

"Basically he and the guys at his BlackJack Speed Shop, along with the guys at the comic store Heroes and Fantasies, got together to put forth the idea of custom making a car that the Punisher might drive, kind of like the Batmobile is for Batman, but more gritty and realistic. The Punisher, whose real name is Frank Castle, is a grizzled, old-school vigilante dispensing justice, and while sometimes he has to remain incognito while staking out bad guys, when it comes to the actual "punishment" so to speak, he likes to make a big show to instill fear in his targets. Hence the big skull on his chest, and now his car.

"When the idea was presented to Marvel to see if they could have the car be an actual part of the Marvel universe, what basically started off as fan-fiction or basically "car-cosplay" (cars-play?) now became a part of official Punisher lore after Marvel said yes. The idea was to depict this on the cover of an official issue of "The Punisher" with Castle being given the car by Tim himself, after having had it built by San Antonio's own BlackJack Speed Shop.

"Marvel then asked me to draw it after the guys at Heroes and Fantasies recommended me. I've drawn comics for Marvel for almost a decade now, having spent years on books like X-Men, Thor, and Fantastic Four, and now drawing covers for the new Superior Iron Man title, but I'd never drawn the Punisher before. So even before I knew the specifics of the projects I would have loved to have taken it on, but as a huge San Antonio Spurs fan, having grown up in San Antonio, and with my parents still living in San Antonio and running two local Japanese restaurants off NW Loop 410, after having watched the Memorial Day Miracle live from the nosebleed section to suffering through Ray Allen's dagger, to the Spurs coming back to dominate this year's Finals for our fifth NBA Championship, I jumped on the chance to draw Tim Duncan in a real-life Marvel book! Also, the Heroes and Fantasies store on Pat Booker in Universal City was my first regular comic book store, so it really felt like I'd come full circle.

"I loved drawing this cover. It took about three days, beginning to end. It was important to me to get Tim's face and demeanor right, it was really hard to try and capture his look without being able to put him in a #21 jersey! But I'm really happy with the final product, and I'm really proud that although Marvel asked me if I could put a prominent Punisher skull on the car keys, I chose to sacrifice that in order to draw big fat championship ring on Tim's hand instead, and put that in the center instead!"