PRAISE FOR THE SHADOW #1!
04/18/12 @ 4:40 pm EST
Source:
Just About Comics
|
Comments
(0) |
E-mail Article
|
Add a Comment
Dynamite Entertainment once again brings a classic pulp hero back to comic shops with this brand new series. I have to admit I have a rather limited exposure to The Shadow as a character beyond the few issues I read of Howard Chaykin's series years ago at DC Comics. I come into this new series from Garth Ennis and Aaron Campbell wide-eyed and curious to really get to know who The Shadow is and the world that he operates within.
Ennis wastes no time in opening this issue with a clear understanding to what the world has been through leading up to the present day of this series. Times have definitely been gruesome and troubling to say the least, and Ennis shows how The Shadow has placed himself in all of it. The opening narration, or internal monologue, from The Shadow shows the reader what his mindset is like against these evil forces in this world and then drops readers right in the middle of one of The Shadow's missions.
The pacing of the issue is good and does not over complicate anything, but gives the reader just enough information about these characters to help them move along to the next panel, page, and scene. The more interesting character of this issue is not The Shadow himself, but more his true identity – Lamont Cranston, who is arrogant in a way that makes him partial a jerk but confident in his surroundings. The conversations Cranston has with various characters in this issue as himself are strong and provide an interesting look at his character in contrast to The Shadow.
The art in this issue by Aaron Campbell, Carlos Lopez, and Rob Steen is strong and sets a strong mood and expresses the time period well. The art never falters from the first to the last page remaining strong. Dynamite has a knack of putting great talent on their books and the work of Campbell, Lopez, and Steen prove that.
Readers will not be able to help themselves by getting pulled into this world of The Shadow. Dynamite has taken a number of iconic pulp characters and made them come alive again for an all new audience as well as those of us who have enjoyed them in the past.
The Shadow
is a book I will easily recommend to everyone I meet.
Story:
4 out of 5
Art:
4 out of 5
Overall:
4 out of 5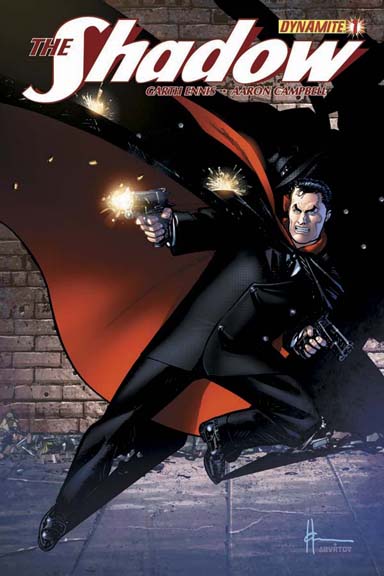 VETERAN ARTIST SCOT EATON JOINS JOSHUA DYSART TO FIGHT "BROKEN ANGELS" IN IMPERIUM #5
03/05/15 @ 8:32 pm EST
Source:
Valiant
| Categories:
MIsc
|
Comments
(0) |
E-mail Article
|
Add a Comment
Valiant is proud to announce that veteran artist Scot Eaton (X-Men: Legacy, Battle Scars) will join New York Times best-selling writer Joshua Dysart (HARBINGER, Unknown Soldier) for a riveting story arc beginning inIMPERIUM #5 – the FIRST ISSUE of BROKEN ANGELS, coming in June! The next shocking volume of the latest hit series from VALIANT NEXT, BROKEN ANGELS will introduce the latest superpower to Toyo Harada's growing legion of monsters and malcontents…one they must capture from a technologically advanced enemy stronghold secreted deep beneath the Indian Ocean.
Toyo Harada will create utopia…he just needs the right weapons first! The most powerful man in the world has collected an assembly of monsters, killers, and super-villains…and now he's set his sights on the last asset his team needs: the renegade Project Rising Spirit scientist called Broken Angel. The only thing standing in his way – an army of enhanced soldiers…guarding a top-secret, highly fortified facility…deep underwater! The impossible heist begins here
"IMPERIUM is a daring breakaway from anything you can find elsewhere in comics today, even at Valiant," said Valiant Editor Alejandro Arbona. "We're extremely proud of Joshua Dysart and Doug Braithwaite's first arc, and we couldn't be more excited to welcome the talented Scot Eaton into the fold for BROKEN ANGELS. Scot is the perfect choice to follow Doug's masterful turn on this title, and he's already hitting his stride with a new series of covers for BROKEN ANGELS. IMPERIUM was already one of a kind, but it's about to evolve and get even bigger."
This summer, red-hot creators Joshua Dysart and Scot Eaton join forces to realize Toyo Harada's vision of a better world by any means necessary in BROKEN ANGELS, an all-new jumping-on point beginning in IMPERIUM #5!
MARCOS MARTIN DRAWS THE ART OF EVOLUTION FOR THE NEXT AGENTS OF SHIELD
03/05/15 @ 8:22 pm EST
Source:
Bleeding Cool
| Categories:
SHIELD
|
Comments
(0) |
E-mail Article
|
Add a Comment
Marvel
and
Entertainment Weekly
have released the next poster in the
Art of Evolution
campaign. This one is done by
Marcos Martin
and features
Lady Sif
(
Jamie Alexander
) who is returning to
Marvel's Agents of SHIELD
in the next episode entitled
Who You Really Are
.
This is Sif / Alexander's second trip to the television corner of the
Marvel Cinematic Universe
. The first time, in season 1's
Yes Men
, she came to Earth following orders from
Odin
(
Loki
) to recapture a runaway
Lorelei
.
In the new episode airing Tuesday March 10th, the team find Sif in a battle with a mysterious warrior who has come to Earth on a mission that will have serious repercussions for
SHIELD
. The problem is that Sif has no memories of why she is there, who
Coulson
and his team are or even of her life on Asgard.
Sounds like fun.
HARRISON FORD IN PLANE CRASH - SUSTAINS SERIOUS INJURIES
03/05/15 @ 8:18 pm EST
Source:
Bleeding Cool
| Categories:
Star Wars
|
Comments
(0) |
E-mail Article
|
Add a Comment
Harrison Ford is in serious condition after crashing his airplane onto a golf course in Venice, CA.

The 72-year old actor landed on Penmar Golf Course after something went mechanically wrong with his single wing aircraft around 2:25 PM today.

Ford walked away from the crash but was treated on the scene by two physicians and then transferred to a Los Angeles area hospital. Reports are that he suffered multiple lacerations.

No one else was hurt.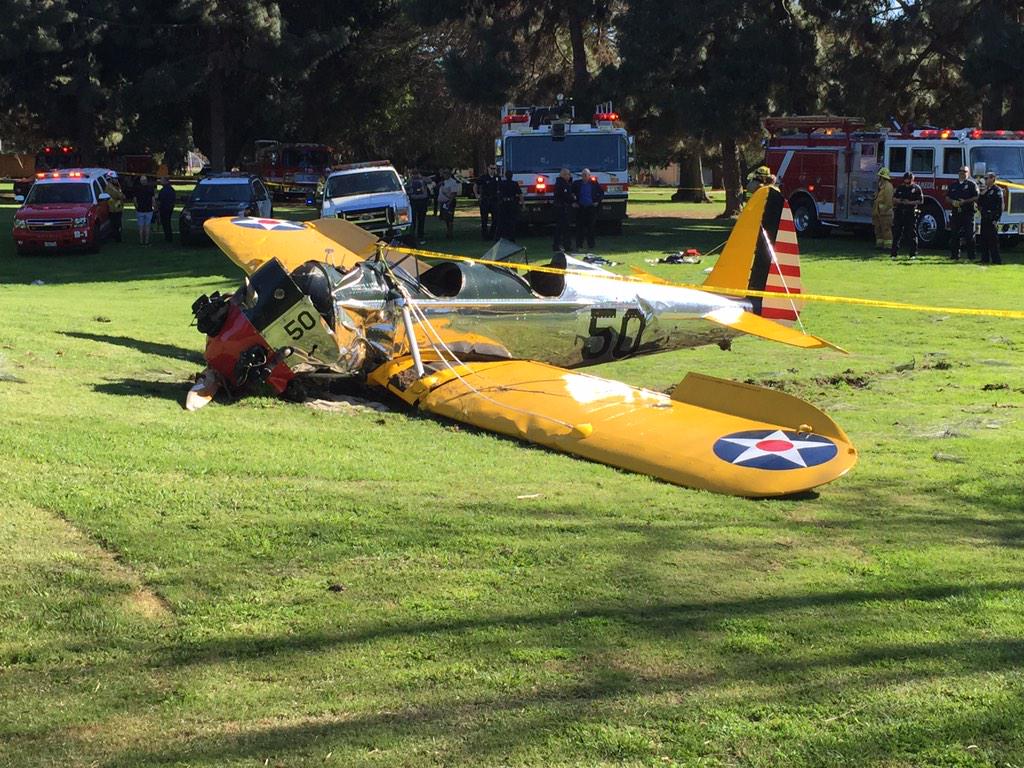 NANCY A. COLLINS TALKS ALTERED STATES: VAMPIRELLA
03/05/15 @ 8:14 pm EST
Source:
Bleeding Cool
| Categories:
Altered States
|
Comments
(0) |
E-mail Article
|
Add a Comment
Dynamite Entertainment
is doing a new series of comics called Altered States, taking some of their best known characters and putting them in new environments. Similar to DC's Elseworlds, Altered states allows the creators to make a whole new spin on a familiar hero.
Troy Brownfield,
writer of
Blood Queen vs. Dracula
#1, talks with
Nancy Collins
about
Altered States: Vampirella
one shot, both on sale now. Cover art by
Billy Tan
.
TROY BROWNFIELD:
Nancy, with the Altered States approach, we're looking at alternative takes on characters. In a way, yours goes back to the roots of Vampirella; can you explain your approach?NANCY COLLINS:
I recently had a couple of old-school Vampirella fans bemoan that she is no longer a 'sci-fi vampire from outer space', so that was floating around in my head when Dynamite asked me for an 'alternate' version of the character for their March event. Turning her from an alien vampire from outer space into a human astronaut stranded on a planet of vampires was the first thought that entered my head. However, I wouldn't call my story 'science fiction'—it's closer to space opera or planetary romance, ala Edgar Rice Burroughs' Barsoom stories.
TB: You go beyond simple twists in your story and do some wholesale reversals. How important were those juxtapositions for them and the script itself?NC:
Once I decided to do a mirror-reverse version of Vampirella's origin story, everything fell into place. Turning Adam Van Helsing and his father into Drakulonians was a given. They're still fighting 'monsters' together, although not of a supernatural nature.
TB: I can see you're having some fun with references in there, notably Forrest (which I took as a nod to the Ackermonster). I also took the name of the Sonic Reducer weapon to be a shout-out to the Dead Boys. I like to play the reference game myself. Why do you like to do that, and would you care to note any others that readers should hunt down?NC:
One of Ella's fellow crewmates on the 'Arthur C. Clarke' is Commander Sutton, which is a reference to Tom Sutton (1937-2002), the artist who drew Vampirella's origin story in the very first issue of the Warren magazine run.
TB: Some people might think that Vampirella is pigeon-holed to one type of story, but I think she's pretty flexible in terms of narrative possibilities. What's your take?NC:
I've found her to be highly adaptable for my story-telling purposes. And as to being pigeon-holed, the same held true for Swamp Thing and Batman. I think it has been proven time and again any fictional character's possibilities are only limited by the creative vision of their writer.
TB: If for some reason you hadn't gone the space route with Vampirella, what's another twist on her that you might have tried?NC:
Well, there is already a steampunk version of her in the Legenderry series, and we've just had multiple fairytale versions of her in the Feary Tales mini-series—maybe her fighting Nazis during WWII ala Wonder Woman or Captain America with the help of the Bride of Frankenstein? (Dibs!)
LEMIRE AND NGUYEN'S DESCENDER FAST-TRACKED TO SECOND PRINTING
03/05/15 @ 8:02 pm EST
Source:
Image
| Categories:
Image
|
Comments
(0) |
E-mail Article
|
Add a Comment
Writer Jeff Lemire (
Sweet Tooth
,
Hawkeye
) and artist Dustin Nguyen (
Batman: Li'l Gotham
) take the comics scene by storm with the launch of DESCENDER #1—already optioned for film before even hitting the shelves—and collect an outpouring of advance praise. In order to keep up with customer demand, Image Comics is pleased to announce a second printing of DESCENDER #1.
DESCENDER follows one young robot's struggle to stay alive in a universe where all androids have been outlawed and bounty hunters lurk on every planet. A rip-roaring and heart-felt cosmic odyssey that pits humanity against machine, and world against world, to create a sprawling space opera.
DESCENDER #1 remains available for purchase across all digital platforms, including the Image Comics website (imagecomics.com), the official Image Comics iOS app, Comixology's website (comixology.com), iOS, Android, and Google Play.
DESCENDER #1, 2nd printing (Diamond Code JAN158232), arrives in stores on April 1.
DESCENDER #2 (Diamond Code FEB150601) will arrive in stores on April 8.
Read the DYNAMiC FORCES interview with Jeff Lemire by clicking here.
HIGHLY-ANTICIPATED NONPLAYER RETURNS
03/05/15 @ 7:55 pm EST
Source:
Image
| Categories:
Image
|
Comments
(0) |
E-mail Article
|
Add a Comment
After much fan anticipation, Image Comics is pleased to announce that Nate Simpson's NONPLAYER, which achieved massive levels of critical acclaim upon its debut, will return with the highly anticipated issue #2 on June 3, 2015. In order to meet customer demand, NONPLAYER #1 will return for a third printing and be available on April 1.
Newsarama calls Russ Manning Award-winner Simpson "a superstar in the making," and Warren Ellis says of Simpson, "this guy's going to be a big deal. The whole thing is just a f****** stunning piece of illustration." Multiversity raves that NONPLAYER is "a deafening roar that no one can ignore. Simpson has created the debut of the year with this comic, and to pass it up would certainly be the biggest mistake any comic fan could make."
NONPLAYER is set in the future—and the future is dismal. That goes double for Dana Stevens—she's stuck in a dead-end tamale delivery job, and she's way too old to be living with her mom. But Dana escapes to the online fantasy world of Jarvath, where she's an elite warrior. When she slays the wife of celebrity game character King Heremoth, her victory seems all but guaranteed—that is, until the game spins wildly out of control.
Issue #2 sees a wounded King Heremoth plotting revenge against Dana, while a police standoff at a Los Angeles fish market reveals a homicidal robot armed only with seafood. Simpson outdoes his beautiful and multi-layered debut with an even more ambitious feat of world-building!
NONPLAYER is a lush and vivid story that explores what happens when one girl loses herself in an escapist hobby that turns out to be much more than just a game.
NONPLAYER #1, 3rd printing (Diamond Code = JAN158233) will be available on April 1. The final order cutoff deadline for retailers is Monday, March 9.
NONPLAYER #2 (Diamond Code = APR150542) will be available on June 3 and can be pre-ordered now.
NEW SPAWN WRITER AND ARTIST BRING FANS SPAWN: RESURRECTION
03/05/15 @ 7:52 pm EST
Source:
Image
| Categories:
Spawn
|
Comments
(0) |
E-mail Article
|
Add a Comment
New series writer and Eisner Award-winner Paul Jenkins (Revelations, Batman: The Dark Knight) teams up with artist Jonboy Meyers (The Savage She-Hulks, Marvel Adventures Spider-Man) to shed light on Al Simmons' tragic past in the collectible issue, SPAWN: RESURRECTION #1. Al Simmons' highly-anticipated return to the series will then pick up with SPAWN #251.

Five years ago, Al Simmons removed himself to a state of limbo by means of suicide. But what tragic revelation could persuade him to finally return to the city, and how is this connected to the very creation of humanity? Featuring a special guest character: God. Trust us: you've never read a SPAWN comic like this before.

SPAWN: RESURRECTION #1 hits stores on March 11th and can be pre-ordered using Diamond Code DEC140602. Cover B by McFarlane can be pre-ordered using Diamond Code DEC140603.
MAESTRO SMASHES IN THE WARZONES! OF FUTURE IMPERFECT #1
03/05/15 @ 7:44 pm EST
Source:
Marvel
| Categories:
Marvel
|
Comments
(0) |
E-mail Article
|
Add a Comment
Can anyone stop the Maestro? That's the question this June as the oppressive lord of Dystopia enters the Battleworld fray in
FUTURE IMPERFECT #1
! Writer Peter David returns to the nuclear-ravaged wastelands he made famous. And artist Greg Land joins him for an explosive all-new Secret Wars tale!
In the domain of Dystopia, the Hulk stands triumphant over the world's heroes and villains. Now calling himself the Maestro and lording over all of Dystopia – his gamma-fisted tyranny knows no bounds! Yet the spark of rebellion still lives within these borders. A small, but fierce band of rebels still remains, willing give all in the name of freedom, even if it means their lives! Time to find out if Hulk really is the strongest one there is?
"It's really fun to see the Maestro back and the dude is on his home turf so any challengers are going to have a distinct disadvantage when it comes to smash time," says Series Editor Mark Paniccia. "Some characters from Peter David's X-FACTOR are going toe-to-toe with Maestro but there's a great battle coming up with an ever lovin' surprise character that promises to give lovers of superhero fights a coast-to-coast grin!"
With their backs to the wall, Ruby Summers and the rebels will seek out anyone who can stand against Maestro's power. How does Odin factor into their strategy? What character in Maestro's weight class will face off with him? And will the members of X-Factor survive the first issue? Those answers and more lie in the bombastic, action-packed pages of
FUTURE IMPERFECT #1
this June!
FUTURE IMPERFECT #1
Written by PETER DAVID
Art & Cover by GREG LAND
Variant Cover by DALE KEOWN
On Sale in June!
ULTRON FOREVER BEINGS HERE! YOUR NEW LOOK AT AVENGERS: ULTRON FOREVER #1
03/05/15 @ 7:39 pm EST
Source:
Marvel
| Categories:
Avengers
|
Comments
(0) |
E-mail Article
|
Add a Comment
This April, Earth's Mightiest Heroes assemble from across time and space to take on the greatest threat of our past, present and future! Today, Marvel is pleased to present your new look inside
AVENGERS: ULTRON FOREVER #1
– the first chapter in a three-part epic Avengers event! Writer Al Ewing (
Captain America & The Mighty Avengers)
and legendary artist Alan Davis assemble a new team of Avengers for an epic tale that should not be missed!
Venture 500 years into the future of the Marvel Universe. A desolate wasteland devoid of almost all human life. Those remaining alive have been enslaved by the Ultron Singularity, surviving only to serve the will of their twisted robot masters. To save the future, Doctor Doom will pluck seven of Earth's Mightiest from different periods to battle the machine god Ultron himself. But when the battle for the cosmos begins, will they succeed – or die trying?
Now – the present day Vision and Black Widow, James Rhodes, the Incredible Hulk, two generations of Thor and Danielle Cage, the Captain America of the future must join forces if we are to have any hope for tomorrow! Yet as they travel into the uncertain future, even they will not be prepared for what they find.
In the shadows of a nightmarish future, a new team of Avengers will rise to show the world that heroes can come from anywhere and anytime. It all happens this April when Ewing and David unite for
AVENGERS: ULTRON FOREVER #1
!
Plus, don't miss parts 2 and 3 when
NEW AVENGERS: ULTRON FOREVER #1
and
UNCANNY AVENGERS: ULTRON FOREVER #1
hit shelves in April and May!
AVENGERS: ULTRON FOREVER #1 (FEB150697)Written by AL EWINGArt & Cover by ALAN DAVIS
Avengers Variant by Mike McKone (FEB150701)
Variant Cover by Skottie Young (FEB150700)AU Movie Connecting Variant B (FEB150698) and
AU Movie Connecting Variant C (FEB150699) Also Available!FOC – 03/09/15, On-Sale – 04/01/15
MARVEL'S AGENTS OF SHIELD: DOUBLE AGENT WEB SERIES
03/04/15 @ 10:21 pm EST
Source:
Comicbook
| Categories:
SHIELD
|
Comments
(0) |
E-mail Article
|
Add a Comment


ABC and Marvel has announced Marvel's Agents of S.H.I.E.L.D.: Double Agent, a new five-part web series tie-in to Agents of S.H.I.E.L.D. on the ABC television network.

The series follows a double agent who has infiltrated the Marvel Universe and is leaking sensitive top secret information about upcoming episodes of Marvel's Agents of S.H.I.E.L.D.The series debuts today at MarvelsDoubleAgent.com, ABC.com and the WATCH ABC app.

Sponsored by Lexus, Marvel's Agents of S.H.I.E.L.D.: Double Agent follows the actions of a newly hired production assistant who is actually working as a double agent on behalf of an unknown enemy known only as The Mastermind. In each episode, The Mastermind orders the Double Agent to infiltrate different restricted areas on the Marvel's Agents of S.H.I.E.L.D. set, including executive offices, wardrobe and soundstages, among others. Through hidden cameras, The Mastermind can see everything, providing viewers with an inside look at the secretive world of the show -- often uncovering critical story elements to future episodes.

Beginning today, viewers will have the chance to weigh in to predict where they think The Mastermind will send the Double Agent next. After each episode a poll will be posted with a list of possible locations from which they can choose. Once viewers pick where they think the Double Agent should go, they will be given an opportunity to enter for the chance to win prizes from the sets of Marvel's Agents of S.H.I.E.L.D. and Marvel's Agents of S.H.I.E.L.D.: Double Agent. The remaining four episodes will post at 9:00 a.m. PT on March 18, April 1, April 22 and May 6. A winner will be chosen at random Wednesday May 15, 2015.