PRAISE FOR THE SHADOW #1!
04/18/12 @ 4:40 pm EST
Source:
Just About Comics
|
Comments
(0) |
E-mail Article
|
Add a Comment
Dynamite Entertainment once again brings a classic pulp hero back to comic shops with this brand new series. I have to admit I have a rather limited exposure to The Shadow as a character beyond the few issues I read of Howard Chaykin's series years ago at DC Comics. I come into this new series from Garth Ennis and Aaron Campbell wide-eyed and curious to really get to know who The Shadow is and the world that he operates within.
Ennis wastes no time in opening this issue with a clear understanding to what the world has been through leading up to the present day of this series. Times have definitely been gruesome and troubling to say the least, and Ennis shows how The Shadow has placed himself in all of it. The opening narration, or internal monologue, from The Shadow shows the reader what his mindset is like against these evil forces in this world and then drops readers right in the middle of one of The Shadow's missions.
The pacing of the issue is good and does not over complicate anything, but gives the reader just enough information about these characters to help them move along to the next panel, page, and scene. The more interesting character of this issue is not The Shadow himself, but more his true identity – Lamont Cranston, who is arrogant in a way that makes him partial a jerk but confident in his surroundings. The conversations Cranston has with various characters in this issue as himself are strong and provide an interesting look at his character in contrast to The Shadow.
The art in this issue by Aaron Campbell, Carlos Lopez, and Rob Steen is strong and sets a strong mood and expresses the time period well. The art never falters from the first to the last page remaining strong. Dynamite has a knack of putting great talent on their books and the work of Campbell, Lopez, and Steen prove that.
Readers will not be able to help themselves by getting pulled into this world of The Shadow. Dynamite has taken a number of iconic pulp characters and made them come alive again for an all new audience as well as those of us who have enjoyed them in the past.
The Shadow
is a book I will easily recommend to everyone I meet.
Story:
4 out of 5
Art:
4 out of 5
Overall:
4 out of 5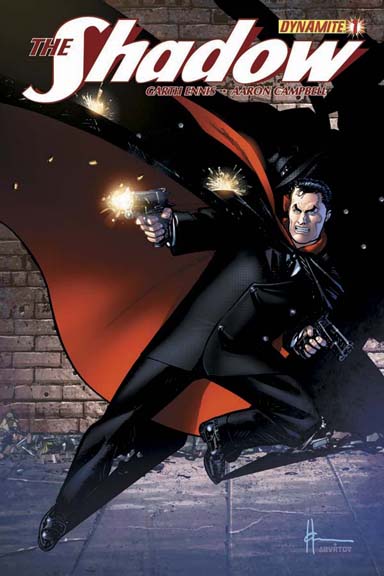 STEPHEN GRAHAM TO STAR IN USA PILOT 'BROOKLYN ANIMAL CONTROL'
10/06/15 @ 7:35 pm EST
Source:
Deadline
| Categories:
MIsc
|
Comments
(0) |
E-mail Article
|
Add a Comment
Boardwalk Empire alum Stephen Graham is set to topline USA Network's drama pilot Brooklyn Animal Control, based on the IDW Publishing comic created by JT Petty. Additionally, Brian Kirk (Game Of Thrones) has signed on to direct the pilot and will also executive produce alongside David S. Goyer.

Written and executive produced by Petty,Brooklyn Animal Control follows the inner workings of a secret subdivision of the NYPD that functions as social services for some of the city's most unique citizens — werewolves. It centers on John Crean (Graham), an officer of the Brooklyn Animal Control who is well-acquainted with the small community of werewolves to which he plays cop, counselor, and diplomat. When backed against a wall, he will buck tradition and risk everything to protect his miscreant son.

Best known for his starring role as Al Capone on HBO's Boardwalk Empire, English actor Graham is currently shooting indie feature HHHH, alongside Jason Clarke, Rosamunde Pike and Jack O'Connell, as well as BBC's The Secret Agent based on the Joseph Conrad book. Graham also starred in A Patch Of Fog which premiered at TIFF this year and he recently wrapped feature Pirates Of The Carribean: Dead Men Tell No Tales. He is repped by ICM Partners, LINK and UK's Independent Talent Group . Brooklyn Animal Control is a co-production with Universal Cable Productions and IDW Entertainment. The pilot also is executive produced by Circle of Confusion's Rick Jacobs and David Alpert and IDW Entertainment's David Ozer and Ted Adams.

NOTE: DF NEWS' OWN INTERVIEW WITH CREATOR JT PETTY ABOUT THE PILOT CAN BE READ HERE: https://www.dynamicforces.com/htmlfiles/interviews.html?showinterview=IN09251573013
"DEADPOOL SECRET COMIC" PLAYS OUT OVER 20 VARIANT COVERS
10/06/15 @ 7:12 pm EST
Source:
Comic Book Resources
| Categories:
Deadpool
|
Comments
(0) |
E-mail Article
|
Add a Comment
Love them or hate them, variant covers have been a fixture in the industry for years, with no signs of slowing down. They're deployed at publishers big and small; Marvel and DC Comics both regularly unveil monthly themed variants (think Marvel's hip-hop variants or DC's movie poster tributes), and commonly promote new launches with multiple variant covers.
So now that Marvel has had action figure variants, manga variants, '90s homage variants and Gwen Stacy variants, what's next? In either a shameless marketing ploy or subversive piece of meta-commentary (or both?), the publisher looks to take things to a different level by telling an actual story over the course of 20 variant covers, equaling the length of a typical single issue. And what better character than Deadpool, a character extremely familiar with appearing on variant covers?
CBR has the
exclusive
first details on the "Deadpool Secret Comic," which will launch in November with "Deadpool" #1, and continue for the first 20 issues of the series; with no wordyet on if the story will be collected once it's all released. The story will be told by series writerGerry Duggan and artist Scott Koblish (Mike Hawthorne illustrates the interiors of the book), and is said by Marvel to introduce a new character "that is already vitally important to every Marvel Comic in recent history."
"Koblish is the perfect artist to smash down the last bit of the fourth wall... this is Deadpool's final frontier," Duggan said. "We're doing it for the fans. And the angry letters."
MEET THE SUPER POWERED FAMILY NEXT DOOR IN THE VISION #1
10/06/15 @ 7:02 pm EST
Source:
Marvel
| Categories:
Marvel
|
Comments
(0) |
E-mail Article
|
Add a Comment
What does it mean to be human? Is it to have emotions? Is it to have a family? This November, join Marvel's synthezoid super hero as he searches for the answers in
THE VISION #1
– a brand new ongoing series from writer Tom King and artist Gabriel Hernandez Walta! Be there as the longtime Avenger embarks on his most harrowing journey yet – being a family man.
"What I find fascinating about the Vision is his desire to be human," says writer Tom King in an interview with Marvel.com. "I wanted to push on this idea, twist it, until maybe it breaks. Maybe Vision wants to be ordinary, he wants to be human – and what's more ordinary than family? So Vision creates a family, finds them a home and tries to live an ordinary life. But that act, creating life, leads to problems he could not possibly imagine…"
Meet his wife, Virginia. His two teen twins – Viv and Vin. They look like him. They have his powers. They share in his greatest ambition – to be normal. But they are anything but. They're the family next door and they have the power to destroy us all. And they're holding a secret. What could possibly go wrong? Behold The Visions! Making their debut this November in the can't-miss
THE VISION #1
!
THE VISION #1 (SEP150758)Written by TOM KING
Art by GABRIEL HERNANDEZ WALTACover by MIKE DEL MUNDO
Variant Covers by MARCOS MARTIN (SEP150759) & RYAN SOOK (SEP150760)Hip Hop Variant by VANESA DEL REY (SEP150761)FOC – 10/12/15, On-Sale – 11/04/15
SONY PICTURES EYES 'DANGER MOUSE' FOR AN ANIMATED FILM
10/06/15 @ 6:54 pm EST
Source:
Comic Book Resources
| Categories:
MIsc
|
Comments
(0) |
E-mail Article
|
Add a Comment
Shortly following the television show's United Kingdom debut, Sony Pictures has picked up "Danger Mouse" for an animated feature. According to Tracking Board, the movie may offer clues about the origins of the titular character. Original Film, Fremantle Media and Neal Mortiz will produce.
Originally airing from 1981 to 1992, "Danger Mouse" followed the exploits of the world's best secret agent and his timid assistant Penfold, who had a tendency to get in the way or, worse, get kidnapped.
Announced last year, the new series updates the world's greatest super-spy for the 21st century. Alexander Armstrong and Kevin Eldon star as Danger Mouse and Penfold, joined by Stephen Fry as Colonel K, Ed Gaughan as Baron Silas von Greenback, David Lamb as Stiletto Mafiosa and the Narrator, Rasmus Hardiker as Count Duckula, John Oliver as Doctor Augustus P. Crumhorn III, and Lena Headey as Jeopardy Mouse.
The updated series currently airs on CBBC and will be available on Netflix this spring.
BLAST OFF WITH YOUR NEW LOOK AT NOVA #1
10/06/15 @ 4:07 pm EST
Source:
Marvel
| Categories:
Nova
|
Comments
(0) |
E-mail Article
|
Add a Comment
What's that? TWO NOVAS?! Your eyes do not deceive you, True Believer. It's a double dose of Human Rocket this November in the all-new
NOVA #1
– the explosive new ongoing series from writer Sean Ryan and artist Cory Smith! Sam Alexander is still an Avenger and the Human Rocket, but these days he's got his old man, Jesse, by his side! For the first time in years, there's more than one Nova in the galaxy and things are finally starting to go Sam's way! But what really happened to Jesse while he was stranded out in space? The answers begin here! Don't miss a fresh start for the whole Alexander family as they blast headlong into All-New, All-Different Marvel in
NOVA #1
– on sale in November!
NOVA #1 (SEP150662)Written by SEAN RYAN
Art by CORY SMITHCover by HUMBERTO RAMOSVariant Cover by CHRIS SAMNEE (SEP150665)Hip-Hop Variant Cover by ERIC CANETTE (SEP150663)Cosplay Variant by CAP SANTIAGO (SEP150664)FOC – 10/12/15, On-Sale – 11/04/15
MIPCOM: NEW 'X-FILES' WOWS AT WORLD PREMIERE
10/06/15 @ 3:57 pm EST
Source:
The Hollywood Reporter
| Categories:
MIsc
|
Comments
(0) |
E-mail Article
|
Add a Comment
Cynical industry journalists turned gawking fanboys at the Mipcom television trade fair on Tuesday night when Fox screened – in its world premiere – the first episode of the hotly-anticipated return of
The X-Files
.
X-Files
creator
Chris Carter
attended the launch in Cannes, saying returning to the show, which went off the air in 2002, felt "surreal" but that it was "a dream come true" to bring back FBI agents Fox Mulder and Dana Scully, played by original stars
David Duchovny
and
Gillian Anderson
.
"I've been doing this for a little over a third of my life. So its obviously very important for me so I jumped at the chance to do it," Carter said.
The audience packed into Cannes' Grand Auditorium broke out in spontaneous applause multiple times - including when Duchovny and Anderson first appeared and the crowd whooped and cheered as the closing credits rolled. But perhaps the biggest applause came earlier, when the opening credits – with the
X-Files
trademark intro music – hit the screen.
In a treat for
X-Files
' traditionalists, Carter has kept the series' original opening credits exactly as they were when the show first aired back in 1993.
"We thought about doing some changes to the original credits but then it seemed like like sacrilege," Carter said. "Those credits were on 202 episodes. They belong on these next six."
JOE ROBERT COLE IN TALKS TO WRITE "BLACK PANTHER"
10/06/15 @ 3:50 pm EST
Source:
Comic Book Resources
| Categories:
Marvel
|
Comments
(0) |
E-mail Article
|
Add a Comment
Joe Robert Cole is currently in negotiations to write the screenplay for "Black Panther," as reported by The Wrap. Cole comes from the same in-house writer's program that Nicole Perlman was part of when she wrote the first draft of "Guardians of the Galaxy." The announcement mentions that Cole was rumored to have written a script for"Inhumans," and a Collider report from last year indicates that the rumor may be true. The Wrap has heard that Cole's "Inhumans" script is not expected to be used.
So far the only sure thing about "Black Panther" is its lead, Chadwick Boseman. No other actors have been cast for the film, although Andy Serkis is expected to reprise his "Avengers: Age of Ultron" role of Ulysses Klaue, a character known for being a Black Panther foe in the comics.
The search for a director for "Black Panther" has also not resulted in a contract; "Selma" director Ava DuVernay passed on the picture and, according to the Wrap's report, F. Gary Gray ("Straight Outta Compton") is apparently also out of the running, possibly due to hispotential involvement in the "Fast and Furious" franchise.
"Black Panther" opens on July 6, 2018.
EXCLUSIVE: FLASH TANGLES WITH ATOM SMASHER IN NEW "THE FLASH" PREMIERE CLIP
10/06/15 @ 3:46 pm EST
Source:
Comic Book Resources
| Categories:
Flash
|
Comments
(0) |
E-mail Article
|
Add a Comment
Ahead of tonight's Season 2 premiere of "The Flash" on The CW, CBR presented an
exclusive
clip from the episode that sees Barry Allen's costumed alter ego (Grant Gustin) tangling with Atom Smasher (Adam Copeland, a.k.a. former WWE Champion Edge) as Joe West (Jesse L. Martin), Martin Stein (Victor Garber), Cisco Ramon (Carlos Valdes) and Iris West (Candice Patton) look on.
The Fastest Man Alive gives his all to the new villain but quickly learns turnabout is fair play. Luckily, Flash's allies have his back and he might just make it out of this skirmish in time to enjoy the rest of his second season.
Clip:
https://youtu.be/sjJu7uPRAs8
GOTHAM'S BRUNO HELLER: WE'VE ABSOLUTELY CONSIDERED THE POSSIBILITY OF A FEMALE JOKER
10/06/15 @ 3:41 pm EST
Source:
Comicbook
| Categories:
DC
|
Comments
(0) |
E-mail Article
|
Add a Comment
Yes, despite his expert protrayal at the hands of Cameron Monaghan, who seemed to take the best of multiple Jokers and put them into the character of Jerome, the young man with the sadistic laugh died last night on
Gotham
. The character, then, serves to inspire the next attempt - or two or five or ten attempts - at becoming the ultimate villain.
When discussing the death of Jerome with
Gotham
showrunner Bruno Heller, though, we had to ask about the ComicBook.com theory that Barbara Kean could, in fact, become The Joker on the series. After all, Heller has said in the past that The Joker would be inspired by other people, and Barbara worked very closely with Jerome these last few episodes. She even commented to mastermind Theo Galavan, "I don't know, the kid had a way about him" when he mentioned Jerome's whole modus operandi.
At the end of a phone interview with Heller, I asked about the theory. The writer and producer known for his candid nature gave a still-somehow-surprisingly-candid response: It's completely feasible. Aside from the evidence already on
Gotham
, and the last three weeks of additional support for the theory about Barbara, there is some comic book support as well. If you think of
Gotham
as an alternate reality to the main DC Comics world, in another alternate reality,
Flashpoint
, there was already a female Joker. In that world, Bruce Wayne was killed in the alley, driving his father Thomas to become Batman and his mother Martha to become The Joker. Also, Barbara Kean has historically had some mental instability in the comics, and the son of her and Jim Gordon has gone on to be a sadistic killer in his own right.
Here is Bruno Heller's response to the theory - and even the possibilty of a female Joker - in full:
We talked about theories earlier, and I posted one to the site recently that became pretty popular; the theory is that Barbara could become the Joker of this world.Bruno Heller:
(laughs loudly)
Rather than asking you for a flat out yes or no that you can't give me, I'd rather ask you, how open are you to a larger twist like that, where it's a female version of a major character or a major character that we know from the comics that becomes someone else here?BH:
100% possible. One of the central themes of the DC world is transformation and revelation. Absolutely, those kinds of – I wouldn't want to call it playing with people's expectations or gender expectations – but we've absolutely considered the possibility of a female Joker, and we haven't… well I'll stop myself from saying more because I won't be able to stop revealing things. (laughs)
No possibility – it is incumbent on us, when we're telling such a rich, and psychedelic and surreal and infinitely expandable story, it's both one of the joys of it and one of the scary things about it: you can plausibly go anywhere with this story. So nothing is too strange or too bizarre or too shocking for us to consider. And some of those shocking and surprising things will inevitably end up on screen to either the delight of fans or to their horror. As long as people respond and are engaged, we've done our job.
TRICIA HELFER JOINS "POWERS" AS FBI SPECIAL AGENT LANGE
10/06/15 @ 3:32 pm EST
Source:
Comic Book Resources
| Categories:
Powers
|
Comments
(0) |
E-mail Article
|
Add a Comment


Sony's Playstation Network continues to ramp up the cast of "Powers," announcing today that former "BSG" star Tricia Helfer will join the super-powered cop show show for its second season.

Helfer will bring FBI Special Agent Lange to life on the series. In the comic, by Brian Michael Bendis and Michael Avon Oeming, Lange shares a past -- both professional and romantic -- with Detective Walker, played on the series by Sharlto Copley. According to the release announcing Helfer's casting, "Lange walks a fine line between the Powers world and the government, and can be both ally and enemy when it suits her agenda."

Helfer joins fellow "Powers" newcomers Enrico Colantoni and Michael Madsen as the series continues production on its sophomore season.

Helfer, best known as "Battlestar Galactica's" undercover Cylon Number Six, most recently appeared as The Queen on TNT's "Falling Skies" and Viondra Denniger on Syfy's "Ascension" miniseries.

"Powers" returns in 2016 on the Playstation Network.