PRAISE FOR THE SHADOW #1!
04/18/12 @ 4:40 pm EST
Source:
Just About Comics
|
Comments
(0) |
E-mail Article
|
Add a Comment
Dynamite Entertainment once again brings a classic pulp hero back to comic shops with this brand new series. I have to admit I have a rather limited exposure to The Shadow as a character beyond the few issues I read of Howard Chaykin's series years ago at DC Comics. I come into this new series from Garth Ennis and Aaron Campbell wide-eyed and curious to really get to know who The Shadow is and the world that he operates within.
Ennis wastes no time in opening this issue with a clear understanding to what the world has been through leading up to the present day of this series. Times have definitely been gruesome and troubling to say the least, and Ennis shows how The Shadow has placed himself in all of it. The opening narration, or internal monologue, from The Shadow shows the reader what his mindset is like against these evil forces in this world and then drops readers right in the middle of one of The Shadow's missions.
The pacing of the issue is good and does not over complicate anything, but gives the reader just enough information about these characters to help them move along to the next panel, page, and scene. The more interesting character of this issue is not The Shadow himself, but more his true identity – Lamont Cranston, who is arrogant in a way that makes him partial a jerk but confident in his surroundings. The conversations Cranston has with various characters in this issue as himself are strong and provide an interesting look at his character in contrast to The Shadow.
The art in this issue by Aaron Campbell, Carlos Lopez, and Rob Steen is strong and sets a strong mood and expresses the time period well. The art never falters from the first to the last page remaining strong. Dynamite has a knack of putting great talent on their books and the work of Campbell, Lopez, and Steen prove that.
Readers will not be able to help themselves by getting pulled into this world of The Shadow. Dynamite has taken a number of iconic pulp characters and made them come alive again for an all new audience as well as those of us who have enjoyed them in the past.
The Shadow
is a book I will easily recommend to everyone I meet.
Story:
4 out of 5
Art:
4 out of 5
Overall:
4 out of 5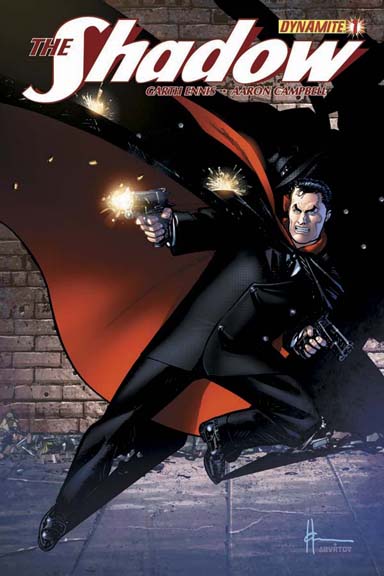 NATIONAL GALLERY OF ART ACQUIRES COMICS
11/23/14 @ 8:16 pm EST
Source:
Washington Post
| Categories:
MIsc
|
Comments
(0) |
E-mail Article
|
Add a Comment
A collection of underground comic books are among the new acquisitions of the National Gallery of Art.
The 176 comic books — collected by Abigail and William Gerdts and given to the gallery — are the first comics to enter its permanent collection.
Published between 1964 and 1977, they include work that influenced major modern artists such as Roy Lichtenstein and Andy Warhol, according to curator Judith Brodie, head of modern prints and drawings.
"They were all drawing their inspiration from cartoons and comic books. It seems totally logical that we'd want a representation of those," Brodie said. "This is a way to supplement the collection."
The Gerdts' collection is among the acquisitions the museum's board of trustees approved at its Oct. 2 meeting and announced Friday. It includes the museum's first work by Robert ("R") Crumb and is bookended by important issues of "Zap Comix," founded by Crumb in 1967, and "Arcade: The Comics Revue," published a decade later.
COMIC BOOKS COME TO LIFE AT VIRGINIA COMICON
11/23/14 @ 8:05 pm EST
Source:
Rochmond Times Dispatch
| Categories:
MIsc
|
Comments
(0) |
E-mail Article
|
Add a Comment
A mishmash of spandex-clad superheroes, everyday comic book fans and curious newcomers filled a hall at the Richmond International Raceway on Saturday for the Virginia Comicon.
"It's the biggest one we've ever done," said Ben Taylor, panel director at the event, which is, at its heart, a comic book convention. "We're kind of swinging for the fences, and the community seems to be responding to it."
This year, the convention doubled its floor space and more than doubled ticket presales, he said. Attendance and presale numbers for this year weren't immediately available, but last year the Virginia Comicon had about 3,000 attendees with about 400 tickets presold, he said.
"One show, you'll see a lot of 'My Little Pony,' " he said. "Another show, you'll see a lot of 'Game of Thrones.' ... It changes as often as the cultural zeitgeist does."
The event features vendors, panels, podcasts and other ways for fans to get into their favorite franchises. But it also offers nonjudgmental camaraderie, Taylor said.
"Here ... people won't judge you for liking Thor; people won't judge you for liking the Hulk," Taylor said. "They'll be like, 'Batman's awesome!' "
Rhudy Williams, 43, of Natural Bridge Station, was in full costume as a Cobra infantry trooper from the G.I. Joe franchise.
"I used to be into comic books many years ago, but then I got a car, and I couldn't afford comic books and a car," he said.
Then, he did a recent graphics job on a 1997 Volkswagen Jetta, and went with a Cobra theme for fun. He decided to follow up by seeing if he could get a costume, he said, and now here he was at a comicon.
Samantha Onstad, 21, of Warrenton, was at her first comicon at the invitation of her sister. She had just picked up prints depicting characters from a variety of games and shows, including "Bioshock," "Firefly" and "Supernatural."
"I really love it," she said. "There's a lot of great stuff that's really letting my nerd flag fly."
BLACK PANTHER ONGOING IN MAY?
11/23/14 @ 7:42 pm EST
Source:
Bleeding Cool
| Categories:
Black Panther
|
Comments
(0) |
E-mail Article
|
Add a Comment
From September, Marvel EIC
Axel Alonso
said, "Let's see. A water-fowl, a tree rat and a jungle cat just might factor into our plans."
January sees the launch of
Unbeatable Squirrel Girl.
March sees the launch of
Howard The Duck.
May sees the launch of the Christopher Priest Black Panther Collection. And, you know, they announced a T'Challa film. Can we expect a new
Black Panther
ongoing series to join it? (Via Bleeding Cool)
'HUNGER GAMES: MOCKINGJAY—PART 1' POSTS TOP 2014 DEBUT
11/23/14 @ 7:34 pm EST
Source:
ICv2
| Categories:
MIsc
|
Comments
(0) |
E-mail Article
|
Add a Comment
As expected The Hunger Games: Mockinjay—Part 1 topped the weekend box office with the highest debut of 2014 so far, an estimated $123 million. But the penultimate Hunger Games film's debut was down 22% from the opening of The Hunger Games: Catching Fire ($158.1 million), and in spite of strong holds from Disney's Big Hero 6 and Christopher Nolan's Interstellar, the box office total of the top 12 films was down 15.4% from the same weekend last year when Catching Fire debuted.

Some will no doubt play the lower opening figures for Mockingjay—Part 1 into some sort of a big deal, but the decline was to be expected given that Lionsgate decided to break the final Hunger Games novel up into two parts, which means that Part 1 provides mostly set-up and context for Part 2. Critics gave Part 1 the lowest rating yet for a Hunger Games film (67% positive), and opening weekend audiences gave Part 1 an "A-" CinemaScore compared with the "A" earned by Catching Fire.

It also appears that Mockingjay—Part 1 played closer to theHunger Games core audience than Catching Fire with 60% of the crowd female compared with 57% for Catching Fire, and 52% of the Mockingjay crowd under 25 versus an even split for the previous Hunger games film. The somewhat less robust than expected opening for Mockingjay doesn't spell decline for the franchise, the finale will score a bigger opening, but it does open the door for James Gunn's Guardians of the Galaxy to retain its spot as the highest-grossing film of 2014 in the domestic market (GotG is currently at $331 million and not likely to go much higher). Right now it looks as if the race for 2014 domestic box office supremacy could be very tight indeed.

THE INFINITE LOOP GETS ITS FIRST ENGLISH PRINTING AT IDW
11/23/14 @ 7:31 pm EST
Source:
IDW
| Categories:
IDW
|
Comments
(0) |
E-mail Article
|
Add a Comment
In anticipation of Paris Comics Expo, IDW Publishing is pleased to announce they will be bringing to print The Infinite Loop, the wildly successful Kickstarter-run project, as a 6-issue miniseries starting in April 2015.
The Infinite Loop is a science-fiction series that asks the age-old question, "What would you risk for a chance at true love?" Meet Teddy, a young woman who lives in a faraway future where time traveling is a common practice and her job is to maintain the status quo by correcting time paradoxes. But when she meets Ano, "a time paradox" and the girl of her dreams, Teddy must decide between fixing the time stream or the love of her life, both of which have unique consequences.
The Infinite Loop began earlier this year as a wildly successful crowdfunded project created by the team of writer Pierrick Colinet and artist Elsa Charretier and described by Comic Book Resources' Robot 6 as "channeling early-period Steve Rude with the page composition of George Pérez…" For the comic-book series, Elsa will be providing all-new covers. Issue 1 also features a variant cover by Stéphanie Hans.
"When Elsa showed off a sample copy of issue 1 at this October's NYCC, everyone at IDW who saw it was desperate to bring it here. The talent and creativity abound on every page. This book is a very welcome title to our roster," said Chris Ryall, IDW's Chief Creative Officer/Editor-in-Chief.
"I've always loved American comic books, and I've always written that way, so having one of my book published monthly is really meaningful to me," said co-creator and series writer, Colinet. "Especially for this story, which is so personal and important to us. And I'm glad we got to join the fantastic IDW team, who showed a true excitement towards The Infinite Loop from the beginning."
"Having The Infinite Loop released in the US is so incredible for us," said co-creator and series artist, Charretier. "When we started working on this story, we were on our own, just the two of us, trying to make this book happen. Crowdfunding and the huge support we received gave us the opportunity to complete it, and now IDW is allowing us to present it to a whole new audience!"
Adventure, Science-Fiction, Love, and Time Travel. What else could you would want? Don't miss this soon-to-be international hit!
WHO'S THAT SAVING SUPERMAN AND WONDER WOMAN?
11/23/14 @ 7:23 pm EST
Source:
DC
| Categories:
DC
|
Comments
(0) |
E-mail Article
|
Add a Comment
SPOILER ALERT:
If you have not read SUPERMAN/WONDER WOMAN #13 yet and do not wish to know what happens, stop reading this post now (major spoilers ahead!).
It's date night for our favorite heroic couple.Like any couple, the night starts off with some friendly banter between Clark and Diana, a few chivalrous gestures by Superman and high hopes for a great night on the town in New York City...
Unsurprisingly though, their date night is quickly cut short. There's no such thing as a "night off" for a superhero. Suspecting that the sudden bad weather encapsulating New York City is an unnatural occurrence, Superman and Wonder Woman are off to find the storm culprit who ruined their evening. Their search leads them to Atomic Skull and Major Disaster who put up a surprisingly strong fight and are able to detain Superman and Wonder Woman in their lightening web.
However, just as Atomic Skull and Major Disaster are about to flee the scene, an unknown superhero appears to seemingly save the day!
See below as Wonder Star emerges out of nowhere to rescue Superman and Wonder Woman. Who is this mysterious being and what is his super power? Can he be trusted?
The new creative team debits: Peter J. Tomasi (script) and Doug Mahnke (pencils). The issue is available in stores now!
DAVID LAPHAM'S RETURN TO CROSSED
11/21/14 @ 8:47 pm EST
Source:
Avatar
| Categories:
MIsc
|
Comments
(0) |
E-mail Article
|
Add a Comment
David Lapham has penned some of the most vital stories in the Crossed Universe. From Crossed: Family Values to Crossed: Psychopath, his influence and characters have defined the depths to which those infected by the virus will go to attain their miserable goals. The celebrated scribe
has returned to the pages of Crossed: Badlands to tell a story of deprivation that drives a normal man to become a monster.Gavin Land was a family man until a ruthless pornographer abused and killed his daughter. Vengeance drove Land to attempt to kill the man that shattered his life, but when he lands in prison he discovers just how far evil extends. While locked behind bars his wife and son are abducted and suffer a
similar fate. He's truly lost everything, except the burning heat of revenge. When the Crossed outbreak lands him on the outside, even the grinning hordes of infected can't stand between him and killing the man that destroyed his family.
Lapham shows us the decent into madness fueled by revenge in this essential arc in the Crossed cannon. Crossed: Badlands #66 is in stores this week.
GEORGE R.R. MARTIN'S IN THE HOUSE OF THE WORM CONCLUDES
11/21/14 @ 8:42 pm EST
Source:
Avatar
| Categories:
MIsc
|
Comments
(0) |
E-mail Article
|
Add a Comment
George R.R. Martin's unlimited imagination delivers the final chapter of his fantastically original tale, In the House of the Worm this week in local comic shops. In the House of the Worm #4 reveals the final fate of Annelyn and the Meat Bringer. Surrounded by Grouns and terrifying
worms, this spoiled young man discovers the truth about the races of the fantasy realm. If he is able to survive the terrors of the absolute dark below ground, he has a chance to change the world. Or become a martyr as some truths are meant to not be uncovered. Fan favorite George R.R. Martin introduces another
distinctly original story that will appeal to Game of Thrones fans. Stop by your local comic shop to discover a new tale from one of the biggest names in fantasy fiction.
DC ENTERTAINMENT RINGS IN THE HOLIDAY SEASON WITH BLACK FRIDAY AND CYBER MONDAY DIGITAL SALES
11/21/14 @ 8:34 pm EST
Source:
DC
| Categories:
DC
|
Comments
(0) |
E-mail Article
|
Add a Comment


This holiday season, DC Digital provides plenty of things to be thankful for – over 750 things, in fact! To celebrate Black Friday, DC Comics will offer 750 issues of iconic Batman stories on sale for 99 cents each for seven days, running November 25-December 1. Plus, on December 1, fans can also purchase 23 essential Vertigo graphic novels for $4.99 each during the Cyber Monday Sale. Get a jump start on holiday shopping and take advantage these incredible deals.

Be sure to check out the complete list of titles on IGN and get your hands on every last issue at the DC Digital Store, Amazon, Apple, Barnes & Noble, ComiXology, and Google Play!
ARCHIE COMICS WELCOMES HARPER LODGE BACK TO RIVERDALE
11/21/14 @ 8:30 pm EST
Source:
Archie Comics
| Categories:
MIsc
|
Comments
(0) |
E-mail Article
|
Add a Comment
Following in the tradition of groundbreaking new characters like Kevin Keller, Archie Comics introduced Harper Lodge, Veronica's cousin, in last June's ARCHIE #656 to a huge response from fans.
Archie Comics is proud to announce that the fan-favorite character, who happens to have a disability, will be returning in a brand new story by writer/artist Dan Parent!
Harper's latest venture: writing a romance book about the boys in Riverdale, has everybody trying to figure out the big question: Who is Harper writing about? Will the gang be able to solve the mystery? Find out why people are raving about Harper and how she fits in perfectly with the rest of the gang in Riverdale!
Harper returns in ARCHIE #665, on sale 3/4.
READ DYNAMIC FORCES' INTERVIEW WITH DAN PARENT ON THE CREATION OF HARPER LODGE by clicking here! Then come on back to the DF Page for more NEWS!