PRAISE FOR THE SHADOW #1!
04/18/12 @ 4:40 pm EST
Source:
Just About Comics
|
Comments
(0) |
E-mail Article
|
Add a Comment
Dynamite Entertainment once again brings a classic pulp hero back to comic shops with this brand new series. I have to admit I have a rather limited exposure to The Shadow as a character beyond the few issues I read of Howard Chaykin's series years ago at DC Comics. I come into this new series from Garth Ennis and Aaron Campbell wide-eyed and curious to really get to know who The Shadow is and the world that he operates within.
Ennis wastes no time in opening this issue with a clear understanding to what the world has been through leading up to the present day of this series. Times have definitely been gruesome and troubling to say the least, and Ennis shows how The Shadow has placed himself in all of it. The opening narration, or internal monologue, from The Shadow shows the reader what his mindset is like against these evil forces in this world and then drops readers right in the middle of one of The Shadow's missions.
The pacing of the issue is good and does not over complicate anything, but gives the reader just enough information about these characters to help them move along to the next panel, page, and scene. The more interesting character of this issue is not The Shadow himself, but more his true identity – Lamont Cranston, who is arrogant in a way that makes him partial a jerk but confident in his surroundings. The conversations Cranston has with various characters in this issue as himself are strong and provide an interesting look at his character in contrast to The Shadow.
The art in this issue by Aaron Campbell, Carlos Lopez, and Rob Steen is strong and sets a strong mood and expresses the time period well. The art never falters from the first to the last page remaining strong. Dynamite has a knack of putting great talent on their books and the work of Campbell, Lopez, and Steen prove that.
Readers will not be able to help themselves by getting pulled into this world of The Shadow. Dynamite has taken a number of iconic pulp characters and made them come alive again for an all new audience as well as those of us who have enjoyed them in the past.
The Shadow
is a book I will easily recommend to everyone I meet.
Story:
4 out of 5
Art:
4 out of 5
Overall:
4 out of 5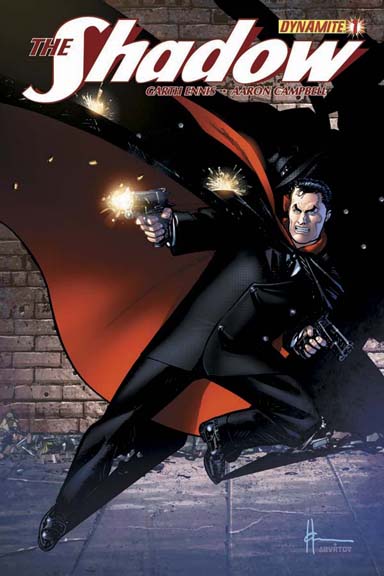 ARCHIE VS PRINCIPAL WEATHERBEE IN DIGITAL EXCLUSIVE
09/02/14 @ 10:30 pm EST
Source:
Archie Comics
| Categories:
MIsc
|
Comments
(0) |
E-mail Article
|
Add a Comment


The eternal struggle between principal and troublemaking student has been in Archie Comics for over 70 years!

Now Archie and Mr. Weatherbee go head-to-head in this digital exclusive collection of their best battles! Will Archie be able to keep himself out of trouble? Will Mr. Weatherbee lose his mind dealing with Archie?

This 100-page digital exclusive answers these questions and more! This makes a perfect reading experience while you're sitting in detention!

This Archie digital exclusive premieres Sept. 5!
BALTIMORE COMIC-CON'S GRENDEL YEARBOOK SUPPORTS A CREATOR IN NEED
09/02/14 @ 10:21 pm EST
Source:
Bleeding Cool
| Categories:
MIsc
|
Comments
(0) |
E-mail Article
|
Add a Comment
Baltimore Comic-Con is coming up this weekend from September 6-8, and in their yearly offering of a yearbook featuring the work of their exhibiting comics creators, they're going the extra mile this year by donating a portion of the proceeds from the yearbook to a support fund for Seth Kushner's battle with leukemia.
Seth is the pop culture photographer behind
Leaping Tall Buildings
and comics writer on
Schmuck
who has long been a supporter of the comics-creator driven con.
The theme for the yearbook for 2014 is Matt Wagner's
Grendel
and supporting characters, and Baltimore Comic-Con will also be hosting
The BCC Yearbook: Grendel Original Art
auction on September 6 at 5 PM to support Seth's treatment.
You can also help Seth Kushner by
donating here
.
JOHN BUSCEMA'S ARTIST'S EDITION TRAVERSES THE COSMOS! IDW HERALDS MARVEL'S SILVER SURFER
09/02/14 @ 10:16 pm EST
Source:
IDW
| Categories:
Silver Surfer
|
Comments
(0) |
E-mail Article
|
Add a Comment
Considered by many to be one of the pinnacles of Silver Age comic book artwork, John Buscema's innovative work on Marvel's Silver Surfer will finally be presented in the premiere Artist's Edition format. Collecting two over-sized complete issues from the acclaimed original run written by Stan Lee, along with a treasure-trove of bonus material, this instant classic will add to IDW's already expansive line of Marvel Comics collections in the Eisner Award-winning Artist's Edition format.Scanned at the highest possible quality, John Buscema's Silver Surfer: Artist's Edition collects issue #5, #6 and #8 of Silver Surfer, both double-sized in length. This Artist's Edition will also collect yet-to-be revealed additional stories from the vast archive of Buscema's work along with bonus Silver Surfer material."Lee and Buscema's Silver Surfer is one of Marvel's greatest milestones and it is simply stunning in its rarely seen original format," said IDW's President, Greg Goldstein.An essential component of The House of Ideas, Buscema's talented hand graced the pages of the most iconic characters for over four decades working on The Avengers, Thor, The Fantastic Four, and The Amazing Spider-Man just to name a few. Launched by Lee and Buscema in 1968, the Silver Surfer's first solo-series ran for 18 issues, captivating readers and setting the bar incomparably high.IDW is honored to publish this esteemed collection with the help of Marvel Comics and the Buscema family.The 12" x 17" collection will be releasing this October, just in time for the holidays.
GAME OF THRONES EXPERT SWORDSMAN JOINS CAST OF STAR WARS: EPISODE VII
09/02/14 @ 3:20 pm EST
Source:
Bleeding Cool
| Categories:
Star Wars
|
Comments
(0) |
E-mail Article
|
Add a Comment


Miltos Yerolemou, who played Syrio Forel the expert swordsman in Game of Thrones, has joined the cast of J J Abrams current film Star Wars: Episode VII, Bleeding Cool reports.

Besides his sword fighting role in the first season of GoT, Yerolemou has done a handful of other parts that involved swordfighting leaning many to assume that he will be doing something involving a lightsaber.

Star Wars: Episode VII is scheduled to hit theaters on December 18th, 2015.
CONAN O'BRIEN GETS A 3D MOTION BACK COVER ON DC COMICS' FUTURES END TITLES TOMORROW
09/02/14 @ 3:09 pm EST
Source:
Bleeding Cool
| Categories:
DC
|
Comments
(0) |
E-mail Article
|
Add a Comment
For the Future End 3D Motion covers, Conan O'Brien's late night show is getting the 3D boost, appearing on the back of all the DC New 52 titles this month, including all the motion covers.
On each cover, Conan appears in 3D, gaining and discarding a Superman-style red cape as the cover is flipped side to side,
Super! At least for the late-night talk show host.
DC ANNOUNCES NEW ARTIST FOR JUSTICE LEAGUE
09/02/14 @ 3:00 pm EST
Source:
DC
| Categories:
Justice League
|
Comments
(0) |
E-mail Article
|
Add a Comment
DC Entertainment (via BUZZFEED) has announced that Jason Fabok (BATMAN ETERNAL, DETECTIVE COMICS) will be joining writer Geoff Johns (SUPERMAN, JUSTICE LEAGUE) as the regular ongoing artist for JUSTICE LEAGUE starting in November with issue #36.
"I've always dreamed of drawing Superman, Wonder Woman, Batman, Flash, Lex Luthor, Aquaman and the myriad of super-villains that comprise the
Justice League
books," Fabok said. "I'm so thankful for this opportunity and hope that fans will look forward to what we have in store!"
JUSTICE LEAGUE #36 arrives on November 19th.
DARK KNIGHT IN TIME: DETECTIVE COMICS: FUTURES END #1
09/02/14 @ 2:53 pm EST
Source:
DC
| Categories:
Detective Comics
|
Comments
(0) |
E-mail Article
|
Add a Comment
DC Comics kicks off September's FUTURES END event with a look 5 years into the Dark Knight's future!
In DETECTIVE COMICS: FUTURES END #1, Calendar Man threatens anniversary mayhem? Arkham Island is an impenetrable fortress? Batman takes his war on crime to the next level, but he needs the help of his greatest ally – The Riddler?!
What will it take to make this team-up happen?
DETECTIVE COMICS: FUTURES END #1, written by Brian Buccellato and illustrated by Scott Hepburn, Cliff Richards and Fabrizio Fiorentino, hits shelves this Wednesday.
STAR-LORD & NOVA VS. THANOS IN GUARDIANS OF THE GALAXY #19 – AN ORIGINAL SIN TIE-IN
09/02/14 @ 2:20 pm EST
Source:
Marvel
| Categories:
Guardians of The Galaxy
|
Comments
(0) |
E-mail Article
|
Add a Comment


Later this month, the truth behind Nova, Star-Lord and Thanos' disappearance continues inGUARDIANS OF THE GALAXY #19 – a tie-in to Original Sin!

New York Times-bestselling creators Brian Michael Bendis and Ed McGuinness bring you the answers fans have been craving –what happened to Richard Rider?! Trapped in a nightmare universe, Star-Lord and Nova fought valiantly against the might of Thanos. Peter Quill and Thanos mysteriously returned without explanation – Nova did not.

The true story of their hellish imprisonment has never been told – until today! Gamora demands answers, and she won't stop until she finds out what happened in the Cancerverse! What pact did Star-Lord make with Thanos to escape such imprisonment? Where is Nova?

Find out when the story that has the whole comic industry talking continues in GUARDIANS OF THE GALAXY #19!

GUARDIANS OF THE GALAXY #19 (JUL140641)Written by BRIAN MICHAEL BENDIS, Art & Cover by ED MCGUINNESS On-Sale – 09/24/14
DOC, PANTHER PLANS REVEALED BY THE MAN?
09/01/14 @ 7:10 pm EST
Source:
Bleeding Cool
| Categories:
Marvel
|
Comments
(0) |
E-mail Article
|
Add a Comment


Thanks to the sharp ears of CBR, and by way of Bleeding Cool, we could have absolute confirmation of new Doctor Strange and Black Panther movies coming from Marvel Studios.

Or it may have been the slip of tongue from a guy who once ID'd Bruce Banner, whom he created, as BOB Banner. (That is where the moniker Robert Bruce Banner later came from, BTW.)

At Fan Expo Canada, Stan "The Man" Lee was quoted as saying:

"We haven't made a Black Widow movie but she's been in some of our movies, and she will be featured more prominently as we move forward. And the chances are she will have her own movie because eventually all the superheroes are going to have their own movies. They are already working on Ant-Man, Doctor Strange and the Black Panther and there are others I am not allowed to talk about."

So the Black Panther is a movie he IS allowed to talk about? Ant-Man is of course in production now with Peyton Reed directing and Paul Rudd, Michael Douglas and Evangeline Lilly starring. And the rumor mill on Doctor Strange has been turning fast with casting talk from Jack Huston to Joaquin Phoenix and of course Scott Derrickson is attached to direct.

So does this mean that Black Panther is moving forward as well? Or perhaps this time for Stan Lee it was more than 'Nuff Said?
STAN GOLDBERG DIES, AGED 82
09/01/14 @ 6:55 pm EST
Source:
Bleeding Cool
| Categories:
MIsc
|
Comments
(0) |
E-mail Article
|
Add a Comment

Stan Goldberg, born in 1932, veteran comic book artist and colorist, died Sunday evening, the result of a stroke he suffered two weeks ago.

He was a comic book creator who worked principally on Archie and Marvel Comics, including contributing to designing the look of Spider-Man and the Fantastic Four working for as a colorist, penciler and inker.

He also worked as the principal Archie Comics penciler from the 1990s until the mid-00s, including the Archie Meets Punisher comic, finishing his work for the publisher with the Life With Archie future universe marriages of Archie to both Betty and Veronica.

Dynamic Forces would like to extend condolences to Stan Goldberg's family, friends and fans.