PRAISE FOR THE SHADOW #1!
04/18/12 @ 4:40 pm EST
Source:
Just About Comics
|
Comments
(0) |
E-mail Article
|
Add a Comment
Dynamite Entertainment once again brings a classic pulp hero back to comic shops with this brand new series. I have to admit I have a rather limited exposure to The Shadow as a character beyond the few issues I read of Howard Chaykin's series years ago at DC Comics. I come into this new series from Garth Ennis and Aaron Campbell wide-eyed and curious to really get to know who The Shadow is and the world that he operates within.
Ennis wastes no time in opening this issue with a clear understanding to what the world has been through leading up to the present day of this series. Times have definitely been gruesome and troubling to say the least, and Ennis shows how The Shadow has placed himself in all of it. The opening narration, or internal monologue, from The Shadow shows the reader what his mindset is like against these evil forces in this world and then drops readers right in the middle of one of The Shadow's missions.
The pacing of the issue is good and does not over complicate anything, but gives the reader just enough information about these characters to help them move along to the next panel, page, and scene. The more interesting character of this issue is not The Shadow himself, but more his true identity – Lamont Cranston, who is arrogant in a way that makes him partial a jerk but confident in his surroundings. The conversations Cranston has with various characters in this issue as himself are strong and provide an interesting look at his character in contrast to The Shadow.
The art in this issue by Aaron Campbell, Carlos Lopez, and Rob Steen is strong and sets a strong mood and expresses the time period well. The art never falters from the first to the last page remaining strong. Dynamite has a knack of putting great talent on their books and the work of Campbell, Lopez, and Steen prove that.
Readers will not be able to help themselves by getting pulled into this world of The Shadow. Dynamite has taken a number of iconic pulp characters and made them come alive again for an all new audience as well as those of us who have enjoyed them in the past.
The Shadow
is a book I will easily recommend to everyone I meet.
Story:
4 out of 5
Art:
4 out of 5
Overall:
4 out of 5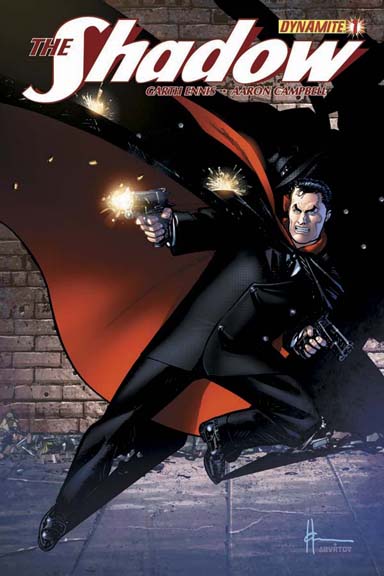 BOX OFFICE: THE VERDICT FOR 'BATMAN V. SUPERMAN: DAWN OF JUSTICE'
05/02/16 @ 11:25 am EST
Source:
The Hollywood Reporter
| Categories:
Batman Superman
|
Comments
(0) |
E-mail Article
|
Add a Comment
The verdict is in: Zack Snyder's
Batman v. Superman: Dawn of Justice
will end up as the No. 7 comic book movie of all time at the worldwide box office to date, not accounting for inflation.
Through Sunday,
BvS
— which is all but done with its run — has grossed $862.9 million globally, including $325.1 million in North America (37.7 percent of its total) and $537.8 million internationally (62.3 percent). It's likely to finish up in the $875 million range when all is said and done, not enough to change the order.
The picture is different in North America, where
BvS
currently ranks as the No. 11 comic book movie, again not accounting for inflation. It could overtake
Guardians of the Galaxy
($333.2 million) to rank as No. 10, and possibly
Spider-Man 3
($336.5 million), but it won't catch up with the recent
Deadpool
($361.8 million). Overseas, it's the No. 7 superhero title.
IDW ANNOUNCES "MASK" SERIES FROM EASTON, VARGAS
05/02/16 @ 11:19 am EST
Source:
Comic Book Resources
| Categories:
IDW
|
Comments
(0) |
E-mail Article
|
Add a Comment
In addition to being part of the upcoming Hasbro cinematic universe, classic '80s franchise "M.A.S.K." is set to return to comics thanks to IDW Publishing. Announced via USA Today, the new series from writer Brandon Easton and artist Tony Vargas will tell the origin story for this new, "Fast and Furious"-style take on "M.A.S.K."
Easton promises that the series won't merely retell the conflict between Matt Trakker's M.A.S.K. (Mobile Armored Strike Kommand) and Miles Mayhem's V.E.N.O.M. (Vicious Evil Network of Mayhem).
"This is a M.A.S.K. for the 21st century with a diverse team of specialists who are chosen for a top-secret program with a painful learning curve," said Easton. "Ultimately, each participant will have to choose a side -- and no matter which side they choose, the consequences will be great."
Easton describes the aforementioned Matt Trakker as equal parts Elon Musk and Idris Elba -- "an engineering genius and intellectual bad boy who has been in search of stability since the loss of his father at an early age." The evil Miles "Mayhem" Manheim will also be a competent villain and master manipulator. "V.E.N.O.M. will be a true force," said Easton. "They don't lose often nor do they accept defeat with grace."
While the series will bring the property into the 21st century, Vargas says that "color combinations and vital identifiable components" of the characters will remain consistent with their '80s counterparts. This includes updating the Camaro/jet Thunderhawk and motorcycle/helicopter Condor.
"We won't be going too grim, gritty or dark," said Easton. "However you're not going to see a teenage kid riding a cowardly robot across the battlefield."
The appeal of the franchise remains the same, though, as Easton described. "Imagine if your car, motorcycle, SUV or yacht could change into a more powerful vehicle complete with state-of-the-art weapons systems and other cutting-edge technology. The possibilities are as fun as they are disastrous."
"FEAR THE WALKING DEAD" REVEALS A MAJOR CHARACTER'S BACKSTORY
05/02/16 @ 11:15 am EST
Source:
Comic Book Resources
| Categories:
Walking Dead
|
Comments
(0) |
E-mail Article
|
Add a Comment
The most mysterious character on AMC's"Fear The Walking Dead" is easily Victor Strand. As played by Colman Domingo, his steely, untrustworthy charisma all but conceals any revelations about his past, and even his true personality. Of all the people aboard The Abigail, he's the one that's revealed the least of his backstory.
That changes in "Blood In the Streets." While Strand remains largely absent in the present -- having escaped The Abigail via raft when the vessel got invaded by strangers -- the episode devotes half of its runtime to his past. Via flashback, we discover that he lost all his holdings in Hurricane Katrina. Upon meeting a developed named Thomas Abigail (hint, hint) looking to profit from the destruction, he swindles the new acquaintance by getting him drunk and stealing his credit cards. It's all part of a scheme where Strand's purchased $30,000 in debt, hoping to get back on his feet in five years or so.
Instead of turning in Strand to the authorities, however, Thomas admires the scheme and makes him his business partner. As the two begin to develop land, they also begin to develop a romantic relationship. Obviously, their bond is threatened when Strand flies to Los Angeles for two days in the middle of the zombie outbreak. If Thomas is still around, perhaps we haven't seen the last of him.
FIRST LOOK AT THE REIMAGINED WORLD OF "SCOOBY APOCALYPSE" IN NEW PREVIEW
05/02/16 @ 11:09 am EST
Source:
Comic Book Resources
| Categories:
MIsc
|
Comments
(0) |
E-mail Article
|
Add a Comment
DC Comics has offered a new look at their upcoming "Scooby-Doo" revamp, "Scooby Apocalypse," which comes from comics veterans Jim Lee, Keith Giffen, J.M. DeMatteis andHoward Porter.
The series debuted several preview pages over at TV Guide, in addition to new details from the creators.
"We noticed there wasn't really an origin story for the characters," Lee told the site. "What if we refined who these characters are? They're really cyphers in a way."
"The monsters are real," Giffen told them, in addition revealing that the first few issues of the book follow "how the group gets together."
On updating the characters' look -- specifically referring to the "hipster Shaggy" -- Lee said, "We knew it would be controversial...All these people saying, 'it's horrible, he's a d-bag,' and I say, 'wait... you look like this guy!' It's an unusual look, but it's to show he's visually distinct from the others, and not part of the mainstream."
Giffen joked, "Keep in mind, it's a comic book. If the book does badly... [Shaggy] shaves."
Lee also addressed the possibility of a crossover with the other Hanna-Barbera titles, like"Wacky Raceland" and "Future Quest": "There's a lot of thoughts shared, non-sequitors thrown out...We love doing world-building." He added, "....[there's a] dream sequence where Scooby finds himself in the Wacky Racelands....[The books are] stretched out not just throughout the world, but throughout time. That definitely leads to a world-building dialogue and discussion."
"Scooby Apocalypse" #1 hits stands on May 25.
BLACK PANTHER UNMASKS IN NEW "CIVIL WAR" TV SPOT
05/02/16 @ 11:03 am EST
Source:
Comic Book Resources
| Categories:
Civil War
|
Comments
(0) |
E-mail Article
|
Add a Comment
Just last week we got to see another new clip of Black Panther (Chadwick Boseman) in action in"Captain America: Civil War." That clip saw T'Challa tracking down and taking on Winter Soldier (Sebastian Stan), while another new promo -- seen below -- shows a different side of the Wakandan hero: his face. The clip shows Black Panther removing his helmet to reveal the face of T'Challa, among a number of other action-packed moments.
Clip:
https://youtu.be/BM1jFsK4KNo
JAMES WAN ADDRESSES RUMOR THAT HE'S DROPPED OUT OF DIRECTING "AQUAMAN"
05/02/16 @ 10:54 am EST
Source:
Comic Book Resources
| Categories:
Aquaman
|
Comments
(0) |
E-mail Article
|
Add a Comment
Following the news of the departure of Seth Grahame-Smith from "The Flash" movie last week, a report came out that suggested James Wan was looking to bow out of his "Aquaman" movie -- but that looks to be just a rumor, as the "Saw" helmer has taken to Twitter to clear up his involvement on the project.
Wan posted the following photo of him leaning up against "Aquaman" art, indicating that he's still very much attached to the project:
"Aquaman" is currently slated for a July 27, 2018 release.
BRYAN SINGER RESPONDS TO INITIAL CRITICISM OF APOCALYPSE'S LOOK & VOICE
05/02/16 @ 10:48 am EST
Source:
Comic Book Resources
| Categories:
X-Men
|
Comments
(0) |
E-mail Article
|
Add a Comment
"X-Men: Apocalypse" director Bryan Singer has opened up about the visual and auditory decisions he made for the titular big bad of the film, clearing up his intention for the character's changing look and voice over the course of the movie.
Singer discussed Oscar Isaac's Apocalypse voice withIGN, revealing that he always planned to use the actor's real voice in the first teaser, despite it not being used through the entire film: "[The first 'X-Men: Apocalypse' trailer] was simply Oscar using his normal voice -- which is wonderful; his performance is fantastic -- but that was never the intention. We just needed those words to govern the first teaser. So people thought, 'Oh, wait, is that going to be his voice during the whole movie?' It's like, no, but to tell the story of the first teaser, we needed the voice, and I hadn't recreated the voice yet."
He added, "It ebbs and flows and moves through the movie, and changes, so he doesn't just have one single voice. He speaks with different voices depending on different moments in the film. So it's really kind of cool. It's the first time I've ever had the tools to sculpt a performance in post-production, that was already given to me on set and chosen in the cutting room."
The "pink" Apocalypse photo Singer is referring to.
The "X-Men: Days of Future Past" helmer then addressed the look of Apocalypse, and how the first photo released of the character didn't correctly capture his color in the film: "There was an image released on Entertainment Weekly, where the effect hadn't been put in yet, so everyone was -- the effect has a pink light on it, and everyone got lit up pink, so people thought Apocalypse was going to be pink. I was like, 'No, no, they're all pink. Take a look. Everyone in the picture is pink. It's a pink picture.' They maybe just should have taken the pink out of the picture -- I should have taken the pink out of the picture. I'm going to take some blame for that. My fault, not Entertainment Weekly's. That's the picture I gave them."
As for the villain's size -- which has caused controversy because he appears considerably smaller in some scenes than he does in the comics -- Singer explained that Apocalypse's height varies over the course of the film: "So then people were like, 'He's small.' I'm like, 'Okay, I got the same s*** when I cast a six-foot-three actor to play five-foot-four Wolverine. I got the same s*** when Quicksilver's very sweet, 1970s costume was released on an Empire Magazine cover.' You know, every time. I could have made him a giant through the whole movie, or some muscle-bound guy who can't act -- I could always do that. But the reality is, among his many powers -- and you will see him change size -- but among his many powers is his power of persuasion, and it was very important that he'd be able to connect with his horsemen, at their level, and that he'd be played by a guy who can actually act like Oscar, who's a fantastic actor."
"X-Men: Apocalypse" hits theaters on May 27.
'GAME OF THRONES' REVEALS JON SNOW'S FATE
05/01/16 @ 11:28 pm EST
Source:
Variety
| Categories:
MIsc
|
Comments
(0) |
E-mail Article
|
Add a Comment
After months of speculation, "Game of Thrones" has finally revealed the fate of fan favorite Jon Snow.
(
Spoiler alert
: Do not read until you've watched the second episode of season six of "Game of Thrones," titled "Home.")
The cast and creators have long insisted that "Jon Snow is dead" repeatedly in various interviews leading up to the sixth season premiere.
But near the end of the second episode, Davos Seaworth (Liam Cunningham) convinces a reluctant Melisandre (Carice van Houten) to work her magic to resurrect Jon Snow (Kit Harington) — the exact question fans have long been hoping for. "Do you know of any magic that could help bring him back?" he asks her.
She's lost her faith, but he pleads his case. "I'm not asking the Lord of Light for help," he says. "I'm asking the woman who showed me that miracles exist."
So she washes Jon's body, cuts his hair, trims his beard, and recites a long incantation.
And at first, it seems that her elaborate efforts have failed, and everyone mournfully leaves the room where his body is being held. But then Ghost, his direwolf, perks up — and Jon opens his eyes, gasping for breath.
"Davos has no love lost for Melisandre," says executive producer D.B. Weiss in HBO's post-show. "But he's seen what she's capable of. He's seen her do many impossible things. He's not a big fan of her god. He's not a big fan of her program. There's certainly nothing to lose at this point. If it doesn't work, then it doesn't work."
"For Melisandre, she comes into it with great doubts," adds executive producer David Benioff. "She is someone who was a true believer, who was an absolute devotee of the Lord of Light, and the events of the last many episodes have shaken that faith. But she still believes in him. She just doesn't know if he believes in her. And so she comes to Jon Snow's body with the tiniest hope that maybe if she says the right words, if she says them with enough belief, with enough passion, the Lord will listen to her."
But as the walkout begins, it comes down to Ghost in the end, says Benioff. "Ghost, he's known Jon longer than any of these people have," he says. "All of these wolves have a strange and deep connection with their Stark counterparts. Ghost has a sixth sense when it comes to Jon Snow and when Jon's in danger and when he might be coming back."
Needless to say, social media exploded with the surprising reveal. (Via Variety)
RYAN REYNOLDS AND LESLIE UGGAMS TALK WADE AND BLIND AL
05/01/16 @ 7:44 pm EST
Source:
Bleeding Cool
| Categories:
Deadpool
|
Comments
(0) |
E-mail Article
|
Add a Comment
To go with the Digital HD release of
Deadpool
, the study has released this featurette focusing on the character of
Blind Al
.
Ryan Reynolds
and
Leslie Uggams
talk about the relationship between Wade and Al and the producers talk about why Al had to be blind.
Deadpool
is available on Digital HD now and will be released on Blu Ray / DVD May 10th.
Video:
https://www.youtube.com/watch?feature=player_embedded&v=ABRlFDz3LLQ
CHLOE BENNET ANSWERS MARVEL FAN QUESTIONS
05/01/16 @ 7:41 pm EST
Source:
Bleeding Cool
| Categories:
SHIELD
|
Comments
(0) |
E-mail Article
|
Add a Comment