PRAISE FOR THE SHADOW #1!
04/18/12 @ 4:40 pm EST
Source:
Just About Comics
|
Comments
(0) |
E-mail Article
|
Add a Comment
Dynamite Entertainment once again brings a classic pulp hero back to comic shops with this brand new series. I have to admit I have a rather limited exposure to The Shadow as a character beyond the few issues I read of Howard Chaykin's series years ago at DC Comics. I come into this new series from Garth Ennis and Aaron Campbell wide-eyed and curious to really get to know who The Shadow is and the world that he operates within.
Ennis wastes no time in opening this issue with a clear understanding to what the world has been through leading up to the present day of this series. Times have definitely been gruesome and troubling to say the least, and Ennis shows how The Shadow has placed himself in all of it. The opening narration, or internal monologue, from The Shadow shows the reader what his mindset is like against these evil forces in this world and then drops readers right in the middle of one of The Shadow's missions.
The pacing of the issue is good and does not over complicate anything, but gives the reader just enough information about these characters to help them move along to the next panel, page, and scene. The more interesting character of this issue is not The Shadow himself, but more his true identity – Lamont Cranston, who is arrogant in a way that makes him partial a jerk but confident in his surroundings. The conversations Cranston has with various characters in this issue as himself are strong and provide an interesting look at his character in contrast to The Shadow.
The art in this issue by Aaron Campbell, Carlos Lopez, and Rob Steen is strong and sets a strong mood and expresses the time period well. The art never falters from the first to the last page remaining strong. Dynamite has a knack of putting great talent on their books and the work of Campbell, Lopez, and Steen prove that.
Readers will not be able to help themselves by getting pulled into this world of The Shadow. Dynamite has taken a number of iconic pulp characters and made them come alive again for an all new audience as well as those of us who have enjoyed them in the past.
The Shadow
is a book I will easily recommend to everyone I meet.
Story:
4 out of 5
Art:
4 out of 5
Overall:
4 out of 5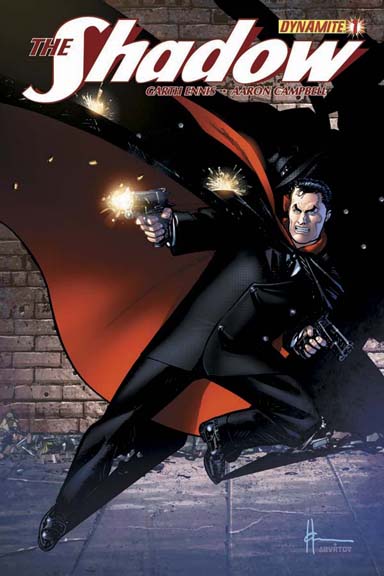 DWAYNE 'THE ROCK' JOHNSON TO CHOOSE BETWEEN SHAZAM AND BLACK ADAM
08/19/14 @ 10:03 pm EST
Source:
Bleeding Cool
| Categories:
Shazam
|
Comments
(0) |
E-mail Article
|
Add a Comment


Bleeding Cool reports that former WWE Champion "The Rock" Dwayne Johnson is saying he will play a role in an upcoming DC movie but he still has to choose whether he will be Shazam or his arch-nemesis Black Adam.

He also said that he is a fan of anti-heroes and Black Adam is one of his favorite DC characters.
WALMART GOES AFTER AMAZON ON MARVEL, DISNEY TITLES
08/19/14 @ 9:32 pm EST
Source:
ICv2
| Categories:
Marvel
|
Comments
(0) |
E-mail Article
|
Add a Comment
Walmart has become a player in the dispute between Amazon and Disney in which Amazon has taken down preorder buttons on Disney and Marvel home video titles, by aggressively pricing pre-orders on Disney and Marvel home video titles to attract customers unable to order the titles from Amazon. The strategy has Walmart taking preorders on the DVD for Captain America: The Winter Soldier at $14.96, around 50% off the list price of $29.99. The Blu-ray versions are being sold at around 25% off.

Walmart is selling the BD of the first season of Marvel's Agents of S.H.I.E.L.D. at $54.96, 31% off the list price of $79.99.
BRIAN MICHAEL BENDIS' 'POWERS' ADDS LEADS
08/19/14 @ 7:00 pm EST
Source:
ICv2
| Categories:
Powers
|
Comments
(0) |
E-mail Article
|
Add a Comment


The PlayStation Network adaptation of Brian Michael Bendis' comic series Powers has announced Sharlto Copley as homicide detective Christian Walker, as well as Michelle Forbes in the role of Retro Girl.

South African actor Sharlto had a star-making turn as the lead in District 9, which led to his memorable portrayal of H.M. "Howling Mad" Murdock in the big screen adaptation of The A-Team, as well as playing King Stefan opposite Angelina Jolie in Malificent. Sharlto will star as the detective who used to be a powerful superhero who lost his powers and is now down amongst the regular humans, working homicide cases for the Powers Division, a police department formed to deal with cases involving those with (super) powers.

Sony's PlayStation Network has moved quickly to develop the series since giving it the green light in March. The series is planned for a 10-episode run, which will begin streaming on the digital platform in December
OUTCAST BY KIRKMAN & AZACETA PHENOMENON GROWS
08/19/14 @ 6:55 pm EST
Source:
Image
| Categories:
Image
|
Comments
(0) |
E-mail Article
|
Add a Comment


Robert Kirkman and Paul Azaceta are poised for another industry-wide, entertainment breakthrough success with their hot new series OUTCAST BY KIRKMAN & AZACETA. The first issue has sold out instantly, for a fourth time, and Skybound/Image Comics has rushed the hot new horror comic back to print.

Cinemax has greenlit OUTCAST for a pilot episode with Kirkman confirmed to executive produce the series, a role he also holds for the wildly successful AMC television adaptation of THE WALKING DEAD.

OUTCAST BY KIRKMAN & AZACETA #1 boasts a special double-sized first issue for just $2.99, and introduces Kyle Barnes, a man with a tragic past and a horrifying gift. Kirkman and Azaceta explore demonic possession and incorporate a subtle creeping terror that harkens to that of classic horror stories.

The demand for the series continues to gain speed and is expected to draw in even more readers as further news of the television series hits mainstream media.

For fans of digital editions, OUTCAST BY KIRKMAN & AZACETA #1 remains available for purchase across all platforms, including the Image Comics website (imagecomics.com), the official Image Comics iOS app, Comixology's website (comixology.com), iOS, Android, and Google Play.

This fourth printing of OUTCAST BY KIRKMAN & AZACETA #1 (Diamond Code JUL148057) will be available on 9/10. OUTCAST BY KIRKMAN & AZACETA #2, 2nd printing (JUN148240) is available now and OUTCAST BY KIRKMAN & AZACETA #3 (Diamond Code JUN140563) will be available 8/27.
8 YEARS IN THE MAKING: ENTER THE MULTIVERSITY
08/19/14 @ 6:41 pm EST
Source:
DC
| Categories:
Multiversity
|
Comments
(0) |
E-mail Article
|
Add a Comment
By now you've likely seen the sentient comic book ads, DC's Facebook banners featuring some very different versions of Superman, Aquaman, et al, and the interactive map highlighting a few of the different Earths. However, if you're scratching your head over what all of this is for… well, you're in the right place.
This week, DCComics.com is highlighting The Multiversity, a brand new limited series written by Grant Morrison and drawn by some of the most talented artists currently working in comics. The series launches tomorrow with THE MULTIVERSITY #1, a 48-page debut drawn by Ivan Reis that promises to expand your mind (and very possibly the DC Universe). However, don't look for The Multiversity #2 in stores in September. Rather, the series continues with the Chris Sprouse-pencilled THE MULTIVERSITY: THE SOCIETY OF SUPER-HEROES CONQUERS THE COUNTER-WORLD #1, a single-issue adventure set on the pulpy world of Earth-20 that reads like the first issue of a brand new comic series while also expanding on and furthering the larger story of The Multiversity. There will be six of these single-issue stories in total, before The Multiversity wraps up with the second bookending comic next year.
For those of you coming into this completely new, The Multiversity is a series that's been eight years in the making, and it promises to expand the world of The New 52 by defining all 52 worlds that make up the DC Comics Multiverse, while also telling an intelligent story that uses the comic book medium in a way that's never been done before. As Morrison explains, the adventures of one world's super heroes are the comic books of another world. In other words, the heroes of the various worlds learn that they can communicate with each other through their comic books. But this being a Grant Morrison book, even that isn't the end of it, as readers don't just passively watch the action unfold in The Multiversity, but seem to play a key part in it!
MARVEL'S AGENTS OF S.H.I.E.L.D. CASTS THEIR MOCKINGBIRD
08/19/14 @ 6:28 pm EST
Source:
Marvel
| Categories:
Marvel
|
Comments
(0) |
E-mail Article
|
Add a Comment
The Executive Producers of "Marvel's Agents of S.H.I.E.L.D." have sent a Morse code to say they've found their Mockingbird!
Adrianne Palicki will appear as Bobbi Morse, a.k.a. Mockingbird, in the second season of "Marvel's Agents of S.H.I.E.L.D."--but whether she'll play friend or foe to Coulson and his team, we can't say. Known for her work in "Friday Night Lights" and "G.I. Joe: Retaliation," Palicki most recently appeared in several episodes of "About a Boy."
Palicki joins a number of new characters and guest stars on the series' second season, which premieres Tuesday, September 23 at 9:00 p.m. ET on ABC. Joining Palicki will be the previously announced Lucy Lawless (Agent Isabelle Hartley), Reed Diamond (Daniel Whitehall), Nick Blood (Lance Hunter), Henry Simmons (Alphonso "Mack" Mackenzie), and Kyle MacLachlan (Skye's father), alongside the returning cast of Clark Gregg (Director Coulson), Ming-Na Wen (Agent May), Brett Dalton (Grant Ward), Elizabeth Henstridge (Agent Simmons), Iain De Caestecker (Agent Fitz), and Chloe Bennet (Agent Skye).
"Marvel's Agents of S.H.I.E.L.D." is Executive Produced by Joss Whedon ("Marvel's The Avengers," "Buffy the Vampire Slayer"); Jed Whedon & Maurissa Tancharoen, ("Marvel's Agents of S.H.I.E.L.D." pilot co-writers ("Dollhouse," "Dr.Horrible's Sing-Along Blog"); Jeffrey Bell ("Angel," "Alias"); and Jeph Loeb ("Smallville," "Lost," "Heroes").
"Marvel's Agents of S.H.I.E.L.D." is produced by Marvel Television and ABC Studios.
FACE TO FACE WITH MILES MORALES – YOUR FIRST LOOK AT ALL-NEW X-MEN #32
08/19/14 @ 6:16 pm EST
Source:
Marvel
| Categories:
X-Men
|
Comments
(0) |
E-mail Article
|
Add a Comment
Welcome to the All-New X-Men, Miles Morales – hope you survive the experience!
Today, Marvel is proud to offer your first look at ALL-NEW X-MEN #32, from superstar writer Brian Michael Bendis and new ongoing artist Mahmud Asrar!
Dimension hopping has become a rite of passage for the X-Men and the All-New X-Men are no exception! Stranded and scattered across the Ultimate Universe, the All-New X-Men must find their way back to each other if they have any hope of finding their way back home! Thankfully, they might get a little help from the one and only Ultimate Spider-Man, Miles Morales! But some of the Ultimate Universe's heaviest hitting villains might have a thing or two to say about that!
Don't miss the story that will have everyone talking when ALL-NEW X-MEN #32 swings into comic shops this September!
ALL-NEW X-MEN #32 (JUL140694) Written by BRIAN MICHAEL BENDIS, Art by MAHMUD ASRAR, Cover by SARA PICHELLI, FOC 8/25/14, ON-SALE 09/17/14
ORANGE IS THE NEW CAPE
08/19/14 @ 6:08 pm EST
Source:
Devilsdue
| Categories:
MIsc
|
Comments
(0) |
E-mail Article
|
Add a Comment
Solitary
is the story of Tim Hill, a man convicted to death row for crimes he didn't commit. He is executed, and upon being executed, he awakens to find that he is immortal and death row is really going to suck.
The series will focus on life in prison and what it means to face death row, immortality, and the idea that you don't belong behind bars. Everyone hates him there. Most want him dead. And he just wants his freedom.
This book,
Solitary
, is from creator CW Cooke and he calls it his baby. It's the one comic he has been working on for his entire life in one way or another. It started as a comic he wrote and drew as a kid and blossomed into this entire world.
Cooke has received an agreement from comic publisher Devil's Due Entertainment to publish the series. Release date is set for November.
UNDEAD EPIC CONTINUES IN GEORGE ROMERO'S EMPIRE OF THE DEAD: ACT TWO #1
08/18/14 @ 10:16 pm EST
Source:
Marvel
| Categories:
Marvel
|
Comments
(0) |
E-mail Article
|
Add a Comment
This September, Zombie Godfather George Romero's undead epic begins anew in
EMPIRE OF THE DEAD: ACT TWO #1! Written by the horror master himself along with acclaimed artist Dalibor Talajic, prepare for an undead onslaught as zombies and vampires wage war on the walled in streets of New York City! Undead forces are laying waste to the last surviving humans of New York City – but now outside forces seek entry to the once safe haven. An invading militia seeks to take over the Big Apple. The current residents both alive and dead might have something to say about that!

"They all want what they want, whether it's right or wrong," says George Romero. "So I don't think you're going to see a lot of blinking. There's too much at stake for anyone to give up. Power. Greed. Co-existence. Survival. It's going to be a fight to the finish."

"Act Two opens just a short time after the conclusion of Act One, but in that time all of our major players are advancing their interests," editor Bill Rosemann explained to Marvel.com. "Zombie wrangler Paul Barnum has added fresh performers to his Circus Maximus, the zombies fighting there may be much more capable than even he imagined, Mayor Chandrake continues his seduction of medical scientist Penny Jones, Penny uncovers chilling discoveries about the dual threat to Manhattan's civilians, the Mayor's nephew Billy is making his own play for power, and the militia that we saw on the last page of our last issue make a huge discovery that will have everyone watching the skies."

What's worse, the roaming flesh-eaters seem to be growing smarter each day! The ruling class of blood-sucking vampires can barely keep their grip on power as they struggle to battle back the hordes of zombies. As the Southern army begins to pillage the greatest city in the world one thing remains clear – when the zombies, vampires and humans go to war, we all lose. Don't miss the brand new jumping on point as horror master George Romero continues his zombie epic when EMPIRE OF THE DEAD: ACT TWO #1 hits comic shops this September!

GEORGE ROMERO EMPIRE OF THE DEAD: ACT TWO 1 (JUL140677) Written by GEORGE ROMERO, Art by DALIBOR TALAJIC, Cover by ALEXANDER LOZANO, Variant Cover by MIKE MCKONE (JUL140678) FOC – 8/18/14, On-Sale – 9/10/14
'TIME' BEATS 'SAGA': HUGO AWARDS ARE PRESENTED
08/18/14 @ 5:05 pm EST
Source:
ICv2
| Categories:
MIsc
|
Comments
(0) |
E-mail Article
|
Add a Comment
The 2014 Hugo Award winners were announced on Sunday night at the World Science Fiction Convention in London.

Time beat fellow nominees Girl Genius, Volume 13: Agatha Heterodyne & The Sleeping City by Phil and Kaja Foglio (Airship Entertainment), The Girl Who Loved Doctor Who written by Paul Cornell and illustrated by Jimmy Broxton (IDW), The Meathouse Man, adapted from the story by George R.R. Martin and illustrated by Raya Golden (Jet City Comics), and Saga, Volume 2 written by Brian K. Vaughan and illustrated by Fiona Staples (Image). Saga, Volume 1 won the award last year

The Game of Thrones episode "The Rains of Castamere" beat out four different Doctor Who-related presentations ("The Day of the Doctor," and "The Name of the Doctor," episodes from the Doctor Who show, as well as The Five(ish) Doctors Reboot and An Adventure in Space and Time, which were both produced for TV as part of the Doctor Who 50th Anniversary celebration) and theOrphan Black episode "Variations under Domestication" for the Best Dramatic Presentation, Short Form award.

Gravity won for Best Dramatic Presentation, Long Form, bestingFrozen, The Hunger Games; Catching Fire, Iron Man 3, and Pacific Rim.

Ancillary Justice by Ann Leckie took the top prize for Best Novel, with Equoid by Charles Stross winning for Best Novella, The Lady Astronaut of Mars by Mary Robinette Kowal winning Best Novelette, and The Water That Falls on You from Nowhere by John Chu winning Best Short Story.

The Hugo Awards are presented by the World Science Fiction Society annually, to recognize the best in science fiction and fantasy.