PRAISE FOR THE SHADOW #1!
04/18/12 @ 4:40 pm EST
Source:
Just About Comics
|
Comments
(0) |
E-mail Article
|
Add a Comment
Dynamite Entertainment once again brings a classic pulp hero back to comic shops with this brand new series. I have to admit I have a rather limited exposure to The Shadow as a character beyond the few issues I read of Howard Chaykin's series years ago at DC Comics. I come into this new series from Garth Ennis and Aaron Campbell wide-eyed and curious to really get to know who The Shadow is and the world that he operates within.
Ennis wastes no time in opening this issue with a clear understanding to what the world has been through leading up to the present day of this series. Times have definitely been gruesome and troubling to say the least, and Ennis shows how The Shadow has placed himself in all of it. The opening narration, or internal monologue, from The Shadow shows the reader what his mindset is like against these evil forces in this world and then drops readers right in the middle of one of The Shadow's missions.
The pacing of the issue is good and does not over complicate anything, but gives the reader just enough information about these characters to help them move along to the next panel, page, and scene. The more interesting character of this issue is not The Shadow himself, but more his true identity – Lamont Cranston, who is arrogant in a way that makes him partial a jerk but confident in his surroundings. The conversations Cranston has with various characters in this issue as himself are strong and provide an interesting look at his character in contrast to The Shadow.
The art in this issue by Aaron Campbell, Carlos Lopez, and Rob Steen is strong and sets a strong mood and expresses the time period well. The art never falters from the first to the last page remaining strong. Dynamite has a knack of putting great talent on their books and the work of Campbell, Lopez, and Steen prove that.
Readers will not be able to help themselves by getting pulled into this world of The Shadow. Dynamite has taken a number of iconic pulp characters and made them come alive again for an all new audience as well as those of us who have enjoyed them in the past.
The Shadow
is a book I will easily recommend to everyone I meet.
Story:
4 out of 5
Art:
4 out of 5
Overall:
4 out of 5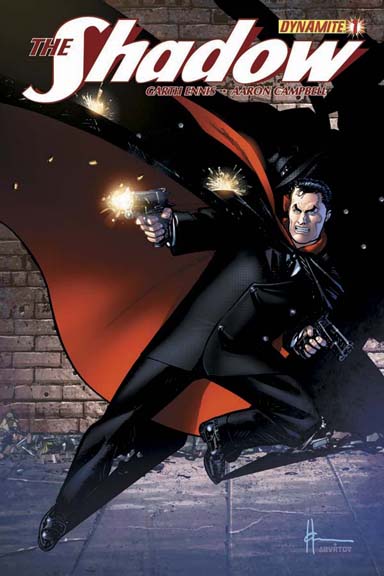 IT'S CLOBBERING TIME IN LATEST "FANTASTIC FOUR" TV SPOTS
08/04/15 @ 8:31 pm EST
Source:
Comic Book Resources
| Categories:
Fantastic Four
|
Comments
(0) |
E-mail Article
|
Add a Comment
With "Fantastic Four's" premiere just a few days away, Fox has dropped new TV spots, including one in which the Thing drops his iconic "It's clobberin' time!" line with in a gravelly, deep pitched voice. All three spots show the quartet using their abilities and even offer a new glimpse or two at Doctor Doom.
Spot 1:
https://youtu.be/3_HEqnhL3R4
Spot 2:
https://youtu.be/NIJFOI_m4ks
FANTASTIC FOUR FEATURETTE – THE POSSIBILITIES OF TELEPORTATION
08/04/15 @ 8:11 pm EST
Source:
Bleeding Cool
| Categories:
Fantastic Four
|
Comments
(0) |
E-mail Article
|
Add a Comment
Dr. Michio Kaku
the theoretical physicist is back, this time to talk about teleportation in this featurette for the
Fantastic Four
.
Fox
is putting out a series of these looking at the science behind the film and this time it's looking at
Reed Richard's
obsession with teleportation and interdimensional travel. Reed is played by
Miles Teller
Fantastic Four
opens August 7th.
The featurette:
https://www.youtube.com/watch?feature=player_embedded&v=nQ2OqEmCCRU
THE LUMBERTEAM IS GROWING WITH THEIR FIRST EVER LUMBERJANES SPECIAL
08/04/15 @ 8:07 pm EST
Source:
Bleeding Cool
| Categories:
MIsc
|
Comments
(0) |
E-mail Article
|
Add a Comment
The Lumberteam is growing! BOOM! Box is welcoming writer Faith Erin Hicks (The Adventures of Superhero Girl) and newcomer artist Rosemary Valero- O'Connellto the awesome creative team behind the wildly successful comic Lumberjanes! Lumberjanes: Beyond Bay Leaf #1, written by Faith Erin Hicks, with art by Rosemary Valero-O'Connell, is the first-ever Lumberjanes special.

In this special one-shot issue, a monster is terrorizing the Lumberjanes camp and the girls go to stop it. However, it turns out that the monster is being framed and now the girls have to figure out who's doing it and to what end!

Look for Lumberjanes: Beyond Bay Leaf #1 to release this October.


DIVE INTO THE FINAL INSTALLMENT OF THE DARK CRYSTAL PREQUEL THIS SEPTEMBER
08/04/15 @ 8:03 pm EST
Source:
Bleeding Cool
| Categories:
MIsc
|
Comments
(0) |
E-mail Article
|
Add a Comment
Archaia, an award-winning imprint of BOOM! Studios, and The Jim Henson Company, an established leader in family entertainment for over 50 years, are pleased to announce the third and final installment in the exciting prequel to The Dark Crystal film, Jim Henson's The Dark Crystal: Creation Myths Vol. 3, from writer Matthew Dow Smith (Jim Henson's The Storyteller: Witches) and returning artist Alex Sheikman. Following the events of the Great Conjunction, the once-powerful Urskeks have been split into two separate beings: the Skeksis and the Mystics. As the aftermath of the Great Conjunction wreaks havoc upon the Gelfling tribes, the Gelfling may have no choice but to rely upon the one race offering aid: the Skeksis.


MARK WAID DISCUSSES JUSTICE INC: THE AVENGER
08/04/15 @ 4:55 pm EST
Source:
Comic Vine
| Categories:
Dynamite
|
Comments
(0) |
E-mail Article
|
Add a Comment
Byron Brewer talked toMark Waid aboutJUSTICE INC: THE AVENGER forDynamite comics.
BYRON BREWER: Mark, from the beginning you have been very interested in or creating the Avenger's past. What is it about this character that fascinates you and other writes so much among all the pulps?MARK WAID:
I think it's that "obscure band that I found" syndrome--that the Avenger is a cool character who's not nearly as well known as his brethren the Shadow and Doc Savage and the Spider. That makes him feel special to me.
BB: Speaking of past, we meet another character – and an instrumental one – in October's issue #5. Can you give us just a taste of who this is and what the individual meant to Richard Benson?
MW:
He's a film star from the early days of the silver screen who taught Benson the art of disguise. He's my favorite new character in forever -- a mentor who also becomes a student.
BB: Will we be seeing any additions to Justice Inc. in coming issues?MW:
This is it for a bit -- I'd rather concentrate on developing the existing cast.
BB: Any guest appearances in the wings from perhaps Doc Savage or the Shadow?MW:
I should call you and we should talk. It's long been my dream to do an Avenger/Doc Savage crossover where the two heroes swap supporting characters. I'd love to someday write a story featuring the Avenger plus the Fabulous Five, and Doc plus Justice Inc. Dibs!
BB: Ha! Already got it copyrighted, my friend! … Now Mark, what would you say is artist Ronilson Freire's greatest strength on this book?MW:
The character work. The acting. His characters move, and that propels the story.
BB: Finally, what is up with the addition of co-writer Christopher Sequeira?MW:
Chris is a terrific Aussie author whom I've known for years and years, and we've been trying to find something to collaborate on for a while. Turns out the Avenger is one of his favorite characters, too -- so we're having a blast riffing away!
Make sure to check out JUSTICE INC: THE AVENGER from Dynamite!
THE CW'S 'LEGENDS OF TOMORROW' CASTS CASPER CRUMP AS DC VILLAIN VANDAL SAVAGE
08/04/15 @ 4:35 pm EST
Source:
Variety
| Categories:
DC
|
Comments
(0) |
E-mail Article
|
Add a Comment
"DC's Legends of Tomorrow" has found its Vandal Savage in Danish actor Casper Crump, who will make his debut as the iconic comicbook villain in crossover episodes of "Arrow" and "The Flash" before continuing the recurring role on the CW's super-powered spinoff at midseason.
Vandal Savage is immortal, having spent the past 6,000 years moving like a virulent disease through history, whispering in the ears of despots and dictators, all leading to his eventual domination of the world.He joins newly announced cast member Falk Hentschel, who will play Carter Hall/Hawkman in the spinoff series, along with previously confirmed stars Brandon Routh (Ray Palmer/The Atom), Caity Lotz (Sara Lance/White Canary), Victor Garber (Dr. Martin Stein/Firestorm), Wentworth Miller (Leonard Snart/Captain Cold), Dominic Purcell (Mick Rory/Heat Wave), Ciara Renée (Hawkgirl/Kendra Saunders), Franz Drameh (Jay Jackson) and Arthur Darvill (Rip Hunter).
JAMES GUNN REVEALS SMALL PART OF GUARDIANS OF THE GALAXY VOL. 2 SCRIPT
08/04/15 @ 4:28 pm EST
Source:
Comicbook
| Categories:
Guardians of the Galaxy
|
Comments
(0) |
E-mail Article
|
Add a Comment
Well,
Guardians of the Galaxy Vol. 2
will apparently include Kraglin.
That's about all we know, but it comes from a Snapchat Gunn hosted earlier today when he gave fans a small glimpse -- a very, very small glimpse -- of the script.
You can check it out below.
Gunn, who directed 2014's
Guardians of the Galaxy
, will return to write and direct
Guardians of the Galaxy Vol. 2
. It is scheduled to hit theaters on May 5, 2017.
COULD KRAVEN THE HUNTER BE THE VILLAIN IN 'SPIDER-MAN' STANDALONE FILM?
08/04/15 @ 4:24 pm EST
Source:
Heroic Hollywood
| Categories:
Marvel
|
Comments
(0) |
E-mail Article
|
Add a Comment
With
Vacation
writers John Francis Daly and Johnathan Goldstein officially hired to write the next
Spider-Man
standalone film for Marvel and Sony, development on the project is currently underway.
So who might the bad guy be in the film?
Well, sources within Sony have told
Heroic Hollywood
to something VERY interesting.
Last week, Karen Moy, the Vice President of Creative Affairs over at Sony (Ms. Moy has run the story department at Sony for almost twenty years) purchased a copy of
Kraven's Last Hunt
trade paperback on Amazon.
This can't be a coincidence. Why would the head of the story department buy a trade paperback about one of Spider-Man's greatest foes for anything OTHER than research purposes?
It's safe to say, cncludes
HH
, that Sony is looking into the possibility of Kraven as their bad guy.
ABC'S 'MUPPETS' WILL FEATURE MUSIC, BUT NOT POLITICS
08/04/15 @ 4:15 pm EST
Source:
The Hollywood Reporter
| Categories:
M-Rex
|
Comments
(0) |
E-mail Article
|
Add a Comment
ABC's highly anticipated
The Muppets
reboot met the press Tuesday at the Television Critics Association's summer press tour, delivering a humorous, charming and insightful session.
The panel, which featured banter between Kermit and Miss Piggy, offered a look at how the series would be structured as well as the production "magic trick" to create the new series. Producers indicated that ABC's new
Muppets
would both pay homage to the original
Muppet Show
as well as cater to a brand-new audience.
From executive producers
Bill Prady
(
The Big Bang Theory
),
Bob Kushell
(
3rd Rock From the Sun
),
Randall Einhorn
(
Wilfred
) and
Bill Barretta
(Swedish Chef, Pepe the King Prawn, Rowlf the Dog), the comedy was picked up to series based only on a 10-minute presentation. The series, which brings Prady back to his
Muppets
roots where he started his career with Henson, features the return of Muppets performers including Barretta,
Dave Goelz
(Dr. Bunsen Honeydew, Gonzo and Waldorf),
Steve Whitmire
(Beaker, Kermit, Rizzo and Statler) and
Eric Jacobson
(Animal, Fozzie Bear, Miss Piggy and Sam Eagle). ABC previewed the series at Comic-Con, where it received a rare standing ovation.
ABC's new
Muppets
is a docu-style comedy that finds Kermit and company reuniting to stage a late-night talk show —
Up
Late With Miss Piggy
­— that in ABC's meta world, airs behind
Jimmy Kimmel
. The series is described as a more adult Muppets, which will explore their personal and professional lives while still including celebrity cameos. Kermit is Piggy's executive producer; Gonzo is her head writer, along with Pepe and Rizzo. Scooter is the talent coordinator. Fozzie is Piggy's on-air sidekick; Bobo is the stage manager and Sam Eagle is the head of broadcast standards for the network; while the Swedish Chef is also in charge of craft services and Rowlf owns a tavern across the street from the studio where he plays piano.
EVIL DEAD'S FEDE ALVAREZ TO DIRECT ED BRUBAKER AND SEAN PHILLIP'S INCOGNITO FROM SONY?
08/04/15 @ 11:50 am EST
Source:
Bleeding Cool
| Categories:
MIsc
|
Comments
(0) |
E-mail Article
|
Add a Comment
Bleeding Cool is reportuing that last night it got the nod that
Fede Alvarez
, the director of the recent
Evil Dead
remake, will be directing the adaptation of
Ed Brubaker
and
Sean Phillips
' mature readers superfiction comic book
Incognito
for Sony Pictures.
The comic, about a "science villain" turned supergrass, and being kept safe by a witness protection program working as a depowered mailman, who finds that taking drugs can restore his powers, was published first by Marvel Comics and is now collected and kept in print by Image Comics.
Brubaker and Phillips declined comment when approached by BC.