PRAISE FOR THE SHADOW #1!
04/18/12 @ 4:40 pm EST
Source:
Just About Comics
|
Comments
(0) |
E-mail Article
|
Add a Comment
Dynamite Entertainment once again brings a classic pulp hero back to comic shops with this brand new series. I have to admit I have a rather limited exposure to The Shadow as a character beyond the few issues I read of Howard Chaykin's series years ago at DC Comics. I come into this new series from Garth Ennis and Aaron Campbell wide-eyed and curious to really get to know who The Shadow is and the world that he operates within.
Ennis wastes no time in opening this issue with a clear understanding to what the world has been through leading up to the present day of this series. Times have definitely been gruesome and troubling to say the least, and Ennis shows how The Shadow has placed himself in all of it. The opening narration, or internal monologue, from The Shadow shows the reader what his mindset is like against these evil forces in this world and then drops readers right in the middle of one of The Shadow's missions.
The pacing of the issue is good and does not over complicate anything, but gives the reader just enough information about these characters to help them move along to the next panel, page, and scene. The more interesting character of this issue is not The Shadow himself, but more his true identity – Lamont Cranston, who is arrogant in a way that makes him partial a jerk but confident in his surroundings. The conversations Cranston has with various characters in this issue as himself are strong and provide an interesting look at his character in contrast to The Shadow.
The art in this issue by Aaron Campbell, Carlos Lopez, and Rob Steen is strong and sets a strong mood and expresses the time period well. The art never falters from the first to the last page remaining strong. Dynamite has a knack of putting great talent on their books and the work of Campbell, Lopez, and Steen prove that.
Readers will not be able to help themselves by getting pulled into this world of The Shadow. Dynamite has taken a number of iconic pulp characters and made them come alive again for an all new audience as well as those of us who have enjoyed them in the past.
The Shadow
is a book I will easily recommend to everyone I meet.
Story:
4 out of 5
Art:
4 out of 5
Overall:
4 out of 5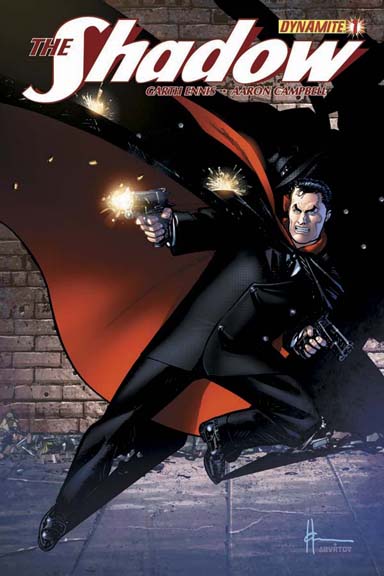 "THOR'S" HEMSWORTH & HIDDLESTON LEFT ASGARD TO VISIT A CHILDREN'S HOSPITAL
08/24/16 @ 3:02 pm EST
Source:
Comic Book Resources
| Categories:
Marvel
|
Comments
(0) |
E-mail Article
|
Add a Comment
While Thor and Loki have been at each others' throats for some time now, the actors behind those characters have no problem teaming up -- especially if said team-up brings joy to children. Chris Hemsworth and Tom Hiddleston recently took a break from filming their newest Marvel movie to visit some children in need. EW reported that the pair recently visited Lady Cilento Children's Hospital in Brisbane, Australia to cheer up their patients while also meeting their families and doctors.
Hemsworth even remembered to bring along Mjolnir -- check some of the social media photos below to see how worthy the kids are when it comes to wielding the mythical hammer.
"COMMUNITY'S" DAN HARMON WROTE ADDITIONAL "DOCTOR STRANGE" SCENES
08/24/16 @ 2:53 pm EST
Source:
Comic Book Resources
| Categories:
Marvel
|
Comments
(0) |
E-mail Article
|
Add a Comment
You can add another "Community" alum to the ever-expanding ranks of Marvel Cinematic Universe masterminds. As The Hollywood Reporter has learned, "Community" creator and writer Dan Harmon has contributed to the script for the upcoming film "Doctor Strange."
THR notes that Harmon, best known for the fan favorite NBC (and later Yahoo) sitcom "Community" as well as the animated series "Rick and Morty," was tasked with writing "some additional last-minute scenes" for the film's reshoots. Harmon was apparently brought onto "Doctor Strange" after principal photography had wrapped. One source told THR that his scenes were for "additional photography." Harmon previously wrote the screenplay for 2006's "Monster House" and did uncredited work on 2008's "Kung Fu Panda."
"Community" directors Joe and Anthony Russo have found great success with Marvel; they directed "Captain America: Winter Soldier" and "Captain America: Civil War" and are currently preparing to direct "Avengers: Infinity War" and its follow-up "Avengers" movie. "Community" cast members Danny Pudi and Jim Rash appeared in "Winter Soldier" and "Civil War," respectively. Donald Glover has also been cast in "Spider-Man: Homecoming" in an unrevealed role.
"Doctor Strange's" screenplay was co-written by director Scott Derrickson and C. Robert Cargill; Jon Spaihts also has a story credit on the film. Directed by Scott Derrickson and starring Benedict Cumberbatch, Tilda Swinton, Chiwitel Ejiofor and more, "Doctor Strange" opens on November 4, 2016.
MARVEL'S NYCC EXCLUSIVE COVERS WITH MINI-MATES – DR. STRANGE AND CHAMPIONS
08/24/16 @ 2:39 pm EST
Source:
Bleeding Cool
| Categories:
Marvel
|
Comments
(0) |
E-mail Article
|
Add a Comment
Marvel is planning some Mini-Mates exclusive cover variants for NYCC. Here are the first two, Champions #1 and Doctor Strange and the Sorcerers Supreme #1.
In related news,
Champions
#1 will also have retailer exclusive covers, including
David Mack
for Golden Apple and
Paul Renaud
for Books-A-Million.
MEET MOSAIC WITH FREE PRELUDE STORY AVAILABLE NOW
08/24/16 @ 2:33 pm EST
Source:
Marvel
| Categories:
Marvel
|
Comments
(0) |
E-mail Article
|
Add a Comment
You've heard about his new series. You've seen his first appearance in the pages of
Uncanny Inhumans
. Before he explodes onto the scene in his new ongoing series, read the FREE 10 page
MOSAIC PRELUDE
– available right now via the Marvel Comics App and the Marvel Digital Comics Store! American screenwriter and novelist Geoffrey Thorne (
Marvel's Ultimate Spider-Man
) and artist Khary Randolph (
Deadpool: The Gauntlet
) introduce the world to the character that will have the world talking!
Mosaic centers on Morris Sackett – professional basketball player and celebrity. Loved by millions, hated by his teammates. Only Morris is secretly something else – something Inhuman. Coming into contact with the transformative Terrigen Mists has given Morris spectacular new abilities. Imbued with the power to jump from person-to-person like a ghost, Morris can control the bodies and memories of those he inhabits. Only these fantastic new abilities come at a grave cost. With his own body destroyed, the one-time superstar athlete must rely on others to survive. But can he?
The saga of Marvel's newest hero is about to begin. Check out the FREE
MOSAIC PRELUDE
from Thorne & Randolph right now. Plus – don't miss the highly anticipated
MOSAIC #1
, in stores this October!
MOSAIC PRELUDE
Written by GEOFFREY THORNE
Art & Cover by KHARY RANDOLPH
Available Free Digitally
MOSAIC #1 (AUG160811)
Written by GEOFFREY THORNE
Art by KHARY RANDOLPH
Cover by STUART IMMONEN
Variant Cover by KHARY RANDOLPH (AUG160815)Action Figure Variant by JOHN TYLER CHRISTOPHER (AUG160812)Hip-Hop Variant by MARCO D'ALFONSO (AUG160814)Teaser Variant by MIKE DEODATO (AUG160813)
FOC – 09/19/16, On-Sale – 10/12/16
DOUG LIMAN TO DIRECT 'JUSTICE LEAGUE DARK' FOR WARNER BROS.
08/24/16 @ 2:29 pm EST
Source:
The Hollywood Reporter
| Categories:
DC
|
Comments
(0) |
E-mail Article
|
Add a Comment
Warner Bros is continuing to explore other corners of the DC Universe beyond the core heroes such as Superman and Batman, this time putting the spotlight on its supernatural heroes.
The studio is tapping Doug Liman to direct
Justice League Dark
, breathing new life in its supernatural adventure project.
Dark
was a fairly recent DC title that grouped together heroes such as John Constantine (who was the title character of a solo 2005 movie that starred Keanu Reeves), Deadman, Shade the Changing Man, Zatanna and Swamp Thing (who has his own Wes Craven-directed pic in 1982), among others.
The project was in development for several years as a directing vehicle for del Toro, a master of the macabre who tastes seemingly lined up with the material.
Liman's boarding signals a tonal shift for the project.
Liman is known for his kinetic and propulsive action movie sensibilities thanks to his hits such as The Bourne Identity and Mr. and Mrs. Smith. He worked with Warners on 2014's
Edge of Tomorrow
, the well-reviewed and well-regarded sci-fi time travel movie that starred Tom Cruise.
Liman is shaking it up with his next several movies, which include
American Made
, a 1980s drug cartel crime drama that reteams him with Cruise, and
The Wall
, a low-budget contained sniper drama for Amazon Studios.
Michael Gilio is writing the script for
Dark.
Del Toro is no longer invovled but Scott Rudin is now a producer on it.
DISNEY CHANNEL GREENLIGHTS SUPERNATURAL VAMPIRE PILOT STARRING TEEN BOY BAND
08/24/16 @ 2:10 pm EST
Source:
Variety
| Categories:
Disney
|
Comments
(0) |
E-mail Article
|
Add a Comment
Disney Channel has greenlit a supernatural comedy pilot starring the boy band Forever In Your Mind,
Variety
has learned exclusively.
The pilot, titled "Forever Boys," will star the three members of the Hollywood Records band, Ricky Garcia, Emery Kelly and Liam Attridge.
The potential series follows three brothers, played by the band, who were bitten by a vampire during their debut concert in 1957. After living in the shadows for over half a century to keep their vampire-identities a secret, they meet a music producer who convinces them to reemerge as a vampire boy band. Now, on track to become stars, the boys are excited to breathe new life into their music career while trying to live as normal teenagers.
The pilot is seamless synergy for the Mouse House, as Forever In Your Mind is signed with Disney Music Group's record label Hollywood Records. The trio has been in business with Disney Channel before, as they sing the theme song for the network's sitcom "Best Friends Whenever" — plus, Garcia is a series regular on the show, and Kelly has had a guest part. Between the members of the band, they have also had small roles on Disney's "Girl Meets World," Disney's "Dog With A Blog" and Disney XD's "Lab Rats." This summer, the band headlined Radio Disney's Sounds of Summer concert, and recorded the "DC Classic Medley" for the alum "Your Favorite Songs From 100 Disney Channel Original Movies." The band's videos have over 10 million views on Vevo.
The "Forever Boys" pilot hails from Bob Smiley ("Yes, Dear") who will write the pilot and serve as co-exec producer. Other writers are David Light, Joseph Raso and Stephen Engel. "Jimmy Kimmel Live" director Adam Stein will direct the pilot.
The pilot heads into production in Los Angeles next month. If picked up to series, the show would debut in 2017.
'DON'T BREATHE' COULD SUFFOCATE 'SUICIDE SQUAD' DURING SLUGGISH SUMMER WEEKEND: BOX OFFICE PREVIEW
08/24/16 @ 2:04 pm EST
Source:
Deadline
| Categories:
MIsc
|
Comments
(0) |
E-mail Article
|
Add a Comment
The summer box office hoopla is coming to a close, and you can always tell by how low the grosses go. Sixty-four percent of K-12 schools are back in session, as well as close to 60% of all colleges per ComScore and the type of impact that has on the B.O. is equivalent to multiplexes closing down during a Northeasterner. No joke: This weekend will be the second one since Jan. 22-24 where no title clicks past $20M. In fact, the No. 1 film this weekend will likely pull in a 3-day gross that's lower than the $16M that
The Revenant
made during that fourth snowed-in weekend in January.
Sony historically has gone after the under 35 demo during this late August frame with genre and urban titles such as
Takers
($20.5M),
Anaconda 2
($12.8M) and
Colombiana
($10.4M), and this weekend they're aiming at the 17-34 bunch with the R-rated Screen Gems/Stage 6 horror thriller
Don't Breathe,
which marks the second title from director Fede Alvarez, who previously delivered the
Evil Dead
remake which opened to $25.8M and finaled at $54.2M off a $17M budget.
Don't Breathe
could upset
Suicide Squad
's run at No. 1 for the fourth weekend in a row with a 3-day between $11.5M-$14M at approximately 3,000 locations, which isn't too shabby for a film that cost under $10M. That's a weekend take on par with other horror titles that have played the tail-end of August, read
Jeepers Creepers
($13M),
Sinister 2
($10.5M) and
As Above/So Below
($8.6M) The Warner Bros. DC title could ring in between $10M-$11M, and if it does hold the top spot at the boxoffice, it will be the first to do so this year for four weekends in a row.
Don't Breathe
was financed by Sony Pictures' Stage 6 Films, headed by Steven Bersch, who worked with Alvarez on 2013's
Evil Dead.
Thursday showtimes begin at 7PM at about 2,400 sites.
Sony/Annapurna's
Sausage Party
in its third weekend will also be at the top of the charts with $9M. The Seth Rogen-Evan Goldberg production is close to passing the $70M at the box office.
PALMIOTTI AND GRAY'S "MONOLITH" IN DEVELOPMENT AT LIONSGATE
08/24/16 @ 11:10 am EST
Source:
Comic Book Resources
| Categories:
MIsc
|
Comments
(0) |
E-mail Article
|
Add a Comment
Lionsgate has begun developing a movie adaptation of Justin Gray and Jimmy Palmiotti's graphic novel "The Monolith." Dave Wilson (creative director of "Deadpool") is attached to direct, and Erwin Stoff ("The Matrix", "I Am Legend") is producing. Barnett Brettler, who's mainly produced spec scripts, will be writing the script.
According to The Hollywood Reporter, the film will also mark Wilson's directorial debut. But the "Deadpool" creative director has plenty of video games and trailers on his resume, including work on "Mass Effect 2," "Star Wars: The Old Republic" and "Avengers: Age of Ultron."
The mini-series by Justin Gray and Jimmy Palmiotti is a modern version of the golem legend, which is about a creature brought to life by magic to avenge a man's death. The series featured art from Phil Winslade, Tomm Coker and Peter Snejbjerg. Published for twelve issues in 2004 through 2005 by DC, "The Monolith" told the story of a recovering drug addict and social worker who inherits her grandmother's house and finds a diary from the 1930s. She discovers the monstrous title creature was created to avenge a man's death, and ended up running amok in Depression-era New York.
ALL HAIL THE POSTER FOR "ASH VS. EVIL DEAD'S" SECOND SEASON
08/24/16 @ 11:06 am EST
Source:
Comic Book Resources
| Categories:
MIsc
|
Comments
(0) |
E-mail Article
|
Add a Comment
Starz's "Ash vs. Evil Dead" series comes back for its second season on October 2. America is electing a new president on November 8. So when it comes to advertising for the former, why not combine it with the latter? A new poster for "Ash vs. Evil Dead" debuted on Twitter does just that.
GARETH EDWARDS BREAKS DOWN "ROGUE ONE'S" MULTIPLE MEANINGS
08/24/16 @ 11:02 am EST
Source:
Comic Book Resources
| Categories:
Star Wars
|
Comments
(0) |
E-mail Article
|
Add a Comment
As the first anthology film set outside of the main Skywalker storyline, "Rogue One: A Star Wars Story" is changing up quite a few traditions. The film might not have the iconic opening crawl, and it's title is missing the standard "Episode XX" designation that the other seven films have. But that doesn't mean "Rogue One's" title isn't packed with other meanings.
While talking to Empire magazine, "Rogue One" director Gareth Edwards discussed the many meanings of the film's title. "'Rogue One' is a military call sign to some extent," said Edwards, identifying the most obvious meaning of the title, "but this is the first film that's gone off-piste and is not part of the saga -- or the Anakin story -- so it's the 'rogue' one, you know?"
The title also could be seen as a shout out to the film's rebellious lead, Jyn Erso (Felicity Jones). "It's kind of describing her as well in a similar way," says Edwards. "It has [all] these split, multiple meanings that made it feel like the right choice."
Set outside of the main sequel trilogy that began with "Star Wars: The Force Awakens," "Rogue One" is set just before 1977's "Star Wars" and details the Rebel plot to steal the Death Star plans from the Empire. Directed by Gareth Edwards ("Godzilla," "Monsters") from a script by Gary Whitta and Chris Weitz, "Rogue One" stars Felicity Jones, Mads Mikkelsen, Alan Tudyk, Donnie Yen, Forest Whitaker, Diego Luna and Riz Ahmed.
"Rogue One: A Star Wars Story" opens December 16.