OLD-TIME RADIO AND COMICS HEROES BURST BACK ONTO THE SCENE!
03/28/12 @ 4:15 pm EST
Source:
USA TODAY
|
Comments
(0) |
E-mail Article
|
Add a Comment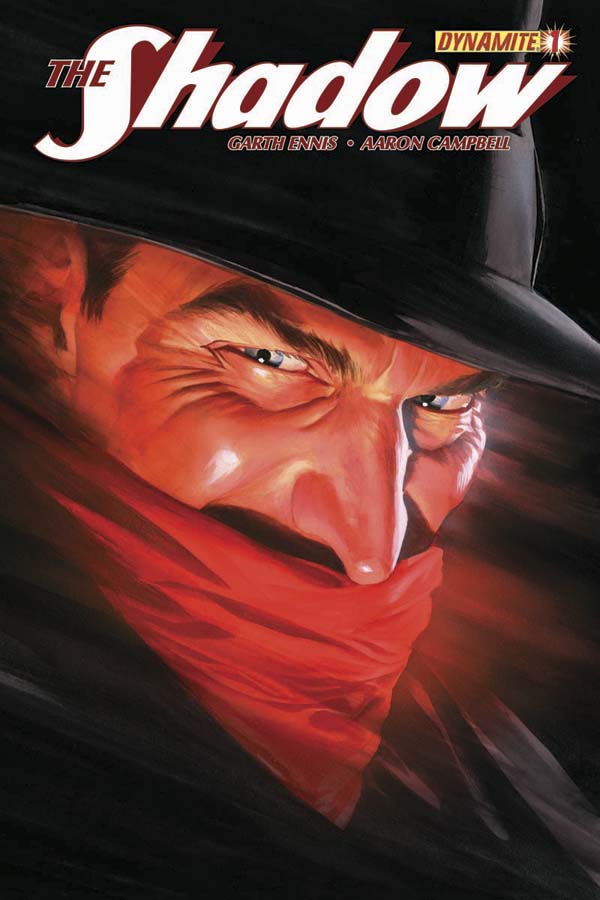 Who knows what evil lurks in the hearts of men? (Hint: The guy dresses up in a cape and runs around at night. And it's not Batman.)

The Shadow still knows — as do Flash Gordon, the Lone Ranger, the Green Hornet and other heroes of 1930s and '40s radio shows, pulp magazines and movie serials.

These good guys are making a comeback, though mainly in comics and feature-length movies. Next month, The Shadow receives a comics reboot courtesy of Dynamite Entertainment, which also publishes ongoing series starring Flash Gordon and Green Hornet plus a new title with pulp hero The Spider that's due in May.

On the big screen, a masked Seth Rogen stung bad guys in last year's The Green Hornet. And in The Lone Ranger, in production for release in 2013, Armie Hammer rides tall as the title cowboy with Johnny Depp as his sidekick Tonto. Baby Boomers grew up watching the Clayton Moore TV series in the '50s, although the saga began as a 1933 radio show in Detroit.

Though these characters may not be as well known as today's comic-book superheroes or the Star Wars and Harry Potter clans, they were the bee's knees for a generation that was decades away from the Internet and iPods.

Before Batman, there was the alter ego Lamont Cranston donning the shadowy mask and hat while haunting radio waves as The Shadow, voiced by Orson Welles in the late '30s.

And before Superman and Captain America there was Flash Gordon, an all-American space adventurer who tussled with planetary tyrant Ming the Merciless in sci-fi comic strips by Alex Raymond and serial films starring Buster Crabbe.

"The '20s and '30s are seen as a very romantic age, with the criminal underworld of urban America and high adventure of exotic foreign locations providing a bit of an edge," says Garth Ennis, who is writing the new Shadow comic. "The reality, I'm sure, would have been mostly a lot more mundane and occasionally quite grim."

He's crafting The Shadow as a dangerous champion of law and order with a flair for the dramatic, and he is embracing one of the vigilante's oldest and most famous traits: his habit of laughing as he consigns his enemies to their doom.

"I decided to be fairly sparing with it," Ennis says. "If he started howling every time he threw a punch or fired a shot, it would get old fast. So I decided to preserve the laugh for moments of deep, dark, extreme humor."

His take on The Shadow comic is a bloody affair, where the mysterious figure dispatches bad guys with violent aplomb. More than 70 years ago, though, audiences had to visualize with their imagination what was going on during the radio-show exploits.

The popularity of the old Shadow and Green Hornet radio shows and their ilk in their heyday is best compared to programs children flock to today, such as Hannah Montana and Dora the Explorer, says Martin Grams Jr., a radio-show historian and author.

Back then, kids and adults would read books, pulps and comics because they were a cheap form of entertainment, and radio was an even bigger medium because it was free.

Some adaptations tank

While movies measure success with box-office receipts, commercial sponsors would gauge ratings of radio shows based on the number of giveaway premiums offered during the commercial breaks — such as various Lone Ranger rings and badges. They were then used to persuade sponsors to stick around because of a large listener base.

It wasn't just kids, either. Housebound and disabled people "who couldn't go visit their local movie theater had the opportunity to enjoy action and adventure with the turn of their dial," Grams says.

"The business of pop culture was defined during the 1930s and 1940s when movie producers snatched up the screen rights to popular radio programs and produced motion pictures, serials and film shorts based on the properties."

Since then, movie studios, TV networks and comics publishers have attempted adaptations of those characters, with varying results.

The Lone Ranger TV series began in 1949, ran eight seasons and defined the character for many. Flash Gordon sped off to space with live-action and animated shows, and a 1980 film became a cult classic with Sam Jones clad in a white shirt bearing the word "Flash."

But two more recent movies, The Shadow (1994) with Alec Baldwin and the 1996 Billy Zane vehicle The Phantom (based on the comic strip from the '30s), were not exactly heroic at the box office. And Disney's new big-budget John Carter, based on the Edgar Rice Burroughs pulp sci-fi hero, has thus far tanked.

"My theory is that modern audiences have a hard time accepting un-ironic heroism unless it's presented just right," says Eric Trautmann, writer of Dynamite's Flash Gordon: Zeitgeist series. (A devotee of the era, Trautmann has a Maltese Falcon on his desk, a statue of Humphrey Bogart as Sam Spade, a Buck Rogers blaster and a replica 1930s radio.)

He concedes that pulp is difficult to write because it requires a certain innocence. Nazis show up in his series, but when they're the evil-doers du jour, modern audiences can't help but think of the Holocaust, "a sort of demise of innocence for the Western world." That makes it a lot harder to take the proceedings seriously.

'We're all geeks in a way'

"The obvious inclination is to keep things a little more self-referential and cartoony, tongue firmly in cheek," Trautmann says, "and that kind of thing really works against the story, the character, and readers' and viewers' embracing the tale."

Those characters of yesteryear, however, remain important in the history of pop-culture heroes, says comic-book artist Alex Ross, one of the creative spearheads of Dynamite's pulp series.

"Seeing how a character like The Shadow would influence every other flamboyant costumed hero in history was very interesting to me," he says. "A load of the earliest superhero fashions came from the artists swiping from Alex Raymond's Flash Gordon."

Heroic fiction draws from a lot of the same wells. Without John Carter in 1917, Trautmann feels we probably don't get Flash Gordon in 1934, a quintessentially American protagonist whose "unflappable 'can do' attitude and unshakable optimism would resonate in almost any era." Without Flash, there's no Luke Skywalker or Han Solo in Star Wars, and without that, we don't get Avatar.

"Even Star Trek owes a debt to period literature —Captain Kirk as Horatio Hornblower in space," Trautmann says. "Heroic fiction shares those archetypes and themes, so that influence is probably so ingrained now that a modern practitioner might not even be aware of what influenced the sources he or she is drawing inspiration from."

Affection for heroic pulp specifically — as with old-school sci-fi, fantasy and mystery stories — seems to be cyclical, Trautmann says. But the resurgence of these characters is also being helped by an overall nostalgia for the early- to mid-20th century, from Boardwalk Empire to Mad Men.

"It's been a rough decade or two," he says. "Looking back on what seems to be a simpler, less complicated time is certainly appealing."

Curiosity and a drive to seek knowledge are probably the main reasons people like to revisit historic pop culture, Grams says.

"We're all geeks in a way, trying to intake all the information we can on a comic-book character or movie, then digest, then recollect to friends to show how much more we know than they do."

The historian enjoys seeing kids introduced to heroes that were a seminal part of their grandparents' lives. He says it's a good bet they know tons more about The Hunger Games and Twilight than old Shadow magazine tales, and have no idea of the existence of Lone Ranger radio shows of yore.

"In my experience," Ennis says, "these characters tend to be pretty strong to begin with: They go through periods of revival, then slump due to overindulgence, then lie dormant, then undergo the next revival. But they always come back."

And, Grams notes, "the oldies are still the goodies."
MATTEL PARTNERS FOR BARBIE S.T.E.A.M. PRODUCTS
02/14/16 @ 8:47 am EST
Source:
Licensemag.com
| Categories:
MIsc
|
Comments
(0) |
E-mail Article
|
Add a Comment
Mattel has partnered with Thames & Kosmos to create licensed S.T.E.A.M.-themed products featuring its Barbie brand.
The new products will include plastic building pieces, science experiment materials and a Barbie doll.
Each kit is built to "Barbie scale" and will be compatible with the original Barbie Dreamhouse.
GUND PLANS 'STAR TREK' PLUSH
02/14/16 @ 8:45 am EST
Source:
Licensemag.com
| Categories:
Star Trek
|
Comments
(0) |
E-mail Article
|
Add a Comment
Gund will bring the characters of "Star Trek: The Original Series" to its new line of plush toys under license by CBS Consumer Products.
Each character from the original series will be featured as an animal dressed in Starfleet attire including Captain Kirk as a lion, Dr. Bones as a dog, Lt. Commander Spock as a cat, Lt. Uhura as a teddy bear and Scotty as a monkey. The line of plush toys will be available at retail this spring.
FUNKO LAUNCHES NEW HARRY POTTER FIGURES
02/14/16 @ 8:43 am EST
Source:
Licensemag.com
| Categories:
MIsc
|
Comments
(0) |
E-mail Article
|
Add a Comment
Funko will launch its newest series of
Harry Potter
Pop! Vinyl figures featuring highlights from the fourth film.
The new series includes Harry Potter in his Triwizard Tournament uniform, Ron Weasley and Hermione Granger in their Yule Ball outfits, Dobby, Sirius Black, Luna Lovegood, Draco Malfoy, Albus Dumbledore and a Dementor.
The new vinyl figures will be released next month.
TOMY FETES POKéMON, SONIC
02/14/16 @ 8:42 am EST
Source:
Licensemag.com
| Categories:
MIsc
|
Comments
(0) |
E-mail Article
|
Add a Comment
In celebration of Pokémon's 20th and Sonic's 25th anniversary, Tomy International has debuted two new lines of toys featuring the franchises.
As the global master toy partner for "Sonic the Hedgehog," Tomy will debut a toy line featuring figures, figure accessories, plush, play sets, role play items and more. Additionally, the toy company will expand its "Sonic Boom" offerings with featured itemed based on the TV series and video games.
Tomy's Sonic 25th anniversary items are expected to hit retailers this fall and include highlights such as a 3-inch collector figure pack–featuring figure styles from 1991–with commemorative anniversary coins and comics. Another highlight from the collection is the 25th anniversary 8-inch plush, which will include characters from the franchise such as Sonic, Knuckles, Tails and Eggman. A 12-inch Sonic plush will also be available.
As the master toy licensee and distributor for Pokémon, Tomy will release one retailer-exclusive mythical Pokémon each month from February to December. Select mythical Pokémon will be released as an 8-inch plush in a special crushed velvet material and as 2-inch pearlescent-finished figures with their own pearlescent-finished Poké Balls.
In addition to monthly exclusives, various limited-edition Pikachu products will be featured as retailer-exclusives throughout the year at retailers including Toys 'R' Us, GameStop and Walmart.
CN LAUNCHES 'POWERPUFF' PROGRAM
02/14/16 @ 8:39 am EST
Source:
Licensemag.com
| Categories:
MIsc
|
Comments
(0) |
E-mail Article
|
Add a Comment
With the re-launch of "Powerpuff Girls" just around the corner, Cartoon Network Studios has launched a worldwide product program.
Anchoring the program for Cartoon Network is Spin Master, which will serve as the global master toy partner for the brand.
Highlights from Spin Master's line include a deluxe flip to action play set, aura powerpods with doll assortment and a Vectron flying Powerpuff Girls assortment.
Additional licensees for the brand include:
Cardinal Industries for puzzles
Disguise for role play items focused on apparel and accessories
Funko for Pop! vinyl figures, mystery minis blind boxes, dorbz figures and more
Pressman Toys for board games, card games and puzzles
A&A Global for vending machine products including stickers, temporary tattoos, toys and other novelty items
Toy Factory for plush toys, pillows, rubber balls, novelty hats and more
The full range of products will debut this fall in the U.S. and will continue to roll out into spring 2017.
DISNEY RELEASES ZOOTOPIA TOYS
02/14/16 @ 8:36 am EST
Source:
Licensemag.com
| Categories:
Disney
|
Comments
(0) |
E-mail Article
|
Add a Comment
Tomy International has unveiled a full range of toys for the upcoming Disney film
Zootopia
, which will hit theaters March 4.
The new range will feature figures, vehicles, play sets, role play and plush toys that will capture the characters' personalities with lights, sound and songs.
"We are so excited to create toys celebrating the rich and whimsical characters from
Zootopia,
" says Shehnaz Safiuddin, senior vice president, toy and hobby, Tomy. "The toy line is now available at retail locations worldwide, in time for the U.S. movie premiere on March 4 and for Easter gift giving, which couldn't be more ideal with the star rabbit Officer Judy Hopps in the line-up!"
Highlights from the collection include collectible figures packs with two figures, 12-inch talking plush toys featuring Officer Judy Hopps and Nick Wilde, Judy's carrot recorder and badge and more.
The full toy line is now available in retail locations worldwide and new items will be available this fall.
BOB'S BURGERS' WINS WRITERS GUILD ANIMATION AWARD
02/14/16 @ 8:34 am EST
Source:
Variety
| Categories:
Bobs Burgers
|
Comments
(0) |
E-mail Article
|
Add a Comment
"The Big Short" and "Spotlight" won the Writers Guild of America's top screenplay trophies Saturday, while the fourth season of "Veep" and the final season of "Mad Men" took the top TV series awards.
The guild's 68th annual awards, based on voting by the 12,000 members of the WGA, were announced Saturday in concurrent ceremonies in Los Angeles at the Century Plaza and the Edison Ballroom in New York City.
Fox's "Bob's Burgers" won the animated award for the "Housetrap" episode written by Dan Fybel over three segments of "The Simpsons," another segment of "Bob's Burgers" and one of "Bojack Horseman."
'DEADPOOL'S FEBRUARY OPENING RECORDS AT $133M+ OVER 3-DAYS, $151M+ 4-DAY
02/14/16 @ 8:24 am EST
Source:
Deadline
| Categories:
Deadpool
|
Comments
(0) |
E-mail Article
|
Add a Comment
20th Century Fox's
Deadpool
is bigger than anyone thought possible. After posting the biggest opening day in February with $47.5M, the Marvel character also scored the second biggest day ever for the month with an estimated $41.88M. This now raises
Deadpool
's 3-day take to $133.4M, making it the second best debut ever for the first installment of a superhero property behind Disney/Marvel's
The Avengers
($207.4M). The Tim Miller-directed movie's 4-day is now projected at $151M per industry calculations; some studios have it as high as $155M over FSSM. Typically fanboy films are frontloaded seeing drops of at least a third in their second day.
Deadpool
dipped -12%. This title is hitting some sort of zeitgeist with moviegoers.
Fox also owns the No. 2 spot with DreamWorks Animation's
Kung Fu Panda 3
which drew $7.78M on Saturday, +99% over Friday on track for a FSS of $19.85M and a FSSM of $25.98M. Pic will stand with $100.2M by the end of Monday.
New Line/MGM's
How to Be Single
is meeting its Warner Bros. projection in the low $20M over four-days with $21.6M and a 3-day of $18.9M in third.
HOW MANY FACES CAN YOU RECOGNIZE FROM MIKE ALLRED'S "SILVER SURFER" #5 COVER?
02/12/16 @ 8:55 pm EST
Source:
Comic Book Resources
| Categories:
Silver Surfer
|
Comments
(0) |
E-mail Article
|
Add a Comment
Marvel Comics Editor-in-Chief Axel Alonso shared artist Mike Allred's cover to May's "Silver Surfer" #5 via Twitter on Friday, and the image features likenesses of dozens of recognizable faces from the comics industry -- including Silver Surfer creators Stan Lee and Jack Kirby, Neil Gaiman, Gerard Way, Kelly Sue DeConnick, Matt Fraction, Jim Lee, Darwyn Cooke, KyleBaker, Steven T. Seagle, Jim Steranko, Tom Brevoort, Kevin Smith, Shelly Bond, Michael Cho, Frank Miller, Frank Cho, Jamie S. Rich and Alonso himself. And that's just a few!
ATOM AND HEAT WAVE IN CHAINS IN NEW "LEGENDS OF TOMORROW" PHOTOS
02/12/16 @ 8:51 pm EST
Source:
Comic Book Resources
| Categories:
DC
|
Comments
(0) |
E-mail Article
|
Add a Comment
The next stop on the time-traveling adventure of "DC's Legends of Tomorrow" is 1986, with members of the squad captured and imprisoned in a Russian gulag in the midst of the Cold War. In 15 new images released by The CW, the team does not seem to love the '80s -- especially Heat Wave (Dominic Purcell) and Atom (Brandon Routh), both seen in chains.
"DC's Legends of Tomorrow" airs 8 p.m. Thursdays on The CW. Here's the official synopsis of "Fail-Safe":