OLD-TIME RADIO AND COMICS HEROES BURST BACK ONTO THE SCENE!
03/28/12 @ 4:15 pm EST
Source:
USA TODAY
|
Comments
(0) |
E-mail Article
|
Add a Comment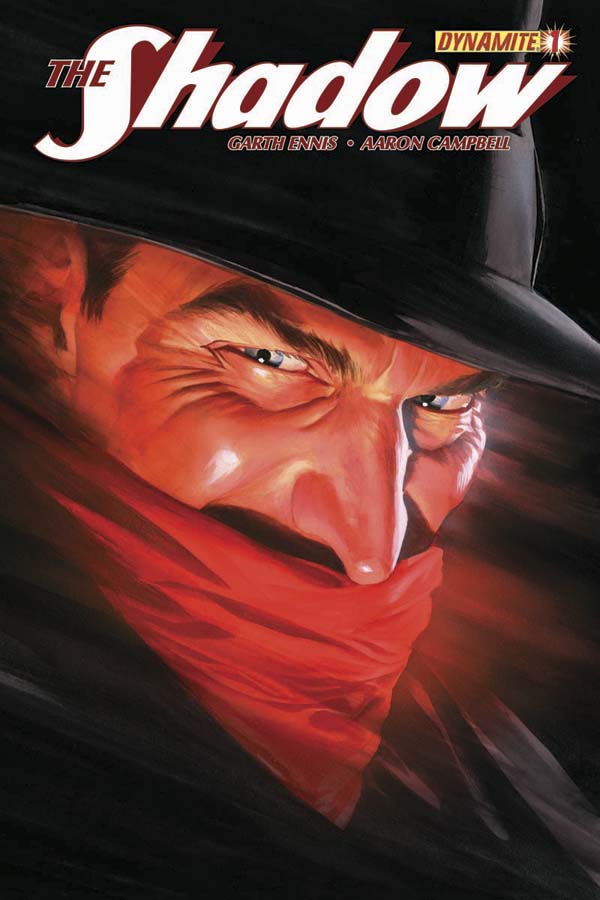 Who knows what evil lurks in the hearts of men? (Hint: The guy dresses up in a cape and runs around at night. And it's not Batman.)

The Shadow still knows — as do Flash Gordon, the Lone Ranger, the Green Hornet and other heroes of 1930s and '40s radio shows, pulp magazines and movie serials.

These good guys are making a comeback, though mainly in comics and feature-length movies. Next month, The Shadow receives a comics reboot courtesy of Dynamite Entertainment, which also publishes ongoing series starring Flash Gordon and Green Hornet plus a new title with pulp hero The Spider that's due in May.

On the big screen, a masked Seth Rogen stung bad guys in last year's The Green Hornet. And in The Lone Ranger, in production for release in 2013, Armie Hammer rides tall as the title cowboy with Johnny Depp as his sidekick Tonto. Baby Boomers grew up watching the Clayton Moore TV series in the '50s, although the saga began as a 1933 radio show in Detroit.

Though these characters may not be as well known as today's comic-book superheroes or the Star Wars and Harry Potter clans, they were the bee's knees for a generation that was decades away from the Internet and iPods.

Before Batman, there was the alter ego Lamont Cranston donning the shadowy mask and hat while haunting radio waves as The Shadow, voiced by Orson Welles in the late '30s.

And before Superman and Captain America there was Flash Gordon, an all-American space adventurer who tussled with planetary tyrant Ming the Merciless in sci-fi comic strips by Alex Raymond and serial films starring Buster Crabbe.

"The '20s and '30s are seen as a very romantic age, with the criminal underworld of urban America and high adventure of exotic foreign locations providing a bit of an edge," says Garth Ennis, who is writing the new Shadow comic. "The reality, I'm sure, would have been mostly a lot more mundane and occasionally quite grim."

He's crafting The Shadow as a dangerous champion of law and order with a flair for the dramatic, and he is embracing one of the vigilante's oldest and most famous traits: his habit of laughing as he consigns his enemies to their doom.

"I decided to be fairly sparing with it," Ennis says. "If he started howling every time he threw a punch or fired a shot, it would get old fast. So I decided to preserve the laugh for moments of deep, dark, extreme humor."

His take on The Shadow comic is a bloody affair, where the mysterious figure dispatches bad guys with violent aplomb. More than 70 years ago, though, audiences had to visualize with their imagination what was going on during the radio-show exploits.

The popularity of the old Shadow and Green Hornet radio shows and their ilk in their heyday is best compared to programs children flock to today, such as Hannah Montana and Dora the Explorer, says Martin Grams Jr., a radio-show historian and author.

Back then, kids and adults would read books, pulps and comics because they were a cheap form of entertainment, and radio was an even bigger medium because it was free.

Some adaptations tank

While movies measure success with box-office receipts, commercial sponsors would gauge ratings of radio shows based on the number of giveaway premiums offered during the commercial breaks — such as various Lone Ranger rings and badges. They were then used to persuade sponsors to stick around because of a large listener base.

It wasn't just kids, either. Housebound and disabled people "who couldn't go visit their local movie theater had the opportunity to enjoy action and adventure with the turn of their dial," Grams says.

"The business of pop culture was defined during the 1930s and 1940s when movie producers snatched up the screen rights to popular radio programs and produced motion pictures, serials and film shorts based on the properties."

Since then, movie studios, TV networks and comics publishers have attempted adaptations of those characters, with varying results.

The Lone Ranger TV series began in 1949, ran eight seasons and defined the character for many. Flash Gordon sped off to space with live-action and animated shows, and a 1980 film became a cult classic with Sam Jones clad in a white shirt bearing the word "Flash."

But two more recent movies, The Shadow (1994) with Alec Baldwin and the 1996 Billy Zane vehicle The Phantom (based on the comic strip from the '30s), were not exactly heroic at the box office. And Disney's new big-budget John Carter, based on the Edgar Rice Burroughs pulp sci-fi hero, has thus far tanked.

"My theory is that modern audiences have a hard time accepting un-ironic heroism unless it's presented just right," says Eric Trautmann, writer of Dynamite's Flash Gordon: Zeitgeist series. (A devotee of the era, Trautmann has a Maltese Falcon on his desk, a statue of Humphrey Bogart as Sam Spade, a Buck Rogers blaster and a replica 1930s radio.)

He concedes that pulp is difficult to write because it requires a certain innocence. Nazis show up in his series, but when they're the evil-doers du jour, modern audiences can't help but think of the Holocaust, "a sort of demise of innocence for the Western world." That makes it a lot harder to take the proceedings seriously.

'We're all geeks in a way'

"The obvious inclination is to keep things a little more self-referential and cartoony, tongue firmly in cheek," Trautmann says, "and that kind of thing really works against the story, the character, and readers' and viewers' embracing the tale."

Those characters of yesteryear, however, remain important in the history of pop-culture heroes, says comic-book artist Alex Ross, one of the creative spearheads of Dynamite's pulp series.

"Seeing how a character like The Shadow would influence every other flamboyant costumed hero in history was very interesting to me," he says. "A load of the earliest superhero fashions came from the artists swiping from Alex Raymond's Flash Gordon."

Heroic fiction draws from a lot of the same wells. Without John Carter in 1917, Trautmann feels we probably don't get Flash Gordon in 1934, a quintessentially American protagonist whose "unflappable 'can do' attitude and unshakable optimism would resonate in almost any era." Without Flash, there's no Luke Skywalker or Han Solo in Star Wars, and without that, we don't get Avatar.

"Even Star Trek owes a debt to period literature —Captain Kirk as Horatio Hornblower in space," Trautmann says. "Heroic fiction shares those archetypes and themes, so that influence is probably so ingrained now that a modern practitioner might not even be aware of what influenced the sources he or she is drawing inspiration from."

Affection for heroic pulp specifically — as with old-school sci-fi, fantasy and mystery stories — seems to be cyclical, Trautmann says. But the resurgence of these characters is also being helped by an overall nostalgia for the early- to mid-20th century, from Boardwalk Empire to Mad Men.

"It's been a rough decade or two," he says. "Looking back on what seems to be a simpler, less complicated time is certainly appealing."

Curiosity and a drive to seek knowledge are probably the main reasons people like to revisit historic pop culture, Grams says.

"We're all geeks in a way, trying to intake all the information we can on a comic-book character or movie, then digest, then recollect to friends to show how much more we know than they do."

The historian enjoys seeing kids introduced to heroes that were a seminal part of their grandparents' lives. He says it's a good bet they know tons more about The Hunger Games and Twilight than old Shadow magazine tales, and have no idea of the existence of Lone Ranger radio shows of yore.

"In my experience," Ennis says, "these characters tend to be pretty strong to begin with: They go through periods of revival, then slump due to overindulgence, then lie dormant, then undergo the next revival. But they always come back."

And, Grams notes, "the oldies are still the goodies."
ARROW BEGINS PRODUCTION ON ITS "HUMAN TARGET" EPISODE
08/24/16 @ 7:55 pm EST
Source:
Comicbook
| Categories:
DC
|
Comments
(0) |
E-mail Article
|
Add a Comment
Oftentimes, when The CW issues a casting notice or reveals a costume, it's because they believe that information is about to leak to the public.
For instance, when the network revealed the first official photographs of Superman on
Supergirl
, they started a multi-day outdoor shoot in which dozens of candid photos were taken of Tyler Hoechlin in his wardrobe as the Man of Steel.
Such is apparently the case with the casting of Will Traval as Christopher Chance, the Human Target -- but this time, it's not because they were likely to be compromised by bootleg photos on the internet.
Instead, it's Marc Guggenheim's semi-weekly script-cover post that might have outed them.
Traval will join
Arrow
in an episode actually
titled
"Human Target," meaning there would have been very little doubt that Christopher Chance was in the episode once the showrunner shared this week's script cover, which he did yesterday when
Arrow
started production on the episode.
A
Human Target
TV series starring Mark Valley ran for two seasons in 2010 and 2011 on FOX. The series was a fan favorite but was based only very loosely on the DC Comics character, with the disguise element almost completely omitted. The series also featured Jackie Earle Haley, who had played Rorschach in
Watchmen
, appearing in his second DC Entertainment property.
The idea behind
Human Target
is that Chance uses his chameleon-like skillset to essentially become the person he's "protecting," draw out potential attackers, and dispatch them, all while the actual target is hidden safely away.
It seems as though Diggle is off the table as Oliver Queen's bodyguard, at least for now, because that's just what Chance has apparently been hired to do, per the casting notice:
Wil Traval plays well-renowned DC Comics character Christopher Chance, a.k.a. "Human Target," in Episode #505: a professional bodyguard and master of disguise who assumes the identities of those targeted by assassins. His latest client: Mayor Oliver Queen.
So it's safe to assume that Traval might spend a chunk of his time looking surprisingly Stephen Amell-like.
NEWLY-RELEASED ARROW TRAILER GIVES FIRST LOOK AT THE WALKING DEAD'S CHAD COLEMAN AS TOBIAS CHURCH
08/24/16 @ 7:41 pm EST
Source:
Comicbook
| Categories:
DC
|
Comments
(0) |
E-mail Article
|
Add a Comment
The CW has released a new teaser trailer for the upoming fifth season of
Arrow
, including a first look at Chad L. Coleman of
The Walking Dead
fame in the role of Tobias Church, a gang leader with a mean-on for the Green Arrow.
His character seems to be masterminding an alliance of criminals, saying "The Green Arrow cannot be stopped, unless we all work together." Also seen in the trailer: the memorial statue for Black Canary, already reported on when executive producer Marc Guggenheim shared concept art; and a look at a kidnap plot directed at Oliver Queen which is...surprisingly successful.
You can check out the trailer -- recorded from somebody's TV and uploaded to YouTube -- here:
https://youtu.be/Iz_8o2gw2BY
MAN DRESSED IN BATMAN SUIT AND CAPTAIN AMERICA MASK STEALS BEER
08/24/16 @ 7:37 pm EST
Source:
Comicbook
| Categories:
MIsc
|
Comments
(0) |
E-mail Article
|
Add a Comment
As we all know Bruce Wayne is a legit millionaire, who would never have to steal a thing in his life. While we don't know what Steve Roger's financial situation is, he's probably too much of a goodie-goodie to even take a sip of alcohol, much less take without politely asking first.
A man in Salamanca, NY wearing a Batman suit and a Captain America mask, walked into a convenience store (no, this isn't a joke with a bad punchline) and stole two packs of Budweiser, then made his way to the towards the town bridge.
First of all, what an interesting disguise for a robbery, right? Does he even know that he mixed DC with Marvel? Probably, not. Clearly, this guy just wasn't concerned at all about giving our favorite superheroes a bad rap...
Second of all, how did the police not catch man, who most likely stood out like a sore thumb? Did he rip off his Halloween costume when he ran out of the place?
Either way, if you have any information, or if you happened to see this guy (which you won't) make sure you contact the local Salamanca, NY police department. You know, maybe Cap or Bats showed up to your party with a few cases of beer?
JON FAVREAU TO DIRECT SETH MACFARLANE'S SPACE COMEDIC DRAMA SERIES FOR FOX
08/24/16 @ 7:31 pm EST
Source:
Deadline
| Categories:
MIsc
|
Comments
(0) |
E-mail Article
|
Add a Comment
Iron Man
and
The Jungle Book
helmer Jon Favreau has signed on to direct and executive produce the first episode of Fox's untitled live-action hourlong comedic drama created by and starring Seth MacFarlane. Favreau will then stay on as a consult on the project, which has a straight-to-series order.
Set in space 300 years in the future, the show follows the adventures of the Orville, a not-so-top-of-the-line exploratory ship in Earth's interstellar fleet. MacFarlane wrote the pilot script, and serves as executive producer. He is joined in the cast by female lead Adrianne Palicki and Scott Grimes, Peter Macon and J Lee as members of the ship's crew. Production begins this January.
Favreau directed all three films in the
Iron Ma
n franchise, as well as Disney's 2016 standout
The Jungle Book,
which has grossed more than $955 million worldwide since opening on April 15. He also wrote, produced, directed and starred in
Chef.
JOE RUSSO ADDRESSES RUMORS OF X-MEN JOINING AVENGERS: INFINITY WAR MOVIES
08/24/16 @ 7:27 pm EST
Source:
Comicbook
| Categories:
Marvel
|
Comments
(0) |
E-mail Article
|
Add a Comment
With rumors swirling about the upcoming
X-Men: Legion
TV series being canon to the Marvel Cinematic Universe, speculation has spread across fans clamoring at the possibility of seeing the X-Men join forces with the Avengers on the big screen sooner than later.
To fuel those fires,
Doctor Strange
director Scott Derrickson told ComicBook.com at San Diego Comic Con that his November film is "the beginning of the Marvel Cinematic Multiverse." With doors opening to new worlds by the hands of the Sorcerer Supreme, what better time to introduce a whole new batch of characters like the X-Men to the Marvel Cinematic audience?
Well, the Quinjet likely won't be making a landing at Xavier's school for the gifted any time soon.
"As far as we know, right now there isn't talk regarding the X-Men,"
Captain America: Civil War
and
Avengers: Infinity War
co-director Joe Russo tells ComicBook.com. "I don't know if behind-the-scenes there were conversations or if there are conversations happening but we certainly haven't heard of any."
If anybody could make such a crossover happen, it would be the Russo Brothers. Their efforts in
Captain America: Civil War
managed to swing Spider-Man into the Marvel Cinematic Universe for the first time, bringing him home to Marvel Studios in the midst of a flailing reboot coming from Sony Entertainment."
Sony and Marvel had a relationship through Kevin [Feige] and Amy [Pascal] and through us and Amy," Joe Russo explains. "That's really how Spider-Man came about. It requires a certain alchemy and a very special situation for studios to share properties."
As for whether or not the X-Men were considered for Marvel's biggest film to date, Captain America: Civil War, the answer in unsurprisingly negative. "There was not talk on
Civil War
about the X-Men," Joe Russo says simply.
Captain America: Civil War
releases for download Digital HD on September 2 and will be available on blu-ray and DVD on September 13.
DEADPOOL CREATOR ROB LIEFELD BRINGING BACK YOUNGBLOOD IN 2017
08/24/16 @ 7:23 pm EST
Source:
Comicbook
| Categories:
MIsc
|
Comments
(0) |
E-mail Article
|
Add a Comment
Twenty-five years after their first issue was published, Image Comics co-founder and Deadpool creator Rob Liefeld has assembled a creative team to resurrect his creator-owned series
Youngblood
in 2017.
With a radically redesigned lineup, Liefeld's superhero team, first published in 1992 and originally a million-copy seller in the heady days of the early '90s comics market, look more like Michael Allred's X-Force than Liefeld's -- but the veteran artist is confident that he's got the right guy in Jim Towe...
...who, by the way, he found on Twitter.
The announcement came during a video interview with Nerdy Pop. Liefeld said that Towe had redesigned the team more or less as an artistic exercise, and had tagged Liefeld in a tweet to show off the art. Liefeld responded by reaching out to him and offering him a job to draw the characters. After Towe said that drawing the title would be his dream assignment.
"When people say 'dream assignment,' you hire them," Liefeld said. "Because you're going to get their best efforts.
You can check out the full video here:
https://youtu.be/uk4QuQMvYGI
Writing the book with Liefeld (and, really, taking point on the day-to-day from the sound of it) is Chad Bowers, who currently co-writes
X-Men '92
with Chris Sims and
Deadpool
with Sims and Liefeld.
The series will also reintroduce and reinvent Badrock, who will get a change in his power set in the first issue. Liefeld said that there will be an official solicitation shortly, once they have three issues in the can so that Image can solicit the book and avoid lateness.
It's a truism in comics that nobody loves comic books more than Rob Liefeld -- something else you can see on display in this interview -- but what's really unusual here is how self-depreciating he's being. Liefeld is a controversial figure, but he's often left in the position of defending himself and his art from attacks, especially online, so it might be a welcome surprise for some fans to see him cackling to himself when he says things like "I didn't draw it -- that's why it's good!"
RED HULK AND IRON SPIDER WERE CONSIDERED FOR CAPTAIN AMERICA: CIVIL WAR
08/24/16 @ 7:15 pm EST
Source:
Comicbook
| Categories:
Marvel
|
Comments
(0) |
E-mail Article
|
Add a Comment
Spider-Man coming home to the Marvel Cinematic Universe wasn't enough for comic book fans. Immediately following a deal between Sony and Marvel Studios which allowed the webslinger to appear alongside the Avengers on the big screen, fans clamored over the idea of the Iron Spider suit being realized in live action. Not to mention, the return of William Hurt's General Thaddeus Ross sparked questions of whether or not we would see the Red Hulk in
Captain America: Civil War
despite the Hulk's absence.
As it would turn out, both the Iron Spider suit and Thaddeus Ross' transformation into the Red Hulk were considered for Captain America: Civil War but didn't make the cut (much like The Wasp).
"We had so many characters in that movie as it was," Joe Russo tells ComicBook.com. "We consider everything, obviously, but with so many characters in that movie as it was to try and entertain adding another character and to get to the Red Hulk, you have to add a back story. You have to substantiate the narrative to get to that. [Thaddeus Ross], on our list of priorities, he was there sort of as the government's agenda and not to add another complicated super powered character to the mix."
Although Red Hulk didn't burst onto the screen in
Civil War
, the sibling directors haven't ruled out the possibility of bringing him into the mix down the road. "We had a board when we started this process of the movies with these Avengers characters that have ever graced the screen in a Marvel film and a list of characters that we have at our disposal that haven't graced the screen," Joe Russo explains. "We spent the last six to eight months crafting stories around the cornucopia of characters at our disposal so anything is possible."
Naturally, one has to wonder how the Red Hulk could have possibly fit in to an already crowded but well-balanced film. "If they had given him the narrative space, Red Hulk may have fit but if you put a Hulk into a movie like
Captain America: Civil War
, you have to treat him like a weapon of mass destruction," says ComicBook.com's Marvel expertJamie Lovett on the subject.
As for the Iron Spider, Joe Russo says it, like Red Hulk, was also considered. "Again, that falls in that category of anything's possible," he says. "We consider everything."
Captain America: Civil War
is available for digital download on September 2 and comes out on blu-ray/DVD on September 13.
'CAPTAIN MARVEL' DIRECTOR SEARCH NARROWS
08/24/16 @ 7:11 pm EST
Source:
The Hollywood Reporter
| Categories:
Marvel
|
Comments
(0) |
E-mail Article
|
Add a Comment
Captain Marvel
is slowly zeroing in on a director.
Niki Caro, Lesli Linka Glatter and Lorene Scafaria are on the shortlist for the highly coveted job of helming Marvel Studio's first female-centric superhero movie, several sources tell
The Hollywood Reporter
.
A decision won't be made anytime soon as Marvel is being very deliberate in its search, according to sources. The movie has a release date of March 8, 2019.
Sources caution that there may be names yet to surface. Marvel had no comment.
Brie Larson is attached to star as Carol Danvers, an Air Force pilot who gains powers after her DNA becomes fused with an alien after an accident.
Guardians of the Galaxy
's Nicole Perlman and
Inside Out
's Meg LeFauve wrote the script.
Insiders tell
THR
that the next stage will involve Marvel giving a treatment and documents to the directors in order to prepare a detailed presentation.
The three contenders were whittled from a shortlist of about a handful of contenders, which also included Jennifer Kent, helmer of the indie horror hit
The Babadook
, and Jennifer Yuh, director of
Kung Fu Panda 2.
Marvel has made finding a woman to direct the movie key in the search.
RUPERT WYATT TO DIRECT, WRITE SCI-FI FILM 'CAPTIVE STATE'
08/24/16 @ 7:08 pm EST
Source:
Variety
| Categories:
MIsc
|
Comments
(0) |
E-mail Article
|
Add a Comment
After focusing on TV work in the past year, "Rise of the Planet of the Apes" director Rupert Wyatthas found his next film.
Wyatt will direct the sci-fi pic "Captive State," which he co-wrote with his wife Erica Beeney. Sources tell
Variety
a competitive auction is underway, with a mix of studios and financiers currently chasing the property. The parties involved expect a deal to be sealed before Labor Day weekend.
Plot details are being kept under wraps for the film, which will go into production sometime in 2017.
"THOR'S" HEMSWORTH & HIDDLESTON LEFT ASGARD TO VISIT A CHILDREN'S HOSPITAL
08/24/16 @ 3:02 pm EST
Source:
Comic Book Resources
| Categories:
Marvel
|
Comments
(0) |
E-mail Article
|
Add a Comment
While Thor and Loki have been at each others' throats for some time now, the actors behind those characters have no problem teaming up -- especially if said team-up brings joy to children. Chris Hemsworth and Tom Hiddleston recently took a break from filming their newest Marvel movie to visit some children in need. EW reported that the pair recently visited Lady Cilento Children's Hospital in Brisbane, Australia to cheer up their patients while also meeting their families and doctors.
Hemsworth even remembered to bring along Mjolnir -- check some of the social media photos below to see how worthy the kids are when it comes to wielding the mythical hammer.