OLD-TIME RADIO AND COMICS HEROES BURST BACK ONTO THE SCENE!
03/28/12 @ 4:15 pm EST
Source:
USA TODAY
|
Comments
(0) |
E-mail Article
|
Add a Comment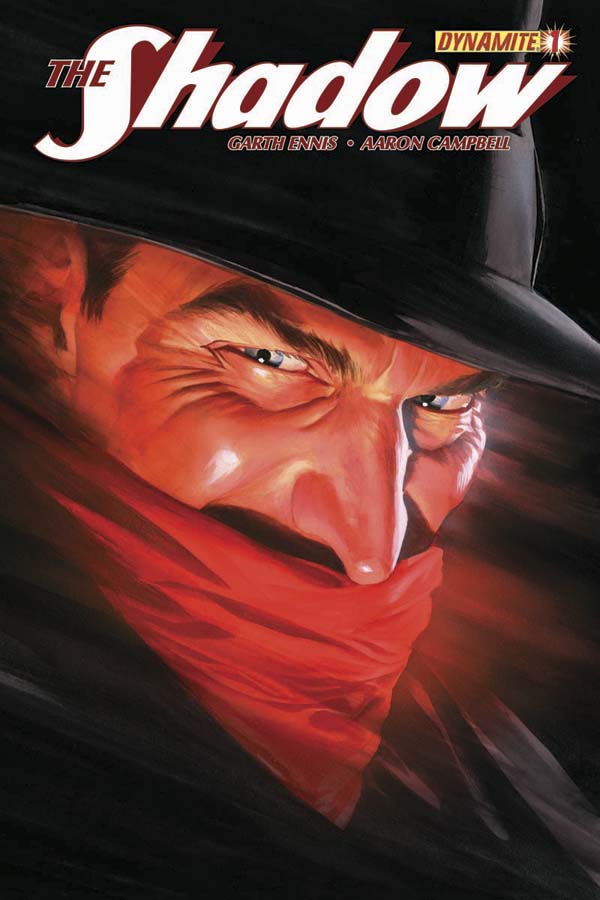 Who knows what evil lurks in the hearts of men? (Hint: The guy dresses up in a cape and runs around at night. And it's not Batman.)

The Shadow still knows — as do Flash Gordon, the Lone Ranger, the Green Hornet and other heroes of 1930s and '40s radio shows, pulp magazines and movie serials.

These good guys are making a comeback, though mainly in comics and feature-length movies. Next month, The Shadow receives a comics reboot courtesy of Dynamite Entertainment, which also publishes ongoing series starring Flash Gordon and Green Hornet plus a new title with pulp hero The Spider that's due in May.

On the big screen, a masked Seth Rogen stung bad guys in last year's The Green Hornet. And in The Lone Ranger, in production for release in 2013, Armie Hammer rides tall as the title cowboy with Johnny Depp as his sidekick Tonto. Baby Boomers grew up watching the Clayton Moore TV series in the '50s, although the saga began as a 1933 radio show in Detroit.

Though these characters may not be as well known as today's comic-book superheroes or the Star Wars and Harry Potter clans, they were the bee's knees for a generation that was decades away from the Internet and iPods.

Before Batman, there was the alter ego Lamont Cranston donning the shadowy mask and hat while haunting radio waves as The Shadow, voiced by Orson Welles in the late '30s.

And before Superman and Captain America there was Flash Gordon, an all-American space adventurer who tussled with planetary tyrant Ming the Merciless in sci-fi comic strips by Alex Raymond and serial films starring Buster Crabbe.

"The '20s and '30s are seen as a very romantic age, with the criminal underworld of urban America and high adventure of exotic foreign locations providing a bit of an edge," says Garth Ennis, who is writing the new Shadow comic. "The reality, I'm sure, would have been mostly a lot more mundane and occasionally quite grim."

He's crafting The Shadow as a dangerous champion of law and order with a flair for the dramatic, and he is embracing one of the vigilante's oldest and most famous traits: his habit of laughing as he consigns his enemies to their doom.

"I decided to be fairly sparing with it," Ennis says. "If he started howling every time he threw a punch or fired a shot, it would get old fast. So I decided to preserve the laugh for moments of deep, dark, extreme humor."

His take on The Shadow comic is a bloody affair, where the mysterious figure dispatches bad guys with violent aplomb. More than 70 years ago, though, audiences had to visualize with their imagination what was going on during the radio-show exploits.

The popularity of the old Shadow and Green Hornet radio shows and their ilk in their heyday is best compared to programs children flock to today, such as Hannah Montana and Dora the Explorer, says Martin Grams Jr., a radio-show historian and author.

Back then, kids and adults would read books, pulps and comics because they were a cheap form of entertainment, and radio was an even bigger medium because it was free.

Some adaptations tank

While movies measure success with box-office receipts, commercial sponsors would gauge ratings of radio shows based on the number of giveaway premiums offered during the commercial breaks — such as various Lone Ranger rings and badges. They were then used to persuade sponsors to stick around because of a large listener base.

It wasn't just kids, either. Housebound and disabled people "who couldn't go visit their local movie theater had the opportunity to enjoy action and adventure with the turn of their dial," Grams says.

"The business of pop culture was defined during the 1930s and 1940s when movie producers snatched up the screen rights to popular radio programs and produced motion pictures, serials and film shorts based on the properties."

Since then, movie studios, TV networks and comics publishers have attempted adaptations of those characters, with varying results.

The Lone Ranger TV series began in 1949, ran eight seasons and defined the character for many. Flash Gordon sped off to space with live-action and animated shows, and a 1980 film became a cult classic with Sam Jones clad in a white shirt bearing the word "Flash."

But two more recent movies, The Shadow (1994) with Alec Baldwin and the 1996 Billy Zane vehicle The Phantom (based on the comic strip from the '30s), were not exactly heroic at the box office. And Disney's new big-budget John Carter, based on the Edgar Rice Burroughs pulp sci-fi hero, has thus far tanked.

"My theory is that modern audiences have a hard time accepting un-ironic heroism unless it's presented just right," says Eric Trautmann, writer of Dynamite's Flash Gordon: Zeitgeist series. (A devotee of the era, Trautmann has a Maltese Falcon on his desk, a statue of Humphrey Bogart as Sam Spade, a Buck Rogers blaster and a replica 1930s radio.)

He concedes that pulp is difficult to write because it requires a certain innocence. Nazis show up in his series, but when they're the evil-doers du jour, modern audiences can't help but think of the Holocaust, "a sort of demise of innocence for the Western world." That makes it a lot harder to take the proceedings seriously.

'We're all geeks in a way'

"The obvious inclination is to keep things a little more self-referential and cartoony, tongue firmly in cheek," Trautmann says, "and that kind of thing really works against the story, the character, and readers' and viewers' embracing the tale."

Those characters of yesteryear, however, remain important in the history of pop-culture heroes, says comic-book artist Alex Ross, one of the creative spearheads of Dynamite's pulp series.

"Seeing how a character like The Shadow would influence every other flamboyant costumed hero in history was very interesting to me," he says. "A load of the earliest superhero fashions came from the artists swiping from Alex Raymond's Flash Gordon."

Heroic fiction draws from a lot of the same wells. Without John Carter in 1917, Trautmann feels we probably don't get Flash Gordon in 1934, a quintessentially American protagonist whose "unflappable 'can do' attitude and unshakable optimism would resonate in almost any era." Without Flash, there's no Luke Skywalker or Han Solo in Star Wars, and without that, we don't get Avatar.

"Even Star Trek owes a debt to period literature —Captain Kirk as Horatio Hornblower in space," Trautmann says. "Heroic fiction shares those archetypes and themes, so that influence is probably so ingrained now that a modern practitioner might not even be aware of what influenced the sources he or she is drawing inspiration from."

Affection for heroic pulp specifically — as with old-school sci-fi, fantasy and mystery stories — seems to be cyclical, Trautmann says. But the resurgence of these characters is also being helped by an overall nostalgia for the early- to mid-20th century, from Boardwalk Empire to Mad Men.

"It's been a rough decade or two," he says. "Looking back on what seems to be a simpler, less complicated time is certainly appealing."

Curiosity and a drive to seek knowledge are probably the main reasons people like to revisit historic pop culture, Grams says.

"We're all geeks in a way, trying to intake all the information we can on a comic-book character or movie, then digest, then recollect to friends to show how much more we know than they do."

The historian enjoys seeing kids introduced to heroes that were a seminal part of their grandparents' lives. He says it's a good bet they know tons more about The Hunger Games and Twilight than old Shadow magazine tales, and have no idea of the existence of Lone Ranger radio shows of yore.

"In my experience," Ennis says, "these characters tend to be pretty strong to begin with: They go through periods of revival, then slump due to overindulgence, then lie dormant, then undergo the next revival. But they always come back."

And, Grams notes, "the oldies are still the goodies."
NEW CLIP FOR 'ASSASSIN'S CREED' SHOWS OFF THE ACTION
12/02/16 @ 11:04 pm EST
Source:
Bleeding Cool
| Categories:
MIsc
|
Comments
(0) |
E-mail Article
|
Add a Comment
The promo for
Assassin's Creed
is kicking into high gear as we get an extended look at a carriage chase scene in the past. The look of the movie continues to be interesting but whether or not it's going to be the first great video game adaptation is still very much in the air.
Assassin's Creed
is directed by Justin Kurzel and stars Michael Fassbender and Marion Cotillard. It opens worldwide in December 21, 2016.
Video:
https://youtu.be/YlcPEYfbXvQ
NEW 'ROGUE ONE: A STAR WARS STORY' CLIP SHOWS TENSION BETWEEN CASSIAN AND JYN
12/02/16 @ 11:01 pm EST
Source:
Bleeding Cool
| Categories:
Star Wars
|
Comments
(0) |
E-mail Article
|
Add a Comment
A new clip for
Rogue One: A Star Wars Story
has appeared online during a twitter Q&A with the cast. The clips shows us that Jyn (
Felicity Jones
) and Cassian (
Diego Luna
) do not exactly trust each other in the beginning and also shows us the kind of humor K-2SO (
Alan Tuduyk
) is going to bring. Note: there is a bit of an overlay with the cast during the beginning of the clip.
Rogue One: A Star Wars Story
is directed by Gareth Edwards and stars Felicity Jones, Diego Luna, Alan Tudyk, Ben Mendelsohn, and Forest Whitaker. It opens December 16th, 2016.
Clip:
https://youtu.be/XiiCkWEavI0
ANDREW SACHS, FAWLTY TOWERS' MANUEL, DIES AT 86
12/02/16 @ 10:57 pm EST
Source:
Bleeding Cool
| Categories:
MIsc
|
Comments
(0) |
E-mail Article
|
Add a Comment
It has just been revealed that a week and a half ago, on 23rd November, comedy actor
Andrew Sachs
best known for his role as Manuel in BBC sitcom
Fawlty Towers
, died.
As Manuel, he played a slapstick comic foil to
John Cleese
's Basil Fawlty, and was generally the receiver of comedy violence – a few times actual violence, such as being hit hard on the head by Cleese's saucepan, and suffering second-degree acid burns when his character was set on fire. But the role did give him a level of permanent fame, both in Britain and around the world.
Later, he took roles in Britain two biggest soap operas
Coronation Street
and
Eastenders
. He played roles in Big Finish's
Doctor Who
audio dramas. Indeed he was a regular voice actor for children's animation, shows like
The Troubleshooter
and
That Peter Kay Thing
and was a regular actor on BBC Radio 4 dramas. He played The Book in the recent stage adaptation of
Hitch-Hikers Guide To The Galaxy
, played Tooley in the radio adaptation of
Neil Gaiman
's
Neverwhere
and played Tolliver Groat in the Discworld drama
Going Postal.
He was diagnosed with vascular dementia four years ago, and after a bout of pneumonia earlier this year, he moved into a home for retired actors.
DF News' condolences to his family, friends and many fans.
SIGOURNEY WEAVER TALKS ABOUT HER VILLAINESS ROLE IN 'MARVEL'S THE DEFENDERS'
12/02/16 @ 10:51 pm EST
Source:
Bleeding Cool
| Categories:
Marvel
|
Comments
(0) |
E-mail Article
|
Add a Comment
One of the big reveals at New York Comic Con 2016 was that legendary actor
Sigourney Weaver
would be playing the villain in the Netflix series
Marvel's The Defenders
. The room exploded when this announcement was made but there haven't been any hints as to who Weaver will be playing. Marvel has already proven that they are willing to gender swap roles in the Netflix series like they did with Carrie-Ann Moss' character Jeri Hogarth so she could play almost anyone. In an interview with Variety Weaver was asked about the role and she, predictably, couldn't say anything of note.
"I can't say much, because they might kill me," Weaver joked. "I think everyone I work for might kill me if I tell you anything. But I have the most delicious character. She's really smart, and she's very in charge."
The adjective 'delicious' means that Weaver is likely enjoying this role and that we're going to enjoy it as well.
Marvel's The Defenders
stars Charlie Cox, Krysten Ritter, Mike Colter, Finn Jones, and Sigourney Weaver. It is set to premiere in 2017.
WIZARD WORLD TO ANNOUNCE NEW FUNDING ON MONDAY
12/02/16 @ 10:45 pm EST
Source:
Bleeding Cool
| Categories:
Wizard
|
Comments
(0) |
E-mail Article
|
Add a Comment
A couple of weeks ago, Bleeding Cool reported that Wizard World had announced in an SEC filing that they wouldn't have enough funds to continue long term operations after December 31st, without further funding.
This has caused some to worry about the viability of upcoming shows, with 16 Wizard World Comic Cons scheduled for 2017 across the USA.
The next show scheduled is on January 6th, the New Orleans Wizard World.
Expect to hear more in three days.
DC TO COLLECT STEPHANIE BROWN'S BATGIRL STORIES – VOLUME ONE
12/02/16 @ 10:35 pm EST
Source:
Bleeding Cool
| Categories:
DC
|
Comments
(0) |
E-mail Article
|
Add a Comment
Once upon a time,
Stephanie Brown
was Batgirl. Then she wasn't. It was a bit of a thing.
Despite the character once being described as "toxic" at DC Comics, she has returned to Detective Comics as Spoiler. But some still yearn for her days under the Batcowl.
Well, next year you will at least be able to revisit it. DC Comics are publishing Batgirl: Stephanie Brown Vol. 1 on June 20th for $29.99 by Bryan Q. Miller and Lee Garbett. And, yes, fans, note the volume 1…
Bryan Q. Miller's critically acclaimed run takes Stephanie Brown a.k.a. former Robin, a.k.a. Spoiler, to new heights as Batgirl!Battling both inner and external demons, Stephanie must learn to balance school and crime-fighting or face the wrath of Barbara Gordon! With guest appearences from Batman and Robin and villains like Man-Bat and Clayface, Batgirl must step up to the mantle!Batgirl must battle the Calculator and stop his plan to unleash a nanovirus upon the citizens of Gotham City that will turn them into mindless techno-zombies, enter the FLOOD!
Collects BATGIRL #1-13.
COLLECTING ALL OF JACK KIRBY'S KAMANDI IN ONE BIG FAT OMNIBUS IN JULY 2017
12/02/16 @ 10:22 pm EST
Source:
Bleeding Cool
| Categories:
DC
|
Comments
(0) |
E-mail Article
|
Add a Comment
In January, DC Comics is publishing the
Kamandi Challenge
, where 40 different creators in 20 different teams tell their own Kamandi stories, picking up after each other, creating an exquisite corpse between them.
Well, DC Comics don't want you to forget the original. Which is why they are collecting
Kamandi, The Last Boy On Earth
#1-#40, all of
Jack Kirby
's issues, into an omnibus volume to come out alongside the new stories, in July next year.
Jack Kirby's Kamandi Omnibus Hardcover – July 25, 2017:
At last, DC presents the adventures of Kamandi, the last boy on Earth, in the popular Jack Kirby Omnibus format!Kamandi-one of the few survivors of a Great Disaster that has destroyed civilization–must search for a safe haven in a world populated by bizarre mutated animals and other strange wonders! Considered one of Jack Kirby's most creative works, KAMANDI features a band of anthropomorphic supporting characters who accompany Kamandi as he searches for answers and adventure across the wastelands of Earth.From one of comics' legendary creators, Jack Kirby's Kamandi faces danger from a giant, monstrous crab creature and an intelligent killer whale, and is hunted by the Sacker Company as a valuable intelligent human. In what is considered the series' greatest tale, Kamandi is forced to compete with the leader of a gorilla clan for the ultimate prize: Superman's costume!This hardcover omnibus collects Jack Kirby's run on KAMANDI, THE LAST BOY ON EARTH #1-40.
'AQUAMAN' TO SWIM INTO THEATERS OCTOBER 2018
12/02/16 @ 10:13 pm EST
Source:
Comicbook
| Categories:
DC
|
Comments
(0) |
E-mail Article
|
Add a Comment
Aquaman
finally has a release date. The Warner Bros superhero pic starring Jason Momoa and directed by James Wan will hit theaters October 5, 2018 in both 3D and Imax.
Aquaman made his cinematic debut earlier this year via a short cameo in
Batman V Superman: Dawn Of Justice
. The character will next be seen in a major role in the Zack Snyder-directed follow up
Justice League
, which sees the major heroes of the DC Universe united to face off against DC Villain Steppenwolf.
The
Aquaman
stand-alone film stars Jason Momoa as Aquaman — aka Arthur Curry, king of Atlantis — alongside Amber Heard as Mera, Queen of Atlantis in the comics and likely to fill the same role here.
Currently, the pic is the only one to stake out the release date.
'THE WOODS' TV SERIES BASED ON BOOM! COMIC IN WORKS AT SYFY WITH BRAD PEYTON
12/02/16 @ 10:10 pm EST
Source:
Deadline
| Categories:
The Woods
|
Comments
(0) |
E-mail Article
|
Add a Comment
Syfy has put in development
The Woods,
an hourlong sci-fi drama based on Boom! Studios' flagship graphic novel series, with
San Andreas
helmer Brad Peyton producing and set to direct.
Written by Michael Armbruster based on the comic by James Tynion IV and illustrator Michael Dialynas, the thriller is a co-production between Boom! Studios and Peyton's ASAP Entertainment. It is set in Wisconsin where an entire high school campus — including the 300 students, teachers, parents and workers who happened to be there at the time – vanishes without a trace and reappears in the middle of the thick woods on the moon of a distant planet. Now their normal lives have suddenly and dramatically changed as they must survive the eerie and dangerous environment while desperately trying to find a way to get back home.
In addition to directing, Peyton will executive produce alongside his producing partner, Jeff Fierson. Also executive producing are Armbruster and Boom!'s Ross Richie and Stephen Christy. Josh Levy from Boom! will co-executive produce. Universal Cable Productions, where the project was set up a year ago, is the studio.
"We've always seen this title as having the potential to be a stand-out sci-fi property, and there's no better team to do that with than with Boom! and the teams at UCP/Syfy," said Peyton and Fierson.
The Woods,
currently on Issue 27 of a planned 36-issue run
,
is one of the longest-running series for Boom! The comic recently was named a 2016 Best Graphic Novel for Young Adults by YALSA.
MARVEL TOPS DC WITH CRITICS CHOICE NOMINATIONS
12/02/16 @ 4:48 pm EST
Source:
Comicbook
| Categories:
MIsc
|
Comments
(0) |
E-mail Article
|
Add a Comment
While both of DC's film offerings this year were incredibly successful at the box office this year, the films were anything but beloved by the critics. It makes sense then that Marvel Studios took the top honors with ease in this year's Critics Choice Awards nominations.
Doctor Strange
alone was nominated more than the DC's film offerings combined, with nominations in Best Hair and Makeup, Best Visual Effects, Best Action Movie, Best Actor In An Action Movie (Benedict Cumberbatch), Best Actress In An Action Movie (Tilda Swinton), and Best Sci-Fi Horror Movie (via EW).
Deadpool
and
Captain America: Civil War
also made contributions, though, with
Deadpool
being nominated for Best Action Movie, Best Actor In An Action Movie (Ryan Reynolds), Best Comedy, and Best Actor In A Comedy (Ryan Reynolds).
Captain America: Civil War
added three nominations for Best Action Movie, Best Actor In An Action Movie (Chris Evans), and Best Actress In An Action Movie (Scarlett Johansson).
DC had a rather dismal showing, and honestly, if it weren't for the stellar performances from their female cast, they wouldn't even have made the list at all. Both nominations were in the Best Actress In An Action Movie category, where Gal Gadot was nominated for
Batman v Superman: Dawn of Justice
and Margot Robbie was nominated for her turn as Harley Quinn in
Suicide Squad
. Both are well deserved, but DC and Warner Bros. can't have been pleased that either film was left out of every other category.