OLD-TIME RADIO AND COMICS HEROES BURST BACK ONTO THE SCENE!
03/28/12 @ 4:15 pm EST
Source:
USA TODAY
|
Comments
(0) |
E-mail Article
|
Add a Comment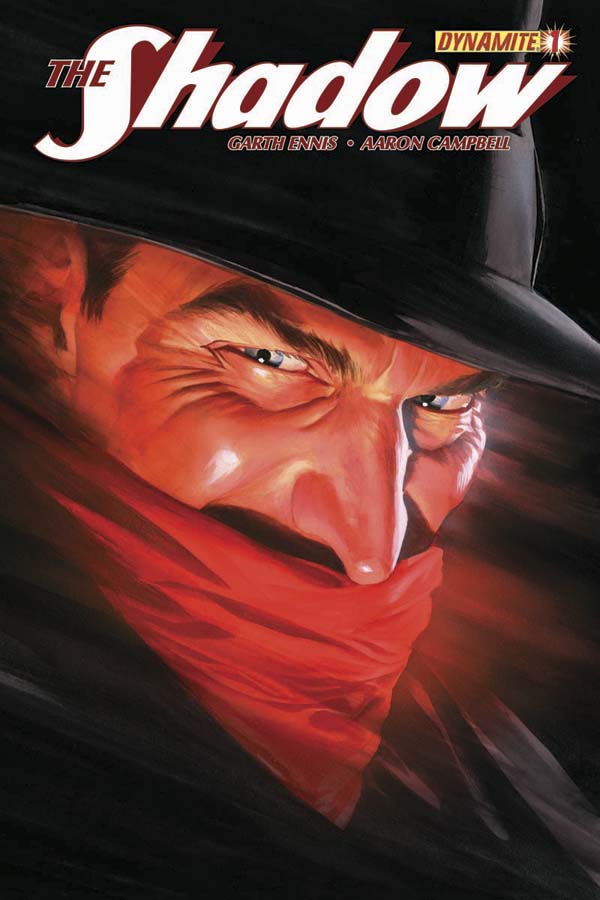 Who knows what evil lurks in the hearts of men? (Hint: The guy dresses up in a cape and runs around at night. And it's not Batman.)

The Shadow still knows — as do Flash Gordon, the Lone Ranger, the Green Hornet and other heroes of 1930s and '40s radio shows, pulp magazines and movie serials.

These good guys are making a comeback, though mainly in comics and feature-length movies. Next month, The Shadow receives a comics reboot courtesy of Dynamite Entertainment, which also publishes ongoing series starring Flash Gordon and Green Hornet plus a new title with pulp hero The Spider that's due in May.

On the big screen, a masked Seth Rogen stung bad guys in last year's The Green Hornet. And in The Lone Ranger, in production for release in 2013, Armie Hammer rides tall as the title cowboy with Johnny Depp as his sidekick Tonto. Baby Boomers grew up watching the Clayton Moore TV series in the '50s, although the saga began as a 1933 radio show in Detroit.

Though these characters may not be as well known as today's comic-book superheroes or the Star Wars and Harry Potter clans, they were the bee's knees for a generation that was decades away from the Internet and iPods.

Before Batman, there was the alter ego Lamont Cranston donning the shadowy mask and hat while haunting radio waves as The Shadow, voiced by Orson Welles in the late '30s.

And before Superman and Captain America there was Flash Gordon, an all-American space adventurer who tussled with planetary tyrant Ming the Merciless in sci-fi comic strips by Alex Raymond and serial films starring Buster Crabbe.

"The '20s and '30s are seen as a very romantic age, with the criminal underworld of urban America and high adventure of exotic foreign locations providing a bit of an edge," says Garth Ennis, who is writing the new Shadow comic. "The reality, I'm sure, would have been mostly a lot more mundane and occasionally quite grim."

He's crafting The Shadow as a dangerous champion of law and order with a flair for the dramatic, and he is embracing one of the vigilante's oldest and most famous traits: his habit of laughing as he consigns his enemies to their doom.

"I decided to be fairly sparing with it," Ennis says. "If he started howling every time he threw a punch or fired a shot, it would get old fast. So I decided to preserve the laugh for moments of deep, dark, extreme humor."

His take on The Shadow comic is a bloody affair, where the mysterious figure dispatches bad guys with violent aplomb. More than 70 years ago, though, audiences had to visualize with their imagination what was going on during the radio-show exploits.

The popularity of the old Shadow and Green Hornet radio shows and their ilk in their heyday is best compared to programs children flock to today, such as Hannah Montana and Dora the Explorer, says Martin Grams Jr., a radio-show historian and author.

Back then, kids and adults would read books, pulps and comics because they were a cheap form of entertainment, and radio was an even bigger medium because it was free.

Some adaptations tank

While movies measure success with box-office receipts, commercial sponsors would gauge ratings of radio shows based on the number of giveaway premiums offered during the commercial breaks — such as various Lone Ranger rings and badges. They were then used to persuade sponsors to stick around because of a large listener base.

It wasn't just kids, either. Housebound and disabled people "who couldn't go visit their local movie theater had the opportunity to enjoy action and adventure with the turn of their dial," Grams says.

"The business of pop culture was defined during the 1930s and 1940s when movie producers snatched up the screen rights to popular radio programs and produced motion pictures, serials and film shorts based on the properties."

Since then, movie studios, TV networks and comics publishers have attempted adaptations of those characters, with varying results.

The Lone Ranger TV series began in 1949, ran eight seasons and defined the character for many. Flash Gordon sped off to space with live-action and animated shows, and a 1980 film became a cult classic with Sam Jones clad in a white shirt bearing the word "Flash."

But two more recent movies, The Shadow (1994) with Alec Baldwin and the 1996 Billy Zane vehicle The Phantom (based on the comic strip from the '30s), were not exactly heroic at the box office. And Disney's new big-budget John Carter, based on the Edgar Rice Burroughs pulp sci-fi hero, has thus far tanked.

"My theory is that modern audiences have a hard time accepting un-ironic heroism unless it's presented just right," says Eric Trautmann, writer of Dynamite's Flash Gordon: Zeitgeist series. (A devotee of the era, Trautmann has a Maltese Falcon on his desk, a statue of Humphrey Bogart as Sam Spade, a Buck Rogers blaster and a replica 1930s radio.)

He concedes that pulp is difficult to write because it requires a certain innocence. Nazis show up in his series, but when they're the evil-doers du jour, modern audiences can't help but think of the Holocaust, "a sort of demise of innocence for the Western world." That makes it a lot harder to take the proceedings seriously.

'We're all geeks in a way'

"The obvious inclination is to keep things a little more self-referential and cartoony, tongue firmly in cheek," Trautmann says, "and that kind of thing really works against the story, the character, and readers' and viewers' embracing the tale."

Those characters of yesteryear, however, remain important in the history of pop-culture heroes, says comic-book artist Alex Ross, one of the creative spearheads of Dynamite's pulp series.

"Seeing how a character like The Shadow would influence every other flamboyant costumed hero in history was very interesting to me," he says. "A load of the earliest superhero fashions came from the artists swiping from Alex Raymond's Flash Gordon."

Heroic fiction draws from a lot of the same wells. Without John Carter in 1917, Trautmann feels we probably don't get Flash Gordon in 1934, a quintessentially American protagonist whose "unflappable 'can do' attitude and unshakable optimism would resonate in almost any era." Without Flash, there's no Luke Skywalker or Han Solo in Star Wars, and without that, we don't get Avatar.

"Even Star Trek owes a debt to period literature —Captain Kirk as Horatio Hornblower in space," Trautmann says. "Heroic fiction shares those archetypes and themes, so that influence is probably so ingrained now that a modern practitioner might not even be aware of what influenced the sources he or she is drawing inspiration from."

Affection for heroic pulp specifically — as with old-school sci-fi, fantasy and mystery stories — seems to be cyclical, Trautmann says. But the resurgence of these characters is also being helped by an overall nostalgia for the early- to mid-20th century, from Boardwalk Empire to Mad Men.

"It's been a rough decade or two," he says. "Looking back on what seems to be a simpler, less complicated time is certainly appealing."

Curiosity and a drive to seek knowledge are probably the main reasons people like to revisit historic pop culture, Grams says.

"We're all geeks in a way, trying to intake all the information we can on a comic-book character or movie, then digest, then recollect to friends to show how much more we know than they do."

The historian enjoys seeing kids introduced to heroes that were a seminal part of their grandparents' lives. He says it's a good bet they know tons more about The Hunger Games and Twilight than old Shadow magazine tales, and have no idea of the existence of Lone Ranger radio shows of yore.

"In my experience," Ennis says, "these characters tend to be pretty strong to begin with: They go through periods of revival, then slump due to overindulgence, then lie dormant, then undergo the next revival. But they always come back."

And, Grams notes, "the oldies are still the goodies."
BENEDICT WONG CONFIRMED FOR AVENGERS INFINITY WAR
10/21/16 @ 8:15 pm EST
Source:
Comicbook
| Categories:
Marvel
|
Comments
(0) |
E-mail Article
|
Add a Comment
Doctor Strange
is set to bring the realm of magic into the Marvel Universe, but it's also bringing along with it a cast of beloved characters from the comics, including Wong, Strange's faithful aid.
Jeff Cannata sat down with actor Benedict Wong for ComicBook.com to talk about the character, and when asked if he would like to see himself in future films, Wong was all for it, and confirmed he would be appearing in at least one upcoming project.
"I'm thrilled I'm going to be in Infinity War. I'm looking forward to, I'll tell you that one first."
It's already known that
Doctor Strange
is making an appearance in
Avengers: Infinity War
, and now there will at least be one familiar face.
Like many of the actors drafted into Marvel films, he isn't sure of what's in store yet for his character.
DONALD GLOVER CAST AS LANDO CALRISSIAN IN YOUNG HAN SOLO MOVIE
10/21/16 @ 8:05 pm EST
Source:
The Hollywood Reporter
| Categories:
Star Wars
|
Comments
(0) |
E-mail Article
|
Add a Comment
Donald Glover is headed to a galaxy far, far away.
The actor has been cast as Lando Calrissian in the upcoming young Han Solo
Star Wars
spin-off, Starwars.com announced Friday.
Disney and Lucasfilm's untitled Han Solo spin-off is slated for 2018 and is from directors Phil Lord and Chris Miller.Alden Ehrenreich is starring as Solo, playing the role made iconic by Harrison Ford.
Billy Dee Williams first inhabited the role of Calrissian, who made his appearance as the head of Cloud City, a floating city above the planet Bespin, in
The Empire Strikes Back
. He has a competitive and strained friendship with Solo, having lost the starship Millennium Falcon to the smuggler and future Rebel commander in a card game.
The upcoming film will explore a previously unseen side of Lando, with Lucasfilm saying it will show "his formative years as a scoundrel on the rise in the galaxy's underworld." Sources say the film will show how Lando lost the Millennium Falcon to Han.
"We're so lucky to have an artist as talented as Donald join us," said Lord and Miller in a statement. "These are big shoes to fill, and an even bigger cape, and this one fits him perfectly, which will save us money on alterations. Also, we'd like to publicly apologize to Donald for ruining Comic-Con for him forever."
Glover is a favorite in the fan community. Fans launched a campaign calling for him to play Spider-Man when Sony was working on the reboot that eventually became 2012's
The Amazing Spider-Man
. Though the role went to Andrew Garfield, Glover later voiced Spider-Man Miles Morales on Disney XD's animated series
Ultimate Spider-Man,
and he is part of the cast of next year's
Spider-Man: Homecoming
in a mystery role.
Glover also gained acclaim this year for creating and starring in the FX series
Atlanta
.
A JUSTICE LEAGUE MEMBER QUIT THIS WEEK
10/21/16 @ 4:40 pm EST
Source:
Comicbook
| Categories:
DC
|
Comments
(0) |
E-mail Article
|
Add a Comment
SPOILERS AHEAD!
This week's
Justice League
#7 ended with the departure of a team member -- perhaps not surprising, considering the last two issues have centered on a kind of psychic phenomenon that has put the team in an unstable emotional state and put the League's members at odds.
A cosmic plague wormed its way through the Justice League, infecting Green Lantern Jessica Cruz through her ring. It played on the League's fears and insecurities, causing them to make a series of bad decisions including Superman attacking Batman, Barry Allen becoming creepily obsessive during a date with Cruz, and more.
And, Cruz explained as she told Barry she was leaving the team, she could feel all of it -- what was openly expressed and what wasn't, and not just from Barry but from everyone thanks to her tie to the source of the plague.
The exchange between Allen and Cruz in #6 felt creepily like a guy getting drunk and trying to pursue a woman against her will on a date. Cruz's inner monologue confirmed that was the image writer Bryan Hitch was going for. It was awkward to read, so one can safely imagine that from Cruz's perspective it was not easy to live through. The fact that after a first date like that, Allen continued to push -- "what about us?" -- as she was leaving the League at the end of #7 seems odd, but maybe it's a storyline that Hitch expects to follow up on in the future.
When Allen told her that the League needed her, Cruz said no, telling him that she was only there because Hal Jordan told her to be, and now it was time for her to make her own decision. In Sam Humphries's
Green Lanterns
, Cruz and Simon Baz are teamed up, sharing a power battery, but since the League has thus far been portrayed as responding to crises rather than dealing with longer-term or larger-scale problems, an unwillingness to suit up with the League likely won't impact Cruz's partnership with Baz much.
It's not yet clear whether Cruz will rejoin the team for the forthcoming
Justice League vs. Suicide Squad
crossover, or whether she was simply left on cover art in order to preserve the surprise of her departure in this week's
Justice League
issue.
FEIGE ON WHEN MARVEL MOVIES AND NETFLIX SERIES WILL CROSSOVER
10/21/16 @ 4:33 pm EST
Source:
Comicbook
| Categories:
Marvel
|
Comments
(0) |
E-mail Article
|
Add a Comment
Fans look at the Marvel Cinematic Universe as the pinnacle example of how to build a successful superhero shared universe. Unlike DC, Marvel can seemingly do no wrong when it comes to launching movies and TV shows that all exist in the same universe, and things are looking better than ever in Phase 3, with Captain America: Civil War being a big success, while shows like Agents of SHIELD and the Netflix series Daredevil, Jessica Jones and recently Luke Cage all inviting impressive response from fans.
However, as glowing and cohesive as things appear to be in the MCU, hardcore fans know that, behind the scenes, things are not as cohesive as they seem. There's long been an internal schism between what Marvel Studios head Kevin Feige does on the movie side, and what Marvel TV head Jeph Loeb does on the small screen. The two executives don't exactly work together like you would think the MCU would require, and there's always a little bit of tension when it comes to sharing characters.
Agents of SHIELD has been used as a successful (and not so successful) tie-in to major Marvel movie events, but the Marvel Netflix shows have largely sequestered to their own little corner of the MCU - one that has little connection with AoS, and almost zero connection to the movies (other than Easter egg name drops and indirect references to the events of certain films). But as
Avengers: Infinity Wa
r approaches - bringing with it an event that seemingly encompasses all of the Marvel Cinematic Universe, it's become increasingly curious as to whether or not all of the MCU will truly be included.
In a recent talk with Collider, Feige remained vague about whether or not the Marvel Netflix heroes will be appearing in the films anytime soon, saying, "I think it's extremely impressive what Netflix has done and it will be the same answer I always give, which is, "It all depends on timing." It all depends on how to do it because I don't think what anybody wants to do is have such important characters show up for one second."
If you don't speak the lingo of Marvel press and media trained responses, Feige is presumably saying that there is no current plan to have the Netflix characters in the films. If that reading of the quote seems presumptuous, then maybe his follow up will make things clearer:
"Black Panther and Spider-Man to me are the high bar in Civil War of how you can bring in new characters into something. Vision and Ultron, Wanda and Pietro in Ultron. And it takes a lot of screentime, and it takes a lot of work. Infinity War has a lot of people in it already. So it just depends on how we could figure it out."
ZACK SNYDER REVEALS NEW LOOK AT WONDER WOMAN IN JUSTICE LEAGUE
10/21/16 @ 4:25 pm EST
Source:
Comicbook
| Categories:
DC
|
Comments
(0) |
E-mail Article
|
Add a Comment
Justice League
director Zack Snyder just released an all-new look at Wonder Woman in the film, in honor of the character's 75th anniversary. She's being honored at the United Nations today, and the image is part of that celebration, showing Gal Gadot looking concerned and ready for action.
RUMORED GODZILLA 2 DIRECTOR REVEALED
10/21/16 @ 4:21 pm EST
Source:
Comicbook
| Categories:
Godzilla
|
Comments
(0) |
E-mail Article
|
Add a Comment
Yesterday, Legendary Pictures and Warner Bros. updated fans on the fate of
Godzilla 2
when they announced two screenwriters for the film. Michael Dougherty and Zach Shields will treat the script for the monstrous sequel, but one of the two will be doing more than just writing. According to an exclusive report from Screencrush,
Godzilla 2
will be directed by Dougherty.
Of course, Dougherty is no stranger to the director's chair. He helmed
Krampus
and
Trick 'r Treat
for Legendary and even worked on screenplays for
Superman Returns
and
X2
. Sources for the site confirmed the director's involvement after Gareth Edwards pulled out of the project. Edwards directed the first
Godzilla
flick but was forced toremove himself from the sequel after being tapped to helm
Rogue One: A Star Wars Story
. His split from Legendary was said to be an amicable one, but it did leave the studio without a director for
Godzilla 2
.
FANTASTIC BEASTS' THUNDERBIRD COVERS EMPIRE MAGAZINE
10/21/16 @ 4:17 pm EST
Source:
Comicbook
| Categories:
MIsc
|
Comments
(0) |
E-mail Article
|
Add a Comment
Next month, Warner Bros. will see if there's still magic left in that old wand of theirs when they release
Fantastic Beasts and Where to Find Them
, a film set in the
Harry Potter
universe but takes place many decades before the original film series.
In the film, magizoologist Newt Scamander (Eddie Redmayne) heads to America to study magical creatures that inhabit the country, and one of those magical creatures is the Thunderbird, which is featured on Empire's subscriber-only cover and will go on sale Thursday, October 27.
LYNDA CARTER, GAL GADOT, AND DC COMICS STAFF LOOK ON AS WONDER WOMAN APPOINTED HONORARY AMBASSADOR TO THE UNITED NATIONS
10/21/16 @ 4:15 pm EST
Source:
Comicbook
| Categories:
DC
|
Comments
(0) |
E-mail Article
|
Add a Comment
Wonder Woman isn't just another comic book super hero now: she's also an Honorary Ambassador to the United Nations.
With a popular tv show long ago aired, a likely blockbuster movie coming soon and the comics doing better than ever, you think that it might be enough to keep her busy, but on an historic anniversary for the character, she's being celebrated like no other comic book superhero has before.
Diana joins the Angry Birds as one of the honorary ambassadors for the United Nations Sustainable Development Goals. Wonder Woman will be the UN Honorary Ambassador for the Empowerment of Women and Girls.
At 75 -- as the UN Under-Secretary-General for Communications and Public Information Cristina Gallach stated in her speech to the assembled Girl Scouts, DC creators, actors and press -- Wonder Woman is older than the United Nations itself.
"I think it's a great personification of what Wonder Woman means and has always meant," DC Entertainment president Diane Nelson told ComicBook.com. "The reinforcement of the social development goals that the UN has outlined particularly number five, gender equality, is so in line with what Wonder Woman has always stood, for so we're quite sure she's going to be an effective tool to help them be more effective on the ground and reinforce what her attributes are for new generations."
The designation was presented to Diane Nelson in a ceremony at the United Nations - she was joined by Wonder Women past and present, Lynda Carter and Gal Gadot.
TV's Wonder Woman, Lynda Carter, gave an impassioned speech for gender equality that captured the attention of the audience of young girls, several dressed in the warrior princess's costume.
"All you women of all colors, all you children out there, never forget that Wonder Woman lives inside you," Carter said. "You can be anything. I see these beautiful faces. Learn. Know. Be everything that you dream. Because unless you dream it...it can't be done."
Carter also spoke to her start as her defining character. "More than 40 years ago I had the honor of being cast...more than 40 years ago," dropping her head into her hands at the podium. She then continued to speak how TV execs didn't think that a woman could hold a television - until they started getting letters from women speaking to what it meant for Wonder Woman to be televised. Gal Gadot followed "What an inspiration, right? Lynda - I think you should be the President of the United States with these values." For that, the crowed roared its approval.
Of course, fans know that Carter actually will play the President of the United States on Monday's episode of
Supergirl
. Last season, producers had teased that if the President were to appear on the show, it would be Carter -- and later, they revealed that they had held off the President's first appearance on the series until they could schedule something to line up with Carter's availability rather than cast somebody else.
Godot will appear in a PSA for the UN's Sustainable Development Goal number five. DC will also produce a special comic book aimed at empowering women and girls. In a first for DC, the comic will be printed in the six official languages of the United Nations: Arabic, Chinese, English, French, Russian and Spanish.
KEVIN FEIGE SAYS MARVEL IS VERY EXCITED TO EXPLORE MULTIVERSE
10/21/16 @ 4:06 pm EST
Source:
Comicbook
| Categories:
Marvel
|
Comments
(0) |
E-mail Article
|
Add a Comment
It seems with every new addition to the Marvel Cinematic Universe, the studio also gets not just a new set of characters, but also a new location, new power sets, and in Doctor Strange's case, entire new universes to explore.
At the red carpet premiere for
Doctor Strange
, Marvel Studios president Kevin Feige was asked what the most exciting part of exploring his realm is.
"Well, you know, what's so amazing is, as you well know about the comics, is there are so many areas to play with. There is so many characters to play with and every time we introduce a new one to our cinematic universe, that's just another storytelling tool in the toolbox, and of course Doctor Stephen Strange himself, that power base, but the whole notion of sorcerers now can expand into our movies and the notion of parallel dimensions and alternate realities and the multiverse is something that we're very excited to explore."
Video:
https://youtu.be/TM5wTk2giG4
Strange
is arguably the biggest expansion of the universe since
Guardians of the Galaxy
, aspects of which will likely come into play in
Avengers: Infinity War.
STAN LEE REVEALS HIS FAVORITE MARVEL CAMEO
10/21/16 @ 4:00 pm EST
Source:
Comicbook
| Categories:
Stan Lee
|
Comments
(0) |
E-mail Article
|
Add a Comment
When it comes to the Marvel Cinematic Universe, fans are always looking forward to Stan Lee and his cameos. The iconic comic book writer is known for his various on-screen cameos in films like
Iron Man, Thor, The Avengers
, and more. With dozens of appearances under his belt, it would surely be hard for Lee to pick out which cameo has been his favorite. However, there is apparently one which sticks out to the writer above all the rest.
In a recent interview with The Tomorrow Show, Lee was asked whether he had a favorite MCU cameo to which he answered yes. The writer confessed his favorite role was in
Avengers: Age of Ultron
when Thor gifted him a bit of Asgardian mead.
"They were all fun to do, but mine is the one when I'm with Thor and he's drinking something," Lee said. "I ask for a drink and he says, 'No, it's too strong for you.' But I insist, and he gives it to me. In the next scene, they're dragging me away. I'm saying, 'Excelsior!'"
The Man continued, explaining the reason why he was so fond of his drunkard role. "The reason that's my favorite is that it's the only one with two scenes. So, let that be a hint to the directors from now on. I want a couple of scenes."