OLD-TIME RADIO AND COMICS HEROES BURST BACK ONTO THE SCENE!
03/28/12 @ 4:15 pm EST
Source:
USA TODAY
|
Comments
(0) |
E-mail Article
|
Add a Comment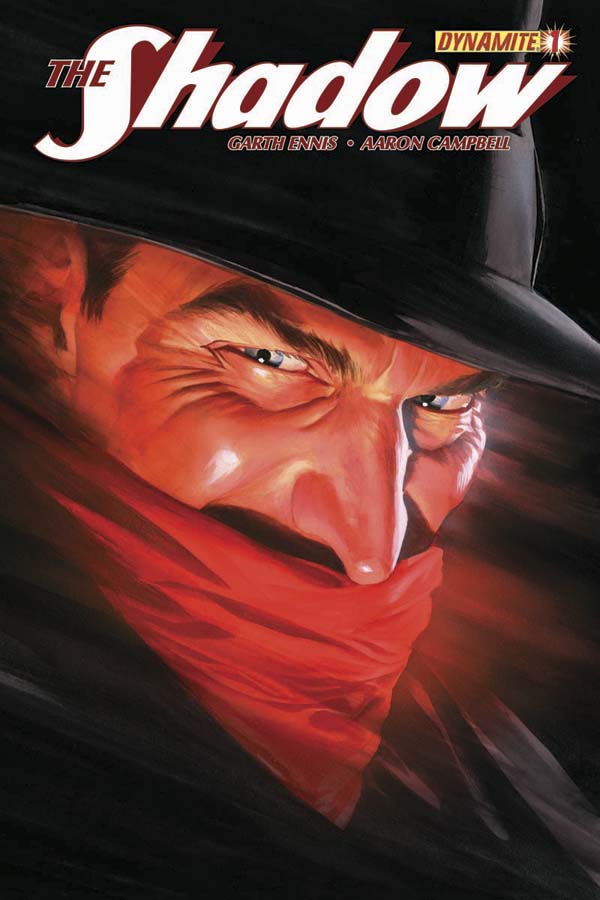 Who knows what evil lurks in the hearts of men? (Hint: The guy dresses up in a cape and runs around at night. And it's not Batman.)

The Shadow still knows — as do Flash Gordon, the Lone Ranger, the Green Hornet and other heroes of 1930s and '40s radio shows, pulp magazines and movie serials.

These good guys are making a comeback, though mainly in comics and feature-length movies. Next month, The Shadow receives a comics reboot courtesy of Dynamite Entertainment, which also publishes ongoing series starring Flash Gordon and Green Hornet plus a new title with pulp hero The Spider that's due in May.

On the big screen, a masked Seth Rogen stung bad guys in last year's The Green Hornet. And in The Lone Ranger, in production for release in 2013, Armie Hammer rides tall as the title cowboy with Johnny Depp as his sidekick Tonto. Baby Boomers grew up watching the Clayton Moore TV series in the '50s, although the saga began as a 1933 radio show in Detroit.

Though these characters may not be as well known as today's comic-book superheroes or the Star Wars and Harry Potter clans, they were the bee's knees for a generation that was decades away from the Internet and iPods.

Before Batman, there was the alter ego Lamont Cranston donning the shadowy mask and hat while haunting radio waves as The Shadow, voiced by Orson Welles in the late '30s.

And before Superman and Captain America there was Flash Gordon, an all-American space adventurer who tussled with planetary tyrant Ming the Merciless in sci-fi comic strips by Alex Raymond and serial films starring Buster Crabbe.

"The '20s and '30s are seen as a very romantic age, with the criminal underworld of urban America and high adventure of exotic foreign locations providing a bit of an edge," says Garth Ennis, who is writing the new Shadow comic. "The reality, I'm sure, would have been mostly a lot more mundane and occasionally quite grim."

He's crafting The Shadow as a dangerous champion of law and order with a flair for the dramatic, and he is embracing one of the vigilante's oldest and most famous traits: his habit of laughing as he consigns his enemies to their doom.

"I decided to be fairly sparing with it," Ennis says. "If he started howling every time he threw a punch or fired a shot, it would get old fast. So I decided to preserve the laugh for moments of deep, dark, extreme humor."

His take on The Shadow comic is a bloody affair, where the mysterious figure dispatches bad guys with violent aplomb. More than 70 years ago, though, audiences had to visualize with their imagination what was going on during the radio-show exploits.

The popularity of the old Shadow and Green Hornet radio shows and their ilk in their heyday is best compared to programs children flock to today, such as Hannah Montana and Dora the Explorer, says Martin Grams Jr., a radio-show historian and author.

Back then, kids and adults would read books, pulps and comics because they were a cheap form of entertainment, and radio was an even bigger medium because it was free.

Some adaptations tank

While movies measure success with box-office receipts, commercial sponsors would gauge ratings of radio shows based on the number of giveaway premiums offered during the commercial breaks — such as various Lone Ranger rings and badges. They were then used to persuade sponsors to stick around because of a large listener base.

It wasn't just kids, either. Housebound and disabled people "who couldn't go visit their local movie theater had the opportunity to enjoy action and adventure with the turn of their dial," Grams says.

"The business of pop culture was defined during the 1930s and 1940s when movie producers snatched up the screen rights to popular radio programs and produced motion pictures, serials and film shorts based on the properties."

Since then, movie studios, TV networks and comics publishers have attempted adaptations of those characters, with varying results.

The Lone Ranger TV series began in 1949, ran eight seasons and defined the character for many. Flash Gordon sped off to space with live-action and animated shows, and a 1980 film became a cult classic with Sam Jones clad in a white shirt bearing the word "Flash."

But two more recent movies, The Shadow (1994) with Alec Baldwin and the 1996 Billy Zane vehicle The Phantom (based on the comic strip from the '30s), were not exactly heroic at the box office. And Disney's new big-budget John Carter, based on the Edgar Rice Burroughs pulp sci-fi hero, has thus far tanked.

"My theory is that modern audiences have a hard time accepting un-ironic heroism unless it's presented just right," says Eric Trautmann, writer of Dynamite's Flash Gordon: Zeitgeist series. (A devotee of the era, Trautmann has a Maltese Falcon on his desk, a statue of Humphrey Bogart as Sam Spade, a Buck Rogers blaster and a replica 1930s radio.)

He concedes that pulp is difficult to write because it requires a certain innocence. Nazis show up in his series, but when they're the evil-doers du jour, modern audiences can't help but think of the Holocaust, "a sort of demise of innocence for the Western world." That makes it a lot harder to take the proceedings seriously.

'We're all geeks in a way'

"The obvious inclination is to keep things a little more self-referential and cartoony, tongue firmly in cheek," Trautmann says, "and that kind of thing really works against the story, the character, and readers' and viewers' embracing the tale."

Those characters of yesteryear, however, remain important in the history of pop-culture heroes, says comic-book artist Alex Ross, one of the creative spearheads of Dynamite's pulp series.

"Seeing how a character like The Shadow would influence every other flamboyant costumed hero in history was very interesting to me," he says. "A load of the earliest superhero fashions came from the artists swiping from Alex Raymond's Flash Gordon."

Heroic fiction draws from a lot of the same wells. Without John Carter in 1917, Trautmann feels we probably don't get Flash Gordon in 1934, a quintessentially American protagonist whose "unflappable 'can do' attitude and unshakable optimism would resonate in almost any era." Without Flash, there's no Luke Skywalker or Han Solo in Star Wars, and without that, we don't get Avatar.

"Even Star Trek owes a debt to period literature —Captain Kirk as Horatio Hornblower in space," Trautmann says. "Heroic fiction shares those archetypes and themes, so that influence is probably so ingrained now that a modern practitioner might not even be aware of what influenced the sources he or she is drawing inspiration from."

Affection for heroic pulp specifically — as with old-school sci-fi, fantasy and mystery stories — seems to be cyclical, Trautmann says. But the resurgence of these characters is also being helped by an overall nostalgia for the early- to mid-20th century, from Boardwalk Empire to Mad Men.

"It's been a rough decade or two," he says. "Looking back on what seems to be a simpler, less complicated time is certainly appealing."

Curiosity and a drive to seek knowledge are probably the main reasons people like to revisit historic pop culture, Grams says.

"We're all geeks in a way, trying to intake all the information we can on a comic-book character or movie, then digest, then recollect to friends to show how much more we know than they do."

The historian enjoys seeing kids introduced to heroes that were a seminal part of their grandparents' lives. He says it's a good bet they know tons more about The Hunger Games and Twilight than old Shadow magazine tales, and have no idea of the existence of Lone Ranger radio shows of yore.

"In my experience," Ennis says, "these characters tend to be pretty strong to begin with: They go through periods of revival, then slump due to overindulgence, then lie dormant, then undergo the next revival. But they always come back."

And, Grams notes, "the oldies are still the goodies."
"JUSTICE LEAGUE" ADDS BEN AFFLECK AS EXECUTIVE PRODUCER
05/06/16 @ 3:05 pm EST
Source:
Comic Book Resources
| Categories:
Justice League
|
Comments
(0) |
E-mail Article
|
Add a Comment
Ben Affleck will be wearing another hat during his time on the "Justice League" set. In addition to donning the Batman cowl once again for the 2017 team-up movie, Deadlinehas learned that Affleck has been named as another executive producer on the film.
Affleck will join the film's braintrust, which includes director Zack Snyder and screenwriter Chris Terrio. Affleck previously worked with Terrio on the Academy Award-winning film "Argo." Deadline adds that Affleck made the jump to EP in order to support Snyder, "with whom he worked well on 'Batman v Superman: Dawn of Justice."
The move further increases Affleck's involvement in Warner Bros.' expanding DC cinematic universe. In addition to starring as Batman in "Justice League," it was confirmed during last month's CinemaCon that Affleck will direct and star in a new solo Batman film for Warner Bros.
Directed by Zack Snyder and starring Henry Cavill, Ben Affleck, Gal Gadot, Jason Momoa, Ezra Miller, Ray Fisher, J.K. Simmons and more, "Justice League Part One" arrives in theaters on November 17, 2017.
[SPOILER] RETURNS FOR "GOTHAM'S" SEASON FINALE
05/06/16 @ 2:59 pm EST
Source:
Comic Book Resources
| Categories:
Gotham
|
Comments
(0) |
E-mail Article
|
Add a Comment
SPOILER WARNING: The following article contains major spoilers for the final episodes of "Gotham's" second season.
Throughout the show's second season, "Gotham" has seen villains realize their potential in a number of ways. Be it Edward Nygma finding himself becoming the Riddler through his own missteps, Oswald Cobblepot's "family" forcing the reformed crimelord into realizing his destiny as the Penguin, or Victor Fries' love for his wife leading him to transform morally and physically into the ice-cold killer, Mr. Freeze, the villains did indeed rise.
Now, it's Fish Mooney's turn. In the season's penultimate episode, "A Legion of Horribles," Jada Pinkett Smith makes her return to the series -- but will it be a triumphant one, or is the former criminal heavyweight destined to be manipulated and used by Hugo Strange like the freshly resurrected Theo Galavan/Azrael?
Hugo Strange welcomes a familiar face to Gotham after he resurrects Fish Mooney in Indian Hill. Later, Bruce discovers a friend is in danger and teams up with Gordon, Alfred and Lucius, while uncovering more of Strange's experiments in the all-new "Wrath of the Villains: A Legion of Horribles" episode of GOTHAM airing Monday, May 16.
Whatever Strange's plans, the season finale's synopsis (titled "Transference") indicates it all goes awry as his inmates rise up against the scientific madman. Whether Strange makes it out alive remains to be seen, but if there's one thing this season has taught us, it's that death has become a minor inconvenience in the world of "Gotham."
While Gordon, Bruce and Lucius remain at Indian Hill, the city of GOTHAM will be met with a new threat as Hugo Strange's inmates devise a plan to escape and start their new lives in GOTHAM in the all-new "Wrath of the Villains: Transference" Season Finale episode of GOTHAM airing Monday, May 23
"Gotham" airs on Fox on Mondays at 8 PM ET; Jada Pinkett Smith makes her return as Fish Mooney on May 16.
HIVE'S "VOLUNTEERS" ARRIVE IN TENSE "SHIELD" CLIP
05/06/16 @ 2:42 pm EST
Source:
Comic Book Resources
| Categories:
SHIELD
|
Comments
(0) |
E-mail Article
|
Add a Comment
"Agents of S.H.I.E.L.D." is barreling towards its third season finale and the evil Inhuman Hive's plans have been set in motion. A clip from Tuesday's upcoming episode, which is titled "Emancipation," has been released and it features part of Hive's plan -- as well as all the unwilling participants
in
said plan.
Video:
https://youtu.be/D4B4EXu0Iow
KEVIN FEIGE SAYS MARVEL IS "COMMITTING" TO BLACK WIDOW SOLO FILM
05/06/16 @ 2:35 pm EST
Source:
Comic Book Resources
| Categories:
Black Widow
|
Comments
(0) |
E-mail Article
|
Add a Comment
For years, Marvel fans have rallied around Black Widow and called for Scarlett Johansson's Avenger to get a solo movie like many of her teammates. "Captain America: Civil War" directors Joe and Anthony Russohave expressed interest in directing a solo Black Widow film, and actors Clark Gregg andRobert Downey Jr. are among those wondering why the super spy hasn't gotten her own film yet. Johansson's brought up the idea of a solo film before, as well. Even a poll conducted earlier this week by Fandango and USA Todayshows that Black Widow is still the number one Avenger that fans want to see go solo. While Marvel has not officially announced "Black Widow," Marvel Studios president Kevin Feige had some new comments on the matter in a Q&A session with Deadline.
When asked which character -- with Falcon, War Machine, Black Widow and Hawkeye being named -- was destined for a solo film, Feige mentioned Black Widow. "We've announced the next nine movies, ten counting 'Civil War,' through the end of 2019," said Feige. "Where we go beyond that are ongoing discussions that we'll focus on in the next few years because we have a lot to do before then. Of the characters that you've just mentioned I would say certainly the one creatively and emotionally that we are most committing to doing is Black Widow."
Feige elaborated on his choice, saying, "We think she's an amazing character. We think Scarlett Johansson's portrayal of her is amazing. She's a lead Avenger and has amazing stories in her own right to tell that we think would be fun to turn into a standalone franchise."
Scarlett Johansson debuted as Black Widow in 2010's "Iron Man 2" and followed that up with 2012's "Marvel's the Avengers." She partnered up with Captain America for 2014's "Captain America: The Winter Soldier" and returned for 2015's "Avengers: Age of Ultron." "Captain America: Civil War" marks Johansson's fifth appearance as Black Widow. It's not yet known where the character will appear next.
"Captain America: Civil War" is in theaters now.
MARVEL'S FEIGE SAYS SECRET TO "DEADPOOL'S" SUCCESS WASN'T ITS R-RATING
05/06/16 @ 2:29 pm EST
Source:
Comic Book Resources
| Categories:
Deadpool
|
Comments
(0) |
E-mail Article
|
Add a Comment
With a domestic gross of $361.9 million, Fox's"Deadpool" defied expectations by becoming a massive hit even with its R-rating. The film has so far become the 8th highest-grossing superhero movie of all time (ahead of "Iron Man," "Guardians of the Galaxy" and every "X-Men" film), proving that superhero films don't have to have a PG-13 rating to score big. But the film's mature-audiences-only rating wasn't the key to its success -- at least that's what Marvel Studios president Kevin Feige theorized during a Q&A session with Deadline.
Following "Deadpool's" massive success, Feige was asked if Marvel Studios -- which consistently makes PG-13 films -- would ever go for an R now that it isn't viewed as such an obstacle. Feige stated that that isn't in their plans, and elaborated by saying that the R wasn't why "Deadpool" succeeded.
"No, we've not had any specific conversations about that," said Feige regarding the Marvel Cinematic Universe going R-rated. "And that is only part of the takeaway from 'Deadpool.' The thing that 'Deadpool' shows is, when you present something unique to an audience, they will respond to it. When you present something as popular as a superhero character, in a different and unique and crazy way as they did in 'Deadpool,' it demands attention and audiences went to it. They pulled it off. Tim Miller did a tremendous job.
"The other secret, and why it's still a secret, I don't know, but they just took what Deadpool is in the comics," Feige continued. "He breaks the fourth wall. He talks into the camera. He doesn't give a shit about any of the other heroes. He doesn't take anything seriously. All of that is what made Deadpool so popular in the comics. Tim and his writers and Ryan Reynolds were able to get that and even magnify that up on the big screen. We've always said if there's any 'secret' it's respect the source material, understand the source material and then, any adaptation you make from the source material should be done only to enhance whatever the original pure spirit of the source material was. 'Deadpool' hit on all cylinders with that."
"Deadpool" is available for purchase on Digital HD, where it has already sold a record-breaking million units; the latest Marvel movie, "Captain America: Civil War," is in theaters now.
'CAPTAIN AMERICA: CIVIL WAR' BREAKS OUT ON THURSDAY NIGHT, RANKS BEHIND 'ULTRON' - BOX OFFICE
05/06/16 @ 2:24 pm EST
Source:
Deadline
| Categories:
Civil War
|
Comments
(0) |
E-mail Article
|
Add a Comment
Disney/Marvel's
Captain America: Civil War
fired up summer's cylinders last night with $25M, making it the second-highest Thursday night preview among Marvel titles behind last year's
Avengers: Age of Ultron
which minted $27.6M. Industry projections have the opening for the Russo brothers-directed movie between $180M-$200M at 4,226 locations.
Civil War
is the only film on this year's summer schedule to open unopposed by any major studio competition.
There's a divide among B.O. analysts currently over whether Disney has an embarrassment of riches at the box office right now. Some think that the fourth weekend success of
The Jungle Book
at an estimated $20M-plus weekend could cut into
Civil War
's business. But then there are others who believe that the
Captain America
three-quel
is iron strong, and has the potential to hit the upper echelon of its industry projection. Through three weeks
JB
is at $263.1M stateside.
Last year at this time,
Ultron
went on to post the highest opening day in May with $84.4M. Among the highest opening weekends of all-time, Disney Marvel's
Avengers
($207.4M) and
Ultron
($191.27M) own the third and fourth ranks. Imax hubs generated $3.1M for
Civil War,
besting the $3M made by
Ultron
in its opening night.
'HAN SOLO' MAKES ENEMIES IN FIRST LOOK AT NEW MARVEL SERIES
05/06/16 @ 2:21 pm EST
Source:
Comic Book Resources
| Categories:
Star Wars
|
Comments
(0) |
E-mail Article
|
Add a Comment
Everyone's favorite scoundrel gets his very own Marvel series!
From STAR WARS, Han Solo is given a top-secret undercover mission for the Rebellion -- rescuing a number of informants and spies. His cover for the assignment? Only the biggest and most infamous starship race in the galaxy! You know -- the race Han has dreamt of winning his entire life.
Will he keep his mind on the mission? And can he manage to pull it off while keeping the lead? Best-selling author Marjorie Liu (X-MEN) comes to the Galaxy Far, Far Away along with superstar cover artist Mark Brooks (ULTIMATE X-MEN) in his return to interior art!
Face it, Marvelites -- there aren't enough scoundrels in your life! HAN SOLO #1 comes to stores June 15th!
SHANGHAI DISNEYLAND BEGINS PRE-OPENING TRIAL PERIOD
05/06/16 @ 2:13 pm EST
Source:
Variety
| Categories:
Disney
|
Comments
(0) |
E-mail Article
|
Add a Comment
Shanghai Disney Resort began a six-week pre-opening series of trial operations on Friday.
"A trial operations period is a key pre-opening step for all Walt Disney Parks and Resorts destinations and major attractions around the world. At Shanghai Disney Resort, the trial operations period allows invited participants to experience select attractions, entertainment and dining on select dates," the company said.
Until the June 16 opening participants will be strictly by invitation only and mostly limited to Shanghai Disney Resort 'cast members' and select resort partners and stakeholders. And not all offerings will be available during the trial period.
SDR is a joint venture between The Walt Disney Company and Shanghai Shendi Group comprised of two owner companies (Shanghai International Theme Park Company Limited and Shanghai International Theme Park Associated Facilities Company Limited) and a management company (Shanghai International Theme Park and Resort Management Company Limited). Shanghai Shendi Group holds 57% of the shares and Disney holds the remaining 43% of shares of the owner companies. Disney has a 70% stake and Shanghai Shendi Group has a 30% stake in the joint venture management company.
YOUNG HAN SOLO FOUND WITH ALDEN EHRENREICH
05/06/16 @ 2:10 pm EST
Source:
The Hollywood Reporter
| Categories:
Star Wars
|
Comments
(0) |
E-mail Article
|
Add a Comment
Phil Lord and Chris Miller have found their Han Solo.
Alden Ehrenreich is in final negotiations to don the vest and pick up the blaster for the
Star Wars
standalone, according to sources, which centers on a younger version of the franchise favorite.
Following an exhaustive search, where 2,500 young men met for the project, a trio of Han hopefuls ended up on the finalist list, including
Hail, Caesar!'
s Ehrenreich,
Kingsman
actor Taron Egerton and
Transformers: Age of Extinction'
s Jack Reynor. Miles Teller, Ansel Elgort and
Brooklyn
breakout Emory Cohen were among those on the shortlist in earlier rounds.
Ehrenreich will be taking over the Han Solo mantle from Harrison Ford, who first appeared as the solar-system-hopping, swashbuckling smuggler with swagger and captain of Millennium Falcon in 1977's
Star Wars: A New Hope
, as well as
The Empire Strikes Back
and
Return of the Jedi.
Ford and the character made a triumphant return in 2015's
The Force Awakens
, the movie that rebooted the George Lucas-created sci-fi franchise and set in motion standalone and spinoff movies.
For the Disney and Lucasfilm production, Lord and Miller, of
21 Jump Street
and
Lego Movie
fame, will direct from a script from father-son writing duo, Lawrence and Jon Kasdan.
DRACULA MAY BE A MONSTER, BUT HE IS NOT WITHOUT HONOR
05/05/16 @ 9:14 pm EST
Source:
Bleeding Cool
| Categories:
Dynamite
|
Comments
(0) |
E-mail Article
|
Add a Comment
Nancy Collins
talks
Army of Darkness: Furious Road
#3, on sale now from
Dynamite
. Cover is by
Gabriel Hardman
and
Jordan Boyd
. Interiors are by
Kewber Baal
and
Schimerys Baal
.
BYRON BREWER: Nancy, I know you have become Dynamite's master (or one of them) when dealing with our catalogue of monsters. But how do you meet the challenge of playing vampires as protagonists when they themselves represent inherent evil?NANCY COLLINS:
The important thing to remember about vampires is that while they are monsters, they also used to be human. The trick is to find that spark of humanity that remains within them and focus on it, while at the same time not ignoring their inhuman aspect. In this case, I play up the fact that while Dracula may be proud, cruel and accustomed to being obeyed, he is also as good as his word. He may be a monster, but he is not without honor. I also hint that Dracula still harbors a father's concern for Eva, despite her behavior and his own better judgment.
BB: What has been the best part thus far of working on this book with artist Kewber Baal?NC:
Seeing my words turned into pictures with little to no loss in translation. It's like Kewber is able to see the images playing in my head when I write my scripts!
BB: Alas, Dr. Talisha, we hardly knew ye …! I really was liking this character. Was Talisha's death important to the story, and if so, why?NC:
Talisha's death was 'necessary' because she was the one that orchestrated the blood drives that kept Dracula and The Brides nourished. Her death—apparently at the hands of a vampire—instantly destabilizes the alliance between the monsters and the humans. And since Dracula and his Brides are the biggest weapon the survivors have in their arsenal, losing them effectively spells doom for everyone else.
BB: 'Fess up: You love using Eva, right?NC:
Well, I'm more loving being able to use the men in her life, Michael and Dracula. I was a huge fan of Marvel's Tomb of Dracula series when I was a teen—writing a 'classic' Dracula is a big dream come true. And I have enjoyed exploring the relationship between Michael (or 'Big Mike', as I think of him) and Eva. So far I've been having the time of my life on this series. I hope it comes through in the writing.