OLD-TIME RADIO AND COMICS HEROES BURST BACK ONTO THE SCENE!
03/28/12 @ 4:15 pm EST
Source:
USA TODAY
|
Comments
(0) |
E-mail Article
|
Add a Comment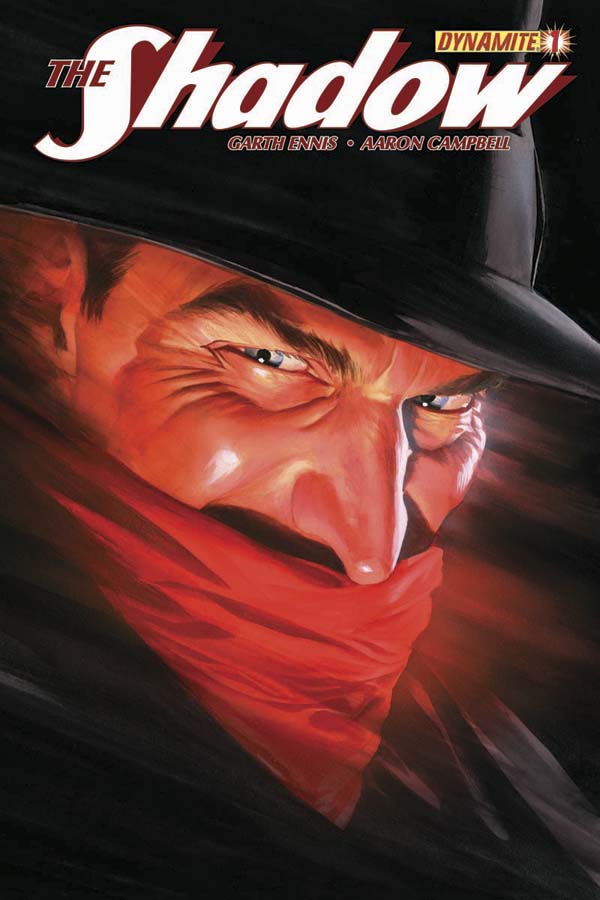 Who knows what evil lurks in the hearts of men? (Hint: The guy dresses up in a cape and runs around at night. And it's not Batman.)

The Shadow still knows — as do Flash Gordon, the Lone Ranger, the Green Hornet and other heroes of 1930s and '40s radio shows, pulp magazines and movie serials.

These good guys are making a comeback, though mainly in comics and feature-length movies. Next month, The Shadow receives a comics reboot courtesy of Dynamite Entertainment, which also publishes ongoing series starring Flash Gordon and Green Hornet plus a new title with pulp hero The Spider that's due in May.

On the big screen, a masked Seth Rogen stung bad guys in last year's The Green Hornet. And in The Lone Ranger, in production for release in 2013, Armie Hammer rides tall as the title cowboy with Johnny Depp as his sidekick Tonto. Baby Boomers grew up watching the Clayton Moore TV series in the '50s, although the saga began as a 1933 radio show in Detroit.

Though these characters may not be as well known as today's comic-book superheroes or the Star Wars and Harry Potter clans, they were the bee's knees for a generation that was decades away from the Internet and iPods.

Before Batman, there was the alter ego Lamont Cranston donning the shadowy mask and hat while haunting radio waves as The Shadow, voiced by Orson Welles in the late '30s.

And before Superman and Captain America there was Flash Gordon, an all-American space adventurer who tussled with planetary tyrant Ming the Merciless in sci-fi comic strips by Alex Raymond and serial films starring Buster Crabbe.

"The '20s and '30s are seen as a very romantic age, with the criminal underworld of urban America and high adventure of exotic foreign locations providing a bit of an edge," says Garth Ennis, who is writing the new Shadow comic. "The reality, I'm sure, would have been mostly a lot more mundane and occasionally quite grim."

He's crafting The Shadow as a dangerous champion of law and order with a flair for the dramatic, and he is embracing one of the vigilante's oldest and most famous traits: his habit of laughing as he consigns his enemies to their doom.

"I decided to be fairly sparing with it," Ennis says. "If he started howling every time he threw a punch or fired a shot, it would get old fast. So I decided to preserve the laugh for moments of deep, dark, extreme humor."

His take on The Shadow comic is a bloody affair, where the mysterious figure dispatches bad guys with violent aplomb. More than 70 years ago, though, audiences had to visualize with their imagination what was going on during the radio-show exploits.

The popularity of the old Shadow and Green Hornet radio shows and their ilk in their heyday is best compared to programs children flock to today, such as Hannah Montana and Dora the Explorer, says Martin Grams Jr., a radio-show historian and author.

Back then, kids and adults would read books, pulps and comics because they were a cheap form of entertainment, and radio was an even bigger medium because it was free.

Some adaptations tank

While movies measure success with box-office receipts, commercial sponsors would gauge ratings of radio shows based on the number of giveaway premiums offered during the commercial breaks — such as various Lone Ranger rings and badges. They were then used to persuade sponsors to stick around because of a large listener base.

It wasn't just kids, either. Housebound and disabled people "who couldn't go visit their local movie theater had the opportunity to enjoy action and adventure with the turn of their dial," Grams says.

"The business of pop culture was defined during the 1930s and 1940s when movie producers snatched up the screen rights to popular radio programs and produced motion pictures, serials and film shorts based on the properties."

Since then, movie studios, TV networks and comics publishers have attempted adaptations of those characters, with varying results.

The Lone Ranger TV series began in 1949, ran eight seasons and defined the character for many. Flash Gordon sped off to space with live-action and animated shows, and a 1980 film became a cult classic with Sam Jones clad in a white shirt bearing the word "Flash."

But two more recent movies, The Shadow (1994) with Alec Baldwin and the 1996 Billy Zane vehicle The Phantom (based on the comic strip from the '30s), were not exactly heroic at the box office. And Disney's new big-budget John Carter, based on the Edgar Rice Burroughs pulp sci-fi hero, has thus far tanked.

"My theory is that modern audiences have a hard time accepting un-ironic heroism unless it's presented just right," says Eric Trautmann, writer of Dynamite's Flash Gordon: Zeitgeist series. (A devotee of the era, Trautmann has a Maltese Falcon on his desk, a statue of Humphrey Bogart as Sam Spade, a Buck Rogers blaster and a replica 1930s radio.)

He concedes that pulp is difficult to write because it requires a certain innocence. Nazis show up in his series, but when they're the evil-doers du jour, modern audiences can't help but think of the Holocaust, "a sort of demise of innocence for the Western world." That makes it a lot harder to take the proceedings seriously.

'We're all geeks in a way'

"The obvious inclination is to keep things a little more self-referential and cartoony, tongue firmly in cheek," Trautmann says, "and that kind of thing really works against the story, the character, and readers' and viewers' embracing the tale."

Those characters of yesteryear, however, remain important in the history of pop-culture heroes, says comic-book artist Alex Ross, one of the creative spearheads of Dynamite's pulp series.

"Seeing how a character like The Shadow would influence every other flamboyant costumed hero in history was very interesting to me," he says. "A load of the earliest superhero fashions came from the artists swiping from Alex Raymond's Flash Gordon."

Heroic fiction draws from a lot of the same wells. Without John Carter in 1917, Trautmann feels we probably don't get Flash Gordon in 1934, a quintessentially American protagonist whose "unflappable 'can do' attitude and unshakable optimism would resonate in almost any era." Without Flash, there's no Luke Skywalker or Han Solo in Star Wars, and without that, we don't get Avatar.

"Even Star Trek owes a debt to period literature —Captain Kirk as Horatio Hornblower in space," Trautmann says. "Heroic fiction shares those archetypes and themes, so that influence is probably so ingrained now that a modern practitioner might not even be aware of what influenced the sources he or she is drawing inspiration from."

Affection for heroic pulp specifically — as with old-school sci-fi, fantasy and mystery stories — seems to be cyclical, Trautmann says. But the resurgence of these characters is also being helped by an overall nostalgia for the early- to mid-20th century, from Boardwalk Empire to Mad Men.

"It's been a rough decade or two," he says. "Looking back on what seems to be a simpler, less complicated time is certainly appealing."

Curiosity and a drive to seek knowledge are probably the main reasons people like to revisit historic pop culture, Grams says.

"We're all geeks in a way, trying to intake all the information we can on a comic-book character or movie, then digest, then recollect to friends to show how much more we know than they do."

The historian enjoys seeing kids introduced to heroes that were a seminal part of their grandparents' lives. He says it's a good bet they know tons more about The Hunger Games and Twilight than old Shadow magazine tales, and have no idea of the existence of Lone Ranger radio shows of yore.

"In my experience," Ennis says, "these characters tend to be pretty strong to begin with: They go through periods of revival, then slump due to overindulgence, then lie dormant, then undergo the next revival. But they always come back."

And, Grams notes, "the oldies are still the goodies."
POWER RANGERS HINTS AT THE GREEN RANGER'S FUTURE
03/24/17 @ 1:54 pm EST
Source:
Comicbook
| Categories:
MIsc
|
Comments
(0) |
E-mail Article
|
Add a Comment
Lionsgate's modern reboot of the
Power Rangers
is finally in theaters and its success over the weekend will go a long way in determining whether this new version of the property will serve as a platform for a brand new franchise.
And apparently Lionsgate already has big plans for the future, and of course they involve the Green Ranger.
The company just released a new motion poster on Twitter showcasing a design for the Green Ranger's helmet, hinting that Tommy Oliver is set to play an impact in the fledgling franchise's possible future.
In the new movie, Elizabeth Banks' villain Rita Repulsaappears to be harnessing the power of a coin, the items that give the Rangers the ability to morph into their heroic counterparts, and it has been rumored that she's a former Green Ranger herself.
The film itself does have a huge tease for the character in the form of a post-credit scene, but all of the heavy lifting for Tommy's turn as a Ranger will likely be done in a sequel film.
Executives are hopeful that the film does well enough financially to warrant followup films. The movie has some stiff competition in its opening weekend as it goes up against
Beauty and the Beast
, a financial smash hit that broke March records when it hit theaters.
Power Rangers
is in theaters now.
IZOMBIE SEASON 3 EXTENDED TRAILER RELEASED
03/24/17 @ 1:48 pm EST
Source:
Comicbook
| Categories:
DC
|
Comments
(0) |
E-mail Article
|
Add a Comment
Team Z returns to action in a new, extended trailer for the third season of
iZombie
, which debuts in April.
Trailer:
https://youtu.be/lec-lg5aQbs
JUSTICE LEAGUE - OFFICIAL WONDER WOMAN TRAILER TEASER
03/24/17 @ 1:41 pm EST
Source:
Comicbook
| Categories:
DC
|
Comments
(0) |
E-mail Article
|
Add a Comment
A Wonder Woman teaser for the
Justice League
trailer has been released.
Teaser:
https://youtu.be/41e4gqJvBHM
BOX OFFICE: 'POWER RANGERS' PICKS UP $3.6M THURSDAY
03/24/17 @ 1:36 pm EST
Source:
The Hollywood Reporter
| Categories:
MIsc
|
Comments
(0) |
E-mail Article
|
Add a Comment
Saban's
Power Rangers
dug up $3.6 million Thursday night as Lionsgate's new take on the five teens with morphin' powers began its rollout in theaters. Meanwhile, Sony's space horror-thriller
Life
earned $800,000 in previews, and Warner Bros.'
CHIPS
took in $500,000.
Power Rangers
is directed by Dean Israelite and follows five teens (Dacre Montgomery, Naomi Scott, RJ Cyler, Ludi Lin, Becky G) in a small town who discover artifacts that allow them to morph into crime-fighting heroes called The Power Rangers. They are tasked with learning to use their new skills in order to save their town from destruction by a power-hungry villain (Elizabeth Banks). Bryan Cranston also stars in the film based on the hit TV series that first hit the small screen in the '90s.
The PG-13-rated film is projected to earn $30 million to $40 million in its domestic debut.
Life,
starring Jack Gyllenhaal and Ryan Reynolds, first debuted at the SXSW Film Festival. It follows a group of scientists on the International Space Station that discover a rapidly evolving life form that threatens the crew and all life on Earth.
The Skydance and Sony project, directed by Daniel Espinosa, is tracking to earn $15 million to $20 million in its domestic debut.
MONEYSUPERMARKET.COM FEATURES SKELETOR
03/24/17 @ 9:55 am EST
Source:
Licensemag.com
| Categories:
Masters of The Universe
|
Comments
(0) |
E-mail Article
|
Add a Comment
Mattel and MoneySuperMarket.com have teamed up to feature the character Skeletor of the "Masters of the Universe" franchise in the company's new advertising campaign.
Born Licensing brokered the deal.
The new campaign will feature Skeletor dancing to Irena Cara's song "Fame."
The advertisement will be aired throughout the U.K.
'ORPHAN BLACK' SEASON 5 EPISODE 1 UNVEILED AT PALEYFEST
03/24/17 @ 9:42 am EST
Source:
Deadline
| Categories:
Orphan Black
|
Comments
(0) |
E-mail Article
|
Add a Comment
That deafening roar coming from the Dolby Theatre last night on Hollywood Blvd was the packed house completely ecstatic that they were about to watch the first episode of
Orphan Black
's final season, two and a half months ahead of its June 10 premiere.
And while Emmy winner Tatiana Maslany, the
Orphan Black
cast and EPs Graeme Manson and John Fawcett kept their deconstruction of the episode to a bare minimum following the screening, the conversation onstage promptly sprung to clone Rachel, the show's baddie who we've seen over time become more complex than innately evil: In previous episodes, we see that Rachel finally meets the mother who dumped her at the cloning org DYAD
."I feel like Rachel had the biggest arcs and she's gone through a lot of transformation; she's had a lot of things that changed her power entirely and now we see her clamoring back into power," explained Maslany.
"We wanted her to rise through her villainy," said Fawcett, "We love her so much, we can't help but make people sympathize with her."
However, behind Rachel there's a guy called P.T. Westmoreland –a Neolutionist– who is well over 100 years old and wrote the quintessential paper on cloning. He's secretly presiding on the island where we find most of our sister clones in this season's first episode.
"John and I knew for a long time that in this feminist show, that there was a man on top," quipped Manson to great laughs and jeers by the house and the cast.
"He's a character we had for a long time in the (
Island of)
Dr. Moreau aspect," said Mason who added that mysterious creatures will appear on the clone island where the season five first episode is set.
Without giving away too much, let's just say that in the first episode, the sister clones struggle to be in contact with each other. Some are reunited, one is captured.
'THE WONDER WOMAN 100 PROJECT' BENEFITTING HERO INITIATIVE
03/24/17 @ 9:35 am EST
Source:
ICv2
| Categories:
DC
|
Comments
(0) |
E-mail Article
|
Add a Comment
The Wonder Woman 100 Project
celebrates 75 years of Wonder Woman to benefit Hero Initiative.
In October, DC released the
Wonder Woman 75th Anniversary Special
one-shot, an 80-page collection of stories and artwork about the Amazonian princess. DC released a limited quantity of sketch covers for the issue, and Hero enlisted 100 artists - including John Cassaday, Ryan Sook, Adam Hughes, Dale Keown, George Pérez, and more - to do original drawings on the variant.
Hero will auction the original artwork in May, but fans can view all of the pieces in
The Wonder Woman 100 Project
, a 120-page trade paperback that hits shelves on June 28. MSRP is $12.99.
"We're thrilled to partner again with Hero Initiative to celebrate Wonder Woman and support such a worthwhile cause," said DC Entertainment Publisher Jim Lee. "The original covers are impressive and sure to be a hit with Wonder Woman fans and collectors."
This year marks Wonder Woman's 75th Anniversary. The celebration also includes a number of publications, commemorative stamps, and a June 2 theatrical film starring Gal Gadot.
'SPIDER-MAN: HOMECOMING - THE ART OF THE MOVIE'
03/24/17 @ 9:32 am EST
Source:
ICv2
| Categories:
Marvel
|
Comments
(0) |
E-mail Article
|
Add a Comment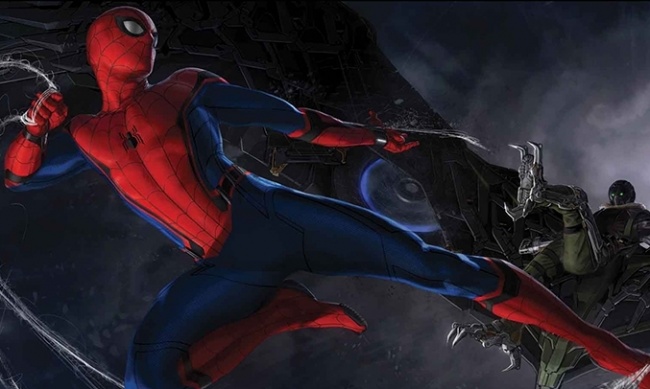 Your friendly neighborhood web-slinger is set for his latest solo outing this summer in
Spider-Man: Homecoming
, and Marvel is releasing an art book in celebration on July 5.
Spider-Man: Homecoming -- The Art of the Movie
hardcover includes exclusive concept art, production stills, and commentary from the cast and crew of the film. Written by Jacob Johnson, this behind-the-scenes slipcased keepsake includes 240 full-color pages for an MSRP of $50.00.
The art book hits shelves just two days before the July 7 theatrical release of
Spider-Man: Homecoming
, which stars Tom Holland as the titular wall-crawler, Michael Keaton as the Vulture, and Marisa Tomei as Aunt May.
'FOR BETTER OR FOR WORSE' GETS COMPLETE COLLECTION FROM IDW
03/24/17 @ 9:29 am EST
Source:
ICv2
| Categories:
IDW
|
Comments
(0) |
E-mail Article
|
Add a Comment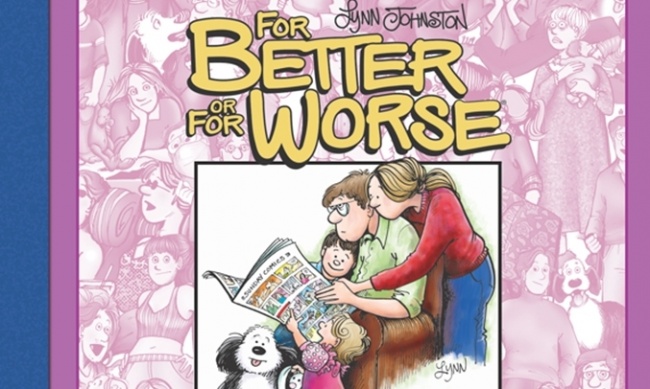 Lynn Johnston's
For Better or For Worse
comic strip will get a definitive collection from IDW Publishing and the Library of American Comics.
For Better or For Worse: The Complete Library
will collect the entire series, spanning three decades of strips in three hardcovers per decade. The collection is edited by Dean Mullaney, Kurtis Findlay, and Lorraine Turner in cooperation with Johnston, who drew the adventures of the Patterson family between 1979 and 2008.
The first volume collects strips from the September 1979 debut through the end of 1982. The cover panel will be a new drawing by Lynn Johnston, and the book will include occational context notes and comments from the creator. The 544-page landscape hardcover will be in stores in October. MSRP is $39.99.
CHRIS EVANS SAYS WHETHER HE'D PLAY CAPTAIN AMERICA IN AVENGERS 4
03/24/17 @ 12:40 pm EST
Source:
Comicbook
| Categories:
Marvel
|
Comments
(0) |
E-mail Article
|
Add a Comment
In the last month, fans of Captain America have grown nervous about the character's role in the Marvel Cinematic Universe. Chris Evans sent fans into a tizzy when an interview he did with Esquire was published. In the piece, Evans hinted that he would finish with Marvel soon as his contract was coming to an end. Fans were quick to plead for Evan's stay as the actor has become synonymous with Captain America.
Now, the actor is speaking out about the controversial interview. Evans talked with Collider about the future of Captain America in the MCU and whether he'd be around for it. Here is what he had to say:
"It's really not up to me. My contract is up. I'm not going to sit here and say, "No more." I think Hugh Jackman has made 47 Wolverine movies, and they somehow keep getting better. It's a character I love, and it's a factory that really knows what they're doing. The system is sound, over there. They make great movies. If they weren't kicking out quality, I'd have a different opinion. But, everything Marvel does seems to be cinema gold.
"Like I said, I love the character. The only reason it would end is 'cause my contract is up. After
Avengers 4
, my contract is done. Talk to Marvel. If we engage further, I'd be open to it. I love the character. It's almost like high school. You certainly always look to senior year, and then, all of a sudden, senior year happens and you're like, "I don't know if I'm ready to go." It's tough thinking about not playing the guy."