OLD-TIME RADIO AND COMICS HEROES BURST BACK ONTO THE SCENE!
03/28/12 @ 4:15 pm EST
Source:
USA TODAY
|
Comments
(0) |
E-mail Article
|
Add a Comment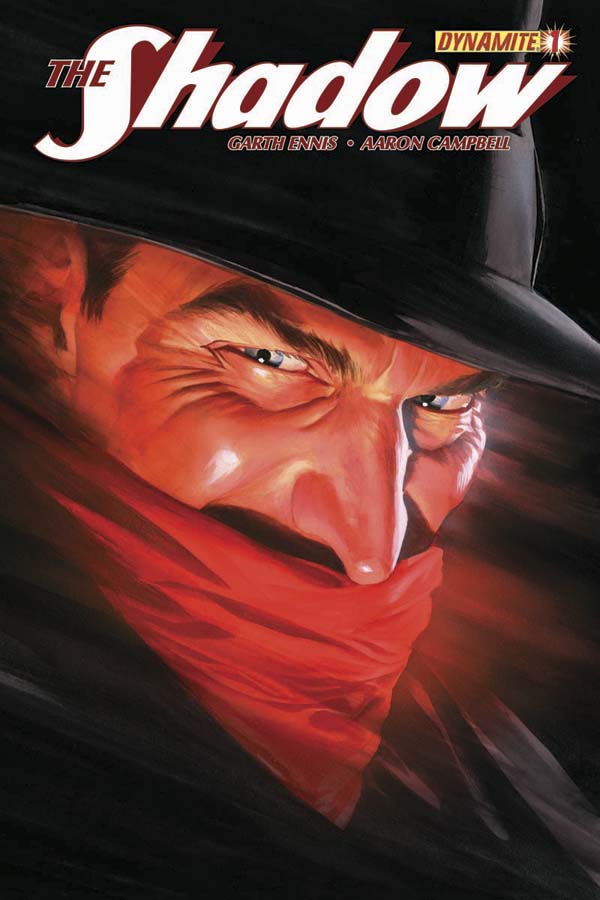 Who knows what evil lurks in the hearts of men? (Hint: The guy dresses up in a cape and runs around at night. And it's not Batman.)

The Shadow still knows — as do Flash Gordon, the Lone Ranger, the Green Hornet and other heroes of 1930s and '40s radio shows, pulp magazines and movie serials.

These good guys are making a comeback, though mainly in comics and feature-length movies. Next month, The Shadow receives a comics reboot courtesy of Dynamite Entertainment, which also publishes ongoing series starring Flash Gordon and Green Hornet plus a new title with pulp hero The Spider that's due in May.

On the big screen, a masked Seth Rogen stung bad guys in last year's The Green Hornet. And in The Lone Ranger, in production for release in 2013, Armie Hammer rides tall as the title cowboy with Johnny Depp as his sidekick Tonto. Baby Boomers grew up watching the Clayton Moore TV series in the '50s, although the saga began as a 1933 radio show in Detroit.

Though these characters may not be as well known as today's comic-book superheroes or the Star Wars and Harry Potter clans, they were the bee's knees for a generation that was decades away from the Internet and iPods.

Before Batman, there was the alter ego Lamont Cranston donning the shadowy mask and hat while haunting radio waves as The Shadow, voiced by Orson Welles in the late '30s.

And before Superman and Captain America there was Flash Gordon, an all-American space adventurer who tussled with planetary tyrant Ming the Merciless in sci-fi comic strips by Alex Raymond and serial films starring Buster Crabbe.

"The '20s and '30s are seen as a very romantic age, with the criminal underworld of urban America and high adventure of exotic foreign locations providing a bit of an edge," says Garth Ennis, who is writing the new Shadow comic. "The reality, I'm sure, would have been mostly a lot more mundane and occasionally quite grim."

He's crafting The Shadow as a dangerous champion of law and order with a flair for the dramatic, and he is embracing one of the vigilante's oldest and most famous traits: his habit of laughing as he consigns his enemies to their doom.

"I decided to be fairly sparing with it," Ennis says. "If he started howling every time he threw a punch or fired a shot, it would get old fast. So I decided to preserve the laugh for moments of deep, dark, extreme humor."

His take on The Shadow comic is a bloody affair, where the mysterious figure dispatches bad guys with violent aplomb. More than 70 years ago, though, audiences had to visualize with their imagination what was going on during the radio-show exploits.

The popularity of the old Shadow and Green Hornet radio shows and their ilk in their heyday is best compared to programs children flock to today, such as Hannah Montana and Dora the Explorer, says Martin Grams Jr., a radio-show historian and author.

Back then, kids and adults would read books, pulps and comics because they were a cheap form of entertainment, and radio was an even bigger medium because it was free.

Some adaptations tank

While movies measure success with box-office receipts, commercial sponsors would gauge ratings of radio shows based on the number of giveaway premiums offered during the commercial breaks — such as various Lone Ranger rings and badges. They were then used to persuade sponsors to stick around because of a large listener base.

It wasn't just kids, either. Housebound and disabled people "who couldn't go visit their local movie theater had the opportunity to enjoy action and adventure with the turn of their dial," Grams says.

"The business of pop culture was defined during the 1930s and 1940s when movie producers snatched up the screen rights to popular radio programs and produced motion pictures, serials and film shorts based on the properties."

Since then, movie studios, TV networks and comics publishers have attempted adaptations of those characters, with varying results.

The Lone Ranger TV series began in 1949, ran eight seasons and defined the character for many. Flash Gordon sped off to space with live-action and animated shows, and a 1980 film became a cult classic with Sam Jones clad in a white shirt bearing the word "Flash."

But two more recent movies, The Shadow (1994) with Alec Baldwin and the 1996 Billy Zane vehicle The Phantom (based on the comic strip from the '30s), were not exactly heroic at the box office. And Disney's new big-budget John Carter, based on the Edgar Rice Burroughs pulp sci-fi hero, has thus far tanked.

"My theory is that modern audiences have a hard time accepting un-ironic heroism unless it's presented just right," says Eric Trautmann, writer of Dynamite's Flash Gordon: Zeitgeist series. (A devotee of the era, Trautmann has a Maltese Falcon on his desk, a statue of Humphrey Bogart as Sam Spade, a Buck Rogers blaster and a replica 1930s radio.)

He concedes that pulp is difficult to write because it requires a certain innocence. Nazis show up in his series, but when they're the evil-doers du jour, modern audiences can't help but think of the Holocaust, "a sort of demise of innocence for the Western world." That makes it a lot harder to take the proceedings seriously.

'We're all geeks in a way'

"The obvious inclination is to keep things a little more self-referential and cartoony, tongue firmly in cheek," Trautmann says, "and that kind of thing really works against the story, the character, and readers' and viewers' embracing the tale."

Those characters of yesteryear, however, remain important in the history of pop-culture heroes, says comic-book artist Alex Ross, one of the creative spearheads of Dynamite's pulp series.

"Seeing how a character like The Shadow would influence every other flamboyant costumed hero in history was very interesting to me," he says. "A load of the earliest superhero fashions came from the artists swiping from Alex Raymond's Flash Gordon."

Heroic fiction draws from a lot of the same wells. Without John Carter in 1917, Trautmann feels we probably don't get Flash Gordon in 1934, a quintessentially American protagonist whose "unflappable 'can do' attitude and unshakable optimism would resonate in almost any era." Without Flash, there's no Luke Skywalker or Han Solo in Star Wars, and without that, we don't get Avatar.

"Even Star Trek owes a debt to period literature —Captain Kirk as Horatio Hornblower in space," Trautmann says. "Heroic fiction shares those archetypes and themes, so that influence is probably so ingrained now that a modern practitioner might not even be aware of what influenced the sources he or she is drawing inspiration from."

Affection for heroic pulp specifically — as with old-school sci-fi, fantasy and mystery stories — seems to be cyclical, Trautmann says. But the resurgence of these characters is also being helped by an overall nostalgia for the early- to mid-20th century, from Boardwalk Empire to Mad Men.

"It's been a rough decade or two," he says. "Looking back on what seems to be a simpler, less complicated time is certainly appealing."

Curiosity and a drive to seek knowledge are probably the main reasons people like to revisit historic pop culture, Grams says.

"We're all geeks in a way, trying to intake all the information we can on a comic-book character or movie, then digest, then recollect to friends to show how much more we know than they do."

The historian enjoys seeing kids introduced to heroes that were a seminal part of their grandparents' lives. He says it's a good bet they know tons more about The Hunger Games and Twilight than old Shadow magazine tales, and have no idea of the existence of Lone Ranger radio shows of yore.

"In my experience," Ennis says, "these characters tend to be pretty strong to begin with: They go through periods of revival, then slump due to overindulgence, then lie dormant, then undergo the next revival. But they always come back."

And, Grams notes, "the oldies are still the goodies."
FANS CALL "X-MEN'S" SCHOOL FOR GIFTED YOUNGSTERS
05/29/16 @ 10:43 pm EST
Source:
Comic Book Resources
| Categories:
X-Men
|
Comments
(0) |
E-mail Article
|
Add a Comment
Last week Fox released a viral video for "X-Men: Apocalypse" designed to look like a 1980s recruitment commercial for Xavier's School for Gifted Youngsters. Hosted by Jubilee (Lana Condor), the fake spot ended with a voiceover from Stan Lee encouraging viewers to call a 1-800 number.
And, boy, did they ever.
More than 75,000 responded, with some leaving rather creative messages. In a followup, the studio has unveiled a new video that offers a sampling of just some of those calls.
One caller reported he sneezed and blew the entire second story off of his house, while another said had quills coming out of his body. And then there's the one who sounded a lot like a certain Merc With a Mouth, who asked for Jean Grey's phone number.
Listen to the voicemails here:
https://youtu.be/fRp_PzJVwJc
STAN LEE WEIGHS IN ON MARVEL'S CONTROVERSIAL "CAPTAIN AMERICA" TWIST
05/29/16 @ 10:37 pm EST
Source:
Comic Book Resources
| Categories:
Stan Lee
|
Comments
(0) |
E-mail Article
|
Add a Comment
Marvel Comics stirred a hornet's nest last week with the shocking revelation in "Captain America: Steve Rogers" #1 that the Sentinel of Liberty is secretly and agent of Hydra, and may have been since the very beginning. The surprise twist drew mainstream media attention, a good deal of criticism, and even threats directed at writer Nick Spencer.
During an appearance over the weekend at MegaCon in Orlando, Florida, legendary writer Stan Lee was even drawn into the discussion -- but his view
might
just surprise you.
"It's a helluva clever idea," the 93-year-old creator said in response to a question from the audience. "I don't know that I would ever have thought of it, for
him
to be a double agent. But it's going to make you curious, it's going to make you want to read the books ... they'll probably do a movie based on it, so I can't fault it. It's a good idea."
"I think it's
crazy
," he added with a laugh, "but it's a good idea."
Of course, Lee's no stranger to Captain America retcons. After all, it was he and Jack Kirby who revised Steve Rogers' history when they reintroduced him in 1964's "The Avengers" #4.
Watch video of Lee's response here:
https://youtu.be/DqH871UT-LY
MAISIE WILLIAMS ADORABLY CALLS KIT HARINGTON ON THE RADIO TO MAKE PLANS
05/29/16 @ 10:32 pm EST
Source:
Comic Book Resources
| Categories:
MIsc
|
Comments
(0) |
E-mail Article
|
Add a Comment
While doing an interview with BBC Radio One, Kit Harington received a surprise call from his "Game of Thrones" co-star Maisie Williams.
The pair began to chat as if they were on the phone with each other, making plans to see Harington's current play "Doctor Faustus." Williams even said she would invite "Game of Thrones" co-star Sophie Turner along, and asked if they could all grab drinks afterward.
The radio host seemed happy to be in the middle of this conversation, which began as an interview with Harington about his previous media comments about his — and his character Jon Snow's — status on "Game of Thrones"
Video:
https://youtu.be/06T3aEYC9iI
'GAME OF THRONES' GIVES DAENERYS TARGARYEN HER 'BRAVEHEART' MOMENT
05/29/16 @ 10:29 pm EST
Source:
The Hollywood Reporter
| Categories:
MIsc
|
Comments
(0) |
E-mail Article
|
Add a Comment
[Warning: this story contains spoilers for episode six, season six of HBO's Game of Thrones.]
As an old warrior once said: "Freedom!"
Daenerys Stormborn (Emilia Clarke) of House Targaryen — The Unburnt Queen of the Andals, the Rhoynar, and of the First Men; Queen of Meereen; Khaleesi of the Great Grass Sea; Breaker of Chains; and Mother of Dragons — channeled her inner William Wallace and delivered the rousing battle cry the show has been promising for years and years.
Although she still has a way to go before reaching Westeros, Dany's current mission statement has been announced loud and clear: She's coming for the Seven Kingdoms, and she has an army of thousands of blood riders backing her up. Forget winter; the Dothraki are coming, and they have dragons.
"CAPTAIN AMERICA: CIVIL WAR" PASSES "DEADPOOL" AS TOP-GROSSING U.S. FILM OF 2016
05/29/16 @ 10:26 pm EST
Source:
Comic Book Resources
| Categories:
Marvel
|
Comments
(0) |
E-mail Article
|
Add a Comment
"Deadpool" has reigned at the top of the 2016 North American box office since its record-breaking opening in February, fending off competition from the likes of"Zootopia," "The Jungle Book" and "Batman v Superman." But as of this weekend, the Merc With a Mouth officially lost his 2016 crown.
Box Office Mojo reports that Marvel's "Captain America: Civil War" is now the highest-grossing film of the year in North America with $372.6 million. "Deadpool" slips to No. 2 with $362.8 million.
"Deadpool" remains the highest-grossing "X-Men" film and the highest-grossing R-rated movie, two titles Wade Wilson would surely be proud to hold.
"Civil War" has grossed $1.1 billion worldwide, with "Deadpool" trailing distantly at $736 million. However, the Merc With a Mouth should receive a bit of a boost when his film finally opens June 1 in Japan.
MELISSA MCCARTHY RESPONDS TO 'GHOSTBUSTERS' BACKLASH
05/29/16 @ 10:22 pm EST
Source:
Comic Book Resources
| Categories:
MIsc
|
Comments
(0) |
E-mail Article
|
Add a Comment
One of Hollywood's highest-paid actresses, Melissa McCarthy has found commercial and critical success with films like "Bridesmaids," "Spy," "Tammy" and "The Heat." However, her role in the upcoming "Ghostbusters" reboot has seen McCarthy and her co-stars become the targets of online abuse.
In an extensive interview with The Guardian, McCarthy shared her thoughts on fame, comedy, working with director Paul Feig, and the barrage of negativity aimed at the new "Ghostbusters."
"All those comments — 'You're ruining my childhood!'" she said. "I mean, really, four women doing any movie on Earth will destroy your childhood?"
"I have a visual of those people not having a Ben [Falcone, McCarthy's husband], not having friends, so they're just sitting there and spewing hate into this fake world of the internet. I just hope they find a friend."
That's a kind sentiment, considering the amount of hate directed at McCarthy, Kristen Wiig, Kate McKinnon and Leslie Jones.
The Guardian also points out that while there has been negativity surrounding other franchise reboots and sequels, none of the male co-stars of, say, "Karate Kid" or "Jurassic World" had to deal with specifically sexist backlash.
Directed by Paul Feig, "Ghostbusters' opens July 15.
'FULLMETAL ALCHEMIST' DIRECTOR REVEALS MORE ABOUT LIVE-ACTION FILM
05/29/16 @ 10:19 pm EST
Source:
Comic Book Resources
| Categories:
MIsc
|
Comments
(0) |
E-mail Article
|
Add a Comment
In contrast to adaptations of "Attack on Titan" and "Rurouni Kenshin,"
the live-action "Fullmetal Alchemist"
will be told as a single film.
That comes from director Fumihiko Sori, who told
Oricon
(via
Anime News Network
) that his take on Hiromu Arakawa's action-fantasy manga will also age protagonist Edward Elric aged from 15 years old to 20. Hey! Say! JUMP and NYC member Ryosuke Yamada, who's 23, has been cast in the lead role.
Set in an alternate Edwardian-era world where alchemy is a science, and State Alchemists work for the government, "Fullmetal Alchemist" centers on the Elric brothers, who attempt to perform the forbidden human transmutation to resurrect their dead mother. After the transmutation backfires, severely injuring Edward and destroying Alphonse's body, Edward sacrifices his arm to rescue his brother's soul and bind it to a suit of armor. Edward becomes a State Alchemist, and the two set off in search of a philosopher's stone to restore their bodies.
Set to begin filming from June to August in Italy, Sori's "Fullmetal Alchemist" will rely heavily on CGI to create elements such as Alphonse's armor.
"It is my dearest wish to turn this wonderful story into a film," the filmmaker told Oricon, "and it is not an exaggeration to say that I am living for this reason."
BAAA BEFORE ZOD: ZOO'S NEWBORN GOAT NAMED AFTER SUPERMAN FOE
05/29/16 @ 10:15 pm EST
Source:
Comic Book Resources
| Categories:
Superman
|
Comments
(0) |
E-mail Article
|
Add a Comment
That's Lois and little Zod (courtesy of The Maryland Zoo)
The Maryland Zoo clearly doesn't know what it's in for.
The 135-acre park in Baltimore welcomed a new addition to its herd of African pygmy goats on March 16, and promptly named it Zod. Yes, after the Kryptonian supervillain.
You see, the zoo has established a Superman theme for its pygmy goats; Zod's parents are Lex and Lois, which opens a whole
other
can of worms that will likely be addressed in DC Comics' Rebirth initiative.
Zod now weighs seven pounds, and according to the zoo, is growing rapidly, undoubtedly from absorbing energy from our yellow sun.
"He is still quite young, but is exploring his new barn, playing with Lois and napping," Carey Ricciardone, mammal collection and conservation manager, said in a statement. "As always, our staff will continue to monitor Lois and Zod closely to ensure that they are doing well together."
Ricciardone added, "We encourage visitors to stop by to visit Zod and watch him grow up all summer long," after which point the Kryptonian kid will launch his conquest of the zoo.
JESSE EISENBERG CONFIRMS LEX LUTHOR'S RETURN IN "JUSTICE LEAGUE: PART ONE"
05/29/16 @ 10:08 pm EST
Source:
Comic Book Resources
| Categories:
Justice League
|
Comments
(0) |
E-mail Article
|
Add a Comment
Although Lex Luthor was last seen behind bars in "Batman v Superman: Dawn of Justice," he may not remain there for long.
Appearing at MCM London Comic Con, actor Jesse Eisenberg confirmed that he'll reprise his villainous role in 2017's"Justice League: Part One."
"I'm kind of in wait," he told the audience, according to Digital Spy. "They just started filming 'Justice League,' so I'm kind of, like, waiting for my crack at it. I don't know what I'm allowed to say, because I feel like there's probably some drone following me from DC, and if I say anything wrong I get, you know, picked off."
Eisenberg previously indicated he wasn't sure where Luthor might appear next, saying, "I only hope I have another opportunity to work with these wonderful people and play this interesting character. ... The character has so many different faces. He has a public persona that appears charming and friendly and then a deeply disturbed private persona, so it will be interesting to see where he goes."
Directed by Zack Snyder, "Justice League: Part One" also stars Ben Affleck, Henry Cavill, Gal Gadot, Ezra Miller, Jason Momoa, Ray Fisher, Jesse Eisenberg, Amy Adams, Amber Heard, Jeremy Irons and J. K. Simmons. The film opens Nov. 17, 2017.
THERAPY IS IN SESSION FOR THE "X-MEN: APOCALYPSE" CAST
05/29/16 @ 2:39 am EST
Source:
Comic Book Resources
| Categories:
X-Men
|
Comments
(0) |
E-mail Article
|
Add a Comment
In this hilarious video from MTV, each of the young mutants from "X-Men: Apocalypse" share what's been bothering them at Xavier's School for Gifted Youngsters.Evan Peters, Tye Sheridan, Alexandra Shipp and Lana Condor answer questions as their characters, with Storm complaining about Mystique's nudity, Quicksilver giving Cyclops a hard time about Jean Grey, and all of them taking jabs at father figures Magneto, Professor X and Apocalypse.
"
I
can rip on my dad, because he's my dad," Quicksilver cautions Jubilee, shortly before revealing he's a
little
self-conscious about his hair.
The video features profanity and sexual references, but it's a hilarious look at what these gifted youngsters might say in a therapy session.
Video:
https://youtu.be/_rFyHJ1pSyg