OLD-TIME RADIO AND COMICS HEROES BURST BACK ONTO THE SCENE!
03/28/12 @ 4:15 pm EST
Source:
USA TODAY
|
Comments
(0) |
E-mail Article
|
Add a Comment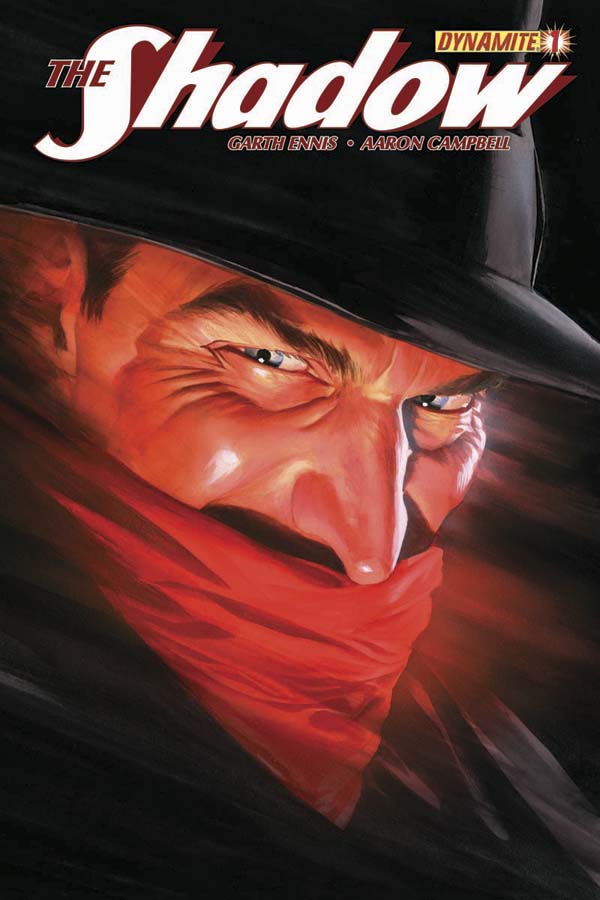 Who knows what evil lurks in the hearts of men? (Hint: The guy dresses up in a cape and runs around at night. And it's not Batman.)

The Shadow still knows — as do Flash Gordon, the Lone Ranger, the Green Hornet and other heroes of 1930s and '40s radio shows, pulp magazines and movie serials.

These good guys are making a comeback, though mainly in comics and feature-length movies. Next month, The Shadow receives a comics reboot courtesy of Dynamite Entertainment, which also publishes ongoing series starring Flash Gordon and Green Hornet plus a new title with pulp hero The Spider that's due in May.

On the big screen, a masked Seth Rogen stung bad guys in last year's The Green Hornet. And in The Lone Ranger, in production for release in 2013, Armie Hammer rides tall as the title cowboy with Johnny Depp as his sidekick Tonto. Baby Boomers grew up watching the Clayton Moore TV series in the '50s, although the saga began as a 1933 radio show in Detroit.

Though these characters may not be as well known as today's comic-book superheroes or the Star Wars and Harry Potter clans, they were the bee's knees for a generation that was decades away from the Internet and iPods.

Before Batman, there was the alter ego Lamont Cranston donning the shadowy mask and hat while haunting radio waves as The Shadow, voiced by Orson Welles in the late '30s.

And before Superman and Captain America there was Flash Gordon, an all-American space adventurer who tussled with planetary tyrant Ming the Merciless in sci-fi comic strips by Alex Raymond and serial films starring Buster Crabbe.

"The '20s and '30s are seen as a very romantic age, with the criminal underworld of urban America and high adventure of exotic foreign locations providing a bit of an edge," says Garth Ennis, who is writing the new Shadow comic. "The reality, I'm sure, would have been mostly a lot more mundane and occasionally quite grim."

He's crafting The Shadow as a dangerous champion of law and order with a flair for the dramatic, and he is embracing one of the vigilante's oldest and most famous traits: his habit of laughing as he consigns his enemies to their doom.

"I decided to be fairly sparing with it," Ennis says. "If he started howling every time he threw a punch or fired a shot, it would get old fast. So I decided to preserve the laugh for moments of deep, dark, extreme humor."

His take on The Shadow comic is a bloody affair, where the mysterious figure dispatches bad guys with violent aplomb. More than 70 years ago, though, audiences had to visualize with their imagination what was going on during the radio-show exploits.

The popularity of the old Shadow and Green Hornet radio shows and their ilk in their heyday is best compared to programs children flock to today, such as Hannah Montana and Dora the Explorer, says Martin Grams Jr., a radio-show historian and author.

Back then, kids and adults would read books, pulps and comics because they were a cheap form of entertainment, and radio was an even bigger medium because it was free.

Some adaptations tank

While movies measure success with box-office receipts, commercial sponsors would gauge ratings of radio shows based on the number of giveaway premiums offered during the commercial breaks — such as various Lone Ranger rings and badges. They were then used to persuade sponsors to stick around because of a large listener base.

It wasn't just kids, either. Housebound and disabled people "who couldn't go visit their local movie theater had the opportunity to enjoy action and adventure with the turn of their dial," Grams says.

"The business of pop culture was defined during the 1930s and 1940s when movie producers snatched up the screen rights to popular radio programs and produced motion pictures, serials and film shorts based on the properties."

Since then, movie studios, TV networks and comics publishers have attempted adaptations of those characters, with varying results.

The Lone Ranger TV series began in 1949, ran eight seasons and defined the character for many. Flash Gordon sped off to space with live-action and animated shows, and a 1980 film became a cult classic with Sam Jones clad in a white shirt bearing the word "Flash."

But two more recent movies, The Shadow (1994) with Alec Baldwin and the 1996 Billy Zane vehicle The Phantom (based on the comic strip from the '30s), were not exactly heroic at the box office. And Disney's new big-budget John Carter, based on the Edgar Rice Burroughs pulp sci-fi hero, has thus far tanked.

"My theory is that modern audiences have a hard time accepting un-ironic heroism unless it's presented just right," says Eric Trautmann, writer of Dynamite's Flash Gordon: Zeitgeist series. (A devotee of the era, Trautmann has a Maltese Falcon on his desk, a statue of Humphrey Bogart as Sam Spade, a Buck Rogers blaster and a replica 1930s radio.)

He concedes that pulp is difficult to write because it requires a certain innocence. Nazis show up in his series, but when they're the evil-doers du jour, modern audiences can't help but think of the Holocaust, "a sort of demise of innocence for the Western world." That makes it a lot harder to take the proceedings seriously.

'We're all geeks in a way'

"The obvious inclination is to keep things a little more self-referential and cartoony, tongue firmly in cheek," Trautmann says, "and that kind of thing really works against the story, the character, and readers' and viewers' embracing the tale."

Those characters of yesteryear, however, remain important in the history of pop-culture heroes, says comic-book artist Alex Ross, one of the creative spearheads of Dynamite's pulp series.

"Seeing how a character like The Shadow would influence every other flamboyant costumed hero in history was very interesting to me," he says. "A load of the earliest superhero fashions came from the artists swiping from Alex Raymond's Flash Gordon."

Heroic fiction draws from a lot of the same wells. Without John Carter in 1917, Trautmann feels we probably don't get Flash Gordon in 1934, a quintessentially American protagonist whose "unflappable 'can do' attitude and unshakable optimism would resonate in almost any era." Without Flash, there's no Luke Skywalker or Han Solo in Star Wars, and without that, we don't get Avatar.

"Even Star Trek owes a debt to period literature —Captain Kirk as Horatio Hornblower in space," Trautmann says. "Heroic fiction shares those archetypes and themes, so that influence is probably so ingrained now that a modern practitioner might not even be aware of what influenced the sources he or she is drawing inspiration from."

Affection for heroic pulp specifically — as with old-school sci-fi, fantasy and mystery stories — seems to be cyclical, Trautmann says. But the resurgence of these characters is also being helped by an overall nostalgia for the early- to mid-20th century, from Boardwalk Empire to Mad Men.

"It's been a rough decade or two," he says. "Looking back on what seems to be a simpler, less complicated time is certainly appealing."

Curiosity and a drive to seek knowledge are probably the main reasons people like to revisit historic pop culture, Grams says.

"We're all geeks in a way, trying to intake all the information we can on a comic-book character or movie, then digest, then recollect to friends to show how much more we know than they do."

The historian enjoys seeing kids introduced to heroes that were a seminal part of their grandparents' lives. He says it's a good bet they know tons more about The Hunger Games and Twilight than old Shadow magazine tales, and have no idea of the existence of Lone Ranger radio shows of yore.

"In my experience," Ennis says, "these characters tend to be pretty strong to begin with: They go through periods of revival, then slump due to overindulgence, then lie dormant, then undergo the next revival. But they always come back."

And, Grams notes, "the oldies are still the goodies."
TOM HIDDLESTON HINTS AT LOKI'S ROLE IN THOR: RAGNAROK
02/20/17 @ 8:14 pm EST
Source:
Comicbook
| Categories:
Marvel
|
Comments
(0) |
E-mail Article
|
Add a Comment
Fans have been waiting years for their next glimpse at Tom Hiddleston'sLoki, and we're finally getting it in November.When T
hor: The Dark World
ended, no one in Asgard knew that Loki had dispatched his father and took his place, disguised as Odin while ruling from the throne.
It was the type of deception people should expect from the God of Mischief, but no one was any wiser to it. Thor returned to Earth to help the Avengers fight Ultron, and we haven't seen anything since.
But when we pick up with the Asgardians in
Thor: Ragnarok—the
we'll see what the big deal is with Loki taking the throne.
Hiddleston recently spoke with Fandango while promoting
Kong: Skull Island
and was asked about returning to the role of Loki. He offered a couple of vague hints about the direction the film will go.
"At the end of
The Dark World
, Loki is on the throne," Hiddleston said. "At the beginning of
Ragnarok
, Thor has a few questions and Loki is endearingly enigmatic about providing answers."
We've seen a hint about what this means with the post-credit scene in
Doctor Strange
, where the Sorcerer Supreme meets with Thor and decides to help the Avenger find both his father and brother.
But how Loki gets there won't be revealed until
Thor: Ragnarok
hits theaters.
Hiddleston also talked about director Taika Waititi injecting humor into the film, and it definitely seems like he is glad to be back for his fourth portrayal of Loki. Whether we'll see him don those green robes after this
Thor
film is a mystery at this point.
RICK AND MORTY SEASON 3 BEGINS PRODUCTION
02/20/17 @ 8:05 pm EST
Source:
Comicbook
| Categories:
MIsc
|
Comments
(0) |
E-mail Article
|
Add a Comment
This is not a drill,
Rick and Morty
fans! After a long wait, it looks like things are starting to move on the animated series. The original Adult Swim comedy has promised fans a third season for some time, and the folks behind
Rick and Morty
are making good on it starting today. Over on Twitter, one of the show's writer finally confirmed season three of
Rick and Morty
has started production.
That's right! Thanks to Mike McMahan, fans of the fan-favorite show can celebrate to their hearts' content. Taking to Twitter, the writer posted a picture of the title page to a script for episode 301.
"Hey [
Rick and Morty
] am I allowed to say we're recording episode 301 today?" the writer captioned the photo. The script says its record draft was completed on February 17th, and the writer made sure to scrub out the episode's title.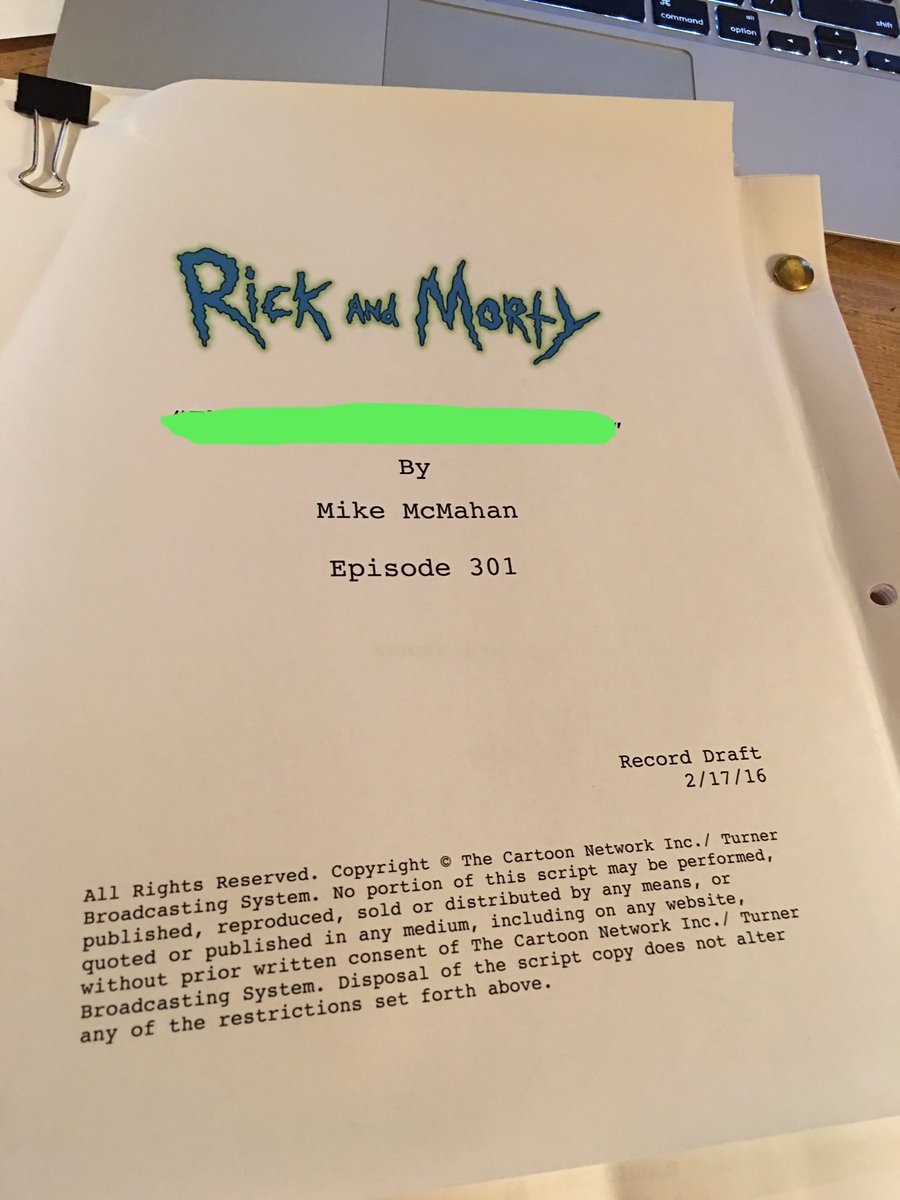 Follow
Mike McMahan @pleaseprintHey @RickandMorty am I allowed to say we're recording episode 301 today?6:43 PM - 18 Feb 2016 1,0341,034 Retweets 1,6771,677 likes
THE FLASH SEASON 3 EPISODE 13: ATTACK ON GORILLA CITY FEATURETTE
02/20/17 @ 8:00 pm EST
Source:
Comicbook
| Categories:
DC
|
Comments
(0) |
E-mail Article
|
Add a Comment
Executive Producer Aaron Helbing previews this Tuesday's "Attack on Gorilla City" episode, in this latest featurette for
The Flash
.
Before Helbing describes what's to come, an informative clip is shown of Jesse Quick explaining what Gorilla City is to Joe West. "There are sentient, highly-intelligent, evolved gorillas in Earth-2," she says to him, "and they all live in a city deep in the heart of Africa."
Helbing then explains, "Her father, Harry Wells, went to Gorilla City and is missing in action. And so she's hoping that the team can come, with her, and help save her father. Barry and Caitlin and Cisco and Julian go into Earth-2. While they're going through the forest, Grodd appears and captures them. So now they're stuck in these Gorilla City cells, unable to escape. Grodd's dampening their powers."
Featurette:
https://youtu.be/2PBSyXEBoeo
SUPERGIRL'S PETER GADIOT ADMITS NOBODY COULD DECIDE HOW TO SAY
02/20/17 @ 7:54 pm EST
Source:
Comicbook
| Categories:
DC
|
Comments
(0) |
E-mail Article
|
Add a Comment
Tonight's episode of
Supergirl
will introduce a new generation of fans to Mr. Mxyzptlk, an imp from the fifth dimension whose battles with Superman and other superheroes tend to be more in the vein of pranks than outright brawls...partially because Mxy is so powerful that almost nobody can hold up against him, as Mon-El learns tonight.
Once Upon A Time
's Peter Gadiot, who says he didn't watch the versions from
Superboy
,
Lois and Clark: The New Adventures of Superman
, or even
Smallville
lest they influence his performance, toldComicBook.com that he feels they threaded the needle of allowing him to have fun while still making the stakes -- which are pretty high in "Mr. and Mrs. Mxyzptlk" -- feel real.
The first challenge -- after learning how to say the name -- was simply making sure that between his performance and the script, Mxy's mischief -- here, he wants to marry Supergirl -- doesn't feel like creepy stalking.
"I guess that's one of the creative challenges of how to make this character empathetic. You kind of realize that what he's doing is wrong but you somehow kind of like him because he's amusing," Gadiot admitted. "I think that's very much done in the writing and when I performed it, I was very much open to every different angle. So we did three takes and I gave very different options. They very much have the power to show many different sides of him to create that arc and make sure he isn't too stalker-ish. To keep it light and fun but also create that dynamic of he is, essentially, a villain. You want to keep all of those angles alive, as well as the fact that he does genuinely on some level really have desire and affection for Kara. At the same time, he can't be too nice and amazing, otherwise he wouldn't have anything to battle against."
Of course, as we alluded to, the question of how to pronounce a name like "Mxyzptlk" is itself kind of a challenge to overcome -- and Gadiot told us that it was a point of contention with the show's writers and producers.
"It was tricky. I definitely had to go online and do the research, how other people had pronounced it," Gadiot said. "It actually was a decision and a debate about how we wanted to say it on this show. The guys back in LA were debating and it was quite funny the first time I was there."
POSSIBLE JURASSIC WORLD 2 PLOT DETAILS REVEALED
02/20/17 @ 7:48 pm EST
Source:
Comicbook
| Categories:
MIsc
|
Comments
(0) |
E-mail Article
|
Add a Comment
The untitled
Jurassic World
sequel is gearing up to be one of the biggest films of 2018, and the creative team behind the film has done well keeping the details of the project under wraps.
Aside from some casting announcements,
Jurassic World
has managed to fly under the radar all the way into the early stages of production.
That may have changed this weekend, as some rumors surfaced online regarding the plot for the upcoming film.
MyEntertainmentWorld updated their bio for the film, and it included a short synopsis. This synopsis teases a storyline that many fans have been talking about since the original movie.
The adventures at the Jurassic World resort and theme park continue as the government has trained dinosaurs to carry weapons and use them for battle purposes.

That sounds a lot like the Jurassic War plot people have been asking about for quite some time.
LOGAN POST-CREDITS SCENE CONFIRMED
02/20/17 @ 7:44 pm EST
Source:
Comicbook
| Categories:
Marvel
|
Comments
(0) |
E-mail Article
|
Add a Comment
If you have plans to see
Logan
in theaters, then here is a piece of advice: do not leave the cinema after the film ends. For some time now, fans have wondered if the upcoming blockbuster would feature a post-credit scene similar like its contemporaries. The press was still left guessing about the footage's inclusion after pre-screenings ended without any addition scenes. But, in true superhero style, it looks like
Logan
will have a post-credit scene for fans to enjoy.
After plenty of speculation, Collider confirmed a post-credit scene had been added to Logan after press screenings. Steve Weintraub had this to say about the scoop: "I can confirm it's true. When
Logan
is released on March 3rd it'll have a post-credits scene. I'm not sure if it's half way through the credits or at the very end, but I can 100% tell you something will be there."
EXCALIBUR APPEARS IN DC'S LEGENDS OF TOMORROW FEATURETTE FOR CAMELOT/3000
02/20/17 @ 8:07 pm EST
Source:
Comicbook
| Categories:
DC
|
Comments
(0) |
E-mail Article
|
Add a Comment
In this newest featurette for
DC's Legends of Tomorrow
, Executive Producer Phil Klemmer previews this Tuesday's "Camelot/3000" episode. It also features a glimpse of the legendary sword Excalibur, which at that point is still half-embedded in stone. Who would like to bet that one of the Legends is the one that extracts the sword from the stone?
Featurette:
https://youtu.be/8ZULYOZHmDY
STAR WARS REBELS EP REVEALS WHY OBI-WAN KENOBI IS MAKING AN APPEARANCE
02/20/17 @ 7:34 pm EST
Source:
Comicbook
| Categories:
Star Wars
|
Comments
(0) |
E-mail Article
|
Add a Comment
When the
Star Wars Rebels
mid-season 3 trailer dropped, it showed off Saw Gerrera making his way back to animation, Sabine Wren using the Darksaber, the ever-conniving Grand Admiral Thrawn, and then, finally, Darth Maul heading to Tatooine, where he found Obi-Wan (or is it Old Ben?) Kenobi.
That last bit, of course, set fandom aflame, but it also brought up some real concerns. When you dance this closely to the story of the original
Star Wars
trilogy, your story is getting much riskier.
"Everything has to make sense from a story standpoint, and if it makes sense and it's valuable to the character's past, then I don't think you hesitate to do it," Dave Filoni told ComicBook.com of using Ben Kenobi. "I think you have to have a lot of good reasons when you do things and work it out, and you hope things work out as you imagined them and designed them."
Ultimately, though, it wasn't Ben Kenobi he had to specifically be wary of changing or affecting - he's a guest in this story, and the people it genuinely affects need to be the central characters, like Ezra.
"Certainly these characters aren't foreign to me having worked here so long. So, I'm pretty confident when going into them what they're about, but you do tread carefully because you can't do it just because you're trying to add something [to the guest star's past]. I've always said, it's the same thing with Ahsoka. It has to be valuable to Ezra. This experience, whatever it is, whatever form it takes, has to be valuable to the characters that are the center of Star Wars Rebels."
What Filoni and the
Rebels
team don't want to do is make this into fan service for fan service's sake.
"There are a lot of things that I could do in Star Wars, and I try to do things that work with the story group to be true to the characters and where they need to go. It's surprising sometimes where they go. I would say it's surprising at the end of the day, and I don't want to give anything away, if we wind up in the presence of an old wizard, that would be a surprising thing to pull off," he said, at first dancing around actually saying Kenobi's name despite his presence in the trailer. "It's not the most surprising thing to attempt to include Obi-Wan, and we've been, I think, pretty good. The way we included him in the pilot of Rebels, I really liked because it was a way to have him without really interfering, and it spoke to a moment in time for the characters. So, obviously I've been very fortunate over the years when we do do these Legacy characters. James Arnold Taylor was playing him in Clone Wars brilliantly and did a fantastic job, and then brought that back in Rebels when he's playing the Clone Wars era Obi-Wan. I have Stephen Stanton now, who's portraying this particular, if that's Obi-Wan (laughs), whoever it is."
FIRST SET PHOTOS FROM ROBIN HOOD REBOOT SURFACE ONLINE
02/20/17 @ 7:27 pm EST
Source:
Comicbook
| Categories:
MIsc
|
Comments
(0) |
E-mail Article
|
Add a Comment
Robin Hood is coming back to the big screen once again, with
Kingsman
star Taron Egerton taking on the title role this time around. The actor will follow in the footsteps of a group of great actors who have played the role, including Kevin Costner, Cary Elwes, Russell Crowe, and an animated fox.
The new movie aims to capture the young energy of a star like Egerton, and inject it into the classic tale.
Production on
Robin Hood
is finally underway, and fans have just gotten their first look at the characters and style of the film.
The Dubrovnik Times shared a slew of images from the first day on set, as production got underway in Croatia this weekend.
Photos - Ivana Smilovic / The Dubrovnik Times
EMMA WATSON SINGS IN NEW BEAUTY AND THE BEAST CLIP
02/20/17 @ 7:17 pm EST
Source:
Comicbook
| Categories:
Disney
|
Comments
(0) |
E-mail Article
|
Add a Comment
An official clip of Belle from the live-action Beauty and the Beast has been released. Hear her sing!
Clip:
https://youtu.be/MZP3J1MIs-E