MARVEL AND AURASMA UNVEIL "MARVEL AUGMENTED REALITY" AT SXSW
03/12/12 @ 1:32 pm EST
Source:
Marvel
|
Comments
(0) |
E-mail Article
|
Add a Comment
"Avengers VS X-Men" Spurs Historic First Major Comic Book AR Initiative
Yesterday, at the SXSW Interactive Festival, Marvel Entertainment unveiled
Marvel AR
, the first major augmented reality app from a comic book company. As part of the recently announced
Marvel ReEvolution
, which brings the world of print and digital media together for a comics experience like never before, the
Marvel AR
app powered by Aurasma will be released on April 2 for iOS and Android devices. Fans can first discover the power of this new app in
Avengers VS X-Men #1
, arriving in comic stores on April 4 and kicking off the comic book event of the year in which the world's most popular Super Heroes go to war!
By opening this app and scanning select Marvel products featuring the
Marvel AR
logo, you'll unlock exclusive content starring the world's most popular super heroes -- including Iron Man, Thor, Captain America, Spider-Man, Wolverine, Hulk and many others! Go behind the scenes of your favorite comics, see new footage, hear from creators, get caught up on past events and more!
"It's time to join the
Marvel ReEvolution
, as we bring the worlds of print and digital media together for an unprecedented fan experience," said Peter Phillips, senior vice president and general manager, Marvel Digital Media Group. "Avengers
VS X-Men
is the biggest story we've ever told and teaming with Aurasma allows us to bring our fans a deeper experience when they purchase select Marvel comics and other Marvel products. Just wait till you see what we've planned!"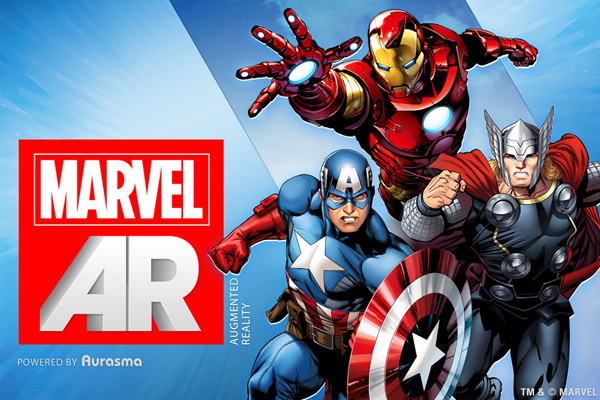 Marvel partnered with Aurasma, the world's leading augmented reality platform, to create a mobile experience designed to empower fans to discover a new world of content that brings their favorite Super Heroes to life through tablets and mobile devices. Aurasma's cutting-edge image recognition technology enables the
Marvel AR
app to recognize images in new Marvel comic books, promotional posters and other merchandise, seamlessly augmenting the images with interactive virtual content such as videos, animations and more.
"Marvel is no stranger to digital media and is once again making history, this time by using Aurasma's transformative technology to bridge the physical world with the virtual," said, David Stone, Aurasma's director of client services. "What better way to excite and engage fans than to give them the power to interact with all of their favorite characters in a new way?"
Aurasma's free platform unlocks a whole new dimension for partners to creatively enhance the real world. In this case, comic books will reach new depths by unleashing coveted and fan-pleasing content like director and editor commentary and other special features, only accessible through the
Marvel AR
app.
The
Marvel AR
companion app, powered by Aurasma, will be available for free in April at the Apple App Store and Android Market.
ABOUT MARVEL
: Marvel Entertainment, LLC, a wholly-owned subsidiary of The Walt Disney Company, is one of the world's most prominent character-based entertainment companies, built on a proven library of over 8,000 characters featured in a variety of media over seventy years. Marvel utilizes its character franchises in entertainment, licensing and publishing. For more information, visit
www.marvel.com
.
ABOUT AURASMA
: Aurasma is the world's first visual browser – a new augmented reality technology that merges the physical world with the virtual. Available as a free app for iPhone 3GS, 4, 4S, iPad2 and high-powered Android devices or as a free kernel for developers, Aurasma uses advanced image and pattern recognition to recognize and understand real-world images and objects in much the same way as the human brain does. It then seamlessly blends the real-world with rich interactive content such as videos and animations called "Auras". Auras can be created for printed images, product packaging, clothing, physical places and users can even use the app to create and share their own.
Since its launch in June 2011, Aurasma has had more than three million downloads. Over 3,000 partners in markets including retail, fashion, sport, automotive, consumer electronics, entertainment, advertising and publishing are using the free technology in their campaigns, on their products or embedding the technology in their own applications. Aurasma was developed by and is part of software company Autonomy – an HP Company.
THE FLASH'S CANDICE PATTON ON HOW IRIS IS AFFECTED BY FLASHPOINT
09/26/16 @ 12:32 pm EST
Source:
Comicbook
| Categories:
DC
|
Comments
(0) |
E-mail Article
|
Add a Comment
Even though Iris West finally told Barry Allen she was ready to take their relationship to the next stage and shared a kiss and told each other that they love each other, Barry couldn't overcome the grief he felt following the death of his father, so he made the fateful decision to go into the past and prevent Reverse-Flash from murdering his mother.
When Season 3 kicks off, we will see how Barry's decision has altered the timeline. One of the biggest changes is Barry doesn't have much of a relationship with Iris in the Flashpoint timeline. With his mother alive and father not being wrongfully imprisoned for her murder, Barry was never taken in and raised by Joe West — thus never bonding with Iris.
Now that Barry's parents are alive and well, he can focus on winning over the life of his life. "You'll get to see Barry try and woo her in Flashpoint," Candice Patton told TV Line. "It's really, really sweet. It reminds me of the pilot." She added, "The best part of that was playing Barry and me meeting for the first time. It reminds me of the pilot. When you see them for the first time together, there's something very magical about that, and we recreate that in Flashpoint. [Director] Kevin Smith was talking about it. He said he saw the first episode, and there was something really, really special about it. I would agree. I think fans are going to really enjoy that."
Patton also revealed that, as the season unfolds, Barry won't be the only one that knows that the timeline has been affected. "Barry is aware of changes, and we all slowly become aware of things being different in other timelines," she shared.
SHERLOCK SEASON 4 EPISODE TITLES REVEALED
09/26/16 @ 12:25 pm EST
Source:
Comicbook
| Categories:
Sherlock Holmes
|
Comments
(0) |
E-mail Article
|
Add a Comment
The game is afoot! Well, mostly. With
Sherlock
Season 4 finally wrapped, the cast and crew recently headed to a
Sherlock
convention in the UK with all sorts of updates. And, most importantly, they brought with them exclusive episode titles.
The official
Sherlock
Facebook page share the pseudo-spoilers on social media for fans to see. The first episode of Season 4 will be titled "The Six Thatchers" while the following episode will be called "The Lying Detective." Unsurprisingly, the showrunners held off on releasing the third and final episode title to prevent undue spoilers.
For some, the released names may sound familiar. And, if they do, then you are surely enough of a sleuth to pique Sherlock's interest.
Fans will know "The Six Thatchers" for more than its reference to one of England's most notorious Prime Ministers. The title is one that fans have seen on Dr. John H. Watson's personal blog, an official spin-off site hosted by the BBC. The peripheral site has an entry entitled "The Six Thatchers" from December 19th that explains the cast in full detail. So, be warned - there may be spoilers below!
According to John, the case of "The Six Thatchers" took place when they were approach by a student named Sally Barnicot. The girl asked the two to investigate the murder of her best friend Pietro Venucci who had been found stabbed at their university's pottery room. His boyfriend Beppo Rovito was discovered at the scene, but there was no evidence to connect him to crime. However, Sally was convinced that Beppo had killed Venucci in a fit of uncontrollable anger. And, rather unsurprisingly, Sherlock deduces what happened well before he and John had bid Sally goodbye.
And, what's more, "The Six Thatchers" also appears to be connected to an original Sherlock Holmes story titled "The Adventure of the Six Napoleons." As for "The Lying Detective," the episode will reportedly be loosely based off one of Arthur Conan Doyle's famous stories, "The Adventure of the Dying Detective." This short storysees Sherlock fake a terminal illness to coerce a guilty confession from an unhinged murdered
.At this weekend's Sherlocked convention, several cast members teased fans that
Sherlock
Season 4 is one they're wholly unprepared for. Actress Louis Brealey (Molly Hooper) described the season as "really worrying, very dramatic, [and] dark." And Benedict Cumberbatch (Sherlock Holmes) told fans during a Q&A, 'Oh boy, you have got a lot coming to you in episode 3," leaving fans frantic to discover the mysterious episode's title.
So far, most of the cast have left fans certain that Season 4 will break their
Sherlock
loving hearts. Amanda Abbington (Mary Morstan) toldComicBook.com's Jim Viscardi fans should expect to cry quite a bit during the season. More than likely, these sob sessions will come courtesy of Sherlock and John as they deal with the fallout of Season 3 and pursue a terrifying new villain played by Toby Jones.
Sherlock
will return sometime in 2017.
AGENTS OF SHIELD SEASON 4 EPISODE 3 TITLE AND SYNOPSIS RELEASED
09/26/16 @ 12:18 pm EST
Source:
Comicbook
| Categories:
Marvel
|
Comments
(0) |
E-mail Article
|
Add a Comment
The synopsis (via zap2it) for the third episode of this season, titled "Uprising," has found its way online.
In the tail end of Season 3, as part of the aftermath of the events of Marvel's
Captain America: Civil War
, General Talbot reappeared to enforce the Sokovia Accords, pressuring Coulson to register his Inhumans, and in "Uprising," which takes place 6 months later, we'll see more conflict associated with the controversial measure that caused the Avengers to split apart.
Aside from that, the episode will also deal with Agent May's health. It's on the decline following her brush with the evil, ghostly woman that emerged from the mysterious cargo the Chinese gangsters opened in the season premiere.
"Uprising" synopsis:
Coulson, Mack and Fitz try to locate and neutralize a rogue group looking to stop Inhuman Registration worldwide; Simmons and Dr. Radcliffe have only a short time to save May before she succumbs to her illness.
"Uprising" episode of
Marvel's Agents of S.H.I.E.L.D.
will air Tuesday, October 11 at 10:00-11:00 p.m. EDT on the ABC Television Network.
MIKE COLTER REALLY TOOK A BAT TO THE FACE WHILE FILMING LUKE CAGE
09/26/16 @ 12:14 pm EST
Source:
Comicbook
| Categories:
Marvel
|
Comments
(0) |
E-mail Article
|
Add a Comment
On last night's episode of AMC's
Geeking Out
,
Luke Cage
stars Mike Colter and Simone Missick told the show's hosts, Kevin Smith and Greg Grunberg, about a couple of times the action on set got a little too real.
Since Colter portrays a character with super-strength and unbreakable skin, he has to act as though bullets bounce of his body and getting whacked by a baseball bat feels like a gentle tap. However, when a stunt baseball bat was used for the first time, which was designed to break apart, one of the broken pieces hit him in the noggin, causing "complete numbness" on the left side of his face. Sweet Christmas!
After a sabotaged experiment leaves him with super strength and unbreakable skin, Luke Cage becomes a fugitive trying to rebuild his life in modern day Harlem, New York City. But he is soon pulled out of the shadows and must fight a battle for the heart of his city - forcing him to confront a past he had tried to bury.Luke Cage
stars Mike Colter ("Marvel's Jessica Jones," "The Good Wife") as the charismatic lead character, Mahershala Ali ("House of Cards") as the villainous Cornell "Cottonmouth" Stokes,Alfre Woodard ("12 Years a Slave," "Annabelle") local Harlem politician Mariah Dillard, Simone Missick ("Ray Donovan") as Harlem police detective Misty Knight, Theo Rossi ("Sons of Anarchy," "Bad Hurt") as the ruthless criminal Shades, Frank Whaley ("Ray Donovan," "Pulp Fiction") as hard-nosed NYPD detective Rafael Scarfe, Rosario Dawson reprising her "Marvel's Daredevil" role as nurse Claire Temple, and Sonia Braga ("Kiss of the Spider Woman," "Moon Over Parador," "Brothers & Sisters") as Claire Temple's mother, Soledad Temple.
BATMAN MOVIE IS A YEAR AND A HALF OUT
09/26/16 @ 12:08 pm EST
Source:
Comicbook
| Categories:
DC
|
Comments
(0) |
E-mail Article
|
Add a Comment
Holy smokes! It looks like Batman may be gracing the big screen in less than two years. During the 25th Annual Goldman Sachs Communacopia Conference, Time Warner CEO Jeff Bewkes indicated that the film was about eighteen months out.
Speaking about the DC Entertainment line-up at Warner Bros., Jeff took time to talk
Batman
. "The reboot of
Batman
with Ben Affleck was a big success," he said, referring to fans and their reaction over the actor's work. "He's going to be EP on
Justice League
and that's helpful to that team."
Later, Jeff returned to the topic of
Batman
and addressed the much-anticipated solo film that Ben Affleck is behind. And, surprisingly, he dropped a timeline for the film.
"Ben announced a
Batman
movie [that] he's going to direct, star, write for - I think it's a year and a half out. So, the strategy worked," he said.
JON FAVREAU EXCITED TO REJOIN THE MARVEL CINEMATIC UNIVERSE
09/26/16 @ 12:04 pm EST
Source:
Comicbook
| Categories:
Marvel
|
Comments
(0) |
E-mail Article
|
Add a Comment
It has been awhile since fans saw Jon Favreau on-screen in the Marvel Cinematic Universe. The acclaimed actor and filmmaker reprised his role of Happy Hogan in
Iron Man 3
before quietly slipping away to other projects. Recently, sources confirmed that Favreau would be returningto the MCU through
Spider-Man: Homecoming
, and it looks like the actor is excited to be back on camera.
During a recent interview with Yahoo! Movies, Favreau talked about his upcoming role. He said it is "a lot of fun" to be "coming back and reuniting with the characters as an actor."
Of course, Favreau has kept close to the MCU since his on-screen departure. Having directed the first two
Iron Man
films, Favreau handed over the directorial reigns to Shane Black for
Iron Man 3
. However, he did act as an executive producer on both
Avengers
flicks and recently wowed audiences when he directed Disney's
The Jungle Book
.
So, as an actor, it will surely be nice for Favreau to reconnect with Happy Hogan again. Robert Downey Jr. will also reprise his role of Tony Stark/Iron Man in
Homecoming
, so the actor will be reunited with his on-screen employer once more.
While Favreau has said he's excited to reenter the MCU, there's no doubt that Spider-Man has only heightened the hype. The actor has said Tom Holland's portrayal of the web-slinging vigilante was one of his favorite parts of
Captain America: Civil War
.
"I just felt – as a filmmaker who had been part of establishing this universe – I thought that it was in really good hands with these guys and I was pleased," Favreau told IGN. "And as an audience member I was just smiling, and it's nice to smile your way through a film. The audience is in for a treat, and I didn't even see it finished so I'm sure it's gotten even better."
And, naturally, Favreau was also very interested in the story arc that Tony Stark experienced in the film.
"I think Spider-Man made me smile every second the character was on the screen," Favreau explained. "I was so pleased with the tone of the film in general, but those sequences specifically, and I just loved the way they introduced the character. I love the version of Tony Stark I saw, especially in those scenes. As somebody who was part of the beginning of the screen persona of Tony Stark, I thought that this was really impressive and a wonderful expansion of that character."
Spider-Man: Homecoming
will show the teenaged wallcrawler as he deals with high school, crazed supervillains, and his status as a superhero in New York. Tom Holland will reprise his role as Peter Parker while Michael Keaton has been tapped to play the Vulture. Also appearing in the movie is Zendaya, Donald Glover, Jacob Batalon, Laura Harrier and Tony Revolori. Robert Downey Jr. and Marisa Tomei will also reprise their Captain America: Civil War roles as Tony Stark and Aunt May.
The film recently wrapped filming and is expected to hit theaters on July 7, 2017.
FEAR THE WALKING DEAD: WRATH PREVIEW RELEASED
09/25/16 @ 11:58 pm EST
Source:
Comicbook
| Categories:
Walking Dead
|
Comments
(0) |
E-mail Article
|
Add a Comment
Following Sunday's Date Of Death episode of
Fear The Walking Dead,
AMC has released a preview for the fourteenth episode of the second season, titled Wrath.
Wrath comes just after Travis has reunited with Madison. Even though life has been difficult for them both, finding each other has been a bright spot in their journey.
While excited, both are now parents with missing children.
Preview:
https://youtu.be/dj0DJ-yJoB0
CAPTAIN AMERICA: CIVIL WAR DIRECTORS EXPLAIN WHY NO AVENGER DIED
09/25/16 @ 11:50 pm EST
Source:
Comicbook
| Categories:
Marvel
|
Comments
(0) |
E-mail Article
|
Add a Comment
Before
Captain America: Civil War
hit theaters, rumors had started to circulate that an Avenger would meet their end before the final credits rolled. As fans of the film now know, those rumors did not turn out to be true.
There were some unfortunate consequences for James Rhodes as a result of the battle, however, as he lost the natural use of his lower extremities, but he is still among the living. In a recent Q&A session (via HitFix), directors Anthoy and Joe Russo along with Marvel Studios chief Kevin Feige laid out the specific reasons why they decided to keep everyone alive.
According to the Russos, they did discuss the death of Steve Rogers, though it never made it past the planning phase.
"We never talked about killing Cap in this one, right?" asks Anthony.
"We did for a beat" Joe replies. "We talk about everything."
"I think the thing to remember is, we do talk about every possible scenario over and over and over again for months and months and months" recalls Anthony. "We talked about it. But it never made its way into a realistic outline."
Feige noted that the intent was to fracture the team as much as possible, adding "Well, the ending was always more about fracturing the team completely before getting into Infinity War."
"We talked about lots of potential characters dying at the end of the movie" Joe adds. "And we thought that it would undercut what is really the rich tension of the movie, which is this is Kramer vs Kramer. It's about a divorce. If somebody dies, it would create empathy, which would change and allow for repair, and we didn't want to do that.
Feige compared their story to the original
Civil War
storyline seen in the comics. "In the amazing comic book story, which certainly the conceit of this movie is based on and some of the specifics — during their big battle, which has a hundred times as many characters, a character dies. And we talked about that for a while. And, ultimately, we thought what happened to Rhodey would be enough of a downer."
"The tragedy is the family falls apart" Anthony concludes. "Not that the family falls apart and then somebody dies."
Avengers: Infinity War
is set for a May 4, 2018 release.
LUKE CAGE SHOWRUNNER TEASES HEROES FOR HIRE IN SEASON 2
09/25/16 @ 11:45 pm EST
Source:
Comicbook
| Categories:
Marvel
|
Comments
(0) |
E-mail Article
|
Add a Comment
Fans will get to finally see showrunner Cheo Hodari Coker's labor of love when
Luke Cage
debuts on Netflix on September later this month. With the premiere date approaching, questions about Cage's popular
Heroes for Hire
team have started to pop up more frequently, and Coker went about setting the record straight.
In an interview with Decider, Coker revealed the bad news first.
"Now in my mind — we don't go into Heroes for Hire in Season One of
Luke Cage
—
Luke Cage
Season One is ultimately about the evolution of a hero. I think what's appealing about Luke is the fact that he's just somebody who's just your normal, average guy. He presents himself that way. He's not pretentious, but then at the same time, feels a responsibility to kind of push forward."
While Cage and Iron Fist (played by Finn Jones) won't be uniting in season 1, that doesn't rule out an appearance under the popular title in season 2, but Coker wants to make sure there will be a season 2 before he gives away any future plans.
"Well, I mean Finn Jones will be in the mix for
The Defenders
. In terms of Luke Cage, Netflix has to order a second season first. And trust me, I don't take any of this for granted because I mean there was no more sure thing than Vinyl (ed note: HBO's drama was canceled after one season)."
"We're not treating it as a one-off, and I'm confident people will dig the show, but, trust me, like Season Two, I've got a few ideas. But we really won't get ready until Netflix sees the viewership, and hopefully the subscriptions that will come from this show, and then they'll say, "Let's get into it."
MAD HATTER ARRIVES IN GOTHAM! LOOK INTO MY EYES SYNOPSIS RELEASED
09/25/16 @ 11:40 pm EST
Source:
Comicbook
| Categories:
DC
|
Comments
(0) |
E-mail Article
|
Add a Comment
FOX has released the official synopsis for "Look Into My Eyes," and it reveals that Jervis Tetch (a.k.a. Mad Hatter), a talented hypnotist teetering on the edge of madness, will make his
Gotham
debut in the third episode of this season. In order to find his missing sister, Tetch will seek help from the city's newest and most effective bounty hunter, Jim Gordon.
The synopsis also reveals that the Indian Hill escapee who happens to look exactly like Bruce Wayne (but with long, shaggy hair) will put his recognizable face to use.
Hypnotist Jervis Tetch/Mad Hatter (Benedict Samuel) arrives in Gotham to search for his sister, Alice (guest star Naian Gonzalez Norvind), and hires Gordon to help find her. Meanwhile, Penguin decides to run for mayor and Bruce's doppelganger begins to channel him, causing some confusion around town.