MARVEL AND AURASMA UNVEIL "MARVEL AUGMENTED REALITY" AT SXSW
03/12/12 @ 1:32 pm EST
Source:
Marvel
|
Comments
(0) |
E-mail Article
|
Add a Comment
"Avengers VS X-Men" Spurs Historic First Major Comic Book AR Initiative
Yesterday, at the SXSW Interactive Festival, Marvel Entertainment unveiled
Marvel AR
, the first major augmented reality app from a comic book company. As part of the recently announced
Marvel ReEvolution
, which brings the world of print and digital media together for a comics experience like never before, the
Marvel AR
app powered by Aurasma will be released on April 2 for iOS and Android devices. Fans can first discover the power of this new app in
Avengers VS X-Men #1
, arriving in comic stores on April 4 and kicking off the comic book event of the year in which the world's most popular Super Heroes go to war!
By opening this app and scanning select Marvel products featuring the
Marvel AR
logo, you'll unlock exclusive content starring the world's most popular super heroes -- including Iron Man, Thor, Captain America, Spider-Man, Wolverine, Hulk and many others! Go behind the scenes of your favorite comics, see new footage, hear from creators, get caught up on past events and more!
"It's time to join the
Marvel ReEvolution
, as we bring the worlds of print and digital media together for an unprecedented fan experience," said Peter Phillips, senior vice president and general manager, Marvel Digital Media Group. "Avengers
VS X-Men
is the biggest story we've ever told and teaming with Aurasma allows us to bring our fans a deeper experience when they purchase select Marvel comics and other Marvel products. Just wait till you see what we've planned!"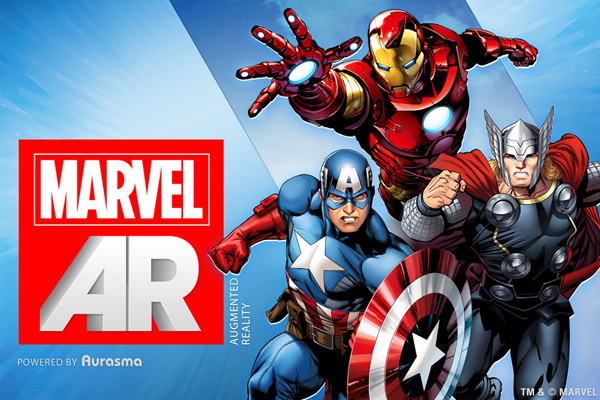 Marvel partnered with Aurasma, the world's leading augmented reality platform, to create a mobile experience designed to empower fans to discover a new world of content that brings their favorite Super Heroes to life through tablets and mobile devices. Aurasma's cutting-edge image recognition technology enables the
Marvel AR
app to recognize images in new Marvel comic books, promotional posters and other merchandise, seamlessly augmenting the images with interactive virtual content such as videos, animations and more.
"Marvel is no stranger to digital media and is once again making history, this time by using Aurasma's transformative technology to bridge the physical world with the virtual," said, David Stone, Aurasma's director of client services. "What better way to excite and engage fans than to give them the power to interact with all of their favorite characters in a new way?"
Aurasma's free platform unlocks a whole new dimension for partners to creatively enhance the real world. In this case, comic books will reach new depths by unleashing coveted and fan-pleasing content like director and editor commentary and other special features, only accessible through the
Marvel AR
app.
The
Marvel AR
companion app, powered by Aurasma, will be available for free in April at the Apple App Store and Android Market.
ABOUT MARVEL
: Marvel Entertainment, LLC, a wholly-owned subsidiary of The Walt Disney Company, is one of the world's most prominent character-based entertainment companies, built on a proven library of over 8,000 characters featured in a variety of media over seventy years. Marvel utilizes its character franchises in entertainment, licensing and publishing. For more information, visit
www.marvel.com
.
ABOUT AURASMA
: Aurasma is the world's first visual browser – a new augmented reality technology that merges the physical world with the virtual. Available as a free app for iPhone 3GS, 4, 4S, iPad2 and high-powered Android devices or as a free kernel for developers, Aurasma uses advanced image and pattern recognition to recognize and understand real-world images and objects in much the same way as the human brain does. It then seamlessly blends the real-world with rich interactive content such as videos and animations called "Auras". Auras can be created for printed images, product packaging, clothing, physical places and users can even use the app to create and share their own.
Since its launch in June 2011, Aurasma has had more than three million downloads. Over 3,000 partners in markets including retail, fashion, sport, automotive, consumer electronics, entertainment, advertising and publishing are using the free technology in their campaigns, on their products or embedding the technology in their own applications. Aurasma was developed by and is part of software company Autonomy – an HP Company.
COMING SOON…
08/31/16 @ 5:30 pm EST
Source:
Marvel
| Categories:
Marvel
|
Comments
(0) |
E-mail Article
|
Add a Comment
MARVEL KILLS TWO CLASSIC SPIDER-MAN CHARACTERS
08/31/16 @ 5:27 pm EST
Source:
Comicbook
| Categories:
Marvel
|
Comments
(0) |
E-mail Article
|
Add a Comment
Amazing Spider-Man
is ramping up to the "Dead No More" storyline with the appropriately-titled "Before Dead No More" lead-in story. As of today's
Amazing Spider-Man
#17, by Dan Slott and R.B. Silva, that story officially has a body count.
SPOILERS for Amazing Spider-Man #17 follow.
While Peter Parker has been splitting his time between being the CEO of Parker Industries and, secretly, being his own bodyguard, Spider-Man, his old foe, the Jackal, has returned and begun putting plans into motions without Peter's knowledge.
The Jackal has been enlisting the aid of several of Spider-Man's old enemies by restoring their lost loved ones to life. The catch is that these loved ones need a daily pill administered by the Jackal to stay alive, and so the villains are forced into indefinite service to the Jackal.
One of those villains is Electro, Max Dillon. Spider-Man cured Electro of his powers and sent him to prison as a normal human. The Jackal sent Rhino to bust Max and the Lizard out their cells and planned to restore Max's powers. Max was reluctant to go through with the process at first but agreed when the Jackal presented him with a woman named Francine, whom Dillon had believed dead.
Max had a good reason to believe Francine was dead. He had killed her. Back when he was first having problems with his powers, he was in a relationship with Francine, who is a fan of supervillains. Unfortunately, when the two shared a kiss, Max's powers misfired and he electrocuted her, killing her and charring her body.
The Jackal cloned Francine from DNA taken from her charred cheek. Francine observes the Jackal's attempt to restore Max's powers, but the experiment fails, charging his suit but not his body. Unexpectedly, the DNA in Max's saliva that was mixed in with Francine's own DNA attracts the electrical energy to Francine. Desiring more, Francine leans in to kiss Max, reversing their previous fate by killing the original Electro.
The villains didn't know at the time that they were being observed by the Prowler, Hobie Brown. Hobie's been working for Peter Parker as a Spider-Man body double to confuse people about Spider-Man's exact whereabouts relative to Peter (Hobie also doesn't realize that Peter
is
Spider-Man). The Jackal has set up a medical company called New U that promises all kinds of miracle cures for various diseases. New U offered to cure Jay Jameson - Aunt May's husband and J. Jonah Jameson's father – of his current affliction. Peter suspects New U is too good to be true, so he sends Prowler in to check things out.
Prowler infiltrates the New U complex with ease but reveals himself in an attempt to save Max's life, an attempt that the Lizard thwarts. Prowler tries to make a break for it, and the Jackal orders Francine to pursue, with clear orders to capture and not kill Prowler. Francine disregards the Jackal's commands and fries Prowler when she catches up to him.
That's not the end for Hobie Brown. He wakes up in a cloning device and is greeted by the Jackal, Rhino, and Francine (who now has her own Electro costume). By the end of the issue, Hobie has been convinced to join the Jackal's cause. Only then does the Jackal inform Hobie of the pill he'll have to take daily if we want to remain alive.
The cloning of Hobie Brown explains a lot about the upcoming
Prowler
ongoing series from Sean Ryan and Jamal Campbell, which will launch in October as part of Marvel NOW! The series has the tagline "You Only Live Twice," and the cover shows one Prowler burying another. The series is debuting as a tie-in to
The Clone Conspiracy
event, so the answer should have been pretty obvious, to begin with.
Now fans are just left to wonder if the Jackal will ever bother to clone Max Dillon.
Amazing Spider-Man
#16 is on sale now.
Prowler
#1 goes on sale Oct. 26, 2016.
'DORY' MAKES A WIDE BREAK BEFORE SUMMER ENDS
08/31/16 @ 5:14 pm EST
Source:
Deadline
| Categories:
Disney
|
Comments
(0) |
E-mail Article
|
Add a Comment
The highest grossing movie of the summer and 2016 to date,
Finding Dory,
is making a Labor Day weekend expansion back into 2,075 theaters on Friday. The Andrew Stanton-Angus MacLane movie is currently playing in 345 venues and since June 17 has racked up $479.6M.
Dory
is also the highest grossing animated feature at the domestic B.O. Note, Disney put
Finding Nemo
back in wide release over Labor Day weekend at the end of the summer when it was released 13 years ago. Worldwide,
Dory
counts $930.8M.
Dory
's wide break is much larger than
Nemo
's in regards to theater count.
Nemo
moved from 838 sites to 1,053 and grossed an extra $2.3M over the summer-end four-day holiday period for a domestic cume of $332.7M. Following Labor Day,
Nemo
grossed another $7M in under 1,000 theaters, ending its initial run at $339.7M. A 2012 3D re-release brought
Nemo
another $41.1M raising it lifetime domestic gross to $380.8M.
Disney is also releasing its final DreamWorks live action title this Friday, the Michael Fassbender-Alicia Vikander-Rachel Weisz weepy
The Light Between Oceans.
The Derek Cianfrance film is premiering at the Venice Film Festival tomorrow night and will debut in 1,500 venues stateside. It is expected to make $6M-$9M over four days.
BILL NYE LANDS NETFLIX TALK SHOW
08/31/16 @ 5:07 pm EST
Source:
Variety
| Categories:
MIsc
|
Comments
(0) |
E-mail Article
|
Add a Comment
Scientist Bill Nye has landed a new Netflix talk show set to launch in spring 2017, the streaming network announced Wednesday. "Bill Nye Saves the World" will explore science and its impact on politics, society and pop culture.
Each episode of the series will tackle a topic from a scientific point of view, dispelling myths, and refuting anti-scientific claims that may be espoused by politicians, religious leaders or titans of industry.
"Bill Nye Saves the World" marks Nye's long-awaited return to TV since first emerging as a household name in the 1990s as the creator and star of the Emmy award-winning syndicated television show "Bill Nye the Science Guy," which ran for five seasons and introduced millennial audiences to science and engineering.
"Since the start of the 'Science Guy' show, I've been on a mission to change the world by getting people everywhere excited about the fundamental ideas in science," said Nye. "Today, I'm excited to be working with Netflix on a new show, where we'll discuss the complex scientific issues facing us today, with episodes on vaccinations, genetically modified foods and climate change. With the right science and good writing, we'll do our best to enlighten and entertain our audience. And, perhaps we'll change the world a little."
"Bill Nye Saves the World" is produced for Netflix by Bunim/Murray Productions. Gil Goldschein and Julie Pizzi serve as executive producers for Bunim/Murray Productions. Michael Naidus ("The Late Late Show with Craig Ferguson") serves as showrunner and executive pproducer. Writer and standup comedian Mike Drucker serves as Head Comedy Writer; and, astronomer, author and award-winning science communicator Phil Plait serves as Head Science Writer.
CAPTAIN AMERICA: CIVIL WAR DELETED SCENE FEATURING BLACK PANTHER AND BLACK WIDOW
08/31/16 @ 11:05 am EST
Source:
Comicbook
| Categories:
Marvel
|
Comments
(0) |
E-mail Article
|
Add a Comment
A newly released deleted scene from
Captain America: Civil War
features a core member of the Avengers and one of the newcomer heroes to the franchise who made their debut in the film.
Scarlett Johansson's Natasha Romanov (better known as Black Widow) sits alone with Chadwick Boseman's newly introduced T'Challa (better known as Black Panther) at the German Ops Center which was serving as a headquarters during the film. The scene would have been inserted to the film shortly after Black Panther was arrested after his pursuit of Captain America and Bucky.
"There was a scene between Natasha and T'Challa at the German Ops Center, halfway through the movie when he was sitting in that room,"Joe Russo told ComicBook.com at a press event for
Captain America: Civil War
. "Cap and Falcon had been isolated in the other conference room. We didn't feel like it was moving the story telling forward and they had already had a scene so it felt repetitive so it was something we excised from the movie."
Ultimately, the scene would not have had much of an impact on the grander scheme of
Civil War
and has a very similar feel to Black Widow's interrogation of Loki in
The Avengers
. However, that scene was crucial as it revealed Loki's plan to unleash the Hulk and tear apart the Avengers from the inside. In
Civil War
's case, Natasha's interrogation of Black Panther results in a touch more depth for the characters.
Captain America: Civil War
is available on blu-ray and DVD on September 13. If you can't wait that long, it will be available for digital download on September 2.
Video:
https://youtu.be/1n3SBb_uw9w
ARROW SEASON 4 FEATURETTE EXAMINES THE VILLAINS
08/31/16 @ 10:59 am EST
Source:
Comicbook
| Categories:
DC
|
Comments
(0) |
E-mail Article
|
Add a Comment
Last season on
Arrow
, Oliver and his team had their hands full with not one but two villains that contained abilities and powers well above those of normal humans.
That didn't stop him and his team from going after them of course, and in a new season four featurette, fans get a closer look at the two obstacles in Oliver's way, who go by the names Damien Darhk and Vandal Savage.
Video:
https://youtu.be/Zsh282UJl9k
SHERLOCK SEASON 4 FIRST OFFICIAL PHOTO RELEASED
08/31/16 @ 10:54 am EST
Source:
Comicbook
| Categories:
Sherlock Holmes
|
Comments
(0) |
E-mail Article
|
Add a Comment
The BBC has released the first official photo from Season 4 of
Sherlock
. The photo features Sherlock Holmes (Benedict Cumberbatch) and Dr. John Watson (Martin Freeman) looking sharp.
Sherlock
Season 4 began filming in April 2016 and wrapped in August. Toby Jones has been cast in the season as a villain from Sherlock Holmes lore, though the show has not yet named the character. A trailerfor the season was released at Comic-Con International: San Diego.
ULTIMATE SPIDER-MAN PREVIEW CLIP: SPIDER-MEN & GUARDIANS UNITE
08/31/16 @ 10:51 am EST
Source:
Comicbook
| Categories:
Marvel
|
Comments
(0) |
E-mail Article
|
Add a Comment
If you've ever wondered what Spider-Man would be like as a pirate, your wait has come to an end.
In the latest episode of
Ultimate Spider-Man
, fans get to meet Web Beard, the Spider-Pirate who has a crew made up of Howard The Duck and Guardians of the Galaxy alumni Rocket Raccoon and Cosmo. Oh, and the boat they're riding on happens to have Groot installed on the front of it, so you probably want to avoid making them angry.
The latest clip from the upcoming episode (via CBR) shows the ragtag group ending their mutiny and following the two misplaced Spider-Men's lead in taking down the Kraken. You can watch the entire clip below, and you can catch the episode on Disney XD on Saturday, September 3rd.
Clip:
https://youtu.be/cB1S1TbsBRY
FIRST MOVIE DEAL FOR NEW PUBLISHER'S TITLES
08/31/16 @ 10:45 am EST
Source:
ICv2
| Categories:
MIsc
|
Comments
(0) |
E-mail Article
|
Add a Comment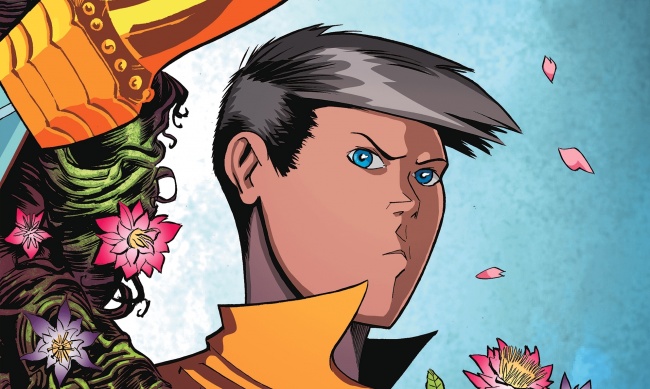 New comics publisher Vault Comics has announced the first titles it will launch in early 2017 and shared news on development deals for several titles.
The company, which focuses on original, creator-owned science fiction and fantasy comics, was founded by Adrian Wassel, Damian Wassel, and Nathan Gooden. "Science fiction and fantasy continue to lead the way in diversity among creators and readers," said Adrian Wassel, Vault Editor-in-Chief. "These genres grant the disenfranchised voices. They create landscapes in which the establishment has fallen. They place minorities, both real and imagined, at the helm of their narratives. They pull apart conceptions of race, gender, and social identity. As genres, they ask some of the hardest questions, and are often the only genres gutsy enough to venture answers, too. Of course it helps that these are four-quadrant genres with historically strong sales and explosive recent growth. But that's really just the icing on the cake."
Karma Police
is written by Chris Lewis (
Drones
), with art by Tony Gregori. The story follows Jack Allen, a woman who is recognized as the reincarnation of a Tibetan monk. Jack is trained as a compassionate assassin and sent out to stop the violence in the world. Release is planned for February 1.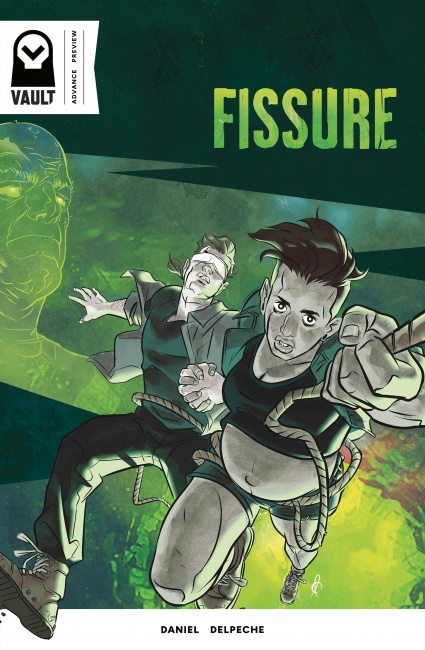 Fissure
is written by Tim Daniel (
Enormous, Burning Fields
), with art by Pato Delpeche. The story takes place in El Sueno, Texas, where a sinkhole suddenly appears, engulfing the town's main street. Avery Lee Olmos and Hark Wright are a young couple caught in the chaos, trying to escape the sinkhole and the malevolent force at the bottom of it. Release is planned for February 8.
Failsafe
is written by F.J. DeSanto (
Transformers: Combiner Wars, Cyborg 009
) and Todd Farmer, with art by Federico Dallocchio (
Suicide Squad: Kicked in the Teeth
). John Ravane thought he'd executed the last nanotech-enhanced super soldier 10 years ago. In the midst of social unrest, sleeper agents activate, and Ravane must decide if he can trust the government or the soldiers he once hunted. Release is planned for February 15.
Colossi
is written by Ricardo Mo (
Propeller
), with art by Alberto Muriel (
Propeller
). Trans Atmos Shuttle 34 is sucked into a wormhole and emerge in an alternate universe, where everything is giant. They'll have to work together to survive the hostile environment and the looming threat that hitched a ride on the shuttle. Release is planned for February 22.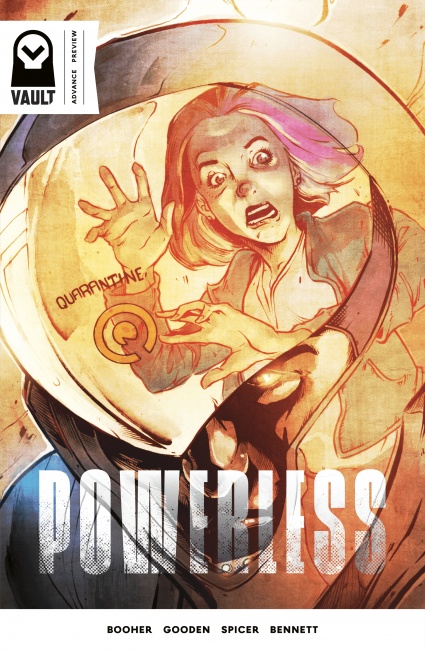 Powerless
is written by David M Booher, with art by Nathan C. Gooden (
Killbox
). The series is set in a world where everyone has superpowers, until a virus destroys those abilities. A worldwide quarantine is enacted, and elite agent Billy is tasked with helping to stop the spread. Release is planned for March 1.
THR
is reporting several future titles written by Tim Daniel (
Enormous
) are being developed as Hollywood adaptations by
Hitman: Agent 47
producer Adrian Askarieh and Silver Fox Entertainment's F. J. DeSanto. The titles will be published in 2017.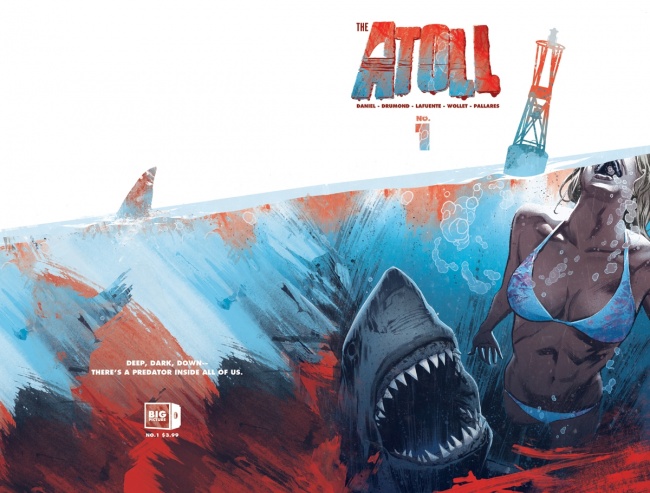 The Atoll
follows an Olympic athlete who is kidnapped and taken to Australia where she becomes a contestant in a grizzly combat game where people are forced to fight a 21-foot Great White shark.
Spiritus
takes place in a world where criminals have their consciousness relocated into labor machines. An MMA fighter who was convicted of killing her husband finds herself drawn into a plot by a prison syndicate leader to build an army of free machines to overthrow the prison.
Morning Star
follows a mother who has lost her forest firefighter husband. She takes her children to the park where he died hoping to get some closure, but she is thrust into an otherworldly experience.
Fissure
, mentioned above, is also being developed for an adaptation.
TV SERIES STARRING SQUIRREL GIRL IN DEVELOPMENT
08/31/16 @ 10:38 am EST
Source:
ICv2
| Categories:
Marvel
|
Comments
(0) |
E-mail Article
|
Add a Comment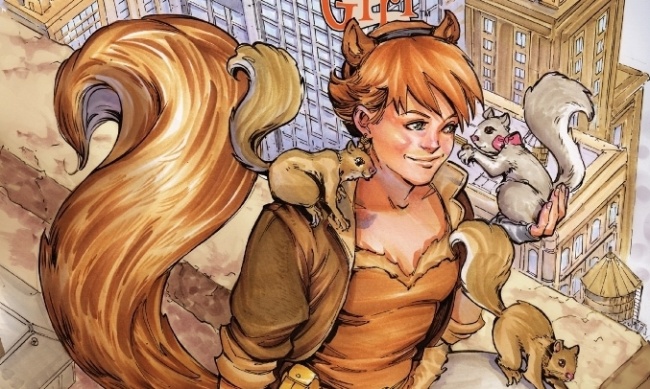 Marvel and ABC Studios are shopping a new TV series to cable networks and streaming outlets, according to TVLine, citing "sources." The series in development is
New Warriors
, a half-hour comedy that will prominently feature Squirrel Girl, according to the report. The superhero team is described as the junior version of the Avengers, a group of super-powered teenagers, with Squirrel Girl playing an important role.
Marvel began rejuvenating the character last year with the launch of a solo title. The character was originally created by Steve Ditko and Will Murray, and was a member of the Great Lakes Avengers.