MARVEL AND AURASMA UNVEIL "MARVEL AUGMENTED REALITY" AT SXSW
03/12/12 @ 1:32 pm EST
Source:
Marvel
|
Comments
(0) |
E-mail Article
|
Add a Comment
"Avengers VS X-Men" Spurs Historic First Major Comic Book AR Initiative
Yesterday, at the SXSW Interactive Festival, Marvel Entertainment unveiled
Marvel AR
, the first major augmented reality app from a comic book company. As part of the recently announced
Marvel ReEvolution
, which brings the world of print and digital media together for a comics experience like never before, the
Marvel AR
app powered by Aurasma will be released on April 2 for iOS and Android devices. Fans can first discover the power of this new app in
Avengers VS X-Men #1
, arriving in comic stores on April 4 and kicking off the comic book event of the year in which the world's most popular Super Heroes go to war!
By opening this app and scanning select Marvel products featuring the
Marvel AR
logo, you'll unlock exclusive content starring the world's most popular super heroes -- including Iron Man, Thor, Captain America, Spider-Man, Wolverine, Hulk and many others! Go behind the scenes of your favorite comics, see new footage, hear from creators, get caught up on past events and more!
"It's time to join the
Marvel ReEvolution
, as we bring the worlds of print and digital media together for an unprecedented fan experience," said Peter Phillips, senior vice president and general manager, Marvel Digital Media Group. "Avengers
VS X-Men
is the biggest story we've ever told and teaming with Aurasma allows us to bring our fans a deeper experience when they purchase select Marvel comics and other Marvel products. Just wait till you see what we've planned!"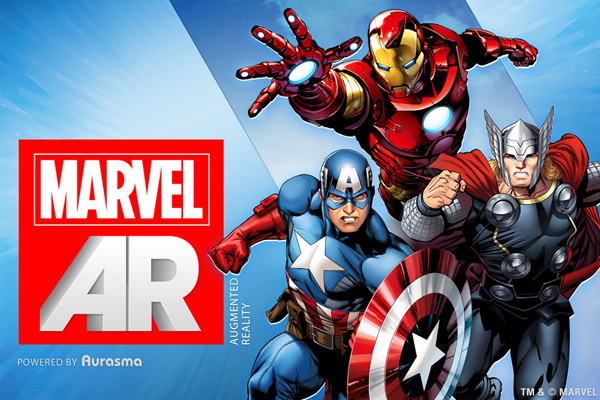 Marvel partnered with Aurasma, the world's leading augmented reality platform, to create a mobile experience designed to empower fans to discover a new world of content that brings their favorite Super Heroes to life through tablets and mobile devices. Aurasma's cutting-edge image recognition technology enables the
Marvel AR
app to recognize images in new Marvel comic books, promotional posters and other merchandise, seamlessly augmenting the images with interactive virtual content such as videos, animations and more.
"Marvel is no stranger to digital media and is once again making history, this time by using Aurasma's transformative technology to bridge the physical world with the virtual," said, David Stone, Aurasma's director of client services. "What better way to excite and engage fans than to give them the power to interact with all of their favorite characters in a new way?"
Aurasma's free platform unlocks a whole new dimension for partners to creatively enhance the real world. In this case, comic books will reach new depths by unleashing coveted and fan-pleasing content like director and editor commentary and other special features, only accessible through the
Marvel AR
app.
The
Marvel AR
companion app, powered by Aurasma, will be available for free in April at the Apple App Store and Android Market.
ABOUT MARVEL
: Marvel Entertainment, LLC, a wholly-owned subsidiary of The Walt Disney Company, is one of the world's most prominent character-based entertainment companies, built on a proven library of over 8,000 characters featured in a variety of media over seventy years. Marvel utilizes its character franchises in entertainment, licensing and publishing. For more information, visit
www.marvel.com
.
ABOUT AURASMA
: Aurasma is the world's first visual browser – a new augmented reality technology that merges the physical world with the virtual. Available as a free app for iPhone 3GS, 4, 4S, iPad2 and high-powered Android devices or as a free kernel for developers, Aurasma uses advanced image and pattern recognition to recognize and understand real-world images and objects in much the same way as the human brain does. It then seamlessly blends the real-world with rich interactive content such as videos and animations called "Auras". Auras can be created for printed images, product packaging, clothing, physical places and users can even use the app to create and share their own.
Since its launch in June 2011, Aurasma has had more than three million downloads. Over 3,000 partners in markets including retail, fashion, sport, automotive, consumer electronics, entertainment, advertising and publishing are using the free technology in their campaigns, on their products or embedding the technology in their own applications. Aurasma was developed by and is part of software company Autonomy – an HP Company.
STAN LEE MAKES HIS PICK IN BATMAN V. SUPERMAN
08/03/15 @ 3:58 pm EST
Source:
Comicbook
| Categories:
Stan Lee
|
Comments
(0) |
E-mail Article
|
Add a Comment
Stan Lee would tell Batman right now that Superman doesn't bleed.
The famed Marvel Comics creator, whose credits include Spider-Man, The Avengers, and The Fantastic Four—made that much clear in a recent interview, where he made his pick in a Batman V. Superman skirmish.When asked which DC Comics superhero would win in a fight, Lee responded, "Superman, I think."
"He's indestructible, he can do anything," Lee elaborated to The Boston Herald. "And Batman relies on a few weapons…But if this were real--a fight between Superman and Batman--there's no way that Batman could win."
But Lee did reveal that, given his loyalties to each character's creators, he did feel torn on picking a winner.
"The creator of Batman, Bob Kane, was a good friend of mine, so he'd be unhappy with me saying that. But at the same time, Jerry Siegel, one of the creators of Superman, worked for me for a while. So I feel I have divided loyalties."
RON PERLMAN DOESN'T WANT TO MAKE HELLBOY 3 BUT HE'LL DO IT ANYWAY
08/03/15 @ 3:53 pm EST
Source:
Slashfilm
| Categories:
Hellboy
|
Comments
(0) |
E-mail Article
|
Add a Comment
Given all the support
Ron Perlman
has given for a potential
Hellboy 3
, you might be surprised to hear he doesn't actually want to make it. That's an unexpected position, since the path of least resistance is to leave it alone and let it never happen. Two studios have already passed on making a sequel, first Columbia and then Universal. Yet Perlman keeps tweeting and rallying Comic-Con support.
After a TCA panel for his Amazon series
Hand of God
, Perlman clarified to reporters why he's pushing so hard.
"Let me make the record clear," Perlman said. "I don't want to do Hellboy 3. It's a pain in the ass to put that makeup on and take it off. But I feel we're obligated to finish the story. That's it. End of conversation."
Even director
Guillermo del Toro
has accepted that he can't get financing for a Hellboy 3, so the only news is news generated by reporters asking and Perlman sharing."I got no problems with forcing the conversation, as you can tell," Perlman said. "We're in the business of moving mountains. Those of us who are used to working in mainstream film and television. Don't come to me with details and problems. Just tell me how we move the mountain."
Del Toro had suggested that there could be a time limit on casting Perlman as Hellboy a third time. The actor is in his 60s and del Toro said, "We better do it quick. Ron is no spring chicken, and soon enough he's going to be Hellboy in a Barcalounger, changing channels, ordering from shopping networks."
Perlman said there's no cutoff point for him.
'DC'S LEGENDS OF TOMORROW' CASTS HAWKMAN FOR 'ARROW' AND 'FLASH' CROSSOVER ARC
08/03/15 @ 3:45 pm EST
Source:
Variety
| Categories:
DC
|
Comments
(0) |
E-mail Article
|
Add a Comment
Hawkman is taking flight at the CW. Falk Hentschel will play the DC Comics hero, also known as Carter Hall, in next season's crossover episodes of "Arrow" and "The Flash," before continuing the role in superhero spinoff series "DC's Legends of Tomorrow," which will bow at midseason.
Carter Hall is the latest reincarnation of an Egyptian Prince who is fated to be reborn throughout time along with his soulmate, Kendra Saunders (aka Hawkgirl, played by Ciara Renée). Like Kendra, Carter can access the powers of the Hawk God, Horus, transforming him into the winged warrior known as Hawkman.
Renée made her first onscreen appearance as Kendra in the season-one finale of "The Flash," while other members of the "Legends" roster have previously been introduced via "Arrow" and "The Flash," including one half of Firestorm, Dr. Martin Stein (Victor Garber), Ray Palmer/the Atom (Brandon Routh), Sara Lance/White Canary (Caity Lotz), Mick Rory/Heat Wave (Dominic Purcell) and Leonard Snart/Captain Cold (Wentworth Miller). Two newcomers to the shared universe, Jay Jackson (Franz Drameh) and Rip Hunter (Arthur Darvill), round out the eclectic team. The CW's two existing superhero shows will help establish the spinoff and its characters through crossover episodes that will be utilized as a kind of backdoor pilot for "Legends" before its midseason debut.
IMAGINATION TAKES NEW SHAPE – YOUR FIRST LOOK AT FIGMENT 2 #1
08/03/15 @ 3:09 pm EST
Source:
Marvel
| Categories:
Marvel
|
Comments
(0) |
E-mail Article
|
Add a Comment
This September, the sold out, multiple printing, smash-hit returns for an all-new tale! Journey back into the exciting depths of your own imagination with
FIGMENT 2 #1
– the newest series under the
Disney Kingdoms
line! Continuing the unique collaboration between Marvel and Walt Disney Imagineering, Disney Kingdoms titles bring you new adventures inspired by beloved lands, attractions, characters and worlds of Walt Disney Parks and Resorts!
Critically acclaimed writer Jim Zub returns alongside artist Ramon Bachs for the next chapter in the lives of the enigmatic inventor Dreamfinder and the legendary Figment! Thrust forward into the present day, these two time-travelling explorers must brave a modern world as new and unexpected dangers lie before them. Gone over 100 years, our imaginative duo are known the world over, and must struggle to live up to their own legend. But with their greatest challenges still ahead, can they embody their own legacy, or will it ultimately be their undoing?
A mainstay of
Epcot
® Theme Park at Walt Disney World® Resort, Figment has captivated visitors of the
Journey Into Imagination
attraction for years. Marvel and Disney are excited to bring fans a sequel to his blockbuster hit series!
Old friends will reunite, new challenges will be met, and one little spark of imagination will take you to places you never thought you'd go! Don't miss the highly anticipated return of Figment and Dreamfinder this September, when
FIGMENT 2 #1
comes to comic shops and digital devices this Fall!
Get caught up on the original series with the FIGMENT HC, on sale now in comic shops and wherever books are sold!
FIGMENT 2 #1 (JUL150796) Written by JIM ZUBArt by RAMON BACHSCover by JOHN TYLER CHRISTOPHERAction Figure Variant by JOHN TYLER CHRISTOPHER (JUL150797)
Classic Variant by X ATENCIO (JUL150798)
Elements Based on Figment © DisneyFOC – 08/10/15, On-Sale 09/02/15
WILLIAM SHATNER CALLS ON STAR TREK FANS TO HELP PAY TRIBUTE TO LEONARD NIMOY
08/03/15 @ 11:50 am EST
Source:
Comicbook
| Categories:
Star Trek
|
Comments
(0) |
E-mail Article
|
Add a Comment
William Shatner is asking for your help to pay tribute to his life-long friend and colleague Leonard Nimoy, who passed away in February at the age of 83.
He needs
Star Trek
fans to take a selfie doing the iconic Vulcan salute, which has become the universal sign for 'Live long and prosper' (LLAP).
"I need everyone's help," Shatner tweeted. "Take a selfie of you doing the LLAP sign and email the photo to
NIMOYTribute@gmail.com."
The salute was devised by Nimoy and first appeared in 1967 in the first episode of season two of the original
Star Trek
television series. Nimoy said that the gesture was inspired by Churchill's victory sign and on the Priestly Blessing performed by Jewish Kohanim, which he witnessed at his grandfather's synagogue as a child.
RONDA ROUSEY DEDICATED HER WIN TO RODDY PIPER
08/03/15 @ 11:45 am EST
Source:
Comicbook
| Categories:
MIsc
|
Comments
(0) |
E-mail Article
|
Add a Comment
On Friday, the world lost WWE Hall of Famer "Rowdy" Roddy Piper, who passed away at age 61. On Saturday, "Rowdy" Ronda Rousey defended her UFC Women's Bantamweight Championship. Both before and after the fight, Rousey paid tribute to the WWE legend, who graciously gave her permission to use his nickname.
What a cool thing to do, on both their parts. We miss ya, Hot Rod!
DEADPOOL TRAILER FOR TRAILER RELEASED ONLINE
08/03/15 @ 11:42 am EST
Source:
Comicbook
| Categories:
Deadpool
|
Comments
(0) |
E-mail Article
|
Add a Comment
Twentieth Century Fox has released a trailer for the trailer for
Deadpool
.
The over the top (and definitely NSFW) trailer trailer has some fun at the expense of the
X-Men Origins: Wolverine
version of Deadpool, as well as the Hollywood trend towards releasing promotional material for other promotional material, and reminds fans that the actual trailer will be online tomorrow.
Check it out here:
https://youtu.be/QPZHBjyUGhQ
SCENES FROM THE WEEKEND'S BOSTON COMIC CON
08/03/15 @ 11:38 am EST
Source:
Boston.com
| Categories:
MIsc
|
Comments
(0) |
E-mail Article
|
Add a Comment
Scenes from this weekend's Boston Comic Con. (via Boston.com):
MARVEL TO ADAPT IRON MAN 3 AND WINTER SOLDIER AS COMICS
08/03/15 @ 11:06 am EST
Source:
Bleeding Cool
| Categories:
Marvel
|
Comments
(0) |
E-mail Article
|
Add a Comment
Will Corona Pilgrim
and
Szymon Krudanski
are to write and draw
Marvel's Captain America: Civil War Prelude
, an MCU prelude to the upcoming
Captain America: Civil War
movie, a four issue series, and additional decampi comic
Marvel's Captain America: Civil War Prelude Infinite Comic.
But it seems to be an adaptation of the previous movies
Iron Man 3
and
Captain America: Winter Soldier
.
Here's the solicit.
Follow the road to Captain America: Civil War with official adaptations of the smash hit films Iron Man 3 and Captain America: Winter Soldier! When The Mandarin strikes at the United States with a series of deadly terror attacks, Iron Man must take action! But can Tony Stark handle the pressure when he has his own demons to face? And when Captain America encounters an assassin named the Winter Soldier, he joins forces with Black Widow and Falcon to uncover a deep seated conspiracy in their very midst! It's spy versus spy as the fate of the country hangs in the balance!
Expect the series, Infinite Comic and an extra Civil War #1 to get collected in April, ahead of the movie.
BATMAN'S EDITOR IS LOOKING INTO DAMIAN'S ETHNIC PORTRAYAL
08/03/15 @ 11:01 am EST
Source:
Bleeding Cool
| Categories:
Batman
|
Comments
(0) |
E-mail Article
|
Add a Comment
At the Boston Comic Con this weekend,
Batman
editor
Mark Doyle
was asked, if Damian's mother is Talia al Ghul, of a Middle Eastern background, why Damian is consistently portrayed as white, like his father Bruce Wayne, rather than biracial.
He told that questioner that he would be looking into it today.
Also,
Brian Azzarello
, in response to questions as to how DC can compete with Marvel at the movies, said that DC Comics is always looking for new ways to tell these stories and many more.
"Why do something that's already been done?" (Via Bleeding Cool)