MARVEL AND AURASMA UNVEIL "MARVEL AUGMENTED REALITY" AT SXSW
03/12/12 @ 1:32 pm EST
Source:
Marvel
|
Comments
(0) |
E-mail Article
|
Add a Comment
"Avengers VS X-Men" Spurs Historic First Major Comic Book AR Initiative
Yesterday, at the SXSW Interactive Festival, Marvel Entertainment unveiled
Marvel AR
, the first major augmented reality app from a comic book company. As part of the recently announced
Marvel ReEvolution
, which brings the world of print and digital media together for a comics experience like never before, the
Marvel AR
app powered by Aurasma will be released on April 2 for iOS and Android devices. Fans can first discover the power of this new app in
Avengers VS X-Men #1
, arriving in comic stores on April 4 and kicking off the comic book event of the year in which the world's most popular Super Heroes go to war!
By opening this app and scanning select Marvel products featuring the
Marvel AR
logo, you'll unlock exclusive content starring the world's most popular super heroes -- including Iron Man, Thor, Captain America, Spider-Man, Wolverine, Hulk and many others! Go behind the scenes of your favorite comics, see new footage, hear from creators, get caught up on past events and more!
"It's time to join the
Marvel ReEvolution
, as we bring the worlds of print and digital media together for an unprecedented fan experience," said Peter Phillips, senior vice president and general manager, Marvel Digital Media Group. "Avengers
VS X-Men
is the biggest story we've ever told and teaming with Aurasma allows us to bring our fans a deeper experience when they purchase select Marvel comics and other Marvel products. Just wait till you see what we've planned!"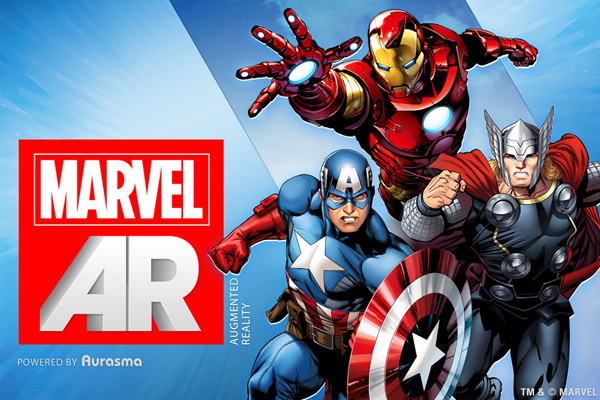 Marvel partnered with Aurasma, the world's leading augmented reality platform, to create a mobile experience designed to empower fans to discover a new world of content that brings their favorite Super Heroes to life through tablets and mobile devices. Aurasma's cutting-edge image recognition technology enables the
Marvel AR
app to recognize images in new Marvel comic books, promotional posters and other merchandise, seamlessly augmenting the images with interactive virtual content such as videos, animations and more.
"Marvel is no stranger to digital media and is once again making history, this time by using Aurasma's transformative technology to bridge the physical world with the virtual," said, David Stone, Aurasma's director of client services. "What better way to excite and engage fans than to give them the power to interact with all of their favorite characters in a new way?"
Aurasma's free platform unlocks a whole new dimension for partners to creatively enhance the real world. In this case, comic books will reach new depths by unleashing coveted and fan-pleasing content like director and editor commentary and other special features, only accessible through the
Marvel AR
app.
The
Marvel AR
companion app, powered by Aurasma, will be available for free in April at the Apple App Store and Android Market.
ABOUT MARVEL
: Marvel Entertainment, LLC, a wholly-owned subsidiary of The Walt Disney Company, is one of the world's most prominent character-based entertainment companies, built on a proven library of over 8,000 characters featured in a variety of media over seventy years. Marvel utilizes its character franchises in entertainment, licensing and publishing. For more information, visit
www.marvel.com
.
ABOUT AURASMA
: Aurasma is the world's first visual browser – a new augmented reality technology that merges the physical world with the virtual. Available as a free app for iPhone 3GS, 4, 4S, iPad2 and high-powered Android devices or as a free kernel for developers, Aurasma uses advanced image and pattern recognition to recognize and understand real-world images and objects in much the same way as the human brain does. It then seamlessly blends the real-world with rich interactive content such as videos and animations called "Auras". Auras can be created for printed images, product packaging, clothing, physical places and users can even use the app to create and share their own.
Since its launch in June 2011, Aurasma has had more than three million downloads. Over 3,000 partners in markets including retail, fashion, sport, automotive, consumer electronics, entertainment, advertising and publishing are using the free technology in their campaigns, on their products or embedding the technology in their own applications. Aurasma was developed by and is part of software company Autonomy – an HP Company.
PEGGY GETS HER OWN TRICKED OUT CAR IN LATEST AGENT CARTER SNEAK PREVIEW
11/30/15 @ 12:36 pm EST
Source:
Comicbook
| Categories:
Marvel
|
Comments
(0) |
E-mail Article
|
Add a Comment
Marvel has released "The Next Big Thing" promo for Season 2 of
Agent Carter
.
Yeah, James Bond has had many gadget-filled cars that could fire missiles and whatnot, and even Phil Coulson has his flying car named Lola, but do either one of them have a car that comes equipped with a champagne bottle and glasses? Nope, didn't think so! Peggy Carter (Hayley Atwell) does! Now she just needs to figure out which button works the stereo.
Check it out in the video here:
https://youtu.be/YOUqVrDIkwQ
STAR WARS: THE FORCE AWAKENS ON THE SET FEATURETTE:
11/30/15 @ 12:33 pm EST
Source:
Comicbook
| Categories:
Star Wars
|
Comments
(0) |
E-mail Article
|
Add a Comment
Disney Channel has released their latest on the set featurette and this one features John Boyega discussing his role in
Star Wars: The Force Awakens
. There's also some cool new behind-the-scenes footage.
"Finn is a stormtrooper," Boyega begins. "There is this feeling in him, that I want to mean something more. I want to find the good in myself. So the decision is to leave his stormtrooper days behind. That leads him to meeting Rey and they embark on this journey together."
What's it like being in a
Star Wars
movie? "Everyday we are filming the most vital scenes to the Star Wars universe and having fun doing it," he replied.
Check it out in the video here:
https://youtu.be/dAWUBXlS8Z0
NEXT WEEK ON DOCTOR WHO – HELL BENT – THE SERIES FINALE
11/30/15 @ 12:29 pm EST
Source:
Bleeding Cool
| Categories:
Doctor Who
|
Comments
(0) |
E-mail Article
|
Add a Comment
Not to be watched until you have seen tonight's episode of
Doctor Who, Heaven Sent…
Here's the trailer for
Hell Bent.
Trailer:
https://youtu.be/ZYuP8Afmuvc
HAS NYGMA SAID TOO MUCH? LATEST CLIP FROM GOTHAM FALL FINALE
11/30/15 @ 12:26 pm EST
Source:
Bleeding Cool
| Categories:
Gotham
|
Comments
(0) |
E-mail Article
|
Add a Comment
Tomorrow night is
Gotham's
second season fall finale and a lot of the seasons story lines are coming to a head.
Alfred Pennyworth
,
Lucius Fox
and
Harvey Bullock
try to convince
Captain Barnes
to go after
Galavan
with no luck, so the three talk about needing
Jim Gordon
… which leads to
Edward Nygma's
riddle compulsion causing him another potential problem. Seems Lucius is pretty good at riddles too.
Gotham
airs Mondays at 8 PM on
Fox
.
Video:
https://www.youtube.com/watch?feature=player_embedded&v=Hxb55Cehsts
STEPHEN AMELL ON THAT GRAVE FLASHFORWARD ON ARROW
11/30/15 @ 12:23 pm EST
Source:
Bleeding Cool
| Categories:
Arrow
|
Comments
(0) |
E-mail Article
|
Add a Comment
During his recent appearance at Heroes & Villains Fan Fest in San Jose,
Arrow
star
Stephen Amell
commented on the flashfoward scene at the end of the season four premiere. The moment saw Oliver Queen standing over a grave with Barry Allen asking if he was okay. It's a moment looming throughout the season, if not directly addressed since. And though fans speculate on the identity of the deceased, it continues to be a mystery — even to Amell.
"That's not for me to know. That's for our producers to know," said the actor. "It's only for me to know if and when I need to do something if we end up doing another flash forward in the show." In order to shoot the scene, there were a few general details he needed to know. "I just needed to simply know that the person I wanted to kill was a him and that the person that was in the grave was someone I cared a lot about," Amell explained. "That's all I needed to know. I don't need to know the specifics until if and when we shoot another flash forward scene if there was something else that I had to say."
MORE WONDER WOMAN SET PHOTOS
11/30/15 @ 12:19 pm EST
Source:
Bleeding Cool
| Categories:
Wonder Woman
|
Comments
(0) |
E-mail Article
|
Add a Comment
The Daily Mail (via Heroic Hollywood) has published a number of photos from the set ofWarner Bros.' upcoming Wonder Woman. The pics feature stars Gal Gadot, Chris Pine and actor Ewan Bremner in period costumes.


JUSTICE INC,: THE AVENGER SHOWS US HOW TO MAKE AN IMPRESSIVE ENTRANCE
11/30/15 @ 12:09 pm EST
Source:
Bleeding Cool
| Categories:
Dynamite
|
Comments
(0) |
E-mail Article
|
Add a Comment
If nothing else, you can say that Richard Benson knows how to make an entrance. The below process art for Justice Inc. The Avengers #6 by Ronilson Freire shows The Avenger busting into a room by kicking a guy into a hanging lamp. That's a pretty unique move. The action here is based on a script by Mark Waid and Christopher Sequeira.

For more information on Justice Inc.: The Avenger #6, click here.


10 PET TOYS OF THE WALKING DEAD – FROM SEVERED ARMS TO WELL WALKERS
11/30/15 @ 12:05 pm EST
Source:
Bleeding Cool
| Categories:
Walking Dead
|
Comments
(0) |
E-mail Article
|
Add a Comment
Walking Dead
may dominate screens with two television series and a webisode, comic books with one of the best selling series and the best selling collections, and extending its reach into novels, games, toys, statues and more… but there's still one place it hasn't dominated. Until now.
The pet store. Because every
Walking Dead
fan needs to extend their love of the show/comic/game/ap to their faithful friend.
Here are ten
Walking Dead
toys and accessories currently on sale.
The Daryl Collar with Bandana. Because men of a certain type with a certain dog love Daryl.
A Daryl Leash, if the bandana is just too fancy.
A Daryl Wings Dog T-shirt as the weather begins to nip.
Daryl's Squirrels On A Rope Plush Tug Toy. Seriously this is an officially sanctioned item. ouldn't your dog prefer real squirrels to rip apart?
Fight The Dead, Fear The Living Leash when ypu just want to spread the fear…
A Severed Walker Arm Tug Toy. Again, this is considered a perfectly acceptable toy for pets. Maybe you can train them up to the real thing.
The Gvernor Plush Chew Toy so you can re enact his death scene again and again.
Walker Bait Dog T-Shirt if you want to make your dog a target
.
A Well Walker Plush Tug Toy for the more esoteric Walking Dead reference.
That's all for now, but what other possibilities could there be? A Whining Carl plush toy? A Rick Sheriff dog hat? Lucille?
CONTRIBUTORS OF MARS – ARIEL MEDEL DRAWS FANS INTO THE WORLD OF JOHN CARTER
11/29/15 @ 11:58 pm EST
Source:
Bleeding Cool
| Categories:
Dynamite
|
Comments
(0) |
E-mail Article
|
Add a Comment
One of
Dynamite's
first digital bundles with
Groupees
had some prizes attached to it and some of those are coming to fruition. This pin-up from
John Carter: Warlord of Mars #14
features top contributors
Roman Brooke
,
Ross Jenkins
and
David Mitchell
by artist
Ariel Medel
.
The current Groupees bundle,
Women of Dynamite
, has been extended and can be
seen here
.
THE WALKING DEAD CAST WISHES YOU HAPPY HOLIDAYS
11/29/15 @ 11:52 pm EST
Source:
Comicbook
| Categories:
Walking Dead
|
Comments
(0) |
E-mail Article
|
Add a Comment
AMC has released a video in which members of
The Walking Dead
cast wish their fans a happy holidays.
Holiday season is upon us, making it the perfect time for Josh McDermitt (Eugene Porter), Christian Serratos (Rosita Espinosa), Norman Reedus (Daryl Dixon), Danai Gurira (Michonne) and Steven Yeun (Glenn Rhee) to tell us their perfect holiday, favorite traditions and to express gratitude to their loyal fans.
Check it out in the video here:
https://youtu.be/FOYsrntFJj4