MARVEL AND AURASMA UNVEIL "MARVEL AUGMENTED REALITY" AT SXSW
03/12/12 @ 1:32 pm EST
Source:
Marvel
|
Comments
(0) |
E-mail Article
|
Add a Comment
"Avengers VS X-Men" Spurs Historic First Major Comic Book AR Initiative
Yesterday, at the SXSW Interactive Festival, Marvel Entertainment unveiled
Marvel AR
, the first major augmented reality app from a comic book company. As part of the recently announced
Marvel ReEvolution
, which brings the world of print and digital media together for a comics experience like never before, the
Marvel AR
app powered by Aurasma will be released on April 2 for iOS and Android devices. Fans can first discover the power of this new app in
Avengers VS X-Men #1
, arriving in comic stores on April 4 and kicking off the comic book event of the year in which the world's most popular Super Heroes go to war!
By opening this app and scanning select Marvel products featuring the
Marvel AR
logo, you'll unlock exclusive content starring the world's most popular super heroes -- including Iron Man, Thor, Captain America, Spider-Man, Wolverine, Hulk and many others! Go behind the scenes of your favorite comics, see new footage, hear from creators, get caught up on past events and more!
"It's time to join the
Marvel ReEvolution
, as we bring the worlds of print and digital media together for an unprecedented fan experience," said Peter Phillips, senior vice president and general manager, Marvel Digital Media Group. "Avengers
VS X-Men
is the biggest story we've ever told and teaming with Aurasma allows us to bring our fans a deeper experience when they purchase select Marvel comics and other Marvel products. Just wait till you see what we've planned!"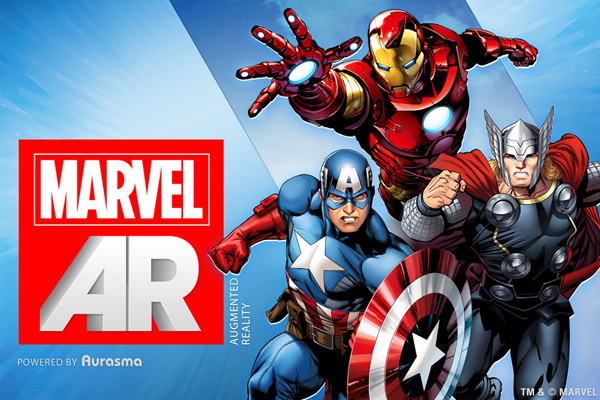 Marvel partnered with Aurasma, the world's leading augmented reality platform, to create a mobile experience designed to empower fans to discover a new world of content that brings their favorite Super Heroes to life through tablets and mobile devices. Aurasma's cutting-edge image recognition technology enables the
Marvel AR
app to recognize images in new Marvel comic books, promotional posters and other merchandise, seamlessly augmenting the images with interactive virtual content such as videos, animations and more.
"Marvel is no stranger to digital media and is once again making history, this time by using Aurasma's transformative technology to bridge the physical world with the virtual," said, David Stone, Aurasma's director of client services. "What better way to excite and engage fans than to give them the power to interact with all of their favorite characters in a new way?"
Aurasma's free platform unlocks a whole new dimension for partners to creatively enhance the real world. In this case, comic books will reach new depths by unleashing coveted and fan-pleasing content like director and editor commentary and other special features, only accessible through the
Marvel AR
app.
The
Marvel AR
companion app, powered by Aurasma, will be available for free in April at the Apple App Store and Android Market.
ABOUT MARVEL
: Marvel Entertainment, LLC, a wholly-owned subsidiary of The Walt Disney Company, is one of the world's most prominent character-based entertainment companies, built on a proven library of over 8,000 characters featured in a variety of media over seventy years. Marvel utilizes its character franchises in entertainment, licensing and publishing. For more information, visit
www.marvel.com
.
ABOUT AURASMA
: Aurasma is the world's first visual browser – a new augmented reality technology that merges the physical world with the virtual. Available as a free app for iPhone 3GS, 4, 4S, iPad2 and high-powered Android devices or as a free kernel for developers, Aurasma uses advanced image and pattern recognition to recognize and understand real-world images and objects in much the same way as the human brain does. It then seamlessly blends the real-world with rich interactive content such as videos and animations called "Auras". Auras can be created for printed images, product packaging, clothing, physical places and users can even use the app to create and share their own.
Since its launch in June 2011, Aurasma has had more than three million downloads. Over 3,000 partners in markets including retail, fashion, sport, automotive, consumer electronics, entertainment, advertising and publishing are using the free technology in their campaigns, on their products or embedding the technology in their own applications. Aurasma was developed by and is part of software company Autonomy – an HP Company.
HOW MANY FACES CAN YOU RECOGNIZE FROM MIKE ALLRED'S "SILVER SURFER" #5 COVER?
02/12/16 @ 8:55 pm EST
Source:
Comic Book Resources
| Categories:
Silver Surfer
|
Comments
(0) |
E-mail Article
|
Add a Comment
Marvel Comics Editor-in-Chief Axel Alonso shared artist Mike Allred's cover to May's "Silver Surfer" #5 via Twitter on Friday, and the image features likenesses of dozens of recognizable faces from the comics industry -- including Silver Surfer creators Stan Lee and Jack Kirby, Neil Gaiman, Gerard Way, Kelly Sue DeConnick, Matt Fraction, Jim Lee, Darwyn Cooke, KyleBaker, Steven T. Seagle, Jim Steranko, Tom Brevoort, Kevin Smith, Shelly Bond, Michael Cho, Frank Miller, Frank Cho, Jamie S. Rich and Alonso himself. And that's just a few!
ATOM AND HEAT WAVE IN CHAINS IN NEW "LEGENDS OF TOMORROW" PHOTOS
02/12/16 @ 8:51 pm EST
Source:
Comic Book Resources
| Categories:
DC
|
Comments
(0) |
E-mail Article
|
Add a Comment
The next stop on the time-traveling adventure of "DC's Legends of Tomorrow" is 1986, with members of the squad captured and imprisoned in a Russian gulag in the midst of the Cold War. In 15 new images released by The CW, the team does not seem to love the '80s -- especially Heat Wave (Dominic Purcell) and Atom (Brandon Routh), both seen in chains.
"DC's Legends of Tomorrow" airs 8 p.m. Thursdays on The CW. Here's the official synopsis of "Fail-Safe":
HOW THE FLASH RAN ACROSS HELICOPTER BLADES
02/12/16 @ 8:31 pm EST
Source:
Bleeding Cool
| Categories:
Flash
|
Comments
(0) |
E-mail Article
|
Add a Comment
Special Effects supervisor
Armen Kevorkian
is back talking about some of the visual effects we've seen in
The Flash
. He shows us how they made
Weather Wizard
fly,
Barry Allen
jump across helicopter blades and make
Tar Pit
look really cool. This is also an easy way to show the differences between the visuals of
Arrow
and
The Flash
as here we focus on the effects but with Arrow it's about the practical stunts.
The Flash
airs Tuesdays at 8 PM on the
CW
.
Video:
https://www.youtube.com/watch?feature=player_embedded&v=HDEHDnJ_HQA
ZOOM IS COMING – NEW FLASH TRAILER TEASES REST OF THE SEASON
02/12/16 @ 8:24 pm EST
Source:
Bleeding Cool
| Categories:
Flash
|
Comments
(0) |
E-mail Article
|
Add a Comment
The
CW
has just released a new trailer for the rest of
The Flash
season 2. This shows us many snippets including
Earth-2 Barry Allen
trying to inspire Barry of Earth-1,
Jay Garrick
using his speed again,
Zoom
coming through the wall of
Harrison Well's
old secret room and a woman red leather, wearing a red domino mask and carrying a gun… oh, and more
King Shark
. Looks like things are going to be crazy from here on out.
The Flash
airs Tuesdays at 8 PM on the CW.
Trailer:
https://youtu.be/My9uSscBO8E
FOX ORDERS LETHAL WEAPON PILOT WITH DAMON WAYANS AS MURTAUGH
02/12/16 @ 8:21 pm EST
Source:
Bleeding Cool
| Categories:
MIsc
|
Comments
(0) |
E-mail Article
|
Add a Comment
Deadline reports that
Fox
has ordered an hour-long pilot based on the
Warner Bros.
Lethal Weapon
film series.
Damon Wayans
will play Roger Murtaugh, the part originally played by
Danny Glover
in all four of the
Lethal Weapon
films from 1987 to 1998. No one has yet been cast as Martin Riggs, the part originated by
Mel Gibson
.
As in the original film, written by
Shane Black
and directed by
Richard Donner
, Murtaugh will be partnered up with a loose cannon detective who might be suicidal. Unlike the backstory of the films, Riggs will be a recent transplant from Texas following the deaths of his wife and child. Murtaugh, meanwhile, will have recently suffered a mild heart attack and will be under orders to avoid too much stress.
Charlie's Angels
feature director
McG
will direct the pilot.
KATE BEATON'S POSTER FOR 2016 TORONTO COMIC ART FESTIVAL – BE WHO YOU WANT TO BE
02/12/16 @ 8:17 pm EST
Source:
Bleeding Cool
| Categories:
MIsc
|
Comments
(0) |
E-mail Article
|
Add a Comment
The Toronto Comic Arts Festival is on May 14th and 15th. And its official poster is by bestselling comic book creator Kate Beaton.
The show tells us that "this poster will also be produced on a slightly thicker and more rigid paper stock, so that any of you out there that want to actually cut up and play with your poster will be able to do so.
MARVEL LAUNCHES BLACK PANTHER #1 WITH RETAILER EXCLUSIVE VARIANTS
02/12/16 @ 8:14 pm EST
Source:
Bleeding Cool
| Categories:
Black Panther
|
Comments
(0) |
E-mail Article
|
Add a Comment
It started with IDW's launch of the
Godzilla
comic. DC Comics recently adopted it for the launch of
Dark Knight III
. And Image banned it for any of their single issues.
But the retailer exclusive cover, where a store or a show or a subscription box pay for hundreds or thousands of comics with their own store-specific cove has proved rather popular. Initially at least.
Well, Marvel is now launching
Black Panther
#1 with a series of retailer exclusive variant covers. By
Ta-Nehisi Coates
and
Brian Stelfreeze
, "A Nation Under Our Feet" is a story about dramatic upheaval in Wakanda and the Black Panther's struggle to do right by his people as their ruler.
And now each retailer can put their logo over a cover of their choice for it.
This is a prestigious moment from Marvel. The last Marvel issue to get the honor was the upcoming C-3PO Special.
DYNAMITE IS GIVING AWAY THEIR LATEST HUMBLE BUNDLES
02/12/16 @ 8:01 pm EST
Source:
Bleeding Cool
| Categories:
Dynamite
|
Comments
(0) |
E-mail Article
|
Add a Comment
Dynamite Entertainment
has recently announced they were doing another deal with
Humble Bundle
focused on their
Best-Selling Writers
like
George R R Martin
,
Neil Gaiman
,
Charlaine Harris
,
Jim Butcher
and more. The current bundle is available here for the pay-what-you-want price.
But Dynamite has also announced they will be giving one bundle a day away between now and Wednesday February 24th to followers of their
Twitter account
. And we're talking the top of the line bundle that you normally have to pay over $15 for. They will tweet once a day with the hashtag #bundleofdynamite… clever eh? Then the fifth person to retweet that post wins the bundle.
So follow Dynamite on twitter and look for the hashtag to get over 120 digital comics from their top writers.
GRIM GRINNING GHOSTS GALORE IN YOUR FIRST LOOK AT HAUNTED MANSION #1
02/12/16 @ 5:45 pm EST
Source:
Marvel
| Categories:
Disney
|
Comments
(0) |
E-mail Article
|
Add a Comment
The world famous attraction haunts Marvel Comics this March! And the residents are just
dying
to meet you! Today, Marvel Entertainment and Walt Disney Imagineering are proud to present your first look inside
HAUNTED MANSION #1
, the newest Disney Kingdoms limited series! Step inside foolish mortals, as rising comic stars Joshua Williamson (
Illuminati, Nailbiter
) and Jorge Coelho (
Loki: Agent of Asgard, Polarity
) throw open the doors of the mansion for a delightfully chilling thrill ride!
It seems that no one lives in the elegant mansion on the hill…but where then is that eerie organ music come from? Are its iron gates meant to keep people out…or keep some things in? Filled with wall-to-wall creeps and hot and cold running chills, the happy haunts of the Haunted Mansion come to (after)life like never before! Get ready to meet the 999 spooks lingering within. But be warned, they're looking for the 1000th!
Crypt doors will creak, and tombstones will quake. And the next spine-tingling Disney Kingdoms adventure is about to begin. What terrifying secrets lie deep within the mansion? Hop in your Doom Buggy and find out when
HAUNTED MANSION #1
materializes in your local comic shop and on digital devices this coming March!
HAUNTED MANSION #1 (JAN160749)Written by JOSHUA WILLIAMSON
Art by JORGE COELHO
Cover by E.M. GISTVariant Covers by BRIAN CROSBY (JAN160750) and SKOTTIE YOUNG (JAN160751)Action Figure Variant by JOHN TYLER CHRISTOPHER (JAN160752)FOC – 02/15/16, On-Sale – 03/09/16
"SCORPIO RISING" STARTS NOW! YOUR FIRST LOOK AT AMAZING SPIDER-MAN #9
02/12/16 @ 5:42 pm EST
Source:
Marvel
| Categories:
Amazing Spider-Man
|
Comments
(0) |
E-mail Article
|
Add a Comment
Strap in webheads because the webswinging wallcrawler is in for yet another action-packed story arc! Today, Marvel is pleased to present your first look at
AMAZING SPIDER-MAN #9
– the first chapter of "Scorpio Rising"! You thought Mr. Negative and Cloak & Dagger were tough? You ain't seen nothing yet! Writer Dan Slott and artist Giuseppe Camuncoli put Peter Parker through the wringer as he faces down the remains of the international terrorist organization known as
THE ZODIAC
! Scorpio has put his master plan into action. It's all been leading to this! If he succeeds, there's no way Spider-Man or ANYONE for that matter will be able to stop him. It's a race against time across Europe as Spider-Man and his allied hunt down Scorpio before it's too late. Jump on board the series everyone is talking about when "Scorpio Rising" kicks off this March in
AMAZING SPIDER-MAN #9
!
AMAZING SPIDER-MAN #9 (JAN160833)Written by DAN SLOTTArt by GIUSEPPE CAMUNCOLICover by ALEX ROSSWomen of Power Variant by TULA LOTAY (JAN160834)Story Thus Far Variant by GIUSEPPE CAMUNCOLI (JAN160835)Artist Variant by BOB MCLEOD (JAN160836)FOC – 02/15/16, On-Sale – 03/09/16