MARVEL ENTERTAINMENT & ABC STUDIOS ANNOUNCE ALL-NEW "CASTLE" HARDCOVER GRAPHIC NOVEL
03/12/12 @ 3:31 pm EST
Source:
Marvel
|
Comments
(0) |
E-mail Article
|
Add a Comment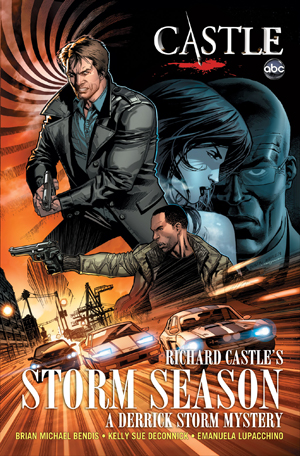 Sequel To New York Times Best-Selling Original Graphic Novel Based on ABC Primetime Hit Series Arrives October 2012
Marvel Entertainment and ABC Studios are proud to announce Castle: Richard Castle's Storm Season, an all-new hardcover graphic novel inspired by the popular "Castle"
television series. This 112 page hardcover, based the titular novel from noted author Richard Castle, hits comic shops, the
Marvel Comics app
,
iBookstore
, Nook Bookstore and everywhere books are sold on October 17th, 2012.
Private Investigator Derrick Storm is hired to bug the hotel suite of an African head of state, but this routine mission quickly spirals out of control when Storm overhears a woman's terrifying scream on the wire. Plagued by the victim's helpless cry, Storm—despite an ominous warning—investigates the truth. Soon he'll discover an international conspiracy reaching further than he ever imagined…and perhaps the truth about Clara Strike, a CIA Agent the world thinks is dead.
"As a comic book fan, I couldn't be more excited about Brian and Kelly Sue bringing Derrick Storm to life once again in Storm Season" said Richard Castle. "Storm is a character near and dear to my heart, so I wouldn't trust him with many people, but he is in some incredibly capable hands with this team."
This is the second "Castle" original graphic novel to be released through a collaborative effort between Marvel, ABC Studios and the producers of "Castle." In 2011, Castle: Richard Castle's Deadly Storm dominated sales charts and garner worldwide acclaim.
"Marvel has done an amazing job of bringing Derrick Storm to a new audience and we're thrilled to keep the magic going with this next graphic novel." said Andrew W. Marlowe, "Castle" creator/executive producer. "Fans can look forward to another fantastic adventure, filled with page-turning excitement. Storm Season is Richard Castle at his finest."
Castle: Richard Castle's Storm Storm reunites the lauded writing duo of Brian Michael Bendis & Kelly Sue DeConnick (Richard Castle's Deadly Storm) for their second Castle story. They're joined by rising star artist Emanuela Lupacchino (X-Factor), whose dynamic interior artwork brings the world of Derrick Storm to life like never before. This original graphic comes wrapped in a stunning cover by acclaimed artist Dustin Weaver (S.H.I.E.L.D.).
"The Derrick Storm novels are full of action, intrigue and compelling characters—it's no surprise that our graphic novel adaptations have taken the literary world by storm!" said Axel Alonso, Marvel Entertainment Editor in Chief. "Castle: Richard Castle's Storm Season will be one of the most exciting graphic novels you read all year, whether you're a longtime fan of Richard Castle or new to his exciting stories."
CASTLE: RICHARD CASTLE'S STORM SEASON
Written by BRIAN MICHAEL BENDIS & KELLY SUE DECONNICK
Art by EMANUELA LUPACCHINO
Cover by DUSTIN WEAVER
Rated T+…$19.99
ON SALE OCTOBER 17, 2012
"Castle" stars Nathan Fillion as Richard Castle, Stana Katic as NYPD Detective Kate Beckett, Susan Sullivan as Martha Rodgers, Molly Quinn as Alexis Castle, Ruben Santiago-Hudson as NYPD Captain Roy Montgomery, Tamala Jones as Medical Examiner Lanie Parish, Jon Huertas as NYPD Detective Javier Esposito, and Seamus Dever as NYPD Detective Kevin Ryan.
"Castle" is produced by ABC Studios. Andrew Marlowe is the show's creator/executive producer, along with executive producers Rob Bowman, David Amann, Laurie Zaks and Armyan Bernstein.
ABOUT MARVEL ENTERTAINMENT
: Marvel Entertainment, LLC, a wholly-owned subsidiary of The Walt Disney Company, is one of the world's most prominent character-based entertainment companies, built on a proven library of over 8,000 characters featured in a variety of media over seventy years. Marvel utilizes its character franchises in entertainment, licensing and publishing. For more information visit
www.marvel.com
ABOUT ABC STUDIOS
: ABC Studios, part of ABC Entertainment Group develops and produces compelling programming for both broadcast network and cable television as well as digital platforms. ABC Studios has delivered some of the most successful, talked-about and evolutionary series on television such as
Desperate Housewives
,
Grey's Anatomy, Lost, Criminal Minds, Army Wives
and
Brothers
&
Sisters
.
WATCH ROBERT DOWNEY JR. & CHRIS EVANS REVEAL CAPTAIN AMERICA: CIVIL POSTER AND TRAILER
11/25/15 @ 7:29 pm EST
Source:
Comicbook
| Categories:
Captain America
|
Comments
(0) |
E-mail Article
|
Add a Comment
Last night during
Jimmy Kimmel Live
, actors Robert Downey, Jr. and Chris Evans, who play Iron Man and Captain America in the Marvel Cinematic Universe, went to the show with the promise of a special surprise.
Of course, they did it with a slow burn. While you've probably seen the trailer itself a good twenty or thirty times by now, you may have missed their presentation of it all.
Video:
https://youtu.be/2qtmEicFfAw
First, they talked about their next film together,
Captain America: Civil War
, which pits the two heroes, plus their own teams of Avengers, against each other. Then, it came to Downey, first.
"I'm very surprised, but I've been authorized to give you, the audience," he said with some hesitation for effect, "the official one sheet poster for Captain America: Civil War."
You could actually feel, over TV, the air leaving the room. And that's when Cap stepped in to save the day.
"Now that's nice; I came with a surprise too. I think if I give my surprise, I've gotta be in seat A," Evans joked, switching seats. "I brought the teaser! Can we show it?"
With that, the trailer ran, and the world collectively lost their minds over Black Panther.
CROSSBONES SPOTTED IN CAPTAIN AMERICA: CIVIL WAR TRAILER
11/25/15 @ 7:22 pm EST
Source:
Comicbook
| Categories:
Captain America
|
Comments
(0) |
E-mail Article
|
Add a Comment
In the first , several characters aren't seen... Spider-Man, Ant-Man, and the Vision are all missing in action.
However, one character, a villain in this case, managed to slip by without being noticed for a little while. But we got him!
Frank Grillo's Crossbones can be seen in the
Captain America: Civil War
trailer, presumably in pursuit of Bucky (at least, the trailer makes it seem that way).
Frank Grillo first appeared as Brock Rumlow in the Marvel Cinematic Universe in 2014's
Captain America: The Winter Soldier
. His character was left badly burned and some presumed him dead but his character is returning with a vengeance, come
Civil War
.
RED TORNADO TOUCHES DOWN IN NEW SUPERGIRL
11/25/15 @ 7:18 pm EST
Source:
Comicbook
| Categories:
DC
|
Comments
(0) |
E-mail Article
|
Add a Comment
Red Tornado wreaks havoc in new trailer and clips from Monday's all-new
Supergirl
episode: "Red Faced."
Personal and professional stress get the better of Kara when she goes too far during a training exercise against Red Tornado, a military cyborg commissioned by Lucy Lane's father, General Sam Lane. Also, Cat's tough exterior is shaken by a visit from her judgmental mother, Katherine, and Alex enlists Winn to look into her father's mysterious death.
Check out the trailer in the video here:
https://youtu.be/JKfqBWmdte0
Clip 1:
https://youtu.be/Tg6wFXM-xIw
Clip 2:
https://youtu.be/uKe9vBct6nE
Clip 3:
https://youtu.be/T_ntSVJUKRk
ROBERT DOWNEY JR. HAD HIS FURNITURE SHIPPED IN FOR CAPTAIN AMERICA: CIVIL WAR
11/25/15 @ 7:11 pm EST
Source:
Comicbook
| Categories:
Captain America
|
Comments
(0) |
E-mail Article
|
Add a Comment
In a move that sounds right out of his character's own playbook, Robert Downey Jr. had his home furniture shipped to Atlanta during filming ofCaptain America: Civil War.

He clarified on Jimmy Kimmel Live that the decision to ship his stuff was so that his family and his cats could have all the familiar comforts of home.

Kimmel Live clip: https://youtu.be/1Q9uPyuxOhI

Marvel's Captain America: Civil War finds Steve Rogers leading the newly formed team of Avengers in their continued efforts to safeguard humanity. But after another incident involving the Avengers results in collateral damage, political pressure mounts to install a system of accountability, headed by a governing body to oversee and direct the team. The new status quo fractures the Avengers, resulting in two camps—one led by Steve Rogers and his desire for the Avengers to remain free to defend humanity without government interference, and the other following Tony Stark's surprising decision to support government oversight and accountability.
CAP: CIVIL WAR - RUSSO BROTHERS CONFIRM SOKOVIA ACCORDS ARE THEIR SUPERHUMAN REGISTRATION ACT
11/25/15 @ 7:05 pm EST
Source:
Comicbook
| Categories:
Captain America
|
Comments
(0) |
E-mail Article
|
Add a Comment
In a trailer analysis interview,
Empire
got the first word from the Russo Brothers, directors of
Captain America: Civil War
.
Now that some footage is out there, the questions and speculation can begin in earnest. Perhaps chief amongst them has been what form the Superhuman Registration Act from the comic books would take, one of our six biggest questions from the trailer.Now, the Russos have confirmed that the Sokovia Accords seen in the trailer are their version of the document. Sokovia is the city that was going to be used as a bomb by Ultron - it wound up being evacuated and blown up, but that's still an
entire city
wiped off the map as colateral damage.
"We're using the essence of what
Civil War
was about," says Joe Russo. "The comic book isn't applicable to the storytelling that we've structured up to this point, but the concept of registration, the notion that heroes need to be either monitored or controlled because their power can be scary, is applicable."
That's of course also referring to the fact that the comic book story was centered mostly on secret identities. Outside of, kind-of Ant-Man and the incoming Spider-Man, no one has a secret ID in the Marvel Cinematic Universe, and it's certainly not an issue they can go to war over.
"The Accords are the world jointly trying to govern the Avengers moving forward," Russo continues. "It has to do with the effects of Ultron and Sokovia, and New York City [roundly trashed at the end of
The Avengers
], and Washington D.C. [nearly devastated by falling helicarriers at the end of
Captain America: The Winter Soldier
]. Examining the third acts of all the Marvel movies, we're saying, if you could point to the collateral damage in all those incidents, could you use that against the Avengers to control them?"
His brother and co-director Anthony Russo also promises the stakes are considerably raised.
"You have to pit him against the establishment, only this time it's even graver consequences and even graver stakes than in
Winter Soldier
. In
Winter Soldier
, he was on the side of right because the establishment had been corrupted by a very evil organisation. In this movie, it's just the establishment versus Captain America and he has to make a choice whether or not he can tolerate the establishment any longer."
IZOMBIE: THE HURT STALKER CLIP RELEASED
11/25/15 @ 7:00 pm EST
Source:
Comicbook
| Categories:
MIsc
|
Comments
(0) |
E-mail Article
|
Add a Comment
The CW has released a clip from "The Hurt Stalker," the upcoming December 1st episode of
iZombie
.
Detective Clive Babineaux (Malcolm Goodwin) drops by the morgue and he has brought Po' boy sandwiches for his two best crime-solving buddies Liv (Rose McIver) and Ravi (Rahul Kohli).
You can check it out in the video here:
https://youtu.be/pRNYicZ8oNA
MARVEL'S AGENTS OF S.H.I.E.L.D.: QUAKE SYMPATHIZES WITH WARD IN
11/25/15 @ 6:57 pm EST
Source:
Comicbook
| Categories:
SHIELD
|
Comments
(0) |
E-mail Article
|
Add a Comment
Marvel's
Agents of S.H.I.E.L.D.
will return next week with an all-new episode, "Closure," and here's a clip.
First, Grant Ward (Brett Dalton) betrayed S.H.I.E.L.D. and now he is seeking revenge against the agency. In this clip, we see Director Phil Coulson (Clark Gregg) probing Daisy/Quake (Chloe Bennet) to see if she is ready to take on her former mentor.
Check out the sneak peek in the video here:
https://youtu.be/53cTwquo3aY
A LOOK INSIDE WILL EISNER'S THE SPIRIT #5
11/25/15 @ 6:49 pm EST
Source:
Bleeding Cool
| Categories:
Dynamite
|
Comments
(0) |
E-mail Article
|
Add a Comment
Here we have some of the interior art for Will Eisner's The Spirit #5 from Dynamite. It's based on a script by Matt Wagner and features art by Dan Schkade and colors by Brennan Wagner. We get to see the crisp clean lines of Schkade and then how Wagner's colors makes things pop.

For more information on Will Eisner's The Spirit #5, click here.


"DARK KNIGHT III: THE MASTER RACE" #1 REVEALS MAJOR STATUS QUO SHIFT
11/25/15 @ 6:32 pm EST
Source:
Comic Book Resources
| Categories:
Batman
|
Comments
(0) |
E-mail Article
|
Add a Comment
SPOILER WARNING:
This article contains major spoilers for "Dark Knight III: The MasterRace" #1, on sale now.
Since the series was initially announced earlier this year, the plot details of DC Comics' much-hyped Dark Knight III: The Master Race" have been kept a closely guarded secret, with only the vaguest hints given in interviews and advance solicitations. The first issue, out today, reveals at least one major part of the puzzle: The Batman of "Dark Knight III" #1 isn't Bruce Wayne at all, because Bruce Wayne is dead -- at least according to the new Dark Knight, Carrie Kelley.

In the issue, co-written by "Dark Knight" architectFrank Miller and Brian Azzarello with art by Andy Kubert and Klaus Janson, Batman resurfaces in Gotham City for the first time in three years. At the close of the issue, following a brutal fight with multiple members of the Gotham City Police Department, an outnumbered but defiant Batman is unmasked by Commissioner Yindel -- and is revealed to be Carrie Kelley, Miller's Robin in 1986's "The Dark Knight Returns" and Catgirl in 2001-2002's "The Dark Knight Strikes Again." Her line of dialogue that closes the issue adds a second surprise: "Bruce Wayne is dead."

"I just think the suit looks a lot better on a girl," Miller joked in an interview with the New York Post, also stating, "Carrie is Batman's equal."

With seven issues still left to go in "Dark Knight III," it's clear there's much more to this story to tell, and a much larger picture of Bruce Wayne's fate yet to unfold. In fact, Miller himself has already made it clear that Bruce Wayne is not actually dead, even if the back cover of the first issue contains the quote, "A good death? There's no such thing..."

"These decisions I was not really a part of," Miller told MTV.com, in one of several recent interviews where he's downplayed his involvement in co-writing the series. "I helped Brian with the story a great deal. You save the best line of the first issue for the last panel. I'm not quite sure where he's headed with this. I do know one thing for certain… She's lying. [Laughs]"

Miller further talked of his affection for Carrie Kelley in USA Today. "I just love her," he said. "She's my Nancy Drew. She's like my fictional daughter -- not being a parent, it's the closest I'm going to get."

"Dark Knight III: The Master Race" #1 is on sale now. The second issue is scheduled for release on Dec. 23.
DC SUPERHERO MOVIES WILL AIM FOR PG-13 RATING
11/25/15 @ 6:27 pm EST
Source:
Comic Book Resources
| Categories:
DC
|
Comments
(0) |
E-mail Article
|
Add a Comment
Warner Bros.' slate of superhero movies may have a darker tone, but don't expect them to move into R-rated territory.
Producer Charles Roven has confirms the announced DC Comics films, from "Batman v Superman: Dawn of Justice" to at least through "Justice League Part Two," are intended to be rated PG-13.
"Right now the movies that we're making, the movies that have been announced by Warner Bros., I would say those are all intended to be PG-13 movies," he told Collider. "I can't tell you something may not come out of left field or we might get inspired to develop a different character, but the ones that are in front of us right now through ['Justice League Part Two' are] PG-13."
Yes, that includes director David Ayer's "Suicide Squad," which Roven previously indicated will try to steer clear of the R rating.
"We really want to make these films tonally consistent so that, as I said because this is a shared universe, at least our current thinking — and again, we're not dealing in absolutes because while this is business it's also a creative endeavor," he said earlier, "so you want to leaveyourself open to changing your mind, doing something different, being inspired, that's the whole process of filmmaking is you have to allow for inspiration as well as having a road map for what you're gonna do.
""Batman v Superman: Dawn of Justice" opens March 25, followed by "Suicide Squad" on Aug. 5.