MARVEL ENTERTAINMENT & ABC STUDIOS ANNOUNCE ALL-NEW "CASTLE" HARDCOVER GRAPHIC NOVEL
03/12/12 @ 3:31 pm EST
Source:
Marvel
|
Comments
(0) |
E-mail Article
|
Add a Comment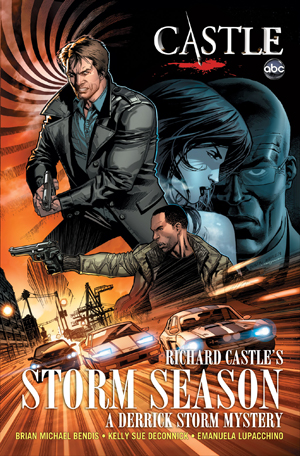 Sequel To New York Times Best-Selling Original Graphic Novel Based on ABC Primetime Hit Series Arrives October 2012
Marvel Entertainment and ABC Studios are proud to announce Castle: Richard Castle's Storm Season, an all-new hardcover graphic novel inspired by the popular "Castle"
television series. This 112 page hardcover, based the titular novel from noted author Richard Castle, hits comic shops, the
Marvel Comics app
,
iBookstore
, Nook Bookstore and everywhere books are sold on October 17th, 2012.
Private Investigator Derrick Storm is hired to bug the hotel suite of an African head of state, but this routine mission quickly spirals out of control when Storm overhears a woman's terrifying scream on the wire. Plagued by the victim's helpless cry, Storm—despite an ominous warning—investigates the truth. Soon he'll discover an international conspiracy reaching further than he ever imagined…and perhaps the truth about Clara Strike, a CIA Agent the world thinks is dead.
"As a comic book fan, I couldn't be more excited about Brian and Kelly Sue bringing Derrick Storm to life once again in Storm Season" said Richard Castle. "Storm is a character near and dear to my heart, so I wouldn't trust him with many people, but he is in some incredibly capable hands with this team."
This is the second "Castle" original graphic novel to be released through a collaborative effort between Marvel, ABC Studios and the producers of "Castle." In 2011, Castle: Richard Castle's Deadly Storm dominated sales charts and garner worldwide acclaim.
"Marvel has done an amazing job of bringing Derrick Storm to a new audience and we're thrilled to keep the magic going with this next graphic novel." said Andrew W. Marlowe, "Castle" creator/executive producer. "Fans can look forward to another fantastic adventure, filled with page-turning excitement. Storm Season is Richard Castle at his finest."
Castle: Richard Castle's Storm Storm reunites the lauded writing duo of Brian Michael Bendis & Kelly Sue DeConnick (Richard Castle's Deadly Storm) for their second Castle story. They're joined by rising star artist Emanuela Lupacchino (X-Factor), whose dynamic interior artwork brings the world of Derrick Storm to life like never before. This original graphic comes wrapped in a stunning cover by acclaimed artist Dustin Weaver (S.H.I.E.L.D.).
"The Derrick Storm novels are full of action, intrigue and compelling characters—it's no surprise that our graphic novel adaptations have taken the literary world by storm!" said Axel Alonso, Marvel Entertainment Editor in Chief. "Castle: Richard Castle's Storm Season will be one of the most exciting graphic novels you read all year, whether you're a longtime fan of Richard Castle or new to his exciting stories."
CASTLE: RICHARD CASTLE'S STORM SEASON
Written by BRIAN MICHAEL BENDIS & KELLY SUE DECONNICK
Art by EMANUELA LUPACCHINO
Cover by DUSTIN WEAVER
Rated T+…$19.99
ON SALE OCTOBER 17, 2012
"Castle" stars Nathan Fillion as Richard Castle, Stana Katic as NYPD Detective Kate Beckett, Susan Sullivan as Martha Rodgers, Molly Quinn as Alexis Castle, Ruben Santiago-Hudson as NYPD Captain Roy Montgomery, Tamala Jones as Medical Examiner Lanie Parish, Jon Huertas as NYPD Detective Javier Esposito, and Seamus Dever as NYPD Detective Kevin Ryan.
"Castle" is produced by ABC Studios. Andrew Marlowe is the show's creator/executive producer, along with executive producers Rob Bowman, David Amann, Laurie Zaks and Armyan Bernstein.
ABOUT MARVEL ENTERTAINMENT
: Marvel Entertainment, LLC, a wholly-owned subsidiary of The Walt Disney Company, is one of the world's most prominent character-based entertainment companies, built on a proven library of over 8,000 characters featured in a variety of media over seventy years. Marvel utilizes its character franchises in entertainment, licensing and publishing. For more information visit
www.marvel.com
ABOUT ABC STUDIOS
: ABC Studios, part of ABC Entertainment Group develops and produces compelling programming for both broadcast network and cable television as well as digital platforms. ABC Studios has delivered some of the most successful, talked-about and evolutionary series on television such as
Desperate Housewives
,
Grey's Anatomy, Lost, Criminal Minds, Army Wives
and
Brothers
&
Sisters
.
WILL LEX LUTHOR BE PART OF THE SUICIDE SQUAD?
10/24/14 @ 8:27 pm EST
Source:
Bleeding Cool
| Categories:
Suicide Squad
|
Comments
(0) |
E-mail Article
|
Add a Comment


Of the new slate of movies announced by Warner Bros recently, the one that stood out as unconnected to the rest was the Suicide Squad… now the connection may become clearer. Deadline is reporting that Jesse Eisenberg is in talks with WB to take his Lex Luthor character from Batman v Superman: Dawn of Justice over to the David Ayer directed villain ensemble.

Word is that Tom Hardy, Will Smith and Margot Robbie are all being sought after by the studio to be in the movie as well.

Luthor has been involved with the Suicide Squad while in the comics, but not as a member.
TOP COW'S FAMILY AFFAIR HAS ALREADY BEEN TURNED INTO A TV SHOW
10/24/14 @ 8:12 pm EST
Source:
Bleeding Cool
| Categories:
Top Cow
|
Comments
(0) |
E-mail Article
|
Add a Comment


The Hollywood Reporter reports that US showrunner Shane Brennan has got a script commitment from CBS to a new show ...

"based on the upcoming Top Cow Productions comic book Family Affair by Lavin, Damiani and Matt Hawkins. Top Cow topper Marc Silvestri and Hawkins will serve as co-exec producers. Industry Entertainment's Stephen Crawford will produce."

The show will be written by J.P. Lavin and Chad Damiani who have written the cimic book script, and is about ...

"four agents who go undercover as the perfect family for an operation that has them rooting out dangerous criminals in the suburbs while becoming an unlikely family at the same time."
LONDON SUPER CON WILL HOST CHARLIE ADLARD, LEE BERMEJO, EMANUELA LUPACCHINO, JOHN ROMITA JR. AND MORE
10/24/14 @ 8:03 pm EST
Source:
Bleeding Cool
| Categories:
MIsc
|
Comments
(0) |
E-mail Article
|
Add a Comment
London Super Con is still a few months away, running from March 14th to 15th 2015, but their first guest announcements are going out on the interwebs, and after substantial growth last year they are bringing the following creators to the show:
Charlie AdlardMahmud AsrarLee BermejoIan ChurchillYaya HanJeremy HaunEmanuela LupacchinoMichael Avon OemingMike PloogJohn Romita, Jr.Jamie Tyndall
We can definitely see the American migration here, and a particular focus on comic artists, giving the con a distinctive art flair
.
MARVEL'S AGENT CARTER ROUNDS OUT CAST WITH LYNDSY FONSECA
10/24/14 @ 7:47 pm EST
Source:
Marvel
| Categories:
Marvel
|
Comments
(0) |
E-mail Article
|
Add a Comment
With "Marvel's Agent Carter" making its way to ABC in 2015, the series has now completed its cast with Lyndsy Fonseca ("Kick-Ass" franchise, "Nikita," "Big Love") joining as Angie Martinelli!
An aspiring actress living in 1946 New York, Angie will befriend Peggy Carter (Hayley Atwell) as she herself seeks to find her place in the post-war world.
"'Marvel's Agent Carter' opens up an exciting world of new characters for us," said Jeph Loeb, Marvel's Head of Television. "Lyndsy brings a warmth and humanity to Angie, who'll be the friend Peggy needs if she's to survive the dangers that lie ahead."
"Marvel's Agent Carter," starring Captain America's Hayley Atwell, follows the story of Peggy Carter. It's 1946, and peace has dealt Peggy Carter a serious blow as she finds herself marginalized when the men return home from fighting abroad. Working for the covert SSR (Strategic Scientific Reserve), Peggy must balance doing administrative work and going on secret missions for Howard Stark all while trying to navigate life as a single woman in America, in the wake of losing the love of her life--Steve Rogers. Inspired by the feature films "Captain America: The First Avenger" and "Captain America: The Winter Soldier," along with the short "Marvel One-Shot: Agent Carter."
Starring Hayley Atwell as Agent Peggy Carter, Chad Michael Murray as SSR Agent Jack Thompson, Enver Gjokaj as SSR Agent Daniel Sousa, James D'Arcy as Edwin Jarvis, and Shea Whigham as SSR Chief Roger Dooley, "Marvel's Agent Carter" was written by Christopher Markus and Stephen McFeely. Executive producers are Tara Butters, Michele Fazekas, Christopher Markus, Stephen McFeely, Chris Dingess, Kevin Feige, Louis D'Esposito, Alan Fine, Joe Quesada, Stan Lee and Jeph Loeb.
"Marvel's Agent Carter" is produced by ABC Studios and Marvel Television.
THE AVENGERS SHATTER ANOTHER RECORD
10/24/14 @ 7:41 pm EST
Source:
Marvel
| Categories:
Avengers
|
Comments
(0) |
E-mail Article
|
Add a Comment
Earth's Mightiest Heroes returned to the spotlight this week with the brand new teaser trailer for Marvel's "Avengers: Age of Ultron," and once again obliterated records.

In just 24 hours, the first Marvel's "Avengers: Age of Ultron" trailer racked up an astonishing 34.3 million global views, smashing the previous record by over 20 million views in the same time period. What film held the previous record? Why, Marvel's "Iron Man 3," of course. Only Tony Stark can outdo Tony Stark.

But, to be honest, we couldn't do it without you. Marvel fans around the globe helped drive this unprecedented level of excitement and exuberance for the film, slated to hit theaters May 1, 2015. So a hearty thanks from the House of Ideas.

And because we believe that the best way to say thanks is to give you more, we're delivering new Marvel's "Avengers: Age of Ultron" action to your TV sets, two weeks in a row! Tune in to "Marvel's Agents of S.H.I.E.L.D." this Tuesday, October 28 at 9:00 p.m. ET on ABC to see an exclusive piece from Marvel's "Avengers: Age of Ultron." Then, on Tuesday, November 4 at 9:00 p.m. ET on ABC, tune into "Marvel 75 Years: From Pulp to Pop!" for another taste of Marvel's "Avengers: Age of Ultron"--and much more!

With that in mind, why don't you sit back and enjoy the Marvel's "Avengers: Age of Ultron" teaser trailer once again?


"PLANET OF THE SYMBIOTES" BEGINS IN GUARDIANS OF THE GALAXY #21
10/24/14 @ 7:34 pm EST
Source:
Marvel
| Categories:
Guardians of the Galaxy
|
Comments
(0) |
E-mail Article
|
Add a Comment
Brian Bendis and Marvel Young Gun artist Valerio Schiti venture where no heroes have ever gone before – to the home planet of the deadly alien symbiotes! Ever since the Venom symbiote bonded with Flash Thompson, he has wielded it as a force for good, hoping to make the Earth a safer place. Only the far reaches of space are a little out of his depth! And with the Venom costume finally reunited with its own species – where will it's allegiances lie? Trapped on a world full of hostile alien parasites, the Guardians of the Galaxy may begin to regret letting Flash Thompson join their team. Be there when the Guardians face a new horror in deep space as "Planet of the Symbiotes" kicks off in
GUARDIANS OF THE GALAXY #21
!
GUARDIANS OF THE GALAXY #21 (SEP140871) Art by VALERIO SCHITI
Cover by NICK BRADSHAW Rocket Raccoon & Groot Variant by DUSTIN NGUYEN (SEP140872)
FOC – 10/27/14, On-Sale – 11/19/14
ARCUDI "RUMBLES" WITH A SCARY SCARECROW
10/24/14 @ 7:27 pm EST
Source:
Comic Book Resources
| Categories:
Image
|
Comments
(0) |
E-mail Article
|
Add a Comment


The mind of writer John Arcudi seems like a fun mix of madness and cartoon mayhem. If you look at the characters he's created and written in his career -- from the Mask to Major Bummer to the BPRD and Abe Sapien books -- they all seem to walk a fine line between humor, horror, and high adventure. It's an eclectic mix of genre that Arcudi knows well, and it's on full display in his newest work "Rumble," an ongoing series launching from Image Comics this December.

Described as "a modern-day action fantasy series where rundown dive bars, undead kitty cats, psycho skinheads and giant mummies run amok," the book features a variety of intriguing characters. The most notable individual among these is Rathraq, an unusualwarrior whose return from a long absence helps to kick off the comic's main story. Coincidentally, this character also happens to be the writer's source of inspiration behind the series.

"I seem to recall seeing a drawing a million years ago -- not a drawing of a scarecrow, though. It's a long, long time ago -- so I'm not really sure about this -- but I think that's what got my mind rolling, and as time went on, it turned into a scarecrow," Arcudi told CBR News. "Then a scarecrow with the personality of Conan... and then, well, what Rathraq is now. The rest of the story grew with him."

When asked for more details about the story and its setting, Arcudi played it sly. "I don't want to give it all away."
JOHN CARTER MOVIE RIGHTS REVERT TO ERB, INC.
10/24/14 @ 1:43 pm EST
Source:
ICv2
| Categories:
John Carter Warlord of Mars
|
Comments
(0) |
E-mail Article
|
Add a Comment


Edgar Rice Burroughs, Inc. announced this week that the John Carter of Mars movie, television and merchandise rights formerly held by Walt Disney Pictures have reverted back to the author's estate, which is now seeking a new studio to continue the franchise.

"We will be seeking a new partner to help develop new adventures on film as chronicled in the eleven Mars novels Burroughs wrote," said James Sullos, President of ERB, Inc. He then referenced the Warner Bros. Tarzan deal and added, "(W)e hope to have John Carter of Mars become another major franchise to entertain world-wide audiences of all ages."

Disney's $250 million John Carter in 2012 was a huge flop domestically, despite being a faithful adaptation, making it no surprise that they let the rights lapse.

On the John Carter comic front, Dynamite Entertainment reached an agreement with ERB, Inc regarding the John Carter comic line earlier this year, and will be launching a new John Carter: Warlord of Mars series in November.
BROADENING DEMO DRIVING GN GROWTH
10/24/14 @ 1:38 pm EST
Source:
ICv2
| Categories:
MIsc
|
Comments
(0) |
E-mail Article
|
Add a Comment
Growing numbers of female and young customers are growing graphic novel sales, not only in bookstores, but also in comic stores, according to a report in the recently released ICv2's Internal Correspondence #86. All of the retailers we interviewed for this report were seeing increased numbers of female consumers, although some noted that when it came to pull lists, male customers still predominated.

Bestseller charts abound with titles with strong female appeal, including Roz Chast's Can't We Talk About Something More Pleasant?, which was the bestselling graphic novel of the summer in bookstores; and Saga, which is beginning to overtake The Walking Dead in some comic stores.

Graphic novels for kids is another big growth area, although the skew is much more heavily toward the book channel in that segment. But there are comic stores that are emphasizing kids graphic novels and finding success, and some are even having more success with girls than with boys. And the growth in graphic novels for young readers of both genders is helping fuel the increasingly diverse adult audience as those readers age.
THE FUTURE OF CROSSED AT YOUR LOCAL COMIC SHOP
10/24/14 @ 1:34 pm EST
Source:
Avatar
| Categories:
MIsc
|
Comments
(0) |
E-mail Article
|
Add a Comment
The internet was abuzz with interest when the announcement of legendary comics writer Alan Moore putting his stamp on the Crossed universe with Crossed + 100. This stark future series that fast forwards the world of Crossed 100 years to show us what has become of the human race is undoubtedly going to be a masterful horror tale that will expand your ideas of what the Crossed are. Alan Moore has taken the Crossed plague to its inevitable end and has developed a wholly original take on the horrors of this universe. If you are a fan of Crossed, you won't want to miss this pivotal series.
.
Local comic shops are finalizing their orders for this important new series this week and will be deciding how many copies will be available for readers to obtain. If you are interested in seeing what the man who redefined the comics medium has in store for Garth Ennis' unique survival horror series, please make sure you ask your local comics shop to reserve a copy Crossed + 100 for you today.
December is only a handful of weeks away and Alan Moore's Crossed +100 will be here in time to haunt your holidays.