MARVEL ENTERTAINMENT & ABC STUDIOS ANNOUNCE ALL-NEW "CASTLE" HARDCOVER GRAPHIC NOVEL
03/12/12 @ 3:31 pm EST
Source:
Marvel
|
Comments
(0) |
E-mail Article
|
Add a Comment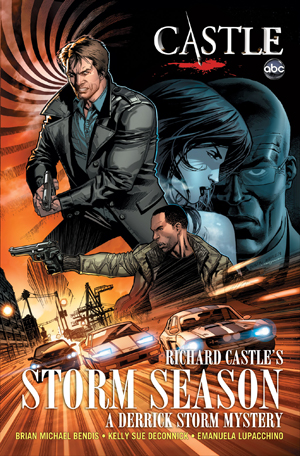 Sequel To New York Times Best-Selling Original Graphic Novel Based on ABC Primetime Hit Series Arrives October 2012
Marvel Entertainment and ABC Studios are proud to announce Castle: Richard Castle's Storm Season, an all-new hardcover graphic novel inspired by the popular "Castle"
television series. This 112 page hardcover, based the titular novel from noted author Richard Castle, hits comic shops, the
Marvel Comics app
,
iBookstore
, Nook Bookstore and everywhere books are sold on October 17th, 2012.
Private Investigator Derrick Storm is hired to bug the hotel suite of an African head of state, but this routine mission quickly spirals out of control when Storm overhears a woman's terrifying scream on the wire. Plagued by the victim's helpless cry, Storm—despite an ominous warning—investigates the truth. Soon he'll discover an international conspiracy reaching further than he ever imagined…and perhaps the truth about Clara Strike, a CIA Agent the world thinks is dead.
"As a comic book fan, I couldn't be more excited about Brian and Kelly Sue bringing Derrick Storm to life once again in Storm Season" said Richard Castle. "Storm is a character near and dear to my heart, so I wouldn't trust him with many people, but he is in some incredibly capable hands with this team."
This is the second "Castle" original graphic novel to be released through a collaborative effort between Marvel, ABC Studios and the producers of "Castle." In 2011, Castle: Richard Castle's Deadly Storm dominated sales charts and garner worldwide acclaim.
"Marvel has done an amazing job of bringing Derrick Storm to a new audience and we're thrilled to keep the magic going with this next graphic novel." said Andrew W. Marlowe, "Castle" creator/executive producer. "Fans can look forward to another fantastic adventure, filled with page-turning excitement. Storm Season is Richard Castle at his finest."
Castle: Richard Castle's Storm Storm reunites the lauded writing duo of Brian Michael Bendis & Kelly Sue DeConnick (Richard Castle's Deadly Storm) for their second Castle story. They're joined by rising star artist Emanuela Lupacchino (X-Factor), whose dynamic interior artwork brings the world of Derrick Storm to life like never before. This original graphic comes wrapped in a stunning cover by acclaimed artist Dustin Weaver (S.H.I.E.L.D.).
"The Derrick Storm novels are full of action, intrigue and compelling characters—it's no surprise that our graphic novel adaptations have taken the literary world by storm!" said Axel Alonso, Marvel Entertainment Editor in Chief. "Castle: Richard Castle's Storm Season will be one of the most exciting graphic novels you read all year, whether you're a longtime fan of Richard Castle or new to his exciting stories."
CASTLE: RICHARD CASTLE'S STORM SEASON
Written by BRIAN MICHAEL BENDIS & KELLY SUE DECONNICK
Art by EMANUELA LUPACCHINO
Cover by DUSTIN WEAVER
Rated T+…$19.99
ON SALE OCTOBER 17, 2012
"Castle" stars Nathan Fillion as Richard Castle, Stana Katic as NYPD Detective Kate Beckett, Susan Sullivan as Martha Rodgers, Molly Quinn as Alexis Castle, Ruben Santiago-Hudson as NYPD Captain Roy Montgomery, Tamala Jones as Medical Examiner Lanie Parish, Jon Huertas as NYPD Detective Javier Esposito, and Seamus Dever as NYPD Detective Kevin Ryan.
"Castle" is produced by ABC Studios. Andrew Marlowe is the show's creator/executive producer, along with executive producers Rob Bowman, David Amann, Laurie Zaks and Armyan Bernstein.
ABOUT MARVEL ENTERTAINMENT
: Marvel Entertainment, LLC, a wholly-owned subsidiary of The Walt Disney Company, is one of the world's most prominent character-based entertainment companies, built on a proven library of over 8,000 characters featured in a variety of media over seventy years. Marvel utilizes its character franchises in entertainment, licensing and publishing. For more information visit
www.marvel.com
ABOUT ABC STUDIOS
: ABC Studios, part of ABC Entertainment Group develops and produces compelling programming for both broadcast network and cable television as well as digital platforms. ABC Studios has delivered some of the most successful, talked-about and evolutionary series on television such as
Desperate Housewives
,
Grey's Anatomy, Lost, Criminal Minds, Army Wives
and
Brothers
&
Sisters
.
TRANSFORMERS: THE LAST KNIGHT STARTS FILMING IN CUBA
05/26/16 @ 7:35 pm EST
Source:
Comicbook
| Categories:
Transformers
|
Comments
(0) |
E-mail Article
|
Add a Comment
Transformers: The Last Knight
has officially started shooting, and while it wasn't the first film to shoot in Cuba, it can at least claim the second.
Director Michael Bay celebrated as much via a post on his Instagram account, saying: "CUBA! Second American Movie shot in Cuba. Transformers. Amazing place! #transformers."
The first movie to film in Cuba was Vin Diesel's
Fast & Furious 8
(which is also filming now). The film is a reunion of sorts, as Michael Bay is joined by
Transformers: Age of Extinction
star Mark Wahlberg, along with
Transformers 1 - 3's
Josh Duhamel. If things go Tyrese's way, he could also be involved in The Last Knight. That doesn't mean it's all returning characters, though, as newcomers Isabela Moner and Jerrod Carmichael.
VALIANT REVEALS RECORD-SETTING X-O MANOWAR ARTIST JAM COVER
05/26/16 @ 7:32 pm EST
Source:
Comicbook
| Categories:
X-O Manowar
|
Comments
(0) |
E-mail Article
|
Add a Comment
Valiant has revealed the full
X-O Manowar
#50 All-Star Jam Cover, the record-setting cover featuring 50 artists to celebrate the 50th and final issue of Valiant's flagship title. The cover will debut as a standard shelf cover when the issue hits stores in September.
The issue has colorist David Baron applying his talents to some of comic's biggest artists.
LYNDA CARTER WEIGHS IN ON WONDER WOMAN MOVIE
05/26/16 @ 7:28 pm EST
Source:
Comicbook
| Categories:
Wonder Woman
|
Comments
(0) |
E-mail Article
|
Add a Comment
In
Superman V Batman: Dawn of Justice
earlier this year, it was the first time the powerful superhero Wonder Woman was portrayed in live-action since the Lynda Carter-led television series went off the air in 1979. Why did it take so long?
"Oh, I don't know. They just had a hard time replacing me," Carter joked to ET Canada before getting serious. "I think that they needed a woman director and they needed the focus to be about the story of who she is. And I think they got that. So from what I understand, it's going to be great. I can't wait!"
Warner Bros. Pictures'
Wonder Woman
feature film, the highly anticipated action adventure from director Patty Jenkins ("Monster," AMC's "The Killing"), starring Gal Gadot (the "Fast & Furious" movies) in the role of Diana Prince/Wonder Woman. The character will made her big screen debut in "Batman v Superman: Dawn of Justice," but the new film will mark her first time headlining a feature.
Set to open in June 2, 2017, the
Wonder Woman
feature film is based on characters created by William Moulton Marston, appearing in comic books published by DC Entertainment.
THE WALKING DEAD CAST APPEARING ON THE RED NOSE DAY SPECIAL
05/26/16 @ 7:23 pm EST
Source:
Comicbook
| Categories:
Walking Dead
|
Comments
(0) |
E-mail Article
|
Add a Comment
The Walking Dead
cast will be participating in NBC's
Red Nose Day Special
later tonight. Stars of the hit AMC zombie series have taken to social media for the announcement.
Daryl Dixon actor Norman Reedus revealed he and the cast would be joining in on the campaign to raise money and awareness for underprivileged kids.
Eugene actor and comedian Josh McDermitt chimed in, confirming his participation, along with Carol actress Melissa McBride, Rosita actress Christian Serratos, Aaron actor Ross Marquand and showrunner Scott Gimple.
Andrew Lincoln (a.k.a. Rick Grimes) doesn't operate any social media accounts but you can count on him heading to red nose day, as well. In Gimple's tweet, he tells us we will hear "Andy's accent" in reference to Lincoln's British accent in real life.
The Walking Dead
returns for its seventh season in October.
ALIEN: COVENANT IMAGE GIVES FIRST LOOK AT KATHERINE WATERSTON'S DANIELS
05/26/16 @ 7:20 pm EST
Source:
Comicbook
| Categories:
MIsc
|
Comments
(0) |
E-mail Article
|
Add a Comment
The official
Alien
Facebook page has released the first official image of Katherine Waterston as 'Daniels' in 20th Century Fox's upcoming film,
Alien: Covenant
, and the caption reads, "Nowhere to run."
Little is known about Waterston's character other than she's a crew member on Covenant, a colony ship. As you can see in the image, Waterston is sporting short, dark hair and wearing a tank top. Her appearance is probably meant to remind us of Ripley's (Sigourney Weaver) look in the original 1979 film.
CHRIS EVANS RESPONDS TO CAPTAIN AMERICA'S HYDRA TURN
05/26/16 @ 7:16 pm EST
Source:
Comicbook
| Categories:
Captain Amerca
|
Comments
(0) |
E-mail Article
|
Add a Comment
Yesterday's release of Marvel's
Captain America: Steve Rogers
#1 sent shockwaves through fandom. Nick Spencer and Jesus Saiz's story implies that Steve Rogers is secretly a Hydra agent, and may have been recruited into the terrorist organization as a child. Fans were distressed at what this could mean for the iconic and patriotic Avenger's past, present, and future.
Word of Captain America's dark turn seems to have reached Chris Evans, the actor who plays the Marvel Cinematic Universe version of Steve Rogers. Evans responded to the news with a simple tweet reading, "Hydra?!?!? #sayitaintso."
Evans has played through a somewhat similar scenario on screen. In
Captain America: The Winter Soldier
, it was revealed that the entire S.H.I.E.L.D. organization had been compromised by Hydra up through its highest ranks, and had in fact been under Hydra's thumb since its earliest days. In that story, Captain America proved to be a singular, incorruptible force that helped root out and remove Hydra's influence. In the current Marvel Comics Universe, it seems those roles may be reversed.
THE JOKER ROLLER COASTER SHUT DOWN AFTER RIDERS GET STUCK
05/26/16 @ 7:13 pm EST
Source:
Comicbook
| Categories:
DC
|
Comments
(0) |
E-mail Article
|
Add a Comment
Six Flags Great Adventure's newest attraction was shut down on Thursday after a pair of riders found themselves stuck for several hours. The Joker roller coaster, a 4D, free-fly coaster opened for the first time earlier in the day.
By 3:30 PM, park officials decided to close down The Joker ride down for the day. Kristin Siebeneicher, a spokewoman for Six Flags, says the park officials hope to have the ride open again on Friday but don't know for sure just yet. The shut down came about an hour after the ride's initial unveiling ceremony, credited to the vehicle's "dampener," a piece of equipment which controls the car, being in need of adjustment. It had been running flawlessly for three days prior to the unveiling.
"It's a new ride and new rides occasionally need to be tweaked," Siebeneicher said.
"We clearly don't want that to happen, so we swapped out that vehicle," said Great Adventue Park President John Fitzgerald. "No one's safety was ever at risk."
Six Flags Great Adventure is home to several other DC Comics themed roller coasters. It features Man of Steel, a roller coaster which offers its passengers a true feeling of flight, Green Lantern, on which passengers stand up for the entirety of the ride, the floorless Bizarro roller coaster, and the inverted Batman: The Ride roller coaster.
Great Adventure is also home to the world's tallest roller coaster, Kingda Ka, standing at 456 feet tall. When Kingda Ka opened in 2005, it would regularly shut down for maintenance, including a multi-month adjustment period in its debut summer.
THE FLASH'S GRANT GUSTIN SAYS WE CAN MAKE ASSUMPTIONS ABOUT SEASON 3 AFTER SEASON 2 ENDING
05/26/16 @ 7:09 pm EST
Source:
Comicbook
| Categories:
Flash
|
Comments
(0) |
E-mail Article
|
Add a Comment
The Flash
season two finale will have far-reaching ramifications for Team Flash in season three, and Flash's Barry Allen, actor Grant Gustin, shared his thoughts on Barry's actions via Twitter.
The first of five tweets regarding the episode said: "Barry, man.. Smh.", followed by: "I hope everyone enjoyed the season 2 finale of #TheFlash last night. It was a tough season for Barry & the team."
A bit later he added a few more thoughts, first saying: "I know absolutely nothing about where we're going in season 3 yet and how we will pick it up after THAT decision. #TheFlash."
Afterwards he added: "I think we can all make some assumptions..#TheFlash", and concluding with: "Hopefully Barry can find some peace & regain some confidence. Cocky Flash is fun Flash. Thanks for a fun season u guys. I love being Barry."
A bit later, he threw in one more thought, saying: Also -- Barry knows that talk and that kiss happened no matter what (one of the most beautiful - comic book like shots ever)."
TEENAGE MUTANT NINJA TURTLES 2 BEBOP AND ROCKSTEADY TRAILER RELEASED
05/26/16 @ 7:04 pm EST
Source:
Comicbook
| Categories:
TMNT
|
Comments
(0) |
E-mail Article
|
Add a Comment
Paramount Pictures has released (via
Collider
) a new
Teenage Mutant Ninja Turtles: Out of the Shadows
trailer that focuses on the lovable villains Bebop (played byGary Anthony Williams) and Rocksteady (played by Stephen "Sheamus" Farrelly).
"Rocksteady and Bebop are two thugs who dream of being supreme criminals," Sheamus told
Woodford Times
. "Unfortunately their intellect is lacking in that department, and they bring a lot of chaos to the movie. I wanted to do this role because I'm a huge fan of the Teenage Mutant Ninja Turtles, and have been since I was a kid. I love the character, and I really wanted to be part of this movie. I saw and loved the original movies in the cinema when I was a kid, and I really enjoyed the reboot from a couple of years ago. I had already achieved one childhood dream — becoming a WWE superstar. And now, being involved with a Teenage Mutant Ninja Turtles movie, at this level, with such a great cast, is another one."
Video:
https://youtu.be/OJhyBf2u6JQ
THE WALKING DEAD'S ROBERT KIRKMAN REVEALS WHO NEGAN KILLED?
05/26/16 @ 7:02 pm EST
Source:
Comicbook
| Categories:
Walking Dead
|
Comments
(0) |
E-mail Article
|
Add a Comment
The Walking Dead
's big cliffhanger has been revealed! Only look if you want to know! Okay, probably not really, but
The Walking Dead
's writer and creator Robert Kirkman is having some fun with the big mystery which is clouding the show's off season.
Kirkman joined
Talking Dead
host Chris Hardwick on his Comedy Central series
@midnight
for some fun and games this week. One topic Hardwick gave to the participating comedians was terrible cliffhangers. Each comedian had to come up with the very worst cliffhanger ending for a TV series and being a
Walking Dead
fan, Hardwick cited
The Walking Dead
's cliffhanger and claimed not to have the answer to everyone's question but Kirkman burst out with, "I know!"
When it came time to reveal the terrible cliffhangers, Kirkman teased Negan's kill. "On the next exciting episode of
The Walking Dead
, we find out how mad fans are when they find out Negan killed Carl in the season six cliffhanger," the writer said, sparking a rowdy reaction from the other participants, the crowd, and Hardwick.
"People wanted to know!" Kirkman insisted. "I'm not gonna make you wait all summer! I'm not an a--hole!" Surely, he's joking and poking a little fun at his own TV show.
Carl is likely the only character who is ruled safe in the cliffhanger. Prior to unleashing Lucille, Negan threatened to "cut the boys other eye out," implying that Carl would have a head to cut an eye out of in the first place. Kirkman has also admitted that Carl is his favorite character on the show and many suspect he'll eventually become the leader in his father's place.
The Walking Dead
will return for its seventh season in October.
Video:
https://youtu.be/5BiEr-hstTg