MARVEL ENTERTAINMENT & ABC STUDIOS ANNOUNCE ALL-NEW "CASTLE" HARDCOVER GRAPHIC NOVEL
03/12/12 @ 3:31 pm EST
Source:
Marvel
|
Comments
(0) |
E-mail Article
|
Add a Comment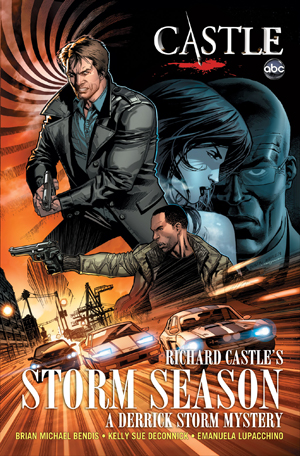 Sequel To New York Times Best-Selling Original Graphic Novel Based on ABC Primetime Hit Series Arrives October 2012
Marvel Entertainment and ABC Studios are proud to announce Castle: Richard Castle's Storm Season, an all-new hardcover graphic novel inspired by the popular "Castle"
television series. This 112 page hardcover, based the titular novel from noted author Richard Castle, hits comic shops, the
Marvel Comics app
,
iBookstore
, Nook Bookstore and everywhere books are sold on October 17th, 2012.
Private Investigator Derrick Storm is hired to bug the hotel suite of an African head of state, but this routine mission quickly spirals out of control when Storm overhears a woman's terrifying scream on the wire. Plagued by the victim's helpless cry, Storm—despite an ominous warning—investigates the truth. Soon he'll discover an international conspiracy reaching further than he ever imagined…and perhaps the truth about Clara Strike, a CIA Agent the world thinks is dead.
"As a comic book fan, I couldn't be more excited about Brian and Kelly Sue bringing Derrick Storm to life once again in Storm Season" said Richard Castle. "Storm is a character near and dear to my heart, so I wouldn't trust him with many people, but he is in some incredibly capable hands with this team."
This is the second "Castle" original graphic novel to be released through a collaborative effort between Marvel, ABC Studios and the producers of "Castle." In 2011, Castle: Richard Castle's Deadly Storm dominated sales charts and garner worldwide acclaim.
"Marvel has done an amazing job of bringing Derrick Storm to a new audience and we're thrilled to keep the magic going with this next graphic novel." said Andrew W. Marlowe, "Castle" creator/executive producer. "Fans can look forward to another fantastic adventure, filled with page-turning excitement. Storm Season is Richard Castle at his finest."
Castle: Richard Castle's Storm Storm reunites the lauded writing duo of Brian Michael Bendis & Kelly Sue DeConnick (Richard Castle's Deadly Storm) for their second Castle story. They're joined by rising star artist Emanuela Lupacchino (X-Factor), whose dynamic interior artwork brings the world of Derrick Storm to life like never before. This original graphic comes wrapped in a stunning cover by acclaimed artist Dustin Weaver (S.H.I.E.L.D.).
"The Derrick Storm novels are full of action, intrigue and compelling characters—it's no surprise that our graphic novel adaptations have taken the literary world by storm!" said Axel Alonso, Marvel Entertainment Editor in Chief. "Castle: Richard Castle's Storm Season will be one of the most exciting graphic novels you read all year, whether you're a longtime fan of Richard Castle or new to his exciting stories."
CASTLE: RICHARD CASTLE'S STORM SEASON
Written by BRIAN MICHAEL BENDIS & KELLY SUE DECONNICK
Art by EMANUELA LUPACCHINO
Cover by DUSTIN WEAVER
Rated T+…$19.99
ON SALE OCTOBER 17, 2012
"Castle" stars Nathan Fillion as Richard Castle, Stana Katic as NYPD Detective Kate Beckett, Susan Sullivan as Martha Rodgers, Molly Quinn as Alexis Castle, Ruben Santiago-Hudson as NYPD Captain Roy Montgomery, Tamala Jones as Medical Examiner Lanie Parish, Jon Huertas as NYPD Detective Javier Esposito, and Seamus Dever as NYPD Detective Kevin Ryan.
"Castle" is produced by ABC Studios. Andrew Marlowe is the show's creator/executive producer, along with executive producers Rob Bowman, David Amann, Laurie Zaks and Armyan Bernstein.
ABOUT MARVEL ENTERTAINMENT
: Marvel Entertainment, LLC, a wholly-owned subsidiary of The Walt Disney Company, is one of the world's most prominent character-based entertainment companies, built on a proven library of over 8,000 characters featured in a variety of media over seventy years. Marvel utilizes its character franchises in entertainment, licensing and publishing. For more information visit
www.marvel.com
ABOUT ABC STUDIOS
: ABC Studios, part of ABC Entertainment Group develops and produces compelling programming for both broadcast network and cable television as well as digital platforms. ABC Studios has delivered some of the most successful, talked-about and evolutionary series on television such as
Desperate Housewives
,
Grey's Anatomy, Lost, Criminal Minds, Army Wives
and
Brothers
&
Sisters
.
HAS VALIANT ALREADY CAST NINJAK WITH A FAMILIAR FACE?
08/29/16 @ 1:19 pm EST
Source:
Bleeding Cool
| Categories:
MIsc
|
Comments
(0) |
E-mail Article
|
Add a Comment
Arrow
fans will recognize actor
Michael Rowe
as
Deadshot
, long before
Will Smith
slid on his white helmet. But with
Suicide Squad's
recent film, the television series killed off their version of
Floyd Lawton
.
So how does this get us to
Ninjak
? Rowe tweeted the following on the 26th: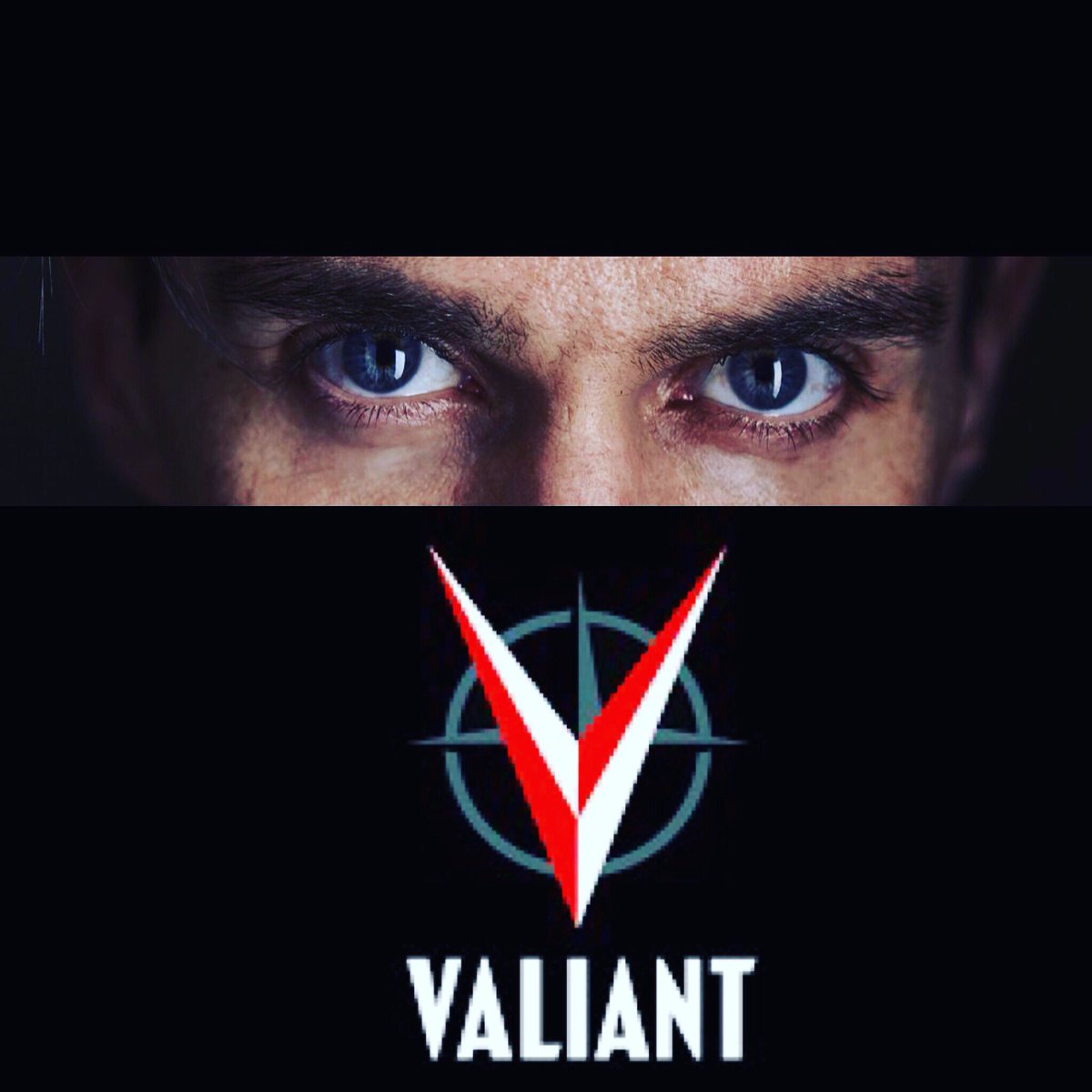 With the caption: "Secret project. Announcement coming soon...#Ninja@ValiantComics @BatintheSun"
And if you are thinking of a Secret Project involving #Ninja and
Valiant Comics
that kind of leads the thinking to Ninjak. That and the image of just Rowe's eyes since that's all you see of
Colin King
through his costume.
WRITER'S COMMENTARY – FRANK BARBIERE ON THE FINAL ISSUE OF DEJAH THORIS
08/29/16 @ 1:11 pm EST
Source:
Bleeding Cool
| Categories:
Dynamite
|
Comments
(0) |
E-mail Article
|
Add a Comment
A Writer's Commentary:
Frank Barbiere
talks the grand finale,
Dejah Thoris
#6, on sale now from
Dynamite
. The cover is by
NEN
and interior art by
Francesco Manna
.
PAGES 1 – 2
It was important for me here to really show how bad things are going in Helium. Valoris doesn't want to just conquer Helium, he wants to raze it to the ground. We have the reappearance of Carter and Dejah's new allies in a pretty fun moment, and hopefully start turning things more towards optimism for the finale.
PAGES 3-5
I'm really happy with how this sequence came out. We get one of the most iconic moments in the whole series on page 5, with Dejah Thoris proudly standing over Valoris and proclaiming she is indeed Dejah, Princess of Helium. We've been opening most of our issues with Dejah renouncing this name, so hopefully it has a nice impact when we see she's finally figured out her place and identity.
PAGES 6-7
A big theme in this story is not to overlook greatness in the people around you. Thana's journey from hand maiden to capable senator has been slowly churning, and here we see Carter himself noting just how capable she is.
PAGES 8 – 13
We reveal how Dejah was able to find her way back and the mysterious backstory of Valoris. I felt it far more effective to save Valoris's backstory until we saw most of the other puzzle pieces of the plot—most notably, after Dejah saw for herself the condition of things in M'rkassa. While Valoris is by no means a "good man," he has clear motivations—and with the use of the mysterious amulet he's been able to do some serious damage to Helium.
PAGE 14
The Jed is alive!
PAGE 15-17
Really happy with how the double-page spread came out. We see all of our players at their climactic moments, and Dejah ultimately use her physical strength and cunning to destroy the amulet—a culmination of all the things she's gone through in the previous issues.
PAGES 18-20
This scene is really the thematic reveal of our story—we see Dejah finally understand that it doesn't matter who she is on paper and that her people are capable of being part of the decision process in Helium. It's a big step for her—we deliberately open the story with Dejah thinking Helium is the "heart of it all" and that the burden for making everything right is solely on her shoulders. This story has been about her broadening her perspective, and we see her embrace her new views here.
PAGES 21-22
We get an epilogue where we further see how Dejah has changed—as well as the changes she's made to the kingdom. We also finally reveal how Dejah is tied to M'rkassa—a simple case in the end, but one that was capable of providing her with new perspective. I'm really happy to close the series with Dejah affirming who she is, and realizing a name is just a name—it's what we do that defines us.
Thanks so much for reading!
VAMPIRE DRAMA 'LET THE RIGHT ONE IN' GETS TNT PILOT ORDER, TOMORROW STUDIOS EPS
08/29/16 @ 1:07 pm EST
Source:
Deadline
| Categories:
MIsc
|
Comments
(0) |
E-mail Article
|
Add a Comment
TNT has finalized a deal for a pilot order to
Let the Right One In,
a drama based on the best-selling novel by Swedish author John Ajvide Lindqvist. Jeff Davis (
Criminal Minds, Teen Wolf
) wrote the script and serves as executive producer with Marty Adelstein (
Aquarius, Teen Wolf
) and Becky Clements (
Aquarius
) of Tomorrow Studios and Simon Oakes (
Let Me In
) of Hammer Films. The pilot is being produced by Tomorrow Studios in association with Turner's Studio T, the in-house studio that owns and produces original series for TNT and TBS.
Let the Right One In
is an eerie drama about a young boy, long tormented by his classmates, who finds solace in a friendship with a charismatic female vampire who appears to be near his age. The vampire settles into the boy's small Vermont town with her mysterious caretaker, just as a series of bizarre murders begins attracting the attention of law enforcement.
Lindqvist's debut novel was an instant bestseller in Sweden. He adapted his book into a screenplay for the 2008 Swedish film of the same name, which earned international awards. (watch the trailer below) TNT's pilot will draw from the original source material. Carl Molinder, who produced the original screenplay, and Alex Brunner (
Dark Places
) also serve as executive producers.
"Let the Right One In combines elements of horror, revenge thriller and adolescent romance into an unforgettable and truly unsettling tale," said Sarah Aubrey, EVP of original programming for TNT. "This novel is a watershed of rich storytelling, making it an abundant source from which Jeff, Marty, Becky and Simon will bring to life in this all-new adaptation."
Let the Right One In was previously developed at A&E and A+E Studios. The project moved to TNT earlier this year. It marks the second drama pilot for Tomorrow Studios at TNT following Good Behavior, which went to series.
IDRIS ELBA WRAPS FILMING ON THE DARK TOWER
08/29/16 @ 1:00 pm EST
Source:
Comicbook
| Categories:
Dark Tower
|
Comments
(0) |
E-mail Article
|
Add a Comment
With
The Dark Tower
set to hit theaters next spring, production is already underway on fantasy western project. Based on Stephen King's eponymous novels,
The Dark Tower
features some major talent such as Matthew McConaughey, Tom Taylor, and Katheryn Winnick. And, of course, Idris Elba stars as the film's protagonist, the gun-toting knight Roland Deschain. The acclaimed actor spurred dozens of headlines when he first announced his involvement with
The Dark Tower
, and now, the Idris has confirmed he's finished shooting on the film.
Taking to Twitter, Idris told a fan, "I'm done filming," when they asked how things were coming along with the film. The actor went on to explain he "spoke to the director the other day," and learned
The Dark Tower
's edit is coming along nicely. This news is what many fans have been wanting to hear as footage for
The Dark Tower
is being kept secret. Columbia Pictures did reveal earlier this year that they would premiere their first-look at
The Dark Tower
in October at EW Pop Fest. But, even still, fans are growing impatient to see footage of the film.
However, fans have been getting more teasers and updates on
The Dark Tower
than ever before. Just recently, several exclusive set photos were released which showed Idris dressed in full-character, and a promotional poster featuring Tom Taylor's Jack Chambers hinted at
The Dark Tower
's multiverse. Fans have also known about the film's extensive casting as actors such as Claudia Kim, Abbey Lee Kershaw, and others have confirmed they signed onto the project. Of course, Fans have enjoyed these updates, but their desire to see some actual footage has only grown after sampling these 'appetizers.'
IS JULIAN LEWIS JONES PLAYING DEATHSTROKE IN JUSTICE LEAGUE?
08/29/16 @ 12:50 pm EST
Source:
Comicbook
| Categories:
DC
|
Comments
(0) |
E-mail Article
|
Add a Comment
Ben Affleck did his best to break the Internet this morning with his impromptu release of Deathstroke -- presumably from the set of
Justice League
-- on Twitter.
Whether it was a suit test or a reveal of the actual actor who will be playing the character are yet to be determined as calls to Warner Brothers have not been returned.
Perhaps the most logical guess of who is playing the mercenary is Welsh actor Julian Lewis Jones.
It was just over a month ago that the 48-year-old revealed to WalesOnline.com that he was involved in the production.
"I'm not allowed to say yet what part I play," Jones told the site, "but let's just say I've a role in what will likely be the most expensive film ever made.
"It stars Ben Affleck, Jeremy Irons and host of A-list actors. I'm just happy to have been involved and I'm looking forward to the movie's release which will be next year."
The Deathstroke character first appeared in The New Teen Titans (vol. 1) #2 (1980). Over time he has evolved into an enemy of several characters -- namely Batman and the Green Arrow.
Jones makes sense to play the role due to his age and physical condition.
The backstory of Deathstroke is that he's an incredibly skilled, enhanced mercenary named Slade Wilson. He had a long career behind him even before he started tangling with superheroes. By the time he pops up in the pages of DC Comics he's already a middle-aged character with white hair and a matching beard. He even has two teenaged kids of his own (who come into their own as heroes later on).
That could mean Jones is in the perfect age range to play the Terminator.
FEAR THE WALKING DEAD: DO NOT DISTURB PREVIEW RELEASED
08/29/16 @ 12:45 pm EST
Source:
Comicbook
| Categories:
Walking Dead
|
Comments
(0) |
E-mail Article
|
Add a Comment
Following Sunday night's episode of
Fear the Walking Dead
, AMC released a preview for the tenth episode the zombie drama series' second season titled, "Do Not Disturb."
Preview:
https://youtu.be/9yKKdXAzmrc
In Los Muertos, the preceding episode to the hour previewed here, Ofelia, Strand, Madison, and Alicia made their return to the show after sitting out last week's midseason premiere. They found trouble in paradise when their yacht went missing, forcing them to seek sanctuary in a hotel. By the episode's end, Ofelia had gone missing and Strand and Madison found themselves trapped behind a bar with seemingly no way out as infected surrounded them.
In Do Not Disturb, we see another faction of
Fear
's survivors make their return as Chris and Travis' adventures south of the border are finally visited. To cap the half season a few months ago, Travis elected to venture off with his son for everybody's safety, questioning Chris' mental state. The coming episode will explore the dynamic between the two and take a deep dive into Chris' state of mind as a batch of new characters cross paths with the father/son duo.
"Travis finally realizes his son is at no point of return," Chris actor Lorenzo James Henrie teases in a spoiler-filled interview which will publish on ComicBook.com after Sunday's new episode.
The return of the Manawa's doesn't mean that Nick's Tijuana adventures and Madison and Strand's situation will be overlooked, though. Do Not Disturb will balance all of the story lines in its hour long run time.
Fear the Walking Dead
airs Sundays at 9 PM ET on AMC.
PAUL WERNICK AND RHETT REESE CONFIRM THEY ARE CURRENTLY WORKING ON ZOMBIELAND 2
08/29/16 @ 12:38 pm EST
Source:
Comicbook
| Categories:
MIsc
|
Comments
(0) |
E-mail Article
|
Add a Comment
While appearing on AMC's
Geeking Out
with Kevin Smith and Greg Grunberg,
Deadpool
writers Paul Wernick and Rhett Reese provided an update on
Zombieland 2
.
"That is breaking news that we're on
Zombieland 2
right now," said Wernick and Reese. "We're sitting with Woody [Harrelson] tomorrow and are going to sort of walk him through some of the stuff we want to do. All the cast is pretty excited."
Wernick and Reese also talked about Bill Murray's scene in
Zombieland
. They revealed that the part was originally written for Patrick Swayze, but he got sick. Then, they offered the part to around twelve other actors, including Sylvester Stallone, Kevin Bacon, Mark Hamill, and Jean-Claude Van Damme.
However, all the other actors passed, so they turned to Woody Harrelson for ideas. Harrelson suggested either Dustin Hoffman or Bill Murray. However, Hoffman couldn't do it, so they reached out to Murray, who asked to be sent the script. After a couple changes to the script to expand Murray's role, he agreed to do it.
RYAN REYNOLDS PAID OUT OF HIS OWN POCKET FOR DEADPOOL WRITERS TO BE ON SET
08/29/16 @ 12:27 pm EST
Source:
Comicbook
| Categories:
Marvel
|
Comments
(0) |
E-mail Article
|
Add a Comment
To make sure
Deadpool
was the hit that it was, its star, Ryan Reynolds, went above and beyond. Several times, he dipped into his own pocket to make sure the financial constraints 20th Century Fox placed upon production didn't interfere with his and director Tim Miller's vision. As an example: Reynolds shelled out $10k just so that Wade Wilson can wear a t-shirt with an image of
Golden Girls
star Bea Arthur, an actress Deadpool obsessively fawns over in the comic books, in the hilarious pizza delivery sequence.
On Sunday, during the latest episode of AMC's
Geeking Out
, another example of Reynolds ensuring the quality of the film with his own money was provided by its screenwriters. "We were on set every day," said Paul Wernick And Rhett Rheese, who are penning
Deadpool 2
. "Interestingly, Ryan wanted us there, we were on the project for six years. It was really a core creative team of us, Ryan, and the director Tim Miller. Fox interestingly wouldn't pay for us to be on set. Ryan Reynolds paid out of his own money, out of his own pocket."
DEATHSTROKE REPORTEDLY TO BE BATMAN SOLO MOVIE VILLAIN
08/29/16 @ 12:24 pm EST
Source:
Comicbook
| Categories:
DC
|
Comments
(0) |
E-mail Article
|
Add a Comment
With Ben Affleck breaking the Internet this morning with his Deathstroke video, it's now being reported that Slade Wilson will be the main villain in Affleck's solo Batman film. That gives us a little more reason for Affleck to be the one debuting the first look at the villain. While we don't know who will be playing the iconic super-assassin, we do have some suggestions and suspicions.

Deathstroke the Terminator aka Slade Wilson was created in 1980 by Marv Wolfman and George Perez as a villain not for Batman or the Justice League, but for the Teen Titans. Deathstroke was the perfect villain for the teenaged heroes - an aging assassin, his gruff and older exterior directly contradicted the young characters and their fresh-faced view on the world.

Eventually, though, he became a villain for virtually every hero in the DC Universe. In the pages of Identity Crisis #3, a 2004 event series by Brad Meltzer and Rags Morales, Deathstroke systematically took down the entire (at the time) Justice League.

The Batman standalone film was first mentioned when DC Entertainment and Warner Bros. announced a massive slate of movies based on DC Comics characters and properties. Since then, it's been revealed that Ben Affleck will star in the film, direct the film, and has been co-writing the film alongside Geoff Johns, CCO and President of DC Entertainment and co-head of DC Films. Now, it seems, he may have found his villain.
WHERE BEN AFFLECK'S DEATHSTROKE VIDEO TAKES PLACE IN JUSTICE LEAGUE
08/29/16 @ 12:10 pm EST
Source:
Comicbook
| Categories:
DC
|
Comments
(0) |
E-mail Article
|
Add a Comment
While most of the
Justice League
fandom is still recovering from today's reveal of Deathstroke in the DC Extended Universe, most are realizing that the video released by Ben Affleck raises more questions than answers.
One of those big questions is: Where is Deathstroke in this footage?
Having been on the set of
Justice League
and seeing loads of concept art, the answer is clear. Deathstroke is onboard the Flying Fox, the Justice League troopcarrier jet.
The Flying Fox, specifically called by that name by Justice League producers and production designers, is the size of a B-52 airplane but moves like a Thunderbird. It is a product of Wayne Tech and stored in the Gotham City Iron Works -- which all but serves as another Batcave for Bruce Wayne.
Concept art in
Justice League
's war room showed Wonder Woman, Cyborg, Batman and the Flash on board the aircraft and it is described to have enough room for the entire
Justice League
, the Batmobile, and plenty more.
The best comparison to the Flying Fox to jets previously used by the Justice League would have to be the Javelin, featured in the image of the top of the page. The biggest difference is the number of wings. The Flying Fox has four wings, converging in the shape of an "X" with their attachment to the ship.
Previously mentioned facts considered with the concept art of the Flying Fox indicate that Deathstroke is stepping off of the Justice League's troopcarrier. To further this, the wind is blowing in Deathsroke's face as the tail from his helmet is been blown around.
There is no confirmation on whether or not today's footage is from the Justice League movie or the standalone Batman film. It's easy to argue that it is from the currently in production Justice League but the fact that Deathstroke will be the main villain of the standalone Batman film doesn't fuel that argument.
Justice League is set for release November 17, 2017. The standalone Batman film, which Affleck is set to star in, write, direct, and executive produce does not yet have a release date.