MARVEL ENTERTAINMENT & ABC STUDIOS ANNOUNCE ALL-NEW "CASTLE" HARDCOVER GRAPHIC NOVEL
03/12/12 @ 3:31 pm EST
Source:
Marvel
|
Comments
(0) |
E-mail Article
|
Add a Comment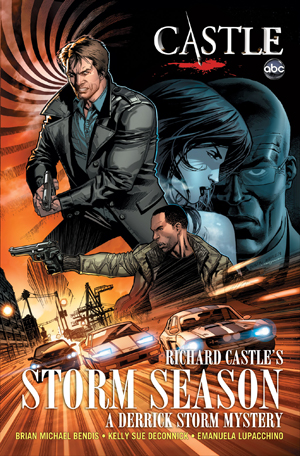 Sequel To New York Times Best-Selling Original Graphic Novel Based on ABC Primetime Hit Series Arrives October 2012
Marvel Entertainment and ABC Studios are proud to announce Castle: Richard Castle's Storm Season, an all-new hardcover graphic novel inspired by the popular "Castle"
television series. This 112 page hardcover, based the titular novel from noted author Richard Castle, hits comic shops, the
Marvel Comics app
,
iBookstore
, Nook Bookstore and everywhere books are sold on October 17th, 2012.
Private Investigator Derrick Storm is hired to bug the hotel suite of an African head of state, but this routine mission quickly spirals out of control when Storm overhears a woman's terrifying scream on the wire. Plagued by the victim's helpless cry, Storm—despite an ominous warning—investigates the truth. Soon he'll discover an international conspiracy reaching further than he ever imagined…and perhaps the truth about Clara Strike, a CIA Agent the world thinks is dead.
"As a comic book fan, I couldn't be more excited about Brian and Kelly Sue bringing Derrick Storm to life once again in Storm Season" said Richard Castle. "Storm is a character near and dear to my heart, so I wouldn't trust him with many people, but he is in some incredibly capable hands with this team."
This is the second "Castle" original graphic novel to be released through a collaborative effort between Marvel, ABC Studios and the producers of "Castle." In 2011, Castle: Richard Castle's Deadly Storm dominated sales charts and garner worldwide acclaim.
"Marvel has done an amazing job of bringing Derrick Storm to a new audience and we're thrilled to keep the magic going with this next graphic novel." said Andrew W. Marlowe, "Castle" creator/executive producer. "Fans can look forward to another fantastic adventure, filled with page-turning excitement. Storm Season is Richard Castle at his finest."
Castle: Richard Castle's Storm Storm reunites the lauded writing duo of Brian Michael Bendis & Kelly Sue DeConnick (Richard Castle's Deadly Storm) for their second Castle story. They're joined by rising star artist Emanuela Lupacchino (X-Factor), whose dynamic interior artwork brings the world of Derrick Storm to life like never before. This original graphic comes wrapped in a stunning cover by acclaimed artist Dustin Weaver (S.H.I.E.L.D.).
"The Derrick Storm novels are full of action, intrigue and compelling characters—it's no surprise that our graphic novel adaptations have taken the literary world by storm!" said Axel Alonso, Marvel Entertainment Editor in Chief. "Castle: Richard Castle's Storm Season will be one of the most exciting graphic novels you read all year, whether you're a longtime fan of Richard Castle or new to his exciting stories."
CASTLE: RICHARD CASTLE'S STORM SEASON
Written by BRIAN MICHAEL BENDIS & KELLY SUE DECONNICK
Art by EMANUELA LUPACCHINO
Cover by DUSTIN WEAVER
Rated T+…$19.99
ON SALE OCTOBER 17, 2012
"Castle" stars Nathan Fillion as Richard Castle, Stana Katic as NYPD Detective Kate Beckett, Susan Sullivan as Martha Rodgers, Molly Quinn as Alexis Castle, Ruben Santiago-Hudson as NYPD Captain Roy Montgomery, Tamala Jones as Medical Examiner Lanie Parish, Jon Huertas as NYPD Detective Javier Esposito, and Seamus Dever as NYPD Detective Kevin Ryan.
"Castle" is produced by ABC Studios. Andrew Marlowe is the show's creator/executive producer, along with executive producers Rob Bowman, David Amann, Laurie Zaks and Armyan Bernstein.
ABOUT MARVEL ENTERTAINMENT
: Marvel Entertainment, LLC, a wholly-owned subsidiary of The Walt Disney Company, is one of the world's most prominent character-based entertainment companies, built on a proven library of over 8,000 characters featured in a variety of media over seventy years. Marvel utilizes its character franchises in entertainment, licensing and publishing. For more information visit
www.marvel.com
ABOUT ABC STUDIOS
: ABC Studios, part of ABC Entertainment Group develops and produces compelling programming for both broadcast network and cable television as well as digital platforms. ABC Studios has delivered some of the most successful, talked-about and evolutionary series on television such as
Desperate Housewives
,
Grey's Anatomy, Lost, Criminal Minds, Army Wives
and
Brothers
&
Sisters
.
ARROW AND THE FLASH ALL SUMMER LONG
05/28/15 @ 10:53 pm EST
Source:
Bleeding Cool
| Categories:
DC
|
Comments
(0) |
E-mail Article
|
Add a Comment
The CW has kind of made it's niche with comic book related series having three DC properties getting renewed and a fourth one on the way.

To help keep the momentum going, the network is running both The Flash season one (which we knew) and Arrow season three in their entirety through the summer hiatus starting this week.

They even put out a video with the slogan Super Starts Here.

Check it out here: https://www.youtube.com/watch?v=I0kL-bH6Yj0
AMC'S 2015 PROMO VIDEO INCLUDES THE MULTIPLE DEAD
05/28/15 @ 10:45 pm EST
Source:
Bleeding Cool
| Categories:
Walking Dead
|
Comments
(0) |
E-mail Article
|
Add a Comment
In their promotional trailer for the 2015 season, AMC includes clips from The Walking Dead, The Talking Dead and Fear The Walking Dead plus Humans, Hell On Wheels and more. For a channel that used to be called American Movie Classics… it's got a whole lot of original programming.

Check out the trailer: https://www.youtube.com/watch?v=gkDsPl-RYJo
BENDIS TO ANNOUNCE HIS NEW MARVEL COMIC AT SPECIAL EDITION NYC
05/28/15 @ 10:34 pm EST
Source:
Bleeding Cool
| Categories:
Marvel
|
Comments
(0) |
E-mail Article
|
Add a Comment
Special Edition NYC, The comic book focused spinoff of the New York Comic Con takes place next weekend. And amongst the myriad of creators and activities on offer,
Brian Bendis
will be taking the opportunity to announce his new post-
Secret Wars
comic book project for Marvel Comics.
Either at the Saturday 6th June Marvel: Next Big Thing panel, or at his Spotlight panel on Sunday 7th June.Given the timing, that sounds like a September solicited project. But last we heard, it was intended to be published on the same day as the final issue of
Secret Wars.
So… what's your best guess?
"TEENAGE MUTANT NINJA TURTLES 2" PHOTO APPEARS TO REVEAL WWE STAR IN VILLAINOUS ROLE
05/28/15 @ 10:24 pm EST
Source:
Comic Book Resources
| Categories:
MIsc
|
Comments
(0) |
E-mail Article
|
Add a Comment
A new photo from the New York set of "Teenage Mutant Ninja Turtles 2" arrived Thursday viaThe Daily Mail, providing not only the first look at the live-action versions of familiar characters Bebop and Rocksteady but also apparently confirming the previously unrevealed casting for the latter villain. Pro wrestler Sheamus -- one of WWE's current biggest stars -- is identified in the photo in the role of Rocksteady
.
Notably, both Bebop (previously announced as played by Gary Anthony Williams) and Rocksteady both appear in human identities, rather than their more famous forms of a mutated warthog and rhinoceros. Of course, that doesn't mean they won't appear in the film in their recognizable forms -- in the '80s "Teenage Mutant Ninja Turtles" cartoon that introduced the pair, they first appeared as humans before mutating, leaving open the possibility that something similar may happen in the film.
CBR News said they had reached out to Paramount for confirmation of Sheamus' involvement, and has yet to receive a reply as of publication. Born Stephen Farrelly, the former WWE Champion has appeared in small roles in films before, including 2008's "The Escapist."
"Teenage Mutant Ninja Turtles 2" will be the first live-action appearance of Bebop and Rocksteady, frequently depicted as Shredder's (played in the film by Brian Tee) loyal but comically inept primary henchmen. Directed by David Green, "Teenage Mutant Ninja Turtles 2" is scheduled for release on June 3, 2016.
ONE MILLION MOMS AIMS TO DAMN FOX'S "LUCIFER" WITH CANCELLATION PETITION
05/28/15 @ 10:19 pm EST
Source:
Comic Book Resources
| Categories:
DC
|
Comments
(0) |
E-mail Article
|
Add a Comment
One Million Moms, an organization that attempts to combat "negative influences" in entertainment media, has set its sights on Fox's "Lucifer" series and hopes to convince the network to cancel it with a petition.The petition describes the show as "a new series which will glorify Satan as a caring, likable person in human flesh.""The series will focus on Lucifer portrayed as a good guy, 'who is bored and unhappy as the Lord of Hell,'" it continues. "He resigns his throne, abandons his kingdom and retires to Los Angeles, where he gets his kicks helping the LAPD punish criminals."The website also cites "graphic acts of violence, a nightclub featuring scantily-clad women and a demon" as a cause for the petition, in that the show "is disrespecting Christianity and mocking the Bible."At the time of this article, the petition has just over 5,000 signatures.
NICHOLAS D'AGOSTO BUMPED TO SERIES REGULAR ON
05/28/15 @ 10:12 pm EST
Source:
Comic Book Resources
| Categories:
Gotham
|
Comments
(0) |
E-mail Article
|
Add a Comment
The second season of "Gotham" will see more of Harvey Dent, as actor Nicholas D'Agostoannounced Wednesday via his Twitter account that he's been promoted to series regular status on the DC Comics-based Fox drama. D'Agosto was formerly recurring in the role.
"Thank you to all of you @Gotham and #HarveyDent fans for your enthusiasm," D'Agosto wrote. "I can't wait to join more of the fun as a regular in Season 2!"
In the first season of "Gotham," D'Agosto remained firmly in the heroic Harvey Dent identity, with no transformation -- yet -- into famous Batman villain Two-Face. Whether or not Two-Face will make an appearance on the second season of "Gotham" remains to be seen.
Morena Baccarin, who plays Dr. Leslie Thompkins, was announced earlier this month as also making the jump for recurring to series regular.
"Gotham" is set to return to its time slot of 8 p.m. Mondays in the fall.
PARAMOUNT'S 'TRANSFORMERS' PLANS MAY INCLUDE BUMBLEBEE SPINOFF
05/28/15 @ 10:07 pm EST
Source:
Comic Book Resources
| Categories:
Transformers
|
Comments
(0) |
E-mail Article
|
Add a Comment
Even as fans are still digesting the rumor about a potential "Transformers" prequel set on Cybertron, Hasbro's chief executive has hinted at a possible spinoff starring Bumblebee.Speaking today at the Citi Global Consumer Conference in New York City, Hasbro President and CEO Brian Goldner addressed Paramount Pictures' plans for a Transformers cinematic universe."As we go forward, we would imagine several more 'Transformers' movies, not just in the current lineage but also spinoffs and focusing on certain key characters that are beloved by the world over," the fan site TFW2005 quotes him as saying. "Many of you know Bumblebee, the yellow Camaro, formally known as a yellow VW Bug, and he is a beloved character by kids all over the world. We could see stories told around Bumblebee and other characters."While that's far from concrete, it suggests a Bumblebee movie is at least being discussed by Hasbro, which reportedly originated the idea for the Cybertron origin story. And, as Goldner indicated, the yellow Autobot remains a fan favorite, so a spinoff seems an obvious choice considering the scope of Paramount's plans.Directed by Michael Bay, the first four "Transformers" movies have grossed more than $3.7 billion worldwide.
CAR CRASHES INTO FLORIDA COMIC STORE
05/28/15 @ 9:26 pm EST
Source:
Comic Book Resources
| Categories:
MIsc
|
Comments
(0) |
E-mail Article
|
Add a Comment
Famous Faces & Funnies in West Melbourne, Florida, reopened today after a car crashed through the front of the comic store Wednesday afternoon.
According to local news reports and the store's Facebook page, the 65-year-old driver was taken to a hospital with minor injuries after she mistakenly stepped on the gas instead of the break, sending her car smashing through the front of the building. A customer suffered minor abrasions, and went to the emergency room as a precaution.
"She hit one customer," store owner Rick Shea told Florida Today. "Had it been a few seconds earlier, she might have killed my manager, who had been standing right there."
On the store's Facebook page, he added, "Luckily, there were no further injuries and although the damage to the store's fixtures, merchandise and graphic novels were extensive (anyone want some 'half off' mugs, glasses and cups?), we're just happy no one else was hurt or killed. Wednesday being our busiest day of the week with new comics and toys, it could have been worse with a bigger crowd around the register."
The store reopened today for regular regular hours; however, game night has been canceled. "We should have a working front door at some point later today," read a Facebook update, "but feel free to use the back door in the meantime, labeled with our name on it."
KORVAC SAGA #1 PITS GUARDIANS OF THE GALAXY AGAINST AVENGERS IN THE WARZONES
05/28/15 @ 9:18 pm EST
Source:
Marvel
| Categories:
Guardians of the Galaxy
|
Comments
(0) |
E-mail Article
|
Add a Comment
This June, one of the Avengers and Guardians of the Galaxy's greatest foes returns to the fore. Today, Marvel is pleased to present your first look at
KORVAC
SAGA #1
– a brand-new Secret Wars series from critically acclaimed writer Dan Abnett (
Guardians of the Galaxy, Guardians 3000)
and rising star artist Otto Schmidt! In the Forest Hills domain of Battleworld, Lord Michael Korvac governs over all, ruling with an iron fist, keeping his subjects in line by any means necessary. Yet tensions are rising in his corner of Battleworld. Full-scale war with neighboring baron Simon Williams and his squad of Avengers is all but assured. Korvac and his royal guard – the Guardians of the Galaxy – stand at the brink of destruction from within and without. Escalating border conflicts and chaotic threats from beyond the Shield threaten all they hold dear. Worst of all, a dark madness is spreading throughout the population, twisting and manipulating residents of Forest Hills into monsters.
Now the classic Guardians of the Galaxy – Major Victory, Starhawk, Charlie-27, Yondu, Nikki and young Geena Drake must track the source of this evil before it corrupts Forest Hills and all of Battleworld! Yet even if they stem the coming darkness, will they be strong enough to stop Wonder Man and his Avengers? The answers lie within this June as
KORVAC SAGA #1
explodes into comic shops and onto digital devices!
KORVAC SAGA #1 (APR150828)
Written by DAN ABNETT
Art & Cover by OTTO SCHMIDT
Variant Cover by STEVE LIEBER (APR150829)FOC – 06/01/15, On-Sale – 06/24/15
HUNTER S. THOMPSON'S GONZO JOURNALISM EPIC GETS OGN
05/28/15 @ 3:43 pm EST
Source:
ICv2
| Categories:
MIsc
|
Comments
(0) |
E-mail Article
|
Add a Comment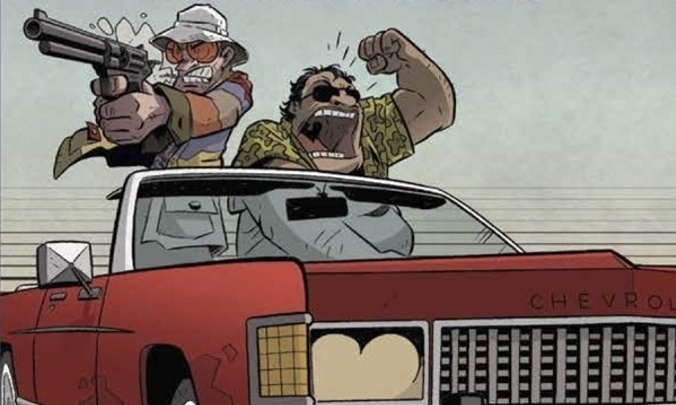 Top Shelf has announced a graphic novel adaptation of legendary journalist Hunter S. Thompson's Fear and Loathing in Las Vegasfor release in October.

The modern literary classic, produced in partnership with the Hunter S. Thompson estate, will be adapted by Troy Little (Powerpuff Girls, Super Secret Crisis War!), who was nominated for an Eisner in 2013 for Best Lettering for Angora Napkin 2: Harvest of Revenge.


The book's subtitle: A Savage Journey to the Heart of the American Dream sums up the surreal drug-fueled bender which sees Thompson analogue Raoul Duke attempting to cover a motorcycle race in Las Vegas with his attorney Dr. Gonzo in tow. The madcap adventure was immortalized in the 1998 Terry Gilliam directed film starring Johnny Depp and Benicio del Toro. (The story was also includes in Art Linson's 1980 film Where the Buffalo Roam starring Bill Murray, which includes several Thompson stories.)