MARVEL ENTERTAINMENT & ABC STUDIOS ANNOUNCE ALL-NEW "CASTLE" HARDCOVER GRAPHIC NOVEL
03/12/12 @ 3:31 pm EST
Source:
Marvel
|
Comments
(0) |
E-mail Article
|
Add a Comment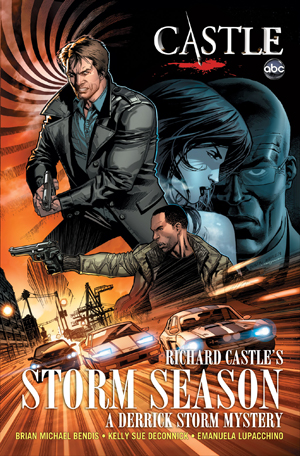 Sequel To New York Times Best-Selling Original Graphic Novel Based on ABC Primetime Hit Series Arrives October 2012
Marvel Entertainment and ABC Studios are proud to announce Castle: Richard Castle's Storm Season, an all-new hardcover graphic novel inspired by the popular "Castle"
television series. This 112 page hardcover, based the titular novel from noted author Richard Castle, hits comic shops, the
Marvel Comics app
,
iBookstore
, Nook Bookstore and everywhere books are sold on October 17th, 2012.
Private Investigator Derrick Storm is hired to bug the hotel suite of an African head of state, but this routine mission quickly spirals out of control when Storm overhears a woman's terrifying scream on the wire. Plagued by the victim's helpless cry, Storm—despite an ominous warning—investigates the truth. Soon he'll discover an international conspiracy reaching further than he ever imagined…and perhaps the truth about Clara Strike, a CIA Agent the world thinks is dead.
"As a comic book fan, I couldn't be more excited about Brian and Kelly Sue bringing Derrick Storm to life once again in Storm Season" said Richard Castle. "Storm is a character near and dear to my heart, so I wouldn't trust him with many people, but he is in some incredibly capable hands with this team."
This is the second "Castle" original graphic novel to be released through a collaborative effort between Marvel, ABC Studios and the producers of "Castle." In 2011, Castle: Richard Castle's Deadly Storm dominated sales charts and garner worldwide acclaim.
"Marvel has done an amazing job of bringing Derrick Storm to a new audience and we're thrilled to keep the magic going with this next graphic novel." said Andrew W. Marlowe, "Castle" creator/executive producer. "Fans can look forward to another fantastic adventure, filled with page-turning excitement. Storm Season is Richard Castle at his finest."
Castle: Richard Castle's Storm Storm reunites the lauded writing duo of Brian Michael Bendis & Kelly Sue DeConnick (Richard Castle's Deadly Storm) for their second Castle story. They're joined by rising star artist Emanuela Lupacchino (X-Factor), whose dynamic interior artwork brings the world of Derrick Storm to life like never before. This original graphic comes wrapped in a stunning cover by acclaimed artist Dustin Weaver (S.H.I.E.L.D.).
"The Derrick Storm novels are full of action, intrigue and compelling characters—it's no surprise that our graphic novel adaptations have taken the literary world by storm!" said Axel Alonso, Marvel Entertainment Editor in Chief. "Castle: Richard Castle's Storm Season will be one of the most exciting graphic novels you read all year, whether you're a longtime fan of Richard Castle or new to his exciting stories."
CASTLE: RICHARD CASTLE'S STORM SEASON
Written by BRIAN MICHAEL BENDIS & KELLY SUE DECONNICK
Art by EMANUELA LUPACCHINO
Cover by DUSTIN WEAVER
Rated T+…$19.99
ON SALE OCTOBER 17, 2012
"Castle" stars Nathan Fillion as Richard Castle, Stana Katic as NYPD Detective Kate Beckett, Susan Sullivan as Martha Rodgers, Molly Quinn as Alexis Castle, Ruben Santiago-Hudson as NYPD Captain Roy Montgomery, Tamala Jones as Medical Examiner Lanie Parish, Jon Huertas as NYPD Detective Javier Esposito, and Seamus Dever as NYPD Detective Kevin Ryan.
"Castle" is produced by ABC Studios. Andrew Marlowe is the show's creator/executive producer, along with executive producers Rob Bowman, David Amann, Laurie Zaks and Armyan Bernstein.
ABOUT MARVEL ENTERTAINMENT
: Marvel Entertainment, LLC, a wholly-owned subsidiary of The Walt Disney Company, is one of the world's most prominent character-based entertainment companies, built on a proven library of over 8,000 characters featured in a variety of media over seventy years. Marvel utilizes its character franchises in entertainment, licensing and publishing. For more information visit
www.marvel.com
ABOUT ABC STUDIOS
: ABC Studios, part of ABC Entertainment Group develops and produces compelling programming for both broadcast network and cable television as well as digital platforms. ABC Studios has delivered some of the most successful, talked-about and evolutionary series on television such as
Desperate Housewives
,
Grey's Anatomy, Lost, Criminal Minds, Army Wives
and
Brothers
&
Sisters
.
"I WAS REALLY DRAWN TO THE IDEA OF LOTHAR BECOMING THE PHANTOM" – BRIAN CLEVINGER TALKS KING: THE PHANTOM #1
01/28/15 @ 10:14 pm EST
Source:
Bleeding Cool
| Categories:
The Phantom
|
Comments
(0) |
E-mail Article
|
Add a Comment
When we get these writer to writer interviews, we're never quite sure what we are going to get. This one is short but fun as
Ben Acker
and
Ben Blacker,
writers on
KING: Flash Gordon
#1, talks with writer
Brian Clevinger
about
KING: Phantom
#1, both on sale today.
BEN ACKER AND BEN BLACKER: Did you grow up reading The Phantom?BRIAN CLEVINGER:
Nope. In fact, I managed to accidentally avoid
The Phantom
at every turn! Never got to see the newspaper strip, still have not seen the movie despite the fact that I would gladly watch Billy Zane read from a phone book, never so much as heard of the
Defenders of the Earth
cartoon, and always managed to miss
The Phantom 2040
cartoon. But being an outsider, I think, turned out to be helpful since it mirrors Lothar's perspective coming into things.
BEN A&B: Was there a thing — a story thing or a character thing — that made you eager to writeThe Phantom? BC:
I was really drawn to the idea of Lothar becoming The Phantom. He was probably my favorite character in the
Kings Watch
event, so it was great to see him take up the legacy of The Phantom. On a strictly nuts and bolts level, I thought that was a great way to shed any baggage the property may have picked up in the public consciousness and still honor what makes The Phantom cool and interesting for its loyal fan base
.
BEN A&B: What do you think of the art of Brent Schoonover?BC:
More please, thank you.
BEN A&B:
We love Atomic Robo [Brian's indy book]!BC:
Is that a question?
BEN A&B: Do you yourself read any monthly comics?BC:
Who has time?! No, I'm a filthy trade waiter. Even then, the pile of bought comics is not necessarily the pile of read comics.
LADY KILLER SELLS OUT, GOES TO SECOND PRINT RUN
01/28/15 @ 8:08 pm EST
Source:
Dark Horse
| Categories:
Dark Horse
|
Comments
(0) |
E-mail Article
|
Add a Comment
Dark Horse is proud to announce that the first issue of Joëlle Jones, Jamie S. Rich, and Laura Allred's
Lady Killer
has sold out at the distributor level and will receive a second printing!
Josie Schuller is a picture-perfect homemaker, wife, and mother—but she's also a ruthless, efficient killer for hire! A brand-new original comedy series that combines the wholesome imagery of early 1960s domestic bliss with a tightening web of murder, paranoia, and cold-blooded survival, Lady Killer has received acclaim from creators and critics alike.
"The best comics feature great talent throwing together the stuff that gets them most excited, like Mike Mignola on
Hellboy
, or Eric Powell on
The Goon
, or Ed Brubaker and Sean Phillips on
The Fade Out
," said Dark Horse's editor in chief, Scott Allie. "Joëlle's drawn a lot of other people's stories, but only she could've used midcentury fashion, espionage, and ultraviolence to create such a perfectly modern comic."
To reflect the absolute killing the issue's first print run made in the direct market, the second-printing cover will feature a special blood-red color scheme.
Find out why the critics are raving. Order
Lady Killer #1
today. To read Dynamic Force's interview with Joelle Jones,
click here.
COVER REVEAL: HINGES, BOOK 1: CLOCKWORK CITY
01/28/15 @ 8:00 pm EST
Source:
Image
| Categories:
Image
|
Comments
(0) |
E-mail Article
|
Add a Comment
Image Comics has revealed the final cover of HINGES, BOOK 1: CLOCKWORK CITY, the enchanting graphic novel by Meredith McClaren.
Depicting "new soul" Orio, a porcelain doll, and her familiar Bauble, the cover hints at the mystery and intrigue Orio will encounter in the city of Cobble.
HINGES is a modern fairy tale perfect for ages nine and up.
It will be in comic book stores on February 25 and in bookstores on March 10.
ANOTHER RUSSIAN SPY UNCOVERED IN RED ONE
01/28/15 @ 7:56 pm EST
Source:
Image
| Categories:
Image
|
Comments
(0) |
E-mail Article
|
Add a Comment
Xavier Dorison (Long John Silver, The Third Testament) and Terry and Rachel Dodson (Star Wars: Princess Leia, Uncanny X-Men) launch a sexy and funky new superhero story, straight out of a Quentin Tarantino film, in RED ONE.

In RED ONE, it's 1977—the height of the Cold War between the USSR and the US—and the Kremlin has a plan to win the war against Uncle Sam: propaganda!

Vera Yelnikov is an elite agent in the Soviet Army during the Cold War—she IS the atomic bomb. Vera is sent to Los Angeles by her bosses at the Kremlin. Her mission? Become a true "American superhero." She must spearhead a propaganda operation of communist values from within the United States and fight against the "Carpenter"—a fascist serial killer who blames America's ills on liberals.

In her cover identity "Alabama Jones," Vera must find a day job that conceals her true mission—to do the Kremlin's bidding when the USSR needs her... as RED ONE!

The exciting series poses a chilling question, one rife with political overtones: What happens when America's Greatest Hero... is actually a Russian Spy? It hits stores on March 18 and can be pre-ordered with Diamond Code JAN150575.





BENDIS, BAGLEY BRING THE ULTIMATE UNIVERSE TO A CLOSE
01/28/15 @ 7:50 pm EST
Source:
Marvel
| Categories:
Ultimate Comics
|
Comments
(0) |
E-mail Article
|
Add a Comment
n May 2015, Time Runs Out and the Secret Wars begin with the Ultimate Universe coming to an end!

The original ULTIMATE SPIDER-MAN creative team of Brian Michael Bendis and Mark Bagley reunite to shut the door on what they began 15 years ago in ULTIMATE END as part of Battleworld!


THE WALKING DEAD ACTOR TO JOIN CRIMINAL MINDS SPINOFF
01/28/15 @ 3:29 pm EST
Source:
Bleeding Cool
| Categories:
Walking Dead
|
Comments
(0) |
E-mail Article
|
Add a Comment
Tyler James Williams
, who plays the recurring role of
Noah
on
AMC's
The Walking Dead
, has been tapped to join
Gary Sinise
as part of the put pilot for the
Criminal Minds
spinoff series
CBS
has in the works.
The spinoff focuses on FBI agents who help American citizens who get in trouble abroad. Williams will play the teams tech analyst who is incredibly smart but also very sweet-natured. Both helps him and the team work with families who need help.
The spinoff pilot will air as an episode of
Criminal Minds
written by the series executive producer/showrunner
Erica Messer
.
VAMPIRELLA CLIMBS INTO THE BOX OF DREAD
01/28/15 @ 3:16 pm EST
Source:
Bleeding Cool
| Categories:
Vampirella
|
Comments
(0) |
E-mail Article
|
Add a Comment
Like
Loot Crate
, the web site
Dread Central
is offering up their own monthly box of random goodies but this one has a horror theme… as you'd expect from something called
Box of Dread
. Well, the February box is going to be
Vampirella
themed. The items in the box are custom made for Dread Central and not available anywhere else. This starts their
Women of Horror
initiative where they want to bring more attention to the amazing contribution women have made to the horror genre.
One of the items in the Box of Dread for February will be a copy of
Legenderry: Vampirella
#1 from
Dynamite Entertainment
. The issue will have an exclusive cover to Dread Central drawn by
Roberto Castro
and you are getting an exclusive first look at it here.
THE LAST DAYS BEGIN THIS MAY
01/28/15 @ 3:09 pm EST
Source:
Marvel
| Categories:
Marvel
|
Comments
(0) |
E-mail Article
|
Add a Comment
The skies fracture. The ground trembles. The end of all they know is coming. Heroes, Gods of Mischief and Masters of Magnetism who have faced annihilation more times than they could count and walked away. Only this time, there is no walking away. Today, Marvel is pleased to present the first issues of three blockbuster
LAST DAYS
stories, leading in to the highly-anticipated
Secret Wars.
Beginning in May, be there as your favorite Marvel heroes face their final hours, and the obliteration of the Marvel Universe!
First, Al Ewing and Luke Ross bring you a story of the people who faced the end of the world together, shoulder to shoulder in the face of destruction in
CAPTAIN AMERICA & THE MIGHTY AVENGERS #8
. Some of them wore costumes, and some of them didn't. Some of them had super-human powers, and all some had were each other. Yet they were all Mighty Avengers in the end. And this is how they spent their last day.
Then, ask yourself – what will your legacy be when it's all over? Cullen Bunn and Javi Fernandez have the answers in
MAGNETO #18
. The Mutant Master of Magnetism has learned his time is all but spent. A life of struggle and torment brought to a cataclysmic end at the destruction of all things. With everything he's fought for his whole life brought to its unavoidable ending, how will he cope? Will he celebrate his legacy – or be tormented by it?
Finally, the end of the Marvel Universe extends into Asgard and beyond as all the Ten Realms face their final hours in
LOKI: AGENT OF ASGARD #14
. Al Ewing and Lee Garbett bring you the curtain call of the God of Mischief. Ancient enemies march on Asgardia seeking their final vengeance – including King Loki, meaner, madder and more dangerous than before. Where is our Loki? What tragedy has befallen him, here at the end?
Before Secret Wars can begin, the Marvel Universe must end. And it all starts this May as the
LAST DAYS
story arcs begin in
Captain America & the Mighty Avengers #8
,
Loki: Agent of Asgard #14
, and
Magneto #18
!
CAPTAIN AMERICA & THE MIGHTY AVENGERS #8 Written by AL EWING Art & Cover by LUKE ROSS On Sale in May!
MAGNETO #18 Written by CULLEN BUNN Art by JAVI FERNANDEZ Cover by DAVID YARDIN On Sale in May! LOKI: AGENT OF ASGARD #14 Written by AL EWING Art & Cover by LEE GARBETT On Sale in May!
OFF THE PRESS - TWILIGHT ZONE: SHADOW & SUBSTANCE #1
01/28/15 @ 9:22 am EST
Source:
DiamondGalleries.com
| Categories:
The Twilight Zone Shadow and Substance
|
Comments
(0) |
E-mail Article
|
Add a Comment
Dynamite; $3.99 According to Thomas Wolfe, "You can't go home again." But Mr. Wolfe didn't mention anything about going home to your past. In the first issue of Twilight Zone a successful writer flies back to his hometown for a book signing. What he finds is more than he anticipated when he finds himself face to face with his younger self. Upon encountering his younger self, he must decide if he should help the troubled, abused boy or leave him to suffer knowing what the future holds after that suffering is endured. The story written by Mark Rahner is very interesting both for its philosophical and ethical quandary. The question posed to this man is one anybody would struggle to answer. On top of that is the eerie, unsettling feeling leading up to these moments. The weight of the title is enough to warn readers that this plane ride will not be the usual trip. Edu Menna's art aides the story by drawing characters with haggard visages, setting the tone for a story both complicated and thought provoking. This first issue comes with covers by Guiu Vilanova, Francesco Francavilla, Jay Shaw, and Jonathan Lau.
MATT KINDT & PERE PEREZ READY FOR WAR ON THE "HOMEFRONT" IN UNITY #15 – COMING IN FEBRUARY
01/27/15 @ 9:04 pm EST
Source:
Valiant
| Categories:
MIsc
|
Comments
(0) |
E-mail Article
|
Add a Comment
Valiant is proud to present an advance preview of UNITY #15 – the FIRST ISSUE of"HOMEFRONT", an an all-new jumping-on point from New York Times best-selling writerMatt Kindt (THE VALIANT, RAI) and Harvey Award-nominated artist Pere Perez (ARCHER & ARMSTRONG)! The riveting new story arc starts here on February 18th as Valiant superstars Kindt and Perez lead the world's most elite superteam into a concussive showdown that will leave its members reeling…and rebuild Unity one hero at a time!
The United have left Unity decimated – a member lost, a terrible secret revealed, and the entire world turned against them. Not Harada, not Dr. Silk, not even the mighty Armor Hunters left the team as fractured as this! Now, Unity must decide where their place is in this new world and whether they will stand together or fall apart, beginning with the one teammate that might just be the most dangerous of all…the lethal intelligence operative called NINJAK!
Can the most powerful superteam the world has ever known withstand the shock of "HOMEFRONT"? Find out here as MI-6′s most dangerous agent…the one and only NINJAK…steps into the line of fire for a perilous new jumping-on point on February 18th in UNITY #15 – featuring covers by Raul Allen (RAI),Jenny Frison (Revival), and ChrisCross (Superman/Batman)!
UNITY #15 (ALL-NEW ARC! "HOMEFRONT" – PART 1)
Written by MATT KINDT
Art by PERE PEREZ
Cover A by RAUL ALLEN (DEC141726)
Cover B by JENNY FRISON (DEC141727)
Variant Cover by CHRIS CROSS (DEC141728)
$3.99 32 pages. T+ On sale FEBRUARY 18 (FOC – 1/26/15)