MARVEL ENTERTAINMENT & ABC STUDIOS ANNOUNCE ALL-NEW "CASTLE" HARDCOVER GRAPHIC NOVEL
03/12/12 @ 3:31 pm EST
Source:
Marvel
|
Comments
(0) |
E-mail Article
|
Add a Comment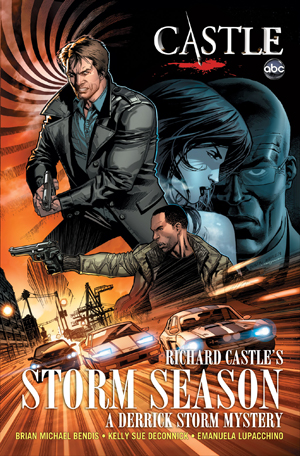 Sequel To New York Times Best-Selling Original Graphic Novel Based on ABC Primetime Hit Series Arrives October 2012
Marvel Entertainment and ABC Studios are proud to announce Castle: Richard Castle's Storm Season, an all-new hardcover graphic novel inspired by the popular "Castle"
television series. This 112 page hardcover, based the titular novel from noted author Richard Castle, hits comic shops, the
Marvel Comics app
,
iBookstore
, Nook Bookstore and everywhere books are sold on October 17th, 2012.
Private Investigator Derrick Storm is hired to bug the hotel suite of an African head of state, but this routine mission quickly spirals out of control when Storm overhears a woman's terrifying scream on the wire. Plagued by the victim's helpless cry, Storm—despite an ominous warning—investigates the truth. Soon he'll discover an international conspiracy reaching further than he ever imagined…and perhaps the truth about Clara Strike, a CIA Agent the world thinks is dead.
"As a comic book fan, I couldn't be more excited about Brian and Kelly Sue bringing Derrick Storm to life once again in Storm Season" said Richard Castle. "Storm is a character near and dear to my heart, so I wouldn't trust him with many people, but he is in some incredibly capable hands with this team."
This is the second "Castle" original graphic novel to be released through a collaborative effort between Marvel, ABC Studios and the producers of "Castle." In 2011, Castle: Richard Castle's Deadly Storm dominated sales charts and garner worldwide acclaim.
"Marvel has done an amazing job of bringing Derrick Storm to a new audience and we're thrilled to keep the magic going with this next graphic novel." said Andrew W. Marlowe, "Castle" creator/executive producer. "Fans can look forward to another fantastic adventure, filled with page-turning excitement. Storm Season is Richard Castle at his finest."
Castle: Richard Castle's Storm Storm reunites the lauded writing duo of Brian Michael Bendis & Kelly Sue DeConnick (Richard Castle's Deadly Storm) for their second Castle story. They're joined by rising star artist Emanuela Lupacchino (X-Factor), whose dynamic interior artwork brings the world of Derrick Storm to life like never before. This original graphic comes wrapped in a stunning cover by acclaimed artist Dustin Weaver (S.H.I.E.L.D.).
"The Derrick Storm novels are full of action, intrigue and compelling characters—it's no surprise that our graphic novel adaptations have taken the literary world by storm!" said Axel Alonso, Marvel Entertainment Editor in Chief. "Castle: Richard Castle's Storm Season will be one of the most exciting graphic novels you read all year, whether you're a longtime fan of Richard Castle or new to his exciting stories."
CASTLE: RICHARD CASTLE'S STORM SEASON
Written by BRIAN MICHAEL BENDIS & KELLY SUE DECONNICK
Art by EMANUELA LUPACCHINO
Cover by DUSTIN WEAVER
Rated T+…$19.99
ON SALE OCTOBER 17, 2012
"Castle" stars Nathan Fillion as Richard Castle, Stana Katic as NYPD Detective Kate Beckett, Susan Sullivan as Martha Rodgers, Molly Quinn as Alexis Castle, Ruben Santiago-Hudson as NYPD Captain Roy Montgomery, Tamala Jones as Medical Examiner Lanie Parish, Jon Huertas as NYPD Detective Javier Esposito, and Seamus Dever as NYPD Detective Kevin Ryan.
"Castle" is produced by ABC Studios. Andrew Marlowe is the show's creator/executive producer, along with executive producers Rob Bowman, David Amann, Laurie Zaks and Armyan Bernstein.
ABOUT MARVEL ENTERTAINMENT
: Marvel Entertainment, LLC, a wholly-owned subsidiary of The Walt Disney Company, is one of the world's most prominent character-based entertainment companies, built on a proven library of over 8,000 characters featured in a variety of media over seventy years. Marvel utilizes its character franchises in entertainment, licensing and publishing. For more information visit
www.marvel.com
ABOUT ABC STUDIOS
: ABC Studios, part of ABC Entertainment Group develops and produces compelling programming for both broadcast network and cable television as well as digital platforms. ABC Studios has delivered some of the most successful, talked-about and evolutionary series on television such as
Desperate Housewives
,
Grey's Anatomy, Lost, Criminal Minds, Army Wives
and
Brothers
&
Sisters
.
BRYAN SINGER TO DIRECT 'X-MEN: APOCALYPSE' AFTER ABUSE SUIT DROPPED
09/22/14 @ 6:51 pm EST
Source:
ICv2
| Categories:
X-Men
|
Comments
(0) |
E-mail Article
|
Add a Comment


Bryan Singer will return for another round of X-Men action, returning to the director's chair for X-Men: Apocalypse, The Hollywood Reporter (via ICv2) is reporting.

Singer has finalized a deal with 20th Century Fox to direct the latest X-Men film, now that the lawsuit that alleged that Singer sexually abused a minor has been dropped, Singer did not take part in the promotion for X-Men: Days of Future Past after the obviously-timed suit was filed.
THE NEW 52: FUTURES END #21: WORLDS END IS COMING
09/22/14 @ 6:42 pm EST
Source:
DC
| Categories:
Futures End
|
Comments
(0) |
E-mail Article
|
Add a Comment
Today, DC is giving you a first looks at THE NEW 52: FUTURES END #21.
Discover what happened during the war with Earth 2 as we set the stage for DC's next weekly epic: WORLDS END!
Earth Prime's Green Arrow and Earth 2's Red Arrow are revealed to both still be alive on Green Arrow Island, and we get a first look at the mass exodus of Earth 2 as the armies of Apokolips invade!
THE NEW 52: FUTURES END #21, written by Brian Azzarello, Jeff Lemire,Dan Jurgens and Keith Giffen and illustrated by Cully Hamner, is on sale this Wednesday.
UNITED AS ONE – YOUR FIRST LOOK AT AVENGERS & X-MEN: AXIS #2
09/22/14 @ 6:31 pm EST
Source:
Marvel
| Categories:
Avengers and X-Men Axis
|
Comments
(0) |
E-mail Article
|
Add a Comment
This October, the Avengers and X-Men stand together, storming the beaches of Genosha. Today, Marvel is proud to present your first look inside
AVENGERS & X-MEN: AXIS #2
, the next blockbuster chapter hitting comic shops and digital devices on 10/15, one week after the highly anticipated first issue! Superstar creators Rick Remender and Adam Kubert unite for an epic battle pitting an army of Avengers & X-Men against the Red Skull and his hordes. Only not everything is as it seems…
The Red Skull's unmatched psychic potential knows no bounds. And he has yet to reveal his master plan. A dark secret that promises to shatter the fragile alliance of A and X – and leave broken bodies in its wake. A secret stretching back to the days of the super hero Civil War. A secret poised to upend the life of Tony Stark and all he cares for.
Even united, fighting as one, Avengers and X-Men may not be enough to stop the Red Skull. Can anything? Amid the battle raging in his Mutant Reeducation camps, the heroes on both sides will pay a terrible price, and Magneto will betray his alliances to join an army of evil. The Red Supremacy is upon us – have the heroes already lost? No fan can afford to miss the explosive next chapter of the comic book event of the fall when
AVENGERS & X-MEN: AXIS #2
hits comic shops and digital devices on October 15th!
There's a fine line between good & evil. Find out how thin as the battle rages on in
AVENGERS & X-MEN: AXIS #2
!
Plus, before
Avengers & X-Men: AXIS
kicks off, follow the events leading up to the blockbuster comic event of the year with
Avengers & X-Men: AXIS – The Story So Far
. Relive the war between Avengers and X-Men over the Phoenix Force, the Avengers Unity Squad's first battle with the Red Skull in the pages of
Uncanny Avengers
and more.
AVENGERS & X-MEN: AXIS #2 (AUG140728)
Written by RICK REMENDER Art by ADAM KUBERT
Cover by JIM CHEUNG Inversion Variant by KRIS ANKA (AUG140730)
Young Guns Variant by MAHMUD ASRAR (AUG140729)
FOC – 09/22/14, On-Sale – 10/15/14
THE DREAM MERCHANT WILL QUICKEN NIGHTMARES
09/22/14 @ 4:19 pm EST
Source:
Image
| Categories:
Image
|
Comments
(0) |
E-mail Article
|
Add a Comment
The dark fantasy series from Nathan Edmondson (WHO IS JAKE ELLIS?, GENESIS) and Konstantin Novosadov returns this October in issue #5 when Winslow's dreams begin to unravel and his nightmares swiftly surface.
Tormented by recurring dreams, Winslow is hunted by mysterious beings and protected by an old traveler. Soon Winslow realizes the power and prophetic nature of his dreams and the danger their knowledge puts him in. Strange entities are after him, and they will not rest until they put a stop to the clues his dreams provide about information that world was meant to forget—even if it means erasing his mind.
"Winslow's dream has become a nightmare, and behind that nightmare is a truth more terrible than imagination," hinted Edmondson. "Winslow is about to find out how important his dream truly is—and what it will cost to protect humanity from its origins."
THE DREAM MERCHANT #5 hits stands on October 15. The final order cutoff for retailers is TODAY.
STARLIGHT EPIC COVER REVEAL
09/22/14 @ 4:16 pm EST
Source:
Image
| Categories:
Image
|
Comments
(0) |
E-mail Article
|
Add a Comment
Bestselling writer Mark Millar (JUPITER'S LEGACY) and artist Goran Parlov (Fury MAX) team up for the show-stopping final installment of the hit series STARLIGHT, featuring an epic conclusion and a variant cover by the renowned Cliff Chiang (Wonder Woman).
In issue #6, Duke, Space-Boy, and their rebel friends face off in their final, defining battle against the Brotean regime. But there's been a traitor in their midst, and their plans aren't all they're cracked up to be. It's not only their lives in the balance, but the future of the entire planet Tantalus.
Readers won't want to miss out on this out-of-this world space adventure's momentous conclusion and the shocking twist that will end the series with a bang.
STARLIGHT #6 hits stands on October 15. Cover A by John Cassaday can be pre-ordered with Diamond Code JUL140577. Cover B by Cliff Chiang can be pre-ordered with Diamond Code JUL140578. The final order cutoff for retailers is TODAY.
THE WICKED + THE DIVINE WILL FEATURE VARIANT COVER BY BECKY CLOONAN
09/22/14 @ 4:13 pm EST
Source:
Image
| Categories:
Image
|
Comments
(0) |
E-mail Article
|
Add a Comment
Image Comics is pleased to reveal a very special variant cover by artist Becky Cloonan (SOUTHERN CROSS, Demeter) for Kieron Gillen and Jamie McKelvie's THE WICKED + THE DIVINE #5. Cloonan's interpretation of Baphomet and The Morrigan sizzles and will be available to order with Diamond Code AUG148290.
THE WICKED + THE DIVINE #5 marks the end of the first story arc and is an action-packed finale that will rip the rug out from underneath readers who thought they'd had everything figured out. It's showtime.
"Put it like this: it's the climax of the first story," said Gillen. "It's the climax. The aim is to let loose those martian-metal fireworks in your head and burn it into your cortex forever. If people open up your skull they'll find I REALLY LIKED THE END OF THE FIRST THE WICKED + THE DIVINE STORY written on your grey matter in neat letters. That's what we're shooting at. We can't wait for people to read it."
THE WICKED + THE DIVINE #5 will hit shelves on 10/22 and can be ordered with Diamond Code AUG140694. Keep an eye out for the special Becky Cloonan variant (Diamond Code AUG148290) which will be available on the same day. Final order cutoff deadline for retailers is Monday, 9/29.
BUNN LAUNCHES ALL-NEW ARMY OF DARKNESS (AND ASH WILLIAMS) INTO OUTER SPACE!
09/22/14 @ 4:01 pm EST
Source:
Dynamite
| Categories:
Army of Darkness
|
Comments
(0) |
E-mail Article
|
Add a Comment
Dynamite Entertainment proudly announces that its flagship title and longest-running comic book series,
Army of Darkness
, will launch with a brand new #1 issue in December. Cullen Bunn, the celebrated writer of
Deadpool
, will take iconic horror hero Ash Williams somewhere he has never been before: outer space. Longtime franchise fans are invited to strap themselves in for the bold new direction, in a series featuring interior artwork by
Army of Darkness
staple Larry Watts, as well as cover artwork by industry heavyweights, including Gabriel Hardman, Tim Seeley, Art Adams, Walter Flanagan, and Jay Shaw.
Ash Williams, the hero of horror franchise
Army of Darkness
and reluctant "Chosen One" in the war against demons, has encountered so many strange happenings over the years, but nothing could have prepared him for his latest misadventure. Catapulted into the depths of space, Ash must confront the Deadites in a place where no one can hear his screams... or his chainsaw... or his boomstick! What do the forces of the evil dead want with the International Space Station... and can our square-jawed protagonist prevent Armageddon?
"Ash is kind of the ultimate screwball knucklehead, and he really has no business being the 'Chosen One' in the battle against ultimate darkness. That's what makes him such a compelling underdog," says Bunn, whose new
Army of Darkness
series follows on the heels of his contribution to November's
Army of Darkness
#1992.1 one-shot special. "With this new series, we're taking the 'fish out of water' storyline to the next level, because not only is Ash fighting the Deadites, he's doing so in the depths of space! With such a strange set-up, it might be easy to think that this is a big departure from what we've seen before, but my goal has been to make this 'feel' very much like it belongs in the same family as the source material, even though the setting is so vastly different."
Cullen Bunn is a freelance writer perhaps best known for Marvel Comics' popular
Deadpool
and
Magneto
series, as well as the Oni Press series
The Damned
and
The Sixth Gun
. He is also a short story writer and novelist; his major publications outside of the comic book sphere include
Crooked Hills
and
Creeping Stones & Other Stories
. He has been nominated for the Bram Stoker Award (2012), the Eisner Award (2012), and the Ghastly Awards (2011), and is the winner of Broken Frontier's "Best Writer Independent" Award (2011).
Army of Darkness
is a 1992 fantasy/comedy film with strong horror elements starring Bruce Campbell (
Burn Notice
) and Embeth Davidtz, the third installment in a trilogy featuring reluctant hero Ash Williams. Directed by Sam Raimi (
Spider-Man
), the film saw its tough-as-nails, wise-cracking protagonist transported from the modern era to the Dark Ages in his continuing war against demonic evil.
Army of Darkness
generated a dedicated fan following for its premise and lead actor.
"Cullen Bunn has been tearing up the comic book universe with his work on
Deadpool
-- an offbeat, unpredictable explosion of mirth and mayhem -- and it's just that sort of frenetic storytelling that makes Cullen the perfect fit for the
Army of Darkness
world," says Nick Barrucci, Dynamite CEO and Publisher. "Larry Watts is the icing on the cake, because his comic and horror sensibilities are just right to bring Cullen's script to life. We're taking Ash to the stars on his biggest adventure yet, and you'll never believe what happens next."
Army of Darkness
#1 will be solicited in Diamond Comic Distributors' October
Previews
catalog, the premiere source of merchandise for the comic book specialty market, and slated for release in December. Comic book fans are encouraged to reserve copies of
Army of Darkness
#1 with their local comic book retailers.
Army of Darkness
will also be available for individual customer purchase through digital platforms courtesy of Comixology, iVerse, and Dark Horse Digital.
DYNAMITE ANNOUNCES CREATIVE TEAM FOR ALL-NEW SHAFT COMIC BOOK SERIES
09/22/14 @ 3:52 pm EST
Source:
Dynamite
| Categories:
Dynamite
|
Comments
(0) |
E-mail Article
|
Add a Comment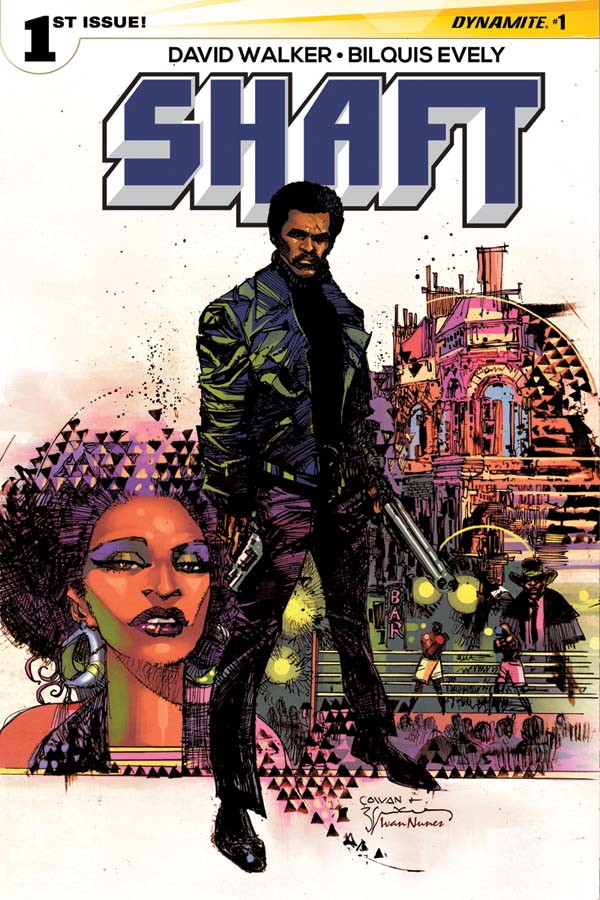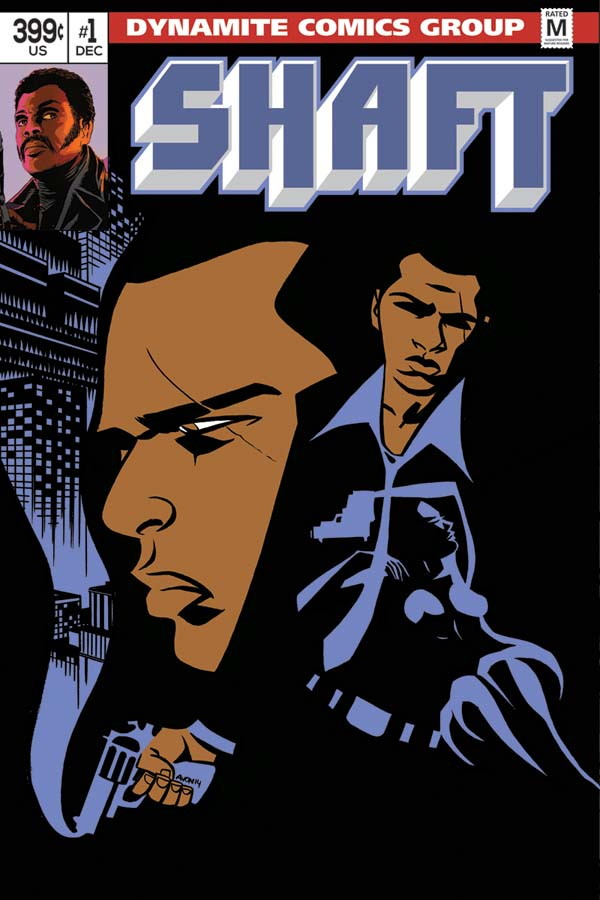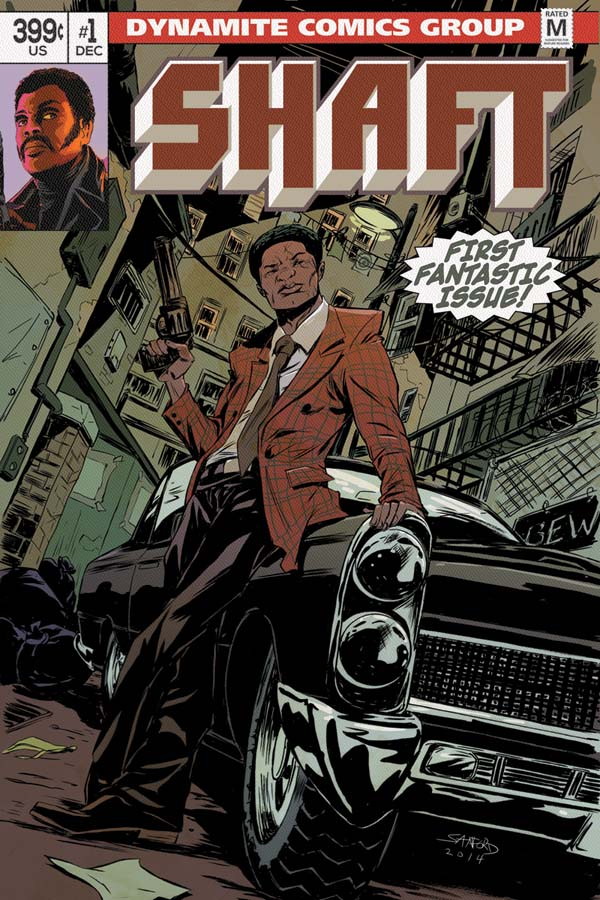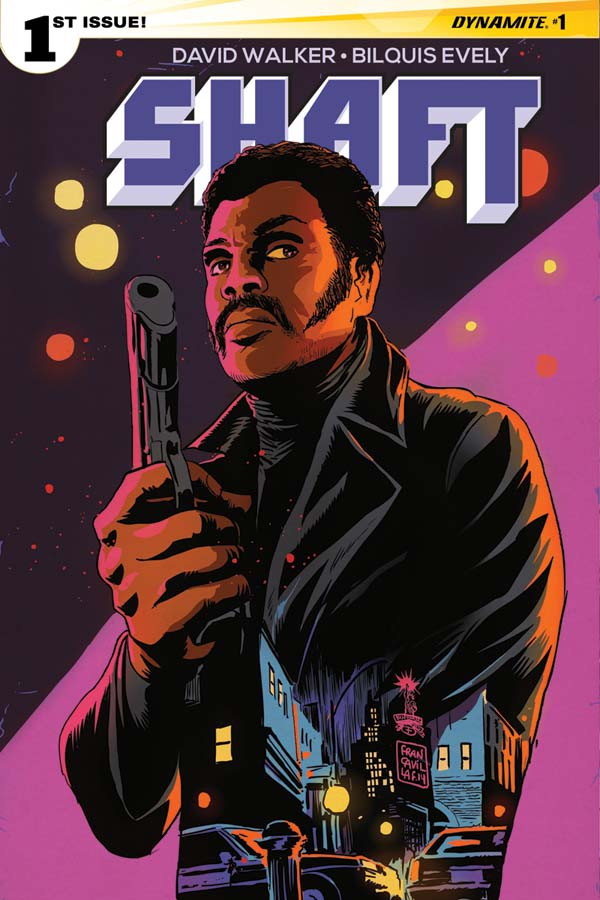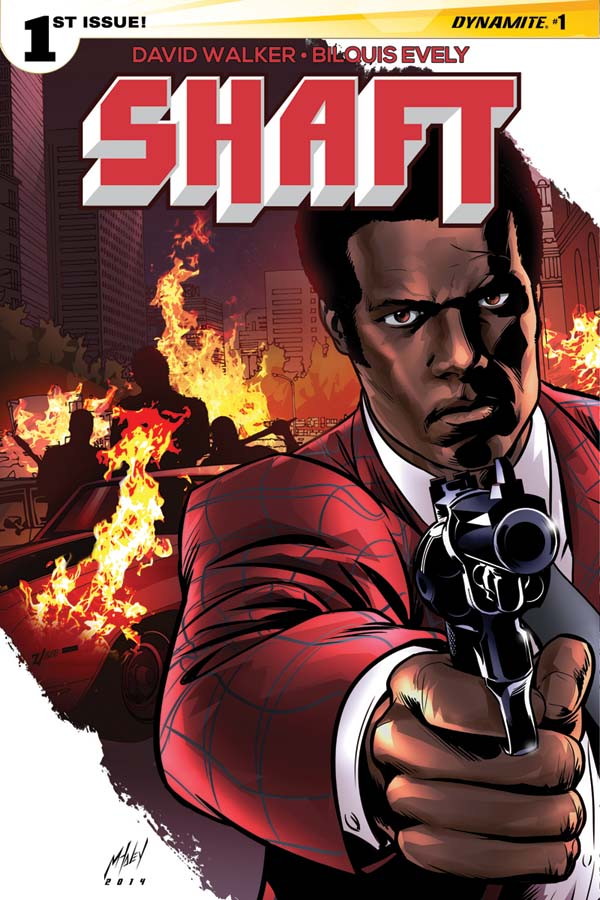 Dynamite Entertainment is proud to announce the signing of writer David F. Walker and artist Bilquis Evely to its upcoming
Shaft
comic book, based on the hard-hitting detective created by novelist Ernest Tidyman and popularized in films featuring Richard Roundtree and Samuel L. Jackson. Slated for release in December,
Shaft
#1 celebrates the 45th anniversary of an American icon with a wealth of cover art options by industry talents including Francesco Francavilla, Michael Avon Oeming, Ulises Farinas, Matt Haley, Sanford Greene, and a landmark collaboration between Denys Cowan and Bill Sienkiewicz.
John Shaft, described as a "tough, take-no-guff detective" and "private dick that's a sex machine to all the chicks" in composer/singer Isaac Hayes' Oscar-winning Theme from Shaft, has gone toe-to-toe with organized crime bosses, stood up to the cops, squared off against kidnappers, and foiled assassination attempts in his novel and film appearances. But who was John Shaft before he became the hardboiled investigator with a reputation as big as New York City itself? For the first time ever, the detective's origins are explored, courtesy of the new series by Dynamite Entertainment.
"Working on
Shaft
, one of the most iconic characters in pop culture, is a dream come true," says David F. Walker. "I've been a fan of the character since I was a kid, and especially love him in his original iteration, as created by author Ernest Tidyman. My take on
Shaft
is steeped in Tidyman's work, and builds on the world created in the original novels. I'm exploring who he is as a man, as a private detective, and as a cold-blooded killer. This John Shaft is much grittier, more badass, with a complexity never seen in the films. The name may be familiar, and some aspects of the character may be recognizable, but at the end of the day, he will be something new and exciting - especially in the world of comics. This is
Shaft
the way
Shaft
was meant to be."
David F. Walker is an award-winning journalist, filmmaker, and author of the Young Adult series
The Adventures of Darius Logan
. His publication
BadAzz MoFo
became internationally known as the indispensable resource guide to black films of the 1970s, and he is co-author of the book
Reflections on Blaxploitation: Actors and Directors Speak
. His work in comics includes the series
Number 13
(Dark Horse Comics),
The Army of Dr. Moreau
(Monkeybrain Comics), and
The Supernals Experiment
(Canon Comics).
Bilquis Evely is a rising star on Dynamite's roster of talented artists. Recently she worked alongside writer Chris Roberson on the critically acclaimed
Doc Savage
miniseries. Her other works include
The Shadow / Green Hornet: Dark Nights
crossover event with writer Michael Uslan,
The Shadow Annual
#1, and
Miss Fury
. Evely's experience with Dynamite's pulp heroes has made her the perfect fit for the mean streets of 1970's New York City in
Shaft
.
"The response by the media and fans over the announcement of a
Shaft
comic book series was nothing short of electric," says Nick Barrucci, Publisher and CEO of Dynamite Entertainment. "Frankly, there's no one better suited to take the reins on this project than David F. Walker, whose vast knowledge of and appreciation for the genre have been welcome and invaluable in our launch of the
Shaft
series. Combining his energetic take on this superbad private detective with Bliquis Evely's impressive artistic skills, we have all the makings of an explosive comic for
Shaft
fans to love."
Shaft
#1 will be solicited in Diamond Comic Distributors' October
Previews
catalog, the premiere source of merchandise for the comic book specialty market, and slated for release in December. Comic book fans are encouraged to reserve copies of
Shaft
#1 with their local comic book retailers.
Shaft
will also be available for individual customer purchase through digital platforms courtesy of Comixology, iVerse, and Dark Horse Digital.
JOSEPH MICHAEL LINSNER TALKS DAWN / VAMPIRELLA: A DYNAMITE INTERVIEW IN BLEEDING COOL
09/22/14 @ 1:26 pm EST
Source:
Bleeding Cool
| Categories:
Dawn Vampirella
|
Comments
(0) |
E-mail Article
|
Add a Comment
As we hit the third issue of
Dawn / Vampirella
from
Dynamite Entertainment
,
Byron Brewer
checks in with series writer and artist
Joseph Michael Linsner
to talk about bring two iconic female characters together for the first time.
BYRON BREWER: So, we are halfway through this unique mini-series teaming your gal Dawn with Vampirella in Dawn's first-ever crossover. Has it been a fun ride?JOSEPH MICHAEL LINSNER:
You bet. After 25 years of drawing Dawn it's nice getting to draw her interacting with another intelligent, beautiful lady. It's been a nice challenge as well. In order to give them separate visual identities, I've had to get a better handle on Dawn's body language. You should be able to tell them apart just from simple stick figures, beyond all of the fine details that come later. This has all been great fun and it's keeping me on my toes.
BB: Like Jim Starlin and a few others, you are a one-man creative band here on this mini. Does that make creating comics easier or harder?JML:
When you have something particular in mind, writing and drawing the whole thing makes it easier. I've had some great collaborators (like Jeff Eckelberry) over the years, but nothing is worse than butting heads with a creative collaborator. In the end the work always suffers and it shows in the sales. The ideas fall in the middle and don't reach their potential. Doing the whole thing myself, writing, drawing, inking and creating color guides, is more work but ultimately more satisfying.
BB: Have you had any difficulties jibing the world of Vampirella with that of Dawn?JML:
Not at all. Dawn has the ability to dance between worlds — she can go to Heaven, Hell and beyond. Overlapping her mythos with Vampi's has been as easy as pie. I think both ladies are strong characters, which makes it easier. You can take them and stick them into any scenario and they'll write themselves out of it easily.
BB: Give us your impression of each character: differences, similarities, etc.JML:
Dawn is more reserved and calculating. She is a chess player who doesn't like to get her hands dirty. Vampirella is carnal, she craves her righteous blood. Actions first, consequences later. I never would have envisioned a Goddess and a Vampire matching up so well, but they do play nicely off of each other.
BB: Both characters are good "storytellers," and November's issue has two wonderful tales. Do you like this method of storytelling?JML:
I started off doing short stories in my first series, "Cry For Dawn". I love short stories — they give you the chance to introduce a concept, develop it and then wrap it up all in a few pages. An ongoing adventure is easy to do, like a soap opera, but a good short story is hard work. It needs to have some meat on it's bones as well as a good payoff in the end, otherwise it feels like a waste of time for everyone.
BB: Can you give us your impression of Masodik as a villain? JML:
He's greedy. Being a demon, greed comes naturally. Part of him can't believe that he's actually pulling this storyline off, kidnapping Dawn and Vampirella, but somehow he is. He has the full attention of two smart and beautiful women, and he's loving every second of it because he's convinced that he's going to get everything he wants in the end. Will he? We'll have to see.
BB: Does Joseph the Writer ever get frustrated at Joseph the Artist, or vice versa?
JML:
Yes. I actually draw pretty fast, but not fast enough for Joe the Writer. I've got 10 million story ideas! So many graphic novels I want to get in print, but drawing them properly takes so long. And Joe The Artist gets frustrated because comics are such hard work. You have to draw everything to flesh out a scene fully. Lame details are essential to create the reality of a setting — chairs, tables, light sockets, doorknobs. I hate drawing that stuff. Joe the Artist just wants to paint girls, that's the fun part. Luckily, Kristina Deak- Linsner is an artist as well, and an excellent Editor. She's been instrumental in helping the artist and the writer maintain balance and keep the series on track.
BB: Hasn't this team-up mini been a wonderful way to celebrate the special anniversaries of both lead characters?JML:
It's been fantastic. I couldn't dream of a finer celebration of these two iconic female characters.
MORRISON, QUESADA, MILLIGAN & ALLRED UNITE – YOUR NEW LOOK AT ALL-NEW MIRACLEMAN ANNUAL #1
09/22/14 @ 1:14 pm EST
Source:
Marvel
| Categories:
Miracleman
|
Comments
(0) |
E-mail Article
|
Add a Comment
It was the series that changed comics forever, injecting new sophistication into the medium and becoming one of the most significant works in comic history. Marvel is proud to present your new look inside December's
ALL-NEW MIRACLEMAN ANNUAL #1,
bringing you new stories from legendary talents! Celebrated comic creators Grant Morrison, Joe Quesada, Peter Milligan and Mike Allred unite for a star-studded, can't-miss comic event that will have the whole industry talking!
"
Miracleman
is a legend that resonates deeply in the world of comics," says Marvel Editor in Chief Axel Alonso. "Without its trailblazing stories, who knows what the landscape of comics would look like today? If you want to live up to that pedigree, you don't pull any punches. That's why we tapped two incredible creative teams — Grant Morrison and Joe Quesada; Peter Milligan and Mike Allred — for this historic annual.
All-New
Miracleman Annual
#1 is a must-read for any fan of the character, or the medium in general."
Comic book icons Grant Morrison and Joe Quesada team for the first time to bring you a story over 20 years in the making. Famously written over 20 years ago, Grant Morrison's long-lost Miracleman tale will finally see print in this epic, oversized annual! Brought beautifully to life by legendary artist & Marvel Chief Creative Officer Joe Quesada, this notably unpublished story and much talked about piece of Miracleman history will finally be available for the first time ever! Experience a foreboding tale of the once Kid Miracleman prior to the cataclysmic Battle of London.
Then, comic superstars Peter Milligan and Mike Allred take you back to the glory days of Miracleman's past for an all-new look at the classic Mick Anglo era as Miracleman, Kid Miracleman and Young Miracleman do battle against a fearsome and terrifying foe! But amid the Miracleman Family's awe-inspiring clash, there is a sense of unease. Something is not right. Something in Miracleman's own mind! Is this all a dream? What is Project Zarathustra?
Plus,
ALL-NEW MIRACLEMAN ANNUAL #1
comes jam-packed with bonus extras that should not be missed - including Grant Morrison's original script, sketches, original art and more!
Debuting on New Year's Eve,
ALL-NEW MIRACLEMAN ANNUAL #1
stands as one of only two Marvel Comics hitting shelves on the final day of the calendar year. Launching alongside
S.H.I.E.L.D. #1
, Marvel Comics is ready to close out 2014 with a colossal bang! Be there when Grant Morrison, Joe Quesada, Peter Milligan and Mike Allred take the Miracleman mythos to new heights for the blockbuster
ALL-NEW MIRACLEMAN ANNUAL #1
– hitting comic shops and digital devices on 12/31!
ALL-NEW MIRACLEMAN ANNUAL #1
Written by GRANT MORRISON & PETER MILLIGAN Art by JOE QUESADA & MIKE ALLRED
Cover by GABRIELE DELL'OTTO
Variant Covers by JOE QUESADA & JEFF SMITH On-Sale 12/31/14!