MARVEL ENTERTAINMENT & ABC STUDIOS ANNOUNCE ALL-NEW "CASTLE" HARDCOVER GRAPHIC NOVEL
03/12/12 @ 3:31 pm EST
Source:
Marvel
|
Comments
(0) |
E-mail Article
|
Add a Comment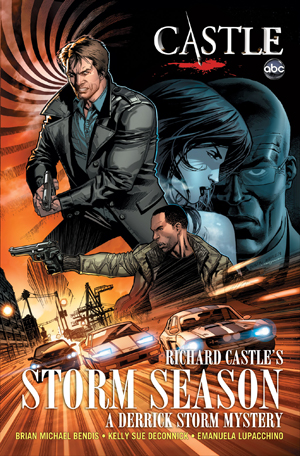 Sequel To New York Times Best-Selling Original Graphic Novel Based on ABC Primetime Hit Series Arrives October 2012
Marvel Entertainment and ABC Studios are proud to announce Castle: Richard Castle's Storm Season, an all-new hardcover graphic novel inspired by the popular "Castle"
television series. This 112 page hardcover, based the titular novel from noted author Richard Castle, hits comic shops, the
Marvel Comics app
,
iBookstore
, Nook Bookstore and everywhere books are sold on October 17th, 2012.
Private Investigator Derrick Storm is hired to bug the hotel suite of an African head of state, but this routine mission quickly spirals out of control when Storm overhears a woman's terrifying scream on the wire. Plagued by the victim's helpless cry, Storm—despite an ominous warning—investigates the truth. Soon he'll discover an international conspiracy reaching further than he ever imagined…and perhaps the truth about Clara Strike, a CIA Agent the world thinks is dead.
"As a comic book fan, I couldn't be more excited about Brian and Kelly Sue bringing Derrick Storm to life once again in Storm Season" said Richard Castle. "Storm is a character near and dear to my heart, so I wouldn't trust him with many people, but he is in some incredibly capable hands with this team."
This is the second "Castle" original graphic novel to be released through a collaborative effort between Marvel, ABC Studios and the producers of "Castle." In 2011, Castle: Richard Castle's Deadly Storm dominated sales charts and garner worldwide acclaim.
"Marvel has done an amazing job of bringing Derrick Storm to a new audience and we're thrilled to keep the magic going with this next graphic novel." said Andrew W. Marlowe, "Castle" creator/executive producer. "Fans can look forward to another fantastic adventure, filled with page-turning excitement. Storm Season is Richard Castle at his finest."
Castle: Richard Castle's Storm Storm reunites the lauded writing duo of Brian Michael Bendis & Kelly Sue DeConnick (Richard Castle's Deadly Storm) for their second Castle story. They're joined by rising star artist Emanuela Lupacchino (X-Factor), whose dynamic interior artwork brings the world of Derrick Storm to life like never before. This original graphic comes wrapped in a stunning cover by acclaimed artist Dustin Weaver (S.H.I.E.L.D.).
"The Derrick Storm novels are full of action, intrigue and compelling characters—it's no surprise that our graphic novel adaptations have taken the literary world by storm!" said Axel Alonso, Marvel Entertainment Editor in Chief. "Castle: Richard Castle's Storm Season will be one of the most exciting graphic novels you read all year, whether you're a longtime fan of Richard Castle or new to his exciting stories."
CASTLE: RICHARD CASTLE'S STORM SEASON
Written by BRIAN MICHAEL BENDIS & KELLY SUE DECONNICK
Art by EMANUELA LUPACCHINO
Cover by DUSTIN WEAVER
Rated T+…$19.99
ON SALE OCTOBER 17, 2012
"Castle" stars Nathan Fillion as Richard Castle, Stana Katic as NYPD Detective Kate Beckett, Susan Sullivan as Martha Rodgers, Molly Quinn as Alexis Castle, Ruben Santiago-Hudson as NYPD Captain Roy Montgomery, Tamala Jones as Medical Examiner Lanie Parish, Jon Huertas as NYPD Detective Javier Esposito, and Seamus Dever as NYPD Detective Kevin Ryan.
"Castle" is produced by ABC Studios. Andrew Marlowe is the show's creator/executive producer, along with executive producers Rob Bowman, David Amann, Laurie Zaks and Armyan Bernstein.
ABOUT MARVEL ENTERTAINMENT
: Marvel Entertainment, LLC, a wholly-owned subsidiary of The Walt Disney Company, is one of the world's most prominent character-based entertainment companies, built on a proven library of over 8,000 characters featured in a variety of media over seventy years. Marvel utilizes its character franchises in entertainment, licensing and publishing. For more information visit
www.marvel.com
ABOUT ABC STUDIOS
: ABC Studios, part of ABC Entertainment Group develops and produces compelling programming for both broadcast network and cable television as well as digital platforms. ABC Studios has delivered some of the most successful, talked-about and evolutionary series on television such as
Desperate Housewives
,
Grey's Anatomy, Lost, Criminal Minds, Army Wives
and
Brothers
&
Sisters
.
DANIEL CRAIG STILL 'FIRST CHOICE' TO PLAY BOND, PRODUCER SAYS
09/30/16 @ 5:54 pm EST
Source:
Comic Book Resources
| Categories:
James Bond
|
Comments
(0) |
E-mail Article
|
Add a Comment
Amid conflicting stories surrounding Daniel Craig's future with the Bond franchise, longtime executive producer Calum McDougall insists the actor is "absolutely the first choice" for the next 007 film.
"We love Daniel," McDougall told
BBC Radio 4
. "We would love for him to return as Bond. Without any question he is absolutely [series producers] Barb Broccoli and Michael Wilson's first choice, and I know they're hoping for him to come back."
The question of who will play the iconic super-spy has been hanging in the air for months. Although it was
recently rumored that Sony offered Craig $150 million
to reprise his role, the actor has made no secret he has little interest in playing Bond for a fifth time. Craig is contracted for one more film, but famously said
last year
that he'd rather "slash my wrists" than imagine doing another Bond film: "I'm over it at the moment. We're done. All I want to do is move on."
Yet, despite rumors that such actors as Tom Hiddleston and Jamie Bell were being considered to succeed Craig, there's been no confirmation from either side who will take the lead in Bond 25.
MARVEL DEBUTS AVENGERS VARIANT COVER BY ITALIAN DISNEY ARTIST
09/30/16 @ 5:49 pm EST
Source:
Comic Book Resources
| Categories:
Marvel
|
Comments
(0) |
E-mail Article
|
Add a Comment
Marvel has exclusively provided CBR with a variant cover for "Avengers" #1 by Italian artist Lorenzo Pastrovicchio, known for his work for Disney's comics published internationally by Panini.
The vibrant cover spotlights "All-New All-Different Avengers" mainstays Thor (Jane Foster), Captain America (Sam Wilson) and The Vision, in addition to newcomers Spider-Man (Peter Parker) and Hercules.
Check it out below:
Written by Mark Waid and illustrated by Mike Del Mundo, "Avengers" #1 — along with all of its variant covers — is scheduled for release on Nov. 2.
KIRKMAN TALKS BRINGING WALKING DEAD'S EZEKIEL AND SHIVA TO LIFE
09/30/16 @ 5:44 pm EST
Source:
Comic Book Resources
| Categories:
Walking Dead
|
Comments
(0) |
E-mail Article
|
Add a Comment
While Negan, armed with his trusty "sidekick" Lucille, has received the lion's share of the attention heading into "The Walking Dead's" seventh season, he won't be the only new face Rick Grimes and the other survivors meet. This season will also introduce the eccentric Ezekiel, played by Khary Payton, and
his
trusty sidekick, Shiva the tiger.
In the "Walking Dead" comics, Ezekiel is the self-proclaimed king of a peaceful community known simply as "The Kingdom." "That's probably the wildest swing I took in the comics," "The Walking Dead" creator Robert Kirkman admitted to
Entertainment Weekly
. "You know, a guy who has a pet tiger [and] who speaks like some kind of weird medieval king is pretty strange."
In fact, Kirkman said part of the reason he came up with the character was to see how the producers of the television series would cope with Ezekiel's pet: "When I was writing the comic, I was like, 'Hell yeah, let's see how we handle this tiger in the show!'"
It was certainly a tall task, especially on a TV budget. "This is a very real world, and if Shiva doesn't walk on screen, and look like this amazing real tiger that's existing amongst these characters, it's going to be more farfetched than it is in and of itself," Kirkman continued. "You wouldn't, you know, think we had a real tiger on set, but thankfully we don't or else I would never go to set again."
Despite even Kirkman admitting that bringing Ezekiel into the zombie apocalypse was strange at first, he becomes essential to the story. "He becomes a very pivotal character in where the story is going," he said. "So it's kind of an important benchmark, and an important turning point in the series as a whole to have his character introduced and all the things that come from that."
"The Walking Dead" returns Sunday, Oct. 23, at 9 p.m. ET/PT on AMC.
SETH ROGEN TALKS 'UNFILMABLE' PREACHER PILOT
09/30/16 @ 5:38 pm EST
Source:
Comic Book Resources
| Categories:
MIsc
|
Comments
(0) |
E-mail Article
|
Add a Comment
Season 1 of AMC's
"Preacher"
arrives on DVD and Blu-ray on Tuesday, October 4, and today, CBR has the first look at an exclusive clip that gives some insight into what we can expect from some of the special features.
In the behind-the-scenes footage, Seth Rogen calls the initial script for the pilot adapting Garth Ennis and Steve Dillon's seminal comic book series "unfilmable," then — along with fellow executive producer and frequent collaborator Evan Goldberg — explains how the actors help bring the story to its final product. A lot has been said about "Preacher"s drawn-out, page-to-screen process over the years, so we're guessing the rest of the bonus material will delve into that quite a bit.
Also included in the clip is series star
Dominic Cooper
giving insight into playing the title character, plus some B-roll of his epic bar fight with the other citizens of Annville.
Watch it all here:
https://youtu.be/TEbnF1rxeBo
WEEKEND BOX OFFICE: 'MISS PEREGRINE'S' BEATING 'DEEPWATER HORIZON' ON FRIDAY
09/30/16 @ 5:32 pm EST
Source:
The Hollywood Reporter
| Categories:
MIsc
|
Comments
(0) |
E-mail Article
|
Add a Comment
Tim Burton's
Miss Peregrine's Home for Peculiar Children
is winning the Friday box office race ahead of Pete Berg's disaster epic
Deepwater Horizon
for a projected $25 million-$27 million weekend, according to early returns.
For the day,
Miss Peregrine's
is pacing to collect roughly $9 million from 3,522 theaters, including $1.8 million in Thursday-night previews.
Weekend projections for
Deepwater Horizon
range anywhere from $18 million to $22 million, including a $7 million Friday. The movie, playing in 3,259 locations, reunites Berg with his
Lone Survivor
star Mark Wahlberg.
Miss Peregrine'
s and
Deepwater Horizon
are expensive outings, each costing $110 million to make.
From Fox and Chernin Entertainment,
Miss Peregrine
's marks Tim Burton's first big-budget Hollywood studio movie since his ill-fated
Dark Shadows
in 2012. Box-office analysts say an opening in the mid-$20 million range would mark a solid start, but caution the movie will need to have strong legs.
Miss Peregrine
, based on the bestselling YA novel, follows a young boy (Asa Butterfield) who travels to an island in Wales and meets Miss Peregrine (Eva Green) and the orphaned children who possess special powers. He comes to discover the magical realm's ties to his own family.
Deepwater Horizon
, from Lionsgate and Participant Media, recounts the real-life oil rig explosion in the Gulf of Mexico. Walhberg stars opposite Kurt Russell, Kate Hudson and Gina Rodriguez in the film, which had its world premiere at the Toronto Film Festival earlier in September.
New comedy
Masterminds
is having a tough time so far. Projections show the film — the first major release from Relativity since Ryan Kavanaugh's company emerged from Chapter 11 bankruptcy — opening in the $5 million-$7 million range from 3,042 locations. The film stars Zach Galifianakis, Owen Wilson, Kristen Wiig and Jason Sudekis.
Expanding its footprint this weekend is Disney's chess drama
Queen of Katwe
, which is now playing in a total of 1,242 theaters. The chess drama is struggling as well for a projected $2 million-$4 million weekend.
'WAR FOR THE PLANET OF THE APES' INVADES NEW YORK COMIC-CON
09/30/16 @ 5:28 pm EST
Source:
Deadline
| Categories:
Planet of The Apes
|
Comments
(0) |
E-mail Article
|
Add a Comment
20th Century Fox's simian threequel
War for the Planet of the Apes
doesn't hit theaters until July 14, but the studio is giving those at New York Comic-Con confab a sneak peek of the Matt Reeves-directed sequel. The studio is bringing Reeves, producer Dylan Clark and Caesar himself, Andy Serkis, to New York to show off an exclusive behind-the-scenes look at the 2017 summer tentpole at 8:30 PM October 6 at at the Regal E-Walk Theater.
But that's not all. The next day there will be a career conversation with Serkis, who'll discuss his groundbreaking work in
Apes
followed by a fan Q&A. The event is set for 3 PM at the Theater at Madison Square Garden.
New York Comic-Con slowly has been ramping up its film-side panel presentations. Among those on the schedule for the October 6-9 confab: Universal and Legendary are bringing Zhang Yimou's
The Great Wall
and Matt Damon for a Saturday presentation, and Screen Gems has its latest
Underworld
and
Resident Evil
picsheaded to Manhattan.
AMAZING SPIDER-MAN: RENEW YOUR VOWS #1 TOP SECRET ARTIST VARIANT REVEALED
09/30/16 @ 5:26 pm EST
Source:
Marvel
| Categories:
Marvel
|
Comments
(0) |
E-mail Article
|
Add a Comment
This November, the Parker family is wallcrawling and webslinging their way into hearts and minds in the pages of AMAZING SPIDER-MAN: RENEW YOUR VOWS #1! Legendary Spidey scribe Gerry Conway returns to pen the adventures of your friendly neighborhood Spider-Man alongside blockbuster artist Ryan Stegman – and Marvel is celebrating by revisiting one of the most iconic Marvel covers of all time! As this family of spiders swing headlong into Marvel NOW!, relive the wedding of Peter Parker and Mary Jane Watson with a variant cover by comics legend
John Romita Sr.
(AUG168911)! Masterfully recolored by Richard Isanove – this iconic classic comes to life once again!
Be there when being Spider-Man becomes a family affair as Peter, MJ and Annie swing into action in
AMAZING SPIDER-MAN: RENEW YOUR VOWS #1
. Don't miss the debut issue everyone will be talking about when it comes to comic shops and digital devices this November!
AMAZING SPIDER-MAN: RENEW YOUR VOWS #1 (SEP160946)TOP SECRET ARTIST VARIANT by JOHN ROMITA SR. (AUG168911)Written by GERRY CONWAY
Art & Cover by RYAN STEGMANFOC – 10/17/16, On-Sale – 11/09/16
'NOCTURNAL ANIMALS' ELLIE BAMBER SET FOR DISNEY'S 'NUTCRACKER AND THE FOUR REALMS'
09/30/16 @ 5:22 pm EST
Source:
Deadline
| Categories:
Disney
|
Comments
(0) |
E-mail Article
|
Add a Comment
Ellie Bamber, the British actress who plays the entitled daughter of Jake Gyllenhaal's character in Tom Ford's upcoming
Nocturnal Animals,
is adding to her dance card with Disney's
The Nutcracker and the Four Realms.
The film, directed by Lasse Hallstrom, is a live-action retelling of E.T.A. Hoffmann's 1816 story
The Nutcracker And The Mouse King
which was the source material for the classic 1892 ballet scored by Pyotr Ilyich Tchaikovsky.
In the original
Nutcracker
, one of Clara's Christmas toys — a Nutcracker doll — comes to life and battles the evil Mouse King with seven heads; Disney however is keeping the plot of their movie under wraps. Bamber will play the sister to Mackenzie Foy's Clara and joins Keira Knightley, Morgan Freeman and Misty Copeland in the movie.
Bamber, most recently in Screen Gems'
Pride And Prejudice And Zombies,
is repped by UTA and Curtis Brown Group.
COLIN TREVORROW TEASES SCARY JURASSIC WORLD 2 STORY
09/30/16 @ 5:19 pm EST
Source:
Comicbook
| Categories:
MIsc
|
Comments
(0) |
E-mail Article
|
Add a Comment
If you're one of the millions of fans looking forward to the next
Jurassic World
movie, then you're in the luck. The blockbusting franchise underwent a revival last summer with the release of Jurassic World, and and Universal will begin production on the sequel next spring. And, now, one of the co-writers on
Jurassic World 2
is teasing a very scary storyline for the anticipated movie.
Colin Trevorrow was forced to abandon his role as director on
Jurassic World 2
when Lucasfilm tapped him to helm
Star Wars: Episode IX
. However, the filmmaker stayed on to co-write the film's screenplay and act as producer. During a recent interview over at Jurassic Outpost, Trevorrow hinted that
Jurassic World 2
would be "more suspenseful and scary" than its predecessors.
"It will be more suspenseful and scary. It's just the way it's designed," he said. "It's the way the story plays out. I knew I wanted [J.A.] Bayona to direct it long before anyone ever heard that was a possibility, so the whole thing was just built around his skillset"
Of course, many fans were intrigued when they first learned that Bayona was taking over Trevorrow's mantle as director on
Jurassic World 2
. The filmmaker, who's best known for his work on
The Orphanage
and
The Impossible
, has a keen eye for rich, complex horror projects - something which moviegoers have been interested to see explored further in the
Jurassic
universe.
ARROW'S DIGGLE REVEALS NEW HELMET
09/30/16 @ 5:16 pm EST
Source:
Comicbook
| Categories:
DC
|
Comments
(0) |
E-mail Article
|
Add a Comment
Team Arrow is getting a major shakeup on its roster this season, but it won't be all new names standing alongside Oliver Queen. Fan favorite John Diggle will also be returning to the team, though the when is unknown, but when he does come back he will be sporting a redesigned helmet.
The newest season preview of The CW's upcoming slate features an up-close look at all of the shows. When the camera lands on Diggle, his helmet has received a slick redesign. The helmet is more modern and less bulky than the original one, and now it sports a translucent red visor across it. You can view the helmet at the 0.19-second mark.
Video:
https://youtu.be/1C6nbGIKm60