MARVEL ENTERTAINMENT & ABC STUDIOS ANNOUNCE ALL-NEW "CASTLE" HARDCOVER GRAPHIC NOVEL
03/12/12 @ 3:31 pm EST
Source:
Marvel
|
Comments
(0) |
E-mail Article
|
Add a Comment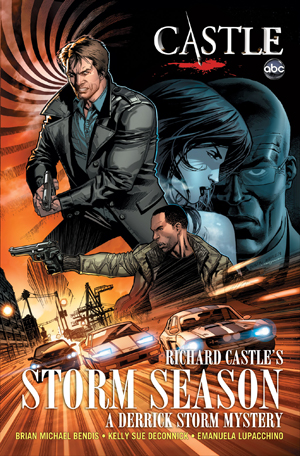 Sequel To New York Times Best-Selling Original Graphic Novel Based on ABC Primetime Hit Series Arrives October 2012
Marvel Entertainment and ABC Studios are proud to announce Castle: Richard Castle's Storm Season, an all-new hardcover graphic novel inspired by the popular "Castle"
television series. This 112 page hardcover, based the titular novel from noted author Richard Castle, hits comic shops, the
Marvel Comics app
,
iBookstore
, Nook Bookstore and everywhere books are sold on October 17th, 2012.
Private Investigator Derrick Storm is hired to bug the hotel suite of an African head of state, but this routine mission quickly spirals out of control when Storm overhears a woman's terrifying scream on the wire. Plagued by the victim's helpless cry, Storm—despite an ominous warning—investigates the truth. Soon he'll discover an international conspiracy reaching further than he ever imagined…and perhaps the truth about Clara Strike, a CIA Agent the world thinks is dead.
"As a comic book fan, I couldn't be more excited about Brian and Kelly Sue bringing Derrick Storm to life once again in Storm Season" said Richard Castle. "Storm is a character near and dear to my heart, so I wouldn't trust him with many people, but he is in some incredibly capable hands with this team."
This is the second "Castle" original graphic novel to be released through a collaborative effort between Marvel, ABC Studios and the producers of "Castle." In 2011, Castle: Richard Castle's Deadly Storm dominated sales charts and garner worldwide acclaim.
"Marvel has done an amazing job of bringing Derrick Storm to a new audience and we're thrilled to keep the magic going with this next graphic novel." said Andrew W. Marlowe, "Castle" creator/executive producer. "Fans can look forward to another fantastic adventure, filled with page-turning excitement. Storm Season is Richard Castle at his finest."
Castle: Richard Castle's Storm Storm reunites the lauded writing duo of Brian Michael Bendis & Kelly Sue DeConnick (Richard Castle's Deadly Storm) for their second Castle story. They're joined by rising star artist Emanuela Lupacchino (X-Factor), whose dynamic interior artwork brings the world of Derrick Storm to life like never before. This original graphic comes wrapped in a stunning cover by acclaimed artist Dustin Weaver (S.H.I.E.L.D.).
"The Derrick Storm novels are full of action, intrigue and compelling characters—it's no surprise that our graphic novel adaptations have taken the literary world by storm!" said Axel Alonso, Marvel Entertainment Editor in Chief. "Castle: Richard Castle's Storm Season will be one of the most exciting graphic novels you read all year, whether you're a longtime fan of Richard Castle or new to his exciting stories."
CASTLE: RICHARD CASTLE'S STORM SEASON
Written by BRIAN MICHAEL BENDIS & KELLY SUE DECONNICK
Art by EMANUELA LUPACCHINO
Cover by DUSTIN WEAVER
Rated T+…$19.99
ON SALE OCTOBER 17, 2012
"Castle" stars Nathan Fillion as Richard Castle, Stana Katic as NYPD Detective Kate Beckett, Susan Sullivan as Martha Rodgers, Molly Quinn as Alexis Castle, Ruben Santiago-Hudson as NYPD Captain Roy Montgomery, Tamala Jones as Medical Examiner Lanie Parish, Jon Huertas as NYPD Detective Javier Esposito, and Seamus Dever as NYPD Detective Kevin Ryan.
"Castle" is produced by ABC Studios. Andrew Marlowe is the show's creator/executive producer, along with executive producers Rob Bowman, David Amann, Laurie Zaks and Armyan Bernstein.
ABOUT MARVEL ENTERTAINMENT
: Marvel Entertainment, LLC, a wholly-owned subsidiary of The Walt Disney Company, is one of the world's most prominent character-based entertainment companies, built on a proven library of over 8,000 characters featured in a variety of media over seventy years. Marvel utilizes its character franchises in entertainment, licensing and publishing. For more information visit
www.marvel.com
ABOUT ABC STUDIOS
: ABC Studios, part of ABC Entertainment Group develops and produces compelling programming for both broadcast network and cable television as well as digital platforms. ABC Studios has delivered some of the most successful, talked-about and evolutionary series on television such as
Desperate Housewives
,
Grey's Anatomy, Lost, Criminal Minds, Army Wives
and
Brothers
&
Sisters
.
MORE MERCS MEANS MORE MONEY IN YOUR NEW LOOK AT DEADPOOL AND THE MERCS FOR MONEY #1
06/24/16 @ 4:11 pm EST
Source:
Marvel
| Categories:
Deadpool and The Mercs For Money
|
Comments
(0) |
E-mail Article
|
Add a Comment
The fans have spoken and the Mercs for Money are back in business. This July, Wade Wilson and his lovable band are back in an all-new
DEADPOOL AND THE MERCS FOR MONEY #1
– now an ongoing series! Coming in July, returning writer Cullen Bunn joins incoming artist Iban Coello for an all-out brawl-out as Deadpool, Solo, Slapstick, Foolkiller, Stingray, Terror and Masacre (and even a few surprises members!) hit the Marvel Universe in search of cold, hard cash! Deadpool may be one of the best mercenaries on the planet. He may even be a passable Avenger. Know what he isn't? A good leader. Don't believe us? Ask the Mercs for Money! But they'll have to work as a team when a big job with an even bigger payday falls into their laps. The job? Rid the Marvel Universe of its radioactive super villains. Easier said than done – especially when only one of them has a healing factor. Sorry, everyone but Deadpool. If you've got a pile of cash you're not overly fond of, and you can find them – maybe you can hire these miscreant mercenaries. Or you catch the exciting first issue of this ongoing series when
DEADPOOL AND THE MERCS FOR MONEY #1
embarks on a new adventure this July!
DEADPOOL AND THE MERCS FOR MONEY #1 (MAY160797)
Written by CULLEN BUNN
Art & Cover by IBAN COELLO
Variant Cover by GIUSEPPE CAMUNCOLI (MAY160798)
Action Figure Variant by JOHN TYLER CHRISTOPHER (MAY160799)
Young Variant by SKOTTIE YOUNG (MAY160800)
Hip-Hop Variant by DAVID NAKAYAMA (MAY160801)
Blank Variant Also Available (MAY160802)
FOC – 06/27/16, On-Sale – 7/20/16
ROLAND EMMERICH'S NEXT SPACE EPIC 'MOONFALL' LANDS AT UNIVERSAL
06/24/16 @ 4:06 pm EST
Source:
Deadline
| Categories:
MIsc
|
Comments
(0) |
E-mail Article
|
Add a Comment
As the Roland Emmerich-directed sci-fi sequel
Independence Day: Resurgence
kicks off the first weekend of summer box office in North America today, Universal Pictures has closed a deal for the filmmaker's next epic-sized sci-fi picture. The studio spent seven figures to acquire
Moonfall
, a spec script that Emmerich wrote with his
2012
collaborator Harald Kloser and Spencer Cohen, latter of whom scripted the sci-fi pic
Extinction
for Good Universe and Mandeville. Emmerich will direct the film and produce it with Kloser. The picture will be fast-tracked.
The studio has been in the mix on the script along with Sony Pictures and Fox, both of which have made successful big-canvas films with Emmerich. This one is best described as Emmerich's 2012 mashed together with
Close Encounters Of The Third Kind
, following an unlikely band of misfits who must unite to save humanity when the moon falls out of orbit and hurtles towards earth.
KEVIN CONROY GIVES A TASTE OF BATMAN'S LAUGH IN "THE KILLING JOKE"
06/24/16 @ 12:25 pm EST
Source:
Comic Book Resources
| Categories:
Batman
|
Comments
(0) |
E-mail Article
|
Add a Comment
In a new DC All-Access video veteran Batman voice actor Kevin Conroy digs into his upcoming R-rated animated adaptation of Alan Moore and Brian Bolland's "The Killing Joke." The voice actor discussed his experience working with Mark Hamill (the Joker), in addition to revealing a bit about the film's plot, which expands on the original DC Comics story.
"They've expanded some of the story a bit. There's much more Batgirl in this -- so that plot line's more developed," Conroy says in the video. "And the internal struggle that Batman has in wrestling with the demons and the Joker is much more explored. There are a couple of really wonderful scenes that I have with Mark that I'm really proud of."
He added, "[Batman]'s actually trying to -- I think, at one point --- draw the evil out of the Joker. It's a very cathartic process for Batman...It's a very complete arc for him."
When asked if Batman would laugh in the film, Conroy hesitantly admitted, "Batman laughs...very heartily." When pressed to do the laugh, Conroy -- very intimidatingly -- actually performed a little bit of it for the interviewer (around the 3:14 mark).
Check out the full interview with Conroy here:
https://youtu.be/MGOm9tvaTGM
AMELL SAYS "ARROW" PREMIERE WILL HAVE "MOST VICIOUS, VIOLENT" FIGHT IN NETWORK TV HISTORY
06/24/16 @ 12:19 pm EST
Source:
Comic Book Resources
| Categories:
Arrow
|
Comments
(0) |
E-mail Article
|
Add a Comment
Stephen Amell has read the script for "Arrow's"season five premiere, and he sure sounds
excited
. While speaking to fans during aFacebook live chat, Amell revealed that he's had discussions with the episode's directorJames Bamford, who also serves as "Arrow's" fight coordinator, and can report that season five will open with historic levels of action.
According to Amell, the premiere ep "has the opportunity for us to have the most vicious, violent one-shot in the history of network television." And by "one-shot," Amell means a continuous take fight scene like "Daredevil's" infamous hallway and stairwell scenes, or Daisy's one-take battle in the "Agents of S.H.I.E.L.D." episode "Spacetime."
And that fight might just set the tone for the entire season, too. "If [the premiere] is any indication, Arrow is going to be f---ing mean this year," said Amell, "and that's really exciting." And by "mean," Amell later clarified, he doesn't mean "evil" -- just
mean
.
Amell also revealed that "Arrow" season five will also feature the return of a mystery character -- "someone that we haven't seen in two full seasons." So that means someone we haven't seen since the first two seasons of the series. Any guesses -- and will they survive returning during "Arrow's" meanest season to date?
"Arrow" returns to the CW for season five on Wednesday, October 5 at 8 PM ET.
'DORY' DOMINATES THURSDAY OVER 'INDEPENDENCE DAY' SEQUEL
06/24/16 @ 12:11 pm EST
Source:
Deadline
| Categories:
MIsc
|
Comments
(0) |
E-mail Article
|
Add a Comment
Several wide releases are piling on top of Disney/Pixar's
Finding Dory
today, but none of them are expected to have the strength to take the femme fish down.
Dory
's second weekend is projected to be -55% for a three-day total of $60M. Yesterday, she swam past the double century mark with a total of $213.3M after logging $17.4M for the day.
20th Century Fox's
Independence Day: Resurgence,
a sequel 20 years in the waiting, grossed $4M from roughly 3,200 theaters last night. The Pico Boulevard studio is hoping for a $50M-plus weekend at 4,068 theaters with help from PLF, 3D and Imax formats.
Resurgence
's previews jive with such previous summer tentpole eves as
Mission: Impossible – Rogue Nation
($4M preview, $55.5M FSS) and
Dawn of the Planet of the Apes
($4.1M, $72.6M). Fox held back advance screenings of
Resurgence
from the domestic press until this morning in hopes that fanboy word of mouth impacts the B.O. for this Roland Emmerich disaster movie for the better. Currently,
Resurgence
counts a middling 46% Rotten Tomatoes score from 68 reviews.
451 MEDIA LAUNCHING 'RED DOG' BY 'FAST AND FURIOUS' AND 'XXX' SCREENWRITER ROB COHEN
06/24/16 @ 8:39 am EST
Source:
ICv2
| Categories:
MIsc
|
Comments
(0) |
E-mail Article
|
Add a Comment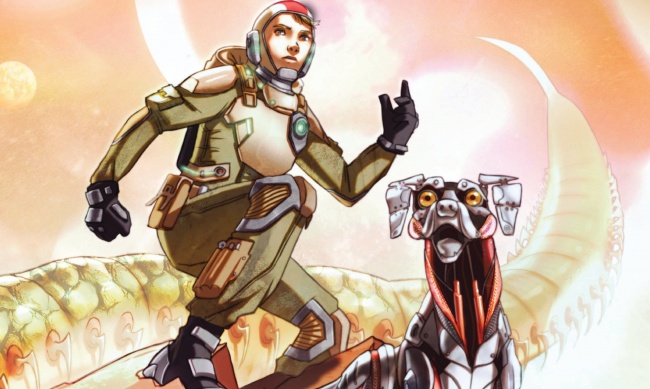 451 Media will launch the sci-fi miniseries
Red Dog,
written by
Fast and the Furious
and
XXX
screenwriter Rob Cohen, on September 21.
The four-issue miniseries is written by Cohen, with help from Andi Ewington (
Overrun, Exmortis
), and art by Rob Atkins (
G.I. Joe, Snake Eyes
). Covers for the first issue will be done by W. Scott Forbes and Tom Velez. The story is set on the distant mining colony of Kirwan, where young Kyle is the only non-adult. Kyle's only friend is his robotic K-9 Q. One day the alien natives of Kirwan rebel against the humans, and Kyle and Q are caught in the middle of the conflict.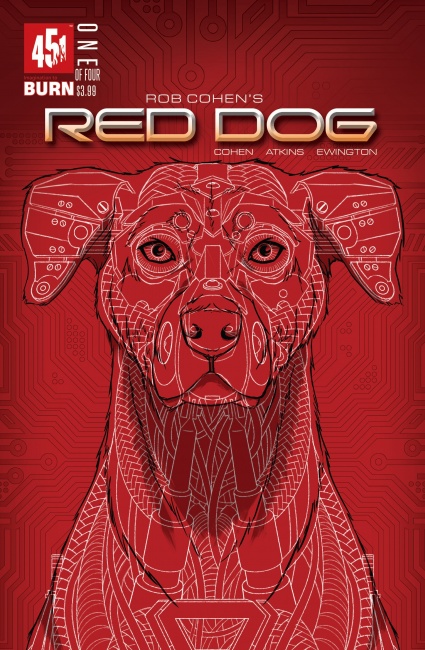 451 Media Group was formed last year by director Michael Bay and John and Anthony Gentile. The company boasts an impressive roster of Hollywood talent which includes well-known directors, screenwriters and vfx experts.
BRIAN BOLLAND, DAVE GIBBONS, KEVIN O'NEILL, MORE RETURN FOR '2000 AD' 2000TH ISSUE
06/24/16 @ 8:36 am EST
Source:
ICv2
| Categories:
MIsc
|
Comments
(0) |
E-mail Article
|
Add a Comment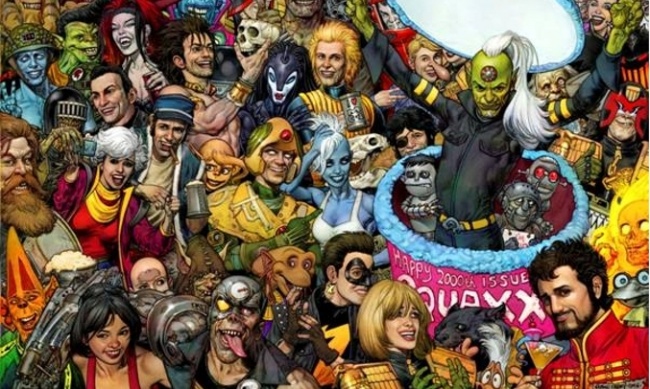 Comic book legends Brian Bolland, Dave Gibbons, Kevin O'Neill and Mick McMahon will all be featured in the pages of British sci-fi comic magazine 2000 AD for its 2000th issue on September 28.

Bolland (Batman: The Killing Joke), Gibbons (Watchmen), O'Neill (League of Extraordinary Gentlemen) and McMahon (The Last American) will all return to publish new work for the cult UK sci-fi anthology magazine. The 48-page issue will also feature a new series by Peter Milligan (X-Statix, Hellblazer) and a poster of commissioned artwork.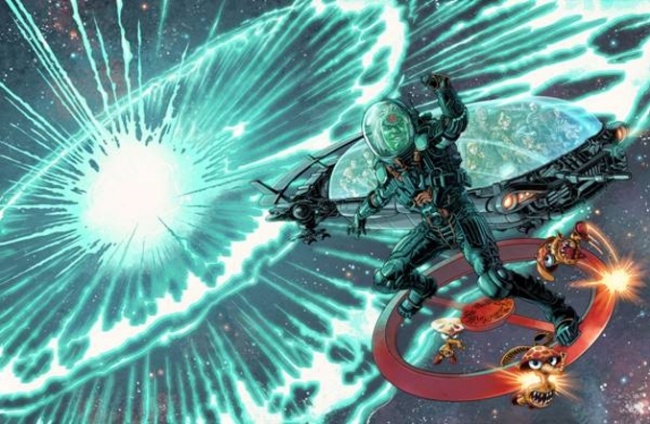 There will be three variant covers produced: two for newsstands by Cliff Robinson and Chris Burnham, and a special Diamond Distribution exclusive cover featuring a wraparound design by Glenn Fabry. Comic stores that order through Diamond will be able to take advantage of a buy-one-get-one-free offer.
ANTON YELCHIN'S DEATH SPARKS CLASS ACTION LAWSUIT AGAINST JEEP MANUFACTURER
06/24/16 @ 8:32 am EST
Source:
Deadline
| Categories:
Star Trek
|
Comments
(0) |
E-mail Article
|
Add a Comment
The accidental death of Anton Yelchin on June 19 is heading to the courts – at least as part of a proposed class action lawsuit filed today. Seeking restitution for the now-fallen resale value of their vehicles and referencing the
Star Trek
actor's death, the complaint filed Thursday accuses Jeep Grand Cherokee manufacturer Fiat Chrysler Automobiles of intentionally covering up fatal design flaws and deaths from the defects.
"The safety issue is real," says the complaint filed by class action specializing firm Hagens Berman Sobel Shapiro LLP for Deryl Wall, Justine Andollo, Danielle and Joby Hackett. "Well over 300 accidents have already been reported, causing dozens of serious injuries, and potentially the death of Anton Yelchin, a young Hollywood actor who was crushed to death when his own 2015 Jeep Grand Cherokee rolled down his drive and pinned him against his brick mailbox."
Having played Chekov in the
Star Trek
reboot films and with several other movies slated for release, Yelchin's death Sunday came just over a month before the Justin Lin-directed and Paramount Pictures-distributed
Star Trek Beyond
is set to open.Yelchin's SUV was one of 1.1 million Fiat Chrysler vehicles subject to a global recallbecause of a gearshift problem that has confused drivers, causing the vehicles to roll away unexpectedly.
The jury-seeking complaint filed in federal court also seeks an injunction to halt the company's alleged deceptive practices, punitive damages for fraud, "immediate installation of a safety override system or replacement of the defective ZF Shifter," a temporary replacement car and compensation for any additional costs owners may have incurred.
"FCA's unreasonable delay in fixing the defect and its warning letter was obviously too little, too late for Mr. Yelchin, and nearly a million Defective Shifter Vehicles remain in unsuspecting owners' driveways and garages," the complaint notes. "As a result of this dangerous defect, the Defective Shifter Vehicles are 'unsafe in any driveway' and the value of each Defective Shifter Vehicle has diminished, and it will remain depressed even if an effective fix is eventually applied." (Via Deadline)
'GHOSTBUSTERS' TRACKING FOR $40M-$50M U.S. DEBUT
06/24/16 @ 8:28 am EST
Source:
The Hollywood Reporter
| Categories:
MIsc
|
Comments
(0) |
E-mail Article
|
Add a Comment
One of summer's most anticipated — and debated — movies is taking shape in terms of its box-office potential.
Sony's
Ghostbusters
popped up on tracking Thursday, with early estimates suggesting a North American debut in the $40 million to $50 million range over the July 15-17 weekend. The studio, which has yet to wage its biggest and final marketing push, is no doubt hoping for the higher end, considering the movie cost a hefty $154 million to make.
Helmer Paul Feig ignited a firestorm in some social media circles when casting all women — Melissa McCarthy, Kristen Wiig, Kate McKinnon and Leslie Jones — as the Ghostbusters. In the original 1984 film, the supernatural investigators were famously played by Bill Murray, Dan Aykroyd, Ernie Hudson and Harold Ramis.
More than any other director in Hollywood, Feig has focused on making femme-centric films in recent years, including the runaway hit
Bridesmaids
. And he has blamed geek culture for attacking his
Ghostbusters
simply because women are the stars.
In an interview with
The Hollywood Reporter
, Sony movie studio chief Tom Rothman went even further, saying the controversy is "the greatest thing that ever happened." He added, "Are you kidding me? We're in the national debate, thank you. Can we please get some more haters to say stupid things?"
Females over the age of 25 are by far the most interested in seeing the new
Ghostbusters
, according to those with access to prerelease tracking. However, Sony has three weeks left to whip up additional interest among males and younger females.
"JUSTICE LEAGUE" WILL DRAW 'A LOT OF INFLUENCE' FROM JACK KIRBY'S WORK
06/23/16 @ 7:23 pm EST
Source:
Comic Book Resources
| Categories:
Justice League
|
Comments
(0) |
E-mail Article
|
Add a Comment
If the humans of the DC Films Universe thought the Kryptonians were bad, they have another thing coming to them. According to director Zack Snyder, he will draw heavily from comics legend Jack Kirby's work for "Justice League," which means Mother Boxes, Apokolips, the New Gods and more.
"[Jack] Kirby's crazy in a great way, and there's a lot of influence, you know, the New Gods stuff, we were digging on that -- and that's the Mother Boxes and that sort of Apokoliptian world and all that. I don't know if I can call it 'weird,' he said with a laugh.
"The kinda scope-y, sci-fi, cool, what I think is fun stuff," he continued. "I think inherently when you start to talk about a bad guy that would justify the Justice League, you have to have a good threat that's fun and kinda crazy. And the Mother Boxes are always fun, DC-weird tech, you know?"
Snyder included Mother Box technology in "Batman v Superman: Dawn of Justice," though the scene was cut from the theatrical version of the film; it will be included on the Ultimate Cut Blu-ray and DVD and is available to watch online. The scene also offered a glimpse of Steppenwolf,who will be the main villain of "Justice League."
Opening Nov. 17, 2017, "Justice League" stars Ben Affleck, Henry Cavill, Gal Gadot, Ezra Miller, Jason Momoa, Ray Fisher, Amy Adams, Jesse Eisenberg, Amber Heard, Jeremy Irons and J. K. Simmons.