MARVEL ENTERTAINMENT & ABC STUDIOS ANNOUNCE ALL-NEW "CASTLE" HARDCOVER GRAPHIC NOVEL
03/12/12 @ 3:31 pm EST
Source:
Marvel
|
Comments
(0) |
E-mail Article
|
Add a Comment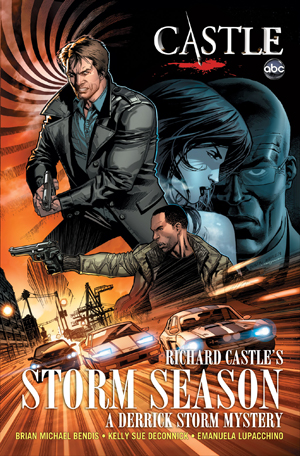 Sequel To New York Times Best-Selling Original Graphic Novel Based on ABC Primetime Hit Series Arrives October 2012
Marvel Entertainment and ABC Studios are proud to announce Castle: Richard Castle's Storm Season, an all-new hardcover graphic novel inspired by the popular "Castle"
television series. This 112 page hardcover, based the titular novel from noted author Richard Castle, hits comic shops, the
Marvel Comics app
,
iBookstore
, Nook Bookstore and everywhere books are sold on October 17th, 2012.
Private Investigator Derrick Storm is hired to bug the hotel suite of an African head of state, but this routine mission quickly spirals out of control when Storm overhears a woman's terrifying scream on the wire. Plagued by the victim's helpless cry, Storm—despite an ominous warning—investigates the truth. Soon he'll discover an international conspiracy reaching further than he ever imagined…and perhaps the truth about Clara Strike, a CIA Agent the world thinks is dead.
"As a comic book fan, I couldn't be more excited about Brian and Kelly Sue bringing Derrick Storm to life once again in Storm Season" said Richard Castle. "Storm is a character near and dear to my heart, so I wouldn't trust him with many people, but he is in some incredibly capable hands with this team."
This is the second "Castle" original graphic novel to be released through a collaborative effort between Marvel, ABC Studios and the producers of "Castle." In 2011, Castle: Richard Castle's Deadly Storm dominated sales charts and garner worldwide acclaim.
"Marvel has done an amazing job of bringing Derrick Storm to a new audience and we're thrilled to keep the magic going with this next graphic novel." said Andrew W. Marlowe, "Castle" creator/executive producer. "Fans can look forward to another fantastic adventure, filled with page-turning excitement. Storm Season is Richard Castle at his finest."
Castle: Richard Castle's Storm Storm reunites the lauded writing duo of Brian Michael Bendis & Kelly Sue DeConnick (Richard Castle's Deadly Storm) for their second Castle story. They're joined by rising star artist Emanuela Lupacchino (X-Factor), whose dynamic interior artwork brings the world of Derrick Storm to life like never before. This original graphic comes wrapped in a stunning cover by acclaimed artist Dustin Weaver (S.H.I.E.L.D.).
"The Derrick Storm novels are full of action, intrigue and compelling characters—it's no surprise that our graphic novel adaptations have taken the literary world by storm!" said Axel Alonso, Marvel Entertainment Editor in Chief. "Castle: Richard Castle's Storm Season will be one of the most exciting graphic novels you read all year, whether you're a longtime fan of Richard Castle or new to his exciting stories."
CASTLE: RICHARD CASTLE'S STORM SEASON
Written by BRIAN MICHAEL BENDIS & KELLY SUE DECONNICK
Art by EMANUELA LUPACCHINO
Cover by DUSTIN WEAVER
Rated T+…$19.99
ON SALE OCTOBER 17, 2012
"Castle" stars Nathan Fillion as Richard Castle, Stana Katic as NYPD Detective Kate Beckett, Susan Sullivan as Martha Rodgers, Molly Quinn as Alexis Castle, Ruben Santiago-Hudson as NYPD Captain Roy Montgomery, Tamala Jones as Medical Examiner Lanie Parish, Jon Huertas as NYPD Detective Javier Esposito, and Seamus Dever as NYPD Detective Kevin Ryan.
"Castle" is produced by ABC Studios. Andrew Marlowe is the show's creator/executive producer, along with executive producers Rob Bowman, David Amann, Laurie Zaks and Armyan Bernstein.
ABOUT MARVEL ENTERTAINMENT
: Marvel Entertainment, LLC, a wholly-owned subsidiary of The Walt Disney Company, is one of the world's most prominent character-based entertainment companies, built on a proven library of over 8,000 characters featured in a variety of media over seventy years. Marvel utilizes its character franchises in entertainment, licensing and publishing. For more information visit
www.marvel.com
ABOUT ABC STUDIOS
: ABC Studios, part of ABC Entertainment Group develops and produces compelling programming for both broadcast network and cable television as well as digital platforms. ABC Studios has delivered some of the most successful, talked-about and evolutionary series on television such as
Desperate Housewives
,
Grey's Anatomy, Lost, Criminal Minds, Army Wives
and
Brothers
&
Sisters
.
THE END OF AN ERA – YOUR NEW LOOK AT UNCANNY X-MEN #600
10/08/15 @ 1:47 pm EST
Source:
Comic Book Resources
| Categories:
X-Men
|
Comments
(0) |
E-mail Article
|
Add a Comment
This November, cap off this era of Marvel's mutants with an epic bang. Today, Marvel is pleased to present your new look at UNCANNY X-MEN #600 – the finale of Brian Michael Bendis' epic X-Men saga. Brought to life by A-list creators - Uncanny X-Men #600 features 38 pages of new content from Stuart Immonen, Chris Bachalo, Sara Pichelli, David Marquez, Mahmud Asrar, Kris Anka and Frazer Irving – mutant history will be made! What will become of Scott Summers' mutant revolution? What will become of the Jean Grey School and the New Xavier School? Find out as in this explosive final chapter! Be there as UNCANNY X-MEN #600 hits comic shops and digital devices this November!

UNCANNY X-MEN #600 (MAR150760)Written by BRIAN MICHAEL BENDIS
Art by CHRIS BACHALO, STUART IMMONEN, SARA PICHELLI,KRIS ANKA, DAVID MARQUEZ, FRAZER IRVING & MAHMUD ASRARCover by CHRIS BACHALOVariant Covers by ART ADAMS (MAR150768), PAUL SMITH (MAR150765), RICK LEONARDI (MAR150770),ADAM HUGHES (JUN158867), OLIVIER COIPEL (MAR150766), ED MCGUINNESS (MAR150767), LEINIL YU (MAR150769),And KRIS ANKA (MAR150764)Action Figure Variant A by JOHN TYLER CHRISTOPHER (MAR150761)Action Figure Variant B by JOHN TYLER CHRISTOPHER (MAR150762)Action Figure Variant C by JOHN TYLER CHRISTOPHER (MAR150763)FOC – 10/12/15, On-Sale – 11/04/15


NYCC '15: VALIANT LAUNCHES NEW ARCHER & ARMSTRONG SERIES BY ROBERTS & LAFUENTE
10/08/15 @ 1:37 pm EST
Source:
Comic Book Resources
| Categories:
MIsc
|
Comments
(0) |
E-mail Article
|
Add a Comment
Valiant Entertainment is launching a brand new Archer & Armstrong series in March 2016, simply titled "A&A."
Announced today at New York Comic Con, the ongoing series is written by relative newcomer Rafer Roberts, who has enjoyed critical indie acclaim writing and drawing "Plastic Farm" and "Thanos and Darkseid: Carpool Buddies of Doom," and illustrated by "Ultimate Comics: Spider-Man" artist David Lafuente, who just signed an exclusive deal with the publisher.
CBR News reports that the new series is a continuation (not a reboot) of the just-completed, Harvey Award-nominated run by Fred Van Lente and Clayton Henry, and is also inspired by the seminal '90s series co-created by Barry Windsor-Smith, Jim Shooter and Bob Layton.
For the uninitiated, Armstrong is an immortal adventurer that has spent the last 7,000 years drinking and carousing his way through history alongside some of the greatest merrymakers the world has ever known, including some friends (and enemies) that he has inadvertently (read: drunkenly) trapped inside his satchel that never leaves his shoulder. And Archer is a sheltered teenage martial arts master and expert marksman that was raised for a single purpose -- to kill the devil incarnate A.K.A. Armstrong.

Fast forward though nearly 25 years of comic book continuity, and the dynamic duo are now best buddies. Then, when Armstrong finds himself trapped inside his own satchel, Archer jumps 'In The Bag' (the title of the first "A&A" arc) to save his pal and, more importantly, the world.
'ANT-MAN' SEQUEL SET FOR 2018; 3 UNTITLED MARVEL FILMS ANNOUNCED
10/08/15 @ 1:28 pm EST
Source:
Variety
| Categories:
Ant Man
|
Comments
(0) |
E-mail Article
|
Add a Comment
Marvel has announced an "Ant Man" sequel and three untitled films as part of its plans for Phase 3 of the Marvel Cinematic Universe.
The second installment, "Ant-Man and the Wasp," will hit theaters on July 6, 2018, the studio revealed on Thursday. The sequel marks the first Marvel movie named after a heroine (played by Evangeline Lilly).
Paul Rudd's minuscule hero will be seen next in 2015's "Captain America: Civil War."
Meanwhile, the three untitled Marvel Studios films are slated for May 1, 2020, July 10, 2020, and Nov. 6, 2020."Ant-Man's" second adventure will shift "Black Panther" and "Captain Marvel's" release dates. "Black Panther" is moving up to Feb. 16, 2018, while "Captain Marvel" will now bow on March 8, 2019.
"Ant-Man," directed by Peyton Reed, has hauled $178.5 million in the U.S. (the ninth highest-grosser domestically) and $409.8 million worldwide. The pic opens in China — its final international market — on Oct. 16.
NYCC '15: ERIK LARSEN JOINS TODD MCFARLANE ON "SPAWN"
10/08/15 @ 1:38 pm EST
Source:
Comic Book Resources
| Categories:
Spawn
|
Comments
(0) |
E-mail Article
|
Add a Comment
For the new "Spawn" creative team, Todd McFarlanekept it in the Image Comics family. In advance of McFarlane's panel midday Thursday at this year's New York Comic Con, CBR has the
exclusive
first details that "Savage Dragon" creator and McFarlane's fellow Image founder Erik Larsen will join the series as of "Spawn" #258, in what McFarlane describes as a "true partnership." Effectively, the two will co-write the series with Larsen penciling and McFarlane inking -- though it's a bit more freeform than that.
"It's going to be sort of a tag team," McFarlane told CBR News. "We're going to co-plot, we're going to co-write. He's going to do the early, rough laydowns on it, I'm going to do a little bit of inking, he's going to do a little bit of inking, I'm going to do some penciling on top of his inking, and we're just going to do this hodgepodge that, at the end, you're going to go, 'Who wrote that?' 'I don't know, do you remember, Erik?'"
Larsen is slated to contribute to at least five issues of "Spawn," starting with #258 -- what McFarlane calls a "essentially a silent issue" and the prelude to the previously announced four-part "Satan Saga Wars," which starts with #259. Beyond that, it's open-ended as to how longLarsen will contribute to McFarlane's creation.
As longtime fans know, Larsen and McFarlane definitely have history together. The two were both stars of Marvel's Spider-Man books in the late '80s and '90s, and were among the seven creators who famously left the company to start Image, the industry's most prominent publisher of creator-owned comics. They've collaborated on "Spawn" before for one issue -- 2010's "Spawn" #199 -- but this marks the first long-term partnership planned for the pair.
"He said, 'Hey, if you don't mind, let me throw some stories at you, for writing,'" McFarlane shared. "He actually surprised me with some of the stuff he was coming up with -- very thoughtful stuff. And then, 'If you can't find an artist, I'll do artwork.' I'm like, 'What? You've got your own book.' 'No, I can do it.' He sent in some of the early pages, and I was just blown away by them."
Larsen joins the book after a period of some upheaval on the long-running "Spawn" series, which launched in 1992. Writer Brian Wood and artist Jonboy Meyers were announced as the new creative team on the book last year, though Wood later departed the series without any of his contributions seeing print. Paul Jenkins was announced as Wood's replacement this past January, but both Jenkins and Meyers have since left the book.
The original intention of bringing in new writing talent to "Spawn" was for McFarlane to step away from monthly duties on the book, but now he's back and as involved as he has been in years -- pulled back in just when he thought he was out.
"I am Pacino in 'The Godfather Part III,'" McFarlane said. "At some point, you just go -- and Erik sort of has the same mentality -- 'Fuck it, I'll just do it myself.'"
"There's something to be said about stability on a book that I think has value," he continued. "Erik understands it, I understand it. We'll just do it ourselves -- two grumpy old men."
When discussing the qualities he admires in Larsen, for McFarlane it's both his consistency -- he's written and drawn "Savage Dragon" for more than 200 issues and counting -- and his ability to draw epic-scale action.
"I'm looking for somebody who can give me big, dynamic comic books," McFarlane said. "Erik Larsen, in spades, check. And, I need somebody who can do it on a regular basis -- which is arguably the harder thing to find. Every time I talk to somebody about doing a monthly, I preface it with, 'It is actually a grind. As cool as it may look, it's hard work to do a monthlycomic book.'"
"We've got 450 Image issues collectively under our belts, just with our two titles, so you've got two guys who can turn out books," he continued. "It's going to be good, because if I'm busy, Erik can pick up the slack. If Erik's busy, I can pick up the slack, and it's not going to hurt the production of the book."
McFarlane and Larsen's decades of shared history also seems to have helped accelerate the collaboration process, with McFarlane comparing it to his partnership with current "Batman" artist Greg Capullo, who drew "Spawn" for years.
"I haven't written one word for [Larsen]," McFarlane said to CBR. "Forget a full script, I haven't even given him a plot. We've talked on the phone, and he went, 'Got it.' 'Click.' And that's it. And as bizarre as that may sound, this is exactly how Greg Capullo and I did it for years."
That said, McFarlane did stress that the artistic dynamic between the two has continued toevolve, and that it likely will for the duration of their run.
"Even the early pages that he sent me, I go, 'Erik, my guess is it's going to take us at least one, maybe two issues before we figure out what the dance is with the artwork; how much you need to give me, how much I need to give you back, how much you need to ink, how much I need to pencil,'" he said. "We're just going to figure it out. In a weird way, it may actually have different answers, depending on what the scenario is -- if it's a scene with a lot of light on it, it may be one method between us. If there's a lot of dark, there may be another one."
Despite the addition of Larsen to the book, McFarlane said that the series will likely continue in the same creative direction as he had intended since the return of Al Simmons with "Spawn" #251.
"Spawn and his mentality, and even to some degree, his powers, will change when he gets back to Earth," McFarlane said. "He'll be a changed man, both mentally, as well as physically. That was always the intent of him coming back, and being just a little more vulnerable, having a little bit more of an Achilles' Heel -- having to be a little bit smarter about how he moves around the world."
McFarlane's enthusiasm for the partnership with Larsen is clear, and between that and reclaiming his hacked-for-days Twitter account, the writer/artist/toy mogul has plenty to be happy about.
"I feel like a little 12-year-old comic book reader again -- except this time I get to have some input with it," McFarlane said. "Good old-fashioned superhero comic books. I'm hoping fans will like it." (Source: CBR)
DAVID TENNANT'S KILGRAVE KNOWS EVERYTHING IN NEW "JESSICA JONES" TRAILER
10/08/15 @ 1:12 pm EST
Source:
Comic Book Resources
| Categories:
Marvel
|
Comments
(0) |
E-mail Article
|
Add a Comment
The creepy, disembodied voice of David Tennant's Kilgrave, aka Purple Man, haunts the newtrailer for Marvel's "Jessica Jones."
Premiering Nov. 20 on Netflix, the series stars Krysten Ritter as a former superhero who tries to rebuild her life as a private investigator, specializing in cases involving people with extraordinary abilities.
"Jessica Jones" also stars Mike Colter, Rachael Taylor and Carrie-Anne Moss.
Trailer:
https://youtu.be/8bZE0FdCASA
'GAME OF THRONES' ADDS MELANIE LIBURD AS A RED PRIESTESS
10/08/15 @ 1:07 pm EST
Source:
Deadline
| Categories:
MIsc
|
Comments
(0) |
E-mail Article
|
Add a Comment
Up-and-coming Brit actress Melanie Liburd has been cast as a Red Priestess in HBO's
Game Of Thrones
. Liburd, who has appeared in
The Grinder
,
Strike Back
,
Dracula
and
CSI: Crime Scene Investigation
, is repped by the UK's Identity Agency Group, Talent Works in the U.S. and Silver Lining Entertainment.
Liburd's casting would seem to indicate a new direction for the character, or at the very least a new incarnation. One Red Woman or Red Priestess had previously been played by Carice Van Houten, who embodied the form of Melisandre. Speculation has been rife that Melisandre would have a hand in bringing back the character of Jon Snow, played by Kit Harington, who was (spoiler alert) shockingly killed at the denouement of the previous season. The Liburd character is separate and different from Van Houten's major recurring character.
Game Of Thrones
is currently filming across multiple locations around the seven kingdoms. Liburd also has an untitled Kevin Williamson psychological thriller opposite Dylan McDermott in the pipelines.
NAOMI SCOTT JOINS 'POWER RANGERS' AS PINK RANGER
10/07/15 @ 11:26 pm EST
Source:
Comic Book Resources
| Categories:
MIsc
|
Comments
(0) |
E-mail Article
|
Add a Comment
The "Power Rangers" film has found its Pink Ranger in "The Martian" star Naomi Scott, according to The Hollywood Reporter.

The 1993 television series "Mighty Morphin Power Rangers" followed teenagersJason, Kimberly, Trini, Billy and Zack, who were chosen by the ancient being Zordon to defend Earth from attack against the forces of Rita Repulsa. Scott will likely play Kimberly, the original Pink Ranger. She was rumored to be in the running for the character in a report released this past weekend.

Based on the alleged character descriptions for the upcoming film, Kimberly is "unconventionally cool all in a way the popular girls wish they were. In fact, she was one of those girls, but isn't anymore. Not since she's returned to school after an absence of 6 months. Rumors are flying as to why; rumors she seems not to care about, because she's come back with this new rebel-without-a-cause, edgy attitude. But the truth is, it's all masking a deep secret that makes her feel profoundly vulnerable."

This description differs somewhat from the television series' version of Kimberly — an over-achiever and popular gymnast. In the show, most of the members of the group were part of the popular, cool crowd — with Jason and Kimberly arguably at the front and poor Billy the oft-picked on nerd in the back. This new version plays up the "teens with attitude" aspect of the characters referenced in the show's opening sequence by making her clearly more "edgy." Another change comes from the note of Kimberly's vulnerability. In the series, this came from her own personal fears and perfectionist attitude, the need to be the best often driving her own self-doubt. Thenew version changes that somewhat, giving her some sort of dark secret. From the description alone, it definitely feels more in line with many of today's YA characters.

Scott's past credits also include "Terra Nova." Her casting in "Power Rangers" was officially revealed on the movie's official Instagram feed.
'SHERLOCK' VICTORIAN SPECIAL TRAILER: WHAT A DIFFERENCE A CENTURY-PLUS MAKES – OR DOES IT?
10/07/15 @ 11:20 pm EST
Source:
Deadline
| Categories:
MIsc
|
Comments
(0) |
E-mail Article
|
Add a Comment
A new PBS trailer provides some clues about
Sherlock
's long-anticipated and well-guarded one-off special set in Victorian times. Benedict Cumberbatch returns as Sir Arthur Conan Doyle's hyper-perceptive sleuth, along with his Baker Street flatmate Dr. John Watson (Martin Freeman). The pair trade in their modern trappings for a ghostly trip in the wayback machine to the 19th century, complete with deerstalker cap (for Holmes) and handlebar mustache (for Watson). The program is airing stateside under PBS' venerable Masterpiece banner.
A teaser released for Comic-Con in July contained a typically wry tidbit from the master detective. When his landlady Mrs. Hudson (Una Stubbs) fusses that she wishes Holmes would let her know when he's returning home from a trip, he replies: "I hardly knew myself, Mrs. Hudson. That's the trouble with dismembered country squires — they're notoriously difficult to schedule." The new trailer doesn't provide much more information, aside from a very dark tonal shift that makes Holmes' social awkwardness — somewhat charming in the modern incarnation — feel positively creepy. And nope, no sign of Moriarty.
The
Sherlock
special also will be released in theaters, but still no PBS premiere date. Have a look-see, and tell us what you think.
Video:
https://youtu.be/c3AZnMHg2vQ
FRANK MILLER'S "DARK KNIGHT III" WRAPAROUND VARIANT REVEALED
10/07/15 @ 11:17 pm EST
Source:
Comic Book Resources
| Categories:
Dark Knight III
|
Comments
(0) |
E-mail Article
|
Add a Comment
Frank Miller's first "Dark Knight III" cover shared a look at the legendary creator's take on Superman and the Atom. Now, with the release of his limited-edition wraparound variant, we get to see the title character, poised and ready for bloody action.
Unveiled this morning by DC Comics, the cover is a 1:100 variant for "Dark Knight III: The Master Race" #1, colored by Alex Sinclair.
Debuting Nov. 25, the miniseries is written by Miller and Brian Azzarello, and illustrated by Andy Kubert and Klaus Janson, Each issue will include a minicomic that focuses on a differentcharacter in the world of the Dark Knight, drawn by various artists. Miller himself will pencil "Dark Knight Universe Presents: The Atom" #1.
The release of Miller's Superman illustration was met Monday by a mix of confusion and criticism. However, "Astro City" writer Kurt Busiek mounted a convincing argument in support the cover, insisting, "Frank's drawing it the way he wants the idea of this raw, crude, powerful idea to come across, not the way Neal or Curt or anyone else drew. ... He's powerful, ugly, Eastwood-mad, with Kirby fists and a noticeable dick. This isn't by mistake, it's not lack of control."
'BOB'S BURGERS' RENEWED FOR SEASONS 7, 8
10/07/15 @ 11:12 pm EST
Source:
The Hollywood Reporter
| Categories:
Bobs Burgers
|
Comments
(0) |
E-mail Article
|
Add a Comment
Fox is cementing the future of
Bob's Burgers
.
The network has handed out a two-season renewal, taking the animated comedy from 20th Century Fox Television into its seventh and eighth seasons.
The comedy, created by
Loren Bouchard
and Bento Box Entertainment has been a reliable performer opening the network's Sundays live-action/animated comedy mix. The renewal means Bob's and
The Simpsons
will likely be paired for the next two broadcast seasons as the latter was also handed out a two-season renewal recently. (Animated series tend to get early renewals due to their lengthy production process.)
The news comes as the series, which won an Emmy for outstanding animated comedy in 2014 and was nominated twice this year, prepares for its 100th episode in spring 2016.
"In a way your 100th episode should be almost like your pilot all over again. I think a good 100th episode shouldn't be big and crazy. It should be the quintessential
Bob's Burgers
episode," Bouchard told
THR
in September ahead of the season six premiere.