MARVEL ENTERTAINMENT & ABC STUDIOS ANNOUNCE ALL-NEW "CASTLE" HARDCOVER GRAPHIC NOVEL
03/12/12 @ 3:31 pm EST
Source:
Marvel
|
Comments
(0) |
E-mail Article
|
Add a Comment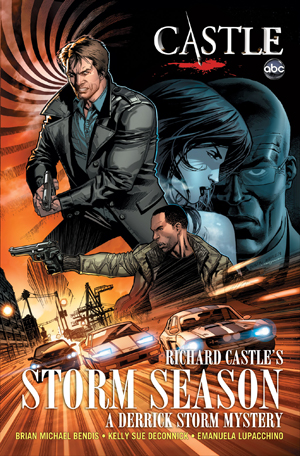 Sequel To New York Times Best-Selling Original Graphic Novel Based on ABC Primetime Hit Series Arrives October 2012
Marvel Entertainment and ABC Studios are proud to announce Castle: Richard Castle's Storm Season, an all-new hardcover graphic novel inspired by the popular "Castle"
television series. This 112 page hardcover, based the titular novel from noted author Richard Castle, hits comic shops, the
Marvel Comics app
,
iBookstore
, Nook Bookstore and everywhere books are sold on October 17th, 2012.
Private Investigator Derrick Storm is hired to bug the hotel suite of an African head of state, but this routine mission quickly spirals out of control when Storm overhears a woman's terrifying scream on the wire. Plagued by the victim's helpless cry, Storm—despite an ominous warning—investigates the truth. Soon he'll discover an international conspiracy reaching further than he ever imagined…and perhaps the truth about Clara Strike, a CIA Agent the world thinks is dead.
"As a comic book fan, I couldn't be more excited about Brian and Kelly Sue bringing Derrick Storm to life once again in Storm Season" said Richard Castle. "Storm is a character near and dear to my heart, so I wouldn't trust him with many people, but he is in some incredibly capable hands with this team."
This is the second "Castle" original graphic novel to be released through a collaborative effort between Marvel, ABC Studios and the producers of "Castle." In 2011, Castle: Richard Castle's Deadly Storm dominated sales charts and garner worldwide acclaim.
"Marvel has done an amazing job of bringing Derrick Storm to a new audience and we're thrilled to keep the magic going with this next graphic novel." said Andrew W. Marlowe, "Castle" creator/executive producer. "Fans can look forward to another fantastic adventure, filled with page-turning excitement. Storm Season is Richard Castle at his finest."
Castle: Richard Castle's Storm Storm reunites the lauded writing duo of Brian Michael Bendis & Kelly Sue DeConnick (Richard Castle's Deadly Storm) for their second Castle story. They're joined by rising star artist Emanuela Lupacchino (X-Factor), whose dynamic interior artwork brings the world of Derrick Storm to life like never before. This original graphic comes wrapped in a stunning cover by acclaimed artist Dustin Weaver (S.H.I.E.L.D.).
"The Derrick Storm novels are full of action, intrigue and compelling characters—it's no surprise that our graphic novel adaptations have taken the literary world by storm!" said Axel Alonso, Marvel Entertainment Editor in Chief. "Castle: Richard Castle's Storm Season will be one of the most exciting graphic novels you read all year, whether you're a longtime fan of Richard Castle or new to his exciting stories."
CASTLE: RICHARD CASTLE'S STORM SEASON
Written by BRIAN MICHAEL BENDIS & KELLY SUE DECONNICK
Art by EMANUELA LUPACCHINO
Cover by DUSTIN WEAVER
Rated T+…$19.99
ON SALE OCTOBER 17, 2012
"Castle" stars Nathan Fillion as Richard Castle, Stana Katic as NYPD Detective Kate Beckett, Susan Sullivan as Martha Rodgers, Molly Quinn as Alexis Castle, Ruben Santiago-Hudson as NYPD Captain Roy Montgomery, Tamala Jones as Medical Examiner Lanie Parish, Jon Huertas as NYPD Detective Javier Esposito, and Seamus Dever as NYPD Detective Kevin Ryan.
"Castle" is produced by ABC Studios. Andrew Marlowe is the show's creator/executive producer, along with executive producers Rob Bowman, David Amann, Laurie Zaks and Armyan Bernstein.
ABOUT MARVEL ENTERTAINMENT
: Marvel Entertainment, LLC, a wholly-owned subsidiary of The Walt Disney Company, is one of the world's most prominent character-based entertainment companies, built on a proven library of over 8,000 characters featured in a variety of media over seventy years. Marvel utilizes its character franchises in entertainment, licensing and publishing. For more information visit
www.marvel.com
ABOUT ABC STUDIOS
: ABC Studios, part of ABC Entertainment Group develops and produces compelling programming for both broadcast network and cable television as well as digital platforms. ABC Studios has delivered some of the most successful, talked-about and evolutionary series on television such as
Desperate Housewives
,
Grey's Anatomy, Lost, Criminal Minds, Army Wives
and
Brothers
&
Sisters
.
EXTENDED TRAILER FOR THE FLASH MID-SEASON RETURN
01/18/17 @ 2:10 am EST
Source:
Bleeding Cool
| Categories:
DC
|
Comments
(0) |
E-mail Article
|
Add a Comment
Wow, this year is already going by in a Flash… next week marks the mid-season return of
The Flash
with an episode called Borrowing Problems from the Future and the CW has released an extended trailer for the episode. We see the Cisco Ramon is going to help Barry Allen travel to the future where Savitar kills Iris West so he can figure out the things that happen to lead up to the murder… and hopefully change them.
Trailer:
https://youtu.be/hvJUFNNO-Jk
'THE MARTIAN' AUTHOR ANDY WEIR DEVELOPING NASA DRAMA SERIES FOR CBS
01/18/17 @ 2:06 am EST
Source:
Bleeding Cool
| Categories:
MIsc
|
Comments
(0) |
E-mail Article
|
Add a Comment
CBS announced yesterday that they have ordered a pilot from Andy Weir, the author behind the bestselling book and 2016 film
The Martian
. Titled "
Mission Control,"
it will be an hour-long drama series with Weir serving as executive producer and writer. Co-producing will be Courtney Conte & Quan Phung(
Slingshot
), Simon Kinberg (
X-Men: First Class, Legion, The Martian
) & Aditya Sood (
The Martian, Deadpool
), and Charles Eglee (
Hemlock Grove, Walking Dead, The Shield
).
The show revolves around the next generation of NASA astronauts and scientists who juggle their personal and professional lives during a critical mission with no margin for error.
The pilot will be produced by CBS Television Studios.
The Martian alums of Weir and Kinberg lost no time after the release of their first film together, and had been already shopping projects around before Mission Control. Reports had them going in to 20th Century Fox back in May pitching an untitled feature film project. With the success they found around the Martian and the intense fandom that Weir has built up around his science-based writing (most of NASA and JPL are his fans), hopefully we'll be seeing a lot still to come from him and his crew.
24 SPIN-OFF "24: LEGACY" GETS A PREQUEL COMIC FROM IDW IN APRIL
01/18/17 @ 1:59 am EST
Source:
The Hollywood Reporter
| Categories:
MIsc
|
Comments
(0) |
E-mail Article
|
Add a Comment
Next month, the clock starts ticking again when
24: Legacy
— a new incarnation of the Fox drama starring Corey Hawkins and Jimmy Smits — reopens the televisual war on terror. In April, IDW Publishing will help turn the clock back to reveal the history of the show's new hero.
The five-part comic book series
24: Legacy — Rules of Engagement
will fill out the backstory of Eric Carter, the lead of the new TV series, by showing his experience in Iraq and Washington, D.C., before he became a national hero (and, subsequently, a hunted man) for killing a terrorist leader in the Middle East. Written by screenwriter and novelist Christopher Farnsworth, with art by Antonio Fuso, the series is being overseen by
24: Legacy
executive producers Manny Coto and Evan Katz.
"I've been a fan of
24
since the first episode, and I'm grateful to IDW for giving me the chance to contribute in a small way to its mythology," Farnsworth told
The Hollywood Reporter
about
Rules of Engagement
. "I also get to blow a lot of stuff up on the page, which is always pretty cool. I'm going to do my best to live up to the expectations of the show."
The series will continue IDW's relationship with the
24
property, which has previously included a number of one-off issues and miniseries based on the Jack Bauer incarnation of the property, most recently 2014's
24: Underground
prequel to the
24: Die Another Day
TV series.
GOOSEBUMPS SEQUEL OFFICIALLY GETS A RELEASE DATE
01/18/17 @ 1:40 am EST
Source:
Comicbook
| Categories:
MIsc
|
Comments
(0) |
E-mail Article
|
Add a Comment
Hold on to your books, it looks like the RL Stine movie adaptation is getting another round on the big screen. The popular
Goosebumps
franchise was given a feature film in 2015, starring Jack Black as the author himself.
Sony announced today that a
Goosebumps
sequel is officially on the way. Not only that, but it's coming much sooner than anyone had predicted.
It looks like the sequel has been set to release on January 26, 2018.
KAREN GILLAN CONFIRMS NEBULA FOR AVENGERS: INFINITY WAR
01/18/17 @ 1:37 am EST
Source:
Comicbook
| Categories:
Marvel
|
Comments
(0) |
E-mail Article
|
Add a Comment
This year, Karen Gillan will have a very busy year. The British actress will be starring in
The Circle
alongside Tom Hanks and Emma Watson before reprising her role as Nebula in the Marvel Cinematic Universe. The following year, the franchise will see the long-awaited
Avengers: Infinity War
title hit theaters - and it seems like Gillan will be a part of it.
During a recent interview with the BBC, Gillan spoke about her busy schedule and took time to reference her MCU work. It was there that the red-headed actress told the network to look out for her 2017 projects. And, then, the actress had this nugget of gold to drop:
"Then I'll be making a little appearance in the next
Avengers
movies."
Well, there you have it. Many fans were wondering if the
Guardians of the Galaxy
character would appear given her connection to Thanos, and those rumors only intensified with the new year. It was announced that
Avengers: Infinity War
would be shooting partially in Scotland, and the British territory is the home of Gillan. The blockbuster will be shooting in cities like Edinburgh, Glasgow, and the upper Highlands.
ARROW WILL HAVE A DOLPH LUNDGREN-HEAVY EPISODE SET MOSTLY IN THE RUSSIA FLASHBACKS THIS SEASON
01/18/17 @ 1:31 am EST
Source:
Comicbook
| Categories:
DC
|
Comments
(0) |
E-mail Article
|
Add a Comment
Action movie icon Dolph Lundgren will take center stage in an upcoming
Arrow
episode set almost entirely during the flashbacks later this season.
Executive producer Marc Guggenheim told ComicBook.com that he and the writers were aware of the excitement fans have for both Lundgren and the Bratva flashbacks, as well as the additional social media attention on all things Russian just now, all of which makes the episode seem like a good way to fill in some backstory.
"Russia is very much in the zeitgeist these days, and coming into the back half of the year, we're doing a lot more with Russia," Guggenheim told ComicBook.com. "We're going to do a Russia-centric episode, a flashback-centric episode like we did in the first three years of the show. We'll be doing that later on in the season and that will have Dolph Lundgren's character, Konstantin Kovar, very much front and center."
Guggenheim couldn't say much about what the episode would include, although he did hint that there might be a bit of political subtext in the back half of season 5.
The producer said, "In that episode -- assuming the scheduling works out because we're still writing this episode -- the plan is for Konstantin to have a very key meeting with a corrupt, American multimillionaire businessman. Make of that what you will."
That "scheduling" comment, though, makes it sound like this won't be a 1:1 comparison to U.S. President-Elect Donald Trump, but rather somebody who audiences might recognize (with a bit of Trump subtext on the side).
No word on which episode he's talking about, although later in our conversation he made specific references to events that will take place in episode 12, so it seems likely that the Kovar-centric episode will be at least episode 13.
RYAN REYNOLDS WAS WRITING DEADPOOL WHILE FILMING GREEN LANTERN
01/18/17 @ 1:25 am EST
Source:
Comicbook
| Categories:
Marvel
|
Comments
(0) |
E-mail Article
|
Add a Comment
Deadpool has become the most recognizable Marvel character around the globe, following the incredible success of the franchise's debut film last year.
Starring Ryan Reynolds,
Deadpool
became the highest-earning R-rated film in Global box office history, and helped the actor reach the highest point in his career.
What many don't know however, is that Reynolds actually started writing Deadpool - along with Rhett Reese and Paul Wernick - while he was filming
Green Lantern
for DC and Warner Bros.
After Reynolds played Deadpool in
X-Men Origins: Wolverine
, he wanted to make a solo movie where he could do the character justice. Fox shot him down, and he turned to DC when offered the Green Lantern role.
When speaking with THRthis week, Reynolds revealed that there was actually some overlap with the two projects. Instead of waiting for Green Lantern to be finished, he flew down his writing team to craft
Deadpool
after hours.
"The weird plot twist was, somehow, some way,
Deadpool
got reinvigorated at Fox while [
Green Lantern
] was happening. ... What a lot of people don't know is [writers Rhett Reese and Paul Wernick] flew to New Orleans and, while I was shooting
Green Lantern
, we were actually all together writing
Deadpool
." He added, "We were breaking the story of the original
Deadpool
movie in a house that was being paid for by
Green Lantern
's dime." All the while, Reynolds worried that he might never be allowed to play Deadpool, even if the film moved forward, now that he had hitched his wagon to
Green Lantern
. "I thought, 'If
Green Lantern
is a huge hit, they're never gonna accept me as both, and if
Green Lantern
is a huge failure — which it ended up being — they're never going to hire me.' "
That obviously wasn't case, as Deadpool was one of Fox's most successful properties to date. Despite
Green Lantern
flopping, the Merc With A Mouth found a way to live on.
24: LEGACY PRODUCER EXPLAINS WHY THE SHOW IS COMING AT JUST THE RIGHT TIME
01/18/17 @ 1:20 am EST
Source:
Comicbook
| Categories:
MIsc
|
Comments
(0) |
E-mail Article
|
Add a Comment
After Super Bowl LI airs on FOX next month, the world will again have the chance to dive into the
24
Universe. The Kiefer Sutherland-starring show ran for nine seasons on the network, and the property is getting a reboot in the form of
24: Legacy
.
Starring Corey Hawkins (T
he Walking Dead, Straight Outta Compton
),
Legacy
follows the Counter Terrorist Unit as they try to shut down a new terror cell hiding out in the US. While the investigation gets under way, a squad of former military veterans - led by Hawkins - must try and keep delicate information away from the infamous Bin-Khalid.
The original
24
premiered around the same time as 9/11, causing an incredible amount of fans to tune in. Seeing a hero like Jack Bauer fight off terrorists was exactly what people needed during that time of distress.
With
Legacy
, viewers should be expecting another round of extremely relevant television.
Brian Grazer, a producer of the series, explains that the new show is coming at just the right time for many Americans. With many different people around the country facing struggles,
Legacy
aims to help shine a light and give them a voice.
When speaking with Deadline about the show, Grazer had this to say regarding its timing:
"I think middle America will watch the show and they will feel a sense of escape and relief by watching it."
The pilot episode of
24: Legacy
definitely hits on some of the more serious issues of the country. PTSD, race relations, veteran care, and residual sterotypes are all explored in the first hour of the new series.These producers definitely didn't want to shy away from the hard-hitting topics in our nation today - and that's a great thing for modern television.
JONATHAN COULTON WORKING ON A NEW GRAPHIC NOVEL
01/18/17 @ 1:15 am EST
Source:
Comicbook
| Categories:
MIsc
|
Comments
(0) |
E-mail Article
|
Add a Comment
Internet music superstar Jonathan Coulton is working on a new graphic novel, which will apparently be timed to coincide with the release of his next studio album in the spring.
Coulton announced the project in a newsletter to fans last week, although he didn't say who the creative team was or what the story would be.
"I know, it's killing me too. Soon, my friends, very soon," Coulton wrote. "I don't yet know the actual release date, but I can tell you it's Spring of this year, so we're getting close. The accompanying graphic novel (I know, what's wrong with me?) is turning out SO GREAT that I can't believe it. This album took a lot of time to get just right, but I'm really proud of it, and I can't wait for you to hear it, and read the graphic novel, and cry and cry."
Code Monkey Save World
was a 2013 comic book miniseries which was funded via Kickstarter. It eventually earned several times its original goal and as a result numerous additional rewards were added, including a spinoff children's book based on Coulton's song "The Princess Who Saved Herself" and an acoustic album, recorded at the time and available only to Kickstarter backers, comprised of the Coulton songs which had inspired
Code Monkey Save World
.
The story behind that particular book was that comic book writer Greg Pak had tweeted out a joke about how he "could field a pretty awesome supervillain team" with characters from Coulton's music. Coulton tweeted back at him to "DO IT" and the rest is history.
Neither Coulton nor Pak, his old college friend with whom he collaborated on both
Code Monkey Save World
and
The Princess Who Saved Herself
, responded to requests for a comment about the project.
AGENTS OF SHIELD EXECUTIVES SAY THE SHOW WON'T EXPLORE PREVIOUS GHOST RIDERS
01/18/17 @ 1:11 am EST
Source:
Comicbook
| Categories:
Marvel
|
Comments
(0) |
E-mail Article
|
Add a Comment
Prior to its midseason hiatus,
Agents of SHIELD
was safely on board theGhost Rider train. The iconic Marvel character joined the ABC drama to spice up its later airtime, and fans were interested to see the show's supernatural twists. The gritty hero took the form of Robbie Reyes on
Agents of SHEILD
as the newer Ghost Rider butted heads with Team Coulson. However, fans were able to see part of the character's soft roots as the show did flashback to Reyes' origin story - and it was there than another Ghost Rider was teased.
Sadly, the other Ghost Rider won't be explored any further in the show. The series' executive producers told IGN during a recent interview that they were content with letting the mystery remain.
"There is a tradition within the comics that there's been many Ghost Riders and our take on that was they're not simultaneously a tribe of Ghost Riders but that it's passed. The Spirit of Vengeance is passed from person to person. In that respect, at least our intention was that the Spirit of Vengeance was passed from one person to another," Bill explained. "And who passed that on, there are suggestions within the storytelling ... That's as far as we're going to take that part."
Of course, this news will disappoint many as
Agents of SHIELD
did drop some sly spoilers about who the other Ghost Rider was. It is widely thought the man was none other than Johnny Blaze, the original and most famous iteration of Ghost Rider. The other 'Spirit of Vengeance' was seen in a flashback riding a souped-up motorcycle and leather jacket. While the description could match Daniel Ketch in part, fans feel it is more likely that Marvel Television would allude to the most popular Ghost Rider, so fans are now left to wonder why the reference was made if
Agents of SHIELD
has no future plans for the mysterious character.