MARVEL ENTERTAINMENT & ABC STUDIOS ANNOUNCE ALL-NEW "CASTLE" HARDCOVER GRAPHIC NOVEL
03/12/12 @ 3:31 pm EST
Source:
Marvel
|
Comments
(0) |
E-mail Article
|
Add a Comment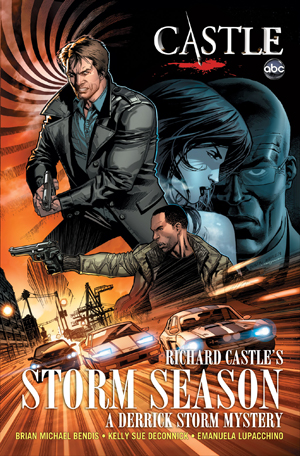 Sequel To New York Times Best-Selling Original Graphic Novel Based on ABC Primetime Hit Series Arrives October 2012
Marvel Entertainment and ABC Studios are proud to announce Castle: Richard Castle's Storm Season, an all-new hardcover graphic novel inspired by the popular "Castle"
television series. This 112 page hardcover, based the titular novel from noted author Richard Castle, hits comic shops, the
Marvel Comics app
,
iBookstore
, Nook Bookstore and everywhere books are sold on October 17th, 2012.
Private Investigator Derrick Storm is hired to bug the hotel suite of an African head of state, but this routine mission quickly spirals out of control when Storm overhears a woman's terrifying scream on the wire. Plagued by the victim's helpless cry, Storm—despite an ominous warning—investigates the truth. Soon he'll discover an international conspiracy reaching further than he ever imagined…and perhaps the truth about Clara Strike, a CIA Agent the world thinks is dead.
"As a comic book fan, I couldn't be more excited about Brian and Kelly Sue bringing Derrick Storm to life once again in Storm Season" said Richard Castle. "Storm is a character near and dear to my heart, so I wouldn't trust him with many people, but he is in some incredibly capable hands with this team."
This is the second "Castle" original graphic novel to be released through a collaborative effort between Marvel, ABC Studios and the producers of "Castle." In 2011, Castle: Richard Castle's Deadly Storm dominated sales charts and garner worldwide acclaim.
"Marvel has done an amazing job of bringing Derrick Storm to a new audience and we're thrilled to keep the magic going with this next graphic novel." said Andrew W. Marlowe, "Castle" creator/executive producer. "Fans can look forward to another fantastic adventure, filled with page-turning excitement. Storm Season is Richard Castle at his finest."
Castle: Richard Castle's Storm Storm reunites the lauded writing duo of Brian Michael Bendis & Kelly Sue DeConnick (Richard Castle's Deadly Storm) for their second Castle story. They're joined by rising star artist Emanuela Lupacchino (X-Factor), whose dynamic interior artwork brings the world of Derrick Storm to life like never before. This original graphic comes wrapped in a stunning cover by acclaimed artist Dustin Weaver (S.H.I.E.L.D.).
"The Derrick Storm novels are full of action, intrigue and compelling characters—it's no surprise that our graphic novel adaptations have taken the literary world by storm!" said Axel Alonso, Marvel Entertainment Editor in Chief. "Castle: Richard Castle's Storm Season will be one of the most exciting graphic novels you read all year, whether you're a longtime fan of Richard Castle or new to his exciting stories."
CASTLE: RICHARD CASTLE'S STORM SEASON
Written by BRIAN MICHAEL BENDIS & KELLY SUE DECONNICK
Art by EMANUELA LUPACCHINO
Cover by DUSTIN WEAVER
Rated T+…$19.99
ON SALE OCTOBER 17, 2012
"Castle" stars Nathan Fillion as Richard Castle, Stana Katic as NYPD Detective Kate Beckett, Susan Sullivan as Martha Rodgers, Molly Quinn as Alexis Castle, Ruben Santiago-Hudson as NYPD Captain Roy Montgomery, Tamala Jones as Medical Examiner Lanie Parish, Jon Huertas as NYPD Detective Javier Esposito, and Seamus Dever as NYPD Detective Kevin Ryan.
"Castle" is produced by ABC Studios. Andrew Marlowe is the show's creator/executive producer, along with executive producers Rob Bowman, David Amann, Laurie Zaks and Armyan Bernstein.
ABOUT MARVEL ENTERTAINMENT
: Marvel Entertainment, LLC, a wholly-owned subsidiary of The Walt Disney Company, is one of the world's most prominent character-based entertainment companies, built on a proven library of over 8,000 characters featured in a variety of media over seventy years. Marvel utilizes its character franchises in entertainment, licensing and publishing. For more information visit
www.marvel.com
ABOUT ABC STUDIOS
: ABC Studios, part of ABC Entertainment Group develops and produces compelling programming for both broadcast network and cable television as well as digital platforms. ABC Studios has delivered some of the most successful, talked-about and evolutionary series on television such as
Desperate Housewives
,
Grey's Anatomy, Lost, Criminal Minds, Army Wives
and
Brothers
&
Sisters
.
"THIS ISSUE PLAYS OUT MORE LIKE A HORROR FILM" – TROY BROWNFIELD ON BLOOD QUEEN VS DRACULA #3
02/28/15 @ 7:31 pm EST
Source:
Bleeding Cool
| Categories:
Blood Queen Vs Dracula
|
Comments
(0) |
E-mail Article
|
Add a Comment
Troy Brownfield
based the character of the
Blood Queen
on one of the most prolific, real-life serial killers in history,
Elizabeth Bathory
. Now he's taken that character and put her up against one of the most prolific killers in literature,
Count Dracula
.
Byron Brewer
chatted with Brownfield about the third issue in this Vs. series for
Dynamite Entertainment
Cover art by
Jay Anacleto
and
Fabiano Neves
.
Dynamite May 2015 Interview: Troy Brownfield @ Blood Queen vs. Dracula #3
BYRON BREWER: In May, Troy, we are at #3, the penultimate issue in this miniseries. What can we look forward to by way of excitement to prepare for our journey's end?TROY BROWNFIELD:
This issue plays out more like a horror film. After turning two of Elizabeth's students in the previous issue, Dracula's back for revenge, and of course, blood. It's a bit of a twist on "something's haunting the castle" kind of stories with Elizabeth as our extremely capable "Final Girl".
BB: Drac "lays siege to the Blood Queen's castle" this issue? Ouch! Difficult scene to write, sir?TB:
Not really, because I had such a great time with it. There's a sequence on the castle stairs in partial darkness that was my favorite thing to put together for the issue. I'm really looking forward to seeing how the excellent team of Kewber Baal, Kirsty Swan and Marshall Dillon makes it all look. They are incredible talents and half of the fun is seeing how they interpret the ideas.
BB: A little bat told me Elizabeth may have a surprise for the Lord of the Undead as he tries to get her to join his unholy army. Any non-spoilery hints? (smile)TB:
I won't say much, except that you can NEVER count the Blood Queen out. If you look back to her previous series, she was responsible for outwitting and defeating a number of seemingly stronger opponents. She vanquished her own mentor, she handily took down the king's wizard, and in the interim, she won herself a kingdom. She does not treat opposition lightly. Even if that opposition is the Lord of Vampires.
BB:
You seem to love these period-shrouded sagas. How much time do you put into your research?
TB:
Can I just say "a lot"? (
laughs
) It's important to me as both a writer AND a reader to get things right, or as close to right as I can. Here's an example: I was a teenager in the 1980s, and more recent films that take place in the '80s frequently bug me because they act as if "The 80s" all happened at the same time. It's not true; there were phases and movements in culture. If you do a scene in 1982, you can't have The Pixies on the radio, for example; they didn't form until '86. And so on. With this, Kewber and I were sensitive to era-appropriate armor and weaponry. Like the cannon in #1; I was so happy to find that that monster fit the timeline.
BB: How has it been working on this with artist Kewber Baal?TB:
He's okay. (
laughs
) Kewber is great. He's very focused on doing the best possible job. He's always asking me about sketches and finished pages; he wants me to see everything as it happens to make sure that he's realizing what I "saw" as writer and to make sure that there isn't anything that he needs to change, etc. He excels at the action and suspense.
BB:
Will, as with the end of her last mini, the saga of the Blood Queen continue elsewhere? If so, where and when?TB:
We can't say for certain at this point, but if Dynamite wants to have me do more
Blood Queen
, I know EXACTLY what we would do next.
STAR WARS #1 GETS A REPRINT – MAY THE FOURTH BE WITH YOU
02/28/15 @ 7:25 pm EST
Source:
Bleeding Cool
| Categories:
Star Wars
|
Comments
(0) |
E-mail Article
|
Add a Comment
Both
Darth Vader
#1 and #2 have sold out and gone to second printings.
They are joined by
Spider-Gwen
#1 which has just as predictably gone to second printing.
And
Star Wars
#1? Gone to a fourth printing.
Expect them all to arrive instore on April 1st.
HERE ARE YOUR FAVORITE NFL PLAYERS AS YOUR FAVORITE SUPERHEROES
02/28/15 @ 1:43 pm EST
Source:
Comic Book Resources
| Categories:
MIsc
|
Comments
(0) |
E-mail Article
|
Add a Comment
For many, stars of professional sports
are the closest things to real life superheroes. They're bigger, stronger, and faster than seems humanly possible. They're able to perform feats beyond the capabilities of your average individual, jumping and twisting and barreling through opponents.
But just imagine: If the stars of the NFL really
were
superheroes of comic book lore, who would be whom? The folks at NFL Memes went and matched up the biggest names in football
with the biggest characters in comics to answer that question with these incredible mashup renditions. Some are obvious, like Calvin Johnson as Megatron and Cam Newton as Superman, but others are pretty spot on. There's Odell Beckham Jr. as Spider-Man, Peyton Manning as Iron Man, Rob Gronkowski as Thor, and – perhaps best of all – Andrew Luck as the Beast.
RED SONJA FILM GETS NEW SCREENWRITER
02/28/15 @ 1:31 pm EST
Source:
Bleeding Cool
| Categories:
Red Sonja
|
Comments
(0) |
E-mail Article
|
Add a Comment
A new
Red Sonja
film has been in the works for quite some time now. It once had
Robert Rodriguez
(
Sin City
) attached to direct as a potential vehicle for his then-girlfriend
Rose McGowan
. At another point writer / director
Doug Aarniokoski
was working on it… but the project set up with
Nu Image
/
Millennium Films
just hasn't moved forward much.
Word now is that
Christopher Cosmos
has been brought on as screenwriter. Cosmos is a former VP of the managment-production company
Benderspink
who left to pursue screenwriting. He sold his first script,
The Fall
, a post-apocalyptic thriller in 2012.
Red Sonja was created by
Roy Thomas
and
Barry Windsor-Smith
, basing her on the
Robert E. Howard
character of
Red Sonya of Rogatino
from the 1934 short story
Shadow Of The Vulture
. She first appeared in
Conan The Barbarian
#23 in 1973 for
Marvel Comics
and eventually lead to the 1985 film starring
Brigitte Nielson
.
The character's popularity waned for a while until around 2005 when
Dynamite Entertainment
secured the rights from
Red Sonja LLC
to publish new comics about the heroine. Dynamite has continued to publish the character for 10 years including the current on-going series by
Gail Simone
and
Walter Geovani
as well as including her in their newest event series
Swords of Sorrow
.
CALIBER TO RELEASE 2 NEW GRAPHIC NOVELS AND A COMIC WRITING GUIDE
02/28/15 @ 1:26 pm EST
Source:
Bleeding Cool
| Categories:
MIsc
|
Comments
(0) |
E-mail Article
|
Add a Comment
Caliber Comics
is bringing three new books to the comic market:
Nain Rouge: The Red Legend
,
Knights of the Skull: Tales of the Waffen SS
and
Comics Writing: Communicating With Comic Books
.
Nain Rouge: The Red Legend
by
Josef Bastian
,
Carl Winans
and
Patrick McEvoy
is the story of two average middle schoolers on a field trip to the Detroit Institue of Arts when they encounter the Nain Rogue (French for Red Dwarf). The Nain Rogue, as the "Steward of Straits", was responsible for keeping harmony and balance in the natural world but when Antoine de Mothe Cadillac and French settlers arrived in the 1600s, a quarrel began and soon this turned into an angry brawl. It is said that as The Nain Rouge was chased away, a curse was flung from its lips onto the entire region of Detroit. The curse, it is rumored, befalls anyone who creates evil of their own will, and this will empower the Nain Rouge with greater strength throughout the centuries. And during the course of these centuries it has appeared to unsuspecting residences just prior to tragedy or misery befalling the person or area…
Knights of the Skull: Tales of the Waffen SS
by
Wayne Vansant
is collection of tales involving the German Waffen SS panzer tank units from World War II. Here Vansant brings us main stories called Battle Group Peiper and Witches' Caldron, along with three short tales. Knights of the Skull covers the war experiences of young German troops on the Eastern Front; to the massacre of American troops near Malmedy on the Western Front; to the harsh conditions of a crushing winter and engagements against an unrelenting Soviet troop onslaught in the Battle of Cherkassy.
Comics Writing: Communicating With Comic Books
unveils the basics in comics writing from
Steven Philip Jones
, a professional comic book writer and instructor. Comics Writing shows you the step-by-step process of creating a comics script and how it is turned into a finished comics page. With the help of examples and comic book illustrations, this book will introduce you to: the different styles of comic book scripts; the tools of cartoon communications like panels, borders, and speech balloons; how to write a story as a comics script; the collaborative process between writer and artists; how to find and develop ideas for your comics stories; tips on creating characters; how to avoid common mistakes new comics writers often make; and other tips of the trade. If you're a writer wanting to find out how to write comic books, or if you are any kind of communicator wanting to learn the basics of communicating by using the comics medium Comics Writing can be a valuable tool.
HOLLOW PRESS RELEASE INSANITY THIS MARCH WITH COLLECTIONS
02/28/15 @ 1:19 pm EST
Source:
Bleeding Cool
| Categories:
MIsc
|
Comments
(0) |
E-mail Article
|
Add a Comment
Better known for their U.D.W.F.G. anthologies, the Italian underground comics publisher Hollow Press will be debuting two collections in March featuring works from artists Tetsunori Tawaraya and Shintaro Kago.

The collections debut March 31, but if readers pre-order by March 11 they will receive 15% off.
'EI8HT' #1 SELLS OUT, GOES TO SECOND PRINT
02/28/15 @ 8:57 am EST
Source:
Dark Horse
| Categories:
Dark Horse
|
Comments
(0) |
E-mail Article
|
Add a Comment
Dark Horse Comics is proud to announce that Rafael Albuquerque and Mike Johnson's critically acclaimed
EI8HT #1
has sold out at the Diamond level and gone to a second printing.
Welcome to the Meld, an inhospitable dimension in time where Joshua, a chrononaut, finds himself trapped. With no memory or feedback from the team of scientists that sent him, he can't count on anything but his heart and a stranger's voice to guide him to his destiny.
The past is green, the present is purple, the future is blue—but the Meld is something else entirely. Emphasizing the incredible concept of the Meld, the second-printing cover by Rafael Albuquerque invites readers to experience a new adventure.
Find out why fans and critics are traveling in droves to the Meld. Order your second printing of
EI8HT #1
today from your local comics retailer!
EI8HT #1 (2nd Printing
(of 5) (DEC148728) Rafael Albuquerque (W/A/Cover) and Mike Johnson (W) On sale Mar 25FC, 32 pages$3.50Miniseries
NOELLE STEVENSON REVIVES MARVEL'S "RUNAWAYS" DURING "SECRET WARS"
02/28/15 @ 8:51 am EST
Source:
Comic Book Resources
| Categories:
Marvel
|
Comments
(0) |
E-mail Article
|
Add a Comment



When you're an adolescent, overbearing parents and teachers can seem like agents of evil. If you're a teen in the Marvel Universe, there is a distinct possibility that the authority figures keeping you down are literally supervillains. Writer Brian K. Vaughan and artist Adrian Alphonaperfectly demonstrated this premise with their 2003 series "Runaways", which introduced a team of all-new teen heroes and followed them as they went on the run from their supervillain parents.

The members of the Runaways became fan favorite characters upon their introduction and have starred in multiple volumes of their own self-titled series as well as being featured in books like"Avengers Arena" and "Avengers Undercover." Yet there hasn't been a "Runaways" series at Marvel since 2009 -- though that's about to change.

This May, the Marvel Universe as we know it will be no more with the onset of "Secret Wars."The event finds the remnants of the multiverse assembled into one patchwork planet calledBattleworld, but that doesn't mean the rebellious spirit of young heroes like the Runaways will be gone. This June, writer Noelle Stevenson ("Lumberjanes") and artist Sanford Greene ("Uncanny Avengers") will introduce a new incarnation of Marvel's defiant band of teen heroes with a new "Runaways" series set on Battleworld.
FOX'S DC COMICS TAKE 'LUCIFER' CASTS ITS STAR
02/28/15 @ 8:46 am EST
Source:
Hollywood Reporter
| Categories:
DC
|
Comments
(0) |
E-mail Article
|
Add a Comment
Fox has found its Lucifer.

Rush alum Tom Ellis will star in the DC Comics adaptation, The Hollywood Reporter has learned.

The drama centers around Lucifer (Ellis), the Lord of Hell, who, bored and unhappy, resigns his throne and abandons his kingdom for the gorgeous, shimmering insanity of Los Angeles, where he gets his kicks helping the LAPD punish criminals.

The character of Lucifer was modeled after David Bowie and has appeared in Sandman and its spinoff via DC's Vertigo imprint. Lucifer made his debut inSuperman's Pal Jimmy Olsen No. 65 in 1962 before being revived in Neil Gaiman's critically praisedSandman in 1989.

Californication creator Tom Kapinos will pen the script for the Warner Bros. Television entry and exec produce via his Aggressive Mediocrity banner. Jerry Bruckheimer and his Jerry Bruckheimer Television topper Jonathan Littman will executive produce, while the company's KristieAnne Reed is set as a co-executive producer. Len Wiseman will executive produce and direct the pilot after serving in the same capacity on Fox's Sleepy Hollow.

EastEnders alum Ellis, repped by CAA, Hamilton Hodell and Anonymous Content, previously starred on USA Network medical drama Rush and played Victor Frankensteinon ABC's monster drama pilot Gothica two years ago.
CATWOMAN WRITER CONFIRMS SELINA KYLE IS BISEXUAL
02/28/15 @ 8:37 am EST
Source:
Vanity Fair
| Categories:
Catwoman
|
Comments
(0) |
E-mail Article
|
Add a Comment
There was some speculation following 2012's
Dark Knight Rises
that Selina Kyle, the Catwoman character played impeccably by Anne Hathaway, might be attracted to women. Christopher Nolan's film depicted the villainess as using her sexuality to prey on and manipulate males, Bruce Wayne among them. The most tenderness she showed, it seemed, was directed towards her female flatmate, played byJuno Temple. And now, three years after those sexually confusing undertones, current
Catwoman
writer Genevieve Valentine has confirmed that Kyle—who first surfaced in a 1940s
Batman
issue, and has had many a romantic encounter with the caped crusader—is indeed bisexual.
In the newest issue of
Catwoman
, Kyle, who has bequeathed her iconic cat suit to a character named Eiko Hasigawa, is seen kissing her Catwoman successor. (Let's not even delve into the psychological significance of Catwoman kissing Catwoman.) In a blog postpublished today, Valentine writes that confirming Kyle's bisexuality had been a goal of hers.
"When I was first plotting out what I expected to be a six-issue arc, there were a few emotional beats I considered indispensable," Valentine said of her work on the series, which began in October. "[O]ne was establishing Selina as canon bisexual . . . She's flirted around it—often quite literally—for years now; for me, this wasn't a revelation so much as a confirmation. And as [editor] Mark Doyle and I were first hashing out the relationships in this arc, Eiko seemed like the right person: intelligent, driven, in that uncanny valley of Almost Catwoman, and knows enough about Selina that their honesty has become something of a shelter in a situation that's getting increasingly dishonest for everybody involved. The more we talked about it, the more it was something I wanted to make happen."
Kyle, however, is not the first Catwoman to reveal herself as not being heterosexual. Kyle's protégé Holly Robinson, who once wore the iconic cowl, is gay, and even earned
Catwoman
a GLAAD Media Award for its portrayal of Robinson as an openly homosexual character.