MARVEL ENTERTAINMENT & ABC STUDIOS ANNOUNCE ALL-NEW "CASTLE" HARDCOVER GRAPHIC NOVEL
03/12/12 @ 3:31 pm EST
Source:
Marvel
|
Comments
(0) |
E-mail Article
|
Add a Comment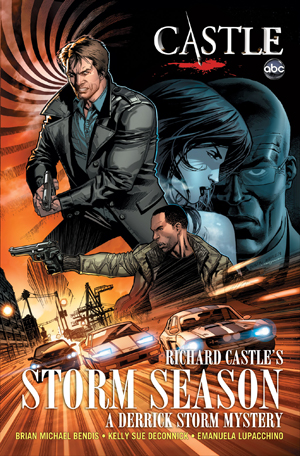 Sequel To New York Times Best-Selling Original Graphic Novel Based on ABC Primetime Hit Series Arrives October 2012
Marvel Entertainment and ABC Studios are proud to announce Castle: Richard Castle's Storm Season, an all-new hardcover graphic novel inspired by the popular "Castle"
television series. This 112 page hardcover, based the titular novel from noted author Richard Castle, hits comic shops, the
Marvel Comics app
,
iBookstore
, Nook Bookstore and everywhere books are sold on October 17th, 2012.
Private Investigator Derrick Storm is hired to bug the hotel suite of an African head of state, but this routine mission quickly spirals out of control when Storm overhears a woman's terrifying scream on the wire. Plagued by the victim's helpless cry, Storm—despite an ominous warning—investigates the truth. Soon he'll discover an international conspiracy reaching further than he ever imagined…and perhaps the truth about Clara Strike, a CIA Agent the world thinks is dead.
"As a comic book fan, I couldn't be more excited about Brian and Kelly Sue bringing Derrick Storm to life once again in Storm Season" said Richard Castle. "Storm is a character near and dear to my heart, so I wouldn't trust him with many people, but he is in some incredibly capable hands with this team."
This is the second "Castle" original graphic novel to be released through a collaborative effort between Marvel, ABC Studios and the producers of "Castle." In 2011, Castle: Richard Castle's Deadly Storm dominated sales charts and garner worldwide acclaim.
"Marvel has done an amazing job of bringing Derrick Storm to a new audience and we're thrilled to keep the magic going with this next graphic novel." said Andrew W. Marlowe, "Castle" creator/executive producer. "Fans can look forward to another fantastic adventure, filled with page-turning excitement. Storm Season is Richard Castle at his finest."
Castle: Richard Castle's Storm Storm reunites the lauded writing duo of Brian Michael Bendis & Kelly Sue DeConnick (Richard Castle's Deadly Storm) for their second Castle story. They're joined by rising star artist Emanuela Lupacchino (X-Factor), whose dynamic interior artwork brings the world of Derrick Storm to life like never before. This original graphic comes wrapped in a stunning cover by acclaimed artist Dustin Weaver (S.H.I.E.L.D.).
"The Derrick Storm novels are full of action, intrigue and compelling characters—it's no surprise that our graphic novel adaptations have taken the literary world by storm!" said Axel Alonso, Marvel Entertainment Editor in Chief. "Castle: Richard Castle's Storm Season will be one of the most exciting graphic novels you read all year, whether you're a longtime fan of Richard Castle or new to his exciting stories."
CASTLE: RICHARD CASTLE'S STORM SEASON
Written by BRIAN MICHAEL BENDIS & KELLY SUE DECONNICK
Art by EMANUELA LUPACCHINO
Cover by DUSTIN WEAVER
Rated T+…$19.99
ON SALE OCTOBER 17, 2012
"Castle" stars Nathan Fillion as Richard Castle, Stana Katic as NYPD Detective Kate Beckett, Susan Sullivan as Martha Rodgers, Molly Quinn as Alexis Castle, Ruben Santiago-Hudson as NYPD Captain Roy Montgomery, Tamala Jones as Medical Examiner Lanie Parish, Jon Huertas as NYPD Detective Javier Esposito, and Seamus Dever as NYPD Detective Kevin Ryan.
"Castle" is produced by ABC Studios. Andrew Marlowe is the show's creator/executive producer, along with executive producers Rob Bowman, David Amann, Laurie Zaks and Armyan Bernstein.
ABOUT MARVEL ENTERTAINMENT
: Marvel Entertainment, LLC, a wholly-owned subsidiary of The Walt Disney Company, is one of the world's most prominent character-based entertainment companies, built on a proven library of over 8,000 characters featured in a variety of media over seventy years. Marvel utilizes its character franchises in entertainment, licensing and publishing. For more information visit
www.marvel.com
ABOUT ABC STUDIOS
: ABC Studios, part of ABC Entertainment Group develops and produces compelling programming for both broadcast network and cable television as well as digital platforms. ABC Studios has delivered some of the most successful, talked-about and evolutionary series on television such as
Desperate Housewives
,
Grey's Anatomy, Lost, Criminal Minds, Army Wives
and
Brothers
&
Sisters
.
FIRST LOOK AT DARTH VADER #25 JOE QUESADA VARIANT
07/29/16 @ 4:58 pm EST
Source:
Comicbook
| Categories:
Darth Vader
|
Comments
(0) |
E-mail Article
|
Add a Comment
Darth Vader's comic book series may be reaching its end, but the series is going out in style. Marvel Comics has provided ComicBook.com with an exclusive first look at Joe Quesada's variant cover for
Star Wars: Darth Vader
#25.
Quesada is an artist who now serves as the chief creative officer for Marvel Entertainment. He's work on Marvel Comics titles including
X-Factor
,
Iron Man
,
Daredevil
,
NYX
, and
The Amazing Spider-Man
.
Darth Vader
#25 is the 40-page finale of the Sith Lord's saga, written by Kieron Gillen and drawn by Salvador Larroca.
For 25 issues following the destruction of the Death Star in
Star Wars Episode IV: A New Hope
, Darth Vader as fought to restore his reputation and regain the favor of Emperor Palpatine. In the process, he has enlisted the aid of allies like the unscrupulous archeologist Doctor Aphra and the murderous droids Bee Tee and Triple Zero. He's discovered the true identity of the pilot who destroyed the Death Star, and he's passed every trial posed by the Emperor's minions.
Now, in this final act, all of his plans come to fruition.
Darth Vader
#25 goes on sale Aug. 31, 2016. Check out the full cover below.
Darth Vader #25
(W) Kieron Gillen (A) Salvador Larroca (CA) Joe Quesada
FINAL ISSUE!
It has all built up to this! Vader's trials against Cylo's creations! His machinations against the Emperor! His covert missions with Doctor Aphra and her murderous droids! All comes to fruition in an oversized 40-page issue by the stellar team of Kieron Gillen and Salvador Larroca! You won't want to miss this ending!
Rated T
In Shops: Aug 31, 2016
SRP: $5.99
JUN160934
SUICIDE SQUAD DIRECTOR REVEALS CHARACTER THAT DIDN'T MAKE THE CUT
07/29/16 @ 4:54 pm EST
Source:
Comicbook
| Categories:
Suicide Squad
|
Comments
(0) |
E-mail Article
|
Add a Comment
Ahead of
Suicide Squad
's upcoming release, director David Ayer has revealed there's one character who didn't quite make the squad's cut. Taking to Twitter for a video Q&A, Ayer told fans that one of the character he originally wanted in the squad was the one and only King Shark.
For those unfamiliar with the DC super-villain, King Shark debuted in
Superboy
back in the 1990s as a humanoid shark. At first, the character was said to have acquired his appearance from his father, 'The King of All Sharks.' Named Nanaue, the baddie's mutation gave him very fluid superpowers which let him join the Secret Society of Super Villains. And, as you might expect, he really enjoys the 'savage animal' side of himself.
Speaking about the character, Ayer said, "So, one of the characters I was thinking about for the squad line-up was King Shark, but we realized it would take a lot of work - a lot of CG work." Ayer went on to explain that he wasn't totally comfortable having a completely CGI character. As such, the director revealed Killer Croc was chosen to replace King Shark, saying, "We actually ended up going with Killer Croc who turned out to be the right guy for the job."
WARCRAFT DIGITAL HD, BLU-RAY, AND DVD RELEASE DATES ANNOUNCED
07/29/16 @ 4:49 pm EST
Source:
Comicbook
| Categories:
MIsc
|
Comments
(0) |
E-mail Article
|
Add a Comment
When
Warcraft
first hit theaters, the film essentially tanked with domestic audiences. However, the fantasy flick was redeemed overseas as the movie grossed over $433 million globally with much of that revenue coming in from China. Now, Universal has just announced the project's upcoming DVD release date. So, if you were one of the many on the fence about seeing
Warcraft
in theaters, you'll soon have a chance to see the film in the comfort of your own home.
Universal announced that
Warcraft
will be coming to several platforms like Digital HD, 4K Ultra HD, Blu-Ray 3D, Blu-Ray, and DVD. The film will land on Digital HD platform on September 13th ahead of its physical release on September 27th. The latter date will also see
Warcraft
reach On Demand for viewers who'd rather see the film that way. And, ahead of its release, Universal has revealed the DVD's colorful cover art.
JOE CARNAHAN SET TO WRITE SONY'S UNCHARTED MOVIE
07/29/16 @ 4:45 pm EST
Source:
Comicbook
| Categories:
MIsc
|
Comments
(0) |
E-mail Article
|
Add a Comment
Nathan Drake is one step closer to the silver screen, courtesy of Director and Writer Joe Carnahan.
Carnahan, whose writing has been featured in films like
The Grey
,
The A-Team
, and
Smokin' Aces 1 & 2
, is starting work on the script for Sony, but sadly won't be able to direct because of a scheduling conflict, as he told Variety.
"In a perfect world I would love to do both, but right now, I'm only on board to write the script," he said.
That could change if the production schedule for
Uncharted
makes an unforeseen switch at some point, but for now, he is perfectly content working on the script. Carnahan's fascination with Archaeology made the project an easy sell.
"Archaeology today is in itself an antiquity, but that world has always fascinated me. Especially when you go to a museum today and wonder how a piece got there to begin with," he said. "Plus, the property itself is so popular that it was hard to turn down an opportunity to work on it."
Carnahan is currently working on
Bad Boys 3
, which will reunite Will Smith and Martin Lawrence. As for the game,
Uncharted 4
recently brought the series to its natural conclusion and met with critical and commercial success. Granted, that doesn't mean more Uncharted games couldn't come down the line, but they would probably feature a new character in the lead role.
Uncharted
will be a joint venture between Arad and Atlas Entertainment Production, with Charles Roven, Avi Arad, Alex Gartner, and Ari Arad servicing as Producers, and Jonathan Kadin taking the lead on the project.
POKEMON GO UK PLAYER CATCHES ALL 143 POKEMON
07/29/16 @ 4:39 pm EST
Source:
Comicbook
| Categories:
Pokemon
|
Comments
(0) |
E-mail Article
|
Add a Comment
It appears as if yet another pokemon trainer has managed to catch 'em all. Sam Clarke, a member of Cyberjam Gaming, claims to be the first person in the UK to have caught all 143 creatures available in Pokemon GO for the region.
Sam uploaded a video to Youtube which shows the trainer loading the game up on his phone for viewers to see. When he goes into his PokeDex, viewers can then see he has caught all 143 creatures. Having played the game from the very beginning, Sam has been actively trying to catch all of the pokemon for awhile now. He's even said he's lost two pants sizes during his quest and that is last catch was made near a Primark where he caught Lapras.
Video:
https://youtu.be/wILjykM4E7s
VIN DIESEL BRINGS HIS DAUGHTER TO 'FAST 8′ SET
07/29/16 @ 4:36 pm EST
Source:
Comic Book Resources
| Categories:
MIsc
|
Comments
(0) |
E-mail Article
|
Add a Comment
Most of the behind-the-scenes videos for "Fast 8″ have delivered footage of cars, stars and stunts, and this latest one is no different. However, it also adds a dollop of cuteness to the mix, as it showcases Vin Diesel and his daughter Hania Riley (aka "the head of the studio").
"Do you think we're honoring the 'Fast and the Furious' saga with chapter 8, 'Fast 8'?" Diesel asks. "Yes," his daughter responds, without missing a beat, "because all of you are working hard, and I think it's going to be a great movie."
The video also features director F. Gary Gray and stars Dwayne Johnson, Tyrese Gibson, Ludacris, Kurt Russell, Charlize Theron, Scott Eastwood and Kristofer Hivju.
Opening April 14, 2017, "Fast" also stars Michelle Rodriguez, Jordana Brewster, Elsa Pataky, Nathalie Emmanuel and Lucas Black.
Video:
https://youtu.be/elo4PoI9Qg4
THE ANDROID STARTS A BAR FIGHT IN NEW 'DARK MATTER' CLIP
07/29/16 @ 4:34 pm EST
Source:
Comic Book Resources
| Categories:
MIsc
|
Comments
(0) |
E-mail Article
|
Add a Comment
Syfy has exclusively provided Spinoff Online a clip from Seaon 2, Episode 5 of "Dark Matter" — airing tonight on Syfy — titled "We Voted Not To Space You."
The new sneak peek sees The Android (Zoie Palmer) tracking down a gangster named Danny Bones at a bar, where things escalate rather quickly into an all-out brawl. Unfortunately for the thugs at the bar, they're not familiar with The Android's ass-kicking ability.
Check out the clip from tonight's "Dark Matter" here:
https://youtu.be/xnU6uGe8zN8
'BEN-HUR' COULD BE RACING TOWARD BOX-OFFICE DISASTER
07/29/16 @ 4:30 pm EST
Source:
Comic Book Resources
| Categories:
MIsc
|
Comments
(0) |
E-mail Article
|
Add a Comment
If early tracking numbers are any indication, that chariot race may be the least of "Ben-Hur's" worries.
According to The Hollywood Reporter, the big-budget adaptation from MGM and Paramount Pictures is on a course to open with just $14 million to $15 million over the Aug. 19-21 weekend. That's a pretty grim domestic debut for a film with an estimated $100 million production budget.
The website notes, however, the studios have three weeks to go all in with their promotional push, which would include courting religious audiences.
Directed by Timur Bekmambetov, the film has been characterized as a reimagining and new interpretation of Lew Wallace's 1880 novel "Ben-Hur: A Tale of the Christ," which has been adapted three times before (most famously in the 1959 epic starring Charlton Heston). This version stars Jack Huston in the title role as a young nobleman who becomes a Roman slave after a betrayal by his adoptive brother (played by Toby Kebbell). Years later he seeks revenge in a grand chariot race while being changed by a series of encounters with Jesus of Nazareth.
"Ben-Hur" also stars Morgan Freeman, Nazanin Boniadi and Rodrigo Santoro.
'SUICIDE SQUAD' STAR WILL SMITH KNOWS HOW TO MAKE AN ENTRANCE
07/29/16 @ 4:28 pm EST
Source:
Comic Book Resources
| Categories:
Suicide Squad
|
Comments
(0) |
E-mail Article
|
Add a Comment
Will Smith walked onto the stage Thursday with a level of confidence and charm to which most guests of "The Tonight Show" aspire: He smiled as he acknowledged the band and the audience, he embraced host Jimmy Fallon, he danced a little. But that wasn't enough for the "Suicide Squad" star, who said the enthusiastic crowd deserved a better entrance.
So he tried it again and again and
again
, ratcheting up his showmanship each time. First Will Smith rolled out in a giant hamster ball. Then he strolled out in a "Soul Train"-style dance line, which he acknowledged was "
almost
it."But to truly nail the entrance, Smith required a choir, a red carpet and his name in lights, which merely paved the way for him to ride out on a unicorn. Oh, there was also confetti and a dancing panda.
That's
how you make an entrance.
"Suicide Squad" opens Aug. 5.
Video:
https://youtu.be/w74Zjj47HzI
UNTANGLING THE CONTINUITY BEHIND "HAL JORDAN AND THE GREEN LANTERN CORPS" #1
07/29/16 @ 4:22 pm EST
Source:
Comic Book Resources
| Categories:
Hal Jordan And The Green Lantern Corp
|
Comments
(0) |
E-mail Article
|
Add a Comment
SPOILER WARNING: The following article contains major spoilers for "Hal Jordan and the Green Lantern Corps" #1, on sale now.
With "Hal Jordan and the Green Lantern Corps" #1, Robert Vendetti's continuing to redefine the Lantern status quo for the DC Universe. And while longtime Jordan fans are surely excited by his reinstatement as a Green Lantern, if you've drifted away from the GLC in recent years, or are new to their adventures altogether, you might find this issue a bit tough to follow. So, for those who are behind in the developments of the the past few years, here's quick primer on what's been going on since "Convergence," DC's dimension-mashing crossover, ended and all the Lantern-based characters ended up in distinctly different places than readers may have been used to.
Hal Jordan, On The Run
Right before "Convergence" struck, Hal Jordan had fled the Green Lantern Corps, no longer a member of their ranks. Or at least, that's what he wanted the rest of the universe to believe. In reality, Hal had agreed to take the blame for the galaxy's overall negative opinion of the Green Lantern Corps, the scapegoat for all that ill will. Abandoning his ring as part of the scheme, Hal went underground using an experimental gauntlet created by Krona in the earliest days of the Green Lanterns. With the gauntlet erratic at best, Hal's time as a rogue was punctuated by a continual struggle to use his powers, traveling around the galaxy with a couple of sidekicks, and an unattractive new look including long hair and a trench coat. With the Green Lantern Corps having gone missing immediately after his departure (see below), Hal ended up having to do far more work to protect the universe than initially expected.
Happily for fashion police across the universe, it turned out that Krona's gauntlet was also slowly eating away Hal's humanity. This finally came to a head in "Hal Jordan and the Green Lantern Corps: Rebirth" #1, where Hal performed a desperation move and used the gauntlet to forge a brand-new Green Lantern ring. We still haven't learned all the specifics on this ring -- if it charges to a lantern of its own, if it's connected to the Corps in general -- but not only does this new ring work much more efficiently than the gauntlet, it also resulted in the much-needed removal of Hal's trench coat and longer hair. Unfortunately for Hal, one of his greatest enemies has taken up residence where the missing Corps used to reside...
Old Man Sinestro
While Sinestro already had his own title when the post-"Convergence" status quo debuted, the character actually began his metamorhisis several years earlier, when the pre-"Flashpoint" "Green Lantern" series concluded with Sinestro rejoining the Green Lantern Corps. While Sinestro eventually left the GLC to reclaim his yellow ring (and once more take over the Sinestro Corps), there was a much greater shift towards the idea that Sinestro was less a villain and more attempting to protect the universe in his own particular way. It was one with a fear-based approach, but the shift from villain to more of an anti-hero has been building for some time.
That's not to say that Sinestro has been nothing but good, though. During the "Wrath of the First Lantern" crossover, Sinestro allowed Parallax, the evil entity that powers the Yellow Lanterns' rings, to possess him. This is much more of an equal partnership than past Parallax possessions, making the moment where Parallax slaughtered all but two of the Guardians of the Universe (Ganthet and Sayd) bring Sinestro's motives into question.
With the Green Lantern Corps missing, Sinestro took full advantage of the situation to advance his own agenda. Having based his Corps on the mobile, planet-sized arena of destruction named Warworld, Sinestro tried to become the new defender of Earth, and then moved Warworld to the center of the universe where first the planet Oa and then the sentient Green Lantern planet Mogo once resided. It was also right around the same time the Green Lantern Corps vanished that Sinestro forcefully made his daughter Soranik (herself a Green Lantern) a member of the Sinestro Corps. Sinestro has also been using the imprisoned embodiment of fear, Parallax, for his own uses. Having powered Warworld in recent months, Sinestro's recent mysterious aging has been mitigated by Sinestro once more merging with Parallax. Considering how badly that affected Sinestro last time, this could be a switch back into villainy for him.
It's Really Not Where, But When
The Green Lantern Corps' situation over the past year was a departure from GLC incarnations of the past, at least in terms of location. There was no trace of them anywhere in the universe, which turned out to be more than just a metaphorical statement. Told in two six-issue miniseries, "Green Lantern: The Lost Army" and "Green Lantern Corps: Edge of Oblivion" revealed that John Stewart, Guy Gardner and company had been flung backwards in time to the previous universe that had died to create the current one.
In that time, the energy of the emotional spectrum was being used up at such a great rate by that reality's Lightsmiths that it was literally draining the life of the universe. We'd first learned about that potential disaster repeating itself with the introduction of Relic, the lone survivor who had passed through the Source Wall that surrounds the DC Universe and come out on this side. But while he was the protagonist in the "Lights Out" crossover, in the distant past he ended up being an ally of the lost Green Lanterns. Their numbers greatly reduced due to attacks by the inhabitants of this early universe, only a handful of Green Lanterns survived to the end of the second miniseries, even as they searched for a way home. (Ironically, the first time a passage presented itself, it was closed by Hal Jordan in the present day, not knowing who was at the far end of the breach between universes.) In the process, Guy Gardner was purged of his rage-fueled Red Lantern energies and fully transformed back into a Green Lantern, and Mogo became residence to the Last Great City, the final metropolis of the previous universe. After Simon Baz discovered a breach that potentially went back to our universe, he went through as a test subject, calling for Guy Gardner and John Stewart to bring the rest of the Corps through.
That's a lot of information to process, but it does give us a chronology for the various Green Lantern titles in the Rebirth event. Both this and the "Hal Jordan and the Green Lantern Corps: Rebirth" #1 take place before "Green Lanterns: Rebirth" #1, giving Simon a chance to first pass through the breach and return to Earth before the rest of the Corps finish their battle and do the same. It also explains why Hal Jordan is dressed as a traditional Green Lantern in "Green Lanterns: Rebirth" #1, as he's already moved through this storyline.
What's next? Hopefully we'll see Hal Jordan reunite with the Green Lantern Corps before long, to say nothing of the conflict between them and the Sinestro Corps usurpers. And, of course, White Lantern Kyle Rayner is still MIA following the end of "The Omega Men," and whose presence will no doubt resurface before long. With the restoration of the classic Green Lanterns in the DC Universe, though, there are surely some "brightest days" ahead for readers of "Hal Jordan and the Green Lantern Corps." (Via CBR)