CAPTAIN MARVEL – JULY 2012!
03/12/12 @ 1:36 pm EST
Source:
Marvel
|
Comments
(0) |
E-mail Article
|
Add a Comment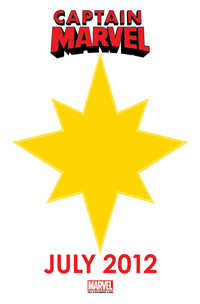 Find out more Saturday, March 17th at the Talk To The Hat panel, 4:00PM PST, during Wondercon 2012!
Can't make it to the convention? Follow along on the
Marvel Events App
&
events.marvel.com
, the best way to get exclusive videos, real-time announcements from the convention floor and up-to-the-minute panel, in-booth, and signing schedules of all your favorite Marvel creators!
To find a comic shop near you, call 1-888-comicbook or visit
www.comicshoplocator.com
Marvel Entertainment, LLC, a wholly-owned subsidiary of The Walt Disney Company, is one of the world's most prominent character-based entertainment companies, built on a proven library of over 8,000 characters featured in a variety of media over seventy years. Marvel utilizes its character franchises in entertainment, licensing and publishing. For more information visit
www.marvel.com
FRANK BARBIERE'S COMMENTARY ON THE FINAL ISSUE OF THE PRECINCT
04/29/16 @ 11:02 am EST
Source:
Bleeding Cool
| Categories:
Dynamite
|
Comments
(0) |
E-mail Article
|
Add a Comment
A Writer's Commentary:
Frank Barbiere
talks
Precinct
#5, on sale now from
Dynamite
, as the miniseries wraps. Cover is by
Sergio Davila
, with interiors by
Crizam Zamora
.
PAGE ONE
Crizam and Dinei did an excellent job with this page. It's a big, fun opening and really sets the stakes for the series finale.
PAGES TWO – FIVE
I really enjoyed working in Mort's personal history and outlook on life to show why he acts the way he does. I also love the way Crizam drew Mort channeling the energy back into Jo, and the way they seem to be hugging/showing the compassion.
PAGE SEVEN
The reveal of the Archduke is wonderfully rendered here. Crizam really gave him an intimidating, great design—working him in with the design of the suit really visually ties the plot of the book together.
PAGES EIGHT – NINE
Really happy with the fight scenes in this issue. I gave Crizam some room to really have some fun, and he delivered some awesome action.
PAGE TEN
It was fun to sell the literal interpretation that Mort will "rest when he's dead." A powerful sequence rendered expertly by the art team.
PAGE FOURTEEN
I'm a fan of splash pages and really putting some power behind them, and here we have no exception. It's a great turn in the fight scene and it's a lot of fun to see Mort taking control of the battle, as well as the minotaur machine that's been an "unknown" throughout our series.
PAGES FIFTEEN AND SIXTEEN
I'm really pleased that we found an organic way to wok in the theme of alchemy vs. steam, and that it's part of Jo's elegant solution to the problem of the attacking machines.
PAGE EIGHTEEN
We've been telling a story about Mort and Jo learning to work together, despite their differences, and it's really rewarding to show that through them fighting together.
PAGES TWENTY AND TWENTY-ONE
It's a lot of fun to end big, genre stories like this with an awards ceremony, and it's an obvious homage to STAR WARS: A NEW HOPE. Through writing this book I really got a handle on Mort's voice, and it's fun to have him narrate the epilogue.
PAGE TWENTY-TWO
I am a huge fan of bookending my arcs/series, and I really enjoy how we're able to modify Mort's intro narration with what he's learned through our series. Thanks for reading, everyone!
For more information on
The Precinct
#5,
click here
.
CAPTAIN AMERICA: STEVE ROGERS #1 RETURNS TO ACTION THIS MAY
04/29/16 @ 10:56 am EST
Source:
Marvel
| Categories:
Captain Amerca
|
Comments
(0) |
E-mail Article
|
Add a Comment
The original Sentinel of Liberty returns! Recently restored to his super-powered self, Steve Rogers makes his triumphant return to the red, white and blue this May in the all-new
CAPTAIN AMERICA: STEVE ROGERS #1
! Hot off the blockbuster
Avengers: Standoff
crossover, creators Nick Spencer and Jesus Saiz bring Steve back into the field with a new mission, a new costume, a new shield and wall-to-wall action!
"The country is as divided as it's ever been, and Steve is one of a kind," says Nick Spencer, in an interview with Marvel.com. "He's a unifying figure, someone we can all look up to, [and] someone we can all put our faith in. It's no secret the Marvel Universe is about to enter a period of serious conflict with Civil War II looming on the horizon, and as such, it feels like the perfect moment to bring Steve back into fighting shape."
He may be back but the celebration will be short lived. Steve isn't the only one who's returned stronger than ever. Hydra has re-emerged. Led by his greatest foe, the Red Skull, Hydra has begun to worm its way into every corner of the Marvel Universe. Anyone can be a threat. Trust no one. Even a restored Captain America may not be enough to stop the far reaching tentacles of Hydra. With a rallying cry of "Avengers Assemble", the Sentinel of Liberty charges headlong into the fight once more. But will his first day back on the job be his last? Find out when
CAPTAIN AMERICA: STEVE ROGERS #1
explodes into comic shops and digital devices this May!
Plus – don't miss an exciting prologue to this monumental first issue, coming exclusively to comic shops on Free Comic Book Day. Head to your local retailer on May 7th to get your hands on FCBD Captain America #1!
CAPTAIN AMERICA: STEVE ROGERS #1 (MAR160721)
Written by NICK SPENCERArt & Cover by JESUS SAIZVariant Covers by STEVE EPITING (MAR160722) and SKOTTIE YOUNG (MAR160724)and JIM STERANKO (JAN168400)Action Figure Variant by JOHN TYLER CHRISTOPHER (MAR160723)
Hip-Hop Variant by JEFFREY VEREGGE (MAR160726)Age of Apocalypse Variant Cover by PAUL RENAUD (MAR160725)
Captain America 75th Anniversary Variant by GREG HILDEBRANT (MAR160727)FOC – 05/02/16, On-Sale – 05/25/16
JOHN LEWIS' "MARCH" OPTIONED FOR ANIMATED SERIES
04/29/16 @ 10:51 am EST
Source:
Comic Book Resources
| Categories:
MIsc
|
Comments
(0) |
E-mail Article
|
Add a Comment
The acclaimed graphic memoir "March,"Congressman John Lewis' account of his lifelong struggle for civil and human rights, is being develop as an animated series.
Charleston Immersive & Interactive Media Studio announced it has optioned the television rights to the trilogy, published byTop Shelf, and will also develop related interactive educational products. Lewis, co-writer Andrew Aydin and illustrator Nate Powell will serve as producers and consultants.
"It is my hope that this project inspires another generation of young people to learn the way of peace, the way of love, the way of nonviolence," Lewis said in a statement.
Published in 2013, "March: Book One" spans Lewis' youth in rural Alabama, his life-changing meeting with Martin Luther King Jr., the birth of the Nashville Student Movement, and their battle to tear down segregation through nonviolent lunch counter sit-ins, building to a stunning climax on the steps of City Hall.
The bestseller was followed in 2015 by "Book Two," which follows Lewis and his fellow Freedom Riders as they board a bus into the deep South, where they're faced with beatings, police brutality and even murder. "Book Three" is set for release in August.
NETFLIX ORDERS "PUNISHER" SPINOFF SERIES STARRING JON BERNTHAL
04/29/16 @ 10:47 am EST
Source:
Comic Book Resources
| Categories:
Punisher
|
Comments
(0) |
E-mail Article
|
Add a Comment
Frank Castle is back. Entertainment Weekly has learned that Marvel and Netflix have ordered a "Punisher" series, spinning off of "Daredevil" season two. The series will star Jon Bernthal, reprising his role as the Punisher, and "Hannibal's" Steve Lightfoot will serve as showrunner.This marks the fifth solo series in Marvel and Netflix's deal, following "Daredevil," "Jessica Jones," "Luke Cage" and "Iron Fist." It's not yet known if Punisher will show up in the team-up miniseries "The Defenders," although EW states that it seems likely he'll at least make an appearance.

Jon Bernthal's Punisher played a major part in "Daredevil" season two, which debuted on Netflix in March. The season served as Frank Castle's origin story.


NOVA619 CELEBRATES 40 YEARS OF THE MAN CALLED NOVA
04/28/16 @ 8:17 pm EST
Source:
Nova Prime Page
| Categories:
MIsc
|
Comments
(0) |
E-mail Article
|
Add a Comment
STARTING THIS SATURDAY, APRIL 30 -- THE BEGINNING OF THE PATH! NOVA619 NO.31!
This season's big arc story finally arrives, celebrating 40 years of the Man Called Nova, Rich Rider - The Human Rocket!
Two timelines will collide as Classic Nova619 takes on his first dangerous mission for the Xandarian secret service - The Specultoria - with diasterous consequences! Consequences which will ripple through time and space to affect the life of his counterpart nine years into the future! Guest staring Queen Adora! The Worldmind! The deadly Diamondhead! Powerhouse! Veradiane! Kree Monks! And more.
PLOT/ SCRIPT - Daz Blackburn
ART - Al Whincup
LETTERS - Philip Charles
NOVA619 LOGO - Chris Anderson
Variant Cover - Emiliano Correa
Plus: The Wonder Worlock takes on the Great Goff Conspiracy! Part 1. Written by Byron Brewer with a cover by Israel Huertas!
ONLINE SATURDAY at NOVA PRIME PAGE and NOVA PRIME DA.
VANDAL SAVAGE UNLEASHES THE LEVIATHAN ON "DC'S LEGENDS OF TOMORROW"
04/28/16 @ 5:54 pm EST
Source:
Comic Book Resources
| Categories:
DC
|
Comments
(0) |
E-mail Article
|
Add a Comment
The namesake for tonight's "DC's Legends of Tomorrow" -- the Leviathan -- is revealed in a new featurette for the game-changing episode.
The spoiler-filled video also reveals how the Legends discover the existence of Savage's daughter, Cassandra, and how a present from the immortal to his child may end up spelling his doom.
Video:
https://youtu.be/o6-J8ejOK-4
"DC'S LEGENDS OF TOMORROW" DISCOVER ANOTHER WAY TO STOP SAVAGE IN NEW CLIP
04/28/16 @ 5:49 pm EST
Source:
Comic Book Resources
| Categories:
DC
|
Comments
(0) |
E-mail Article
|
Add a Comment
In the next episode of "DC's Legends of Tomorrow," Rip Hunter takes the team to "London 2166," three months before his family was killed. A new clip from the episode finds Kendra discovering a deadly piece of jewelry, even as Gideon locates what's left of the resistance.
Video:
https://youtu.be/1Q4N4qpA6A0
KIDS STAGE THEIR OWN 'CIVIL WAR' IN THIS FUN TV AD
04/28/16 @ 5:46 pm EST
Source:
Comic Book Resources
| Categories:
Civil War
|
Comments
(0) |
E-mail Article
|
Add a Comment
Like virtually everyone else, Target is gearing up for the premiere next month of
Captain America: Civil War
. But, as Target is a retail chain, its preparation takes the form of a TV commercial — a cute one at that.
Called "United We Play," the new 30-second spot depicts kids on the world's greatest playground (at "Target Academy," no less) using their imaginations, and official Marvel costumes, toys and accessories, to stage their
own
Civil War. Naturally, that takes the form of a game of tag.
While the focus is on a pint-sized Captain America, whose primary (ahem)
target
is Iron Man, we also get cameos by wee versions of Black Widow, Spider-Man, Falcon, War Machine, among others. However, in what's
probably
a spoiler for
Civil War
, the climactic showdown is interrupted by … the bell.
Video:
https://youtu.be/rZNI34G5_4M
MADS MIKKELSEN REVEALS 'ROGUE ONE: A STAR WARS STORY' ROLE
04/28/16 @ 5:37 pm EST
Source:
Comic Book Resources
| Categories:
Star Wars
|
Comments
(0) |
E-mail Article
|
Add a Comment
Much about "Rogue One: A Star Wars Story," the first standalone anthology film in the franchise, remains a mystery. The first trailer has been released, but that only revealed the name of Felicity Jones' character, Jyn Erso. And while we still don't know the
name
of Mads Mikkelsen's character, who was also absent from the "Rogue One" trailer, we now know
who
he is.
During an appearance on SkyNews, Mikkelsen talked about the secrecy around the "Star Wars" film, which is set just prior to 1977's "Star Wars." "I can say absolutely nothing about it," said Mikkelsen. "I can but then I'd have to kill you and all the audience." Mikkelsen relented a little after being asked about his decision to join the cast. "I read the script and it was very beautiful, and Felicity is playing this lovely, strong woman and I play… her father. And that was too much, I'm sorry."
So yes, Mikkelsen will be playing Jyn Erso's father — although most likely an absentee one, as the trailer points out that Erso has been "on her own" since she was 15 years old. Further details about Mikkelsen's character, like whether or not he's a Rebel, an Imperial or something else entirely, remain unknown.
RIAN JOHNSON REVEALS NEW PHOTOS FROM 'STAR WARS: EPISODE VIII' SET
04/28/16 @ 5:33 pm EST
Source:
Comic Book Resources
| Categories:
Star Wars
|
Comments
(0) |
E-mail Article
|
Add a Comment
Director Rian Johnson has marked the midway point of principal photography with the release of two new images from the set of "Star Wars: Episode VIII."
"I can't believe we're halfway through the shoot," he wrote on his blog. "(We're halfway through the shoot!)"
The first photo shows part of an X-wing (note the the droid barely visible in back), while the second is a bit more difficult to identify. My best guess is a station on a First Order vessel, or wherever General Hux, Kylo Ren and the survivors of Starkiller Base fled following the events of "The Force Awakens."
Unlike the super-secretive J.J. Abrams, Johnson has been more forthcoming when it comes to glimpses of the film set. He previously offered a peek at the cockpit of the Millennium Falcon, and a look at Maz Kanata (on monitors, anyway).
"Star Wars: Episode VIII" opens Dec. 15, 2017.