CAPTAIN MARVEL – JULY 2012!
03/12/12 @ 1:36 pm EST
Source:
Marvel
|
Comments
(0) |
E-mail Article
|
Add a Comment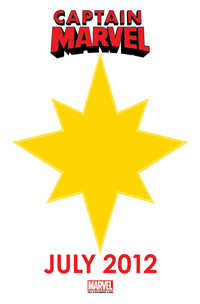 Find out more Saturday, March 17th at the Talk To The Hat panel, 4:00PM PST, during Wondercon 2012!
Can't make it to the convention? Follow along on the
Marvel Events App
&
events.marvel.com
, the best way to get exclusive videos, real-time announcements from the convention floor and up-to-the-minute panel, in-booth, and signing schedules of all your favorite Marvel creators!
To find a comic shop near you, call 1-888-comicbook or visit
www.comicshoplocator.com
Marvel Entertainment, LLC, a wholly-owned subsidiary of The Walt Disney Company, is one of the world's most prominent character-based entertainment companies, built on a proven library of over 8,000 characters featured in a variety of media over seventy years. Marvel utilizes its character franchises in entertainment, licensing and publishing. For more information visit
www.marvel.com
DF REVIEW: DETECTIVE COMICS ANNUAL #3
07/30/14 @ 10:36 pm EST
Source:
Dynamic Forces
| Categories:
Detective Comics
|
Comments
(0) |
E-mail Article
|
Add a Comment
By Byron Brewer
Everybody wants to be somebody, especially in the big city.
I've been wondering since I first entered a version of Gotham City with ABC TV's campy but entertaining
Batman
why the criminals of that fine metropolis wore such colorful costumes and were such goofballs. The Riddle and Joker would virtually threaten everything they had built for the sake of the game: the riddle, the joke. Ridiculous.
Now I know.
Now that is not the main story of
Detective Comics Annual
#3, but there is a delightful undercurrent of crooks talking with crooks in the book in which they share their wants and desires. Chief among them is not gold, silver, money or even power. Nope, it's the previously stated: Everyone wants to be someone.
And there is my answer.
As for this annual, writer Brian Buccellato does the brave (and bold) thing by connecting it tentatively to the ongoing Icarus storyline in the regular title, and that is to be respected. Annuals appearing in the midst of a longform saga that are not part of continuity tend to get the cold shoulder at the LCS and quickly forgotten by those who did read it. And let's face the world today, folks: for five bucks, this story better matter!
And matter it does as the Dark Knight battles to keep Icarus off the streets of Gotham, relating (as the criminals do) with Gothamites of high and low degree along the way.
This annual offers a unique if sometimes taken for granted view of the criminals of Gotham, as well as its protector. Makers of the
Gotham
TV show might want to read this issue.
Batman and Buccellato are at their best, and even the three teams of artists didn't hurt!
GEOFF JOHNS ANNOUNCES THE DARKSEID WAR
07/30/14 @ 8:22 pm EST
Source:
Bleeding Cool
| Categories:
Justice League
|
Comments
(0) |
E-mail Article
|
Add a Comment
This is a tweet from DC's Geoff Johns today:
"Justice League #33 out today! Lex Luthor's run at joining the team continues, the Darkseid War approaches and fun chaos w/the Doom Patrol!"
Add that to this scene from the book mentioned above:
The result MAY be said Darlseid War, which would probably mean the storyline Johns has been hinting at since Justice League #1 (2011).
We'll see.
MARVEL TRADEMARKS ... SQUIRREL GIRL??
07/30/14 @ 8:15 pm EST
Source:
Bleeding Cool
| Categories:
Marvel
|
Comments
(0) |
E-mail Article
|
Add a Comment


Marvel Comics usually registers trademarks to protect TV and film rights rather than comic book rights, unless there's a specific threat.

Which is why its trademark registry is full of Age Of Ultron, Guardians Of The Galaxy, Rocket Raccoon, Agent Carter, Big Hero 6 and registered Gifted right now.

Oh, and Squirrel Girl.

Squirrel Girl??

So what is in this hero/babysitter's future? Toon, film, TV ... Lego movie?
WORD BALLOON PRESENTS RARE COMIC BOOK DOCUMENTARY
07/30/14 @ 8:08 pm EST
Source:
Bleeding Cool
| Categories:
MIsc
|
Comments
(0) |
E-mail Article
|
Add a Comment


A real rarity was present at the SCDD last Thursday night.

John Siuntres of Word Balloon Podcast presented "The World of Comic Books," a fascinating documentary created in 1977 and 1978 for the Canadian TV show Behind the Scene.

This 20-minute short was narrated by comedy icon Jonathan Winters and included footage shot in DC and Marvel offices, as well as footage of conventions.

Ahh, the memories of the "House of Ideas" and its "Distinguished Competition."
'PUPPET MASTER' COMICS COMING FROM ACTION LAB
07/30/14 @ 8:02 pm EST
Source:
ICv2
| Categories:
MIsc
|
Comments
(0) |
E-mail Article
|
Add a Comment
At their Comic-Con panel, Action Lab Entertainment announced a license to bring Full Moon's Puppet Master franchise to comics.

The comic series will be written and edited by Shawn Gabborin (Fracture, Snowed In), with artists picked by series creator Charles Band.

Puppet Master is the story of elderly puppet maker Andre Toulon, who uses an ancient Egyptian potion to bring his puppets to life.
'ESCAPE FROM NEW YORK' COMIC IN DECEMBER
07/30/14 @ 7:59 pm EST
Source:
ICv2
| Categories:
MIsc
|
Comments
(0) |
E-mail Article
|
Add a Comment
BOOM! Studios announced it will be releasing a comic series based on the cult-classic film Escape from New York, debuting in December.

The series will be written by Christopher Sebela (High Crimes, Dead Letters), with an artist to be named later. The two covers pictured here are by Tim Bradstreet and Riley Rossmo.

Released in 1981, the John Carpenter sci-fi/action flick was set in the (then) near future of 1997, when after rampant crime and a natural disaster, Manhattan has been turned into a maximum-security prison for lifers. But when Air Force One crashes on the island, ex-special forces soldier turned rebel Snake Plissken is given a deal that if he can rescue the President from the island, he'll receive a pardon. The trick is that he has 22 hours to do it, before the President's captors execute him.
JOE Q.RECEIVES A 2014 INKPOT AWARD
07/30/14 @ 7:41 pm EST
Source:
Marvel
| Categories:
Marvel
|
Comments
(0) |
E-mail Article
|
Add a Comment


Each year, Comic-Con International in San Diego awards a select few recipients with the prestigious Inkpot Award. Recognizing the best and brightest individuals for their contributions to the world of comics, science fiction/fantasy, film, television, animation and more, the Inkpot Award has been awarded to a number of industry icons since its creation.

Marvel is pleased to congratulate Marvel Chief Creative Officer Joe Quesada, who took home an Inkpot Award in a surprise presentation during his annual Cup O' Joe panel at this year's convention. A long-time writer, artist and editor – Quesada was promoted to Editor-in-Chief of Marvel Comics in 2000. In his time as Editor-in-Chief, he oversaw some of the biggest events in Marvel history and presided over a creative renaissance for the company. Promoted to Chief Creative Officer in 2010, Joe now lends his considerable talents to more than just publishing as he oversees the creative aspects of Marvel in other media – from movies, to television, to video games and everything in between!

Marvel [and Dynamic Forces] would also like to congratulate all the other recipients of this year's Inkpot Award.
DF REVIEW: CYCLOPS #3
07/30/14 @ 7:24 pm EST
Source:
Dynamic Forces
| Categories:
Cyclops
|
Comments
(0) |
E-mail Article
|
Add a Comment
By Byron Brewer
"I know it's childish. I really do. But it's unfair. All of it, it's unjust. And don't tell me that life's not fair."
These are the words spoken by young Scott Summers upon finding out of his father's death, return to life, and the circumstances they find themselves in this issue.
It is also the words of this reviewer, upon finding out that writer Greg Rucka will be leaving this book.
In just three short issues ... really in the first issue ... Rucka gave us a Cyclops and Corsair like we had not seen for quite some time, maybe ever. This might be the greatest presentation of these two characters since Chris Claremont bolstered one and created the other, way back in the "All-New, All-Different" days of the X-Men.
This coming of age story has been told several times, but never this well in a comic book. It harkens back to my childhood and stories of yesteryear like
Call of the Wild.
and, cosmic freak that I am, with space as a background, this father and son reunion could not have a better atmosphere.
I wish nothing ill on any incoming creative team, but
Cyclops
#3 shows just how good Rucka is and how deeply he understands these characters.
Plus we get answers to questions within the third issue of a new series! Almost unheard of.
I hope
Cyclops
will continue to be the strong magazine that it is now.
Cyclops
#3 is a comic that I would show friends who do not read comics when they asked me, what's up?
Simply excellent!
MICHAEL MORECI ON CHAOS: THE CHOSEN
07/30/14 @ 10:34 am EST
Source:
Dynamite.com
| Categories:
Chaos Chosen
|
Comments
(0) |
E-mail Article
|
Add a Comment


Questions for Michael Moreci @ Chaos: The Chosen

1. Michael, how did you happen to get attached to this Chaos! One-shot?

MM: I had worked on a different one-shot, for a book called My Little Phony. It must have went well because, after that, Dynamite offered me another gig—this one for The Chosen, famous of the Chaos line. It's a perfect fit and right in my wheelhouse. Monster-chasing is something I can't get enough of. I write Hoax Hunters for Image, which is kind of like The Chosen minus the '90s attitude and plus an astronaut suit filled with crows.

2. Am I correct to assume this spins out of what happened in the Chaos! Miniseries?

MM: Absolutely. I'm a fan of the Chaos line, and Tim Seeley (Chaos scribe) is a good friend of mine. So, I had been reading his scripts for the series already and knew where he was going with things. And, truth be told, I absolutely love the work Tim did with this relaunch. His six issues are far better than anyone can ever ask for.

3. The Chosen are a group of monster teens who travel the world with one agenda – hunting other monsters! (laughs) Can you tell me about the individual members of this team?

MM: The Chosen are basically this ragtag team of teenage/early 20s misfits who all have some kind of "monster" power. And they use their powers to hunt down other, bad monsters. They're horror X-Men, in a sense. The characters are Vanessa, a necromancer and kind of the leader of the team. She's reinforced by Danny/R.I.P., a kid who can turn into a raging demon, and Rashad/Carcass, who is a super strong half zombie. Theres also Rosa/Oblivia, a sexy vampire, Sara/Serendipity, a ghost, and Vex, and earthy clairvoyant.

4. Who is Suspira?

MM: Haha...Suspira is a character even I vaguely remember. I was trying to draft someone cool and off the beaten path from the Chaos universe to use in my story, and she made sense—I was thinking along the lines of a witch coven. That said, Suspira is a bad ass witch who is also part demon. In the story, called "Death Skull" she acts like a mentor to Vanessa, who is a necromancer and similarly has witch-like powers.

5. Big-bads? I hear there are at least two in this double-shot of horror, action, and humor.

MM: In the first story I use Epitaph, who was Suspira's nemesis back in the day. The idea is that Suspira had trapped Epitaph in hell, and he's using his own mystic powers to possess a trio of young women who were dabbling in the dark arts to set him free—by gaining possession of the Death Skull! It's silly fun, for sure, but Epitaph was a giant sleaze in the Chaos world, so it was enjoyable to bring him back, if only to give him some comeuppance once again.In the second time story, I wanted to do something more standalone, to show how The Chosen function outside of the established Chaos universe. The monster is the giant squid-Cthulhu monster of the ocean. Sort of BPRD-esque, in a way.

6. Will we see any other familiar Chaos! characters in this one-shot? Purgatori perhaps? She seems to be everywhere! (Is Deja Thoris on vacation?)

MM: No Purgatori! Which I now regret, because she is everywhere. And why not? She must be super fun to write. I ran with just Suspira and Epitaph—characters who, I'm willing to bet, no one else is using in their Chaos books. The Chosen is such a big team, so it's a little challenging to add anyone else to that mix.

7. What about the art of Ivan Rodriguez and Rod Rodolfo? What do they bring to the table?

MM: They're both so great. I love that they have a Chaos-inspired aesthetic, in a way, but are very distinct as well. The stories both really pop and make full usage of the setting and type of story being told. And how about that cover from Tom Raney?!

8. Michael, would you like to see The Chosen become an ongoing, and would you be interested in writing it?

MM: Yes! I'd love The Chosen to become an ongoing, and I'd sign on the dotted line to write it tomorrow. . What's really greats about the series is that it, for one thing, has endless potential. A group of teenage monster hunters—it's like Monster Squad with more violence and sex. Who doesn't want that?! Not just that, but any series could float in and out of the Chaos universe, giving the story flexibility to build its own mythology while drawing on the strengths of what's already there. You could have monsters of the week mixed with appearances by Chasity and Purgatori and, hey, maybe a return of Suspira!
IDW PRESENTS THE GREATEST SHADOW SHOW ON EARTH
07/29/14 @ 10:09 pm EST
Source:
IDW
| Categories:
IDW
|
Comments
(0) |
E-mail Article
|
Add a Comment


In the prose anthology Shadow Show, acclaimed writers gathered to pay tribute to the work of the incomparable Ray Bradbury, known for such timeless classics as Fahrenheit 451, The Martian Chronicles, and The Illustrated Man. What resulted was a collection of remarkable and unique stories that beautifully illustrate Bradbury's enduring imprint on the fantasy, science fiction, and mystery genres.

This November, IDW Publishing will take a selection of these stories and pair them with some of comic book's biggest and brightest artists for a 5-issue series of comic-book adaptations. Shadow Show #1 starts with the haunting and melancholy "By The Silver Water of Lake Champlain," written by Joe Hill (Locke & Key) and adapted by Jason Ciaramella (The Cape) with art byCharles Paul Wilson III (Wraith) and a gorgeous cover by Locke & Key co-creator Gabriel Rodriquez.

"The pairing of Bradbury-inspired stories written by some of the best prose writers working today made for an amazing tribute book," saidChris Ryall, IDW's Chief Creative Officer/Editor-in-Chief, "and to see them brought to life by such amazing artistic talents not only helps further Bradbury's legacy, but it's making for some damned good comics, too."

"The anthology Shadow Show is a loving homage to Mr. B, so it's great to see some of these stories in comics format. Ray considered comic strips central to his education and inspiration and Bradbury stories adapted for the classic EC stories helped raise the bar for all the comics that followed," said Sam Weller and Mort Castle agreed.

Issue 2 will see Neil Gaiman's "The Man Who Forgot Ray Bradbury," brought to life with artist Maria Fröhlich, and artist Eddie Campbellwill tackle Audrey Niffenegger's "Backward In Seville." Writer/EditorMort Castle and Bradbury biographer Sam Weller, who compiled theShadow Show prose anthology, are onboard to help bring these stories to life in comic form.

Other Shadow Show stories to be included are Harlan Ellison's "Weariness," Dave Eggers' "Who Knocks?" and Alice Hoffman's "Conjure" with accompanying artists to be announced. Haunting paintings by Shane Pierce will grace all subscription variant covers for this series.