CAPTAIN MARVEL – JULY 2012!
03/12/12 @ 1:36 pm EST
Source:
Marvel
|
Comments
(0) |
E-mail Article
|
Add a Comment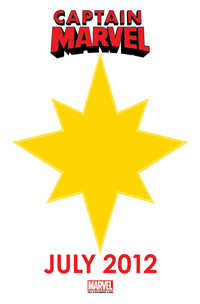 Find out more Saturday, March 17th at the Talk To The Hat panel, 4:00PM PST, during Wondercon 2012!
Can't make it to the convention? Follow along on the
Marvel Events App
&
events.marvel.com
, the best way to get exclusive videos, real-time announcements from the convention floor and up-to-the-minute panel, in-booth, and signing schedules of all your favorite Marvel creators!
To find a comic shop near you, call 1-888-comicbook or visit
www.comicshoplocator.com
Marvel Entertainment, LLC, a wholly-owned subsidiary of The Walt Disney Company, is one of the world's most prominent character-based entertainment companies, built on a proven library of over 8,000 characters featured in a variety of media over seventy years. Marvel utilizes its character franchises in entertainment, licensing and publishing. For more information visit
www.marvel.com
COMIC VINE - FLASH GORDON WRITER COMMENTARY WITH JEFF PARKER
04/16/14 @ 12:22 pm EST
Source:
Dynamite
|
Comments
(0) |
E-mail Article
|
Add a Comment
BLEEDING COOL - FRED VAN LENTE'S WRITER COMMENTARY ON THE NEW MAGNUS: ROBOT FIGHTER #2
04/15/14 @ 4:54 pm EST
Source:
Dynamite
|
Comments
(0) |
E-mail Article
|
Add a Comment
THE SIX MILLION DOLLAR MAN - SEASON SIX #2 AND THE SHADOW: YEAR ONE #8 REVIEWS AT SCOOP!
04/14/14 @ 5:42 pm EST
Source:
Dynamite
|
Comments
(0) |
E-mail Article
|
Add a Comment
The Six Million Dollar Man – Season Six #2
If the first issue was a bionic-powered trip back to the 1970s, this issue is that times at least two. Writer Jim Kuhoric and artist Juan Antonio Ramirez continue to immerse the reader in all things bionic; for fans of the show, they've really struck a chord.
Kuhoric in particular really knows The Six Million Dollar Man as only a true fan can, and it shows in the little touches and bits of authenticity he brings to this issue… which really does raise it up a notch over the last one.
http://scoop.diamondgalleries.com/Home/4/1/73/1020?ArticleID=147385
The Shadow: Year One #8
We've run out of positive adjectives with which to describe the compelling story that writer and cover artist Matt Wagner has unfolded in this mini-series. It has not only been a page turner in the immediate sense, but it's been one of those stories you end up thinking about later, after you've put the comic down and gone onto something else. Wagner and artist Wilfredo Torres have really set the stage for the last two issues. If they're as good as the rest of the series, this will really be one to remember.
http://scoop.diamondgalleries.com/Home/4/1/73/1020?ArticleID=147384
NANCY COLLINS HELMS A RE-VAMP - A COMIC SHOP NEWS STORY BY CLIFF BIGGERS
04/14/14 @ 11:29 am EST
Source:
Dynamite
|
Comments
(0) |
E-mail Article
|
Add a Comment
Vampirella isn't a newcomer to Dynamite's publishing schedule: for almost half a decade, she has starred in a variety of ongoing series, miniseries, and oneshots. But just as Dynamite revitalized Red Sonja last year by bringing in star writer Gail Simone to reinvigorate the series, so now they've enlisted horror author Nancy A. Collins to revamp Vampirella.

"I'm very excited about taking over the reins on Vampirella," Collins said. "I've really been enjoying myself so far. In celebration of her 45th anniversary, I'm returning the book's focus to its horror roots and giving Vampirella a slightly darker edge. Dynamite has been wonderful to work with, and have given me a great deal of support. It's been some time since I last wrote for comics, and it feels great to be back!"

Dynamite Senior Editor Joseph Rybandt is confident that readers are going to like what they see in this relaunch. "Our goal is to always keep things fresh and interesting and relevant to a new audience, as well as meeting the expectations that come with forty-five years of Vampirella stories. We did that during the last run, by changing things up a bit—and with this new series, we're taking a back-to-basics approach."

What convinced Dynamite to relaunch Vampirella rather than just kicking off a new story arc? "While relaunches have certainly become more of a trend in the last few years, when they make sense, they make sense," Rybandt said. "And with a new writer, artist, and direction, it certainly makes sense to start over with a new #1!"

What are the essential elements of Vampirella, and how is Collins embracing those elements in this new series? "Rather than completely erase the work of previous creators, I'm cherry-picking those elements from various continuities/story arcs that I think work for the character and ignoring those that don't—kind of like what comic book writers used to do when I was a kid," Collins said. "I'm also trying to recapture the feel of the Warren series—especially the Archie Goodwin years—while also making her more self-reliant and putting her in a position where she has to rethink her beliefs regarding vampires--including herself."

Collins' horror credentials make her a perfect choice to relaunch Vampirella. "I got my start writing what was,back in the late 1980s, early 1990s, called horror but is now viewed as urban fantasy or paranormal fantasy," Collins explained. "My first novel, Sunglasses After Dark, which introduced Sonja Blue, a punk female vampire/vampire-hunter, was nominated for the Tiptree Award & the John W. Campbell Award and won the Horror Writers Association's Bram Stoker Award for First Novel and the British Fantasy Society's Icarus Award. I've written over fifty short stories and, as of now, twenty books, ranging from horror to Southern gothic to urban fantasy to young adult."

Is it an odd transition to go from writing about a vampire hunter to writing about a vampire heroine? "Not really," Collins said. "While the characters might be extremely different in appearance and tone, they're still both vampires and vampire-hunters. Sonja Blue has a great deal more angst and self-loathing than Vampirella, as well as a lot less control over her darker nature, but they both make the protection of human—especially innocents—a priority. The biggest difference between the two is thatVampirella was born a vampire, whereas Sonja Blue became one 'the old-fashioned way.' ButVampirella is a monster hunter... although she is starting to question her motivations."

Collins first came to Dynamite last year when she was one of an elite group of authors invited to write Red Sonja tales. Did that pave the way for the Vampirella honors? "Yes," Collins replied. "Gail Simone tapped me to provide a story for the Legends of Red Sonja. Joe Rybandt liked it enough to ask if I'd be interested in pitching a Red Sonja one-shot. I did--and that ended up becoming Red Sonja: Berserker, which came out this past February. After I turned in that story, Nick Barrucci contacted me and asked if I'd be interested in writing for any of their other books. Of course, I jumped at the chance, and gave him a list. I didn't ask for Vampirella because I figured she was already spoken for. Nick totally surprised me by offering me the book, provided he liked my proposal. So I jumped on it and worked up an outline, and'—well, here we are!"

Her first story arc finds Vampirella working for... the Vatican? How does a vampire ends up an agent of the church? "She's been an operative for Cestus Dei since she made her Dynamite debut," Collins said. "Cestus Dei is an MI-6 style organization within the Vatican that battles the forces of evil and works to keep the Apocalypse at bay.

"In my first story arc, Vampirella discovers that the occultist Ethan Shroud, leader of the Cult of Chaos—one of Vampirella's oldest enemies, who dates back to the Warren Magazines era—has returned, and has kidnapped a little girl in order to use her as a sacrifice to a demon-goddess called Lady Umbra. Vampirella goes to the rescue, only to find herself being the one offered up to Umbra. Her whole world is then abruptly turned upside down when the Vatican sends the Mallus Maeficarum (The Witch-Hammer), an elite hit squad, after her, which forces her to turn to an extremely unlikely ally who helps her try to reverse the curse placed on her by Shroud."

Rybandt is convinced that long-time Vampirella fans and newcomers will both find plenty to like in this relaunch. "Nancy was given free rein to do what she wants with the character, and the story and has drawn inspiration from the roots of the character. This is the perfect spot for new readers, and Nancy's knowledge of the character—and her experience in horror writing—will not disappoint!"

Collins is joined by artist Patrick Berkenkotter, who has illustrated such titles as Red Sonja, Dark Shadows/Vampirella, Project: Superpowers, and the Dynamite/Marvel joint productions Avengers/Invaders and The Torch. "I cannot sing Patrick's praises loudly or often enough," Collins said. "His pencils are spectacular, and he's able to make her sexy, menacing, and bad-ass all at the same time. I think the fans are going to be pleased with his work when they pick up Vampirella #1."

Vampirella #1 is scheduled for June 4th release. Terry Dodson supplies the art for the main cover, while Jenny Frison, Art Adams, Jay Anacleto, and Joe Jusko have been tapped to supply variant cover images and Stephanie Buscema does the honors for the subscription variant; there will also be a blank Authentix cover for those who'd like to supply their own cover art, or have an artist do an original sketch on their own personal one-of-a-kind copy of Vampirella #1.

In addition, Jack Jadson illustrates the 1-for-10 "homage" cover; Fernandez Davila illustrates the 1-for-25 "steampunk" cover; Mimi Yune, the 1-for-50 variant cover; and Ken Haeser, both the 1-for-100 "Li'l Vampi variant cover and the 1-for-200 hand-drawn "Li'l Vampi" variant cover. Check with the folks at your friendly neighborhood comic shop for information on price and availability of these ultra-limited variants.

—by Cliff Biggers
BLOOD QUEEN: A DARK FANTASY COMIC READY FOR CIRCULATION - A COMIC SHOP NEWS STORY BY CLIFF BIGGERS
04/10/14 @ 5:44 pm EST
Source:
Dynamite
|
Comments
(0) |
E-mail Article
|
Add a Comment
Fantasy is big in novels, at the box office, and on the small screen, but surprisingly, there's all too little traditional fantasy on the comic shop racks. Dynamite Entertainment is about to remedy that with their new ongoing series Blood Queen, a dark fantasy saga with horror overtones.

"We've got the horror element, the fantasy element, and we have medieval drama and all that entails. That means knights, witches, monsters, warring kingdoms, star-crossed lovers, betrayal, and loads of secrets. Or, as I like to call it, a great time," Blood Queen writer Troy Brownfield (best known for his work on Zenescope's Grimm Fairy Tales) said.

For the past several months, Dynamite has focused a great deal of attention on licensed properties (the Gold Key Universe relaunch, Six Million Dollar Man Season Six, Legenderry). What inspired Dynamite to put a major push behind this original fantasy series? "We've always struck a balance between licensed and original content, and this is just a further extension of that balance/mix," Dynamite Senior Editor Joseph Rybandt explained. "As for why explore the fantasy genre—we've certainly proven ourselves in the past with fantasy, and we wanted to put more effort into creating something new for the genre. And with Blood Queen, we found the perfect synthesis of concept, genre and creative to really make something that is going to stand out."

Don't look for straight history or medieval drama—Brownfield stresses that this is a fantasy world that is similar to, but not the same as, the world that we know. "I think it's fair to say that it's really more of a medieval setting in most respects, but that isn't to say that it won't be borrowing some trappings from other eras," Brownfield explained. "Overall, it's a more gritty fairy tale kingdom, but there will be a little bit of tension between magic and science. That's something that we actually reference in the first issue. The trick is to kind of walk the line between the actual inspirations and the more fantastic background that lets us do a variety of stories.

"Our story begins with this young woman, Elizabeth, who has been raised and trained in magic. She's summoned to the court of King Trevian because his infant daughter is deathly ill. Once she's there, Elizabeth discovers that there's more to the illness that meets the eye. In addition, there are various plots and motivations in play at the court and from surrounding kingdoms. There's a central mystery to Elizabeth's origins, and all of those things weave together into a larger story.

"The central character, our Elizabeth, has been raised in an environment of magic by Elder Winnifred, the woman that trains the Daughters of the Line (the women of the nobility) in healing and nature magic. Her skill is so great that she receives the royal summons that I mentioned above. She's extremely intelligent and curious, but she's also a little provocative, given her close bond with nature and a suspicion of authority that was instilled in her by the Elder. Other featured players early on include the knight Sir Ferenc, the king's advisor Jon Hunter, and the king's niece Helena, who was a childhood friend of Elizabeth. By Blood Quest #2, they become the core."

Elizabeth is loosely inspired by Countess Elizabeth Bathory; for those unfamiliar with the notorious Countess, Brownfield offered a little background. "Elizabeth Bathory was a Hungarian countess who lived from 1560 to 1614. She's known as the Blood Countess for a few reasons. She's considered one of history's most prolific serial killers, having been responsible for or complicit in the killing of upwards of 650 victims, most of whom were young women. Bathory and some accomplices were informally convicted of 80 murders, and though she never received a formal conviction due to her family's power, she was locked in a tower for the rest of her days.

"The other prime reason for her nickname is the allegation that she bathed in the blood of her victims to maintain her youth. Bathory has inspired various takes in fiction, including the Hammer classic Countess Dracula with Ingrid Pitt. When you step back and look at this, there's an element of youth obsession and jealousy over young nobles that you can connect immediately to that WickedQueen archetype. As to how much is specific and how much is just general influence in terms of what we're doing—well, I'll leave that to the reader to discover."

The corrupting influence of power is at the core of Blood Queen. " At thematic ground level, it's a look at how someone becomes the archetypal Wicked Queen," Brownfield said. "But within that, there's a lot of variations on the idea of what pushes basically good people to do bad things, what happens when good people are slow to react, and how evil can infiltrate and prosper in even the most unlikely of places. In our case, what you see is going to be a gradual charting on what happens to someone when their power and their ambition are allowed to grow unchecked, and how even people with pure motives can go horribly, horribly wrong.

Some fantasy takes a very real world and introduces one fantastic twist: other fantasy is so filled with magic and wonder that it bears almost no resemblance to our reality. Where does BloodQueen fall on that scale? "Blood Queen has a sort of recognizable political structure in terms of warring kingdoms, a class of knights, and so on," Brownfield said. The most prominent fantastic element is the pervasive presence of magic. Although its availability is limited, it's a common thing and the kings rely on wizards and witches for a number of things. Everyone is aware of it, and they're aware that other things and creatures are out there. But sometimes, that magic is used for very matter-of-fact kind of things, like making sure that the crops are prospering. And other times, it's used for really diabolical reasons."

Brownfield is no stranger to horror with a fantasy edge—nor is he a stranger to Dynamite Entertainment.. "I've done a number of books for Zenescope, including issues of Grimm Fairy Tales, Grimm Fairy Tales: Myths & Legends, Tales from Wonderland, last year's Zombies mini-series and this year's Clash of Queens. For Dynamite, I previously co-wrote the Buck Rogers Annual from 2011. I originally came to comics as a journalist, including many years with Newsarama and runs with The Pulse, Newtype USA , and more. I was the assistant editor for Fangoria Comics/Fangoria Graphix. I also write two webcomics at www.sparkshooter.com. And I also spent seven years as a college professor!"

Fantasy has traditionally been a tough sell in comics; why is that, and how will Blood Queenovercome that! "I know what you mean," Brownfield replied. "But to be honest, I don't think that it needs to be a tough sell. There's a huge audience out there, as evidence by the sheer size of the fantasy section in every chain bookstore. And comics presently exist in a time where there's a lot of openness to other genres. I think that there's potential for a number of fantasy titles to carve out a strong foothold, and Dynamite's already working on that to great effect with other titles. With BloodQueen, I'd like people to give it a chance based on a couple of things. Number one, the art by Fritz Casas is outstanding. Number two, we're going to do our damnedest to make this a roller coaster ride in the best possible sense!"

"I think our experience with a genre mix in the form of Red Sonja or Vampirella has us well prepared to create the right mix of creative elements to stand out and get this series some attention," Rybandt added.

Blood Queen #1, the premiere issue of an ongoing series by Troy Brownfield & Fritz Casas, is scheduled for June 11th release. The first issue will be offered with covers by Jay Anacleto and Ale Garza; in addition, Dynamite is offering a blank Authentix cover version of the first issue.

—by Cliff Biggers
FLASH GORDON #1 REVIEWS!
04/09/14 @ 4:57 pm EST
Source:
Dynamite
|
Comments
(0) |
E-mail Article
|
Add a Comment
TUROK: DINOSAUR HUNTER #3 REVIEWS!!!
04/04/14 @ 12:53 pm EST
Source:
Dynamite
|
Comments
(0) |
E-mail Article
|
Add a Comment
CHAOS! - A COMIC SHOP NEWS ARTICLE
03/25/14 @ 3:22 pm EST
Source:
Dynamite
|
Comments
(0) |
E-mail Article
|
Add a Comment
Chaos! Reigns at Dynamite

Evil Ernie has made an appearance under the Dynamite imprint, but his fellow Chaos cast of characters has thus far remained out of the spotlight. That changes in May, though, when Dynamite takes readers right into the middle of the Chaos Universe in the six-issue miniseries Chaos! by Tim Seeley & Mirka Andolfo.

It's been almost four years since Dynamite first acquired the rights to the Chaos characters; publisher Nick Barrucci explained the reason behind the measured pace at which the project developed. "We wanted to take it slowly and not relaunch with the entire universe out of the gate. So we had Evil Ernie come out—for lack of a better way of saying it, because this isn't exactly the case—as a 'warm-up.' We wanted to do something different than just launch with the women, because that was expected. We wanted to do something different, and I'm happy to say that it worked very well for us. It also allowed Tim to take more time in planning the Chaos! event, which fans will see in the pages.

"Now the twentieth anniversary of Chaos Comics is coming up, and that's a great touchstone year to launch the entire universe. And to be candid, there was so much being put together—Tim Seeley has done such a good job—that the best thing we could have done was wait until we did it right and we couldn't be happier.

"Chaos! has been in various stages of development since we acquired Chaos! Comics. As you can imagine, this isn't an event that can just be rushed into—these characters and this universe are a big deal, not just to us but to fans as well. It was originally conceived before the Evil Ernie miniseries, so when we went forward with that, then the character of Ernie had to be consistent with that—which didn't require a big adjustment, but as crisis after crisis can tell you, the devil is in the details.

"After that, we had to find the proper creative team to tell this story and Tim Seeley & Mirka Andolfo are just that team. Tim Seeley as the writer was a bit of a no-brainer, as he has been a fan of the characters for years, so getting him on board was key to making this event matter in a big way. To find Mirka, however, we went through dozens of portfolios and tests to find the artist who could both call back the old school Chaos look, but also bring something new and contemporary to the characters so it can appeal not only to old fans, but new readers as well. We are very lucky to have her. Then, once the team was set the rest of the pieces began to fall into place easily."

Tim Seeley offered some insights into the Chaos! storyline. "We're going to be playing with the 'Apocalypse"' scenario that was always prevalent in Chaos Comics, but in this case, the characters meet a woman who gives them a vision of the end of the world... and the perpetrator. Then, each character has to decide how they'll deal with this knowledge. And because it's the Chaos characters we're talking about here, the moralities aren't always so black and white, so we're set up for a bunch of crazy alliances, betrayals and grudges!"

Evil Ernie, Purgatori, Chastity, the Chosen... all of these characters will play a major role in Chaos. For readers who might not be familiar with the cast, Seeley offered an overview. "Purgatori is an ancient vampiress whose thirst for power and control has made her both an adversary and ally of mankind.

"Evil Ernie, Purgatori, Chastity and the Chosen are the primary focus of the series, but don't think we'll ignore other characters and players here," assistant editor Molly Mahan added. "While other characters like Homicide, the Dead Onez, and Lucifur play bigger roles, there are a few references to other characters that established readers will appreciate as Easter eggs, while new readers will note to pay attention to for future storytelling."

Seeley isn't writing solely for those with fond memories of the original Chaos line; he's hoping to interest new readers in this intriguing horror universe. "This is Ground Zero for this universe... the story that sets up who these people are, what they want, and how that makes them get into really gory monster-versus-monster battles all the time."

Writing Chaos! is a dream come true for Seeley, a long-time Chaos fan. "I actually bought the very first black and white Evil Ernie book (from Eternity Comics!) off the rack in 1991 when I was fourteen years old," Seeley said. "At that time I was looking for comics that appealed to my growing teenage sense that I should be rebelling against some damn thing or another, and Brian Pulido & Steven Hughes' gritty black and white horror comic book about a long haired metalhead who killed people in service of a pale girl in lingerie totally fit the bill.

"Now, more than twenty years years later, I'm channeling some of that punk rock sensibility into this universe. Nothing's black and white. It's all about questioning the system and what motivates us. It's also about scary ass monsters, handsome bad boys and gorgeous ladies in gothy underpants

"I've been talking to Nick [Barrucci] and Joe [Rybandt] about working on this project for a few years. I worked with them on Army of Darkness vs. Hack/Slash, and between us, I think we knew if I was anything, I was probably the guy to do Chaos! Sexy horror stuff is kinda my thing. I've had the time of my life working on it, and I'm really excited for new and old fans to check it out."

Does Chaos! lead into some bigger plans in late 2014? "It most definitely does," Barrucci said. "The  Chaos! crossover series runs through November, so we're evaluating whether the next stage should happen in December to launch during the twentieth anniversary, or whether we should wait until early 2015. Regardless of what we decide, it's going to be a fun ride. Hey, Ernie is involved—it doesn't get more fun than that!"

And if Seeley were offered any one of these characters to continue after Chaos! wraps up in November, which one would he call dibs on? "Probably Evil Ernie," Seeley said, "but I'm also pretty sure I could write The Omen—the book The Chosen appeared in—for a long time. I love those characters, They're horror Teen Titans by way of X-Men, and that's right up my alley!"

Chaos! #1 is scheduled for May 7th release. The book will be offered with cover art by J. Scott Campbell, Tim Seeley, & Emanuela Lupacchino; a subscription variant cover by Carlos Rafael; a blank Authentix cover; and a 1-for-10 variant cover by Charlie Adlard; a 1-for-25 black-and-white variant cover by Adlard; a 1-for-50 variant cover by Michael Turner; and a 1-for-100 black-and-white variant cover by Turner.

—by Cliff Biggers
DOCTOR SPEKTOR - A COMIC SHOP NEWS ARTICLE
03/25/14 @ 3:22 pm EST
Source:
Dynamite
|
Comments
(0) |
E-mail Article
|
Add a Comment
Dynamite's Next Gold Key Heroes Launch Is Truly Spek-tacular

A TV legend, a favorite of tabloids, a Wall Street Wolf, an internet mogul... Doctor Adam Spektor is all of these things and more. He's also a monster hunter, a spiritualist, and a metaphysicist who has confronted the creatures who dwell in the dark shadows—vampires, werewolves, poltergeists, and more. In spite of his success, though, he feels like something is missing... but when he finds out what it is, he may wonder if ignorance truly is bliss!

Doctor Spektor: Master of the Occult, the fourth series rollout in Dynamite Entertainment's Gold Key Heroes line, presents a hero almost unseen for four decades... until now. But Mark Waid & Neil Edwards have big plan for the Gold Key Universe's most mystical hero.

What made supernatural investigator Dr. Spektor so appealing to the Dynamite team that this relatively unknown character became a core part of the Gold Key heroes relaunch? "Honestly, the fact that he's not that well known was a big part of it," Dynamite publisher Nick Barrucci said. "Spektor is the character who you can say will most be overhauled and reinterpreted for today. When we approached Mark Waid about Spektor specifically and he expressed an interest, we were all on the same page; that made us realize we made the right call in wanting to have Doctor Spektor be one of the launch titles. We knew Mark would be the person to reinvent him—he would keep the core essence of the character, but make him viable for today. I think that retailers and readers are going to be extremely happy with how great this series is.

"Spektor is the toughest one to relaunch. He's the one who has the least amount of recognition. But he's a cool character, and that was very important. When you're able to bring someone with the talent that Mark brings to the table, you know that Spektor will get the attention he needs, and he'll be the character that stands out. I think this is going to be the book that sells out the quickest as, even with Mark on board, I'm not sure everyone will order enough.

"It's a risk, it's absolutely a risk—he's not a well known quantity, he's not a well-known character... but we want him to be one, and that's why we're fortunate to have someone of Mark's caliber to launch the series."

"For Doctor Spektor, the challenge comes in figuring out how a professional skeptic, a famous investigator who debunks and exposes the extra-normal and keeps himself grounded, can function in a world that suddenly hosts superheroes and supervillains," Mark Waid said. "What do you choose to believe in when your lifelong belief system is swept away?"

While Waid enjoyed the original Dr. Spektor series ("More a fan than a devoted student... Glut was blessed with some terrific art to go with his clever plots"), he felt like some changes were essential to make the book click with today's readers. "Originally, Spektor was a well-heeled investigator of the supernatural and had a Victorian flair. Unfortunately, since last we've seen Spektor, a lot of other characters have carved out that ground, so I pitched Dynamite on an update that makes Spektor more Criss Angel/David Blaine—a celebrity bad-boy performer with serious money who beats the supernatural with super-expensive science--and makes a good living televising his bouts."

Has Spektor found a way to capitalize on his occult detective status? Is that how he built his fortune? "Exactly," Waid said. "His weekly TV reality show is one of the top-rated programs in history. Merchandising is a monster!"

Tabloid bad boy... Wall Street wolf... these aspects of his personality don't necessarily make Adam Spektor seem like a likeable fellow. Is there a dark side to this character? "There is," Waid said. "It's the one mystery he's been unable to solve, and it humanizes him tremendously."

The references to something missing in his life bring an element of mystery to the character—and Waid has tapped into the character's comic history for this aspect of his story. "That which is indeed missing will be immediately obvious to Spektor's older readers. That's all we can say right now."

Is Spektor a solo adventurer, or does he have assistance in his quest? "As odd as this sounds to say, he's not sure," Waid said. "You'll have to keep reading to see what I mean!"

Spektor's isn't a debunker a la the Scooby Gang or 1950s DC investigator Roy Raymond. "Spektor lives in a world in which all those ghouls and ghosts and beasts that go bump in the night really exist," Waid said. "He's well-versed in the magic himself, but as befits someone of his wealth, he employs a large full-time staff to keep his research cutting edge.

"But there's nothing supernatural about Spektor—until the climax of Doctor Spektor #1, where the supernatural is thrust upon him, giving him a key to a larger universe. A Gold Key, you might say. Spektor's picking up clues to a much bigger puzzle."

While Spektor will confront a variety of supernatural menaces, "there's definitely a 'big bad,'" Waid said, "and it may or may not have something to do with Spektor's bizarre visions of a dinosaur-riding caveman, or a nuclear man-menace, or a savage mech-destroyer."

Waid's plans for Doctor Spektor go well beyond the first storyline. "Big reveals happen in the first arc, but not all the cards are as yet turned over," Waid said.

Doctor Spektor: Master of the Occult #1 is scheduled for May 28th release. Christian Ward supplies the art for the main cover, while Francesco Francavilla does the honors on the Subscription Variant Edition; a Blank Authentix cover perfect for sketches or signatures will also be available.

In addition, Dynamite will offer a number of incentive covers, including a 1-for-25 Phil Hester variant; a 1-for-50 Jae Lee variant; a 1-for-100 Mark Waid signed cover; a 1-for-125 Ken Haeser "Li'l Spektor"; a 1-for-200 Mark Waid Silver Signature Series variant featuring Jae Lee black-and-white pure line art; a 1-for-250 Mark Waid Gold Signature Series variant featuring Jae Lee pure black and white line art; a 1-for-400 Ken Haeser "Hand-Drawn Li'l Spektor" variant; and a 1-for-500 Jae Lee pure black-and-white line art variant signed by Lee.

—by Cliff Biggers
MARK WAID INTERVIEWS SHANNON ERIC DENTON ABOUT DOC SAVAGE!
03/21/14 @ 10:29 am EST
Source:
Dynamite
|
Comments
(0) |
E-mail Article
|
Add a Comment
MARK WAID INTERVIEWS SHANNON ERIC DENTON ABOUT DOC SAVAGE!

A DYNAMITE.COM EXCLUSIVE INTERVIEW!!!

MARK WAID: Prove to me that you love Doc Savage more than I do. This will be harder than you think. Go.

SHANNON ERIC DENTON: I LOVE DOC SAVAGE! (imagine I just yelled that really, really loud…at a Dodgers game…and I everyone is staring but I don't care. It's that kinda love.)

MARK WAID: What's your take on Doc? What era are you setting your story in?

SHANNON ERIC DENTON: My story is right at the start of the 1930's. It's a moment in time right before the first novel, The Man of Bronze. We're going to see a slightly less experienced Doc Savage stepping into an adventure that will hopefully lead folks to want to pick up the original novels and the regular Doc Savage series (if they aren't already)! I hope the readers walk away after reading the issue with as much love and admiration for this character as I have.

MARK WAID: What kind of crazy-ass pulp-fiction menace is he facing?

SHANNON ERIC DENTON: We've got a secret league of scientists, a ghost-army, and South American death-temples so I tried to cover the bases! Roberto is probably cursing my name with every panel but I wanted to make sure this issue was epic!

MARK WAID: You're trapped on an island with one of the Fabulous Five, Doc's sidekicks, but NOT Monk or Ham. Which one do you choose, and why?

SHANNON ERIC DENTON: As a professional writer it'd be in my best interest to cheat at this point and establish the lovely Patricia Savage as one of the Fabulous Five! However, in fairness to the question I'd pick Johnny. Not only would all his geology and archaeology skills potentially help out in a stranded-on-a-deserted- island scenario but he was often referred to as the "Professor"…so Mary Ann Summers and Ginger Grant could potentially show up in this imaginary situation as well. I think I hear Jimmy Buffet calling…

MARK WAID: For newer readers, answer this: if you like (blank) and (blank), you'll really like this Doc Savage story.

SHANNON ERIC DENTON: If you really like "superheroes" and "Indiana Jones", you'll really like this Doc Savage story!