CAPTAIN MARVEL – JULY 2012!
03/12/12 @ 1:36 pm EST
Source:
Marvel
|
Comments
(0) |
E-mail Article
|
Add a Comment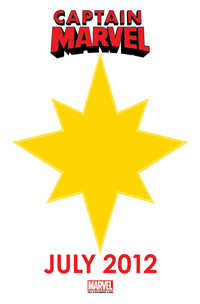 Find out more Saturday, March 17th at the Talk To The Hat panel, 4:00PM PST, during Wondercon 2012!
Can't make it to the convention? Follow along on the
Marvel Events App
&
events.marvel.com
, the best way to get exclusive videos, real-time announcements from the convention floor and up-to-the-minute panel, in-booth, and signing schedules of all your favorite Marvel creators!
To find a comic shop near you, call 1-888-comicbook or visit
www.comicshoplocator.com
Marvel Entertainment, LLC, a wholly-owned subsidiary of The Walt Disney Company, is one of the world's most prominent character-based entertainment companies, built on a proven library of over 8,000 characters featured in a variety of media over seventy years. Marvel utilizes its character franchises in entertainment, licensing and publishing. For more information visit
www.marvel.com
SDCC: PAUL CORNELL TAKES SAUCER COUNTRY FROM DC VERTIGO TO IDW, AS SAUCER STATE
07/23/16 @ 10:57 am EST
Source:
Bleeding Cool
| Categories:
IDW
|
Comments
(0) |
E-mail Article
|
Add a Comment
From the IDW panel at San Diego Comic-Con (via Bleeding Cool) ...
Paul Cornell
is taking his comic
Saucer Country
from Vertigo to IDW, renamed
Saucer State
.
This is not an easy thing to do, but Vertigo has decided to let the book go. If they hadn't, it may have been a different story.
Saucer Country
is a UFO mythology comic Cornell and Ryan Kelly, published by Vertigo between 2012 and 2013. The series is about a US presidential candidate, Governor Alvarado, who has come to believe she may have been abducted by aliens.
It will now return with Ryan Kelly back on art and the full creative team from the original series.
Look for it in June 2017, as well as the original series repackaged, and described as "Game of Thrones meets House of Cards."
SDCC: THE MISFITS GET A JEM AND THE HOLOGRAMS SPINOFF COMIC BY KELLY THOMPSON FROM IDW
07/23/16 @ 10:53 am EST
Source:
Bleeding Cool
| Categories:
IDW
|
Comments
(0) |
E-mail Article
|
Add a Comment
From the IDW panel at San Diego Comic-Con (via Bleeding Cool) ...
The Misfits
will be getting their own spinoff comic from
Jem And The Holograms
from IDW, written by
Kelly Thompson.
No artist named yet, but with covers by
M. Victoria Robado.
Look for it later this year.
SDCC: DYNAMITE ENTERTAINMENT DISCUSSES THE NEED FOR FEMALE CREATORS AND REPRESENTATION
07/23/16 @ 10:46 am EST
Source:
Bleeding Cool
| Categories:
Dynamite
|
Comments
(0) |
E-mail Article
|
Add a Comment
If you're familiar with the comic industry, it's very likely that you're aware of an imbalance between male and female creators and content. For decades, comics were something that "only boys read," and while this notion has been thoroughly squashed, the industry as a whole is still struggling to catch up on leveling the playing field.
When it comes to strong women in comics, Dynamite Entertainment is a cornerstone of female empowerment. They are currently running some of the most respected female-based titles in the industry right now, such as the beloved
Red Sonja
. They arrived at Comic Con with a panel to discuss their strength and how the industry can make improvements. The panel was moderated by actress
RuthAnn Thompson
and consisted of
Corinna Bechko
(
Lords of the Jungle
),
Gail Simone
(
Red Sonja
),
Caitlin Kittredge
(
Grimm
) and
Joseph Rybrandt
(Executive Editor).
Gail Simone started the panel by discussing how she originally wasn't interested in writing for Dynamite nor taking over
Red Sonja
, but she was eventually convinced to come on board after she mentioned it to her mother and was surprised by her mother's overwhelming enthusiasm to take it on. When Simone requested female artists to do the covers for
Red Sonja
, Dynamite was happy to comply. In the past, she had often been met with pushback when she requested female artists and writers to help her with her works and found Dynamite's willingness to hand the reigns to women refreshing. Considering the industry is still struggling to take stock of its inherit male-centric practices, it is a relief to hear that Dynamite is dedicated to do their part in balancing the scales.
Joe Rybrandt asked the panel their thoughts on how the industry had changed from when they started to now. Simone discussed starting online and spending years being the only person on the panels she attended. When she started, conventions were about a 70/30 balance of women and are finally reaching levels of gender representation within the last few years. Executives had a tendency to choose male creators over females for no clear reasons, and the industry is finally waking up to its error – although it still has great strides to take in leveling the playing field.
Kittredge started in novels and moved into comics, but felt it was hard to even get onto the playing field. She said that the last three or four years has unleashed a flood of female creators that was needed in the industry. Additionally, works targeting female audiences are on the rise, allowing greater diversity in storytelling to be greenlit.Rybrandt mentioned the challenge the industry has with female characters who were created decades ago and are rooted in outdated costumes and male-driven storyline. What the creators have to do is try to update the characters, while staying true to their core, to make them modern versions of themselves.
When asked what inspired them to go into the industry, Bechko stated that it was
American Splendor
that brought her into the fold. For Simone, it was characters like Batgirl and Wonder Woman, who did not need males to come in to save them and instead led their own adventures. Kittredge started reading comics in the 90's and was very off-put by the of the time. Eventually, she discovered Vertigo and comics like
Sandman
and
Preacher
and other titles that "didn't necessarily involve spandex." Kittredge found the freedom to really do whatever she wanted in the comics medium and that is what brought her in.
Rybrandt recalled the 90's and the rise of Vertigo being something that was able to draw women in during what was essentially a drought of representative comics.
The panel discussed representation, such as the new
Ghostbusters
movie and the ability for young girls to dress up and feel included in the culture. Simone spoke about meeting some young male fans who were the most die-hard Batgirl fans she had ever met and how the role of a positive female model can even help males develop healthy respect for women.
Dan DiDio
told Simone at an early part of her career to pursue her own ideas and bring new perspectives, which pushed her to defy the industry standards of the time.
Thompson asked what the next steps were for creating equality for the talent, to which Simone responded that creators need to be judged on their work primarily and empowered to bring their own ideas to the table rather than being pushed to stay within the styles of their predecessors. Kittredge stated that she looked forward to when diversity is normalized in the entertainment industry, when Trans or Muslim characters can be included without it being seen as a big deal. This will allow the industry to stand up against misogyny and racism when it no longer is seen as a regular aspect of it.
During the Q&A section, an audience member who works in the game industry asked how they balance the level of input from males and females and how they handle harassment, considering both industries have a problem with male-dominated creation spaces. While the panel joked about yelling people down, Simone went on to emphasize the importance of female creators feeling and acting like they belong in the room. Bechko discussed the importance of building support networks with other women, just to know that you mutually exist and interact within the industry.
Jumping off of the previous discussion, Simone brought up the Valkyries, a group of female comic-industry owners and how they have redefined the industry. Currently boasting around 600 members, they have combined their power to make themselves known and their interests represented. It is important for groups like this to come together and carve the path that needs to exist. Thompson brought up Geek and Sundry as a similar group in the video gaming industry, another group that needs to learn how to allow women equal representation and respect. (Via Bleeding Cool)
If you're looking for comics with a strong female narrative or want to support some great women in the industry, head to
www.dynamite.com
.
SDCC: GHOST RIDER HAUNTS "MARVEL'S AGENTS OF SHIELD" IN NEW POSTER
07/23/16 @ 10:35 am EST
Source:
Comic Book Resources
| Categories:
SHIELD
|
Comments
(0) |
E-mail Article
|
Add a Comment
Following a Friday panel at Comic-Con International in San Diego that confirmed the introduction of Ghost Rider, "Marvel's Agents of S.H.I.E.L.D." debuted a convention-exclusive Season 4 poster by Mike Perkins and colorist Andy Troy, and a trio of behind-the-scenes videos.
These aren't just
any
videos, however: They're a Season 3 gag reel, and screentests featuring Iain De Caestecker, Elizabeth Simmons, Chloe Bennett and Brett Dalton.
Video 1:
https://youtu.be/4tumD13vvIs
Video 2:
https://youtu.be/pv0gw4AwmNA
Video 3:
https://youtu.be/tZMTl_XEeDc
SDCC: "BATMAN: THE KILLING JOKE" SCREENWRITER EXPLAINS CONTROVERSIAL SEX SCENE
07/23/16 @ 10:29 am EST
Source:
Comic Book Resources
| Categories:
Batman
|
Comments
(0) |
E-mail Article
|
Add a Comment
Before and after the Comic-Con International screening of "Batman: The Killing Joke," the film's cast and crew talked about the process of adapting Alan Moore and Brian Bolland's seminal DC Comics tale from page to screen. In particular, screenwriter Brian Azzarello and director Sam Liu spoke about the decision to introduce sex to the relationship between Batman and Batgirl.
"The thing about this is that it's controversial, so we added more controversy," explained Azzarello. "I think she is stronger than the men in her life in this story. She controls the men in her life in this story."
"They both make mistakes, but she's the one who decides, 'I have to stop. There's a problem here, and I need to step away from this,'" Liu explained. "I think that comes from an emotional strength. I think she makes the decisions that strong people make."
"She comes off as a stronger character at the end of that arc," Azzarello agreed.
Warner Bros. Animation's "Batman: The Killing Joke" stars Kevin Conroy as Batman, Mark Hamill as the Joker, Tara Strong as Barbara Gordon and Ray Wise as Commissioner Gordon. Directed by Sam Liu ("Justice League vs. Teen Titans"), the film comes from a script by Eisner Award-winning writer Brian Azzarello. Bruce Timm and Sam Register are executive producers, and Alan Burnett is co-producer.
"Batman: The Killing Joke" will be available for Digital HD download on July 26, and arrives on Blu-ray/DVD on August 2.
'STAR TREK BEYOND' FLYING TO DECENT $60.3M: BUT WHY IS OPENING LOWER THAN 'INTO DARKNESS'?
07/23/16 @ 10:25 am EST
Source:
Deadline
| Categories:
Star Trek
|
Comments
(0) |
E-mail Article
|
Add a Comment
Prior to July 4th, we observed that Paramount/Skydance's
Star Trek Beyond
was bound to post an opening north of $60M, and that's exactly what we're seeing this weekend.
That's a decent result, and the third best bow out of the Skydance/Bad Robot
Star Trek
series, however, the Justin Lin-directed film is 14% off the opening of its second installment,
Star Trek Into Darkness
which debuted to $70.9M.
That too is not a bad drop for a sequel's three-day, especially in a summer where such films like
Alice Through the Looking Glass
and
Neighbors: Sorority Rising
are respectively off 77% and 56% in their openings from their previous chapters.
But still we can't ignore the fact that
Star Trek Beyond's
opening is down $10.6M from its 2013 outing, which was $9M off the 2009 reboot's debut ($79.2M). Even though we don't need to ring the ER alarm and declare that the franchise is in jeopardy, it's still worth analyzing why this threequel has eased.
Already Paramount has given a vote of confidence in the
Star Trek
franchise and greenlighted a fourth sequel with the entire reboot cast and a script by J.D. Payne and Patrick McKay. However, no word whether Lin is returning yet.
SDCC: "BATMAN: THE KILLING JOKE" CAST & CREW DEBUTS FILM
07/23/16 @ 10:19 am EST
Source:
Comic Book Resources
| Categories:
Batman
|
Comments
(0) |
E-mail Article
|
Add a Comment
The long-awaited adaptation of Alan Moore and Brian Bolland's "Batman: The Killing Joke" -- which made headlines when it scored an R-rating -- is finally here. The film debuted at Comic-Con International in San Diego with a little help from "Batman: The Animated Series'" Bruce Timm, Tara Strong (Batgirl), Ray Wise (Commissioner Gordon), director Sam Liu, Eisner Award-winning writer Brian Azzarrello and Batman himself Kevin Conroy.
Gary Miereanu came on stage to introduce "Batman: The Killing Joke" and reminded fans about the film's special two-nights-only screening with Fathom Events.
"There's actually not enough story material in the comic to fill the movie, so we made the decision to... give it some room to breathe," Timm explained, before Miereanu received a call on his phone.
Mark Hamill, who voices the Joker, addressed the audience over speaker phone and thanked everyone in attendance for their support. "There's been so many milestones... This is something I've been wanting to do, since we wrapped up in the '90s... Tonight is very, very special. I hope you all enjoy it."
Hamill then impersonated the Joker, sparking riotous applause from the audience. "Enjoy the film," he intoned. "It's just as insane as all of you!"
"We took that screen time to basically give Barbara Gordon her own mini-movie, because she's always been one of our favorite characters, and I've always felt bad about her in the original story," Timm continued. "We just thought it'd be real fun to let the audience... get introduced to the character."
"Everyone in the actual 'Killing Joke' has a story arc except Barbara Gordon, and she deserves it," Azzarello added.
"When I first booked Batgirl, I had just moved to town in '96. I kept pinching myself," Strong recalled. "She was a girl, and now she's a woman and she goes through some stuff. It was really dark, and -- for me -- my favorite Batman is when it's dark... We go really deep into emotion places... We really love it, and we hope you do too."
"The original story is pretty tight. We got thirty minutes [out of it]," Azzarello explained."By the time I got the script, a lot of the big decisions had been made by Bruce and Brian," Liu shared. "It was really smart, what they did. It allows the audience to ease themselves into the movie before all this heavy psychological, emotional... stuff that is the graphic novel. You get to understand who [Batgirl] is. She was a partner... All I had to do was follow their lead, follow the voice acting. The voice actors did such an amazing -- it's a shame it was only voice acting."
"The key to me for Batman through the years is to find a consistency, and to keep him true, because you guys are the most amazing fans. You really are! You know more about the Batman legacy than most people. You know so much. You'd hear it in a second if I was inauthentic," Conroy shared. "The interesting thing about this story for me is it's much more of a psycho-drama. So much of the episodes is action and fighting, and visually that's exciting, but that's not a lot for the actors to bite into," he continued. "[In 'Killing Joke'] there's more to bite into... I was able to go to places I haven't been able to go to before, and I hope you enjoy it."
"I'm the neophite in the group. I'm the new Commissioner Gordon. I could start from the beginning," Wise said. "I've been a Batman fan since I was 8 or 9 years old. I love The Dark Knight, I love The Batman -- I love bats! For my money, this fellow right here" -- he points to Conroy -- "is the only Batman for me."
"I am so proud and so happy to share the screen with him, and this woman [Strong]," he continued. "It is not an easy task... you know what Commissioner Gordon goes through... he has a confrontation with the Joker and it doesn't end too well... I think that confrontation you'll enjoy... It was a wonderful time. That's all I can say. I love this movie. It's like a 1940s, great detective movie."
"It was chilling," Azzarello said of Hamill's performance. "All the Joker stuff he's done before was leading up to this... Wait till you see what he does. It's extraordinary. I can't tell you how cool it is -- I mean, I write comic books. It's not a bad job! But I sit in my room by myself, sometimes the cat comes in, and I'm talking through these stories in my head. Gary gave me the DVD at a Cubs game... and then I went home, and put the DVD in. Seeing these words I had written... this is a really, really great story, and the actors are out of this world."
"As many times as Sam and I have watched this movie... we've seen it a million times... and every now and then, we stop and go, 'Damn, Kevin's really good in this!'" Timm shared. "There's certain scenes in this movie... that he really nails it in this movie. The same with Tara... and Mark as well. He's still the same old Joker you've always heard, but even scarier."
"You almost feel sorry for the Joker. You almost buy into what he's saying," he added. He also recalled how Hamill performed several flashbacks, pointing out that the past version of the Joker sounds more like Hamill than the Joker ever has.
"[Hamill] went to places I think all of us were surprised with," Conroy said."We love working together. We love each other. We definitely have a rhythm," Strong added. "There's thing that Mark does that I kind of wanted to listen again and do a double take... He still goes to those crazy places, and he's such a diverse, talented guy... I still pinch myself when I'm with him."
"There's a lot of trust between these actors. It's true," Timm pitched in.
"When Brian and I and several other people first sat down... we said, 'One thing we need to figure out is what happens at the end of the movie'... and everyone had a different interpretation at the end of the movie," he recalled. Azzarello called the ending they came up with "perfect."
Miereanu then confirmed a "Justice League Dark" animated film, then announced "Teen Titans: The Judas Contact" for the spring as well as "Harley Quinn: A Bruce Timm Original" for next summer.
Following the film, Miereanu revealed that the soundtrack is now available for purchase as Timm, Azzarello and Liu reentered the stage for a fan Q&A.
Asked what the most difficult part of making the film was, Azzarello said, "Keeping it quiet."
"I think of almost every creative thing we do... as kind of like problem-solving," Timm shared. "Even at the very beginning, I think, 'I want to make an interesting movie. How do I accomplish that?'"
"I couldn't actually be happier. You guys all laughed at the right places, you lost your sh*t at the right places. I think it played pretty well," he added.
"The first half plays so much better than I was expecting," Azzarello said. "You guys did what I wanted you to do."
"There's nothing more satisfying... than seeing how you guys react, especially when it's positive," Liu pitched in. "It makes it all worth it."
"What we do, it takes time. It takes a lot of time. At times, you read things and it's so dismissive... at least put the homework in. It's so great you guys were into what we did," Azzarello concluded.
"Honestly, I think it's harder to come up with an all-new story... With something that's as well drawn as this series -- Bolland's staging is so immaculate... Literally starting with a blank page without a firm story to adapt is always harder," Timm revealed.
"They're both hard in their own way. When you have something so beloved, it's beloved for a reason. You stay faithful, and you're halfway there. That being said,too, do you take a little liberty...? I feel like those kinds of decisions haunt you a little. Even in 'The Killing Joke,' there are things that work really well because it's a comic," Liu explained.
"The thing about this is that it's controversial, so we added more controversy," Azzarello said."I think she is stronger than the men in her life in this story. She controls the men in her life in this story," he said of the controversial sex scene between Barbara and Bruce.
"They both make mistakes, but she's the one who decides, 'I have to stop. There's a problem here, and I need to step away from this.' I think that comes from an emotional strength. I think she makes the decisions that strong people make," Liu explained.
"She comes off as a stronger character at the end of that arc," Azzarello agreed.
Warner Bros. Animation's "Batman: The Killing Joke" will be available for Digital HD download on July 26, and arrives on Blu-ray/DVD on August 2. The film is making its World Premiere at San Diego's Comic-Con International on July 22. (Via CBR)
SDCC: ORIGINAL NOVA RETURNS IN NEW ONGOING SERIES
07/23/16 @ 10:05 am EST
Source:
Comic Book Resources
| Categories:
Nova
|
Comments
(0) |
E-mail Article
|
Add a Comment
Richard Rider, the original Nova, is returning to Marvel Comics in a new "Nova" ongoing series where he'll appear alongside his successor, Sam Alexander. Marvel made the announcement as part of Comic-Con International: San Diego at the private Retailer Presentation.
Marvel previously released the following teaser image, signalling the return of Rider and his classic helmet:
Rider has been absent from Marvel's titles since his fatal battle with the Mad Titan, Thanos. Rider was replaced by Alexander, who went on to be a fan-favorite character in his own right as a member of the "All-New All-Different Avengers," and the upcoming teenage super-team, "The Champions."
Before Alexander's run as Nova, Rider starred in his own title for years, in addition to appearing in "New Warriors."
There's still no word on the creative team or launch date for Marvel's All-New "Nova" title.
SDCC: 'GAME OF THRONES' CAST AND CREATORS TALK SEASON 7 DELAY, JON'S PARENTAGE AND SANSA'S GOALS
07/22/16 @ 7:35 pm EST
Source:
Variety
| Categories:
MIsc
|
Comments
(0) |
E-mail Article
|
Add a Comment
"Game of Thrones" creators David Benioff and D.B. Weiss returned to Comic-Con on Friday to discuss Season 7 and the challenges of adapting George R. R. Martin's books and surpassing what has been published so far.
"It's still ultimately George's imagination that gave us these characters, that gave us this world," Benioff pointed out. "Hopefully we're still living out the spirit of George's imagination. George's books will be very different in some respects; hopefully the series and the books will be very surprising to people who are reading or watching."
The creators also addressed the late premiere for Season 7, which will see the show returning in summer instead of April, due to a delayed start date in filming. "Winter is here, and we've got to shoot in places with trees and wait for the leaves to turn," Benioff noted. "We finish shooting in February," which means that the rigorous post-production work on the show won't be finished before summer.
Cast members Liam Cunningham, John Bradley, Nathalie Emmanuel, Conleth Hill, Sophie Turner, Iwan Rheon, Isaac Hempstead Wright, Faye Marsay and Kristian Nairn were also in attendance, along with director Miguel Sapochnik. Nairn received a rapturous welcome from the crowd, who offered an extended chant of "Hodor" in honor of his beloved character.
"I did not expect it to be so crazy, I'm really, really flattered, it's blown my mind," Nairn said of the fan response to Hodor's death. "I was in a hotel in L.A. the other day and all their doorstops said 'Hodor' on them. The scene was incredibly written and directed, but I didn't expect the outpouring of emotion."
Turner discussed the potentially strained relationship between Sansa and Jon going into Season 7, admitting that she doesn't think her brother (who's actually her cousin), is cut out for leadership. "I don't think she believes Jon is capable of running Winterfell and the north; she doesn't think he has the intellect, the knowledge, the experience that she has, and I concur," she laughed. "He has wonderful morals, those Stark morals, [so she thinks] that inevitably he'll make the good decision, but whether it's going to benefit anyone is another story."
The actress also admitted that Sansa may have developed a taste for blood after killing Ramsay: "I have no idea if she's going to become a real leader or if she's going to become completely sadistic, but we'll soon find out…"
A fan also brought up online speculation that Sansa might marry Jon, since they're not truly siblings, which Turner shot down immediately. "Jon likes redheads, but Jon and Sansa have grown up together, they're basically siblings," she insisted with a laugh, before warning the executive producers, "if you make anything happen, I will kill you."
"It hadn't occurred to us, but thank you," Weiss quipped.
Since Bran is currently the only living person who knows that Jon is actually the son of Lyanna Stark and Rhaegar Targaryen, Hempstead Wright weighed in on what his character might do with that knowledge in Season 7. "Bran knows he's been shown this information for a reason, he might not know exactly why, but it's obviously imperative he knows this and will spread the word," the actor said, joking that he envisions the eventual conversation with Jon going something like, "By the way, I'm a tree wizard, and your dad isn't your dad."
The actor also recalled his initial reaction to learning the Jon revelation: "I knew about R+L=J and all the theories … it was really cool to be able to read it, let alone have involvement in the scene." He said the most satisfying aspect was that Bran's flashbacks weren't just flashbacks, but an opportunity for the audience to "watch a character react to this rich history of Westeros. It was nice to see it all click together."
The panel was moderated by "It's Always Sunny in Philadelphia" creator Rob McElhenney, who revealed that he was chosen to host the panel because, unbeknownst to us, "I've shot a scene in every season, but they always cut me out." McElhenney then presented footage of his "cut scenes," in which his disgruntled character asked the question that we've been wondering for six seasons: "
When
is winter coming?"
The panel concluded with a behind the scenes video showing that production is underway on Season 7 — with no new footage, just voiceovers from Season 6 — and a blooper reel that showed star Peter Dinklage struggling with the word "benevolent." (Via Variety)
Video:
https://youtu.be/pjue5j1JRaA
SDCC: ROXANE GAY JOINS MARVEL FOR "BLACK PANTHER: WORLD OF WAKANDA
07/22/16 @ 7:26 pm EST
Source:
Comic Book Resources
| Categories:
Black Panther
|
Comments
(0) |
E-mail Article
|
Add a Comment
Marvel Comics has added another celebrated writer and commentator to its roster of creators: Roxane Gay, best known for her 2014 collection of essays, "Bad Feminist." Gay will write "Black Panther: World of Wakanda" alongside current "Black Panther" series writer Ta-Nehisi Coates, himself a best-selling and acclaimed author. The series was first announced Friday afternoon during Marvel's segment of the Diamond Comics Retailer Presentation at Comic-Con International in San Diego.
"Black Panther: World of Wakanda," expected to debut in November, aims to focus on the larger world of the Coates-written "Black Panther" series, with the initial arc starring Ayo and Aneka -- the former Dora Milaje who are now known as The Midnight Angels. The story will serve as something of a prequel, showing how the two went rogue -- and fell in love with each other.
"It's the most bizarre thing I've ever done, and I mean that in the best possible way," Gay told The New York Times. "The opportunity to write black women and queer black women into the Marvel Universe, there's no saying no to that."
Poet Yona Harvey will also contribute to "Black Panther: World of Wakanda," with a 10-page backup story on Zenzi, who incited the riot in "Black Panther" #1. Coates recruited both Harvey and Gay to Marvel, as reported by the New York Times. No artist has yet been announced for "World of Wakanda," but "Genius" artist Afua Richardson illustrated the cover to issue #1. On Twitter, Gay revealed that Alitha E. Martinez will also illustrate covers.
Gay and Harvey are believed to be the first Black women writers to contribute to Marvel Comics. Gay addressed the situation on Twitter, writing, "It doesn't make sense that I am the first, in 2016. But I won't be the last." Gay also disclosed that she'll appear at Marvel Chief Creative Officer Joe Quesada's Cup O' Joe panel at 3 p.m. Pacific this Saturday at Comic-Con.