CAPTAIN MARVEL – JULY 2012!
03/12/12 @ 1:36 pm EST
Source:
Marvel
|
Comments
(0) |
E-mail Article
|
Add a Comment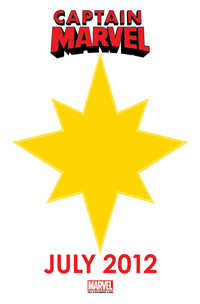 Find out more Saturday, March 17th at the Talk To The Hat panel, 4:00PM PST, during Wondercon 2012!
Can't make it to the convention? Follow along on the
Marvel Events App
&
events.marvel.com
, the best way to get exclusive videos, real-time announcements from the convention floor and up-to-the-minute panel, in-booth, and signing schedules of all your favorite Marvel creators!
To find a comic shop near you, call 1-888-comicbook or visit
www.comicshoplocator.com
Marvel Entertainment, LLC, a wholly-owned subsidiary of The Walt Disney Company, is one of the world's most prominent character-based entertainment companies, built on a proven library of over 8,000 characters featured in a variety of media over seventy years. Marvel utilizes its character franchises in entertainment, licensing and publishing. For more information visit
www.marvel.com
NEIL PATRICK HARRIS, NAHEED NENSHI TAKE AWESOME SELFIE AT CALGARY EXPO
04/18/15 @ 9:19 pm EST
Source:
Huffington Post Canada
| Categories:
MIsc
|
Comments
(0) |
E-mail Article
|
Add a Comment
Calgary Mayor Naheed Nenshi and actor Neil Patrick Harris are starring in a new sitcom titled "How I Met Your Mayor."
OK, not true. But this hilarious selfie Nenshi took with the "How I Met Your Mother" actor at the Calgary Comic and Entertainment Expo on Friday got us thinking about the prospect.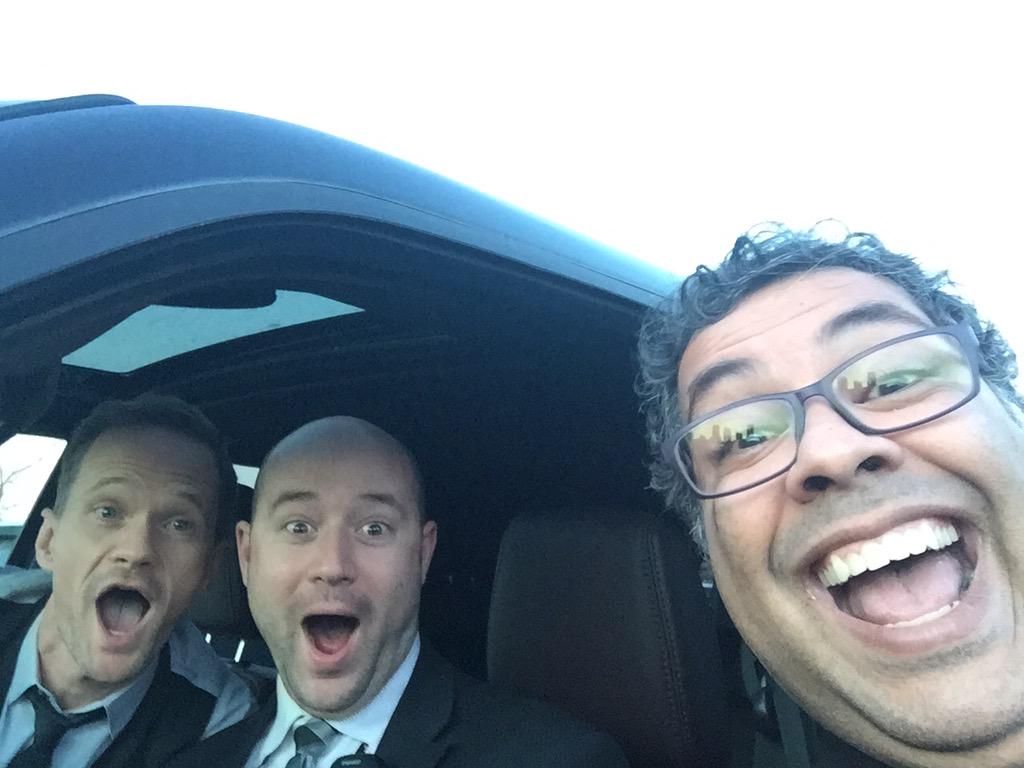 Harris was in Calgary to kick off the expo's first day, according to the Calgary Herald. During a talk with hostess Emily Expo, Harris discussed his TV show and hosting the Oscars, among other things. (Source: Huffington Post Canada)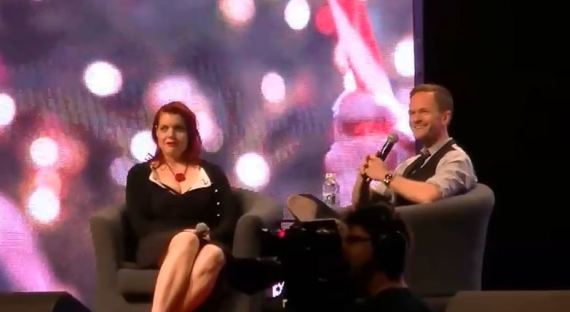 BIG WOW! COMICFEST: FAMILIES IN SUPERHERO COSTUMES TURN OUT FOR OLD-FASHIONED COMIC BOOK CONVENTION
04/18/15 @ 9:03 pm EST
Source:
San Jose Mercury News
| Categories:
MIsc
|
Comments
(0) |
E-mail Article
|
Add a Comment
Plenty of people line up to see the latest blockbuster movies based on superheroes, from Batman and Spider-Man to the Avengers and X-Men. And in San Jose on Saturday, thousands of people lined up to see the same action heroes and villains, but this time in comic book form at the "Big Wow! ComicFest." They make for a strangely different type of fan. "You feel like you're part of something new and current and so fun, but you have the secret knowledge that this is where it all came from," said Marc Newman, who sells comic books from his House of Comics online business in Berkeley and at a booth on Saturday.
Comic book fans from across northern California, many in their favorite superhero costumes, converged to bask in the fluorescent lights of the San Jose McEnery Convention Center, sift through thousands of comic books, meet the comic book artists and, ultimately, find their own.
Adding excitement to the crowd was the recent news that Apple co-founder Steve Wozniak and comic book creator Stan Lee are launching "Silicon Valley Comic Con" next March in San Jose, a bigger, more extreme version of "Big Wow!" that one conventioneer called "earth-shaking."
As much as comic book conventions are for self-described nerds and geeks, there's a current of nostalgia and old-fashioned values that runs through many of the comic book lovers that can be downright endearing. Let's face it: In this digital world, it's difficult to imagine a kid who would rather pick up a comic book than a remote control. But there were plenty at the convention center Saturday, with their parents in tow.
Luke Zimmerman, 12, from Santa Maria has been doing chores all year -- from mowing the lawn to folding laundry -- to save money to buy comics books at the convention. "I'm a huge Star Wars nerd. I'm trying to get as many as I can before the new movie comes out," he said after buying $5 reprints of the first three issues of the Star Wars comic books from the 1970s.
He also sees the comic books as an investment, his father, Brian, said.
"We've always promoted reading," Zimmerman said, "but this is also like a stock market for kids. They watch them go up in value."
Just like the olden days, some of the kids at the convention center fell in love with comic books at local comic book stores. Dante de la Torre, 9, dressed in a Batman costume, is a regular at Cosmic Comics in Auburn.
"Some of the comics are really fun and comedic," said the 9-year-old with the big vocabulary, "and others are just awesome." He enjoys playing some video games, he said, but "some Batman games are too intense."
Clay McNamara of Brentwood grew up without video games in the 1970s and '80s, so he had stacks of Avenger comic books and Shogun warrior figures instead. He has introduced comic books to his 10-year-old son, Brendan, who enjoys the Aliens series.
"It's trying to find that balance between tech and hands-on creativity," McNamara said. "I want him to see where the ideas begin, with artists and ideas. I want to foster his creativity as much as I can."
Tony Vera of San Jose dressed as Batman and brought his whole family in costume: his wife, Lorraine as Wonder Woman, his 5-year-old daughter as the Black Widow and his son as Night Wing. It's a healthy obsession, he said. His love as a kid of crime-fighting Batman made him pursue a career as a San Jose police officer.
Many of the Big Wow! conventioneers Saturday were looking for their favorite comics or to buy comic books on speculation, that certain characters would become the next movie stars. House of Comics was selling an issue of "New Mutants" for $600, which cost only $1 when it was first published in 1991. Why? It featured the first appearance of "Deadpool," a mentally unstable super villain with a sarcastic wit who had a supporting role in "The Wolverine," but will headline his own movie soon."This is the hottest book in the whole market," Newman said. (Source: San Jose Mercury News)
REVOLUTION TO PROVIDE CLOSURE WITH DIGITAL COMIC FROM DC
04/18/15 @ 8:20 pm EST
Source:
TVOM
| Categories:
DC
|
Comments
(0) |
E-mail Article
|
Add a Comment
Revolution
fans that have been petitioning for the series to come back, we have some good news for you: closure is on its way. While the cancelled NBC series is not returning to TV screens to finish out its story, it will be telling the final chapters of its tale in a digital comic book from DC Comics.
Working alongside DC is
Revolution
's entire creative team, which includes series creator Eric Kripe, along with executive producers J.J. Abrams, Bryan Burk, Rockne S. O'Bannon, and Jon Favreau. The four chapters of the comic were all written by
Revolution
scribes David Reed and Ryan Parrott but only after the stories had been crafted with the entire creative team.
The
Revolution
digital comic was illustrated by DC Comics' artist Angel Hernandez. All four of the chapters will have their own specifically designed cover, and a new chapter will be released every two weeks beginning on Monday, May 4 (the chapters will be published first at ComicBook.com and then available at Facebook.com/Revolution the following week). (Source: TVOM)
KIDS, GROWNUPS JOIN FORCES, ATTEMPT SUPERHERO COSTUME WORLD RECORD
04/18/15 @ 8:11 pm EST
Source:
NBC LA
| Categories:
MIsc
|
Comments
(0) |
E-mail Article
|
Add a Comment
Children and grownups joined forces in Hollywood to celebrate their love of superheroes as they attempted to break a world record, Saturday morning.
Fans of DC Comics were sporting costumes of their favorite superheroes -- Wonder Woman, Superman, Batman, Robin, The Flash, Green Arrow, and Green Lantern -- when they gathered at the Hollywood & Highland Center.
They were part of a larger effort to set the Guinness World Record for the largest gathering of people dressed as DC Comics Super Heroes. LA's was the last local event in a 24-hour, global series of gatherings of DC devotees, which would be counted cumulatively.
ALAN DEAN FOSTER WRITES STAR WARS THE FORCE AWAKENS NOVELIZATION
04/18/15 @ 8:01 pm EST
Source:
Bleeding Cool
| Categories:
Star Wars
|
Comments
(0) |
E-mail Article
|
Add a Comment
At the Del Rey Star Wars panel it has been revealed that science fiction novelist
Alan Dean Foster
is writing the novelization of
Star Wars The Force Awakens.
Foster was the ghostwriter of the original novelization of
Star Wars
, though it was credited to
George Lucas
. He got paid $5000 for his time.
He'll probably get a little more this time around.
Foster also wrote
Splinter Of The Mind's Eye
in 1978, a
Star Wars
prose sequel based on abandoned concepts from the film – including a much more romantic role for Luke and Leia. He also wrote
The Approaching Storm
for the Star Wars Universe, published in 2002.
The novelization will be published on the same day as the movie but only as a e-book, with a hardcover later in January. There will also be some additional elements in the novel that won't be in the movie. (Source: Bleeding Cool)
OLIVIA WILDE SAYS TRON 3 FOLLOWS QUORRA IN THE REAL WORLD
04/18/15 @ 7:52 pm EST
Source:
Comicbook
| Categories:
MIsc
|
Comments
(0) |
E-mail Article
|
Add a Comment
Olivia Wilde shares some of the first plot details regarding next
Tron
film.
While attending the premiere of
Meadowland
at the Tribeca Film Festival, Wilde was asked about Tron 3, which a sequel to 2010's Tron: Legacy. The sequel is bringing back director Joseph Kosinski (
Oblivion
) and stars Wilde and Garrett Hedlund (
Pan
).
At the end of the last one, Wilde's aggressive, yet naive isomorphic algorithm escapes the Grid and enters the real world for the first time. Wilde says that experience will be explored in the sequel. "And I'm really excited to see what happens to that character when put into the real world," Wilde told Collider. "I think it's an interesting concept. I'm fascinated by all discussions of AI, and especially now today and now with virtual reality becoming something that's like a personal device, I think it's the time to tell this story."
Olivia Wilde also confirmed that
Tron 3
will begin filming in the fall (October) and that she has already read a script. This is important as she stressed that the sequel to the 2010 had more to do with a lack of story than an underwhelming box office performance.
"The delay has only ever been story, finding the right story. It hasn't been anything else," Wilde explained. "There's never been a time where we wanted to go and then schedules got in the way. It's only been like, 'That's not the right story.' So, in the past year, the right story kind of came together and we felt, 'Oh, this actually – this might be the right one to tell.' And, you know, there's still a lot to be done before it could actually happen, but the fact that there's a goal of this year to start is really exciting."
REBELS TRAILER RELEASED; JONES CONFIRMED AS DARTH VADER
04/18/15 @ 7:48 pm EST
Source:
Comicbook
| Categories:
Star Wars
|
Comments
(0) |
E-mail Article
|
Add a Comment
At a press conference during Star Wars Celebration Anaheim Saturday afternoon, shortly after the season two trailer was revealed, the very first questions were all about Darth Vader. The iconic character will appear throughout the season, as a primary villain, sent by the Emperor to take care of the "Rebels on Lothal."
Executive and supervising producer Dave Filoni confirmed that, as he did in the special scene in the broadcast TV premiere, classic Vader voice James Earl Jones will continue as the icon. Jones will voice the character throughout
Star Wars Rebels
season two, and if he continues to be a character and the show keeps going, there's every possibility he'll always be voiced by Jones.
Filoni also joked about directing him, saying it's "actually incredibly easy," because Jones embodies the character so completely with his commanding voice. "[Jones] said to me, 'David, I haven't done this in ten years, can you remind me how?' and I said, 'No, you're doing it! You're doing it right now!.'"
As for what Vader will be doing, the trailer revealed he's hunting down the Rebels crew, and comes face-to-face with Kanan and his padawan Ezra. Filoni also teased at the panel that the relationship between Ahsoka (Vader's padawan when he was Anakin Skywalker) and Darth Vader is "part of the story we have to tell."
To see the trailer for Season 2, click here:
https://youtu.be/Av8GjpGK98A
Star Wars Rebels premieres exclusively at Celebration Anaheim Saturday night, and on Disney XD later this year.
DOES THE BATMOBILE FLY IN THE BATMAN V. SUPERMAN TRAILER?
04/18/15 @ 7:36 pm EST
Source:
Comicbook
| Categories:
Batman Superman
|
Comments
(0) |
E-mail Article
|
Add a Comment
Months ago, there were rumors that Zack Snyder's much-hyped reinvention of the Batmobile would convert into a flying vehicle in Batman V Superman: Dawn of Justice -- and it looks entirely possible that the just-released trailer for the film has provided fans with some evidence to support that claim.
GUARDIANS OF THE GALAXY STARS CHRIS PRATT AND BRADLEY COOPER NAMED TO TIME'S 100 MOST INFLUENTIAL PEOPLE
04/18/15 @ 7:31 pm EST
Source:
Comicbook
| Categories:
Guardians of the Galaxy
|
Comments
(0) |
E-mail Article
|
Add a Comment
Both Chris Pratt and his
Guardians of the Galaxy
co-star Bradley Cooper have been named to
Time
's 100 Most Influential People of 2015 list.
Based presumably on the fact that Pratt starred in two of the top-grossing, best-reviewed films of last year and that Cooper appeared in not only
Guardians
but the awards season favorite
American Sniper
, the pair are among a handful of Hollywood actors to appear on the list.
Cooper appears on one of the magazine's covers.
GEORGE LUCAS THINKS MARVEL WILL DO A HOWARD THE DUCK REMAKE
04/18/15 @ 7:23 pm EST
Source:
Comicbook
| Categories:
Howard The Duck
|
Comments
(0) |
E-mail Article
|
Add a Comment
Yesterday at the Tribeca Film Festival, moderated by Stephen Colbert, George Lucas shared his belief that Marvel Studios will remake Howard The Duck."Even Howard the Duck is a cult classic," Lucas told the joyous crowd at the Borough of Manhattan Community College theater. "I have a feeling that Marvel's gonna redo it because of the technology they have today."Lucas produced the 1986 live-action Howard The Duck film that starred Lea Thompson, Tim Robbins and Chip Zien as the voice of Howard. The film bombed at the box office and was panned by critics. "I told the producer and writer it's not gonna work," Lucas said of the film. "You can't put a dwarf in a duck suit and make it work!"

They actually used six different actors in the Howard The Duck costume. A digital version of the character, who was created in 1973 by Steve Gerber and Val Mayerik, appeared in the post-credits scene for James Gunn's Guardians of the Galaxy. "It's a digital duck. When you have a digital duck, you can do anything. You can make it act," Lucas said of the secret cameo.