CAPTAIN MARVEL – JULY 2012!
03/12/12 @ 1:36 pm EST
Source:
Marvel
|
Comments
(0) |
E-mail Article
|
Add a Comment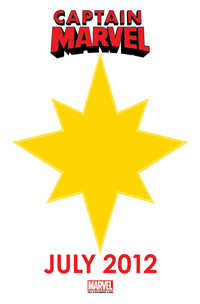 Find out more Saturday, March 17th at the Talk To The Hat panel, 4:00PM PST, during Wondercon 2012!
Can't make it to the convention? Follow along on the
Marvel Events App
&
events.marvel.com
, the best way to get exclusive videos, real-time announcements from the convention floor and up-to-the-minute panel, in-booth, and signing schedules of all your favorite Marvel creators!
To find a comic shop near you, call 1-888-comicbook or visit
www.comicshoplocator.com
Marvel Entertainment, LLC, a wholly-owned subsidiary of The Walt Disney Company, is one of the world's most prominent character-based entertainment companies, built on a proven library of over 8,000 characters featured in a variety of media over seventy years. Marvel utilizes its character franchises in entertainment, licensing and publishing. For more information visit
www.marvel.com
TERRY MOORE TO BRING BACK STRANGERS IN PARADISE IN 2018
10/23/16 @ 10:07 pm EST
Source:
Comicbook
| Categories:
MIsc
|
Comments
(0) |
E-mail Article
|
Add a Comment
One of the most acclaimed creator-owned comics of the last 25 years is returning with new stories for the first time in more than a decade.
Terry Moore's forthcoming series
Motor Girl
will not be a multi-year epic like
Strangers in Paradise
,
Echo
, and
Rachel Rising
. Instead, the series will last only about a year before Moore returns to his long-running series
Strangers in Paradise
in time for the 25th anniversary of the series' first release in 2018.
Strangers in Paradise
, which ran from 1993 until 2007, was Moore's entree in the world of comic books after a career in advertising, music, and animation. It centered on three friends (Katchoo, David, and Francine) who had a complex relationship -- and two of whom had dangerous, intersecting pasts.
SUICIDE SQUAD EXTENDED CUT EXACT LENGTH REVEALED
10/23/16 @ 10:04 pm EST
Source:
Comicbook
| Categories:
DC
|
Comments
(0) |
E-mail Article
|
Add a Comment
When
Suicide Squad
premiered earlier this summer, fans were impressed with the film but wondered whether DC Entertainment would release an 'Ultimate Edition' of the film. After all, the studio debuted an extended cut of
Batman vs Superman: Dawn of Justice
to great success. Fans were excited when they learned their hunches about an extended cut were correct, and now they've learned exactly how long the new cut will be.
The new cut will stand at 134 minutes compared to the original film's 123 minute runtime. This means the extended cut will contain 11 minutes of extra footage rather than the rumored 13 which fans had been told about. Earlier this year, Collider reported that the extended cut would have a longer cut. The site also referenced a conversation they had with director David Ayer when he said, "there's definitely over 10 minutes of material on there. But this cut of a movie is my cut, there's no sort of parallel universe version of the movie, the released movie is my cut."
That quote led fans to believe that the extended cut of
Suicide Squad
wouldn't be a game-changer like the 'Ultimate Edition' of
Batman vs Superman
. The latter film debuted its extended cut to great fanfare, and it featured over 30 minutes of new footage. The additional scenes bumped up the film's rating to an 'R' to clock the overall runtime at three hours.
So far, there's no official word on what scenes fans will get with the extended cut of
Suicide Squad
.
ARROW: IS TOMMY MERLYN REALLY PROMETHEUS?
10/23/16 @ 9:58 pm EST
Source:
Comicbook
| Categories:
DC
|
Comments
(0) |
E-mail Article
|
Add a Comment
There have been some pretty big baddies seen on
Arrow
since its debut. From Malcolm Meryln to Ra's al Gul and Deathstroke, the number of comic book villains on the hit series has grown over the years. With Season 5 underway, fans are looking forward to meeting the show's new nemesis Prometheus who is said to have a personal vendetta against Green Arrow. Of course, fans are hard at work with their speculations over who's behind the villain's mask, and they think they might have found an answer.
Right now, the biggest fan-theory about Prometheus and his identity circles back to Tommy Merlyn. If you have watched
Arrow
from the start, then that name is a familiar one to you. The character was introduced when the series began and acted as Oliver Queen's best friend and sometimes wingman. However, the character was killed during the Season 1 finale, leaving fans heartbroken over his untimely end.
But did he really die?
Well, the short answer is yes. The character clearly bit it in the Season 1 finale, but rumors began swirling that Tommy would return to
Arrow
in an unknown capacity. There's been no word to confirm those suspicions, but audiences believe that Oliver's former best friend will return because of the 'Flashpoint' storyline (a la The Flash) or by the mysterious Lazarus Pit that revived Sarah Lance in Season 4.
Since creators have teasedthat Prometheus has a grudge against Oliver, it wouldn't be impossible for Tommy to be behind the mask. The altered 'Flashpoint' timeline can reimagine almost anything about its characters to suit the show's need. And, if we're talking Lazarus Pit, then Malcolm Merlyn definitely could have resurrected his son and twisted his allegiances. After all, the elder wouldn't hesitate to turn his son against Oliver after the vigilante's actions partially led to Tommy's death.
THE WALKING DEAD: NEGAN'S KILLS REVEALED IN SEASON 7 PREMIERE
10/23/16 @ 9:52 pm EST
Source:
Comicbook
| Categories:
Walking Dead
|
Comments
(0) |
E-mail Article
|
Add a Comment
The day has finally come.
The Walking Dead
Season 7 premiere and six months of mystery, guessing, and gasping at the thought is over. We know who Negan killed.
Major spoilers for
The Walking Dead
's Season 7 premiere follow.
In a twisted, possibly darkest episode of
The Walking Dead
, Negan brought his bat down on not one but two members of Rick's group.
The vicious game of eeny-meeny-miney-moe ended up with Abraham Ford being, "it." Abe perched himself up proudly just as Negan delivered the first blow to his head with Lucille. Before dying, Abe managed to squeeze in one last Abe-ism and insult Negan, prompting the "Taking it like a champ!" line first delivered in the Season 6 finale. From here, Negan turns Abraham's head to mush on the ground.
It could have been over and done with there but Daryl Dixon was not interested in watching Rosita be subjected to her ex-boyfriend's blood on a bat. The already-injured Daryl makes a move on Negan but is quickly handled by Dwight and others.
The first one was free. This one wasn't.
Negan marched over to Daryl and raised Lucille over his head but instead of cracking Daryl's skull, he unleashed his swings on Glenn's skull. The moments from Robert Kirkman's comics were realized as Glenn called out for his wife Maggie in his final moments and Negan mocked his eye popping out of his skull before finishing him off.
ASH VS. EVIL DEAD SEASON 2 EPISODE 5: CONFINEMENT SNEAK PREVIEW
10/23/16 @ 9:45 pm EST
Source:
Comicbook
| Categories:
MIsc
|
Comments
(0) |
E-mail Article
|
Add a Comment
After Ruby and Kelly joined forces to battle her evil spawn and Ash hunted down his 1973 Oldsmobile Delta 88, which is known as "The Classic" and was recently transformed into a killing machine by the Necronomicon, STARZ released a sneak preview of next Sunday's episode of
Ash vs Evil Dead
.
Watch the "Confinement" promo here:
https://youtu.be/XEtHGWRrP3c
J'ONN J'ONZZ ARGUES AGAINST ALIEN AMNESTY
10/23/16 @ 9:40 pm EST
Source:
Bleeding Cool
| Categories:
DC
|
Comments
(0) |
E-mail Article
|
Add a Comment
In a new clip from
Supergirl
we see
President Marsdin
(
Lynda Carter
) touring the
DEO
and talking with
J'onn J'onzz
(
David Harewood
) about her new plan of offering Alien Amnesty. J'onn is skeptical, knowing the number of rogue aliens that would sooner kill humans than befriend them.
Supergirl
airs Mondays at 8 PM on the
CW
.
Clip:
https://youtu.be/k4D7endo3zo
VAN HELSING WILL LIKELY BE PART OF UNIVERSAL'S MONSTER UNIVERSE
10/23/16 @ 9:36 pm EST
Source:
Bleeding Cool
| Categories:
MIsc
|
Comments
(0) |
E-mail Article
|
Add a Comment
Universal are currently putting together a shared horror universe based on all the old monsters in their repertoire. This is a studio getting behind horror in a massive way, with
Tom Cruise
and
Russell Crowe
set to star in the first film in the series,
The Mummy
, next year.
We are expecting monsters like the Wolfman, Frankenstien's monster, Dracula and the Invisible Man to show up, but there is another member of the Universal team who might have a lot of fun hunting all of them down.
Eric Heisserer
is writing the film adaption of
Van Helsing
at the moment, and in a talk with CinemaBlend, the writer said that for the moment, the plan is for the character to be part of the universe. He said:
"It is right now. This is early in the process, and it's evolutionary. I don't know if that's going to stay that way. But right now there is an absolute… there's some cartilage that links it to other pieces, like The Mummy."
NEW PHOTO OFFICIALLY CONFIRMS X-23 FOR LOGAN
10/23/16 @ 9:31 pm EST
Source:
Bleeding Cool
| Categories:
Marvel
|
Comments
(0) |
E-mail Article
|
Add a Comment
This is more clean up than anything at this point, but it is always great to get 100% confirmation.
As had been long speculated by everyone even before the first trailer for the film hit, the little girl who featured is X-23. This confirmation came by way of the official Instagram account for the film, who shared this picture of
Dafne Keen
with the subtitle 'Laura'. X-23's gifted name is Laura Kinney.
You can take a look here.
JIM STARLIN ON DEATH, THANOS, ROBIN, JACK KIRBY AND STAN LEE
10/23/16 @ 9:26 pm EST
Source:
Bleeding Cool
| Categories:
Marvel
|
Comments
(0) |
E-mail Article
|
Add a Comment
NYCC
may have been a few weeks back, but
Marvel
has just released this video and it's too good not to share. This is from the 25th Anniversary Panel for the
Infinity Gauntlet
… a story that had a major influence on what's going on in the
MCU
… and the panel was hosted by
C M Punk
where he basically interviewed writer/artist
Jim Starlin
. During the interview, they talk about Jim's fascination with death, how he got fired off of
Iron Man
after creating
Thanos
,
Jack Kirby's
influence on
Pip the Troll
and what brought about him killing off the
Jason Todd
version of
Robin
.
Video:
https://youtu.be/Lm3GpWTcERc
"MAC IS EMOTIONALLY LOST." – JAMES ROBINSON TALKS GRAND PASSION #2
10/23/16 @ 9:20 pm EST
Source:
Bleeding Cool
| Categories:
Dynamite
|
Comments
(0) |
E-mail Article
|
Add a Comment
James Robinson
talks to
Byron Brewer
about
Grand Passion
#2, on sale in December from
Dynamite
. Cover by
John Cassaday
.
BYRON BREWER: James, in your new series, Grand Passion, with issue #2 on sale in December, the character of Mac seems to have his share of survivor's guilt. His wife having died and him still being around, he's not a happy camper, obviously. Tell us how this affects this character, and how it plays into his "romance" with Mabel.JAMES ROBINSON:
Mac is emotionally lost. He feels guilt that he's still alive, but his feelings are further conflicted in ways we'll learn as the series progresses. Mabel is a blast of love, passion and insanity that Mac needs. It's something lurking within him that's been waiting his whole life to emerge.
BB: In In Cold Blood, Truman Capote wrote about the real-life murder of the Clutter family in 1959 Holcomb, Kansas. Capote always maintained the perpetrators would never have done the deed alone, but each fed off the other. Is Mabel's company similar in its effect on Mac?JR:
Mac and Mabel's path together takes them in a different direction where the violence is more of them surviving together against forces even greater than their own. However, Mac does get awakened by something in Mabel and then his presence is the steadying factor that Mabel needs. So, yes, in a way they do feed off each other.
BB: There is a scene in issue #2 that is really revealing on Mabel's character, and also damn funny! She encounters this … well, a guy who is not at all glad about his lot in life. Are these little gems conceived by you first (or afterward) outside the main plotting and then inserted as the story allows for dark humor, to catch our collective breath, or do they just naturally flow as the story comes?JR:
A bit of both. As I recall, the sequence you're referring came to me in a flash. Partly to show that Mabel can handle herself and also to show the potential threat/menace in Mabel if you cross her.
BB: Can you tell us any more at all about some of those curious characters at the police station? Some who might become of more import as Grand Passion unfolds?JR:
Wait and see.
BB: You were originally going to do strictly a romantic comic for Dynamite, before the crime element was added. Can you give us any elevator pitch for THAT comic? If Mac and Mabel were characters, how would they be different? (I'm guessing Mabel would not be a professional criminal, lol.)JR:
I'm afraid it didn't really get that far. I know there was the germ of something, but I don't recall it. Being who I am, the crime element came pretty quickly.
BB: John Cassaday has done a couple of great covers for this series thus far. How do you feel about the covers as to what mood they establish for this bullet-riddled romance?JR:
John really gets into the design, but not purely the aesthetic. He talked to me about the facial designs of the characters and who they were as people. He really gets beyond the line on the page. Super thrilled and honored to be working with him.
For more information on
Grand Passion
#2,
click here
.