CAPTAIN MARVEL – JULY 2012!
03/12/12 @ 1:36 pm EST
Source:
Marvel
|
Comments
(0) |
E-mail Article
|
Add a Comment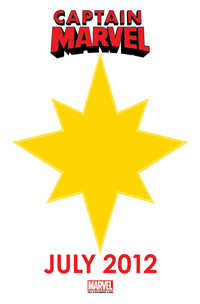 Find out more Saturday, March 17th at the Talk To The Hat panel, 4:00PM PST, during Wondercon 2012!
Can't make it to the convention? Follow along on the
Marvel Events App
&
events.marvel.com
, the best way to get exclusive videos, real-time announcements from the convention floor and up-to-the-minute panel, in-booth, and signing schedules of all your favorite Marvel creators!
To find a comic shop near you, call 1-888-comicbook or visit
www.comicshoplocator.com
Marvel Entertainment, LLC, a wholly-owned subsidiary of The Walt Disney Company, is one of the world's most prominent character-based entertainment companies, built on a proven library of over 8,000 characters featured in a variety of media over seventy years. Marvel utilizes its character franchises in entertainment, licensing and publishing. For more information visit
www.marvel.com
JULIE DELPY AND LINDA CARDELLINI CONFIRMED FOR
04/01/15 @ 8:04 pm EST
Source:
Comic Book Resources
| Categories:
Avengers
|
Comments
(0) |
E-mail Article
|
Add a Comment
After their names appeared on a list of cast members attending the "Avengers: Age of Ultron"premiere, Disney confirmed to SlashFilm that Julie Delpy ("Before Sunrise") and Linda Cardellini ("Freaks and Geeks," "ER") were involved in the film.
Though Disney confirmed that the actresses' names were not a misprint on the aforementioned list, the representative did not offer any additional details, which leaves their roles unknown at this time.
Their capacity within the film is likewise unknown, though their reputations and this late announcement suggest that they may only have cameo roles.
Marvel's "Avengers: Age of Ultron" arrives in theaters on May 1.
CHARLIE COX VISITS LETTERMAN TO TALK ABOUT MARVEL'S DAREDEVIL
04/01/15 @ 7:58 pm EST
Source:
Bleeding Cool
| Categories:
Daredevil
|
Comments
(0) |
E-mail Article
|
Add a Comment
An under-the-weather
Charlie Cox
made a visit to the
Late Show with David Letterman
to talk about the upcoming
Netflix
series
Marvel's Daredevil
.
Cox admitted that he had a bit of food poisoning from some dodgy prosciutto from the hotel mini-fridge and he would have cancelled his appearance if
David Letterman
was not retiring soon.
He spoke about
Daredevil
, describing the character as his blindness being the source of his strength. He also talked about binge viewing of the show and how Netflix would like the actors to stress that in the press.
Marvel's Daredevil
premieres on Netflix April 10th.
Check on Cox's Letterman appearance here:
https://www.youtube.com/watch?v=JH6xugOD5rg
HEART AND SOULE: A RETURN FROM THE LAND OF THE DEAD
04/01/15 @ 7:45 pm EST
Source:
Comic Book Resources
| Categories:
Inhumanity
|
Comments
(0) |
E-mail Article
|
Add a Comment
It's a time of great trials and tribulations for the Royal Family of Marvel Comics' Inhumans.
They're trying to reestablish their Capital City of Attilan as an island in New York's Hudson River; they're training and taking in the newly powered Inhumans emerging across the globe thanks to a cloud of transformative mist released by their former king, Black Bolt; and they're dealing with the threat of hostile rival Inhuman factions.
Making things even more perilous is Queen Medusa taking these threats on without Karnak, one of her most trusted advisors who took his own life in the aftermath of Marvel's recent "Infinity" event.Lacking Karnak's advice and ability to perceive weaknesses and stress points in virtually anything,
Medusa has turned to other advisors like the "Nuhuman" Lineage, and in writer Charles Soule and artist Andre Araujo's "Inhuman" #13 the former mobster showed his treacherous true colors by luring the Royal Family into a trap and shooting another of its members in the back.
While things are decidedly bleak, all hope is not lost after the final page revealed Karnak alive and observing Lineage's treachery from the afterlife, announcing his discovery of a weakness in the land of the dead.
DEADPOOL MOVIE OFFICIALLY RATED R
04/01/15 @ 7:22 pm EST
Source:
Comicbook
| Categories:
Deadpool
|
Comments
(0) |
E-mail Article
|
Add a Comment
Fox has officially given their Deadpool solo film an "R" rating, ending speculation over whether the studio would actually distribute a movie worthy of the Merc with a Mouth. The news comes via JoBlo in a move that one could only expect from a Deadpool movie.
Directed by Tim Miller, Deadpool stars Ryan Reynolds as Deadpool/Wade Wilson, Morena Baccarin as Copycat,and T.J. Miller as Weasel. The film comes from a script co-written by Deadpool creator Rob Liefeld, Fabian Nicieza, Rhett Reese, and Paul Wernick.
The news follows last week's major reveal of Ryan Reynolds in the official Deadpool costume, sporting a look that's almost identical to the character's comic book interpretation. And now with a "R" rating that will most likely honor the character's dark humor and gratuitous violence, it looks like
Deadpool
may be one of the most faithful comic adaptations yet.
Deadpool hits theaters on February 12, 2016.
WIZARD WORLD, CONTV PRESENT CON FILM FESTIVAL IN PHILADELPHIA, SACRAMENTO, CHICAGO, AUSTIN
04/01/15 @ 7:17 pm EST
Source:
Wizard World
| Categories:
MIsc
|
Comments
(0) |
E-mail Article
|
Add a Comment
Wizard World and CONtv are proud to present the CON Film Festival. The 2015 film festivals will take place alongside Wizard World Comic Con Philadelphia (May 7-10), Sacramento (June 19-21), Chicago(August 20-23) and Austin (Oct. 30-31).

The CON Film Festival mission is to showcase the next generation of pop culture entertainment. Winners of the CON Film Festival will not only receive cash prizes but will be considered for distribution on CONtv, which provides audiences access to thousands of hours of content showcasing an original slate of programming, as well as an eclectic catalog of over 1,200 must-watch titles.

This is a excellent opportunity for film makers to get the content recognized by their peers in the pop culture space.


NEAL ADAMS RACEBENDS STAN LEE'S TWO-ISSUE FLOP, SOLARMAN
04/01/15 @ 3:55 pm EST
Source:
Bleeding Cool
| Categories:
Stan Lee
|
Comments
(0) |
E-mail Article
|
Add a Comment
It's an all-but-forgotten piece of Stan Lee's back catalogue.
Solarman
was written by Stan Lee and drawn by
Jim Mooney
and
Mike Zeck,
in 1989. Part of a pitch for an animated series starring a new Marvel character, the pilot episode flopped and the series lasted for two issues.
The comic saw wannabe Marvel artist teenager Benjamin Tucker gaining alien technological power, along with a helpful robot called Beepie. Permanent bracelets can transform sunlight into superpowers and a super identity of Solarman.
But because the character wasn't original to Marvel Comics, and was created by producer
David Oliphant
ten years previously as an educational comic drawn by
Dick Giordano
, the comic can now be revived without Marvel Comics.
And with
Neal Adams
. Fresh from
Batman
and
Wolverine
comic books, Adams is looking for something to up his profile, and so Solarman is it.
DYNAMITE TO PUBLISH GRUMPY CAT COMICS
04/01/15 @ 3:51 pm EST
Source:
Bleeding Cool
| Categories:
Dynamite
|
Comments
(0) |
E-mail Article
|
Add a Comment
From Bleeding Cool, this April Fool oddity that is absolutely true:
The latest in Dynamite's line of licensed comic books will be one based on internet meme and very real feline,
Grumpy Cat
.
Dynamite has a history of signing up all manner of interesting licenses from
James Bond
, to today's
Looking For Group
to
Battlestar Galactica
to
Army Of Darkness
to
The Phantom
to
Doodle Jump.
How the famously mardy moggy will feature in a Dynamite book is anyone's guess, however.
Something like this, perhaps?
'SECTION 6′ WRITER TO PEN 'G.I. JOE 3′
04/01/15 @ 3:43 pm EST
Source:
Comic Book Resources
| Categories:
MIsc
|
Comments
(0) |
E-mail Article
|
Add a Comment
Aaron Berg, known for his work
on "Section 6," will pen the next installment in the "G.I. Joe" franchise, according to The Hollywood Reporter.
D.J. Caruso will direct "G.I. Joe 3," which Paramount Pictures hopes will revitalize the franchise.
Although the first two films, "Rise of Cobra" and "Retaliation," grossed $302 million and $375 million, respectively, fans haven't been clamoring for more."G.I. Joe 3″ is scheduled for release in 2016.
DARK HORSE OFFERS "BARB WIRE" VARIANT FOR MARVEL'S "STAR WARS" #1 COVERS
04/01/15 @ 3:38 pm EST
Source:
Comic Book Resources
| Categories:
Dark Horse
|
Comments
(0) |
E-mail Article
|
Add a Comment
In a move reminiscent of Marvel Comics' promotion of "Siege" in 2010, Dark Horse Comics has announced a program offering retailers the chance to trade in covers from unsold copies of "Star Wars" #1 for a special variant cover edition of the upcoming "Barb Wire" #1.
The press release also touts a promotion which will support the upcoming "King Tiger" miniseries by awarding a fan with a full-grown Bengal tiger.This being April Fool's Day, the latter promotion is certainly a joke.
When reached for more information about the variant program, Dark Horse reiterated the promise in its press release to provide more information in the weeks ahead.
FROM UNCHARTED REGIONS OF THE UNIVERSE COMES VOLTRON CAT CONDO
04/01/15 @ 3:17 pm EST
Source:
Comic Book Resources
| Categories:
MIsc
|
Comments
(0) |
E-mail Article
|
Add a Comment
None of my pets has shown even a passing interest in a cat condo, but maybe that's because I've never bought one shaped like Voltron, Defender of the Universe.
Measuring nearly 6 feet tall, it features eight fleece-covered tunnels and interior access
to all levels. However, there's no blazing sword, which is probably for the best. Also: If you shout "Ready to form Voltron," your cats will ignore you because, well … they're cats. That's what they do.
The Voltron Cat Condo is available for $189.99 from ThinkGeek. (SOurce: CBR/Robot 6)