MARVEL DOUBLES THE VALUE OF ALL ITS TOP-SELLING SUPER HERO COMICS
03/09/12 @ 10:20 am EST
Source:
Marvel
|
Comments
(0) |
E-mail Article
|
Add a Comment
The World's Top Comic Publisher Announces Landmark Digital Initiative
Marvel is proud to announce that, beginning June 2012, all Marvel super hero comics priced at $3.99 will include codes for free digital copies of those same issues on the
Marvel Comics app
for iOS and Android devices at no extra cost! That's right, the most-talked-about comics in the industry—including
Avengers
,
Captain America
,
Invincible Iron Man
,
Mighty Thor
,
Amazing Spider-Man
.
Wolverine & The X-Men
and more—will come packed with a code to ensure fans have the most critically acclaimed stories with them anytime, anywhere.
"We're committed to bringing fans the best value in comics. By including codes for free digital copies in all our $3.99 super hero comics, we're doing just that" said David Gabriel, SVP of Sales, Marvel Entertainment. "We've seen a tremendous response to the digital codes in
Avenging Spider-Man
, our
Season One
graphic novels and the Ultimate Comics line. The positive reactions from both retailers and fans make it clear that including these codes with our books drives customers into comic stores on a repeated basis."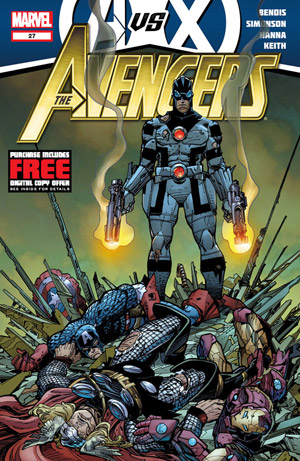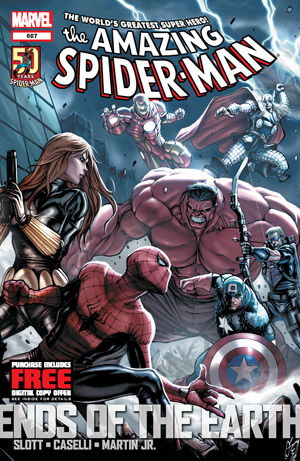 Marvel made comic book history in 2011 by announcing all titles in the Ultimate Comics line would include codes for free digital copies on the
Marvel Comics app
, with unrivaled incentives for comic shop retailers. Then, in 2012, Marvel announced the acclaimed
Season One
graphic novels would also include similar codes making them the first graphic novels to ever include codes for free digital copies at no extra cost.
"At Marvel, we're always looking for ways to bring the worlds of print and digital media together to deliver the best comics experience for our fans," said Peter Phillips, SVP & GM, Marvel Digital Media. "With this next step, fans will soon be able to buy their comics from their favorite retailers but also enjoy them on their mobile devices and tablets, all at no extra charge. Welcome to the Revolution."
To find a comic shop near you, call 1-888-comicbook or visit
www.comicshoplocator.com
Marvel Entertainment, LLC, a wholly-owned subsidiary of The Walt Disney Company, is one of the world's most prominent character-based entertainment companies, built on a proven library of over 8,000 characters featured in a variety of media over seventy years. Marvel utilizes its character franchises in entertainment, licensing and publishing. For more information visit
www.marvel.com
SPOILERY 'X-FILES' PHOTO TEASES SCULLY'S TRUE CONNECTION TO HER CASES
02/08/16 @ 11:25 am EST
Source:
Comic Book Resources
| Categories:
X-Files
|
Comments
(0) |
E-mail Article
|
Add a Comment
In a two-and-a-half minute preview for the "X-Files" season finale, Scully may have shown her true colors.
As revealed in the video, which ran during Super Bowl 50, the finale opens in much the same way the season premiere did: with an extensive monologue from one of the lead characters. However, instead of Mulder, Scully is the one recounting her cases, and her final moment hints at her rather intimate connection to them all.
Though the video has since been removed, TVLine snagged a photo of the final(and potentially spoilery) image, which hints there's more to Scully than meets the eye.
Set to run for six episodes, "The X-Files" airs Mondays on Fox at 8 p.m. EST. Theseason finale bows on February 22.
CINESITE TO PRODUCE NINE ANIMATED MOVIES IN MONTREAL IN FIVE YEARS
02/08/16 @ 10:41 am EST
Source:
Variety
| Categories:
MIsc
|
Comments
(0) |
E-mail Article
|
Add a Comment
Visual effects and animation studio Cinesite has launched its animated production division Cinesite Animation, and unveiled a slate of nine animated feature films that will go into production over the next five years in Montreal, Canada, with backing from the Quebec government. The first project will be "Klaus," written and directed by Sergio Pablos, the co-creator of "Despicable Me."
Investissement Quebec, acting on behalf of the Quebec government, is advancing a loan of C$2.4 million ($1.72 million) to Cinesite Animation to help set up the production infrastructure in Montreal. An additional loan guarantee of C$19.6 million ($14.1 million) towards an overall budget of at least C$90 million ($64.6 million) is being advanced to the production company to help with the financing of each of the first three animated films.
Six more films are planned to follow, which will see the facility at full capacity with more than 500 new permanent jobs by 2020.
Pablos' "Klaus," Cinesite Animation's first animated production, will be co-produced with SPA Studios, Atresmedia Cine and Comic Animations. It is the story of Santa Claus told from the perspective of a young, Scandinavian mailman, Jesper.
Cinesite Animation's second animated feature is inspired by the stage show "Riverdance," and will feature the Grammy-award winning music from the production, composed by Bill Whelan. The movie is being developed by Comic Animations and Ireland's River Productions.
Cinesite Animation will be both a service and production company. Cinesite's existing service deal with 3QU to make their four films remains in place with "Charming" and a second project in full swing, and the third film about to start.
"Klaus" video:
https://youtu.be/tP_lqTq8Mck
ONI PRESS GRAPHIC NOVELS SELECTED FOR YALSA BOOK LISTS
02/08/16 @ 10:33 am EST
Source:
Oni Press
| Categories:
MIsc
|
Comments
(0) |
E-mail Article
|
Add a Comment
Oni Press is proud to announce that the
Young Adult Library Services Associate (YALSA)
committee has chosen four Oni Press graphic novels for their 2016 book lists.
Bad Machinery Volume 4: The Case of the Lonely One
by John Allison,
Junior Braves of the Apocalypse Volume 1: A Brave is a Brave
by Greg Smith, Michael Tanner, and Zach Lehner,
Meteor Men
by Jeff Parker and Sandy Jarrell with Kevin Volo, and
Princess Ugg Volume 1
by Ted Naifeh were chosen for YALSA's 2016
"Great Graphic Novels for Teens"
list.
Junior Braves of the Apocalypse Vol. 1
was also chosen for the 2016 "
Quick Picks for Reluctant Young Adult Readers"
list.
INTERNATIONAL "WALKING DEAD" TEASER POTENTIALLY SPOILS MAJOR STORYLINE
02/08/16 @ 10:26 am EST
Source:
Comic Book Resources
| Categories:
Walking Dead
|
Comments
(0) |
E-mail Article
|
Add a Comment
SPOILER WARNING: The following article contains major spoilers for upcoming storylines for AMC's "The Walking Dead" and past plot points from the Image Comics series.
What appears to be a new promotional photo for the second half of "The Walking Dead's" sixth season could very well spoil a major plot point for the television show.
The photo, which appears to originate from a Russian FOX affiliate, shows star Carl Grimes (Chandler Riggs) with a bandaged eye.
In the comics, Carl received a similar wound when he was accidentally shot in the face by Douglas Monroe, a character who has already died in the AMC drama. In the comics, Carl survives but loses his eye completely, initially wearing the bandage to cover the gaping wound that never fully healed before making the change to dark sunglasses.
Carl's injury, as illustrated by "Walking Dead" artist Charlie Adlard
BOBBI MORSE GOES SOLO IN YOUR FIRST LOOK AT MOCKINGBIRD #1
02/08/16 @ 10:11 am EST
Source:
Marvel
| Categories:
Marvel
|
Comments
(0) |
E-mail Article
|
Add a Comment
Spinning out of the smash-hit sold out SHIELD 50th Anniversary Special comes her very first ongoing series! Today, Marvel is pleased to present your first look inside
MOCKINGBIRD #1
– from New York Times bestselling author Chelsea Cain and Marvel newcomer Kate Niemczyk! Bobbi Morse. Codename: Mockingbird. S.H.I.E.L.D.'s most versatile, resourceful and in-demand agent. But a string of missions gone wrong point to something rotten going on in S.H.I.E.L.D.'s own medical and recovery network. The more she digs, the more widespread the conspiracy becomes. How deep does it go? Can she find the culprit before it's too late? Find out as
MOCKINGBIRD #1
by Cain and Niemczyk comes to comic shops and digital devices this March!
MOCKINGBIRD #1 (JAN160756)Written by CHELSEA CAINArt by KATE NIEMCZYKCover by JOELLE JONESVariant Cover by AFU CHAN (JAN160757)Hip-Hop Variant by JEFF DEKAL (JAN160759)Young Variant by SKOTTIE YOUNG (JAN160760)Action Figure Variant by JOHN TYLER CHRISTOPHER (JAN160761)Women of Power Variant by KIRBI FAGAN (JAN160758)FOC – 02/08/16, On-Sale – 03/02/16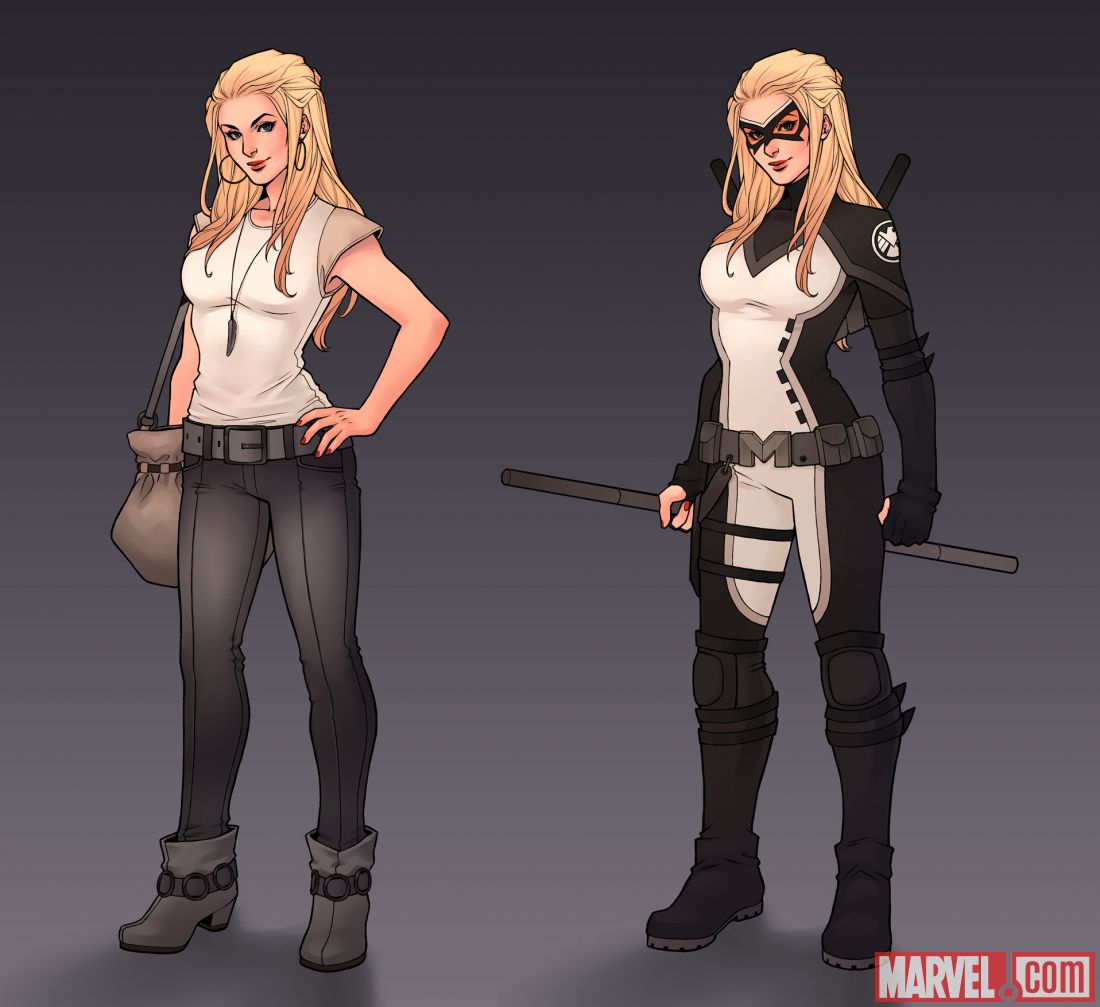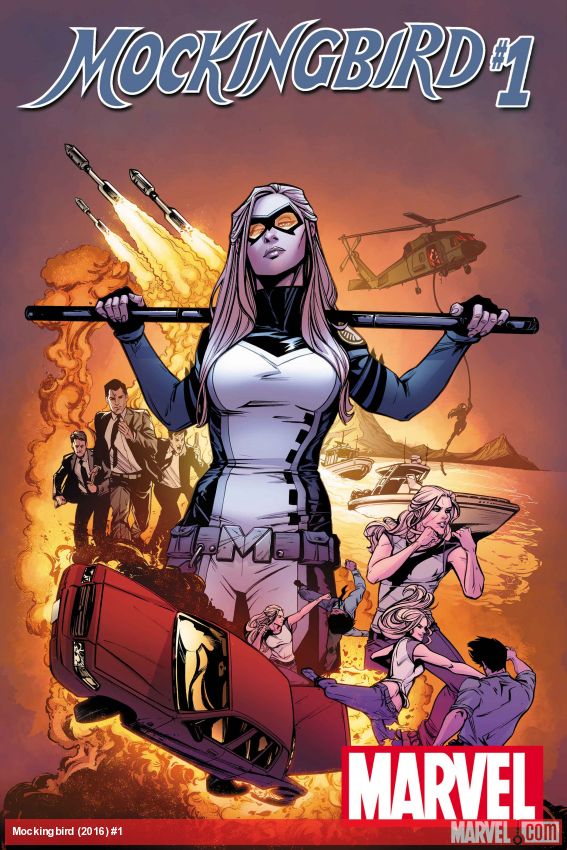 PAPER PUNK TEAMS WITH MY LITTLE PONY
02/08/16 @ 10:05 am EST
Source:
Licensemag.com
| Categories:
My Little Pony
|
Comments
(0) |
E-mail Article
|
Add a Comment
Paper Punk has teamed with Hasbro's My Little Pony to release six new Paper Punk kits featuring characters from the franchise.
Each kit will offer colorful 2D flat shapes for consumers to transform into 3D geometric paper blocks that are part toy and part art.
The Paper Punk My Little Pony Kits will debut at the New York Toy Fair in New York City on Feb. 13-16.
MARVEL EVENTS GET NEW LEADERSHIP
02/08/16 @ 10:04 am EST
Source:
Licensemag.com
| Categories:
Marvel
|
Comments
(0) |
E-mail Article
|
Add a Comment
Victory Hill Exhibitions, a global production and distribution company, has appointed Daniel Pearce and Michael Mattox to open its "The Transformers Experience" and "Avengers S.T.A.T.I.O.N." in Las Vegas, Nev.
Pearce will serve as the general manager, while Mattox will serve as director of technical operations.
Prior to joining Victory Hill, Pearce served as director of retail operations for the MGM Grand Las Vegas Hotel and Casino and oversaw the development of five retail offerings and was integral in opening "CSI: The Experience at MGM Grand."
Mattox joins Victory Hill after serving as director of theatrical services and entertainment operations at SeaWorld San Diego.
"Entering the Las Vegas market, it is vital to have experts on the ground who know the Southern Nevada and entertainment landscapes," says Ron Tan, chief executive officer and president, Victory Hill. "Daniel and Michael are well-equipped to not only launch these spectacular attractions in Vegas, but help keep our momentum going for the months and years to come."
"The Transformers Experience" and "Avengers S.T.A.T.I.O.N." will occupy nearly 30,000-square-feet of the Treasure Island Hotel and Casino in Las Vegas. "Avengers S.T.A.T.I.O.N." is slated to open this spring while "The Transformers Experience" will open later this year.
MARVEL RELEASES 'AVENGERS ACADEMY'
02/08/16 @ 10:00 am EST
Source:
Licensemag.com
| Categories:
Avengers
|
Comments
(0) |
E-mail Article
|
Add a Comment
Marvel has partnered with TinyCo to release the new mobile game "Marvel Avengers Academy" on the App Store and Google Play.
"Marvel Avengers Academy" will feature all of the
Avengers
characters including Captain America, Thor, Hulk, Black Widow, Iron Man and more. The game will also introduce fans to other characters such as Spider-Woman, Tigra, the Enchantress and Captain Marvel among others.
In the game, players will enroll, build and run the Avengers Academy. While at the academy, players will find their favorite super heroes (and villains) reimagined as students as they upgrade their own abilities by attending class, joining sports teams and attending combat training.
Additionally, for the first time in a Marvel game, players will experience a social side to the campus through cliques, going on dates and navigating the social ups and downs of the characters' lives.
To build on the new Avengers experience, TinyCo selected some of the biggest names in entertainment to lend their voices to the characters including John Cena (Hulk), Dave Franco (Tony Stark), Alison Brie (Black Widow), A$AP Rocky (Falcon) and Bella Thorne (Tigra), among others.
"We've been very fortunate to work closely with Marvel on this fresh take of the
Avengers
franchise," says Suli Ali, founder and chief executive officer, TinyCo. "With the amazing voice talent we've brought aboard for this game, and a best-in-class production team, we know that we've created an authentic Avengers experience that can stand proudly alongside the best of the Marvel Universe–one that will continue to evolve as we support the title with big content updates featuring new characters and new exciting adventures."
"Marvel Avengers Academy" is now available to download for free on both the App Store and Google Play.
AN ARMY OF MUTANTS GOES TO WAR IN NEW
02/07/16 @ 11:53 pm EST
Source:
Comic Book Resources
| Categories:
X-Men
|
Comments
(0) |
E-mail Article
|
Add a Comment
Not to be outdone by the waves of superhero spots arriving with the Super Bowl, 20th Century Fox lined up their second X-Men movie of the year with a new look at Bryan Singer's "X-Men: Apocalypse."
Every variety of mutant from returning stars like Jennifer Lawrence's Mystique and Michael Fassbender's Magneto to new players like Olivia Munn's Psylocke and Oscar Isaac's titular villain to recast heroes like Sophie Turner's Jean Grey shows up in the short, action-heavy trailer.
Check it out here:
https://youtu.be/mnu06cIUpMs
ANT-MAN & THE HULK HAVE THEIR OWN "CIVIL WAR" OVER CAN OF COKE IN SUPER BOWL SPOT
02/07/16 @ 8:42 pm EST
Source:
Comic Book Resources
| Categories:
Marvel
|
Comments
(0) |
E-mail Article
|
Add a Comment
The Super Bowl broadcast has long been the home of both big budget ad buys for corporations and the releases of the latest movie trailers. Those worlds just collided with a new Coco-Cola spot featuring Marvel Studios' Ant-Man and Hulk characters.
In the one-minute ad, Paul Rudd's diminutive superhero and Mark Ruffalo's massive monster go to war over a can of Coke.
Check it out here:
https://youtu.be/OlZqBR3yTiw