MARVEL DOUBLES THE VALUE OF ALL ITS TOP-SELLING SUPER HERO COMICS
03/09/12 @ 10:20 am EST
Source:
Marvel
|
Comments
(0) |
E-mail Article
|
Add a Comment
The World's Top Comic Publisher Announces Landmark Digital Initiative
Marvel is proud to announce that, beginning June 2012, all Marvel super hero comics priced at $3.99 will include codes for free digital copies of those same issues on the
Marvel Comics app
for iOS and Android devices at no extra cost! That's right, the most-talked-about comics in the industry—including
Avengers
,
Captain America
,
Invincible Iron Man
,
Mighty Thor
,
Amazing Spider-Man
.
Wolverine & The X-Men
and more—will come packed with a code to ensure fans have the most critically acclaimed stories with them anytime, anywhere.
"We're committed to bringing fans the best value in comics. By including codes for free digital copies in all our $3.99 super hero comics, we're doing just that" said David Gabriel, SVP of Sales, Marvel Entertainment. "We've seen a tremendous response to the digital codes in
Avenging Spider-Man
, our
Season One
graphic novels and the Ultimate Comics line. The positive reactions from both retailers and fans make it clear that including these codes with our books drives customers into comic stores on a repeated basis."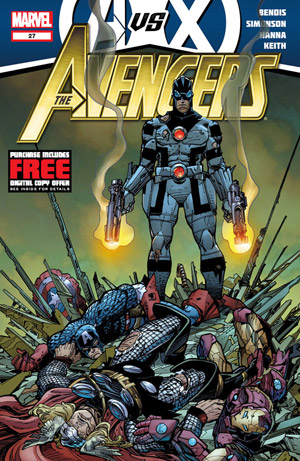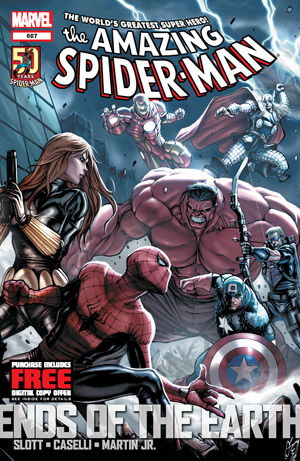 Marvel made comic book history in 2011 by announcing all titles in the Ultimate Comics line would include codes for free digital copies on the
Marvel Comics app
, with unrivaled incentives for comic shop retailers. Then, in 2012, Marvel announced the acclaimed
Season One
graphic novels would also include similar codes making them the first graphic novels to ever include codes for free digital copies at no extra cost.
"At Marvel, we're always looking for ways to bring the worlds of print and digital media together to deliver the best comics experience for our fans," said Peter Phillips, SVP & GM, Marvel Digital Media. "With this next step, fans will soon be able to buy their comics from their favorite retailers but also enjoy them on their mobile devices and tablets, all at no extra charge. Welcome to the Revolution."
To find a comic shop near you, call 1-888-comicbook or visit
www.comicshoplocator.com
Marvel Entertainment, LLC, a wholly-owned subsidiary of The Walt Disney Company, is one of the world's most prominent character-based entertainment companies, built on a proven library of over 8,000 characters featured in a variety of media over seventy years. Marvel utilizes its character franchises in entertainment, licensing and publishing. For more information visit
www.marvel.com
ANOTHER BOARDWALK EMPIRE STAR JOINS THE SUPERHERO WORLD
09/23/14 @ 7:40 pm EST
Source:
Bleeding Cool
| Categories:
Marvel
|
Comments
(0) |
E-mail Article
|
Add a Comment
A lot of casting directors must love
Boardwalk Empire
. Seems like we're getting a lot of casting news based on actors from that show including
Michael Shannon
playing
General Zod
,
Charlie Cox
playing
Daredevil
and the rumor of
Jack Huston
playing
Doctor Strange
, but he's a little busy now.
We have news that
Shea Whigham
has found his next role and it's on
Marvel's Agent Carter
. According to Deadline (via Bleeding Cool), Whigham will play what is considered the male lead of the series opposite of
Hayley Atwell
. He will be playing
SSR Chief Roger Dooley
and will oversee agents Carter, Thompson (
Chad Michael Murray
) and Sousa (
Enver Gjokaj
).
DARK HORSE PUTS FREE DIGITAL HALO COMICS IN SEPTEMBERíS LOOT CRATE
09/23/14 @ 7:34 pm EST
Source:
Bleeding Cool
| Categories:
Dark Horse
|
Comments
(0) |
E-mail Article
|
Add a Comment


Ever notice how the inclusion of a comic book in a subscription box, such as Loot Crate or Nerd Block, can significantly affect the recorded sales of a comic, with both Amazing Spider-Man #1 and Rocket Raccoon #1 seeing significant bumps. Doctor Who: The Tenth Doctor and The Eleventh Doctor #1 also did rather well out of it.

Well next up in September's Loot Crate are three issues of Dark Horse's licensed comic book Halo Escalation. Not the print versions, but the digital ones. A code for a free Halo comic on the Dark Horse App/digital distribution system.

So how will Halo fare? Have to wait and see.
THE GOLDEN AGE IS OVER IN C.O.W.L.
09/23/14 @ 7:10 pm EST
Source:
Image
| Categories:
Image
|
Comments
(0) |
E-mail Article
|
Add a Comment
The Chicago Organized Workers League once stood as the embodiment of the Golden Age of superheroes — a union for Chicago's best hopes against the scourges of organized crime and supervillainy. But in C.O.W.L. VOLUME 1: PRINCIPLES OF POWER by Kyle Higgins, Alec Siegel, and Rod Reis, it's 1962, and everything has changed. The last of the supervillains has been defeated, the public is cynical, and scandal and corruption plague the once-irreproachable organization.
In this Fall graphic novel from Image Comics, C.O.W.L. must re-invent itself for changing times — but will it survive the process?
Co-writer Higgins, who made his name in comics writing
Batman
and
Nightwing
at DC Comics, commented on the difference between writing about his own superheroes and writing for company-owned characters in an interview on Image Comics' website.
"Our characters can change," he said. "As much as I love writing guys like
Batman
and
Nightwing
, there's a very set standard when it comes to who they are and what they can do… how they're allowed to react to certain things and what decisions/mistakes they're allowed to make. We don't really have those limitations in
C.O.W.L.
, which means being able to explore these heroes as real people, watching them grow and change… for better and for worse."
Artist Reis's retro, stylish art on C.O.W.L. has been widely hailed as perfectly conjuring the early '60s, as does Higgins' and Siegel's story, which depicts a once-static organization adapting to the rapid cultural change of its time.
C.O.W.L. VOLUME 1, specially priced at $9.99, will be in comic book stores on October 29 and bookstores on November 11. It is available for pre-order now.
ISBN 978-1-63215-111-7 Diamond Comics code AUG140586 128 pages, paperback, full color $9.99 Rated Mature
Collects C.O.W.L. #1-5 In comic book stores 10/29; bookstores 11/11
NO MEMORY, NO IDENTITY, AND NOWHERE TO RUN IN THE FIELD
09/23/14 @ 7:05 pm EST
Source:
Image
| Categories:
Image
|
Comments
(0) |
E-mail Article
|
Add a Comment
A man wakes up in a field, wearing only his underwear, with no memory, no identity, and no idea what to do. A cell phone beside him buzzes with a message. A single word: "Run." A deadly cat-and-mouse story ensues in THE FIELD, a graphic novel by Ed Brisson (SHELTERED, COMEBACK) and Simon Roy (PROPHET), out from Image Comics this October.
The man falls into the grips of a Bible salesman on a meth-fueled murder spree in a small town where the rules of civilization seem not to apply. Pursued by a biker gang bent on revenge and a group of cosplayers out to save the world, the man begins to wonder — Is Christian the Bible salesman really his only hope for survival?
Writer Brisson has cited 1980s B-movies like
Repo Man
as an inspiration for THE FIELD, but the germ of a story came to him as a Twitter prank after a friend jokingly declared Brisson missing after a night at a bar.
"I just started tweeting about how I'd woken up in a wheat field naked and in the middle of Saskatchewan," Brisson said in an interview with Multiversity Comics. "And I just tweeted about all this crazy sh*t that was happening to me, how I had this cellphone and people kept calling me on the cellphone and threatening me and sending me text messages that my life was in danger. Then I got picked up by this guy who brought me on a crime spree."
After reassuring his friends and family that he was not really in danger, Brisson realized he had a story -- and that Simon Roy would be the perfect artist for it. Roy is the lead artist and co-writer on the surreal re-imagining of Rob Liefeld's PROPHET with Brandon Graham. Besides a keen eye for the bizarre, Roy brings a loose style that captures the Lynchian atmosphere of the world of THE FIELD.
THE FIELD will be in comic book stores on October 15 and bookstores on October 28 and is available for pre-order now. It has been optioned by Canadian company LaRue Entertainment for production as a feature film.
THE FIELD by Ed Brisson and Simon Roy, colors by Simon Gough
ISBN 978-1-63215-106-3 Diamond Comics code JUL140489 128 pages, paperback, full color $14.99 Rated Mature
Collects the complete miniseries THE FIELD (#1-4)
In comic book stores 10/15; bookstores 10/28
MARVEL'S AVENGERS ASSEMBLE IS BACK
09/23/14 @ 6:57 pm EST
Source:
Marvel
| Categories:
Avengers
|
Comments
(0) |
E-mail Article
|
Add a Comment
The Avengers are back in the second season of "Marvel's Avengers Assemble"! Tune in this Sunday to Disney XD at 8:30 a.m. ET to catch the season premiere.

Captain America, Thor, Iron Man and the rest of the team are tasked with taking down some drone ships in this new clip from the season premiere, but they'll have to pull double duty as they try to save a passenger plane at the same time. Luckily, it helps to have a few Avengers around who can fly!

Make sure to check out the episode when it premieres this Sunday at 8:30 a.m. on Disney XD!

2015 COMICSPRO MEETING SET IN PORTLAND
09/23/14 @ 6:53 pm EST
Source:
ICv2
| Categories:
MIsc
|
Comments
(0) |
E-mail Article
|
Add a Comment
The 2015 ComicsPRO Annual Membership Meeting will be held in Portland, Oregon on February 19 -21, the organization announced. The Downtown Portland Hilton will be the venue. The Meeting is expected to bring together member retailers, distributors, publishers and vendors to discuss the issues of the day and ways to improve the market.

The last few ComicsPRO Annual Meetings have been in Atlanta, and this will be a first meeting for the West Coast. Portland seems like an odd choice (#22 market in the U.S., not a major air hub), until you consider its importance to the comics business (Dark Horse, a top five publisher, and Oni, publisher of the hit Scott Pilgrim series and others, are headquartered there), and that it's sort of centrally located on the north-south West Coast axis, giving a nod to the growing comic scene in the Pacific Northwest.

'GOTHAM' PREMIERE NETS EIGHT MILLION; TOP DRAMA DRAW FOR MEN 18-49
09/23/14 @ 6:51 pm EST
Source:
ICv2
| Categories:
Gotham
|
Comments
(0) |
E-mail Article
|
Add a Comment
Fox's Gotham premiered last night to eight million viewers, posting a strong showing against some stiff competition, which included CBS' Big Bang Theory.

Gotham placed third among the broadcasters in 18-49 for the 8 PM slot, but it was also Fox's best drama premier in recent years, Gotham also grew in the second half hour in key demographic categories, and actually was the nights's top drama draw for men 18-49, besting both Scorpion and Blacklist.

Numbers might have been higher, but Gotham faced tough geek TV competition with CBS' (temporary) relocation of The Big Bang Theory to the same timeslot with back-to-back originals. While comic stores bemoan hipster Sheldon impersonators visiting but not buying, there's no denying the show's comic-aficionado characters appeal to the geek market. Big Bang Theory was the top entertainment series among adults 18-49 after "live plus same-day" Nielsen estimates, with the first half-hour netting 17.8 million viewers overall, and the 8:30 episode netting 18.0 million. Next week Gotham will face down NCIS: Los Angeles on CBS, and while the drama/crime element is similar, the target audience will likely be less split.
TOP EXECUTIVES, EXPERTS GATHER AT ICV2 CONFERENCE ON THE NEW COMICS CUSTOMER
09/23/14 @ 6:47 pm EST
Source:
ICv2
| Categories:
MIsc
|
Comments
(0) |
E-mail Article
|
Add a Comment
ICv2 has announced its initial speaker list for the ICv2 Conference: The New Comics Customer, a special industry event held in conjunction with New York Comic Con. The list includes top executives from comic and graphic novel publishers, convention organizers, digital and physical comic retailers, and other experts, all coming together to discuss the dramatic changes in the comics and graphic novel audience that are transforming the business.

"I've never seen anything like what's happening in the comics and graphic novel business right now," ICv2 CEO Milton Griepp said of the Conference focus. "There are a whole range of factors that are driving these changes, and we've brought together some of the best minds in the business to explore what's happening."

The new comic customers, often outside the teen and young adult male segments that dominated comics for years, are being drawn to comics and graphic novels in new ways, buying them in new formats, including digital, and choosing stories that even a few years ago would not have been able to find sufficient audiences but now are turning into big hits.

The ICv2 Conference will bring together the data and the people that can help explain this phenomenon, the sources of growth, and the prospects for the future. Speakers include Lance Fensterman, the SVP in charge of ReedPOP, which runs New York Comic Con and a host of other pop culture shows; David Steinberger, CEO of comiXology, the leading digital comics company; Ted Adams, CEO of IDW Publishing; Jon Goldwater, Co-CEO of Archie Comics, and a host of other executives and experts.
BRYAN SINGER TO DIRECT 'X-MEN: APOCALYPSE' AFTER ABUSE SUIT DROPPED
09/22/14 @ 6:51 pm EST
Source:
ICv2
| Categories:
X-Men
|
Comments
(0) |
E-mail Article
|
Add a Comment


Bryan Singer will return for another round of X-Men action, returning to the director's chair for X-Men: Apocalypse, The Hollywood Reporter (via ICv2) is reporting.

Singer has finalized a deal with 20th Century Fox to direct the latest X-Men film, now that the lawsuit that alleged that Singer sexually abused a minor has been dropped, Singer did not take part in the promotion for X-Men: Days of Future Past after the obviously-timed suit was filed.
THE NEW 52: FUTURES END #21: WORLDS END IS COMING
09/22/14 @ 6:42 pm EST
Source:
DC
| Categories:
Futures End
|
Comments
(0) |
E-mail Article
|
Add a Comment
Today, DC is giving you a first looks at THE NEW 52: FUTURES END #21.
Discover what happened during the war with Earth 2 as we set the stage for DC's next weekly epic: WORLDS END!
Earth Prime's Green Arrow and Earth 2's Red Arrow are revealed to both still be alive on Green Arrow Island, and we get a first look at the mass exodus of Earth 2 as the armies of Apokolips invade!
THE NEW 52: FUTURES END #21, written by Brian Azzarello, Jeff Lemire,Dan Jurgens and Keith Giffen and illustrated by Cully Hamner, is on sale this Wednesday.