MARVEL DOUBLES THE VALUE OF ALL ITS TOP-SELLING SUPER HERO COMICS
03/09/12 @ 10:20 am EST
Source:
Marvel
|
Comments
(0) |
E-mail Article
|
Add a Comment
The World's Top Comic Publisher Announces Landmark Digital Initiative
Marvel is proud to announce that, beginning June 2012, all Marvel super hero comics priced at $3.99 will include codes for free digital copies of those same issues on the
Marvel Comics app
for iOS and Android devices at no extra cost! That's right, the most-talked-about comics in the industry—including
Avengers
,
Captain America
,
Invincible Iron Man
,
Mighty Thor
,
Amazing Spider-Man
.
Wolverine & The X-Men
and more—will come packed with a code to ensure fans have the most critically acclaimed stories with them anytime, anywhere.
"We're committed to bringing fans the best value in comics. By including codes for free digital copies in all our $3.99 super hero comics, we're doing just that" said David Gabriel, SVP of Sales, Marvel Entertainment. "We've seen a tremendous response to the digital codes in
Avenging Spider-Man
, our
Season One
graphic novels and the Ultimate Comics line. The positive reactions from both retailers and fans make it clear that including these codes with our books drives customers into comic stores on a repeated basis."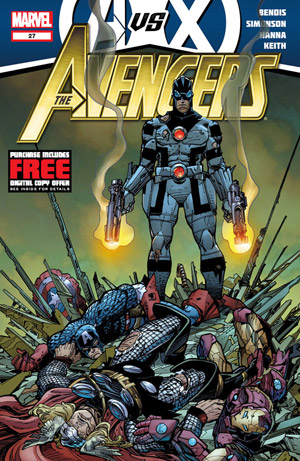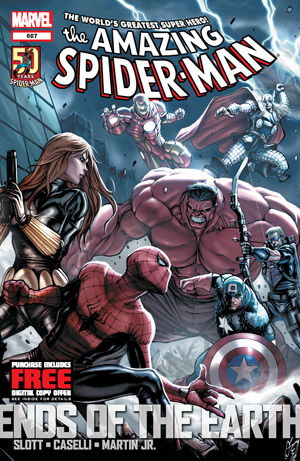 Marvel made comic book history in 2011 by announcing all titles in the Ultimate Comics line would include codes for free digital copies on the
Marvel Comics app
, with unrivaled incentives for comic shop retailers. Then, in 2012, Marvel announced the acclaimed
Season One
graphic novels would also include similar codes making them the first graphic novels to ever include codes for free digital copies at no extra cost.
"At Marvel, we're always looking for ways to bring the worlds of print and digital media together to deliver the best comics experience for our fans," said Peter Phillips, SVP & GM, Marvel Digital Media. "With this next step, fans will soon be able to buy their comics from their favorite retailers but also enjoy them on their mobile devices and tablets, all at no extra charge. Welcome to the Revolution."
To find a comic shop near you, call 1-888-comicbook or visit
www.comicshoplocator.com
Marvel Entertainment, LLC, a wholly-owned subsidiary of The Walt Disney Company, is one of the world's most prominent character-based entertainment companies, built on a proven library of over 8,000 characters featured in a variety of media over seventy years. Marvel utilizes its character franchises in entertainment, licensing and publishing. For more information visit
www.marvel.com
DYNAMITE PARTNERS WITH GROUPEES.COM FOR THE FIRST-EVER GROUPEES BUNDLE OF DIGITAL COMICS AND GRAPHIC NOVELS
03/26/15 @ 5:34 pm EST
Source:
Dynamite
| Categories:
MIsc
|
Comments
(0) |
E-mail Article
|
Add a Comment
Dynamite Entertainment is proud to announce that Groupees LLC, a unique media and charity bundling site, will host - for the first time ever - a ten day comic book bundle promotion that allows fans and curious newcomers to purchase over 75 digital Dynamite comics and graphic novels with "Pay What You Want" purchasing power. A portion of proceeds will be contributed to one of the industry's most important charitable organizations, the Comic Book Legal Defense Fund. The bundle promotion will run from Thursday, March 26, through the afternoon of Monday, April 6, on the website Groupees.com.
Through the Groupees program, customers can purchase a bundle of digital comic book and graphic novels for a price they decide. The first tier of exciting digital content is unlocked with the dollar minimum investment, but consumers can double their take by reaching the $5.00 second tier. Dynamite offers a highly desirable batch of comics at the third tier for a $10.00 minimum investment, including the bestselling Dynamite Art of Alex Ross art book.
For those who support the "Pay What You Want" initiative with considerable support, Dynamite will reward the top ten consumers with special prizes. The Top Prize will see the contributor illustrated on the cover of an upcoming Dynamite comic book, alongside the title character and the cover will be drawn by super star artist Jae Lee! The winner will also receive 100 copies of the comic AND the original art. The second, third and fourth-highest contributors will be illustrated as characters on one interior page of a Dynamite comic book, while the fifth through tenth-highest contributors will receive a hand-drawn illustration of their favorite Dynamite character again by super-star artist Jae Lee. Additionally, top-secret Group Bonuses will be unlocked for all consumers to enjoy when the overall orders reach certain thresholds.
"We're thrilled to be partnering with Dynamite Entertainment to offer this First Edition Dynamite Groupees Comic Bundle," said Thomas Brooke, Groupees Founder and CEO. "Dynamite has an exceptional catalogue of titles and is offering fans in this promotion an amazing deal on some truly exceptional books including the likes of George R.R. Martin's
A Game of Thrones
and Tom Clancy's
Splinter Cell
. As we expand into this category of media, we look forward to continuing to work with Dynamite to offer literary fans of all types curated, great deals during our online social events that connect fans and artists."
The $1.00 Minimum Tier features superhero action, pulp intrigue, Victorian mystery, tough-talkin' private eyes, and mind-blowing swords-and-sorcery, courtesy of some of the comic industry's brightest stars: Gail Simone (
Batgirl
), Alex Ross (
Kingdom Come
), Tim Seeley (
Hack/Slash
), Jim Krueger (
Earth X
), David Liss (
Black Panther
), and more! This accessible bundle includes:
•
Project Superpowers (Vol. 1)
#0 - #7
•
Dawn/Vampirella
#1
•
The Spider
#1 - #6•
Chaos
! #1 - #6
•
Shaft
#1
•
Sherlock Holmes: Moriarty Lives
#1 - #5
•
Red Sonja (Vol. 2)
#1 - #6
•
Altered States: Red Sonja
The $5.00 Minimum Tier features 48 comics written by the mainstream's most beloved authors and movie directors, like George R.R. Martin (
A Game of Thrones
), Quentin Tarantino (
Pulp Fiction
), Kevin Smith (
Clerks
), Warren Ellis (
Iron Man
,
Red
), Garth Ennis (
Punisher
), Jim Butcher (
Dresden Files
), and Nancy A. Collins (
Sunglasses After Dark
). Also, the Fox cartoon sensation
Bob's Burgers
, gaming powerhouse
Pathfinder
, and rock 'n roll icon Alice Cooper round out the package, making it worth the additional investment.
•
A Game of Thrones
#1
•
Vampirella: Feary Tales
#1 - #2
•
Warren Ellis' Project Superpowers: Blackcross
#1
•
Garth Ennis' Jennifer Blood
#1 - #3
•
Alice Cooper
#1 - #3
•
Bob's Burgers
#1 - #2
•
Army of Darkness (Vol. 3)
#1 - #5
•
Purgatori
#1 - #4
•
Kevin Smith's Green Hornet
#1 - #10
•
Django/Zorro
#1 - #2
•
Jim Butcher's Dresden Files: Storm Front (Vol. 1)
#1 - #4
•
Pathfinder
#1 - #6
•
Cryptozoic Man
#1 - #4
•
Blood Queen Annual
2014
Finally, the $10.00 Minimum Tier features 17 comic books by Bill Willingham (Fables), Jim Starlin (the creator of Thanos from Marvel's The Avengers), and Tom Clancy (the video game Splinter Cell), as well as the bestselling Dynamite Art of Alex Ross, a 328-page retrospective of the influential painter's cover artwork and character designs on such characters as Vampirella, Green Hornet, The Bionic Man, the Kirbyverse, Black Terror, and more.
•
Dynamite Art of Alex Ross
•
Legenderry: A Steampunk Adventure
#1 - #7
•
Dreadstar
#1 - #6
•
Tom Clancy's Splinter Cell: Echoes
#1 - #4
Nick Barrucci, CEO and Publisher of Dynamite Entertainment, says, "Groupees has a unique and incredible mechanism to engage fans and bring content to a new audience, as well as reward any fans of our existing audience who wish to take advantage of this promotion. They've built a model that stands out and can help grow the fan base for comics, which in turn can bring more readers to the industry, and that is extremely exciting. With comics being if not the only, one of the only forms of print that has grown side by side with digital, we're proud to be working with Thomas and his team to create more awareness of comics to their audience, who in turn will come into our industry and many of whom will then become ongoing readers."
Part of the proceeds from the first-ever Dynamite Groupees Bundle will contribute to The Comic Book Legal Defense Fund, a non-profit organization dedicated to the protection of the First Amendment rights of the comics art form and its community of retailers, creators, publishers, librarians, and readers.
Fans and curious newcomers are encouraged to visit Groupees.com between Thursday, March 26, through Monday, April 6 to take advantage of the first-ever comic bundle hosted by Groupees.
http://groupees.com/dynamite1
GIRL POWER! HOW STRONG FEMALE SUPERHEROES ARE GAINING GROUND ON THE GUYS
03/26/15 @ 10:56 am EST
Source:
University of Cincinnati
| Categories:
MIsc
|
Comments
(0) |
E-mail Article
|
Add a Comment
Female characters portrayed in two popular TV shows not only are competing for powerful ratings (and advertising dollars) among the networks, but also are exemplifying how women are gaining equality in superhero fiction.
Rebecca Borah
Rebecca Borah,
a University of Cincinnati associate professor of English and comparative literature, will present examples from two popular TV programs, at the 46th annual conference of the
College English Association
, which takes place March 26-28, in Indianapolis.
"In a post-'Buffy the Vampire Slayer' television world, females are finally becoming major characters to their male counterparts," says Borah. Her presentation will cite examples from NBC's "Grimm" TV series as well as ABC's "Marvel Agents of S.H.I.E.L.D."
"It's hard to get away from the comic book images of female superheroes – the World War II pinup-style, curvaceous characters – and how often they were more the seductive, romantic interest of the powerful male superhero," says Borah. "Rather than just being the voluptuous, vulnerable love interests of the main characters in these newer TV shows, there are independent, intelligent and intuitive female characters who can kick some antagonist butt on the same level as their male counterparts."
Borah says "Grimm's" Juliette and the "Marvel Agents of S.H.I.E.L.D.'s" Agent May are two leading examples of how women are gaining ground on the leading men in the areas of smarts and strength, as well as an appropriate dress code for work. "They're still not padding around in flats, but just looking at the footwear alone, they're wearing something much more practical than the teetering high heels of the females portrayed in comic books," says Borah. "Furthermore, Agent May ("Marvel Agents of S.H.I.E.L.D.") is one of the few people, male or female, who can reportedly best the Black Widow in hand-to-hand combat.
"May is the warrior, Skye is the newbie with the mysterious past – now with superpowers – and Agent Jemma Simmons is their biology tech specialist. All of them have specialized areas that complement the leading male, Director Phil Coulson, and the other male agents."
As for "Grimm," which started its first season with a predominantly male-centric cast, Borah says females with their own talents became integral members of the show with the second season. Among the strong females on the show are leading character Nick's girlfriend, Juliette, and his mother, über Grimm Kelly Burkhart, who appears in the storyline after 18 years of hiding. "Juliette is especially exciting now that she has become a Hexenbiest and fought off a major villain on her own."
Borah says this emerging trend of strong female characters is "a long time coming" in recognizing that there has always been a large and loyal female comic book fan base, yet the genre was previously a very masculine world. "There's a real hunger among these fans to see female characters treated as equals, to show that women can be heroic too. Buffy kind of blazed the trail in the TV culture," says Borah.
Borah adds that outside the superhero genre, there have long been strong heroines in fiction who have embraced both passion and integrity, such as writer Charlotte Brontë's Jane Eyre, or Jane Austen's "Pride and Prejudice" character, Elizabeth Bennett.
The theme of the CEA conference focuses on imagination, and how professionals can encourage their institutions, colleagues, students and themselves to use imagination for creative output. Borah's presentation is part of a panel exploring fantasies and women in TV dramas.
The College English Association is a professional organization of scholar-teachers representing a broad range of interests including literature, composition, popular culture, women's studies, minority studies, creative writing, film studies, technical communication, speech and English-as-a-second language (ESL).
UC's Department of English and Comparative Literature in the McMicken College of Arts and Sciences fosters the liberal arts by focusing on English-language texts across four mutually-interrelated disciplines: literary and cultural studies; creative writing; professional writing; and rhetoric and composition.
THE HUMAN TORCH JOINS THE INHUMANS?
03/26/15 @ 10:46 am EST
Source:
Bleeding Cool
| Categories:
Marvel
|
Comments
(0) |
E-mail Article
|
Add a Comment
The internet may have beaten them to the punch on
All-New All-Different Avengers
. But Wired at least has the first look at the back cover to the Free Comic Book Day comic from Marvel, also including the
Uncanny Inhumans
book… set AFTER
Secret Wars.
Including Queen Medusa, Triton, Crystal and… Johnny Storm?
Yes the Human Torch seems to be joining the team. Stay tuned, post-Secret War True Believers!
OBAMA TALKS COMIC BOOKS IN LATEST MASS EMAIL
03/26/15 @ 10:41 am EST
Source:
Comic Book Resources
| Categories:
MIsc
|
Comments
(0) |
E-mail Article
|
Add a Comment
If you're a Barack Obama supporter, you've probably gotten a lot of emails
from him, from his campaign and from his administration over the years. Like, a
lot.
Even the most ardent Obama boosters may have tuned them out.
Yet one that arrived today is certainly worth noting, as the president speaks directly about his comic book
fandom:
I grew up loving comic books
. Back in the day, I was pretty into Conan the Barbarian and Spiderman.Anyone who reads comics can tell you, every main character has an origin story — the fateful and usually unexpected sequence of events that made them who they are.
The email
seeks to solicit "origin stories" on how Organizing for Action supporters were motivated to get involved with Obama's community-organizing project. And yes, he forgot the hyphen in "Spider-Man," which will surely lead to the biggest scandal of his six-plus years in office.
The president's fondness for comic books — specifically
Conan
and
Spider-Ma
n — has been well-publicized, especially during his original 2008 campaign.
WAS THAT PLASTIC MAN IN TUESDAY'S FLASH?
03/26/15 @ 10:31 am EST
Source:
Bleeding Cool
| Categories:
Flash
|
Comments
(0) |
E-mail Article
|
Add a Comment
From the new episode of
The Flash
…
.
Check the ceiling pattern. Is that Plastic Man, hiding in plain sight?
Its not the only DC TV show he was spotted hanging around…
(Source: Bleeding Cool)
IT'S HERE! THE FULL LINE UP OF THE ALL-NEW ALL-DIFFERENT AVENGERS
03/26/15 @ 10:23 am EST
Source:
Bleeding Cool
| Categories:
Avengers
|
Comments
(0) |
E-mail Article
|
Add a Comment
Here is it folks. The full creative line up and character count of the
All-New All-Different Avengers
. Written by
Mark Waid
, drawn by
Mahmud Asrar
with colours by
Laura Martin
. And posted on 4chan last night
With The Vision, Ms. Marvel, Iron Man, Thor, Nova, Captain America… And upfront that looks like Miles Morales, the Ultimate Spider-Man.Which might also indicate, as much speculated, that the character will be joining the ongoing Marvel Universe. Whether a survivor of the Ultimate universe, a member of a new merged reality, a new universe to replace the 616, who knows. Well, obviously, they do.
But it does appear as if Miles Morales will be part of that Marvel universe going forward. Unless of course that is someone else in the suit.Could it be a new movie-friendly Peter Parker? Or even someone else from across the Spider-Verse?
And… if it's all-new, all-different Avengers, who is in the Iron Man suit?
The comic debuts on Free Comic Book Day, the first Saturday in May…
ULTIMATE NIGHT OF THE LIVING DEAD - 3 NEW COMICS FROM DOUBLE TAKE
03/25/15 @ 11:28 pm EST
Source:
Bleeding Cool
| Categories:
MIsc
|
Comments
(0) |
E-mail Article
|
Add a Comment
This June, the dead will rise again as Double Take (2T) launches
Ultimate Night of the Living Dead
, with three new comics set in the universe of the 1968 film. Two series,
Rise
and
Z-Men
are written by
Jeff McComsey
, while the third,
Home
, is written by Moth Grand Slam Champion,
Peter Aquero
. Digital previews of all three premier issues are available now at doubletakeuniverse.com.
Much more than just a singular launch, this marks the first releases in a major initiative surrounding the classic horror franchise, which frightened moviegoers all around the world and made zombies a household name. Having commissioned a new generation of writers to breathe new life into the classic franchise, 2T has a dozen series in the works – some following characters from the film in surprising new directions; other stories are all new. All creators are working in collaboration with 2T GM,
Bill Jemas
.
Rise
Writer: Jeff McComsey Artists: Kurt Tiede, Frederica Manfredi, Vladimir Popov
#1:
Sister's Keeper
They're coming to get you Barbara. Follow our favorite siblings, Barbara and Johnny, from the classic 1968 Night of the Living Dead film as they try to survive beyond the night at the abandoned farmhouse.
Home
Writer: Peter Aguero Artist: Julian Rowe, Monica Catalano, Javier Mena
#1:
Lighter Than AirA happy family, a lovely spring evening, and Zombies.
Home follows a working-class farm family through the events of the zombie apocalypse in western PA. On the night the dead rise, the Foster family has gathered for a quiet Sunday dinner. Oblivious to the horrifying events that will soon unfold, Paul Foster takes his wife and two young children into town, leaving his teenage daughter home alone with her boyfriend. As his small town falls into chaos, Paul has to keep his family together and somehow get back home to his daughter, who is left to fight her own battles
.
Z-Men
Writer: Jeff McComsey Artists: Kurt Tiede, Alisson Rodrigues, Max Flan
#1:
Nervous in the ServiceDead and/or alive. LBJ orders the Secret Service to bring him back a Zombie
. It's 1966 and the Oval Office is in an uproar; there's been a spree of mass murders in Western Pennsylvania (and reports of the dead returning to life). President Lyndon B. Johnson assigns the head of the Secret Service to send agents into the field to investigate. Agents Stuart and Clancy are given the opportunity to serve their country and see if the zombie apocalypse has indeed begun.
"I NEVER VISIT MANHATTAN OR OUTER SPACE WITHOUT A GOOD FEDORA" - DAVID AVALLONE ON ALTERED STATES: THE SHADOW
03/25/15 @ 11:18 pm EST
Source:
Bleeding Cool
| Categories:
Altered States
|
Comments
(0) |
E-mail Article
|
Add a Comment
Mark Rahner
, writer of
Twilight Zone: Shadow and Substance
#3, talks with writer
David Avallone
about
Altered States: The Shadow
one shot, both on sale now. Cover art by
Billy Tan
.
MARK RAHNER: What's the elevator concept forAltered States and how The Shadow fits in.DAVID AVALLONE:
The elevator concept for
Altered States
is essentially "Dynamite's What If Elseworlds". They asked me to put the Shadow in a futuristic setting, and maybe take his physical body away from him. And so I did.
MR: I always thought The Shadow was very much a character of his time – with the fedora, scarf, pistols – who'd look absurd anywhere else. But I also think that about Superman. What's your take on that?DA:
I never visit Manhattan or Outer Space without a good fedora, scarf and pistols, but to each his own. For me, the stark iconic costume of the Shadow is kind of timeless and I always like seeing it. Superhero costumes are a harder sell for me. Black goes with anything. Brightly colored skintight combat leotards I have much more trouble with.
MR: It's a Shadow science fiction story! How do you think Shadow purists will react to the story? And is there a name for them? "Silhouettes," maybe?DA:
I would hope the Shadow purists will recognize their hero, even in this setting… but you can't please everybody. Not even the "Silhouettes". That sounds a little bit like a 1950s vocal group. I prefer to call them "The Sons of Shrevnitz." (Google it.)
MR: Related: Are you a Silhouette? What's your history with The Shadow? Have you been a fan of the original pulp novels?DA:
I am not a purist, but I am a big fan. I read the pulps when I was a kid. (I'm not 90 years old, but my dad had them.) I always loved the character. I've mentioned this elsewhere, but I even worked one day as an extra on the terrible Alec Baldwin movie, out of fondness for the Shadow.
MR: As an H.P. Lovecraft freak, I perked up at your title, "The Shadow Out of Time." How much Lovecraft is in the story, and are you the same sort of freak?DA:
I'm glad you caught it. I remember a time when there were no Cthulhu plush toys and H.P. was largely forgotten except for lunatics like you and me. There is no explicit Lovecraft reference in the story (aside from a few tentacled and multi-eyed monsters), but I thought it would be fun to use the title and mean a different kind of Shadow.
MR: Remedial Part 2: You're primarily a film editor? Can you give us a brief montage of your assorted film and comic work?DA:
I have worked long and hard to ensure that my bizarre, meandering career makes no sense to anyone, least of all me. At one time or another I have worked most jobs in the film industry, and came to comics on the advice (and with the help) of my friend Allison Baker. I've edited feature films, I was one of the first directors to try a web series (in 1999, long before it was smart), and generally bounced around Hollywood doing whatever nutty thing I could get paid for. (I was a grip on the first season of
Power Rangers
, for example.) Interested parties could check out my web page (davidavallonefreelance.com) and be further confused.
MR: What are your thoughts on Ivan Rodriguez' art?DA:
Ivan's art is fantastic. I couldn't love it more. There's not a lot of dialogue in the piece (I don't' think the Shadow is chatty), and the art really has to carry the story… create awe and excitement and danger. The comic is in many ways my tribute to my favorite cosmic comics the late 70s/early 80s and Ivan's work evokes the same feelings for me that those books did.
MR: True or false: There are few problems that can't be solved with a couple of pistols and a scary laugh.DA:
I think it was Al Capone who said, "You can get more with a kind word and a gun than just a kind word." All kidding aside, one of the keys to this story is that it's not the guns (those fail him instantly), but his keen intellect that makes The Shadow so dangerous. The scary laugh is just the icing on the Cake of Justice he's serving. Yes, I said Cake of Justice.
LANA CONDOR CAST AS JUBILEE IN X-MEN: APOCALYPSE
03/25/15 @ 10:59 pm EST
Source:
Comicbook
| Categories:
X-Men
|
Comments
(0) |
E-mail Article
|
Add a Comment
Brian Singer has just revealed on his Instagram account that actress Lana Condor has been cast as Jubilee in X-Men: Apocalypse.
That's right X-Men fans, the energetic, yellow trench coat wearing, pink sunglasses sporting mutant is getting her time to shine in Singer's newest film. We've seen Jubilee pop up a few times in the original X-Men trilogy (played by Katrina Florence & Kea Wong) but nothing more than "blink and you miss it" moments. What plans Singer has for her in Apocalypse could be anyone's
X-Men: Apocalypse
will open in theaters May 27, 2016
UNCANNY INHUMANS ARE COMING TO FREE COMIC BOOK DAY
03/25/15 @ 7:39 pm EST
Source:
Marvel
| Categories:
Inhumanity
|
Comments
(0) |
E-mail Article
|
Add a Comment
Uncanny Inhumans
are coming to Free Comic Book Day. More? We dunno.Stay tuned!