MARVEL DOUBLES THE VALUE OF ALL ITS TOP-SELLING SUPER HERO COMICS
03/09/12 @ 10:20 am EST
Source:
Marvel
|
Comments
(0) |
E-mail Article
|
Add a Comment
The World's Top Comic Publisher Announces Landmark Digital Initiative
Marvel is proud to announce that, beginning June 2012, all Marvel super hero comics priced at $3.99 will include codes for free digital copies of those same issues on the
Marvel Comics app
for iOS and Android devices at no extra cost! That's right, the most-talked-about comics in the industry—including
Avengers
,
Captain America
,
Invincible Iron Man
,
Mighty Thor
,
Amazing Spider-Man
.
Wolverine & The X-Men
and more—will come packed with a code to ensure fans have the most critically acclaimed stories with them anytime, anywhere.
"We're committed to bringing fans the best value in comics. By including codes for free digital copies in all our $3.99 super hero comics, we're doing just that" said David Gabriel, SVP of Sales, Marvel Entertainment. "We've seen a tremendous response to the digital codes in
Avenging Spider-Man
, our
Season One
graphic novels and the Ultimate Comics line. The positive reactions from both retailers and fans make it clear that including these codes with our books drives customers into comic stores on a repeated basis."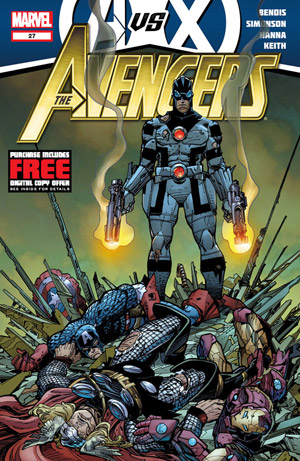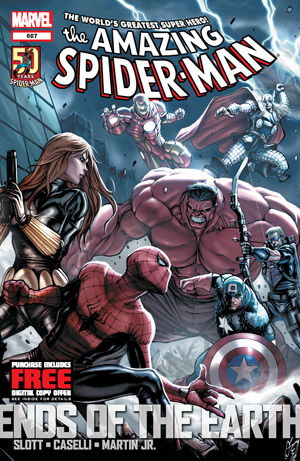 Marvel made comic book history in 2011 by announcing all titles in the Ultimate Comics line would include codes for free digital copies on the
Marvel Comics app
, with unrivaled incentives for comic shop retailers. Then, in 2012, Marvel announced the acclaimed
Season One
graphic novels would also include similar codes making them the first graphic novels to ever include codes for free digital copies at no extra cost.
"At Marvel, we're always looking for ways to bring the worlds of print and digital media together to deliver the best comics experience for our fans," said Peter Phillips, SVP & GM, Marvel Digital Media. "With this next step, fans will soon be able to buy their comics from their favorite retailers but also enjoy them on their mobile devices and tablets, all at no extra charge. Welcome to the Revolution."
To find a comic shop near you, call 1-888-comicbook or visit
www.comicshoplocator.com
Marvel Entertainment, LLC, a wholly-owned subsidiary of The Walt Disney Company, is one of the world's most prominent character-based entertainment companies, built on a proven library of over 8,000 characters featured in a variety of media over seventy years. Marvel utilizes its character franchises in entertainment, licensing and publishing. For more information visit
www.marvel.com
IMAGE COMICS TO RELOCATE TO PORTLAND
08/27/16 @ 9:51 pm EST
Source:
Comicbook
| Categories:
Image
|
Comments
(0) |
E-mail Article
|
Add a Comment
While there is no official confirmation or comment yet, ComicBook.com is reporting that Image Comics is planning to relocate their physical operations from Berkeley, California, to Portland, Oregon, in the near future.
Image has been in its current, Bay Area digs for about a decade, since Erik Larsen was the publisher (Larsen lives nearby its current location). Prior to his tenure, the company was headquartered out of Anaheim, closer to other co-founders like Jim Lee and Rob Liefeld, who operate out of that area.
News of the move first broke at The Beat, though as writer Heidi MacDonald notes, there have been rumors circulating for those "in the know" since at least Comic Con International: San Diego last month. She further notes that the move's impact on the comics themselves should be fairly minimal, since Image Central is mostly a production facility. The company's business model revolves around creators handling all of their own content creation, most promotion, and other responsibilities, and Image primarily providing manufacturing and distribution. The size of the Image Central staff is relatively small and one assumes that they will all be welcome to move along with the company.
The move is likely driven by the cost of doing business in Berkeley, which is now dominated by tech startups. The choice of Portland itself was likely driven by the desire to join the comics community there.
Portland currently is home to a thriving comics community -- almost certainly the nation's largest -- which includes
Bitch Planet
's Kelly Sue DeConnick and
Casanova
's Matt Fraction, two key names in Image's current publishing lineup. Also headquartered in Portland are Dark Horse Comics, Oni Press, and the Comic Book Legal Defense Fund.
Image Comics declined to comment for this story.
NBC LOOKING TO TAKE NOAH'S ARK TO SPACE
08/27/16 @ 9:44 pm EST
Source:
Bleeding Cool
| Categories:
MIsc
|
Comments
(0) |
E-mail Article
|
Add a Comment
Entertainment Weekly reports that
NBC
is developing a new series based on the bibical Noah's Ark, but set in the modern day. Oh, and the Ark is a space ship.
The project, from
12 Rounds
writer
Daniel Kunka
and
20th Century Fox Television
, concerns an engineer who has a vision following the death of his wife to "construct a ship capable of sustaining life in space." When construction coincides with the Coming of the End, the engineer suspects there may be bigger forces at play.
God, once again, has a plan.
The new project is not the first time "Noah's Ark in space" has birthed a science fiction series.
Battlestar Galactica
began its life as "Adam's Ark," but later merged with various other Biblical tales — and the Mormon idea of a lost thirteenth tribe of Israel — to become the story of a rag-tag fugitive fleet looking for Earth.
PORTLAND'S ROSE CITY COMIC-CON GETTING BIGGER, KEEPING TO COMICS
08/27/16 @ 9:54 pm EST
Source:
Bleeding Cool
| Categories:
MIsc
|
Comments
(0) |
E-mail Article
|
Add a Comment
Shaping up to be one of the big conventions this year Rose City Comic-Con will be held September 10th and 11th. The guest list boasts some of the biggest comic book creators around, and some who haven't appeared at many other conventions this year, including
Jonathan Hickman, Brian Michael Bendis, Matt Fraction, Kelly Sue DeConnick, Greg Rucka, Gabriel Ba, Fabio Moon, Cullen Bunn, Matt Wagner, Howard Chaykin, Amanda Conner, Jimmy Palmiotti
, and guest of honor
Mike Mignola
, just to well name a few.
THE CYBERTRONIC SPREE KEEPS THE TRANSFORMERS DREAM ALIVE
08/27/16 @ 9:29 pm EST
Source:
Bleeding Cool
| Categories:
Transformers
|
Comments
(0) |
E-mail Article
|
Add a Comment
Daring to be all that they can be,
The Cybertronic Spree
is a Canadian cover band specializing in the music from
Transformers: The Movie
. The group performs on stage as Hot Rod, Arcee, Rumble, Unicron, Spike and a Quintesson (with assists from Bumblebee and Soundwave) and as the following video for their cover of
Stan Bush
's "Dare," shows, they've got a great presence and a perfect gimmick. Also, the choice to have Rumble as their drummer is inspired.
Video:
https://youtu.be/SpY4na_ofxs
AGENTS OF SHIELD EP EXPLAINS THE TEAM'S SEASON 4 STATE OF MIND
08/27/16 @ 9:24 pm EST
Source:
Comicbook
| Categories:
Marvel
|
Comments
(0) |
E-mail Article
|
Add a Comment
After Lincoln and Hive were blown to smithereens in the Season 3 finale of
Marvel's Agents of S.H.I.E.L.D.
, we were shown a six month flash-forward that revealed Daisy (a.k.a. Quake) has abandoned S.H.I.E.L.D., becoming a vigilante and looks after Charles Hinton's widow and daughter, and Coulson is no longer the Director of S.H.I.E.L.D., but he is back in the field, paired up with Mack. However, we didn't what the rest of the team is up to, but per the official synopsis, Agent May (Ming-Na Wen) is training specialist strike teams and the Fitz-Simmons relationship is taking a step forward.
Clearly, Daisy isn't coping with Lincoln's death all that well and is tired of losing people that get close to her, so that explains her need to go off on her own, but how are the other characters coping with everything that unfolded last season?
The latest of EW's Spoiler Room has the scoop on that:
"What's going on with the rest of the team on Agents of S.H.I.E.L.D.?" — KevinIn short, it's business as usual when the show returns. "The one thing that you'll really see across the board with all of our characters is that they're just in 'Let's move mode – let's just move on from what went down,'" EP Maurissa Tancharoen tells me. "Whether or not that's just a coping mechanism or denial of all of the trauma that they've experienced, I think them being so functional will start to unravel."
THE BIG BANG THEORY EP DESCRIBES PENNY'S FAMILY
08/27/16 @ 9:16 pm EST
Source:
Comicbook
| Categories:
MIsc
|
Comments
(0) |
E-mail Article
|
Add a Comment
The upcoming 10th season of CBS's
The Big Bang Theory
will start things off with a great deal of focus on Penny's family, a unit that fans have heard a great deal about but have hardly seen on screen.
That will change when Actress Katey Sagal (Sons of Anarchy) joins the show as Penny's mother Susan and Jack McBrayer (30 Rock) takes the role of Penny's brother Randall. They will join her father Wyatt (Keith Carradine), who has previously been featured on the show.
Executive Producer Steve Molaro recently described the family dynamic that fans will get a glimpse of in the series opener. While we don't know if they'll be returning later in the season, they are certainly planning on leaving a big impression during the premiere (via EW).
"Penny's close with her dad. As we know, her brother Randall has been a bit of trouble over the years, selling drugs and being in and out of jail, and that's put a lot of stress on her mom. You will pick up on the tensions between her mother and her brother very quickly, and you get a glimpse of Penny and her dad being caught in the middle of that."
Randall has been referred to throughout the series, most recently as of last season during The Convergence-Convergence episode. There it is revealed that he's been released from prison thanks to overcrowding.
This will be a reunion of sorts for Sagal and Cuoco, as the two also starred together in 8 Simple Rules. As for Penny, Molaro has previously said her career will also be a subject for the show this season.
"We believe in the world of '
The Big Bang Theory
' that the movie she did with Wil Wheaton, Serial Apetist, is floating around and developed a cult following. One way Penny could make money is signing autographs for fans."
The Big Bang Theory
returns on September 19th at 8 PM ET on CBS.
GOTHAM'S MAD HATTER EXPLAINS JUST HOW FAR HE'LL GO TO FIND HIS SISTER
08/27/16 @ 9:12 pm EST
Source:
Comicbook
| Categories:
DC
|
Comments
(0) |
E-mail Article
|
Add a Comment
After showrunners teased his arrival for over a year, the Mad Hatter, a.k.a. Jervis Tetch, will finally make his debut on
Gotham
this season and be played by
The Walking Dead
alum Benedict Samuel.
When he arrives in Gotham, he is on a mission to find his sister, Alice, who went missing in the city years ago. "His purpose is to find his sister and I think he'll move hell and high earth to find her," Samuel toldZap2it during a set visit.
This iteration of the Mad Hatter is a talented hypnotist teetering on the edge of madness. "There are so many pieces to him," Samuel shared. "There's a child in there and there's also a psychopath."
The character, which is based on (and obsessed by) Lewis Carroll's
Alice's Adventures in Wonderland
, was created by Lew Sayre Schwartz and Bill Finger in 1948, appearing for the first time in
Batman
#49. With that much history behind the character, Samuel is trying not to become overwhelmed by it all. "All I need to do is focus on the work, the scenes, the moments," he says. "And less about trying to put my own imprint on this character because the character is far bigger than I am."
THE FLASH: TOM FELTON DESCRIBES HIS CHARACTER'S RELATIONSHIP TO BARRY ALLEN
08/27/16 @ 9:08 pm EST
Source:
Comicbook
| Categories:
DC
|
Comments
(0) |
E-mail Article
|
Add a Comment
Barry's world is being turned upside down this season in the new Flashpoint-centric storyline for
The Flash
season 3, and part of that change will be the introduction of a new character named Julian Dorn.
Julian will be played by actor Tom Felton (
Harry Potter
Franchise,
Rise of the Planet of the Apes
), and in a recent interview with SciFiNow, detailed the friction that exists between Dorn and Barry Allen.
"He's a forensic expert," Felton details, "so he treads on the toes of much of what Barry is good at. Hence they have a slightly abrasive relationship at first. I say abrasive, but I mean that – clearly because of the events of the season – none of the relationships that Barry has had with other cast members is the same."
Some of that initial animosity will come from Barry's confusion as to where people stand with him in this reworked world, something that happens as a result of his actions in the season 2 finale.
"He's not familiar with me, but I'm familiar with him, so it's an odd dynamic. It seems like a love/hate thing at first."
Felton was then asked if Dorn would be a change a pace for the actor, as he tends to specialize in characters that fans love to hate. His response to if Dorn would be more of a good guy was "Absolutely not," he laughs. "I would hope the opposite."
Earlier this year at San Diego Comic-Con, Felton was asked by ComicBook.com's Russ Burlingame if Dorn was more than likely going to be a bad guy, and Felton referenced his earlier work there as well.
"I don't know. I mean...they came to me for a reason. I'm not sure what that reason is yet. I know there's going to be some serious material to sink my teeth into at some point. Like you said I think he's suspicious of Barry's position."
"I also think he's as smart as Barry. At least in the forensic world, Barry's not used to having a mind as sharp as his around -- and he has a smug air of superiority, I think, over Barry. So, hey, it lends itself to many different choices and many different storylines. It's not really worth speculating because I'm sure the writers have something much cooler in mind."
The Flash
returns to the CW on October 4th.
GAME OF THRONES RUMORS REVEAL DAENERYS SPOILERS
08/27/16 @ 9:03 pm EST
Source:
Comicbook
| Categories:
MIsc
|
Comments
(0) |
E-mail Article
|
Add a Comment
New rumors suggest at least one exciting new location in Westeros that may appear in the seventh season of
Game of Thrones
.
SPOILERS FOLLOW
.
First, IrishThrones is reporting that there's already activity around the town of Corbet.
Game of Thrones
shot in Corbet for Season 6, mostly for scenes during the siege of Riverrun.
Now, onto the big
SPOILERS
. You've been warned.
Sources tell Watchers on the Wall that
Game of Thrones
Season 7 will film scenes with Daenerys Targaryen at the Dragonpit, a major landmark in King's Landing.
Located on a hill, the Dragonpit was once a giant vault where Targaryens would stable their dragons. During the Dance of the Dragons, a Targaryen civil war, a riot took place in King's Landing that culminated in the Storming of the Dragonpit. During this event, thousands of smallfolk in King's Landing directing their anger towards the Targaryen nobility at the dragons, which they perceived to be the power behind the Iron Throne. Though many of the smallfolk died, the mob managed to kill five of the dragons housed inside. One of those dragons was Dreamfyre, who crashed into the Dragonpit's ceiling in an attempt to escape. The dragon failed, bringing the vault's ceiling down on top of all those inside.
The Dragonpit has been left in ruins ever since the Storming, but Dany has three good reasons to restore the structure: Rhaegal, Viserion, and Drogon. A structure that served to house dragons for years may help her avoid some of the problems she had with her dragons in Meereen.
If this rumor is true, it is also interesting simply for confirming that Dany will make it to King's Landing in Season 7. Dany is seeking to regain the Iron Throne for House Targaryen, so King's Landing has always been her destination. After six seasons of marshalling her strength, it seems like Season 7 is the time for action. Fans may see that vision of a dragon's shadow over King's Landing come true pretty soon.
Game of Thrones
Season 7 premieres in 2017.
BATTLESTAR GALACTICA'S STARBUCK WAS NAMED AFTER A STAR TREK CHARACTER
08/27/16 @ 8:58 pm EST
Source:
Comicbook
| Categories:
Battlestar Galactica
|
Comments
(0) |
E-mail Article
|
Add a Comment
Aside from a being a hot-shot pilot, smoking cigars, playing cards, and being a little bit on the promiscuous side, Katee Sackhoff's Starbuck from the 2003-2009 reboot of
Battlestar Galactica
didn't have a lot in common with Dirk Benedict's version from the 1978 original television series. Starbuck was reinvented quite a bit, even getting a proper first and last name: Kara Thrace.
On Thursday, while promoting
Outlander
at the Edinburgh Intl. Television Festival, Ronald D. Moore, the man who developed and executive produced the
Battlestar Galactica
reboot, told the audience that he "decided the original's pilot names – Starbuck and Apollo – would become their callsigns."
He then had to figure out what their names would be, and coming up with names for his characters has also be a struggle for Moore. He has no shame in admitting to borrowing names he has heard on a television program he just watched or from people he just talked to. However, for Starbuck, he looked to the last sci-fi TV series he worked on for inspiration with her first name.
"So in that particular circumstance, I had just finished up on
Star Trek: Deep Space Nine
with Kira Nerys [the Bajoran commander played by Nana Visitor]," Moore told the audience (via radiotimes). "So I thought '
Kara'
will be her first name. Then I needed a last name, and I had this big old antique book on my desk that was literally 'Book of Ancient Names'. I literally ran my finger down it and went 'Thrace! Kara Thrace! I love it.'"