MARVEL DOUBLES THE VALUE OF ALL ITS TOP-SELLING SUPER HERO COMICS
03/09/12 @ 10:20 am EST
Source:
Marvel
|
Comments
(0) |
E-mail Article
|
Add a Comment
The World's Top Comic Publisher Announces Landmark Digital Initiative
Marvel is proud to announce that, beginning June 2012, all Marvel super hero comics priced at $3.99 will include codes for free digital copies of those same issues on the
Marvel Comics app
for iOS and Android devices at no extra cost! That's right, the most-talked-about comics in the industry—including
Avengers
,
Captain America
,
Invincible Iron Man
,
Mighty Thor
,
Amazing Spider-Man
.
Wolverine & The X-Men
and more—will come packed with a code to ensure fans have the most critically acclaimed stories with them anytime, anywhere.
"We're committed to bringing fans the best value in comics. By including codes for free digital copies in all our $3.99 super hero comics, we're doing just that" said David Gabriel, SVP of Sales, Marvel Entertainment. "We've seen a tremendous response to the digital codes in
Avenging Spider-Man
, our
Season One
graphic novels and the Ultimate Comics line. The positive reactions from both retailers and fans make it clear that including these codes with our books drives customers into comic stores on a repeated basis."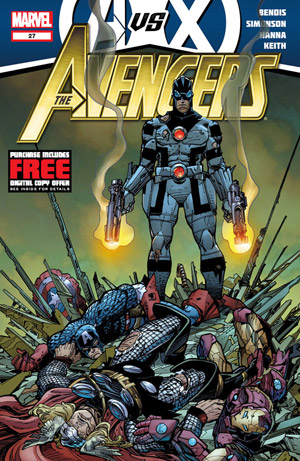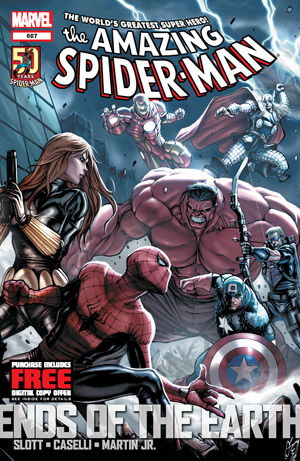 Marvel made comic book history in 2011 by announcing all titles in the Ultimate Comics line would include codes for free digital copies on the
Marvel Comics app
, with unrivaled incentives for comic shop retailers. Then, in 2012, Marvel announced the acclaimed
Season One
graphic novels would also include similar codes making them the first graphic novels to ever include codes for free digital copies at no extra cost.
"At Marvel, we're always looking for ways to bring the worlds of print and digital media together to deliver the best comics experience for our fans," said Peter Phillips, SVP & GM, Marvel Digital Media. "With this next step, fans will soon be able to buy their comics from their favorite retailers but also enjoy them on their mobile devices and tablets, all at no extra charge. Welcome to the Revolution."
To find a comic shop near you, call 1-888-comicbook or visit
www.comicshoplocator.com
Marvel Entertainment, LLC, a wholly-owned subsidiary of The Walt Disney Company, is one of the world's most prominent character-based entertainment companies, built on a proven library of over 8,000 characters featured in a variety of media over seventy years. Marvel utilizes its character franchises in entertainment, licensing and publishing. For more information visit
www.marvel.com
LOEB REVEALS WHY MARVEL'S TV SUPERHEROES HAVEN'T APPEARED IN THE MOVIES
07/30/16 @ 1:53 pm EST
Source:
Comic Book Resources
| Categories:
Marvel
|
Comments
(0) |
E-mail Article
|
Add a Comment
Clarifying why it's been difficult to crossover the characters from Marvel'sNetflix shows into the feature films, Marvel Television head Jeph Loeb explained what makes the Marvel Cinematic Universe connected, apart from cameos and guest-appearances.
"I can tell you that part of the challenge of doing this sort of thing is that the movies are planned out years in advance of what it is that we are doing," Loeb told /Film. "Television moves at an incredible speed. The other part of the problem is that when you stop and think about it, if I'm shooting a television series and that's going to go on over a six-month or eight-month period, how am I going to get Mike [Colter] to be able to go be in a movie? I need Mike to be in a television show."
While the properties all take place in the same universe, Loeb says it's logistically difficult to get the TV actors to appear in the films beacuse of their rigorous schedule.
Quoting the classic Marvel phrase "It's All Connected," Loeb clarified that the properties all link by inhabiting the same world. "As I often get reported by you folks for saying #ItsAllConnected, our feeling is that the connection isn't just whether or not somebody is walking into a movie or walking out of a television show," Loeb continued, "It's connected in the way that the shows come from the same place, that they are real, that they are grounded."
The next Marvel Television project, "Luke Cage," drops September 30 on Netflix.
MARGOT ROBBIE LEARNED TO HOLD HER BREATH FOR 5 MINUTES FOR "SUICIDE SQUAD"
07/30/16 @ 1:48 pm EST
Source:
Comic Book Resources
| Categories:
Suicide Squad
|
Comments
(0) |
E-mail Article
|
Add a Comment
Forget all of that CG nonsense, whenHarley Quinn takes a plunge in "Suicide Squad," that's actually actress Margot Robbie underwater.
"Let me tell you,
nothing
in this film is CGI," she insisted Friday on "The Tonight Show," only to be immediately challenged by host Jimmy Fallon.
"That's not true," he said. "The whole floating explosions ... cities blowing up. There's, like, a
crocodile man
fighting people."
OK,
some
of the film is CG, sure. "But, like, explosions? All real," Robbie said. "Lots of prosthetics, like Croc prosthetics." And, yes, that underwater scene.
For that, the actress trained to be able to hold her breath for five minutes.
"I worked with this amazing, like, free-diver," she explained. "He came in, and I did four sessions with him. His names Kirk -- I called him Captain Kirk -- and, anyways, he was ... like, it's all about learning to lower your metabolic rate. [...] It's all about conserving oxygen. You kind of like meditate underwater. It's what free-divers do, and it's amazing."
Robbie ended up competing with her stunt double to see who could hold their breath the longest (the stunt double won, with five and a half minutes).
"And then I watched it, and they cut the first half and the last half [of the scene], and I was like, 'But I was underwater for so much longer than that!'"
Video:
https://youtu.be/-ZykTQtQOoE
RUSSIAN OFFICIALS FEAR 'POKEMON GO' MAY BE A CIA (OR SATANIC) PLOT
07/30/16 @ 1:41 pm EST
Source:
Comic Book Resources
| Categories:
Pokemon
|
Comments
(0) |
E-mail Article
|
Add a Comment
Although "Pokémon Go" hasn't been officially released in Russia, fans there have already discovered ways to play the insanely popular mobile game, leading government officials and nationalist groups to sound the alarm — and call for a ban.
While a Russian communications watchdog has expressed concern about the personal data the app collects and stores from players, some are more worried about its possible corrupting influence. Still others look at Pikachu & Co. and see a potential conspiracy hatched from the West … or from hell itself.
"It feels like the devil arrived through [Pokémon] and is trying to tear our morality apart from the inside," said. Frants Klintsevich, a member of Russia's upper chamber of parliament. According to The Moscow Times, the leader of the ultra-conservative Cossack group also evoked the underworld, saying, "We need to take people out of the virtual world, and this generally smacks of Satan."
However, where they see the work of the devil, Russia's Communications Minister Nikolai Nikiforov detects the delicate touch of the CIA. ""I'm starting to suspect that intelligence services might have contributed to this app," he said.
The state consumer rights watchdog Rospotrebnadzor has been ordered to investigate the "possible harmful psychological effects" of "Pokémon Go." However, it's unclear whether anyone has been tasked with ferreting out the game's potential satanic roots.
'AGENTS OF SHIELD'S' ADRIANNE PALICKI BOARDS SETH MACFARLANE'S NEW SCI-FI SERIES
07/30/16 @ 1:34 pm EST
Source:
Comic Book Resources
| Categories:
MIsc
|
Comments
(0) |
E-mail Article
|
Add a Comment
Adrianne Palicki ("Agents of S.H.I.E.L.D.") has been cast as one of the leads in Seth MacFarlane's upcoming — and still untitled — hourlong science-fiction/dramedy series on FOX.
According to Deadline, Palicki will play Kelly Grayson, the First Officer on a spaceship called the Orville, which is captained by her ex-husband, Ed (played by MacFarlane).
Set 300 years in the future, the series follows the exploits of the Orville's motley crew, and the cosmic challenges that come their way. In addition to MacFarlane and Palicki, the series will star "American Dad" alum Scott Grimes as Gordon, Ed's best friend and pilot of the Orville.
Since "Marvel's Most Wanted" — the proposed "Agents of S.H.I.E.L.D." spinoff series that would star Palicki as Bobbi Morse/Mockingbird — wasn't picked up, Palicki was freed up to work on MaFarlane's new show. Because of her commitment to the new series, there likely won't be much (if any) Bobbi in "Agents of S.H.I.E.L.D.'s" fourth season.
FOX has already ordered 13 episodes of the upcoming MacFarlane/Palicki-led series.
NEW 'FLATLINERS' IS ACTUALLY A SEQUEL, KIEFER SUTHERLAND REVEALS
07/30/16 @ 1:29 pm EST
Source:
Comic Book Resources
| Categories:
MIsc
|
Comments
(0) |
E-mail Article
|
Add a Comment
It turns out Sony Pictures' "Flatliners" isn't a remake of the 1990 sci-fi thriller but instead a
sequel
.
That clarification comes from Kiefer Sutherland, who reveals he isn't playing just any"seasoned doctor," but rather reprising his role from the original film.
"I play a professor at the medical university," he told Metro. "It is never stated but it will probably be very clearly understood that I'm the same character I was in the original 'Flatliners' but that I have changed my name and I've done some things to move on from the experiments that we were doing in the original film."
Directed by Joel Schumacher, 1990's "Flatliners" starred Sutherland, Julia Roberts, Kevin Bacon, William Baldwin and Oliver Platt as medical students who conduct experiments on each other to produce near-death experiences in order to learn about the afterlife. Naturally, those experiments go horribly awry.
Directed by Niels Arden Oplev ("The Girl With the Dragon Tattoo") from a script by Ben Ripley ("Source Code"), the new film also features Ellen Page, Diego Luna, Nina Dobrev, James Norton and Kiersey Clemens.
"SPIDER-MAN: HOMECOMING" ADDS "BASKETS" ACTRESS
07/30/16 @ 1:26 pm EST
Source:
Comic Book Resources
| Categories:
Spider-Man
|
Comments
(0) |
E-mail Article
|
Add a Comment
With filming well under way outside of Atlanta, "Spider-Man: Homecoming" is still adding to its ensemble cast.
Deadline reports actress/comedianMartha Kelly, best known for her role on FX's "Baskets," has joined the film in an undisclosed role -- which is part for the course for the Marvel Studios/Sony Pictures production.
The only officially announced roles are the obvious ones -- Tom Holland as Peter Parker, Marisa Tomei as Aunt May and Robert Downey Jr. as Tony Stark -- leaving everything else as largely a patchwork of guesses, assumptions and complete unknowns.
The footage screened at Comic-Con International confirmed that Tony Revolori plays Flash Thompson, and it's widely accepted that Michael Keaton is the classic Spider-Man foe the Vulture. Beyond that, director Jon Watts offered up the first names of the characters played by Laura Harrier and Jacob Batalon, leading us to assume they're Liz Allen and Ned Leeds. Beyond that, though, it's tough to say.
Opening July 7, 2017, "Spider-Man: Homecoming" also stars Zendaya, Donald Glover, Tyne Daly and Bokeem Woodbine, among others.
HBO CONFIRMS 'GAME OF THRONES' WILL END WITH SEASON 8
07/30/16 @ 1:19 pm EST
Source:
The Hollywood Reporter
| Categories:
MIsc
|
Comments
(0) |
E-mail Article
|
Add a Comment
It's truly the end of the road for HBO's
Game of Thrones
.
New HBO programming president Casey Bloys met the press Saturday at the Television Critics Association's summer press tour and the first question he fielded was about the future of the HBO fantasy drama. The executive also confirmed that yes, the plan is for the yet-to-be announced eighth season of the adaptation of George R.R. Martin's fantasy drama to be its last.
"Yes, I think [the showrunners, D.B. Weiss and David Benioff] have a very specific plan about the number of seasons they want to do," Bloys said. "If I could get them to do more, I would take 10 seasons but we want to take their lead with what they could do and what the best version of the show is."
HBO most recently renewed the drama for a shortened seventh season — consisting of seven episodes — and producers have noted that they envision a total of 75 episodes of the series as a whole. Through season six, the show has produced 60 episodes.
Bloys reiterated that an episode count for the eighth season — which is all but a formality — has yet to be determined but noted that conversations for a spinoff remain on the table.
BOX OFFICE: MATT DAMON'S 'JASON BOURNE' RULES WITH $61 MILLION
07/30/16 @ 1:15 pm EST
Source:
Variety
| Categories:
MIsc
|
Comments
(0) |
E-mail Article
|
Add a Comment
Matt Damon's "Jason Bourne" is dominating moviegoing with an estimated $61 million opening weekend at the domestic box office.
That's more than double its closest rival, raunchy comedy "Bad Moms" with about $27 million and as much as $30 million at 3,215 locations.
Universal's fifth film in its sturdy Bourne franchise is performing well above forecasts with an opening day taking in about $23 million at 4,026 sites. STX's "Bad Moms" grossed $9.6 million on Friday at 3,215 locations.
Lionsgate's thriller "Nerve," which opened Wednesday, took in $3.2 million on Friday at 2,538 theaters for a weekend of up to $9 million and a five-day total of about $15 million.
"Jason Bourne" is Damon's fourth film as a former CIA assassin dealing with memory loss. The franchise launched with 2002's "The Bourne Identity," followed by 2004's "The Bourne Supremacy" and 2007's "The Bourne Ultimatum." Damon did not appear in 2012's "The Bourne Legacy," which starred Jeremy Renner.
ASH'S ICONIC CAR WILL BE A KILLING MACHINE IN SEASON 2
07/29/16 @ 10:52 pm EST
Source:
Comicbook
| Categories:
MIsc
|
Comments
(0) |
E-mail Article
|
Add a Comment
When Season 2 of
Ash vs Evil Dead
returns this fall, you can bet your sweet bippy that Ash will still be driving "The Classic," the 1973 Oldsmobile Delta 88 owned by
Evil Dead
creator, Sam Raimi, and featured in many of his films.
However, the iconic car will be doing more than just cruising around the streets of Jacksonville, Florida and Elk Grove, Michigan. According to its star, Bruce Campbell, "The Classic" will be used to kill a Deadite in an outrageous and gruesome way.
"There's an episode that's basically around the Delta," Campbell told EW. "It's a pretty interesting episode, with perhaps the worst onscreen death in the history of all visual arts. 'Worst' meaning 'most outrageous.' Like, 'Am I really watching this happening? Am I really watching this unfold in front of me?'"
SUICIDE SQUAD'S JAI COURTNEY WANTS TO PLAY CAPTAIN BOOMERANG AGAIN IN THE FLASH
07/29/16 @ 10:48 pm EST
Source:
Comicbook
| Categories:
Flash
|
Comments
(0) |
E-mail Article
|
Add a Comment
Mild spoilers ahead for Suicide Squad. Don't read further or watch the below video unless you don't mind being spoiled from a fun surprise!
The much-anticipated
Suicide Squad
film is nearly here, and as was revealed yesterday, it has one more Justice Leaguer in it than expected. While everyone saw clips and stills of Batman (and he was literally witnessed on the set in Toronto), no one knew another member of the team would show up - including Jai Courtney, Captain Boomerang in the movie, who shares screentime with the hero in question: The Flash. The cameo (we won't spoil the details) is shown when the individual
Squad
members are introduced. Could that lead to more on-screen time between the two, who've clashed many times in the pages of DC Comics? Courtney sure hopes so.
"Yeah, I don't know, I don't think there's anything restricting it from happening," Courtney said of making the jump to
The Flash
solo film. "It's not a conversation that I've had yet. It'd be dope though, I'd love to. With these properties, and this world, the potential to kind of cross-contaminate is there everywhere. It would be dope to be part of that. I'd love the opportunity."
The actor also noted that he hopes "we get to do a few more of these for sure," he told us. "It'd be dope to see [Captain Boomerang] in his natural habitat" in a possible sequel, he said. "It'd be cool to see what he's capable of, give him a little more room to move, spread his wings a little. We did kind of introduce a feeling that he has these makeshift creations; he's like a garage cook of sorts with his weapons. We had this idea that his coat is sort of Mary Poppins's bag, he could pull anything out of there and we didn't have to justify how it fit or if he was ever going to run out. He's not the most equipped when it comes to powers, but it'd be cool to play in that space."
You can see Jai Courtney as Captain Boomerang for the first time in
Suicide Squad
on August 5, 2016.
Video:
https://youtu.be/v_qLrUYFXP0