MARVEL DOUBLES THE VALUE OF ALL ITS TOP-SELLING SUPER HERO COMICS
03/09/12 @ 10:20 am EST
Source:
Marvel
|
Comments
(0) |
E-mail Article
|
Add a Comment
The World's Top Comic Publisher Announces Landmark Digital Initiative
Marvel is proud to announce that, beginning June 2012, all Marvel super hero comics priced at $3.99 will include codes for free digital copies of those same issues on the
Marvel Comics app
for iOS and Android devices at no extra cost! That's right, the most-talked-about comics in the industry—including
Avengers
,
Captain America
,
Invincible Iron Man
,
Mighty Thor
,
Amazing Spider-Man
.
Wolverine & The X-Men
and more—will come packed with a code to ensure fans have the most critically acclaimed stories with them anytime, anywhere.
"We're committed to bringing fans the best value in comics. By including codes for free digital copies in all our $3.99 super hero comics, we're doing just that" said David Gabriel, SVP of Sales, Marvel Entertainment. "We've seen a tremendous response to the digital codes in
Avenging Spider-Man
, our
Season One
graphic novels and the Ultimate Comics line. The positive reactions from both retailers and fans make it clear that including these codes with our books drives customers into comic stores on a repeated basis."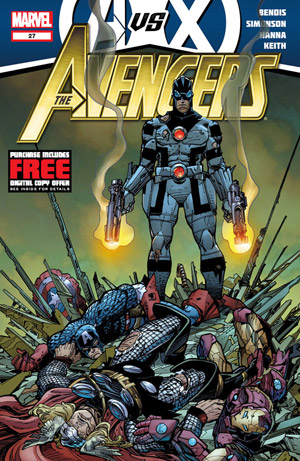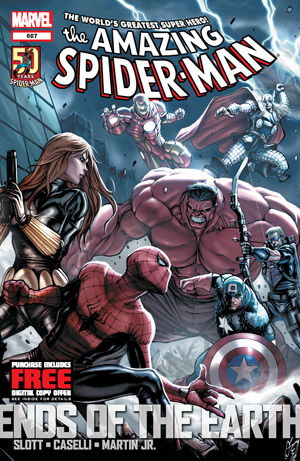 Marvel made comic book history in 2011 by announcing all titles in the Ultimate Comics line would include codes for free digital copies on the
Marvel Comics app
, with unrivaled incentives for comic shop retailers. Then, in 2012, Marvel announced the acclaimed
Season One
graphic novels would also include similar codes making them the first graphic novels to ever include codes for free digital copies at no extra cost.
"At Marvel, we're always looking for ways to bring the worlds of print and digital media together to deliver the best comics experience for our fans," said Peter Phillips, SVP & GM, Marvel Digital Media. "With this next step, fans will soon be able to buy their comics from their favorite retailers but also enjoy them on their mobile devices and tablets, all at no extra charge. Welcome to the Revolution."
To find a comic shop near you, call 1-888-comicbook or visit
www.comicshoplocator.com
Marvel Entertainment, LLC, a wholly-owned subsidiary of The Walt Disney Company, is one of the world's most prominent character-based entertainment companies, built on a proven library of over 8,000 characters featured in a variety of media over seventy years. Marvel utilizes its character franchises in entertainment, licensing and publishing. For more information visit
www.marvel.com
MEGACON TARGETED BY STAGE HANDS UNION OVER OUTSOURCING WORKERS FOR THE SHOW
05/30/16 @ 2:55 pm EST
Source:
Bleeding Cool
| Categories:
MIsc
|
Comments
(0) |
E-mail Article
|
Add a Comment
Comic book conventions are often lauded for the income and economic boost they bring to an area, through hotels, workforce and increase in business to local trade. In 2014, it was estimated that Megacon brought $23 million to Orange County.
This year, however, it may be a little less. And the local branch of the International Alliance Of Theatrical Stage Employees union has noticed.
This flyer, handed out at the show this past weekend, asks attendees and vendors to complain to the show runners about the use of an out-of-state workforce, and that local workers who are employed are underpaid.
Megacon's executives were reached out to, according to Bleeding Cool, but declined comment.
BRAZILIAN STUDIO CANCELS CONTRACT WITH DC COMICS ARTIST OVER RAPE COMMENTS
05/30/16 @ 2:43 pm EST
Source:
Bleeding Cool
| Categories:
MIsc
|
Comments
(0) |
E-mail Article
|
Add a Comment


The impeachment procedures in Brazil have led to all manner of voices being heard on the political scene, including that of some rather far-right wing politicians, who both oppose President Dilma and progressive social movements such as feminism and gender identity.

Then came the news about a 16-year-old young woman who was raped by thirty-three men in Rio.

This led to the age-old familiar claim that the woman was in some way to blame for this gaining currency.

That included DC Comics freelance artist Allan Goldman, who posted to Facebook:

"What happens if the 30 rapists claimed they are women? According to the leftist gender ideology, a person is what you feel, and your biology does not matter. The society is obliged to accept this decision, if not is fascism! How the Court will hear case of a woman who was raped by 30 other women ?I was curious now."

Chiaroscuro Studios, which represented Goldman with the American publishers have, as a result, terminated their arrangement with him, saying "We decided to terminate the relationship with artists not aligned with values that, for us, are absolutely non-negotiable".

Goldman co-created the series Nox for Space Goat Productions as well as working on Superman, Action Comics, Teen Titans, Countdown and Future's End for DC Comics. (Via Bleeding Cool)


ADAM WEST AND BURT WARD WORKING ON SOMETHING BATMAN AND ROBIN-RELATED?
05/30/16 @ 2:35 pm EST
Source:
Bleeding Cool
| Categories:
Batman 66
|
Comments
(0) |
E-mail Article
|
Add a Comment
Often at odds over the decades, the original TV Batman and Robin from the 1960s,
Adam West
and
Burt Ward,
have taken to the stage at Megacon together.
Erin Manzo reports for
Bleeding Cool
that they have talked about working on a new project together for later in the year. The suggestion is it may be Batman and Robin-related, but they can't say.
But when asked how, as their characters, they would have dealt with the likes of Harley Quinn and Poison Ivy, their response was "Wait until November."
BILL SIENKIEWICZ TO BE PUBLISHED IN ITALY FOR THE CANNIBAL FAMILY
05/30/16 @ 2:30 pm EST
Source:
Bleeding Cool
| Categories:
MIsc
|
Comments
(0) |
E-mail Article
|
Add a Comment
Bill Sienkiewicz
has a number of high profile comic book projects planned. An unnamed Millarworld title with
Mark Millar
. Parisiene
White
from Milkfed with
Kelly Sue DeConnick
. And now a new Italian project.
Comicus.it reports that Editions Inkiostro, publishers of the slick gross-out comic book
Cannibal Family
will be publishing a new cover by Bill Sienkiewicz, followed by work by Sienkiewicz, written by a-yet-unnamed Italian author.
WHICH CHARACTERS DIE IN THE WALKING DEAD SEASON 7?
05/30/16 @ 2:22 pm EST
Source:
Comicbook
| Categories:
Walking Dead
|
Comments
(0) |
E-mail Article
|
Add a Comment
When
The Walking Dead
returns for its seventh season, it will do so with a vengeance. The show which built itself on the premise of no character being safe seemed to get a bit complacent with its main players for its sixth season.Right off the bat, one character will be offed to start the new season, but beyond that, season seven promises to be a deadly one as Rick's group marches into a war with Negan's Saviors. When the smoke clears, who will be left standing?
Find a new hot tubRelax in Style! Find the perfect hot tub on Yahoo Search! Give it a whirl!See MoreA Message from Yahoo Let's take a look at who is in danger and who is safe for season seven based on how the show has played out so far and how it all goes down in the comics...-----
Rick- Safe
. Rick Grimes has a lot of work to do and a war to win.
Carl- Safe.
Someone will have to take the torch from Rick when his time comes.
Maggie- Safe.
While the fate of her baby is questionable, Maggie will go on to emerge as a leader regardless. In the comics, she topples Gregory's leadership at the Hilltop and becomes the leader the community needed.
Glenn- Danger.
We all know how Glenn went out in the comics. If he managed to escape death by Negan's bat, his death is probably not far off regardless. No one is invincible.
Eugene- Danger.
He has come a long way. Perhaps the furthest of any character. Now that his bullet manufacturing abilities have been handed off in the form of a note, Eugene is all good to check out.
Aaron- Not safe, no in danger.
Aaron lives on the comics but he feels like one of the characters who could substitute death for another, much like Denise did for Abraham. However, if Aaron were to die, his boyfriend Eric would have no story left to tell.
Eric- Danger.
Eric falls victim to the war right in front of his boyfriend during a battle with the Saviors in the comics. He hasn't played a major role on the show but if Aaron is to stick around and need some additional motivation, this is it.
Abraham- Danger.
Happy endings don't happen on
The Walking Dead
. While he was spared his comic book death when Denise took the arrow, he's getting awfully cozy Sasha and that never ends well.
Rosita- Safe.
Rosita has a long way to go. The character will likely find herself and fit in with the group better as time goes on and also serve as a useful soldier in Rick's army.
Sasha- Danger.
Sasha lives dangerously and often puts herself in harm's way. Doing this with Negan isn't smart. Serving as the TV equivalent to Holly in the Abraham love triangle storyline, Sasha may just become a weapon in walker form which Negan may unleash on Alexandria.
Daryl- Danger.
The Walking Dead
will be looking to shock its audience like it did in the early seasons and killing off a Daryl or Michonne in an effective manner would do just that.
Michonne- Not safe, not in danger.
Rick's love interests never seem to make it out alive. However, Michonne is a main player in the comics despite not ever being in a relationship with the Sheriff.
Negan- Safe.
He may lose the war, but he won't lose his life.
Dwight- Safe.
In the comics, Dwight eventually betrays Negan and helps Rick's side win the war. He has several internal struggles that play out and help readers fall in love with him. We expect to see some of the redeeming qualities on television.
Father Gabriel- Danger.
Father Gabriel's time may come as he has finally stepped up and put himself into the fight. At this point, his loss wouldn't be an easy one, either.
Carol- Danger.
In the comics, Carol committed suicide by feeding herself to walkers. Her character is in an emotional state at the moment, so that destiny could be fulfilled.
Morgan- Not safe, not in danger.
The man who values all life is clearly willing to break his code when it counts, but his prophecy may be passed down to Carol like Eastman's was to him. He could make the ultimate sacrifice for someone else.
Spencer- Danger.
Negan just might want to see this kid's guts.
Jesus- Safe.
Jesus becomes a right hand man to Rick's group and an adviser to Maggie as she leads the Hilltop. He's not going anywhere.
Gregory- Safe.
Unfortunately, the arrogant leader of the Hilltop will likely stick around, too.-----Who do you think is in danger when
The Walking Dead
returns for its seventh season?
THE FLASH'S CARLOS VALDES ADDRESSES HOW METAHUMAN PRISONERS EAT AND USE THE BATHROOM
05/30/16 @ 2:18 pm EST
Source:
Comicbook
| Categories:
Flash
|
Comments
(0) |
E-mail Article
|
Add a Comment
On TV's
The Flash
, when a villain is too powerful to be held in a conventional prison, they're brought to The Pipeline -- a power-dampening series of cells deep within S.T.A.R. Labs.
And while we occasionally see members of the main cast bring the bad guys Big Belly Burger -- mostly when they need to interrogate them -- some fans have asked how exactly the prisoners are usually fed, how they use the bathroom when there doesn't appear to be anything like that in their cells, etc.
According to series regular Carlos Valdes, this is something that they've actually talked about, even though the explanations haven't really made it onscreen yet. Well, the bathroom part hasn't, anyway.
Video:
https://youtu.be/SOvcIFybD3Q
Recounting a deleted scene from "Grodd Lives," in which Caitlin brings a cart full of custom-ordered fast food to the prisoners, Valdes said, "I think there was also a scene where there was a toilet in the Pipeline..."
...he then trailed off, not wanting to get too intimate with the specifics of the prisoners' bathroom habits.
Of course, how that toilet would work with somebody like The Mist, who could use external pipes to escape, is anybody's guess. We certainly imagine they've got it all worked out considering that we recently learned that S.T.A.R. Labs even has its own morgue onsite.
SHANE BLACK'S PREDATOR MOVIE RELEASE DATE GETS MOVED UP
05/30/16 @ 2:12 pm EST
Source:
Comicbook
| Categories:
MIsc
|
Comments
(0) |
E-mail Article
|
Add a Comment
Along with a number of other release date changes and announcements yesterday, 20th Century Fox revealed that they were moving up the date of
The Predator
from
Iron Man 3
director Shane Black from March to February of 2018.
Black's rebootquel
The Predator
will not take the franchise back to revisit its glory years in the '80s. Rather, the film will be set in the current day, with Black dodging questions about whether that means Arnold Schwarzenegger could play his original character, just thirty or so years older, in the next installment of the franchise.
ZOOTOPIA RANKS AS SECOND LARGEST ORIGINAL MOVIE OF ALL-TIME
05/30/16 @ 2:10 pm EST
Source:
Comicbook
| Categories:
Disney
|
Comments
(0) |
E-mail Article
|
Add a Comment
Disney's surprise hit
Zootopia
has entered into historic territory. According to Forbes and Box Office Mojo,
Zootopia
is now the second largest original movie of all-time, trailing only James Cameron's
Avatar
. By "original" movie, Forbes qualifies that it's a movie "not based on a television show, a comic book, a novel, or a stage play," nor is it a sequel, prequel, reboot or based on actual historical events, which basically eliminates just about every big box office movie made over the last 20 or so years.
To date,
Zootopia
has made nearly $1 billion, making it Disney's eleventh biggest movie of all time. In terms of animated fare,
Zootopia
ranks fourth behind
Toy Story 3, The Minions
and
Frozen
.
Zootopia
is also the sixth best "non-prequel/sequel" behind
Avatar, Titanic, Frozen
,
Jurassic Park
and
Alice in Wonderland
...which arguably could be seen as a loose sequel to the original
Alice in Wonderland
books and/or animated film.
NEW 'STAR TREK BEYOND' CHARACTER POSTERS SPOTLIGHT UHURA, SCOTTY & SULU
05/30/16 @ 2:05 pm EST
Source:
Comic Book Resources
| Categories:
Star Trek
|
Comments
(0) |
E-mail Article
|
Add a Comment
Following up on the McCoy, Jaylah, Chekov and Spock posters, Paramount Pictures has unveiled new character posters for Uhura, Sulu and Scotty from their upcoming "Star Trek Beyond" — leaving Chris Pine's Captain Kirk the last of the main crew to get a poster…
Directed by Justin Lin ("Furious 7″) and produced by J.J. Abrams ("Star Wars: The Force Awakens"), "Star Trek Beyond" is set to debut at San Diego Comic Con, before it beams into theaters on July 22.
WILLA HOLLAND CALLS OUT WB FOR SHUTTING DOWN "ARROW'S" SUICIDE SQUAD PLANS
05/30/16 @ 2:01 pm EST
Source:
Comic Book Resources
| Categories:
Suicide Squad
|
Comments
(0) |
E-mail Article
|
Add a Comment
"Arrow" star Willa Holland believes the DC Cinematic Universe could learn a lesson from Marvel. During an interview with The Mirror, she expressed her frustration with the disconnect between DC's films and television series, why the Suicide Squad was axed from the show and more.
"We were about season two when they started telling us we had to start basically killing off the Suicide Squad that we were starting to build on our own," Holland recalled. "We were actually trying to build that on our own on the show, and I guess once DC found out they were going to be doing their own movie of it, we had to ax all of the characters before we even got to show them, which was a little annoying at first.
"Then when Stephen found out there was going to be a Justice League [movie] it only seemed -- rightly so -- he would be playing Green Arrow on it as well as that Grant [Gustin] would be playing the Flash," she continued. "It seemed like the right normal answer, and -- once they said no -- you can't really fight against them for it, because they are the people that gave us a job in the first place. So you just have to sit there on your hands, like okay, I get it!
"Marvel does it in their own weird right, kind of mash between 'Agents of S.H.I.E.L.D.' and the movies and stuff. So it's a little upsetting because you know it is possible and it can be done and how good it would be if it was done," she added.