INDIE MAN SAYS: BIONIC MAN #7
03/08/12 @ 3:31 pm EST
Source:
Just About Comics
| Categories:
The Bionic Man
|
Comments
(0) |
E-mail Article
|
Add a Comment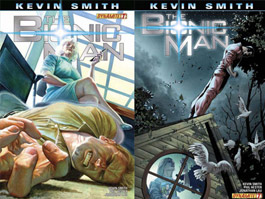 Smith and Hester's writing is entertaining overall, slower and more poignant when it is called for but upbeat and suspenseful when action is needed. They have, for me, a knack of keeping things on a very human level despite the subject matter. These two guys do 'street level' quite well.
The artwork is excellent no matter what is called for. Lau is an artistic technician of the type that I enjoy most. Clean crisp linework that is energetic and full of expression. Nunes adds just the right touches so that what is seen is understood but what we sense along the edges and in shadows adds to the overall feel and doesn't become the headline.
I do recommend the book for those that appreciate solid storytelling and compelling art. You need not have foreknowledge of The Bionic Man to enjoy the offerings of Smith
et al.
For the full review:
Just About Comics
SOMETHING STRANGE IS UP IN ARKHAM MANOR #3
12/22/14 @ 8:09 pm EST
Source:
DC
| Categories:
Batman
|
Comments
(0) |
E-mail Article
|
Add a Comment
In ARKHAM MANOR #3, all is not as it seems as Batman's plans unravel in Arkham Manor, and Jack Shaw investigates the serial killer who's been murdering inmates!
Think you have Arkham figured out? This mystery just gets deeper, and the twists keep coming. We know Bruce Wayne is undercover as Jack Shaw, and here we see Jack Shaw in disguise as a doctor, and that doctor slips right past Eric Border, and we all know Eric Border is… well maybe you don't know that particular twist just yet!
Check it out when ARKHAM MANOR #3, written by Gerry Duggan and illustrated by Shawn Crystal, hits shelves this Wednesday.
HUMANOIDS' NEW YEAR'S ARRIVALS
12/22/14 @ 5:34 am EST
Source:
ICv2
| Categories:
MIsc
|
Comments
(0) |
E-mail Article
|
Add a Comment
Humanoids has announced two new titles set for early 2015 release. First up in January is
Lou Cale
. Written by Eric Warnauts and illustrated by Warnauts and Guy Servais (Raives), this 1940's crime noir drama was originally released as a four-issue mini-series in German in the early 1990s. Collected here by Humanoids, the 7.9" x 10.8" hardcover is a 244-page color edition and retails for $34.95. It will be available on January 14.
Next for Humanoids is
Millennium
. Written by Richard D. Nolan and illustrated by Francois Miville-Deschenes,
Millennium
is a fantasy adventure and detective story set during medieval times. Originally released as a five-issue series between 2008 and 2012 in German, this new Humanoids edition is a 7.9" X 10.8", 292-page, color hardcover that retails for $39.95 and will be released on February 25.
'BATTLE OF THE FIVE ARMIES' STOMPS THE COMPETITION
12/22/14 @ 5:31 am EST
Source:
ICv2
| Categories:
MIsc
|
Comments
(0) |
E-mail Article
|
Add a Comment
Peter Jackson's final Hobbit film, The Hobbit: The Battle of the Five Armieseasily took the weekend box office with a three-day total of $56.2 million. The Hobbitfinale opened on Wednesday and has amassed a massive $90.6 million 5-day domestic total. The other two big opening films, the pricy comedy Night at the Museum 3 and the musical remake Annie both had soft bows with Night at the Museum earning $17.3 million, just a million more than Annie.

It is difficult to compare the opening of The Battle of the Five Armies with the previous Hobbit films since unlike the finale, the first two Hobbit movies opened on Friday, but there are signs that The Battle of the Five Armies could do at least as well as the first Hobbit movie, An Unexpected Journey, which brought in $84 million over 3-days in 2012. For one thing, it appears that The Battle of the Five Armies is attracting more families and younger viewers with 40% of the opening weekend crowd under 25 versus just 19% of the audience of the secondHobbit film, The Desolation of Smaug. Viewers of The Battle of the Five Armies were as expected primarily male (60%), and they gave the film a solid "A-" CinemaScore, which should translate into solid "legs" at the box office.

Second place went to Shawn Levy's Night at the Museum: Secret of the Tomb, which earned just $17.3 million over its debut weekend, a franchise low, way behind the $30 million and $53 million totals of the first two movies in the series, which debuted in 2006 and 2009 respectively.
IMAGE EXPO WILL SHOWCASE FOUR EXCLUSIVE VARIANTS
12/22/14 @ 5:27 am EST
Source:
Image
| Categories:
Image
|
Comments
(0) |
E-mail Article
|
Add a Comment
Image Comics is pleased to announce four jaw-dropping exclusive Image Expo variants will be available on the day of the show, January 8, 2015: BITCH PLANET #1 by Kelly Sue DeConnick and Valentine De Landro, RUMBLE #1 by John Arcudi and James Harren, WYTCHES #3 by Scott Snyder and Jock, and EAST OF WEST #16 by Jonathan Hickman and Nick Dragotta with cover art by Meredith McClaren (HINGES). All Image Expo variants will be priced at $5 each, Premium ticket holders will be receiving them complimentary with their ticket purchase.
An IMAGE FIRSTS COMPENDIUM trade paperback will also be available at Image Expo for the first time, collecting nine #1 issues of Image Comics' hottest new series at the low introductory price of $5.99. The nine included are: C.O.W.L. #1 by Kyle Higgins and Alec Siegel, LOW, #1 by Rick Remender and Greg Tocchini, NAILBITER #1 by Joshua Williamson and Mike Henderson, OUTCAST BY KIRKMAN & AZACETA #1, SHUTTER #1 by Joe Keatinge and Leila del Duca, SOUTHERN BASTARDS #1 by Jason Aaron and Jason Latour, THE FADE OUT #1 by Ed Brubaker and Sean Phillips, THE WICKED + THE DIVINE #1 by Kieron Gillen and Jamie McKelvie, and WYTCHES #1 by Scott Snyder and Jock. This is the perfect sampling of some of the best creator-owned series available and allows readers interested in trying out a variety of new series to do so without breaking the bank.
There will also be a very limited number of posters for sale that feature the complete collection of connecting EAST OF WEST #16 covers. EAST OF WEST artist Nick Dragotta will be present for a signing.
Previously announced Image Expo guests include: Brian K. Vaughan (SAGA),Todd McFarlane (SPAWN), Scott Snyder (WYTCHES), Emi Lenox (EMITOWN),Jeff Lemire (Green Arrow), Marjorie Liu (Astonishing X-Men), Emma Ríos(PRETTY DEADLY), Brandon Graham (PROPHET), James Robinson (THE SAVIORS). In addition, there will be special surprise guests in attendance.
IMAGE EXPO will be an all-day event held in San Francisco at the Yerba Buena Center for the Arts on January 8, 2015. Image Expo will begin the new year with a slew of thrilling creator-owned news announcements and will be open to all fans, comics retailers, and members of the media.
NAILBITER/HACK/SLASH CROSSOVER ONE-SHOT: A BLOODY GOOD READ
12/22/14 @ 5:22 am EST
Source:
Image
| Categories:
Image
|
Comments
(0) |
E-mail Article
|
Add a Comment
Bestselling writers Joshua Williamson (BIRTHRIGHT, NAILBITER) and Tim Seeley (HACK/SLASH) team up with artists Mike Henderson (NAILBITER) and Emilio Laiso (HACK/SLASH) for a crossover one-shot event of killer proportions—NAILBITER/HACK/SLASH—coming to Image Comics on March 4, 2015.
"Josh and I share a fascination with B-movie horror and serial killer culture," said Seeley. "As soon as I read Nailbiter I knew our worlds were gonna collide."
Williamson added: "Hack/Slash has been one of my favorite books for a long time, and once we started running with Nailbiter, I knew we were playing with some of the same tropes and twisting them. Cassie and The Nailbiter HAD to meet. Doing this flip book with Tim has been a blast. One of the scariest and most messed up scenes we've done in Nailbiter takes place here. Whenever I tell people about it, I can see their skin crawl."
In NAILBITER/HACK/SLASH, the infamous serial killers of Buckaroo, Oregon meet the ultimate serial killer hunter, Cassie Hack… let the blood-bath begin. In this one-shot it's Cassie Hack vs. the Nailbiter! Vlad vs. the Lucha Eliminador! IT'S ON!
NAILBITER/HACK/SLASH features two brand new tales of terror by the creative teams of the Image hits NAILBITER and HACK/SLASH, and Tim Seeley makes his grand return to the character he created to give you a nasty blast from the past. If you've ever needed an excuse to read these two horrific comics, now is your chance!
NAILBITER/HACK/SLASH (Diamond Code JAN150593) one-shot clocks in at 40 pages and hits shelves on March 4.
JOE QUESADA APPEARS ON STEPHEN COLBERTíS FINAL NIGHT, AS THE CAPTAIN AMERICA SHIELD IS TAKEN INTO ETERNITY
12/19/14 @ 11:09 pm EST
Source:
Bleeding Cool
| Categories:
MIsc
|
Comments
(0) |
E-mail Article
|
Add a Comment
Last night saw Stephen Colbert's final trip into truthiness, and saw The Colbert Report stage massed with a hundred past guests from Henry Kissinger to Patrick Stewart to Big Bird, singing we'll meet again.

And among them was a familiar face, multiple guest of the show, Joe Quesada CCO of Marvel Comics. (Well, the studio was just round the corner from Marvel's offices it wouldn't have been a big trip.)

And as for that infamous Captain America shield that was given to Stephen Colbert on the occasion of Captain America's death a few years ago? Well, Colbert had sold off much of the set and the props but there was no way he was letting that go, and so he took the shield with him!




DARK HORSE TO PUBLISH THE ORDER OF THE FORGEóTHE UNTOLD TALE OF GEORGE WASHINGTON
12/19/14 @ 10:53 pm EST
Source:
Dark Horse
| Categories:
Dark Horse
|
Comments
(0) |
E-mail Article
|
Add a Comment
In spring 2015, creator and producer Donn D. Berdahl of Bronco Donn Entertainment and Dark Horse Comics, in association with Home Plate Entertainment, will present a tale left out of the history books. Set in 1753, this comic shows a young George Washington who ain't your schoolteacher's George Washington; this is
The Order of the Forge
!
Victor Gischler (
Deadpool: Merc with a Mouth
,
Wolverine: Revolver
,
Angel & Faith
) writes a three-issue miniseries that will surprise and shock scholars everywhere. Based on an original concept from Donn D. Berdahl and a treatment by well-known British author Andy Briggs, The Order of the Forge has "humor, vulgarity, and at times brutality," according to Comic Bastards. This series is a must-read for fans of Abraham Lincoln: Vampire Hunter and all other historical fiction works!
Before he fathered a nation, young George Washington forged his legend in blood! Before he fought for his country, he killed for the king! Imbued with the mystical powers of America's original inhabitants, George and his superpowered axe—along with his friends, a debauched, middle-aged Ben Franklin and a young, rebellious Paul Revere—must stop an evil colonial governor who wishes to rule an empire!
"Dark and filled with seething rage, this George will shatter the image of the white-haired father of a nation!" stated Berdahl. Publisher Mike Richardson, founder of Dark Horse, said, "This is one of those great changeups that challenge our notions of a widely accepted historical figure and pose a 'what if' in an entertaining manner."
BATMAN INFECTED BY THE AMAZO VIRUS!
12/19/14 @ 10:48 pm EST
Source:
DC
| Categories:
Justice League
|
Comments
(0) |
E-mail Article
|
Add a Comment
The Amazo Virus has been running rampant ever since the "accident" happened in Lex Luthor's laboratory at the end of JUSTICE LEAGUE #35. With many of the Justice League heroes hospitalized with the virus, its up to Wonder Woman, Superman and Batman to stop the virus from spreading further in JUSTICE LEAGUE #37.
While working to detain patient zero outside Lex's laboratory, the super heroes learn two very disturbing facts about the virus: Not only does the virus transform a human host into a meta-human, but the virus can survive outside the human body and continuously mutate!
How will a mutating, airborne, meta-human-making virus ever be contained?!
To make matters much worse, in a failed attempt to extract blood from patient zero, Batman is accidentally exposed to the virus!
After his hazmat suit is destroyed by patient zero's heat vision blast, see below as Batman reveals the terrible news! Is Batman the next super hero to be infected? If so, what future doom awaits?
JUSTICE LEAGUE #37, written by Geoff Johns and illustrated by Jason Fabok, is available in stores now.
ROBIN RISES! BATMAN FALLS?
12/19/14 @ 10:44 pm EST
Source:
DC
| Categories:
Batman and Robin
|
Comments
(0) |
E-mail Article
|
Add a Comment
In BATMAN AND ROBIN #37, the penultimate issue of ROBIN RISES!, there is one last obstacle blocking Bruce Wayne's quest to bring Damian back from the dead: Darkseid! Back in ROBIN RISES: OMEGA #1, Batman made a vow to bring back Robin alive – and the quest took him all the way to Apokolips!
In this epic stand-off between good and evil, Darkseid pushes Batman, in his Hellbat suit, to the brink of destruction as Batman attempts to secure Damian's sarcophagus and escape Darkseid's rampage. After capturing the omega beams necessary to heal the chaos shard, Batman has no other choice but to divert all power of his Hellbat suit, which draws from the wearer's metabolism for energy, to flee the scene with his dead son's coffin.
Though the power surge rescues Batman from Darkseid, the Hellbat suit has left Bruce with only a few minutes before the suit implodes!
Ignoring the warning alerts, Batman uses his last moments to resurrect Damian using the chaos shard…. And it works! Robin Rises!
But as Damian awakes, Bruce can't escape the turmoil he put his body through…
Just moments after reuniting and their emotional father-son embrace, see below as Bruce collapses! What does this mean? Has Batman sacrificed himself for his son? Sound off in the comments below!
BATMAN AND ROBIN #37, written by Peter Tomasi and illustrated by Patrick Gleason, is available in stores now. And look ROBIN RISES: ALPHA #1, the final chapter in ROBIN RISES!, when it hit shelves next Wednesday.
SPIDER-WOMAN WEAVES A WEB ACROSS COMICS & GAMES
12/19/14 @ 10:38 pm EST
Source:
Marvel
| Categories:
Spider-Woman
|
Comments
(0) |
E-mail Article
|
Add a Comment
Jessica Drew has already seen her profile raised in recent months as a key player in the Spider-Verse saga, but spinning out of the event, SPIDER-WOMAN will see its leading lady couple her new attitude with a fresh look—one already in display right now in the "Spider-Man Unlimited" mobile game from Gameloft!"We started planning this last May or so," unpacks SPIDER-WOMAN editor Nick Lowe of the metamorphosis just now beginning to unfold. "[Series writer] Dennis [Hopeless] and I were hatching what the book would be and one of the first things I wanted to do was change her costume [both] because I don't love that costume and she hasn't really had an alternative to it! At least not for any long stretch of time."So why the wait?"I met with Kris Anka on the show floor at San Diego Comic-Con [in July] to get him going on the redesign, but the trick was that we didn't want Jess in this new costume during Spider-Verse," Lowe continues. "There were so many other Spider characters and we needed her to be recognizable."While Jessica's Anka-designed outfit won't debut in comics until March with SPIDER-WOMAN #5, fans can check it out immediately and enter an addictive gaming experience with "Spider-Man Unlimited.""It was a really great process, made smoother by the fact that Marvel and Gameloft have been so well-synched since the start of our work on Spider-Verse," says Gameloft Product Manager Tatiana Nahai of the coordination to include Spider-Woman's update in "Spider-Man Unlimited," which already boasts synergy with the comics in the form of storyline tie-ins as well as recently introduced characters like Spider-Gwen. "Marvel had reached out to us about the new Spider-Woman and we were immediately excited to introduce her in the game, especially as we consider it a top priority to showcase exciting and engaging comics content in 'Spider-Man Unlimited.'""Javier has shown through his work on DAREDEVIL and SUPERIOR SPIDER-MAN that he is a storytelling master and his work just fit where Dennis and I wanted the book to go perfectly," says Lowe. "The new direction is street level and Javier's style that brings [Frank] Miller, [Klaus] Janson, and [David] Mazzuchelli all to mind makes me giggle with delight."Follow Jessica Drew's adventures in Spider-Verse right now with SPIDER-WOMAN and play as her in the new costume immediately by downloading "Spider-Man Unlimited"!