INDIE MAN SAYS: BIONIC MAN #7
03/08/12 @ 3:31 pm EST
Source:
Just About Comics
| Categories:
The Bionic Man
|
Comments
(0) |
E-mail Article
|
Add a Comment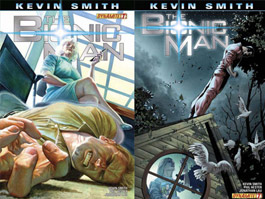 Smith and Hester's writing is entertaining overall, slower and more poignant when it is called for but upbeat and suspenseful when action is needed. They have, for me, a knack of keeping things on a very human level despite the subject matter. These two guys do 'street level' quite well.
The artwork is excellent no matter what is called for. Lau is an artistic technician of the type that I enjoy most. Clean crisp linework that is energetic and full of expression. Nunes adds just the right touches so that what is seen is understood but what we sense along the edges and in shadows adds to the overall feel and doesn't become the headline.
I do recommend the book for those that appreciate solid storytelling and compelling art. You need not have foreknowledge of The Bionic Man to enjoy the offerings of Smith
et al.
For the full review:
Just About Comics
GHASTLY AWARDS NOMINATES ONI PRESS'S JUNIOR BRAVES OF THE APOCALYPSE
02/09/16 @ 9:13 am EST
Source:
Oni Press
| Categories:
MIsc
|
Comments
(0) |
E-mail Article
|
Add a Comment
Oni Press is proud to announce the nomination of
Junior Braves of the Apocalypse Vol. 1: A Brave is a Brave
for the
2015 Ghastly Awards "Best OGN"
.
Junior Braves of the Apocalypse Vol. 1: A Brave is A Brave
by Greg Smith, Michael Tanner
,
and Zach Lehner follows the Junior Braves of Tribe 65 as they return from from a camping trip and find swarms of bloodthirsty mutants have overrun their town. With their families missing and their homes destroyed, these plucky kids must use all their scouting talents, combined smarts, and teamwork to survive the end of the world!
The nominees, chosen by the Ghastly Award judges, reflect the wide range of horror material being published in horror comics today. Fan and creator voting will be open from
February 8, 2016 until February 21, 2016
at ghastlyawards.com. Winners will be announced on March 1, 2016.
AMC'S 'PREACHER' ENLISTS JACKIE EARLE HALEY AS KEY COMICS CHARACTER
02/09/16 @ 9:09 am EST
Source:
The Hollywood Reporter
| Categories:
MIsc
|
Comments
(0) |
E-mail Article
|
Add a Comment
AMC's
Preacher
adaptation has enlisted Oscar nominee Jackie Earle Haley to play an iconic character from the graphic novel.
Haley has been tapped for a six-episode arc on the upcoming AMC drama, where he will portray the iconic character of Odin Quincannon,
The Hollywood Reporter
has learned.
Based on Garth Ennis and Steve Dillon's 1990s comic series from DC Comics imprint Vertigo,
Preacher
revolves around Rev. Jesse Custer (
Agent Carter'
s Dominic Cooper), a badass Texas preacher who, after losing his faith, learns that God has left heaven and forsaken his duties. Jesse becomes the only one who is able to track God down and hold him responsible for his abdication. Tulip O'Hare (breakout Ruth Negga), Jesse's beer-guzzling vampire ex-girlfriend, accompanies him on his quest for answers.
Haley's Odin is described as a small, decrepit man with the unscrupulous iron will necessary to be the most powerful man in Annville County, Texas. The chief employer in town, Odin runs Quincannon Meat & Power, a 125-year-old family run cattle slaughterhouse business.
In the comics, Odin is a member of the local KKK branch and clashes multiple times with Jesse, with the latter eventually discovering him having sex with a mannequin made out of meat products.
BLOOMSBURY TO PUBLISH PRINCESS PONIES BOOKS
02/09/16 @ 9:04 am EST
Source:
Licensemag.com
| Categories:
MIsc
|
Comments
(0) |
E-mail Article
|
Add a Comment
Awesome Media & Entertainment has partnered with Bloomsbury Children's Books to publish four new titles of Jeff Norton's
Princess Ponies
books, bringing the series total to 12 books.
The new books will each have a distinct holiday theme–Valentine's Day, St. Patrick's Day, Halloween and Christmas.
Before launching the new titles globally, Bloomsbury will publish exclusive Scholastic Book Clubs and Fairs editions in 2017.
BETTY BOOP, GARFIELD DEBUT V-DAY DIGITAL STICKERS
02/09/16 @ 9:02 am EST
Source:
Licensemag.com
| Categories:
MIsc
|
Comments
(0) |
E-mail Article
|
Add a Comment
Bare Tree Media has released a new series of Valentine's Day-themed digital stickers featuring six top brands.
Fans of Betty Boop, Care Bears, Garfield, Joe + Joy, Strawberry Shortcake and Avanti Press can now text their significant other, friends and family a funny and loving digital sticker through the "emojiTap" mobile app.
GARAGE MAG FEATURES MARVEL
02/09/16 @ 9:00 am EST
Source:
Licensemag.com
| Categories:
Marvel
|
Comments
(0) |
E-mail Article
|
Add a Comment
Garage
magazine has revealed five special edition covers for their tenth issue celebrating powerful women of Marvel.
Each cover, produced in creative collaboration with Marvel Entertainment, will feature leading supermodels styled as several of Marvel's most popular superheroes including She-Hulk (Adriana Lima), Black Widow (Karlie Kloss), Captain Marvel (Lexi Boling), Spider-Gwen (Candice Swanepoel) and Thor (Cuba Tornado Scott).
"Over the past few years, female superheroes have been front and center at Marvel–from Jane Foster taking on the mantle of Thor, to Captain Marvel being celebrated in her own movie. Now, these leading ladies are having an incredible fashion moment with Garage Magazine," says Sana Amanat, director of content development and editor, Marvel Comics. "Reinterpreting our superheroes through these fashion magazine covers perfectly demonstrates what we believe about our characters–the idea that anyone can express their own unique identity and individualism."
Additionally, readers can use the
Garage
magazine app and scan each of the covers to see the models, styled in comic book form, come to life as 3D digital animations.
The special edition covers will hit newsstands globally this Thursday.
MEET 'THOR' CHRIS HEMSWORTH WHEN HE POWERS INTO WIZARD WORLD CLEVELAND, SATURDAY, FEBRUARY 27
02/09/16 @ 8:56 am EST
Source:
Wizard World
| Categories:
MIsc
|
Comments
(0) |
E-mail Article
|
Add a Comment
Millions of fans flocked to theaters to see him as the "God of Thunder" in the
Thor
and
Avengers
franchise blockbusters. Later this month, they can meet
Chris Hemsworth
in person as he headlines
Wizard World Cleveland
on Saturday, February 27, at the FirstMerit Convention Center of Cleveland.
Hemsworth will sign autographs, pose for photo ops and conduct a Q&A panel.One of Hollywood's fastest-risers, Hemsworth was first introduced to U.S. audiences in
Star Trek
in 2009. Three years later, Hemsworth also starred in Universal's big revisionist fairy tale
Snow White And The Huntsman
opposite
Charlize Theron
and
Kristen Stewart
and in the horror feature
The Cabin in the Woods
.
Don't wait... Wizard World Cleveland was a bit hit last year and is looking like a Saturday sellout!
DEATHSTROKE UNAVAILABLE TO ARROW PRODUCERS; WALLER'S FATE NOT A DC DECISION
02/08/16 @ 9:13 pm EST
Source:
Bleeding Cool
| Categories:
DC
|
Comments
(0) |
E-mail Article
|
Add a Comment
While speculating on where the
DC Comics
character Deathstroke might land in the DC Films universe, Heroic Hollywood pointed to
Arrow
executive producer
Marc Guggenheim
's recent Tumblr Q&A session. In one response, he announced the character, played by
Manu Bennett
, is no longer available to appear on the show.
Asked about the character — last seen in the A.R.G.U.S. prison on Lian Yu, Guggenheim wrote, "The character of Slade Wilson is currently tied up in another DC project."
It is unclear if that project is one of the upcoming DC Films or another television show. Rumors suggest the character may actually show up in the upcoming
Suicide Squad
, with its roster of characters that were also removed from the
Arrow
stable.
Many assumed the film was also the reason Amanda Waller's position at A.R.G.U.S. on the series was terminated, but in another Tumblr post, Guggenheim wrote, "It wasn't mandated by DC."
Previously,
DC Entertainment
president
Diane Nelson
announced the TV and film universes would be separate in an attempt to keep from "handcuffing our creators into trying to work with the same storyline or force them to hold back characters or introduce certain characters." Granted, her comments did not clarify which productions would have dibs on which characters.
Of course, now that fans have seen so many characters become unavailable to main DC TV universe, many fear for
The Flash
as a feature film Barry Allen will be racing his way onto the big screen soon.
ASSASSIN'S CREED IS AN ELEVATED FANTASY ACCORDING TO MICHAEL FASSBENDER
02/08/16 @ 9:05 pm EST
Source:
Bleeding Cool
| Categories:
MIsc
|
Comments
(0) |
E-mail Article
|
Add a Comment
Assassin's Creed
star
Michael Fassbender
spoke with Empire about the movie, which he called an "elevated" fantasy like
The Matrix
.
In the film, he plays a man that discovers — via technology that can generate a simulation from his genetic memories — that he is the descendant of a 15th Century Spanish Assassin.
"This idea of DNA memory elevates it from a basic fantasy genre [piece], because you have something an audience can actually believe in," he explained. "Then the journey becomes so much more elevated, because you're on board in a different way."
Besides the basic premise of the
Assassin's Creed
video game, the film will also recreate some of the game series' signature stunts, including the Leap of Faith off of spectacular heights. Fassbender said stunt man
Damian Walters
made a 120-foot Leap of Faith without a rope into a waiting bag on the ground. "it's pretty incredible to see," he added.
Assassin's Creed
opens on December 21st.
WRITER'S COMMENTARY – FRANK BARBIERE ON DEJAH THORIS #1
02/08/16 @ 8:54 pm EST
Source:
Bleeding Cool
| Categories:
Dynamite
|
Comments
(0) |
E-mail Article
|
Add a Comment
Writer
Frank Barbiere
comments on issue #1 of the new
Dejah Thoris
comic from
Dynamite
. Cover art by
NEN
, interrior art by
Francesco Manna
.
PAGES 1 & 2
I knew I wanted to open the book with a glimpse of what was to come, that being Dejah in her new "Larka" identity and in heated combat. I think it makes for a compelling opening and omen of things to come, and a big theme is mirrored here in the narration—life and positions of power are cyclical.
PAGES 3 & 4
This issue doesn't rely much on narration, so it was important for me to show Dejah in her element (that being the city of Helium). It's particularly notable that Dejah mentions Helium is the center of her world—obviously we know she's going to be leaving it, and it's important to see her character at ease. Obviously Dejah's plans for the day are rudely interrupted.
PAGES 5 & 6
Dejah learns of her father's disappearance and we get our introduction of John Carter and Valoris. Valoris, who we reveal to be our "villain" is here to help at this point, not playing all his cards. Carter is also at a loss—something I thought was very important for a series about Dejah. John can't just run in and punch his way out of this conspiracy—it's going to take far more.
Dejah learns that she is to become Queen. This is huge for her—but under these circumstances, she's far from pleased.
Also—Thana's spying!
PAGES 7-9
John has turned up nothing, but we get a glimpse into his relationship with Dejah. They are a perfect couple of equals—they both have great strength and leadership qualities, and the last panel on page 7 reinforces the idea that together they are a force to be reckoned. Knowing Dejah will have to go out on her own, it was important for me to sell this sentiment to our readers.
Dejah is rudely awakened, and this time placed under arrest. John won't stand for this, but even he is not foolish enough to go against the acting agent of the King. There is some deliberation about whether this is out of character, but I'd like to believe that at this point both Dejah and John believe that things can be cleared up and are more confused than enraged.
PAGES 10-14
Dejah now imprisoned. She still refuses to accept the gravity of the situation, but we get a nice moment showing her refusal to be afraid. John's inability to act against Valoris is meant to show the futility of brute force against politics. Again, this isn't a fight he can punch through—it's a calculated attack.
Also, an extremely important plot point—a memory shaken loose inside Dejah. These accusations seem completely false, but something inside Deajh is tugging at her—she knows there is some truth to be unraveled. As we've established, her identity to this point revolves around being a Princess of Helium, so this is EXTREMELY SHOCKING. This is largely a book about identity and how it defines us, and Francesco and Morgan did a beautiful job with these scenes to show their importance visually.
Dejah realizes this is a personal journey and problem, and pulls away from her husband. This is in strict opposition to her being a team with him, to being able to solve everything together. Dejah's core identity is shaken here, and it makes perfect sense that she will have to go this one alone. She believes in her husband to resolve a conspiracy, but the truth of her lineage is truly a personal journey.
PAGES 16-19
Dejah is able to stop her would-be assassin, as she is quite capable, but then receives aid from THANA. A big part of this book is Dejah realizing that though a just ruler, she has been caught up in her own position of power—she is learning to see the world through the eyes of a commoner, and it's going to be very illuminating. Thematically, I didn't want to make Dejah seem insensitive or overly blind, but it's a fact of life—if you are accustomed to living in the upper level of society, you will certainly start to overlook many things. This is largely a story of Dejah learning about herself and the world around her.
PAGES 20-22
We see Carter unable to act against Valoris. Again, I don't mean to cast John as being weak or dumb, but this is something larger than him. I'd like to believe that part of him realizes he can't just fight his own guard, that he'll have to play this smart—he is plotting to take down Valoris, but he won't do it just yet. Thana then delivers John a message from Dejah and we see her leaving.
Again, Dejah perhaps IS acting a bit out of self-interest here and perhaps even selfishly, but her whole sense of identity has come apart. She MUST know who she is. She trusts her husband implicitly to take care of matters in Helium, but her personal quest is just beginning. She's cut the ties with her life in Helium and is beginning her own journey—I can't wait to show readers where it goes!
For more on
Dejah Thoris
#1,
click here
.
LUPITA NYONG'O IN TALKS TO STAR IN SCI-FI THRILLER WITH AVA DUVERNAY DIRECTING
02/08/16 @ 8:47 pm EST
Source:
The Hollywood Reporter
| Categories:
MIsc
|
Comments
(0) |
E-mail Article
|
Add a Comment
Oscar winner Lupita Nyong'o is in negotiations to star in
Intelligent Life
, a sci-fi thriller from Steven Spielberg's Amblin Entertainment that has Ava DuVernay circling to direct.
The project already has some bold names on the creative side.
Jurassic World
director Colin Trevorrow and his collaborator Derek Connolly wrote the script. Frank Marshall is producing with Trevorrow as well as production banner Big Beach.
Nyong'o is in negotiations, while DuVernay is expected to receive an offer to direct in the next 24 hours. The director, who helmed the Martin Luther King biopic
Selma
, is also fielding an offer from Disney to adapt
A Wrinkle in Time
, the children book classic by Madelein L'Engle. There is no conflict between the two projects so the director could end up doing both.
Intelligent Life
is a reworking of an earlier Trevorrow-Connolly project titled
The Ambassador
about a U.N. worker in a department that was created to represent humankind in the event of alien contact. The man falls in love with a mysterious woman who turns out to be an alien. The tone is said to be similar to Trevorrow's
Safety Not Guaranteed
and takes
The Ambassador
to a larger scale story.
Nyong'o will play the woman at the center of the alien contact.
A summer start is being targeted.
Nyong'o won an Oscar for her breakout performance in
12 years a Slave
, a movie that was also her big-screen debut. She recently appeared as alien Maz Kanata in
Star Wars: The Force Awakens
and is part of the all-star voice cast of Disney's
The Jungle Book
, which opens April 15. She also stars in Disney's chess drama
Queen of Katwe
with David Oyelowo.