INDIE MAN SAYS: BIONIC MAN #7
03/08/12 @ 3:31 pm EST
Source:
Just About Comics
| Categories:
The Bionic Man
|
Comments
(0) |
E-mail Article
|
Add a Comment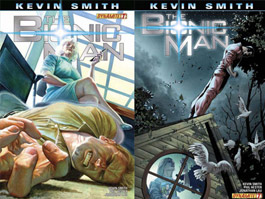 Smith and Hester's writing is entertaining overall, slower and more poignant when it is called for but upbeat and suspenseful when action is needed. They have, for me, a knack of keeping things on a very human level despite the subject matter. These two guys do 'street level' quite well.
The artwork is excellent no matter what is called for. Lau is an artistic technician of the type that I enjoy most. Clean crisp linework that is energetic and full of expression. Nunes adds just the right touches so that what is seen is understood but what we sense along the edges and in shadows adds to the overall feel and doesn't become the headline.
I do recommend the book for those that appreciate solid storytelling and compelling art. You need not have foreknowledge of The Bionic Man to enjoy the offerings of Smith
et al.
For the full review:
Just About Comics
POPULAR DC COMICS HERO WILL HAVE SECRET IDENTITY REVEALED TO THE PUBLIC
04/25/15 @ 1:19 am EST
Source:
Nerd Reactor
| Categories:
DC
|
Comments
(0) |
E-mail Article
|
Add a Comment
One of DC Comics' superheroes will have their identity revealed to the public.
Warning: Spoilers
So who's the DC hero who's going to lose their secret identity?
That person will be ...
Superman
!
Yes, it's the Man of Steel, the ultimate hero himself. And the person responsible for revealing this news? Why, one of comicdom's premiere newswomen:
Lois Lane
, who announces to the world that Superman is Clark Kent!
The reveal is made available via a scan from
Bleeding Cool
, and it comes from the Free Comic Book Day title for DC Comics'
Divergence
.
You're probably thinking why Lois would do such a thing. Remember, the New 52 is different from the classic version. In the classic version, Lois and Clark get married. In the new universe, Superman is dating Wonder Woman.
The issue also has Commissioner Gordon wearing an armored Batman suit. Apparently because Batman and the Joker "died" during a battle underneath Gotham in "Endgame."
Stay tuned!
COMIC BOOK ARTISTS SUE MARVEL OVER 'IRON MAN' BODY ARMOR
04/25/15 @ 12:57 pm EST
Source:
Hollywood Reporter
| Categories:
Iron Man
|
Comments
(0) |
E-mail Article
|
Add a Comment
Ben Lai
and
Ray Lai
, two brothers who run Horizon Comics Productions in Massachusetts, have found lawyers to represent them in an uphill battle against Marvel Entertainment over what the character of Iron Man wears.
According to a lawsuit filed on Thursday alleging copyright infringement and unfair business practices, the Lai brothers created in 2001 the comic book series
Radix
, featuring characters who "wear highly detailed, mechanized suits of body armor." They now see something too similar in the
Iron Man
films and its promotion.
Iron Man
, featuring the superhero alter ego of Tony Stark, is based on a comic series created by
Stan Lee
in the 1960s.
The law allows new aspects of expression to be copyrighted so long as the authorship is sufficiently delineated and not a generic idea.
In an effort to show that Marvel had access, the Lai brothers say that after
Radix
came out, the Massachusetts Institute of Technology used an illustration that was substantially similar to their own work. The image was allegedly used by MIT in the midst of a $50 million nanotechnology research grant from the United States Army to create a new generation of body armor for soldiers.
Supposedly, MIT apologized publicly for using the image in 2002, and a month after this occurred, Marvel hired the Lai brothers as artists to work on various comic book franchises. The complaint asserts that key personnel at Marvel were distributed the
Radix
materials from the Lai brothers.
The old comics of Iron Man depict the central character "wearing simple spandex-like attire and minimal armor," states the complaint, while the later films depict him "wearing a fully mechanized suit of body armor."
The complaint, filed by attorneys
Jeffrey Wiesner
and
Paul Sennott
, has pictures.
Before even getting to the issues of whether
Iron Man
body armor is substantially similar to
Radix
body armor, whether the idea of a superhero wearing such a suit of armor is more than generic, and whether
Iron Man
body armor is merely functional, the lawsuit figures to test plaintiffs on whether they brought a timely-enough complaint.
Marvel, which hasn't yet commented, is said to have shrugged off a cease-and-desist letter.
CAP & THOR TEAM UP FOR A DARING RESCUE IN NEW
04/25/15 @ 12:50 pm EST
Source:
Comic Book Resources
| Categories:
Age of Ultron
|
Comments
(0) |
E-mail Article
|
Add a Comment
In this new clip from "Avengers: Age of Ultron," Captain America (Chris Evans) and Thor (Chris Hemsworth) attempt to save a woman when her car tips over the edge of a collapsed bridge.
Packed with action and quips, the duo must make the daring rescue while Ultron's drones try to interfere.
Catch it right here:
https://youtu.be/4ngmj5FGcyg
FCBD SPOIKERS:A MUCH LOVED MARVEL CHARACTER BACK FROM THE DEAD AFTER SECRET WARS
04/25/15 @ 1:31 am EST
Source:
Bleeding Cool
| Categories:
Marvel
|
Comments
(0) |
E-mail Article
|
Add a Comment
There's a corner of a panel in the
All-New All-Different Avengers
Free Comic Book Day title that should give cheer to certain Marvel fans. Spoilers, obviously.
Because in recent issues of All-New Captain America, Marvel suffered the death of a major character.
Redwing, the telepathically bonded pet of the Falcon, met his untimely end.
But, hidden away at the end of the
All-New All-Different Avengers
#1 for Free Comic Book Day…
Is that Redwing? Or Redwing Jr?
OFFICIAL LOOK: JARED LETO AS THE JOKER FOR SUICIDE SQUAD
04/25/15 @ 12:35 pm EST
Source:
Comicbook
| Categories:
DC
|
Comments
(0) |
E-mail Article
|
Add a Comment
Happy birthday, Mr. J!
To celebrate The Joker turning 75-years-olds today,
Suicide Squad
director David Ayer has tweeted the first official look at Oscar-winning actor Jared Leto (
Dallas Buyers Club
) as The Clown Prince of Crime.
Leto is sporting short green hair, dental grills and one purple-colored glove on his right hand. We are getting a vibe from the emaciated truck driver thing that Scott Snyder and Greg Capullo did in the
Death of the Family
story arc.
Leto's pose is also of interest. It's an homage to writer Alan Moore and artist Brian Bolland's
The Killing Joke
. Keep in mind, this is the second image that David Ayer has released with Leto that references that graphic novel.
AVENGERS: AGE OF ULTRON - FOCUS ON BLACK WIDOW AND SCARLET WITCH
04/24/15 @ 7:37 pm EST
Source:
Bleeding Cool
| Categories:
Age of Ultron
|
Comments
(0) |
E-mail Article
|
Add a Comment
Joss Whedon
loves strong female characters. With
Avengers
, he ramped up the
Black Widow
from the minor role she had in
Iron Man 2
to being a major part of the team that belonged next to
Thor
,
Captain America
and
Hulk
. Now he is bringing in the
Scarlet Witch
with
Avengers: Age Of Ultron
.
In this featurette Whedon,
Kevin Feige
,
Scarlett Johansson
and
Elizabeth Olsen
talk about the female heroes.
Avengers: Age Of Ultron
opens May 1st.
See the video here:
https://www.youtube.com/watch?v=33dnL_TSP5k
C2E2:HELLBOY IS COMING TO ITS END
04/24/15 @ 7:29 pm EST
Source:
Bleeding Cool
| Categories:
Hellboy
|
Comments
(0) |
E-mail Article
|
Add a Comment
Bleeding Cool
has been all over C2E2 today, and one of the most surprising things comes from
Dark Horce Comics
.
It seems that, and sadly so, that
Mike Mignola
's
Hellboy
comic book is heading towards its end ... though it is still some ways off.Hard to beleive.
LION FORGE VROOOMS WITH KNIGHT RIDER TPB
04/24/15 @ 7:19 pm EST
Source:
Bleeding Cool
| Categories:
MIsc
|
Comments
(0) |
E-mail Article
|
Add a Comment
If you are into 1980s IPs then you'll probably be interested in the titles being released by Lion Forge. They recently released
Miami Vice Remix
and coming this May, the trade paperback of
Knight Rider
, which collects the first eight issues. The creative includes writer Geoffrey Thorne (
Dark Horse Presents: Journeymen; Prodigal: Remastered
), illustrator
Jason Johnson
(
Grimm Fairy Tales
), colorist Sai Studios, letterer
Andworld Design
, editor
Shannon Eric Denton
, and book designer
Kristen Fitzner Denton
.
PAUL RUDD THINKS KEVIN FEIGE IS A MAD SCIENTIST
04/24/15 @ 7:13 pm EST
Source:
Bleeding Cool
| Categories:
Ant Man
|
Comments
(0) |
E-mail Article
|
Add a Comment
Paul Rudd
is out doing the promotional circuit for
Ant-Man
and spoke with
MTV New's Josh Horowitz
about the upcoming film, how he would rank himself up against the builds of
Chris Hemsworth
and
Chris Pratt
and if he's been talked to about where else he may show up in the
Marvel Cinematic Universe
. Rudd also speaks about
Kevin Feige
, who he describes as a genius and a mad scientist, having put all the elements needed to make the movie succeed.
Ant-Man
hits theaters July 17th.
Check out video here:
https://www.youtube.com/watch?v=tKAbHfe1CDs
ROY THOMAS TALKS CREATING AVENGERS VILLAIN ULTRON
04/24/15 @ 7:01 pm EST
Source:
Comic Book Resources
| Categories:
Age of Ultron
|
Comments
(0) |
E-mail Article
|
Add a Comment
This July will mark fifty years working in comics for
Roy Thomas,
a writer and editor so legendary, whose resume cannot be done justice by picking
just
the highlights.
Thomas succeeded
Stan Lee
as the Editor in Chief of Marvel Comics. He co-created dozens of characters ranging from Ultron and Vision to Ghost Rider and Iron Fist. He brought Conan the Barbarian and "Star Wars" to Marvel Comics, and wrote both. In the case of "Conan," he not only wrote one of the longest runs by a writer in modern comics, he left his mark on the character by adding Red Sonja, inspired by Conan creator Robert E. Howard, into the mythos and later writing her adventures. He enjoyed long runs on "The Avengers," "The Invaders," and numerous other Marvel and DC series.
Currently the editor of "Alter Ego," Thomas writes the daily "Amazing Spider-Man" newspaper strip and is the author of the recent book, "75 Years of Marvel Comics," published by Taschen.
The prolific writer spoke with
CBR
about his robotic comics creation, about th turn movie phenom.
About Ultron:
I'm looking forward to seeing it. I was delighted to see that Ultron looks like Ultron. I figured maybe they would change him more. Of course he has changed at various times -- different bodies, the head's changed a little bit -- but the general look of him has always been the same. I guess that must have struck Joss Whedon the same way. I think I would have recognized him right away as something that looked like Ultron even if I didn't know who that was. I'm pleased about that.
About the Vision:
The Vision hasn't been around in the comics for a few years. I don't really follow the comics, but has the Vision been in comics much recently? He was very prominent for a number of years and became the most popular of the characters in "The Avengers" who didn't have his own series at the time. Then it seemed like he fell out of favor.But the movie audience is not the comic book audience, so it doesn't make any difference. To the movie audience the Hulk is an integral part of "The Avengers." I've never thought of him as such. He was in the first three or four issues, but the reality of the movies is quite a bit different from the reality of the comics. And of course the reality of the comics is whatever you chose to take from fifty or so years of continuity now.
About a cameo in the film:
No [he does not have one]. I would have liked to. I was in touch with [writer/director] Joss Whedon, but I think Stan has those sewn up. (Laughs) That's okay. [Whedon] did say there's one little touch, that I'm not at liberty to mention, about me in the movie -- if it doesn't end up on the cutting room floor. I haven't asked if it's still in there. I'll have to wait to see. (Source: CBR)