INDIE MAN SAYS: BIONIC MAN #7
03/08/12 @ 3:31 pm EST
Source:
Just About Comics
| Categories:
The Bionic Man
|
Comments
(0) |
E-mail Article
|
Add a Comment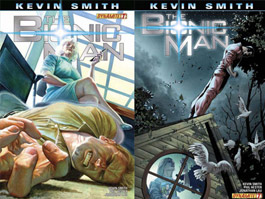 Smith and Hester's writing is entertaining overall, slower and more poignant when it is called for but upbeat and suspenseful when action is needed. They have, for me, a knack of keeping things on a very human level despite the subject matter. These two guys do 'street level' quite well.
The artwork is excellent no matter what is called for. Lau is an artistic technician of the type that I enjoy most. Clean crisp linework that is energetic and full of expression. Nunes adds just the right touches so that what is seen is understood but what we sense along the edges and in shadows adds to the overall feel and doesn't become the headline.
I do recommend the book for those that appreciate solid storytelling and compelling art. You need not have foreknowledge of The Bionic Man to enjoy the offerings of Smith
et al.
For the full review:
Just About Comics
BREAKING BAD'S GIANCARLO ESPOSITO WAS OFFERED A MARVEL TV ROLE
08/28/16 @ 2:23 pm EST
Source:
Comic Book Resources
| Categories:
Marvel
|
Comments
(0) |
E-mail Article
|
Add a Comment
Emmy-nominated actor Giancarlo Esposito ("Breaking Bad," "The Jungle Book") was reportedly offered a role on a Marvel TV show, but ultimately turned it down because he knew the character would never appear in a Marvel movie.
The "Son of Batman" voice actor revealed in an interview with
ComicBook.com
, "I know the Marvel world exists on the Disney lot. I love those guys at Marvel. We've been trying to figure out how to collaborate on something."Esposito continued, "I'm hoping that it is something. They came to me with something for their television department, then I realized if I did that, I'd never be able to have that same character be in that film department. Once you're in a Marvel character in the television version, you have to stay in the particular character. They can't carry that over to film."
Though Esposito clearly wants to be a part of the Marvel Cinematic Universe, it seems he's set his sights on a role in on of the films, rather than on TV. Whether or not that desire gets fulfilled is still up in the air.
The next Marvel Cinematic Universe film, "Doctor Strange," hits theaters on November 4.
CASTING KURT RUSSELL IN GUARDIANS OF THE GALAXY VOL. 2 WAS CHRIS PRATTÂ'S IDEA
08/28/16 @ 2:19 pm EST
Source:
Comic Book Resources
| Categories:
Marvel
|
Comments
(0) |
E-mail Article
|
Add a Comment
It turns out it was star Chris Pratt's idea to cast fan-favorite actor Kurt Russell ("Escape from New York," "The Thing") in "Guardians of the Galaxy Vol. 2" as Star-Lord's father. The veteran actor will be making his debut in the sequel as Peter Quill's father — Ego, the living planet, in the film — who has taken on a humanoid form.
In an interview with Empire, "Guardians" director James Gunn revealed, "He was actually not in my head initially, but one day Chris suggested him," adding, "I would have been really disappointed if he'd said no. Hey, if you have to cast anything, Kurt's a pretty good way to go."
Touching a bit on the relationship of Quill and his father in the film, Pratt said the sequel will play with his character's expectations of his father. "You're going to see these characters having to endure the realities of being in a family," Pratt told the mag. "You're talking about a guy who's been longing to know who his father is for a long time. He'll discover if that person lives up to the expectations he has in his head."
Directed by Gunn and starring Pratt, Zoe Saldana, Dave Bautista, Vin Diesel, Bradley Cooper, Kurt Russell, Karen Gillan, Michael Rooker, Sylvester Stallone and many others, "Guardians of the Galaxy Vol. 2" hits theaters on May 5, 2017.
LUKE CAGE IS A BULLETPROOF BADASS IN NEW CLIP FROM NETFLIX SERIES
08/28/16 @ 2:14 pm EST
Source:
Comic Book Resources
| Categories:
Marvel
|
Comments
(0) |
E-mail Article
|
Add a Comment
Marvel and Netflix have released a new scene from the upcoming Luke Cage TV series starring "Jessica Jones'" Mike Colter as the titular bulletproof hero.
The new clip shows off Cage's unique powers in a fight scene that sees the Harlem hero-for-hire face-off against a group of thugs in a rundown gym.
Take a look at the latest Luke Cage footage here:
https://youtu.be/axd-SR43mKE
OLYMPIAN RYAN LOCHTE IS 110% ONBOARD FOR WIZARD WORLD RICHMOND
08/28/16 @ 2:06 pm EST
Source:
Comic Book Resources
| Categories:
MIsc
|
Comments
(0) |
E-mail Article
|
Add a Comment
Ryan Lochte, disgraced six-time gold medal-winning Olympic swimmer, will attend Wizard World Richmond as a featured guest. Aside from his impressive record as an Olympic swimmer, Lochte is known for his cameos on "30 Rock," "Beverly Hills 90210" and as a reality star on the E! network television show "What Would Lochte Do?" Lately, the swimmer has been embroiled in an international scandal.
On August 14, 2016 Lochte claimed he and three other teammates had been robbed at gunpoint when a group of men posing as police stopped their taxi and demanded money and personal belongings. Later reports revealed a very different picture, in which Lochte and his teammates were confronted by security guards at a gas station after vandalizing the establishment.Lochte was ordered to pay $11,000 to a Brazilian charity and has issued numerous apologies to the people of Rio de Janeiro, the police involved, the Olympic committee and the gas station owner.
"I just want to say I am truly, 110% sorry," said Lochte in an interview with the Brazilian news outlet Globo. Despite the controversy, Lochte will attend Wizard World Richmond as a featured guest alongside the likes of William Shatner, "Star Trek" actor; Matt Smith, former "Doctor Who" lead; Dean Ambrose, WWE wrestler; and Jewel Staite, "Firefly" actress. Attendees can purchase photo ops and autographs on top of the convention admission price. A photo with Ryan Lochte costs $50, but an autograph is free.
'BOURNE' BACK AT #1; 'ICE AGE' SKATES TO $300M+ OFFSHORE; 'PETS' PRANCES PAST $700M WW - INTL BOX OFFICE
08/28/16 @ 2:03 pm EST
Source:
Deadline
| Categories:
MIsc
|
Comments
(0) |
E-mail Article
|
Add a Comment
Universal's
Jason Bourne
rode back to the top of theinternational box office this weekend, coming off of a $50M start in China which broke records for the franchise there. In total,
Bourne
revved up a
$56.8M
weekend in 62 markets to take the offshore total to $198.5M. That pushes it past
The Bourne Legacy
and puts it less than $17M shy of
The Bourne Ultimatum
's overseas record for the series. The global tally is $348M.
The strong China debut, in what has been a sluggish summer at local turnstiles, surpasses the lifetime of all
Bourne
films in the Middle Kingdom.
The Bourne Legacy
was previously the biggest grosser in the territory with a total $34.2M.
China grosses were also key this frame to Fox's
Ice Age: Collision Course
which skated in at No. 2 for the international weekend with
$50M
in 37 markets, including $42.5M worth of acorns in the Middle Kingdom.
Ice Age
now has an overseas total of $306.7M.
Bourne
and
Ice Age
were both released on August 23 in China and widely outperformed holdovers.
Ice Age
also logged the biggest opening weekend in 2016 for a non-local animated title there.
Last weekend's international champ, Illumination/Universal's
The Secret Life Of Pets
, kept wagging in 57 overseas territories, lapping up a
$24.6M
weekend for $371.2M in the offshore kitty. Worldwide,
Pets
has crossed $700M to collar $724.4M.
Warner Bros'
Suicide Squad
slayed another
$19.6M
in its 4th frame, lifting the supervillains to $353.1M overseas and $636M global. Also notable from WB,
Lights Out
crossed $60M offshore after a
$9.6M
weekend while Paramount's
Ben-Hur
and STX's
Bad Moms
each bagged
$6.3M
.
SUICIDE SQUAD ENDING CREDITS RELEASED ONLINE -- SORT OF
08/28/16 @ 1:47 pm EST
Source:
Comicbook
| Categories:
DC
|
Comments
(0) |
E-mail Article
|
Add a Comment
Buddha Jones, an award-winning LA-based ad and marketing agency that produces trailers and credit scenes for films, has released the visually spectacular and easter egg-laden end credits from David Ayer's
Suicide Squad
on their official Vimeo account.
Unfortunately, there is now a domain restriction that has been set on that video.
Click here
to see the
Suicide Squad
character profiles Buddha Jones made for the film, including snippets of The Joker's (Jared Leto) deleted scenes, and Deadshot's (Will Smith) profile recreates an iconic comic book cover.
THE WALKING DEAD: MICHAEL CUDLITZ REVEALS POTENTIAL SPOILER ABOUT ABRAHAM'S FATE
08/28/16 @ 1:41 pm EST
Source:
Comicbook
| Categories:
Walking Dead
|
Comments
(0) |
E-mail Article
|
Add a Comment
POSSIBLE SPOILERS FOLLOW
Fans of
The Walking Dead
comic book series were thrown a curveball by the television show's sixth season. In the comic book series, Abraham is killed by an arrow through the head, but
The Walking Dead
television series instead delivered that death to Dr. Denise. Michael Cudlitz, the actor who plays Abraham, says that decision was made partly because creator Robert Kirkman regretted Abraham's death in the comics.
"Well, [Robert] Kirkman was never happy with the death Abraham had in the graphic novels. He always said it was sort of a last-minute decision and that he regretted how he took him out," Cudlitz tells PopSugar. "I think transferring that specific death of the crossbow arrow through the eye to Denise was sort of an Easter egg for the audience who follow the graphic novels. They know what that death should have been, but there's also nothing lost on the television audience by not knowing that. It was a little gift just for them."
That's an interesting note in itself for
The Walking Dead
fans, but what may be even more interesting is Cudlitz considering the ramifications of the decision, specifically that he references this being the world where both Abraham and Negan continue to exist.
"Her death spurs on a whole bunch of other stuff, and then the audience knows that Abraham will continue for a while now," he says. "Now we get to see what a world with Negan and Abraham both in it will be like. That's something we don't see in the graphic novels. So a lot of cool stuff happens. For me, knowing that his potential death had come and gone, it was a moment to go, 'Oh cool, they really aren't going to stick with what the graphic novel does.' As a fan of both the novel and the show, it was cool."
Does this mean that Abraham is officially spared Lucille's mighty swing? It sure sounds like it, but nothing is official until we see on air.
The Walking Dead
returns to AMC on Oct 23, 2016.
GRANT GUSTIN RACES BRANDON ROUTH'S SON ON THE SET OF THE FLASH
08/28/16 @ 1:33 pm EST
Source:
Comicbook
| Categories:
DC
|
Comments
(0) |
E-mail Article
|
Add a Comment
The other day in downtown Vancouver, in-between filming scenes for the fifth episode of the upcoming season, Grant Gustin, who was dressed as The Flash, hung out with Brandon Routh's son, Leo. And once again, showing he's a superhero even when the cameras aren't rolling, Gustin made Leo's day truly special by racing and losing to the excited youngster. Now Leo can tell his friends he's The Fastest Boy Alive!
"Epic shoot day on location. C. Kim Miles shot what will be 2 amazing sequences. The high point for me was losing to Leo," Gustin wrote. "He did get a slight head start though. And I think my leg cramped up a little. Also I think I had the wrong boots on."
Leo's father, who stars on
DC's Legends of Tomorrow
,had this to say: "When your dad is #Superman & #TheAtom, but you heart #TheFlash...😜 HUGE props to the crazy talented and genuinely kind @grantgust for being such a great sport!"
More
THOR: RAGNAROK MOCKUMENTARY FROM COMIC-CON OFFICIALLY RELEASED ONLINE
08/28/16 @ 1:20 pm EST
Source:
Comicbook
| Categories:
Marvel
|
Comments
(0) |
E-mail Article
|
Add a Comment
Marvel Studios has finally released the video shown at Comic-Con International: San Diego 2016 that reveals what Thor was getting into during the events of
Captain America: Civil War
.
The obviously non-canonical video shows that, after the events of
Avengers: Age of Ultron
, the Asgardians God of Thunder, played by Chris Hemsworth, wanted to get to know the average people of Midgard. To do so, he got a roommate in Australia, which just happens to be where
Thor: Ragnarok
is filming.
The mockumentary-style video was filmed by
Thor: Ragnarok
director Taika Waititi, and features an appearance by Thor's fellow Avenger and
Ragnarok
co-star Bruce Banner (Mark Ruffalo), as well as Thor's conspiracy theory-like wall about Thanos (a.k.a. the purple guy who sits in a chair) and the Infinity Stones).
The
Thor: Ragnarok
Comic-Con mockumentary will be included as a bonus feature on the home media release of
Captain America: Civil War
, which releases on Digital HD on Sept. 2.
And here it is:
https://www.facebook.com/marvelstudios/videos/171220483305572/
IMAGE COMICS TO RELOCATE TO PORTLAND
08/27/16 @ 9:51 pm EST
Source:
Comicbook
| Categories:
Image
|
Comments
(0) |
E-mail Article
|
Add a Comment
While there is no official confirmation or comment yet, ComicBook.com is reporting that Image Comics is planning to relocate their physical operations from Berkeley, California, to Portland, Oregon, in the near future.
Image has been in its current, Bay Area digs for about a decade, since Erik Larsen was the publisher (Larsen lives nearby its current location). Prior to his tenure, the company was headquartered out of Anaheim, closer to other co-founders like Jim Lee and Rob Liefeld, who operate out of that area.
News of the move first broke at The Beat, though as writer Heidi MacDonald notes, there have been rumors circulating for those "in the know" since at least Comic Con International: San Diego last month. She further notes that the move's impact on the comics themselves should be fairly minimal, since Image Central is mostly a production facility. The company's business model revolves around creators handling all of their own content creation, most promotion, and other responsibilities, and Image primarily providing manufacturing and distribution. The size of the Image Central staff is relatively small and one assumes that they will all be welcome to move along with the company.
The move is likely driven by the cost of doing business in Berkeley, which is now dominated by tech startups. The choice of Portland itself was likely driven by the desire to join the comics community there.
Portland currently is home to a thriving comics community -- almost certainly the nation's largest -- which includes
Bitch Planet
's Kelly Sue DeConnick and
Casanova
's Matt Fraction, two key names in Image's current publishing lineup. Also headquartered in Portland are Dark Horse Comics, Oni Press, and the Comic Book Legal Defense Fund.
Image Comics declined to comment for this story.