INDIE MAN SAYS: BIONIC MAN #7
03/08/12 @ 3:31 pm EST
Source:
Just About Comics
| Categories:
The Bionic Man
|
Comments
(0) |
E-mail Article
|
Add a Comment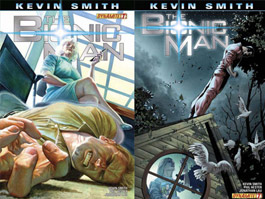 Smith and Hester's writing is entertaining overall, slower and more poignant when it is called for but upbeat and suspenseful when action is needed. They have, for me, a knack of keeping things on a very human level despite the subject matter. These two guys do 'street level' quite well.
The artwork is excellent no matter what is called for. Lau is an artistic technician of the type that I enjoy most. Clean crisp linework that is energetic and full of expression. Nunes adds just the right touches so that what is seen is understood but what we sense along the edges and in shadows adds to the overall feel and doesn't become the headline.
I do recommend the book for those that appreciate solid storytelling and compelling art. You need not have foreknowledge of The Bionic Man to enjoy the offerings of Smith
et al.
For the full review:
Just About Comics
NETFLIX'S "DAREDEVIL" LANDS BLU-RAY/DVD RELEASE DATE - IN THE UK
07/01/16 @ 8:13 pm EST
Source:
Comic Book Resources
| Categories:
Daredevil
|
Comments
(0) |
E-mail Article
|
Add a Comment
The first season of Netflix's "Daredevil" is headed to Blu-ray and DVD, but there's a catch: so far, it's only slated for release in the UK.
DVD and Blu-ray sets of "Daredevil" Season 1 -- which includes an exclusive steelbook -- have surfaced on Zavvi, a British retailer. Zavvi offers the regular Blu-ray and DVD as well as thisspecial steelbook for pre-order, for £19.99, £25.99 and £29.99 respectively. The steelbook also boasts a Joe Quesada-drawn poster as its cover art. All three will release on October 3.
It's important to note that DVDs and Blu-rays from the UK generally play on a different region than those from the US, which means they may not play on American devices. However, with the arrival of "Daredevil's" UK-based home release, a US version likely won't be far behind.
Starring Charlie Cox, Deborah Ann Woll and Elden Henson, Seasons 1 and 2 of "Daredevil" are currently streaming on Netflix.
MCCONAUGHEY'S A SHARP-DRESSED MAN IN BLACK IN 'DARK TOWER' SET PICS
07/01/16 @ 8:07 pm EST
Source:
Comic Book Resources
| Categories:
Dark Tower
|
Comments
(0) |
E-mail Article
|
Add a Comment
With production underway on the film adaptation of Stephen King's "The Dark Tower," pics from the set have slowly started to emerge. We got our first look at the film back in April, and star Idris Elba revealed the film's first teaser image a few weeks ago. Now, even more set pics have popped up — this time showing off Matthew McConaughey's villainous Man in Black.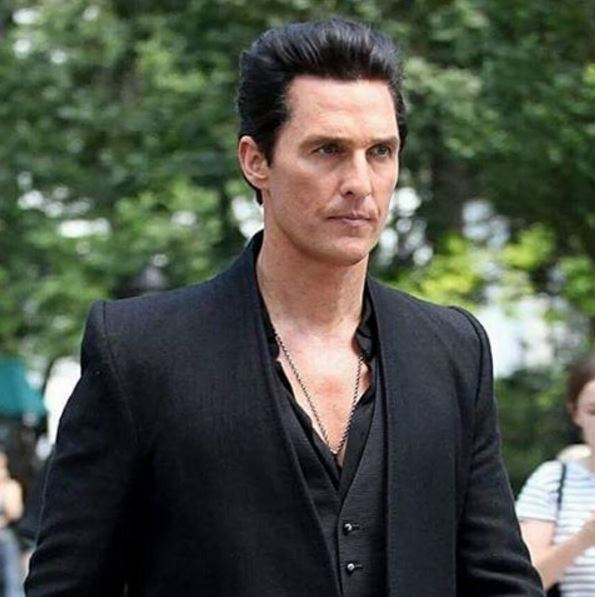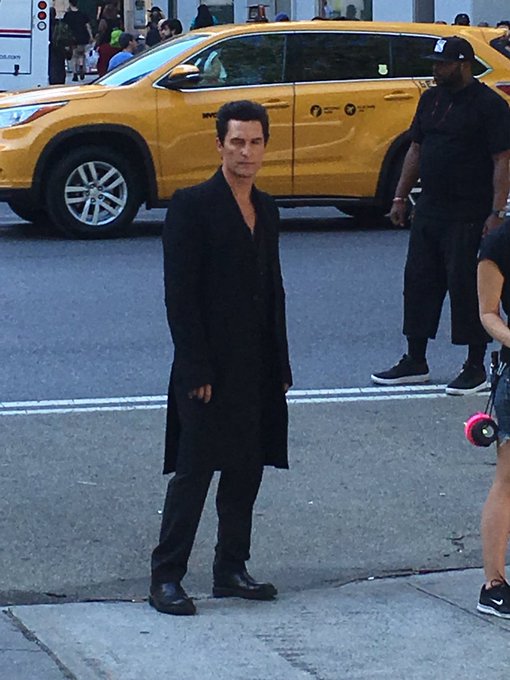 Opening Feb. 17, 2017, "The Dark Tower" is directed by Nikolaj Arcel and also stars Idris Elba, Abbey Lee, Tom Taylor, Katheryn Winnick, Fran Kranz, Claudia Kim and Jackie Earle Haley.
"LEGION" PRODUCER CALLS SERIES 'AS RADICALLY DIFFERENT AS "DEADPOOL"'
07/01/16 @ 8:04 pm EST
Source:
Comic Book Resources
| Categories:
X-Men
|
Comments
(0) |
E-mail Article
|
Add a Comment
"Legion" producer Simon Kinberg is singing praises for the upcoming "X-Men"-based series, touting the work of showrunner Noah Hawley ("Fargo") and calling it 'as radically different as 'Deadpool.'"
In an interview with Moviefone, Kinberg said of "Legion, "Noah [Hawley] is a genius -- he wrote and created and directed the pilot to 'Legion' -- and it is a very different sensibility than anything we've done with the 'X-Men' movies. Almost, I would say, as radically different as 'Deadpool' was from the mainline 'X-Men' movies."
"'Legion' is, again, in a different direction: really character-based, really granular in terms of getting inside the details of the characters," Kinberg added. "It stands as part of the 'X-Men' universe, but it stands apart from it as well."
The official description for the series reads: "Since he was a teenager, David has struggled with mental illness. Diagnosed as schizophrenic, David has been in and out of psychiatric hospitals for years. But after a strange encounter with a fellow patient, he's confronted with the possibility that the voices he hears and the visions he sees might be real."
"Legion" stars "Downton Abbey's" Dan Stevens as David Haller, the son of Charles Xavier and a man with mental illness and haunted by voices in his head. The series also stars Aubrey Plaza, Jean Smart, Jeremie Harris, Amber Midthunder, Rachel Keller and Katie Aselton. Set to debut on the network in early 2017, production has begun in Vancouver.
SPOCK & UHURA SHARE HEARTFELT GOODBYE IN NEW 'STAR TREK BEYOND' CLIP
07/01/16 @ 7:59 pm EST
Source:
Comic Book Resources
| Categories:
Star Trek
|
Comments
(0) |
E-mail Article
|
Add a Comment
Paramount Pictures has released a new clip from "Star Trek Beyond" that sees a touching goodbye between Uhura (Zoe Saldana) and Spock (Zachary Quinto).
Considering Bones' (Karl Urban) implication at the end of the clip, it seems Spock and Uhura will go through a rough patch (or perhaps split up altogether) in "Beyond."
Take a look at the clip here:
https://www.facebook.com/StarTrekMovie/videos/10153756369848716/
AMC'S "PREACHER" TEASES A TENSE, FORBIDDEN ROMANCE IN NEW CLIP
07/01/16 @ 7:54 pm EST
Source:
Comic Book Resources
| Categories:
MIsc
|
Comments
(0) |
E-mail Article
|
Add a Comment
A new clip from "Sundowner," this weekend's episode of "Preacher," finds two of the series' characters sailing straight into an impassible, potentially awkward love triangle.
The clip, which comes courtesy of Indiewire, shows the vampire Cassidy and marksman Tulip engaged in a somewhat suggestive conversation in a closet. The two are interrupted by the series' protagonist, Jesse, who just so happens to be Tulip's ex. After Tulip exits, Jesse sniffs around the closet like a Jurassic Park raptor as Cassidy hides behind the door, but Jesse just can't confirm his suspicions. To make it even more awkward, Cassidy is Jesse's best friend.
Video:
https://youtu.be/HYMbNbcZkNU
DOC OCK ATTEMPTS TO UNLEASH CARNAGE UPON SPIDEY IN A NEW ANIMATED CLIP
07/01/16 @ 7:49 pm EST
Source:
Marvel
| Categories:
Ulimate Spider-Man
|
Comments
(0) |
E-mail Article
|
Add a Comment
Spider-Man and Agent Venom take on Doctor Octopus and Morbius in a clip from "Marvel's Ultimate Spider-Man vs. The Sinister 6"! Check out the clip below and tune in to an all-new "Marvel's Ultimate Spider-Man vs. The Sinister 6" Sunday at 9:00 AM ET on Disney XD!
When Spider-Man and Agent Venom attempt to uncover Hydra's latest plan, they uncover Doctor Octopus developed a diabolical "Carnage Bomb" to unleash the symbiote on anyone in its vicinity! Not only that, but the Web-Warriors also learn that Doc Ock recruited the Living Vampire himself, Morbius. Witness the menacing mutations by watching the clip above!
Watch a brand-new "Marvel's Ultimate Spider-Man vs. The Sinister 6" this Sunday at 9:00 AM ET on Disney XD!
Clip:
https://youtu.be/TI-ICjnX7j4
BOX OFFICE: 'FINDING DORY' HEADS FOR THIRD STRAIGHT VICTORY AS 'THE BFG,' 'TARZAN' STUMBLE
07/01/16 @ 7:42 pm EST
Source:
Variety
| Categories:
MIsc
|
Comments
(0) |
E-mail Article
|
Add a Comment
"Finding Dory" is swimming toward its third straight victory at the U.S. box office during the four-day holiday weekend with $50 million-plus, topping "The Purge: Election Year," "The BFG" and "The Legend of Tarzan," early estimates showed Friday.
The third "Purge" film and "Tarzan" are battling for the second slot with preliminary forecasts for both in a wide range between $30 million and $37 million, while "The BFG" is heading for a disappointing $25 million.
Friday estimates showed that the opening day of Universal-Blumhouse's "The Purge: Election Year" would earn between $12 million to $14 million — with "Dory" taking in about the same amount on its 15th day of of release.
By the end of business on Monday, "Dory" will finish the weekend with more than $380 million domestically in 18 days, trailing only "Captain America: Civil War" among 2016 titles.
"The Purge" sequel, playing at 2,796 sites, is going to be another money-maker for Universal with a price tag of only $10 million. The original "The Purge" grossed $64 million in the U.S. in 2013 and "The Purge: Anarchy" reeled in $72 million the following year.
The films take place in a future America in which all crime, including murder, is legal for one night a year. "The Purge: Election Year" stars Elizabeth Mitchell as a presidential candidate whose platform includes eliminating The Purge. Frank Grillo returns as anti-Purge bodyguard.
Warner Bros.' "Tarzan" generated early Friday estimates ranging from $9 million to $12 million at 3,561 sites. The latest version of the Edgar Rice Burroughs story, starring Alexander Skarsgård and Margot Robbie, may match forecasts, which had called for about $35 million over the four days.
The pic, co-produced with Village Roadshow, carries a hefty $180 million budget and will require strong performances overseas in order to make it into the black. Warner Bros. is opening "The Legend of Tarzan" in 19 international markets this weekend, including South Korea and Russia. Reviews have been largely negative with a 34% rating on Rotten Tomatoes.
"The BFG" is also underperforming forecasts, which had projected an opening in the $30 million range. Friday's debut day looked likely to hit between $6 million and $8 million. The Roald Dahl adaptation has received plenty of affection from critics with a 73% rating on Rotten Tomatoes, thanks to Mark Rylance's motion-capture work as a giant who befriends an orphan girl.
But "The BFG" will likely struggle to break even, given its high-priced $140 million budget, funded by Amblin Partners, Disney and Walden Media.
Fox's second weekend of "Independence Day: Resurgence" looks likely to finish in fifth with about $20 million this weekend, following its $41 million launch. The tentpole was the latest in a long line of sequels that have delivered less than stellar results this summer, including "Alice Through the Looking Glass" and "Teenage Mutant Ninja Turtles: Out of the Shadows."
'STAR TREK BEYOND' COULD HIT $60M OPENING ACCORDING TO SOME EARLY PROJECTIONS
07/01/16 @ 7:37 pm EST
Source:
Deadline
| Categories:
Star Trek
|
Comments
(0) |
E-mail Article
|
Add a Comment
Paramount's
Star Trek Beyond
began charting on the tracking boards yesterday with various sources putting the threequel's opening range between $48M-$60M when it debuts on July 22.
It's just another indicator of the uphill battle that many franchise properties are facing in a summer B.O. atmosphere where family 'five-quad' movies remain king, and sequelitis is a bane. Many insiders predict that
Finding Dory
will hand off the No. 1 baton to Universal/Illumination Entertainment's
The Secret Life of Pets
next weekend. The sixth title from Illumination is currently vying for an $80M-plus three-day at an estimated 4,100 theaters; and that's as big as it gets for July 2016 opening projections at this point in time. Even though Universal's July 29 release
Jason Bourne
hasn't registered on tracking yet, it's a hot commodity on social media according to RelishMix which reports that four of the film's vid clips have a great viral repost rate of 18 to 1 (10 to 1 is average).
Should
Star Trek Beyond
open within its current range, it will be the third-best in the
Star Trek
feature canon. Since rebooting
Star Trek
for the big screen in 2009, Bad Robot/Skydance propelled the franchise's debuts and grosses to an upper B.O. stratosphere with
Star Trek (
$75.2M opening, domestic $257.7M, global $385.7M) and 2013's
Star Trek Into Darkness
($70.2M, domestic $228.8M, global $467.4M). In addition, the last two
Star Trek
movies have truly resonated overseas, a feat that the movies during the 1980s and 1990s fell short of accomplishing. The international B.O. on
Star Trek
jumped from $127.7M in 2009 to $238.6M in 2013 with China also jumping from $9M to $57M over the same point in time. While Trekkies stateside will be ever so precious about
Star Trek Beyond,
foreign audiences in burgeoning markets like Russia, South Korea, China and Latin America will be more open-minded.
Again, these are early forecasts for
Star Trek Beyond
, and a number of factors and ad spots could spike the threequel's B.O. power in the weeks ahead. First, that mid-July release date for
Star Trek Beyond
has historically been a rich period for launching fanboy properties such as the
Dark Knight
sequels ($158M-$161M FSS),
Captain America: The First Avenger
($65M),
Ant-Man
($57.2M)
,
and
The Wolverine
($53M)
.
So, Paramount has that working in its favor.
I QUIT!
07/01/16 @ 7:32 pm EST
Source:
Marvel
| Categories:
Marvel
|
Comments
(0) |
E-mail Article
|
Add a Comment
INTERNATIONAL IRON MAN #5 BRINGS TONY ONE STEP CLOSER TO HIS BIRTH PARENTS
07/01/16 @ 7:30 pm EST
Source:
Marvel
| Categories:
Iron Man
|
Comments
(0) |
E-mail Article
|
Add a Comment
As Tony Stark stands at the frontlines of one of the biggest events in Marvel's history, behind the scenes he wages a much more personal battle. Long teased and long rumored, the truth will finally stand revealed as Tony Stark comes face-to-face with his biological mother in
INTERNATIONAL IRON MAN #5
! Amid sins past and villains long dormant, superstar creators Brian Michael Bendis and Alex Maleev reveal another piece in the puzzle of the Armored Avenger's history! So, who is Tony Stark really? The time has come to uncover what his true legacy is. As half his true parentage comes to light, how did his adoption long ago by Howard and Maria Stark come to pass? The answers you've been searching for start here! Find out as the mystery unfolds in
INTERNATIONAL IRON MAN #5
– coming to comic shops and digital devices this July!
INTERNATIONAL IRON MAN #5 (MAY160796)Written by BRIAN MICHAEL BENDIS
Art & Cover by ALEX MALEEV
FOC – 07/04/16, On-Sale – 7/27/16