INDIE MAN SAYS: BIONIC MAN #7
03/08/12 @ 3:31 pm EST
Source:
Just About Comics
| Categories:
The Bionic Man
|
Comments
(0) |
E-mail Article
|
Add a Comment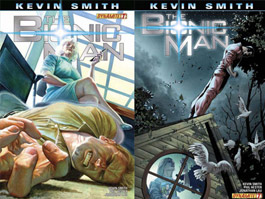 Smith and Hester's writing is entertaining overall, slower and more poignant when it is called for but upbeat and suspenseful when action is needed. They have, for me, a knack of keeping things on a very human level despite the subject matter. These two guys do 'street level' quite well.
The artwork is excellent no matter what is called for. Lau is an artistic technician of the type that I enjoy most. Clean crisp linework that is energetic and full of expression. Nunes adds just the right touches so that what is seen is understood but what we sense along the edges and in shadows adds to the overall feel and doesn't become the headline.
I do recommend the book for those that appreciate solid storytelling and compelling art. You need not have foreknowledge of The Bionic Man to enjoy the offerings of Smith
et al.
For the full review:
Just About Comics
DF REVIEW: STORM #2
08/20/14 @ 9:45 pm EST
Source:
Dynamic Forces
| Categories:
Storm
|
Comments
(0) |
E-mail Article
|
Add a Comment
By BYRON BREWER
Writer Greg Pak sure knows how to tug at the heartstrings.
Those who never knew the "all-new, all-different X-Men" the first time around got a great story in
Storm
#2. For those of us who were readers of Chris Claremont's beginnings of this wonderful character, it was old home week.
Of course, the Morlocks have been involved in many dramatic stories, especially with their mass destruction at the hands of the Marauders. But that first personal battle between Storm and Callisto with Storm NOT able to use her powers. And all the while during the knife fight, Storm holds back on her emotions and her claustrophobia.
It was out of that battle that the haircut she sports now was born.
Her relationship with Callisto has evolved over the years, and I was glad to see that, now depowered and no longer a leader, Callisto has kept with her journey down the straight and narrow. Her concern for the lost kids was the same as it was for the lost mutants, the ones who could not pass for ordinary people on our surface world.
Storm found her now exactly as she found her years ago: a concerned caretaker of those less fortunate. With a blade.
What a wonderful tribute to Storm's life and past history worked into today's storyline. Pak does a wonderful job, and I cannot wait to see Storm's life examined more under his pen.
The art by Victor Ibanez held everything together. It was not spectacular (except in the scene with Storm blasting Callisto). instead, everything was dank and dark and gritty, like the long long saga of the Morlocks themselves. Along with it, the art seems to get smaller, almost claustrophobic. This really added to those underground scenes.
This is a great book about a great character who has been shunted into the shadows for far too long.
Let's add one more title to Storm's plethora of monikers: long-time solo comic book star!
'VOLTRON' 30TH ANNIVERSARY BOOK COMING IN OCTOBER
08/20/14 @ 9:28 pm EST
Source:
ICv2
| Categories:
Voltron
|
Comments
(0) |
E-mail Article
|
Add a Comment
Viz Media has announced plans to release a comprehensive guide to theVoltron universe and its impact on pop culture in honor of the classic sci-fi anime series' 30th Anniversary this fall. Voltron Defender of the Universe: from Days Long Ago – a Thirtieth Anniversary Celebration will release under the Perfect Square imprint on October 28th.

The book is written by former Marvel Comics editor Brian Smith, Marc Morrell, and Joshua Bernard, with a foreword by Jeremy Corray. The book will chronicle the story of Voltron and its cultural references, detailing the history of the show and the mythology. It will include a complete Robeast catalog, celebrity interviews and more. The 144-page, 9 7/8" x 10 7/8" hardcover has an MSRP of $29.99.
'GEORGE PEREZ'S SIRENS' COMING FROM BOOM! STUDIOS
08/20/14 @ 9:26 pm EST
Source:
ICv2
| Categories:
MIsc
|
Comments
(0) |
E-mail Article
|
Add a Comment
BOOM! Studios will launch a female superteam limited series from George Perez on September 17.
George Perez's Sirens
is the legendary creator's first original series in over a decade. Perez signed an exclusive agreement with BOOM! last year.
The six-issue limited series is a cosmic adventure where a female team known as the Sirens must reunite to save the galaxy. But the universe remembers them previously as… villains?
The first issue will feature two full-color connecting wraparound covers by George Perez, as well as another illustrated by Cameron Stewart (
Catwoman, The Invisibles
). Two incentive covers will feature the Perez wraparound cover pencils.
VALIANT JOINS MADEFIRE "PRINT BOOKS" ON IOS AND ANDROID FOR DAY-AND-DATE DIGITAL RELEASES, DIGITAL COLLECTIONS
08/20/14 @ 9:19 pm EST
Source:
Valiant
| Categories:
MIsc
|
Comments
(0) |
E-mail Article
|
Add a Comment
Valiant Entertainment is proud to announce a new partnership with Madefore
Madefire
– the cutting-edge digital comics platform – to bring Valiant's complete library of award-winning comic book and collections to the newly launched "Print Books" storefront on Madefire's
iOS
and
Android
apps.
Celebrating traditional comics in the digital space, Madefire now features an honest and simple reading experience with a page-view interface and pinch-and-zoom navigation called Print Books. Alongside the benchmark reading experience in Motion Books, digital comics and graphic novels in their authentic form will now be available via Madefire's In-App Purchases directly on your mobile, tablet and web devices.
Featuring day-and-date releases of Valiant's latest monthly titles – including X-O Manowar, Unity, Rai, Armor Hunters, The Delinquents, and more – the critically acclaimed comics publisher will soon make available its complete back catalog of best-selling comic books and graphic novels, beginning today with the launch of the Quantum and Woody Classic 99-Cent Sale – the first ever Madefire-exclusive sale on the iOS and Android platforms.
Featuring the complete run of Christopher Priest and M.D. Bright's seminal series – including Quantum and Woody (1997) #0–21 and #32 – rediscover one of the most beloved series of the past two decades through Madefire's exclusive 99-cent sale before Priest and Bright's Q2: The Return of Quantum and Woody #1 (of 5) arrives in stores this October.
"Valiant is enthused and excited to join Madefire's expansion into day-and-date digital releases and back catalog releases," said Gavin Cuneo, CFO & Head of Strategic Development for Valiant Entertainment. "Valiant has one of the most cherished libraries of content anywhere in the history of comics, and, with Madefire's recent expansion into 'Print Books,' we look to at last making it available for Madefire's passionate audience of fans and readers around the world.
""Valiant are producing some of the best looking books in the business right now, thanks to great talent and a stable of classic characters," said Madefire Co-Founder and CCO Liam Sharp. "We're thrilled to be able to bring not only their ground-breaking motion books to the Madefire app, but also their extensive back catalog of print material, featuring many fondly remembered gems."
Established in 1989, Valiant has sold over 80 million comic books, and today its characters continue to be forged in publishing, licensing, film, video games, and beyond. Since its summer 2012 publishing relaunch, Valiant has returned to the fore as one of the most commercially and critically successful independent publishers in the industry today with an initial slate of titles that included X-O Manowar by New York Times best-selling writer Robert Venditti and Eisner Award-winning artist Cary Nord; Harbinger by New York Times best-selling writer Joshua Dysart and Harvey Award-nominated artist Khari Evans; and Archer & Armstrong by the New York Times best-selling creative team of writer Fred Van Lente and artist Clayton Henry.
After multiple awards and nominations, including a 2012 Diamond Gem Award for Publisher of the Year, Valiant ventured even farther in 2013 with the debut of its first crossover event, Harbinger Wars, and the release of Unity #1 by writer Matt Kindt and artist Doug Braithwaite – the year's highest charting debut issue from a non-premier publisher with sales in excess of 70,000 copies. This May, Valiant followed up with "Valiant First" – an all-new line of titles led by the smash-hit ongoing series, Rai, and its biggest crossover event to date, Armor Hunters. Most recently, on the heels of 16 nominations at this year's Harvey Awards, the publisher has announced The Valiant – a prestige format mini-series from New York Times best-selling writers Jeff Lemire and Matt Kindt with art by Eisner Award winner Paolo Rivera.
About Madefire
Founded in 2011 by Ben Wolstenholme, Liam Sharp and Eugene Walden, Madefire is a media and technology company. Madefire has built the Motion Books publishing platform that provides artists, writers and publishers tools for creating a new reading format called Motion Books. Madefire is backed by Toni Schneider at True Ventures, The recent CEO of Automattic, makers of WordPress, as well as Bill Woodward (Anthem Ventures, former Chairman of Macromedia). The Advisory Board also includes industry leaders Mike McCue, CEO and Founder of Flipboard, angel investor Sina Tamaddon, former Senior Vice President of Applications for Apple Inc, Dave Gibbons, co-creator of Watchmen, the bestselling graphic novel of all time, and Bill Sienkiewicz, widely recognized as one of the greatest innovators of sequential art.
WHAT COMES AFTER BIGGER BANG? NEW CREATOR-OWNED SERIES EXPLORES COSMOS
08/20/14 @ 8:18 pm EST
Source:
IDW
| Categories:
IDW
|
Comments
(0) |
E-mail Article
|
Add a Comment


In one explosive moment our universe was born—and with another it will be destroyed! This winter, writer D.J. Kirkbride (Amelia Cole) and illustrator Vassilis Gogtzilas (Adventures of Augusta Wind) team up for THE BIGGER BANG, a four-issue mini-series exploring the depths of humanity through the warped lens of an ever-expanding multiverse. This action-packed space fantasy defies the laws of science and the comforts of belief!

"My artistic pal Vassillis approached me about doing a comic with some kind of outer space superhero, and that pretty quickly became THE BIGGER BANG," says writer Kirkbride. "It's a comic about forging one's own destiny despite circumstances of birth or the past… starring a space god in orange tights, a three-eyed green warrior lady, and a Cthulhu in a flying space castle."

Created by an inexplicable universe-killing event, the being called Cosmos traverses the stars, seeking to help those he can in order to atone for the sins of his birth. Often mistaken for a harbinger, Cosmos soars the intergalactic space ways alone… but will soon find himself up against an alien tyrant on his quest for acceptance.

Series editor Justin Eisinger, most commonly found overseeing IDW's expansive line of books and graphic novels, described his experience as such: "THE BIGGER BANG is a story with heart and vision. The off-kilter pairing of Kirkbride's quirky writing and Gogtzilas' expressive, kinetic artwork work in perfect disharmony to bring this impossible story to improbable life. We sure hope you have as much fun reading BIGGER BANG as we're having making it."
IDW & YOE BOOKS HAVE COMPILATION OF DITKO'S SHORT COMICS COMING THIS NOVEMBER
08/20/14 @ 8:14 pm EST
Source:
IDW
| Categories:
IDW
|
Comments
(0) |
E-mail Article
|
Add a Comment


IDW Publishing and Yoe Books continue their incisive look at Steve Ditko's work with Ditko's Shorts coming this November.

Craig Yoe exclaims, "To put it short: Steve Ditko is 'Ditko hands' down the greatest living artist from main stream comics! His mastery is especially apparent in these amazing short stories where he's in, he's out and your mind has just been totally altered!"

Ditko may be best known as the artist and co-creator of larger-than-life characters like Spider-Man and Doctor Strange but did you know that he could also work on a smaller (or short) scale and achieve very big results? Ditko's Shorts is a fun and incredibly fascinating compilation of short comics one, two, and three pages in length, showcasing that only a brilliant master like Ditko could tell such dramatic and compelling tale in such compact form.

Taken from rare comic books from a who's who of publishers, all the short comics collected for this volume have been meticulously restored and printed in a beautiful, large-format book. The genres show Ditko's great range as he easily navigates horror, fantasy, science fiction, western, and even humorous stories. This is a snapshot of his career that is not to be missed!

Also not to be missed are the insightful introductions by punk rocker and comics historian Fester Faceplant and Eisner Award-winner Craig Yoe.

"More than just a hat-trick of Spider Man, Dr. Strange, and Mr. A, this collection is a perfect showcase of Ditko's mastery of any genre he put his stamp on," said Fester Faceplant.
WITHOUT WARNING! (EARTHQUAKE SAFETY AND INFORMATION)
08/20/14 @ 8:04 pm EST
Source:
Dark Horse
| Categories:
Dark Horse
|
Comments
(0) |
E-mail Article
|
Add a Comment
The Oregon Office of Emergency Management and Dark Horse Comics just released a new comic book titled, "Without Warning," aimed at teaching earthquake preparedness to teenagers. The comic book is the result of collaboration between the Cascadia Region Earthquake Workgroup (CREW), OEM, and Dark Horse Comics.
"Most public education publications are not interesting to kids," said Althea Rizzo, Geologic Hazards Program Coordinator, for the Oregon Office of Emergency Management. "This comic book allows us to reach a new audience not often targeted in preparedness materials."
"Without Warning" is a story about a girl who lives on the Oregon Coast and is trying to reunite with her family after a major Cascadia Earthquake. It is a 12 page full color comic addressing what can happen in the aftermath of major earthquake and tsunami.
Oregon is located in the Cascadia Subduction Zone, a 600 hundred mile earthquake fault stretching from offshore Northern California to Southern British Columbia. Experts predict a large 9.0 or higher earthquake could strike Oregon at any time.
"We know the risk is there, making our job of spreading the message of preparedness that much more important," said Rizzo. "We are grateful to have the opportunity to partner with Dark Horse Comics and release the comic book."
"Without Warning" is available for free download on mobile devices
here
. Printed copies are available through the Oregon Office of Emergency Management.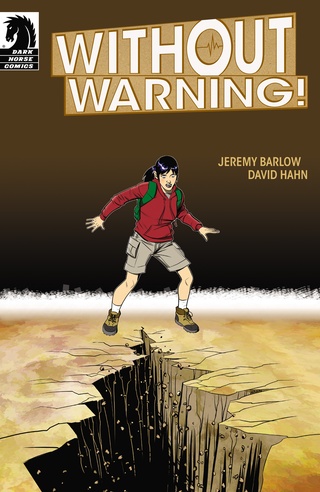 CRIME AND GLITZ GO HAND-IN-HAND IN BLUE ESTATE
08/20/14 @ 7:58 pm EST
Source:
Image
| Categories:
Image
|
Comments
(0) |
E-mail Article
|
Add a Comment
The entirety of BLUE ESTATE, the sharply satirical crime Image Comics series created by Viktor Kalvachev and Kosta Yanev, is now being collected into a deluxe oversized hardcover edition in September. As dueling crime families battle in the glitziest and grittiest parts of Los Angeles, Rachel Maddox tries to disentangle her life from her abusive action-hero husband in this Eisner Award-nominated tale of desperate starlets, suspiciously macho actors, bungling mobsters, and hapless private dicks.
Kalvachev's work on BLUE ESTATE garnered nominations for Best Cover Artist and Best Coloring Eisner Awards in 2012. His stunning painted covers and vivid coloring unite the work of a dozen artists — including Nathan Fox, Tomm Coker, Dave Johnson, Paul Maybury, and Marley Zarcone — whose different styles bring different moods and effects to his and Kosta Yanev's over-the-top story (scripted with incisive wit by Andrew Osborne).
BLUE ESTATE will be in comic book stores on September 10 and in bookstores on September 23. In addition to collecting all twelve issues of the Image Comics series, it's packed with bonus material, including Kalvachev's character and location designs, and an exclusive making-of feature about the 2014 HESAW/Focus Home Interactive Blue Estate video game, released for the PlayStation 4 in 2014, featuring art and character designs.
13 WWE SUPERSTARS, HALL OF FAMERS, DIVAS TO ATTEND SIX WIZARD WORLD EVENTS THROUGH 2014
08/20/14 @ 7:37 pm EST
Source:
Wizard World
| Categories:
MIsc
|
Comments
(0) |
E-mail Article
|
Add a Comment
Wizard World and WWE have announced that 13 Superstars, Hall of Famers, Champions and Divas will appear at six Wizard World Comic Con events in the coming months, beginning with five standouts at Wizard World Chicago Comic Con this weekend at the Donald E. Stephens Convention Center.

At the Chicago show, WWE Superstar John Cena will appear on Thursday from 3-7 p.m. Then on Friday, WWE Superstar Bray Wyatt and WWE Diva Paige will attend from 3:30-6:30 p.m. WWE Legend Bruno Sammartino (11 a.m.-2 p.m) and WWE Superstar Batista (2-5:15 p.m.) follow on Saturday.

Then at the inaugural Richmond Comic Con, WWE Legend Ricky Steamboat (11 a.m.-2 p.m.) and WWE Superstar Batista (2-5:15 p.m.) visit the Greater Richmond Convention Center on Saturday, Sept. 13.

At the Music City Center in Nashville, WWE Superstar Kane (12:30-3 p.m.) and WWE Divas the Bella Twins (3:30-6:30 p.m.) invade Nashville Comic Con on Saturday, Sept. 27.

Less than a week later, WWE Superstar Undertaker takes his first trip to Wizard World Austin Comic Con on Friday, Oct. 3, at the Austin Convention Center (4:30-8:30 p.m.).

The following month, WWE Superstars the Wyatt Family come together as a trio from 1-4 p.m. on Saturday, Nov. 1 at the Greater Columbus Convention Center for Ohio Comic Con

Finally, WWE Superstar Roman Reigns (11 a.m.-2 p.m.) and WWE Divas the Bella Twins (2:15-5:15 p.m.) make their way to the last stop on the 2014 Wizard World calendar at the inaugural Reno Comic Con, Saturday, Nov. 22.
ANDERSON COOPER GETS CAUGHT IN THE WIDOW'S WEB
08/20/14 @ 1:15 pm EST
Source:
Marvel
| Categories:
Blair Witch
|
Comments
(0) |
E-mail Article
|
Add a Comment
Do we have any choice in who protects us? Do we have any say in the savior who heeds our call? Natasha Romanov's best intentions as an Avenger might prove all for naught as her past discretions fall under the scrutiny of a statured journalist.
Making his Marvel Universe debut, CNN's Anderson Cooper traces the web of an allegedly reformed KGB operative and assassin, asking, "Is this the right Avenger for us?" That and more questions hit the wire in November's BLACK WIDOW #12 by Nathan Edmondson and Phil Noto.
"Anderson and his show and his journalism will be the catalyst for a major event in Black Widow's journey right now," explains series writer Edmondson. "And as a result of the way in which he exposes her and some of her actions, we're going to see some pretty significant things change in her world. We will more importantly see a fundamental change within her as she has to face a world that is now increasingly aware of her.
"It's Anderson doing what he does best: looking for the truth and reporting on events. We imagine that in Black Widow's world, as would be the case with many other Avengers, things she does can't be ignored by the media and all it takes is somebody who knows how to ask the right questions to make her world very uncomfortable for her but in a way that is perhaps not unjust."
Edmondson first came in contact with Cooper while living and working in Washington DC.
"I found that he was a comic book fan and reader and shared some of my work with him over a year ago," he says. "Then as we were strategizing upcoming issues of BLACK WIDOW I had this idea for an opportunity to involve him directly in the book. He was thrilled with the idea and we were thrilled that he was thrilled and so we set about setting the issue up and going through the steps for approval. Fortunately, it was all nice and easy and everybody involved was excited about the idea."
Currently the anchor for CNN's "Anderson Cooper 360°," Cooper spent many years broadcasting from around the globe, from Sri Lanka, Vietnam, Rwanda, and Iraq to the wake of Hurricane Katrina in New Orleans.
"I approached Anderson because I'm a fan of his," says Edmondson. "I've always thought that he's been an excellent journalist and in my limited experience with him via mutual friends I've heard nothing but good things. I've always held him in high regard both in a personal and professional way.
"I think that when we were talking about somebody that would approach something shrewdly but fairly and approach such a hot button topic as an Avenger who's been doing some questionable things, that he's the kind of journalist that I would want taking the lead and the kind of news outlet. A personal fandom element on my side and also I think that his track record and the kind of stories that he's gone after in the past [as well as] his very significant public persona made him the right choice and made his outlet the right opportunity to both bring a great deal of exposure to the book at the turn of a new arc and to have a lot of fun."
While Cooper's investigation and the scrutiny it brings to Natasha's mission serves as antagonistic elements, it won't be villainous. While the Red Skull and Anderson Cooper both prove obstacles for the Widow, the latter works with the best of intentions, acting on instincts and a passion for a lucid representation of facts that Edmondson himself admires.
"Very much like a lot of the reporting of military activity today—a lot of reporting of the really tumultuous geo-political situations in the Middle East and in other corners of the country—it's very difficult to distinguish what we know from what we don't know," says Edmondson of Black Widow. "I think that's where we rely on places like CNN and Fox News and people like Anderson Cooper to help us delineate things we know from what we don't know. Even then, having exposed as much of the truth as we can, it's very, very difficult to make determinations from the news on what you feel is just in regards to acts of justice, so-called acts of justice, around the world.
"Me personally, I think I'd be very skeptical about whether or not we should trust Black Widow, especially trusting [her] knowing that she has the support and backing or at least the blind eye of our government. That is to say, does trusting her mean that we have to trust all of the government? I think that's a very interesting and tricky question."
It might seem that his unique position as writer on BLACK WIDOW would afford him greater insight on Natasha's moral compass, past and present, but Edmondson intentionally leaves some of those files sealed, even to himself.
"She's one of the few characters that I haven't woven an intricate back-story," he explains. "I have a pretty good idea of where she comes from but I felt that as her writer, I am better left in the dark on some things because it gives her the opportunity to surprise me. I know some of this may sound fanciful but the reality is that when you have a character in storytelling that is well crafted enough—and she was before Phil and I ever came to the table—they go on to live beyond you. Rather than inventing them, you start following them. You just invent situations that they come up against. With Black Widow, there's a continual act of discovery for us as the creators as to what she does now, what she does next, and also, and this is where she may differ from a lot of other characters that I might have the opportunity to work on, she continues to surprise us with revelations about her past. So I'm happy to know that there's a deep dark well to continue to draw from, and that we may never reach the bottom."
Anderson Cooper investigates in BLACK WIDOW #12 by Nathan Edmondson and Phil Noto this November.