THE GREEN GOBLIN GETS CONNECTED WITH SKETCH COVERS BY KEN HAESER!!!
02/28/12 @ 2:20 pm EST
Source:
Dynamic Forces
|
Comments
(0) |
E-mail Article
|
Add a Comment
Dynamic Forces is proud to show off the latest hand-drawn sketch covers being offered for pre-order today! Art is by Ken Haeser and features an incredible portrait of the Green Goblin on the complete cover set of Spider-Man's "One More day" storyline. Hand-drawn and inked on each book is a part of the Green Goblin and then the books come together to form one Marvel-ous Masterpiece!
Offered at the dynamic price of $79.99 for a limited time! Returns to regular MSRP of $196.40 after March 15th it's
Spider-Man
's most deadly foe the Green Goblin on this four-book original art set! DF is proud to offer this connecting-cover set of
Spider-Man
books, each featuring a hand-drawn and inked part of the Green Goblin! A true Masterpiece! A one of a kind! And when they come together they form a frightfully fun portrait of the Green Goblin surrounded by the main players of "One More Day-the story that changed the world of
Spider-Man
and Spider-Fans forever-and returned Norman Osborn to the
Marvel
Universe! Each set will include a DF Certificate of Authenticity! And each book will arrive bagged with a board and a DF Holo-Foil Sticker!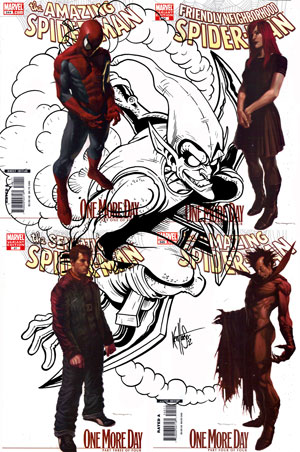 Also, Spidey's deadly foe (sometimes a hero) Venom gets connected on the "One More Day" set by Ken Haeser!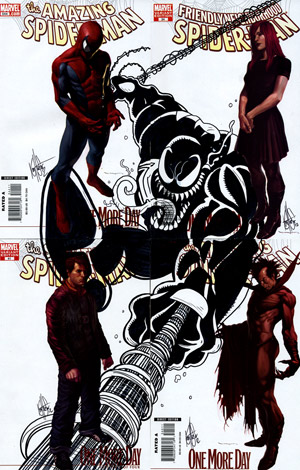 Not a hoax! Not a dream! Not a reproduction! These are hand-drawn collector's items and right now you can add one to your collection for limited time!
Like what you see? Keep an eye out for more DYNAMIC MASTERPIECE ORIGINAL ART in our upcoming DF Daily Specials, featuring the art of Ken Haeser, Kevin Greaves, Laura Guzzo, Jae Lee, Marat Mychaels, Joe Rubinstein, John Romita Sr and other great artists!
ABOUT DYNAMIC FORCES:
DF is the comic-book and collectible industry's top producer of limited-edition and autographed memorabilia, including comic books, lithographs. For updated information on Dynamic Forces specialty merchandise, product art, exclusive creator interviews, columns and upcoming product releases, please visit the Dynamic Forces website at www.dynamicforces.com.
PARAMOUNT'S 'TRANSFORMERS' PLANS MAY INCLUDE BUMBLEBEE SPINOFF
05/28/15 @ 9:53 pm EST
Source:
Comic Book Resources
| Categories:
Transformers
|
Comments
(0) |
E-mail Article
|
Add a Comment
Even as fans are still digesting the rumor about a potential "Transformers" prequel set on Cybertron, Hasbro's chief executive has hinted at a possible spinoff starring Bumblebee.
Speaking today at the Citi Global Consumer Conference in New York City, Hasbro President and CEO Brian Goldner addressed Paramount Pictures' plans for a Transformers cinematic universe."As we go forward, we would imagine several more 'Transformers' movies, not just in the current lineage but also spinoffs and focusing on certain key characters that are beloved by the world over," the fan site TFW2005 quotes him as saying. "Many of you know Bumblebee, the yellow Camaro, formally known as a yellow VW Bug, and he is a beloved character by kids all over the world. We could see stories told around Bumblebee and other characters."While that's far from concrete, it suggests a Bumblebee movie is at least being discussed by Hasbro, which reportedly originated the idea for the Cybertron origin story. And, as Goldner indicated, the yellow Autobot remains a fan favorite, so a spinoff seems an obvious choice considering the scope of Paramount's plans.

Directed by Michael Bay, the first four "Transformers" movies have grossed more than $3.7 billion worldwide.
CAR CRASHES INTO FLORIDA COMIC STORE
05/28/15 @ 9:26 pm EST
Source:
Comic Book Resources
| Categories:
MIsc
|
Comments
(0) |
E-mail Article
|
Add a Comment
Famous Faces & Funnies in West Melbourne, Florida, reopened today after a car crashed through the front of the comic store Wednesday afternoon.
According to local news reports and the store's Facebook page, the 65-year-old driver was taken to a hospital with minor injuries after she mistakenly stepped on the gas instead of the break, sending her car smashing through the front of the building. A customer suffered minor abrasions, and went to the emergency room as a precaution.
"She hit one customer," store owner Rick Shea told Florida Today. "Had it been a few seconds earlier, she might have killed my manager, who had been standing right there."
On the store's Facebook page, he added, "Luckily, there were no further injuries and although the damage to the store's fixtures, merchandise and graphic novels were extensive (anyone want some 'half off' mugs, glasses and cups?), we're just happy no one else was hurt or killed. Wednesday being our busiest day of the week with new comics and toys, it could have been worse with a bigger crowd around the register."
The store reopened today for regular regular hours; however, game night has been canceled. "We should have a working front door at some point later today," read a Facebook update, "but feel free to use the back door in the meantime, labeled with our name on it."
KORVAC SAGA #1 PITS GUARDIANS OF THE GALAXY AGAINST AVENGERS IN THE WARZONES
05/28/15 @ 9:18 pm EST
Source:
Marvel
| Categories:
Guardians of the Galaxy
|
Comments
(0) |
E-mail Article
|
Add a Comment
This June, one of the Avengers and Guardians of the Galaxy's greatest foes returns to the fore. Today, Marvel is pleased to present your first look at
KORVAC
SAGA #1
– a brand-new Secret Wars series from critically acclaimed writer Dan Abnett (
Guardians of the Galaxy, Guardians 3000)
and rising star artist Otto Schmidt! In the Forest Hills domain of Battleworld, Lord Michael Korvac governs over all, ruling with an iron fist, keeping his subjects in line by any means necessary. Yet tensions are rising in his corner of Battleworld. Full-scale war with neighboring baron Simon Williams and his squad of Avengers is all but assured. Korvac and his royal guard – the Guardians of the Galaxy – stand at the brink of destruction from within and without. Escalating border conflicts and chaotic threats from beyond the Shield threaten all they hold dear. Worst of all, a dark madness is spreading throughout the population, twisting and manipulating residents of Forest Hills into monsters.
Now the classic Guardians of the Galaxy – Major Victory, Starhawk, Charlie-27, Yondu, Nikki and young Geena Drake must track the source of this evil before it corrupts Forest Hills and all of Battleworld! Yet even if they stem the coming darkness, will they be strong enough to stop Wonder Man and his Avengers? The answers lie within this June as
KORVAC SAGA #1
explodes into comic shops and onto digital devices!
KORVAC SAGA #1 (APR150828)
Written by DAN ABNETT
Art & Cover by OTTO SCHMIDT
Variant Cover by STEVE LIEBER (APR150829)FOC – 06/01/15, On-Sale – 06/24/15
HUNTER S. THOMPSON'S GONZO JOURNALISM EPIC GETS OGN
05/28/15 @ 3:43 pm EST
Source:
ICv2
| Categories:
MIsc
|
Comments
(0) |
E-mail Article
|
Add a Comment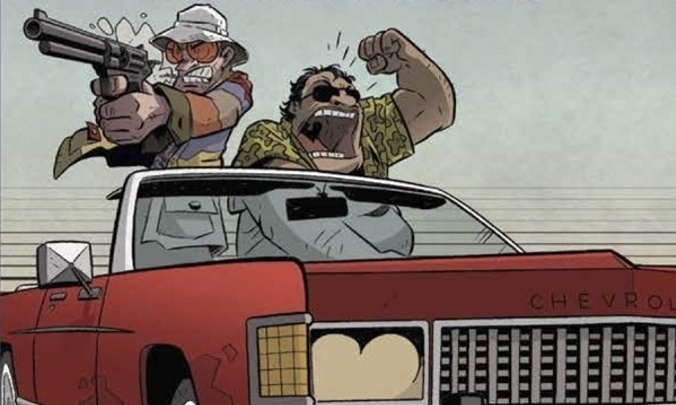 Top Shelf has announced a graphic novel adaptation of legendary journalist Hunter S. Thompson's Fear and Loathing in Las Vegasfor release in October.

The modern literary classic, produced in partnership with the Hunter S. Thompson estate, will be adapted by Troy Little (Powerpuff Girls, Super Secret Crisis War!), who was nominated for an Eisner in 2013 for Best Lettering for Angora Napkin 2: Harvest of Revenge.


The book's subtitle: A Savage Journey to the Heart of the American Dream sums up the surreal drug-fueled bender which sees Thompson analogue Raoul Duke attempting to cover a motorcycle race in Las Vegas with his attorney Dr. Gonzo in tow. The madcap adventure was immortalized in the 1998 Terry Gilliam directed film starring Johnny Depp and Benicio del Toro. (The story was also includes in Art Linson's 1980 film Where the Buffalo Roam starring Bill Murray, which includes several Thompson stories.)
X-MEN APOCALYPSE: NEW LOOK AT JAMES MCAVOY AS BALD PROFESSOR X
05/28/15 @ 3:31 pm EST
Source:
Comicbook
| Categories:
X-Men
|
Comments
(0) |
E-mail Article
|
Add a Comment
New photos have revealed James McAvoy's bald head for
X-Men: Apocalypse
.
McAvoy's young Charles Xavier has kept his long hair throughout
X-Men: First Class
and
X-Men: Days of Future Past
, despite Hank McCoy assuring him that Cerebro would work better on a shaved head. Following Charles' character arc in
Days of Future Past
, where he finally accepts and grows into his role as Professor X, his new look will likely serve as an outward sign of his newfound maturity.
Note that the other actors in the photo are
not
involved with
X-Men: Apocalypse.
They were part of an interactive, zombie-themed theater experience -
The Generation of Z
- that McAvoy attended.
X-Men: Apocalypse
is currently filming in Montreal.
The movie opens in theaters on May 27, 2016.
NEW SPEED RACER SERIES IN THE WORKS
05/28/15 @ 3:27 pm EST
Source:
Comicbook
| Categories:
MIsc
|
Comments
(0) |
E-mail Article
|
Add a Comment
Tatsunoko Production is developing a rebooted
Speed Racer
series for the "modern audience," according to Total Licensing magazine. The new series will be accompanied by a licensing program designed to reintroduce the property.
ANN confirmed the news with Tatsunoko, but no further details about the series format or release were shared.
Tatsunoko regained the rights to
Speed
Racer
from Speed Racer Enterprises in 2011. A lawsuit contesting the rights reversion followed, but was dismissed in 2014.
Originally titled
Mach Go Go
in Japan,
Speed Racer
is an automobile racing anime from the 1960s. The series aired in United States in 1967, and is remembered by Western audiences as much for its questionable dubbing as for its high-speed races. A remake
, Speed Racer X
, aired in 1997, and a series of spinoff shorts, titled
Mach Girl
, aired in 2008.
Lions Gate produced another remake,
Speed Racer: The Next Generation
, in 2008. A live action
Speed Racer
movie, directed by the Wachowkis, was released in the same year.
WORKING WOLVERINE CLAWS MADE WITH A 3D PRINTER
05/28/15 @ 3:21 pm EST
Source:
Comicbook
| Categories:
Wolverine
|
Comments
(0) |
E-mail Article
|
Add a Comment
To celebrate the release of the new Myoware muscle sensor, the team at Advancer Technologies have put together a tutorial video showing you how to create 3D printed Wolverine claws.
The fourth generation Myoware sensor allows you to trigger the SNIKT of claws popping by just flexing a muscle.
See them in action in the video here:
https://youtu.be/5T3uTwY7pqM
MISTER MIRACLE GETS A NEW LOOK
05/28/15 @ 3:16 pm EST
Source:
Comicbook
| Categories:
DC
|
Comments
(0) |
E-mail Article
|
Add a Comment
One of DC Comics' New Gods is getting a miraculous make-over this summer.

And if you're a fan of wordplay and Jack Kirby, you'll know that it's Mister Miracle, a.k.a Scott Free. Mister Miracle will sport an updated costume in the upcoming pages ofJustice League, debuting just in time for the title's Darkseid War event. Designed by series illustrator Jason Fabok, Scott Free's new costume is a slick update on the classic rendition. As Fabok himself put it, his Miracle is "Kirby With a modern twist." Sounds good to us.

The updated Mister Miracle will join his fellow New Gods for "The Darkseid War," an epic story that puts Jack Kirby's Fourth World creations on a collision course with the Anti-Monitor. The story's first chapter hits in June's Justice League #41.
BREAKING: ANDY SERKIS' STAR WARS: THE FORCE AWAKENS ROLE OFFICIALLY UNVEILED
05/28/15 @ 3:12 pm EST
Source:
Comicbook
| Categories:
Star Wars
|
Comments
(0) |
E-mail Article
|
Add a Comment
Welp, you can stop guessing who Andy Serkis (
Avengers: Age of Ultron
) is playing in
Star Wars: The Force Awakens
. The cat is out of the bag!
The official
Star Wars
website has posted a new article about famed photographer Annie Leibovitz and the
Star Wars: The Force Awakens
cover shoot she did for Vanity Fair. In there, is a note pertaining to the photograph below.
"A previously unpublished photo of Andy Serkis, also sporting mo-cap gear for his portrayal of Supreme Leader Snoke, is available here exclusively."
"
BREAKING: NEW ANT-MAN POSTER RELEASED
05/28/15 @ 3:03 pm EST
Source:
Comicbook
| Categories:
Ant Man
|
Comments
(0) |
E-mail Article
|
Add a Comment
Marvel Studios has released a new poster for Ant-Man.
In the new image, Paul Rudd's Ant-Man surfs on an insect into a hailstorm of bullets. Let's hope his reflexes are as good as his trademark wit.