THE GREEN GOBLIN GETS CONNECTED WITH SKETCH COVERS BY KEN HAESER!!!
02/28/12 @ 2:20 pm EST
Source:
Dynamic Forces
|
Comments
(0) |
E-mail Article
|
Add a Comment
Dynamic Forces is proud to show off the latest hand-drawn sketch covers being offered for pre-order today! Art is by Ken Haeser and features an incredible portrait of the Green Goblin on the complete cover set of Spider-Man's "One More day" storyline. Hand-drawn and inked on each book is a part of the Green Goblin and then the books come together to form one Marvel-ous Masterpiece!
Offered at the dynamic price of $79.99 for a limited time! Returns to regular MSRP of $196.40 after March 15th it's
Spider-Man
's most deadly foe the Green Goblin on this four-book original art set! DF is proud to offer this connecting-cover set of
Spider-Man
books, each featuring a hand-drawn and inked part of the Green Goblin! A true Masterpiece! A one of a kind! And when they come together they form a frightfully fun portrait of the Green Goblin surrounded by the main players of "One More Day-the story that changed the world of
Spider-Man
and Spider-Fans forever-and returned Norman Osborn to the
Marvel
Universe! Each set will include a DF Certificate of Authenticity! And each book will arrive bagged with a board and a DF Holo-Foil Sticker!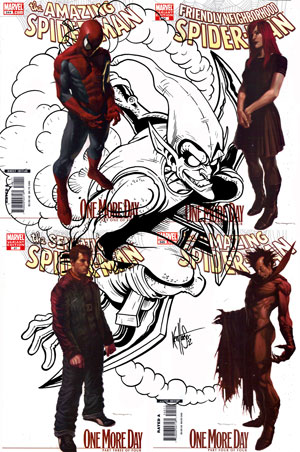 Also, Spidey's deadly foe (sometimes a hero) Venom gets connected on the "One More Day" set by Ken Haeser!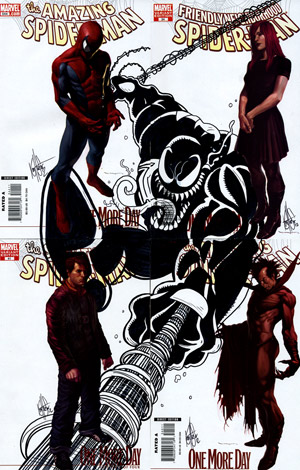 Not a hoax! Not a dream! Not a reproduction! These are hand-drawn collector's items and right now you can add one to your collection for limited time!
Like what you see? Keep an eye out for more DYNAMIC MASTERPIECE ORIGINAL ART in our upcoming DF Daily Specials, featuring the art of Ken Haeser, Kevin Greaves, Laura Guzzo, Jae Lee, Marat Mychaels, Joe Rubinstein, John Romita Sr and other great artists!
ABOUT DYNAMIC FORCES:
DF is the comic-book and collectible industry's top producer of limited-edition and autographed memorabilia, including comic books, lithographs. For updated information on Dynamic Forces specialty merchandise, product art, exclusive creator interviews, columns and upcoming product releases, please visit the Dynamic Forces website at www.dynamicforces.com.
"HOWARD THE DUCK" FINALE GETS PAINTED AND ACTION FIGURE VARIANTS
07/28/16 @ 3:54 am EST
Source:
Comic Book Resources
| Categories:
Howard The Duck
|
Comments
(0) |
E-mail Article
|
Add a Comment
Marvel's latest "Howard the Duck" series is set to wrap in September with issue #11 from the creative team of writer Chip Zdarsky and artist Joe Quinones, but the series looks to do something special before it wraps. Zdarsky -- who, of course, is also the artist of the Eisner-winning Image Comics series "Sex Criminals" -- painted a variant cover for the final issue, putting the series' titular duck in a serious spotlight.
Additionally, "Howard the Duck" #11 will receive the latest in a series of action figure variant covers from artist John Tyler Christopher, featuring both Howard and co-star Tara Tam. CBR had the exclusive first look at both covers.
"Howard the Duck" #11 painted variant by Chip Zdarsky, left; action figure variant by John Tyler Christopher.
"Howard the Duck" #11 is scheduled for release on Sept. 28. Full solicitation text follows.
HOWARD THE DUCK #11
CHIP ZDARSKY (W) • JOE QUINONES (A/C)
LAST ISSUE VARIANT COVER BY CHIP ZDARSKY
ACTION FIGURE VARIANT COVER BY JOHN TYLER CHRISTOPHER
DEFENDERS VARIANT COVER BY Jamal Campbell
• Join Chip (Zdarsky) and Joe (Quinones) as they say goodbye to Howard in a Very Special Issue that is still priced as a Regular Issue!
• Can Howard outwit fate? Can any of us? Or is the concept of predestination just shorthand for the near-infinite factors in play that are guided, at their core, by free will?
• Guest-starring Spider-Man, probably.
32 PGS./Rated T+ ...$3.99
HORROR HIT 'LIGHTS OUT' TURNS ON A SEQUEL
07/28/16 @ 3:49 am EST
Source:
Comic Book Resources
| Categories:
MIsc
|
Comments
(0) |
E-mail Article
|
Add a Comment
Things that go bump in the night can be scary, but they can also be very, very profitable. New Line Cinema has greenlit a sequel for "Lights Out," the horror film based on a short by David F. Sandberg and produced by "The Conjuring's" James Wan, reports Deadline. The film marks Sandberg's feature film debut, produced on a meager $4.9 million and already earning $35 million worldwide since its July 22 release.
"Lights Out" follows the trials of a family battling a deadly apparition that can only manifest in the dark. Sandberg made the original two and a half-minute short film, which starred his wife, Lotta Losten, as part of the "Who's There" Worldwide Horror Film Challenge. It was supposed to attract the attention of the Swedish Film Institute so Sandberg could receive enough money to do a longer film. As its popularity grew online, the calls started to come in from Hollywood.
One of those calls was from James Wan and his producing partner, Lawrence Grey, who saw the potential in turning the short into a full-length film. As Wan told CBR during WonderCon, "It may not be the slickest looking, but I looked at that and I kind of go, 'Well you know what, if we give him the right tools, give him the right support, he might have the opportunity to tell that story on a bigger scale.'" It looks like the gamble paid off for both parties.
Familiar faces will reunite for the sequel, with Sandberg once again directing, Eric Heisserer writing the script and Wan and Grey producing. Sandberg's next film project is "Annabelle 2," a sequel to 2014's "The Conjuring" spinoff.
MICHAEL KEATON DOESN'T THINK 'BEETLEJUICE 2′ IS GOING TO HAPPEN
07/28/16 @ 3:47 am EST
Source:
Comic Book Resources
| Categories:
MIsc
|
Comments
(0) |
E-mail Article
|
Add a Comment
Michael Keaton, professional dream-crusher, says he hasn't heard anything about the oft-rumored sequel to 1988's "Beetlejuice."
"No, zero," Keaton, who played the title character in the cult hit, told Variety when asked if he knows anything about a sequel. "You always hear things, that this is happening, and people seem to know more about it than I do."
Original film star Winona Ryder previously teased a sequel, telling Seth Meyers in August 2015 that she "thinks [she] can confirm it," with both original director Tim Burton and Keaton on board. Burton later revealed in May that a sequel is not officially in the works, but he was still interested in doing it.
Unfortunately, though, it doesn't look like Keaton was ever contacted about appearing in the flick, and he might not be willing to reprise the role. "It's possible that ship has sailed," he said.
On the plus side, Keaton does feel similarly to a lot of the fans who believe the original film should be allowed to stand as is. "The only way to do it is to do it right. So much of it was improvised and so much was beautifully handmade by the artist that is Tim Burton," the actor said. "If you can't get close to that, you leave it alone. There are certain movies that are like Indian burial grounds. You never ride over them. Bad shit happens if you cross that. You don't touch certain things. They are sacred."
Keaton is currently filming "Spider-Man: Homecoming," where he is expected to play the film's villain.
CAT GRANT AND WINN FIND NEW ROLES IN SUPERGIRL SEASON TWO
07/28/16 @ 3:36 am EST
Source:
Bleeding Cool
| Categories:
DC
|
Comments
(0) |
E-mail Article
|
Add a Comment
Ever since it was announced that
Supergirl
would join its
CW
cousins in Vancouver for its second season, many speculated that
Calista Flockhart
and her Cat Grant might disappear entirely from the show.
But Slashfilm reports the character will appear, but perhaps not as often with Kara. "You'll definitely see Cat Grant," explained executive producer
Sarah Schechter
. "It's that weird thing when you get promoted and you see your old boss less. There is still Cat Grant. She is not going anywhere." The relationship between Kara and Cat was one of the major positive aspects of the first year and it will be interesting to see how it is served with the two characters in different offices.
And speaking of switching offices, Kara's tech support Winn Schott will be taking his core competencies to the DEO. "Which means we get more scenes of
David Harewood
and
Jeremy Jordan
together which is to me endlessly entertaining," Schechter said. "Nobody annoys Hank Henshaw more than Winn Schott."
Supergirl
returns for its second season on October 10th.
BREAKING DOWN THE TRINITY AS IT MOVES TO THE BIG SCREEN
07/28/16 @ 3:33 am EST
Source:
Bleeding Cool
| Categories:
DC
|
Comments
(0) |
E-mail Article
|
Add a Comment
One of the centerpieces to the
DC Universe
is the Trinity of
Superman
,
Batman
and
Wonder Woman
. The
BvS101
video below breaks down that relationship, where it began and how it's influenced our first look at it in live-action on the big screen. For the
DCEU
to succeed, these three characters must succeed as well.
Video:
https://youtu.be/zpmcJONuMvk
NETFLIX'S TED SARANDOS EXPLAINS WHY THEY COULDN'T SAVE AGENT CARTER
07/28/16 @ 3:29 am EST
Source:
Bleeding Cool
| Categories:
Marvel
|
Comments
(0) |
E-mail Article
|
Add a Comment
For
Netflix
chief content officer
Ted Sarandos
, the decision not to rescue
Agent Carter
from its cancellation cliffhanger came down to business.
As he explained at the Television Critics Association Summer Press Tour yesterday(via Entertainment Weekly), the show's existing deals in other markets would have made it difficult for the streaming giant to offer the series on a global scale; something Netflix is very keen to do with its original offerings. "When you pick [a network show] up, being able to pick it up globally is difficult even after it's canceled," he said. "Some of those output partners still had it on the air, so they would argue its covered by their output [deals]. Unfortunately, it was a business decision more than a creative one."
Also, with a number of
Marvel
shows already in its stable — with more — on the way, Sarandos said they already have their comic book-inspired shows market covered.
Who knows? Maybe some day they can bring the
Carter
characters back in a different context once the current
Defenders
cycle winds down.
SUPERGIRL WILL VISIT THE LEGENDS OF TOMORROW … BUT NOT NECESSARILY FOR A CROSSOVER
07/28/16 @ 3:26 am EST
Source:
Bleeding Cool
| Categories:
DC
|
Comments
(0) |
E-mail Article
|
Add a Comment
It seems Supergirl will make an appearance in the upcoming second season
DC's Legends of Tomorrow
, but her guest shot will not necessarily lead to a proper crossover.
According to Slashfilm, executive producer
Marc Guggenheim
presented reporters at Comic-Con with a tease of Supergirl's eventual appearance on Earth-1. "It's an external threat from outside the shows that will involve Supergirl coming over to
Flash
, then
Arrow
then
Legends of Tomorrow
," he explained.
Which sure sounds like it will be the focus of the now-traditional late fall
Flash/Arrow
crossover — with
Legends
joining in — but Guggenheim was quick to clarify that the story will not spill back into the character's own show, despite all of them now airing on
The CW
. "I don't like to oversell. She is going to be coming over but we're not going to do a full on
Supergirl
crossover episode," he explained. "I don't want to give you the wrong impression."
So those of us waiting to see what happens when Cisco, Winn and Felicity meet will have to wait for another story.
Supergirl
and
Legends of Tomorrow
return in October.
LUKE CAGE PRODUCERS AND STAR ON REPEAT VIEWINGS, JESSICA JONES AND RESPONSIBILITIES
07/28/16 @ 3:22 am EST
Source:
Bleeding Cool
| Categories:
Marvel
|
Comments
(0) |
E-mail Article
|
Add a Comment
According to
Luke Cage
executive producer
Cheo Coker
, the upcoming
Marvel
series is more than just a superhero show.
He, along with star
Mike
Colter
and executive producer
Jeph Loeb
, appeared at the Television Critics Association Summer Press Tour yesterday to preview of the
Netflix
program, debuting on September 30th.
To Coker the show has an appeal beyond readers of Marvel Comics featuring the bulletproof hero. "You can come in as a comic book geek, you can come in as a hip-hop geek, a lover of mysteries, sports, anything," he said, according to The Hollywood Reporter.
Coker also added that the show "really rewards repeated, complex viewing."
Colter, who stars as Cage, first appeared on the previous Marvel and Netflix series,
Jessica Jones.
Trying to keep a low-profile, he is drawn into Jessica's battle with Kilgrave and the two eventually begin a physical relationship. But it is still unclear if Jones — played by
Krysten Ritter
— will make an appearance on the upcoming series.
When Entertainment Weekly pressed Loeb about the possible crossover, he played coy, saying, "What I can tell you is that the way that you saw Luke and Jessica is very much from Jessica's point of view … we now get 13 hours of seeing what
his
world is and where it goes."
Continuing Coker's theme of repeat viewings, Loeb added that
Cage
will deepen some of the choices the character made during
Jessica Jones
' debut season.
Colter, meanwhile, respects the responsibility of bringing the character and his story to the screen. "When you look at black culture, it's important to have positive images," he said. "It's an overwhelming task to carry this on your shoulders. We have no agenda, but I hope that the black community can feel good about it as well."
CROSSED: BADLANDS COMES TO AN END THIS WEEK
07/28/16 @ 3:03 am EST
Source:
Bleeding Cool
| Categories:
MIsc
|
Comments
(0) |
E-mail Article
|
Add a Comment
After eight years, Avatar Press'
Crossed: Badlands
is ending with a 64-page issue. The issue includes a bunch of extras celebrating the series original artist
Jacen Burrows
.
Crossed: Badlands #100Solicit:
This is the way the world ends in the final issue of Crossed:Badlands! Celebrate eight years and hundreds of stories from Garth Ennis' unrivaled horror series with this tremendous 64 page, ad-free issue! Join Crossed scribe Christos Gage as he delivers the final installment of the Smokey trilogy, and this may be the end of life as we know it! To help celebrate this amazing milestone we pack this issue with incredible extras celebrating the original series artist Jacen Burrows! We start with including the rare original Jacen Burrows sketchbook and an enormous cover gallery of the rarest and previously uncollected Jacen Burrows Crossed covers. There is no help. There is no hope. There is only the Crossed. Available with Regular cover by German Nobile, Wraparound & Good Eating by Daniel Gete, Torture & Summer Fun by Nahuel Lopez. Also available are the ultimate collector limited editions – a Fairy Tale Century Set of three sexy covers by Emilio Laiso which are limited to 100 each, and a Costume Change Set of six covers by Christian Zanier limited to 250 sets!
"THEY WERE PEOPLE WHO BEHAVED AS MONSTERS." – DAVID AVALLONE ON TWILIGHT ZONE / THE SHADOW #4
07/27/16 @ 6:07 pm EST
Source:
Bleeding Cool
| Categories:
Dynamite
|
Comments
(0) |
E-mail Article
|
Add a Comment
A Writer's Commentary:
David Avallone
talks
Twilight Zone/The Shadow
#4, on sale today from
Dynamite
. Cover by
Francesco Francavilla
, interiors by
Dave Acosta
.
The cover.
When Francesco Francavilla was doing the cover for issue#3, he tweeted that he was listening to Bernard Herrmann's soundtrack from Vertigo. (The movie, not the comic book imprint.) When issue #4 came around and they asked if I had any ideas for a cover, I said, "Why not a pastiche of Saul Bass' famous Vertigo cover?" Francesco ran with it, and the result is a beautiful cover. The Twilight Zone spiral gets us already halfway there.
Page one.
A little Serling-esque voice-over, and we're off. Dave Acosta found that authentic Nazi propaganda poster online, and added it to this scene. We collaborated with a private Pinterest page, swapping photo references and ideas back and forth. After this commentary is published, I'll make the Pinterest board public so people can see a little more of the process. Check my Twitter to see it. (@DAvallone)
Page two.
I spent enough time researching the uniforms and rank-systems of American Nazis/Bund that I probably got on some NSA watchlist. I promise, guys, it was all for the comic. I hate these guys. "Kreisleiter" means "regional commander", sort of. The name Penzler might be familiar to some old mystery fans.
Page three.
The Shadow makes a snide reference to talented Nazi filmmaker/stooge Leni Riefenstahl. Penzler calls the Shadow a vigilante, and not qualified to invoke the law. I always think it's a good idea to give the villain a valid point every now and again.
Page four.
"Dallenbach's" was the name of a popular swimming hole in my home town of East Brunswick, NJ. I've always wanted to use the name in something.
Pages six and seven.
In the fourth issue, we finally see the Shadow use one of his "powers". In this case, hypnosis… which reveals what evil that lurks in the hearts of men… or Hitlerjugend. These kids were real. They weren't monsters. They were people who behaved as monsters. I gave this one, for our purposes, perhaps too simple a motivation… but it's hard to get at a topic as big and nuanced as anti-Semitism in a 20-page comic book.
Pages ten through thirteen.
In prepping to write this book, I ran through the synopses of all the original TZ episodes, looking for common threads, tropes, themes, etc. At the beginning, I wasn't sure what I'd do for issue #4 … but as the story came together I realized that all the elements pointed towards this scene. The Shadow shows mercy to a Nazi youth, and introduces him to some new ideas… and the embodiment of those ideas in his long friendship with Moses Shrevnitz. I feel confident Serling would have approved of this scene. To me, this is what The Twilight Zone is all about: an arrogant man learns to apologize, and a young man consumed with hatred is shown another way.
Page twelve.
"…but my old friend Moses Shrevnitz is a son of Abraham." I thought long and hard about that sentence. "Jew" is thrown around with such hatred by the Nazi characters in this issue that it seemed wrong for the Shadow to use it, even benignly. In the period, he might have said "Hebrew", but I had a feeling that would also read awkwardly to a modern audience. "Son of Abraham" seemed appropriately poetic and Old Testament for the Shadow's particular manner of speaking. As a Son of Abraham myself, I felt it worked best, for the period and for today's reader.
Page fifteen.
Guns are loud. I love Moe putting his fingers in his ears as Margo bangs away with the .45 right over his head.
Pages seventeen and eighteen.
There's a pretentious writer cliché: that the characters take over the story. Originally, this scene ended with Peter's sacrifice and the Shadow and company making good their escape. It was supposed to be the shocker that ends the sequence. I really wanted three pages for the final scene. But I swear… the Shadow wouldn't let me do it. He would not run away after seeing Peter Dallenbach gunned down. I was prepared to move on to the next scene, the epilogue… and then the Shadow said, "Shrevvy, stop the car!" And machine-gunned a bunch of Nazis. This story was supposed to be about the Shadow learning mercy… and this final action muddies and complicates that. But people are muddy and complicated: even having just learned a lesson about mercy, there was no way the Shadow wouldn't avenge Peter Dallenbach, and he insisted I give him another page to do it. And who am I to say no to the Shadow?
Pages nineteen and twenty.
Epilogue at the Cobalt Club. The Shadow tries to understand the journey he's just taken, and finds a little proof that it all was real. I considered making the "twist" more clear by including a little flashback inset of "Justice" slashing Allard's hand, but decided to have a little more faith in the audience. As a Twilight Zone trope, it's borrowed from episodes like "King Nine Will Not Return": the dream/hallucination leaves physical evidence that it really happened.
I've said before that my favorite part of this series was the chance to write in the "voice" of Rod Serling. I rewrote this final narration quite a few times trying to wrap it all up, to get the voice right, and to suggest that this experience will maybe have a lasting effect on the Shadow, as he continues his war on crime.
I'd like to thank Dynamite, and Executive Editor Joe Rybandt in particular, for the unique opportunity to combine two of my favorite things, and tell this story.