THE GREEN GOBLIN GETS CONNECTED WITH SKETCH COVERS BY KEN HAESER!!!
02/28/12 @ 2:20 pm EST
Source:
Dynamic Forces
|
Comments
(0) |
E-mail Article
|
Add a Comment
Dynamic Forces is proud to show off the latest hand-drawn sketch covers being offered for pre-order today! Art is by Ken Haeser and features an incredible portrait of the Green Goblin on the complete cover set of Spider-Man's "One More day" storyline. Hand-drawn and inked on each book is a part of the Green Goblin and then the books come together to form one Marvel-ous Masterpiece!
Offered at the dynamic price of $79.99 for a limited time! Returns to regular MSRP of $196.40 after March 15th it's
Spider-Man
's most deadly foe the Green Goblin on this four-book original art set! DF is proud to offer this connecting-cover set of
Spider-Man
books, each featuring a hand-drawn and inked part of the Green Goblin! A true Masterpiece! A one of a kind! And when they come together they form a frightfully fun portrait of the Green Goblin surrounded by the main players of "One More Day-the story that changed the world of
Spider-Man
and Spider-Fans forever-and returned Norman Osborn to the
Marvel
Universe! Each set will include a DF Certificate of Authenticity! And each book will arrive bagged with a board and a DF Holo-Foil Sticker!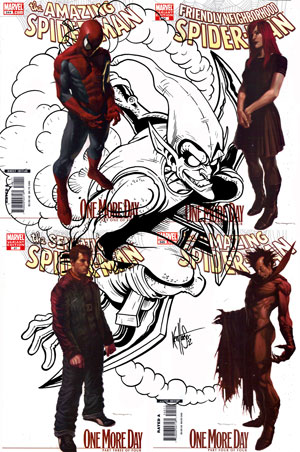 Also, Spidey's deadly foe (sometimes a hero) Venom gets connected on the "One More Day" set by Ken Haeser!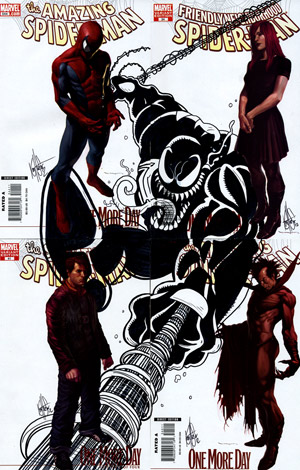 Not a hoax! Not a dream! Not a reproduction! These are hand-drawn collector's items and right now you can add one to your collection for limited time!
Like what you see? Keep an eye out for more DYNAMIC MASTERPIECE ORIGINAL ART in our upcoming DF Daily Specials, featuring the art of Ken Haeser, Kevin Greaves, Laura Guzzo, Jae Lee, Marat Mychaels, Joe Rubinstein, John Romita Sr and other great artists!
ABOUT DYNAMIC FORCES:
DF is the comic-book and collectible industry's top producer of limited-edition and autographed memorabilia, including comic books, lithographs. For updated information on Dynamic Forces specialty merchandise, product art, exclusive creator interviews, columns and upcoming product releases, please visit the Dynamic Forces website at www.dynamicforces.com.
COMING SOON…
08/30/16 @ 4:39 pm EST
Source:
Marvel
| Categories:
Marvel
|
Comments
(0) |
E-mail Article
|
Add a Comment
SUICIDE SQUAD BEHIND-THE-SCENES PHOTOS RELEASED
08/30/16 @ 3:46 pm EST
Source:
Comicbook
| Categories:
DC
|
Comments
(0) |
E-mail Article
|
Add a Comment
David Ayer's
Suicide Squad
was a bit divisive out of the gate but it did manage to find it's groove at the box office to the tune of over $600 million worldwide.Whether you liked the ensemble film or not, you can at least appreciate the work that went into bringing a big budget film like this to the silver screen, and nowhere is that more apparent than in a recent collection of before and after visual effects shots that have made their way online (via MPC).
GOTHAM SEASON 3 POSTER RELEASED
08/30/16 @ 3:37 pm EST
Source:
Comicbook
| Categories:
DC
|
Comments
(0) |
E-mail Article
|
Add a Comment
Fox has released a new key art poster for
Gotham
Season 3. The post poster features Jim Gordon (Ben McKenzie) holding a snow globe full of Gotham City's villains. The poster features the tagline "Mad City," which will serve as the new season's theme, just as "Rise of the Villains" and "Wrath of the Villains did for Season 2. The tagline is both a reference to the nature of Gotham's unique villains and to the upcoming debut of Benedict Samuel as Jervis Tetch, the Mad Hatter.
Inside the poster's snow globe is Penguin (Robin Lord Taylor), Fish Mooney (Jada Pinkett Smith) Edward Nygma (Cory Michael Smith), Selina Kyle (Camren Bicondova), Barbara Kean (Erin Richards), Tabitha Galavan (Jessica Lucas) Butch (Drew Powell), and the suddenly adult Poison Ivy (Maggie Geha).
RUMOR: DANIEL RADCLIFFE SOUGHT FOR HARRY POTTER AND THE CURSED CHILD MOVIE
08/30/16 @ 3:33 pm EST
Source:
Comicbook
| Categories:
MIsc
|
Comments
(0) |
E-mail Article
|
Add a Comment
Get out your wands and put on your wizard robes! Rumor has it that Warner Bros. is interested in bringing the West End play "
Harry Potter and the Cursed Child
" to the big screen as soon as 2020, and more importantly, they are going after Daniel Radcliffe to reprise his legendary role.
If you've read the book or were lucky enough to see the play in London, you know that
The Cursed Child
picks up 19 years after Deathly Hallows. By now, Harry is an over-worked family man struggling with his past. The play also focuses on Harry Potter's son, Albus as he takes off for Hogwarts and...gets sorted into Slytherin.
Response to the both the book and the play has been divisive, with some saying that Harry Potter's core values were changed. But think of it this way - don't people generally change when they become adults and start working for The Ministry of Magic?
Radcliffe recently made it clear that although he might someday want to return to the franchise, it most likely wouldn't be anytime soon, as he's currently focused on other projects (like
Imperium
). Hollywood sources are saying that, "Warners is secretly working on getting the movie rights and a screenplay settled, and of course in their minds only one man should be Harry."
Another little bird close to the Daily News explained that, "
the studio has talked about a storyline that focuses on Potter's son and would be willing to throw huge sums of cash to turn the story into a potential new trilogy
." Whether or not there is any truth to this rumor, we can still get more of J.K Rowlings world of magic with the upcoming film
Fantastic Beasts and Where to Find Them
, releasing this Fall.
ASHLEY ECKSTEIN IS HOPEFUL AHSOKA WILL RETURN BEYOND STAR WARS REBELS SEASON 2
08/30/16 @ 3:29 pm EST
Source:
Comicbook
| Categories:
Star Wars
|
Comments
(0) |
E-mail Article
|
Add a Comment
The second season of
Star Wars Rebels
is out today on Blu-ray and DVD, so fans can watch the epic journey of the Rebels crew, joined by Ahsoka Tano, as they try to stop not one but
two
Sith Lords apprenticed to the Emperor from gaining new and untold power. The season finale was a heart-wrenching affair, with Ahsoka meeting her former Jedi master, teacher, and friend, finally coming face-to-face with Darth Vader. When the episode came to an end, though, there was some confusion amongst fans about whether or not Ahsoka made it through. Voice actress Ashley Eckstein revealed to ComicBook.com that she doesn't know either - in fact, she didn't know how the episode ended until she saw the finished product.
"Matt Lanter recorded the 'and now you shall die' line separately, but most of it we recorded together, and that was such an emotional day. I really don't cry that much!" she said with a laugh during a phone interview, "but when it comes to Ahsoka and these scenes it makes me emotional! Life imitated art there; it was the end, the end of Ahsoka and Vader, and the end for me and Matt. To my knowledge, that's the last scene we'll ever do together. So the emotions were real.
"And we didn't know – because Dave [Filoni] didn't tell anyone the ending, so we didn't know what happened. They all signed my script page, they let me keep the cover of my script, and Freddie Prinze Jr, Taylor Gray, Sam Witwer, they all signed it 'Goodbye.' They had a going away party for me."
The final scene saw Ahsoka walking into the Sith Temple, but obscured heavily by shadows; now that the scene is on home release people can scour every second of it for more clues. Ultimately though, Eckstein thinks the character she's grown up with since
Star Wars: The Clone Wars
has more story to tell in the galaxy far, far away.
"In my opinion, and I don't know the truth, but I think she's alive," Eckstein said. "There's so much we don't know. Seeing her walk into that temple, I'm really hopeful that we'll get more of her someday in the future, and also get more from her past. With the
Ahsoka
novel coming out, we'll get a glimpse at that. But as you could see at the panel, I got very emotional about it. Those were real tears; I could've cried the whole panel! I held back!"
When the episode aired, Eckstein said she watched it mostly as "a fan of Ahsoka," which allowed her to join in on the group catharsis with fans via social media. "I was feeling the same emotions that everyone else was!" she exclaimed. The actress, who is also the founder and head of the Her Universe clothing line, was glad showrunner Dave Filoni designed a shirt based on Ahsoka's final moment for her to reveal, if only because it helped ease the confusion over whether or not that was her.
We won't know what the future holds for Ahsoka until it unravels, but fans can relive her most recent past starting today, and go through that emotional goodbye once again.
STRANGER THINGS' SHANNON PURSER JOINS CW'S RIVERDALE
08/30/16 @ 3:24 pm EST
Source:
Comicbook
| Categories:
Archie
|
Comments
(0) |
E-mail Article
|
Add a Comment
Following her breakout role in Netflix's
Stranger Things
, it seems that Shannon Purser is joining another sure-fire hit. In an exclusive report, Entertainment Weekly has announced the up-and-coming actress will star in The CW's
Riverdale
.
Riverdale
, which is based on the characters of Archie Comics, is set to premiere later this year to fans' delight. According to EW, Shannon will be playing Ethel Muggs, a fan-favorite character from
Archie
. Once known as 'Big Ethel,' the character sounds somewhat similar to
Stranger Things
' Barb. Ethel is known as a homely, shy teenager who harbors a massive crush on Jughead Jones, Archie's ex-best friend. While the character has mellowed over the years, Ethel still stands as one of the comic's most down-home and relatable characters.
However, in
Riverdale
, it seems like Ethel won't be chasing after Jughead Jones (Cole Sprouse). The character will instead find herself in a romantic relationship with a very different person, leading fans to wonder whether Ethel might be snuggling up to Dilton Doiley or Archie Andrews himself.
Riverdale
will also highlight Ethel's close friendship with Veronica Lodge (Camila Mendes) and Betty Cooper (Lili Reinhart), two of the town's most popular girls. The trio will be working together to take revenge against Reggie Mantle (Ross Butler), a local prankster who happens to be Archie's arch-nemesis. And, right now, it looks like Shannon is expected to play Ethel for three episodes of
Riverdale
.
WARCRAFT SEQUEL MIGHT NOT RELEASE IN US THEATERS
08/30/16 @ 3:21 pm EST
Source:
Comicbook
| Categories:
MIsc
|
Comments
(0) |
E-mail Article
|
Add a Comment
The summer was sort of a bummer as far as hit blockbuster movies. Not saying that there weren't any great movies, but most were certainly forgettable the second audiences left the theater. Speaking of forgettable,
Warcraft
, the big-screen adaptation of the beloved fantasy computer game of the same name, suffered the same fate - but only in the U.S.
While Warcraft (which was quite an expensive spectacle) tanked at the U.S. box office with a total of only 47 million, it soared overseas making 158 million in China alone. We can't really explain why, other than China must really love big CGI productions...
Thrillist caught up with director Duncan Jones and talked with him concerning the film:
"I'm equally proud and furious about Warcraft. I love it," he said. "I spent so much time on it. I put all my heart into trying to make it work. Parts of it, I think, work but it also drives me crazy that I wasn't able to push through everything that I knew needed to happen in order to make the film I knew it could be."
ROBIN GIVENS CAST AS RIVERDALE'S MAYOR -- AND IT'S JOSIE MCCOY'S MOM
08/30/16 @ 3:16 pm EST
Source:
Comicbook
| Categories:
Archie
|
Comments
(0) |
E-mail Article
|
Add a Comment
Chuck
and
God's Not Dead 2
actress Robin Givens has been cast as Sierra McCoy in the forthcoming CW series
Riverdale
.
Sierra is the mother of Josie McCoy, the lead singer of Josie and the Pussycats. She is also, as Deadline reports, the mayor of Riverdale.
Here's how they describe Givens's character:
"McCoy is not only the powerful and fabulous Mayor of Riverdale, but also the mother of soon-to-be-world-famous Josie, of Josie & The Pussycats fame. Chic and driven, Mayor McCoy is struggling to guide Riverdale through the crisis precipitated by the mysterious death of Jason Blossom, all while making sure the town's upcoming 75th Jubilee Celebration goes off without a hitch."
Sierra McCoy will debut in the second episode of
Riverdale
, which is back in production ahead of its planned January premiere date.
According to the Deadline report, Givens also recently made a guest appearance on
Lucifer
, although that's not currently on her IMDb page. She's also had memorable roles on
House of Payne
and
90210.
Probably her most famous film -- although one you might not immediately associate her with, due to its age -- is Eddie Murphy's
Boomerang
.
ARROW SEASON 5 PREMIERE PHOTOS RELEASED
08/30/16 @ 3:12 pm EST
Source:
Comicbook
| Categories:
DC
|
Comments
(0) |
E-mail Article
|
Add a Comment
Star City is in bad shape when the upcoming fifth season of
Arrow
starts, and that is partly due to the ongoing threat of the Russian mafia and another masked man trolling the streets of Oliver's city.
Some new photos from the upcoming season premiere show Oliver sans his costume in the middle of a street fight with some Russian gang members. They also spotlight the return of Anatoly Knyazev (David Nykl). The mob will pose a constant threat to Oliver and his city during season 5 it seems, but the more significant threat will be that of Prometheus, who is seen for the first time here fully cloaked in black. Ollie isn't without friends, though, and Willa Holland's Speedy is also shown.
THE FLASH SEASON 3 PREMIERE PHOTOS RELEASED
08/30/16 @ 3:03 pm EST
Source:
Comicbook
| Categories:
DC
|
Comments
(0) |
E-mail Article
|
Add a Comment
The CW has released new photos from the upcoming third season of
The Flash
.
The photos include shots of Barry Allen and his happy parents, Henry and Nora after Barry went back in time and saved Nora from being murdered by the Reverse-Flash. Speaking of the Reverse-Flash, he's seen behind bars, further confirming that this is the "Flashpoint" timeline created by Barry's jaunt backwards in the timestream.There's also shots of Wally West in his Kid Flash costume. We've seen the costume in promo images before, but The CW hadn't confirmed when in the season Wally would be suiting up. We can now tell that it's in the season premiere, which suggests Wally may only be Kid Flash in the "Flashpoint" universe.
Check out the photos below.
The Flash
Season 3 will premiere Tuesday, Oct. 4 at 8 p.m. ET on The CW.