THE GREEN GOBLIN GETS CONNECTED WITH SKETCH COVERS BY KEN HAESER!!!
02/28/12 @ 2:20 pm EST
Source:
Dynamic Forces
|
Comments
(0) |
E-mail Article
|
Add a Comment
Dynamic Forces is proud to show off the latest hand-drawn sketch covers being offered for pre-order today! Art is by Ken Haeser and features an incredible portrait of the Green Goblin on the complete cover set of Spider-Man's "One More day" storyline. Hand-drawn and inked on each book is a part of the Green Goblin and then the books come together to form one Marvel-ous Masterpiece!
Offered at the dynamic price of $79.99 for a limited time! Returns to regular MSRP of $196.40 after March 15th it's
Spider-Man
's most deadly foe the Green Goblin on this four-book original art set! DF is proud to offer this connecting-cover set of
Spider-Man
books, each featuring a hand-drawn and inked part of the Green Goblin! A true Masterpiece! A one of a kind! And when they come together they form a frightfully fun portrait of the Green Goblin surrounded by the main players of "One More Day-the story that changed the world of
Spider-Man
and Spider-Fans forever-and returned Norman Osborn to the
Marvel
Universe! Each set will include a DF Certificate of Authenticity! And each book will arrive bagged with a board and a DF Holo-Foil Sticker!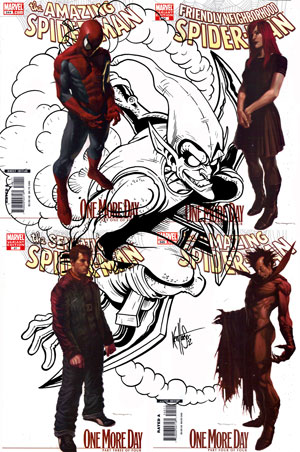 Also, Spidey's deadly foe (sometimes a hero) Venom gets connected on the "One More Day" set by Ken Haeser!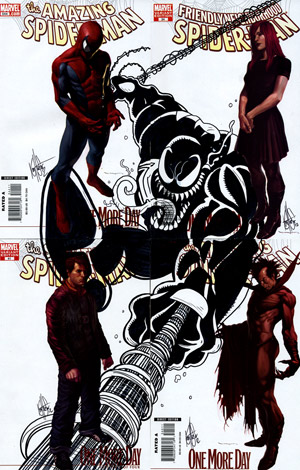 Not a hoax! Not a dream! Not a reproduction! These are hand-drawn collector's items and right now you can add one to your collection for limited time!
Like what you see? Keep an eye out for more DYNAMIC MASTERPIECE ORIGINAL ART in our upcoming DF Daily Specials, featuring the art of Ken Haeser, Kevin Greaves, Laura Guzzo, Jae Lee, Marat Mychaels, Joe Rubinstein, John Romita Sr and other great artists!
ABOUT DYNAMIC FORCES:
DF is the comic-book and collectible industry's top producer of limited-edition and autographed memorabilia, including comic books, lithographs. For updated information on Dynamic Forces specialty merchandise, product art, exclusive creator interviews, columns and upcoming product releases, please visit the Dynamic Forces website at www.dynamicforces.com.
'GAME OF THRONES' REVEALS JON SNOW'S FATE
05/01/16 @ 11:28 pm EST
Source:
Variety
| Categories:
MIsc
|
Comments
(0) |
E-mail Article
|
Add a Comment
After months of speculation, "Game of Thrones" has finally revealed the fate of fan favorite Jon Snow.
(
Spoiler alert
: Do not read until you've watched the second episode of season six of "Game of Thrones," titled "Home.")
The cast and creators have long insisted that "Jon Snow is dead" repeatedly in various interviews leading up to the sixth season premiere.
But near the end of the second episode, Davos Seaworth (Liam Cunningham) convinces a reluctant Melisandre (Carice van Houten) to work her magic to resurrect Jon Snow (Kit Harington) — the exact question fans have long been hoping for. "Do you know of any magic that could help bring him back?" he asks her.
She's lost her faith, but he pleads his case. "I'm not asking the Lord of Light for help," he says. "I'm asking the woman who showed me that miracles exist."
So she washes Jon's body, cuts his hair, trims his beard, and recites a long incantation.
And at first, it seems that her elaborate efforts have failed, and everyone mournfully leaves the room where his body is being held. But then Ghost, his direwolf, perks up — and Jon opens his eyes, gasping for breath.
"Davos has no love lost for Melisandre," says executive producer D.B. Weiss in HBO's post-show. "But he's seen what she's capable of. He's seen her do many impossible things. He's not a big fan of her god. He's not a big fan of her program. There's certainly nothing to lose at this point. If it doesn't work, then it doesn't work."
"For Melisandre, she comes into it with great doubts," adds executive producer David Benioff. "She is someone who was a true believer, who was an absolute devotee of the Lord of Light, and the events of the last many episodes have shaken that faith. But she still believes in him. She just doesn't know if he believes in her. And so she comes to Jon Snow's body with the tiniest hope that maybe if she says the right words, if she says them with enough belief, with enough passion, the Lord will listen to her."
But as the walkout begins, it comes down to Ghost in the end, says Benioff. "Ghost, he's known Jon longer than any of these people have," he says. "All of these wolves have a strange and deep connection with their Stark counterparts. Ghost has a sixth sense when it comes to Jon Snow and when Jon's in danger and when he might be coming back."
Needless to say, social media exploded with the surprising reveal. (Via Variety)
RYAN REYNOLDS AND LESLIE UGGAMS TALK WADE AND BLIND AL
05/01/16 @ 7:44 pm EST
Source:
Bleeding Cool
| Categories:
Deadpool
|
Comments
(0) |
E-mail Article
|
Add a Comment
To go with the Digital HD release of
Deadpool
, the study has released this featurette focusing on the character of
Blind Al
.
Ryan Reynolds
and
Leslie Uggams
talk about the relationship between Wade and Al and the producers talk about why Al had to be blind.
Deadpool
is available on Digital HD now and will be released on Blu Ray / DVD May 10th.
Video:
https://www.youtube.com/watch?feature=player_embedded&v=ABRlFDz3LLQ
CHLOE BENNET ANSWERS MARVEL FAN QUESTIONS
05/01/16 @ 7:41 pm EST
Source:
Bleeding Cool
| Categories:
SHIELD
|
Comments
(0) |
E-mail Article
|
Add a Comment
FLASH AND SPIDER-MAN ARTIST, ALBERTO DOSE PASSES AWAY
05/01/16 @ 7:36 pm EST
Source:
Bleeding Cool
| Categories:
MIsc
|
Comments
(0) |
E-mail Article
|
Add a Comment
Argentinian comic artist
Alberto Dose
has passed away.
Dose first came to prominence working with
Carlos Trillo
on the heroic fantasy comic
Polución Nocturna
in 1980.More recently he worked for DC with a run with
Geoff Johns
on
The Flash
and then with Marvel on
Spider-Man's Tangled Web
.
A pulp crime-style artist, he then worked for IDW on titles such as
Desperadoes: Buffalo Dreams
with
Jeff Mariotte
,
Scarface: Devil in Disguise
with
Joshua Jabcuga
and
Killing the Cobra
, a graphic novel based on
Mario Acevado
's book
The Nymphos of Rocky Flats.
There was a memorial service for him Saturday at Westminster Presbyterian church in Burbank, California.
CORINNA BECHKO COMPARES SHEENA AND JANE IN LORDS OF THE JUNGLE
05/01/16 @ 7:26 pm EST
Source:
Bleeding Cool
| Categories:
Dynamite
|
Comments
(0) |
E-mail Article
|
Add a Comment
Corinna S. Bechko
talks
Lords of the Jungle
#4, on sale in June. Cover is by
Felipe Massafera
.
BYRON BREWER: Corinna, can you compare and contrast, in the reality of your miniseries, Sheena with Jane please?CORINNA S. BECHKO:
Jane is older, and wiser. She's very brave, but also practical. She doesn't let her temper get the best of her, having learned that it does no good. Sheena is still pretty unseasoned as far as dealing with a city environment, and sometimes lets her emotions get the best of her. She likes to solve problems directly, and right away. Sheena has a natural rapport with animals, much as Tarzan does, whereas Jane has had has had to learn that ability. Instead, she's good with people, something that Sheena hasn't quite mastered.
BB: How might this team-up been different, in your mind, had we seen Sheena join forces with the Ape Man in his very early days, barely away from Kala's arms?CSB:
I think Tarzan would have been a lot quicker to judge and slower to ask questions. Sheena's probably lucky she didn't meet him then.
BB: How different would this have been in the jungle rather than London?CSB
: The jungle is the place that both Tarzan and Sheena are most at home, so they would have a much easier time there. In London, they have very few resources other than their wits and their finely honed senses. With few friends and a lot of enemies, it's not easy to navigate a city!
BB: I know you did a lot of Tarzan research before you began this mini. What was the one or two things from all the diverse portrayals of Tarzan you viewed/read that you knew you did NOT want to use?CSB:
Well, there were some pretty "of their time" portrayals of women and people of color that definitely didn't age well. That stuff isn't much fun to read now, and some of is downright painful. I also didn't want any scenes of Tarzan killing animals. That's something that often turns me off in literature and film, so you won't see any of that in this story.
For more information on
Lords of the Jungle
#4,
click here
.
"IT'S CRUCIAL TO HAVE PROPERTIES LIKE THIS OUT THERE." – DEREK FRIDOLFS TALKS GRUMPY CAT AND POKEY
05/01/16 @ 7:23 pm EST
Source:
Bleeding Cool
| Categories:
Dynamite
|
Comments
(0) |
E-mail Article
|
Add a Comment
Derek Fridolfs
talks
Grumpy Cat & Pokey
#5 (of 6), on sale in June from
Dynamite
. Cover is by
Agnes Garbowska
.
BYRON BREWER: Derek, tell us how this Grumpy Cat & Pokey assignment came about please.DEREK FRIDOLFS:
I've been a fan of the range of titles that Dynamite puts out, from pulp, to horror, to comedy, and everything in between. So I decided to contact them to show my interest if anything became available to work on. Grumpy Cat is one of those titles that can be a gem for any publisher…one that attracts an audience familiar with it from outside the comic industry as well as current comic book fans. And for the industry to not just survive, but grow, it's crucial to have properties like this out there. That way you attract a new audience who are introduced to comics, and then hope they stick around and try other things as well.
BB: Tell us about your coming story for the book in June, "Cat-Astrophe."DF:
I remember talking with friends about the subject of cats and their tenuous relationship with humans. And if there were ever a point that humanity wasn't in the picture anymore, they'd just move right on without us just fine. So when the time came to pitch some ideas for stories, that subject idea came right back to me. So yeah, the story is about what happens when an event removes humans from the planet, and how Grumpy and Pokey deal with it. What starts out as an exciting wish fulfillment on their part quickly goes sideways.
BB: Did you enjoy doing both the story and art for the piece? Can you let us in a little on the process of how you work as a writer/artist?DF:
I broke into the industry as an inker. It was one of those situations where a local group of creators got together and everyone was already a writer or penciler, so as the last person to join the group by default I became the inker. And that's been a lot of fun growing and learning that skill, and working over a variety of styles, over many years of doing this. But writing was always something I wanted to do. I just had to get my foot into the industry from the art side to get their ear and a chance at writing.
And oddly enough, I've been doing a lot of drawing when it comes to some of my stories as well. Drawing I've always felt the least comfortable doing, as what I see in my mind never seems to come out as perfectly as I'd like in the pencils. And I'm sure that's how most artists are. We're our own toughest critics. But it's fun to have variation. Sometimes it's drawing someone else's script. Sometimes it's having someone else ink my pencils for a cover. Sometimes you get to write for friends or artists to interpret your story. And sometimes you just end up doing all of it, and have no one else to blame but yourself.
My approach always starts with the story. Having the idea written down and described full script, before even thinking about the art. That way whether I draw it or someone else does, that everything is easy to follow. When I'm drawing it myself, then comes the thumbnail process of figuring out the page layouts and the pacing. Making the action and storytelling clear. And the crucial step of leaving enough room for the lettering. And then the actual process of drawing the pages. I sort of work "animation-style", where I do very rough and light layouts in light blue col erase pencils. And then do most of the drawing during the inking stage. That way you don't feel like you're just retracing the same page in multiple steps.
For more on
Grumpy Cat and Pokey
#5,
click here
.
'STAR WARS: EPISODE VIII' SET PHOTOS SHOWCASE MILLENNIUM FALCON
05/01/16 @ 7:13 pm EST
Source:
Comic Book Resources
| Categories:
Star Wars
|
Comments
(0) |
E-mail Article
|
Add a Comment
Mere days after director Rian Johnson shared a pair of official photos from the set of "Star Wars: Episode VIII," a wave of new images has leaked, revealing the Millennium Falcon at what looks to be a recreation of the setting from the final moments of "The Force Awakens."
The aerial photos debuted in the Daily Mail, casting
further
doubt on already-questionable reports about a fleet of drones supposedly dispatched by Disney to prevent such leaks.
They show what appears to be a stand-in for Skellig Michael, the Irish island transformed into Ach-To, Luke Skywalker's refuge, for the 2015 blockbuster. Note the distinctive steps. However, the ominous tree is definitely new, and, as Making Star Wars points out, "very Dagobah-like."
"Star Wars: Episode VIII" premieres Dec. 17, 2017.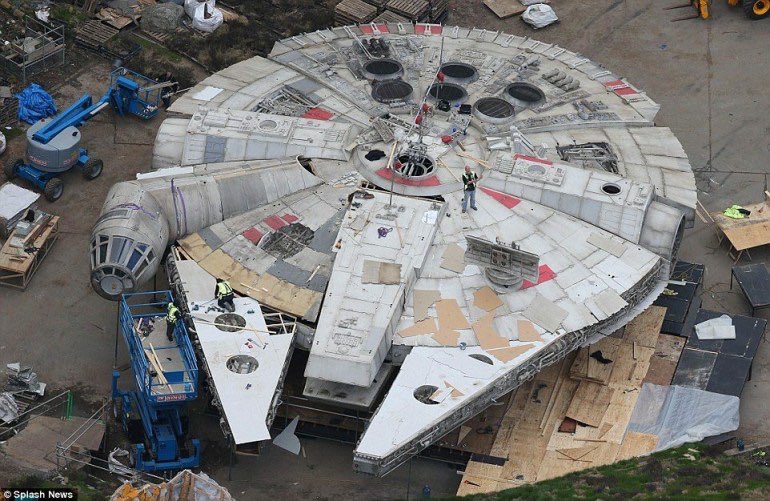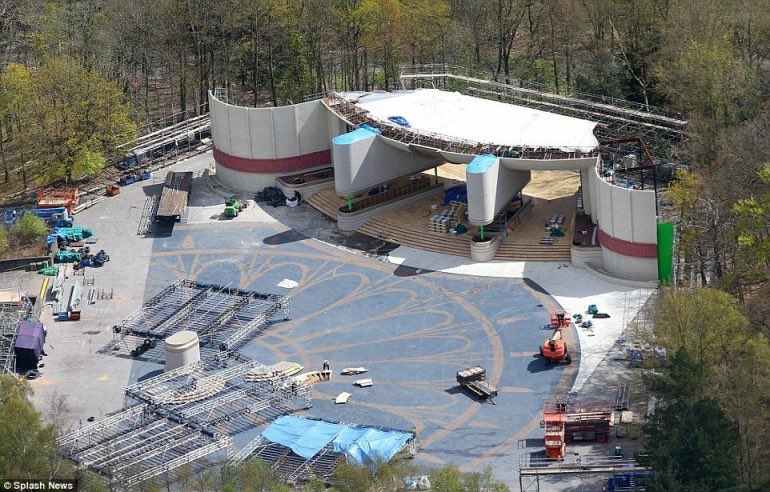 "CAPTAIN AMERICA: CIVIL WAR" IS ONLY THE BEGINNING OF MARTIN FREEMAN'S MARVEL PLANS
05/01/16 @ 7:00 pm EST
Source:
Comic Book Resources
| Categories:
Civil War
|
Comments
(0) |
E-mail Article
|
Add a Comment
Surprising virtually no one, Martin Freeman has confirmed Marvel Studioshas plans for him, and his character Everett Ross, beyond "Captain America: Civil War."
"Please, God. Yeah. Yes, that's the plan," the "Sherlock" star said Friday on "The Graham Norton Show." "It's a fairly small role at this stage ..."
Freeman, who appeared on the show with his "Civil War" co-star Paul Rudd (alas, they don't share any scenes in the film), was rumored to be playing Ross virtually from the moment he was cast in the film in May 2015. However, it wasn't until February that is role was finally confirmed.
In Marvel comics, Ross is typically depicted as a U.S. government expert on -- and liaison to -- Wakanda. In "Civil War," the character is part of the Joint Counter Terrorist Center. Considering is ties to Black Panther (played by Chadwick Boseman), a role in that character's 2018 solo film seems
highly
like that. Beyond that, though, remains anybody's guess.
"Captain America: Civil War" opens Friday nationwide.
Video:
https://youtu.be/MXGvgMGGCyU
KARL URBAN SAYS "CONVERSATIONS ARE HAPPENING" ABOUT "DREDD" TV SERIES
05/01/16 @ 6:54 pm EST
Source:
Comic Book Resources
| Categories:
Judge Dredd
|
Comments
(0) |
E-mail Article
|
Add a Comment
Say what you will about Karl Urban, but the "Dredd" star refuses to give up hope.
Just as tenacious fans of the commercially unsuccessful 2012 comic adaptation have lobbied for a sequel, signing petitions and driving up its Blu-ray and DVD sales, Urban has remained a cheerleader for more "Dredd," in whatever form it might take.
Just last week the actor threw his support behind a call for a "Dredd" television series on Netflix or Amazon, and now it looks as if maybe -- just
maybe
-- some wheels are beginning to turn.
During his panel Saturday afternoon at Calgary Comic & Entertainment Expo, Urban reportedly said "conversations are happening" about that "Dredd" series at one of those two streaming services.
Of course, "Dredd" fans have been down this path before, with glimmers of hope for a sequel seemingly emerging, only to be quickly shattered. Producer Adi Shankar said last year that because of the film's poor box-office performance -- it grossed $41.5 million worldwide, falling short of its production budget -- someone of Dwayne Johnson's caliber would have to sign on for a sequel to secure financing.
"Maybe we get The Rock in and fucking save the franchise," he said, "because The Rock fucking saves everybody's franchise."
But of course that's for a movie, not a Netflix or Amazon series, where the budgets are significantly lower. We've seen what can be done on a streaming service with series like"Daredevil," so a television return to Mega-City One might not be out of the realm of possibility.
JEREMY IRONS' ALFRED TO APPEAR IN "JUSTICE LEAGUE"
05/01/16 @ 6:51 pm EST
Source:
Comic Book Resources
| Categories:
Justice League
|
Comments
(0) |
E-mail Article
|
Add a Comment
Oscar-winning actor Jeremy Irons will reprise his "Batman v Superman: Dawn of Justice" role as Alfred Pennyworth in"Justice League: Part One."
He reportedly shared the news withShowbiz 411 after being congratulated for his performance in the 2015 biographical drama "The Man Who Knew Infinity." Irons will then return as Bruce Wayne's butler/partner-in-crime-fighting in the planned Ben Affleck-helmed "Batman" film.
Directed by Zack Snyder, "Justice League: Part One" also sees Affleck, Henry Cavill and Gal Gadot reprise their roles as Batman, Superman and Wonder Woman. They're joined by asJason Momoa as Aquaman, Ray Fisher as Cyborg, Ezra Miller as The Flash, Amber Heard as Mera, J.K. Simmons as Commissioner Gordon, and Willem Dafoe in an undisclosed role.
Targeted for release on Nov. 10, 2017, "Justice League" is now filming in London.