THE GREEN GOBLIN GETS CONNECTED WITH SKETCH COVERS BY KEN HAESER!!!
02/28/12 @ 2:20 pm EST
Source:
Dynamic Forces
|
Comments
(0) |
E-mail Article
|
Add a Comment
Dynamic Forces is proud to show off the latest hand-drawn sketch covers being offered for pre-order today! Art is by Ken Haeser and features an incredible portrait of the Green Goblin on the complete cover set of Spider-Man's "One More day" storyline. Hand-drawn and inked on each book is a part of the Green Goblin and then the books come together to form one Marvel-ous Masterpiece!
Offered at the dynamic price of $79.99 for a limited time! Returns to regular MSRP of $196.40 after March 15th it's
Spider-Man
's most deadly foe the Green Goblin on this four-book original art set! DF is proud to offer this connecting-cover set of
Spider-Man
books, each featuring a hand-drawn and inked part of the Green Goblin! A true Masterpiece! A one of a kind! And when they come together they form a frightfully fun portrait of the Green Goblin surrounded by the main players of "One More Day-the story that changed the world of
Spider-Man
and Spider-Fans forever-and returned Norman Osborn to the
Marvel
Universe! Each set will include a DF Certificate of Authenticity! And each book will arrive bagged with a board and a DF Holo-Foil Sticker!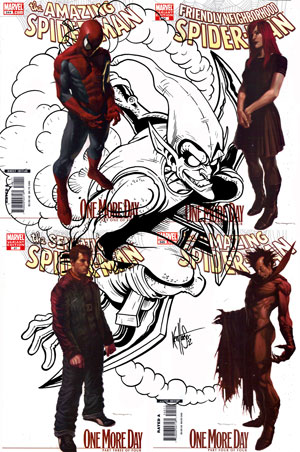 Also, Spidey's deadly foe (sometimes a hero) Venom gets connected on the "One More Day" set by Ken Haeser!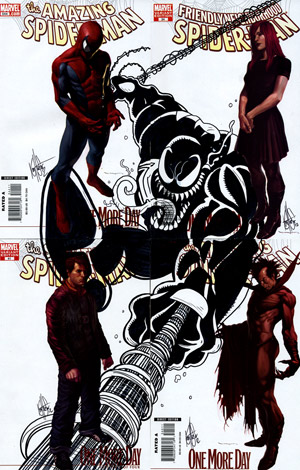 Not a hoax! Not a dream! Not a reproduction! These are hand-drawn collector's items and right now you can add one to your collection for limited time!
Like what you see? Keep an eye out for more DYNAMIC MASTERPIECE ORIGINAL ART in our upcoming DF Daily Specials, featuring the art of Ken Haeser, Kevin Greaves, Laura Guzzo, Jae Lee, Marat Mychaels, Joe Rubinstein, John Romita Sr and other great artists!
ABOUT DYNAMIC FORCES:
DF is the comic-book and collectible industry's top producer of limited-edition and autographed memorabilia, including comic books, lithographs. For updated information on Dynamic Forces specialty merchandise, product art, exclusive creator interviews, columns and upcoming product releases, please visit the Dynamic Forces website at www.dynamicforces.com.
4TH ROUND OF LEGACY HOMAGE COVERS
06/23/17 @ 12:38 pm EST
Source:
Bleeding Cool
| Categories:
Marvel
|
Comments
(0) |
E-mail Article
|
Add a Comment
More Legacy covers from the House of Ideas!
MARVEL REVEALS THIRD ROUND OF LEGACY TITLES
06/23/17 @ 12:48 pm EST
Source:
Bleeding Cool
| Categories:
Marvel
|
Comments
(0) |
E-mail Article
|
Add a Comment
Marvel Comics reveals a newbatch of cover homages for Marvel Legacy.
MORE MARVEL LEGACY HOMAGE COVERS
06/23/17 @ 12:22 pm EST
Source:
Bleeding Cool
| Categories:
Marvel
|
Comments
(0) |
E-mail Article
|
Add a Comment
More Legacy covers!
MARVEL RELEASES FIRST SIX LEGACY TEASER COVERS
06/23/17 @ 12:13 pm EST
Source:
Bleeding Cool
| Categories:
Marvel
|
Comments
(0) |
E-mail Article
|
Add a Comment
Yesterday, Marvel Comics promised us an announcement about their upcoming Legacy initiative that would change the comic book industry, with Legacy affecting every hero, every title, every story. Today, Marvel has begun to deliver on that promise with… six Legacy covers homaging classic past covers.
STAR WARS: THE LAST JEDI TO WRAP POST-PRODUCTION SOON
06/23/17 @ 8:25 am EST
Source:
ComicBook
| Categories:
Star Wars
|
Comments
(0) |
E-mail Article
|
Add a Comment
Star Wars
has taken over headlines this week thanks to the Han Solo movie's director shake-ups, but the series has some good news to share now. The franchise's eighth episode is making a comeback as new reports indicate
The Last Jedi
will wrap post-production soon.
The Talkhouse Podcast had a chance to sit down with director Rian Johnson recently to talk about his vision for
The Last Jedi
. Johnson and filmmaker Lily Amirpour told the organization post-production on the next
Star Wars
film will end in August.
In regards to
Star Wars
, the wrap date for post-production isn't too surprising. The franchise has enough clout and money to it to give directors like Johnson leeway with cutting the film.
Star Wars
movies have plenty of check-ups they must go through before they can hit theaters, and an early post-production wrap will give Lucasfilm enough time to prep the feature.
LUCASFILM & MARVEL INTRODUCE BRAND NEW JEDI
06/23/17 @ 8:17 am EST
Source:
ComicBook
| Categories:
Star Wars
|
Comments
(0) |
E-mail Article
|
Add a Comment
Thanks to the recent surge of
Star Wars
comics, we've seen fan-favorite characters go on missions we never knew about and have met all-new characters that have developed devoted followings. One of those new characters was just introduced in
Darth Vader
#2, a Jedi by the name of Kirak Infil'a, with the stage being set for an epic confrontation between Sith and Jedi.
According to the issue's solicitation description:
"The most fearsome villain of all time returns with an all-new series! When Anakin Skywalker fell, both to the pull of the dark side and to the blade of Obi-Wan Kenobi, he rose back up, more machine than man. Having lost everything that was once dear to him, the former chosen one must take his first steps into a darker world…as Darth Vader, Dark Lord of the Sith! Join Vader as he learns a new way – the way of Darth Sidious and his newly formed Empire…the way of the dark side."
The series is set after
Revenge of the Sith
, with Vader having to prove himself as a worthy adversary and weapon of the Sith.
TRANSFORMERS PRODUCER SAYS FRANCHISE'S FUTURE ISN'T MAPPED OUT YET
06/23/17 @ 8:10 am EST
Source:
ComicBook
| Categories:
Transformers
|
Comments
(0) |
E-mail Article
|
Add a Comment
Many conflicting reports about the future of the
Transformers
franchise have become public in the lead-up to the release of the latest film, with Michael Bay reportedly not returning for a sixth film, while also claiming that the writers' room has the concepts to at least 14 more films. We know that we'll be getting a spin-off film based on the Transformer Bumblebee that will be set in the '80s, but other spin-offs and sequels will most likely be dependent on the success of
The Last Knight
.
Screen Rant recently asked producer Lorenzo Di Bonaventura about whether or not future films will detail the remaining secrets about the history of the robots, replying, "No, not necessarily. We have some ideas but that may or may not play out in the next movie."

"We're really waiting to see how the audience responds to this movie and what elements they really love because one of the things we found was – as filmmakers – that there was great freedom suddenly to break sort of the simplistic Decepticons vs. Autobots," he added. "And now, Arthurian legend, now Knights, and now humans have a role, and that was really exciting for us so I think we want to keep pushing out. So I don't think you can anticipate necessarily that we'll do a movie in sequence."

The franchise has earned roughly $3.7 billion worldwide, with the latest film most likely being another success, despite it being projected to only take in around $60 million in its opening five days.
RON HOWARD COMMENTS ON TAKING OVER THE HAN SOLO MOVIE
06/23/17 @ 12:50 pm EST
Source:
ComicBook
| Categories:
Star Wars
|
Comments
(0) |
E-mail Article
|
Add a Comment
Ron Howard, a longtime friend to George Lucas and Academy Award-winning director of
Willow
and
Apollo 13
, has been named the director of the as-yet-untitled
Han Solo
stand-alone
Star Wars
film.
Now that the internet has had a few hours to compose itself and stop yelling, Howard took to Twitter to issue a brief statement on the job.
"I'm beyond grateful to add my voice to the Star Wars Universe after being a fan since 5/25/77," Howard tweeted. "I hope to honor the great work already done & help deliver on the promise of a
Han Solo
film."
Howard notably starred alongside Harrison Ford, the original Han Solo, in
American Graffiti
from
Star Wars
creator/director George Lucas.
The untitled
Han Solo
movie will be in theaters May 25, 2018.
AQUAMAN REPORTEDLY CASTS YOUNG ARTHUR CURRY ACTOR
06/23/17 @ 12:47 pm EST
Source:
ComicBook
| Categories:
DC
|
Comments
(0) |
E-mail Article
|
Add a Comment
Filming for
Aquaman
is well underway in the Land Down Under and now — thanks to reported casting news — we may have a better look at the storyline involved in the movie.
With Otis Jai Dhanji previously being announced as being a part of the production as a 13-year-old Arthur Curry, it has surfaced the movie has cast child actor Kaan Guldur to portray the character at an even younger age.
According to Twitter user @AquamanShrine, Guldur will be playing a version of Arthur Curry that is nine years old. Guldur is currently best known for his work in the short film
Red Ink
and in an upcoming role in
The Lego Ninjago Movie
.
Having two separate child actors playing younger versions of Jason Momoa's titular character hints at a lengthier origin for the King of Atlantis. Of note, each of the DC Extended Universe's three solo films has shown us a younger version of the main character. In
Man of Steel
, we saw a younger Clark Kent (Cooper Timberline/Dylan Sprayberry) as he grew up in Smallville while a young Diana Prince (Lilly Aspell/Emily Carey) was seen on Themyscira in
Wonder Woman.
CHADWICK BOSEMAN REVEALS HIS REACTION TO THE BLACK PANTHER TRAILER
06/23/17 @ 12:43 pm EST
Source:
ComicBook
| Categories:
Marvel
|
Comments
(0) |
E-mail Article
|
Add a Comment
Being a part of the Marvel Cinematic Universe seems to be as exciting as fans have thought. Chadwick Boseman first got to experience the MCU's hype when the actor brought the Black Panther in the franchise last year. Now, the star has revealed his reaction to the trailer for his
Black Panther
movie, and fans will find it totally relatable.
Recently, Boseman appeared on
Jimmy Kimmel Live!
to talk about his current projects. The actor's Marvel films got their fair share of coverage as Boseman was asked about
Black Panther
. When questioned about the standalone's sleek trailer, Boseman said he had to turn his phone off when the video went live to stay sane.
"It was so exciting," Boseman said. "I literally, for like three minutes, was like, 'oh my gosh.' Just staring at the screen and then I cut my phone off because it was too much stimulation."
Black Panther
may not house the hero's first outing, but it does show fans a much-anticipated side of the hero.
Captain America: Civil War
saw T'Challa assume the Black Panther mantle for good after his father was murdered. The film then ended with T'Challa returning to Wakanda with Captain America's team in tow.
Black Panther
will pick up after the events of
Civil War and
follow T'Challa as he comes to terms with his new kingly status.