THE GREEN GOBLIN GETS CONNECTED WITH SKETCH COVERS BY KEN HAESER!!!
02/28/12 @ 2:20 pm EST
Source:
Dynamic Forces
|
Comments
(0) |
E-mail Article
|
Add a Comment
Dynamic Forces is proud to show off the latest hand-drawn sketch covers being offered for pre-order today! Art is by Ken Haeser and features an incredible portrait of the Green Goblin on the complete cover set of Spider-Man's "One More day" storyline. Hand-drawn and inked on each book is a part of the Green Goblin and then the books come together to form one Marvel-ous Masterpiece!
Offered at the dynamic price of $79.99 for a limited time! Returns to regular MSRP of $196.40 after March 15th it's
Spider-Man
's most deadly foe the Green Goblin on this four-book original art set! DF is proud to offer this connecting-cover set of
Spider-Man
books, each featuring a hand-drawn and inked part of the Green Goblin! A true Masterpiece! A one of a kind! And when they come together they form a frightfully fun portrait of the Green Goblin surrounded by the main players of "One More Day-the story that changed the world of
Spider-Man
and Spider-Fans forever-and returned Norman Osborn to the
Marvel
Universe! Each set will include a DF Certificate of Authenticity! And each book will arrive bagged with a board and a DF Holo-Foil Sticker!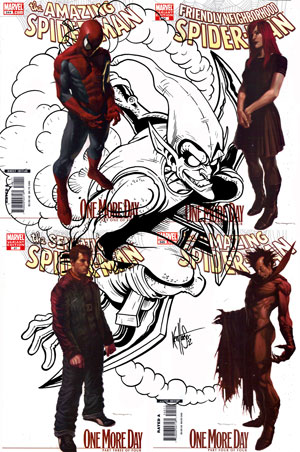 Also, Spidey's deadly foe (sometimes a hero) Venom gets connected on the "One More Day" set by Ken Haeser!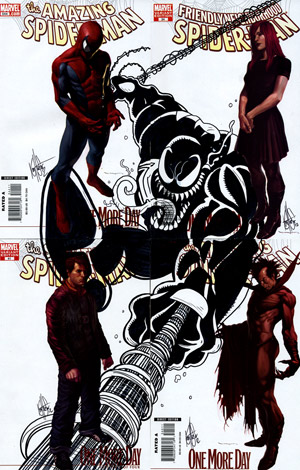 Not a hoax! Not a dream! Not a reproduction! These are hand-drawn collector's items and right now you can add one to your collection for limited time!
Like what you see? Keep an eye out for more DYNAMIC MASTERPIECE ORIGINAL ART in our upcoming DF Daily Specials, featuring the art of Ken Haeser, Kevin Greaves, Laura Guzzo, Jae Lee, Marat Mychaels, Joe Rubinstein, John Romita Sr and other great artists!
ABOUT DYNAMIC FORCES:
DF is the comic-book and collectible industry's top producer of limited-edition and autographed memorabilia, including comic books, lithographs. For updated information on Dynamic Forces specialty merchandise, product art, exclusive creator interviews, columns and upcoming product releases, please visit the Dynamic Forces website at www.dynamicforces.com.
'THE HUMANS'—JOIN US ON ONE WILD RIDE
07/23/14 @ 8:13 pm EST
Source:
Image
| Categories:
Image
|
Comments
(0) |
E-mail Article
|
Add a Comment


From fan-favorite writer Keenan Marshall Keller (Galactic Breakdown, Drippy Bone Books) and artist Tom Neely (The Blot, Henry & Glenn Forever, Popeye) with colorist Kristina Collantes comes THE HUMANS, a high octane, no holds barred, ape-biker-gang chopper ride into '70s exploitation genre bliss headed your way from Image Comics in November 2014.

Apart, they are nothing… deemed by society as outcasts, misfits, losers, no good punks! But together, they are THE HUMANS! Follow Bobby, Johnny, and all The HUMANS as they fight and fly down the road to oblivion on a ride filled with chains, sex, leather, denim, hair, blood, bananas and chrome.

The prequel issue for The HUMANS #0 introduces three members of The HUMANS gang: Marra, Mojo, and Karns, as they encounter member of a local rival gang, The SKABBS, trying to party on HUMANS turf. Chaotic violence ensues as the pages drip with 100% Ape-Biker Exploitation at its finest, including a mind-melting full color acid-banana freak-out pin-up by the future series colorist Kristina Collantes. The issue will be available for purchase and autographs at the Image booth during Preview Night at San Diego Comic Con.

"The HUMANS are here to f*ck shit up and have some fun and so am I!" said Keller. "I can't f*ckin' wait to melt peoples brains with this shit! HUMANS FOR LIFE!"

"This is the comic book I never knew I was born to draw," added Neely.

"I am grateful for this opportunity to paint an architecture of blood and bananas," said Collantes.

"Every so often, someone pitches a book that just sounds too crazy to be true, and I mean that in the best way possible," said Eric Stephenson, Publisher at Image Comics. "Chew was one of those books. Sex Criminals was another one. Everything about The Humans seems completely nuts, and I think that's why people are going to love it!"

THE HUMANS is a long and twisted ride through biker gang warfare, drug running, corrupt cops, semi-truck hijackings, Vietnam flashbacks, Skin Fights (homosapien cockfighting), major ultra-violence, a strip club called The Forbidden Zone, and bloody vengeance... Coming to Image Comics in November 2014.
'SOUTHERN CROSS' IS A TERRIFYING MARRIAGE OF HORROR AND SCI-FI
07/23/14 @ 8:09 pm EST
Source:
Image
| Categories:
Image
|
Comments
(0) |
E-mail Article
|
Add a Comment


A new ongoing series from Becky Cloonan & Andy Belanger that will chill readers this Winter 2014

Becky Cloonan (Batman) and Andy Belanger (Kill Shakespeare, Swamp Thing) join forces for the all-new, ongoing science fiction thriller series SOUTHERN CROSS.

Now boarding: Southern Cross, tanker flight 73 to Titan. Alex Braith is on board retracing her sister's steps to the refinery moon, hoping to collect her remains and find some answers. The questions keep coming though—How did her sister die? Where did her cabin mate disappear to? Who is that creep across the hall? And why does she always feel like she's being watched?

"Jumping into the writer's seat this year has been a little scary, but a lot of fun," said Cloonan. "I'm also really psyched to be working with Andy Belanger on this book—We've wanted to work together for a while, but never found the right book until now. He asked me to write him a science fiction horror story—tell me, how could I resist that offer? Southern Cross has a lot of the same sensibilities as my mini comics, but in a longer format. And with Andy drawing the story, it's become bigger and more realized than I could ever have imagined on my own."

Andy Belanger is a huge fan of the horror genre and has a particular interest in it when it blends with science fiction. "I've waited years to draw a story like Southern Cross," said Belanger. "I think the scariest stories, the most successful thrillers are the ones that start as a subtle tease, then build to bloody crescendo. Becky has tapped directly into that vein with her chilling mini comics—anyone who has read them knows she can weave a nail-biting story. We've wanted to join forces for a long time, and this book is a chance for us to really get under your skin. So strap in and prepare to experience another dimension in terror."

"Becky's development from amazing artist to all-around awesome storyteller has been really fun to watch over the last few years, and we're really proud to be showcasing her growing talent as a writer," said Eric Stephenson, Publisher at Image Comics. "She and Andy make a fantastic team, and it's going to incredibly exciting watching this series come together. Readers are in for a real treat!"

Inspired by classic mysteries and weird fiction, SOUTHERN CROSS bares a crucible of creeping anxiety and fear as the main character Braith struggles with the ghosts of her past on board a ship that holds secrets best kept buried. Coming to Image Comics in Winter 2014.
'RUMBLE,' A NEW SERIES OF EPIC AND BIZARRE PROPORTIONS
07/23/14 @ 8:05 pm EST
Source:
Image
| Categories:
Image
|
Comments
(0) |
E-mail Article
|
Add a Comment


Co-creators John Arcudi (writer of BPRD, Savage Wolverine, A god Somewhere and the Eisner nominated The Creep) and comics rock-star James Harren (Artist on Conan, BPRD, and cover artist for the Hawkeye vs. Deadpool mini series) have come together on a project that is both quite literally of epic proportions and completely "street-level-human" in its themes in RUMBLE. Both bizarre as hell and familiar as life, the new ongoing series comes to Image Comics in December of 2014.

And RUMBLE is a strange book, that's for sure—like a scarecrow-Conan fighting in a Louis C.K. TV show directed by David Fincher—with a supporting cast of odd characters, many of whom aren't even human.

"I'd been developing the ideas for Rumble for some time, but it wasn't until James and I started talking about it that it really came together, that it all started to make sense," said Arcudi. "That's when the potential was realized in a way that really freakin' excited me! You look at his work and you know he's going to bring explosive ferocity to the big action, and all the moodiness that the weirder elements are going to require. He's cutting loose on Rumble in ways that will surprise even his fans. It couldn't be a better team!"

"The history of modern comics is bedazzled by great collaborations, and John Arcudi and James Harren are definitely part of that great tradition," said Eric Stephenson, Publisher at Image Comics. "I've admire both their work for a long time now, and I cannot tell you how excited I am to have them here at Image. Forget everything you've seen from them before: Rumble sets a new standard for this awesome creative team!"

RUMBLE is a bizarre action/adventure urban-fantasy horror story—with a dash of humor at times. Coming to Image Comics this December.
GABRIEL HARDMAN'S TWO NEW PROJECTS—'INVISIBLE REPUBLIC' AND 'KINSKI'
07/23/14 @ 8:02 pm EST
Source:
Image
| Categories:
Image
|
Comments
(0) |
E-mail Article
|
Add a Comment


Gabriel Hardman's (Hulk, Planet of the Apes) previously-digital-only series collection KINSKI, both written and drawn by Hardman, will be coming to print from Image Comics this November. Hardman announced a second project at Image Expo, to be executed with frequent collaborator Corinna Bechko (HEATHENTOWN, Savage Hulk, Star Wars: Legacy). Described as a gritty sci-fi series, INVISIBLE REPUBLIC explores the secret history of one man's rise to power after an unspeakable act of violence elevates him to folk-hero status on a war-torn planet seeking independence.

KINSKI promises to be a quirky crime thriller about Joe, a down-on-his-luck salesman who finds a cute puppy. The thing is, this puppy already has a home. What starts as a simple rescue mission from neglectful owners quickly escalates into a righteous crusade as it becomes clear that Joe will do anything to keep this puppy safe.

Hardman talked about his influences and inspiration for his forthcoming KINSKI. "I set out to tell a crime story with all the elements of the darkest noir (obsession, self destruction, having the fickle finger of fate pointed at you for no good reason) but about a guy stealing a puppy," he said. "It's a quirky story with a sensibility not unlike that of the Coen Brothers, where the stakes may seem low at first but when you're in the middle of it every ounce of suspense, drama and goofiness is milked from the situation.

"The storytelling in KINSKI is really stripped down. It's black and white, on a six-panel grid, nothing flashy to distract you from the tale I'm telling. No narration, overwrought exposition, no charts and graphs – this is the equivalent of guerilla filmmaking. It's just paper, ink and a story.

"While in a lot of ways KINSKI is a very simple story, it has undercurrents of loyalty, hubris, serious ethical questions and yeah, I'll admit it, even a bit of heart."

Switching gears, Hardman went on to talk about his series with Bechko. "INVISIBLE REPUBLIC, is first and foremost a sci-fi, action-adventure story. My background as an illustrator and storyboard artist for films like Inception and the X-Men movies means that designing exciting action sequences is what I do," said Hardman. "That said, the kind of stories Corinna and I tell are always human-scale. They're point of view driven, not spectacle driven. Serialized comics, especially creator-owned comics, are the perfect medium for telling stories with real stakes where anything can happen. Any character can die. The audience can't trust that everything will be happy in the end. Comics are perfect for telling stories that take narrative risks and reward close attention, in short, everything that works so well on cable television dramas now."

Conceived as the epic history of the rise of an empire, INVISIBLE REPUBLIC is nonetheless told on an intimate scale. While hunting for a human-interest story during a humanitarian crisis, reporter Croger Babb uncovers the four-decade-old journal of Maia Reveron, detailing what she knows about the legendary Arthur McBride. Maia has been erased from all the official histories, but she alone knows what Arthur is really capable of.

Bechko added: "Maia Reveron is a woman who has been expunged from the history books but who knows many secrets. This may be science fiction, but this is hardly an unknown phenomenon in our own world. It's rare that those in power give much thought to the people who could reveal their own 'secret histories,' especially if the people holding the secrets happen to be female. And sometimes, they overlook them at their peril. Gabriel and I have always enjoyed writing 'poli-sci-fi' and here we have the chance to imbue Arthur and Maia's story with all the drama, pathos, and adventure we've been dying to unleash."

"In case you haven't noticed, Gabriel Hardiman has quietly been establishing himself as one of comics' best new talents over the course of the last few years," said Eric Stephenson, Publisher at Image Comics. "Whether working on his own or with his Invisible Republic collaborator Corinna Bechko, Gabe is masterminding some of the most exciting new work out there, and it's real honor to welcome him to Image at long last."

KINSKI is coming to Image Comics this November 2014. INVISIBLE REPUBLIC will launch in 2015.
TRUE TERROR AND ORIGINALITY WILL 'INTERSECT'
07/23/14 @ 7:53 pm EST
Source:
Image
| Categories:
Image
|
Comments
(0) |
E-mail Article
|
Add a Comment


Bestselling cartoonist Ray Fawkes (Batman: Eternal, Constantine, One Soul, The People Inside) brings his signature darkness to Image Comics with INTERSECT, an all-new and shockingly original ongoing horror series coming November 2014.

Bodies shift and merge, warring with themselves. Blood rains from the skies. A child's song is translated into toxic, thought-destroying whispers. Everything is changing. Everything is wrong. This is the world of INTERSECT.

"I'm thrilled to present Intersect—a complete realization of a deeply haunting notion I've been eager to share for years," said Fawkes. "I don't believe I can properly prepare readers for the experience with any up front statements: you'll have to read it for yourself."

"As anyone who familiar with One Soul or The People Inside can tell you, Ray is one of comics' brightest new talents, and it's a genuine pleasure to have him here at Image," said Eric Stephenson, Publisher at Image Comics. "Intersect is completely different from everything else we're doing, and all the better for it. If you want recycled ideas or reimagined characters, there's the whole rest of the industry for you, but it's the new ideas being developed by people like Ray are what will take this medium into the future."

A story of struggle and transformation, INTERSECT takes readers on an unforgettable journey—a quest for understanding and purpose in a city gone truly mad. Readers must discard all assumptions about horror. INTERSECT, with its luminous, fully painted artwork, walks the line between the beautiful and the grotesque, the sensual and the horrific. Coming to Image Comics this November.
WARREN ELLIS, DECLAN SHALVEY REUNITE FOR 'INJECTION'
07/23/14 @ 7:50 pm EST
Source:
Image
| Categories:
Image
|
Comments
(0) |
E-mail Article
|
Add a Comment


Once upon a time, there were five crazy people, and they poisoned the 21st Century.

Bestselling writer Warren Ellis (TREES, SUPREME: BLUE ROSE, Moon Knight), artist Declan Shalvey (Moon Knight), and colorist Jordie Bellaire (MANHATTAN PROJECTS, NOWHERE MEN, PRETTY DEADLY) reunite for an all-new ongoing series about the disturbing, unruly future that looms near for society.

INJECTION explores how loud and strange the world is becoming, and the sense that it's all bubbling into chaos—a chaos poised to become the Next New Normal—and that we did this to ourselves without thinking for a second about how we were ever going to live inside it.

"Within a couple of months of starting work together on Moon Knight, I knew that I wanted to create something new with Declan and Jordie," said Ellis. "And this is what we came up with: something that hits all the same strengths of our previous work together, but opens up a wide space for all kinds of new possibilities."

"I'm delighted to be continuing the creative relationship I've established with Warren and Jordie with Injection at Image Comics," added Shalvey. "A creator-owned project is something I've wanted to do for some time, and I feel that this is the right project, with the right collaborators and at the right publisher."

"It's not much of a secret that I view Warren Ellis as one of the most important comic book writers of the last 20 years, but my admiration for the incredible artistry of Declan Shalvey is probably less well-known," said Eric Stephenson, Publisher at Image Comics. "The two of them together are an absolutely amazing team, and I think it goes without saying everything they do is only elevated by Jordie Bellair's colors. Add in the fine lettering and design of the always awesome Fonografiks, and I think the only definition truly worthy of their talents is 'dream team.'"

The chaos is coming to Image Comics in 2015.
'FROM UNDER MOUNTAINS' COMES A MAGICAL FANTASY ADVENTURE
07/23/14 @ 7:46 pm EST
Source:
Image
| Categories:
Image
|
Comments
(0) |
E-mail Article
|
Add a Comment


Marian Churchland (PROPHET, Beast), Claire Gibson, and Sloane Leong will cast their spell upon readers in FROM UNDER MOUNTAINS, an all-new ongoing fantasy series.

Set in the isolated country of Akhara, rival houses face off in the struggle for political power and military security. Three unlikely figures—a lord's daughter, a disgraced knight, and a runaway thief—will change the fate of their world, but the only hope of peace may lie with the mystery shrouded goblins and witches, and the ancient powers they command.

"This project has particular personal significance, because I've known Claire since we were both in high school," said Churchland. "We used to make fantasy comics together even way back then, and we had a project called The Hunt. Perhaps the less said about The Hunt the better, but it was enormous fun, and this feels like the respectable adult version of skipping math class to hide in the hallway and plot out the lives of our characters.

"And we're so thrilled to have Sloane on this. She's is an amazing artist—she makes beautiful lines, and has a storytelling intelligence that I straight up envy. I'm really excited about what we're producing."

"I'm super excited to be working with Marian and Claire on this project," added Leong. "They both have a love for world building and storytelling that I admire and watching them craft these great characters has been incredibly fun. This will be my first on-going series and I'm really excited to make it my own."

"I've been eager for Marian to do something else at Image since we first published her graphic novel Beast back in 2009, so it's pretty incredible to be welcoming her back in the company of such an incredible team," said Eric Stephenson, Publisher at Image Comics. "Marian, Claire, and Sloane are crafting something really special with this series, and I couldn't more proud that they're doing it here."

The enchantment begins at Image Comics in 2015.
ALIEN DANGERS ABOUND IN 'DRIFTER'
07/23/14 @ 7:40 pm EST
Source:
Image
| Categories:
Image
|
Comments
(0) |
E-mail Article
|
Add a Comment


Ivan Brandon (Wolverine, Men of War) and Nic Klein (Captain America, Thor) team up for DRIFTER, an all-new science fiction series from Image Comics coming in November 2014.

Mankind's colonization of the galaxy has left countless planets mined bare and lifeless. A space transport crashes onto a backwater world whose unique properties set the stage for a story that combines the dark wonder of a strange and alien landscape with the struggles of an abandoned and lawless frontier town.

"Space stories are always this polished thing, but you can't pack infrastructure in your backpack," said Brandon. "For all our advancements in technology your gadgets need a signal to talk to, they need a power grid or they die. In Drifter there are still space ships and lasers but this is not a story about space admirals in starched shirts. This is about the first wave who get their hands dirty, the folks out in the mud and in the mines. It's about going from our regimented society into the unknown."

"Ivan and I have been wanting to do another new book for quite some time," added Klein. "He asked me what I would be stoked to do and I answered 'science fiction.' Ivan had some ideas kicking around and I did as well, so we got to work building Drifter. Visually I am very excited to draw cool sci-fi stuff, but also I'm taking my work in a new direction, very few black shadows and most of the rendering done through color."

"Over the last few years, it's been really gratifying to welcome various writers and artists back to Image," said Eric Stephenson, Publisher at Image Comics. "Ivan's no stranger to Image—he's written and edited some fantastic comics for us over the years, most notably Viking—but it's especially cool to have him back here with a series as stunning as Drifter. The work he and Nic are doing on this series is simply amazing."

DRIFTER follows a diverse group of characters, trapped and isolated, with no hope of rescue, surrounded on all sides by alien dangers and the decaying beauty of a dying world. Coming to Image Comics this November.
MAN VS. MACHINES IN 'DESCENDER'
07/23/14 @ 7:37 pm EST
Source:
Image
| Categories:
Image
|
Comments
(0) |
E-mail Article
|
Add a Comment


Jeff Lemire (Sweet Tooth, Trillium, Animal Man) and Dustin Nguyen (Batman, Little Gotham, American Vampire) team up to bring a brand new monthly science fiction series to Image Comics in March 2015 about one young robot's struggle to stay alive in a universe where all androids have been outlawed and bounty hunters lurk on every planet.

Ten years ago massive, planet-sized robots called "The Harvesters" materialized without warning and invaded the orbits of all the United Galactic Council's worlds, wiping out entire planets and civilizations before disappearing again. In a fear-fueled response to this machine holocaust, the galaxy blamed millions of robotic companions, whom they suspected of somehow spawning The Harvesters. All robots and androids were immediately outlawed and ruthless bounty hunters called Scrappers were charged with scouring the universe for any surviving robots.

An incredibly life-like artificial boy, TIM-21 may hold the secrets to the origin of The Harvesters deep in his machine DNA—and as a result is the most-wanted robot in the universe. With only his small pet-bot Bandit and the lumbering mining droid Driller at his side, TIM-21 goes on the run. Before long the entire galaxy is looking for this rag-tag group of unlikely companions, as they make their way from one exotic planet to the next with new foes advancing on them at every turn.

"I'm incredibly excited to bring Descender to Image Comics with Dustin Nguyen. Descender is a huge sprawling sci-fi epic, full of mystery and adventure, but at its heart it's also the story of a little boy looking for a home in a universe that hates and fears him."

"It's a real thrill to finally have Jeff doing something at Image," said Eric Stephenson, Publisher at Image Comics. "We had the opportunity to work with him at the very beginning of his career and kind of flubbed it, so after watching the rest of world fall in love with his work in the years since, it's really great to have a second shot at working with such a wonderful and unique talent. The fact that he's bringing an artist as insanely talented as Dustin with him just makes it even better!"

A rip-roaring and heart-felt cosmic odyssey, DESCENDER will pit humanity against machine, and world against world, to create a sprawling space opera from Image Comics this March 2015.
IDW KICKS OPEN THE DOORS TO COMIC-CON WITH 'ORPHAN BLACK'
07/23/14 @ 7:30 pm EST
Source:
IDW
| Categories:
IDW
|
Comments
(0) |
E-mail Article
|
Add a Comment


Orphan Black, the acclaimed sci-fi series by Temple Street Productions, assumes a new identity in the form of a comic-book series from IDW Publishing. IDW's series will not be a clone of the show but will feature some all-new stories set in the complex and thrilling world of Orphan Black.

"Orphan Black, in addition to being a captivating TV series, is a perfect premise for comics," said Chris Ryall, IDW's Chief Creative Officer/Editor-in-Chief. "And as the second season has expanded the series in exciting new directions, that has only increased the amount of stories we'll be able to tell in comic-book form."

Orphan Black, which has just been renewed for a third season, centers on Sarah Manning, who after witnessing the suicide of a woman that appears to be her doppelgänger comes into the knowledge that this woman and indeed herself, are two of many biological clones. Sarah takes on the woman's identity and uses her position as a police detective to uncover the mystery behind what she is and what that means.

IDW Publishing is known for its authenticity and attention to detail when approaching licensed properties and Orphan Black is sure to be a comic book series a delight existing fans and make new ones.

"We're so thrilled for Orphan Black to take shape as a comic series and join the ranks of IDW's impressive roster," said John Young, Managing Director of Temple Street Productions. "Orphan Black was met with an enormous amount of enthusiasm at last year's Comic-Con which really inspired us to give back to fans of the show through a medium so vital to the science fiction world."

IDW will be working closely with the show's producers to expand theOrphan Black world. The first cover image seen here is by artist Nick Runge. The full creative teams and series details will be announced soon, with the first comic-book series launching in early 2015. Striker Entertainment on behalf of Temple Street Productions brokered the deal.