THE GREEN GOBLIN GETS CONNECTED WITH SKETCH COVERS BY KEN HAESER!!!
02/28/12 @ 2:20 pm EST
Source:
Dynamic Forces
|
Comments
(0) |
E-mail Article
|
Add a Comment
Dynamic Forces is proud to show off the latest hand-drawn sketch covers being offered for pre-order today! Art is by Ken Haeser and features an incredible portrait of the Green Goblin on the complete cover set of Spider-Man's "One More day" storyline. Hand-drawn and inked on each book is a part of the Green Goblin and then the books come together to form one Marvel-ous Masterpiece!
Offered at the dynamic price of $79.99 for a limited time! Returns to regular MSRP of $196.40 after March 15th it's
Spider-Man
's most deadly foe the Green Goblin on this four-book original art set! DF is proud to offer this connecting-cover set of
Spider-Man
books, each featuring a hand-drawn and inked part of the Green Goblin! A true Masterpiece! A one of a kind! And when they come together they form a frightfully fun portrait of the Green Goblin surrounded by the main players of "One More Day-the story that changed the world of
Spider-Man
and Spider-Fans forever-and returned Norman Osborn to the
Marvel
Universe! Each set will include a DF Certificate of Authenticity! And each book will arrive bagged with a board and a DF Holo-Foil Sticker!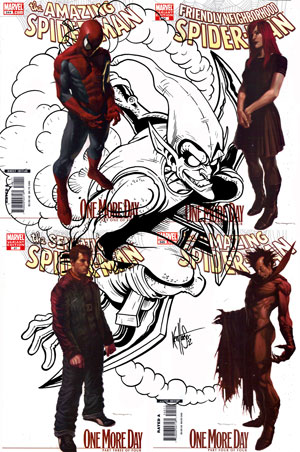 Also, Spidey's deadly foe (sometimes a hero) Venom gets connected on the "One More Day" set by Ken Haeser!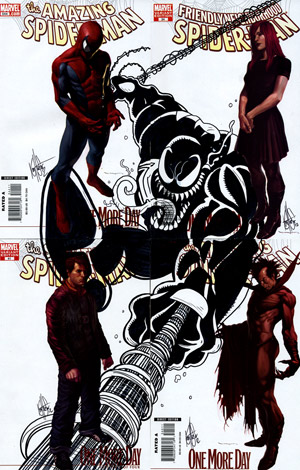 Not a hoax! Not a dream! Not a reproduction! These are hand-drawn collector's items and right now you can add one to your collection for limited time!
Like what you see? Keep an eye out for more DYNAMIC MASTERPIECE ORIGINAL ART in our upcoming DF Daily Specials, featuring the art of Ken Haeser, Kevin Greaves, Laura Guzzo, Jae Lee, Marat Mychaels, Joe Rubinstein, John Romita Sr and other great artists!
ABOUT DYNAMIC FORCES:
DF is the comic-book and collectible industry's top producer of limited-edition and autographed memorabilia, including comic books, lithographs. For updated information on Dynamic Forces specialty merchandise, product art, exclusive creator interviews, columns and upcoming product releases, please visit the Dynamic Forces website at www.dynamicforces.com.
X-MEN: GIFTED TV SERIES REVEALS FIRST PRODUCTION IMAGE
03/26/17 @ 2:50 am EST
Source:
Comicbook
| Categories:
Marvel
|
Comments
(0) |
E-mail Article
|
Add a Comment
Fox's X-Men output seems to be on a roll lately. Despite the misstep with
X-Men: Apocalypse
, the studio has had its hand in some major successes with
Deadpool, Logan
, and their first television offering
Legion
.
They hope to continue that magic with their new show
X-Men: Gifted
, starting with a pilot directed by franchise mainstay Bryan Singer.
And now that production on the show is underway, producer Lauren Shuler Donner shared the first image of the new show.
Donner has served as producer on X-Men related productions since the first film came out nearly 17 years ago. She collaborated with Singer, who directed the first two
X-Men
movies as well as
Days of Future Past
and
Apocalypse
.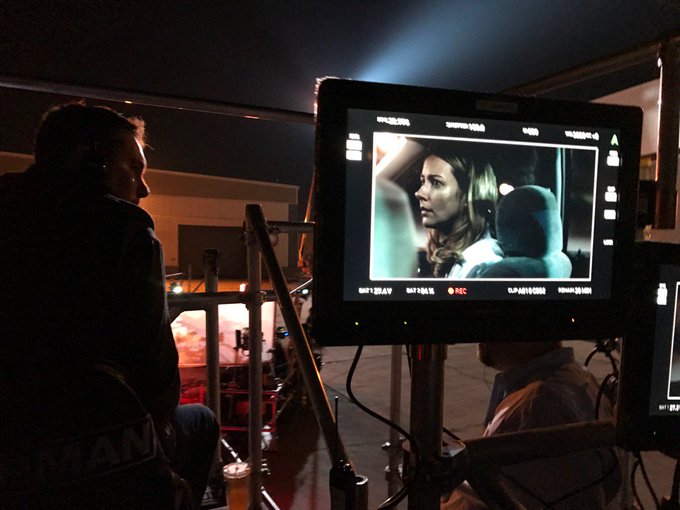 WHAT THE JUSTICE LEAGUE DIRECTOR HAS TO SAY ABOUT SUPERMAN'S ROLE
03/26/17 @ 2:45 am EST
Source:
Comicbook
| Categories:
DC
|
Comments
(0) |
E-mail Article
|
Add a Comment
The
Justice League
trailer finally arrived offering the first real glimpse into the epic scope and scale of the film, promising DC's greatest heroes teaming up to take on a global threat with the fate of the world in the balance.
But while the trailer made for some awesome moments and reveals of the overall plot of
Justice League
, there's one noticeable absence that is leaving fans scratching their heads and wondering:
Where is the Man of Steel?
Superman's demise at the hands of Doomsday was the obvious impetus for Batman bringing the team together.
Director Zack Snyder spoke about Superman's presence in the team and how the character will affect the film, the other members, and the entire planet.
"It's hard to have a Justice League without Superman. That's how I feel about it," Snyder said, hinting at the character's state in the new movie.
"It was always a super-intriguing concept to me to have this opportunity to have him make that sacrifice but also have him be this, in a weird sort of way, the why of Justice League: What do you do now with him? What does the team think? What does the world need?" Snyder said. "All that comes into play. It's fun for us but it'll be interesting for audiences what we do with him."
The fact that Superman's death seems to be a temporary situation is obvious to almost everyone, as even those with a passing knowledge of comic book events could tell you about the time the character died.
But Snyder seems to be more enamored with the "how" of it all, hinting that Superman's eventual return will be more important than "why."
KURT RUSSELL AND SYLVESTER STALLONE AREN'T DONE WITH THE MARVEL UNIVERSE
03/26/17 @ 2:39 am EST
Source:
Comicbook
| Categories:
Marvel
|
Comments
(0) |
E-mail Article
|
Add a Comment
Guardians of the Galaxy Vol. 2
will be packed with a ton of new characters including the regular favorites we've come to know and love. New additions like Mantis, Ayesha, and Ego the Living Planet will be joining the motley crew and returning frenemies such as Yondu and Nebula.
And though the latest film will continue building onto the ever-expanding cosmic Marvel Universe, it will also provide a reunion of sorts.
We're not referring to the first meeting of Star-Lord and his dad.We're talking about Kurt Russell and Sylvester Stallone, who first appeared together in the wonder 80's action comedy
Tango and Cash
.
And though there isn't much to go on what role he's playing or how significantly Stallone will be featured, director James Gunn promised that this wouldn't be the last time fans get to see he and Russell's Ego in the Marvel Cinematic Universe.
While speaking with Fandango, Gunn revealed that the two seminal action stars will play further roles in the ongoing saga of Marvel films.
"This is definitely not a one-off. They're both characters that we've taken a lot of time to develop, and they're a big part of the MCU now," the director said.
IRON FIST IS THE SECOND BIGGEST MARVEL NETFLIX PREMIERE
03/26/17 @ 2:34 am EST
Source:
Comicbook
| Categories:
Marvel
|
Comments
(0) |
E-mail Article
|
Add a Comment
Marvel's Iron Fist
may not have gone over well with critics, but fans can't seem to get enough.
According to a report by Parrot Analytics,
Marvel's Iron Fist
is the second-biggest debut for a Marvel series on Netflix so far, performing better than both
Marvel's Daredevil
and
Marvel's Jessica Jones
in the first week it was available to stream.
Iron Fist
falls just short of
Marvel's Luke Cage
, which was Marvel's best debut to date.
It should be noted that Parrot Analytics is a third party industry analyst and that these metrics are not endorsed by Netflix. Netflix does not share its viewership numbers publically. Parrot Analytics tracks viewership by considering P2P-sharing, video streams, social trends and other factors, and maintains that it can separate negative social reaction from positive reactions so as not to allow a strongly negative reaction to throw their analysis off track.
SUPERGIRL: ALEX MEETS MAGGIE'S EX IN PHOTOS FROM KEVIN SMITH'S DISTANT SUN
03/26/17 @ 2:31 am EST
Source:
Comicbook
| Categories:
DC
|
Comments
(0) |
E-mail Article
|
Add a Comment
The CW has released official stills and behind-the-scenes images from this Monday's "Distant Sun" episode of
Supergirl
, which was directed by
Clerks
and
Mallrats
filmmaker Kevin Smith and features the return of Lynda Carter (
Wonder Woman
) as President Olivia Marsdin.
SUPERGIRL STAR TEASES WHAT'S NEXT FOR KARA AND MON-EL
03/26/17 @ 2:26 am EST
Source:
Comicbook
| Categories:
DC
|
Comments
(0) |
E-mail Article
|
Add a Comment
Even though he clearly had no fight training, Mon-El was able to convince Supergirl and the people at the DEO that he was a former bodyguard for the prince of Daxam and only escaped his planet's destruction because the noble and heroic prince insisted he use the Kryptonian pod to fly to safety. Hogwash!
In last week's episode, the truth was finally revealed. Mon-El is actually the prince of Daxam and there was absolutely nothing noble or heroic about his escape (view in the video above). Obviously, this revelation threatened to ruin Mon-El's relationship with Kara forever, but one night later in
The Flash-Supergirl
musical crossover, she chose to forgive him and all is hunky dory.
So what's next for the star-crossed lovers?
"Isn't that how things work that just when you get things settled, some wrench has to fall into the gears?" Melissa Benoist told EW. "The Daxamites pose some problems. Rhea is not necessarily a sweet prospect for a mother-in-law, but it's really fun to see the way these characters interact."
MAJOR FLASH STORY POINT REVEALED IN JUSTICE LEAGUE TRAILER
03/26/17 @ 2:23 am EST
Source:
Comicbook
| Categories:
DC
|
Comments
(0) |
E-mail Article
|
Add a Comment
The much-anticipated
Justice League
trailer has dropped and included all sorts of goodies for DCEU fans all across the globe — including an extended look at parademons and our first look at JK Simmons' Commissioner Jim Gordon.
Among all of the quick shots was one of Barry Allen (Ezra Miller) sitting at a prison's visitor center talking to his father, Henry Allen (Billy Crudup). Fans of the Scarlet Speedster may have gotten quite excited as the scene is a large part of Barry's origin story.
For those that aren't too in-tune with The Flash — as it's not an origin as well-known as Thomas and Martha Wayne's disastrous stroll down a dimly lit alley — Barry Allen's arch-nemesis Professor Zoom/Reverse-Flash goes back in time and murders Barry's mother Nora. And since the Central City Police Department doesn't quite believe in time-traveling scientists, Henry is framed with the murder.
With Henry Allen making his DCEU debut in
Justice League
, it may paint a more clear picture of what Warner Brothers is planning with the solo
The Flash
outing, which is currently under a script re-write after having gone through two directors.
ARROW EP TEASES RETURNING CHARACTERS IN SEASON FINALE
03/26/17 @ 2:19 am EST
Source:
Comicbook
| Categories:
DC
|
Comments
(0) |
E-mail Article
|
Add a Comment
The fifth season of Arrow is hurtling toward a huge confrontation between Oliver Queen and his tormentor for the last year, Adrian Chase.
Speaking with Entertainment Weekly, creator and executive producerMarc Guggenheim stated this year's last episode will be a change of pace from previous seasons.
"We're not going to destroy the city. We're not even going to threaten the city," Guggenheim said. "In fact, I can also tell you the finale doesn't even take place in the city. Finally, the citizens of Star City can breathe easily in May."
And that wasn't the only reveal Guggenheim let slip, as he also hinted at some familiar faces lending a hand in Team Arrow's struggle against Prometheus.
"You can expect a good number of returning characters, characters you haven't seen in a while, back in the episode."
JAMES GUNN ANNOUNCES GUARDIANS OF THE GALAXY DOUBLE FEATURE
03/26/17 @ 2:16 am EST
Source:
Comicbook
| Categories:
Marvel
|
Comments
(0) |
E-mail Article
|
Add a Comment


In just a matter of weeks, you'll be able to get the ultimate Guardians of the Galaxy fix. Select theaters across the country will be hosting a double-feature on the night of Vol. 2's premiere.

James Gunn — the man behind Guardians of the Galaxy and its soon-to-be-released sequel — announced the double feature on his Facebook page. According to Gunn, participating theaters will begin the night by showing Guardians of the Galaxy starting at 4:30 p.m. local time prior to debuting Guardians of the Galaxy: Vol. 2 at 7:00 p.m.

Tickets to the four-hour Guardians-filled extravaganza won't only get you access to the movies — you'll also get a poster exclusive to the event alongside a set of souvenir collectible buttons.
PUNISHER ADDS LAW AND ORDER: CRIMINAL INTENT ACTOR
03/26/17 @ 2:11 am EST
Source:
Comicbook
| Categories:
Marvel
|
Comments
(0) |
E-mail Article
|
Add a Comment
Another
Law and Order
cast member has joined the ranks of the Marvel Cinematic Universe, as Mary Elizabeth Mastrantonio has joined the cast of the Netflix series
the Punisher
.
Mastrantonio used to star as Captain Zoe Callas alongside Jeff Goldblum in
Law and Order: Criminal Intent
.
She's also known for roles as Gina Montana in
Scarface
, Lindsey Brigman in
the Abyss
, and Maid Marian alongside Kevin Costner in
Robin Hood: Prince of Thieves
.
It's unknown which character Mastrantonio will be playing, though in the scenes snapped it she is meeting with Paul Schulze's character Rawlins, a CIA operative.
Given the nature of Jon Bernthal's story so far and what we know of Schulze's role, Mastrantonio could be playing a villain in the series. It's not like she'd be meeting a CIA agent in a public setting in broad daylight to play some chess in the park.