MARK WAID TO WRITE GREEN HORNET FOR DYNAMITE IN 2013!
10/08/12 @ 4:44 pm EST
Source:
Dynamite
|
Comments
(0) |
E-mail Article
|
Add a Comment
Mark Waid discusses his Dynamite Green Hornet relaunch at MTV Geek!
http://geek-news.mtv.com/2012/10/08/nycc-2012-interview-mark-waid-relaunches-green-hornet-for-dynamite/
"LIKE" DYNAMITE'S FACEBOOK PAGE TODAY!!!
http://www.facebook.com/dynamitecomics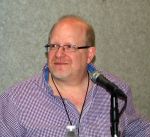 NEW "SUICIDE SQUAD" SET PHOTO OFFERS DETAILED LOOK AT HARLEY QUINN
05/05/15 @ 7:37 am EST
Source:
Comic Book Resources
| Categories:
Harley Quinn
|
Comments
(0) |
E-mail Article
|
Add a Comment
Barely a day after director David Ayer released the first full-cast photo of "Suicide Squad," a set photo of Margot Robbie in her Harley Quinn getup has emerged via Twitter. The image reveals that the big screen version of Harley Quinn will be sporting a red and blue look and, at least for one scene, carry a big bat. Eagle-eyed fans will also notice a few shout outs to her character's comic and cartoon history written on her costume, including a choker that says "Puddin'" on it.
'STAR TREK'S' GRACE LEE WHITNEY PASSES AWAY
05/05/15 @ 7:34 am EST
Source:
Comic Book Resources
| Categories:
Star Trek
|
Comments
(0) |
E-mail Article
|
Add a Comment
Grace Lee Whitney, remembered for her role as Yeoman Janice Rand on "Star Trek," passed away Friday of natural causes at her home in Coarsegold, California. She was 85.
She appeared as Captain Kirk's assistant and love interest in just eight of the first 13 episodes of the original series before being released from her contract. In her 1998 memoir "The Longest Trek: My Tour of the Galaxy," Whitney alleged she was sexually assaulted during her brief stint by unnamed executive associated with the show.
With her character written out of the series, purportedly because producers didn't want Kirk tied to just one woman, and her career seemingly at an end, Whitney became an alcoholic.
"I ran away from everything," she wrote. "I hid from everything. The pain was so intense, I wanted to check out. I wanted to die, so I tried to drink myself to death."
However, Whitney wasn't finished with "Star Trek" — or perhaps it was the other way around. She credited co-star Leonard Nimoy, who wrote the introduction to her memoir, with helping her to get her career back on track. And the rise of fan conventions in the 1970s kept her linked to Trekkies.
ROUTH'S ATOM SUITS UP IN NEW "ARROW" POSTER
05/05/15 @ 7:26 am EST
Source:
Comic Book Resources
| Categories:
Arrow
|
Comments
(0) |
E-mail Article
|
Add a Comment
While his profile is guaranteed to rise once the upcoming "Flash"/"Arrow" spinoff series gets off the ground, right now Brandon Routh's Ray Palmer (a.k.a. the Atom) is still a supporting player on "Arrow." And just like many of his "Arrow" and "Flash" co-stars, Routh's Atom now has a Superhero Fight Club poster of his very own.
The image features a fully armored-up Ray Palmer in the cage, with an energy blast primed and ready for action. He's not alone in the image, either; you can make out a blurry version of Black Canary (Katie Cassidy) hanging onto the outside of the cage in the background
.
AND FINALLY, FOR STAR WARS DAY, JAE LEE DRAWS WOLVERTROOPER
05/05/15 @ 7:19 am EST
Source:
Bleeding Cool
| Categories:
Star Wars
|
Comments
(0) |
E-mail Article
|
Add a Comment
May the Fourth Be With You! (Source: Bleeding Cool)
THE FORCE AWAKENS VILLAINS REVEALED
05/04/15 @ 11:00 pm EST
Source:
Bleeding Cool
| Categories:
Star Wars
|
Comments
(0) |
E-mail Article
|
Add a Comment
It has been revealed that
Gwendoline Christie
, who plays
Brienne of Tarth
on
Game Of Thrones
, will be playing the chrome Stormtrooper
Captain Phasma
in
Star Wars: The Force Awakens
. It was also confirmed that
Adam Driver
will be playing
Kylo Ren
. Happy May 4th. The image of Captain Phasma is from
Vanity Fair
. (Source: Bleeding Cool)
STAR WARS DAY: COMICS ARTIST'S EDITIONS, MICRO PACKS COMING FROM IDW-MARVEL PARTNERSHIP
05/04/15 @ 10:51 pm EST
Source:
NewsOK
| Categories:
IDW
|
Comments
(0) |
E-mail Article
|
Add a Comment
IDW and Marvel are teaming up to bring "Star Wars" to two new formats via IDW Publishing. For the high-end collector, Artist's Editions, oversized collections scanned from the original art, are on the way. And for younger fans, Micro Collectors Fun Packs, which contain a full-length, pocket-sized comic-book story, along with exclusive inserts including posters, standees, or stickers, are also being developed. Both are looking at fall 2015 for release."Marvel has been a terrific and loyal partner, and Star Wars represents an incredible opportunity to further expand our relationship," said IDW President and COO
Greg Goldstein
in a news release.More info via IDW:STAR WARS ARTIST'S EDITIONS
IDW Publishing's award-winning Artist's Edition line presents complete stories with each page scanned and printed directly from the actual original comic book art at full size. While appearing to be in black & white, each page has been scanned in color to mimic as closely as possible the experience of viewing the actual original art--affording readers the opportunity to see blue pencils in the art, editorial notes, art corrections, etc.
This amazing and unique line has previously featured some of Marvel's most beloved characters and creators, like Walter Simonson's The Mighty Thor, John Romita's The Amazing Spider-Man, and David Mazzucchelli's Daredevil Born Again. In late fall of 2015, IDW and Marvel will team up once again to add Marvel's Star Wars creators to this already illustrious list.
"Since the inception of our Artist's Edition program, we've had Star Wars on our wish list," said
Goldstein
. "During its original nine year run at Marvel, an all-star list of artists provided material for these now classic comic books from the likes of
Howard Chaykin
,
Walter Simonson, Carmine Infantino
,
Tom Palmer
, and of course the legendary
Al Williamson
, to name a few."
"The collaboration between IDW and Marvel has produced some of the most immaculate collections of reprinted original comic book material ever to be offered," says Marvel SVP Sales & Marketing
David Gabriel
. "Now with the addition of the Marvel Comics' 1977 Star Wars being gathered in this over-sized format, this collection truly is a pantheon of content that any and all fans of Star Wars will want to get their hands on."
STAR WARS MICRO COLLECTORS FUN PACKS
Star Wars is also coming to the Micro Collectors Fun Pack line; a format pioneered by IDW that has fast become a fan-favorite. Micro Collector Fun Packs consist of a full-length, pocket-sized comic-book story, along with exclusive inserts including posters, standees, or stickers. Micro Collector Fun Packs continue to reach new audiences with great content and are available at both local comic shops and mass retail locations like Target and Toys "R" Us.
Each Star Wars Classic Micro Collector Fun Pack release will include a collectible classic Star Wars comic for fans to collect. The first set of Star Wars Classic Micro Collector Fun Packs, which have been designed to be enjoyed by Jedi of all ages, are planned for a fall 2015 release.
DC CONFIRMS MASSIVE CHANGES FOR BATMAN AND SUPERMAN
05/04/15 @ 10:41 pm EST
Source:
Comicbook
| Categories:
DC
|
Comments
(0) |
E-mail Article
|
Add a Comment
Spinning out of its Divergence Free Comic Book Day Preview, DC Comics has confirmed massive changes for its two greatest icons: Batman and Superman.
In the issue's Batman story, a sneak of what's to come in
Batman #41
, storytellers Scott Snyder and Greg Capullo confirmed that Commissioner Gordon has indeed replaced Bruce Wayne as Gotham City's Batman. The development springs out of the events of Batman: Endgame, where Batman and Joker perished beneath a mountain of rubble. While a resurrection for Wayne seems imminent, Snyder himself confirmed that Batman is certainly dead for now. Indeed, the preview story makes mention that Gotham hasn't seen the original Batman in months.Filling in for Bruce Wayne, Gordon will fight crime in a Gotham City Police Department-sponsored robotic Batman suit, and sport a groomed new look (we'll miss the mustache).
Meanwhile, in the pages of
Superman,
incoming writer Gene Luen Yang and artist John Romita Jr. revealed that Superman's secret identity as Clark Kent is now public knowledge. And it wasn't Lex Luthor or Brainiac who spilled the Kryptonian beans, but Superman's former friend, Lois Lane. The revelation certainly explains Superman's new look, which is far more subtle any of his previous costumes. We guess bright red capes might be faux paux when trying to go incognito.DC promises to explore both storylines in full this coming June, when their Divergence event revamps the entire DC Universe publishing line. Jim Gordon Batman makes his debut in
Batman #41
, while the exposed Superman appears in
Superman #41
. (Source: Comicbook)
THE WALKING DEAD CAST MEMBER ARRESTED
05/04/15 @ 10:36 pm EST
Source:
Comicbook
| Categories:
Walking Dead
|
Comments
(0) |
E-mail Article
|
Add a Comment
One of the cast members of
The Walking Dead
was arrested on Sunday, according to a report on FOX 5 Atlanta.
Based on a police report, Seth K. Gilliam, who plays Father Gabriel on
The Walking Dead,
was arrested for DUI, speeding and drug possession. Police officers reportedly pulled him over after recording his speed at over 100 miles per hour on Georgia Highway 74.
Police say Gilliam had a blood alcohol reading of .107, and they also found marijuana in a cigarette pack in his car.
CAPTAIN AMERICA: CIVIL WAR SETS UP AVENGERS: INFINITY WAR
05/04/15 @ 10:32 pm EST
Source:
Comicbook
| Categories:
Captain America
|
Comments
(0) |
E-mail Article
|
Add a Comment
The cast of
Avengers: Age of Ultron
spoke to MTV about the scale of
Captain America: Civil War
, which features enough characters to almost be considered an
Avengers
movie itself.
Star Chris Evans explained that there's a reason for that.
"It's to jump off into the next
Avengers
, the
Infinity War
s
.
So Cap 3 is going to be kind of the setup for the real battle," Evans says.
You can also see Jeremy Renner and Scarlett Johansson tease that they know which side of the Civil War their characters will be fighting for, and Chris Hemsworth and Mark Ruffalo look disappointed that they're not in the movie.
See the video here:
https://youtu.be/RcREVzT1Br0
Captain America: Civil War
opens May 6, 2016.
WHY DID [SPOILER] DIE IN 'AVENGERS: AGE OF ULTRON'? HERE'S THE SCOOP FROM MARVEL'S BOSS
05/04/15 @ 4:59 pm EST
Source:
MTV News
| Categories:
Age of Ultron
|
Comments
(0) |
E-mail Article
|
Add a Comment
When you walk into a superhero movie, you tend to feel pretty good about your main superhero walking out alive. But what about a superhero movie starring nine different heroes? Can they all save the day with their lives intact?

The answer is a very sad and very swift no, at least as far as "Avengers: Age of Ultron." Whether he likes it or not, director and writer Joss Whedon has a reputation for killing his darlings as a way to infuse his stories with stakes, and "Age of Ultron" was no different, thanks to the death of one of Earth's mightiest heroes.

Marvel producer Kevin Feige told MTV's Josh Horowitz all about why (SPOILER WARNING) Pietro "Quicksilver" Maximoff, played by Aaron Taylor-Johnson, had to die — smack dab in the middle of making his Marvel movie debut, no less! As heartbreaking as it is, Pietro's death makes complete sense once you hear Feige's explanation.

"It adds stakes to the ending of the film," he said, adding that it also serves as a way "to show repercussions to Ultron's actions, and also in a way to solidify Scarlet Witch's character, and Wanda's arc in the movie and where we'll see her in the next films."

Straightforward and simple enough, right? It probably doesn't hurt that killing Quicksilver in the Marvel Cinematic Universe also eradicates any confusion over the character's simultaneous appearance in Fox's "X-Men" franchise.

Feige adds that there were no ifs, ands, or buts about Quicksilver speeding away from "Age of Ultron" with a happy ending, either. He died in every draft of the film, according to Feige, even if Marvel went through some great lengths to preserve the surprise — like releasing drafts of the script with Quicksilver surviving all the way through the ending, to even filming a version of the ending with Pietro still alive.

"We even shot him standing with the team at the end," he says, "to prevent people from giving it away"