MARK WAID TO WRITE GREEN HORNET FOR DYNAMITE IN 2013!
10/08/12 @ 4:44 pm EST
Source:
Dynamite
|
Comments
(0) |
E-mail Article
|
Add a Comment
Mark Waid discusses his Dynamite Green Hornet relaunch at MTV Geek!
http://geek-news.mtv.com/2012/10/08/nycc-2012-interview-mark-waid-relaunches-green-hornet-for-dynamite/
"LIKE" DYNAMITE'S FACEBOOK PAGE TODAY!!!
http://www.facebook.com/dynamitecomics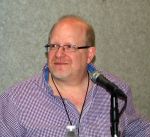 HIGHLY ANTICIPATED ROCKET GIRL #6 PREVIEW PAGES REVEALED
03/02/15 @ 9:18 pm EST
Source:
Image
| Categories:
Image
|
Comments
(0) |
E-mail Article
|
Add a Comment
Bestselling writer Brandon Montclare (Halloween Eve) and Eisner Award-nominated artist Amy Reeder (Batwoman, Madame Xanadu) return with the eagerly anticipated new story arc of their bestselling time-traveling adventure series in ROCKET GIRL #6. Image Comics is pleased to reveal early preview pages from the forthcoming issue, which will hit stores on May 6th.
In ROCKET GIRL #6, time-travelling teen cop DaYoung Johansson thinks she's closed the case—and destroyed her own world in the process. Now all she has to do is sit back in 1986 and watch the future unfold how it's "supposed" to...but growing up ain't easy. Unbeknownst to her, she's not the only person from the hi-tech alternate 2014 stuck in the '80s. And with the keys to the future in their hands, Quintum Mechanics isn't content to simply let time take its course.
ROCKET GIRL #6 arrives in stores this May 6th and will be available for $3.99. It can be pre-ordered using Diamond Code: MAR150510.
A MYSTERY ORBITS A DARK STAR IN ROCHE LIMIT
03/02/15 @ 9:14 pm EST
Source:
Image
| Categories:
Image
|
Comments
(0) |
E-mail Article
|
Add a Comment
Roche limit: in astronomy, the minimum distance to which a large satellite can approach its primary body without being torn apart by tidal forces. -Encyclopedia Britannica
The Roche Limit Colony lies at the cusp of an energy anomaly in the Andromeda Galaxy, and on top of a cache of an alien mineral deposit used to make the drug "Recall." It has become a magnet for greed, crime, a place where people disappear — both because they want to or someone else wants them to. In ROCHE LIMIT, VOLUME 1, the March graphic novel by Michael Moreci (HOAX HUNTERS, HACK/SLASH: SON OF SAMHAIN) and Vic Malhotra (The X-Files: Year Zero, Thumbprint), Sonya Torin wants to find one of those who have disappeared, her sister Bekkah, who came to Roche Limit to help Recall addicts.Sonya's only help on the corrupt, lawless colony in finding her sister is Alex Ford, a shifty drug manufacturer with his own set of pursers who are after his Recall formula. As the search for Bekkah leads Sonya deeper into Roche Limit's underbelly, they move ever closer to a burgeoning spiritual movement with the energy anomaly at its center."Both noir and sci-fi are perfect genres to employ for Roche Limit because both have deep underpinnings in existentialism/fatalism," said writer Moreci in an interview with Comic Bulletin. "I've always contended that the best sci-fi examines who we are as humans, particularly in the context of our social mores... Noir is similar, but a bit more personal…. I want to explore that intersection of existentialism and popcorn fiction as only genre fiction can."Artist Malhotra inhabits Roche Limit with weary denizens who move through a lived-in, often dilapidated and grimy setting. "I find it really tough to get my imagination going with stories set in sleek sci-fi settings. The sense of history is lost," he said in the Comics Bulletin interview. "That's why it's more fun to draw old buildings rather than new ones or an old tennis shoe rather than a brand new one."ROCHE LIMIT, VOLUME 1, the first book in a planned trilogy, will be in comic book stores on March 25 and in bookstores on April 7. It is available for pre-order now.
ROCHE LIMIT, VOLUME 1 by Michael Moreci and Vic Malhotra
ISBN 978-1-63215-199-5Diamond Comic order code DEC140688136 pages, paperback, full color$9.99Collects ROCHE LIMIT #1-5Rated Teen Plus (16 and up)In comic book stores March 25, bookstores April 7
BRAINIAC'S PLAN COMES TO FRUITION
03/02/15 @ 9:10 pm EST
Source:
DC
| Categories:
DC
|
Comments
(0) |
E-mail Article
|
Add a Comment
In THE NEW 52: FUTURES END #44, the final stages of Brainiac's plan come to fruition in this issue that leads directly into CONVERGENCE!
Brainiac is stealing New York, and the chances of inhabitant survival are basically zero. Can anything (or anyone - even Superman?) stop Brainiac? And what catastrophy will initiating 'defense protocol Sigma Five' cause?
The ripples of this story will literally be felt across the Multiverse.
Check it out in THE NEW 52: FUTURES END #44, written by Keith Giffen, Brian Azzarello, Jeff Lemire and Dan Jurgens and illustrated by Patrick Zircher, when it hits shelves this Wednesday.
WILSON FISK STEPS OUT OF THE SHADOWS IN NEW DAREDEVIL PHOTO
03/02/15 @ 9:05 pm EST
Source:
Marvel
| Categories:
Daredevil
|
Comments
(0) |
E-mail Article
|
Add a Comment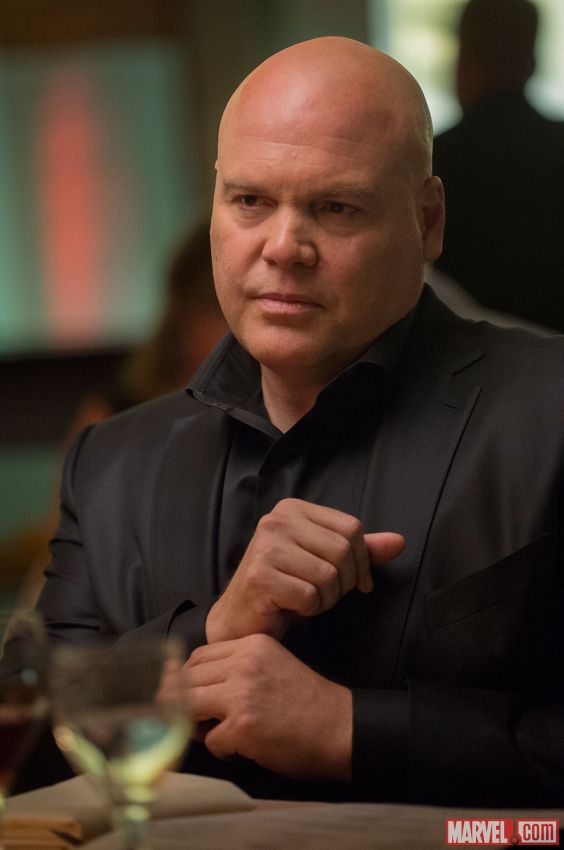 Fans only received a glimpse of Wilson Fisk's back in the first trailer for "Marvel's Daredevil," only on Netflix April 10, but now we can give you your first full glimpse at Vincent D'Onofrio in the iconic role directly above!
Matt Murdock will have his hands full dealing with Fisk as the two battle for the heart of Hell's Kitchen, and while you wait to see how that conflict unfolds we'll have even more sneak peeks for you in the coming weeks right here on Dynamic Forces!
MARVEL AND SONY'S 'SPIDER-MAN' WRITER AND DIRECTOR REVEALED
03/02/15 @ 9:02 pm EST
Source:
Latino-Review
| Categories:
Marvel
|
Comments
(0) |
E-mail Article
|
Add a Comment
Latino Review is reporting exclusively that Drew Goddard will not only direct the new Marvel/Disney/Sony Spider-Man film but he will also write it as well.
The publication states that there has been much reported on and some news neglected in recent weeks. Kevin Feige and the Marvel team will be producing the new series at Sony in what is envisioned as a three part series to come out over consecutive summers. There is talk about calling the series SPECTACULAR SPIDER-MAN after yet another Marvel comics series ala the last films being called "Amazing."
Feige was allowed to join the process only after Ike Perlmutter, Feige's boss and the man behind the curtain, insisted that former partner and one time friend Avi Arad be removed from the film series. Since Sony had installed Arad as a courtesy back in 2000 it was an easy removal legally. But since former Sony Studio head Amy Pascal made herself a producer on the film on the way out the door, there was reprtedly a lot of acrimony when Amy informed Avi he was out. Arad will receive an EP credit on the film and instead focus on making a feature out of GHOST IN THE SHELL without any Asian actors.
The thinking at the moment is that Sony will faze out all the Spidey Verse films they were developing. Yes even the Aunt May film (that was real!) and focus on a story involving Spidey versus the Sinister Six. At one point they were developing a film that was just going to be a spinoff called THE SINISTER SIX. That's scrapped but the big news is that the director of that film, the aforementiioned Drew Goddard, will write AND direct the Spectacular Spider Man movie.
Key things to look for in the new series
No new origin story, Spidey exists from the beginning, taken as a given
New actor, probably an unknown, he will be specifically based in High School and they want him to be able to grow up into the role. The thought being if this works, Spidey can do multiple trilogies for years ala Harry Potter.
A major part of the first film will involve Spider- Man fighting Iron Man and then trying to pass the "audition" to join the Avengers
The first film will involved the Sinister Six coming together with the thought to later maybe spin them off.
KORVAC SAGA #1 PITS GUARDIANS OF THE GALAXY VS. AVENGERS IN THE WARZONES
03/02/15 @ 8:43 pm EST
Source:
Marvel
| Categories:
Marvel
|
Comments
(0) |
E-mail Article
|
Add a Comment
This June, one of the Avengers & Guardians of the Galaxy's classic villains returns to the forefront in KORVAC SAGA #1 – a brand-new Secret Wars series! Fan-favorite writer Dan Abnett (Guardians of the Galaxy, Guardians 3000) and newcomer Otto Schmidt take you inside the mind of one of the Avengers deadliest, and most misunderstood foes. In the Forest Hills domain, Lord Michael Korvac governs over all, ruling with an iron fist. But not all is as it seems in his corner of Battleworld. Tensions run high with neighboring lord Simon Williams and his squad of Avengers. Full-scale war is all but assured. Korvac and his royal guard – the Guardians of the Galaxy – stand at the brink of destruction from within and without. Escalating border conflicts with rival lords and chaotic threats from beyond the Shield threaten all they hold dear. Worst of all, a dark madness is spreading through the population, twisting and manipulating residents of Forest Hills into monsters.

Now, the classic Guardians of the Galaxy – Major Victory, Starhawk, Charlie-27, Yondu, Nikki and young Geena Drake must track down the source of this evil before it corrupts Forest Hills and all of Battleworld! Deadly threats lurk at every turn, both internal and external as their kingdom stands at the precipice. Even if they stem the coming darkness, will they be strong enough to repel Wonder Man and his Avengers? The answers lie within True Believer when KORVAC SAGA #1 explodes into comic shops in June! KORVAC SAGA #1Written by DAN ABNETT
Art & Cover by OTTO SCHMIDT


On Sale in JUNE!
"WHY IS EVERYONE WEARING SWIMMING GOGGLES?" - DAVID AVALLONE ON LEGENDERRY: VAMPIRELLA #4
03/02/15 @ 3:57 pm EST
Source:
Bleeding Cool
| Categories:
Legenderry Vampirella
|
Comments
(0) |
E-mail Article
|
Add a Comment
The five-issue
Dynamite
series
Legenderry: Vampirella
is in comic shops now and
Byron Brewer
caught up with series writer
David Avallone
to talk about taking the iconic character and putting her in a whole new world… and the important question of "Why is everyone wearing swimming goggles?" Cover art by
Sergio Davila
.
BYRON BREWER: Just from the look of the May solicits, you HAVE to be having fun doing this book, David.DAVID AVALLONE:
I am. I'm glad it comes across. I'm trying to write a comic I would want to read. And I want to be entertained. I couldn't be enjoying it more.
BB: What has been the most rewarding part of teaming with artist David Cabrera (besides a sharing of same first name, that is)?DA:
David is great. I can't say that enough: I'm very lucky to have him on the book. The most rewarding part is that he frequently comes up with a visual approach that's more interesting and more imaginative than what I put in the script. It's like working with a great actor. You have in your mind what you think is the best way to play the scene, and then they do something fantastic you never saw coming.
BB: Tell us more about this "Bat-Man" that Vampi meets this issue, if you dare!DA:
The idea came organically (no pun intended): I've got Doctor Moreau as one of my villains. In the Wells book and our series, he creates human-animal hybrids. Well, how would a human/vampire (human/Draculon) hybrid turn out? It seemed like an opportunity to engage in a little cheap satire of certain famous caped crusaders. Additionally… as established by Bill Willingham, the Legenderry universe tries to bring all the Dynamite characters together in one continuum, so this is my twisted steampulp version of the Black Bat.
BB: It looks like you are having a blast writing Kurtz. What is it about this character that you find so enjoyable? Is he your fave character in this book?DA:
I don't think Kurtz is my favorite, but I do love him. He's a mashup of two epic, iconic characters, and in Chapter Four he finally gets to deliver a Kurtz trademark line in a very Kane setting. When I first saw the big Kurtz rally scene, as drawn by David C., it made me laugh out loud. I'm hoping some of the readers have the same reaction.As to my favorite character… I'd have to confess I've fallen for Vampirella. She's irresistible: a composite of all the strong no-nonsense women I've admired and loved my whole life. Second runner up might be Rupert of Hentzau, because he's a fearless coward. That's a fascinating thing.
BB: So I will ask you a question a young reader asked me at my LCS one week: Why is everyone wearing swimming goggles? (laughs)DA:
Believe it or not, this really bugged me and I put a lot of thought into it. I wanted a better explanation than "because Steampunk", and here's what I've arrived at. Fashion is rarely connected that strongly to function. Neckties, for example, have no actual function: they're a weird echo from an earlier time and we don't wipe our mouths on them, nor do we generally use them to display our clan affiliation. I think in the world of Legenderry, they're a fashion trend started by Flash Gordon. The quintessential spaceman crash lands wearing goggles, becomes the biggest celebrity in the world, and now everyone's wearing them. Because they're cool, and Flash Gordon wears them. Flash might have needed them once, but on everyone else they're just like a necktie, or a baseball hat worn backwards. No function, just a world of people who think they look cool.This explanation appears nowhere in the comic, by the way … but you asked, and now you know. That's why. Goggles are "in" right now.
BB: How this book remains adventurous and funny as well baffles me. Is it a thin line?DA:
That sounds like a compliment, and I'll take it. Thanks. I have very little patience for books, movies, comics, plays, anything that is completely without humor. Because that's just not my experience of life, or the world. When I think of some of the worst things that have ever happened to me… there was always some part of it that was funny, even if it was bleakly funny, gallows humor. I find people who aren't funny to be terribly dull, and I get bored writing them. I like the style you find in movies from the thirties, where even the most minor character would get off at least one great, funny, clever line. I think that's more entertaining. Purely realistic dialogue is highly overrated, but the tricky part… the thin line… is making the dialogue smart and funny and yet still feel real. That's what I aim for, anyway.
DF NEWS' BYRON BREWER VISITS THE WIZARD'S DEN OF FRANK THORNE
03/02/15 @ 3:49 pm EST
Source:
Bleeding Cool
| Categories:
MIsc
|
Comments
(0) |
E-mail Article
|
Add a Comment
Dynamite
has released the
Frank Thorne's Red Sonja Art Edition Vol 2
hardcover earlier this month and
Byron Brewer
got the opportunity to visit with the legendary artist about the work and his career. This is the transcript of Byron's visit to
Frank Thorne's
studio.
FRANK THORNE:
Welcome to my studio, Byron.
BYRON BREWER: It's an honor, Mr. Thorne.FT:
Please, call me Frank. Would you like coffee? Tea?
BB: A Sprite if you have it.FT:
(Calls down to wife Marilyn in the first floor kitchen). Two Sprites. I'm an alcoholic, but I've been off the sauce for many years. I went cold turkey. But it's wise to keep this in mind: Once an alcoholic always an alcoholic.
BB: I admire your openness on the subject.
FT:
I stopped when I began my big art period, that's when I started painting on canvas, some are very large, as you see they're stacked against the walls here in the studio and the adjoining computer room and the storage room.
BB:Your work area rooms are surprisingly small.FT:
None are larger than ten by twelve feet, one's even smaller.
BB:The variety of your big art is amazing, here's a huge action painting next to a sizable drip painting.FT:
The subjects vary, most are fantasy images; eerie landscapes, some are my linear renditions of works by my favorite artists. None were spared, I've done some Picassos, Van Goghs, you name it. You can learn a lot by actually painting in the masters style. I've done upwards of 300 paintings, most of them are stacked in the cellar. I ran out of room up here.
BB:In the hall gallery, the big one next to the Sonja painting is impressive.FT:
That's N.C. Wyeth's Blind Pheu. I painted it the same size as his original; his paintings were very large. N.C. was the father of American illustration.
BB: Are you painting any warrior women these days?FT:
Having left my big art period behind, I've been painting a new series; large versions of all the covers of my Red Sonja, Ghita, and my erotic books. Most are twenty-four by thirty inches. Let's have a look.(We move into storage room)
BB:This is quite a collection!FT:
Twenty and counting, I'm preparing for my first one-man show at the Illustration House Gallery in Manhattan, Most of my run of Sonja originals will be on view. Plus Lann, Moonshine McJugs, and the rest of my paper ladies
.
BB:That's quite a cast of characters.FT:
They all have their roots firmly in the great craftsmen of yore. Let's start with Alex Raymond and Harold Foster, they ruled in my generation. I was a Raymond clone in my teens. I did several pulp magazine illustrations in the late 40s. Inexcusably bad. But, as luck would have it, I walked in to King Features with crude samples of some of the comic book work done while I was attending Art Career School atop the Flatiron Building in Manhattan.
BB: And they handed you the Perry Mason daily and Sunday strip!FT:
Bingo! Whatta way to start in this racket. I was making 250 bucks a week, which in today's money is like 2000. We bought a house and a brand-new canary-yellow Chevy convertible. Marilyn and I were just married and 21 years old.
BB:A daily and Sunday strip, that's a lot of work for one person.FT:
It nearly killed me. After two years, of a sudden, William Randolph Hearst died. Earl Stanly Gardner was a bud of Hearst, and the Mason strip had a dwindling number of papers, so the King honchos trashed series. I went over to Western Printing and did Flash Gordon, Jungle Jim, Tom Corbett, Space Cadet, even a couple of Lone Ranger books.
BB:Then came Dr. Guy Bennett.
FT:
I did the good doctor for the Lafave Syndicate. Seven important years. It was in this period that I really started moving away from the Raymond Style. I'm still evolving, 60 years later.
BB:You did commercial illustration during that time period.FT:
A whole bunch. Mostly for the old Bell Telephone Company, now Verizon. I did a series of Tel-News illos, tat gig was the top-paying gig in Jersey at that time: 800 per, think of it in today's money.
BB:Mighty Samson entered your life in the 60's.FT:
Sixty-four. Smelly San was hatched at Gold Key, with the great Otto Binder scripting. It was my first opportunity to design all the characters and create a world of my own, it wasn't the last. Meanwhile, I was doing a lot of titles over at DC: Tarzan, Son of Tarzan, Hunter's Hellcats, Twilight Zone, Boris Karloff Presents assorted others then Tomahawk, Hawk, Son of Tomahawk, Korack, Son of Tarzan, and then Red Sonja, daughter of none.
BB: Kismet!FT:
The rest is writ in the stars. Our lives were changed forever, and I want to thank Roy Thomas for making Sonja a superstar. Sonja opened the doors of National Lampoon, Heavy Metal. Hustler, Vanity Fair, High Times, and Playboy.
BB:Of all those creations, which is your favorite?FT:
Moonshine McJugs, my full-page color comic for Playboy. In 1980 Michelle Urry, the cartoon editor, called me and asked if I would like to contribute to Hefner's magazine. Out popped Moon. Hef bought the sample and ran it. It was the beginning of a 20-year run.
BB:You did full-page gags as well.FT:
Yep, and I won the Playboy Oscar for the best comic in '83. Coming up with a funny gag with a continuing cast on a single page is a challenge. Writing humor is serious business. Linda Correll, my muse, sometime mistaken for my model (I don't use models, I draw what's in my head. That's the difference between illustrators and cartoonists. Cartoonists can't afford models, they draw from their imaginations), performed on the Playboy Channel, doing both Moonshine and Ghita of Alizarr.
BB:What role did you play on the show?
FT:
I was Uncle Zit opposite Moon, and the Wizard opposite Ghita I scripted the show using gags from the magazine series. We, Marilyn and myself, owe a great debt to Hugh Hefner, He tand Michelle Urry treated us like family over the years.
BB:Here we are with book two of the Red Sonja Art Editions, we'd be interested in your opinion so far.FT:
Well done! You do good work. We'll see that all our children (4) grand-children (10) and great-grandchildren (5) receive a copy of each!
BB:And thank you, Wizard for allowing me into see the Wizard
FAITH NO MORE BRINGS 'SUPERHERO' TO MARVEL
03/02/15 @ 3:19 pm EST
Source:
Marvel
| Categories:
Marvel
|
Comments
(0) |
E-mail Article
|
Add a Comment
It's been 18 years since Faith No More last released a studio album--1997's "Album of the Year." Soon, the wait for new music will be over, as FNM delivers "Sol Invictus" on May 19, 2015. With it, comes a deeper touring schedule and much, well-deserved, hype.
The announcement was first made on Marvel.com. Why?
First off, the song is titled "Superhero." Methinks Marvel knows a bit about super heroes. Secondly, Faith No More bassist Bill Gould grew up reading Marvel comics, with his love for Silver Surfer and the art of Jack Kirby being key.
Cool, eh?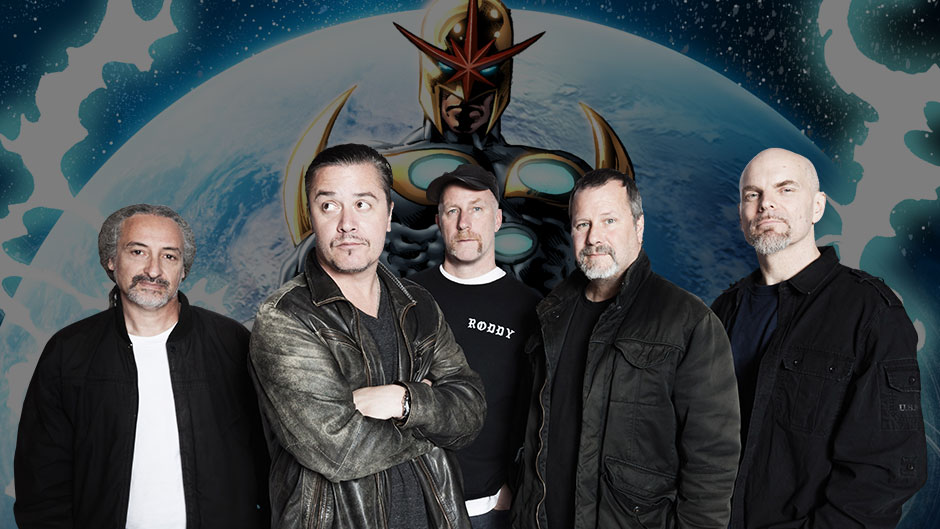 BATTLEWORLD'S BRIGHTEST TEENS ARE NOW – RUNAWAYS!
03/02/15 @ 3:09 pm EST
Source:
Marvel
| Categories:
Marvel
|
Comments
(0) |
E-mail Article
|
Add a Comment
This June, a cult-favorite comes to Battleworld in
RUNAWAYS #1
– a brand new
Secret Wars
series! Rising comic stars Noelle Stevenson (
NIMONA, Lumberjanes)
and Sanford Greene (
Uncanny Avengers)
bring you a new twist on a modern Marvel classic that's sure to appeal to
Runaways
fans old and new!
The best and brightest teens from all corners of Battleworld are hand-picked to attend the most prestigious academy on the planet's capital. Yet not all is as it seems within these hallowed halls. This esteemed educational establishment may just be grooming the next generation of super villains!
What happens when the new class learns they're on the fast track to evil and their headmaster is a diabolical super villain? RUN AWAY!
"Noelle and Sanford have come up with a fun cast of alternate reality versions of some fan-favorite characters (including original Runaway Molly Hayes!), plus a few new characters who we're really excited about," said editor Wil Moss. "It's a different take on
RUNAWAYS
, for sure, but that same fresh, adventurous, character-driven spirit of the original series remains the same!"
Now, teenagers Molly Hayes, Jubilee, Bucky Barnes, Cloak & Dagger, Amadeus Cho, Skaar and a few new faces are striking out on their own -- taking on Battleworld, learning to deal with each other, and learning to deal with themselves. Enter the world of a Secret Wars story unlike any other when Stevenson and Greene bring you a new spin on the Runaways this June in
RUNAWAYS #1
!
RUNAWAYS #1 Written by NOELLE STEVENSON
Art & Cover by SANFORD GREENE
Variant Cover by PHIL NOTO
On Sale in JUNE!