MARK WAID TO WRITE GREEN HORNET FOR DYNAMITE IN 2013!
10/08/12 @ 4:44 pm EST
Source:
Dynamite
|
Comments
(0) |
E-mail Article
|
Add a Comment
Mark Waid discusses his Dynamite Green Hornet relaunch at MTV Geek!
http://geek-news.mtv.com/2012/10/08/nycc-2012-interview-mark-waid-relaunches-green-hornet-for-dynamite/
"LIKE" DYNAMITE'S FACEBOOK PAGE TODAY!!!
http://www.facebook.com/dynamitecomics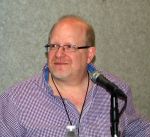 THE WONDER WORLOCK FACES 'THE GHOST SHIP OF ABELL 520'
10/31/14 @ 1:32 am EST
Source:
ISSUU
| Categories:
Nova
|
Comments
(0) |
E-mail Article
|
Add a Comment
Dynamic Forces'
own humble interviewer,
Byron Brewer,
has a special ghost story for you this Halloween, featuring his longtime space wizard character,
The Wonder Worlock!
This cosmic creep trip aboard an apparently derelict starship harkens back to "the things that go bump in the night." Rarely is the Dark Mage uncertain of things, but he is literally lost in space as we join him in his battle with forces beyond his knowledge … or are they?
"The Ghost Ship of Abell 520" starring The Wonder Worlock is written by Brewer with art by
Art Lenn, Raz Xion
and
Darren Blackburn
.
All this is part of a Halloween Special edition of
Nova 619,
the online comic done by Nova fans for Nova fans from around the globe, all working for free for the love of Richard Rider and his cosmic capers.
Nova 619 is a webcomic, heralded into shape by
Darren Blackburn
and ably supported by a cadre of Nova Cadets who are devoted Nova/Marvel Cosmic fans -- most of whom hang out at the Nova Prime group at
Deviant Art.
Set in the post-war cosmic landscape after the original ground-breaking Marvel Comics event,
Annihilation
, the webcomic charts a different path for Richard Rider, the last Nova Centurion, taking dangling concepts from
Annihilation
and weaving them into a new path for the Human Rocket to travel down, opening up new stories as well as exploring those "missing pieces" that flew out of the Annihilation War.
Featured alongside Richard 619 (named thus since the Marvel U. has been designated as 616) are some familiar faces: Peter Quill returning as Richard's right-hand man, Emperor Ronan, Gamora, and few favorites from the United Front, some characters from the distant Marvel Cosmic past as well as new original characters, heroes and villains, planets and locations -- all created by the 619 team, who literally span the globe from the Scottish highlands to the tip of the Australian islands.
And for those that know their Nova history, some returning characters from the halcyon days of the 1970s, as well as storylines down the way to try and flesh out Xandarian history.
Since the publication of
Guardians of the Galaxy
#20, we know the fate of Richard Rider 616. But there is still a light burning bright in Universe 619, and Blackburn and team invite you to join us monthly or thereabouts on the
Nova Prime Page
, ISSUU and a growing number of sites.
The
Nova 619 Halloween Special --
and
The Wonder Worlock
(not a part of 619, but closely associated with the brand) can be seen
by clicking here.
Look for the 619 each month (or thereabouts). Like our Nova 619 salaries, it costs nothing!
THE WONDER WORLOCK by artist Sash Scott/Concept by Byron Brewer
"I AM VIBRATING WITH EXCITEMENT AND FEAR…" – NATE COSBY TALKS PRINCE VALIANT
10/30/14 @ 9:09 pm EST
Source:
Bleeding Cool
| Categories:
King Prince Valiant
|
Comments
(0) |
E-mail Article
|
Add a Comment
The man behind the relaunch of the
Gold Key
comics for
Dynamite, Nate Cosby,
is going to be writing the new take on
Prince Valiant
as part of the
King Features
launch next year.
Byron Brewer
chatted with Cosby about the project and the character.
BYRON BREWER:
First of all, Nate, I would like to congratulate you on the success of the Gold Key comics, which you edit and package. How does it feel to be part of the rebirth of an iconic comic book universe like Gold Key?
NATE COSBY:
Thanks! It's been a blast. I got to bring in my buddies Greg Pak and Fred Van Lente, got to meet and work with the talented Frank Barbiere, and it's always an honor anytime y'get to work with Mark Waid. And Mirko Colak, Cory Smith, Roberto Castro, Joe Bennett and Jonathan Lau and several other artists, the colorists and letterer Marshall Dillon, everybody's been doing great work. I had no real previous knowledge or experience with the Gold Key characters, but I think sometimes it's good to have fresh eyes on pre-existing characters, and try to recognize what makes characters and worlds tick, what still works, what can be trimmed from history to make the stories seem modern but timeless. Always a fun challenge, especially when you get to work with talented collaborators. I'm very lucky that Dynamite entrusted us with Gold Key.
BB:
And now you are participating in this celebration of the 100th anniversary of King Feature Syndicate with Dynamite. Can you tell me how you became involved?
NC:
I'm also the packager/editor of the
Kings Watch
miniseries and the current
Flash Gordon
series, and when Dynamite told me that more characters in the line might be available, I was foaming at the mouth with excitement. I LOVE all these King characters, and have since I was a kid. We've got an excellent opportunity to build and expand the new King line, with the same sense of fun and whimsy established by Jeff Parker, Marc Laming, Jordan Boyd, Evan Shaner, Jordie Bellaire and Simon Bowland in
Kings Watch
and
Flash
.
BB:
You will be writing the 4-issue mini-series saluting Prince Valiant. Was this your selection, and if so why this character?
NC:
Yeah, I was going through the casting process, first by reading some old King comics …like 1930s old. I kept looking through the old
Prince Valiant
strips, and all these memories of reading them as a kid in the Sunday paper came rushing back, and I looked at this one particular shot of Valiant and just thought, "Val." I felt shorthand with the guy, and I understood what his goals and weaknesses and strengths were. And then I figured out how he's gonna ultimately meet up with the rest of the King characters, and from there I felt I could handle the story.Of all the characters, The Phantom is probably my favorite…but Val's the one I can relate to the most.
BB:
Tell us your interpretation of this iconic newspaper comic strip and comic book hero.
NC:
Val's an orphan. A son. A spy. A liar. A hero. A bragger. A prince. A peasant. Brash. Insecure. Resolute. And he will dare ANY adventure.
BB:
What type of swashbuckling derring-do will be going on in this storyline?
NC:
By Page 2 of Issue #1, Val will already be hip-deep in trouble. He can't stop fighting for some reason. There'll be Vikings and savage Britons and lizards and witches and knights and thieves and wizards and demons and pretty much everybody Val meets wants to take a swing at him. And he's happy to reply in kind.
BB:
Tell us a little about the "big-bad" in the mini.
NC:
No way! That'd be cheating. I will say that Val's gonna have his Singing Sword out a LOT. He's from the times of King Arthur and the Knights of the Round Table. Plenty of quests and villains for Val to lay low with a grin on his face.
BB:
Are you looking forward to working with artist Ron Salas?
NC:
No. I am VIBRATING with EXCITEMENT and FEAR to be working with Ron Salas. I've worked with him a little in the past, and always been a fan. He's unbelievably great at picture-drawing. But I really think this is his best work ever. I'm sweating bullets every time I send script to him, worried he's not gonna like it. But he's been turning in some gorgeous, gorgeous pages.
BB:
I cannot even imagine how Prince Valiant's book will dovetail with the rest of the King crew in a crossover at the end. Can you enlighten?
NC:
I can say…if you pick up the
Flash Gordon
Annual, you'll get a glimpse of how Val might be meeting up with the rest of the King's heroes…and who he might be picking up as a sidekick along the way.
'BIG HERO 6' COMIC PRICES TESTING MARKET AS DISNEY PLANS MERCH BARRAGE
10/30/14 @ 8:54 pm EST
Source:
ICv2
| Categories:
MIsc
|
Comments
(0) |
E-mail Article
|
Add a Comment
In the lead-up to the November 7th debut of the Big Hero 6 movie, comic prices on the (sort of) source material are testing the market, even as the first new movie-based products hit the shelves.
CGC 9.8 prices for the 1998 Sunfire & Big Hero Six #1 (1 of 3) by Scott Lobdell are at around $450 and up on a variety of sites. Non-certified copies of the first issue start at $64.99 on Amazon, or 24.99 on eBay. Even the more recent 2008 Marvel Comics' miniseries written by Chris Claremont, with art by David Nakayam, is commanding relatively high prices for comics from the period. Big Hero 6 #1 (of 5) starts at $46.00 on Amazon, $45.00 on MyComicShop.com, $34.20 on MileHighComics.com and $34.99 on ebay.
JACK KIRBY COMIC CHARACTER CREATOR CREDIT
10/30/14 @ 8:51 pm EST
Source:
ICv2
| Categories:
Marvel
|
Comments
(0) |
E-mail Article
|
Add a Comment
A Kirby creator credit is now appearing on the title pages of Marvel publications. It seems likely that this credit is an outcome of the settlement of litigation between Marvel and the Kirby heirs.
The announcement at the time said that Marvel and the Kirby family were "…looking forward to advancing their shared goal of honoring Mr. Kirby's significant role in Marvel's history."
No formal statement about the new credit line from either party was made,
DIGITAL FRIGHTS FOR HALLOWEEN
10/30/14 @ 8:37 pm EST
Source:
Avatar
| Categories:
MIsc
|
Comments
(0) |
E-mail Article
|
Add a Comment
Every Halloween millions of pop culture fans go out in search of the best movies and comics with a spooky edge. This year, Avatar makes it easy to get your fright fix with an exclusive bundle of zombie comics to whet your appetite for the undead. For a limited time through Halloween night Night of the Living Dead fans can feast upon this incredible package of 69 digital horror filled classic comics for a
houlishly good price at ComiXology:Black Gas #1-3Black Gas 2 #1-3Escape of the Living Dead #1-5Escape of the Living Dead: Airborne #1-3Escape of the Living Dead: Fearbook
Night of the Living Dead #1-5Night of the Living Dead: Aftermath #1-12Night of the Living Dead: Death Valley #1-5Night of the Living Dead Specials – 2008 Annual, 2011 Annual, Back From the Grave, Hunger, Just a Girl, New York
Plague of the Living Dead #1-6Plague of the Living Dead: FearbookThis bite sized bundle is 61% off the standard digital price for a creepy $49.99 worth of shambling dead goodness. You can walk away with the Halloween sale by visiting this ComiXology link: https://www.comixology.com/Avatar-Zombies/page/3726
COMIKAZE EXPO 2014 TAKES OVER THE LOS ANGELES CONVENTION CENTER
10/30/14 @ 8:22 pm EST
Source:
IDW
| Categories:
IDW
|
Comments
(0) |
E-mail Article
|
Add a Comment


Come see IDW at Comikaze Expo 2014 this weekend! We will be loaded up with your favorite titles and guest signings at Booth #1013.

Signing Schedule

Fri. 10/31 (Show hours: 1pm – 7pm)

2:00 – 3:00 America's Army – M. Zachary Sherman (*Check out the exclusive giveaways!)

3:00 – 4:00 Blaze Brothers – Marat Mychaels

4:00 – 5:00 Transformers – Livio Ramondelli

Sat. 11/1 (Show hours: 9am – 7pm)

12:00 – 1:00 Samurai Jack – Andy Suriano

1:00 – 2:00 Amelia Cole – D.j. Kirkbride

2:00 – 3:00 Edward Scissorhands – Drew Rausch

3:00 – 4:00 America's Army – M. Zachary Sherman (*Check out the exclusive giveaways!)

4:00 – 5:00 My Little Pony – Agnes Garbowska, Tony Fleecs

5:00 – 6:00 Godzilla: Rulers of Earth – Chris Mowry

Sun. 11/2 (Show hours: 9am – 5pm)

11:00 – 12:00 America's Army – M. Zachary Sherman (*Check out the exclusive giveaways!)

1:00 – 2:00 My Little Pony – Tony Fleecs

2:00 – 3:00 Godzilla: Rulers of Earth – Chris Mowry
ICE REACHES CRITICAL MASS IN 12-GAUGE MINI
10/30/14 @ 8:09 pm EST
Source:
12 Gauge Comics
| Categories:
MIsc
|
Comments
(0) |
E-mail Article
|
Add a Comment
After being ambushed while conducting an investigation in a small Montana town, ICE agents Cole and Ezra escape to the safety of a deserted hunting cabin.
While doing recon, they discover helicopters, dead pilots, and a radiation badge in the dead pilot's hand. Cole and Ezra realize this has just become much more serious than drugs; terrorists have smuggled nuclear materials across the American border...
ICE: CRITICAL MASS #3 (of 4)
Writer: Doug Wagner
Artist: Daniel Hillyard
Colorist: Charlie Kirchoff
Cover Artist: Jason Pearson (Covers A and B)
$3.99 24 pgs. T+ On sale JANUARY 14
AMAZING SPIDER-MAN: RENEW YOUR VOWS #1 – SUMMER 2015
10/30/14 @ 8:02 pm EST
Source:
Marvel
| Categories:
Amazing Spider-Man
|
Comments
(0) |
E-mail Article
|
Add a Comment
And again! At this rate, we're going to be seeing a never-ending tease of images from Marvel for whatever they're planning in the summer of 2015.
Today, we get a tease for The Amazing Spider-Man: Renew Your Vows for Summer 2015. The art is done by Andy Kubert and features Spider-Man, Mary Jane, and their child.
SPECIAL UNANNOUNCED FINAL ROCKET RACCOON & GROOT VARIANT OF 2014 IS COMING
10/30/14 @ 4:41 pm EST
Source:
Marvel
| Categories:
Rocket Raccoon
|
Comments
(0) |
E-mail Article
|
Add a Comment
They're already invading your favorite comic book titles this November, bringing with them the best and brightest talent in the comic industry. Today, Marvel is proud to announce that the breakout comic book characters of the year – Rocket Raccoon & Groot are coming to one additional, previously unannounced cover in December! That's right, December's
SPIDER-WOMAN #2
will get the last Rocket Raccoon & Groot variant of the year, courtesy of legendary artist Simone Bianchi!
"We were totally overwhelmed by the response to the Rocket Raccoon & Groot variants when we released them last month," says Marvel SVP Sales & Marketing David Gabriel. "When Simone Bianchi said he wanted to do one too, we couldn't resist! We couldn't be happier with the stunning cover he turned in."
Rendered in Simone Bianchi's unique style, this previously unannounced variant provides a classic homage to the iconic cover to Amazing Spider-Man #129 – starring everyone's favorite Guardians of the Galaxy! Marvel urges retailers to check their orders on the final Rocket Raccoon & Groot variant of the year when
SPIDER-WOMAN #2
hits comic shops in December!
SPIDER-WOMAN #2 ROCKET RACCOON & GROOT VARIANT (SEP148238)Written by DENNIS HOPELESS
Art by GREG LAND
Cover by SIMONE BIANCHIFOC – 11/24/14, On-Sale – 12/17/14
DF REVIEW: GUARDIANS OF THE GALAXY #20
10/30/14 @ 12:01 pm EST
Source:
Dynamic Forces
| Categories:
Guardians of The Galaxy
|
Comments
(0) |
E-mail Article
|
Add a Comment
By BYRON BREWER
Despite all the usual Bendis-bashing on line,
Guardians of the Galaxy
#20 – the third issue of an
Original Sin
tie-in that revealed the true fate of Richard Rider and others in the Cancerverse – gave Nova a respectable and honorable "death" and also recalled just the right amount of story threads from
Nova
and
Thanos Imperative
to warm the heart of at least this Marvel Cosmic fan.
We have been wondering why we had a snot-nosed kid in a version of a Nova costume – away from Marvel editorial and in the reality of the 616 – and now we know where Richard has gone.
Loved the art this issue, and in the entire trilogy, this time shared by Ed McGuinness (sadly leaving these pages) and Valerio Schiti (welcome aboard). Expressions were right, even Rocket and Groot, and we had some wonderfully angular shots during the pulse-pounding battle scenes.
The final shot of Gamora harkened back in homage to the Vision in
The Avengers
' "Even an Android Can Cry." Classic!
I for one am thankful for this story so now we can tuck DnA into the "great memories" category that holds Thomas, Buscema, Colan & Palmer, King Kirby, Ditko, and perhaps Starlin himself, and move on.
C'mon, "Planet of the Symbiotes" and "Black Vortex"! And thank you, Brian, for a great trio of tie-up tales.