GARTH ENNIS TALKS THE END OF THE BOYS!!!
09/26/12 @ 2:01 pm EST
Source:
Dynamite
|
Comments
(0) |
E-mail Article
|
Add a Comment
Garth Ennis says goodbye to The Boys in a two-part feature at Comic Book Resources!
http://www.comicbookresources.com/?page=article&id=41185
http://www.comicbookresources.com/?page=article&id=41200
"LIKE" DYNAMITE'S FACEBOOK PAGE TODAY!!!
http://www.facebook.com/dynamitecomics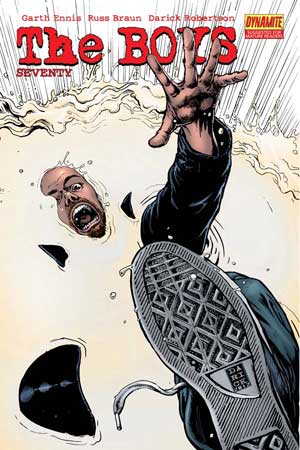 NYCC '15: DARK HORSE ANNOUNCES NEW LONE WOLF AND CUB, AND MARIKO TAMAKI ON TOMB RAIDER
10/09/15 @ 1:52 am EST
Source:
Bleeding Cool
| Categories:
Dark Horse
|
Comments
(0) |
E-mail Article
|
Add a Comment
At the Dark Horse Creators: Crafting the Original Story panel, Dark Horse announced a new Lone Wolf and Cub in 2016 in January, from Eric Heisserer, and Mighel Sepulveda.

They also announced Mariko Tamaki on Tomb Raider in February 2016.

Earlier in the week, the Sin City Curator's Collection was announced, and Steve Sunu clarified that it will be composed of "original scanned in art, nothing from reproductions, scanned in to the size in which he drew them". This is coming out in 2016 in conjunction with Kitchen Sink Books, and this will be their new line of books, 'The Curator's Collection'.

Sunu also confirmed that Dark Horse does have the rights to the Moebius Library and they are working closely with the estate.
NYCC '15: TITAN ANNOUNCES ASSASSIN'S CREED 'TEMPLARS' COMIC
10/09/15 @ 1:42 am EST
Source:
Bleeding Cool
| Categories:
MIsc
|
Comments
(0) |
E-mail Article
|
Add a Comment
A new ongoing comic series has been announced Thursday at NYCC called
Assassin's Creed: Templars
at the Assassin's Creed/Titan Comics panel.
Written by
Fred Van Lente
, the new series will show the Assassin-Templar war from a new perspective. Not much info has been released about the characters or plot but it will follow a Templar known as Black Cross in 1927 Shanghai.
The new series will launch in March of 2016The news accompanies the launch of
Assassin's Creed
#1.
NYCC '15: MARVEL HOUSE OF IDEAS PANEL DISCUSSES DIGITAL COMICS, PODCASTS AND MORE
10/09/15 @ 1:38 am EST
Source:
Bleeding Cool
| Categories:
Marvel
|
Comments
(0) |
E-mail Article
|
Add a Comment
The panel was hosted, as ever, by
Ryan Penagos
,executive editorial director of
Marvel Entertainment
's Digital Media Group. Also there was
Jordan D. White
, playing music for us even while we wait for VT to be set up, including an interactive rendition of the Imperial March and the 90s
X-Men
theme. The panel was rounded out by
Danielle Campbell
,
Ben Morse
,
Gabe Frizzera
,
Fabian Nicieza,Bill Rosemann
, and
Mike Jones
.
The hour started with a look at the scope of the digital side of the Marvel operation, including Unlimited, Infinite, games and more.
Campbell asked for hands raised for those who read digital comics and pointed out she loved that as each time she asks more and more people lift their hands to the air. She talked a bit about the Marvel Unlimited app, and how useful it can be to new readers and those wanting to try new series, by making suggestions based on what you've read. She also mentioned that the panel by panel reader has been upgraded and should work much better, which Penagos further elaborated as something that has come about by listening to the readers.
Penagos discussed how the idea of their digital comics plan is to create new readers who then go and buy books in print, supporting brick and mortar stores.Unlimited Plus was talked about, as being all the usual Unlimited benefits PLUS 'a box of awesome stuff'. They pointed out that you can sign up online and at the Marvel booth during NYCC. They also discussed a special panel just for PLUS members, though Penagos did point out that he has conflicting information for when that is, which seems common at this NYCC.
One of Campbell's roles is to expand comics readers, and how to get kids into comics, and there's special events and deals for kids coming up to bring them into comics, as they will all be free.Marvel games were next. They showed a slide listing all their games, which is an impressive amount now, including
Disney Infinity, Lego Marvel's Avengers, Puzzle Quest, Contest of Champions
and
Spider-Man Unlimited
to name but a few. For the latter, they announced Spider-Ham will be as a new addition, including various iterations of Spider-Ham, all silhouetted out, but seeming to include a Carnage Spider-Ham among others.All New Wolverine (X-23) and Old Man Logan will be coming up for
Puzzle Quest,
which will be the first Marvel games appearance of Laura Kinney in her new costume, and we'll also see a Totaly Awesome Hulk in
Puzzle Quest
, coming out in the game before the comic is out.
Puzzle Quest
will also be coming to console systems later in the year.
Marvel Future Fight
was next, and includes the first major TV integration in Marvel Games of
Agents of SHIELD
content, including Coulson, Sif, Mockingbird, Quake and Deathlok among others. Two story chapters written by
Peter David
, nine new characters and four levels included. Ward, Raina and Lincoln will also be in game. It's not a retelling of the show, but an original story.
Launched ten months ago, Frizzera talked about the popularity of
Contest of Champion
, and new characters coming to the game like the Jane Foster Thor, Venom and Spider-Gwen. They talked about how the comic was born, inspired by the game, itself inspired by the original three issue mini-series from years ago. Rosemann talked about the touchpoints between the game and new comic, making readers wanting to get the game and players wanting to read the book. The Joe Fix-It redesign was shown, and Frizzera talked about how they approached it as ' what if Don Draper became the Hulk'.Frizzera talked about how they want the characters they include to feel authentic to fans. They showed off Guillotine, who is a new character added through the game and new comic, as a legacy character with a enchanted blood-thirst sword.
Art was shown, which was in fact done by Frizzera. Penagos called out for some Guillotine cosplay for next year. They showed a trailer for Act 4, titled 'Rebellion'.
Lego Marvel's The Avengers
was next, there'll be a lot of awesome announcements and reveals at their own panel tomorrow, and the game is playable at the Marvel booth. The game expands both from the films and the comics. There may in fact be giveaways too.
Disney Infinity
was up next, as 3.0 is recently released, the first four-player game experience in Infinity. Hulkbuster and Ultron will be new characters released in November, along with the Battlegrounds playset including a Civil War Captain America…they then showed a brand new trailer only finished an hour prior to the panel.
The game is looking impressive and should have fans excited. The game will be shown live at the Disney Infinity panel.Beginning last week and every other Friday, there will be a Your Man at Marvel discussion on Marvel.com with Rosemann all about Marvel Games. He teased that there will be a ton of announcements over the next two years.New footage was shown from
The Watcher
and
Marvel Super Heroes: What the–?!
, the stop-motion animation series involving Marvel action figures. The new episode showed what happens to all the other Avengers after the All New, All Different team is introduced, which is actually really funny, so well worth checking out.
They talked about their podcasts including a
Women of Marvel
podcast, which got a few whoops. There will also be theme songs for the podcasts
This Week in Marvel
and
Women of Marve
l, coming soon.Turn to Infinite Comics, the group talked about how they make comics which really only work in the digital format, creating a new and enhanced reading experience. The next title is
Deadpool & Cable: Split Second
, which will involve Cable getting a premonition of Deadpool assassinating someone. It will also feature a sequence which will read as one story going one way, but a different story in reverse. They discussed how Infinite Comics allows creators to use really interesting story techniques and tricks you can't do in a standard comic. (Source: Bleeding Cool)
NYCC '15: BOOM! STUDIOS ANNOUNCES POWER RANGERS ARTIST, STEVE ORLANDO WRITING BACK-UPS; AND THE LAST CONTRACT
10/09/15 @ 1:27 am EST
Source:
Bleeding Cool
| Categories:
MIsc
|
Comments
(0) |
E-mail Article
|
Add a Comment
At its Thursday afternoon panel for NYCC, BOOM! Studios announced that artist Hendry Prasetya will be joining writer Kyle Higgins in 2016 for a new POWER RANGERS comic; and writer Steve Orlando (DC's Midnighter) will be writing back-up stories focusing on the characters Bulk and Skull.
Also, writer Ed Brisson (Cluster, Marvel's Secret Avengers) and artist Lisandro Estherren are collaborating on a new series entitled The Last Contract, about a retired hitman known as "The Man" who's trying to keep from being pulled back into the business he left behind.
NYCC '15: GRUMPY CAT WOWS FOR DYNAMITE
10/09/15 @ 1:22 am EST
Source:
Bleeding Cool
| Categories:
Dynamite
|
Comments
(0) |
E-mail Article
|
Add a Comment
Neil Gaiman does't get this crowd. Or Joss Whedon, Or George RR Martin
But Dynamite has a new comic book out this week. Grumpy Cat. Which meant a certain feline made her NYCC debut…
…and the crowds lost their minds.
TYNION & DIALYNAS' "THE WOODS" HEADS TO TELEVISION
10/09/15 @ 1:10 am EST
Source:
Comic Book Resources
| Categories:
MIsc
|
Comments
(0) |
E-mail Article
|
Add a Comment
James Tynion IV and Michael Dialynas' BOOM! Studios series "The Woods," which follows the students and staff of a prep school after they aretransported to another planet, is headed to television. According to The Hollywood Reporter, Universal Cable Productions has secured the rights to adapt the series.
In the series, 437 students, 52 teachers and 24 additional staff members disappear from theirpreparatory high school in suburban Milwaukee.Transported light years away in the primordial forest of another planet, the stranded school faces danger around every turn.
"The Woods" was Boom!'s best-selling comic of 2014. It continues to be the company's second most popular comic behind "Lumberjanes," which is also set to have a film adaptation at Fox.
Boom! Studios' CEO Ross Richie and President of Development Stephen Christy will executive produce alongside Josh Levy, Senior Vice President of Television.
HARRY POTTER SPINOFF 'FANTASTIC BEASTS' CASTS RON PERLMAN
10/09/15 @ 1:05 am EST
Source:
The Hollywood Reporter
| Categories:
MIsc
|
Comments
(0) |
E-mail Article
|
Add a Comment
Ron Perlman
has joined the cast of
Fantastic Beasts and Where to Find Them
, Warner Bros.' fantasy set in the world of
J.K. Rowling
's
Harry Potter
.
The movie is currently shooting in England with
Eddie Redmayne
starring as Newt Scamander, the wizarding world's preeminent magizoologist. (The events of
Fantastic Beasts
take place 70 years before Harry Potter reads Scamander's book in his wizarding school.)
Plot details were not revealed, but sources tell
The Hollywood Reporter
that Perlman will play a goblin.
THR
earlier this week revealed that
Humans
star
Gemma Chan
,
Selma
actress
Carmen Ejogo
and
Jon Voight
recently joined the cast.
Also on the roll call:
Katherine Waterston
,
Ezra Miller
,
Colin Farrell
,
Dan Fogler
and
Samantha Morton.
Perlman starred in all but the last season of FX's
Sons of Anarchy
and also starred in the recent Amazon series
Hand of God
. The fan-favorite actor, known for starring in the
Hellboy
movies, was most recently seen in
Roland Emmerich
's civil rights drama
Stonewall.
WARNER BROS. PUSHING AHEAD WITH 'JUSTICE LEAGUE DARK'
10/08/15 @ 5:28 pm EST
Source:
Comic Book Resources
| Categories:
Justice League
|
Comments
(0) |
E-mail Article
|
Add a Comment
Warner Bros. is reportedly moving ahead with the long-teased "Justice League Dark" film under the guidance of producer Scott Rudin.
According to The Tracking Board, the project is no considered a priority by the studio, which hopes to begin production next year.
Featuring some of DC Comics' supernatural heroes, like John Constantine, Deadman, Zatanna and Swamp Thing, "Justice League Dark" had been in development by Guillermo del Toro since 2012. However, the director left the long-simmering project over the summer, later explaining that Warner Bros.' scheduled conflicted with his own plans for "Pacific Rim 2" (which has since been bumped from the Universal Pictures calendar).
"Warners liked the script, they were very enthusiastic and wanted to green-light it but they wanted it to coincide with the shoot of 'Pacific Rim 2,'" del Toro said in July. "I was put in a very difficult place facing a difficult choice, and I chose to do 'Pacific Rim 2.'"
He'll reportedly remain on board as a producer.
Although script details have been closely guarded -- as much as del Toro talked about the film, it was only in relation to characters -- The Tracking Board suggests the story may involve a series of ancient books stolen by a madman who wants to destroy humanity. Constantine then seeks out heroes specializing in the supernatural to help save the world.
Rudin has a long list of film credits dating back to the early 1980s, including "Sleepy Hollow," "No Country for Old Men," "The Social Network," "True Grit" and "The Grand Budapest Hotel."
LATEST "FLASH" TEASER OFFERS NEW HINT OF ZOOM'S LOOK, VOICE
10/08/15 @ 5:16 pm EST
Source:
Comic Book Resources
| Categories:
Flash
|
Comments
(0) |
E-mail Article
|
Add a Comment
A short promo from Canada's CTV offers fans of "The Flash" their best look at Season 2's big bad guy to date.
Not only do we see Zoom, blurry, but undeniably more horrific and frightening than last season's super speedster bad guy, we get our first example of how the villain, voiced by Tony Todd, sounds as he tells Eddie Slick (dubbed Sand Demon by Prof. Stein), "You wanna go home? Kill the Flash."
Next week's episode also features the Flash of Earth-2, Jay Garrick (Teddy Sears), as the alternate universe's hero helps Barry Allen (Grant Gustin) prepare for Zoom's threat by developing new applications for his speed-based powers.
The episode, "The Flash of Two Worlds," airs Tuesday night at 8 p.m. on The CW.
Promo:
https://youtu.be/MXZyZGqeMzU
'STAR WARS: THE FORCE AWAKENS' SETS WORLD PREMIERE DATE AND CITY
10/08/15 @ 5:12 pm EST
Source:
The Hollywood Reporter
| Categories:
Star Wars
|
Comments
(0) |
E-mail Article
|
Add a Comment
This is the premiere you are looking for.
Disney and Lucasfilm will unveil
Star Wars: The Force Awakens
at a massive world premiere in Los Angeles on Dec. 14,
The Hollywood Reporter
has learned.
From there, the highly anticipated sequel will jump into hyperspace and head for a premiere in London, followed by other events around the world.
The Los Angeles premiere is sure to be one of the hottest tickets in recent Hollywood history, with executives, agents and journalists jockeying for a coveted invite. In addition, Disney is attempting to keep the film's secrets under wraps, so there likely will be minimal screenings for press and cast and crew in advance of the premiere. While castmembers from the
J.J. Abrams
-helmed film have appeared at Comic-Con and Star Wars Celebration over the past year, the world premiere also is likely to be the first time that most or all of the cast will be seen together.
It's not clear who will walk the red carpet, but the movie boasts a large roster of newcomers and veterans. Original
Star Wars
stars
Harrison Ford,
Carrie Fisher, Mark Hamill, Anthony Daniels
and
Peter Mayhew
are returning for the new film.
John Boyega, Daisy Ridley
and
Oscar Isaac
play the three main protagonists, with
Domhnall Gleeson, Adam Driver, Gwendoline Christie, Max von Sydow
and
Lupita Nyong'o
also joining the cast.
The premiere likely will bring out the industry's fervent fans, meaning getting on the invite list will be tougher than sneaking into one of Jabba the Hutt's swinging parties. Disney had no comment on the date and location of the world premiere.
The Force Awakens
will hit theaters on Dec. 17 in the U.K. and Dec. 16 in France prior to its wide debut in the U.S. on Dec. 18.