GARTH ENNIS TALKS THE END OF THE BOYS!!!
09/26/12 @ 2:01 pm EST
Source:
Dynamite
|
Comments
(0) |
E-mail Article
|
Add a Comment
Garth Ennis says goodbye to The Boys in a two-part feature at Comic Book Resources!
http://www.comicbookresources.com/?page=article&id=41185
http://www.comicbookresources.com/?page=article&id=41200
"LIKE" DYNAMITE'S FACEBOOK PAGE TODAY!!!
http://www.facebook.com/dynamitecomics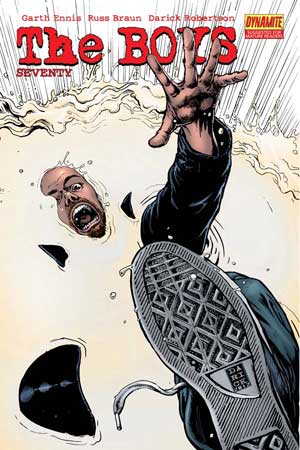 BENEDICT CUMBERBATCH CONFIRMS DOCTOR STRANGE WILL JOIN THE AVENGERS
10/25/16 @ 7:56 am EST
Source:
Comicbook
| Categories:
Marvel
|
Comments
(0) |
E-mail Article
|
Add a Comment
The next time the Avengers assemble, it looks like a new face will be added to the team's line-up. Rumors began swirling that Doctor Strange would star in
Avengers: Infinity War
months ago, and Benedict Cumberbatch seemingly confirmed his involvement with the film in an interview. Since the revelation was made, fans have wondered how exactly the Sorcerer Supreme would fit into the blockbuster.
The answer is simple: he's going to be an Avenger.
Cumberbatch gave fans that answer at a London press junket for
Doctor Strange
. The British actor told attendees that Stephen Strange is going to join Earth's team of mightiest heroes and become a full-fledged Avenger.
Of course, fans of the Marvel Cinematic Universe aren't too surprised by this revelation. After all, the franchise tends to rope in its biggest silver screen heroes onto the team at some point.
SUPERGIRL SEASON 2 EPISODE 4: SURVIVORS SNEAK PREVIEW
10/25/16 @ 7:45 am EST
Source:
Comicbook
| Categories:
DC
|
Comments
(0) |
E-mail Article
|
Add a Comment
Hello, Megan! After making her debut in last night's "Welcome to Earth," we'll learn even more about Miss Martian/M'gann M'orzz (played by Sharon Leal) in next Monday's "Survivors" episode.
For a taste of what's to come, check out a sneak preview in the video here:
https://youtu.be/PbZT-jlq0oQ
GOTHAM SEASON 3 EPISODE 7: RED QUEEN SNEAK PREVIEW
10/25/16 @ 7:41 am EST
Source:
Comicbook
| Categories:
DC
|
Comments
(0) |
E-mail Article
|
Add a Comment
Last night, FOX debut the sixth episode of
Gotham
Season 3. "Follow The White Rabbit" focused on Mad Hatter's ongoing vendetta while Penguin and Nygma see a major change in their relationship. Now, the network has released the sneak preview for next week's episode has been released.
You can watch the video here:
https://youtu.be/17xytbTNg0o
LUCIFER SEASON 2 EPISODE 5: MONSTER SNEAK PREVIEW
10/25/16 @ 7:35 am EST
Source:
Comicbook
| Categories:
MIsc
|
Comments
(0) |
E-mail Article
|
Add a Comment
After last night's "Lady Parts" episode of
Lucifer
concluded, FOX released a sneak preview of next Monday's episode, which is titled "Monster" and features the Devil losing his cool.
You can check that out in the video here:
https://youtu.be/tMz7W6ASb_Q
BLACK PANTHER FILMING LOCATION AND START DATE REVEALED
10/25/16 @ 7:31 am EST
Source:
Comicbook
| Categories:
Marvel
|
Comments
(0) |
E-mail Article
|
Add a Comment
Marvel's Black Panther is stepping into the spotlight in his very own upcoming live-action standalone movie directed by
Creed's
Ryan Coogler.
Black Panther made his acclaimed live-action debut this past spring in
Captain America: Civil War,
with his slick vibranium suit, claws and all. We've been following all of the exciting casting decisions since the film was announced, including the rather refreshing news that Bosemen had a hand in selecting his cast members.
A new open casting call for extras has seemingly revealed the filming location and start date for
Black Panther
. According to Tammy Smith Casting, filming will begin in January 2017 and take place in Atlanta, GA.
Lupita N'yongo, who is playing Nakia, a member of the Wakandan all-female special forces gave us a short synopsis of what we will see in Black Panther, "The story of this Black Panther - what I am allowed to say - is that Black Panther's leadership has been threatened by two foes who come together, and so Black Panther gets the help of the C.I.A. and the Dora Milaje to try and defeat the enemy."
From the details it sounds like Marvel Studios is creating the technologically-advanced African nation of Wakanda in Atlanta. In a recent interview with ComicBook.com's Jim Viscardi, Chadwick Boseman did tease that the solo film will explore the origins of Black Panther and his homeland.
"There is definitely more of his origin in
Black Panther
. You're going to learn about Wakanda, its culture, its traditions, the past," he went on. "You can go through all the comic books and know that there's more Panthers that have existed in the past - that's origin."
DOCTOR STRANGE DIRECTOR SAYS A SEQUEL WOULD ALLOW MORE TIME TO GO DEEP ON A VILLAIN
10/25/16 @ 7:18 am EST
Source:
Bleeding Cool
| Categories:
Marvel
|
Comments
(0) |
E-mail Article
|
Add a Comment
Marvel's villains have been pretty hit or miss up to this point. Loki stands quite a cut above the rest, and it is something every ensuing film has to try and solve.
It seems
Doctor Strange
director
Scott Derrickson
has some thoughts on that. Speaking to Den of Geek, the director said a sequel for the film would likely take a lot of time to go deep with the villain.
"What made The Dark Knight so great was that the origin story of Batman had been well-told, and then it was time to bring in a villain where you really got to go deep. And not just the Joker, also Two-Face. It was a more visceral experience, I'd love to be able to do that for Doctor Strange."
WRITER'S COMMENTARY – AMY CHU TALKS KISS #1 WITH SPECIAL GUEST KEWBER BAAL
10/25/16 @ 7:15 am EST
Source:
Bleeding Cool
| Categories:
Dynamite
|
Comments
(0) |
E-mail Article
|
Add a Comment
A Writer's Commentary: Amy Chu talks KISS #1 with additional commentary by Kewber Baal, on sale now from Dynamite. Cover by Goni Montes with interiors by Kewber Baal.
Hi there, readers, putting together this behind-the-scenes look in the wee hours so bear with me. I had a crazy but wonderful night in New York City signing KISS #1 at Midtown Comics. I do think it's really important that readers know how much work goes into the making of a monthly comic like this one. A comics script goes through multiple revisions between writer and editor, before it gets to the artist, then the art goes to the writer for another script revision before going to the letterer so the dialogue and captions can be adjusted to fit the art better. And ALL this needs to happen within the month, every month.
I think most of you know that script comes first, but after that writing process and styles can differ wildly. In my case, I'm more of a "Marvel" method writer than full script. I like collaborating with artists, especially when they are such huge KISS fans like Kewber and Schimerys Baal, and the letterer Troy Peteri. In the end I think everyone has a better time and you get a better book. Plus, everyone gets to put their Easter eggs in, so watch out for those!
[
Note: Look for comments by artist Kewber Baal at the end of this Chu commentary.
]
Page 1
Establishing shot. The city was actually more of a town in my mind, but Kewber really added a lot more into this page. This was the first page of art I saw, and I knew immediately that the Baals were going to rock these pages for the rest of the issue.
Pages 2-3
These next pages were critical for establishing some of the history, world-building and mood and also the last pages that were done. I am sure Kewber's least favorite! For print comics, the odd number pages are the page turn pages so the bottom right corner is an important page turn. I try to make sure there's a solid one right there.
Pages 4-5
Here we have the introduction of the twins Noa and Eran and their childhood friends Adi and Alex. Talking with Kelly Sue Deconnick, a HUGE KISS fan, cemented the idea that KISS were rock GODS, and as GODS they were timeless. So rather than focusing on them, I decided to create some new relatable characters. I wanted to make this story is for KISS fans, but also accessible to new readers.
Pages 6-7
The Four discover a way out of the city. The idea for the city of Blackwell came from the song Mr. Blackwell in the Elder album. So much of this issue came out of this album. If you listened to the album when it came out in 1981 and didn't like it then, I really hope you revisit it now.
Pages 8-9
Aspiring artists — a good test for visual storytelling is if you take away all the dialogue and you can see what's going on you're doing an A+ job. That's what Kewber and Schymirys did here. I kind of want to just take out all the dialogue here…
Pages 10-11
This turned into my favorite scene when the artwork came back. Especially where Adi hugs the tree. The kids are trying to reach the surface but they discover something entirely unexpected here. At this point I think I started cutting out a lot of unnecessary dialogue.
Pages 12-13
Can you tell Kewber likes splash pages?! There is a certain rhythm to structuring a comic — conventional wisdom says 5-7 panels per page, and splash pages every 4-5 pages or so, but there is no hard or fast rule.
Pages 14-15
"Only you have the answers." Kewber added a lot of detail here that wasn't in the script, taking full advantage of the double page spread opportunity here. I don't tend to give much layout direction to someone like Kewber because I think he has a better sense of where he wants to take it. The downside, of course, is it's going to be harder to read in the digital edition but hey, you can't make everyone happy…
Pages 16-17
For the artists I work with, I usually set up a folder on Pinterest for photo references. I really dislike embedding them in the script, and this way it's easier to collaborate on ideas. Here they really came in handy with the monastery. I found a bunch of real monasteries that Kewber used.
Pages 18-19
Big no-no in comics is endless talking heads so I really tried to keep things going while building the world. Fortunately Kewber had a lot of visual tricks — he had a nice idea of adding a cape for Noa. I didn't really think much about it at the time, but I think it came out quite nice visually.
Page 20
Last page and first one I think about when scripting. Most of my stories I work backwards to make sure I've got good pacing and reveals and this is no exception. It's got to tie up the issue, but also be enough to get you to #2 where we explain about the Elders and Morpheus.
Now that the script and art is complete, this is where I go back and think about comics journalist Heidi MacDonald's "satisfying chunk" theory. Did you guys feel like you got a satisfying chunk of story for your time and dollars? Do you want more of the story at this point?And there you go! Hope you found this deep dive into my sleep-deprived brain interesting. Shout out to my super cool editors Anthony Marques and Joe Rybandt for basically saying, sure, sci-fi, robots, computers, why not?!, and to my kids for reading it pre-press and giving it the thumbs up.
I'm hoping your store has ordered it, but to be sure put this series on your pull list!
Comments from artist Kewber Baal:
Q:
What was your favorite page or scene to draw in the first issue?
Kewber:
It was the double spread page, when the kids are running away into the tunnels, and they see the KISS band, painted on the walls, for the first time. This was a scene that made me turn sad when I finished it; I wanted to spend more time on it.
Q:
Who is your favorite character?
Kewber:
This is an unfair question! Each character is developing its own personality, and I am enjoying working on each one a lot. For now, on KISS #1, I think my favorite character is Eram, he is the determined guy who wants to explore new things, and he does not believe everything people say. But I'm sure in the next chapters, my opinion will change!
Q:
Which was the most difficult page/scene for you to draw?
Kewber:
Definitely the first page. It was a big establishing shot for the entire series, the city, the mood, KISS, and I was drawing all of this for the first time. Everything still was new for me, I was still realizing I will draw a KISS series, and I felt I should define the style of the book, and prepare the readers for the story, in only one splash page. Well, I really hope I achieved that!
AARDMAN, STUDIOCANAL REUNITE FLOCK FOR 'SHAUN THE SHEEP MOVIE 2'
10/25/16 @ 7:06 am EST
Source:
Deadline
| Categories:
MIsc
|
Comments
(0) |
E-mail Article
|
Add a Comment
Aardman and Studiocanal are reteaming for another woolly adventure with
Shaun The Sheep Movie 2
. The sequel to 2015's animated comedy will be directed by Richard Starzak who collaborated on the first film, and will be produced by that movie's Paul Kewley. Pre-production is due to begin in January.
The Shaun character was first introduced via short film
A Close Shave
which debuted in 1995. Shaun then got his own stop-motion animated TV series that first aired on the BBC's CBBC in 2007.
Shaun The Sheep Movie
was Oscar nominated in the Best Animated Feature category in 2016 and grossed over $106M worldwide. Lionsgate released in the U.S.
The follow-up will see Shaun and the flock return for what's described as "another epic and hilarious journey, in what will be their biggest and most exciting adventure yet."
Studiocanal is co-financing
Shaun The Sheep Movie 2
and will distribute in its own territories: the UK, France, Germany, Australia and New Zealand. It begins world sales at the AFM in Santa Monica next month.
Shaun 2
sees Aardman and Studiocanal continue their partnership following the original film, as well as Nick Park's upcoming prehistoric comedy
Early Man
starring the voices of Eddie Redmayne and Tom Hiddleston.
PARENTS TELEVISION COUNCIL BLASTS "BRUTALLY EXPLICIT" 'WALKING DEAD' PREMIERE
10/24/16 @ 5:26 pm EST
Source:
The Hollywood Reporter
| Categories:
Walking Dead
|
Comments
(0) |
E-mail Article
|
Add a Comment
No surprise here: The Parents Television Council is not happy with the season seven premiere of AMC's
The Walking Dead
.
The conservative watchdog group blasted Sunday's episode, which featured the deaths of two series-regular characters being beaten to death by a guy with a baseball bat covered with barbed wire.
"Last night's season premiere of
The Walking Dead
was one of the most graphically violent shows we've ever seen on television, comparable to the most violent of programs found on premium cable networks," PTC president Tim Winter said Monday. "It's not enough to 'change the channel,' as some people like to advocate, because cable subscribers — regardless of whether they want AMC or watch its programming — are still forced to subsidize violent content. This brutally explicit show is a powerful demonstration of why families should have greater control over the TV networks they purchase from their cable and satellite providers."
The season seven premiere, written by showrunner Scott M. Gimple, followed the events of Robert Kirkman's comic book series and saw new villain Negan (Jeffrey Dean Morgan) line up 11 key survivors and threaten each of their lives with his bat named Lucille. He ultimately landed on Abraham (Michael Cudlitz) and, following the events of the landmark 100th issue of the comics, beat him to death with it. Moments later, he beat a second member of the group to death — this one even more graphic as Negan's first strike forced Glenn's (Steven Yeun) eye to pop out of its socket. The episode also featured central character Rick (Andrew Lincoln) seeing visions of the remaining eight survivors all being beaten to death in the same fashion. The episode featured multiple close-ups of the remains of Glenn and Abraham's crushed skulls and brain matter.
This isn't the first time that the PTC has taken an issue with the violence on
The Walking Dead
. The PTC in 2012 urged the group responsible for issuing TV guidelines to change its TV-14 "misrating." (Via THR)
PETER JACKSON AND 'LORD OF THE RINGS' TEAM SET NEXT PROJECT WITH UNIVERSAL AND MRC
10/24/16 @ 5:08 pm EST
Source:
Variety
| Categories:
MIsc
|
Comments
(0) |
E-mail Article
|
Add a Comment
Peter Jackson and his "Lord of the Rings" and "The Hobbit" team have found their next pic with their long-in-development adaptation of "Mortal Engines."
Jackson, Fran Walsh, and Philippa Boyens will co-write the film with Christian Rivers directing.
The movie is Rivers' first major directing job, having spent the majority of his 25-year career working closely with Jackson. Rivers began as a story board artist, later moving into supervising visual effects and finally serving as splinter unit director on "The Hobbit" trilogy. Rivers won a visual efforts Academy Award for his work on the 2005 film "King Kong." He also recently served as second unit director on the remake of "Pete's Dragon."
"Christian is one of my closest collaborators," says Jackson. "The combination of emotion and jaw-dropping visuals in 'Mortal Engines' makes this the perfect movie for his move into feature directing. What Christian intends to do with Philip Reeve's terrific story is going to result in an original and spectacular movie. I wish I could see it tomorrow!"
Based on the novel by Philip Reeve, Jackson and Walsh have been involved with the project for several years, having optioned the rights from Scholastic in 2001. Ken Kamins – Jackson, Walsh, and Boyens' longtime manager – brought the project to MRC.
The book is set in a world many thousands of years in the future. Earth's cities now roam the globe on huge wheels, devouring each other in a struggle for ever diminishing resources. On one of these massive Traction Cities, Tom Natsworthy has an unexpected encounter with a mysterious young woman from the Outlands who will change the course of his life forever.
The sci-fi/fantasy movie is the first in a planned series of films based on Reeve's novels. The series is comprised of four books: "Mortal Engines," "Predator's Gold," "Infernal Devices," and "A Darkling Plain."