GARTH ENNIS TALKS THE END OF THE BOYS!!!
09/26/12 @ 2:01 pm EST
Source:
Dynamite
|
Comments
(0) |
E-mail Article
|
Add a Comment
Garth Ennis says goodbye to The Boys in a two-part feature at Comic Book Resources!
http://www.comicbookresources.com/?page=article&id=41185
http://www.comicbookresources.com/?page=article&id=41200
"LIKE" DYNAMITE'S FACEBOOK PAGE TODAY!!!
http://www.facebook.com/dynamitecomics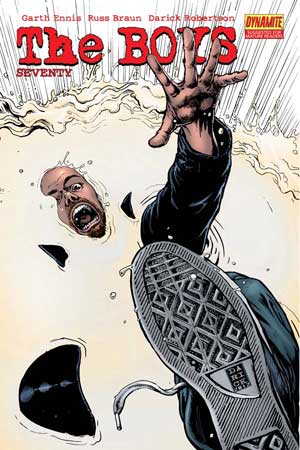 WEREWOLF COMIC 'BROOKLYN ANIMAL CONTROL' ORDERED TO PILOT AT USA NETWORK
07/28/15 @ 2:08 pm EST
Source:
The Hollywood Reporter
| Categories:
MIsc
|
Comments
(0) |
E-mail Article
|
Add a Comment
USA Network continues to get darker.
The NBCUniversal-owned cable network has handed out a pilot order to
Brooklyn Animal Control
, based on the IDW Publishing comic book of the same name,
The Hollywood Reporter
has learned.
The drama follows a secret subdivision of the NYPD that serves as social services for the city's werewolves. The drama will explore the lives of the case officers and the secret, insular werewolf community Kveld-Ulf, who are living deep in the borough.
Brooklyn
will focus on city politics, immigrant communities and families divided by ambition, secrecy and tradition.
Brooklyn
will be written and exec produced by comic book creator
JT Petty
(
Spliter Cell
), with
David S. Goyer
(
Batman v. Superman
,
DaVinci's Demons
), Circle of Confusion's
Rick Jacobs
(
Spare Parts
) and
David Alpert
(
The Walking Dead
) attached to exec produce alongside IDW Entertainment's
David Ozer
and
Ted Adams
. The drama is a co-production between Universal Cable Productions and IDW Entertainment.
"Fans of the comic book know that
Brooklyn Animal Control
is a thriller anchored inside the world of New York organized crime families," said
Jackie de Crinis
, executive vp original programming. "At its core, it is a family drama, albeit an unconventional one."
Brooklyn
was one first titles IDW identified to bring to the small screen after launching its TV divisionwith Circle of Confusion (
The Walking Dead
)
attached to oversee packaging and creative development of some of its more than 300 titles. The comic publisher also has a first-look development deal in place with Entertainment One, with whom it is partnering to bring
V-Wars
to the screen.
Brooklyn
becomes USA's fourth pilot order of the season and joins
Poor Richard's Almanack; Falling Water
, from
Gale Anne Hurd
,
Blake Masters
and the late
Henry Bromell
; and
Paradise Pictures
, from
Suits
duo
Aaron Korsh
and
Rick Muirragui
. The cabler is also searching for a lead for its
Shooter
update.
THREE NEW BATMAN V. SUPERMAN IMAGES RELEASED
07/28/15 @ 2:02 pm EST
Source:
Comicbook
| Categories:
Batman Superman
|
Comments
(0) |
E-mail Article
|
Add a Comment
Warner Bros. has released new images from
Batman v. Superman: Dawn of Justice
(via Empire).
The images feature both titular heroes – Batman (Ben Affleck) and Superman (Henry Cavill) – as well as villainous mastermind Lex Luthor (Jesse Eisenberg). Check out all three images below.
In
Batman v. Superman: Dawn of Justice
, following the destruction of Metropolis, Batman embarks on a personal vendetta against Superman.
BEFORE HE WAS AMAZING…HE WAS SPIDEY!
07/28/15 @ 1:57 pm EST
Source:
Marvel
| Categories:
Spider-Man
|
Comments
(0) |
E-mail Article
|
Add a Comment
Today, he's the world's greatest super hero. But long before he swung from rooftops as the Amazing Spider-Man, he was just a spider-powered teenager who knew that "with great power must also come great responsibility." Today, Marvel is pleased to announce
SPIDEY #1
– a brand-new ongoing series launching as part of All-New, All-Different Marvel! Follow the adventures of teenaged Peter Parker in a new series set within continuity from rising star writer Robbie Thompson (TV's
Supernatural, Silk)
and blockbuster Marvel Young Gun artist Nick Bradshaw (
Wolverine and the X-Men
,
Guardians of the Galaxy
)!
"Everyone remembers their FIRST Spider-Man comic," says Marvel Editor-in-Chief Axel Alonso. "SPIDEY aims to be perfect as someone's first Spider-Man comic, or their one thousandth. We're not looking to re-tell stories here. What Robbie [Thompson] and Nick [Bradshaw] have put together is an exciting new take on Spider-Man at his arguably most iconic incarnation, and will feel fresh to new and old fans alike."
Class is in session as two of the hottest creators in comics take Peter back to school for a classic and iconic take on the Spider-Man mythology. Familiar faces and new characters populate Peter Parker's world as he balances his double life as a high school student and the high-flying, web-swinging new hero Spider-Man!
"Out of the 700+ issues of AMAZING SPIDER-MAN" shares Spider-Man Editor Nick Lowe, "Peter Parker was only in high school for thirty issues! Stan and Steve covered a lot, but there's a lot of the high school and early super hero experience still on the table."
Iconic villains, a classic supporting cast, the ol' Parker Luck and more are back! Don't miss one moment of these bombastic new adventures as Thompson and Bradshaw create a legend of their own when
SPIDEY #1
comes to comic shops later this year!
SPIDEY #1 Written by ROBBIE THOMPSON
Art & Cover by NICK BRADSHAW
On Sale This Fall!
'X-MEN: APOCALYPSE' SET PIC
07/28/15 @ 7:21 am EST
Source:
ICv2
| Categories:
X-Men
|
Comments
(0) |
E-mail Article
|
Add a Comment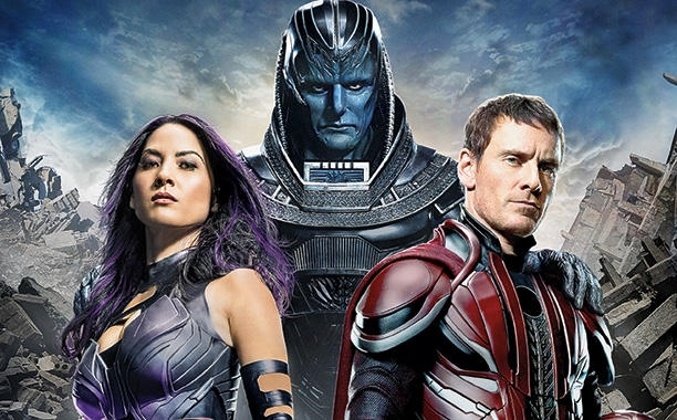 Director Bryan Singer posted another
X-men: Apocalypse
promotional photo on his Instagram today, and it's a big one.
Singer posted a picture of himself from the set looking up at a giant statue of the Egyptian god Anubis, along with the statement, "This takes me back to #raidersofthelostark #notallgreenscreen #xmen #xmenapocalypse." The location likely has to do with Apocalypse's ancient Egyptian history, and the blue coloring on the statue is similar to Apocalypse's own look for the film. The picture itself is reminiscent of the Sentinel photo Singer tweeted for
X-Men: Days of Future Past
.
The20th Century Fox promotional machine has already released multiple character pictures.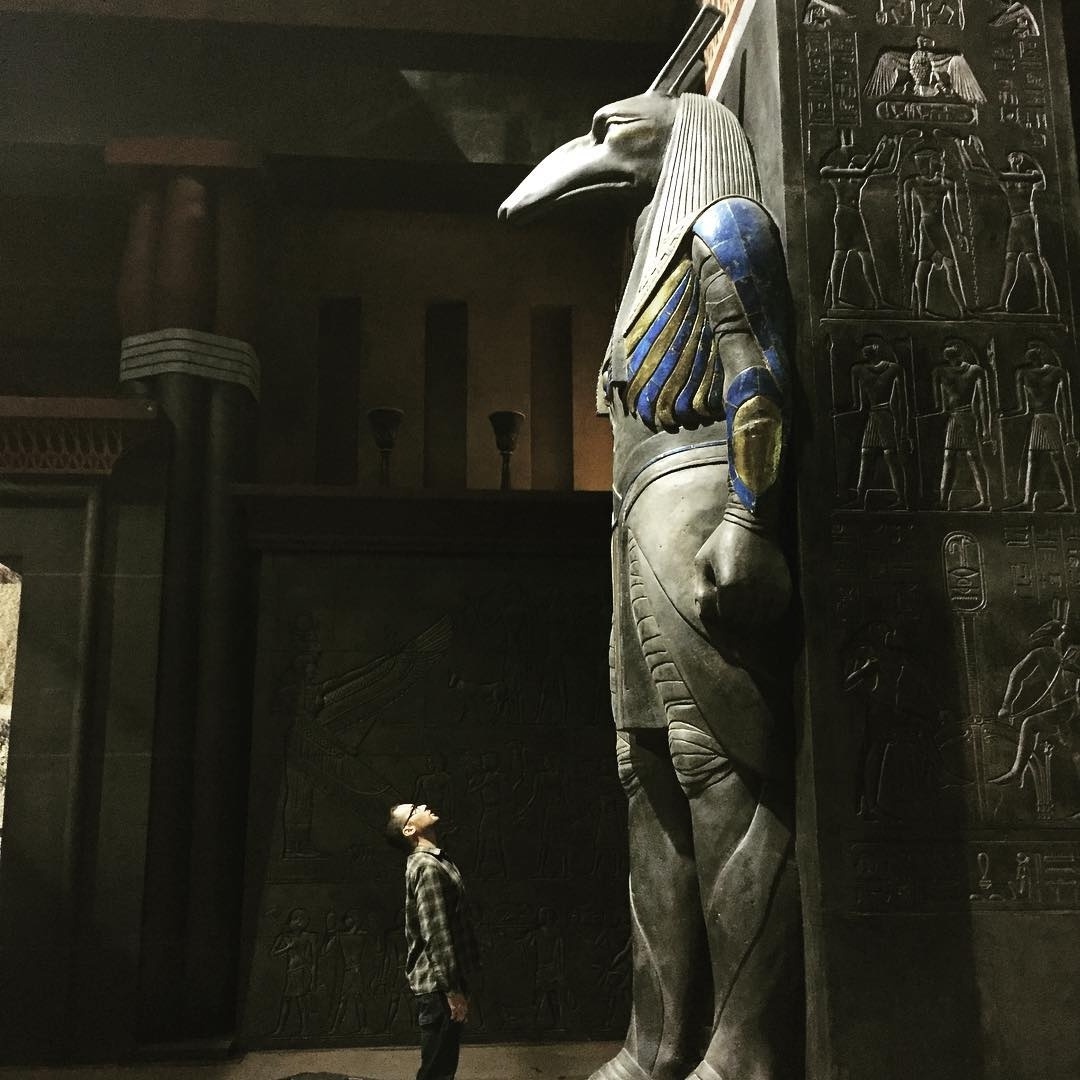 CARA DELEVINGNE PLAYS TWO ROLES IN ONE FOR SUICIDE SQUAD
07/27/15 @ 11:14 pm EST
Source:
Bleeding Cool
| Categories:
Suicide Squad
|
Comments
(0) |
E-mail Article
|
Add a Comment
Last week, actress
Cara Delevingne
visited
Late Night With Seth Meyers
where she was asked about her upcoming role as the
Enchantress
in the
Warner Bros
film
Suicide Squad
. The actress tells how she was cast before there was ever a script and how she auditioned for director
David Ayer
doing a monologue from
Who's Afraid Of Virigina Woolf
. She also talks about how her role is really two parts in one as she spends one half of the film playing a mousy scientist and the other a homicidal lunatic.
Suicide Squad
is due out on August 5th, 2016.
Video:
https://www.youtube.com/watch?v=fLNwyNs_Jl0
PETCO UNVEILS NEW STAR WARS PET LINE
07/27/15 @ 11:02 pm EST
Source:
Comicbook
| Categories:
Star Wars
|
Comments
(0) |
E-mail Article
|
Add a Comment
You don't know the power of Star Wars merchandise. Case-in-point: This massive new line of Star Wars pet products coming from PetCo.Get ready, Fuzzballs, as nearly every conceivable item a pet (or pet owner) could need is getting the George Lucas treatment with Star Wars themed leashes, toys, and care products. And that's just the tip of the galaxy. There's also Star Wars-themed pet cosplay, because, well, why should we humans have all of the fun. And the mouse Han Solo in carbonite plush may be the best piece of anything that we've seen in a long time.
HUGH JACKMAN SEEKING FAN INPUT ON LAST TIME AS WOLVERINE
07/27/15 @ 10:52 pm EST
Source:
Comicbook
| Categories:
Wolverine
|
Comments
(0) |
E-mail Article
|
Add a Comment
What do YOU want to see in the next (and final)
Wolverine
solo film starring Hugh Jackman?
That's what he wants to know.
Jackman took to social media today to share a promotional image from the forthcoming sequel, along with a fairly straightforward question: What do the fans want?
Jackman tweeted:
"My last time putting on the claws. What do you want to see happen? 50 words or less. I'll read as many as I can."
RACHEL MCADAMS EYED FOR FEMALE LEAD IN MARVEL'S 'DOCTOR STRANGE'
07/27/15 @ 8:54 pm EST
Source:
Variety
| Categories:
Dr Strange
|
Comments
(0) |
E-mail Article
|
Add a Comment
It looks like Marvel wants Rachel McAdams for "Doctor Strange." Sources have told
Variety
that McAdams is the choice to land the female lead opposite Benedict Cumberbatch in Marvel's "Doctor Strange," although it's currently unknown if an offer is in hand.
Heroic Hollywood first reported the news earlier this month, and McAdams confirmed to the L.A. Times that she was talking to the studio about the role.
"It's still super-early days, and I don't know where that's gonna go, if it's gonna go anywhere at all," she said.
Tilda Swinton and Chiwetel Ejiofor are also on board to co-star. Scott Derrickson is directing the comicbook movie.Cumberbatch will play Stephen Vincent Strange, a former neurosurgeon who becomes the next Sorcerer Supreme and primary protector of Earth against magical and mystical threats.
Marvel Comics vets Stan Lee and Steve Ditko co-created the character in 1963.
The role McAdams will be playing if cast is unknown.
FABIANO NEVES PAYS HOMAGE TO RENATO CASARO IN RED SONJA / CONAN COVER
07/27/15 @ 6:18 pm EST
Source:
Bleeding Cool
| Categories:
Dynamite
|
Comments
(0) |
E-mail Article
|
Add a Comment
Artist
Fabiano Neves
did up a retailer exclusive cover for
Red Sonja / Conan
#2, the miniseries being published by
Dynamite
and
Dark Horse
. But in doing so, Neves decided to pay homage to the classic Conan movie poster done by artist
Renato Casaro
.
The cover is for
Comics to Astonish
in Baltimore, Maryland.
MARVEL'S STAR WARS TO SELL MORE THAN 200,000 COPIES IN COLLECTED EDITION
07/27/15 @ 6:07 pm EST
Source:
Comicbook
| Categories:
Star Wars
|
Comments
(0) |
E-mail Article
|
Add a Comment
The first collected edition of Marvel Comics'
Star Wars
series will sell between 225,000 and 250,000 copies in its first printing, ComicBook.com has learned exclusively.
That's about five times the average first volume trade collection of Marvel series, which average between 30,000 and 50,000 sales. That also means that
Star Wars
is retaining roughly the same number of readers from peridocals to trades, with sales of the first trade translating to roughly 20-25% of the sales of the series' first issue.
When the series launched,
Star Wars
#1 sold over a million copies, becoming the top-selling single-issue comic book of the last twenty years.
Star Wars
also became the first-ever million-selling periodical comic book sold exclusively through direct market channels without the aid of newsstands.
Since January, Marvel Comics has confirmed for us that
Star Wars
comics have moved more than 5 million units in the direct market.
Of course, the trade paperback will be available outside of the direct market, opening up the best-selling series to the bookstore market for the first time.
"When Star Wars #1 was released at the beginning of the year we were thrilled at the reception and the record-setting sales numbers. Once again, Star Wars continues to skyrocket the Marvel name even higher with the anticipated pre-order print-run between 200K and 250K units for Star Wars Vol 1 TPB," said David Gabriel, SVP Print, Sales and Marketing. "This is an unheard of number, but given the success that we've had with Star Wars since January, including the insurmountable 5MM units across all the Star Wars' series, second prints and overprints, we don't see any issue in reaching such a number of printed copies of this highly anticipated collected edition."
The series, which takes place between the events of
Star Wars
and
The Empire Strikes Back
and features all of the major characters from the film, launched in January. It is written by Jason Aaron, with artwork by John Cassaday. While Marvel handled the official adaptations of the original
Star Wars
trilogy and had a successful
Star Wars
series around the time of their theatrical release, 2015 will be the first time in decades that the publisher has handled the
Star Wars
license.