GARTH ENNIS TALKS THE END OF THE BOYS!!!
09/26/12 @ 2:01 pm EST
Source:
Dynamite
|
Comments
(0) |
E-mail Article
|
Add a Comment
Garth Ennis says goodbye to The Boys in a two-part feature at Comic Book Resources!
http://www.comicbookresources.com/?page=article&id=41185
http://www.comicbookresources.com/?page=article&id=41200
"LIKE" DYNAMITE'S FACEBOOK PAGE TODAY!!!
http://www.facebook.com/dynamitecomics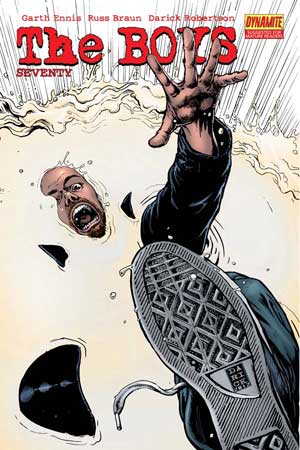 GAME OF THRONES EXPERT SWORDSMAN JOINS CAST OF STAR WARS: EPISODE VII
09/02/14 @ 3:20 pm EST
Source:
Bleeding Cool
| Categories:
Star Wars
|
Comments
(0) |
E-mail Article
|
Add a Comment


Miltos Yerolemou, who played Syrio Forel the expert swordsman in Game of Thrones, has joined the cast of J J Abrams current film Star Wars: Episode VII, Bleeding Cool reports.

Besides his sword fighting role in the first season of GoT, Yerolemou has done a handful of other parts that involved swordfighting leaning many to assume that he will be doing something involving a lightsaber.

Star Wars: Episode VII is scheduled to hit theaters on December 18th, 2015.
CONAN O'BRIEN GETS A 3D MOTION BACK COVER ON DC COMICS' FUTURES END TITLES TOMORROW
09/02/14 @ 3:09 pm EST
Source:
Bleeding Cool
| Categories:
DC
|
Comments
(0) |
E-mail Article
|
Add a Comment
For the Future End 3D Motion covers, Conan O'Brien's late night show is getting the 3D boost, appearing on the back of all the DC New 52 titles this month, including all the motion covers.
On each cover, Conan appears in 3D, gaining and discarding a Superman-style red cape as the cover is flipped side to side,
Super! At least for the late-night talk show host.
DC ANNOUNCES NEW ARTIST FOR JUSTICE LEAGUE
09/02/14 @ 3:00 pm EST
Source:
DC
| Categories:
Justice League
|
Comments
(0) |
E-mail Article
|
Add a Comment
DC Entertainment (via BUZZFEED) has announced that Jason Fabok (BATMAN ETERNAL, DETECTIVE COMICS) will be joining writer Geoff Johns (SUPERMAN, JUSTICE LEAGUE) as the regular ongoing artist for JUSTICE LEAGUE starting in November with issue #36.
"I've always dreamed of drawing Superman, Wonder Woman, Batman, Flash, Lex Luthor, Aquaman and the myriad of super-villains that comprise the
Justice League
books," Fabok said. "I'm so thankful for this opportunity and hope that fans will look forward to what we have in store!"
JUSTICE LEAGUE #36 arrives on November 19th.
DARK KNIGHT IN TIME: DETECTIVE COMICS: FUTURES END #1
09/02/14 @ 2:53 pm EST
Source:
DC
| Categories:
Detective Comics
|
Comments
(0) |
E-mail Article
|
Add a Comment
DC Comics kicks off September's FUTURES END event with a look 5 years into the Dark Knight's future!
In DETECTIVE COMICS: FUTURES END #1, Calendar Man threatens anniversary mayhem? Arkham Island is an impenetrable fortress? Batman takes his war on crime to the next level, but he needs the help of his greatest ally – The Riddler?!
What will it take to make this team-up happen?
DETECTIVE COMICS: FUTURES END #1, written by Brian Buccellato and illustrated by Scott Hepburn, Cliff Richards and Fabrizio Fiorentino, hits shelves this Wednesday.
STAR-LORD & NOVA VS. THANOS IN GUARDIANS OF THE GALAXY #19 – AN ORIGINAL SIN TIE-IN
09/02/14 @ 2:20 pm EST
Source:
Marvel
| Categories:
Guardians of The Galaxy
|
Comments
(0) |
E-mail Article
|
Add a Comment


Later this month, the truth behind Nova, Star-Lord and Thanos' disappearance continues inGUARDIANS OF THE GALAXY #19 – a tie-in to Original Sin!

New York Times-bestselling creators Brian Michael Bendis and Ed McGuinness bring you the answers fans have been craving –what happened to Richard Rider?! Trapped in a nightmare universe, Star-Lord and Nova fought valiantly against the might of Thanos. Peter Quill and Thanos mysteriously returned without explanation – Nova did not.

The true story of their hellish imprisonment has never been told – until today! Gamora demands answers, and she won't stop until she finds out what happened in the Cancerverse! What pact did Star-Lord make with Thanos to escape such imprisonment? Where is Nova?

Find out when the story that has the whole comic industry talking continues in GUARDIANS OF THE GALAXY #19!

GUARDIANS OF THE GALAXY #19 (JUL140641)Written by BRIAN MICHAEL BENDIS, Art & Cover by ED MCGUINNESS On-Sale – 09/24/14
DOC, PANTHER PLANS REVEALED BY THE MAN?
09/01/14 @ 7:10 pm EST
Source:
Bleeding Cool
| Categories:
Marvel
|
Comments
(0) |
E-mail Article
|
Add a Comment


Thanks to the sharp ears of CBR, and by way of Bleeding Cool, we could have absolute confirmation of new Doctor Strange and Black Panther movies coming from Marvel Studios.

Or it may have been the slip of tongue from a guy who once ID'd Bruce Banner, whom he created, as BOB Banner. (That is where the moniker Robert Bruce Banner later came from, BTW.)

At Fan Expo Canada, Stan "The Man" Lee was quoted as saying:

"We haven't made a Black Widow movie but she's been in some of our movies, and she will be featured more prominently as we move forward. And the chances are she will have her own movie because eventually all the superheroes are going to have their own movies. They are already working on Ant-Man, Doctor Strange and the Black Panther and there are others I am not allowed to talk about."

So the Black Panther is a movie he IS allowed to talk about? Ant-Man is of course in production now with Peyton Reed directing and Paul Rudd, Michael Douglas and Evangeline Lilly starring. And the rumor mill on Doctor Strange has been turning fast with casting talk from Jack Huston to Joaquin Phoenix and of course Scott Derrickson is attached to direct.

So does this mean that Black Panther is moving forward as well? Or perhaps this time for Stan Lee it was more than 'Nuff Said?
STAN GOLDBERG DIES, AGED 82
09/01/14 @ 6:55 pm EST
Source:
Bleeding Cool
| Categories:
MIsc
|
Comments
(0) |
E-mail Article
|
Add a Comment

Stan Goldberg, born in 1932, veteran comic book artist and colorist, died Sunday evening, the result of a stroke he suffered two weeks ago.

He was a comic book creator who worked principally on Archie and Marvel Comics, including contributing to designing the look of Spider-Man and the Fantastic Four working for as a colorist, penciler and inker.

He also worked as the principal Archie Comics penciler from the 1990s until the mid-00s, including the Archie Meets Punisher comic, finishing his work for the publisher with the Life With Archie future universe marriages of Archie to both Betty and Veronica.

Dynamic Forces would like to extend condolences to Stan Goldberg's family, friends and fans.
THE DARK HORSE 'STAR WARS' WIND-DOWN
09/01/14 @ 6:42 pm EST
Source:
ICv2
| Categories:
Star Wars
|
Comments
(0) |
E-mail Article
|
Add a Comment


Dark Horse will publish new Star Warscollections through November, and will be selling off its stock of over 200 Star Warscollections through March 2015, according to Michael Martens, VP-Business Development of Dark Horse Comics.

Dark Horse's Star Wars backlist, some 200 volumes, is going through a series of progressive discount incentives to the trade through all distribution channels, with the exception of the Q4 titles above, which will be marked down in Q1 2015.

Marvel will begin to release its collections of Dark Horse Star Warsmaterial, which are completely different from the way Dark Horse configured its collections, in April 2015
FAN EXPO CANADA DAY 4: 'THE WALKING DEAD' CAST
09/01/14 @ 6:33 pm EST
Source:
Huffington Post
| Categories:
MIsc
|
Comments
(0) |
E-mail Article
|
Add a Comment


The first panel of the day at Fan Expo Canada was that of Walking Dead, moderated by Richard Ouzounian, resident theatre critic at The Toronto Star.

As recounted by the Huffington Post, Fan Expo pulled out all the stops by bringing five cast members from the show (three living and two deceased) all together on one stage. Maggie (Lauren Cohan), Michonne (Danai Gurira) and Daryl (Norman Reedus) made up the living characters, while Merle (Michael Rooker) and the evil Governor (David Morrissey) were brought back from the dead for the panel.

As the five spoke to their positively rabid fanbase, it became clear that while "The Walking Dead" is an emotional roller-coaster for the viewer, it's even more emotionally and physically taxing for the cast and crew. Gurira, an experienced playwright and theatrical actress, compared the experience and the emotional headspace she must put herself in, to a war zone.

"It felt to me like a war zone. It felt very real that way and very visceral," she said. "One of the plays I researched was about war, so I'd gone to a war zone area and it really felt similar to what the show had managed to make very tangible, which is that idea that when everything is gone and all the structures we're used to go away, who do you become?

"Thankfully, we haven't experienced that for a long time on this soil … The thing I love about this show is that it asks the question that a war zone asks of you, which is: where's your humanity going to fall when all those things go away? Will you become The Governor or will you become someone who transforms so beautifully like Daryl?"
WOLVERINE, WONDER WOMAN TOPS AT MARVEL, DC PANELS
08/31/14 @ 11:56 pm EST
Source:
Bleeding Cool
| Categories:
MIsc
|
Comments
(0) |
E-mail Article
|
Add a Comment


It's always interesting, Bleeding Cool observes, to see the different panel styles of Marvel and DC at Fan Expo. Whereas DC has an itinerary, a power point, audience prizes and a short Q&A session at the end, Marvel does their panels entirely as open Q&A's with no prepared presentation.

This year's Marvel panel included: Adam Kubert, Mahmud Asrar, Ryan Stegman, Greg Pak, C.B. Cebulski, Charles Soule and Janine Schafer.

Soule spent a lot of time talking about Death of Wolverine and what will follow for the character and the Marvel Universe.

"The idea is not to bring him back," Soule reiterated. "This isn't one of those stories where he's back in two weeks. The point is to tell an awesome ending story for Wolverine. I'm not gonna say he will never be brought back. I will say for sure that I'm very involved in all the Wolverine related discussions at Marvel right now and the thing we have not talked about at all is how to bring him back and I'm involved in discussions for stuff out into 2016 at this point."

The plans beyond Death of Wolverine are going to be a direct sequel in the fall, which will be five issues, called Weapon X Project, which Soule is writing. The second DC panel of the weekend at Fan Expo revolved around the New 52 as a whole, with Larry Ganem moderating and panelists Jeff Lemire, Brian Azzarello, Greg Pak and David Finch.

The panel opened by teasing the last few issues of Azzarello's Wonder Woman run with some previously released images. Azzarello promised, "There's a revelation that's never been touched on in her origin in the next issue [of Wonder Woman in October]."

While discussing Wonder Woman's latest injury, he said of course she survives but "some of the other characters don't survive."

Azzarello has been writing Wonder Woman for three years now and said it was always planned that she would be the God of War by the end of his story. He also isn't done yet with making an impact on Diana's story as he teased a "real big reveal in 34. Then Secret Origin has a huge reveal."

No clues on what any of those might be.