GARTH ENNIS TALKS THE END OF THE BOYS!!!
09/26/12 @ 2:01 pm EST
Source:
Dynamite
|
Comments
(0) |
E-mail Article
|
Add a Comment
Garth Ennis says goodbye to The Boys in a two-part feature at Comic Book Resources!
http://www.comicbookresources.com/?page=article&id=41185
http://www.comicbookresources.com/?page=article&id=41200
"LIKE" DYNAMITE'S FACEBOOK PAGE TODAY!!!
http://www.facebook.com/dynamitecomics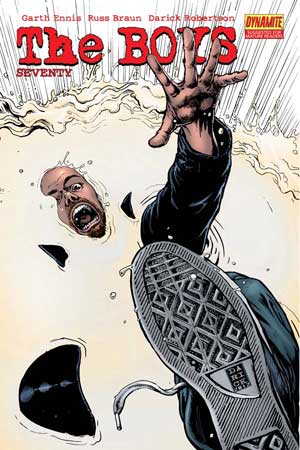 MARVEL COMICS PROUDLY PRESENTS "BLACK PANTHER: A NATION UNDER OUR FEET – PART TWO" FEATURING THE WORLD DEBUT OF "BEAST WITH IT" BY PRODIGY OF MOBB DEEP FEAT. MARK THE BEAST
06/29/16 @ 5:29 pm EST
Source:
Marvel
| Categories:
Black Panther
|
Comments
(0) |
E-mail Article
|
Add a Comment
Today, Marvel Comics continues to present this year's breakout Marvel Super Hero – the Black Panther – through a monthly video series that continues to link the world of comics and hip-hop blending animated comics along with commentary from
Black Panther
writer, Ta-Nehisi Coates. Additionally,
"Black Panther: A Nation Under Our Feet – Part Two"
is
launching the brand new track, "Beast With It" by Prodigy of Mobb Deep, featuring Mark the Beast.
This new video series is designed to present the world of Black Panther to a whole new audience and will offer fans a monthly recap of the best-selling comic book series prior to the latest issue being made available and on sale.
Black Panther
#1, written by
The Atlantic
national correspondent and National Book Award winner, Ta-Nehisi Coates, accompanied with outstanding art by Brian Stelfreeze, garnered international buzz and attention upon the announcement of this series in 2015, debuted as the best-selling comic for the month of April, and is on track to be one of the best-selling comics of 2016.
Continuing the excitement surrounding Marvel's celebrated Super Hero T'Challa, the Black Panther, the latest episode of this revolutionary multi-artist hip-hop-inspired video series samples a brand new track, "Beast With It", by Prodigy of Mobb Deep, featuring Mark the Beast.
"I am honored to be a part of another cool project from Marvel Comics and this new video series is going to be a smash," states Prodigy of Mobb Deep. "Black Panther has always been one of my favorite Marvel characters and the new series is destined to become a huge hit -- Ta-Nehisi Coates really did his thing with this one!"
"Comics and music are two art forms that continually speak to one another, and with Ta-Nehisi and Brian Stelfreeze's epic series flying off the shelves, we are doing just that," says Axel Alonso, Marvel Editor In Chief. "It's our honor to partner with the legendary Prodigy for this latest installment."
Watch "Black Panther: A Nation Under Our Feet – Part Two" now!
This new video series has already reached global proportion and will further emphasize how Marvel is the premiere name when it comes to story-telling, diverse character development, and now, musical integration.
Black Panther
#3 is available digitally through the Marvel Digital Comic Shop and at all local comic book retailers.
MARVEL NOW! – FALL 2016
06/29/16 @ 5:24 pm EST
Source:
Marvel
| Categories:
Marvel
|
Comments
(0) |
E-mail Article
|
Add a Comment
WE QUIT!
06/29/16 @ 5:22 pm EST
Source:
Marvel
| Categories:
Marvel
|
Comments
(0) |
E-mail Article
|
Add a Comment
BOX OFFICE: 'BFG,' 'TARZAN' STRUGGLING AS HOLLYWOOD FACES GLOOMY INDEPENDENCE DAY
06/29/16 @ 5:21 pm EST
Source:
Variety
| Categories:
MIsc
|
Comments
(0) |
E-mail Article
|
Add a Comment
A lackluster summer at the box office could get even worse if there aren't some fireworks over July 4th.
Don't look for newcomers "The BFG" and "The Legend of Tarzan," however, to add to the pyrotechnics. They carry hefty budgets and big name directors in Steven Spielberg and David Yates, but aren't expected to connect with U.S. audiences. Both could rank among the year's biggest flops, unless foreign moviegoers suddenly get passionate about a friendly giant and a jungle king.
Look for "The BFG" to eke out $30 million from 3,357 theaters over the four-day holiday; an anemic result given its $140 million price tag and a sign that Spielberg, despite a resume that includes "Raiders of the Lost Ark" and "Jurassic Park," may not be the draw he once was among younger crowds. He's spent the better part of the past decade serving as cinema's preeminent history teacher, offering up period pieces such as "Bridge of Spies," "War Horse" and "Lincoln" that resonate more strongly with older consumers.
"It's weird that a Spielberg movie is the underdog at the box office," said Shawn Robbins, senior box office analyst with BoxOffice.com.
Critics have received the Roald Dahl adaptation warmly, saving particular praise for Mark Rylance's motion-capture work as a giant who befriends an orphan girl (Ruby Barnhill). Amblin Partners is backing the film along with Disney and Walden Media. It's the final release under a long-running distribution deal that Spielberg's production label had with Disney. It has since decamped for Universalarmed with new equity financing from Participant Media, Reliance Entertainment, Entertainment One and Spielberg himself.
"The Legend of Tarzan" is also facing fierce headwinds. The latest update of the Edgar Rice Burroughs books about a boy raised by apes cost $180 million to make, but is looking at a paltry $35 million opening from 3,561 theaters over its first four days in theaters — a poor result given the time and treasure Warner Bros. devoted to trying to launch a new franchise. Alexander Skarsgård, whose washboard abs first came to prominence on "True Blood," wears Tarzan's loin cloth this go-round, with Margot Robbie playing his Jane and Christoph Waltz serving as foil. Warner Bros. is hopeful that the film will get a lift overseas, particularly from China, where it debuts next month. This weekend "Tarzan" will swing into 19 markets, including South Korea and Russia
'PREACHER' RENEWED FOR SEASON 2 AT AMC
06/29/16 @ 5:17 pm EST
Source:
Variety
| Categories:
MIsc
|
Comments
(0) |
E-mail Article
|
Add a Comment
AMC has renewed hit comic book adaptation "Preacher" for Season 2,
Variety
has learned. The show is currently halfway through its freshman season run of 10 episodes.
The second season will expand to 13 episodes, slated to air in 2017. Based on the cult comic by Garth Ennis and artist Steve Dillon, the co-production from Sony Pictures Television and AMC Studios is the #2 new series on cable this year among adults 18-49 and adults 25-54, and is currently averaging 3.3 million viewers per episode in Nielsen live plus 3 ratings. The supernatural drama was developed by executive producers Evan Goldberg, Seth Rogen and Sam Catlin, with Catlin also serving as showrunner and writer.
"'Preacher' is a special television program and we're eager to share with fans the rest of this wild first season and, now, an expanded second season," said Charlie Collier, president of AMC, SundanceTV and AMC Studios. "What Sam, Seth, Evan and the entire creative team have achieved in bringing Garth Ennis' graphic novel to the screen is extraordinary. We look forward to more time with these unforgettable characters be it in Heaven, Hell, Texas or beyond."
AMC will air a "Preacher" catch-up marathon of the first five episodes from 9 p.m. on Thursday, June 30.
NEW "ARROW" CASTING BRINGS HAL JORDAN ONE STEP CLOSER TO STAR CITY
06/29/16 @ 5:13 pm EST
Source:
Comic Book Resources
| Categories:
Arrow
|
Comments
(0) |
E-mail Article
|
Add a Comment
"Arrow" has reportedly cast Carly Pope ("The Tomorrow People") as a reporter from Coast City who, in the comics, is the sister-in-law of Green Lantern Hal Jordan.
According to TV Insider, Pope will play Coast City reporter Susan Williams -- in the comics, the wife of Hal's brother, Jim -- who comes to Star City "looking to make a name for herself" by going after Oliver Queen for a "big story."
Williams will make her debut in the third episode of "Arrow's" fifth season.
Also joining the cast of "Arrow" is Tyler Ritter ("The McCarthys") in a recurring role.
According to The Hollywood Reporter, Ritter is playing Detective Malone, a replacement for Captain Lance (Paul Blackthorne) on the Star City Police Department, for the upcoming fifth season. Blackthorne will continue to appear on the series as a regular, despite not operating on the police force.
The fifth season of "Arrow" has seen a lot of additions as of late, including Josh Segarra ("Chicago P.D.") as a new district attorney, who in the comics is the hero Vigilante, Rick Gonzalez as the anti-hero Wild Dog and Chad Coleman ("The Walking Dead") as a new gangster character named Tobias Church.
"Arrow" returns Wednesdays this fall on the CW.
'DORY' EATS $300M+ AND WILL GOBBLE UP 'BFG', 'TARZAN' AND 'PURGE' OVER INDEPENDENCE DAY - BOX OFFICE PREVIEW
06/29/16 @ 5:08 pm EST
Source:
Deadline
| Categories:
MIsc
|
Comments
(0) |
E-mail Article
|
Add a Comment
This isn't the Independence Day weekend of
Transformers, Twilight, Spider-Man
or even Will Smith, but it will be the holiday that belongs to Disney's
Finding Dory.
For a second year in a row, a Pixar holdover will rule the July 4th box office with
Dory
making between $45 million-$50 million over four days. Last year, Pixar's
Inside Out
rose to the top spot over the Independence Day stretch, a slot earned during its third weekend, which is the same exact point
Dory
is entering this weekend. Yesterday,
Dory
flew past $300M where she currently counts $311M at the domestic B.O.
Dory
hits this B.O. mark in 12 days, the fastest animated title to do so, beating the previous record held by
Shrek 2
and
Toy Story 3
which both took 18 days. Worldwide,
Dory
is at $433M.
In a summer that's down 15% from a year ago, July 4th falling on a Monday is a relief for distributors. While most audiences are engaged in holiday activities Monday, it only makes Sunday that much stronger. However, of the three wide entries, Universal/Blumhouse's $10M
ThePurge: Election Year
is the only movie that looks to profit at the domestic B.O. with a four-day take in the mid to high $20Ms. The other two films, Warner Bros./Village Roadshow's
The Legend of Tarzan
and Disney/Walden Media/Amblin's Steven Spielberg title
The BFG
arrive with huge budgets respectively at $180M and $140M before P&A, and their domestic starts aren't expected to be huge, thus the studios will truly look to foreign as both titles' saviors.
Tarzan
will likely pull in $30M-$35M, while
BFG
is hoping to follow with a four-day in the low $30M range. Both titles are going after the same audience: families. However, as one analyst puts it "the boys will want to see
Tarzan,
and the girls will want to watch
BFG,
but if either wind up at the opposite movie, they're not going to shrug."
'GAME OF THRONES' DIRECTOR REVEALS SECRETS BEHIND SEASON FINALE'S MOST EXPLOSIVE MOMENT
06/29/16 @ 5:04 pm EST
Source:
The Hollywood Reporter
| Categories:
MIsc
|
Comments
(0) |
E-mail Article
|
Add a Comment
[Warning: This story contains spoilers through the season six finale of HBO's Game of Thrones, "The Winds of Winter."]
As if there wasn't already enough carnage on the battlefield outside Winterfell, director Miguel Sapochnik went ahead and followed his bloody "Battle of the Bastards" with the Westeros equivalent of a nuclear bomb.
The veteran
Game of Thrones
director, also responsible for season five's "The Gift" and unforgettable "Hardhome," helmed the season six finale with fiery fury, quite literally in the case of the opening sequence: Cersei Lannister's (Lena Heady) act of terrorism, destroying King's Landing's historic Sept of Baelor with a massive supply of ferocious wildfire. The scene plays across the first 10 minutes of the finale and beyond, with dread mounting more and more through lethal children, deadly discoveries, and desperate crawls through the darkness — all stitched together by series composer Ramin Djawadi's haunting score.
In executing the sequence, Sapochnik tells
The Hollywood Reporter
that there was one key element to determine before anything else: the tone.
"When I first read it, I wondered how we would do this and avoid it feeling cheesy or cheap," he says. "After all, blowing everyone up in the third act isn't uncommon in Hollywood action movies."
With that in mind, Sapochnik and the
Thrones
team looked at a few specific references to guide them toward the proper climax, including one big-screen hero who routinely runs into explosive situations.
"The first thing that came to mind was making the explosion more like a James Bond movie," he said. "Sometimes they actually used to blow up the sets they'd built, and then use miniatures for everything else. There was always something so satisfying about that for me as a kid."
The second inspiration was much less blockbuster-oriented, but no less large in terms of its place in popular culture:
The Godfather Parts I
and
II
.
"I loved the way things intercut on those [ending] sequences," says Sapochnik, "and although I know that inter-cutting isn't really considered
Game of Thrones
, I felt like it was going to be the most effective way of telling this story."
Sapochnik pitched those touchstones to showrunners David Benioff and Dan Weiss, and began applying them to the demands of the "trial by wildfire," as it's come to be known among some fans.
"We went through a series of iterations, trying to tie in the actual moment of the explosion and what exploding wildfire would be like, what the delay from the moment of ignition to it reaching the Sept would be, and then we pre-[visualized] the big CGI heavy moments so that we could break down which elements would be shot where."
The scene was shot at multiple points across multiple locations, but the majority of filming took place on a soundstage in Belfast, Ireland. While one might think creating the wildfire explosion would be the trickiest aspect of the scene, it turns out the practical shoot on the Sept stage was even more challenging.
"It's a funny set because there's only ever been half of it built," says Sapochnik. "If you want to shoot 360 degrees you have to pretend you've turned around, but just mirror where everyone is standing. This is a complete cluster f— for continuity, because usually you end up doing it later in the day, and if you've ever wondered what 350 people look like when they're scratching their head, really confused, trying to work out their blocking after you've told them their rights are now their lefts, try switching directions on the Sept stage."
"At the end of it, we had to get a series of plates of all the extras reacting to the explosion and I have to say that was fun," he adds. "The extras were great."
Also great: Cersei (Lena Headey) herself. When the wildfire erupts and the dust begins to spread and settle, the Queen Mother (and soon to be Queen proper, due to her son's suicide) watches from a distance, her smirking face flush with satisfaction. Moments later, she confesses to Septa Unella that she's never felt such pleasure in her entire life; it certainly shows on Cersei's face as she witnesses the deaths of the High Sparrow (Jonathan Pryce), Margaery Tyrell (Natalie Dormer) and more from afar.
"Lena is pretty sharp when it comes to charting her own arc," says Sapochnik, adding that she required very little direction. "The thing we discussed the most was how to react to the Sept's destruction. This was mainly because there was obviously no Sept, just a huge blue screen with a bunch of dots on it and a fan and such to create a shockwave. With such a big event taking place, having nothing there to see or even interact with complicated what in the end was already a complicated enough emotional response. So I would talk her through what was happening in each take and she'd react accordingly. Lena does not need much hand-holding. She brings her A game to work. Mostly you just have to get out her way and let her do her thing."
Headey wasn't the only one who brought her A game to "The Winds of Winter." Sapochnik, already responsible for one of the most elite episodes in
Game of Thrones
history before entering season six, one-upped himself with two back-to-back installments loaded with more than their fair share of dramatic wildfire. But much like the "Battle of the Bastards," crafting the final two installments of season six was a grueling effort, fought hard every step of the way.
"The biggest challenge was actually getting it done without getting ill or oversleeping and being late to set — my worst nightmare," says Sapochnik. "It may sound silly, but as a director on this show and with so little time, getting ill is the worst because you can't just stop and take the day off. You have to suck it up and keep going. And usually that means putting your waterproofs on and your wellies and getting back out there come rain, sleet or snow."
No word on fans of rain or sleet, but Snow enthusiasts certainly appreciate the effort. (Via THR)
BATMAN SPOILS THE PARTY IN NEW CLIP FROM LEGO'S "GOTHAM CITY BREAKOUT"
06/29/16 @ 10:56 am EST
Source:
Comic Book Resources
| Categories:
DC
|
Comments
(0) |
E-mail Article
|
Add a Comment
Warner Bros. Animation has released another hilarious clip from its upcoming "LEGO DC Super Heroes -- Justice League: Gotham City Breakout" animated film, along with announcing a West Coast premiere for the film in Los Angeles that fans are invited to attend.
The latest DC Comics-based LEGO animated film will host its West Coast premiere at Noon on Saturday afternoon, July 9, 2016 at the The Paley Center for Media (465 North Beverly Drive in Beverly Hills). Voice actors Will Friedle (Nightwing), Jason Spisak (Joker) and Eric Bauza (Bane), and producer Brandon Vietti, director Matt Peters and writer Jim Krieg will attend the screening for a panel presentation and autograph signing.
The event will also include special LEGO prizes for all kids in attendance, photo opportunities with "LEGO DC Comics Super Heroes" standees, collectible posters, and more.
To request tickets, send an email to LEGOBreakoutLA@gmail.com, meeting the following rules: "RSVP emails MUST include the first & last name of the entrant, a valid email address, and how many tickets are being requested. No need for pleas, no begging, no extra words – just three simple lines of information. And please only apply once."
Tickets will be awarded on a first come first serve basis.
Check out the new clip from the animated film here:
https://youtu.be/CneIouspFoQ
JAPANESE 'GHOSTBUSTERS' THEME MAY BE THE BEST VERSION YET
06/29/16 @ 10:50 am EST
Source:
Comic Book Resources
| Categories:
MIsc
|
Comments
(0) |
E-mail Article
|
Add a Comment
The "Ghostbusters" reboot may have found its greatest take on the material yet in the form of a cover of the original Ray Parker Jr. "Ghostbusters" theme by Japanese comedians Tomochika, Oniyakko Tsubaki, Naomi Watanabe and Shizuyo Yamasaki.
The dazzling new video, played mostly for laughs, features the four comedians donning the "Ghostbusters" suits and proton packs, intercut with new and old footage from the upcoming Paul Feig-directed reboot — featuring clips with Chris Hemsworth's receptionist character and the Stay Puft Marshmallow Man, among others.
Video:
https://youtu.be/is31GGfhz8o