GARTH ENNIS TALKS THE END OF THE BOYS!!!
09/26/12 @ 2:01 pm EST
Source:
Dynamite
|
Comments
(0) |
E-mail Article
|
Add a Comment
Garth Ennis says goodbye to The Boys in a two-part feature at Comic Book Resources!
http://www.comicbookresources.com/?page=article&id=41185
http://www.comicbookresources.com/?page=article&id=41200
"LIKE" DYNAMITE'S FACEBOOK PAGE TODAY!!!
http://www.facebook.com/dynamitecomics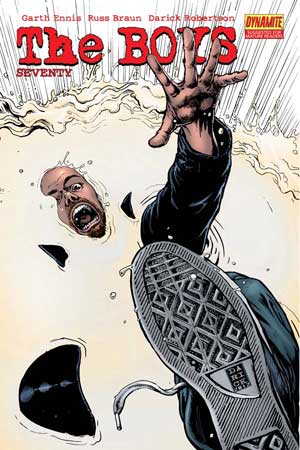 EWAN MCGREGOR TO STAR IN DISNEY'S 'CHRISTOPHER ROBIN'
04/26/17 @ 5:13 pm EST
Source:
The Hollywood Reporter
| Categories:
Disney
|
Comments
(0) |
E-mail Article
|
Add a Comment
Ewan McGregor is in talks to star in Disney's
Christopher Robin
.
Disney's live-action film, which will be helmed by
World War Z
and
Quantum of Solace
director Marc Forster, centers on the child from the A. A. Milne's Winnie the Pooh stories — but he's all grown up.
McGregor will play the adult Christopher Robin, who's lost his sense of imagination and is a businessman focused on work and success.The studio also is bringing in Oscar-nominated screenwriter Allison Schroeder (
Hidden Figures
) to take a new pass of the script. Alex Ross Perry wrote the screenplay, with Tom McCarthy working on a later draft.
Milne's Christopher Robin was inspired by and named after his own son, Christopher Robin Milne. He wrote about the character in two books,
Winnie-the-Pooh
(1926) and
The House at Pooh Corner
(1928), and other poems. Disney adapted the tales into several animated projects, including the 1988 series
The New Adventures of Winnie the Pooh
and the 2011 animated film
Winnie the Pooh.The Jungle Book
producer Brigham Taylor is producing the project.
EDDIE BROCK IS BACK – YOUR FIRST LOOK AT THE OVERSIZED VENOM #150
04/26/17 @ 5:10 pm EST
Source:
Marvel
| Categories:
Marvel
|
Comments
(0) |
E-mail Article
|
Add a Comment
Reunited, and it feels so good! Or, is it bad? Either way you swing it, Eddie Brock is back, and he's bonding with the symbiote once more in May's can't-miss
VENOM #150
– the oversized anniversary issue! Series writer Mike Costa is joined by superstar guest artist Tradd Moore for an extended main story featuring Eddie's return to the pages of Venom. Bonded together again, Eddie and the symbiote are web-slinging their way across New York City. But, is their relationship as harmonious as it once was? Or is their bond more sinister than ever?
But that's not all! In addition to a brutal main feature from Costa & Moore,
VENOM #150
features the return of iconic past Venom creators! First up, because you asked for it – secrets will be revealed! How did Flash Thompson come to lose the symbiote before it found its way to former Army Ranger Lee Price? The
Venom: Space Knight
creative team of
Robbie Thompson
and
Gerardo Sandoval
have the answers! Then, it's back to the mean streets of San Francisco as fan-favorite creators
David Michelinie
and
Ron Lim
present a tale set between the pages of their iconic
Venom: Lethal Protector
series!
This May, it's good to be bad. Be there as a parade of Venom creators past and present take everyone's favorite symbiote into the future! Don't miss
VENOM #150
– available
May 24th
digitally and wherever comics are sold!
VENOM #150 (MAR171008)Written by MIKE COSTA, ROBBIE THOMPSON & DAVID MICHELINIE
Art by TRADD MOORE, GERARDO SANDOVAL & RON LIMCover by GERARDO SANDOVALRemastered Variant by MARK BAGLEY (MAR171013)Variant Covers by CLAYTON CRAIN (MAR171009), GABRIELE DELL'OTTO (MAR171015),ADAM KUBERT (MAR171011), JAMES STOKOE (MAR171011) and SKOTTIE YOUNG (MAR171010)Remastered Sketch Variant by MARK BAGLEY Also Available (MAR171014)FOC – 05/01/17, On-Sale – 05/24/17
BOX OFFICE: 'GUARDIANS OF THE GALAXY VOL. 2' SOARS TO $6.6M ON FIRST DAY OVERSEAS
04/26/17 @ 5:05 pm EST
Source:
The Hollywood Reporter
| Categories:
Marvel
|
Comments
(0) |
E-mail Article
|
Add a Comment
Director James Gunn's
Guardians of the Galaxy Vol. 2
opened to a stellar $6.6 million in its first three foreign markets on Tuesday as it began its international assault in 37 territories this weekend, a week ahead of its May 5 launch in North America.
So far, the Disney and Marvel sequel is pacing well ahead of the first film.
Guardians Vol. 2
debuted to $4.5 million in Australia, including previews. That's three times more than
Guardians of the Galaxy
did in August 2014. It is also the second-highest opening day for any Marvel release behind 2012's
The Avengers
.
Guardians Vol. 2
posted similar gains in Italy on Tuesday with $1.4 million. And in New Zealand, its opening-day haul of $700,000 represented the biggest first-day take of the year so far.
Tracking suggests the quirky superhero tentpole could approach or top $100 million in its overseas debut.
In North America,
Guardians Vol. 2
is tracking to launch in the $130 million-$150 million range, well ahead of the original's $94.7 million launch. The first film was a surprise hit and went on to earn $773 million globally, a rousing number considering it featured a rag-tag group of lesser-known superheroes.
TOKYO GHOUL LIVE-ACTION MOVIE DEBUTS CREEPY NEW POSTER
04/26/17 @ 10:58 am EST
Source:
Comicbook
| Categories:
MIsc
|
Comments
(0) |
E-mail Article
|
Add a Comment
Anime fans, like it or not, the live-action take on
Tokyo Ghoul
will be here sooner than you think.
This year, the supernatural horror series will be brought to life by director Kentarō Hagiwara when
Tokyo Ghoul
hits theaters in Japan. The film, which is based on Sui Ishida's acclaimed manga, will see Masataka Kubota play Ken Kaneki whilst Fumika Shimizu oversees Touka Kirishima.
And, now, a brand-new theatrical poster for film has been revealed.
JAIME REYES GETS A SHOCKING NEW BLUE BEETLE COSTUME
04/26/17 @ 10:42 am EST
Source:
Comicbook
| Categories:
DC
|
Comments
(0) |
E-mail Article
|
Add a Comment
Warning: Spoilers ahead for Blue Beetle #8, on sale today.
What happens when Jaime Reyes's scarab craps out, but the day still needs to be saved and El Paso still needs a Blue Beetle?

That's the question posed by today's Blue Beetle #8 from writers Keith Giffen and J.M. DeMatteis with artist Scott Kolins, and the answer? Well, it's pretty simple: he dons the classic Blue Beetle costume worn for years by Ted Kord during the pre-Flashpoint publishing era at DCComics (and before that at Charlton Comics).

Ted, who was killed in the 2005 event comic Countdown to Infinite Crisis, resurfaced alive and well in the pages of Forever Evil during the New 52 era of DC publishing but only really stepped up into a major role in the DC Universe in Blue Beetle: Rebirth #1.

Since then, he has served as Jaime's mentor, advisor, and constant nagging voice.

Jaime has, more often than not, appreciated Ted's input...and this week, he got to show just how much he appreciates what Ted brings to the table by preparing for battle by dressing in Ted's costume, as seen below.


AMAZON REVEALS RELEASE DATE FOR THE TICK WITH NEW TEASER
04/26/17 @ 10:37 am EST
Source:
Comicbook
| Categories:
MIsc
|
Comments
(0) |
E-mail Article
|
Add a Comment
The Tick
is returning for a brand new series this year, as Amazon has brought the classic character back for a new run on its streaming service. While the pilot has been available for quite a while now, the premiere date for the new season of
The Tick
has finally been revealed.
In the short announcement teaser, Amazon lets fans know that they can expect new episodes of
The Tick
on August 25, 2017.
Teaser:
https://youtu.be/wfmRP5IQH8Y
AGENTS OF SHIELD EXPLAINS WHY WARD ISN'T HYDRA IN THE FRAMEWORK
04/26/17 @ 10:24 am EST
Source:
Comicbook
| Categories:
Marvel
|
Comments
(0) |
E-mail Article
|
Add a Comment
Agents of SHIELD
's journey into the Framework has been one surprise after another from the start. The first of those surprises came when Daisy Johnson hacked her way inside and discovered that her Framework self is dating Grant Ward and that both she and him were agents of Hydra.
However, things weren't all that they seemed. Ward soon revealed himself to be a mole within Hydra fro the SHIELD resistance. Since then, he's acted with Daisy's best interests in mind and has shown himself to be a loyal member of SHIELD.
That's a far cry from the Grant Ward that Daisy knew in the real world, where he was a double agent inside of SHIELD working for Hydra. Ward isn't the only person whose Framework life is quite different from their real life, but the differences tend to be the result of AIDA having changed something about their history within the Framework.
In last night's episode, "All the Madame's Men,"
Agents of SHIELD
finally revealed what changed to make Ward loyal to SHIELD instead of Hydra in the Framework. In the real world, Ward's troubled childhood and adolescence came to and end when he was arrested for burning down his parents' family home, unaware that his brother, Christian, was inside.
Ward would likely have been tried as an adult and sent to prison for years when Agent John Garrett of SHIELD showed up and recruited him. Ward saw Garrett as the first person to ever believe he had worth, and that made Ward unwavering in his loyalty to Garrett. As it happened, Garrett was also and agent of Hydra working within SHIELD, and so Ward followed down the same path.
In the Framework, Ward's childhood seems to have gone mostly the same way. The big change came from who recruited him out of prison. In the Framework, it wasn't Garrett but Victoria Hand who saw worth in Ward, and that seems to have changed everything. The loyalty Ward felt towards Garrett in the real world was instead transferred to Hand and SHIELD in the Framework. As Ward explained in an earlier episode, the only reason that Ward stayed on as an agent of Hydra was because he saw Daisy's scan results revealing she was an Inhuman and wanted to be in a position to protect her.
Considering how "All the Madame's Men" ended, it seems possible that Ward may have his last heroic stand before
Agents of SHIELD
Season 4 is through. Then again, AIDA has also come up with a way to create new human bodies, so perhaps there's hope for Framework Ward to live on in the real world after all.
AGENTS OF SHIELD REFERENCES NICK FURY IN LATEST EPISODE
04/26/17 @ 10:20 am EST
Source:
Comicbook
| Categories:
Marvel
|
Comments
(0) |
E-mail Article
|
Add a Comment
The most recent episode of
Marvel's Agents of SHIELD
, "All the Madame's Men," continued the story that place in the Hydra-ruled reality of the Framework. Madame's Men " continued the story that places in the Hydra-ruled reality of the Framework. The episode also illuminated a key portion of Phil Coulson's Framework history, and it involves Nick Fury.
During the episode, Coulson remembers something that someone once told him, that "a person can do anything when he realizes he's a part of something bigger."
This speech calls back a season one episode of
Marvel's Agents of SHIELD
. Following Hydra's attempt to usurp control of SHIELD, Coulson was preparing his team to head into battle when he told them the same speech, or pretty close to it, saying that it is something Nick Fury used to say.
This speech had another important role in
Marvel's Agents of SHIELD
's first season. Nick Fury appeared in the show's first season finale. The traitorous Agent John Garrett tried to quote the speech back at Fury but got it wrong. He said that a man can accomplish anything when he "becomes something bigger." Fury corrected him, telling him it is "becomes a part of something bigger" and then wondered out loud if Garrett's betrayal was all because he misheard Fury's big speech.
AQUAMAN STAR SHOWS OFF HIS BLACK MANTA RESEARCH MATERIAL
04/26/17 @ 10:12 am EST
Source:
Comicbook
| Categories:
DC
|
Comments
(0) |
E-mail Article
|
Add a Comment
With
Wonder Woman
and
Justice League
both hitting the silver screen this year for Warner Brothers' DC Extended Universe, one could say it's a pretty good time to be a fan of DC comics.
One of the most anticipated movies, however, doesn't drop until next year. That's when director James Wan's
Aquaman
will see Arthur Curryget his first ever solo live action flick.
While Dolph Lundgren has been cast as King Nereus — the anticipated primary antagonist of the film — Yahya Abdul-Mateen II (
The Get Down
) will serve as Aquaman's arch-nemesis Black Manta, who will serve as a secondary villain in the movie this time around.
Abdul-Mateen II isn't taking the role lightly, that's for sure. One of the stars of the popular Netflix original
The Get Down
— a show showing the rise of hip-hop and disco music in The Bronx through the vantage point of a group of teenagers — has been busy brushing up on Aquaman lore, and he wants his fans to know it.
The actor took to Instagram today to post a selfie while holding up a wide variety of Aquaman comics, including a few from the latest Rebirth run as well as 2011's post-Flashpoint New 52 run. All smack dab in the middle is an issue of Suicide Squad featuring both Black Manta and Deathstroke.
GOTHAM EP SAYS TWO CHARACTERS WILL GET MUCH DARKER VERY SOON
04/25/17 @ 11:35 pm EST
Source:
Comicbook
| Categories:
DC
|
Comments
(0) |
E-mail Article
|
Add a Comment
Gotham
may have just premiered last night, but the latest run of episodes—dubbed "Heroes Rise"—is barreling toward some dramatic events in the season finale which should have lasting ramifications for two of the main characters.
Both Ben McKenzie and Morena Baccarin's characters, Jim Gordon and Dr. Lee Thompkins respectively, have had a rough go of things latey, and their dire situations might just drive them even further down the dark path as Bruce Wayne begins to find his place in Gotham City.
While speaking with TV Line, executive producer John Stephens said Lee and Gordon's story will lead into a "rebirth."
Stephens said the two characters would be "much darker, more dangerous, almost evil versions of themselves."
Gordon himself has been knocked down quite a few pegs since the series began, and after driving a wedge between himself and many of his allies he might just be driven into the arms of his uncle, Frank Gordon, who reveals his involvement with the Court of Owls.
Stephens said Gordon will "realize that he has sort of a family legacy with the Court of Owls, and he'll have to choose against that to take it down."