BIOWARE AND DARK HORSE ANNOUNCE MASS EFFECT 3 ­­IN-GAME ITEMS ON PC AND XBOX 360 FOR FANS WHO PURCHASE MASS EFFECT ART BOOK
03/14/12 @ 1:27 pm EST
Source:
Dark Horse
|
Comments
(0) |
E-mail Article
|
Add a Comment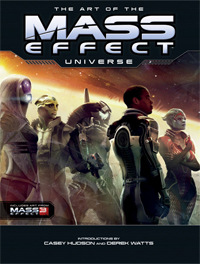 BioWare, a label of Electronic Arts, Inc., and Dark Horse Comics revealed today that fans who purchase the digital version of
The Art of the Mass Effect Universe
through
Digital.DarkHorse.com
will receive a limited code to unlock a Reinforcement Pack containing in-game items to be used on PC or the Xbox 360 video game and entertainment system in the co-op campaign in 2012's most anticipated game,
Mass Effect 3
. Showcasing the unique and iconic art featured in the
Mass Effect
series,
The Art of the Mass Effect Universe
was released in print and digitally on February 8. Additionally,
Mass Effect
fans who purchase the digital version of the four-issue comic miniseries
Mass Effect: Invasion
at the Dark Horse Digital store will also receive a limited code to unlock a Reinforcement Pack.*
Fans who gain access to the Reinforcement Packs will receive in-game items that can be used in the four-player cooperative multiplayer campaign in
Mass Effect 3
on PC or Xbox 360. These packs will include powerful character boosters and the devastatingly lethal Collector Assault Rifle. With deadly efficiency, this special weapon uses the same principles as a human assault rifle, but its organic components set it apart. To learn more about how to obtain and redeem the special item code, visit
DarkHorse.com
.
Recently named by over 100 outlets around the world as one of the most anticipated games of 2012, including the fan-voted Most Anticipated Game of 2012 award at the Spike TV VGAs,
Mass Effect 3
thrusts players into an all-out war to save the galaxy from an ancient alien race known as the Reapers. Players will assume the role of Commander Shepard, a war-torn veteran who's willing to do whatever it takes to eliminate this nearly unstoppable foe. With a team of elite, battle-hardened soldiers at their side, each player decides how they will take Earth back, from the weapons and abilities they utilize to the relationships they forge or break.
Mass Effect 3
was released on the Xbox 360 video game and entertainment system, PlayStation 3 computer entertainment system, and PC in North America on March 6, 2012, and in Europe on March 9, 2012. For more information on
Mass Effect 3
, please visit
MassEffect.com
, follow the game on Twitter at
twitter.com/masseffect
, or "like" the game on Facebook at
facebook.com/masseffect
.
*Code expires March 31, 2013. Additional restrictions and conditions apply. See
MassEffect.com
for details.
FIRST $3M COMIC BOOK? RARE 'ACTION COMICS' #1 TO BE AUCTIONED
07/23/14 @ 8:52 pm EST
Source:
ICv2
| Categories:
MIsc
|
Comments
(0) |
E-mail Article
|
Add a Comment
Get ready for a new price record for a single issue of an American comic book. Darren Adams of Pristine Comics is offering a copy of Action Comics #1, which was originally published in April of 1938 and contains the first appearance of Superman, that has been graded at 9.0.

In 2011 another copy of Action Comics #1 that was previously owned by actor Nicholas Cage was sold for $2,161,000. That copy was also rated at 9.0, but it had discolored pages, whereas the copy to be auctioned off next month has "white pages," which should make it even more valuable since it is the only known copy of the book that has been graded as such. In an interview, Darren Adams noted that of the more than 200,000 copies of Action #1 that were printed, only 34 unrestored copies are known to exist today.

Will the price for this copy of Action #1 reach $3 million when the auction, which lasts from August 12 to August 24, is complete?
DC'S 'PLASTIQUE' JOINING 'THE FLASH' CAST
07/23/14 @ 8:48 pm EST
Source:
TVLine
| Categories:
Flash
|
Comments
(0) |
E-mail Article
|
Add a Comment
Plastique, the terrorist villain from DC Comics, who has appeared in the "New 52" universe as a foe of Firestorm and member in good standing of the Secret Society of Super Villains, is coming to the CW's The Flash TV series as police Sgt. Bette San Souci, but she may not be plying her villainous ways on the small screen.

TV Line describes the most recently announced member of The Flash cast this way: "The series' incarnation of the metahuman Plastique is a fetching young redhead who was a bomb specialist with the Army before she was injured by an IED in Iraq. Since being exposed to the Central City explosion, she can turn any object into a bomb with just a touch of her hand."
'SINISTER SIX' SPIN-OFF BOOTS 'ASM 3' TO 2018
07/23/14 @ 8:45 pm EST
Source:
ICv2
| Categories:
Amazing Spider-Man
|
Comments
(0) |
E-mail Article
|
Add a Comment


Reacting to the fact that Marc Webb's The Amazing Spider-Man 2 was the lowest-grossing film in franchise history, Sony has delayed the debut of Amazing Spider-Man 3 from 2016 to 2018, while inserting the Spider-Man spin-off film Sinister Six into the studio's 2016 schedule with a debut slated for Nov. 11th, 2016.

While Marc Webb was slated to direct ASM 3, this scheduling move certainly puts his participation in doubt.

Sony raised a few eyebrows with its plans for a second Spider-Man origin trilogy that debuted just five years after the final film in Sam Raimi's original trilogy ended.

While Webbs ASM 2 has earned $706 million worldwide, that was $50 million less than ASM 1 earned. ASM 2also cost $230 million to produce, and when promotional costs are added in it appears that the film was not much of moneymaker for the studio, especially when considering the fact that the studio receives well under 50% of ticket sales from overseas venues, which accounted for 71% of the film's global earnings.

'EPISODE VII' STAR TO BE MARVEL'S BLACK PANTHER?
07/23/14 @ 8:41 pm EST
Source:
ICv2
| Categories:
Marvel
|
Comments
(0) |
E-mail Article
|
Add a Comment


Rumors about upcoming comic book-based movies are flying about the Internet as the San Diego Comic-Con gets underway.

The latest, which appears to have at least some substance, comes from Star Wars: Episode VII actor John Boyega, who tweeted yesterday "Marvel role…hehehe…I'm dam right aiming for it," and then followed up with "Currently booking flight to Wakanda."

Of course Wakanda is the homeland of Marvel's Black Panther, a character that is likely to be in the mix for one of the "New character" spots in Marvel Studio's master release plan.


At this point Marvel Studios has reserved some seven dates between 2016 and 2019 with no specific movies attached.
'LUMINAE' IN OCTOBER BY BENGAL COMING
07/23/14 @ 8:39 pm EST
Source:
ICv2
| Categories:
MIsc
|
Comments
(0) |
E-mail Article
|
Add a Comment
Magnetic Press will release Luminae, a fantasy graphic novel by internationally renowned illustrator and artist Bengal, on October 5.

French artist Bengal (Naja, Meka) has a background in video game development and a life-long love of fantasy, role-playing games, and epic storytelling. This complex fantasy world tale follows a sisterhood of six female warriors who protect the creature of Light, Luminae, who helps keep the forces of Darkness from destroying humankind. But when one of the warriors disappears, the others know it is a sign of encroaching Darkness.

The 160-page, full-color, 8.5" x 11", hardcover edition has an MSRP of $24.99.
'SHAOLIN COWBOY' COMES TO DARK HORSE
07/23/14 @ 8:34 pm EST
Source:
Dark Horse
| Categories:
Dark Horse
|
Comments
(0) |
E-mail Article
|
Add a Comment


Fans of Geof Darrow get ready -- Dark Horse Comics has three long out-of-print collections coming down the line. Not only will Darrow and Frank Miller's "Big Guy and Rusty the Boy Robot" receive a fancy new Gallery Edition, but "Bourbon Thret" -- Darrow's first published comics work previously only available in French -- will arrive in its first English translation, and his critically acclaimed "Shaolin Cowboy" will be collected for the first time ever in America.

Working in comics since the 1980s, Geof Darrow spent much of his career in France, breaking into comics there and going on to work in many different artistic fields -- including an animation job with Hanna Barbara and design work with the Wachowskis on "The Matrix" -- all while publishing more work, including "Hard Boiled" with Frank Miller.
RAISE YOUR GLASSES TO 'VALHALLA MAD'
07/23/14 @ 8:23 pm EST
Source:
Image
| Categories:
Image
|
Comments
(0) |
E-mail Article
|
Add a Comment


Joe Casey (SEX, THE BOUNCE) and Paul Maybury (SOVEREIGN) reunite for VALHALLA MAD, a new series about the greatest cosmic drink-up in all of the Nine realms, coming to Image Comics in 2015.

VALHALLA MAD introduces a set of brand new characters: the Glorious Knox, Greghorn the Battlebjorn and Jhago the Irritator. The series depicts this particular trio of fun-loving gods' return to Earth—Manhattan, specifically—to drink and party and revel in their resplendent godhood after many decades of being away. Needless to say, they find a very different world than the one they last visited.

"This book is different than anything I've ever done before, and working with Paul again on something that we own has been a blast so far," said Casey. "And even though we're using a very specific Silver Age comics' language to tell the story, there's a much deeper, more personal meaning to the work that I hope readers will connect to. It's the best of both worlds: bombast and heart."

"Teaming up with Joe again to bring Valhalla Mad to life has been a dream," added Maybury. "It's a book about friendship, life and of course, the gods."

"One of the great things about Joe Casey is that he's always looking for new ways to push himself," said Eric Stephenson, Publisher at Image Comics. "He's so full of ideas—and better still, different kinds of ideas—and is always trying something new. The only chance of getting a book that is 'more of the same' from Joe is if 'the same' is defined by his continued dedication to surprising and subverting readers' expectations of what comics can be."

The party begins in VALHALLA MAD #1, filled with myth, mirth, and mayhem from Image Comics in Spring, 2015.
'TOOTH AND CLAW' IS CONAN MEETS GAME OF THRONES MEETS KAMANDI
07/23/14 @ 8:20 pm EST
Source:
Image
| Categories:
Image
|
Comments
(0) |
E-mail Article
|
Add a Comment


Bestselling writer Kurt Busiek (MARVELS and ASTRO CITY) returns to Image Comics with rising-star artist Ben Dewey (I Was the Cat, The Tragedy Series), colorist Jordie Bellaire (THE MANHATTAN PROJECTS, PRETTY DEADLY), and John Roshell of Comicraft for an all-new ongoing series that is Conan meets Game of Thrones meets Kamandi in an original high-fantasy epic for mature readers in TOOTH AND CLAW this November.

In TOOTH AND CLAW, a secret conclave of wizards brings a legendary champion forward through time from the forgotten past to save the world, with disastrous consequences. Swords, sorcery, beast-wizards, gods, sprawling animal empires, golems of radioactive decay, crystalline badlands, con women, ancient armories, young love, mystery, blood and death and treachery and destiny… TOOTH AND CLAW is an epic story you won't want to miss out on.

"This is a series I've wanted to do for more than a decade," said Busiek. "I've been slowly building the world, figuring out its secrets, and waiting for the ideal chance to bring it to life. It's as complex and sweeping a world as Astro City, though in very, very different ways, and as brutal and visceral as anything I managed to do on Conan.

"And without having any idea I was doing this, it turned out I was designing the perfect series for Ben Dewey to draw. Everything I've asked him to draw, from airborne wicker cities to crusty warthog wizardesses to stolid bison-tribesmen and tricky coyote traders, he makes it look perfect. Lush, involving, richly textured and utterly convincing, the world Ben brings to life is everything I imagined and then some. I couldn't be happier to be working with him on this—he draws a world that feels like you could just step into it, walk down a lane and around a corner, and find a million new adventures, characters as rich and compelling as anyone in the foreground.

"I'm also thrilled that we're working with the great Jordie Bellaire, who's transforming Ben's black-and-white line-and tone-work to life with vivid, Renaissance-painting color, and John Roshell and the gang at Comicraft, who perform miracles monthly, and even when I ask for something utterly contradictory, like 'I want it to be lettered like a classic 1940s comic strip and feel distinctively modern,' just shrug and make it happen as if it's the easiest thing in the world.

"And of course, we're at Image, so the book is exactly what we want it to be, exactly the way we want it to look."

"I can tell you, without caveats, that there is no project more custom fit to my sensibilities that this one; everything I've ever wanted to draw, invent and explore has come my way by working on this book with Kurt," added Dewey. "I worked hard to infuse each page with my excitement and enthusiasm for the world that is being built as we progress. I hope to cultivate an audience that's as thrilled to read it as I have been during the process of creating this story."

"Years ago, when I first became Publisher here at Image, I made a list of writers and artists I wanted to work with, and Kurt Busiek was one of the names at the top," said Eric Stephenson, Publisher at Image Comics. "Kurt and I have had a number of near-misses over the years: When I was editing comics for Rob Liefeld at Extreme Studios, Kurt almost wrote Supreme, and later, he was slated to do Youngblood: Year One, but didn't, so it's really cool that we're finally bringing something to fruition together after so long. What's even cooler, though, is that Kurt's found such an unbelievably talented collaborator in Ben Dewey. As anyone familiar with the award-winning series Marvels and Astro City knows, Kurt's no stranger to awesome artists, and even though he's relatively new to the game, Ben is every bit as amazing as Kurt's past creative partners. Everything about this series is absolutely magnificent, and I can't wait for its debut this November."

The action begins in November 2014 with a spectacular DOUBLE-SIZED FIRST ISSUE, featuring forty-four pages of story with no ads for the regular price of just $2.99.
THE FUTURE IS BLEAK IN 'TOKYO GHOST'
07/23/14 @ 8:16 pm EST
Source:
Image
| Categories:
Image
|
Comments
(0) |
E-mail Article
|
Add a Comment
Bestselling writer Rick Remender (BLACK SCIENCE, DEADLY CLASS) and artist Sean Murphy (The Wake, Punk Rock Jesus) team up with colorist Matt Hollingsworth (Hawkeye, The Wake) for the new ongoing series TOKYO GHOST, coming to Image Comics in Summer 2015.TOKYO GHOST welcomes readers to the isles of New Los Angeles, 2189. Humanity has become nothing more than a sea of consumers, ravenous and starving wolves, sick from toxic contamination, who have to borrow, beg, and steal for the funds to buy, buy, buy their next digital fix. Getting a thrill, a distraction from reality, is the only thing left to live for. Entertainment is the biggest industry, the drug everyone needs, and gangsters run it all. And who do these gangsters turn to when they need the "law" enforced? Led Dent and Debbie Decay, constables of the law, which is a nice way to say "brutal killing machines." The duo are about to be presented with an assignment that will force them out of the decay of LA and into the mysterious lost nation of Tokyo."Sean and Matt are two of the best artists in comics and the only two people who could realize the wondrous brutality and twisted romance of this story we've cooked up together," said Remender. "It's some of the most fun I've had, it's equal parts depravity and beauty, violence and poetic reflection. It's unlike anything I've ever done. The only bad thing about Tokyo Ghost is that you have to wait a year to see it." "Rick is one of the most impressive writers in comics—a masterful storyteller in both mainstream and independent comics," said Murphy. "Nobody is attacking the industry quite like Rick is, and I'm thrilled to help him do it, especially with my trusted colorist Matt Hollingsworth by my side. Tokyo Ghost is a love letter to the sci fi action movies we grew up on, with a little bit of Kurosawa thrown in.""Reading over the pitch for Tokyo Ghost, I had a big grin on my face imagining this world we would all be making together," said Hollingsworth. "Hopefully you will enjoy it a tenth as much as we are enjoying creating it.""Rick has been on a real roll since returning to Image last year, and it almost sounds like a slight to his other work to say Tokyo Ghost looks set to be his best new series yet," added Eric Stephenson, Publisher at Image Comics. "Collaborating with talent as titanic as Sean Murphy makes this a real event, though, and I really can't wait for everyone to get their hands on this one."Join them on their journey in TOKYO GHOST #1, coming to Image Comics in 2015.
'THE HUMANS'—JOIN US ON ONE WILD RIDE
07/23/14 @ 8:13 pm EST
Source:
Image
| Categories:
Image
|
Comments
(0) |
E-mail Article
|
Add a Comment


From fan-favorite writer Keenan Marshall Keller (Galactic Breakdown, Drippy Bone Books) and artist Tom Neely (The Blot, Henry & Glenn Forever, Popeye) with colorist Kristina Collantes comes THE HUMANS, a high octane, no holds barred, ape-biker-gang chopper ride into '70s exploitation genre bliss headed your way from Image Comics in November 2014.

Apart, they are nothing… deemed by society as outcasts, misfits, losers, no good punks! But together, they are THE HUMANS! Follow Bobby, Johnny, and all The HUMANS as they fight and fly down the road to oblivion on a ride filled with chains, sex, leather, denim, hair, blood, bananas and chrome.

The prequel issue for The HUMANS #0 introduces three members of The HUMANS gang: Marra, Mojo, and Karns, as they encounter member of a local rival gang, The SKABBS, trying to party on HUMANS turf. Chaotic violence ensues as the pages drip with 100% Ape-Biker Exploitation at its finest, including a mind-melting full color acid-banana freak-out pin-up by the future series colorist Kristina Collantes. The issue will be available for purchase and autographs at the Image booth during Preview Night at San Diego Comic Con.

"The HUMANS are here to f*ck shit up and have some fun and so am I!" said Keller. "I can't f*ckin' wait to melt peoples brains with this shit! HUMANS FOR LIFE!"

"This is the comic book I never knew I was born to draw," added Neely.

"I am grateful for this opportunity to paint an architecture of blood and bananas," said Collantes.

"Every so often, someone pitches a book that just sounds too crazy to be true, and I mean that in the best way possible," said Eric Stephenson, Publisher at Image Comics. "Chew was one of those books. Sex Criminals was another one. Everything about The Humans seems completely nuts, and I think that's why people are going to love it!"

THE HUMANS is a long and twisted ride through biker gang warfare, drug running, corrupt cops, semi-truck hijackings, Vietnam flashbacks, Skin Fights (homosapien cockfighting), major ultra-violence, a strip club called The Forbidden Zone, and bloody vengeance... Coming to Image Comics in November 2014.