BIOWARE AND DARK HORSE ANNOUNCE MASS EFFECT 3 ­­IN-GAME ITEMS ON PC AND XBOX 360 FOR FANS WHO PURCHASE MASS EFFECT ART BOOK
03/14/12 @ 1:27 pm EST
Source:
Dark Horse
|
Comments
(0) |
E-mail Article
|
Add a Comment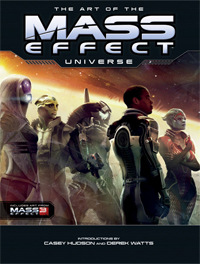 BioWare, a label of Electronic Arts, Inc., and Dark Horse Comics revealed today that fans who purchase the digital version of
The Art of the Mass Effect Universe
through
Digital.DarkHorse.com
will receive a limited code to unlock a Reinforcement Pack containing in-game items to be used on PC or the Xbox 360 video game and entertainment system in the co-op campaign in 2012's most anticipated game,
Mass Effect 3
. Showcasing the unique and iconic art featured in the
Mass Effect
series,
The Art of the Mass Effect Universe
was released in print and digitally on February 8. Additionally,
Mass Effect
fans who purchase the digital version of the four-issue comic miniseries
Mass Effect: Invasion
at the Dark Horse Digital store will also receive a limited code to unlock a Reinforcement Pack.*
Fans who gain access to the Reinforcement Packs will receive in-game items that can be used in the four-player cooperative multiplayer campaign in
Mass Effect 3
on PC or Xbox 360. These packs will include powerful character boosters and the devastatingly lethal Collector Assault Rifle. With deadly efficiency, this special weapon uses the same principles as a human assault rifle, but its organic components set it apart. To learn more about how to obtain and redeem the special item code, visit
DarkHorse.com
.
Recently named by over 100 outlets around the world as one of the most anticipated games of 2012, including the fan-voted Most Anticipated Game of 2012 award at the Spike TV VGAs,
Mass Effect 3
thrusts players into an all-out war to save the galaxy from an ancient alien race known as the Reapers. Players will assume the role of Commander Shepard, a war-torn veteran who's willing to do whatever it takes to eliminate this nearly unstoppable foe. With a team of elite, battle-hardened soldiers at their side, each player decides how they will take Earth back, from the weapons and abilities they utilize to the relationships they forge or break.
Mass Effect 3
was released on the Xbox 360 video game and entertainment system, PlayStation 3 computer entertainment system, and PC in North America on March 6, 2012, and in Europe on March 9, 2012. For more information on
Mass Effect 3
, please visit
MassEffect.com
, follow the game on Twitter at
twitter.com/masseffect
, or "like" the game on Facebook at
facebook.com/masseffect
.
*Code expires March 31, 2013. Additional restrictions and conditions apply. See
MassEffect.com
for details.
CORINNA BECHKO TO WRITE ANGEL SEASON 11 FOR DARK HORSE
09/26/16 @ 1:48 pm EST
Source:
Bleeding Cool
| Categories:
Angel
|
Comments
(0) |
E-mail Article
|
Add a Comment
Bleeding Cool
is exclusively reporting that one of the big announcements coming up for
Dark Horse
at
NYCC
October 6th-9th is that writer
Corinna Bechko
(
Laura Croft
) will be taking on
Angel Season 11
for the publisher. She will be joined by
Deadpool
and
Ghost
artist
Geraldo Borges
and
Buffy Season 9
colorist
Michelle Madsen
on the series.
Angel goes solo in the new series as he is tormented by memories of his past and they link to a big bad coming in the future. The goddess Illyria intervenes and assists Angel as he discovers that it might be possible to change the future by traveling back in time to change the past.
The first issue of
Angel Season 11
goes on sale January 18, 2017 and will have twelve issues total.
Scott Fischer
(
Angel & Faith Season 10
) and
Jeff Dekal
(
Journey into Mystery
) both created covers.
CHECK OUT MICHAEL FASSBENDER IN ACTION IN NEW ASSASSIN'S CREED SHOT
09/26/16 @ 1:43 pm EST
Source:
Bleeding Cool
| Categories:
MIsc
|
Comments
(0) |
E-mail Article
|
Add a Comment
You can see just a glimpse of the in action from
Assassin's Creed
in this new photo from the shoot which shows
Michael Fassbender
atop a charging horse.
Take a look (via Blleding Cool by way of TotalFilm):
DOCTOR STRANGE GETS A COUPLE TV SPOTS TO REMIND YOU HOW COOL THE FILM LOOKS
09/26/16 @ 1:39 pm EST
Source:
Bleeding Cool
| Categories:
Marvel
|
Comments
(0) |
E-mail Article
|
Add a Comment
Doctor Strange
is barreling down on us pretty fast right, with the November 4th date mere weeks away at this point. Well, just over five to be exact.
That is why it's unsurprsing then that the promotional work is kicking up. Here are a couple of new TV spots that have just been released, showcasing the film in a couple ways.
Spot 1:
https://youtu.be/0VrEeyDvfJc
Spot 2:
https://youtu.be/HocvGAQo3s8
LUKE CAGE WILL CLEAR THE BOARD AGAINST DIAMONDBACK IN NEW TRAILER
09/26/16 @ 1:34 pm EST
Source:
Bleeding Cool
| Categories:
Marvel
|
Comments
(0) |
E-mail Article
|
Add a Comment
Netflix
has dropped a new trailer for
Marvel's Luke Cage
. We get a better idea of the story and how
Luke Cage
(
Mike Colter
) takes the war to
Cornell Stokes
(
Mahershala Ali
) and
Mariah Stokes
(
Alfre Woodard
). We also see that
Claire Temple
(
Rosario Dawson
) will be playing an important role in the series and how
Misty Knight
(
Simone Missick
) gets interested in him.
Marvel's Luke Cage
premieres September 30th on Netflix.
Video:
https://youtu.be/snJ-nRgx8o0
ROGUE ONE: A STAR WARS STORY ADDS VALENE KANE
09/26/16 @ 1:30 pm EST
Source:
Bleeding Cool
| Categories:
Star Wars
|
Comments
(0) |
E-mail Article
|
Add a Comment
Valene Kane
, star of
The Fall
and
Thirteen
, has been added to the cast of
Rogue One: A Star Wars Story
. Kane will be playing
Lyra Erso
, wife of
Galen Erso
(
Mads Mikkelsen
) and mother of
Jyn Erso
(
Felicity Jones
).
How big the role of Lyra is remains to be seen. Jyn is the main star and we know that Galen is a pivotal character as he works on the construction of the
Death Star
and alerts the Rebels to the existence of the weapon.
Kane spoke to Belfast Live about the casting: "I grew up watching Stars Wars and I didn't believe it was happening until I was filming in Iceland. It has a really edgy independent vibe."
BOOM! STUDIOS PREPARES FOR NYCC WITH FIRST TWO OF TEN ANNOUNCEMENTS
09/26/16 @ 1:24 pm EST
Source:
Bleeding Cool
| Categories:
MIsc
|
Comments
(0) |
E-mail Article
|
Add a Comment
BOOM! Studios
is making a series of announcements leading up to the New York Comic Con October 6th. Here we have the first two announcements with five more slated for next week and another three leading up the the first day of the convention.
First up is
Jim Henson's The Storyteller: Giants
, the follow-up to
Archaia's
Jim Henson's The Storyteller: Witches
and
Jim Henson's The Storyteller: Dragons
. Here are the details of the first issue below, along with
Conor Nolan's
cover:
Jim Henson's The Storyteller: Giants #1 (of 4)
Writer / Artist / Cover artist: Conor Nolan
Format: 32 pages, full color Price: $3.99 On sale: December 7, 2016
Jim Henson's The Storyteller: Giants is a collection of mythic tales of when giants roamed the Earth, inspired by folklore from around the world and told in the spirit of Jim Henson's beloved television series. In this first issue, rising newcomer Conor Nolan reimagines the "The Peach's Son," a Japanese tale of a giant who was raised by humans but never accepted by them. When a nearby village is overrun with evil beings, the giant will take a chance to be a hero and prove himself to be part of the community he calls home. Upcoming issues will include stories by Brandon Dayton, Jared Cullum, and Feifei Ruan.
The second announcement is a tease of an upcoming original project with novelist
Delilah S. Dawson
(
Star Wars: The Perfect Weapon
,
Wake of Vultures
) and artist
Ashley A. Woods
(
Niobe: She Is Life
,
Erathune
), coming in January. Here is a teaser image, featuring a peek at the cover art by
Elsa Charretier
(
The Unstoppable Wasp).
TOM DEFALCO TEASES SECRET PROJECT WITH RON FRENZ AT WIZARD WORLD AUSTIN
09/26/16 @ 1:15 pm EST
Source:
Bleeding Cool
| Categories:
MIsc
|
Comments
(0) |
E-mail Article
|
Add a Comment
Former Marvel EIC
Tom Defalco
talked with
Bleeding Cool
recently at Wizard World Austin.
As far as upcoming projects are concerned, Tom said he is working on a book for Archie called
Reggie & Me
and he also has a "top secret project" that he's collaborating on with Ron Frenz that will likely be out in the Spring of 2017.
DAISY RIDLEY, ELIZABETH DEBICKI JOIN 'PETER RABBIT' LIVE-ACTION/ANIMATED HYBRID
09/26/16 @ 1:04 pm EST
Source:
Variety
| Categories:
MIsc
|
Comments
(0) |
E-mail Article
|
Add a Comment
Daisy Ridley and Elizabeth Debicki have joined the cast of Sony's live-action/animated hybrid "Peter Rabbit," starring Rose Byrne and James Corden.
The film will be directed by Will Gluck from a screenplay by Rob Lieber with revisions by Gluck. The adaptation will be made at Animal Logic, the Sydney-based animation and visual effects production studio behind the global blockbuster "The Lego Movie."
Gluck and Zareh Nalbandian are both attached to produce the feature, with Doug Belgrad serving as executive producer. Jodi Hildebrand of Olive Bridge and Jason Lust will also serve as executive producers.
Corden will voice Peter and Byrne will star in the live-action female lead role of Bea.
With this film, Columbia and Frederick Warne will bring Beatrix Potter's beloved character Peter Rabbit to a new family audience. Warne has been Beatrix Potter's publisher since its publication of "The Tale of Peter Rabbit" in 1902, and is home to the Peter Rabbit and Beatrix Potter brands.
"We at Penguin Random House UK are delighted to be working with Columbia Pictures," said Tom Weldon, CEO of Penguin Random House UK. "As custodians of Beatrix Potter's brand and legacy, we are excited about the opportunity this production will bring to engage a whole new audience with the world of Beatrix Potter and one of her best-loved characters, the mischievous Peter Rabbit."
Sony Pictures Entertainment will create and execute a worldwide licensing and merchandising program for the new "Peter Rabbit," in association with Warne.
Production on "Peter Rabbit" is due to commence in January 2017, and is set for worldwide release in April 2018. The film will be made with the support of the Australian Government through Screen Australia and Screen NSW, and in collaboration with Sony Pictures Animation. Lauren Abrahams will oversee the project for the studio.
THE FLASH'S CANDICE PATTON ON HOW IRIS IS AFFECTED BY FLASHPOINT
09/26/16 @ 12:32 pm EST
Source:
Comicbook
| Categories:
DC
|
Comments
(0) |
E-mail Article
|
Add a Comment
Even though Iris West finally told Barry Allen she was ready to take their relationship to the next stage and shared a kiss and told each other that they love each other, Barry couldn't overcome the grief he felt following the death of his father, so he made the fateful decision to go into the past and prevent Reverse-Flash from murdering his mother.
When Season 3 kicks off, we will see how Barry's decision has altered the timeline. One of the biggest changes is Barry doesn't have much of a relationship with Iris in the Flashpoint timeline. With his mother alive and father not being wrongfully imprisoned for her murder, Barry was never taken in and raised by Joe West — thus never bonding with Iris.
Now that Barry's parents are alive and well, he can focus on winning over the life of his life. "You'll get to see Barry try and woo her in Flashpoint," Candice Patton told TV Line. "It's really, really sweet. It reminds me of the pilot." She added, "The best part of that was playing Barry and me meeting for the first time. It reminds me of the pilot. When you see them for the first time together, there's something very magical about that, and we recreate that in Flashpoint. [Director] Kevin Smith was talking about it. He said he saw the first episode, and there was something really, really special about it. I would agree. I think fans are going to really enjoy that."
Patton also revealed that, as the season unfolds, Barry won't be the only one that knows that the timeline has been affected. "Barry is aware of changes, and we all slowly become aware of things being different in other timelines," she shared.
SHERLOCK SEASON 4 EPISODE TITLES REVEALED
09/26/16 @ 12:25 pm EST
Source:
Comicbook
| Categories:
Sherlock Holmes
|
Comments
(0) |
E-mail Article
|
Add a Comment
The game is afoot! Well, mostly. With
Sherlock
Season 4 finally wrapped, the cast and crew recently headed to a
Sherlock
convention in the UK with all sorts of updates. And, most importantly, they brought with them exclusive episode titles.
The official
Sherlock
Facebook page share the pseudo-spoilers on social media for fans to see. The first episode of Season 4 will be titled "The Six Thatchers" while the following episode will be called "The Lying Detective." Unsurprisingly, the showrunners held off on releasing the third and final episode title to prevent undue spoilers.
For some, the released names may sound familiar. And, if they do, then you are surely enough of a sleuth to pique Sherlock's interest.
Fans will know "The Six Thatchers" for more than its reference to one of England's most notorious Prime Ministers. The title is one that fans have seen on Dr. John H. Watson's personal blog, an official spin-off site hosted by the BBC. The peripheral site has an entry entitled "The Six Thatchers" from December 19th that explains the cast in full detail. So, be warned - there may be spoilers below!
According to John, the case of "The Six Thatchers" took place when they were approach by a student named Sally Barnicot. The girl asked the two to investigate the murder of her best friend Pietro Venucci who had been found stabbed at their university's pottery room. His boyfriend Beppo Rovito was discovered at the scene, but there was no evidence to connect him to crime. However, Sally was convinced that Beppo had killed Venucci in a fit of uncontrollable anger. And, rather unsurprisingly, Sherlock deduces what happened well before he and John had bid Sally goodbye.
And, what's more, "The Six Thatchers" also appears to be connected to an original Sherlock Holmes story titled "The Adventure of the Six Napoleons." As for "The Lying Detective," the episode will reportedly be loosely based off one of Arthur Conan Doyle's famous stories, "The Adventure of the Dying Detective." This short storysees Sherlock fake a terminal illness to coerce a guilty confession from an unhinged murdered
.At this weekend's Sherlocked convention, several cast members teased fans that
Sherlock
Season 4 is one they're wholly unprepared for. Actress Louis Brealey (Molly Hooper) described the season as "really worrying, very dramatic, [and] dark." And Benedict Cumberbatch (Sherlock Holmes) told fans during a Q&A, 'Oh boy, you have got a lot coming to you in episode 3," leaving fans frantic to discover the mysterious episode's title.
So far, most of the cast have left fans certain that Season 4 will break their
Sherlock
loving hearts. Amanda Abbington (Mary Morstan) toldComicBook.com's Jim Viscardi fans should expect to cry quite a bit during the season. More than likely, these sob sessions will come courtesy of Sherlock and John as they deal with the fallout of Season 3 and pursue a terrifying new villain played by Toby Jones.
Sherlock
will return sometime in 2017.