BIOWARE AND DARK HORSE ANNOUNCE MASS EFFECT 3 ­­IN-GAME ITEMS ON PC AND XBOX 360 FOR FANS WHO PURCHASE MASS EFFECT ART BOOK
03/14/12 @ 1:27 pm EST
Source:
Dark Horse
|
Comments
(0) |
E-mail Article
|
Add a Comment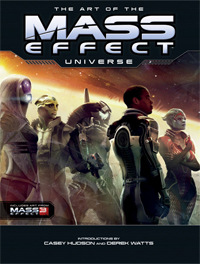 BioWare, a label of Electronic Arts, Inc., and Dark Horse Comics revealed today that fans who purchase the digital version of
The Art of the Mass Effect Universe
through
Digital.DarkHorse.com
will receive a limited code to unlock a Reinforcement Pack containing in-game items to be used on PC or the Xbox 360 video game and entertainment system in the co-op campaign in 2012's most anticipated game,
Mass Effect 3
. Showcasing the unique and iconic art featured in the
Mass Effect
series,
The Art of the Mass Effect Universe
was released in print and digitally on February 8. Additionally,
Mass Effect
fans who purchase the digital version of the four-issue comic miniseries
Mass Effect: Invasion
at the Dark Horse Digital store will also receive a limited code to unlock a Reinforcement Pack.*
Fans who gain access to the Reinforcement Packs will receive in-game items that can be used in the four-player cooperative multiplayer campaign in
Mass Effect 3
on PC or Xbox 360. These packs will include powerful character boosters and the devastatingly lethal Collector Assault Rifle. With deadly efficiency, this special weapon uses the same principles as a human assault rifle, but its organic components set it apart. To learn more about how to obtain and redeem the special item code, visit
DarkHorse.com
.
Recently named by over 100 outlets around the world as one of the most anticipated games of 2012, including the fan-voted Most Anticipated Game of 2012 award at the Spike TV VGAs,
Mass Effect 3
thrusts players into an all-out war to save the galaxy from an ancient alien race known as the Reapers. Players will assume the role of Commander Shepard, a war-torn veteran who's willing to do whatever it takes to eliminate this nearly unstoppable foe. With a team of elite, battle-hardened soldiers at their side, each player decides how they will take Earth back, from the weapons and abilities they utilize to the relationships they forge or break.
Mass Effect 3
was released on the Xbox 360 video game and entertainment system, PlayStation 3 computer entertainment system, and PC in North America on March 6, 2012, and in Europe on March 9, 2012. For more information on
Mass Effect 3
, please visit
MassEffect.com
, follow the game on Twitter at
twitter.com/masseffect
, or "like" the game on Facebook at
facebook.com/masseffect
.
*Code expires March 31, 2013. Additional restrictions and conditions apply. See
MassEffect.com
for details.
DEATHSTROKE UNAVAILABLE TO ARROW PRODUCERS; WALLER'S FATE NOT A DC DECISION
02/08/16 @ 9:13 pm EST
Source:
Bleeding Cool
| Categories:
DC
|
Comments
(0) |
E-mail Article
|
Add a Comment
While speculating on where the
DC Comics
character Deathstroke might land in the DC Films universe, Heroic Hollywood pointed to
Arrow
executive producer
Marc Guggenheim
's recent Tumblr Q&A session. In one response, he announced the character, played by
Manu Bennett
, is no longer available to appear on the show.
Asked about the character — last seen in the A.R.G.U.S. prison on Lian Yu, Guggenheim wrote, "The character of Slade Wilson is currently tied up in another DC project."
It is unclear if that project is one of the upcoming DC Films or another television show. Rumors suggest the character may actually show up in the upcoming
Suicide Squad
, with its roster of characters that were also removed from the
Arrow
stable.
Many assumed the film was also the reason Amanda Waller's position at A.R.G.U.S. on the series was terminated, but in another Tumblr post, Guggenheim wrote, "It wasn't mandated by DC."
Previously,
DC Entertainment
president
Diane Nelson
announced the TV and film universes would be separate in an attempt to keep from "handcuffing our creators into trying to work with the same storyline or force them to hold back characters or introduce certain characters." Granted, her comments did not clarify which productions would have dibs on which characters.
Of course, now that fans have seen so many characters become unavailable to main DC TV universe, many fear for
The Flash
as a feature film Barry Allen will be racing his way onto the big screen soon.
ASSASSIN'S CREED IS AN ELEVATED FANTASY ACCORDING TO MICHAEL FASSBENDER
02/08/16 @ 9:05 pm EST
Source:
Bleeding Cool
| Categories:
MIsc
|
Comments
(0) |
E-mail Article
|
Add a Comment
Assassin's Creed
star
Michael Fassbender
spoke with Empire about the movie, which he called an "elevated" fantasy like
The Matrix
.
In the film, he plays a man that discovers — via technology that can generate a simulation from his genetic memories — that he is the descendant of a 15th Century Spanish Assassin.
"This idea of DNA memory elevates it from a basic fantasy genre [piece], because you have something an audience can actually believe in," he explained. "Then the journey becomes so much more elevated, because you're on board in a different way."
Besides the basic premise of the
Assassin's Creed
video game, the film will also recreate some of the game series' signature stunts, including the Leap of Faith off of spectacular heights. Fassbender said stunt man
Damian Walters
made a 120-foot Leap of Faith without a rope into a waiting bag on the ground. "it's pretty incredible to see," he added.
Assassin's Creed
opens on December 21st.
WRITER'S COMMENTARY – FRANK BARBIERE ON DEJAH THORIS #1
02/08/16 @ 8:54 pm EST
Source:
Bleeding Cool
| Categories:
Dynamite
|
Comments
(0) |
E-mail Article
|
Add a Comment
Writer
Frank Barbiere
comments on issue #1 of the new
Dejah Thoris
comic from
Dynamite
. Cover art by
NEN
, interrior art by
Francesco Manna
.
PAGES 1 & 2
I knew I wanted to open the book with a glimpse of what was to come, that being Dejah in her new "Larka" identity and in heated combat. I think it makes for a compelling opening and omen of things to come, and a big theme is mirrored here in the narration—life and positions of power are cyclical.
PAGES 3 & 4
This issue doesn't rely much on narration, so it was important for me to show Dejah in her element (that being the city of Helium). It's particularly notable that Dejah mentions Helium is the center of her world—obviously we know she's going to be leaving it, and it's important to see her character at ease. Obviously Dejah's plans for the day are rudely interrupted.
PAGES 5 & 6
Dejah learns of her father's disappearance and we get our introduction of John Carter and Valoris. Valoris, who we reveal to be our "villain" is here to help at this point, not playing all his cards. Carter is also at a loss—something I thought was very important for a series about Dejah. John can't just run in and punch his way out of this conspiracy—it's going to take far more.
Dejah learns that she is to become Queen. This is huge for her—but under these circumstances, she's far from pleased.
Also—Thana's spying!
PAGES 7-9
John has turned up nothing, but we get a glimpse into his relationship with Dejah. They are a perfect couple of equals—they both have great strength and leadership qualities, and the last panel on page 7 reinforces the idea that together they are a force to be reckoned. Knowing Dejah will have to go out on her own, it was important for me to sell this sentiment to our readers.
Dejah is rudely awakened, and this time placed under arrest. John won't stand for this, but even he is not foolish enough to go against the acting agent of the King. There is some deliberation about whether this is out of character, but I'd like to believe that at this point both Dejah and John believe that things can be cleared up and are more confused than enraged.
PAGES 10-14
Dejah now imprisoned. She still refuses to accept the gravity of the situation, but we get a nice moment showing her refusal to be afraid. John's inability to act against Valoris is meant to show the futility of brute force against politics. Again, this isn't a fight he can punch through—it's a calculated attack.
Also, an extremely important plot point—a memory shaken loose inside Dejah. These accusations seem completely false, but something inside Deajh is tugging at her—she knows there is some truth to be unraveled. As we've established, her identity to this point revolves around being a Princess of Helium, so this is EXTREMELY SHOCKING. This is largely a book about identity and how it defines us, and Francesco and Morgan did a beautiful job with these scenes to show their importance visually.
Dejah realizes this is a personal journey and problem, and pulls away from her husband. This is in strict opposition to her being a team with him, to being able to solve everything together. Dejah's core identity is shaken here, and it makes perfect sense that she will have to go this one alone. She believes in her husband to resolve a conspiracy, but the truth of her lineage is truly a personal journey.
PAGES 16-19
Dejah is able to stop her would-be assassin, as she is quite capable, but then receives aid from THANA. A big part of this book is Dejah realizing that though a just ruler, she has been caught up in her own position of power—she is learning to see the world through the eyes of a commoner, and it's going to be very illuminating. Thematically, I didn't want to make Dejah seem insensitive or overly blind, but it's a fact of life—if you are accustomed to living in the upper level of society, you will certainly start to overlook many things. This is largely a story of Dejah learning about herself and the world around her.
PAGES 20-22
We see Carter unable to act against Valoris. Again, I don't mean to cast John as being weak or dumb, but this is something larger than him. I'd like to believe that part of him realizes he can't just fight his own guard, that he'll have to play this smart—he is plotting to take down Valoris, but he won't do it just yet. Thana then delivers John a message from Dejah and we see her leaving.
Again, Dejah perhaps IS acting a bit out of self-interest here and perhaps even selfishly, but her whole sense of identity has come apart. She MUST know who she is. She trusts her husband implicitly to take care of matters in Helium, but her personal quest is just beginning. She's cut the ties with her life in Helium and is beginning her own journey—I can't wait to show readers where it goes!
For more on
Dejah Thoris
#1,
click here
.
LUPITA NYONG'O IN TALKS TO STAR IN SCI-FI THRILLER WITH AVA DUVERNAY DIRECTING
02/08/16 @ 8:47 pm EST
Source:
The Hollywood Reporter
| Categories:
MIsc
|
Comments
(0) |
E-mail Article
|
Add a Comment
Oscar winner Lupita Nyong'o is in negotiations to star in
Intelligent Life
, a sci-fi thriller from Steven Spielberg's Amblin Entertainment that has Ava DuVernay circling to direct.
The project already has some bold names on the creative side.
Jurassic World
director Colin Trevorrow and his collaborator Derek Connolly wrote the script. Frank Marshall is producing with Trevorrow as well as production banner Big Beach.
Nyong'o is in negotiations, while DuVernay is expected to receive an offer to direct in the next 24 hours. The director, who helmed the Martin Luther King biopic
Selma
, is also fielding an offer from Disney to adapt
A Wrinkle in Time
, the children book classic by Madelein L'Engle. There is no conflict between the two projects so the director could end up doing both.
Intelligent Life
is a reworking of an earlier Trevorrow-Connolly project titled
The Ambassador
about a U.N. worker in a department that was created to represent humankind in the event of alien contact. The man falls in love with a mysterious woman who turns out to be an alien. The tone is said to be similar to Trevorrow's
Safety Not Guaranteed
and takes
The Ambassador
to a larger scale story.
Nyong'o will play the woman at the center of the alien contact.
A summer start is being targeted.
Nyong'o won an Oscar for her breakout performance in
12 years a Slave
, a movie that was also her big-screen debut. She recently appeared as alien Maz Kanata in
Star Wars: The Force Awakens
and is part of the all-star voice cast of Disney's
The Jungle Book
, which opens April 15. She also stars in Disney's chess drama
Queen of Katwe
with David Oyelowo.
HUGO STRANGE, MR. FREEZE TAKE ACTION IN "GOTHAM" PROMO
02/08/16 @ 4:17 pm EST
Source:
Comic Book Resources
| Categories:
Gotham
|
Comments
(0) |
E-mail Article
|
Add a Comment
Fox has unleashed a new promo for the second half of "Gotham's" second season, which has been subtitled "Wrath of the Villains." The spot focuses heavily on the incoming villain Mr. Freeze (Nathan Darrow), showing off the horrific effects of his freeze ray. Cops, bullets, Freeze's ice cold abilities can stand up against pretty much anything.
Clip:
https://youtu.be/hwMSswV14to
ANDREW LINCOLN TEASES TIME JUMP ON THE WALKING DEAD
02/08/16 @ 4:10 pm EST
Source:
Comicbook
| Categories:
Walking Dead
|
Comments
(0) |
E-mail Article
|
Add a Comment
While it feels like we need a time jump for the
The Walking Dead
to finally return this weekend, Andrew Lincoln is already looking ahead and teasing a time jump in the series' plot.
While time jumps have happened on the television series before, never have they been more than a few months which usually corresponded with how long the show was off air between seasons. However, fans of the comic book know that a two-year time jump takes place shortly after the All Out War storyline.
While talking about the group's desire to stay at Alexandria, Lincoln dropped the major hint about the show's future. "Rick's strength is seeing that we can fortify [Alexandria]," Lincoln tells EW. "A lot of these concerns and questions get answered relatively quickly in the first two or three episodes of this back eight. There is a time jump, I will say, at some point. And you will see why we stay in Alexandria."
Whether or not the time jump will be the same as it was in the comics is to be seen but if its timing parallels the comics, it is still quite a good distance away in terms of episodes. Spoilers for the comics are inbound, which could also mean for the show, as we break down things to come.
Prior to the comic book time jump, not only was Negan introduced, but Rick and Negan go to a long war over the course of 12 issues. A handful of characters are killed off during the war, we won't get into specifics, but somewhere in the time jump, Michonne banishes herself from the community.
Making an educated guess about when this time jump would actually arrive on television, one would have to say the midseason break of season seven or even between season seven and eight. The Negan/All Out War storyline is one which the showrunners will surely explore for the entirety of season seven and possibly even longer.
The Walking Dead
returns February 14 at 9 PM ET on AMC.
FIRST LOOK AT BD WONG AS HUGO STRANGE ON GOTHAM
02/08/16 @ 4:04 pm EST
Source:
Comicbook
| Categories:
Gotham
|
Comments
(0) |
E-mail Article
|
Add a Comment
BD Wong's look as Hugo Strange on
Gotham
was revealed today on
TVInsider.com
. The actor's look is based on recent looks from the pages of DC Comics.
Wong joins the cast of
Gotham
as the villain for the second half of season 2, experimenting on people and trying to make superhumans in the mysterious Indian Hill facility.
"What [he] is doing in there is indeed very, very bad. Imagine the worst thing someone might do, then multiply that by 10," Wong teased to the site. It also teased that Penguin will head to Arkham Asylum - and be making a stop at Indian Hill too.
Gotham
returns Monday, February 29 at 8pm on FOX.
SPOILERY 'X-FILES' PHOTO TEASES SCULLY'S TRUE CONNECTION TO HER CASES
02/08/16 @ 11:25 am EST
Source:
Comic Book Resources
| Categories:
X-Files
|
Comments
(0) |
E-mail Article
|
Add a Comment
In a two-and-a-half minute preview for the "X-Files" season finale, Scully may have shown her true colors.
As revealed in the video, which ran during Super Bowl 50, the finale opens in much the same way the season premiere did: with an extensive monologue from one of the lead characters. However, instead of Mulder, Scully is the one recounting her cases, and her final moment hints at her rather intimate connection to them all.
Though the video has since been removed, TVLine snagged a photo of the final(and potentially spoilery) image, which hints there's more to Scully than meets the eye.
Set to run for six episodes, "The X-Files" airs Mondays on Fox at 8 p.m. EST. Theseason finale bows on February 22.
CINESITE TO PRODUCE NINE ANIMATED MOVIES IN MONTREAL IN FIVE YEARS
02/08/16 @ 10:41 am EST
Source:
Variety
| Categories:
MIsc
|
Comments
(0) |
E-mail Article
|
Add a Comment
Visual effects and animation studio Cinesite has launched its animated production division Cinesite Animation, and unveiled a slate of nine animated feature films that will go into production over the next five years in Montreal, Canada, with backing from the Quebec government. The first project will be "Klaus," written and directed by Sergio Pablos, the co-creator of "Despicable Me."
Investissement Quebec, acting on behalf of the Quebec government, is advancing a loan of C$2.4 million ($1.72 million) to Cinesite Animation to help set up the production infrastructure in Montreal. An additional loan guarantee of C$19.6 million ($14.1 million) towards an overall budget of at least C$90 million ($64.6 million) is being advanced to the production company to help with the financing of each of the first three animated films.
Six more films are planned to follow, which will see the facility at full capacity with more than 500 new permanent jobs by 2020.
Pablos' "Klaus," Cinesite Animation's first animated production, will be co-produced with SPA Studios, Atresmedia Cine and Comic Animations. It is the story of Santa Claus told from the perspective of a young, Scandinavian mailman, Jesper.
Cinesite Animation's second animated feature is inspired by the stage show "Riverdance," and will feature the Grammy-award winning music from the production, composed by Bill Whelan. The movie is being developed by Comic Animations and Ireland's River Productions.
Cinesite Animation will be both a service and production company. Cinesite's existing service deal with 3QU to make their four films remains in place with "Charming" and a second project in full swing, and the third film about to start.
"Klaus" video:
https://youtu.be/tP_lqTq8Mck
ONI PRESS GRAPHIC NOVELS SELECTED FOR YALSA BOOK LISTS
02/08/16 @ 10:33 am EST
Source:
Oni Press
| Categories:
MIsc
|
Comments
(0) |
E-mail Article
|
Add a Comment
Oni Press is proud to announce that the
Young Adult Library Services Associate (YALSA)
committee has chosen four Oni Press graphic novels for their 2016 book lists.
Bad Machinery Volume 4: The Case of the Lonely One
by John Allison,
Junior Braves of the Apocalypse Volume 1: A Brave is a Brave
by Greg Smith, Michael Tanner, and Zach Lehner,
Meteor Men
by Jeff Parker and Sandy Jarrell with Kevin Volo, and
Princess Ugg Volume 1
by Ted Naifeh were chosen for YALSA's 2016
"Great Graphic Novels for Teens"
list.
Junior Braves of the Apocalypse Vol. 1
was also chosen for the 2016 "
Quick Picks for Reluctant Young Adult Readers"
list.