BIOWARE AND DARK HORSE ANNOUNCE MASS EFFECT 3 ­­IN-GAME ITEMS ON PC AND XBOX 360 FOR FANS WHO PURCHASE MASS EFFECT ART BOOK
03/14/12 @ 1:27 pm EST
Source:
Dark Horse
|
Comments
(0) |
E-mail Article
|
Add a Comment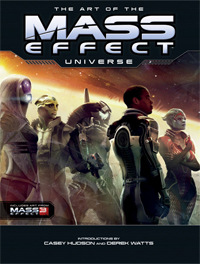 BioWare, a label of Electronic Arts, Inc., and Dark Horse Comics revealed today that fans who purchase the digital version of
The Art of the Mass Effect Universe
through
Digital.DarkHorse.com
will receive a limited code to unlock a Reinforcement Pack containing in-game items to be used on PC or the Xbox 360 video game and entertainment system in the co-op campaign in 2012's most anticipated game,
Mass Effect 3
. Showcasing the unique and iconic art featured in the
Mass Effect
series,
The Art of the Mass Effect Universe
was released in print and digitally on February 8. Additionally,
Mass Effect
fans who purchase the digital version of the four-issue comic miniseries
Mass Effect: Invasion
at the Dark Horse Digital store will also receive a limited code to unlock a Reinforcement Pack.*
Fans who gain access to the Reinforcement Packs will receive in-game items that can be used in the four-player cooperative multiplayer campaign in
Mass Effect 3
on PC or Xbox 360. These packs will include powerful character boosters and the devastatingly lethal Collector Assault Rifle. With deadly efficiency, this special weapon uses the same principles as a human assault rifle, but its organic components set it apart. To learn more about how to obtain and redeem the special item code, visit
DarkHorse.com
.
Recently named by over 100 outlets around the world as one of the most anticipated games of 2012, including the fan-voted Most Anticipated Game of 2012 award at the Spike TV VGAs,
Mass Effect 3
thrusts players into an all-out war to save the galaxy from an ancient alien race known as the Reapers. Players will assume the role of Commander Shepard, a war-torn veteran who's willing to do whatever it takes to eliminate this nearly unstoppable foe. With a team of elite, battle-hardened soldiers at their side, each player decides how they will take Earth back, from the weapons and abilities they utilize to the relationships they forge or break.
Mass Effect 3
was released on the Xbox 360 video game and entertainment system, PlayStation 3 computer entertainment system, and PC in North America on March 6, 2012, and in Europe on March 9, 2012. For more information on
Mass Effect 3
, please visit
MassEffect.com
, follow the game on Twitter at
twitter.com/masseffect
, or "like" the game on Facebook at
facebook.com/masseffect
.
*Code expires March 31, 2013. Additional restrictions and conditions apply. See
MassEffect.com
for details.
WEAK THURSDAY DEBUT FOR 'SIN CITY: A DAME TO KILL FOR,' BRINGS IN JUST $475K
08/22/14 @ 6:37 pm EST
Source:
ICv2
| Categories:
Sin City
|
Comments
(0) |
E-mail Article
|
Add a Comment
Frank Miller and Robert Rodriguez's Sin City: A Dame to Kill For got off to a very slow start on Thursday, bringing in just $475,000 from showings that began at 9pm on Thursday. The maudlin teen sudser If I Stay, which started its Thursday showings at 7pm, earned a more respectable $1.1 million and is expected to win the weekend and finish well ahead of the Sin City sequel.

Citing the nine-year gap between the first Sin City film and A Dame to Kill For, many analysts are predicting that the Sin Citysequel is in danger of finishing behind the live-action TMNT film, now in its third weekend, Guardians of the Galaxy, which is in its fourth, and even the quasi-religious football epic, When the Game Stands Tall.

In August of 2005 the first Sin City film roared to a surprising $29.8 million.
THE WICKED + THE DIVINE WILL FEATURE VARIANT COVER BY KEVIN WADA
08/22/14 @ 6:30 pm EST
Source:
Image
| Categories:
Image
|
Comments
(0) |
E-mail Article
|
Add a Comment
Kieron Gillen and Jamie McKelvie's THE WICKED + THE DIVINE #4 will feature a variant cover by She Hulk artist Kevin Wada. This dark and striking interpretation of Baphomet and Badb will be available to order with Diamond Code JUL148049.
Picking up from where the previous issue's cliffhanger left off, in THE WICKED + THE DIVINE #4 the mystery is solved. But can you guess if pop-god Lucifer likes the answer? Plus, there's much more to Baal than meets the eye, dear reader. He has secrets you'll want to know…
"We've been following Laura in her journey into the world of the Gods this arc," said Gillen. "This takes her right to the heart of it. It's where we've been heading—which immediately sets the stage for what's next. Which is issue 5, the end of the first story, which you have to imagine we have certain special things planned for. And you'd be correct."
THE WICKED + THE DIVINE #4 will hit shelves on 9/17 and can be ordered with Diamond Code JUL140590. Keep an eye out for the special Kevin Wada variant (Diamond Code JUL148049) which will be available on the same day. Final order cutoff deadline for retailers is Monday, 8/25.
TEEN TITANS: TEXTING, TWEETING, AND TRIBUTE BANDS?
08/22/14 @ 6:24 pm EST
Source:
DC
| Categories:
Teen Titans
|
Comments
(0) |
E-mail Article
|
Add a Comment
From facetime, to social media and video streaming, writer Will Pfeifer has definitely delivered on his vision to fully immerse Teen Titans into today's pop culture.
Just look at what's happened so far: When the Teen Titans saved the school bus full of children in TEEN TITANS #1, the public looked to their "Chirper" feed (a playful take on the real world's Twitter) to learn of the heroic rescue. #TeenTitansrule!
And when the scuffle between Teen Titan Miguel (A.K.A Bunker) and a rude onlooker was caught on video, the clip went viral making Miguel an overnight Internet sensation.
Pfeifer continues his fresh take on teenage superheroes in TEEN TITANS #2 where we finally get to see Raven as an underground music enthusiast. In fact, we learn that Raven isn't just a fan of the music; she's actually an indie music icon and has her own tribute band! Not bad for a hero who's often marked by her mysterious and withdrawn nature.
Below, take a look as Raven, undercover, goes to a concert to hear her tribute band "Dark Mistress" play. She seems to like what she hears. Will Raven ever perform herself? How will having a tribute band affect her role as a Teen Titan?
TEEN TITANS #2, written by Will Pfeifer and illustrated by Kenneth Rocafort, is available in stores now
.
THOR: GOD OF THUNDER #25 ASSEMBLES EPIC ARTIST LINEUP FOR GOD-SIZED ISSUE
08/22/14 @ 6:07 pm EST
Source:
Marvel
| Categories:
Thor
|
Comments
(0) |
E-mail Article
|
Add a Comment
On a bellow of thunder and the crack of lightning comes the Thunder God, one last time! Today, Marvel is proud to present your first look at
THOR: GOD OF THUNDER #25
, the oversized final issue from New York Times Bestselling writer Jason Aaron as he assembles a bevy of the industry's greatest artists for a titanic tale that should not be missed! Witness new stories of the Thor from each era as well as the untold origin of one of the God of Thunder's greatest foes! Plus, before
THOR #1
hits in October, be there when the new Thor makes her thunderous first appearance inside this epic, oversized issue!
First, it's Young Thor vs. the Frost Giants as Jason Aaron and artist Simon Bisley (
2000 AD
) tell you a tale the brash, youthful God of Thunder as he wields his enchanted battle axe Jarnbjorn against the worst Jotunheim has to offer! Then, Aaron reteams with his artistic collaborator from
Scalped
, R.M. Guera, to bring you the blood-soaked origins of one of the God of Thunder's most maniacal villains – Malekith the Accursed! Witness the untold origin of the ruler of the Dark Elves as he cuts a bloody swath across the Ten Realms in his rise to power and prominence!
Finally, as the Thor of today deals with the startling fallout of
Original Sin,
fast forward to the future as Aaron and blockbuster
Thor: God of Thunder
artist Esad Ribic bring you a new tale of King Thor and the Girls of Thunder. Deep in the halls of Asgard, Thor's granddaughters have uncovered a startling secret chapter of Thor's past. A secret long since buried. Who is the new God of Thunder and why was her existence kept secret?
Be there when one chapter in the God of Thunder's life reaches its end…and another begins. No fan can afford to miss out on the epic, oversized
THOR: GOD OF THUNDER #25
when it thunders its way into comic shops and onto digital devices this September!
THOR: GOD OF THUNDER #25 (JUL140657) Written by JASON AARON Art by ESAD RIBIC, SIMON BISLEY and RM GUERA Cover by ESAD RIBIC Avenger Thor Variant by MILO MANARA (JUL140658) Young Thor Variant by SIMON BISLEY (JUL140659) King Thor Variant by RM GUERA (JUL140660) FOC – 08/25/14, On-Sale – 09/17/14
TIME RUNS OUT! YOUR FIRST LOOK AT AVENGERS #35
08/22/14 @ 5:58 pm EST
Source:
Marvel
| Categories:
Avengers
|
Comments
(0) |
E-mail Article
|
Add a Comment
This September, it all comes crashing down as Earth's Mightest Heroes face judgment day – and today, Marvel is proud to present your first look at the oversized
AVENGERS #35
! The star-studded creative team of Jonathan Hickman, Jim Cheung, Dustin Weaver, Nick Bradshaw and Paco Media fast-forward 8 months, to the battle worn Marvel Universe of tomorrow – and the bleak future facing our heroes. Peer into May 2015, heroes and villains of the Marvel Universe stand at the precipice, and utter decimation looms.
Incursions by parallel Earths from other dimensions have increased in number! To save both universes, one Earth must be destroyed each time! Until now the Illuminati have dealt with this problem in secret. But 8 months from now, the secret is out! The Avengers and the Illuminati are willing to go to war over what must be done – but how could this all have happened?
"In addition to setting the table for the astonishing climax of Jonathan Hickman's run, we'll also be providing a glimpse into the immediate future of many of our characters, and what changes await them over the next 8 months of publishing," says Executive Editor Tom Brevoort. "This isn't some maybe-future, this is the real deal, what's awaiting the Marvel Universe in the coming year."
As this epic, oversized issue jumps forward into the future, what has become of Earth's Mightiest Heroes? With the war between the Avengers and the Illuminati at its peak, who will be left to fend off the Final Incursion? And what will happen if they fail? The clock is ticking and your questions will be answered this September in
AVENGERS #35
!
AVENGERS #35 (JUL140622)Written by JONATHAN HICKMANArt by JIM CHEUNG, DUSTIN WEAVER, NICK BRADSHAW & PACO MEDINA, Cover by JIM CHEUNG, Time Runs Out Variant by AGUSTIN ALESSIO (JUL140623) FOC – 08/25/14, On-Sale – 09/17/14
MEET GWEN STACY – SPIDER-WOMAN! YOUR FIRST LOOK AT EDGE OF SPIDER-VERSE #2
08/22/14 @ 5:52 pm EST
Source:
Marvel
| Categories:
Marvel
|
Comments
(0) |
E-mail Article
|
Add a Comment
As spider-powered heroes from across all universes unite to battle back the threat of Morlun, meet a young girl from Midtown High who learned that with great power, comes great responsibility. Today, Marvel is proud to present your first look at September's
EDGE OF SPIDER-VERSE #2
, from critically acclaimed writer Jason Latour and rising-star artist Robbi Rodriguez! She's smart, she's tough, she's charming and she can lift a car – she's
Gwen Stacy
! Patrolling the New York City of her universe, she keeps the streets safe as the vigilante known as
Spider-Woman
! Just don't tell her father, NYPD Police Chief George Stacy!"This story sees Gwen at a real crossroads of her life," says writer Jason Latour. "Spider-Woman is wanted for a crime she didn't commit. So where as her life in costume before was a lot of adventuring and fun, she's now being forced to decide what it means to her."As the growing threat of
Spider-Verse
looms on the not-so-distant-horizon, meet one of its breakout stars early as Gwen Stacy swings headlong into the biggest Spider-Man event of all time. Don't miss one moment of the action as Gwen Stacy: Spider-Woman makes her bombastic debut in
EDGE OF SPIDER-VERSE #2
!Plus, don't miss out on these exciting
Edge of Spider-Verse
tie-in issues of your favorite ongoing series: Superior Spider-Man #32 & #33, Amazing Spider-Man #7 & #8, Spider-Man 2099 #5
EDGE OF SPIDER-VERSE #2 (JUL140616) Written by JASON LATOUR, Art & Cover by ROBBI RODRIGUEZ, Variant Cover by GREG LAND (JUL140617) FOC 8/25/14, ON-SALE 09/17/14
EXCLUSIVE BOB'S BURGER COVER FOR BALTIMORE COMIC CON
08/22/14 @ 12:27 pm EST
Source:
Bleeding Cool
| Categories:
Bobs Bugers
|
Comments
(0) |
E-mail Article
|
Add a Comment
Via Bleeding Cool: Dynamite presents its Baltimore Comic Convention Exclusive cover for
Bob's Burgers
.
The book will only be available at the Baltimore Comic Con September 5th through 7th at the Baltimore Convention Center.
The comic is Bob's Burgers #1 which is being done by the creators of the series. The cover was done by artist Tony Gennaro.
DF REVIEW: MIGHTY AVENGERS #13
08/21/14 @ 10:51 pm EST
Source:
Dynamic Forces
| Categories:
Mighty Avengers
|
Comments
(0) |
E-mail Article
|
Add a Comment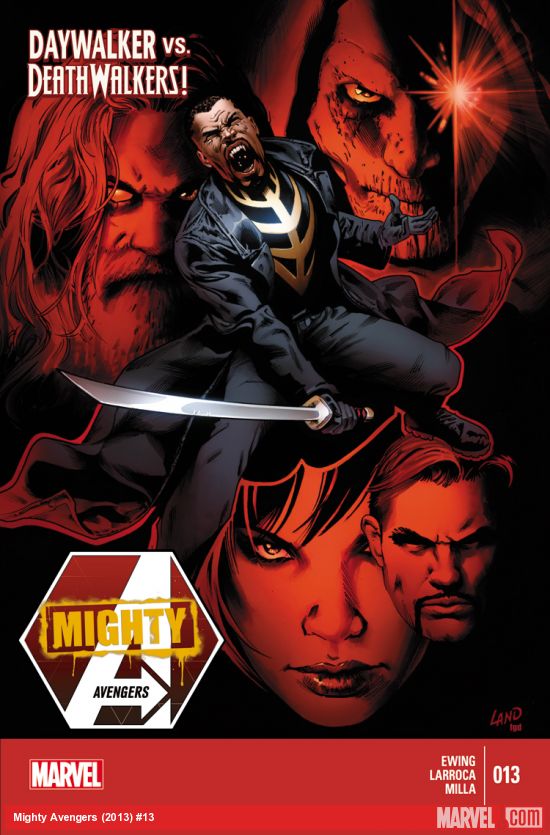 By BYRON BREWER
I hope when
The Mighty Avengers
becomes
Captain America and the Mighty Avengers,
it maintains the level of quality, continuity and human character that is in the current edition.
Of course, the writer will be the same and that will ensure that I will follow this team I have grown so fond of into the next volume.
I am a great fan of Jonathan Hickman and Rick Remender, but if I had to choose my favorite Avengers scribe of the present, it would definitely be Al Ewing.
Through event after event, crossover after crossover, Ewing has not been deterred from keeping the unique flavor of these Avengers alive. Having been raised on the Roy Thomas
Avengers
, probably the best period of this franchise's existence, I am impressed with what Ewing has done with story, subplot and of course character.
I just hope Marvel's enthusiasm to promote Sam Wilson will not interfere with the quality of this book and his team.
As far as issue #13 goes, another solid one for Ewing. The slowly brewing plot of the Deathwalkers is delightfully retro, and the climax is straight out of a 1970a book. Loving it!
The extension of the storyline with Luke and his father, the Mighty Avengers of the 1970s, even the development of Power Man all hit the right notes.
The wonderful art by Salvador Larroca was just icing on the cake, but I did miss Greg Land. He has done so much for this book.
I look forward to the new edition of the Mighty Avengers mag with a winged Captain America.
As long as Al Ewing is here, I will Make Mine Marvel and Make Mine Mighty Avengers!
THE FLASH'S ROGUES GALLERY GROWS AS GIRDER IS CAST
08/21/14 @ 10:40 pm EST
Source:
Bleeding Cool
| Categories:
Flash
|
Comments
(0) |
E-mail Article
|
Add a Comment
The CW has pulled from their own ranks to add another of the Rogues to its upcoming TV series
The Flash
. Formerly of
Star-Crossed
, actor Greg Finley has been cast as Tony Woodward aka Girder.
Scheduled to appears in episodes 6 and 7, as a result of the explosion at S.T.A.R. Labs Woodward discovers he has the ability to transform his skin into living metal.
The Flash
is set to premiere Tuesday, Oct. 7 at 8 p.m. ET/PT on The CW.
ROBERT VENDITTI, CLAY MANN, AND DAVE JOHNSON ENLIST FOR X-O MANOWAR #0 – COMING IN OCTOBER
08/21/14 @ 7:02 pm EST
Source:
Valiant
| Categories:
MIsc
|
Comments
(0) |
E-mail Article
|
Add a Comment
Valiant is proud to present an advance preview of X-O MANOWAR #0 – a colossal comics milestone and an all-new jumping-on point arriving in October from New York Times best-selling writer Robert Venditti(ARMOR HUNTERS, Green Lantern) and superstar artist Clay Mann (X-Men: Legacy, Gambit)! In the wake of the sold-out success of ARMOR HUNTERS, start reading here as the world's most wanted hero returns to his roots for a never-before-revealed look into X-O Manowar's past!
Also joining this landmark exploration of Valiant's hardest-hitting hero is Eisner Award-winning artist Dave Johnson (100 Bullets, Superman: Red Son), who will contribute FIVE interlocking shelf covers for X-O MANOWAR #0!
In addition to the centuries-spanning origin tale by Venditti and Mann, each component of Johnson's epic, five-piece interlocking image revisits a different chapter in the life of Aric of Dacia, the man behind the armor – his abduction and enslavement by the maleficent alien race known as The Vine in the fifth century A.D.; his escape and arrival in the modern day with The Vine's ultra-powerful X-O Manowar armor; his pursuit by the cunning intelligence agent called Ninjak; his ascent into the ranks of the unbreakable all-star superteam codenamed: Unity; and, finally, his battle against the onslaught of the alien Armor Hunters!
After narrowly surviving the events of ARMOR HUNTERS, X-O Manowar – or what is left of him – must look to the future, but, to do so, he must first learn the startling secret of his past. Be here on October 8th to learn the violent, never-before-told origin of Visigoth life under the brutality of the Roman Empire, and how the modern day's most feared armored hero began his journey to the stars nearly two millennia ago.
Don't miss the most demanded Valiant story of the year as Robert Venditti and Clay Mannusher in a brand new beginning for one of the most acclaimed series in comics today, only in X-O MANOWAR #0 – now featuring five, must-see interlocking variant covers by the incomparable Dave Johnson!