BIOWARE AND DARK HORSE ANNOUNCE MASS EFFECT 3 ­­IN-GAME ITEMS ON PC AND XBOX 360 FOR FANS WHO PURCHASE MASS EFFECT ART BOOK
03/14/12 @ 1:27 pm EST
Source:
Dark Horse
|
Comments
(0) |
E-mail Article
|
Add a Comment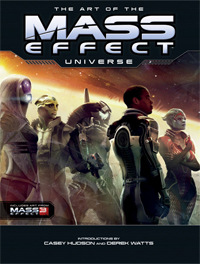 BioWare, a label of Electronic Arts, Inc., and Dark Horse Comics revealed today that fans who purchase the digital version of
The Art of the Mass Effect Universe
through
Digital.DarkHorse.com
will receive a limited code to unlock a Reinforcement Pack containing in-game items to be used on PC or the Xbox 360 video game and entertainment system in the co-op campaign in 2012's most anticipated game,
Mass Effect 3
. Showcasing the unique and iconic art featured in the
Mass Effect
series,
The Art of the Mass Effect Universe
was released in print and digitally on February 8. Additionally,
Mass Effect
fans who purchase the digital version of the four-issue comic miniseries
Mass Effect: Invasion
at the Dark Horse Digital store will also receive a limited code to unlock a Reinforcement Pack.*
Fans who gain access to the Reinforcement Packs will receive in-game items that can be used in the four-player cooperative multiplayer campaign in
Mass Effect 3
on PC or Xbox 360. These packs will include powerful character boosters and the devastatingly lethal Collector Assault Rifle. With deadly efficiency, this special weapon uses the same principles as a human assault rifle, but its organic components set it apart. To learn more about how to obtain and redeem the special item code, visit
DarkHorse.com
.
Recently named by over 100 outlets around the world as one of the most anticipated games of 2012, including the fan-voted Most Anticipated Game of 2012 award at the Spike TV VGAs,
Mass Effect 3
thrusts players into an all-out war to save the galaxy from an ancient alien race known as the Reapers. Players will assume the role of Commander Shepard, a war-torn veteran who's willing to do whatever it takes to eliminate this nearly unstoppable foe. With a team of elite, battle-hardened soldiers at their side, each player decides how they will take Earth back, from the weapons and abilities they utilize to the relationships they forge or break.
Mass Effect 3
was released on the Xbox 360 video game and entertainment system, PlayStation 3 computer entertainment system, and PC in North America on March 6, 2012, and in Europe on March 9, 2012. For more information on
Mass Effect 3
, please visit
MassEffect.com
, follow the game on Twitter at
twitter.com/masseffect
, or "like" the game on Facebook at
facebook.com/masseffect
.
*Code expires March 31, 2013. Additional restrictions and conditions apply. See
MassEffect.com
for details.
'UNDER THE DOME' CANCELED AT CBS AFTER 3 SEASONS
08/31/15 @ 6:41 pm EST
Source:
The Hollywood Reporter
| Categories:
MIsc
|
Comments
(0) |
E-mail Article
|
Add a Comment
CBS will not be spending another summer
Under the Dome
. The serial adaptation of
Stephen King
's novel of the same name has been canceled after three seasons.
The network announced the series would conclude with its Sept. 10 finale, promising closure to the storyline about the mysterious dome that's kept the occupants of a small Maine town separated from the rest of the world.
Under the Dome
premiered to lofty live and DVR ratings records in 2013. Its inaugural 3.3 rating among adults 18-49 and and 13.5 million viewers proved to all of the broadcast networks that summer could be a launch pad for big scripted drama. And the financials —
Under the Dome
is funded largely by CBS' streaming pact with Amazon Prime — paved the way for similar roll-outs. CBS summer dramas
Extant
and
Zoo
are among those that have followed, with respective deals at Amazon and Netflix.
But the traditional measure of success has been harder on
Dome
. Even with a season-to-date 80 percent lift from DVR, it's only averaging a 1.8 rating among adults 18-49. It still ranked as broadcast's No. 2 scripted series of the summer, behind Fox's
Wayward Pines
, but it's a far cry from its previous audience.
"Two years ago,
Under the Dome
broke new ground in the summer and became an instant hit on CBS, as well as with viewers around the world," said CBS Entertainment chairman
Nina Tassler
. "Dome's event storytelling and multi-platform business model paved the way for more original summer programming with the successful rollouts of
Extant
and
Zoo
. We're excited to present the final chapter in Chester's Mill as the story comes full circle, with the
Dome
coming down as dramatically as it went up."
Produced by Amblin Television and CBS Television Studios,
Under the Dome
prompted a summer sea change
at CBS. The network has followed each off-season since its premiere with a new scripted drama where it previously aired only repeats or reality TV. In 2016, it will add Washington, D.C.-set horror comedy
BrainDead
from
The Good Wife
creators
Robert
and
Michelle King
.
Executive producer
Neal Baer
had been optimistic about the series' prospects earlier in the summer whenspeaking with
The Hollywood Reporter
, also shrugging the criticism that had been levied against the show. "I'd like to keep it going," said Baer. "Our intentions are to tell a great story every summer for as long as the audience wants to watch the citizens of Chester's Mill."
AMC'S 'FEAR THE WALKING DEAD' DECLINES IN WEEK 2, STILL STRONG VS. VMA AWARDS
08/31/15 @ 6:37 pm EST
Source:
Variety
| Categories:
Walking Dead
|
Comments
(0) |
E-mail Article
|
Add a Comment
Ratings for AMC's "Fear the Walking Dead" held up pretty well in its second week Sunday, despite tough competition from MTV's Video Music Awards.
According to Nielsen estimates, Sunday's episode averaged a 4.1 rating in adults 18-49 and 8.2 million viewers overall — down 16% in the demo and 19% in total viewers vs. last week's premiere, which set all-time ratings records for a cable launch in both adults 18-49 (4.9 rating) and total viewers (10.31 million). The premiere telecast, which aired simultaneously around the world, also set global ratings records for the newly launched AMC Global Networks.
Since the March season finale of Fox's "Empire" did a whopping 6.9 rating on March 18, the only other ad-supported entertainment series to draw a higher 18-49 same-night rating than last night's "Fear the Walking Dead" was "The Walking Dead" itself (7.0 and 8.2 for its final two episodes of season five).
In "live plus-3" estimates, "Fear the Walking Dead" rose by 37% in 18-49 rating (6.7 vs. 4.9) and by 32% in total viewers (13.3 million vs. 10.1 million) from its "live plus same-day" ratings, according to Nielsen. There's a good chance, AMC will be reporting higher DVR playback gains for "Fear" this week due in part to stronger live competition from the VMA Awards.
Ratings for MTV's telecast of the VMA Awards will be released Tuesday by Nielsen. It drew roughly 9.8 million viewers for its simulcast on ten Viacom networks, according to preliminary reports.
BREAKING: 'THE FLASH' CASTS TONY TODD AS DC VILLAIN ZOOM IN SEASON 2
08/31/15 @ 3:52 pm EST
Source:
Variety
| Categories:
Flash
|
Comments
(0) |
E-mail Article
|
Add a Comment
"The Flash" has tapped "Candyman" star Tony Todd as the voice of DC Comics villain Zoom in season two, Variety has learned exclusively.

Zoom will menace titular hero Barry Allen (Grant Gustin) beginning in episode two, titled "Flash of Two Worlds."

"Last year, with the Reverse-Flash, we just modulated Tom Cavanagh's voice, and this year we wanted to do something a little bit different," executive producer Andrew Kreisberg tells Variety. "Part of the mystery of the season is who or what is underneath the Zoom outfit, and so we wanted to do something like James Earl Jones as Darth Vader — this iconic voice coming out of this mask. Last year, we thought of the Reverse-Flash as a speed warrior; this year, Zoom is like a speed demon, and no one does demon-voice better than Tony Todd."

Kreisberg compares Zoom's appearance to Venom in Marvel's Spider-Man, revealing, "The Zoom outfit is much more organic than the Reverse-Flash suit. In a way, it's hard to tell if it is a suit or alive… There's no skin showing, for all you know there's a robot underneath, or dark energy."

Unlike last season, which revealed that Cavanagh's Harrison Wells (or, more accurately, Eobard Thawne) was the Reverse-Flash fairly early on, Kreisberg says the producers intend to draw out the mystery of Zoom "like a horror movie — 'who's the killer? Who's under the mask?'"

As for what's driving Zoom, Kreisberg teases, "For us, the best villains are the ones who don't have megalomaniacal 'I want to rule the world' motivations. Last year, the Reverse-Flash had a very simple goal which was, 'I just want to go home, and if people need to die or cities need to get wasted for me to get that, so be it.' And Zoom has a very similar, personal goal this season… simple and easy to understand, and very primal. And just as with Wells last year, Zoom doesn't care who gets hurt or what gets destroyed in the service of him getting his goal."
"GARGOYLES" CO-CREATOR & "ARCHER" ARTIST LAUNCH MARVEL'S "STARBRAND & NIGHTMASK"
08/31/15 @ 3:46 pm EST
Source:
Comic Book Resources
| Categories:
MIsc
|
Comments
(0) |
E-mail Article
|
Add a Comment
In "Avengers," Jonathan Hickman and Dustin Weaver introduced readers to the Marvel Universe incarnations of characters from the 1980s "New Universe" line -- Starbrand and Nightmask. During their tenure as some of Earth's Mightiest Heroes, the cosmic-powered youths traversed the universe and helped save it from a multitude of intergalactic empires and entities.
But while they have experience defending their world, they don't have much knowledge of it. That will change in December when writer Greg Weisman (a comics and animation veteran known for his work on "Gargoyles," "Spectacular Spider-Man" and "Young Justice") and artist Dominike "Domo" Stanton (also known for both comics and animation, whose credits include FX hit "Archer" and "The Big Con Job" for BOOM! Studios) kick off a new "Starbrand & Nightmask" series, where the titular duo will try to balance their responsibilities as cosmic defenders and college students.
Who will they be fighting? Weisman told CBR: "You'll be seeing some familiar -- and downright old school -- faces in a new light, as antagonists on a cosmic scale actually team up with more standard Earth-bound super-villains to take on our two powerful heroes. We'll also have new opponents. One in particular will be introduced by the end of the first arc, and she will eventually emerge as one of Starbrand and Nightmask's most dangerous foes."
'SPONGEBOB SQUAREPANTS' MUSICAL TARGETS BROADWAY WITH SUPERGROUP SONGLIST
08/31/15 @ 3:37 pm EST
Source:
Variety
| Categories:
MIsc
|
Comments
(0) |
E-mail Article
|
Add a Comment
He's ready: SpongeBob SquarePants, the massive Nickelodeon property with a fanbase that reaches well beyond its target kiddie demographic, will go from Bikini Bottom to Broadway in "The SpongeBob Musical," premiering in Chicago in the summer of 2016 prior to a New York opening during the 2016-17 Broadway season.
Produced by Nickelodeon, the project has attracted a who's who of contemporary music names to contribute original songs to the show, including Steven Tyler and Joe Perry (of Aerosmith), the Flaming Lips, John Legend, Lady Antebellum, Cyndi Lauper (already a Tony winner for "Kinky Boots") and David Bowie.
The musical is co-conceived and directed by Tina Landau, the writer-director (and member of Chicago's Steppenwolf Theater) whose Broadway work has included "Superior Donuts" and "Bells Are Ringing." The book is by Kyle Jarrow, who co-created "A Very Merry Unauthorized Children's Scientology Pageant" and has worked with Duncan Sheik on "Whisper House" and "Noir" (getting a showcase this fall as part of the National Alliance for Musical Theater's 2015 festival).
THREE ERAS OF HEROES COLLIDE IN GUARDIANS OF INFINITY #1
08/31/15 @ 3:26 pm EST
Source:
Marvel
| Categories:
Guardians of the Galaxy
|
Comments
(0) |
E-mail Article
|
Add a Comment
This December, the infinite expanse of time and space will give way, as teams from three eras burst forth and unite like never before in
GUARDIANS OF INFINITY #1
– a brand new ongoing series launching as part of All-New All-Different Marvel! Fan favorite writer Dan Abnett (
Guardians of the Galaxy, Guardians 3000)
and artists Carlo Barberi (
Deadpool
,
Amazing Spider-Man
) take you on an explosive thrill ride into the timestream and across the galaxy! When a mysterious structure is discovered floating in the void of space – Rocket Raccoon, Drax and Groot unearth a powerful and dark secret that could unravel the very fabric of space and time! Good thing the
Guardians 3000
are on hand to help! But who are the mysterious and enigmatic
Guardians 1000
?! And are these ancient travelers here to help, or hinder?
Plus, every issue of
GUARDIANS OF INFINITY
will include a special bonus story from some of the industry's top creators. First, it's battles to the death inside the squared circle as Jason Latour (
Spider-Gwen)
and Jim Cheung (
New Avengers
) bring you a can't miss story of Ben Grimm and Rocket Raccoon. Stranded on a planet where culture is based on Earth-style professional wrestling, the bruiser from Yancy Street and the Guardian's own ferocious furball find themselves locked in a struggle of life and death!
Is the galaxy big enough for three teams of Guardians? Find out this December as Abnett, Barberi, Latour and Cheung take you on an action-packed adventure across the cosmos in
GUARDIANS OF INFINITY #1
!
GUARDIANS OF INFINITY #1Written by DAN ABNETT & JASON LATOUR
Art by CARLO BARBERI & JIM CHEUNG
Cover by JIM CHEUNG
Variant Cover by CARLO BARBERI
On Sale in December!
WES CRAVEN, HORROR MAESTRO, DIES AT 76
08/31/15 @ 7:20 am EST
Source:
The Hollywood Reporter
| Categories:
MIsc
|
Comments
(0) |
E-mail Article
|
Add a Comment
Wes Craven, the famed maestro of horror known for the Nightmare on Elm Street and Screamfranchises, died Sunday after a battle with brain cancer. He was 76.

Craven, whose iconic Freddy Krueger character horrified viewers for years, died at his home in Los Angeles, his family announced. Survivors include his wife, producer and former Disney Studios vice president Iya Labunka.

Craven was a longtime summer resident of Martha's Vineyard, where he moved permanently three years ago before returning to L.A. for work and health reasons.

Craven claimed to have gotten the idea for Elm Street from living next to a cemetery on a street of that name in the suburbs of Cleveland. The five Nightmare on Elm Street films were released from 1984-89 and drew big crowds.

Similarly, Craven's Scream series was a box-office sensation. In those scare-'em-ups, he spoofed the teen horror genre and frequently referenced other horror movies.

Craven's first feature film was The Last House on the Left, which he wrote, directed and edited in 1972. A rape-revenge movie, it appalled some viewers but generated big box office. Next came another film he wrote and helmed, The Hills Have Eyes (1977).

Craven re-invented the youth horror genre in 1984 with the classic A Nightmare on Elm Street, which he wrote and directed.

He conceived and co-wrote Elm Street III as well, and then after not being involved with other sequels, deconstructed the genre a decade after the original, writing and directing Wes Craven's New Nightmare, which was nominated for best feature at the 1995 Spirit Awards.

His own Nightmare players, Robert Englund, Heather Langenkamp and John Saxon, portrayed themselves in that film.

In 1996, Craven reached a new level of success with the release of Scream. The film grossed more than $100 million domestically, as did Scream 2 (1997).

Between Scream 2 and Scream 3, Craven, offered the opportunity to direct a non-genre film for Miramax, helmed Music of the Heart (1999), earning Meryl Streep an Academy Award nomination for best actress in the inspirational drama about a teacher in Harlem.
SOMEONE YOU CAN COUNT ON – A NEW CLIP FROM STAR WARS REBELS
08/29/15 @ 5:30 pm EST
Source:
Bleeding Cool
| Categories:
Star Wars
|
Comments
(0) |
E-mail Article
|
Add a Comment
Star Wars Rebels
season 2 will be kicking off in October and
Disney
has released a clip from the new season. The season premiere episode will be called
The Lost Commanders
and we see the crew of the
Ghost
being given the head of an old droid by
Ahsoka
just before she embarks on tracking down the
Sith Lord
on her own.
Clip:
https://www.youtube.com/watch?feature=player_embedded&v=dAGvFBwG834
Star Wars Rebels
returns October 14th to
Disney XD
GUARDIANS OF THE GALAXY ANIMATED SERIES – ORIGIN OF GAMORA
08/29/15 @ 5:27 pm EST
Source:
Bleeding Cool
| Categories:
Guardians of the Galaxy
|
Comments
(0) |
E-mail Article
|
Add a Comment
"WE'RE DEALING WITH TWO TYPES OF MONSTERS" – CORINNA BECHKO TALKS ALIENS VAMPIRELLA
08/29/15 @ 4:44 pm EST
Source:
Bleeding Cool
| Categories:
Dynamite
|
Comments
(0) |
E-mail Article
|
Add a Comment
Corinna Bechko
talks to
Byron Brewer
about
Dynamite's Aliens/Vampirella #3.
Cover by
Gabriel Hardman.
BYRON BREWER: What is the greatest challenge in bringing these two popular franchises together, and has that made for a better or more difficult story telling?CORINNA BECHKO:
The biggest challenge is the fact that we're dealing with two types of monster here, so one of them (Vampirella) has to be a bit sympathetic. At the same time, we need to be reminded about what she is truly capable of doing, or else she is just a heroic person and we lose what's interesting about her. It's a fine line to walk, but one that has spurred what I hope are some fun scenes.
BB: Corinna, with your experience with Planet of the Apes, you are the queen of bringing franchises to comics. Do you find the Aliens franchise as enjoyable to work with as you once said POTA was?CB:
Haha, thanks! The answer is yes, absolutely, although they are quite different worlds. In
POTA
, a lot of the tension rested on the political situation, a much more sci-fi concept. Here, the tension is about scary things that move around in the dark, more of a horror concept. So they are both fun to write, but in different ways.
BB: By November, you will be mid-way through this limited series. Is it too early to ask if you would already change something that kind of wrote itself into the story and was not part of your original plan? Or do you like it, if there is such an element?CB:
Is it awful of me to say I wouldn't change anything? I had the story pretty well worked out before I began scripting, so not too much has been left to chance. Except, of course, the excellent work that Javier is putting in on the art side. New ways of doing things are always found when doing layouts, and that's a good thing.
BB: How has it been working with artist Javier Garcia-Miranda?CB:
Collaborating with Javier has been wonderful. He brings so much to the project! Without him, it would be a very different book indeed.
BB: Has Lars been a great element for you in this story?CB:
Lars is a very important part of the story. Vampirella is involved in most of the action, but she's such an extraordinary character that we really need someone to connect with who is more understandable. Lars fills that gap since he's just a regular guy who takes a leap of faith by trusting Vampirella.
BB: Would you like to write a solo Vampirella book at some point? Is she a character you enjoy?CB:
I wouldn't be against that at all! I do very much enjoy writing her. She's so capable and self-confident, and she's got a great sense of humor. In short, she's a lot of fun and she can handle just about anything I throw at her.