BIOWARE AND DARK HORSE ANNOUNCE MASS EFFECT 3 ­­IN-GAME ITEMS ON PC AND XBOX 360 FOR FANS WHO PURCHASE MASS EFFECT ART BOOK
03/14/12 @ 1:27 pm EST
Source:
Dark Horse
|
Comments
(0) |
E-mail Article
|
Add a Comment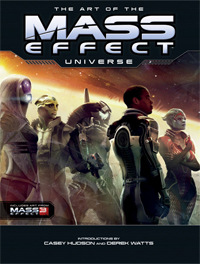 BioWare, a label of Electronic Arts, Inc., and Dark Horse Comics revealed today that fans who purchase the digital version of
The Art of the Mass Effect Universe
through
Digital.DarkHorse.com
will receive a limited code to unlock a Reinforcement Pack containing in-game items to be used on PC or the Xbox 360 video game and entertainment system in the co-op campaign in 2012's most anticipated game,
Mass Effect 3
. Showcasing the unique and iconic art featured in the
Mass Effect
series,
The Art of the Mass Effect Universe
was released in print and digitally on February 8. Additionally,
Mass Effect
fans who purchase the digital version of the four-issue comic miniseries
Mass Effect: Invasion
at the Dark Horse Digital store will also receive a limited code to unlock a Reinforcement Pack.*
Fans who gain access to the Reinforcement Packs will receive in-game items that can be used in the four-player cooperative multiplayer campaign in
Mass Effect 3
on PC or Xbox 360. These packs will include powerful character boosters and the devastatingly lethal Collector Assault Rifle. With deadly efficiency, this special weapon uses the same principles as a human assault rifle, but its organic components set it apart. To learn more about how to obtain and redeem the special item code, visit
DarkHorse.com
.
Recently named by over 100 outlets around the world as one of the most anticipated games of 2012, including the fan-voted Most Anticipated Game of 2012 award at the Spike TV VGAs,
Mass Effect 3
thrusts players into an all-out war to save the galaxy from an ancient alien race known as the Reapers. Players will assume the role of Commander Shepard, a war-torn veteran who's willing to do whatever it takes to eliminate this nearly unstoppable foe. With a team of elite, battle-hardened soldiers at their side, each player decides how they will take Earth back, from the weapons and abilities they utilize to the relationships they forge or break.
Mass Effect 3
was released on the Xbox 360 video game and entertainment system, PlayStation 3 computer entertainment system, and PC in North America on March 6, 2012, and in Europe on March 9, 2012. For more information on
Mass Effect 3
, please visit
MassEffect.com
, follow the game on Twitter at
twitter.com/masseffect
, or "like" the game on Facebook at
facebook.com/masseffect
.
*Code expires March 31, 2013. Additional restrictions and conditions apply. See
MassEffect.com
for details.
THE UNBEATABLE SQUIRREL GIRL BEATS UP THE MARVEL UNIVERSE THIS OCTOBER
07/29/16 @ 3:39 pm EST
Source:
Marvel
| Categories:
Marvel
|
Comments
(0) |
E-mail Article
|
Add a Comment
It's a story so HUGE, we needed an entire Original Graphic Novel to tell it! Yes she's unbeatable. Yes she talks to squirrels. But this October, she becomes something entirely new – the star of her very own OGN! But first, get a brand-new look inside
THE UNBEATABLE SQUIRREL GIRL BEATS UP THE MARVEL UNIVERSE! OGN
– coming at you from the award winning team behind the monthly
Unbeatable Squirrel Girl
series – Ryan North and Erica Henderson!
She's beaten Thanos. She's bested Galactus. She's thwarted Doctor Doom (twice, but who's counting?). But in this all-new graphic novel, she'll take on her most dangerous, most powerful and most unbeatable enemy yet: HERSELF! Specifically, an evil duplicate created through all manner of mad science (computer and regular type). So what happens when two Unbeatable Squirrel Girls clash? You'll have to wait to find out, but believe us – it's going to be
NUTS
!
Spinning out of the hit series everyone is talking about,
THE UNBEATABLE SQUIRREL GIRL BEATS UP THE MARVEL UNIVERSE! OGN
is perfect for new readers, but also set within continuity for die-hard fans. Presented in a hardcover format, Doreen Green's first Original Graphic Novel marks another stellar entry into Marvel's growing OGN line including
Avengers: Rage of Ultron, Amazing Spider-Man: Family Business
and the upcoming
Deadpool: Bad Blood
.
THE UNBEATABLE SQUIRREL GIRL BEATS UP THE MARVEL UNIVERSE!
will be available this October in book stores, comic shops and digitally via the Marvel Comics app (for iPhone®, iPad®, iPad Touch® & Android devices) and online in the Marvel Digital Comics Shop.
THE UNBEATABLE SQUIRREL GIRL BEATS UP THE MARVEL UNIVERSE! OGN (JUN160947)
Written by RYAN NORTH Art & Cover by ERICA HENDERSON
120 pgs….$24.99 FOC – 08/01/16, On-Sale – 10/05/16
MERYL STREEP IN TALKS TO JOIN EMILY BLUNT IN 'MARY POPPINS' SEQUEL
07/29/16 @ 3:35 pm EST
Source:
The Hollywood Reporter
| Categories:
MIsc
|
Comments
(0) |
E-mail Article
|
Add a Comment
Meryl Streep is in talks to join Emily Blunt and Lin-Manuel Miranda in Disney's sequel to
Mary Poppins, The Hollywood Reporter
has confirmed.
The move will reteam the Oscar-winning actress with director Rob Marshall, who directed her in Disney's
Into the Woods
(2014).
Mary Poppins Returns
is set in Depression-era London and revolves around a now-grown Michael Banks, who has children of his own. In tough times, big sister Jane returns and soon after, their beloved Mary Poppins (Blunt) comes back to help.
Miranda is playing a lamplighter friend of Poppins who teams up with her to help the family.
Streep will play Topsy, Poppins' cousin.
Marshall is producing with Marc Platt and John DeLuca. Marc Shaiman and Scott Wittman will be composing original songs and an all-new score. David Magee is attached to write the screenplay.
Streep next appears opposite Hugh Grant in Paramount's
Florence Foster Jenkins
, which is set to open Aug. 12. The actress, wearing a flag dress, was in fine form earlier this week at the Democratic National Convention.
CHRIS EVANS CIRCLING LEAD ROLE IN LIONSGATE'S 'JEKYLL'
07/28/16 @ 8:22 pm EST
Source:
Deadline
| Categories:
MIsc
|
Comments
(0) |
E-mail Article
|
Add a Comment
Chris Evans might be diversifying from his
Captain America
good-guy persona. Evans has come attached to play the lead role of Tom Jackman in
Jekyll
, the feature that Lionsgate is developing from the 2007 BBC One series. Ellen DeGeneres and Jeff Kleeman are producing through their A Very Good Production banner and scribe team Anthony Bagarozzi & Charles Mondry have written a script based on the Steven Moffatt-scripted six episode miniseries. Bagarozzi & Mondry teamed on the Shane Black-directed
The Nice Guys
and
Doc Savage
, as well as the remake of
Death Note
. No director yet.
This creates a potential collision course between projects sourced from the Robert Louis Stevenson public-domain novel about the doctor with the split personality. Universal's classic monsters franchises set Russell Crowe to play the dual-personality doc, first in
The Mummy
opposite Tom Cruise and presumably as a stand-alone in a later film. The BBC miniseries wasn't a straight adaptation of the Stevenson novella; rather, the lit classic was a jumping-off point for a sequel. In the miniseries, James Nesbitt played Jackman, a modern-day descendant of Jekyll who is beginning to exhibit the trademark split personality. The father and husband abandons his family, without explaining why, and lives in a fortified basement with a psychiatric nurse his ally. When they strap the doctor to a metal chair, she watches him transform into an alter ego who rages, shows heightened strength and speed and can be a charming, flirtatious scoundrel as well. The two personalities try to coexist, even though one doesn't remember what the other does while in control of the body. They use a microcassette to leave messages for each other. Unable to stay away from the family he left behind for their own safety, he visits his wife, Hyde assumes control and learns about them, and things grow very complicated.
"SUPERGIRL" INTRODUCES SUPERMAN IN FIRST FAMILY PHOTO
07/28/16 @ 6:06 pm EST
Source:
Comic Book Resources
| Categories:
DC
|
Comments
(0) |
E-mail Article
|
Add a Comment
It's a bird! It's a plane! No -- it's "Supergirl's" Superman!
The CW has released an official first-look at Tyler Hoechlin in costume as Superman. Designed by Kiersten Ronning, the outfit draws inspiration from the New 52's version of the costume, with a red belt instead of red trunks and muted colors. Melissa Benoist's Supergirl joins Superman in the first-ever photo of the two Kryptonian cousins together. Standing side-by-side, it's even easier to see the similarities between their costumes, though the House of El's "S" shield differs slightly between the two.
"I think the fun is going to be finding where Clark Kent is in this world. I'm just excited to find out Clark's sense of humor," Hoechlin said of the character.
"I think it's the perfect time," Benoist said at Comic-Con International in San Diego. "All of the interactions [Kara] had with him last season through the instant messaging and the texting, it never felt like enough to me. Their relationship is important, and they're family and she has things that he doesn't and he has things that she doesn't. They're only going to reap benefits from each other. I'm so excited about it."
The second season of "Supergirl" is scheduled to premiere October 10 on The CW, switching networks after a first season on CBS.
NETFLIX TELLS US WHEN WE'LL SEE IRON FIST, THE DEFENDERS AND MORE
07/28/16 @ 3:53 pm EST
Source:
Bleeding Cool
| Categories:
Marvel
|
Comments
(0) |
E-mail Article
|
Add a Comment
Netflix's
Chief Content Officer
Ted Sarandos
was at the
Television Critics Association
press tour and gave a rough idea of when the upcoming
Marvel
TV shows will hit the streaming service.
We've been getting two shows a year and it looks like it will continue at least through 2017.
Luke Cage
is already scheduled for September 30th. 2017 will see
Iron Fist
and
The Defenders
. It will be 2018 before we get a third season of
Daredevil
, a second season of
Jessica Jones
and the first season of
The Punisher
.
But fans of
Daredevil
and
Jessica Jones
will be able to get their fix in
the Defenders
series where those two heroes join with
Luke Cage
and
Iron Fist
to save
Hell's Kitchen
.
POSITIVE OUTCOMES AND CONFRONTATIONS IN A CLIP FROM TOMORROW'S OUTCAST
07/28/16 @ 3:49 pm EST
Source:
Bleeding Cool
| Categories:
Outcast
|
Comments
(0) |
E-mail Article
|
Add a Comment
In a clip from tomorrow night's episode of
Outcast
, Kyle's life seems to be improving as he enjoys a visit with his daughter. But Reverend Anderson's woes only increase with him still smarting from his confrontation with Kyle's neighbor and facing low attendance at church.
Video:
https://youtu.be/_j2Lc1xUoLQ
SUICIDE SQUAD ADDS ONE MORE CHARACTER TO ITS ROSTER
07/28/16 @ 3:47 pm EST
Source:
Bleeding Cool
| Categories:
Suicide Squad
|
Comments
(0) |
E-mail Article
|
Add a Comment


Though Suicide Squad is still a week from release, one more surprise about the film has been uncovered.

The good folks at i09 spotted the name of a prominent DC Comics superhero — and the actor playing the part — in the cast list for the film in press materials. Of course, it probably constitutes a spoiler.

The cast list reveals Ezra Miller will appear as the Flash. With the actors credited in order of appearance, and with his name is right next to Jai Courtney's Boomerang, it is possible the two will tussle. It is unclear if Miller will have his WayneTech approved costume or something simpler. The film is set after Batman v Superman: Dawn of Justice, but it remains to be seen when it fits into the still-nascent DC Films timeline.

Suicide Squad opens next Friday.
'THE ROCKETEER' REBOOT IN THE WORKS FROM DISNEY
07/28/16 @ 3:35 pm EST
Source:
The Hollywood Reporter
| Categories:
MIsc
|
Comments
(0) |
E-mail Article
|
Add a Comment
The Rocketeer is ready to blast off once again.
Walt Disney Studios is developing a reboot of the 1991 action adventure movie, hiring Max Winkler and Matt Spicer to pen the script, which is being titled
The Rocketeers.
The project, in the early development stages, is considered a sequel-reboot and, in a modern-day twist, will be headlined by a black female character.
Brigham Taylor, who produced
The Jungle Book
with Jon Favreau, is producing along with Blake Griffin of the L.A. Clippers and Ryan Kalil of the Carolina Panthers. Griffin and Kalil are partners in a new venture called Mortal Media and approached Taylor with the idea for the reboot.
Rocketeer
was based on the popular 1980s indie comic by Dave Stevens and, like
Star Wars
and
Raiders of the Lost Ark
, was a loving homage to the serials of the 1930s and 1940s.
The story followed Cliff Secord, a stunt pilot who discovers a rocket pack and suit to die for and become embroiled with mobsters and Nazis, as well as Howard Hughes and the FBI.
The Joe Johnston-directed movie starred Billy Campbell as Secord, Jennifer Connelly as his aspiring actress (a Betty Page homage) girlfriend, Timothy Dalton as an Errol Flynn-type actor who is a Nazi spy and Alan Arkin as Secord's mechanic.
When the movie was released, it grossed only $46.6 million and came in fourth in its opening weekend (it was pummeled by
Robin Hood: Prince of Thieves
,
City Slickers
and
Dying Young
). Its performance was considered a disappointment by the studio and its creative team.
But a rare thing happened: The movie took on a life of its own, engendering a massive following who loved its un-ironic, bright and straightforwardly heroic take on characters, all abetted by a score by James Horner.
When Disney hosted a 20th anniversary screening of the movie in Hollywood's El Capitan Theatre in 2011, fans — many in Rocketeer costumes — lined up for blocks.
It was around that time that the studio began mulling a reboot of the movie, but sources said it sought a way to differentiate it from another rocket-propelled flying hero:
Iron Man
.
The new take keeps the story in a period setting and offers a fresh view on the characters. Set six years after the original Rocketeer and after Secord has vanished while fighting the Nazis, an unlikely new hero emerges: a young African–American female pilot, who takes up the mantle of Rocketeer in an attempt to stop an ambitious and corrupt rocket scientist from stealing jet-pack technology in what could prove to be a turning point in the Cold War.
Tendo Nagenda and Chaz Salembier are overseeing the project for Disney.
FEIGE COMPARES "GOTG 2'S" BABY GROOT TO RESURRECTED SPOCK IN "STAR TREK III"
07/28/16 @ 3:29 pm EST
Source:
Comic Book Resources
| Categories:
Guardians of the Galaxy
|
Comments
(0) |
E-mail Article
|
Add a Comment
While Groot survived the end of"Guardians of the Galaxy," it came with a price -- an adorable one, mind you -- that saw the character reborn as a young version of himself: The now-iconic Baby Groot. To the delight of fans, we'll be seeing more of Baby Groot in "Guardians of the Galaxy Vol. 2," and according toMarvel Studios chief Kevin Feige, it'll take a while for the character grow back into his old self, kind of like Spock after his resurrection in the original "Star Trek" movie series.
In an interview with Collider, Feige said of Baby Groot's character in the "Guardians of the Galaxy" sequel, "He remembers. He's not mentally a baby, he is still Groot...I sort of equate it to Spock circa the end of 'Search for Spock' and 'The Voyage Home.'"
Touching on Rocket Raccoon and Baby Groot's relationship in the sequel, Feige said, "When it comes to a Guardians of the Galaxy film, a James Gunn script, it's not just about the funny, it's not just about the action, it's about the heart. And the amount of heart that you get out of this trash panda raccoon and now this little twig baby Groot is actually awe-inspiring. It is amazing what he's done with those two characters."
Directed by James Gunn and starring Chris Pratt, Zoe Saldana, Dave Bautista, Bradley Cooper, Vin Diesel, Kurt Russell, Sylvester Stallone, Karen Gillan and many others, "Guardians of the Galaxy Vol. 2" hits theaters on May 5, 2017.
BABS TARR TAKES "DOOM PATROL" TO THE ARCADE IN FIRST ISSUE VARIANT
07/28/16 @ 3:24 pm EST
Source:
Comic Book Resources
| Categories:
DC
|
Comments
(0) |
E-mail Article
|
Add a Comment
DC Comics has
exclusively
provided CBR with Babs Tarr's ("Batgirl") variant cover for the upcoming "Doom Patrol" #1, the first series launching as part of Gerard Way's ("Umbrella Academy") new "Young Animal" imprint at the publisher.
Tarr's cover sees the Doom Patrol hovered around an '80s-style arcade machine, likely in reference to Grant Morrison's classic "Doom Patrol" run that ran from 1989-1993.
Check it out below: