BIOWARE AND DARK HORSE ANNOUNCE MASS EFFECT 3 ­­IN-GAME ITEMS ON PC AND XBOX 360 FOR FANS WHO PURCHASE MASS EFFECT ART BOOK
03/14/12 @ 1:27 pm EST
Source:
Dark Horse
|
Comments
(0) |
E-mail Article
|
Add a Comment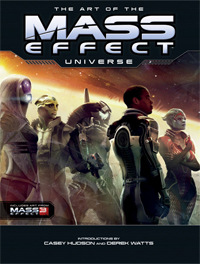 BioWare, a label of Electronic Arts, Inc., and Dark Horse Comics revealed today that fans who purchase the digital version of
The Art of the Mass Effect Universe
through
Digital.DarkHorse.com
will receive a limited code to unlock a Reinforcement Pack containing in-game items to be used on PC or the Xbox 360 video game and entertainment system in the co-op campaign in 2012's most anticipated game,
Mass Effect 3
. Showcasing the unique and iconic art featured in the
Mass Effect
series,
The Art of the Mass Effect Universe
was released in print and digitally on February 8. Additionally,
Mass Effect
fans who purchase the digital version of the four-issue comic miniseries
Mass Effect: Invasion
at the Dark Horse Digital store will also receive a limited code to unlock a Reinforcement Pack.*
Fans who gain access to the Reinforcement Packs will receive in-game items that can be used in the four-player cooperative multiplayer campaign in
Mass Effect 3
on PC or Xbox 360. These packs will include powerful character boosters and the devastatingly lethal Collector Assault Rifle. With deadly efficiency, this special weapon uses the same principles as a human assault rifle, but its organic components set it apart. To learn more about how to obtain and redeem the special item code, visit
DarkHorse.com
.
Recently named by over 100 outlets around the world as one of the most anticipated games of 2012, including the fan-voted Most Anticipated Game of 2012 award at the Spike TV VGAs,
Mass Effect 3
thrusts players into an all-out war to save the galaxy from an ancient alien race known as the Reapers. Players will assume the role of Commander Shepard, a war-torn veteran who's willing to do whatever it takes to eliminate this nearly unstoppable foe. With a team of elite, battle-hardened soldiers at their side, each player decides how they will take Earth back, from the weapons and abilities they utilize to the relationships they forge or break.
Mass Effect 3
was released on the Xbox 360 video game and entertainment system, PlayStation 3 computer entertainment system, and PC in North America on March 6, 2012, and in Europe on March 9, 2012. For more information on
Mass Effect 3
, please visit
MassEffect.com
, follow the game on Twitter at
twitter.com/masseffect
, or "like" the game on Facebook at
facebook.com/masseffect
.
*Code expires March 31, 2013. Additional restrictions and conditions apply. See
MassEffect.com
for details.
THE PROTOMEN OPEN FOR DENVER COMIC CON (VIDEO)
05/23/15 @ 3:22 am EST
Source:
Bleeding Cool
| Categories:
MIsc
|
Comments
(0) |
E-mail Article
|
Add a Comment
At Denver Comic Con's Opening Ceremonies Friday, seeing The Protomen perform was quite impressive for many. They have managed to capture a lot of the personality of the convention already and were a great choice to kick off convention events, reported Bleeding Cool.
Here's a video we took of the opening song they played, in part:
https://youtu.be/a0fjK6CnUNk
DOUG MURRAY ON BRINGING A TOUCH OF LOVECRAFT TO JUNGLE GIRL
05/23/15 @ 3:16 am EST
Source:
Bleeding Cool
| Categories:
Jungle Girl
|
Comments
(0) |
E-mail Article
|
Add a Comment
Nancy Collins,
writer of
Swords of Sorrow: Vampirella/Jennifer Blood
#1, talks with writer
Doug Murray
about
Jungle Girl: Season 3
#2, both on sale now. Cover art by
Frank Cho
.
NANCY COLLINS: How do you like working with your artist, Jack Jadson?DOUG MURRAY:
I really didn't work as closely with the artist as I would have liked. I generally work full-script which is what I did in this series. The first time I saw actual art was after Jack had done his pencils. Still, I had no real problems with anything and only suggested (I think) one or two changes. I would be happy to work with Jack on another project in the future.
NC: Does Jana the Jungle Girl normally ride a T-Rex into battle? If so, is the one we see in #2 a domesticated pet or free-range?DM:
The Tree People (Jana's tribe) are very much into green energy and free-range food. Thus Jana kills her meat in the wild—finding it on the hoof and taking it down.Seriously though, in this series I have been subscribing to the current theory that the T-Rex was a carrion eater and not a hunter—thus Jana isn't really afraid of the big guy (although the dirt people are), thus riding one into battle gives her an added 'WOW' factor.
NC: What's the relationship between Jana and Togg? Is he her Tonto/Kato counterpart, or something more?DM:
I wrote Togg as her Tonto/Kato—Togg sees Jana as something special—the daughter of the medicine-father who came from somewhere far away. He is her friend—but at some level, he worships her.
NC: Do the alien Old Ones mentioned in your story have any connection to H.P. Lovecraft's Old Ones?DM:
I'm a huge fan of Lovecraft so, the Old Ones have a lot to do with the Lovecraftian characters—although not as much as I would like—call it an 'homage'.
NC: And last but not least, does Jungle Girl: Season 3 take place before or after the events in the Swords of Sorrow cross-over event?DM:
I have to assume it takes place before—as the reader will discover when he gets to the end of issue #4. Something happens there that would make it impossible for
Swords of Sorrow
to come after.
DF FRIDAY NIGHT REVIEW: A-FORCE #1
05/23/15 @ 3:00 am EST
Source:
Dynamic Forces
| Categories:
Avengers
|
Comments
(0) |
E-mail Article
|
Add a Comment
By BYRON BREWER
It's not often that I say this about the first issue of any magazine, but the debut issue of
A-Force
was nearly perfect. I have a hard time finding fault with anything.
If you are not following the
Secret Wars
event, there was enough information for you to keep up with this story of an all-female Avengers team that acts as a protector of a luscious island hideaway. And if you are following it, you cash in on the extra bonus of being a new reader with a richer view.
Writers G. Willow Wilson and Marguerite Bennett start the reader off with action from the beginning, and we get to see all of these proud, beautiful women working as one … which is what Avengers have always done, right? In saving this island paradise, Ms. America apparently breaks the law and justice is swift in coming at the hands of the Thors (Sam Wilson is a Thor?).
Voices are correct, emotions ring true, and even though the newness of this universe makes the feel a little strange, it is not shockingly so. It has been a long time since I have seen this competence from She-Hulk, maybe all the way back to
Fantastic Four
days.
There were hints of things to come, but there was also an overall prevailing feeling of teamwork, of respect, of justice and of hope all these ladies shared, and that is certainly one of the linchpins around which any Avengers saga rotates.
And the art! Jorge Molina, Craig Yeung, Laura Martin and Matt Milla do it right and capture the essences of these women both as a team and as individuals. The splash page of them zooming in alone is worth the price of admission, and that is one bad-ass shark thingy!
I did not have any hopes, one way or the other, for this book because I am not a big supporter of
Secret Wars
and all the messing it is doing with my 616. Still, this does give a nice presentation of what may be coming.
And it is certainly one helluva book!
MATT FRACTION REFLECTS ON 'HAWKEYE,' OFFERS SEX TIPS ON 'LATE NIGHT'
05/22/15 @ 9:46 pm EST
Source:
Comic Book Resources
| Categories:
MIsc
|
Comments
(0) |
E-mail Article
|
Add a Comment
Writer Matt Fraction appeared last night on NBC's Late Night with Seth Meyers, where he offered sex advice from
Just the Tips
, the book he co-authored with his
Sex Criminals
collaborator Chip Zdarsky, and discussed the inspiration behind his run on Marvel's
Hawkeye
.
"The book was really about what Hawkeye does when he goes home to do his laundry," Fraction explained. "It's like Hawkeye on his day off. To me he's the human heart and soul of the Avengers, so it was fun to do a book like that about somebody who compulsively can't stop helping people, even when he's a human crap-sack tire fire of a human being. That's on the back of the action figure: 'human crap-sack.'"
Fraction's appearance on Late Night follows Joe Hill's in November and Brian Michael Bendis' in January.
Watch most of the Fraction interview right here:
https://www.youtube.com/watch?v=VpVIfaSX77o
BREAKING: OPENING CEREMONIES AT DENVER COMIC CON
05/22/15 @ 9:27 pm EST
Source:
Bleeding Cool
| Categories:
MIsc
|
Comments
(0) |
E-mail Article
|
Add a Comment
Not very many cons have Opening Ceremonies, but
Denver Comic Con
sure planned a big event, complete with geek music from the Proto Men. All passholders were permitted entry to the bash, but advised to turn up early to get access since though the area used for the event was large, every space has its limit. Some of the draw for coming to the event included receiving a swag bag from Geek Fuel, a subscription service, getting early access to DCC t-shirts and memorabilia, and a special Hard Rock Cafe pin available for the con. The draw was significant, as the event did reach its capacity by around an hour before it began, with fans waiting in an alternate hall until it was time to be seated. The mood and atmosphere was very charged, clearly the attendees were ready to get this con started. Of course, for many this is their premier pop culture event of the year and tonight marks the beginning of their geek festival of the year.
Clips from fan-favorite films got the crowd cheering, including Avengers, Big Hero 6, The Princess Bride, The Lord of the Rings, and more. It became clear after awhile that these films and clips were all chosen because they corresponded to guests at the show!
In opening for the "coolest city in the world", to applause, fans were thanked for making the city special. The opening also introduced the idea of Pop Culture Classroom to the attendees, something all fans who have bought tickets have "contributed" to to make a difference "throughout the state" ... (Source: Bleeding Cool)
"FANTASTIC FOUR'S" MICHAEL B. JORDAN RESPONDS TO CRITICS OF A BLACK HUMAN TORCH
05/22/15 @ 9:15 pm EST
Source:
Comic Book Resources
| Categories:
Fantastic Four
|
Comments
(0) |
E-mail Article
|
Add a Comment
Michael B. Jordan, who co-stars in this summer's"Fantastic Four" film, responded to the harsh criticism from fans looking for a more "traditional" Johnny Storm -- the character, as depicted in Marvel Comics, is blonde-haired and white -- in an open letter published by Entertainment Weekly.
Jordan opens the letter by recounting the way he broke an unspoken Hollywood rule: Don't check the Internet after you've been cast as a superhero. When he did, he encountered a harsh response and cries of political correctness.
"It used to bother me, but it doesn't anymore," he wrote. "I can see everybody's perspective, and I know I can't ask the audience to forget 50 years of comic books. But the world is a little more diverse in 2015 than when the Fantastic Four comic first came out in 1961. Plus, if Stan Lee writes an email to my director saying, 'You're good. I'm okay with this,' who am I to go against that?"
"This is a family movie about four friends -- two of whom are myself and Kate Mara as my adopted sister -- who are brought together by a series of unfortunate events to create unity and a team. That's the message of the movie, if people can just allow themselves to see it," he added.
Jordan expressed a desire to "set an example," hopefully leading to more performers of color in prominent Hollywood roles rather than being "true to the comic book." To conclude, he addressed "trolls on the Internet" directly, saying, "Get your head out of the computer. Go outside and walk around. Look at the people walking next to you. Look at your friends' friends and who they're interacting with. And just understand this is the world we live in. It's okay to like it."
"Fantastic Four" opens on August 7.
NANCY COLLINS TALKS VAMPIRELLA AND JENNIFER BLOOD FOR NEW SWORDS OF SORROW MINI
05/22/15 @ 6:38 pm EST
Source:
Bleeding Cool
| Categories:
Swords of Sorrow
|
Comments
(0) |
E-mail Article
|
Add a Comment
Doug Murray,
co-writer of
Jungle Girl: Season 3
#2, talks with writer
Nancy Collins
about
Swords of Sorrow: Vampirella/Jennifer Blood
#1, both on sale now. Cover art by
Billy Tan
.
DOUG MURRAY: A hero/killer that targets sleazebags seems very similar. What makes Jennifer Blood different from, say, the Executioner, the Punisher, etc.NANCY COLLINS:
Jennifer Blood, as opposed to the Executioner or the Punisher, comes from a crime family. In fact, she was the daughter of its boss. Her father was murdered by his own brothers when he tried to make their syndicate more 'legit', and one of her uncles was responsible for driving her mother to suicide. While she is motivated by revenge, she is more a rebel insider than an ex-military man or former undercover cop. And, unlike Mack Bolan and Frank Castle, she was still functioning as a wife and mother while exacting her vendetta against her uncles. She eventually lost her husband and children, as well—not to assassins, but as the consequences of her own actions. In fact, she murdered her own husband when he threatened to report her to the cops and divorce her for being a killer.
DM: Tell me more about 'the Kabal'.NC:
The Kabal is a covert supernatural organization run by monsters that polices monsters. Their agenda is to keep the more anti-social members of the supernatural community from doing things that would force the Vatican to mobilize its elite "Witches Hammer" strike-force, as well as prevent anyone from triggering The Apocalypse, as that would upend the power dynamic. Demons tend to possess humans and/or destroy them—and since a good number of the supernatural community (vampires, werewolves, etc) require humans as nourishment, Hell On Earth would spell extinction for them as well. The Kabal isn't a force for Good so much as it is Enlightened Self-Interest—Not unlike the CIA.
DM: Vampi flies several times in the story—twice in full view of various civilians. Is/Would this lead to complications?NC:
Vampirella isn't particularly worried about maintaining a 'secret identity' in her world. If she has to, she uses her hypnotism to wipe out memories. Weird crap happens in her universe all the time.
DM: In the Michael Moorcock 'Elric' books there are only two 'Mournblades'—in this series of stories, three are several—can you explain? Or is it a spoiler that has to be held until the end.NC:
You'd have to ask Gail Simone that question. I have no clue as to what the plot of the main series is—that's Gail's bailiwick. All I know is that Vampirella's sword is modeled on the sickle-sword of Kali and Jennifer Blood has a machete-like blade.
DM: Finally, in what sort of world is it possible for a red light district to form between two amusement parks that pride themselves on 'Family Entertainment'?NC:
Ours. There is notorious hooker strip in Anaheim between Disney World and Knott's Berry Farm called Beach Boulevard.
8 MONTHS LATER...ALL-NEW ALL-DIFFERENT
05/22/15 @ 6:29 pm EST
Source:
Marvel
| Categories:
Marvel
|
Comments
(0) |
E-mail Article
|
Add a Comment
THERE'S A SERPENT IN THE GARDEN IN SABRINA #3
05/22/15 @ 6:25 pm EST
Source:
Archie Comics
| Categories:
Archie
|
Comments
(0) |
E-mail Article
|
Add a Comment
It's the night before Halloween, the night before Sabrina's sixteenth birthday, the night of the blood-moon and the lunar eclipse, and Sabrina has made her decision: She will go into the woods of Greendale as a half-witch and emerge…on the other side of a frightful ritual…as a fully baptized member of the Church of Night. But there will be a cost, and his name is Harvey. And unbeknownst to Sabrina and her aunts, there is a serpent in the garden, their great enemy Madam Satan, who is conspiring against them...
For TEEN+ readers. Script: Roberto Aguirre-SacasaArt: Robert Hack, Jack MorelliCover: Robert HackTo Hell and Back Variant Cover: Robert HackOn Sale Date: 5/2732-page, full color comic $3.99 U.S.
KINGSMAN: THE SECRET SERVICE TPB GETS NEW COVER THIS JULY
05/22/15 @ 6:17 pm EST
Source:
Marvel
| Categories:
Marvel
|
Comments
(0) |
E-mail Article
|
Add a Comment
See the blockbuster movie? Read the book that started it all! Hot off the heels of the announcement of the upcoming sequel, we're pleased to announce that the original
Kingsman: The Secret Service
collection will receive a new printing this July with a brand new cover! Catch up on the story that started it all after the action-packed thriller comes home on DVD, Blu-Ray™ and Digital HD™.
Superstar writer Mark Millar and legendary artist Dave Gibbons bring you a story that reinvents the spy genre for a new generation – and inspired the blockbuster hit motion picture. Launched as part of Marvel's creator-owned ICON imprint,
KINGSMAN: THE SECRET SERVICE
continues the tradition of telling bold, can't miss stories from the biggest names in the industry.
Coming in July in a specially priced trade paperback collection,
KINGSMAN: THE SECRET SERVICE
collects Secret Service #1 - #6 and can be found in comic shops and wherever books are sold.
Kingsman: The Secret Service
is also available digitally. For more information on
Kingsman: The Secret Service
and Marvel's ICON imprint, visitMarvel.com.
KINGSMAN: THE SECRET SERVICE TPB
Written by MARK MILLAR
Art by DAVE GIBBONS
ISBN: 9780785192770 On Sale July 8th