THE MARVEL BOOTH AT WONDERCON 2012: THE ONLY PLACE TO MEET CREATORS AND WIN PRIZES!
03/14/12 @ 3:23 pm EST
Source:
Marvel
|
Comments
(0) |
E-mail Article
|
Add a Comment
This week, Marvel heads to Wondercon! Marvel (
Booth #201
), along with the hottest creators in the industry, bring fans all that they've been craving and more! Over the course of the three day event, Marvel is bringing the fan service with giveaways, signings, and the fan favorite costume contest to make Wondercon an event to remember! Be sure to stop by the Marvel Booth (
#201
) for your chance to get in on the fun the entire weekend!
And that's not all because, we have an all-star cast of your favorite Marvel creators who will be at the booth signing all weekend long! Swing by and visit Marvel icons including none other than Jeph Loeb, Mark Waid, Humberto Ramos, Arthur Adams, Gabriel Hardman and more!
Each year, Marvel brings the biggest and best announcements to Wondercon, and this year is no different! Love the Marvel Universe? Can't wait for Avengers VS. X-Men? Need to know what new books are on the horizion? Well then be sure to check out the great panels we've got planned!
Can't make it to the convention? Follow along on the
Marvel Events App
& events.marvel.com, the best way to get exclusive videos, real-time announcements from the convention floor and up-to-the-minute panel, in-booth, and signing schedules of all your favorite Marvel creators!
For more on Marvel at Wondercon – visit
Marvel.com
!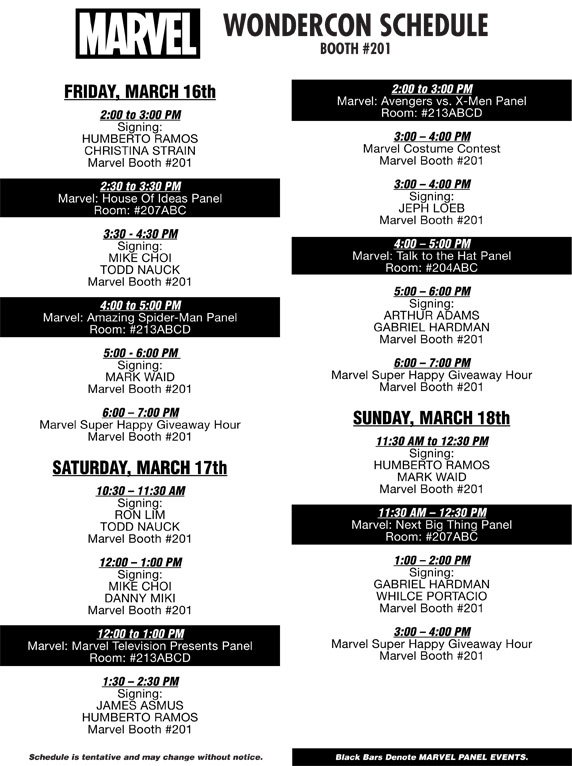 To find a comic shop near you, visit
www.comicshoplocator.com
or call 1-888-comicbook.


Marvel Entertainment, LLC, a wholly-owned subsidiary of The Walt Disney Company, is one of the world's most prominent character-based entertainment companies, built on a proven library of over 8,000 characters featured in a variety of media over seventy years. Marvel utilizes its character franchises in entertainment, licensing and publishing. For more information visit
www.marvel.com
WOLVERINE, WONDER WOMAN TOPS AT MARVEL, DC PANELS
08/31/14 @ 11:56 pm EST
Source:
Bleeding Cool
| Categories:
MIsc
|
Comments
(0) |
E-mail Article
|
Add a Comment


It's always interesting, Bleeding Cool observes, to see the different panel styles of Marvel and DC at Fan Expo. Whereas DC has an itinerary, a power point, audience prizes and a short Q&A session at the end, Marvel does their panels entirely as open Q&A's with no prepared presentation.

This year's Marvel panel included: Adam Kubert, Mahmud Asrar, Ryan Stegman, Greg Pak, C.B. Cebulski, Charles Soule and Janine Schafer.

Soule spent a lot of time talking about Death of Wolverine and what will follow for the character and the Marvel Universe.

"The idea is not to bring him back," Soule reiterated. "This isn't one of those stories where he's back in two weeks. The point is to tell an awesome ending story for Wolverine. I'm not gonna say he will never be brought back. I will say for sure that I'm very involved in all the Wolverine related discussions at Marvel right now and the thing we have not talked about at all is how to bring him back and I'm involved in discussions for stuff out into 2016 at this point."

The plans beyond Death of Wolverine are going to be a direct sequel in the fall, which will be five issues, called Weapon X Project, which Soule is writing. The second DC panel of the weekend at Fan Expo revolved around the New 52 as a whole, with Larry Ganem moderating and panelists Jeff Lemire, Brian Azzarello, Greg Pak and David Finch.

The panel opened by teasing the last few issues of Azzarello's Wonder Woman run with some previously released images. Azzarello promised, "There's a revelation that's never been touched on in her origin in the next issue [of Wonder Woman in October]."

While discussing Wonder Woman's latest injury, he said of course she survives but "some of the other characters don't survive."

Azzarello has been writing Wonder Woman for three years now and said it was always planned that she would be the God of War by the end of his story. He also isn't done yet with making an impact on Diana's story as he teased a "real big reveal in 34. Then Secret Origin has a huge reveal."

No clues on what any of those might be.
'BARBARELLA' RETURNS, HUMANOIDS REISSUES CLASSIC SCI-FI
08/31/14 @ 11:34 pm EST
Source:
ICv2
| Categories:
MIsc
|
Comments
(0) |
E-mail Article
|
Add a Comment
Humanoids has announced a newly translated version of the 1960's science fiction classic graphic novel
Barbarella
.
Debuting September 17 in the UK and September 24 in the US,
Barbarella
includes a new English-language translation by Kelly Sue DeConnick and a preface by comics historian Paul Gravett.
This limited edition, deluxe coffee table book will be a 12" x 16" duotone numbered volume of only 1200 copies. Planned as the first of multiple volumes reprinting the original stories, Book 1 retails for $79.95.
Written and illustrated by creator Jean-Claude Forest,
Barbarella
debuted in 1964 after earlier serialization in French magazines in 1962.
'GUARDIANS' FILM TOPS WEEKEND & YEAR
08/31/14 @ 11:28 pm EST
Source:
ICv2
| Categories:
Guardians of The Galaxy
|
Comments
(0) |
E-mail Article
|
Add a Comment


James Gunn's Guardians of the Galaxy continued to demonstrate extraordinary "legs" as it topped the box office chart during its fifth weekend in theaters, dropping just 5.2% over the first 3 days of the Labor Day weekend, earning $16.3 million and bringing its 2014-best-so-far total to $274.6 million.

Despite the addition of two new films, the horror movie As Above/So Below and the espionage saga The November Man, the total of the top 12 box office films dropped nearly 8% from the same 3-day period last year when Lee Daniel's The Butler held on to the top spot for the third weekend in a row with a $14.8 million haul.

Right now the moguls of Tinseltown are scratching their heads and wondering what went wrong during the summer of 2014 during which revenue fell 25% to $3.6 billion, the largest such single decline in over 30 years of box office history.
HULK HOGAN 'SAVAGE' AT FAN EXPO CANADA Q&A
08/31/14 @ 11:21 pm EST
Source:
Huffington Post
| Categories:
MIsc
|
Comments
(0) |
E-mail Article
|
Add a Comment
Photo Torontoist.com
Former WWE Champion Hulk Hogan surprised attending Hulkamaniacs in attendance at his Fan Expo Canada Q&A session in Toronto Saturday bu bringing with him longtime manager (and fellow WWE Hall of Famer) Jimmy "Mouth of the South" Hart.
The two 1980s pop icons worked the audience like a veteran tag team with Jimmy running the mic through the crowd for questions and Hulk answering them from the stage.
The very first fan meant business, asking Hulk what he thought of the diss rap from the late Macho Man Randy Savage, who was once Hogan's tag team partner. Recorded in 2003, it's called "Be A Man" and it doesn't mince words about Savage's hatred for the Hulkster.
"Randy was a good friend, brother, and I heard the song, but I didn't put it over," Hulk said, as reported in The Huffington Post. "I didn't react because Randy was in such a bad spot. Him and Liz [WWE's Miss Elizabeth, a Frankfort, KY native whom Savage had married in real life] were friends of mine and my ex-wife Linda. They lived down the beach from us and we hung out every single day. Randy and I, whether we were traveling, wrestling together or hanging out at the beach, we were together every day for 20 years."
DAVE BAUTISTA GETS STRATIS-FACTION AT FAN EXPO CANADA
08/31/14 @ 11:05 pm EST
Source:
Facebook
| Categories:
Guardians of The Galaxy
|
Comments
(0) |
E-mail Article
|
Add a Comment
Dave Bautista caught up with former WWE Woman's Champion, Hall of Famer and Toronto native Trish Stratus and her baby boy, Max, at Fan Expo Canada Saturday. As the wrestling character "Batista," Dave – better know nowadays as the portrayer of Drax the Destroyer from
Guardians of the Galaxy
– is a former WWE World Champion. – via Facebook
DRAGON AROUND GEORGIA AT DRAGON CON
08/31/14 @ 10:52 pm EST
Source:
Facebook
| Categories:
MIsc
|
Comments
(0) |
E-mail Article
|
Add a Comment
Photo by Jesse Garrett
The Marriott Atrium Ballroom was full to capacity at the "Star Trek: TNG: All Good Things" panel on Saturday at Dragon Con in Atlanta. Guests Patrick Stewart and gates McFadden came out on stage to a standing ovation. -- via Dragon Con on Facebook
Photo by Joe Lombardo
Some of the most beloved
Warehouse 13
actors gathered together in the packed Marriott Atrium Ballroom to reminisce about the show that touched so many people's lives. -- via Dragon Con on Facebook
TERRY GILLIAM TALKS FILMMAKING AT DRAGON CON
08/31/14 @ 10:35 pm EST
Source:
Atlanta Magazine
| Categories:
MIsc
|
Comments
(0) |
E-mail Article
|
Add a Comment
Photograph by Matt Walljasper
During a Saturday morning Dragon Con press junket in Atlanta, director Terry Gilliam spoke on his approach to filmmaking, and within it, his main goal: to leave a bit of emotional "shrapnel" in the viewer.
As a child, a scene from
The Thief of Bagdad
that featured a young thief fighting off a giant spider resonated with Gilliam so strongly that he would "wake up in the middle of the night trapped in that spider web, all my bedclothes wrapped around me."
He also told stories about how his own films have impacted others, including one tale of a lawyer who after watching
Brazil
locked himself in his office for three days straight.
However, Gilliam said he finds fewer and fewer films impact him, despite the fact that many modern films are "brilliantly made."
But he continues to push his shrapnel concept through his new film,
The Zero Theorem
, which is about a computer programmer (Christoph Waltz) who works on a formula that could determine the meaning of life. The movie deals with the idea of feeling powerless against the world's problems, and Gilliam called it "a satirical version of the world we're living in," one that is incredibly dependent on technology.
DF REVIEW: BATMAN/SUPERMAN #13
08/31/14 @ 12:29 pm EST
Source:
Dynamic Forces
| Categories:
Batman Superman
|
Comments
(0) |
E-mail Article
|
Add a Comment
By BYRON BREWER
Certain comics – once, under the pen of Roy Thomas,
The Incredible Hulk
, and certainly under Stan Lee,
Spider-Man
– have been compared to daytime dramas, AKA the soaps.
Now, in
Batman/Superman
#13, one of the most dreaded story devices of soap writers attacks Greg Pak and Jae Lee's book: amnesia, both for the Man of Tomorrow and the Dark Knight.
The number 13 is often seen as unlucky, but Pak and Lee take this device and sail merrily into one of the most interesting and certainly funny (yes, funny) episodes of the World's Finest Heroes as a new arc begins!
Pak pairs the amnesiac Supes with Catwoman and Lois is also along for the ride. The writer walks the line as he attempts to (and successfully so) infuse humor into Bats, and the results are exciting, humorous and quite entertaining.
Less so is the throw-over to the villainous Kaiyo (from the previous arc) who is plotting with Lord Satanus. While this isn't the issue's great strength, there's plenty here to impress.
Top of the list: Jae Lee's art, which is especially and always powerful during character-driven moments, emotional outbursts or confusions, and flowing panels of action. Most can be found in B/S #13 in satisfactory amounts.
Pak has an ability to take nothing and make something very worthwhile from it. And let's face it: Lee's art don't hurt! Great issue.
SIX FLAGS ANNOUNCES NEW DC THEMED RIDERS FOR 2015
08/31/14 @ 12:11 pm EST
Source:
Bleeding Cool
| Categories:
DC
|
Comments
(0) |
E-mail Article
|
Add a Comment


Amusement park giant Six Flags has announced several new DC Entertainment-based rides. Starting with Six Flags Over Texas and Six Flags St. Louis in 2015 with a 3D interactive dark ride attraction, Justice League: Battle for Metropolis. The ride lets guests battle alongside Superman, Batman, Wonder Woman and Green Lantern against Lex Luthor, The Joker and his henchmen.

Six Flags Fiesta Texas will debut Batman: The Ride in 2015. The new first-of-its-kind ride is described as a cross between the Green Lantern fourth-dimension coaster at Six Flags Magic Mountain in Valencia and the X-Flight wing coaster at Six Flags Great America in the Chicago area. Sitting on a compact footprint, the 120-foot-tall 4-D wing coaster is top feature an elevator-like lift hill, forward and reverse inversions and beyond-vertical freefall drops.

Six Flags Over Georgia will feature The Joker Chaos Coaster and Harley Quinn Spinsanity during 2015 season.
SIMONE, ENNIS, CASSADAY, WAID AND MORE ON THE DYNAMITE SIGNING LIST FOR THE BALTIMORE COMIC-CON
08/31/14 @ 12:01 pm EST
Source:
Bleeding Cool
| Categories:
Dynamite
|
Comments
(0) |
E-mail Article
|
Add a Comment
Dynamite Entertainment is pulling out all the stops for the Baltimore Comic-Con September 5-7.
As part of its 10th anniversary celebration, Dynamite will be set up at booth #2005 with an impressive line-up of creators doing signings:
Gail Simone, Garth Ennis, John Cassaday, Mark Waid, Matt Wagner, Michael Uslan, Allison Sohn, Buz Hasson, Christina Blanch, Duane Swierczynski, Frank Tieri, Jim Kuhoric, Ken Haeser, Michel Fiffe, Sean Chen.
In addition to its new booth, Dynamite will be offering convention exclusives. Limited edition black and white variants from
Red Sonja: Black Tower #1
, and
Steampunk Battlestar Galatica: 1880 #1
will be made available for purchase, along with an extremely rare Alex Ross art board variant edition of
Justice Inc. #1
and ultra-limited convention exclusive editions of
Bob's Burgers #1
both in black and white and as virgin art by series artist Tony Gennaro.