THE MARVEL BOOTH AT WONDERCON 2012: THE ONLY PLACE TO MEET CREATORS AND WIN PRIZES!
03/14/12 @ 3:23 pm EST
Source:
Marvel
|
Comments
(0) |
E-mail Article
|
Add a Comment
This week, Marvel heads to Wondercon! Marvel (
Booth #201
), along with the hottest creators in the industry, bring fans all that they've been craving and more! Over the course of the three day event, Marvel is bringing the fan service with giveaways, signings, and the fan favorite costume contest to make Wondercon an event to remember! Be sure to stop by the Marvel Booth (
#201
) for your chance to get in on the fun the entire weekend!
And that's not all because, we have an all-star cast of your favorite Marvel creators who will be at the booth signing all weekend long! Swing by and visit Marvel icons including none other than Jeph Loeb, Mark Waid, Humberto Ramos, Arthur Adams, Gabriel Hardman and more!
Each year, Marvel brings the biggest and best announcements to Wondercon, and this year is no different! Love the Marvel Universe? Can't wait for Avengers VS. X-Men? Need to know what new books are on the horizion? Well then be sure to check out the great panels we've got planned!
Can't make it to the convention? Follow along on the
Marvel Events App
& events.marvel.com, the best way to get exclusive videos, real-time announcements from the convention floor and up-to-the-minute panel, in-booth, and signing schedules of all your favorite Marvel creators!
For more on Marvel at Wondercon – visit
Marvel.com
!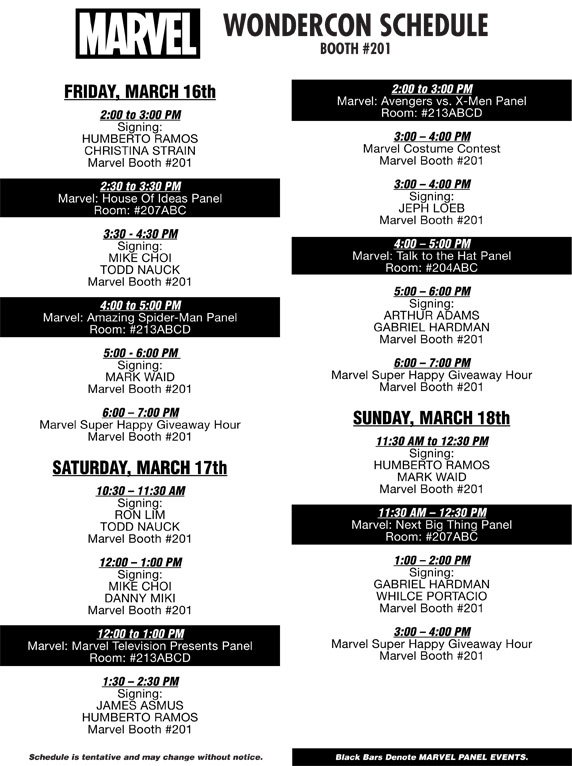 To find a comic shop near you, visit
www.comicshoplocator.com
or call 1-888-comicbook.


Marvel Entertainment, LLC, a wholly-owned subsidiary of The Walt Disney Company, is one of the world's most prominent character-based entertainment companies, built on a proven library of over 8,000 characters featured in a variety of media over seventy years. Marvel utilizes its character franchises in entertainment, licensing and publishing. For more information visit
www.marvel.com
DYNAMITE'S VAMPIRELLA OFFERED IN SIDESHOW COLLECTIBLES PREMIUM ART PRINT
10/13/15 @ 6:51 pm EST
Source:
Bleeding Cool
| Categories:
Dynamite
|
Comments
(0) |
E-mail Article
|
Add a Comment
Sideshow Collectibles
has a new art print available for pre-order. The image is of
Dynamite's Vampirella
by artist
Fabian 'Monk' Schlaga
.
The Bloodletting
premium art print is 18×24″ can be purchased framed or unframed. This is the second Vampirella art print from Sideshow and the first one sold out quickly.
For more information,
click here
.
SEX CRIMINALS #13 DROPS MATT FRACTION FROM THE COVER
10/13/15 @ 6:46 pm EST
Source:
Bleeding Cool
| Categories:
MIsc
|
Comments
(0) |
E-mail Article
|
Add a Comment
When Chip Zdarsky won a Harvey Award at Baltimore Comic-Con, the Harvey Special Award for Humor for his work on Sex Criminals, he turned it down because it didn't recognise the work of the book's writer, Matt Fraction.
Tomorrow's issue of Sex Criminals celebrates this award, and act, by taking Matt Fraction's name off the cover entirely.

Don't worry though, it's still on the inside.
SPIDER-MAN SWINGS INTO DISNEYLAND ON NOVEMBER 16
10/13/15 @ 4:38 pm EST
Source:
Comic Book Resources
| Categories:
Spider-Man
|
Comments
(0) |
E-mail Article
|
Add a Comment
When Super Hero HQ opens at Disneyland Park on November 16, Spider-Man will make his debut in the park's character greeting location. According to DisneyParks Blog, park attendees will be able to take a photo, get an autograph and interact with old Webhead.
In addition to Spider-Man, Super Hero HQ will feature Treasures of Asgard, which will allowfans to cross the Bifrost with Thor; the Hall of Armor, where attendees can virtually suit up as Iron Man and see Iron Man Tech Presented by Stark Industries; the Game Center; and more.
In February, a deal between Sony and Marvel Studios allowed both studios to share big-screen control of Spider-Man. As Marvel Studios is owned by Disney, it seems this deal extends to Disney parks, where Spider-Man will make his new home this fall.
Super Hero HQ opens November 16 in the Tomorrowland Expo Center at Disneyland
.
'Z-MEN' ZOMBIE COMIC BOOK MOVIE ADAPTATION IN WORKS
10/13/15 @ 4:51 pm EST
Source:
Variety
| Categories:
MIsc
|
Comments
(0) |
E-mail Article
|
Add a Comment
Lionsgate is adapting the zombie comic book "Z-Men" into a horror movie.
The studio will partner with Double Take, a subsidiary of videogame developer and publisher Take-Two Interactive Software. Written by Jeff McComsey, "Z-Men" is the flagship title in Double Take's recently launched universe surrounding the horror franchise "Night of the Living Dead."
"We're delighted to expand our relationship with our friends at Take-Two by partnering with their comic book arm, Double Take, in bringing 'Z-Men' to the big screen," said Lionsgate Motion Picture Group Co-Chairs Rob Friedman and Patrick Wachsberger.
"We continue to diversify our portfolio with films adapted from novels, video games and board games and look forward to translating 2T's graphic novel into a spine-chilling film for moviegoers and comic book fans alike. It is yet another example of the strong underlying intellectual property on which our film and television content is based."
"We are pleased to expand our partnership with Lionsgate, who has the right team to bring to life on screen what Double Take brings to life in comics," said Double Take General Manager Bill Jemas. "We look forward to seeing Lionsgate's creativity transform the 'Z-Men' story into an exciting feature film, and everyone on the Double Take team is incredibly enthused at this once-in-a-lifetime opportunity."
It's the second project that Lionsgate has launched with Take-Two. The studio announced in Augustthat it was developing a tentpole based on the videogame "Borderlands" with Avi and Ari Arad producing.
The deal for "Z-Men" was orchestrated by Lionsgate Motion Picture Group President of Business and Legal Affairs Patricia Laucella.
FIRST TRAILER FOR "BATMAN: BAD BLOOD" ANIMATED FEATURE
10/13/15 @ 4:31 pm EST
Source:
Comic Book Resources
| Categories:
Batman
|
Comments
(0) |
E-mail Article
|
Add a Comment
Following its premiere at New York Comic Con, Warner Bros. Animation and DC Entertainment, the first trailer for "Batman: Bad Blood" has been released online, within an installment of DC's "All Access" web series -- the trailer starts 1:17 into the clip.
Video:
https://youtu.be/oYIUE-Jebaw
'THE WALKING DEAD' PREMIERE RATINGS DOWN, BUT STILL MONSTER
10/13/15 @ 4:27 pm EST
Source:
Variety
| Categories:
Walking Dead
|
Comments
(0) |
E-mail Article
|
Add a Comment
After years of defying ratings gravity by growing its audience with each season premiere, AMC's "The Walking Dead" finally looked mortal as it kicked off its sixth season Sunday night.
According to "live plus same-day" estimates from Nielsen, the zombie drama averaged a monster 7.43 rating in adults 18-49 and 14.6 million viewers overall — up slightly over the show's season 5 averages but below its fall 2014 premiere (8.65 in 18-49, 17.29 million total viewers). That year-ago opener remains the show's highest-rated telecast on record.
Last March's fifth-season finale averaged an 8.16 rating in 18-49 and 15.78 million viewers overall.
"The Walking Dead" was the No. 1 program on Sunday night, even topping NBC's "Sunday Night Football." Its 7.4 rating in 18-49 also exceeds all broadcast entertainment telecasts since the start of the television season on Sept. 21, beating the premiere of "Empire" (6.7) by 10%.
AMC will release "live plus-3" ratings information on Friday for Sunday's "Dead" premiere, which could garner larger percentage gains than usual due to its expanded 90-minute running time. In addition to Major League Baseball playoff action, competition for live viewers also included the big-market NFL game on NBC between the San Francisco 49ers and New York Giants.
On social media, "The Walking Dead" was mentioned in nearly 1 million tweets Sunday (956,480), generating 3.6 billion potential impressions via 825,000 unique users. It was also the No. 1 show Sunday on Facebook.
ROGEN & GOLDBERG REPORTEDLY DEVELOPING
10/13/15 @ 4:42 pm EST
Source:
Comic Book Resources
| Categories:
MIsc
|
Comments
(0) |
E-mail Article
|
Add a Comment
Seth Rogen may not be stopping at one live-action adaptation of a Garth Ennis-written comic book series. According to Birth. Movies. Death., the actor/writer/producer/director is reportedly shopping a TV version of The Boysto cable networks, along with his creative partner Evan Goldberg and "Supernatural" creator Eric Kripke.
The article reports that it's still early in the development process, with the producers focused onfinding a home for the show. Rogen and Goldberg teamed with "Breaking Bad" veteran Sam Catlin for the TV adaptation of Ennis and Steve Dillon's "Preacher," which is scheduled to debut on AMC next year.
"The Boys" debuted in 2006 as part of DC Comics's WildStorm imprint, starring a team of superpowered CIA operatives tasked with keeping reckless superheroes under control. Like "Preacher," it utilizes Ennis' penchant for over-the-top violence and humor. After six issues, DC cancelled "The Boys" due to reported issues with the book's anti-superhero themes, and the series was then picked up by Dynamite Entertainment, where it remained for the duration of its 72-issue run, concluding in 2012.
YOUNG & ANDRADE EXPLORE "ROCKET RACCOON & GROOT'S" INTERGALACTIC HIJINKS
10/13/15 @ 4:20 pm EST
Source:
Comic Book Resources
| Categories:
Guardians of the Galaxy
|
Comments
(0) |
E-mail Article
|
Add a Comment
To make a living as an intergalactic hero and mercenary in the Marvel Universe you need a cunning mind, skill with a blaster, and some very good friends to watch your back. The brash anthropomorphic gun for hire known as Rocket Raccoon doesn't have many friends, but as readers of "Guardians of the Galaxy" and viewers of the blockbuster Marvel Studios film adaptation know, he possesses some very powerful allies in the form of his teammates, especially his best friend, the massive tree-like alien known as Groot. In recent months the duo have played pivotal roles in each other's solo series, but this January they'll come together for a new ongoing All-New, All-Different Marvel series that sees them sharing the title and the spotlight.
That book is "Rocket Raccoon and Groot" by writer Skottie Young, continuing his tenure from Rocket's solo series, and "Siege" artist Filipe Andrade, and their upcoming buddy sci-fi adventure series will chronicle the crazy and often comical adventures its titular characters are known for.
Young told CBR that the new series' tone and stories will be similar to his recently completed "Rocket Raccoon" series. Its initial tale finds Rocket in the role of tyrannical, galactic overlord eight months after "Secret Wars."
NEW "X-FILES" PROMO ASKS IF WE'RE TRULY ALONE
10/13/15 @ 4:13 pm EST
Source:
Comic Book Resources
| Categories:
X-Files
|
Comments
(0) |
E-mail Article
|
Add a Comment
Fox Broadcasting released a new video promoting the upcoming six-episode "X-Files" revival series featuring stylish animation and voice-overs from the cast, withDavid Duchovny's Fox Mulder asking if we're truly alone or if we're being lied to and Mitch Pileggi teasing the reopening of the X-Files division.
Premiering Jan. 24, the six-episode Fox revival also stars along with Duchovny and Pileggi "X-Files" franchise co-star Gillian Anderson and newcomer Joel McHale. Series creator Chris Carter is joined behind the scenes by writers/producers Glen Morgan and James Wong.
Video:
https://youtu.be/zw_Y16CMBFY
'SUPERGIRL' TAPS 'TRANSPORTER' STAR AS DC VILLAIN NON
10/12/15 @ 7:31 pm EST
Source:
The Hollywood Reporter
| Categories:
DC
|
Comments
(0) |
E-mail Article
|
Add a Comment
Transporter: The Series
star
Chris Vance
has been tapped to recur on the freshman drama and play the DC Comics villain known as Non,
The Hollywood Reporter
has learned.T
he character is described as a former scientist in a league with the House of El. Non is a brutal Kryptonian military officer who is sinister, powerful and angry. He's the antithesis of all things Supergirl (
Melissa Benoist
) stands for. Non will quickly become Supergirl's greatest threat.
Supergirl
producers
Greg Berlanti
,
Ali Adler
and
Andrew Kreisberg
told reporters in August at TCA that their version of Non — who was featured in
Richard Donner
's
Superman II
and played by
Jack O'Halloran
— would have a "slightly different take on the character."
Vance joins a roster of previously announced recurring/guest stars on
Supergirl
that includes
Jenna Dewan-Tatum
as Lucy Lane,
Glenn Morshower
as Gen. Sam Lane,
Iddo Goldberg
as Red Tornado,
Peter Facinelli
as Maxwell Lord,
Brit Morgan
as Livewire and
Chris Browning
as villain Reactron.