THE MARVEL BOOTH AT WONDERCON 2012: THE ONLY PLACE TO MEET CREATORS AND WIN PRIZES!
03/14/12 @ 3:23 pm EST
Source:
Marvel
|
Comments
(0) |
E-mail Article
|
Add a Comment
This week, Marvel heads to Wondercon! Marvel (
Booth #201
), along with the hottest creators in the industry, bring fans all that they've been craving and more! Over the course of the three day event, Marvel is bringing the fan service with giveaways, signings, and the fan favorite costume contest to make Wondercon an event to remember! Be sure to stop by the Marvel Booth (
#201
) for your chance to get in on the fun the entire weekend!
And that's not all because, we have an all-star cast of your favorite Marvel creators who will be at the booth signing all weekend long! Swing by and visit Marvel icons including none other than Jeph Loeb, Mark Waid, Humberto Ramos, Arthur Adams, Gabriel Hardman and more!
Each year, Marvel brings the biggest and best announcements to Wondercon, and this year is no different! Love the Marvel Universe? Can't wait for Avengers VS. X-Men? Need to know what new books are on the horizion? Well then be sure to check out the great panels we've got planned!
Can't make it to the convention? Follow along on the
Marvel Events App
& events.marvel.com, the best way to get exclusive videos, real-time announcements from the convention floor and up-to-the-minute panel, in-booth, and signing schedules of all your favorite Marvel creators!
For more on Marvel at Wondercon – visit
Marvel.com
!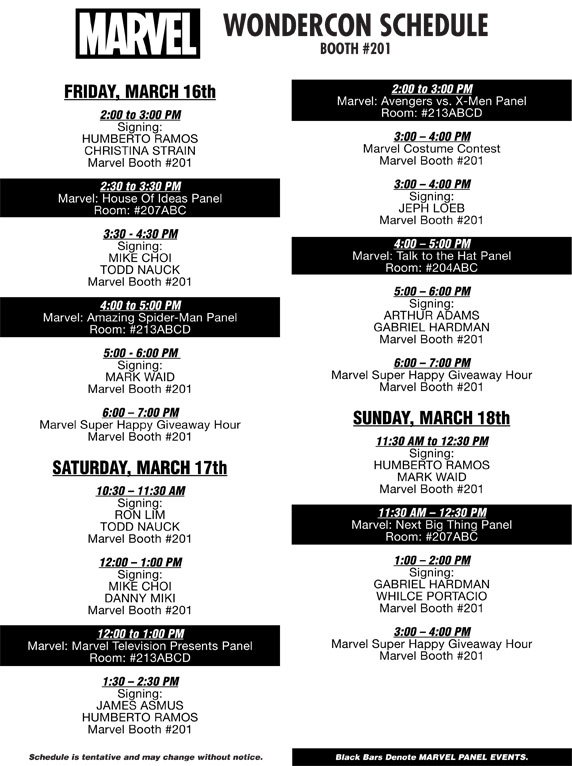 To find a comic shop near you, visit
www.comicshoplocator.com
or call 1-888-comicbook.


Marvel Entertainment, LLC, a wholly-owned subsidiary of The Walt Disney Company, is one of the world's most prominent character-based entertainment companies, built on a proven library of over 8,000 characters featured in a variety of media over seventy years. Marvel utilizes its character franchises in entertainment, licensing and publishing. For more information visit
www.marvel.com
GUARDIANS OF THE GALAXY VOL 2 DIRECTOR DISCUSSES FILM'S CONTINUITY WITH THE MARVEL CINEMATIC UNIVERSE
12/07/16 @ 12:44 pm EST
Source:
Comicbook
| Categories:
Marvel
|
Comments
(0) |
E-mail Article
|
Add a Comment
When
Iron Man
premiered in 2008, no one could have predicted the force that the Marvel Cinematic Universe would become. The superhero film was the first of dozens which would spawn Marvel Studios, and the box-office continues to milk its superhero films for all their worth. Still, maintaining such an elaborate cinematic vision is in no way easy for executives and directors.
But, according to the director of
Guardians of the Galaxy
, continuity is something he has never had to deal with.
In a recent Twitter spree, James Gunn took to answering fans' questions about
Guardians of the Galaxy Vol. 2
. It was there that the director commented on the film's continuity within the MCU - and it is apparently nonexistent.
"I'm so out in space unconnected at this point, outside of Thanos in
Vol 1
," he wrote. "I've never had to deal with even a single moment of continuity."
Of course, there are some threads of continuity scattered about the
Guardians
films. While they may not make reference to Earthly heroes like Iron Man and Captain America, the Guardians do have to contend with intergalactic affairs like Thanos. The first film heavily focused on the villain as he came in conflict with Ronan, and it ended with the Mad Titan preparing to gather all of the universe's Infinity Stones.
When
Avengers: Infinity War
rolls around, it looks like Gunn's projects will finally have their continuity align with the overall MCU much like how Doctor Strange will. The latter, whose film was directed by Scott Derrickson, introduced fans to the idea of the Marvel Cinematic Multiverse - and the sorcerer supreme will no doubt be part of the Avengers fight against Thanos.
DC'S FOUR-NIGHT INVASION! CROSSOVER BOOSTS THE CW TO ITS BEST RATINGS WEEK IN 6 YEARS
12/07/16 @ 12:40 pm EST
Source:
Comicbook
| Categories:
DC
|
Comments
(0) |
E-mail Article
|
Add a Comment
Last week, the Invasion! crossover special on The CW wreaked havoc in the Arrowverse as heroes like Supergirl, Green Arrow, and the Flash contended with an alien race. The same cannot be said for the network's ratings though. The four-night crossover gifted The CW with a rather extraordinary gift; The CW had its best ratings week in six years with more than 2.3 million viewers, a number comparable to when
Smallville
was on air.
On Monday, the event kicked off when
Supergirl
suited up. The first crossover episode was the most-watched Monday night episode in almost seven years. 2.36 million viewers tuned into the thrilling episode which is also the network's highest-rated Monday night of the past five years. It also looks like plenty of guys made sure to watch the superhero special as Monday marked a record rating for The CW with male viewers. The
Supergirl
episode scored a rating of 0.8/3.
On Tuesday, the numbers kept flooding in when
The Flash
made a comeback. "Invasion!" drew in a rating of 1.5 and over 4 million viewers which translates to a 39% increase in viewership from last season's high of 3.17 million.
Arrow
continued the trend on Wednesday night. The hit drama had a rating of 1.3 with more than 3.5 million viewers.
To end the Invasion! special, DC's
Legends of Tomorrow
treated fans to an explosive episode. The show raked in 3.33 million total viewers last night, an all-time high for the series. It also scored a rating of 1.1 which puts the episode just shy of Legends of Tomorrow's highest demo rating. The series premiered with a 1.2 rating when its pilot debuted.
LEGENDS OF TOMORROW: CAMELOT 3000 PHOTO SHOWS A BLOODY BATTLE SCENE
12/07/16 @ 12:35 pm EST
Source:
Comicbook
| Categories:
DC
|
Comments
(0) |
E-mail Article
|
Add a Comment
When DC's
Legends of Tomorrow
returns from its midseason hiatus, the series will be going way in time to tackle an actual Arthurian legend. That is, King Arthur himself. Earlier this month, the title for Season 2's twelfth episode was confirmed as "Camelot 3000," harkening back to an old-school DC Comic from the 1980s. Now, one of the first images from the set has been released, and it shows a rather bloody battle getting underway.
DID SIMON PEGG JUST HINT HE'S WORKING ON THE STAR TREK 4 SCRIPT?
12/07/16 @ 12:30 pm EST
Source:
Comicbook
| Categories:
Star Trek
|
Comments
(0) |
E-mail Article
|
Add a Comment
Earlier this year, Trekkies saw JJ. Abrams'
Star Trek
reboot return to theaters when its third film debuted.
Star Trek Beyond
rushed into theaters with critical backing, but its box-office failed to live up to Paramount's expectations. The sci-fi thriller lagged with its earnings, but Abrams insisted a fourth
Star Trek
film would be on its way. The studio did confirm the director was spot-on, but there's been little talk of the film since.
Well, until now. Over on Twitter, fans are convinced that Simon Pegg is teasing them about his involvement with the project - and their evidence is pretty convincing.
Taking to social media, Pegg posted a photo of himself sitting behind his laptop while writer Doug Jung sits by his side. To their left, fans can also see the mascot for Abrams' production studio Bad Robot, a company which works on the
Star Trek
franchise. As for the two writers, they worked together on the
Star Trek Beyond
script, so fans believe this new picture hints they are already working on a script for
Star Trek 4.
"Today…" is what Pegg captioned the photo. The cryptic message has left fans wondering if his post is an unofficial nod to
Star Trek 4
's pre-production. If it is, then fans appear to be excited about the prospect; Many applauded Pegg and his comedic quips from
Star Trek Beyond
, so his involvement with scripting the fourth movie would be a definite bonus.
However, the duo do conflict with previous reports from Paramount. Previously, the studio said J.D. Payne and Patrick McKay would handle the script for
Star Trek 4
. If Pegg and Jung return, then it would clash with Paramount's report.
BOOM! ANNOUNCES WWE WRESTLEMANIA 2017 SPECIAL #1
12/07/16 @ 12:22 pm EST
Source:
Comicbook
| Categories:
MIsc
|
Comments
(0) |
E-mail Article
|
Add a Comment
BOOM! Studios continues to bolster its anticipated WWE comics line, and now they've just announced a new addition that will arrive right in time for the battle of the immortals WrestleMania 33.
The WWE WrestleMania 2017 Special is a 40-page one-shot issue that harkens back to famous bouts that have taken place in WrestleMania's past. Matches like the classic ladder match between the Heartbreak Kid Shawn Michaels and Razor Ramon will be included, and the book will flow through multiple eras all the way to WrestleMania 30, where after months of tribulation and setbacks the beloved Daniel Bryan finally achieved Championship greatness.
The book will be written by Dennis Hopeless, Andy Belanger, Box Brown, Aubrey Sitterson, and Ross Thibodeaux, and is being drawn by Andy Belanger and Rob Guillory. Rob Schamberger is providing the main cover, while the "Fight Card" incentive cover is being drawn by Adam X Vass and the "WWE What If" incentive cover is being done by Jim Rugg. You can view Schamberger's main cover exclusively on ComicBook.com, which can be located in the gallery.
WWE: WrestleMania 2017 Special will retail for $7.99 and is scheduled to hit stores in March of 2017.
SUICIDE SQUAD AND STRANGER THINGS GET GRAMMY NOMINATIONS
12/07/16 @ 12:14 pm EST
Source:
Bleeding Cool
| Categories:
MIsc
|
Comments
(0) |
E-mail Article
|
Add a Comment
Pop star Meghan Trainor announced the 2017 Grammy Award nominations Tuesday and it included some nods to DC's most recent film and a breakout Netflix hit.

The soundtrack for Stranger Things got two nominations in the same category, Best Score Soundtrack for Visual Media. The soundtrack was broken into two volumes and both got a nomination. So the soundtrack is basically competing against itself… stranger things.



It's also going up against The Revenant, Star Wars: The Force Awakens, The Hateful Eight and Bridge of Spies.




While the Suicide Squad soundtrack got three nominations. Best Compilation Soundtrack For Visual Media and two nods in Best Song Written For Visual Media with Heathens by Tyler Josephand Purple Lamborghini by Shamann Cooke, Sonny Moore & William Roberts.

The 59th annual Grammys will air Sunday, Feb. 12 on CBS.
'EMILY THE STRANGE' ANIMATED MOVIE IN THE WORKS AT AMAZON STUDIOS
12/07/16 @ 12:05 pm EST
Source:
The Hollywood Reporter
| Categories:
MIsc
|
Comments
(0) |
E-mail Article
|
Add a Comment
Pop culture figure Emily the Strange is getting a new shot at a movie career.
The intellectual property, a punky goth girl and her assorted cats created by skateboarder Rob Reger, is in the process of being set up to be adapted as a feature film at Amazon Studios.
Dark Horse Entertainment is negotiating the deal that once set will see the company's Mike Richardson acting as producer. Reger also will be a producer, as will Dark Horse's Keith Goldberg.
The character was created in the early 1990s by Reger, a skateboarder who was designing assorted stickers, T-shirts and skateboards. That one design took on a life of its own, and a multimillion-dollar worldwide business with toeholds in fashion, books and comics, toys, school supplies and accessories took off.
Dark Horse has been publishing
Emily
comics since 2005 and soon after set up an adaptation at Universal. Chloe Grace Moretz was at one point attached to the project, which had writers such as Melissa Wallack (
Dallas Buyer Club
) penning the script. When the rights lapsed, Dark Horse began shopping it.
Universal's take was to have been live-action, but the Amazon Studios version will be in the form of an animated movie that would keep the authenticity and edge of the property. A search for writers is underway.
MARVEL'S 'INHUMANS' SETS 'DEXTER' GRAD AS SHOWRUNNER
12/07/16 @ 12:03 pm EST
Source:
The Hollywood Reporter
| Categories:
Marvel
|
Comments
(0) |
E-mail Article
|
Add a Comment
ABC and Marvel are turning to a familiar face to oversee
The Inhumans.Dexter
grad Scott Buck has been tapped to serve as showrunner on ABC's straight-to-series Marvel and Imax drama,
The Hollywood Reporter
has learned.
The Inhumans, a race of superhumans with diverse and unique powers, were first introduced in Marvel Comics by Stan Lee and Jack Kirby in 1965. Since then, they have become among the most popular characters in the Marvel Universe. ABC's
The Inhumans
will explore the never-before-told epic adventure of Black Bolt and the royal family.
Buck will serve as showrunner on the drama series, with the first two episodes set to exclusively unspool in Imax theaters over a two-week period starting Labor Day Weekend 2017 before the drama debuts on ABC in September in a groundbreaking, first-of-its-kind collaboration that helps cut through the crowded fall landscape.
The
Inhumans
deal extends Marvel's relationship with Buck, who is currently serving as showrunner on the comic book powerhouse's Netflix drama
Iron Fist
.
Iron Fist
is Marvel and Netflix's fourth series, with the fifth — mini
The Defenders
— set to feature stars from the former as well as
Daredevil
,
Jessica Jones
and
Luke Cage.
Picked up straight to series Nov. 14,
The Inhumans
is ABC's latest Marvel collaboration.
MARVEL AND NETFLIX RELEASE NEW IRON FIST PHOTOS
12/06/16 @ 2:57 pm EST
Source:
Comicbook
| Categories:
Marvel
|
Comments
(0) |
E-mail Article
|
Add a Comment
Marvel Television and Netflix have released new photos from
Marvel's Iron Fist
.
STAR WARS: ALAN TUDYK DESCRIBES UNIQUE CHALLENGES DEVELOPING ROGUE ONE DROID K-2SO
12/06/16 @ 2:50 pm EST
Source:
Comicbook
| Categories:
Star Wars
|
Comments
(0) |
E-mail Article
|
Add a Comment
Bringing any character to life is always a unique challenge for an actor. You don't pull only what's on the page, but have to learn the character's life, their backstory, the way they'd respond to even the most outlandish situation, so that their responses come from a place of truth. But taking a character who is being animated in CGI and living alongside humans has to hold additional challenges, and actor Alan Tudyk, who plays the droid K-2SO in
Rogue One: A Star Wars Story
had to explore that. Luckily, he has a background of not just classical acting training, but also voice acting; he's even motion captured a robot before.
"[With Voice Acting], it's really quick, from the time you get the character to the time that you're voicing it, and then they're animating it, it can be very fast," Tudyk told ComicBook.com during an interview at the
Rogue One
press junket. "You get pictures and you sort of play around with the voice, some of them are like that. 'What about this? What about this?' Kind of just finding a voice is where it starts, and then you get the scenes and you go line by line, and so you'll do the lines three times in a row until you get the line right. It can be very disconnected from the overall script. A lot of times you don't read the entire script."
That of course contrasts drastically with developing a character on screen in a standard live-action role.
"When you're doing a role that's just like a typical role in a film, the costume sometimes informs a lot. You're wearing, if your character wears rings, somehow you start gesturing differently. The way that they hold their mouth will be a thing, and so as you get into the character, whatever they do that affects your look, that's a part of it, you're going to be onscreen," he explained.