THE MARVEL BOOTH AT WONDERCON 2012: THE ONLY PLACE TO MEET CREATORS AND WIN PRIZES!
03/14/12 @ 3:23 pm EST
Source:
Marvel
|
Comments
(0) |
E-mail Article
|
Add a Comment
This week, Marvel heads to Wondercon! Marvel (
Booth #201
), along with the hottest creators in the industry, bring fans all that they've been craving and more! Over the course of the three day event, Marvel is bringing the fan service with giveaways, signings, and the fan favorite costume contest to make Wondercon an event to remember! Be sure to stop by the Marvel Booth (
#201
) for your chance to get in on the fun the entire weekend!
And that's not all because, we have an all-star cast of your favorite Marvel creators who will be at the booth signing all weekend long! Swing by and visit Marvel icons including none other than Jeph Loeb, Mark Waid, Humberto Ramos, Arthur Adams, Gabriel Hardman and more!
Each year, Marvel brings the biggest and best announcements to Wondercon, and this year is no different! Love the Marvel Universe? Can't wait for Avengers VS. X-Men? Need to know what new books are on the horizion? Well then be sure to check out the great panels we've got planned!
Can't make it to the convention? Follow along on the
Marvel Events App
& events.marvel.com, the best way to get exclusive videos, real-time announcements from the convention floor and up-to-the-minute panel, in-booth, and signing schedules of all your favorite Marvel creators!
For more on Marvel at Wondercon – visit
Marvel.com
!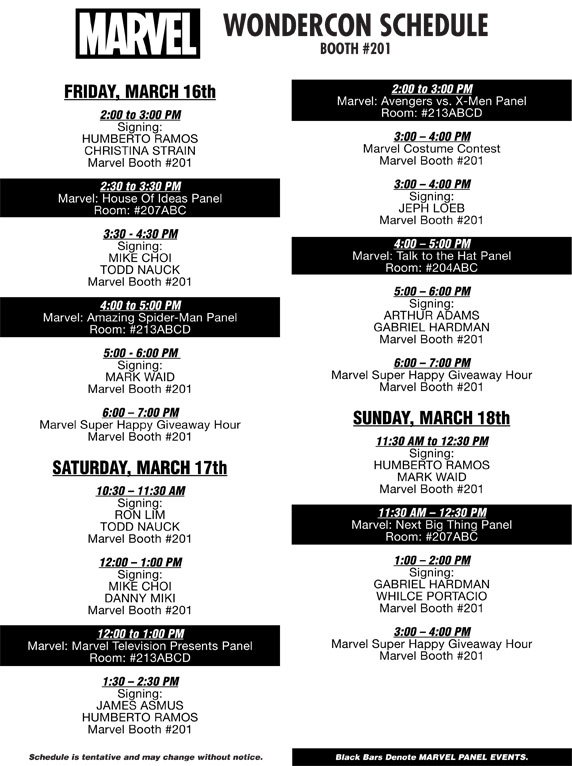 To find a comic shop near you, visit
www.comicshoplocator.com
or call 1-888-comicbook.


Marvel Entertainment, LLC, a wholly-owned subsidiary of The Walt Disney Company, is one of the world's most prominent character-based entertainment companies, built on a proven library of over 8,000 characters featured in a variety of media over seventy years. Marvel utilizes its character franchises in entertainment, licensing and publishing. For more information visit
www.marvel.com
'GALAXY QUEST' COMING BACK TO LIFE AS A COMIC
07/31/14 @ 9:29 pm EST
Source:
Blastr
| Categories:
MIsc
|
Comments
(0) |
E-mail Article
|
Add a Comment


It's been almost 15 years since Galaxy Quest stole our hearts and minds with its pitch perfect Star Trek impression and overdubbed F-bomb — and now, the crew is back for more adventures.

Sadly, we're not getting a sequel, but the property has been picked up by IDW to become a new comic book series dubbed Galaxy Quest: The Journey Continues. Writer Erik Burnham and artist Nacno Arranz have been tasked with bringing the rag-tag characters played by Tim Allen and Sigourney Weaver to life on the page.
FANTAGRAPHICS' 'SACRED HEART' COMES TO PRINT
07/31/14 @ 9:18 pm EST
Source:
ICv2
| Categories:
MIsc
|
Comments
(0) |
E-mail Article
|
Add a Comment
Fantagraphics will publish a graphic novel collection of the popular webcomic Sacred Heart in Summer 2015.

Written and drawn by Liz Suburbia, the story involves present day high-schoolers in a town without adults, trying to keep their make-shift society running until their parents return. But students keep dying mysteriously, and Ben Schiller's sister keeps disappearing; who knows if anyone will make it through the summer?

CHEW: WARRIOR CHICKEN POYO GOBBLED UP BY FANS
07/31/14 @ 9:12 pm EST
Source:
Image
| Categories:
Image
|
Comments
(0) |
E-mail Article
|
Add a Comment


John Layman and Rob Guillory's new CHEW spinoff one-shot WARRIOR CHICKEN POYO boasted a foil exclusive at San Diego Comic-Con last week and fans of CHEW flocked to the booth for the issue. WARRIOR CHICKEN POYO's ending shocked long-time CHEW fans and pulled in new readers with fun pop culture references. The issue has sold out and has a second printing with a new cover by Rob Guillory already in flight.

In this issue, the heroic, world-saving warrior chicken Poyo is plucked from the world of CHEW and dropped into the magical kingdom of Yoek, a land that is home to characters that are strikingly similar to classic fantasy literature. Unfortunately, Yoek is also newly plagued with an evil Groceryomancer bent on destroying the kingdom with, well, angry sword-wielding, asparagus-spear-throwing vegetables, fruits, tubers, and legumes. The fate of the kingdom rests on the brave and noble warrior chicken Poyo's shoulders.

"Poyo is the ultimate bad-ass, and so is everybody who picked up the first printing of Warrior Chicken Poyo," said Layman. "But, in an effort to make the world less pathetic and lame, we're giving even more people a chance to prove their supreme awesomeness with an opportunity to pick up what's probably the best comic book in the entire history of mankind, if not the universe!"

CHEW: WARRIOR CHICKEN POYO has completely sold out at the distributor level, but may still be available in comic stores. It is currently available digitally on the Image Comics website (imagecomics.com) and the official Image Comics iOS app, as well as on Comixology on the web (comixology.com), iOS, Android, and Google Play.

Image Comics is pleased to announce that this issue will be going back to print to meet customer demand. The second printing of CHEW: WARRIOR CHICKEN POYO (Diamond Code JUN148317) lands in stores on 8/27.
THE HORRORS OF WORLD WAR I IN WHITE DEATH
07/31/14 @ 9:10 pm EST
Source:
Image
| Categories:
Image
|
Comments
(0) |
E-mail Article
|
Add a Comment
Image Comics is pleased to announce the September release of WHITE DEATH, a hardcover graphic novel by Robbie Morrison (2000 AD) and Charlie Adlard (THE WALKING DEAD). Set in the Trentino mountain range, WHITE DEATH follows Pietro Aquasanta, who, as a rifleman in the Italian army, returns to what was a realm of wonder adventure in his childhood during World War I, but has now become a sterile world of death and despair."
'White Death' is a slang term used to describe avalanches in French and Italian Alpine regions," wrote Morrison in his introduction, "and in my head, the avalanche became a metaphor for war — a terrifying, irresistible force that remorselessly consumes and destroys everything in its path."
Heightening the tone of isolation and destruction is Adlard's art — smudged and scratchy black charcoal and white chalk on a stark gray background that depicts the horrors of trench warfare and hand-to-hand combat. WHITE DEATH pre-dates Adlard's arrival on the comics phenomenon THE WALKING DEAD, but his work on it informed the direction of his career.
"I could do my OWN thing," Adlard wrote in his introduction. "This, to me at the time, was a revelation. I hadn't been aware very much of the concept of creator-owned comics and, yet, here I was, doing just that. White Death eventually formulated my world view and opinions on where I wanted my career to go after this."
WHITE DEATH is a 104-page black-and-white hardcover graphic novel. It will be in comic book stores on September 3 and bookstores on September 16.
WHITE DEATH by Robbie Morrison and Charlie Adlard
ISBN 978-1-63215-142-1 Diamond Comic order code JUL140461Hardcover, 104 pages, $14.99 In comic book stores September 3, in bookstores September 16 Rated T+-
LOW REACHES NEW DEPTHS
07/31/14 @ 8:54 pm EST
Source:
Image
| Categories:
Low
|
Comments
(0) |
E-mail Article
|
Add a Comment


Rick Remender (BLACK SCIENCE, DEADLY CLASS) and artist Greg Tocchini (Uncanny X-Force, Last Days of American Crime) dive deeper into their underwater dystopian environment in LOW, with schools of absorbed fans of the new series following close behind. Issue #1 made a splash with readers, selling out instantly, and will torpedo into a second printing to meet customer demand. In order to quench the thirst for more LOW, we are pleased to reveal early artwork from issue #2.

In issue #2, the underwater city of Salus, humanity's last refuge, is in jeopardy of running out of air. Poverty, disease, and corruption are rampant, and the church of Quantumology can offer no solace as powerful as hard cream, the strange drug that keeps the bleak realities at bay. Police Inspector Marik Caine has sunk low into that haze; should an opportunity for hope present itself, can he rise again?

"It's a pleasure to work with Greg again, but to also see the incredible sales and fan reaction is icing on the cake," said Remender. "We have years worth of stories to tell in this world and the reader response secures our ability to realize them."

The first printing of LOW #1 has completely sold out at the distributor level, but may still be available in comic stores. It is currently available digitally on the Image Comics website (imagecomics.com) and the official Image Comics iOS app, and on Comixology on the web (comixology.com), iOS, Android, and Google Play.

The second printing of LOW #1 (Diamond Code JUN148268) will release on 8/27.

LOW #2 (Diamond Code JUN140553) will hit stores on 8/27. The final order cutoff deadline for retailers is 8/4.
S.H.I.E.L.D. #1 WELCOMES YOU TO LEVEL EIGHT THIS DECEMBER
07/31/14 @ 8:44 pm EST
Source:
Marvel
| Categories:
Marvel
|
Comments
(0) |
E-mail Article
|
Add a Comment


High-tech weaponry. High-stakes missions. High-octane adventure! This is S.H.I.E.L.D. #1 – the all-new in-continuity Marvel series inspired by the hit ABC television show! Eisner Award-winning writer Mark Waid (Daredevil) brings you a new series that explodes off the page with done-in-one missions each drawn by some of the top artists in the industry including Carlos Pacheco, Alan Davis, Chris Sprouse and more!

"[S.H.I.E.L.D.] has the best toys," says series writer Mark Waid. "And the best allies – anyone and everyone in the Marvel Universe is a potential guest-star in this book, from Dr. Strange to the Thing to Spider-Man to Cloak and Dagger to Groot – if they've got the skills needed for the task at hand, they're on the front lines (like it or not)."

Leading the charge is special Agent Phil Coulson, as he brings together the best and brightest, the gifted and the elite – normal people and superhumans alike from all corners of the Marvel Universe! If you've got the skills, S.H.I.E.L.D. has a mission for you! Phil Coulson, Maria Hill, Skye, Melinda May, Leo Fitz, Jemma Simmons and more team up with the Marvel Universe's most iconic characters each and every issue to confront, combat and curtail cataclysmic threats and world threatening dangers beyond the scope of any conventional peace-keeping force!

"We've got what amounts to an unlimited budget and the ability to bring in any character at any time," says Executive Editor Tom Brevoort. "So that's an advantage that we're going to press, with the most spectacular set-pieces we can dream up, and involvement from characters from every corner of the Marvel Universe."

Each and every issue: One mission. Twenty pages. Non-stop action. Guest stars from across the Marvel Universe. And a helper monkey. Hold on to your hats Agent, as S.H.I.E.L.D. #1 brings thrilling espionage and high-octane superhero action to comic shops and digital devices this December!

S.H.I.E.L.D. #1
Written by MARK WAID, Art by CARLOS PACHECO
Cover by MIKE DEODATO
Coming this December!
FATE OF RICH RIDER REVEALED IN GUARDIANS OF THE GALAXY #18
07/31/14 @ 8:38 pm EST
Source:
Marvel
| Categories:
Guardians of The Galaxy
|
Comments
(0) |
E-mail Article
|
Add a Comment


This August, the burning question will finally be answered as the shocking truth about one of the Marvel Universe's greatest heroes is revealed in GUARDIANS OF THE GALAXY #18 – a tie-in to Original Sin! Superstar creators Brian Michael Bendis and Ed McGuinness team for the heart-stopping answer to the question on everyone's mind: What happened to Rich Rider?

"We have literally been dropping hints since the Guardians guest-starred in Avengers Assemble," says Brian Michael Bendis. "I have known exactly what we were doing with this from the moment I agreed to do the book, but I thought it would be best to slow burn the reveal."

Nova, the Human Rocket – who once burned a bright streak across the Marvel Universe, gone in a flash. Side-by-side with Star-Lord, Richard Rider fought valiantly to save the universe from Thanos. Left sealed in a twisted and horrific version of our own universe, Richard Rider sacrificed everything to save us. Now, the truth of that sacrifice will finally come to light! Thanos and Star-Lord miraculously reappeared, but Nova was nowhere to be found. The true story about what happened has remained a closely guarded secret between two bitter enemies. Now, thanks to the events of Original Sin, the truth is about to come out!

What happened to Rich Rider in the Cancerverse? How did Star-Lord and Thanos escape their hellish imprisonment? And most importantly, why did they lie about it? The explosive last stand of Rich Rider begins when Original Sin comes knocking in GUARDIANS OF THE GALAXY #18!

GUARDIANS OF THE GALAXY #18 (JUN140622) Written by BRIAN MICHAEL BENDIS, Art & Cover by ED MCGUINNESS, 75th Anniversary Variant Cover by ALEX ROSS (JUN140623) 75th Anniversary Sketch Variant by ALEX ROSS (JUN140624) FOC – 08/04/14, On-Sale – 08/27/14,
DF REVIEW: SANDMAN: OVERTURE #3
07/31/14 @ 1:19 pm EST
Source:
Dynamic Forces
| Categories:
Sandman Overture
|
Comments
(0) |
E-mail Article
|
Add a Comment
By Byron Brewer
Sandman: Overture
from Vertigo is almost too cosmic for the human mind to contain. That has been part and parcel of Neil Gaiman's
Sandman
. Like the ending of
2001: A Space Odyssey
, it is just too much to conceive, much less absorb.
Or so it would seem.
But
Overture
#3 finds Gaiman almost struggling to reign in the cosmic beauty of the work by focusing on Morpheus' quest to save the multiverse and giving our sometimes too aloof and inscrutable hero some very interesting allies who are more than reflections of humanistic characteristics. First we had Cat!Dream, who is, true to name, a quixotic iteration of a
Dream Weaver
type of character, affecting the mind with all its doubts and hopes.
And speaking of Hope, I think our cat's sidekick Hope, more of the down-to-earth variant, will quickly become not only my favorite character in the adventure but Gaiman's POV character since she can ask all the questions we as readers may be wondering about. Plus, really, what is a dream without the imagination of a kid? The kid inside all of us?
Just one of the many statements (philosophies?) underlying in this book as we see a more direct storytelling form by the scribe. Metallic beetle-things, barbarians, warriors, even the Green Lantern Corps prepare for a war of cosmic scope, but also show Gaiman approaching
Overture
in more of a traditional comic book-y style a ways from the far more literary original
Sandman
.
That is not a bad thing here as the reader – at least one – finds himself liking the new characters AND Morpheus that much more!
Of course, the treat for the mind and eye is the art of J.H. Williams III, which seems to continue to have a mutant morphing power where it is needed. From the cosmic scope of the armies gathering (anyone reminded of Frank Brunner and his brief stay on
Doctor Strange
?), to a more Marc Silvestri sketchiness as the trio of companions trod an alien desert, to the Disneyesque fairy tale trappings during Morpheus' recollection of a lost love.
In all this, Williams is aided and abetted by
Overture's
unsung hero, colorist superb Dave Stewart.
Sandman: Overture
#3 is truly a cosmic feast for the mind and eye, as well as for the imagination. For the kid inside all of us.
OLD FRIENDS & NEW FOES IN INHUMAN #4
07/31/14 @ 1:11 pm EST
Source:
Marvel
| Categories:
Inhumanity
|
Comments
(0) |
E-mail Article
|
Add a Comment


Marvel is pleased to present INHUMAN #4, from critically acclaimed creators Charles Soule and Ryan Stegman!

Inhumans are being hunted across the globe, snatched up by those who would use their powers for ill. As Medusa struggles to rebuild the Inhuman kingdom from her new seat of power in New Attlian, there are those who would seek to depose her. And Attilan will receive a visitor from another royal kingdom – The Mighty Thor, Prince of Asgard! But does he come this time as friend…or foe?

And who is the mysterious Inhuman named Reader, with the power to bring to life anything he reads? Operating in secret, the spreading cloud of Terrigen Mists have forced him out of hiding. But who will he side with?

Don't miss one moment of the action as Marvel artist Ryan Stegman takes over series art duties this August with inhuman #4!!

INHUMAN #4 (MAY140855) Written by CHARLES SOULE, Art & Cover by RYAN STEGMAN, Variant Cover by JOE MADURIERA (MAY140856), FOC 8/04/14, ON-SALE 08/27/13
MARVEL SEES RED ACROSS THE SPIDER-VERSE WITH SCARLET SPIDERS #1
07/31/14 @ 11:37 am EST
Source:
Marvel
| Categories:
Scarlet Spider
|
Comments
(0) |
E-mail Article
|
Add a Comment


Announced this year at San Diego Comic-Con, Marvel is excited to announce a brand new limited series spinning out of the events of Spider-Verse, SCARLET SPIDERS, written by Mike Costa (Superior Spider-Man Team-Up Special, A+X) and artist Paco Diaz (Superior Spider-Man).

This November, Kaine, the Ultimate Universe's Jessica Drew, and an alternate universe Ben Reilly undertake a quest to stop the evil behind the events of Spider-Verse once and for all -- a quest so dangerous that not all of them will make it out alive!

"Obviously I can't give too much away just yet, but the group in SCARLET SPIDERS plays a very important role in stopping Morlun," said Editor Devin Lewis. "Without this group of three and their mission, there's a decent chance that the Spider-Men from across the multiverse won't even survive Morlun's assault."

In addition to stopping one of the most fearsome spider-villains in recent years, our heroes will have to learn to cope with one another and that even though they are clones of Peter Parker, they still come from different universes and boast distinctly different personalities.

"Kaine really serves as the entry point for readers to this group," Lewis elaborates. "He's a mainstay in the Marvel Universe, now, so that gives him a unique perspective on the events of Spider-Verse as they unfold."

"The Ben Reilly in this story is from a universe where Peter Parker never returned from his time in Oregon during the Clone Saga," he continues. "When we were having our first conversations on the phone, Mike [Costa] was intent on working out who this guy is. How does he think? What's his outlook and how is it different from the Peter Parker we all know and love?"

"Ultimate Jessica Drew has already had a pretty rough go of it herself, and one of the things Mike and I discussed and were intent on bringing to the fore was her sense of identity, especially now that she has seen there's a multiverse rife with Spider-People," concludes Lewis.

SCARLET SPIDER #1 arrives in local comic book retailers this November and will also include a code for a free digital copy of the very same comic on the Marvel Comics App for iOS and Android devices.

SCARLET SPIDERS #1 (of 3)
Written by MIKE COSTA
Art by PACO DIAZ
Cover by DAVID NAKAYAMA
Variant Cover by MARK BAGLEY