THE MARVEL BOOTH AT WONDERCON 2012: THE ONLY PLACE TO MEET CREATORS AND WIN PRIZES!
03/14/12 @ 3:23 pm EST
Source:
Marvel
|
Comments
(0) |
E-mail Article
|
Add a Comment
This week, Marvel heads to Wondercon! Marvel (
Booth #201
), along with the hottest creators in the industry, bring fans all that they've been craving and more! Over the course of the three day event, Marvel is bringing the fan service with giveaways, signings, and the fan favorite costume contest to make Wondercon an event to remember! Be sure to stop by the Marvel Booth (
#201
) for your chance to get in on the fun the entire weekend!
And that's not all because, we have an all-star cast of your favorite Marvel creators who will be at the booth signing all weekend long! Swing by and visit Marvel icons including none other than Jeph Loeb, Mark Waid, Humberto Ramos, Arthur Adams, Gabriel Hardman and more!
Each year, Marvel brings the biggest and best announcements to Wondercon, and this year is no different! Love the Marvel Universe? Can't wait for Avengers VS. X-Men? Need to know what new books are on the horizion? Well then be sure to check out the great panels we've got planned!
Can't make it to the convention? Follow along on the
Marvel Events App
& events.marvel.com, the best way to get exclusive videos, real-time announcements from the convention floor and up-to-the-minute panel, in-booth, and signing schedules of all your favorite Marvel creators!
For more on Marvel at Wondercon – visit
Marvel.com
!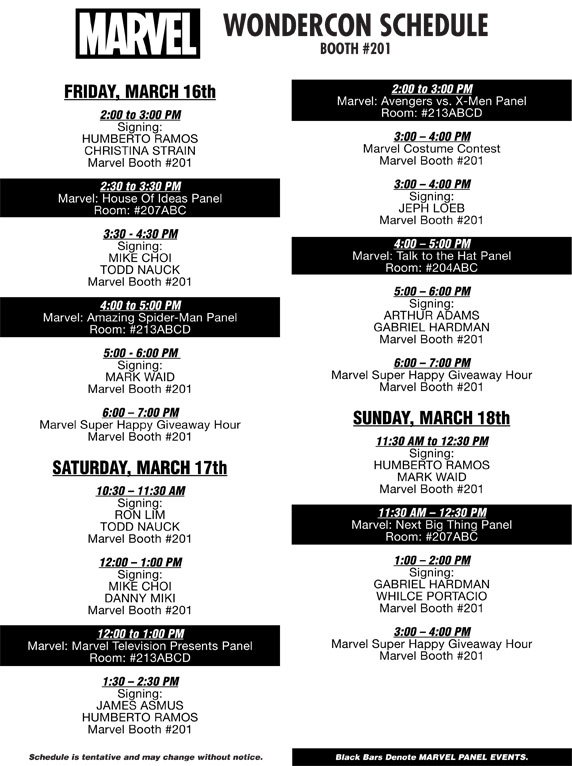 To find a comic shop near you, visit
www.comicshoplocator.com
or call 1-888-comicbook.


Marvel Entertainment, LLC, a wholly-owned subsidiary of The Walt Disney Company, is one of the world's most prominent character-based entertainment companies, built on a proven library of over 8,000 characters featured in a variety of media over seventy years. Marvel utilizes its character franchises in entertainment, licensing and publishing. For more information visit
www.marvel.com
CARA DELEVINGNE PLAYS TWO ROLES IN ONE FOR SUICIDE SQUAD
07/27/15 @ 11:14 pm EST
Source:
Bleeding Cool
| Categories:
Suicide Squad
|
Comments
(0) |
E-mail Article
|
Add a Comment
Last week, actress
Cara Delevingne
visited
Late Night With Seth Meyers
where she was asked about her upcoming role as the
Enchantress
in the
Warner Bros
film
Suicide Squad
. The actress tells how she was cast before there was ever a script and how she auditioned for director
David Ayer
doing a monologue from
Who's Afraid Of Virigina Woolf
. She also talks about how her role is really two parts in one as she spends one half of the film playing a mousy scientist and the other a homicidal lunatic.
Suicide Squad
is due out on August 5th, 2016.
Video:
https://www.youtube.com/watch?v=fLNwyNs_Jl0
PETCO UNVEILS NEW STAR WARS PET LINE
07/27/15 @ 11:02 pm EST
Source:
Comicbook
| Categories:
Star Wars
|
Comments
(0) |
E-mail Article
|
Add a Comment
You don't know the power of Star Wars merchandise. Case-in-point: This massive new line of Star Wars pet products coming from PetCo.Get ready, Fuzzballs, as nearly every conceivable item a pet (or pet owner) could need is getting the George Lucas treatment with Star Wars themed leashes, toys, and care products. And that's just the tip of the galaxy. There's also Star Wars-themed pet cosplay, because, well, why should we humans have all of the fun. And the mouse Han Solo in carbonite plush may be the best piece of anything that we've seen in a long time.
HUGH JACKMAN SEEKING FAN INPUT ON LAST TIME AS WOLVERINE
07/27/15 @ 10:52 pm EST
Source:
Comicbook
| Categories:
Wolverine
|
Comments
(0) |
E-mail Article
|
Add a Comment
What do YOU want to see in the next (and final)
Wolverine
solo film starring Hugh Jackman?
That's what he wants to know.
Jackman took to social media today to share a promotional image from the forthcoming sequel, along with a fairly straightforward question: What do the fans want?
Jackman tweeted:
"My last time putting on the claws. What do you want to see happen? 50 words or less. I'll read as many as I can."
RACHEL MCADAMS EYED FOR FEMALE LEAD IN MARVEL'S 'DOCTOR STRANGE'
07/27/15 @ 8:54 pm EST
Source:
Variety
| Categories:
Dr Strange
|
Comments
(0) |
E-mail Article
|
Add a Comment
It looks like Marvel wants Rachel McAdams for "Doctor Strange." Sources have told
Variety
that McAdams is the choice to land the female lead opposite Benedict Cumberbatch in Marvel's "Doctor Strange," although it's currently unknown if an offer is in hand.
Heroic Hollywood first reported the news earlier this month, and McAdams confirmed to the L.A. Times that she was talking to the studio about the role.
"It's still super-early days, and I don't know where that's gonna go, if it's gonna go anywhere at all," she said.
Tilda Swinton and Chiwetel Ejiofor are also on board to co-star. Scott Derrickson is directing the comicbook movie.Cumberbatch will play Stephen Vincent Strange, a former neurosurgeon who becomes the next Sorcerer Supreme and primary protector of Earth against magical and mystical threats.
Marvel Comics vets Stan Lee and Steve Ditko co-created the character in 1963.
The role McAdams will be playing if cast is unknown.
FABIANO NEVES PAYS HOMAGE TO RENATO CASARO IN RED SONJA / CONAN COVER
07/27/15 @ 6:18 pm EST
Source:
Bleeding Cool
| Categories:
Dynamite
|
Comments
(0) |
E-mail Article
|
Add a Comment
Artist
Fabiano Neves
did up a retailer exclusive cover for
Red Sonja / Conan
#2, the miniseries being published by
Dynamite
and
Dark Horse
. But in doing so, Neves decided to pay homage to the classic Conan movie poster done by artist
Renato Casaro
.
The cover is for
Comics to Astonish
in Baltimore, Maryland.
MARVEL'S STAR WARS TO SELL MORE THAN 200,000 COPIES IN COLLECTED EDITION
07/27/15 @ 6:07 pm EST
Source:
Comicbook
| Categories:
Star Wars
|
Comments
(0) |
E-mail Article
|
Add a Comment
The first collected edition of Marvel Comics'
Star Wars
series will sell between 225,000 and 250,000 copies in its first printing, ComicBook.com has learned exclusively.
That's about five times the average first volume trade collection of Marvel series, which average between 30,000 and 50,000 sales. That also means that
Star Wars
is retaining roughly the same number of readers from peridocals to trades, with sales of the first trade translating to roughly 20-25% of the sales of the series' first issue.
When the series launched,
Star Wars
#1 sold over a million copies, becoming the top-selling single-issue comic book of the last twenty years.
Star Wars
also became the first-ever million-selling periodical comic book sold exclusively through direct market channels without the aid of newsstands.
Since January, Marvel Comics has confirmed for us that
Star Wars
comics have moved more than 5 million units in the direct market.
Of course, the trade paperback will be available outside of the direct market, opening up the best-selling series to the bookstore market for the first time.
"When Star Wars #1 was released at the beginning of the year we were thrilled at the reception and the record-setting sales numbers. Once again, Star Wars continues to skyrocket the Marvel name even higher with the anticipated pre-order print-run between 200K and 250K units for Star Wars Vol 1 TPB," said David Gabriel, SVP Print, Sales and Marketing. "This is an unheard of number, but given the success that we've had with Star Wars since January, including the insurmountable 5MM units across all the Star Wars' series, second prints and overprints, we don't see any issue in reaching such a number of printed copies of this highly anticipated collected edition."
The series, which takes place between the events of
Star Wars
and
The Empire Strikes Back
and features all of the major characters from the film, launched in January. It is written by Jason Aaron, with artwork by John Cassaday. While Marvel handled the official adaptations of the original
Star Wars
trilogy and had a successful
Star Wars
series around the time of their theatrical release, 2015 will be the first time in decades that the publisher has handled the
Star Wars
license.
CHLOE BENNET SHOWS OFF DAISY JOHNSON HAIRCUT FOR AGENTS OF S.H.I.E.L.D.
07/27/15 @ 5:57 pm EST
Source:
Comicbook
| Categories:
SHIELD
|
Comments
(0) |
E-mail Article
|
Add a Comment
Marvel's Agents of S.H.I.E.L.D.
star Chloe Bennet has revealed her new Daisy Johnson haircut for Season 3 of the series.
Season 3 will draw inspiration and characters from the
Secret Warriors
comic book series. Now that "Skye" has been revealed as the TV version of Quake, Bennet is being made to look a bit more like a TV version of the original character.'
While the cut is a significant shortening from Bennet's previously long locks, it's still quite a bit longer than Daisy's closely cropped hair in the comics.
STAN LEE WEIGHS IN ON MICHAEL B. JORDAN AS THE HUMAN TORCH IN FANTASTIC FOUR
07/27/15 @ 5:27 pm EST
Source:
Entertainment Weekly
| Categories:
Fantastic Four
|
Comments
(0) |
E-mail Article
|
Add a Comment
t's no small understatement to say the Internet was agitated to learn Michael B. Jordan had been cast as the Human Torch in Josh Trank's upcoming reboot of
Fantastic Four
.
In May 2013, upon discovering the character — originally conceived in Marvel's early '60s comic series as a hot-headed, blonde-haired, blue-eyed teenager who can burst into flame at will — would be updated by an African-American actor, fan outcry blazed across social media with super-heated vitriol.
But in a personal essay for Entertainment Weekly, "Why I'm Torching the Color Line," Jordan pointed out that if Stan Lee, the prolific writer and comic book kingpin who created the Fantastic Four (in addition to a host of other immortal characters including Spider-Man, the X-Men, and the Avengers), was okay with him portraying the character, the rest of Fanboy Nation should be too.
Contacted by EW, Lee — who shattered comic-dom's unofficial color barrier during the Civil Rights era, penning such characters as the Black Panther and the Falcon — took pains to make ensure there is no uncertainty regarding his stance on Jordan's casting in the new
Fantastic Four
.
"It was more than okay," says Lee. "I thought it was a great idea!"
As the indefatigable 92-year-old superhero conjurer and Marvel Comics chairman emeritus sees it, fan backlash up until this point hasn't so much been spurred on by racism as much as unyielding fealty to the source material.
"They're outraged not because of any personal prejudice," Lee says. "They're outraged because they hate to see any change made on a series and characters they had gotten familiar with. In
Spider-Man
, when they got a new actor, that bothered them, even though it was a white actor. I don't think it had to do with racial prejudice as much as they don't like things changed."
He adds: "But I think they're gonna get to love this character. So I'm not the least bit worried about it. I always tried to pepper these groups with as much racial diversity as possible because that's the way the world is."
Fantastic Four
opens Aug. 7.
ANDREW HOWARD JOINS MARVEL'S 'AGENTS OF S.H.I.E.L.D.'
07/27/15 @ 5:15 pm EST
Source:
Deadline
| Categories:
SHIELD
|
Comments
(0) |
E-mail Article
|
Add a Comment
Andrew Howard is the latest addition to the cast of Marvel's
Agents Of S.H.I.E.L.D.
, landing a major recurring role
.
He will play Banks, an authoritative and intimidating agent on the third season of the series, which began production this week.
Howard joins series stars Clark Gregg, Brett Dalton, Ming-Na Wen and Iain De Caestecker.
His other TV credits include
Bates Motel, Hatfields & McCoys
and an upcoming arc on TNT's new series
Agent X
.
Howard is repped by ICM Partners, Julian Belfrage Assoc. and LINK Entertainment.
Marvel's
Agents Of S.H.I.E.L.D
Season 3 premieres Tuesday, September 29 on ABC.
BREAKING: NEW 'JUSTICE LEAGUE: GODS AND MONSTERS' CLIPS
07/27/15 @ 5:06 pm EST
Source:
Comic Book Resources
| Categories:
Justice League
|
Comments
(0) |
E-mail Article
|
Add a Comment
With the full-length "Justice League: Gods and Monsters" set to arrive in stores tomorrow, CBR is running an
exclusive
clip from the film to whet your appetite.
As the feature's alternate takes on Batman, Wonder Woman and Superman look over crime scene photos involving their reality's take on Victor Fries (Mister Freeze) and Ray Palmer (The Atom), the trio come to a surprising conclusion -- someone is attempting to frame the League for murder.
CBR Exclusive clip:
https://youtu.be/ePTr41axOWc
A second clip finds Wonder Woman in a sparring match with Steve Trevor, demonstrating not only her New Gods-enhanced skill and strength, but her temper as well.WW clip:
https://youtu.be/DzaLykxRETA
"Justice League: Gods and Monsters" is available now on Digital HD; a Blu-ray Combo Pack and DVD arrive in stores on July 28.