MAGDALENA/VAMPIRELLA DF ALTERNATE - FOIL VERSION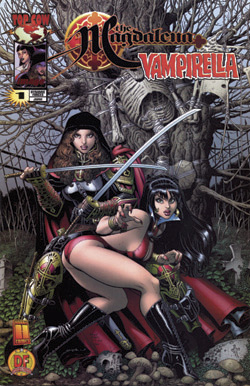 PRICE:
$10.00
The trifecta of all firsts! The first Top Cow/ Harris crossover features the
first Magdalena/ Vampirella crossover! The first time in over 2 years Art
Adams is doing non- DC work! The first time ever Art has ever drawn Magdalena!

Since Top Cow has one of the best artists on this project in the form of
JoeBenitez DYNAMIC FORCES Inc. had to raise the bar and get one of the best artists in the
business to do the cover. DYNAMIC FORCES Inc. is fortunate enough to have him
drawing the Magdalena/Vampirella exclusive cover!.

Here is your chance to get the limited edition only from DYNAMIC FORCES Inc.!