DF SPECIAL - FINALE FRIDAY!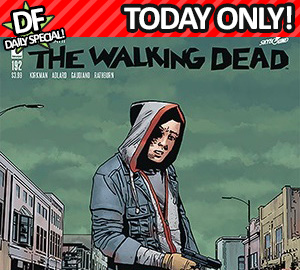 PRICE:
$43.21
It's Friday and we're celebrating one of the biggest success stories in the modern comics era, THE Walking Dead with a LAST CALL for CGC GRADED copies of THE Walking Dead #192!!! Against all odds, RICK has been a survivor since issue #1 and has escaped the sweet embrace of death too many times to count, so we felt the most appropriate way to show our shared love for the Walking Dead franchise is with a CGC GRADED copy of this soon to be iconic issue PLUS a BONUS SIGNED Walking Dead COMIC!!! Available today and today ONLY for the low, LOW DF Daily Special price of $43.21!!! Get your pre-orders in now before it's TOO LATE!!!

* Walking Dead #192 FIRST PRINTING CGC GRADED 9.6 OR HIGHER!!! (Regular MSRP $89.99)

* BONUS RANDOMLY CHOSEN LIMITED EDITION SIGNED Walking Dead COMIC!!!