DF SPECIAL - MYSTERY REMARKABLE MONDAY!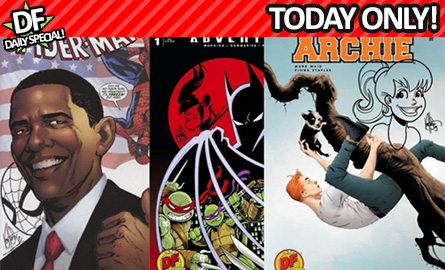 PRICE:
$19.93
It's Monday and we're gonna kick off the week with a MYSTERY REMARKED COMIC!!! We're randomly choosing one comic with a hand-drawn head sketch from an astounding variety of those world famous remarked comics by some of the top DF artists from over the years, ROCK BOTTOM PRICED in honor of the year DYNAMIC FORCES was born in 1993!!! Some of these sketches HAVE NEVER BEEN OFFERED BEFORE!!! Topping things off, we're adding in a randomly chosen BONUS LIMITED EDITION COMIC!!! Only 26 sets will be available today in honor of the 26th anniversary of DF!!! Get yours now!!!

* ONE RANDOMLY CHOSEN COMICS WITH A MYSTERY HEAD SKETCH BY A MYSTERY DF ARTIST!!! (Regular MSRP $89.99 or higher!)

* BONUS LIMITED EDITION COMIC!!! (Regular MSRP $19.99 or higher)

* Please note: All items are RANDOMLY CHOSEN and multiple orders may receive duplicate items. Images shown are an example of the wide variety of amazing collectibles your set will be chosen from!!!