DF SPECIAL - BATWEDNESDAY ARKHAM KNIGHT CELEBRATION!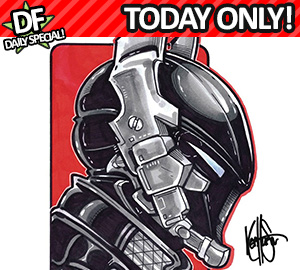 PRICE:
$39.00
It's NEW COMIC BOOK DAY and DETECTIVE COMICS #1004 hits shelves TODAY!!! In DETECTIVE COMICS #1000, The face behind the mask is revealed! Who's taken up the mantle of the Arkham Knight? What's their endgame? And what's the shocking secret that Batman never knew about a part of his life he'd taken for granted? We're kicking off the celebration TODAY with an encore offering of the now classic ARKHAM KNIGHT sketch by the one and only KEN HAESER!!! On the blank cover of DETECIVE COMICS #1000, Ken will provide a hand-drawn sketch of ARKHAM KNGIHT !!! In addition to this sketch, we will be adding in a BONUS SECRET SURPRISE LIMITED EDITION VARIANT EDITION of DETECTIVE COMICS #1000 so you have one to read and one to collect!!! EVENT PRICED at $39 in honor of the year Batman first appeared!!!

* DETECTIVE COMICS #1000 BLANK VARIANT SIGNED AND REMARKED BY DF SUPERSTAR ARTIST KEN HAESER WITH AN ARKHAM KNIGHT SKETCH!!! (Regular MSRP $89.99)

* BONUS DETECTIVE COMICS #1000 LIMITED EDITION VARIANT!!!