DF SPECIAL - FANTASTICALLY UNBELIEVABLE COLLECTORS KIT FRIDAY!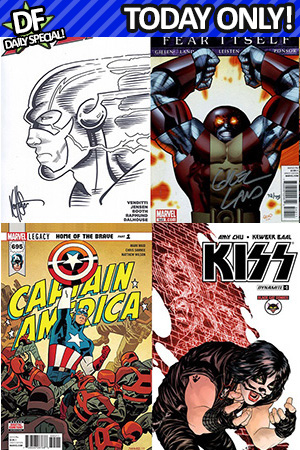 PRICE:
$93.00
One more day til the weekend!!! Everybody make some noise!!! It's Friday and we're piecing together an ASTOUNDINGLY SUPERIOR SET of 5 of the most collectible comics in this FANTASTICALLY UNBELIEVABLE COLLECTORS KIT!!! You won't believe your eyes when you see just what we've put together for you our most favorite fans of all time!!! And the best part about this kit, is it comes PRE-BUILT from and ASTOUNDING assortment of so many SPECTACULAR collectibles so there is NO ASSEMBLY REQUIRED!!! This package is JAM PACKED with 5 unbelievable randomly chosen items, but these aren't just any randomly chosen items!!! These will be chosen from a PREMIUM selection of TOP TIER collectibles!!!! You'll receive: 1 Randomly chosen Marvel or DC BLANK comic remarked with an ALL-ORIGINAL SKETCH!!! 1 randomly chosen VARIANT comic CGC GRADED at a high 9.6 or 9.8!!! 1 randomly chosen retailer incentive variant!!! 1 randomly chosen signed Marvel comic!!! 1 randomly chosen signed DC comic!!! And when we said high end, we meant high end!!! There will be GOLD!!! That's right!!! We're showering the fans with true value today and that includes GOLD!!! The signed comics within this package, you are guaranteed to receive at least ONE EACH from Marvel and DC hand-picked from the ELITE GOLD SIGNATURE SERIES collections and they are ULTRA-LIMITED, some as low as FIVE IN THE WORLD!!! This set is so HOT and so SWEET and BURSTING at the SEAM IN EXPLOSIVE value with HUGE LOADS of savings!!! In stock and ready to ship because who wants to wait for their payload!?!?!? Leo needs a new pair of shoes, amirite??? With a total MSRP value of $350 or higher, this collectors kit is available today at the anniversary price of $93.00 in honor of the year DF was born!!! Don't delay!!! Only 9 sets are available today!!!

* 1 RANDOMLY CHOSEN BLANK VARIANT COMIC REMARKED WITH A ONE-OF-A-KIND SKETCH IN COLOR!!!

* 1 RANDOMLY CHOSEN CGC GRADED VARIANT EDITION COMIC... GRADED AT A HIGH 9.6 OR 9.8!!!

* 1 RANDOMLY CHOSEN RETAILER INCENTIVE VARIANT!!!

* 1 RANDOMLY CHOSEN SIGNED ELITE GOLD SIGNATURE SERIES Marvel COMIC!!!

* 1 RANDOMLY CHOSEN SIGNED ELITE GOLD SIGNATURE SERIES DC COMIC!!!

* Please note: All items are RANDOMLY CHOSEN and multiple orders may receive duplicate items. Images shown are examples of the wide variety of books chosen and do not guarantee inclusion within this set.