DF SPECIAL - BATMAN WHO LAUGHS WEDNESDAY!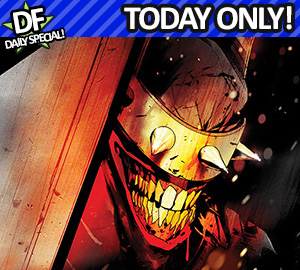 PRICE:
$39.00
It's NEW COMIC BOOK DAY and we're celebrating TODAY'S release of Batman WHO LAUGHS!!! Left rattled by the events of DARK NIGHTS: METAL, Bruce Wayne must come face to face with the nightmares spawned from the Dark Multiverse. But even though evil devoured evil in the collapse of Challengers Mountain, the Dark Knight still has his doubts. He discovers that the Batman Who Laughs not only survived the fight with The Joker at the end of METAL, but now he is enacting a sinister plan across the Multiverse-something both terrifying and oddly familiar. But when Bruce Wayne realizes the only way to stop this madman is to kill him, he must consider violating the very rule Batman won't break...the same rule that created this insatiable villain-the Batman Who Laughs! Today and today only, we're offering a CGC GRADED/READER COPY DOUBLE SHOT of the FIRST ISSUE for the low, LOW event price of $39.00 in honor of the year Batman first appeared in DETECTIVE COMICS #27 back in 1939!!! Be sure to lock yours down today before they are GONE!!!

* Batman WHO LAUGHS #1 FIRST PRINTING CGC GRADED AT A HIGH 9.6 OR 9.8!!! (Regular MSRP $89.99)

* Batman WHO LAUGHS #1 FIRST PRINTING UNGRADED READER COPY!!!