DF SPECIAL - SILVER SYMBIOTE SUNDAY!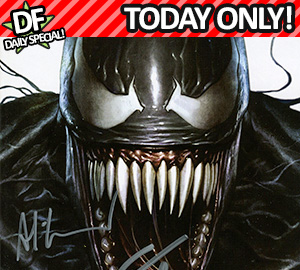 PRICE:


$30.00
It's Sunday and for today's DF Daily Special, we're offering a SUPER COLLECTIBLE DOUBLE SIGNED GEM!!! This rare COMIC SKETCH ART exclusive VENOM #1 VARIANT by ADI GRANOV will be signed in SYMBIOTE SILVER by both ADI GRANOV and DONNY CATES!!! In the spirit of TWO we're pairing this sweet signed signed comic with a rare SPIDEY UNIVERSE retailer incentive or exclusive comic!!! Get both today for the low, LOW EVENT PRICE of $30.00 in honor of the first appearance of VENOM in AMAZING Spider-Man #300 (May 1988)!!! In stock and ready to ship!!!

* VENOM #1 COMIC SKETCH ART RETAILER EXCLUSIVE VARIANT BY ADI GRANOV DOUBLE SIGNED BY ADI GRANOV AND DONNY CATES!!! (Regular MSRP of $99.99)

* BONUS SPIDEY UNIVERSE RETAILER INCENTIVE OR EXCLUSIVE VARIANT COMIC!!! (Regular MSRP of $19.99 or higher!)

* Please note, bonus items are chosen at random, multiple orders may receive duplicate books.