DF SPECIAL - LUCKY REVERSE 21 WEEKEND!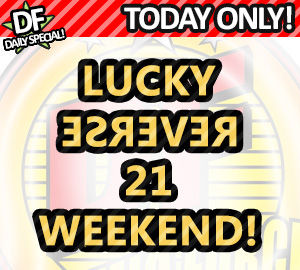 PRICE:
$121.22
It's SATURDAY the 22nd but don't let that stop us from running one of our most popular and requested DF DAILY SPECIAL offerings of all time!!! Yesterday was the 21st and we couldn't resist giving our fans one of the GREATEST 21 themed packages of the year! Flip 21 and you get 12!!! It's like the 12 Days of Christmas but reversed and in September!!! HOLY HOLIDAYS!!! CHRISTMAS IS COMING!!! 12 unbelievable randomly chosen items, but these aren't just any randomly chosen items!!! These will be chosen from PREMIUM selection of TOP TIER collectibles!!! 2 Random Re-Marked Books!!! 2 Random CGC books!!! 2 random signed Marvel comics!!! 2 random signed DC comics!!! 2 Random signed independent comics!!! 2 random retailer incentive variants!!! Like the wonderful things you get at Christmas, this is one 'gift' you'll not soon forget!!!

* Please note: multiple orders may receive duplicate items.