DF SPECIAL - STAN LEE SPIDEY SATURDAY!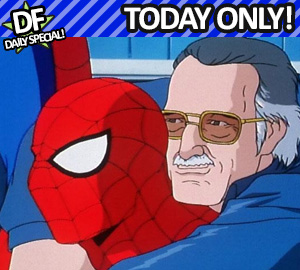 PRICE:
$269.10
Today's special features one of the most Marvel-ous collectibles known to true believers everywhere... A signed and certified Spider-Man comic book signed by none other than "the man" himself, Stan Lee! But that's not all, because this set will also include everything you need to be a real true believer! Along with this collectable gem, we are going to include some additional great items from the past and present! We're talking about signed Marvel comics! Rare variant and incentive Marvel comics! A remarked edition Marvel comic book! And, of course, Marvel comic books! This set has a combined minimum MSRP of over $700.00, but we are offering it to you for the DF Daily Special price of just $269.10 which if read backwards spells out 1962, the year Spidey first appeared in AMAZING FANTASY #15! Only 5 sets are available today!

* ONE RANDOMLY SELECTED Spider-Man COMIC BOOK - SIGNED BY Stan Lee! You will receive one awesome Spider-Man comic book signed by Stan Lee! That's right, we are going to randomly select one Spider-Man comic book signed by Stan Lee himself and add it to the top of this incredible set! The books are being selected from across the ages of the 80's, 90's and current releases! Each with an amazing cover featuring Spidey and some of his most amazing friends or deadliest foes! (Regular MSRP $599.99 or higher!)

* TWO RANDOMLY CHOSEN SIGNED Marvel COMIC BOOKS! This is a fabulous two-pack of signed comics. Signatures range from Greg Land, Matt Fraction, Alex Ross, Brian Michael Bendis, Terry Dodson, Paul Tobin, Jeff Parker, Ed Brubaker, Paolo Rivera, John Romita Jr, Tom DeFalco, Clayton Crain, Phil Noto, Jimmy Palmiotti and/or many more of the most awesome creators in the biz! (Regular MSRP $29.99 each or higher!)

* THREE INCENTIVE AND/OR VARIANT EDITION Marvel COMICS! This set wouldn't be complete without two of these rare & collectable limited edition Marvel comics! (Regular MSRP $19.99 or higher!)

* ONE REMARKED EDITION Spider-Man COMIC BOOK! This Marvel comic book becomes a Marvel-ous Masterpiece! Right there on the cover of a randomly selected blank edition Spider-Man comic book, Ken Haeser utilizes his amazing talent and creates a one of a kind hand drawn and inked treasure! (Regular MSRP $89.99 or higher)

* PLEASE NOTE: Sets are picked at random. Multiple orders may receive duplicate items.