DF SPECIAL - TWELVE DYNAMIC DAYS OF CHRISTMAS THURSDAY!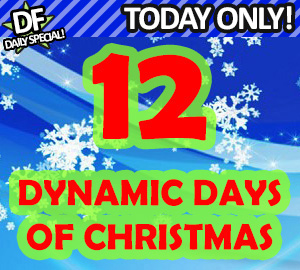 PRICE:
$120.00
We've got just EIGHTEEN DAYS TIL CHRISTMAS and we couldn't resist giving our fans one of the GREATEST 12 packs of the year! It's like the 12 Days of Christmas but in JANUARY!!! This package is JAM PACKED with 12 unbelievable randomly chosen items, but these aren't just any randomly chosen items!!! These will be chosen from a PREMIUM selection of TOP TIER collectibles!!!! You'll receive: 2 Random Re-Marked Books!!! 2 Random CGC books!!! 2 random signed Marvel comics!!! 2 random signed DC comics!!! 2 Random signed independent comics!!! 2 random retailer incentive variants!!! And just like Christmas, there will be SILVER and GOLD!!! That's right!!! Of the SIX signed comics within this package, you are guaranteed to receive at least ONE EACH from the ELITE SILVER & GOLD collections and they are ULTRA-LIMITED!!! Like the wonderful things you get at Christmas, this is one 'gift' you'll not soon forget!!! But hurry! Only 7 lucky sets are available today for the 7th!!!

* Please note: All items are RANDOMLY CHOSEN and multiple orders may receive duplicate items.