DF SPECIAL - STELLAR SATURDAY SUPER SET!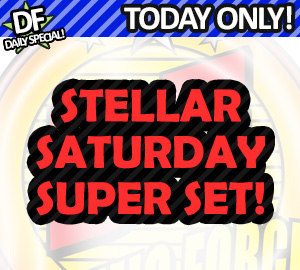 PRICE:


$93.00
Today's special features a package that is PERFECT for the ultimate collector of SIGNED, REMARKED and CGC graded comics!!! These will all arrive atop a giant stack of 25 comic books!!! An AMAZING VALUE of well over $350 of great signed collectibles for just $93.00, in honor of the year 1993 when DYNAMIC FORCES began!!! We only have 4 of these STELLAR SATURDAY SUPER SETS to offer today so don't delay!!! GET READY, BECAUSE HERE IT COMES!!!

* ONE RARE Marvel VARIANT... WAIT FOR IT... CGC GRADED!!! Yes, you read right!!! You will receive a CGC Graded Marvel variant comic book!!! Each of these CGC Graded books has a regular MSRP of $99.99 or higher!!! SWEET!!!

* TWO SIGNED DF EXCLUSIVE EDITION COMICS!!! A pair of rare signed DF Exclusive comics signed by a great creator!!! (Minimum regular MSRP $29.99 each!!!) YES!!!

* THREE RARE RETAILER VARIANT EDITION COMICS!!! 1 for 10!!! 1 for 25!!! 1 for 50!!! Here you'll get THREE FOR ONE!!! Three great variants for purchasing one amazing package!!! (Minimum regular MSRP $9.99 each or as high as $49.99 each!!!) OH YEAH!!!

* FOUR HIGH-END SIGNED COMICS!!! A premium mix of Marvel, DC, and independent publisher comics, each signed and DF certified!!! Each comic is signed by one of today's great writers or artists, or a classic creator!!! Includes a DF Certificate of Authenticity!!! (Minimum regular MSRP $49.99 each or higher!!!) SAY IT!!!

* 25 COMIC BOOKS!!! Not hoax! Not a dream! Not an imaginary tale! You will receive 25 comics!! From across the years of comicdom's greatest adventures, this is a senses-shattering, pulse-pounding mix of comics that will have you shouting "Excelsior" in no time!!! SHOUT IT OUT LOUD!!!

* Please note, items are chosen at random, multiple orders may receive duplicate books.