FRIDAY THE 13TH #1 - SIGNED BY JIMMY PALMIOTTI!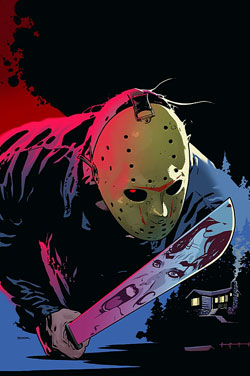 PRICE:


$19.99
The vaults of the New Line Horror library open further as one of the greatest horror icons returns in a mind-blowing new series! From the horrific minds of writing team Jimmy Palmiotti & Justin Gray (Jonah Hex) and monstrously-talented newcomer Adam Archer comes a new look at the legend of Crystal Lake: the hockey mask-clad Jason Vorhees!
A beautiful young woman is found on the road leading to the mysterious Crystal Lake, covered in blood and rambling about a murderous monster who slaughtered her group of friends. It's a tale similar to other legends of the area, but as her story unfolds, it will be unlike anything anyone could have expected! This story of murder and atrocity goes much deeper than any one family.
Each Signed copy is hand-numbered features a certificate of authenticity and is sealed with a DF Holo-Foil sticker!