JUSTICE SOCIETY OF AMERICA #1 - SIGNED BY COVER PAINTER ALEX ROSS!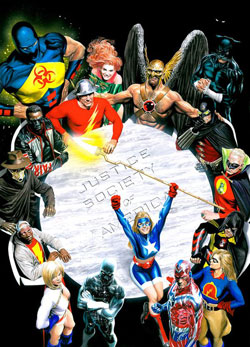 PRICE:


$29.99
The World's Original Super-Team is back, and they've brought some of the world's greatest talent with them! Writer Geoff Johns (52, Infinite Crisis), artists Dale Eaglesham (Villains United, Green Lantern) & Art Thibert (Outsiders, Superman) and cover artist Alex Ross (Kingdome Come, Justice) band together for the debut of the greatest incarnation of the super-team that inspired all the others.
From a new heaquarters in lower Manhattan, to the secret child of one of the team's founders, to a mystery killer hunting heroes from the team's past...The Justice Society stands ready look evil in the eye and never back down!
The Justice Society of America - the first is still the best.
Each Signed copy is hand-numbered features a certificate of authenticity and is sealed with a DF Holo-Foil sticker!