BATMAN'S GREATEST ADVERSARIES PACK - SIGNED VERSION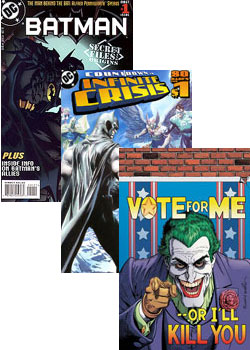 PRICE:


$49.99
Featuring four sold out 1st print comics! The individual books in this package has an MSRP of $89.99 but DF is presenting all of these 1st print comics (some now in their 3rd printings) for the set price of $49.99! Featuring: Villains United #1 signed by cover artist JG Jones! Countdown to Infinite Crisis #1 signed by artist Michael (Identity Crisis) Bair! Batman: Dark Detective #1 signed by Terry Austin! And Batman: Secret Files #1 signed by artist Kevin Nowlan! And best of all this package will have all of these books with Matching Numbers!

Each signed copy is sealed in an archival bag and board and features a numbered certificate of authenticity!