ALL-STAR BATMAN AND ROBIN #1 ALTERNATE ROBIN COVER - SIGNED BY FRANK MILLER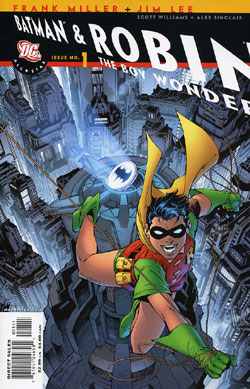 PRICE:


$69.99
Written by Frank Miller; Art and cover by Jim Lee and Scott Williams

The all-new saga of Batman and Robin begins here! The people responsible for some of comicdom's greatest tales Frank Miller (Batman: THE DARK KNIGHT RETURNS Sin City) and Jim Lee (Batman: HUSH) team up for the first time to bring you Batman and Robin like you've never seen them before in this imaginative reinvention of these classic characters that will have your eyes popping and your head spinning!

All hell breaks loose at the circus as millionaire Bruce Wayne and gal pal Vicki Vale witness a young boy's life shattered before their eyes. Orphaned Dick Grayson has nowhere to go and no one to turn to - no one but Bruce Wayne and the shadow of the bat!

Expect action adventure guest-stars and the unexpected as Miller and Lee deliver the ultimate tales of the Dynamic Duo!

The Robin Alternate cover by Jim Lee is available here signed by Lee himself for a limited time only at a special price.

Each signed edition will also be numbered and sealed with a certificate of authenticity. Get yours today.