ALL STAR BATMAN AND ROBIN THE BOY WONDER #1 - SIGNED AND RE-MARKED BY THE ENTIRE CREATIVE TEAM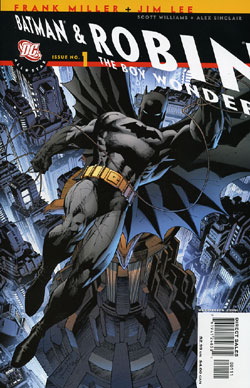 PRICE:


$149.99
Signed And Re-Marked By The Entire Creative Team Of Writer Frank Miller With Artists Jim Lee And Scott Williams With Re-Marked Covers In Color By Colorist Alex Sinclair! This Premium Limited Team Signature Will Be At The MSRP Of $149.99!

Written by Frank Miller(!); Art and cover by Jim Lee(!) & Scott Williams(!)

The all-new saga of Batman and Robin begins here! The people responsible for some of comicdom's greatest tales Frank Miller (DARK Knights RETURNS) and Jim Lee (Batman: HUSH) team up for the first time to bring you Batman and Robin like you've never seen them before in this imaginative reinvention of these classic characters that will have your eyes popping and your head spinning!

This is the MUST-HAVE book of 2005 and DF is offering the MUST-HAVE Signed versions for your collection!