FRANK MILLER'S SIN CITY VOLUME 3 BIG FAT KILL TPB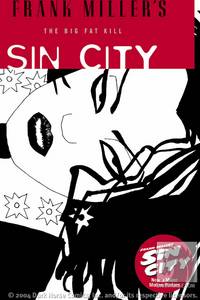 PRICE:


$13.60 MSRP: $17.00 YOU SAVE 20%
Criminals have always called the shots in Sin City, whether bootleggers, gamblers, or politicians. But ever since the first dame set up shop in Old Town, those side-streets have been run by the women who walk the night. It's been a delicate truce, but now there's a messy body and the mob's looking to reclaim those licentious streets. They're going to have to put down a tight band of dangerous women and a guy named Dwight to do it. Now Dwight, he knows something that the mob's gotta learn the hard way: sometimes standing up for your friends means killing a whole lot of people... Sin City will be a major motion picture in 2005, directed by Miller and Robert Rodriguez (Desperado, Once Upon a Time in Mexico, SpyKids) and featuring a cast of Hollywood all-stars. Demand has already increased for these highly sought-after titles. All of the Sin City titles will be redesigned by award-winning book designer, Chip Kidd!