ASTONISHING X-MEN #1 DIRECTOR'S CUT COVER - MARQUEE DOUBLE SIGNATURE SIGNED BY ARTIST JOHN CASSADAY AND MARVEL EDITOR-IN-CHIEF JOE QUESADA!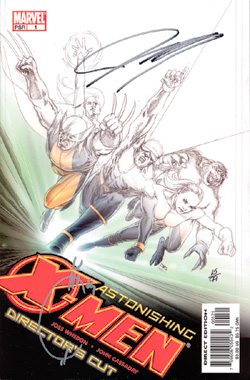 PRICE:


$89.99
A brand-new X-Men series is here featuring the first Marvel work from new writer Joss Whedon and featuring the fantastic art of John Cassaday!

Now thanks to this special offer we're making limited copies of #1 (the Director's Cut which features a ton of extras) available signed by both Astonishing artist John Cassaday and Marvel EIC Joe Quesada!

Each signed copy is sealed (archival bag and board) and features a numbered certificate of authenticity!