TOMB RAIDER AND THE DARKNESS #1 DF EXCLUSIVE COVER W/ FIERY RED FOIL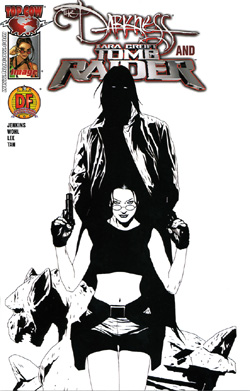 PRICE:


$14.95
More of comics greatest creators take on comics' greatest characters in 26 action-packed pages! Paul Jenkins and Jae Lee explore Jackie Estacado in The Darkness Prelude with an additional story by David Wohl and Billy Tan featuring Tomb Raider vs. The Darkness! This is being made available for the first time for those of you who may have missed out on obtaining this incredible issue. Tomb Raider and The Darkness meet for the FIRST time right here and the outcome isn't what you'd expect!!. Originally presented by DYNAMIC FORCES these stories are now collected here with a powerful NEW cover by artist Jae Lee!

But your collection is not complete without our exclusive Fiery Red Foil cover of this titantic two-in-one!

Each copy is sealed (archival bag and board) and features a numbered certificate of authenticity!