SUPERMAN #204 - SIGNED BY THE ENTIRE CREATIVE TEAM BEHIND SUPERMAN!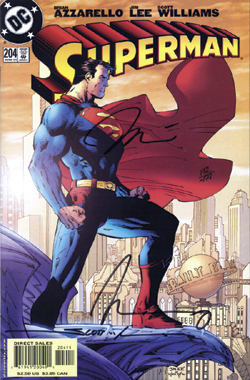 PRICE:


$29.99
Signed by the entire creative team behind Superman! From writer Brian Azzarello to superstar artist Jim Lee and CBG's #1 inker of the year - Scott Williams!

The most anticipated event of the year as fan favorites Brian Azzarello Jim Lee & Scott Williams take on the Man of Steel! People all over the world are mysteriously disappearing and it could be tied to a danger that will test Superman like never before. Plus the introduction of Father Leone a figure who will play an important role in coming months.

Each signed copy features a certificate of authenticity and is sealed with a DF Holo-Foil sticker!