DAREDEVIL 40TH ANNIVERSARY STATUE DIORAMA M/P EDITION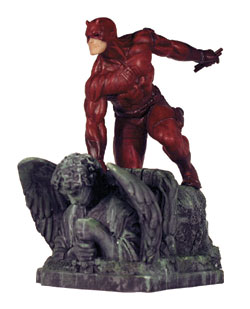 PRICE:


$89.99
Inspired by the rebirth of Daredevil by Kevin Smith Joe Quesada Jimmy Palmiott (from the Marvel Knights Daredevil series) DF had taken Joe Quesada's 2D pencils and turned them into a 3D diorama statue!

This year marks Daredevil'S 40th anniversary and we're proud to present the ultimate Daredevil collectible. Standing just under 7 tall and 4 wide (and 7 front-to-back) sculptors/designers/painters The Gore Group has truly crafted a magnificent piece and DF is pleased to offer a special limited M/P (or Manufacturer's Proof) Edition to help commemorate Daredevil's 40th anniversary.

THIS ITEM IS RETRO-SOLICITED AND WILL BE AVAILABLE IN DECEMBER!