LION FORGE ADDS GREG TUMBARELLO AND JEREMY ATKINS TO STAFF
12/11/17 @ 4:06 pm EST
Source:
Lion Forge
| Categories:
MIsc
|
Comments
(0) |
E-mail Article
|
Add a Comment


Lion Forge announces four new hires in its editorial and marketing departments today, including industry veterans Greg Tumbarello and Jeremy Atkins. These two join the rapidly growing publisher alongside multiple hires in each department's junior staff. Grace Bornhoft joins as assistant editor and Madeline Roy as marketing associate.

"Greg's extensive industry experience, comics acumen, and talent connections will help position us to meet the future of Lion Forge—and the comics industry as a whole—head on," says Andrea Colvin, executive editor. "And adding Grace to our editorial support staff brings a level of publishing know-how and trade experience that will further help set us apart."

"I'm incredibly excited to join the team at Lion Forge, a company without creative boundaries whose mission is to bring forward-thinking comics to fans and retailers everywhere," said Tumbarello. "I look forward to my new home where I can continue to create thrilling new comics that tell deeply compelling and diverse stories while working with some of the most talented individuals in the industry today."

"I've had my eye on Lion Forge comics for a long time, and I'm excited to finally play a part in their work making comics for everyone," says Grace Bornhoft.

"I have admired the work Jeremy has done in his comics career and am excited that he is on board with Lion Forge," says Rich Johnson, VP of sales, marketing, and business development. "Greg and I worked together and I know that he will make a huge contribution to Lion Forge and the comics industry."

"Lion Forge boasts not only one of the most diverse and exciting publishing lines in comics today, but one of the hardest working teams of experienced and dedicated professionals in the business," says Atkins. "I have been lucky in my career to work with true visionaries and innovators, and I am thrilled to continue this tradition at Lion Forge; an organization which is truly evolving the medium of comic book storytelling Wednesday after Wednesday."

"I am so eager to start my journey with Lion Forge and the people who work there," says Madeline Roy. "It's an excellent team that I'm very excited to be a part of."

Greg Tumbarello has over fifteen years professional experience in the comics and entertainment industry, having previously worked as an editor, writer and producer for MTV Networks, Image Comics, The Comic Book Legal Defense Fund, and Tokyopop. For the past seven years he has been an editor at Legendary Entertainment after cofounding and structuring their successful comic book division with acclaimed editor Bob Schreck. During his tenure, he's worked on New York Times best-selling graphic novels such as Godzilla: Awakening and Pacific Rim: Tales from Year Zero. He was an integral part of the team that brought to life Grant Morrison and Frazer Irving's Annihilator, which garnered an Eisner Award nomination for Best Writer and Frank Miller's Holy Terror, which launched the division as a top ten comics publisher.

Grace Bornhoft has had a passion for books her whole life. Growing up with eight siblings, reading and writing was integral to her family's upbringing. She knew she wanted to work with books from a young age. She received her bachelor's in English from Rockhurst University in 2014 but didn't stop there. She immediately went on to get her master's in English from the University of Missouri-Kansas City, where her passion for publishing began to grow. During her time in graduate school, Grace also worked as an intern at Andrews McMeel Publishing where she was soon promoted to production editor, working on comics including Big Nate, Dilbert, Peanuts, Zits, and Doonesbury. Now Lion Forge's newest editorial assistant, Grace is eager to bring her passion and love of books to the new and growing comics world at Lion Forge.

Jeremy Atkins has nearly two decades of experience at the forefront of tastemaker pop culture publicity. His work earned him profiles in the Wall Street Journal and Ready Made. He began his career in PR as head of promotions for iconic indie label K Records (home to early releases by Beck and Modest Mouse), then entered the world of publishing as lead publicist for Dark Horse Comics. During his ten-year tenure, Atkins oversaw publicity for every title associated with the storied brand, including Hellboy and Sin City, as well as licensed properties like Star Wars and Buffy the Vampire Slayer. He worked as director of marketing for craft beer giant Rogue Ales and in recent years, founded Seen All Over Media, a boutique firm representing special projects and titles for Lion Forge, Heavy Metal, Dynamite Entertainment, Insight Editions, MAD Events, Vault Comics, and more.

Madeline Roy grew up in the suburbs of St. Louis and graduated from Southeast Missouri State University with a bachelor in public relations and a minor in theater. She got her start at a small software company where she learned the tools of the trade in marketing and coordinating trade shows. She comes to Lion Forge with five years of trade show experience and a love for cats, video games, and overall pop culture. A fun fact about her is that she's into voice acting in her free time.
MARVEL REVEALS 'CLOAK & DAGGER' POSTER, ANNOUNCES NEW TRAILER
03/19/18 @ 3:19 pm EST
Source:
ComicBook
| Categories:
Marvel
|
Comments
(0) |
E-mail Article
|
Add a Comment
Marvel (via
ComicBook
) has announced that on Tuesday at 9 a.m. PT (noon Eastern), a new trailer for "Cloak & Dagger" will be released.
But you don't have to wait that long for a new poster for the coming Freeform television show. It's here now!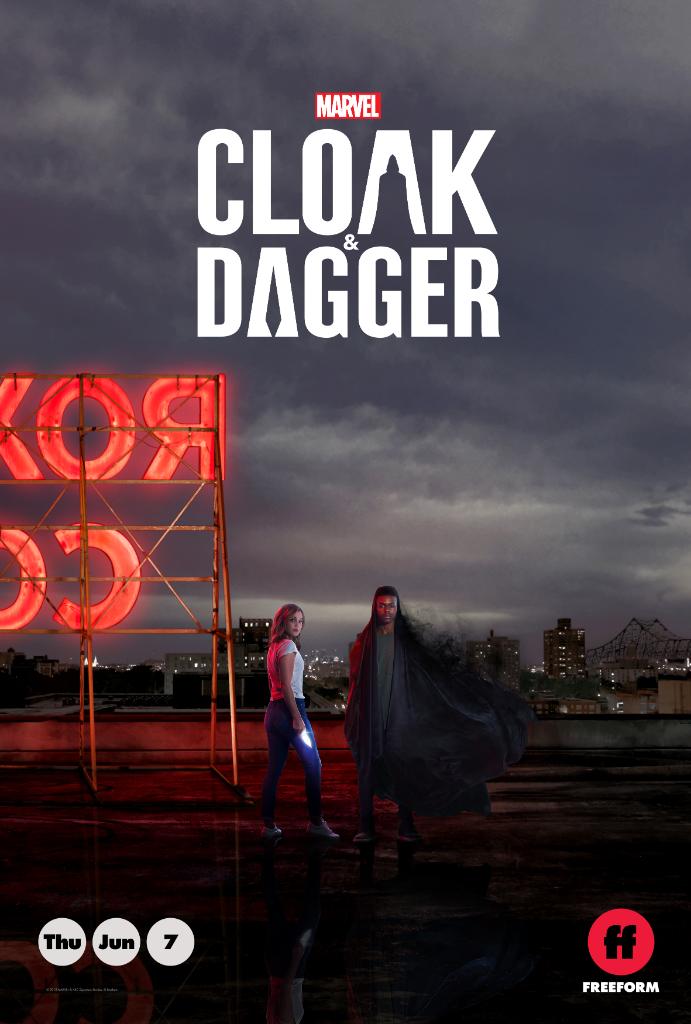 MATT RYAN TO JOIN 'DC'S LEGENDS OF TOMORROW' AS SERIES REGULAR FOR SEASON 4
03/19/18 @ 3:13 pm EST
Source:
Deadline
| Categories:
DC
|
Comments
(0) |
E-mail Article
|
Add a Comment
NBC's loss is the Arrowverse's gain, apparently.
Deadline
is reporting that Matt Ryan, who poirtrays demon hunter John Constantine (lead of a cancelled NBC show) is permanently joining the crew of the Waverider on The CW's "Legends of Tomorrow" in the upcoming Season 4.
Of course, Ryan's promotion from a recurring to a series regular is contingent on a Season 4 renewal for "Legends". The CW is yet to make renewals for next season but "Legends" — as well as the rest of the network's DC series — is fully expected to come back.
'LEGO NINJAGO MOVIE' DIRECTOR TACKLING LIVE-ACTION 'LADY AND THE TRAMP'
03/19/18 @ 3:05 pm EST
Source:
Hollywood Reporter
| Categories:
Disney
|
Comments
(0) |
E-mail Article
|
Add a Comment
"Lego Ninjago Movie" director Charlie Bean is going to the dogs!
The Hollywood Reporter
is saying that Bean has closed a deal to helm a live-action/CG remake of Disney's animated classic, "Lady and the Tramp".
Looks like this is being made for Disney's digital streaming service that will launch in 2019. The service will have four to six movies a year among content that will include film and TV offerings from Disney brands Pixar, Marvel and Star Wars.
CREATOR CAT FARRIS OPENS 'MY BOYFRIEND IS A BEAR' ART EXHIBITION IN PORTLAND
03/19/18 @ 2:54 pm EST
Source:
Oni Press
| Categories:
MIsc
|
Comments
(0) |
E-mail Article
|
Add a Comment
This April, Oni Press creator and artist Cat Farris is teaming up with Sequential Art Gallery + Studio (328 NW Broadway #113, Portland, OR) to celebrate the release of the original graphic novel,
My Boyfriend is a Bear
, beginning with an artist reception, Thursday April 5th, from 6pm-10pm, with the exhibition lasting throughout the month. The showing will include Farris's original process watercolor art used in the graphic novel, limited edition prints of the cover, and more! Limited copies of
My Boyfriend is a Bear
will also be available for purchase.
About
My Boyfriend is a Bear
: Nora has bad luck with men. When she meets an (actual) bear on a hike in the Los Angeles hills, he turns out to be the best romantic partner she's ever had! He's considerate, he's sweet, he takes care of her. But he's a bear, and winning over her friends and family is difficult. Not to mention he has to hibernate all winter. Can true love conquer all?
Cat Farris is the creator of the webcomic
The Last Diplomat
and the mini-comic series
Flaccid Badger
, has worked for companies such as Amazon and Rovio Entertainment, and illustrated Dark Horse Comics' Emily and the Strangers. Pamela Ribon is a best-selling novelist, and has written comics such as
Rick and Morty
™ for Oni Press and her original series
Slam!
for Boom! Studios. After over a decade working in television, she became a member of Disney Animation's StoryTrust, where she has co-written
Moana
and the upcoming
Ralph Breaks the Internet: Wreck-It Ralph 2
.
Founded in 2005, Sequential Art Gallery + Studio, and focuses on the work of comic book artists, illustrators, and storytellers in the Pacific Northwest. Curated by Kaebel JK Hashitani and Merrick Monroe, and aided by Andrew Paris, the gallery showcases local artists who explore the concept of sequential art, which is loosely defined as using consecutive images to tell a story.
"When I created the art for Bear's hibernation sequence, I wanted to do it in a way that clearly set his time apart from Nora's," said artist Cat Farris. "Using actual watercolor seemed like a natural choice to me to create soft, almost dream-like images. Thanks to the Sequential Art Gallery, folks have a chance to see these pieces in all their original glory!""We have been watching Cat for years, seeing her hone both her art style and professionalism," said Sequential Gallery curator, Kaebel JK Hashitani. "She started talking about
My Boyfriend is a Bear
last summer, sharing samples of the watercolor work for the book—that's when we knew it was time to showcase her artwork!"
Sequential Art Gallery + Studio is open for viewing Mondays 2pm-7pm, and by appointment. The exhibit will close Monday April 30th.
My Boyfriend is a Bear
by Cat Farris and Pamela Ribon is in bookstores on April 17.
BRUTAL REVENGE TALE SHANGHAI RED DELVES INTO THE UNDERSIDE OF PORTLAND HISTORY—LITERALLY
03/19/18 @ 2:48 pm EST
Source:
Image
| Categories:
Image
|
Comments
(0) |
E-mail Article
|
Add a Comment
Eisner-nominated writer Christopher Sebela (
High Crimes
,
Heartthrob
,
We(l)come Back
), artist Joshua Hixson (
The Black Woods
), and letterer Hassan Otsmane-Elhaou (
Felix & Macabber
) team up for the all-new revenge thriller SHANGHAI RED, coming this June from Image Comics.
"Moving to Portland, Oregon was the thing that jump-started my comics career, so I wanted to pay it back the best way I know how: by putting it in a book," said Sebela. "After studying its history and going on a tour of the Shanghai Tunnels, I came out with Red, our main character. She's as bloody and complicated as the city she's come back to, and getting to do justice to both of them alongside Josh and Hassan has made this book a dream/nightmare come true for me."
Red is one of hundreds shanghaied out of Portland in the late 1800s. Drugged, kidnapped, and sold to a ship's captain, she wakes up on a boat headed out to sea for years, unable to escape or reveal who she truly is. Now, she's on her way back, in a boat covered in blood, to find her family—and to track down the men responsible for stealing her life out from under her.
"I'm really excited about what we've all put into this book," said Hixson. "It has everything I love about a good revenge tale, but it's also not without heart. It's violent and bloody but centered around a story about family and belonging. That's what drew me to the book the most."
"Josh Hixson's art is going to blow you away," added Otsmane-Elhaou. "It captures the grit, the desperation, the desolation, and most importantly, the humanity of it all. Where he's been hiding, who knows, but getting to see him work his magic on every page is awesome, and I'm just trying to stay out of his way!"
This June, SHANGHAI RED will take you on a violent journey of vengeance, identity, and family.
SHANGHAI RED #1, Cover A by series artist Josh Hixson (Diamond code: APR180478) and Cover B by Tyler Boss (Diamond code: APR180479), hits comic book stores Wednesday, June 20th. The final order cutoff deadline for comics retailers is Monday, May 28th.
JOSEPH MICHAEL LINSNER AND KRISTINA DEAK-LINSNER LAUNCH VAMPIRELLA EVENT MINI-SERIES, ROSES FOR THE DEAD
03/19/18 @ 2:40 pm EST
Source:
Dynamite
| Categories:
Dynamite
|
Comments
(0) |
E-mail Article
|
Add a Comment
With the 50th anniversary of Vampirella fast approaching next year, Dynamite Entertainment is proud to announce the first plans leading into their year-long celebration of a comic book icon: the
Vampirella: Roses for the Dead
miniseries, plus the
Vampirella
50th Anniversary 2019 Wall Calendar.
Roses for the Dead
, by the husband-and-wife team of writer Kristina Deak-Linsner and artist Joseph Michael Linsner (of
Dawn
fame) will be a four-issue series slated for June release, and brings the beloved heroine back to basics, in attitude and with classic look! In additino, the calendar, highlighting the superstar artists that have defined her look over five decades, will ship in September and deliver twelve months of alluring imagery for Vampirella's legion of fans.
Vampirella: Roses for the Dead
#1, by Linsner and Linsner, reintroduces a cunning and captivating from the past: Evily, Vampirella's cousin and a practitioner of magic. First introduced in
Vampirella Magazine
#2 way back in 1969 and making rare but impactful appearances in the years since, Evily's reappearance in
Roses for the Dead
-- interrupting her cousin's hunt for a sexual predator through a Philadelphia nightclub -- is the first in a shocking chain of events destined to blow the minds of longtime fans and curious newcomers alike!
"Vampirella is an iconic classic," says Kristina Deak-Linsner. "I have loved her since I was five and first saw her on the 'life-size' six-foot Warren poster. She's been through a lot since September of 1969, though! Forrest J. Ackerman launched her just fresh off the face of great social changes and massive upheaval within the era. There's the remnants of the summer of love too, and the explosion of the sexual revolution. So, much due to that climate, she's definitely a product of her time... and yet she's still timeless. It's been an honor to take her on in a feature length story."
Joseph Michael Linsner, whose previous work at Dynamite teamed the vampire heroine with his best-known creation in
Dawn / Vampirella
, says, "Vampirella is one of the coolest looking comic characters of all time. Designed by Frank Frazetta and Trina Robbins, you just can't beat her classic look. I'm going to be giving the art my best shot on this series. The last time I got to draw Vampi was in the crossover, which I wrote as well as drew. This time, I am only the artist, so I can focus on that. My fans know me for rendering beautiful ladies, and this series is full of them!"Dynamite Executive Editor Joseph Rybandt says, "I'm beyond thrilled that Joe and Kristina are collaborating on this special
Vampi
miniseries. We've done a lot of experimenting with Vampirella over the last year or so, and while the tone and subject here get quite heavy, I think long-time fans will appreciate the return to form here."
Regarding that return to form, Deak-Linsner adds, "Vampi's proven again and again to be intelligent, witty, emotional, passionate, sarcastic, and primal. I have taken a mix of the classic elements of Vampirella, and put them together with a more recent focus on important events happening within the media right now. It's something that I have long wanted to explore, and while it might seem like the story is inspired by today's headlines, the seed ideas were actually in place and written back in September. I also wanted to portray her as sexy but strong, and comfortable within her own sexual identity. To me, a huge part of feminism is owning your own sexuality. Vampirella walks freely within that world. I know a lot of women, men, and transgender people who find the character very sexually empowering. I certainly think that the fans will enjoy that she's back in her classic outfit. Without her classic red one-piece, it's like heavy metal music without guitars! It is what it is, and the people who really love it embrace it for that reason. That said, she needs a story with some substance and I would like to think that we have seriously attempted to do that. I certainly hope the fans embrace it."
Vampirella: Roses for the Dead
#1 will be available with two variant covers: Cover A by series artist Joseph Michael Linsner, and Cover B by industry legend Billy Tucci (
Shi
,
Heroes for Hire
,
Sgt. Rock
).
Vampirella is a raven-haired heroine who remains, even after five decades of publication, one of the comic industry's most well-known characters. Since the character's very healthy resurgence in 2010, Dynamite has published four volumes of a monthly series, several miniseries and one-shot specials, and crossovers with multimedia brands and comic book peers (
Army of Darkness
,
KISS
,
Aliens
, and more). The
Vampirella
franchise is a haven for writers and artists with a penchant for the macabre. An icon of horror, Vampirella has an appeal that transcends the printed page, becoming a favorite facet of merchandising including apparel, barware, statues, jewelry, tarot cards, and more.
Vampirella: Roses for the Dead
#1 and the
Vampirella
50th Anniversary 2019 Wall Calendar will be solicited in Diamond Comic Distributors' June 2018
Previews
catalog, the premier source of merchandise for the comic book specialty market. Comic book fans are encouraged to reserve copies with their local comic book retailers. The new
Vampirella
series will also be available for individual customer purchase through digital platforms courtesy of Comixology, Kindle, iBooks, Google Play, Dynamite Digital, iVerse, Madefire, and Dark Horse Digital.
"DREAM DADDY" ARTIST SHANEN PAE COVERS FENCE #5 AT BOOM! STUDIOS
03/19/18 @ 2:36 pm EST
Source:
BOOM! Studios
| Categories:
MIsc
|
Comments
(0) |
E-mail Article
|
Add a Comment
BOOM! Studios is proud to unveil an all-new variant cover to FENCE #5 from
Dream Daddy
superstar artist Shanen Pae, in-stores April 18. The hit series, from best-selling novelist C.S. Pacat (
Captive Prince
) and popular online sensation Johanna The Mad, brings together the worlds of teen soap opera with the adrenaline rush of competitive fencing for an exciting journey of self-discovery that has won over legions of fans worldwide since its debut the celebrated BOOM! Box imprint in November 2017.
Additionally, FENCE #5 will hit stores on the same day in April as FENCE VOL.1 DISCOVER NOW EDITION, a comic-shop exclusive collection featuring the first four issues from the sensational series, also featuring a cover by Shanen Pae, with an MSRP of $9.99
"We launched
FENCE
with a special variant cover by Shanen Pae and as we begin the next arc of the series, we knew we had to have her back for more!" said Dafna Pleban, Editor, BOOM! Studios. "We couldn't be more thankful for the outpouring of support from fans after every issue of
Fence
and we feel really lucky we get to continue telling Nick and Seiji's story!"
In July, a standard edition of
FENCE VOL.1
, featuring a different cover and including additional behind-the-scenes material, will be released to comic shops and bookstores worldwide, with an MSRP of $9.99. While this standard version will remain in print, FENCE VOL.1 DISCOVER NOW EDITION will be strictly limited to the initial print run and then never reprinted again.
Print copies of FENCE VOL.1 DISCOVER NOW EDITION and FENCE #5 will be available for sale at local comic book shops (use comicshoplocator.com to find the nearest one) on April 18. Digital copies of FENCE #5 will be available to purchase on digital book marketplaces, including ComiXology, iBooks, Google Books, and the BOOM! Studios app.
FENCE is the latest release from BOOM! Studios' critically acclaimed BOOM! Box imprint, home to popular original series such as
Lumberjanes
by Shannon Watters, Grace Ellis, Brooklyn A. Allen, and Noelle Stevenson;
Giant Days
by John Allison, Lissa Treiman, and Max Sarin;
The Backstagers
by James Tynion IV and Rian Sygh;
SLAM!
by Pamela Ribon, Veronica Fish & Mar Julia; and
Goldie Vance
by Hope Larson and Brittney Williams.
DYNAMITE SIGNS JOHN LAYMAN AND JOE EISMA AS CREATIVE TEAM ON ITS CHARLIE'S ANGELS CLASSIC TV SERIES-BASED COMIC BOOK
03/19/18 @ 2:32 pm EST
Source:
Dynamite
| Categories:
Dynamite
|
Comments
(0) |
E-mail Article
|
Add a Comment
Dynamite Entertainment is proud to announce that the brilliant private detectives of
Charlie's Angels
classic TV series
are coming to comics, courtesy of fan-favorite writer John Layman (
Chew
,
Mars Attacks
) and sensational artist Joe Eisma (
Big Trouble in Little China
,
Faith
). Based on Sony Pictures Television's high-kicking action classic television series, the new comic book series -- debuting in June 2018 -- will send the original Angels, Jill, Kelly, and Sabrina, on a globe-trotting adventure with fabulous 1970s flair.
Charlie's Angels
#1 will feature multiple cover variants, including one by the team of David Finch and Jimmy Reyes, as well as two different covers by series artist Eisma himself.
John Layman says, "
Charlie's Angels
wasn't a dark and gritty show; it was breezy fun set in an era that's inherently silly, so you better believe I'm going to embrace that wholeheartedly. I also plan on doing stuff that could never have been done on the show, given the limitations of a '70s TV budget. Comics aren't constrained like that, so this is going to be a 'bigger budget'
Charlie's Angels
, seeing the Angels in exotic locations, taking on cases that are bigger and more exciting than what we ever saw in the show. And I get to work with Joe Eisma, who is a pal and somebody I've always wanted to work with."
Editor Matt Idelson says, "I remember the Charlie's Angels classic TV series for two things: the fun goofiness that I was aware of, even at the age of six, and the fact that unlike most of the shows on TV at the time, the leads were all women. Getting to go back in time and revisit a show that, in a lot of ways, was ahead of the curve, yet had that flavor that all the shows then did, is a blast. Getting to work with John, who I've been pestering for years, is awesome. And getting to work with Joe, who I've learned is as nice a guy as his work is awesome, has already been a joy. The fun we're having on this book is going to be infectious for the reader, I think."
"Working on
Charlie's Angels
is a win-win all around for me. I get to work on a fantastic property with John Layman, someone whose insane scripts I've wanted to draw since forever. I love this era, and to get to draw an action series starring three beautiful ladies is a dream come true! I'm so grateful to Matt Idelson and the crew at Dynamite -- they've been the absolute best," says artist Joe Eisma. "Visually, my goal is to portray the Angels as strong and powerful, with the confidence and toughness to handle any dangerous situation. Each of them has their own specialty that they bring to the team, and I plan to define that through their body language and personalities. I'm also looking forward to drawing their snazzy 70s attire! I think fans are in for a treat with this comic book series! With John and I involved, you can expect a lot of action, drama and humor, with attention and care paid to getting the feel and characterizations of
Charlie's Angels
right."
The 1976
Charlie's Angels
television series was created by Ivan Goff and Ben Roberts, with industry legend Aaron Spelling serving as Executive Producer for the show during its five-season run. The iconic series followed the crime-fighting adventures of three powerful women working in a Los Angeles private detective agency for the mysterious and unseen Charlie Townsend. The smash-hit series saw more than 100 episodes and became a cult hit for decades to come thanks to subsequent syndication and DVD distribution deals.


Charlie's Angels
will be solicited in Diamond Comic Distributors' April 2018
Previews
catalog, the premier source of merchandise for the comic book specialty market, and slated for release in June. Comic book fans are encouraged to reserve copies with their local comic book retailers. The
Charlie's Angels
comic book will also be available for individual customer purchase through digital platforms courtesy of Comixology, Kindle, iBooks, Google Play, Dynamite Digital, iVerse, Madefire, and Dark Horse Digital.
STELLAR TAKES OFF THIS JUNE
03/19/18 @ 2:28 pm EST
Source:
Image
| Categories:
Image
|
Comments
(0) |
E-mail Article
|
Add a Comment
Writer Joseph Keatinge (GLORY, SHUTTER) and legendary artist Bret Blevins (
New Mutants
,
Sleepwalker
) team up for the spacefaring series STELLAR—created by Robert Kirkman and Marc Silvestri—this June from Image Comics/Skybound Entertainment.
Stellar was taken as a child and transformed into the ultimate weapon, one that would end an intergalactic war. She succeeded…at everything except finding peace. Now, she's reduced to bounty hunting, scouring the worlds she's broken in search of redemption.
But there are other weapons loose in the galaxy, and it seems they just can't leave the war behind them.
"STELLAR is a capstone to everything I've written before, in a lot of ways," said Keatinge. "It's a sci-fi book reflecting on sins' past effect on the future, and overcoming them to go in a new direction. Robert bringing on Bret Blevins is an absolute dream come true, as his work has been a huge inspiration, ever since his work on
Sleepwalker
. That said, there's nothing like this in his entire oeuvre, and I'm hoping it's the first of many collaborations together."
This June, STELLAR will transport you to another dimension—one filled with crashed spaceships, fast-talking aliens, and ageless wonders.
"STELLAR is a science fiction drama with lots of spectacular action, grit, and a great deal of heart—the perfect combination!" said Blevins. "It's also an invigorating career turning point for me, because Skybound has afforded me the opportunity and the time to create the very best work I've ever done in comics. Robert Kirkman's concept and Joseph Keatinge's rich and subtle script have made for a joyous collaboration and inspired me to reach beyond what I thought I could do and surprise myself, and I hope, the readers. I've never worked harder on a comic book, and I've never been more excited for a project to reach the audience."
STELLAR #1 (Diamond code: APR180484) hits comic shops Wednesday, June 13th. The final order cutoff deadline for comics retailers is Monday, May 21st.
FANS OF THE WRENCHIES, TAKE HEART: PROXIMA CENTAURI AND IT WILL ALL HURT ARRIVE THIS JUNE
03/19/18 @ 2:20 pm EST
Source:
Image
| Categories:
Image
|
Comments
(0) |
E-mail Article
|
Add a Comment
Renowned cartoonist Farel Dalrymple (POP GUN WAR,
The Wrenchies
) will release two very different companions to
The Wrenchies
this June: the first issue of the miniseries PROXIMA CENTAURI, and a paperback collection of IT WILL ALL HURT.
PROXIMA CENTAURI is a psychedelic science fantasy action comic book drama that follows one of the protagonists of The Wrenchies: teenage wizard adventurer Sherwood Breadcoat. Sherwood is currently stuck on Proxima Centauri, a manufactured dimensional sphere 4.243 light-years from Earth. He's on the prowl for an escape from its confounding spectral zone—and for a way back to his brother—but he also has to deal with his confusing emotions, alien creatures, and all sorts of unknown, fantastic dangers.
"I wanted PROXIMA CENTAURI to be a fun action comic with a protagonist who is an entitled, self-centered, whiney, and unwittingly powerful (privileged) teenager frustrated by the world around him," said Dalrymple. "Sherwood feels isolated, lonely, and powerless to stop himself from repeating the same mistakes over and over, while failing to see all the beauty of his surroundings and the love of his friends. It's all about enjoying the journey instead of anticipating the destination."
IT WILL ALL HURT also takes place in the same world as
The Wrenchies
. Alemendra Clementine and her crew of anti-social adventurers must come together to take down an evil wizard in this weird, sad, silly, sketchy, dreamy watercolor fantasy action quest. This new paperback edition collects the entire Eisner-nominated webcomic, plus all-new, never-before-seen material.
"Inspired by the Moebius short story
Absoluten Calfeutrail
, I started IT WILL ALL HURT as a stream-of-consciousness exercise, and a way to get some quick unfiltered comics out while working on
The Wrenchies
," said Dalrymple. "It was the most fun I have ever had making comics."
PROXIMA CENTAURI #1 (Diamond code: APR180475) and IT WILL ALL HURT (ISBN: 978-1-5343-0672-1, Diamond code: MAR180607) both hit comic book stores Wednesday, June 13th. PROXIMA CENTAURI #1's final order cutoff deadline for comics retailers is Monday, May 21st, and IT WILL ALL HURT's final order cutoff deadline is Monday, April 30th.
IT WILL ALL HURT will arrive in bookstores Tuesday, June 19th, and is available for preorder via Amazon, Barnes & Noble, Indiebound, Indigo, and Books-A-Million.