NETFLIX GRABS SCI-FI NOVEL 'OLD MAN'S WAR'
12/07/17 @ 2:09 pm EST
Source:
Deadline
| Categories:
MIsc
|
Comments
(0) |
E-mail Article
|
Add a Comment
Hugo Award-nominated "Old Man's War" by SF novelist John Scalzi has been procured by Netflix to develop into an original film,
Deadline
reports.
The first of a six-novel series, "Old Man's War" occurs hundreds of years into the future where older citizens are given a choice: age and die on Earth or join the military in the interstellar Colonial Union, which will transfer their minds into super-charged, battle-ready versions of their own younger bodies.
Jon Shestack Productions and Madhouse Entertainment will produce.
SCOTT DERRICKSON RETURNING TO DIRECT 'DOCTOR STRANGE' SEQUEL
12/11/18 @ 7:54 pm EST
Source:
Hollywood Reporter
| Categories:
Marvel
|
Comments
(0) |
E-mail Article
|
Add a Comment
THR
reports exclusively that Scott Derrickson, who directed and co-wrote the mystical Marvel hero Dr. Strange's initial 2016 outing, has quietly finalized a deal to helm the new installment.
A search for a writer to pen the script is about to get underway.
Benedict Cumberbatch will return as Stephen Strange, the good doctor turned master of the mystic arts, as will Benedict Wong, who played his right-hand man, Wong. Rachel McAdams, who played Stephen Strange's love interest, is likely to return as well.
Strange was last seen de-materializing in
Avenger: Infinity War,
where one of his lines of dialogue served as the inspiration for the title of the fourth Avengers movie,
Avengers: Endgame.
THE MARVEL UNIVERSE IS DESTROYED! (AND AGAIN!)
12/11/18 @ 7:49 pm EST
Source:
Marvel
| Categories:
Marvel
|
Comments
(0) |
E-mail Article
|
Add a Comment
LAST CHANCE TO CELEBRATE WITH DEJAH THORIS ON KICKSTARTER!
12/11/18 @ 7:46 pm EST
Source:
Dynamite
| Categories:
Dynamite
|
Comments
(0) |
E-mail Article
|
Add a Comment
We're down to just 48 hours left on our Dejah Thoris Sketch Cards Kickstarter campaign! Thanks to passionate sketch card and Edgar Rice Burroughs/Barsoom fans like you guys, we were able to blast past our funding goal! But there's still plenty of time for stragglers to jump on board!
The Dejah Thoris Sketch Cards Kickstarter can be found here:
100 Years of Dejah Thoris Collectible Sketch Cards
We just recently added a new reward tier for the diehard card collectors. In our prior sketch card campaign, we offered a reward level with two full boxes of cards and fans have been asking for that same offer on this campaign. For the cherry on top, we've gone back through the Dynamite trading card archives and found some unique and rare high-quality trading cards that we feel makes the 24 foil packs an even better deal!
By backing two full boxes, backers will not only receive ALL prior rewards of sketch cards and puzzle sets, but they also now receive TWO additional rare trading card collectibles! A 9-card puzzle set from a classic Vampirella trading card set AND a Kick Ass movie "costume piece" trading card with an actual piece from the movie costume mounted inside.
Definitely worth highlighting for Dejah Thoris fans are the discounted graphic novels and the beautiful Art of Dejah Thoris deluxe hardcover. Including the most recent trade paperback from the just wrapped fan favorite run from Amy Chu and Pasquale Qualano, with a stunning J. Scott Campbell cover.
The sketch card selection features some of the best in the biz, like Ken Haeser, Marcia Dye, Helga Wojik, Gordon Purcell, Andy Bohn, Brent Scotchmer, Daniel Gorman, Karl Jones, Rich Molinelli, Wilson Ramos Jr, and more! See below for some samples.
Our previous line of sketch cards sold out BEFORE they went on sale in stores so lock down your cards now!
Each foil pack includes 7 total cards split up between high quality full color base cards, sketch cards, black and white line art cards, puzzle cards and signature cards. These deluxe packs will eventually retail for upwards of $100, but are available now on Kickstarter for only $65 (without even counting all the bonuses available).
Backers who preorder three foil packs or more will be able to choose among a selection of top tier artists to produce exclusive one-of-a-kind sketch cards just for them. Also available are various, one-of-a-kind sketch card puzzle sets.
Just 48 hours left! Don't miss it!
Click Here
Marcia Dye
Brent Scotchmer
Andy Bohn
BULLY, BRAWLER, MERCENARY, SPIES: MARVEL'S HOTTEST TEAM IS HERE
12/11/18 @ 7:41 pm EST
Source:
Marvel
| Categories:
Marvel
|
Comments
(0) |
E-mail Article
|
Add a Comment
Domino. Black Widow. White Fox. Atlas Bear. Outlaw. Diamondback. This March, Marvel invites you to meet a dangerous crew of international women – the newest group of hot shots to enter the Marvel Universe! Celebrated DOMINO creative team Gail Simone (
Birds of Prey
) and David Baldeon (
Spirits of Vengeance
) are bringing you an all-new story filled with feisty femme fatales, intense action, mercenary adventures, and espionage.
"So, it's like this," teased series writer Gail Simone. "Marvel came and said they love the team aspect of DOMINO and want to expand it even further. They said, you get to keep writing your favorite Marvel ladies, with your favorite Marvel artist, but on top of that, you get to ADD MORE AMAZING CHARACTERS YOU LOVE. It took about two seconds for me to say, 'I'm IN, I AM SO IN.'"
"Is it just me or is it getting hot in here? Marvel's greatest femmes fatale assembled for a very specific mission (if they don't kill each other first, natch!)," added series editor Chris Robinson. "After launching DOMINO to huge acclaim earlier this year, I'm absolutely thrilled to have Gail and David bringing the HOTSHOTS into the Marvel Universe (and our hearts!)"
"Domino feels she has to grow up a little, and some of the new agents have virtually NO sense of humor. And they find an object that is something very close to the heart of the entire Marvel Universe," said Simone. "The only problem is EVERYBODY wants it. We're having a blast. It's Domino, but with a bunch of the coolest characters in comics, kicking international covert butt and taking names. Best of all, it's drawn by the incredible David Baldeon. This is the stuff I most love writing, and David is THE guy to draw it all and make it brilliant. I couldn't be happier. Where do we go from here? THE HOTSHOTS AIN'T TELLING."
Who are the hotshots? Find out this March, when DOMINO: HOTSHOTS #1 hits local comic stores!
DOMINO: HOTSHOTS #1 (of 5) Written by GAIL SIMONE Art by DAVID BALDEON Cover by R.B. SILVA
VALIANT ENTERTAINMENT PROMOTES ROBERT MEYERS TO SENIOR EDITORIAL DIRECTOR
12/11/18 @ 7:37 pm EST
Source:
Valiant
| Categories:
MIsc
|
Comments
(0) |
E-mail Article
|
Add a Comment
Valiant Entertainment
is excited to announce that Editorial Director
Robert Meyers
has been promoted to
Senior Editorial Director.
In his new role, Meyers will help guide the vision of the Valiant Universe and the rich cast of characters.
"Robert's been a tremendous leader with Valiant for years," said
Publisher Fred Pierce
. "He began as an intern several years ago and knows the Valiant Universe inside and out. His focus on character and story above everything else makes him the perfect person to further elevate Valiant's characters."
Meyers joined Valiant Entertainment as an intern back in 2013. Throughout the years, Meyers fully immersed himself in the Valiant Universe, wearing multiple hats and always pushing the brand and its characters forward. He was named Managing Editor in 2016 and became Editorial Director earlier this year. He is not only an essential member of Valiant Entertainment but also one of the Valiant Universe's biggest fans.
"I look forward to continuing to guide the Valiant Universe as we move toward 2019 and beyond," said Meyers. "Valiant has an incredible universe of characters, incredible creators, and one of the best teams I've ever been a part of. The next two years are going to see us grow in new ways, while always keeping the focus on incredible storytelling. I'm honored to lead the extraordinary Editorial team at Valiant."
KONAMI'S METAL GEAR SOLID TO SNEAK ONTO THE TABLETOP IN 2019
12/11/18 @ 7:36 pm EST
Source:
IDW
| Categories:
IDW
|
Comments
(0) |
E-mail Article
|
Add a Comment
IDW Games and Konami Digital Entertainment, Inc. announced today that they have partnered to bring
Metal Gear Solid
to the tabletop with
Metal Gear Solid: The Board Game.
Designed by
Emerson Matsuuchi
(designer of the
Century
game series, Reef, and
Specter Ops)Metal Gear Solid: The Board Game
is a fully cooperative, miniatures board game. Following the story of the first
Metal Gear Solid
video game, players take on the roles of Solid Snake, Meryl Silverburgh, Dr. Hal "Otacon" Emmerich, and Gray Fox the Cyborg Ninja. They'll need to use their unique skill sets to avoid detection as they complete objectives across multiple campaign scenarios. Featuring a highly dynamic A.I. system and sandbox gameplay, missions can be completed in multiple ways and will always play out differently.
Jerry Bennington
, IDW Publishing's VP of New Product Development says, "Having partnered with Konami in the past to adapt
Metal Gear Solid
into comics and produce all new stories in the
Silent Hill
universe, we are extremely excited to be partnering again to bring
Metal Gear Solid
to a new gaming medium: tabletop. We know this a beloved franchise with a die-hard fan base, and as such we're putting all of our energy into producing a premium gaming experience that is exciting to play over and over again."
Game designer
Emerson Matsuuchi
says, "I'm probably the biggest fan of
Metal Gear Solid
. Ever since playing the first
Metal Gear Solid
, it has forever altered the way I view games. The story it told was so memorable and the gameplay experience so rich that it has shaped my expectation of games as both a designer and gamer. So the opportunity to bring this masterpiece to the table has been an honor and dream come true. I'm excited to be able to capture the tactical stealth action that is the hallmark of the franchise as well as create a new experience and story for the Snake fans. Age hasn't slowed him down one bit."
Metal Gear Solid: The Board Game
will feature miniatures by the highly regarded sculptor
Francesco Orrù
, and art from lifelong
Metal Gear Solid
fan and comic artist
Kenneth Loh
.
Gaming media interested in playing
Metal Gear Solid: The Board Game
will get their first chance at E3 2019. IDW Games will be booking play session for media outlets for Saturday, June 8, through Monday, June 10. Gamers eager to sample
Metal Gear Solid: The Board Game
will have a chance to demo it at any of the following 2019 summer conventions: Origins Game Fair, Dice Tower Con, San Diego Comic Con, and Gen Con.
For more information on
Metal Gear Solid: The Board Game
, follow
IDW Games on
Twitter
and like their
Facebook page
, where fans can discover art and gameplay development ahead of the game's release in 2019.
THE MARVEL UNIVERSE IS DESTROYED! (AND AGAIN?)
12/11/18 @ 2:38 pm EST
Source:
Marvel
| Categories:
Marvel
|
Comments
(0) |
E-mail Article
|
Add a Comment
'ALITA: BATTLE ANGEL' SHARES NEW POSTER
12/11/18 @ 2:35 pm EST
Source:
20th Century Fox
| Categories:
MIsc
|
Comments
(0) |
E-mail Article
|
Add a Comment
20th Century Fox
has a new poster out for its coming film,
Alita: Battle Angel.
The image highlights Alita in all her cybernetic glory, and she doesn't look like she's messing around at the moment.
The series
Battle Angel Alita (GUNNM
in Japan
)
, originally created by Yukito Kishiro, is set in a post-apocalyptic future and follows Alita, a cyborg who is found in a garbage heap by a doctor and rebuilt.
Originally published in Shueisha's Weekly Business Jump in 1990, the manga was collected into nine volumes and licensed for an English language release by Viz Media.
Alita: Battle Angel
opens in theaters on February 14, 2019.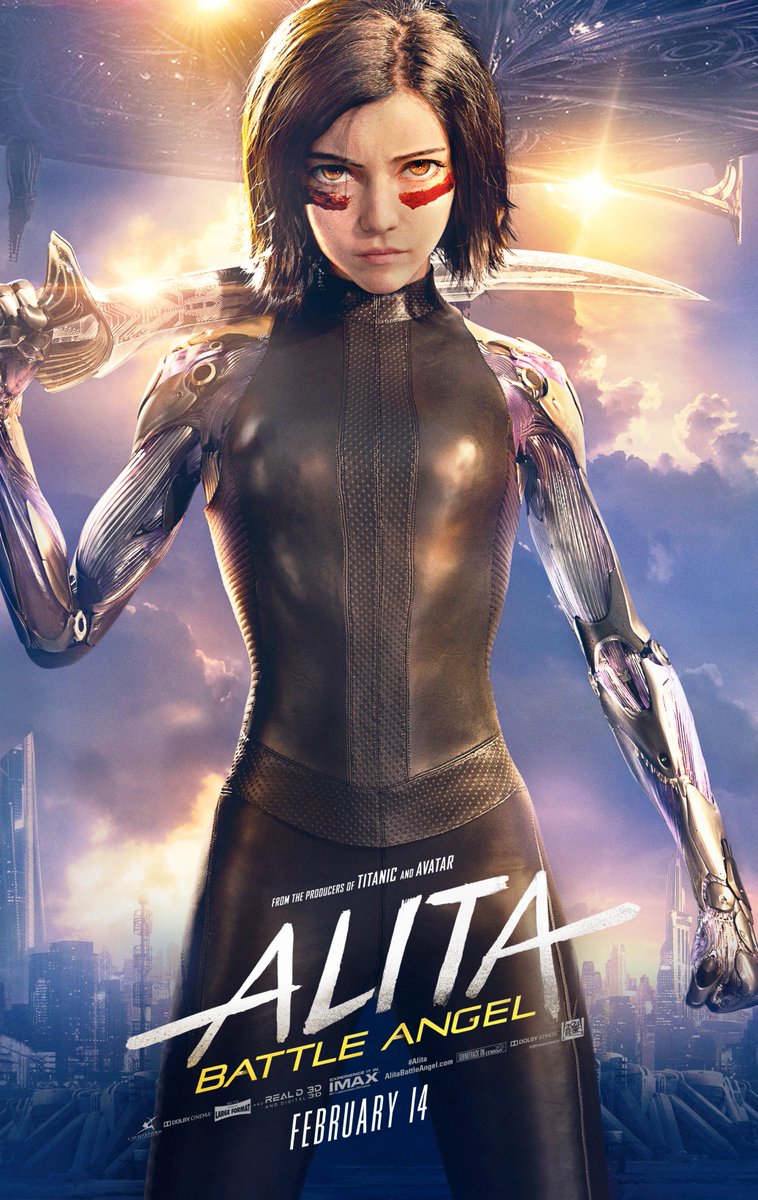 THE MARVEL UNIVERSE IS DESTROYED! (AND AGAIN?)
12/11/18 @ 2:23 pm EST
Source:
Marvel
| Categories:
Marvel
|
Comments
(0) |
E-mail Article
|
Add a Comment
IDW LAUNCHES KICKSTARTER FOR FULL BLEED VOL. 3: HEAVY ROTATION
12/11/18 @ 2:21 pm EST
Source:
IDW
| Categories:
IDW
|
Comments
(0) |
E-mail Article
|
Add a Comment
IDW Publishing is launching a Kickstarter for the third volume of FULL BLEED, the acclaimed print-only 200-page hardcover magazine. When funded on Kickstarter, FULL BLEED VOL. 3: HEAVY ROTATION will include a cornucopia of features, including a provocative and long-lost interview with bestselling comic book writer Grant Morrison, discussing his feud with writer Alan Moore; a conversation between music legends Metallica's Kirk Hammett and Anthrax's Scott Ian; interviews with with comic book legend Geof Darrow, and contributions by Julia Alekseyeva, Abdulkareem Baba Aminu, Peter Bagge, Tini Howard, Gideon Kendall, Roger Langridge, Joe Lansdale, Erin Nations, Benjamin Percy, Jon Raymond, Sara Richard, Vivek J. Tiwary, Noah Van Sciver; Shannon Wheeler, and many more.
FULL BLEED is curated and edited by IDW Publishing's Dirk Wood, alongside IDW Publishing Former CEO/Founder Ted Adams. When funded through Kickstarter, pledges will be delivered to backers next year. The
FULL BLEED
Kickstarter campaign
is live as of Tuesday, December 11th and runs for 30 days.
"FULL BLEED is like
Rolling Stone
, the old
Comics Journals
, and an art book had a baby," said Creative Director Dirk Wood, "We're so proud to bring this baby into the world and now we're coming to you. In days of yore, when running a magazine, one had to rely on two important sources of revenue — advertising and subscriptions.The bottom line is FULL BLEED is 100% ad free. To realistically sustain a publication of this magnitude, reaching out directly to fans is necessary. Kickstarter provides us the opportunity to interact with prospective readers, not compromise on quality, and remain free of advertising. So tell your friends."
"FULL BLEED #1 was a hell of a book," said LOCKE & KEY writer Joe Hill. " I'm excited to see the series continue. Jump in. The water's great."
By merging the best in comics, fiction, non-fiction, deep dive interviews, opinion, history, think-pieces and more, FULL BLEED is a reading experience like no other, and a beautiful addition to any bookshelf. Looking through an international lens, but filtered through the unique perspective of the IDW:PDX satellite office in Portland Oregon, FULL BLEED tackles all aspects of the creative culture, and beyond — comics, music, film, tv, fine art, photography, design, politics and more. FULL BLEED seeks total diversity: diversity in content, diversity in creators and contributors, diversity in genre.
FULL BLEED VOL. 3
: HEAVY ROTATION features:
The Grant Morrison Interview, Part One,
By Gavin Edwards, illustration by Peter Bagge
Monsters of Rock: An interview with Metallica's Kirk Hammett, and Anthrax's Scott Ian, concerning their shared history and love of all things horror and genre,
By Russell Sheath, illustration by Tony Shasteen
We Don't All Live in a Yellow Submarine: An Essay,
By Vivek J. Tiwary
The Watering Shed: A brand-new short story featuring Hap & Leonard,
By award-winning novelist Joe Lansdale
Lover's Eyes: An Essay,
By Tini Howard, with illustrations by Sara Richard
Arizona Daisy: A new comic,
By Roger Langridge
May 1968: The Revolution that Almost Was - A comic essay,
By Julia Alekseyeva
Black's In: When a "Blackout" is a Good Thing,
Text and illustrations by Abdulkareem Baba Aminu
Following the Bloody Trail of the Shaolin Cowboy: An interview with Geof Darrow, featuring never-before-seen art,
by Hannah Means-Shannon
The Underdream: A new comic,
By Josh O'Neill and Gideon Kendall
The Lost Boys of the U-Boat Bremen: Chapter Three,
By Phillip Kennedy Johnson and Steve Beach
Down Mexico Way: A travel log,
By Jarrett Melendez, with illustration from Danica Brine
Uncharted Part Two: A short story,
By Benjamin Percy with spot illustrations by Brent Schoonover
The Shapes: A new comic,
By Adam Knave & Andrew Losq
New short comics from
Shannon Wheeler, Jennifer Hayden and Noah Van Sciver
A personal tale of young love gone wrong,
By award-winning novelist and screenwriter, Jon Raymond
The Big Smoke, a photo essay,
By Joel Meadows
Blade Runner: Technology Steals the Soul — An essay,
By Tom Waltz, with illustration by Santipérez
The Five Most Important Underground Cartoonists, an essay,
By Bob Levi
Home: A new comic
by Erin Nations
Premiering today on
Kickstarter
is the new volume of the flagship publication from IDW's Portland satellite office:
FULL BLEED VOL. 3: HEAVY ROTATION
!