'STAR TREK'S' ALICE EVE JOINS 'IRON FIST'
12/05/17 @ 3:59 pm EST
Source:
Variety
| Categories:
Marvel
|
Comments
(0) |
E-mail Article
|
Add a Comment
Actress Alice Eve -- portrayer of Carol Marcus in "Star Trek: Into Darkness" -- has been cast in Season 2 of Marvel's Netflix series, "Iron Fist."
Her role is currently being kept under wraps by Marvel.
"We are very excited to have an actress of Alice's stature join the cast of 'Marvel's Iron Fist,'" Marvel's head of television and series executive producer Jeph Loeb told
Variety
. "Her exceptional talent brings an intrigue and danger to her character unlike anyone else."
FIRST LOOK AT BATMAN IN TITANS
12/14/18 @ 3:18 pm EST
Source:
DC Universe
| Categories:
DC
|
Comments
(0) |
E-mail Article
|
Add a Comment
DC Universe
has released a trailer for the coming Season 1 finale of
Titans
, which will air next week.
The trailer is about a showdown between Batman -- surprisingly appearing full-blown, cape and cowl -- and Dick Grayson, which makes sense given the ongoing storyline.
However, what nobody expected to see was the Dark Knight in action in the trailer.
Batwoman on The CW the first part of the week, Batman in a
Titans
trailer on Friday! What wonderful times in which we live.
Trailer:
https://youtu.be/O8bl2Vurk7M
BENICIO DEL TORO TO PLAY VILLAIN IN 'DORA THE EXPLORER'
12/14/18 @ 3:00 pm EST
Source:
Hollywood Reporter
| Categories:
MIsc
|
Comments
(0) |
E-mail Article
|
Add a Comment
THR
is reporting exclusively that Benicio del Toro has closed a deal to voice Swiper, the thieving fox, in Paramount Players' live-action
Dora the Explorer
, based on the character from the popular Nickelodeon TV series.
Isabela Moner, seen in Paramount's dramedy
Instant Family
, is starring as the titular Dora, a girl accustomed to the jungle life with her parents and now forced to explore the uncharted terrain of high school.
The film's story sees the high school-bound Dora finding herself leading Boots (a monkey and her best friend), Diego and a rag-tag group of teens on a
Goonies
-esque adventure to save her parents and solve the mystery behind a lost Inca civilization.
The movie has an Aug. 2, 2019 release.
VALIANT ENTERTAINMENT ADDS DREW BAUMGARTNER AND ZANE WARMAN
12/14/18 @ 2:51 pm EST
Source:
Valiant
| Categories:
MIsc
|
Comments
(0) |
E-mail Article
|
Add a Comment
Valiant Entertainment is proud to announce two new hires: Drew Baumgartner joins Valiant HQ as Assistant Editor, and Zane Warman has been named to the position of Domestic Licensing Coordinator.Baumgartner, who has been contributing to the growth of the Valiant Universe as an Editorial intern since earlier this year and was instrumental in the publisher's rollout of its recent BREAKTHROUGHinitiative, will play a key role in the development of Valiant's upcoming titles (more info on that
very
soon!) and the expansion of the universe and its fan-favorite characters.
"I'm excited to announce the hiring of Drew Baumgartner to the Valiant editorial team," stated Senior Editorial Director Robert Meyers. "Drew has been writing and thinking about comics for many years, and is always ready for a deeper conversation about comics as both art and entertainment. As an intern, Drew has shown that he will be a bright addition to the Valiant family. He brings a keen intellect, a love for the medium, and an A+ mustache to our team.""Valiant is a special place," said Baumgartner. "I've been reading and loving Valiant comics for years, so it's thrilling to be working with these amazing characters, creators, and editors. With so many new series planned in the coming months, this is an exciting place to be. I'm pumped to be part of the team!"Warman, who will join forces with International Licensing Coordinator Oliver Taylor, will aid in the establishment and coordination of domestic licensing relationships, as well as schedule and take part in product development and coordinate with Valiant's Marketing team to spread the word about new licensing relationships.
"At first glance, we were very impressed with Zane's background," said Russ Brown, President of Consumer Products, Promotions, and Ad Sales. "Couple this with his deep-level interest in the Valiant IP and belief in its enormous merchandising potential, we look forward to his contribution on Team Valiant."
"I've always loved being a part of impassioned, close-knit teams working to bring brilliant art and artists into the spotlight," Warman expressed. "It's a common theme that's threaded its way through my various professional experiences, from years of editorial work at
The Fader
,
Paste Magazine
, and
Billboard
, to my recent stint as a Marketing Assistant for a talent-buying company. That I am able to transfer that passion to the like-minded, hyper-talented team at Valiant, and during a transformative time for the company, is exhilarating and a real honor."
A NEW ERA OF MS. MARVEL STARTS NOW
12/14/18 @ 2:49 pm EST
Source:
Marvel
| Categories:
Marvel
|
Comments
(0) |
E-mail Article
|
Add a Comment
Marvel is excited to announce that this spring, Eisner Award–winner Saladin Ahmed (
Black Bolt, Exiles
) and rising star Minkyu Jung (
Batgirl, Nightwing
) will take the reins of one of Marvel's most beloved new characters in THE MAGNIFICENT MS. MARVEL #1!
"I think she's really the face of everything that's new and fresh and exciting and '21st century' at Marvel, and with superheroes in general. To be given stewardship of that is a big deal to me," Ahmed told
Entertainment Weekly
in an exclusive announcement. "It's always thrilling being given responsibility over a beloved character. It's particularly meaningful for me to be taking over from Willow."
"It just seems so incredible that this character, who was just going to be a fun project for both of us loosely influenced by Sana's own experiences growing up, had become a cultural phenomenon that was going to outlive us both," current
Ms. Marvel
writer G. Willow Wilson also told
EW
. "Given that was true, I really wanted to be cognizant of the fact that superheroes thrive with a multiplicity of voices telling their stories. I wanted to leave on a high note."
THE MAGNIFICENT MS. MARVEL #1 Written by SALADIN AHMED Art by MINKYU JUNG Cover by EDUARD PETROVICH Variant cover by ELSA CHARRETIER Variant cover by BABS TARR On Sale 3/13/19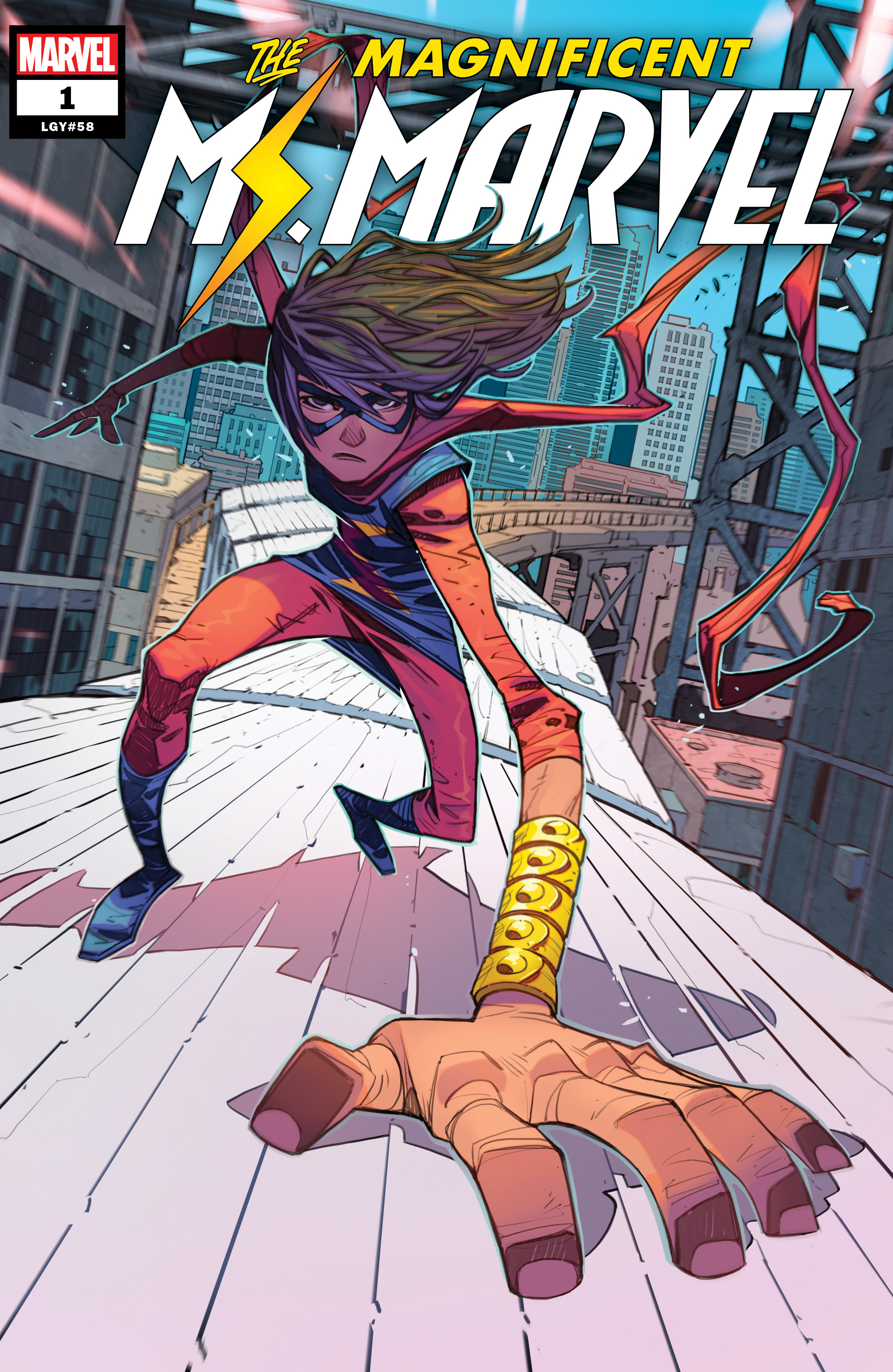 ERICA HENDERSON AND KYLE STARKS TAG TEAM AN ACTION-PACKED SIDESPLITTER IN ASSASSIN NATION
12/14/18 @ 2:45 pm EST
Source:
Image
| Categories:
Image
|
Comments
(0) |
E-mail Article
|
Add a Comment
Two-time Eisner Award winner Erica Henderson (
The Unbeatable Squirrel Girl
,
Jughead
) and Eisner-nominated writer Kyle Starks (
Rick and Morty
,
Sexcastle
) team up for the gut-busting, mega-violent action-comedy
Assassin Nation
this March from Image/Skybound.
"I'm so excited for this book," said Henderson. "Kyle and I have been wanting to work together for as long as we've been friends. It's great to finally make that happen. There aren't a lot of comics with Kyle's action and comedy sensibilities, so it's just been a blast. On top of that, it's nice to work in other genres. My professional career has been largely all-ages media so it's been REALLY fun to get some gore and explosions in there too.
Assassin Nation
is great fun but NOT for the whole family."
The World's (Former) Greatest Hitman has a hit out on him. What to do? Why, hire the 20 best assassins in the world to be his bodyguards, of course. These mean-as-hell hired guns and murderers will have to work together to keep the new crime boss safe, figure out who's trying to off him, and also… survive.
"Since I got into the comics industry, I've wanted to do two things: one, work with my dear friend Erica Henderson; and two, write a book with 20 hitmen being hired to be bodyguards to the world's former best assassin," said Starks. "Truly, two things I love more than nearly anything: my friendship with Erica and a barrel full of trained killers set loose on a thrilling adventure ride of murder, mystery, and mayhem.
"I'm super excited about
Assassin Nation
," he added. "Erica and I made a ton of great characters and put them through a really fun story. I mean, look, we are both action movie super fans, and getting to make something together has been a true joy that I think will be passed on to the readers. It's going to be an adrenaline thrill ride of violence and jokes, and we can't wait for people to get their hands on it."
Assassin Nation
#1 (Diamond code: JAN190122) will be available on Wednesday, March 13th. The final order cutoff deadline for comics retailers is Monday, February 18th.
It will also be available for purchase across many digital platforms, including the official Image Comics iOS app, Amazon Kindle, Apple Books, comiXology, and Google Play. Fans can also subscribe to receive the series delivered by mail within the domestic U.S. on Image Direct.
KILL SIX BILLION DEMONS RETURNS WITH BOOK THREE THIS MARCH
12/14/18 @ 2:42 pm EST
Source:
Image
| Categories:
Image
|
Comments
(0) |
E-mail Article
|
Add a Comment
Tom Parkinson-Morgan, known to his impressive online following as Abbadon, will release a trade paperback collection of the third chapter of his popular ongoing webcomic
Kill Six Billion Demons
this March from Image Comics.
"In this one there's love, revenge, obsession, a mad god, and a dragon," said Parkinson-Morgan. "There's also a four-page spread of an army of psychopathic accountant priests fighting colonial soldiers mounted on dinosaurs."
Sorority sister and possible inheritor to the universe Allison Ruth has been through a lot, but she's definitely not done yet. She's got to battle her way to the depths of an infinite treasure fortress in search of a long-lost friend. And along the way, she'll have to confront not only the dark, criminal past of her closest companion, but also the depths of her own inner lust for power.
Kill Six Billion Demons, Book 3
(Diamond code: JAN190154, ISBN: 978-1-5343-1201-2) hits comic book stores on Wednesday, March 6th and bookstores on Tuesday, March 12th. It can be preordered via Amazon, Barnes & Noble, Books-A-Million, Indiebound, and Indigo.
It will also be available for purchase across many digital platforms, including the official Image Comics iOS app, Amazon Kindle, Apple Books, comiXology, and Google Play.
'SPIDER-MAN: INTO THE SPIDER-VERSE' GRABS $3.5M IN THURSDAY PREVIEWS
12/14/18 @ 2:40 pm EST
Source:
Deadline
| Categories:
Marvel
|
Comments
(0) |
E-mail Article
|
Add a Comment
Deadline
reports that Sony's
Spider-Man: Into the Spider-Verse
swung into Thursday grossing $3.5 million from showtimes starting at 5 PM from 3,321 locations, a solid number for this time of year.
In early exits from last night, audiences loved
Spider-Verse
with 5-stars on PostTrak and a 90% positive and a very strong 80% definite recommend. Again these figures fluctuate throughout the weekend as the Screen Engine/ComScore service polls continually from Friday to Sunday.
Sony is still seeing the weekend at $30M.
'BLACK LIGHTNING': FIRST LOOK AT LIGHTNING IN COSTUME
12/14/18 @ 10:49 am EST
Source:
The CW
| Categories:
DC
|
Comments
(0) |
E-mail Article
|
Add a Comment
The CW
has released a first look at China Anne McClain in costume as Lightning (from the CW/DC series
Black Lightning,
of course).
Black Lightning
returns with new episodes in a new time slot -- Mondays at 9 p.m. ET/PT -- after episodes of
Arrow
on The CW in January 2019.
NEW 'GODZILLA: KING OF THE MONSTERS' POSTERS REVEAL RODAN, GHIDORAH, MOTHRA
12/14/18 @ 10:43 am EST
Source:
Legendary
| Categories:
Godzilla
|
Comments
(0) |
E-mail Article
|
Add a Comment
Legendary Pictures
has released posters for the coming monster mash,
Godzilla: King of the Monsters
. And the backup players get some spotlight love: Ghidorah, Mothra and Rodan!
The film is currently scheduled to hit theaters May 31, 2019.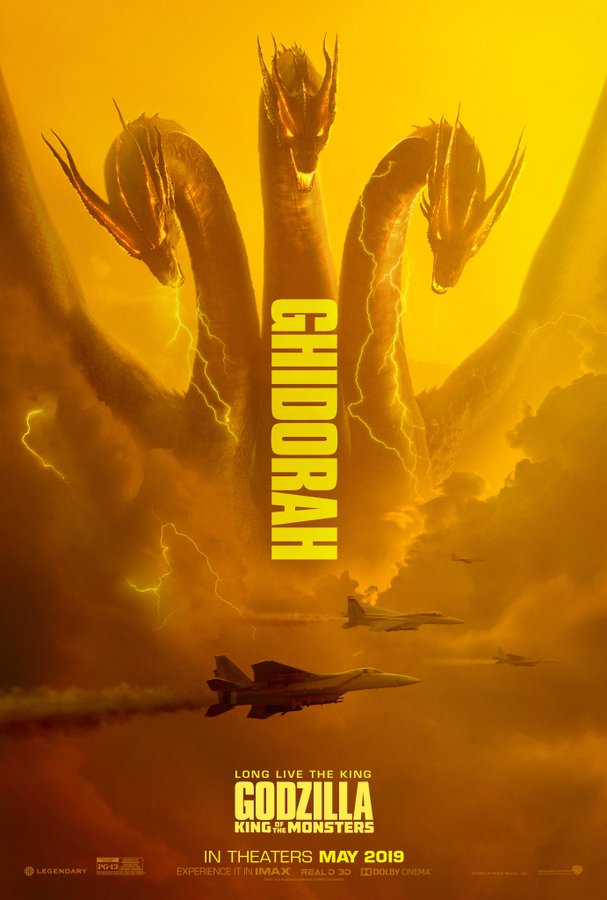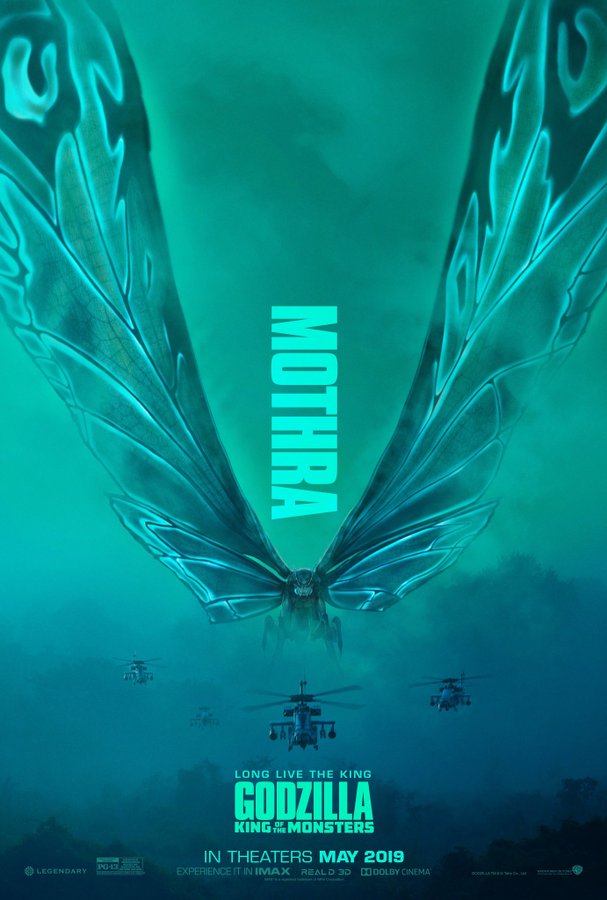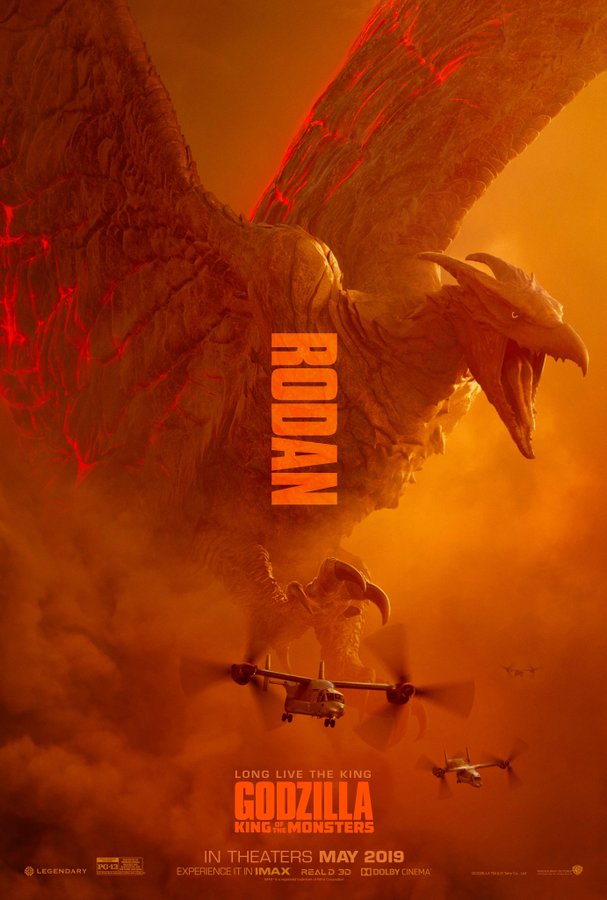 'GOTHAM': FINAL SEASON POSTER
12/14/18 @ 10:34 am EST
Source:
Fox
| Categories:
DC
|
Comments
(0) |
E-mail Article
|
Add a Comment
Gotham
is set to introduce Batman for its final season on
FOX
.
A new poster is out for the series and teases the Dark Knight's eventual debut in the fifth season.
The final 12 episodes of
Gotham
will begin airing on FOX on January 3, 2019.