THE SECRET TO 'PERSEPHONE'S' IDENTITY LIES IN THE UNDERWORLD IN BOOM! STUDIOS' NEW ORIGINAL GRAPHIC NOVEL
12/04/17 @ 3:46 pm EST
Source:
BOOM! Studios
| Categories:
MIsc
|
Comments
(0) |
E-mail Article
|
Add a Comment
BOOM! Studios is proud to announce PERSEPHONE, Loïc Locatelli-Kournwsky's moving original graphic novel (OGN) about a young girl whose search for the truth about her identity leads her on a journey deep into the Underworld. Inspired by the Greek myth of Demeter and her daughter, the eponymous Persephone, the book is a modern-day fantasy adventure featuring an emotionally nuanced story and lush art. PERSEPHONE will debut May 2018.
"For a long time I wanted to write a story that speaks to the bond between a mother and daughter, as well as this timeless theme we call 'the quest for identity.' This is something really important to me—it was already the main subject of my previous book about Pocahontas, and something I experience in my everyday life as an expatriate," said Locatelli-Kournwsky, who was born in France but now lives in Japan. "I've read Greek mythology stories many times and grew fond of Persephone and Demeter, so I decided to make a book about it."
In PERSEPHONE, she may be the adopted daughter of the famous magician Demeter, but Persephone struggles to find her place alongside the force of nature that is her mother. Driven by recurring nightmares, she decides to explore the secrets of her birth, which everyone around her seems rather intent on keeping from her. With or without their help, Persephone will embark on an epic adventure deep into the Underworld where she'll discover who—or
what
—she is.
For this OGN, Locatelli-Kournwsky drew much of his art inspiration from the works of the famed Hayao Miyazaki. "I am absolutely crazy about
Whisper of the Heart
and
Only Yesterday
," said Locatelli-Kournwsky. "The main characters from these movies were my main inspirations for Persephone. And Demeter is supposed to look like Kate Winslet from her film
The Dressmaker
, mixed with the Witch of the Waste from
Howl's Moving Castle
."
PERSEPHONE is the latest release from BOOM! Studios' critically acclaimed Archaia imprint, home to popular series such as
Mouse Guard
by David Petersen;
Rust
by Royden Lepp;
Bolivar
by Sean Rubin;
Jane
by Aline Brosh McKenna and Ramón Pérez; and licensed titles like
Jim Henson's The Power of the Dark Crystal
and
Jim Henson's Labyrinth
.
"Loïc caught our attention with his previous graphic novel,
Pocahontas: Princess of the New World
, so we were immediately drawn to PERSEPHONE and thought it would be a great fit for the Archaia imprint," said Sierra Hahn, Senior Editor, BOOM! Studios. "With a beautiful mother-daughter story, plus themes of finding your identity and having the courage to persist, and combined with Loïc's anime-inspired art style, I look forward to readers picking up PERSEPHONE and loving it as much as I do!"
Print copies of the English-language debut of PERSEPHONE will be available for sale May 2018 at local comic book shops (use comicshoplocator.com to find the one nearest you); booksellers including Amazon, Barnes & Noble, and Books-A-Million; or through the BOOM! Studios webstore. Digital copies can be purchased from content providers like comiXology, iBooks, and Google Play, and on the BOOM! Studios app.
THE HUNT FOR WOLVERINE KICKS OFF THIS APRIL
01/19/18 @ 8:28 pm EST
Source:
Marvel
| Categories:
Marvel
|
Comments
(0) |
E-mail Article
|
Add a Comment
He has been making his way across the Marvel Universe in some of your favorite books, protecting an Infinity Stone, and keeping his secrets close. But his return has been an unsolved mystery--and now, it will all start to unravel, beginning with an epic quest that will leave no corner of the Marvel Universe untouched!
The return of Wolverine begins
here
!
Helmed by superstar writer Charles Soule (
Death of Wolverine, Astonishing X-Men
) with art by David Marquez (
The Defenders, Civil War II
), THE HUNT FOR WOLVERINE #1 will reveal the timeline of events that leads to Logan's shocking return to the Marvel Universe.
The answers all begin here--but so do the questions! This mystery will widen and deepen unlike any other mystery in the Marvel Universe, and fans won't know which way to turn or where the truth really lies!
…and it's all being orchestrated by the
Death of Wolverine
writer himself.
"Steve McNiven and I took on the incredible task of killing Wolverine back in 2014--it was one of my earliest projects at Marvel, and such a huge opportunity. Intimidating, tricky, all of that--but ultimately, I think we created a book (alongside Jay Leisten, Justin Ponsor and Chris Eliopolous) that we're all really proud of," said Soule. "There's really only one project that could top it--being part of the story that brings Logan back! THE HUNT FOR WOLVERINE is just the opening chapters of a mystery that will reach all sorts of cool hidden corners of the Marvel Universe, and will tell a story that will hopefully have us looking at Logan in an entirely new way."
Hitting comic shops this April, the all-new 40-page #1 by Soule and David Marquez starts the twisted mystery of Logan's return. Then, this May, the story evolves into four different tales from different creative teams, each one containing its own distinct genre and mystery: action/adventure (
Adamantium Agenda
), horror (
Claws of the Killer
), dark romance (
Mystery in Madripoor
) and noir/detective (
Weapon Lost
.)
"I'm really looking forward to seeing how fans start to put the pieces together," continued Soule. "There's a
big
payoff coming down the road, and all the interlocking parts of THE HUNT FOR WOLVERINE build to it. The more you read, the more clues you get. It's really fun--especially since I have a bit of a reputation in X-continuity for knocking off beloved mutants. This time, it's nice to be part of bringing someone back!"
It's just the start of an epic story that will impact Marvel heroes and X-Men alike--and it culminates this summer in one of the most shocking, daring stories of Wolverine's history! The journey and the mystery begins here, and you're not going to want to miss your chance to take part in Wolverine's return.
"This is a game changer," added series editor Mark Paniccia. "HUNT FOR WOLVERINE #1 has a stunning revelation and the four books that spring from it will each have a mind-bending, status quo changing reveal by amazing talent that I can't wait to announce."
See how all the action unfolds when THE HUNT FOR WOLVERINE #1 hits comic shops this April!
THE HUNT FOR WOLVERINE #1Written by CHARLES SOULEArt by DAVID MARQUEZCover by STEVE MCNIVENOn-Sale 4/25/18
LESS THAN ONE WEEK LEFT: LINSNER & DYNAMITE'S DAWN KICKSTARTER EARNS FOUR TIMES ITS GOAL
01/19/18 @ 4:17 pm EST
Source:
Dynamite
| Categories:
Dynamite
|
Comments
(0) |
E-mail Article
|
Add a Comment
It's official: Dynamite Entertainment and Joseph Michael Linsner's DAWN statue Kickstarter is a runaway success! With SIX days to go, the campaign-gearing up toward Dawn's 30th anniversary-has raised
four times
its original goal, funding in six hours and crossing both stretch goals by day two. Due to its incredible momentum and hitting these stretch goals, there are now three versions of this gorgeous statue available, as well as brand-new rewards:
https://www.kickstarter.com/projects/dynamiteent/dawn-statue-by-joseph-michael-linsner?ref=9rmfl8
The success of this statue reinforces what Dynamite already knew: 30 years after her creation, the Goddess of Rebirth is more beloved than ever, with a devoted fanbase eager to get their hands on exclusive rewards like signed comics, sketchbooks, and prints. In fact, fans were so enthusiastic, the $500-level rewards sold out the very first day! This spurred Joseph Michael Linsner to up the ante, offering two new rewards: a limited-edition Dawn Vampirella gold foil hardcover with an original sketch at the $400 level, and an original 11" x 17" art board illustration of Dawn at the $1,000 level.
"We've been working with Joe for over 20 years, and our close relationship has led to some great collaborations. He's a great talent, actually one of the most talented in the industry. Joe's attention to detail is incredible, and we worked on this statue for nearly a year till he felt it was perfect. I feel blessed to be able to work with him as often as we do," said Dynamite Entertainment CEO/Publisher Nick Barrucci. "Being able to work closely with Joe to create this statue in advance of Dawn's 30th anniversary was an exciting idea for me, and we're thrilled about the results. Our designer, Georg Brewer, continues to impress us with the work he does, and he continues to bring our work to the next level. We have no doubt Dawn fans will agree when they see it for themselves."
Dynamite's hand-painted statue measures 12" tall and is the perfect piece to honor Dawn's upcoming 30th anniversary. Linsner has worked closely with Rvckvs International and Georg Brewer-the talented artists behind the sensational Women of Dynamite Statue series-and it shows. The final result reveals their incredible attention to detail, from the three tears running from her left eye, to the skulls along her famous curves. Plus: in addition to the standard version, there are now "Black and White" and "Costume" variants to choose from!
"I'm very excited about Dynamite's new Dawn statue," said Linsner. "Dawn has many different looks, but this may be her most popular outfit. I think it is the one which I have seen cosplayed the most."
There are still fantastic goodies available to fit any budget, starting at just $10, but time's running out-you have just six days to back the Dawn 30th anniversary statue and complete your collection, so don't delay:
https://www.kickstarter.com/projects/dynamiteent/dawn-statue-by-joseph-michael-linsner?ref=9rmfl8https://www.kickstarter.com/projects/dynamiteent/dawn-statue-by-joseph-michael-linsner?ref=9rmfl8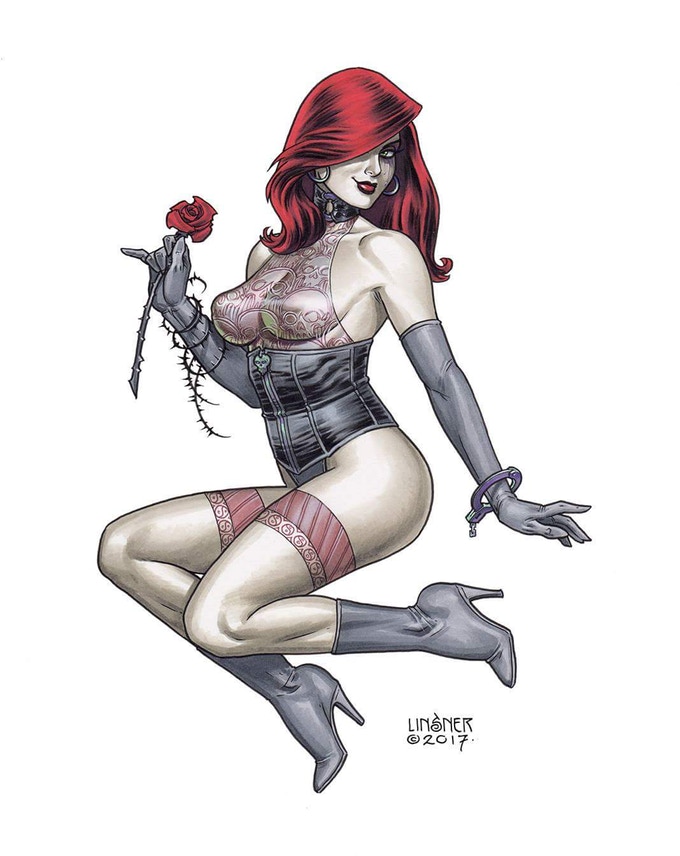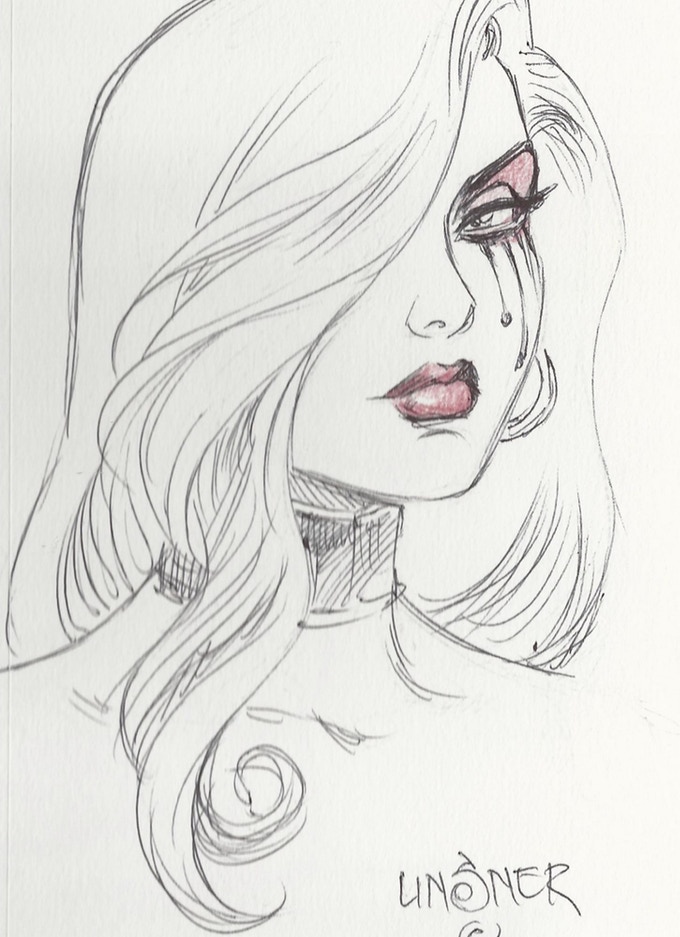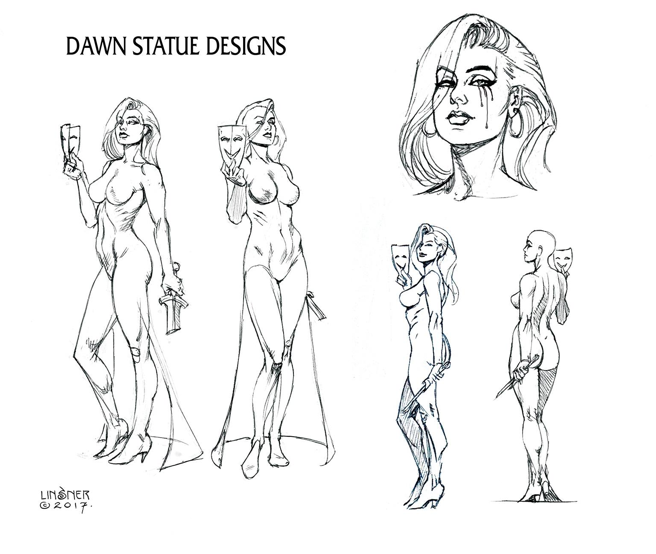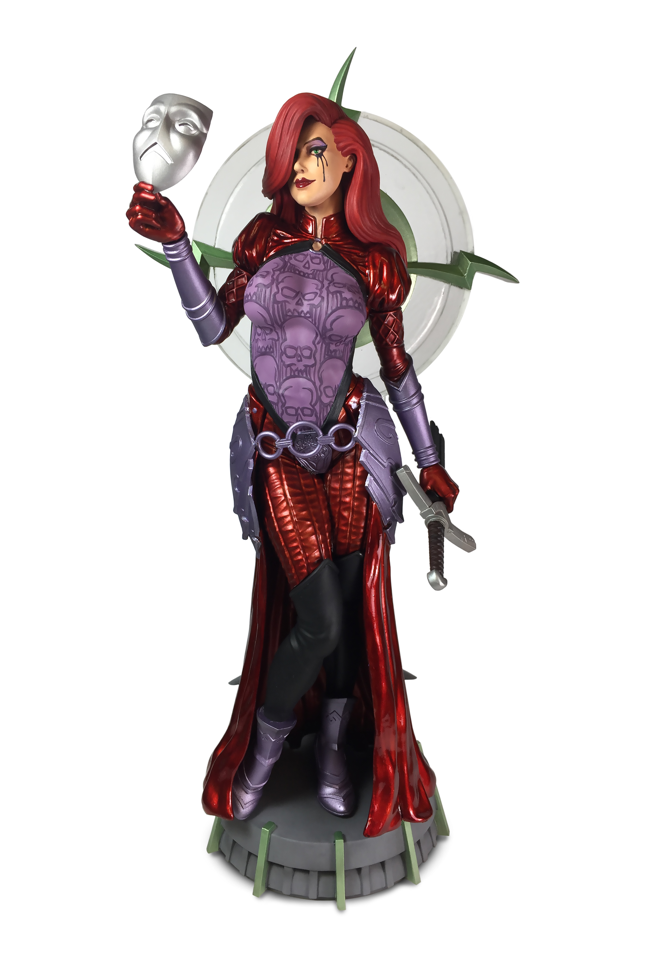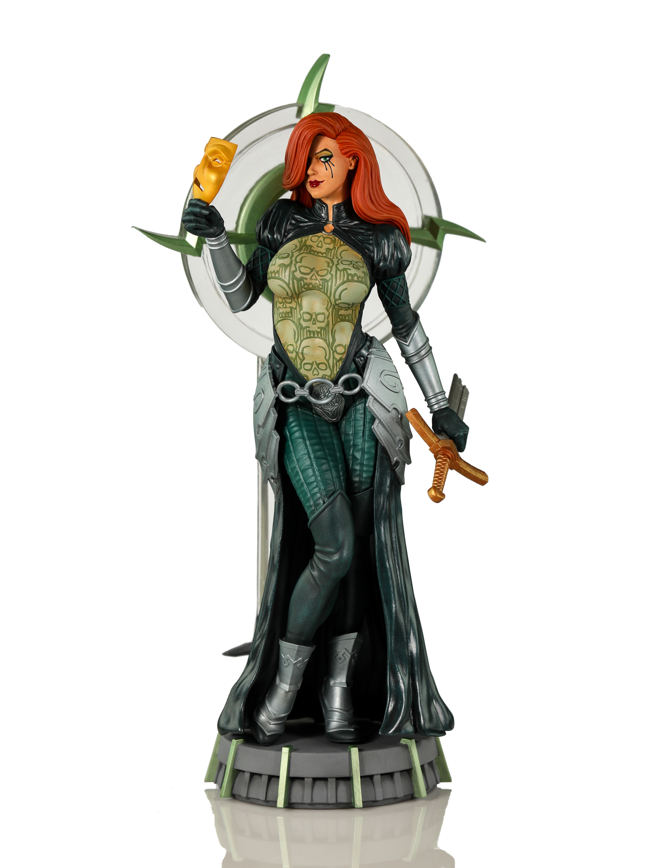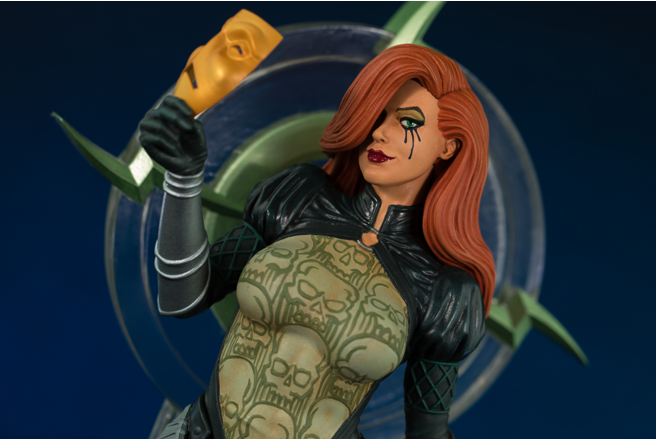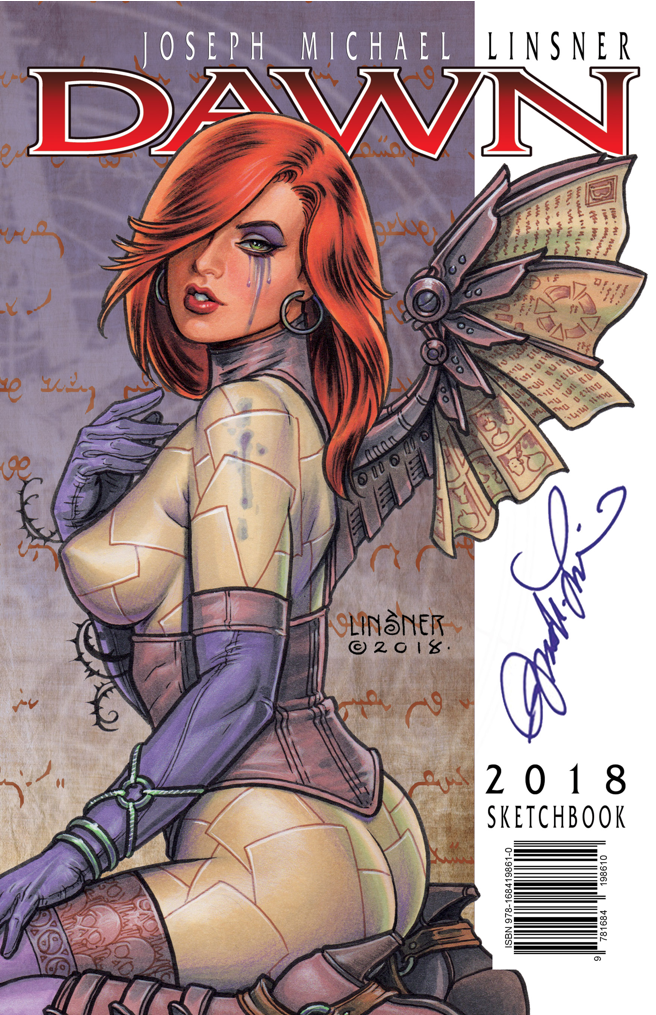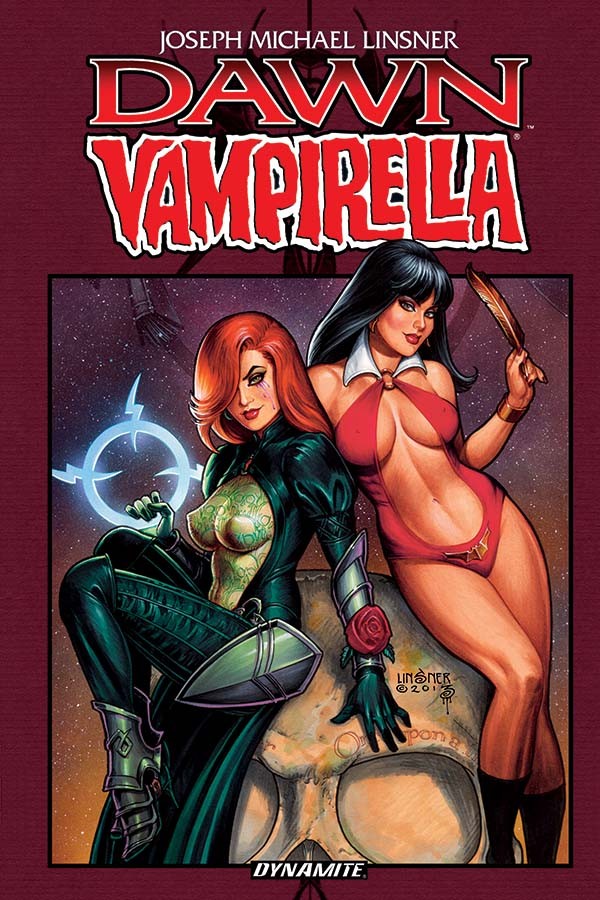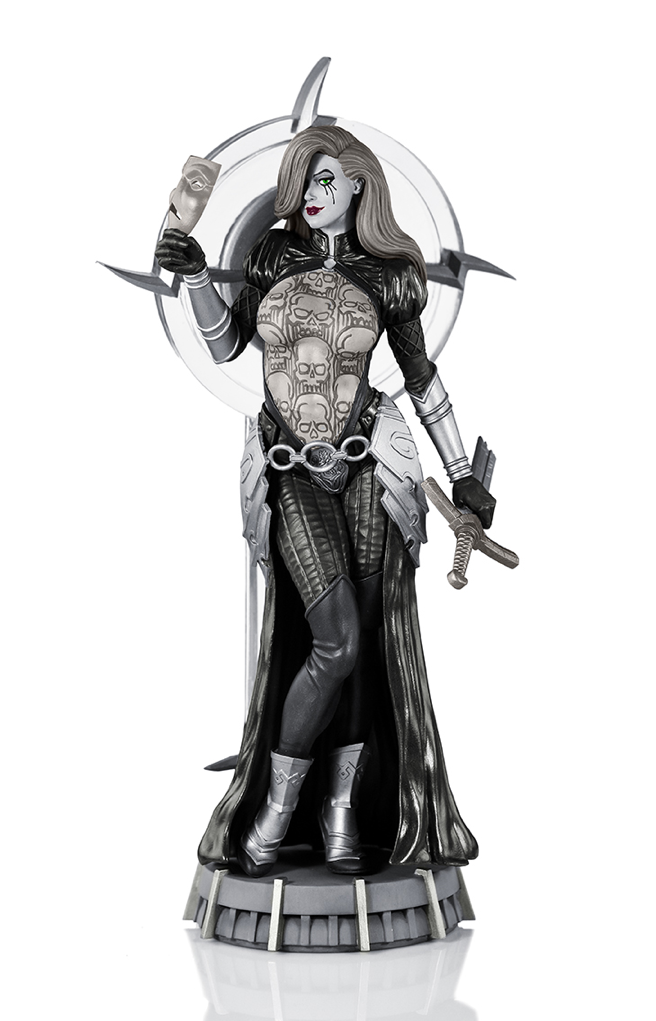 'SWORD IN THE STONE' LIVE ACTION REMAKE FINDS DIRECTOR
01/19/18 @ 4:07 pm EST
Source:
Hollywood Reporter
| Categories:
Disney
|
Comments
(0) |
E-mail Article
|
Add a Comment
Zounds! Sounds like a good knight is coming for "28 Weeks Later" director Juan Carlos Fresnadillo!
According to
The Hollywood Reporter
, he is in talks to helm Disney's latest live action take on an animated classic: "The Sword in the Stone."
The final toon feature to be released by the studio before Walt Disney's death, "Stone" takes a lighthearted and musical view of the legend of King Arthur. It focuses on young Arthur being mentored by the wizard Merlin.
MARVEL ANNOUNCES EXCLUSIVE AGREEMENT WITH KELLY THOMPSON
01/19/18 @ 3:58 pm EST
Source:
Marvel
| Categories:
Marvel
|
Comments
(0) |
E-mail Article
|
Add a Comment
Marvel Entertainment is excited to announce that writer Kelly Thompson will bring her creativity and captivating storytelling to Marvel in an exclusive agreement.
Thompson's run of
Hawkeye
, which wraps up this March, has received critical acclaim thanks to the sharp characterization of its female-led protagonist Kate Bishop. Along with the series being spotlighted in several "Best Of" lists, including CBR's "Best Comics of 2017," Wired's "6 Best Comics of 2017," and IGN's "Best of 2017 Nominees," Thompson has been heralded by Vox as "one of the best new talents in comic books" and has a resume at Marvel that includes acclaimed books such as
Captain Marvel & The Carol Corps
and
Journey To Star Wars: The Last Jedi – Captain Phasma
.
Currently, Thompson is writing the mini-series
Rogue & Gambit,
which has drawn rave reviews and excitement from
X-Men
fans and new readers alike. With more fun surprises in store for the future, she will continue to bring her talents to both fan-favorite characters and well-known Marvel heroes going forward.
"Marvel was truly my first love. So to be here today, not only writing for Marvel but 'going exclusive' with them, is the definition of a dream come true," said Thompson. "I remember visiting Disney World as a teen and being so consumed by an issue of
X-Men
that was due to come out that I was checking newsstands like a girl possessed until I located it. So yeah, this is everything I always wanted."
In the coming months and at San Diego Comic Con this summer, Marvel will reveal more of Thompson's exciting work.
"Marvel has been incredibly supportive of and nurturing of my work as a creator and I really cannot wait for everything that's to come, but waiting to announce projects is sort of like living in a delicious hell," shared Thompson. "It's torture not to be able to share the things you know with the people you know are going to love them, but it's also insanely cool not only to know those secrets but to be a CREATOR of said secrets. And right at this moment...all I can say is that there are a lot of cool secrets to come, and some of them are even secrets I got to help create."
"From the moment she turned in her first script, Kelly has continually brought big ideas, incredible energy, and endless enthusiasm to the Marvel Universe and every comic she's had a hand in creating for us," said C.B. Cebulski, editor-in-chief of Marvel. "We're honored to now have her as part of the family here and could not be more excited for the fans to read the amazing adventures she'll be taking our characters on next year – and beyond!"
ABNETT & CULBARD'S WILD'S END RETURNS AT BOOM! STUDIOS
01/19/18 @ 3:54 pm EST
Source:
BOOM! Studios
| Categories:
MIsc
|
Comments
(0) |
E-mail Article
|
Add a Comment
BOOM! Studios is proud to announceWILD'S END: JOURNEY'S END OGN (original graphic novel), the conclusion to the celebrated, anthropomorphic, sci-fi graphic novel trilogy, in stores June 2018. Written by Dan Abnett (
Guardians of the Galaxy, Aquaman Rebirth
) and illustrated by I.N.J. Culbard (
Doctor Who
), WILD'S END: JOURNEY'S END reveals powerful acts of humanity persevering in the face of war on a worldwide scale.
Despite the military's best efforts, the alien invaders have seized a firm grip on the world. Cities have been invaded and the countryside overrun, leaving little hope for humanity's resistance. With few options left, the survivors will need to look to the very people they once feared to make a last ditch effort to turn the tide of the war.
"Both Ian and I have loved working on
Wild's End
- it's a particularly favourite project for both of us - and we've been delighted by the immensely positive response from readers and critics to the first two volumes," said Dan Abnett. "When BOOM! Studios asked for a third volume, and offered us to do it in the 'long form' of a graphic novel, we jumped at the chance, and we've been working on it with huge pleasure for the past little while. It's not necessarily the end of
Wild's End
, but this book represents a dramatic closure to the story arc and forms the dynamic third part of the trilogy. "
"It's really exciting for Dan and I to have had this opportunity to bring this particular arc to a close," said I.N.J. Culbard. "It's been a lot of fun returning to
Wild's End
and continuing the stories of Susan, Clive, Peter and Alph, and we hope readers will enjoy the book as much as we've enjoyed putting it all together."
WILD'S END: JOURNEY'S END is the latest release from BOOM! Studios' eponymous imprint, home to a world-class group of licensed comic book series and ambitious original series, including
Mighty Morphin Power Rangers
,
Planet of the Apes
,
Big Trouble in Little China
,
Victor LaValle's Destroyer
,
Mech Cadet Yu
,
Grass Kings
, and
Klaus
.
"We're thrilled to bring fans the conclusion to Dan and I.N.J.'s incredible story in this new OGN. It's an emotional finale, worthy of the iconic characters they've created." said Cam Chittock, Editor, BOOM! Studios. "WILD'S END: JOURNEY'S END is a love letter to timeless science fiction and a testament to the power of the human spirit when faced with dark times."
Print copies of WILD'S END: JOURNEY'S END will be available for sale in June 2018 at local comic book shops (use comicshoplocator.com to find the nearest one), bookstores or at the BOOM! Studios webstore. Digital copies can be purchased from content providers, including comiXology, iBooks, Google Play, and the BOOM! Studios app.
SUPES' TRUNKS ARE BACK FOR ACTION #1000!
01/19/18 @ 1:09 pm EST
Source:
DC
| Categories:
DC
|
Comments
(0) |
E-mail Article
|
Add a Comment
Kal-El has his red draws back!
DC
has released a draws-ing (LOL) of Superman for the historic "Action Comics" #1000 coming in April, and the classic red trunks atop the blue tights is back!
The illo is by artist/DC co-publisher Jim Lee, inker Scott Williams and colorist Alex Sinclair and mixes familiar elements with modern tweeks.
WRITER: LIVE ACTION 'JUNGLE BOOK 2' WILL EXPLORE MORE RUDYARD KIPLING STORIES
01/19/18 @ 12:34 pm EST
Source:
/Film
| Categories:
Disney
|
Comments
(0) |
E-mail Article
|
Add a Comment
During the recent TCA press tour,
/Film
talked with writer Justin Marks on his screenplay for the developing live-action "Jungle Book" sequel.
"In the second film, the idea is to go further through the [Rudyard] Kipling [material] but also go into some of the Disney resources from the '67 film that maybe didn't get to see the light of day in the first film," Marks said. "If you look back to Bill Peet's work on the original film, some of which was thrown out by Walt Disney, Jon [Favreau] and I really dove deep into the Disney archives to see some of the ideas. We were like, 'Wait, that's a great idea. We really need that in the film.' So we've built it out like that.
"There is so much more Kipling to adapt," Marks continued. "I just finished a draft of it quite recently. Even in the first film, we really looked to the other Kipling stories for inspiration, The Elephant and the history and the mythology and the creation of the jungle."
"The Jungle Book 2" doesn't have a release date yet.
'DAREDEVIL' FILMING IN MANHATTAN MONDAY
01/19/18 @ 12:23 pm EST
Source:
Bleeding Cool
| Categories:
Marvel
|
Comments
(0) |
E-mail Article
|
Add a Comment
"Daredevil" will be filming Season 3 of the Netflix show this coming Monday in New York City,
Bleeding Cool
reports. R3 is the code…
IDW LIMITED'S MADMAN ARTIST SELECT HARDCOVER CELEBRATES 25 YEARS OF MADMAN
01/19/18 @ 12:15 pm EST
Source:
IDW
| Categories:
IDW
|
Comments
(0) |
E-mail Article
|
Add a Comment
The zippiest, poppy-est, outright ginchy-est comic in the world,
Madman
, is celebrating its twenty-fifth birthday and IDW Limited is helping ring in the celebration with a special new hardcover limited edition collection hand-curated by series creator and multiple Eisner-winner, Michael Allred!
Madman: Quarter Century Shindig
is an oversize hardcover collection and the newest release in IDW Limited's Artist Select series. Previous Artist Select editions have featured Marvel characters including The Hulk and The Avengers, and now, Allred's Frank Einsten is joining the party.
Madman: Quarter Century Shindig
compiles more than 450 pages of
Madman
adventures, all hand-picked by Allred and spanning the character's 25-year history. The book celebrates the incredibly innovating, risk-taking work of Allred. Hand-picked by the creator, the book includes stories from the character's earliest tales through adventures set in Dimension X, including a story told in one connecting 32-page image; a story told in flip-book fashion; stories presented in both duotone color and the full vibrancy that colorist Laura Allred brings to every page she touches. The stories collected herein showcase not only the best
Madman
adventures but also the progression, dynamism, inventiveness, and pop-art madness that infuses all of Allred's work.
IDW's Editor-in-Chief Chris Ryall conducted a comprehensive new interview with Allred to open the book as well.
And as an IDW Limited Artist Select release, this collection is being offered in two deluxe limited editions. 999 signed and numbered copies will come housed in a clothbound slipcase priced at $125, while 56 incredibly rare, traycased copies will come with an original piece of art drawn and colored by Michael Allred, these collector's items 25 years in the making will be available for $350 each.
As a unique touch befitting Madman, all 56 of Allred's original hand-drawn plates make up one animated sequence. Check out the animated GIF of the image here:
Run Madman, run!
"For over two decades now, Mike Allred's art and storytelling have thrilled readers like myself," said Ryall. "Really, it's impossible not to look at a page of Mike's art and not have it put a huge smile on your face. So IDW is very excited to be able to celebrate this anniversary of Mike's work on Madman and offer up this amazing new collection."
NEW 'PACIFIC RIM: UPRISING' IMAGES
01/19/18 @ 12:10 pm EST
Source:
Total Film
| Categories:
MIsc
|
Comments
(0) |
E-mail Article
|
Add a Comment
From
Total Film
, these new images from "Pacific Rim: Uprising." A cover from the feature magazine as well!"Pacific Rim: Uprising" will be in cinemas on March 23.