'COCO' TOPS 45TH ANNIE AWARDS NOMINATIONS WITH 13
12/04/17 @ 2:14 pm EST
Source:
Variety
| Categories:
Disney
|
Comments
(0) |
E-mail Article
|
Add a Comment
Disney-Pixar's "Coco" is getting set for another championship bout, having conquered Mexico and the box office, as it has topped the 45th annual Annie Awards nominations with 13, reports
Variety
, including best animated feature. The toon also received bids for directing (Lee Unkrich and co-director Adrian Molina), music, writing (Molina and Matthew Aldrich), and voice acting for its young star Anthony Gonzalez, as well as for character design, production design, and two each for character animation and storyboarding.
Cartoon Saloon's "The Breadwinner" followed "Coco" closely with 10 nominations, including best animated feature – independent, directing for Nora Twomey, music by Mychael and Jeff Danna, two voice acting bids for Saara Chaudry and Laara Sadiq, character design, production design, writing (Anita Doron) and editorial.
Other films receiving nominations for animated feature are "Captain Underpants: The First Epic Movie," "Cars 3," Despicable Me 3" and "The Boss Baby."
Independent features nominated alongside "The Breadwinner" are "In This Corner of the World," "Loving Vincent," "Napping Princess" and "The Big Bad Fox & Other Tales."
ADRIA ARJONA IN TALKS FOR FEMALE LEAD IN SONY'S 'MORBIUS'
12/14/18 @ 7:49 pm EST
Source:
Deadline
| Categories:
Marvel
|
Comments
(0) |
E-mail Article
|
Add a Comment
Deadline
reports that Adria Arjona is in talks to play Martine, the female lead in Sony's
Morbius
feature film which has Jared Leto starring.
Daniel Espinosa is directing the
Spider-Man
universe spinoff based on Marvel Comics' antihero, Morbius the Living Vampire.
Created by writer Roy Thomas and artist Gil Kane, the renowned biochemist Dr. Michael Morbius first debuted in the 1970s in
Amazing Spider-Man
#101. He attempts to cure a fatal blood disease by injecting himself with a treatment serum derived from bats, which transforms him into a being with all the qualities of a vampire, including a taste for human blood.
In the comics, Martine, who is engaged to Morbius, becomes a potential victim to his bloodlust as he grapples with the transformation that has made him a weird laboratory version of the supernatural vampires of lore.
YOUR FIRST LOOK AT PLATE TECTONICS: AN ILLUSTRATED MEMOIR
12/14/18 @ 7:43 pm EST
Source:
BOOM! Studios
| Categories:
MIsc
|
Comments
(0) |
E-mail Article
|
Add a Comment
BOOM! Studios today revealed a first look at
PLATE TECTONICS: AN ILLUSTRATED MEMOIR
, an original graphic novel that depicts a modern approach to life, romance, and motherhood after divorce from the popular French cartoonist and illustrator, Margaux Motin (
But I Really Wanted to Be an Anthropologist
), arriving in stores June 2019.
At age thirty-five, Margaux's life is full of upheaval and unexpected twists and turns. She's divorced, raising a child on her own, and trying to get back on her feet in today's fast-paced world. Thankfully, she's got her family, friends, and daughter to tell her exactly what they think at every turn. And when romance eventually returns it takes on the most unexpected shape . . . in that of her best friend! Could her life possibly get more complicated?!
"Margaux's unapologetic portrayal of herself as a single parent suddenly set adrift in the modern world is at once charming, hilarious, and brutally honest," said Sierra Hahn, Executive Editor, BOOM! Studios. "
PLATE TECTONICS
is Margaux's love letter to relearning the lines of who you are and how those lines get redrawn after life-shaking events but inevitably for the better."
PLATE TECTONICS
is the latest release from BOOM! Studios' ambitious Archaia imprint, home to graphic novels such as
Mouse Guard
by David Petersen;
Rust
by Royden Lepp;
Bolivar
by Sean Rubin;
Jane
by Aline Brosh McKenna and Ramón Pérez;
About Betty's Boob
by Vero Cazot and Julie Rocheleau;
Waves
by Ingrid Chabbert and Carole Maurel; and licensed series like
Jim Henson's The Power of the Dark Crystal
and
Jim Henson's Labyrinth: Coronation
.
Print copies of
PLATE TECTONICS: AN ILLUSTRATED MEMOIR
will be available for sale on June 26, 2019 at local comic book shops (use
comicshoplocator.com
to find the nearest one), and July 2, 2019 at bookstores or at the BOOM! Studios webstore. Digital copies can be purchased from content providers, including comiXology, iBooks, Google Play, and the BOOM! Studios app.
AL EWING TEASES DEFENDERS: THE BEST DEFENSE
12/14/18 @ 7:39 pm EST
Source:
Marvel
| Categories:
Marvel
|
Comments
(0) |
E-mail Article
|
Add a Comment
Doctor Strange. The Immortal Hulk. Namor the Sub-Mariner. The Silver Surfer. You know their names and you know their powers…and you know them as the DEFENDERS! This month, Marvel's favorite non-team – the original Defenders – returned in all-new stories! With an assembly of stellar creative teams, lead writer Al Ewing is joined by writers and artists such as Chip Zdarsky (
Marvel 2-In-One
), Gerry Duggan (
Deadpool
), Jason Latour (
Spider-Gwen
), Simone Di Meo (
Old Man Logan Annual
), Carlos Magno (
Thunderbolts
), Greg Smallwood (
Moon Knight
), and Joe Bennett (
The Immortal Hulk
), who have spun five interconnected specials that tell a unique and captivating story for each original Defender.
Marvel is proud to present this
behind-the-scenes video
for DEFENDERS: THE BEST DEFENSE, featuring SVP and Executive Editor Tom Brevoort, Editor-In-Chief C.B. Cebulski, and
Immortal Hulk
writer Al Ewing!
"Not only are we assembling one of the classic rosters of The Defenders, but we're also putting together a phenomenal cast of creators to bring these adventures to life," shared C.B. Cebulski.
"All of it kind of fits together in a massive, kind of cosmic shebang," teased Al Ewing.
The story culminates next week in DEFENDERS: THE BEST DEFENSE #1! Don't miss the other chapters – IMMORTAL HULK, NAMOR, DOCTOR STRANGE, and SILVER SURFER – all on sale now in comic shops, on the Marvel Comics App, and on Marvel.com! To find a comic shop near you, visit
www.comicshoplocator.com
or call 1-888-comicbook.
KRAVEN THE HUNTER RETURNS IN MARCH'S 'AMAZING SPIDER-MAN'
12/14/18 @ 7:32 pm EST
Source:
Marvel
| Categories:
Marvel
|
Comments
(0) |
E-mail Article
|
Add a Comment
AMAZING SPIDER-MAN
Coming March 2019
'AQUAMAN' SWIMS PAST $150M OVERSEAS, TOPS ALL DC TITLES IN CHINA
12/14/18 @ 7:30 pm EST
Source:
Deadline
| Categories:
DC
|
Comments
(0) |
E-mail Article
|
Add a Comment
Deadline
reports that Warner Bros/DC's
Aquaman
is expanding to another 42 offshore markets. Through Thursday, there are 36 in release which have lifted the international box office cume to $152M.
That includes the Middle Kingdom where the James Wan-directed origin story swiftly paddled to $135M through yesterday to become the highest-grossing DC Universe title locally in just one week.
Jason Momoa's undersea hero has been super strong in the midweeks there and is looking at a second Friday (not included in the cumes above) that's about a 49% drop, a terrific hold.
FIRST LOOK AT BATMAN IN TITANS
12/14/18 @ 3:18 pm EST
Source:
DC Universe
| Categories:
DC
|
Comments
(0) |
E-mail Article
|
Add a Comment
DC Universe
has released a trailer for the coming Season 1 finale of
Titans
, which will air next week.
The trailer is about a showdown between Batman -- surprisingly appearing full-blown, cape and cowl -- and Dick Grayson, which makes sense given the ongoing storyline.
However, what nobody expected to see was the Dark Knight in action in the trailer.
Batwoman on The CW the first part of the week, Batman in a
Titans
trailer on Friday! What wonderful times in which we live.
Trailer:
https://youtu.be/O8bl2Vurk7M
BENICIO DEL TORO TO PLAY VILLAIN IN 'DORA THE EXPLORER'
12/14/18 @ 3:00 pm EST
Source:
Hollywood Reporter
| Categories:
MIsc
|
Comments
(0) |
E-mail Article
|
Add a Comment
THR
is reporting exclusively that Benicio del Toro has closed a deal to voice Swiper, the thieving fox, in Paramount Players' live-action
Dora the Explorer
, based on the character from the popular Nickelodeon TV series.
Isabela Moner, seen in Paramount's dramedy
Instant Family
, is starring as the titular Dora, a girl accustomed to the jungle life with her parents and now forced to explore the uncharted terrain of high school.
The film's story sees the high school-bound Dora finding herself leading Boots (a monkey and her best friend), Diego and a rag-tag group of teens on a
Goonies
-esque adventure to save her parents and solve the mystery behind a lost Inca civilization.
The movie has an Aug. 2, 2019 release.
VALIANT ENTERTAINMENT ADDS DREW BAUMGARTNER AND ZANE WARMAN
12/14/18 @ 2:51 pm EST
Source:
Valiant
| Categories:
MIsc
|
Comments
(0) |
E-mail Article
|
Add a Comment
Valiant Entertainment is proud to announce two new hires: Drew Baumgartner joins Valiant HQ as Assistant Editor, and Zane Warman has been named to the position of Domestic Licensing Coordinator.Baumgartner, who has been contributing to the growth of the Valiant Universe as an Editorial intern since earlier this year and was instrumental in the publisher's rollout of its recent BREAKTHROUGHinitiative, will play a key role in the development of Valiant's upcoming titles (more info on that
very
soon!) and the expansion of the universe and its fan-favorite characters.
"I'm excited to announce the hiring of Drew Baumgartner to the Valiant editorial team," stated Senior Editorial Director Robert Meyers. "Drew has been writing and thinking about comics for many years, and is always ready for a deeper conversation about comics as both art and entertainment. As an intern, Drew has shown that he will be a bright addition to the Valiant family. He brings a keen intellect, a love for the medium, and an A+ mustache to our team.""Valiant is a special place," said Baumgartner. "I've been reading and loving Valiant comics for years, so it's thrilling to be working with these amazing characters, creators, and editors. With so many new series planned in the coming months, this is an exciting place to be. I'm pumped to be part of the team!"Warman, who will join forces with International Licensing Coordinator Oliver Taylor, will aid in the establishment and coordination of domestic licensing relationships, as well as schedule and take part in product development and coordinate with Valiant's Marketing team to spread the word about new licensing relationships.
"At first glance, we were very impressed with Zane's background," said Russ Brown, President of Consumer Products, Promotions, and Ad Sales. "Couple this with his deep-level interest in the Valiant IP and belief in its enormous merchandising potential, we look forward to his contribution on Team Valiant."
"I've always loved being a part of impassioned, close-knit teams working to bring brilliant art and artists into the spotlight," Warman expressed. "It's a common theme that's threaded its way through my various professional experiences, from years of editorial work at
The Fader
,
Paste Magazine
, and
Billboard
, to my recent stint as a Marketing Assistant for a talent-buying company. That I am able to transfer that passion to the like-minded, hyper-talented team at Valiant, and during a transformative time for the company, is exhilarating and a real honor."
A NEW ERA OF MS. MARVEL STARTS NOW
12/14/18 @ 2:49 pm EST
Source:
Marvel
| Categories:
Marvel
|
Comments
(0) |
E-mail Article
|
Add a Comment
Marvel is excited to announce that this spring, Eisner Award–winner Saladin Ahmed (
Black Bolt, Exiles
) and rising star Minkyu Jung (
Batgirl, Nightwing
) will take the reins of one of Marvel's most beloved new characters in THE MAGNIFICENT MS. MARVEL #1!
"I think she's really the face of everything that's new and fresh and exciting and '21st century' at Marvel, and with superheroes in general. To be given stewardship of that is a big deal to me," Ahmed told
Entertainment Weekly
in an exclusive announcement. "It's always thrilling being given responsibility over a beloved character. It's particularly meaningful for me to be taking over from Willow."
"It just seems so incredible that this character, who was just going to be a fun project for both of us loosely influenced by Sana's own experiences growing up, had become a cultural phenomenon that was going to outlive us both," current
Ms. Marvel
writer G. Willow Wilson also told
EW
. "Given that was true, I really wanted to be cognizant of the fact that superheroes thrive with a multiplicity of voices telling their stories. I wanted to leave on a high note."
THE MAGNIFICENT MS. MARVEL #1 Written by SALADIN AHMED Art by MINKYU JUNG Cover by EDUARD PETROVICH Variant cover by ELSA CHARRETIER Variant cover by BABS TARR On Sale 3/13/19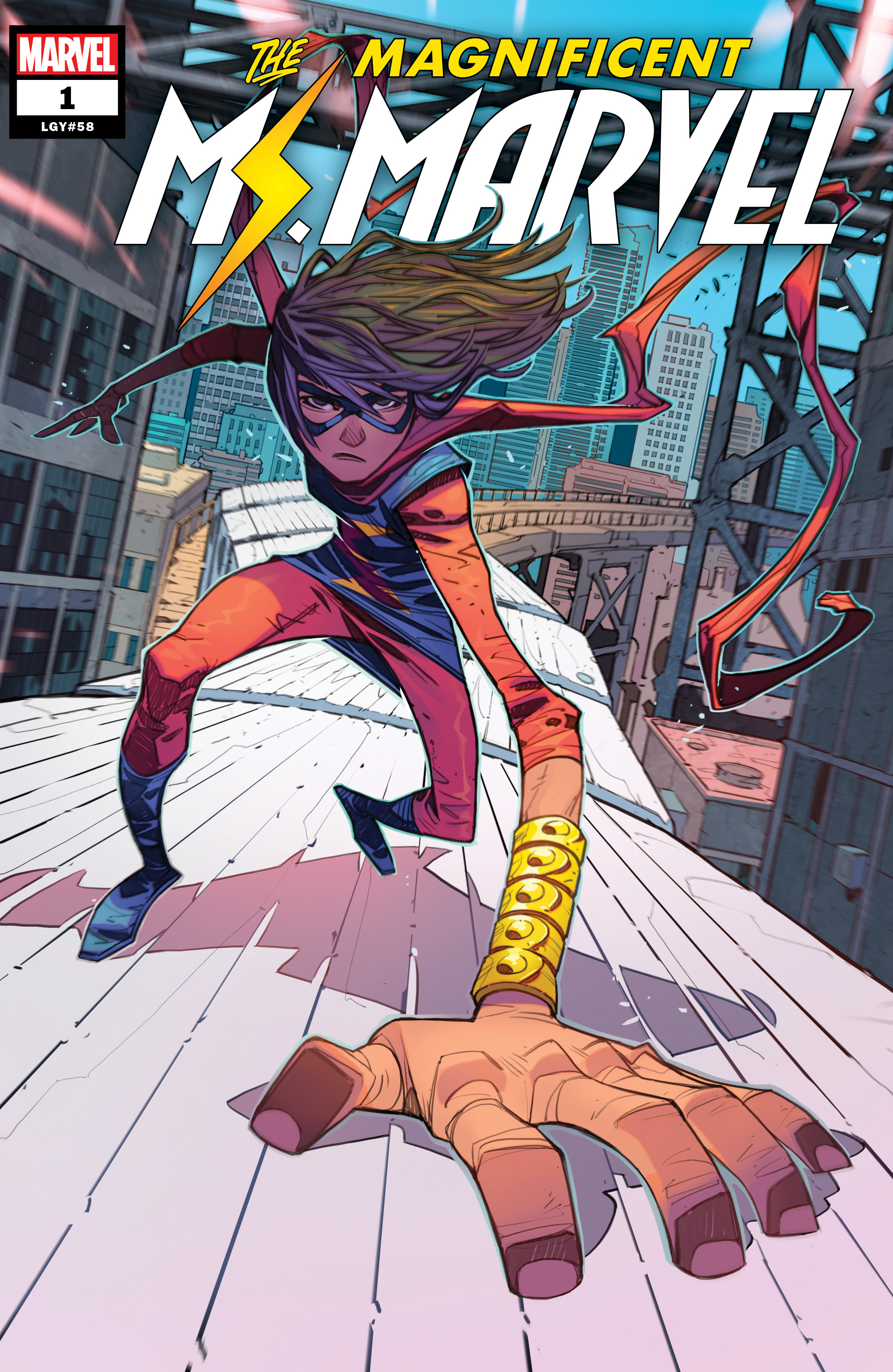 ERICA HENDERSON AND KYLE STARKS TAG TEAM AN ACTION-PACKED SIDESPLITTER IN ASSASSIN NATION
12/14/18 @ 2:45 pm EST
Source:
Image
| Categories:
Image
|
Comments
(0) |
E-mail Article
|
Add a Comment
Two-time Eisner Award winner Erica Henderson (
The Unbeatable Squirrel Girl
,
Jughead
) and Eisner-nominated writer Kyle Starks (
Rick and Morty
,
Sexcastle
) team up for the gut-busting, mega-violent action-comedy
Assassin Nation
this March from Image/Skybound.
"I'm so excited for this book," said Henderson. "Kyle and I have been wanting to work together for as long as we've been friends. It's great to finally make that happen. There aren't a lot of comics with Kyle's action and comedy sensibilities, so it's just been a blast. On top of that, it's nice to work in other genres. My professional career has been largely all-ages media so it's been REALLY fun to get some gore and explosions in there too.
Assassin Nation
is great fun but NOT for the whole family."
The World's (Former) Greatest Hitman has a hit out on him. What to do? Why, hire the 20 best assassins in the world to be his bodyguards, of course. These mean-as-hell hired guns and murderers will have to work together to keep the new crime boss safe, figure out who's trying to off him, and also… survive.
"Since I got into the comics industry, I've wanted to do two things: one, work with my dear friend Erica Henderson; and two, write a book with 20 hitmen being hired to be bodyguards to the world's former best assassin," said Starks. "Truly, two things I love more than nearly anything: my friendship with Erica and a barrel full of trained killers set loose on a thrilling adventure ride of murder, mystery, and mayhem.
"I'm super excited about
Assassin Nation
," he added. "Erica and I made a ton of great characters and put them through a really fun story. I mean, look, we are both action movie super fans, and getting to make something together has been a true joy that I think will be passed on to the readers. It's going to be an adrenaline thrill ride of violence and jokes, and we can't wait for people to get their hands on it."
Assassin Nation
#1 (Diamond code: JAN190122) will be available on Wednesday, March 13th. The final order cutoff deadline for comics retailers is Monday, February 18th.
It will also be available for purchase across many digital platforms, including the official Image Comics iOS app, Amazon Kindle, Apple Books, comiXology, and Google Play. Fans can also subscribe to receive the series delivered by mail within the domestic U.S. on Image Direct.