THE DEMON TAKES ON THE DEADITES AS THE KISS ARMY MEETS THE ARMY OF DARKNESS
11/21/17 @ 3:46 pm EST
Source:
Dynamite
| Categories:
Dynamite
|
Comments
(0) |
E-mail Article
|
Add a Comment
Dynamite Entertainment proudly brings together two of its bestselling brands for a horror/music extravaganza in KISS/Army of Darkness #1, the debut issue in a new comic book series uniting the legendary rock 'n' roll band with the comic industry's grooviest of character! Written by Chad Bowers and Chris Sims (X-Men '92, Deadpool) and illustrated by Ruairi Coleman (Star Wars: Rebels, TMNT Amazing Adventures), the KISS/Army of Darkness miniseries event is set to launch in February 2018.

KISS is on top of the world and rocking faces until the night disciples of The Destroyer show up and the band disappears. With the tour canceled, a young Ash misses one of the most important events of his life that will change his destiny. Now the Chosen One has to get back on the right path and join the KISS ARMY OF DARKNESS.

Co-writer Chad Bowers says, "With Ash vs. The Army or Darkness, Chris and I were given kind of carte blanche to do whatever we wanted to the world of AOD, and we went for broke. We introduced some new characters and concepts, and built a legacy for Ash's comics adventures that I'm immensely proud of, but not in a million years could I have guessed we'd get to continue that momentum with the added bonus of tossing the world's greatest rock n' roll band into the mix! I've been in the tank for KISS since I was in middle school. I remember buying the KISS tribute album, KISS My Ass for the Lemonheads (they covered Plaster Caster), which lead to me picking up Greatest Hits, and so on. But when I found out there was a KISS comic with blood in it, I signed up for life! Of course, I adore the songs (literally listening to Do You Love Me right now), but I'm just as obsessed with the way KISS transcends the music to become something of a genre themselves. It's something I think about a lot, honestly, so no surprise, it's a big part of our story too!"

Co-writer Chris Sims says, "When it comes to Army of Darkness, I guess you could say that Ash is a bit of a gambler, but he's nobody's fool. And since our first story was set back at Alan Shepard High, we're looking forward to showing him some things that you can't learn in school. Okay, okay, I'll stop with the deep-cut lyrics now, but for real -- if you thought Deadites at Homecoming and the Supernatural Military-Adjacent Response Team were taking Ash in a new direction, just wait until you see how we team him up with the Starchild, Space Ace, the Demon, and the Catman. In the grand tradition of the film, we're tearing up the entire space-time continuum and if you think you know how weird this is gonna get... well, you sure know somethin'!"

Artist Ruairi Coleman says, "Having done some work for Dynamite in the past, I've really been wanting to get my foot in the door here for a long time so I can play in the sandbox of the amazing licenses they have. Chief among those, and high up on my bucket list, is Army of Darkness: Hail to the king, baby! So, when I was offered the job of drawing the KISS/Army of Darkness crossover, I couldn't believe my luck! The concept is totally bonkers, but in a way, that would make complete sense in the world of Army of Darkness. Thinking about it, I'm surprised it hasn't been done already and I'm honored (and more than a little intimidated) to be the guy who draws it."

"After a more than 40-year career, KISS continues to be one of rock's most celebrated bands, while Army of Darkness continues to be a staple in the comic book industry. We're both honored to have the opportunity to work so closely with Gene and Paul to bring their world-renowned alter-egos to comics alongside our very own Ashy Slashy," says Nick Barrucci, CEO and Publisher of Dynamite Entertainment. "The raging guitar chords and pyrotechnic spectacle of their stage shows could have come straight from the pages of the Necronomicon, and this epic battle between The Demon and Deadites will appeal to the hellions in all of us!"

As America's #1 Gold Record Award winning group of all time (and that's in every category), KISS can easily be named one of rock's most influential bands. The Rock N Roll Hall of Famers have released 44 albums and sold more than 100 million albums worldwide. The origins of KISS comic books date almost as far back as the inception as the band itself, having been an integral part of comics culture since their 1977 appearance in Howard the Duck #12 and 1978's Marvel Comics Super Special: Kiss. Today, nearly 40 years later, Dynamite Entertainment is the proud home to the comic book series KISS, KISS: The Demon, KISS/Vampirella, and now KISS/Army of Darkness.



Army of Darkness is a 1992 fantasy/comedy film with strong horror elements starring Bruce Campbell (Burn Notice), the third installment in a trilogy featuring reluctant hero Ash Williams. Directed by Sam Raimi (Spider-Man), the film saw its tough-as-nails, wise-cracking protagonist transported from the modern era to the Dark Ages in his continuing war against demonic evil. Army of Darkness generated a dedicated fan following for its premise and lead actor. Since 2004, Dynamite Entertainment has been the proud home to Army of Darkness comic books.

The debut issue of KISS/Army of Darkness features a wide selection of cover variants, providing fans and retailers with the freedom of choice! Three art covers feature the talents of Kyle Strahm (KISS: the Demon, Army of Darkness/Xena Warrior Princess: Forever….and a Day), Goni Montes (KISS, SwordQuest, Mighty Morphin Power Rangers), and Ken Haeser (KISS: the Demon, Ash vs the Army of Darkness, Hatchet), respectively. XXX limited variant editions in "Black & White" and "Virgin Art" formats are also available as retailer incentives for comic shops that support the launch issue by achieving stocking thresholds.



KISS/Army of Darkness #1 will be solicited in Diamond Comic Distributors' December 2017 Previews catalog, the premier source of merchandise for the comic book specialty market, and slated for release in February 2018. Comic book fans are encouraged to reserve copies of KISS/Army of Darkness #1 with their local comic book retailers. KISS/Army of Darkness #1 will also be available for individual customer purchase through digital platforms courtesy of Comixology, Kindle, iBooks, Google Play, Dynamite Digital, iVerse, Madefire, and Dark Horse Digital.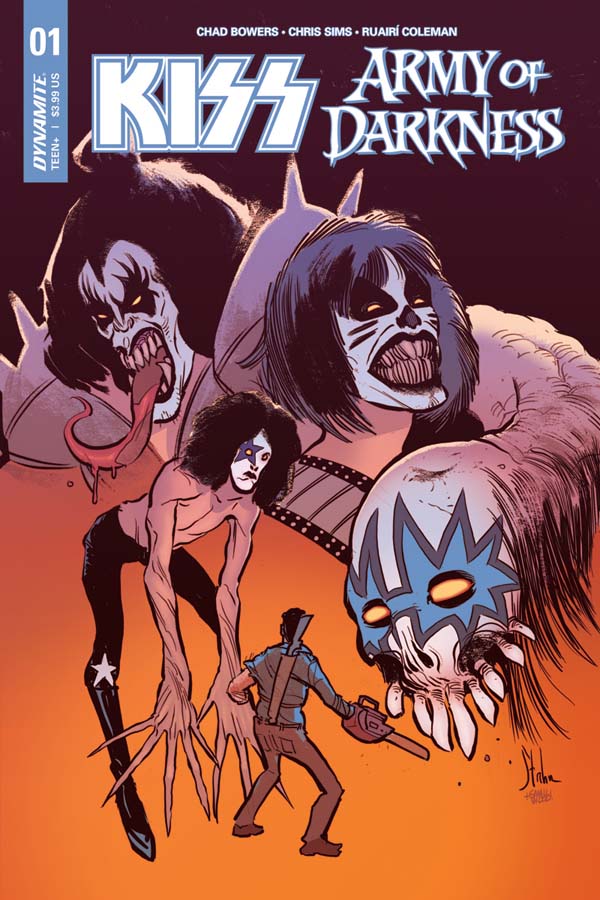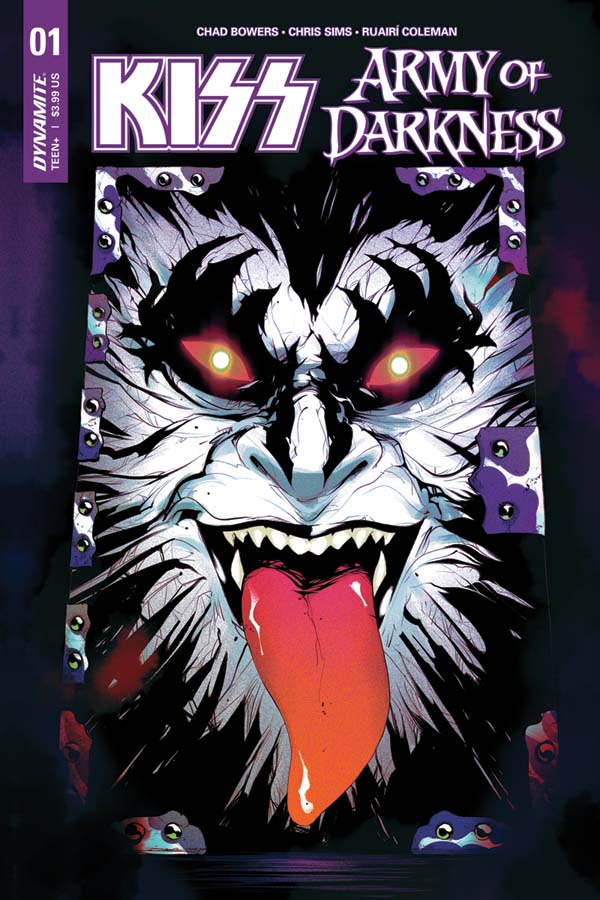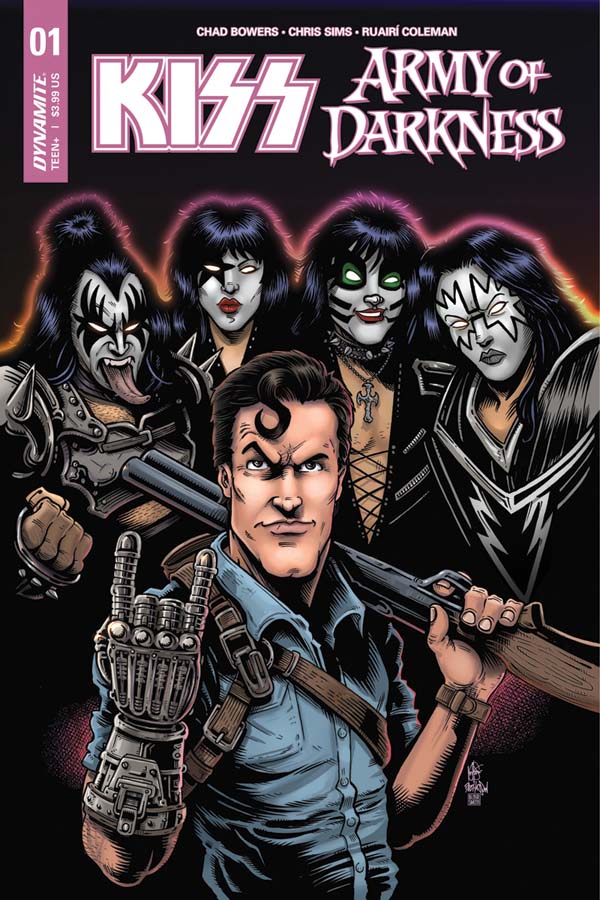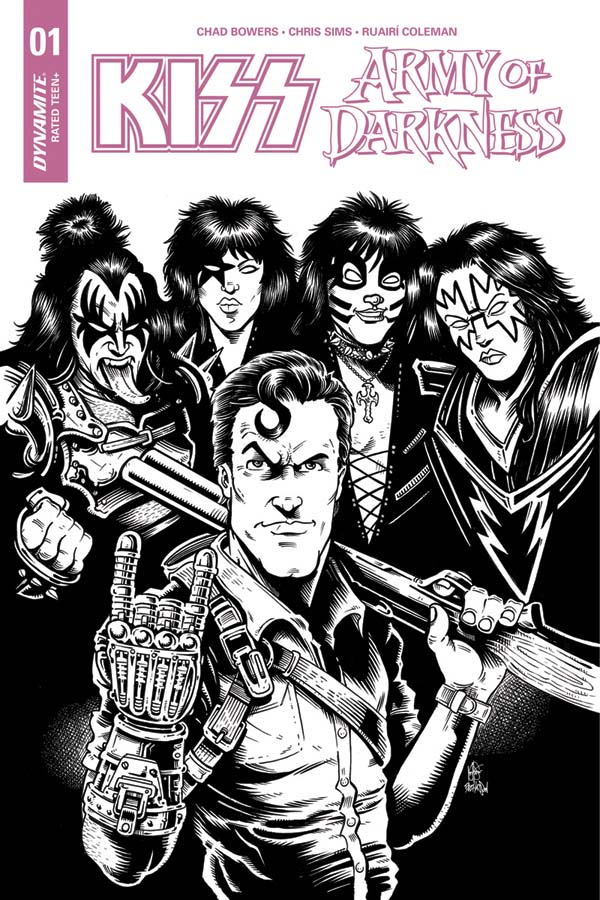 THE MYSTERY DEEPENS IN THIS ADVANCE PREVIEW OF SPENCER AND SAUVAGE'S ARCHIE #701
12/10/18 @ 6:13 pm EST
Source:
Archie Comics
| Categories:
Archie
|
Comments
(0) |
E-mail Article
|
Add a Comment
ARCHIE #701
Archie Andrews has a secret — and he's not the only one! These days, it seems like everyone in Riverdale has something to hide— but when their perfect small town life is rocked by a mysterious surprise, the truth starts tumbling out. Part 2 of "How I wasted my summer vacation!"
Script: Nick Spencer
Art: Marguerite Sauvage, Jack Morelli
Cover: Marguerite Sauvage
Variant Covers: Jen Bartel, Thomas Pitilli
On Sale Date: 1/2
32-page, full color comic
$3.99 U.S.
Cover by Marguerite Sauvage
Artwork by Marguerite Sauvage
MEET LIVEWIRE'S NEW FOE: PAN DE SANTOS
12/10/18 @ 6:08 pm EST
Source:
Valiant
| Categories:
MIsc
|
Comments
(0) |
E-mail Article
|
Add a Comment
Design by Raúl Allén and Patricia Martín
Valiant is proud to debut an advance look at a brand-new foe,
Pan de Santos
! Making their debut in
LIVEWIRE #2
and designed by series artists
Raúl Allén and Patricia Martín
, writer
Vita Ayala
describes the upcoming antagonist as "the conceptual opposite of Livewire" and a "true believer of Toyo Harada." Feast your eyes on the character design above and a color preview from LIVEWIRE #2 below!
LIVEWIRE #2Written
by VITA AYALA
Art
by RAÚL ALLÉN & PATRICIA MARTÍN
Cover
A by ADAM POLLINA
Cover
B by MEGAN HUTCHISON
B/W Variant Cover
by ADAM POLLINA
Powerless!
When the superpowered psiot codenamed Livewire plunged the entire country into a nationwide power outage, she made more than a few enemies – and now she's about to meet them face to face! But these mysterious foes aren't simply interested in bringing her to justice…no, they have other far more nefarious plans for the most wanted woman in the world…
Dazzling writer Vita Ayala (
The Wilds
,
Submerged
) and unforgettable art team Raúl Allén (WRATH OF THE ETERNAL WARRIOR) and Patricia Martín (SECRET WEAPONS) back Amanda McKee into a corner as the most anticipated ongoing series of 2019 rages onward!
$3.99 32 pgs. T+ On Sale JANUARY 23rd (FOC DECEMBER 17th <--NEW)
LIVEWIRE #2 – Art by Raúl Allén and Patricia Martín



LIVEWIRE #2 – Art by Raúl Allén and Patricia Martín
LIVEWIRE #2 - Cover A by Adam Pollina
LIVEWIRE #2 - Cover B by Megan Hutchison
LIVEWIRE #2 - B/W Variant Cover by Adam Pollina
RICK AND MORTY PRESENTS RETURNS FOR A SECOND VOLUME
12/10/18 @ 6:03 pm EST
Source:
Oni Press
| Categories:
MIsc
|
Comments
(0) |
E-mail Article
|
Add a Comment
The renowned one-shot quarterly series,
Rick and Morty
™
Presents
is back for a second volume, with four new, oversized single issues on the horizon including
Jerry, Mr. Meeseeks, The Flesh Curtains,
and
Unity
. The comic series tells four standalone stories, each focused on a different
Rick and Morty
™
character from the critically-acclaimed Adult Swim show that follows sociopathic genius scientist, Rick Sanchez, who drags his inherently timid grandson on insanely dangerous adventures across the universe.
"I love this PRESENTS format, because it allows the stellar creative teams to explore well-known characters like Jerry, or Mr. Meeseeks, in completely surprising ways!" said Sarah Gaydos, Oni Press's Editorial Director of Licensed Publishing. "But it
also
allows us to dive into quirky, fan-favorite characters like Unity (Rick's ex!) or Rick's band, The Flesh Curtains (starring Rick, Squanchy, and BirdPerson). I can't wait for readers to see what this incredible roster of talent has in store for them."
Rick and Morty™ Presents: Jerry #1
(W) Ryan Ferrier, (A) CJ Cannon, (C) Joshua Perez, (CA) A: CJ Cannon and Joshua Perez, B: Sina Grace
Rick and Morty
™
Presents i
s back by popular demand! This very special issue focuses on everyone's
favorite
character, Jerry. Jerry's wisely blaming all his marital issues on his Dad-bod. When he goes to Rick for a quick fix, things go so poorly, it's... demonic. Written by Ryan Ferrier
(Batman/Teenage Mutant Ninja Turtles, Regular Show, D4VE,
and more!
),
with series artists CJ Cannon and Joshua Perez! Features a variant cover by Sina Grace.
Rick and Morty™ Presents: Mr. Meeseeks #1
(W) James Asmus and Jim Festante, (A) CJ Cannon, (C) Joshua Perez, (CA) A: CJ Cannon and Joshua Perez, B: Sarah Stern
A message from Mr. Meeseeks: You ASKED for it, and we're obligated to deliver! That's what Meeseeks DO, after all! But WAIT… who the heck asked us to find the MEANING OF LIFE?!? THIS IS ONLY A 30 PAGE STAND-ALONE STORY!! I'm Mr. Meeseeks and this will not end well!
Rick and Morty™ Presents: The Flesh Curtains #1
(W) Lilah Sturges, (A) CJ Cannon, (C) Joshua Perez, (CA) A: CJ Cannon and Joshua Perez, B: Marie Enger
Learn the true origins of THE FLESH CURTAINS, Rick's rock band with BirdPerson and Squanchy! Booed off of every stage, they consider giving up... until Rick invents a machine capable of writing songs people can't resist. But when their multi-dimensional concert goes awry, Rick suddenly finds himself in massive debt to a ruthless alien loan shark. Will Rick do the safe thing and play the music guaranteed to make the band a success, or do the insane thing and play the music guaranteed to alienate almost everyone in order to impress his favorite musician?
Rick and Morty™ Presents: Unity
#1
(W) Tini Howard, (A) CJ Cannon, (C) Joshua Perez, (CA) A: CJ Cannon and Joshua Perez, B: Sina Grace
It takes a special kind of madness to capture and imprison Rick Sanchez — the kind of madness
only an ex
can deliver.
Unity wants to make a play to take over the galaxy, and she'll need the best (and worst) of her exes in her clutches to do it. And Rick wants his
Party Naked
t-shirt back, she stole it when they broke up.
The first issue of the second series of
Rick and Morty
™
Presents
is scheduled for release March 13, 2019, with the subsequent issues releasing in June, September, and November.
NEW YORK TIMES BEST-SELLING AUTHOR GABY DUNN & CLAIRE ROE BURY THE LEDE AT BOOM! STUDIOS
12/10/18 @ 5:54 pm EST
Source:
BOOM! Studios
| Categories:
MIsc
|
Comments
(0) |
E-mail Article
|
Add a Comment
BOOM! Studios today announced
BURY THE LEDE
, a new original graphic novel from New York Times bestselling author Gaby Dunn (
I Hate Everyone But You
) and artist Claire Roe (
Batgirl and The Birds of Prey
), which arrives in stores October 2019. Inspired by Dunn's own experiences at The Boston Globe as a reporter,
BURY THE LEDE
is a timely story about how we find answers in an increasingly complex world and the hidden threats surrounding those truths.
Twenty-one-year-old Madison T. Jackson is already the star of the Emerson College student newspaper when she nabs a coveted night internship at Boston's premiere newspaper, The Boston Lede. The job's simple: do whatever the senior reporters tell you to do, from fetching coffee to getting a quote from a grieving parent. It's grueling work, so when the murder of a prominent Boston businessman comes up on the police scanner, Madison races to the scene of the grisly crime. There, Madison meets the woman who will change her life forever: prominent socialite Dahlia Kennedy, who is covered in gore and being arrested for the murder of her family. The newspapers put everyone they can in front of her with no results until, with nothing to lose, Madison gets a chance – and unexpectedly barrels headfirst into danger she never anticipated.
Dunn has distinguished herself as a New York Times bestselling author, journalist, YouTuber, actress, and comedian. She and her comedy partner, Allison Raskin, created the successful YouTube channel Just Between Us along with the novel "I Hate Everyone But You," published under Wednesday Books' inaugural list, an imprint of St. Martin's Press, with a sequel to be published in 2019.
She has written for
The New York Times, Cosmopolitan, New York Magazine, The Boston Globe
, and
Vulture
, as well as a finance column for Marie Claire. Dunn served as a writer on "Big Mouth" (Netflix) and in 2016, co-created and starred in a pilot for MTV, later developing original half-hour pilots for 20th Century Fox, YouTube Red, and FX, as well as joining the cast of "Take My Wife" (Starz) in the role of Brie. She is also the host and creator of the podcast, Bad With Money With Gaby Dunn, which has been featured as one of the "Best New Podcasts of 2016" by The New York Times and Vulture. The show is now in its 3rd season and a book based on the podcast will be published by Simon & Schuster on January 1st, 2019.
BURY THE LEDE
is Dunn's graphic fiction debut release.
"I'm obsessed with 'ripped from the headlines' crime shows and am so honored and stoked to be jumping into this genre, especially in a medium like graphic novels which allowed me to collaborate with incredible talent like my editor Dafna Pleban and artist Claire Roe," said writer Gaby Dunn. "I love working alongside women to make cool stuff about flawed, complex female characters like our book's heroine (and the women she surrounds herself with). Especially in a genre like crime that is so heavily male, it's been cool to make such a queer, colorful, realistic-to-my-own-experiences depiction of being a crime reporter."
Claire Roe is an acclaimed artist from the east of Scotland and studied animation at Duncan of Jordonstone College of Art, graduating in 2013. She has distinguished herself with dynamic work on some of the biggest properties in comics, including
Wonder Woman
and
Batgirl and The Birds of Prey
from DC Comics;
Halo: Rise of Atriox
from Dark Horse;
The Wicked + The Divine
from Image Comics; and
Welcome Back
from BOOM! Studios.
"On the surface this is a crime story, but in its heart it is the story of some very flawed women," said artist Claire Roe. "We rarely get to enjoy these type of women in media, especially if they're poc and queer, so getting to dive into this world and draw this story was right up my alley. I think true crime lovers will connect instantly with Madison, and will enjoy uncovering the motivations of the beautiful and enigmatic Dahlia."
BURY THE LEDE
is the first release in an exciting slate of adult original graphic novels from BOOM! Studios' eponymous imprint, home to a world-class group of licensed comic book series and ambitious original series, including Joss Whedon's
Firefly
and
Buffy The Vampire Slayer; Abbott
from Saladin Ahmed and Sami Kivelä;
Mech Cadet Yu
from Greg Pak and Takeshi Miyazawa;
Grass Kings
from Matt Kindt and Tyler Jenkins; and
Klaus
from Grant Morrison and Dan Mora.
"
BURY THE LEDE
masterfully blends the thrilling relationships of Killing Eve with the sharp insights of Devil Wears Prada for an affecting reflection on the world around us," said Dafna Pleban, Senior Editor, BOOM! Studios. "Gaby and Claire bring a different perspective the world of crime fiction, drawing from their own experiences to examine what it really means to be an investigative journalist in a world where it's getting harder to trust the headlines."
Print copies of
BURY THE LEDE
will be available for sale in October 2019 at local comic book shops (use comicshoplocator.com to find the nearest one), bookstores or at the BOOM! Studios webstore. Digital copies can be purchased from content providers, including comiXology, iBooks, Google Play, and the BOOM! Studios app.
CHRIS RYALL REJOINS IDW PUBLISHING AS PRESIDENT, PUBLISHER, AND CHIEF CREATIVE OFFICER
12/10/18 @ 5:50 pm EST
Source:
IDW
| Categories:
IDW
|
Comments
(0) |
E-mail Article
|
Add a Comment
December 10, 2018 -
IDW Publishing
, a division of
IDW Media Holdings
, announced today that its former Chief Creative Officer and Editor-In-Chief, Chris Ryall, is returning to the company as President, Publisher and Chief Creative Officer. Ryall, formerly part of the editorial division at
Skybound Entertainment
, will be charged with ongoing creative expansion efforts within the company, as well as continuing to work closely with partners and licensors. Greg Goldstein will be stepping down as President and Publisher.
"Chris was a vital and valued member of the IDW team from nearly the beginning, so we are very excited that he is coming home," said Howard Jonas, Chairman, IDW Media Holdings. "We are thrilled to have him rejoin our senior team to accelerate IDW Publishing's growth and success. His creative talents and relationships within the industry are unmatched so we are confident that he will thrive in this new, expanded role. We are extremely grateful for the dedication and hard work that Greg put into the company, and I am confident that he will enjoy great success with his future endeavors."
"I am incredibly proud of all that we've accomplished during my decade at IDW," said Greg Goldstein. "I couldn't be more grateful for the opportunity to work with the entire IDW team and our creative and business partners. It's been a great ride. Now I'm now looking forward to the next chapter of my career. It's very exciting."
Ryall originally joined IDW Publishing in 2004 as the company's Editor-in-Chief. In 2010, he was named as the company's first Chief Creative Officer. During his initial stint with the company, Ryall oversaw the acquisition of licensed titles such as
Transformers, Star Trek, Teenage Mutant Ninja Turtles,
and dozens of others. He also served as editor on hundreds of titles and, alongside creators Joe Hill and Gabriel Rodriguez, helped develop the acclaimed, Eisner Award-winning
Locke & Key
, currently in development as a Netflix television series.
"IDW is where I've spent the majority of my career, and I consider the company and its employees like family so I am grateful for this amazing opportunity to return," said Ryall. "I believe that IDW has very significant opportunities to become even more valuable and important and I am excited to further expand on what I started with the company nearly 15 years ago. I am also eager to help the company celebrate its 20th year anniversary in 2019 in varied and creatively invigorating new ways."
Ryall will assume his new duties on December 10, bringing more than 14 years of proven success to IDW Publishing. As a writer, Ryall was nominated for an Eisner Award alongside artist Ashley Wood. Together, they co-created the property
Zombies vs Robots
, purchased by Sony Pictures. He is also the co-creator of
Onyx
(with Gabriel Rodriguez);
The Hollows
(with Sam Kieth);
The Colonized
(with Drew Moss); and
Groom Lake
(with
Ben Templesmith
); the co-author of
Comic Books 101
(with Scott Tipton); and writer of licensed properties such as Stephen King and Joe Hill's
Throttle
; Clive Barker's
The Great and Secret Show
; Douglas Adams'
Dirk Gently's Holistic Detective Agency
,
The Transformers; Mars Attacks, Rom, Kiss
; and many other titles.
BOOM! STUDIOS UNVEILS THE FIRST LOOK AT FIREFLY #3
12/10/18 @ 1:53 pm EST
Source:
BOOM! Studios
| Categories:
MIsc
|
Comments
(0) |
E-mail Article
|
Add a Comment
BOOM! Studios today unveiled a first look at
FIREFLY #3
, arriving in comic book shops on January 16th. New York Times best-selling writer Greg Pak (
Star Wars, Ronin Island
) and artist Dan McDaid (
Judge Dredd
), along with series creator & story consultant Joss Whedon (the visionary writer/director behind
Buffy The Vampire Slayer
, Marvel's
The Avengers
and more) continue the iconic worldwide pop culture phenomenon's sold-out return to comic books in partnership with 20th Century Fox Consumer Products.
As the crew learns the shocking truth about the actions of their leaders in the Unification War, they find themselves splintered and more vulnerable than ever to the Unificators . . . and an enemy they never expected. Now, discover the untold origin of their leader Boss Moon as she puts her plan into effect to extract revenge on the two people who ruined her life – Mal and Zoe.
FIREFLY #3
features a main cover by Lee Garbett (
Skyward
), along with variant covers by Garbett, Joe Quinones (
America
) and Marguerite Sauvage (
Archie
).
"We've always known that Mal and Zoe had to make tough decisions during the Unification war, but Boss Moon is the living embodiment of the consequences. As we learn more about her connection to the captain and his first officer, we'll also see that sometimes the lines between heroes and villains is even thinner than we ever imagined," said Jeanine Schaefer, Executive Editor, BOOM! Studios. "
Firefly
has always explored the nuances of the people we choose as family and how we forgive the past without forgetting it. This is the issue where we'll see just how strong the bond between the crew really is – and discover more about the past that has defined Mal and Zoe."
Created by Whedon and set 500 years in the future in the wake of a universal civil war,
FIREFLY
centers on the crew of Serenity, a small transport spaceship that doesn't have a planet to call home. Captain Malcolm "Mal" Reynolds, a defeated soldier who opposed the unification of the planets by the totalitarian governed Alliance, will undertake any job — legal or not — to stay afloat and keep his crew fed. Thrust together by necessity but staying together out of loyalty, these disparate men and women are seeking adventure and the good life, but face constant challenges on the new frontier, such as avoiding capture by the Alliance, and evading the dangers you find on the fringes of the universe.
FIREFLY #3
is available January 16th exclusively in comic shops (use
comicshoplocator.com
to find the nearest one) or at the BOOM! Studios webstore. Digital copies can be purchased from content providers, including comiXology, iBooks, Google Play, and the BOOM! Studios app.
Available now,
Firefly: Legacy Edition Book One
collects previously released Serenity comics for the first time under one cover in a new value-priced format as Mal & the crew ride again in these official sequels to the critically acclaimed Firefly television series and Serenity film.
FIREFLY
is the latest release from BOOM! Studios' eponymous imprint, home to a world-class group of licensed comic book series and ambitious original series, including Joss Whedon's
Buffy The Vampire Slayer, Mighty Morphin Power Rangers, Planet of the Apes, Abbott, Mech Cadet Yu, Grass Kings,
and
Klaus
.
'BLACK PANTHER' LANDS 12 CRITICS' CHOICE AWARDS NOMINATIONS
12/10/18 @ 1:50 pm EST
Source:
Variety
| Categories:
Marvel
|
Comments
(0) |
E-mail Article
|
Add a Comment
Disney/Marvel Studios' accomplished
Black Panther
film has garnered a dozen Critics Choice Awards nominations, the second-most of any film this year. (It trails only
The Favourite
, which has earned a total of 14.)
Black Panther
has been nominated for Best Picture, Best Supporting Actor (Michael B. Jordan), Best Acting Ensemble, Best Adapted Screenplay, Best Cinematography, Best Production Design, Best Costume Design, Best Hair and Makeup, Best Visual Effects, Best Action Movie, Best Song ("All the Stars"), and Best Score. Marvel's other massive blockbuster,
Avengers: Infinity War,
only shared two nominations with
Black Panther
- Best Visual Effects and Best Action Movie. Disney's
Mary Poppins Returns
earned nine nominations.
Winners will be revealed at the 24th annual Critics' Choice Awards gala, broadcast on The CW Network on Sunday, Jan. 13, 2019. (via
Variety
)
A complete list of nominations may be found by clicking
here
.
NEW 'GODZILLA: KING OF THE MONSTERS' TRAILER RELEASED
12/10/18 @ 1:33 pm EST
Source:
Legendary
| Categories:
Godzilla
|
Comments
(0) |
E-mail Article
|
Add a Comment
Legendary Pictures
has released a new trailer for
Godzilla: King of the Monsters
.
The film opens in theaters on May 31, 2019.

Trailer: https://youtu.be/rUwGwwffu30
VERONICA TAKES THE FIGHT HOME IN VAMPIRONICA #5
12/10/18 @ 1:27 pm EST
Source:
Archie Comics
| Categories:
Archie
|
Comments
(0) |
E-mail Article
|
Add a Comment
VAMPIRONICA #5
Veronica must endure a series of brutal challenges in order to put a stop to the vampirism that's taken over Riverdale once and for all. But what surprises await her back at the Lodge mansion?
Script: Greg and Meg Smallwood
Art: Greg Scott, Matt Herms, Jack Morelli
Cover: Greg Smallwood
Variant Covers: Francesco Francavilla, Matthew Taylor
On Sale Date: 12/12
32-page, full color comic
$3.99 U.S.
LAZARUS: RISEN #1 MARKS THE RETURN OF THE NEW YORK TIMES BESTSELLING SERIES
12/10/18 @ 1:21 pm EST
Source:
Image
| Categories:
Image
|
Comments
(0) |
E-mail Article
|
Add a Comment
The Eisner Award-winning team of Greg Rucka (BLACK MAGICK, THE OLD GUARD,
Gotham Central
) and Michael Lark (
Daredevil
,
Gotham Central
) will release LAZARUS: RISEN #1, which kicks off a new story arc in a new prestige format and with a new quarterly schedule, this March.
Weighing in at 64 pages and packed with extras, LAZARUS: RISEN #1 continues the story of Forever and the Carlyle Family. Two years have passed since they were betrayed in battle, and the Conclave War now encroaches on every side. As a new era dawns, Johanna Carlyle goes on the attack to ensure the survival of her Family, relying on the loyalty and support of the Carlyle Lazarus—her sister, Forever. And while their united front may be enough to turn the tide, the cracks are beginning to show...
"Forever's journey has entered a new phase," said Rucka, "and we wanted the title to reflect not just that, but all things LAZARUS present and future. We're excited to finally get to share this next chapter!"
LAZARUS: RISEN #1 will be available on Wednesday, March 13th.
LAZARUS will also be available for purchase across many digital platforms, including the official Image Comics iOS app, Amazon Kindle, Apple Books, comiXology, and Google Play. Fans can also subscribe to receive the series delivered by mail within the domestic U.S. on Image Direct.