IDW PUBLISHING PROUDLY WELCOMES SUNDAY PRESS BOOKS INTO ITS PUBLISHING FAMILY
07/19/19 @ 4:52 pm EST
Source:
IDW
| Categories:
IDW
|
Comments
(0) |
E-mail Article
|
Add a Comment
Leading comic book and graphic novel publisher IDW Publishingannounces today the inclusion of Sunday Press Books into its publishing family.
Sunday Press Books is a specialty publishing house best known for its restoration of classic American comic strips, reprinted as gorgeous hardcover editions in the original size and colors. The brainchild ofPeter Maresca, Sunday Press has rekindled our collective fascination with such beloved features as
Little Nemo in Slumberland
,
Krazy Kat
,
Thimble Theatre
, and more. These collections have received dozens of salutations and awards, including a stream of seventeen Will Eisner Comic Industry Award nominations for thirteen years running.
The partnership between IDW and Sunday Press will preserve Maresca's independence and keen eye for curating American comic strips, both famous and forgotten, while bolstering the reach of distribution and marketing for its output. Acclaimed out-of-print collections will see new printings, and IDW will launch a digital publishing program, bringing these classics to a new generation of comics aficionados.
Peter Maresca says, "Since I accidentally became a publisher in 2005, my goal has been to do what no one was willing to do at the time: accurately recreate the experience of reading newspaper comics that were destined to disappear. But the business end has been daunting. Partnering with IDW allows me to take advantage of their experience and infrastructure to reach a broader audience while concentrating on the production of new editions."
"The amazing restoration work and resultant books that Pete Maresca produces through Sunday Press is very much in sync with our own efforts to produce archival-quality reprints of the comics and newspaper strips that built the foundation of our entire industry," says Chris Ryall, IDW's President & Publisher/Chief Creative Officer. "We're all ecstatic to be able to provide the support and publishing acumen to help his gorgeous books reach an even wider audience."
Scott Dunbier, IDW's Director of Special Projects and a peer in the world of archival restorations, says, "As someone who has been known to do big, unwieldy books from time to time, I can say without reservation that I am a long-time fan of what Pete Maresca does at Sunday Press Books. Having him team with IDW is a comic strip collector's dream come true, and I can't wait to see what's next!"
IDW Publishing's first Sunday Press publication,
Little Joe
(the uncredited work from
Little Orphan Annie
creator, Harold Gray), will debut in late 2019.
STAR WARS TV! 'CASSIAN ANDOR' SERIES EYEING TO BEGIN FILMING IN JUNE
12/12/19 @ 8:53 pm EST
Source:
Discussing Film.net
| Categories:
Star Wars
|
Comments
(0) |
E-mail Article
|
Add a Comment
Discussing Film.net
is reporting that the Disney+ 'Cassian Andor' series is moving forward and is currently eyeing to begin filming in June. The series will shoot in Europe.
This news comes following the announcement that the series was almost cancelled at Disney+ until Tony Gilroy, who also worked on the extensive reshoots for
Rogue One
, joined the project. He will write the pilot as well as direct multiple episodes of the series with
The Americans
' Stephen Schaffer set to helm the series as its showrunner.
The untitled series focuses on Rebel agent Cassian Andor prior to the events of
Rogue One
in the early days of the Rebellion against the Empire. The show has been described as a "spy thriller" when plans for it were first revealed last year. It was also previously announced that Alan Tudyk will reprise his role as K-2SO from
Rogue One
alongside Diego Luna as Cassian Andor.
Also reported was that the series will be using flashbacks to show Cassian Andor's early days.
AMAZON'S 'LORD OF THE RINGS' SERIES LOSES WILL POULTER
12/12/19 @ 8:43 pm EST
Source:
Hollywood Reporter
| Categories:
Lord of The Rings
|
Comments
(0) |
E-mail Article
|
Add a Comment
Amazon's big-budget
Lord of the Rings
series will have to replace one of its lead actors.
Will Poulter, who joined the project in September, has had to drop out of the project due to schedule conflicts.
The Hollywood Reporter
reports that his deal never officially closed, and his casting was never confirmed by the streamer. Amazon declined comment.
The nature of his role was being kept under wraps, but he was said to be playing a lead role in the show based on J.R.R. Tolkien's fantasy novels.
A search is ongoing to find another actor. Production on the show is scheduled to begin next year in New Zealand, where Peter Jackson's
LOTR
film trilogy also filmed.
YOUR FIRST LOOK AT MATT KINDT AND MATT SMITH'S 'FOLKLORDS' #3
12/12/19 @ 8:38 pm EST
Source:
BOOM! Studios
| Categories:
MIsc
|
Comments
(0) |
E-mail Article
|
Add a Comment
​
BOOM! Studios is proud to reveal a first look at FOLKLORDS #3, the latest issue of an all-new original five-issue series from Eisner Award-nominated writer Matt Kindt (
Grass Kings, Black Badge
), acclaimed artist Matt Smith (
Hellboy & the BPRD: Long Night at Goloski, Lake of Fire
), colorist Chris O'Halloran (
Immortal Hulk
), and letterer Jim Campbell (
Coda
) about a young man whose forbidden quest reveals the shocking truth about his world and turns everything he ever knew upside down, available in January 2020.
Outside of the village, life is no fairy tale—and Ansel has learned this the hard way. When his traveling companions disappear into thin air, Ansel finds himself at the mercy of Hanz and Greta. He needs to escape before the worst happens, but the siblings have a story for him, and the truth is more gruesome than he could ever have imagined.
FOLKLORDS #3 features main cover art by Matt Smith and variant cover art by Dustin Nguyen (
Ascender
).
FOLKLORDS is the newest release from BOOM! Studios' eponymous imprint, home to critically acclaimed original series, including
Once & Future
by Kieron Gillen and Dan Mora;
Faithless
by Brian Azzarello and Maria Llovet;
Abbott
by Saladin Ahmed and Sami Kivelä;
Bury The Lede
by Gaby Dunn and Claire Roe;
Klaus
by Grant Morrison and Dan Mora;
Something is Killing the Children
by James Tynion IV and Werther Dell'Edera; and
The Red Mother
by Jeremy Haun and Danny Luckert. The imprint also publishes popular licensed properties including Joss Whedon's
Firefly
from Greg Pak and Dan McDaid;
Buffy the Vampire Slayer
from Jordie Bellaire and David Lopez;
Angel
by Bryan Edward Hill and Gleb Melnikov; and
Mighty Morphin Power Rangers
from Ryan Parrott and Daniele Di Nicuolo.
Print copies of FOLKLORDS #3 will be available for sale on January 22, 2020 exclusively at local comic book shops (use
comicshoplocator.com
to find the nearest one) or at the BOOM! Studios webstore. Digital copies can be purchased from content providers, including comiXology, iBooks, Google Play, and Madefire.
MARVEL: EMPYRE! [VIDEO]
12/12/19 @ 8:35 pm EST
Source:
Marvel
| Categories:
Marvel
|
Comments
(0) |
E-mail Article
|
Add a Comment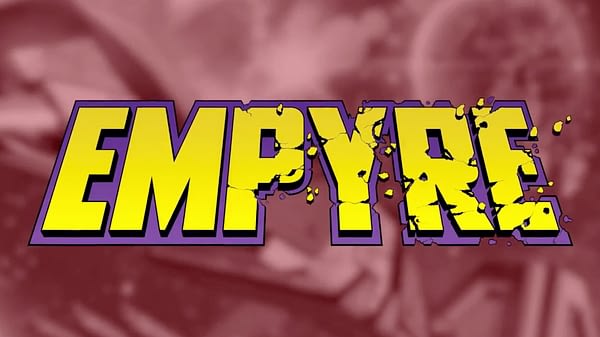 Marvel's earth-shattering event of 2020 arrives this April … and it all starts with INCOMING, on sale December 26th.
Trailer:
https://www.youtube.com/embed/e_Gr1OXyX_s
YOUR FIRST LOOK AT 'GHOSTED IN LA' #7
12/12/19 @ 8:30 pm EST
Source:
BOOM! Studios
| Categories:
MIsc
|
Comments
(0) |
E-mail Article
|
Add a Comment
​
BOOM! Studios revealed a first look at GHOSTED IN LA #7, the newest issue in the new original comic book series from GLAAD Media Award-nominated writer Sina Grace (
Jughead's Time Police
), artist Siobhan Keenan (
Jem and the Holograms
), colorist Cathy Le , and letterer DC Hopkins about figuring out your life - and your afterlife - in Los Angeles, available in stores January 2020.
The one condition of Daphne's residency at the Rycroft Manor is that no one can ever find out about the ghosts and so far, Daphne is crushing it. Only, like, four people have found out. It's fine! Except, maybe not, because the most recent person to find out is her ultra-religious former roommate who knows too much about exorcism for comfort.
GHOSTED IN LA #7 features a main cover by series artist Siobhan Keenan and a variant cover by series writer Sina Grace.
GHOSTED IN LA is the latest release from BOOM! Studios' critically acclaimed BOOM! Box imprint, home to popular original series such as
Lumberjanes
by Shannon Watters, Grace Ellis, Brooklyn A. Allen, and Noelle Stevenson;
Giant Days
by John Allison, Lissa Treiman, and Max Sarin;
The Backstagers
by James Tynion IV and Rian Sygh;
Heavy Vinyl
by Carly Usdin and Nina Vakueva;
Fence
by C.S. Pacat and Johanna The Mad; and
Goldie Vance
by Hope Larson and Brittney Williams.
Print copies of GHOSTED IN LA #7 will be available for sale January 15, 2020 exclusively at local comic book shops (use
comicshoplocator.com
to find the nearest one). Digital copies can be purchased from content providers, including comiXology, iBooks, Google Play, and the Madefire.
'SHAZAM! 2' TO TAKE FLIGHT SPRING 2022, 'SESAME STREET' RELOCATES
12/12/19 @ 3:31 pm EST
Source:
Deadline
| Categories:
MIsc
|
Comments
(0) |
E-mail Article
|
Add a Comment
Deadline
reports that Warner Bros. had more release date changes and announcements today in the wake of yesterday's avalanche of news with dates for
Matrix 4
and
The Flash.
New Line's DC
Shazam! 2
will open on April 1, 2022 taking the place of an RSVP that the studio had for an untitled WB Event Film. There are no other major studio releases on that date and the date falls prior to Easter that year which is April 17.
In addition, the MGM co-produced
Sesame Street
film jumps from June 4, 2021 to Jan. 14, 2022, the MLK 4-day holiday weekend. The only other pic on that date is 20th Century Fox's
Nimona.
ANDY COHEN ANIMATED SERIES SET AT QUIBI
12/12/19 @ 3:47 pm EST
Source:
Hollywood Reporter
| Categories:
MIsc
|
Comments
(0) |
E-mail Article
|
Add a Comment
THR
reports that Andy Cohen is the latest big name to land a show at Quibi.
The short-form streaming platform has ordered six episodes of animated series
The Andy Cohen Diaries
, which will chronicle "iconic and untold moments" from the life of the
Watch What Happens Live
host and
Real Housewives
franchise executive producer.
'NATIONAL LAMPOON'S VACATION' SERIES IN DEVELOPMENT AT HBO MAX
12/12/19 @ 3:16 pm EST
Source:
Variety
| Categories:
MIsc
|
Comments
(0) |
E-mail Article
|
Add a Comment
Variety
reports that HBO Max is developing a series based on the Grisworld family from the
National Lampoon's Vacation
films.
Titled
The Griswolds
, the series will see the titular family home from vacation and explore their daily lives in the suburbs of modern-day Chicago. Tim Hobert is attached to write and executive produce the half-hour single-camera series. Johnny Galecki and Holly Brown will also executive produce under their Alcide Bava production banner. Cory Wood of Alcide Bava will produce. Warner Bros. Television will serve as the studio behind the project.
The project represents a homecoming of sorts for Galecki, who starred as Russ Griswold in the third film in the franchise,
National Lampoon's Christmas Vacation
. The other films are
National Lampoon's Vacation
,
National Lampoon's European Vacation
,
Vegas Vacation
, and
Vacation
. The last of those was released in 2015 and starred Ed Helms as an adult Russ as he takes his own family on a trip that does not go as planned.
ROBERT KIRKMAN & CHRIS SAMNEE TO LAUNCH NEW ONGOING COMIC BOOK SERIES 'FIRE POWER' THIS MAY
12/12/19 @ 3:49 pm EST
Source:
Image
| Categories:
Image
|
Comments
(0) |
E-mail Article
|
Add a Comment
The New York Times
bestselling, Eisner Award winning comics titan Robert Kirkman (
Oblivion Song, The Walking Dead
) is teaming with Eisner winning artist Chris Samnee (
Daredevil
), Eisner Award winning colorist Matt Wilson (
Paper Girls, The Wicked + The Divine
), and letterer Rus Wooton (
The Walking Dead
), to bring fans an all-new, full color, action-packed ongoing series—
Fire Power
—which will launch from Image/Skybound in May 2020.
"Getting to create a whole new world with its own mythology and rules is always the highlight of my life. Getting to do that with Chris Samnee is definitely a high water mark in this dusty old career of mine," said Kirkman. "With a massive cast of characters populating this sprawling globe-spanning epic Chris has proven more than adept at handling anything I've thrown at him in the time we've been toiling away on this series in secret. Kung Fu, Fireballs, Chris Samnee, crazy action, Chris Samnee, Chris Samnee. What more could I say to get you excited about this book?"
This is the first new project from Kirkman since the surprise conclusion to his pop culture phenomenon
The Walking Dead
.
Fire Power
will more than fill a walker-sized hole in your monthly pull list. This new series also marks Samnee's return to comics after wrapping up his bestselling run on
Captain America
that concluded in early 2018.
Owen Johnson's journey to China to learn about his birth parents eventually leads him to a mysterious Shaolin Temple. The students there study to rediscover the Fire Power, the lost art of throwing fireballs. A power they claim will be needed soon to save the world. Will Owen Johnson be the first person in a thousand years to wield the Fire Power?
BOX OFFICE PREVIEW: 'JUMANJI 2' TO LEAD EARLY CHRISTMAS CRUSH WITH $40M-$50M
12/12/19 @ 2:59 pm EST
Source:
Hollywood Reporter
| Categories:
MIsc
|
Comments
(0) |
E-mail Article
|
Add a Comment
THR
reports that, as the year-end holidays get underway in earnest this weekend with the debut of Sony's all-audience event sequel
Jumanji: The Next Level
, Clint Eastwood's drama
Richard Jewell
and the microbudgeted Blumhouse/Universal slasher remake
Black Christmas
.
Jumanji 2
is expected to top the chart with a debut in the $40 million to $50 million range, although Sony is being more conservative in suggesting $35 million.
Movies opening close to Christmas aren't traditionally known for big openings — outside of the recent
Star Wars
pics — but rather count on strong multiples during the final two weeks of the year.
This time out,
Jumanji 2
opted to open a week before
Star Wars: The Rise of Skywalker
, whereas the 2017
Jumanji
:
Welcome to the Jungle
rode into theaters Dec. 20 with a $36 million domestic debut a week after
Star Wars: The Last Jedi
launched to $220 million.
Despite competition from
The Last Jedi
and other titles,
Welcome to the Jungle
went on to earn $404.5 million in North America and $962.1 million globally. (The challenge for
Next Level —
which sees the return of stars Dwayne Johnson and Kevin Hart — is to avoid being infected by the sequelitis bug that has doomed a number of franchise installments this year.)