'CONAN' AT COMIC-CON: 'KINGSMAN' SEQUEL'S HALLE BERRY, COLIN FIRTH AND CHANNING TATUM SURPRISE GUESTS
07/17/17 @ 4:51 pm EST
Source:
Deadline
| Categories:
MIsc
|
Comments
(0) |
E-mail Article
|
Add a Comment
We learned today that
Kingsman: The Golden Circle
is coming to Comic-Con, and now we know that the stars of the
Secret Service
sequel plan on spending some time with Conan O'Brien on July 20.
SDCC vet Halle Berry along with Channing Tatum, Jeff Bridges, Pedro Pascal, Taron Egerton and Colin Firthare set to appear on the TBS host's show on Thursday, I've learned. The
Conan
sit-down is set to happen just hours after the cast, screenwriter Jane Goldman and
Kingsman
co-creator and
Watchmen
legend Dave Gibbons are onstage at 11 AM in the huge Hall H.
With that July 20 spot left tantalizingly blank,
Conan
already had laid out a SDCC guest list of
Game of Thrones
cast members, Will Smith, Joel Edgerton, Noomi Rapace, Edgar Ramirez and Lucy Fry of Netflix's
Bright
movie and Dave Franco, Olivia Munn, Justin Theroux, Zach Woods, Michael Pena, Kumail Nanjiani and Abbi Jacobson of
The Lego Ninjago Movie.
Returning to confab for the third year in a row, O'Brien again will be taping his shows Thursday through Sunday, again at San Diego's Spreckels Theatre. The episodes to air at 11 PM on TBS.
Comic-Con 2017 runs from July 20 -23, with the traditional preview night taking place on July 19.
FRANK MILLER TO WRITE A SUPERMAN ORIGIN STORY
07/22/17 @ 11:56 pm EST
Source:
ComicBook
| Categories:
DC
|
Comments
(0) |
E-mail Article
|
Add a Comment
After years of being accused of mishandling Superman in his Batman stories, iconic comic book creator Frank Miller will finally tackle the Man of Steel as a hero instead of an antagonist in a forthcoming origin story in the vein of his classic
Batman: Year One
.
"I've got a new Superman project that's getting started, telling his origins. It's like my book,
Batman: Year One
, it's going to be
Superman: Year One
," Miller told Vulture. "It's going to be telling origins from when Pa Kent discovers him in the cornfield. And the little boy grows to youth and then to manhood….I've never really had my meaningful crack at Superman. In the cast of DC Comics, which has far and away the strongest and richest mythology, there are those three pillars they have of Superman, Batman, and Wonder Woman."
Per Newsarama, the series will be drawn by John Romita, Jr., who previously worked with Frank Miller on
Dark Knight Returns: The Last Crusade
.
There is no official release date yet on Miller's Superman story.
SDCC '17: MARVEL RELEASES NEW BLACK PANTHER POSTER
07/22/17 @ 11:50 pm EST
Source:
ComicBook
| Categories:
Marvel
|
Comments
(0) |
E-mail Article
|
Add a Comment
Marvel came to San Diego Comic-Con for its usual Saturday night showcase, and one of the biggest films it brought along for the Hall H presentation was
Marvel's Black Panther
!
In addition to showing off some new
Black Panther
footage, Marvel has also released the official version of the new
Black Panther
poster that was circulated around SDCC.
SDCC '17: WARNER BROS. OFFICIALLY ANNOUNCES GREEN LANTERN CORPS MOVIE
07/22/17 @ 11:47 pm EST
Source:
ComicBook
| Categories:
DC
|
Comments
(0) |
E-mail Article
|
Add a Comment
Warner Bros. brought the house down in Hall H with the official announcement of the
Green Lantern Corps
movie.
The DC Comics portion of their panel began with a rapid sequence of graphics detailing their upcoming films, including a graphic that confirmed a movie based on the intergalactic peace keeping force is indeed in the works.
Warner Bros. initially intended the film for a 2020 release date as a part of an ambitious slate, but with all of the behind-the-scenes changes and turmoil various productions have experienced that could change.
Rumors point toward a Green Lantern tease in the upcoming
Justice League
movie set to hit theaters November 17.
The latest
Justice League
trailer that debuted at San Diego Comic-Con might have contained a couple of sneaky references to the Green Lantern, but we won't find out until the movie releases later this year.
SCDD '17: CAPTAIN MARVEL WILL INTRODUCE THE SKRULLS TO THE MCU
07/22/17 @ 11:43 pm EST
Source:
ComicBook
| Categories:
Marvel
|
Comments
(0) |
E-mail Article
|
Add a Comment
The Marvel Sudios panel at San Diego Comic-Con 2017 was a major event - and during the panel coverage of
Captain Marvel
we got a major bomb drop piece of news that will rock the entire Marvel Cinematic Universe:The Skrulls will be the villains of
Captain Marvel
, finally making their long-awaited debut in the MCU!
This is a massive development, as The Skrulls were long thought to be firmly in the hand of 20th Century Fox, as part of their
Fantastic Four
ownership. The fact the Skrulls (and Kree) are now part of the MCU opens all kinds of doors for where the franchise's story can go.
The fact that
Captain Marvel
will also be set in the '90s also means that the Skrullswill have
been
a part of the MCU for quite some time.
Could that set up be leading the MCU into a "Secret Invasion" story adaptation?
SDCC '17: 'AVENGERS: INFINITY WAR' IS MARVEL'S GRAND FINALE AT HALL H PRESENTATION
07/22/17 @ 11:38 pm EST
Source:
Deadline
| Categories:
Marvel
|
Comments
(0) |
E-mail Article
|
Add a Comment
Compared to previous years, Marvel's Hall H presentation at Comic-Con was brief, this year anchored by two panels —
Thor: Ragnarok
and
Black Panther
. At the end of the presentation, Marvel boss Kevin Feige gave a wave to the crowd and said that was it.
This caused a joyful ire, and Chris Hemsworth, Chadwick Boseman and Mark Ruffalo said there was still three Avengers present, then goaded Feige to show more. They bantered back and forth, then were joined onstage by
Avengers: Infinity War
co-director Anthony Russo who told the crowd he brought something special for them.
That prize was the new
Infinity War
trailer that was shown during Disney's D23 confab last weekend.That footage shows the Guardians of the Galaxy flying through what appears to be a tarnished universe. Then the short-haired Ragnarok version of Thor smacks into the windshield. They resuscitate him inside the ship and are pulled into an adventure where Thanos (Josh Brolin) is decimating the galaxy — literally pulling the sun out of the sky and smashing it to the ground. We see Doctor Strange fighting in a fiery chaos, and Chris Pratt's Starlord tumbling to the ground. In sum, it's a total apocalypse in the Marvel Cinematic Universe where all the protagonists are fighting for their lives.
The clip was met with roaring cheers on par with a rock concert.
SDCC '17: 'THOR: RAGNAROK' BRINGS THUNDEROUS TRAILER
07/22/17 @ 11:58 pm EST
Source:
Hollywood Reporter
| Categories:
Marvel
|
Comments
(0) |
E-mail Article
|
Add a Comment
A new
Thor: Ragnarok
trailer
hammered its way into San Diego Comic-Con Saturday.
Star Chris Hemsworth was candid during the Marvel Studios panel.
"I've played this character five times. I got a bit bored. Spoke with [director] Taika Waititi], spoke with Kevin [Feige] ... ...it was about pushing myself."
So they decided to cut his hair, lose the hammer and "make it unique," said Hemsworth.
Hemswroth once again stars as Thor, with Mark Ruffalo as The Hulk and Tom Hiddleston as Loki. Series newcomers include Cate Blanchett, Jeff Goldblum and Tessa Thompson.
Ruffalo, whose Hulk was last seen flying off in a plane at the end of Avengers: Age of Ultron, said of his character: "He's enjoying his life. He'll be damned if he's going to go back to Banner."
Taika Waititi directs the movie, and became a Hall H legend last year with his Thor mockumentary. He followed that up with a well-received first trailer in April.
In addition to the trailer, fans were treated to several extended scenes from the film, including Thor meeting the Grandmaster (Goldblum), which built to scenes of the hero teaming with Loki (Hiddleston), images of lasers firing, Hulk fighting a giant Fenrir wolf, and more. (And yes, the Hulk speaks.)
Trailer:
https://youtu.be/ue80QwXMRHg
On Saturday, Marvel also released a new poster: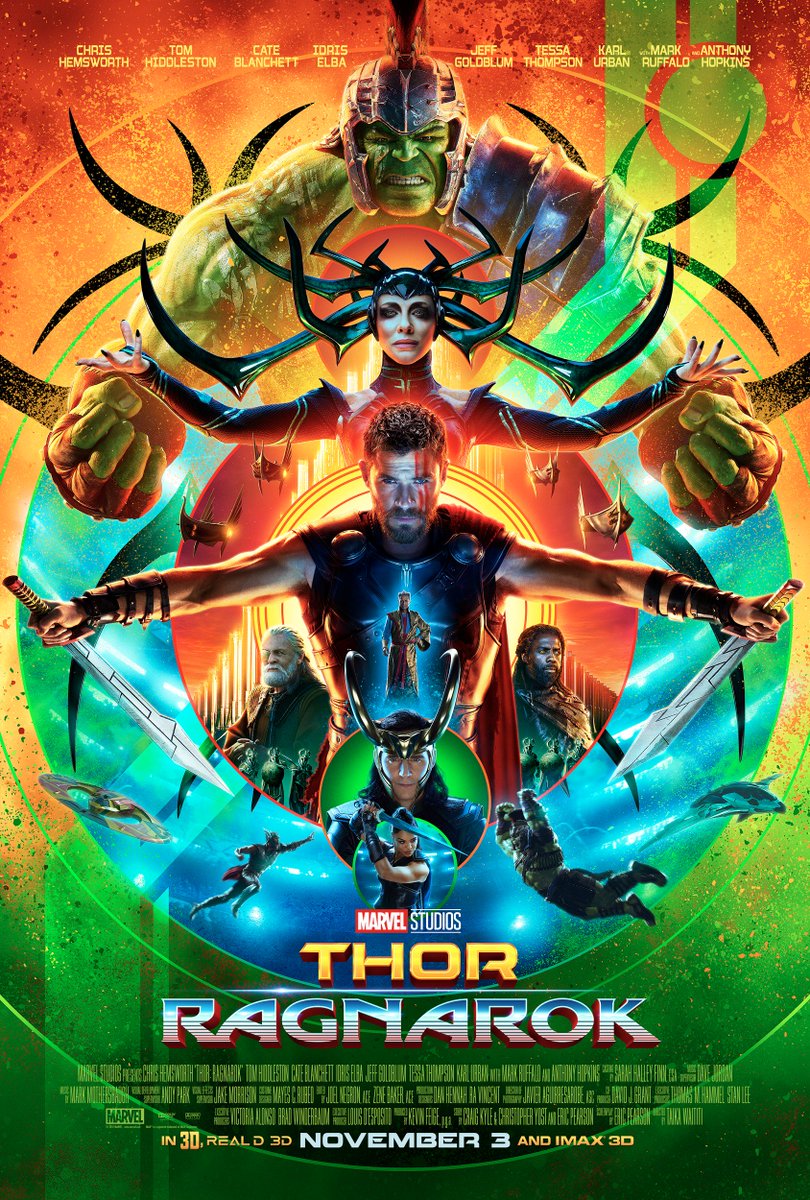 SDCC '17: 'LOST' ALUM MICHAEL EMERSON JOINS 'ARROW' SEASON 6
07/22/17 @ 11:26 pm EST
Source:
Variety
| Categories:
DC
|
Comments
(0) |
E-mail Article
|
Add a Comment
Michael Emerson has been cast for the sixth season of "Arrow."
Emerson – known for his roles as Ben Linus in ABC's "Lost" and as Harold Finch in CBS' "Person of Interest" – will have a recurring role as an unnamed mystery character.
The "Arrow" panel at San Diego Comic-Con on Saturday also announced that fan-favorite guest star David Nykl, who plays Oliver's Russian friend-turned-nemesis Anatoly Knyazev, will also be returning for Season 6. Oliver and Anatoly departed on rocky terms the last time the two saw each other in Season 5.
"Arrow" returns for its sixth season on Thursday, Oct. 12.
SDCC '17: SAMUEL L. JACKSON CONFIRMED AS NICK FURY IN 'CAPTAIN MARVEL' AND HE'LL LOOK DIFFERENT: PIC IS SET IN THE 1990S
07/22/17 @ 11:23 pm EST
Source:
Deadline
| Categories:
Marvel
|
Comments
(0) |
E-mail Article
|
Add a Comment
Marvel boss Kevin Feige confirmed at Comic-Con what we already knew: Samuel L. Jackson is coming back as Nick Fury — but he'll have two eyes. What does that mean?
Captain Marvel
takes place before the other MCU films, even before
Iron Man,
in the 1990s. Also revealed today: The villains in the film will be the Skrulls, a green-skinned extraterrestrial humanoid race that has created a vast interstellar empire, the oldest one known still in existence within the Andromeda Galaxy. Feige put up some artwork during the session of how they're looking to change up these beings.
The last time we saw Fury was in 2015's
Avengers: Age of Ultron.
Prior to that Fury was shot and hospitalized in 2014's
Captain America: Winter Soldier. Captain Marvel
, the first female-led superhero project under Disney's Marvel Cinematic Universe, is scheduled for release on March 8, 2019.
SDCC '17: MICHELLE PFEIFFER JOINS 'ANT-MAN AND THE WASP' AS JANET VAN DYNE
07/22/17 @ 11:18 pm EST
Source:
Variety
| Categories:
Marvel
|
Comments
(0) |
E-mail Article
|
Add a Comment
Michelle Pfeiffer will star alongside Paul Rudd in "Ant-Man and the Wasp," Marvel revealed during its San Diego Comic-Con panel on Saturday.
The Oscar-nominee will play Janet Van Dyne, mother of Evangeline Lilly's Hope van Dyne and wife of Michael Douglas' Hank Pym. It's not Pfeiffer's first brush with comic book fandom, though it is her first time in a Marvel movie. She previously starred in 1992's "Batman Returns," injecting some sizzle into the part of Catwoman.
"Ant-Man and the Wasp" is the follow-up to 2015's "Ant-Man." It opens in theaters in 2018. Peyton Reed, who oversaw the first film, will return as director. The cast also includes Walton Goggins and Michael Pena.
SDCC '17: 'THE FLASH': NEIL SANDILANDS TO PLAY THE THINKER; DANNY TREJO AND KIM ENGELBRECHT ALSO CAST
07/22/17 @ 11:15 pm EST
Source:
Deadline
| Categories:
DC
|
Comments
(0) |
E-mail Article
|
Add a Comment
The Flash
is beefing up its Season 4 cast. Neil Sandilands (
The 100, The American
s), Danny Trejo (
Machete, From Dusk Till Dawn
) and Kim Engelbrecht (
Dominion, Eye in the Sky
) have signed on for key roles in the upcoming season of the CW/WB series. The news was announced today during WBTV's Comic-Con panel.
Sandilands will portray DC villain Clifford Devoe, aka The Thinker, a metahuman with a mega mind who embarks on a seasonlong battle with The Flash that pits the "fastest man alive" against the "fastest mind alive." A true genius, he's devised an intricate plan to fix all that he deems wrong with humanity.
Trejo will play Breacher, a feared bounty hunter from Earth-19 and the imposing father of inter-dimensional bounty hunter Gypsy (Jessica Camacho). His mission is to prevent any inter-dimensional traveler from threatening life on his planet — especially his daughter's. Engelbrecht is DC character The Mechanic, a highly intelligent engineer who designs devices for Devoe. As Devoe's right hand, she's the truest of true believers who'll stop at nothing to help him implement his plan to fix humanity.
The Flash
returns for Season 4 at 8 PM Tuesday, October 10, on he CW.