'CONAN' AT COMIC-CON: 'KINGSMAN' SEQUEL'S HALLE BERRY, COLIN FIRTH AND CHANNING TATUM SURPRISE GUESTS
07/17/17 @ 4:51 pm EST
Source:
Deadline
| Categories:
MIsc
|
Comments
(0) |
E-mail Article
|
Add a Comment
We learned today that
Kingsman: The Golden Circle
is coming to Comic-Con, and now we know that the stars of the
Secret Service
sequel plan on spending some time with Conan O'Brien on July 20.
SDCC vet Halle Berry along with Channing Tatum, Jeff Bridges, Pedro Pascal, Taron Egerton and Colin Firthare set to appear on the TBS host's show on Thursday, I've learned. The
Conan
sit-down is set to happen just hours after the cast, screenwriter Jane Goldman and
Kingsman
co-creator and
Watchmen
legend Dave Gibbons are onstage at 11 AM in the huge Hall H.
With that July 20 spot left tantalizingly blank,
Conan
already had laid out a SDCC guest list of
Game of Thrones
cast members, Will Smith, Joel Edgerton, Noomi Rapace, Edgar Ramirez and Lucy Fry of Netflix's
Bright
movie and Dave Franco, Olivia Munn, Justin Theroux, Zach Woods, Michael Pena, Kumail Nanjiani and Abbi Jacobson of
The Lego Ninjago Movie.
Returning to confab for the third year in a row, O'Brien again will be taping his shows Thursday through Sunday, again at San Diego's Spreckels Theatre. The episodes to air at 11 PM on TBS.
Comic-Con 2017 runs from July 20 -23, with the traditional preview night taking place on July 19.
RAT QUEENS SPECIAL: NEON STATIC—AN ELECTRIC NEW ONE-SHOT
04/26/18 @ 2:51 pm EST
Source:
Image
| Categories:
Image
|
Comments
(0) |
E-mail Article
|
Add a Comment
Fans will experience a cyberpunk take on the RAT QUEENS by Kurtis J. Wiebe and Will Kirkby from Image/Shadowline this July in an electrically thrilling one-shot, RAT QUEENS SPECIAL: NEON STATIC.
"This one shot is an opportunity to take the Rat Queens to a space that we've never been before," said Wiebe. "With Will Kirkby, the
Neon Static
issue is unlike anything we've ever done before, and his artistic style is the perfect opportunity to experiment with any wild ideas that come to mind. It's all the personality you'd expect in a setting you'd never expect. Cyberpunk sass and sorcery."
Readers will need to strap themselves in for a ride to an alternate and futuristic world, where the Rat Queens take to the neon streets of Palisade as an elite team of shadow operatives. An anonymous fiend creeps through the dark web, stealing identities and blackmailing innocent civilians for cold, hard Goldyen—and only the Queens can stop him!
RAT QUEENS SPECIAL: NEON STATIC one-shot (Diamond Code MAY180047) hits stores on Wednesday, July 18th. The final order cutoff deadline for retailers is Monday, June 25th.
BOOM! STUDIOS EARNS SEVEN 2018 EISNER AWARD NOMINATIONS
04/26/18 @ 2:49 pm EST
Source:
BOOM! Studios
| Categories:
MIsc
|
Comments
(0) |
E-mail Article
|
Add a Comment
BOOM! Studios is proud to announce it has received seven total nominations in the 2018 Eisner Awards, honoring the best in the comic book industry. This includes six nominations for BOOM! Studios releases including nominations for each of its diverse imprints – BOOM! Studios, BOOM! Box, KaBOOM! & Archaia – along with one shared nomination for Grass Kingswriter Matt Kindt.

The full list of nominated comics and talent are below:

Best Writer: Matt Kindt, Grass Kings (BOOM! Studios); Ether (Dark Horse);Eternity, X-O Manowar (Valiant)
Best Penciller/Inker or Penciller/Inker Team: Ramón K. Pérez, Jane (Archaia)
Best Continuing Series: Giant Days, by John Allison, Max Sarin, and Liz Fleming (BOOM! Box)
Best New Series: Grass Kings, by Matt Kindt and Tyler Jenkins (BOOM! Studios)
Best Short Story: "Forgotten Princess," by Phillip Kennedy Johnson and Antonio Sandoval, in Adventure Time Comics #13 (KaBOOM!)
Best Publication for Kids: Bolivar, by Sean Rubin (Archaia)
Best Publication for Teens: Jane, by Aline Brosh McKenna and Ramón K. Pérez (Archaia)

"BOOM! Studios is honored to receive nominations for such a broad array of our top comics in 2017," said Matt Gagnon, Editor-in-Chief, BOOM! Studios. "Each of the books nominated embodies our company's commitment to the belief that comics are for anyone, so we make them for everyone. Congratulations to all the nominees from BOOM! Studios and our friends across the industry."

The Will Eisner Comic Industry Awards are presented under the auspices of Comic-Con International, a nonprofit educational organization dedicated to creating awareness of and appreciation for comics and related popular artforms, primarily through the presentation of conventions and events that celebrate the historic and ongoing contributions of comics to art and culture.

The Eisner Awards will be presented at a gala awards ceremony to be held on July 20 at the Hilton San Diego Bayfront Hotel. A full list of nominees can be found at theEisner Award website.
SKYWARD LAUNCH SOARS TO SUCCESS, REVEALS A 2ND PRINTING COVER BY JOCK
04/26/18 @ 2:47 pm EST
Source:
Image
| Categories:
Image
|
Comments
(0) |
E-mail Article
|
Add a Comment
Writer Joe Henderson (showrunner of Fox's
Lucifer
) and artist Lee Garbett (
Lucifer, Loki: Agent of Asgard
) defy gravity with their hot new series launch SKYWARD. The first issue of the popular new series is being rushed back to print in order to keep up with customer demand and the 2nd printing cover will feature breathtaking artwork by Jock.
In SKYWARD, gravity on Earth suddenly becomes a fraction of what it is now. Twenty years later, humanity has adapted to its new low-gravity reality. For one Willa Fowler—a woman born just after the fateful "G-day"—life after gravity it pretty awesome. Until she accidentally stumbles into a dangerous plan to bring gravity back. A plan that could get her killed…
SKYWARD is an adventure-filled exploration of our world turned upside down and a young woman's journey to find her place in it.
SKYWARD #1 remains available for purchase across all digital platforms, including the Image Comics website (imagecomics.com), the official Image Comics iOS app, Comixology's website (comixology.com), iOS, Android, and Google Play.
SKYWARD #1, 2nd printing by Jock (Diamond Code MAR188286) and SKYWARD #2 (Diamond Code MAR180755) will be available on Wednesday, May 23rd. The final order cutoff deadline for comics retailers is Monday, April 30th.
ALL-AGES GRAPHIC NOVEL GEAR CELEBRATES A MILESTONE WITH A NEW PRINTING
04/26/18 @ 2:44 pm EST
Source:
Image
| Categories:
Image
|
Comments
(0) |
E-mail Article
|
Add a Comment
Writer/artist Doug TenNapel (CREATURE TECH,
Ghostopolis
,
Cardboard
) and colorist Katherine Garner (
Ghostopolis
,
Nnewts
,
Tommysaurus
Rex
) will release a new printing of the full-color graphic novel GEAR this July—just in time for its 20th anniversary.
Four incompetent cats hijack a giant killer robot to change the course of a war between cats, dogs, and insects. But while these three species fight for control of the world, a powerful mechanical being named GEAR arrives to risk his own life to save the lives of good cats.
"GEAR was the first graphic novel I ever made, and it's why I fell in love with the medium," said TenNapel. "Now with 17 graphic novels under my belt, I've yet to capture the raw energy of GEAR in another title. I was on fire back then, and GEAR is still on fire!"
"GEAR was the first of Doug's comic books I read, back when it was published in black and white," said Garner. "I became a fan of his comic books because of it and never expected to be coloring them in."
This 20th anniversary edition has it all: an action-packed story with robots, harpoon guns, talking cats, mantis kung fu—plus pin-up art by Rob Schrab and Mike Mignola!
GEAR (Diamond code: APR180538, ISBN: 978-1-5343-0917-3) hits comic book shops Wednesday, July 11th and bookstores Tuesday, July 17th. It can be preordered via Amazon, Barnes & Noble, Books-A-Million, Indiebound, and Indigo.
'DEADPOOL 2' TRACKING SUGGESTS RAUNCHY SUPERHERO HEADED FOR $150M+ OPENING
04/26/18 @ 10:59 am EST
Source:
Deadline
| Categories:
Marvel
|
Comments
(0) |
E-mail Article
|
Add a Comment
Deadpool, raunchy or not, is doing it agan!
20th Century Fox had its CinemaCon panel this morning in Las Vegas and received a nice gift before stepping on stage: "Deadpool 2" arrived on tracking and indicates an opening that could reach $150M; at least $100M+ over three-days. (These are industry estimates, not from Fox.) (via
Deadline
)
The bawdy Marvel hero from the X-Men stable has been strong among males under 25; however, his scores are beating or are in sync with other superhero pics.
The pic hits theaters May 18.
NEW 'ANT-MAN AND THE WASP' POSTER REVEALED
04/26/18 @ 10:49 am EST
Source:
ComicBook
| Categories:
Marvel
|
Comments
(0) |
E-mail Article
|
Add a Comment
While "Avengers: Infinity War" is almost set to debut in theaters and is certainly Numero Uno on the MCU's promo machine, there is always a "next."
Marvel Studios reminded us of this with a new poster for "Ant-Man and the Wasp" on display at CinemaCon.
"Ant-Man and the Wasp" soars into theaters on July 6. (via
ComicBook
)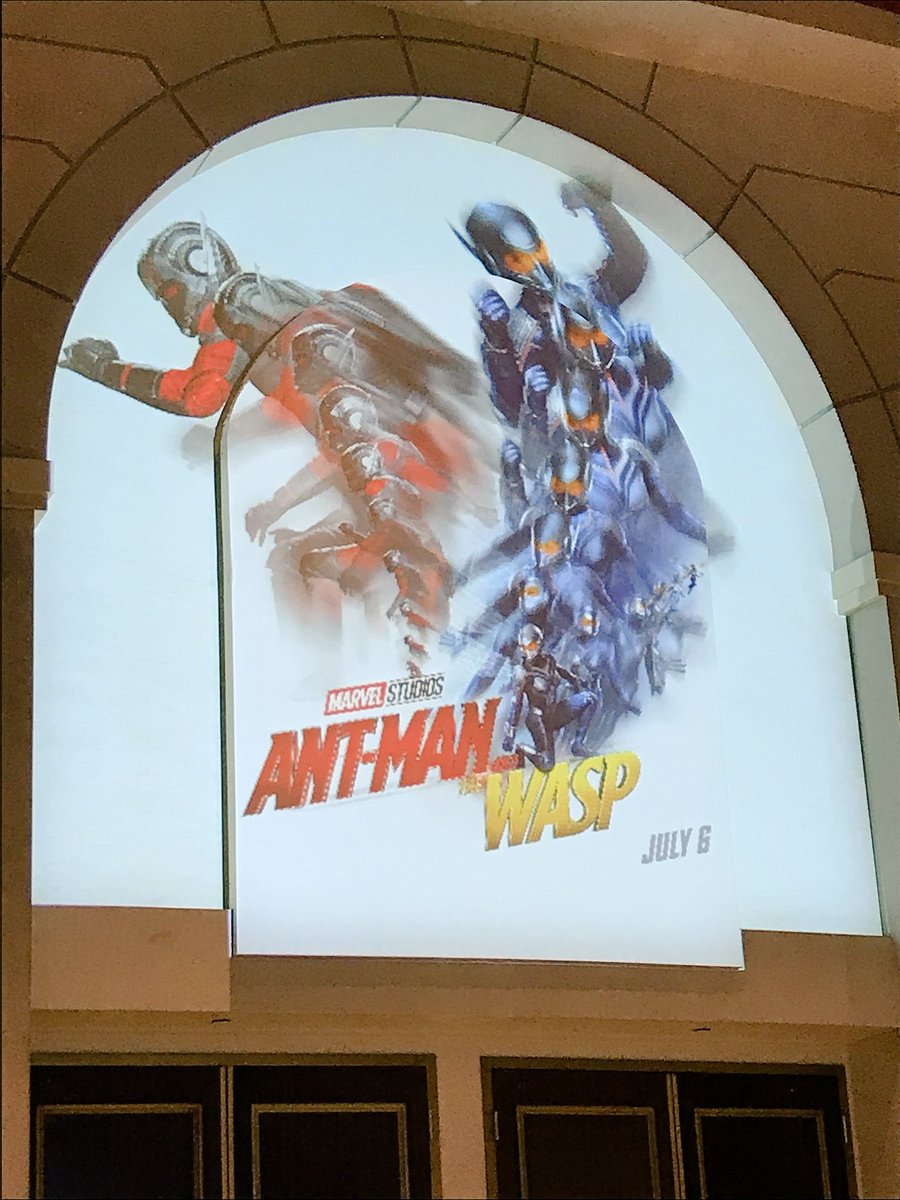 'SPONGEBOB' MOVIE GETS TITLE, RELEASE DATE
04/26/18 @ 9:12 am EST
Source:
ComicBook
| Categories:
MIsc
|
Comments
(0) |
E-mail Article
|
Add a Comment
According to
ComicBook.com
, the upcoming SpongeBob SquarePants movie will officially be called "The SpongeBob Movie: It's a Wonderful Sponge" and is set to open in theaters on July 22, 2020. The announcement was made at CinemaCon.
The film will be the third in the series with "The SpongeBob SquarePants Movie" having been released in 2004 and its sequel, "The SpongeBob Movie: Sponge Out of Water", in 2015.
And the movie's logo? See below (via ComicBook.com) ...
'CHICKEN RUN' SEQUEL IN WORKS AT AARDMAN
04/26/18 @ 9:04 am EST
Source:
Hollywood Reporter
| Categories:
MIsc
|
Comments
(0) |
E-mail Article
|
Add a Comment
According to
The Hollywood Reporter
, after almost two decades "Chicken Run" may soon have a sequel!
The film is the most successful stop-motion animated film of all time, a record it still holds to this day. And the folks at Aardman Animations have officially announced they are working on a second pic.
A follow-up to "Chicken Run" has long been discussed, with an online petition backing the idea. A success on both sides of "the Pond," the 2000 original was Aardman's first full-length feature.
Details of the film are scarce, with the project not yet ready to hit markets.
'AVATAR' PRODUCER JON LANDAU PROVIDES UPDATE ON SEQUEL AND 'ALITA: BATTLE ANGEL' - CINEMACON
04/26/18 @ 8:54 am EST
Source:
Deadline
| Categories:
MIsc
|
Comments
(0) |
E-mail Article
|
Add a Comment
The much-anticipated coming of "Avatar 2" is not expected until 2020, but at CinemaCon yesterday producer John Landau gave workd that James Cameron is in the middle of the performance motion capture shooting for the film presently, "in a huge water tank." (via
Deadline
)
Kate Winslet came to do a scene in a water tank,"and held her breath for more than three minutes — we trained our whole cast to do that," Landau said. "She made this look so easy, she nailed the Na'vi language."
The quartet of planned Avatar sequels deal with diverse clans of Na'vis and environs that will emphasize diversity.
"Avatar 2" is set for release Dec. 18, 2020.
CELEBRATE AMAZING SPIDER-MAN'S LANDMARK 800TH ISSUE WITH A VARIANT COVER BY PAOLO RIVERA
04/25/18 @ 10:27 pm EST
Source:
Marvel
| Categories:
Marvel
|
Comments
(0) |
E-mail Article
|
Add a Comment
It's all been building to this – the biggest Peter Parker and Norman Osborn story of all time, and the first Marvel comic EVER to hit 800 issues! In celebration of the 800th issue of AMAZING SPIDER-MAN and the now historic run of Dan Slott, Marvel is excited to show a variant cover from legendary artist Paolo Rivera!
Witness the culmination of the Red Goblin story as Slott is joined for his final issue by epic artists such as Stuart Immonen, Humberto Ramos, Giuseppe Camuncoli and Nick Bradshaw!
THE AMAZING SPIDER-MAN #800: GO DOWN SWINGINGWritten by DAN SLOTTArt by STUART IMMONEN, HUMBERTO RAMOS, GIUSEPPE CAMUNCOLI & NICK BRADSHAWCover by ALEX ROSSVariant Cover by PAOLO RIVERAOn-Sale 5/30/18