ZORRO CELEBRATES A CENTURY OF HEROISM WITH THE ULTIMATE ART BOOK ON KICKSTARTER
05/23/19 @ 11:42 am EST
Source:
American Mythology
| Categories:
Zorro
|
Comments
(0) |
E-mail Article
|
Add a Comment
Continuing the yearlong celebration of the swashbuckling sensation and hero to millions, American Mythology proudly brings fans a new art book,
The Mark of Zorro – 100 Years of the Masked Avenger
! This meticulously-crafted homage to Johnston McCulley's iconic hero promises to have something for everyone, from the casual to the most dedicated of fans.
The comic book publisher has been of the forefront of the icon's celebration, kicking off the year with a brand new Western-horror series featuring Zorro to the delight of the character's legions of fans. The company's 'Swords of Hell' storyline has been met with rave reviews, and fans are loving Zorro's "Legendary Adventures," bringing classic stories to readers for the first time in English. The centenarian swordsman shows no signs of slowing up as the publisher revs up for the next half of the year, promising to end the celebration with even more heart-pounding tales to astound.
What better way to commemorate an event a century in the making than a souvenir for fans to remember the once in a lifetime event? Which is why American Mythology is also running a new Kickstarter campaign to help bring fans of the "Fox" together to show their love and support for the project. The Kickstarter will highlight the publisher's plan to bring the massive 200+ page collection to life, featuring riches to include rare art from pulp publications, film, television, comics, animation, and pop culture! The
Mark of Zorro – 100 Years of the Masked Avenger
promises to be a beautifully-crafted love letter to the storied history of one of the most enduring heroes ever to grace comics and film.
The Kickstarter project is scheduled to go live Wednesday 5/22/19 with an assortment of participation levels to pique the interest of fans young and old. Fans can visit the Kickstarter page here to get the exclusive edition hardcover book and the limited-edition promotional Zorro Trading Card set, which is only available to orders through the venue:
https://tinyurl.com/yyewhnd5
The project is being written by Spike TV Award-winning comic book veteran James Kuhoric (
Freddy vs. Jason vs. Ash / Six Million Dollar Man
), who promises to give fans all the Zorro goodness they crave with a comprehensive history of the character starting from the very beginning in 1919, when the masked avenger first rode onto the scene. Design duties will be handled by graphic designer Jason Ullmeyer, who has worked on projects as diverse as
Django / Zorro, The Green Hornet, The Bionic Man,
and The
Dresden Files.
VAULT COMICS ANNOUNCE SURPRISE SERA AND THE ROYAL STARS #1 VAULT VINTAGE VARIANT
06/17/19 @ 8:01 pm EST
Source:
Vault Comics
| Categories:
MIsc
|
Comments
(0) |
E-mail Article
|
Add a Comment
Vault Comics is thrilled to announce a surprise Vault Vintage variant cover for
Sera and the Royal Stars #1
. Drawn by
Nathan Gooden
and deisgned by
Tim Daniel
, this Vault Vintage cover pays homage to
Curt Swan
&
Neal Adams
' 1969 cover to
Adventure Comics #381
from DC Comics..
Begun in 2018, the Vault Vintage cover line celebrates the artistic achievements of both modern and legendary comics artists. The back cover of each Vault Vintage cover features a detailed history of the original cover and the creative team who produced. Vault Vintage covers are designed to celebrate the creators and covers they honor, and to ensure readers learn about some of the most important moments in comics history.
Sera and The Royal Stars
is an epic fantasy series co-created by writer
Jon Tsuei
(
Run Love Kill
) and artist
Audrey Mok
(
Archie
), with colors by
Raul Angulo
(Buffy the Vampire Slater), letters by
Jim Campbell
(Wasted Space). and design by
Tim Daniel
.
Civil war rages in the Empire of Parsa, and famine has struck. As the seasons refuse to turn, Princess Sera receives a vision from the deity Mitra telling her to find the Royal Stars and restore them to the heavens. Despite her kingdom and her troops' need of her command, Sera embarks on a quest to find the fallen stars-now trapped on earth-and save her people from dearth and death.
Sera and the Royal Stars #1
hits store shelves on July 17th.
REGULAR SERIES COVERS:
THIS SEPTEMBER, 'BLACK PANTHER AND THE AGENTS OF WAKANDA' UNITE
06/17/19 @ 7:57 pm EST
Source:
Marvel
| Categories:
Marvel
|
Comments
(0) |
E-mail Article
|
Add a Comment
This September, T'Challa leads a hand-picked outfit of unexpected superheroes in BLACK PANTHER AND THE AGENTS OF WAKANDA!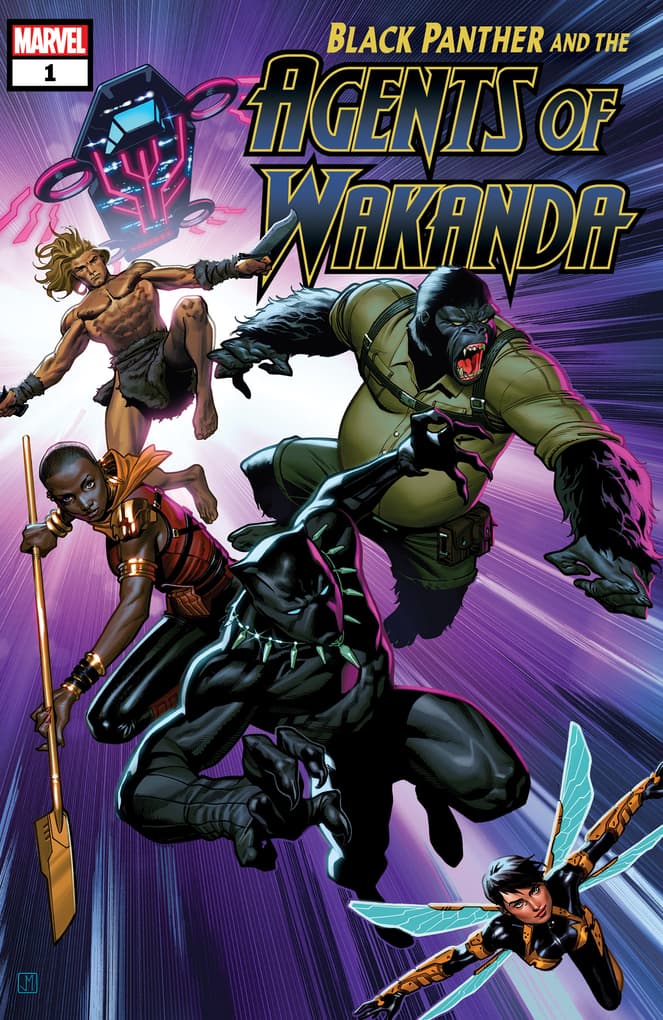 Written by Jim Zub with art by Lan Medina, the new ongoing series brings a squad first seen in the pages of Jason Aaron's AVENGERS (2018) into the spotlight—or, more appropriately, into the shadows.
An under-the-radar task force spearheaded by the King of Wakanda with the help of General Okoye, the Agents of Wakanda introduce their very own brand of covert operations as the Wasp, Ka-Zar, and Gorilla-Man come together to take on threats across realities.
BLACK PANTHER AND THE AGENTS OF WAKANDA hits stories this September!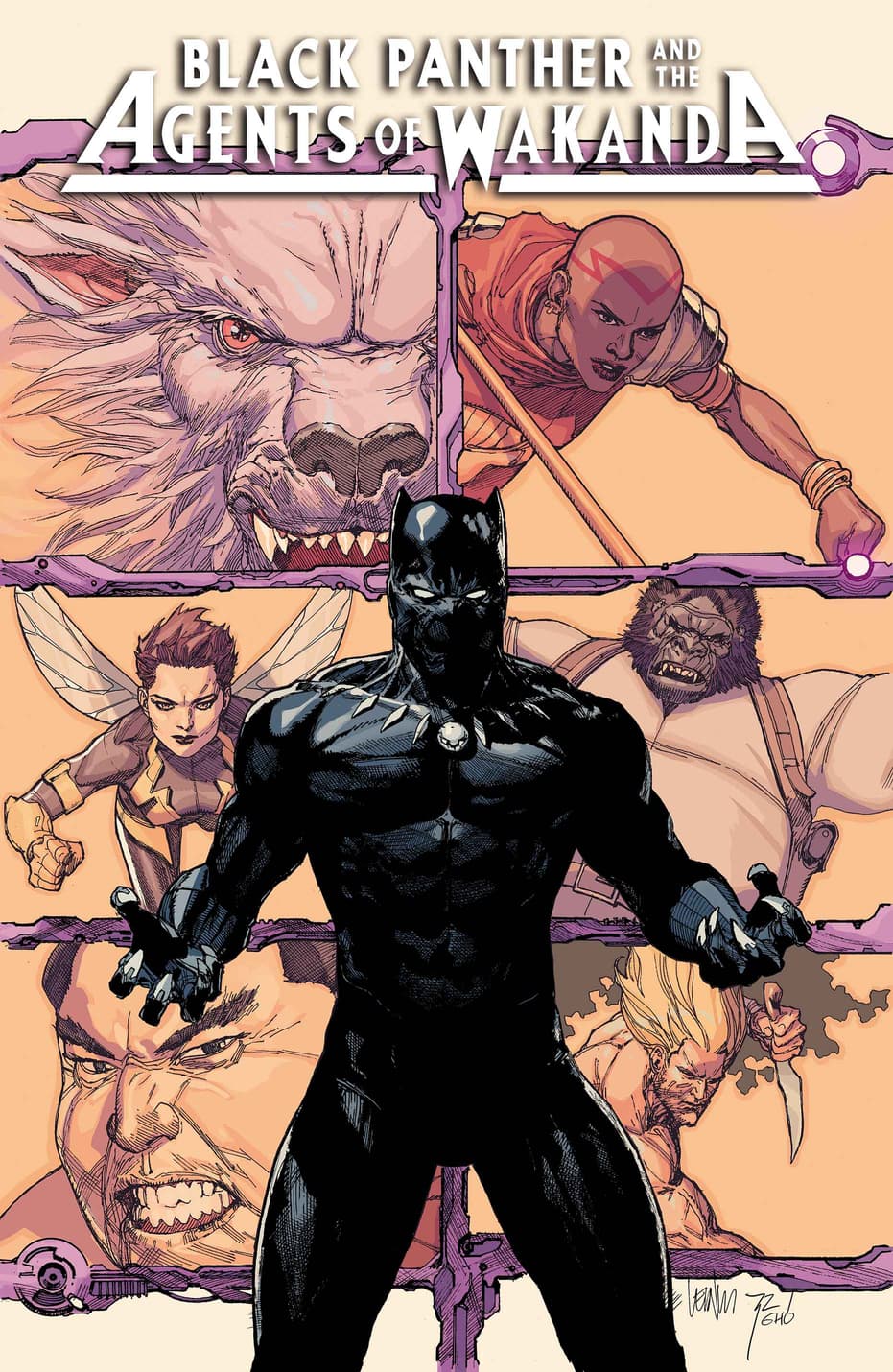 WARNER BROS. DEVELOPING A RED HOOD MOVIE
06/17/19 @ 7:50 pm EST
Source:
We Got This Covered
| Categories:
DC
|
Comments
(0) |
E-mail Article
|
Add a Comment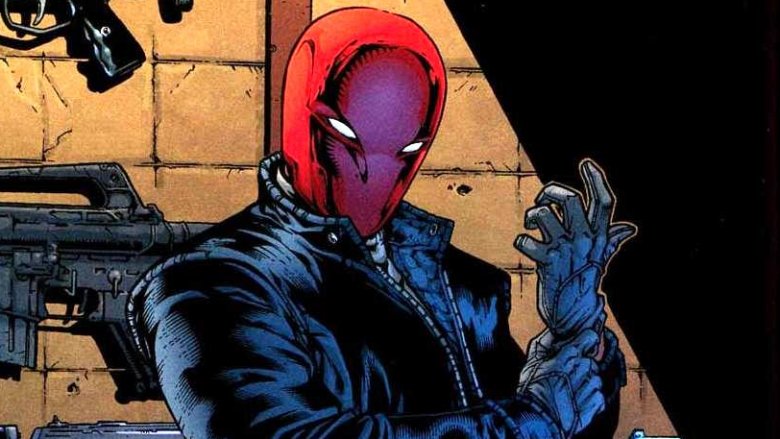 We Got This Covered
reports that Warner Bros. is very interested in exploring the Batman Family with future projects and plans to give most of them their own films at some point, including Red Hood (aka Jason Todd, one of the Dark Knight's legion of Robins). Apparently, it'll be based on the
Red Hood and the Outlaws
comic book series and also feature Arsenal and Starfire. Beyond that, details remain scarce, but this is certainly exciting to learn about.
We should stress that Warner Bros. has a bad habit of putting projects into development only for them to stall and go nowhere, and at this early, early stage, the same could very well happen to any Red Hood movie.
But for the moment, there are definitely discussions underway to bring the character into the DCEU and give him his own film.
MARVEL REVEALS THE FUTURE OF THE X-MEN IN FINAL 'X-MEN: THE SEMINAL MOMENTS' DOCUMENTARY SHORT EPISODE
06/17/19 @ 6:41 pm EST
Source:
Marvel
| Categories:
Marvel
|
Comments
(0) |
E-mail Article
|
Add a Comment
Just a month before the highly-anticipated debut of HOUSE OF X and POWERS OF X, Marvel released an all-new episode of X-MEN: THE SEMINAL MOMENTS featuring series writer Jonathan Hickman and other legendary Marvel creators as they shed light on what the future holds for mutants across the universe!

"When Jonathan set out to tell this story, he set out to change the way people think about the Marvel mutants forever…it really shakes things up," said X-Men Editor Jordan D. White. "The first time he told it to me, I was upset. I was like, 'We can't do that. We CAN'T do that.' The more I thought about it, the more I went, 'Wait hang on, what if we did...'"

As HOUSE OF X and POWERS OF X is set to shake the Marvel Universe to its core, Hickman revealed what fans might expect from the series:

"There's no alternate universe version of the X-Men that we're doing – time travel, or any of that kind of stuff. This is a very cause and effect, very linear narratively straightforward story," said Hickman. "I think the most important thing about X-Men is obviously the way that individual readers identify with the characters…my obligation is to be true to the character even though you're putting them in new circumstances and be true to the spirit of what it means to write an X-Men book."

HOUSE OF X and POWERS OF X – written by Jonathan Hickman with art by Marvel's Young Gun Pepe Larraz, R.B. Silva, and colorist Marte Gracia – will build from every major X-Men milestone since 1963 up through the current X-Men series and storylines fans know and love, including some of Marvel's most iconic characters from over the decades.

The next seminal moment in the history of the X-Men begins this July!

Video: https://www.youtube.com/embed/h_hfjRpXW-s


ACTS OF EVIL CONCLUDES THIS SEPTEMBER
06/17/19 @ 6:36 pm EST
Source:
Marvel
| Categories:
Marvel
|
Comments
(0) |
E-mail Article
|
Add a Comment
The melee is on as ACTS OF EVIL enters its final round! Modeled after the 1989-90 fan-favorite storyline Acts of Vengeance, ACTS OF EVIL pits Marvel mainstays against mismatched and unexpected foes, and this September, Ghost-Spider, Wolverine and Moon Knight will be the ones battling for their lives!
Spanning eight Annuals across three months, ACTS OF EVIL kicks off this July, with Venom: Eddie Brock, Ms. Marvel and The Punisher squaring off against extraterrestrial power players Lady Hellbender, the Super-Skrull and the Brood Queen! And it's Deadpool Vs. Nightmare, plus She-Hulk Vs. Bullseye the following month!
This September, the opposition's just as strange! Ghost-Spider: Gwen Stacy scrambles through Arcade's Murderworld, facing a tower of terror as she takes on some of the deadliest Marvel villains! Then, Moon Knight's up to bat against Avengers menace Kang the Conqueror! And Khonshu's avatar must find a way to fix the time stream before Kang fulfills an ancient grudge! Finally, it's berserker strength vs. magical mayhem, as Wolverine takes on sorceress Morgan le Fay…in 1930s Hollywood!
Check out the final three covers for ACTS OF EVIL now.
GHOST-SPIDER ANNUAL #1 Written by VITA AYALA Art by PERE PEREZ Cover by EMA LUPACCHINO
MOON KNIGHT ANNUAL #1 Written by CULLEN BUNN Art by IBRAHIM MOUSTAFA Cover by PHILIP TAN
WOLVERINE ANNUAL #1 Written by JODY HOUSER Art by GERALDO BORGES Cover by DAVID YARDIN
RED SONJA FRANK THORNE STATUE LAUNCHES ON INDIEGOGO
06/17/19 @ 3:06 pm EST
Source:
Dynamite
| Categories:
Dynamite
|
Comments
(0) |
E-mail Article
|
Add a Comment
The She-Devil with a Sword strikes on Indiegogo! Bring the legendary heroine into your collection with a high quality 1/6 scale resin collectible statue, produced by Dynamite, and now the feature of their very first major preorder campaign on Indiegogo. Sonja's striking looks, fearsome pose and deadly weaponry in this piece are inspired by her first truly definitive artist, Frank Thorne! Pledge now to preorder the statue and check out other extras in the campaign for more value!
Support the Red Sonja Statue Here!
Thorne's definitive style is brought into the third dimension and your collection in this 1/6 scale collectible statue sculpted and painted lovingly based on the cover to Marvel Feature #4. The Steve Kiwus sculpted piece stands a stunning 12.5 inches tall and features Sonja in a classic pose.
Through her nearly 50 year history, many artists have left their mark on the She-Devil with a Sword. Arguably none have impacted the heroine quite like Frank Thorne. His clean lines, fluid action and slight hint of eroticism on Red Sonja catapulted the character from a supporting footnote in Hyrkanian lore to a worldwide fan-favorite solo star. Through his judging of "Lookalike Contests" in his "Wizard" persona at early conventions, Thorne and Sonja fans even contributed to the rise of cosplay!
After contributing for a few years to western, war and mystery anthologies, Frank Thorne's popularity exploded when he was handed the artistic reigns of everyone's favorite Hyrkanian hero. Across barely a three year run, his Red Sonja work cemented him as one of the most treasured and respected artists of the era. Thorne then opted to venture into more independent and risque waters, with his creations the barbarienne Ghita of Alizarr, the Barbarella-esque Lann and other characters for such prestigious publications as Heavy Metal and Playboy.
The statue is also available in black and white and "berzerker" editions and backers can even upgrade to get a limited edition marked and numbered Proof edition.
"The Vampirella Statue by Jose Gonzalez celebrating her 50th anniversary was such a success that we knew fans deserved a classic Red Sonja statue to match! But to have a great piece capturing the essence of Frank's artwork, we needed a sculptor who would create the most compelling statue, and that is Steve Kiwus. I'm proud to be working with someone as talented as Steve to bring Frank Thorne's great 2D cover into a great 3D statue!," said Nick Barrucci, Dynamite CEO and Publisher. "No artist defined our fiery-haired heroine more than Frank Thorne and fans will love this piece!"
Backers can choose from a myriad of captivating rewards, to complement the centerpiece statue or to support the campaign at their chosen budget. A selection of graphic novels have been chosen that reprint or represent the Frank Thorne era of Sonja, particularly in the Adventures and Further Adventures of Red Sonja collections. Or go big with the three volume Red Sonja by Frank Thorne Artist Editions, reproducing his peerless original art at original size. Deluxe hardcover art books are also available to wonder at the artwork produced through the years. And don't forget the cute Frank Thorne Red Sonja enamel pins!
To support the campaign, visit: Red Sonja by Frank Thorne Statue Indiegogo!
IT'S SABRINA VS. THE MONSTERS IN SABRINA THE TEENAGE WITCH #3
06/17/19 @ 3:03 pm EST
Source:
Archie Comics
| Categories:
Archie
|
Comments
(0) |
E-mail Article
|
Add a Comment
SABRINA THE TEENAGE WITCH #3 (OF 5)
As danger intensifies and mysteries deepen in Greendale, Sabrina finds it increasingly difficult to keep her own secrets. And while the whole town is on edge from the most recent "monster" attack, Sabrina has tracked the source of the disturbances back to her high school. It may be up to Sabrina to save her new town by solving this one her own...but when the secrets she uncovers hit too close to home she'll have to make some very tough choices.
Script: Kelly Thompson
Art: Veronica Fish, Andy Fish, Jack Morelli
Cover: Veronica Fish
Variant Covers: Victor Ibanez, Jenn St. Onge
On Sale Date: 6/19
32-page, full color comic
$3.99 U.S.
IT'S THE END OF THE WORLD AS WE KNOW IT IN BUFFY THE VAMPIRE SLAYER #8
06/17/19 @ 3:00 pm EST
Source:
BOOM! Studios
| Categories:
MIsc
|
Comments
(0) |
E-mail Article
|
Add a Comment
BOOM! Studios today, in partnership with 20th Century Fox Consumer Products, unveiled three
BUFFY THE VAMPIRE SLAYER #8
covers by Mondo illustrator Marc Aspinall, and artists Kevin Wada (
She-Hulk
) and Becca Carey (
Bitch Planet
). This game-changing issue of the acclaimed series will debut in stores September 4, 2019.
While the Slayer and the rest of the Scooby Gang were fighting to save Xander's soul, the Mistress Drusilla and her lieutenant Spike were busy searching for a way to open the gates of the Hellmouth so they could flood Sunnydale, then eventually the world, with demons and hell on Earth. And they're close. Can Buffy stop them in time to save the world from utter destruction?
High school is hell, as Eisner Award-nominated writer Jordie Bellaire (
Redlands
) and acclaimed artist David López (
Captain Marvel
), along with series creator and story consultant Joss Whedon (the visionary writer/director behind
Firefly, Marvel's The Avengers,
and more), reimagine the groundbreaking pop culture phenomenon for a new generation of comic book fans.
Buffy the Vampire Slayer
premiered on the WB Network on March 10th, 1997. The Emmy- and Golden Globe-nominated series, which ran for seven seasons from 1997–2003, stars Sarah Michelle Gellar as Buffy Summers. Chosen to battle vampires, demons and other forces of darkness, Buffy is aided by a Watcher who guides and teaches her as she surrounds herself with a circle of friends called the "Scooby Gang."
BUFFY THE VAMPIRE SLAYER #8
features three main covers. Buffy and Angel meet at a Halloween party on Mondo illustrator Marc Aspinall's cover. Fan favorite artist Kevin Wada's cover features Anya, the proprietor of Sunnydale's hottest underground magic shop. And artist Becca Carey pays tribute to the season two episode, "Halloween."
BUFFY THE VAMPIRE SLAYER
is the newest release from BOOM! Studios' eponymous imprint, home to critically acclaimed original series, including
Once & Future
by Kieron Gillen and Dan Mora;
Faithless
by Brian Azzarello and Maria Llovet;
Abbott
from Saladin Ahmed and Sami Kivelä;
Bury The Lede
from Gaby Dunn and Claire Roe;
Grass Kings
from Matt Kindt and Tyler Jenkins; and
Klaus
from Grant Morrison and Dan Mora. The imprint also publishes popular licensed properties including Joss Whedon's
Angel
from Bryan Edward Hill and Gleb Melnikov, Firefly from Greg Pak and Dan McDaid,
Buffy The Vampire Slayer
from Jordie Bellaire and David López, and
Mighty Morphin Power Rangers
from Ryan Parrott and Danielle Di Nicuolo.
Print copies of
BUFFY THE VAMPIRE SLAYER #8
will be available for sale on September 4, 2019 exclusively at local comic book shops (use
comicshoplocator.com
to find the nearest one) or at the BOOM! Studios webstore. Digital copies can be purchased from content providers, including comiXology, iBooks, Google Play, and the BOOM! Studios app.
MARVEL'S MYSTERIOUS SPIDER-MAN 4 TEASER: WHAT IS IT?
06/17/19 @ 11:01 am EST
Source:
Marvel
| Categories:
Marvel
|
Comments
(0) |
E-mail Article
|
Add a Comment
Over the weekend, Marvel released a mysterious Twitter teaser: a number four (wonder what that refers to?) crafted Charlotte-like in webbing (it was just the "4"; no pig messages were evident).
Some fans believed Sam Raimi and Tobey Maquire may be reteaming for the legendary (wellll) abandoned sequel to their
Spider-Man
film trilogy. But plainly evident on the tweet was the #MarvelComics hashtag, which indicates the tweet to be comic book-related.
Marvel's first family, the Fantastic Four, returned to the Marvel universe last year after several years of absence. Could this be a Spider-Man and Fantastic Four team-up?
We're waiting on the House of Ideas to let us know. And the internet rumors continue...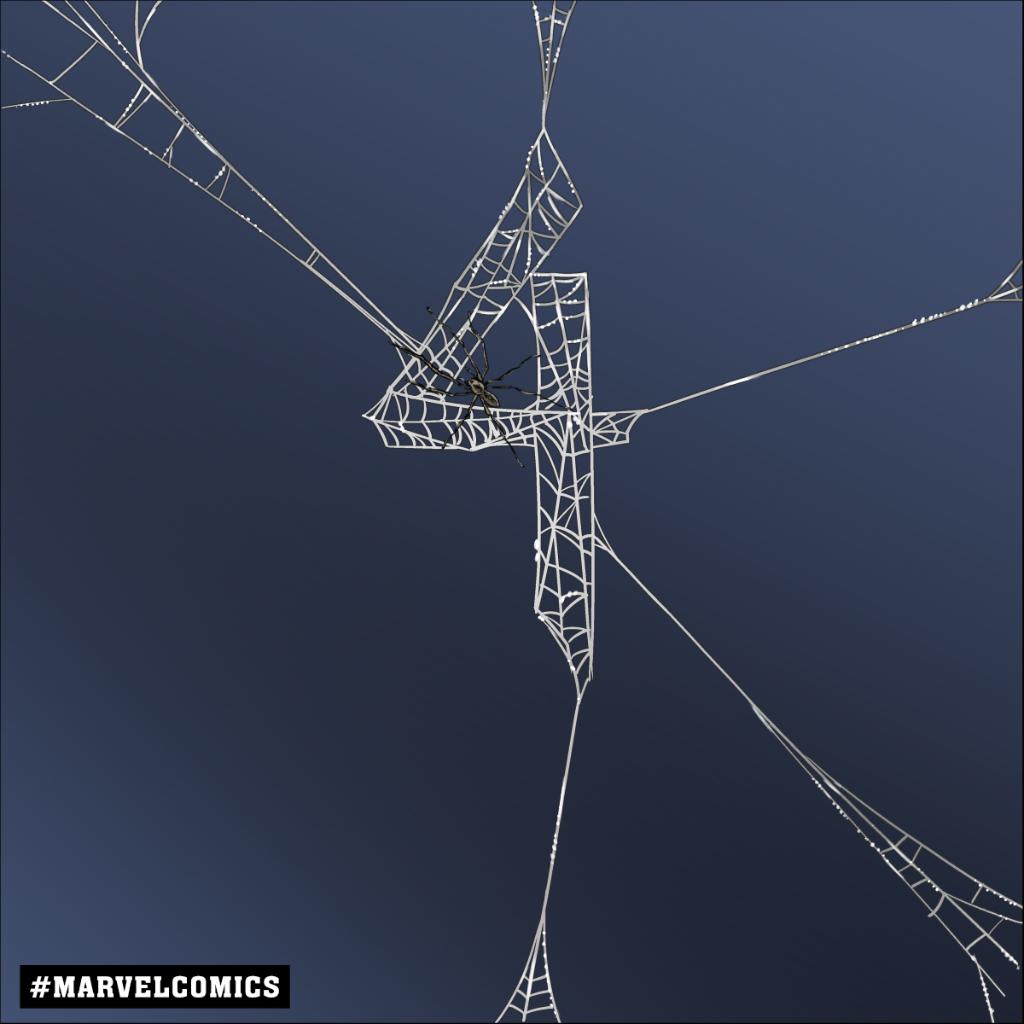 LIONSGATE EYES 'HUNGER GAMES' MOVIE PREQUEL
06/17/19 @ 10:29 am EST
Source:
Hollywood Reporter
| Categories:
MIsc
|
Comments
(0) |
E-mail Article
|
Add a Comment
THR
reports that Lionsgate is eyeing a
Hunger Games
prequel movie as trilogy writer Suzanne Collins has a new novel set for release in May 2020.
Scholastic plans to release a new
Hunger Games
novel next year, a prequel set 64 years before the start of the original
Hunger Games
novel series and timed for the reaping of the Tenth Hunger Games.
A
Hunger Games
prequel has long been talked about at Lionsgate as a possibility, and the studio earlier licensed the film property to theme parks and live concert tours being built around the movie franchise.