CREATE YOUR OWN VAMPIRELLA COMIC WITH SPECIAL BLANK EDITION IN JULY!
05/17/19 @ 1:31 pm EST
Source:
Dynamite
| Categories:
Dynamite
|
Comments
(0) |
E-mail Article
|
Add a Comment
Dynamite is making a giant splash in July 2019 with a new Vampirella series by top tier creators like Christopher Priest, as well as reprints and collections of highly sought after recent and classic material, and lots of special items for fans. But in addition to celebrating the 50 years of Vampi, Dynamite looks to the future of Vampirella comics with a blank comic for aspiring creators!
Dynamite is offering the Vampirella Blank Comic Book. This standard length comic book sports sketch-quality blank interior pages and a cover with just logo treatment. Dynamite is embracing the extraordinary talents of their fanbase and the comics community to experiment and produce their own Vampi stories.
People can take on the project solo or collaborate with friends to write, draw, ink, color and letter a full length story. Or split up the pages for an anthology in the vein of the original magazine. Another challenge would be to follow the famous 24-hour comic challenge. An artist drawing in this book could be the next José González, Amanda Conner, Mike Mayhew or Ergün Gündüz, finding themselves professionally drawing the Daughter of Drakulon someday. Or writing, in the footsteps of Archie Goodwin, Kurt Busiek, Mark Millar or Christopher Priest.
"This IS the year of Vampirella! It's her 50th Anniversary, and as we were looking at exciting new projects to do, we thought to join the current trend of creating near completely blank books for fans to be creative and write and draw their own adventures!" said Nick Barrucci, Dynamite CEO and Publisher. "Whether fans will write and draw comics to practice their craft, or just for the fun of it, this is a great book to try and fulfill your artistic aspirations."

The Vampirella Blank Comic Book will be solicited in Diamond Comic Distributors' May 2019 Previews catalog, the premier source of merchandise for the comic book specialty market, and slated for release in July 2019. Comic book fans are encouraged to preorder copies with their local comic book retailers.
TOM HOLLAND HITS DISNEY'S D23 EXPO DAYS AFTER MARVEL'S 'SPIDER-MAN' SPLIT: "IT'S BEEN A CRAZY WEEK"
08/24/19 @ 4:36 pm EST
Source:
Deadline
| Categories:
Spider-Man
|
Comments
(0) |
E-mail Article
|
Add a Comment
Spider-Man: Far From Home
star Tom Holland made an appearance at Disney's D23 Expo in Anaheim today, just days after Disney and Sony's standoff over the Spider-Man film franchise ended with Marvel Studios and Kevin Feige no longer being involved in it.
"It's been a crazy week," Holland said from the stage, "but I want you to know I am grateful from the bottom of my heart and I love you 3,000."
Holland was there to promote Disney and Pixar's
Onward,
the upcoming animated film in which he stars with
Jurassic World
and
Guardians of the Galaxy
's Chris Pratt as teenage elf brothers who embark on a quest to discover if there is still a little magic left out there. Julia Louis-Dreyfus and Octavia Spencer also star. (via
Deadline
)
JAMIE FOXX AND TINA FEY TO LEAD PIXAR'S 'SOUL' AS CAST REVEALED
08/24/19 @ 4:29 pm EST
Source:
Deadline
| Categories:
Disney
|
Comments
(0) |
E-mail Article
|
Add a Comment
Deadline
reports that Pixar revealed Saturday at the D23 Expo that the animation studio's new film
Soul
will be toplined by Jamie Foxx and Tina Fey. The pic is set to be the second original Pixar film for 2020 after March's
Onward
, and it has a June 19, 2020 release date.
Directed by two-time Oscar winner Pete Docter, the film takes place between New York City and the cosmic realms. The tagline: Ever wonder where your passion, your dreams and your interests come from? What is it that makes you … you?"
The voice cast will also include Daveed Diggs, Phylicia Rashad and Questlove. The original score will come from Trent Reznor and Atticus Ross, with new music from Jon Batiste.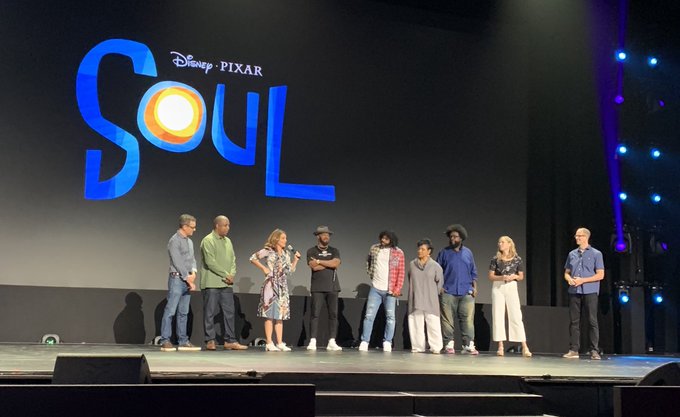 MARVEL CONFIRMS KIT HARINGTON FOR 'ETERNALS'
08/24/19 @ 4:14 pm EST
Source:
Hollywood Reporter
| Categories:
Marvel
|
Comments
(0) |
E-mail Article
|
Add a Comment
Marvel Studios president Kevin Feige at D23 has revealed that Kit Harington, who played Jon Snow for eight seasons on
Game of Thrones
, has joined
The
Eternals
.
Harington will play Dane Whitman, who in the comics is the superhero Black Knight.
Harington is nominated for outstanding lead actor Emmy for the final season of
Thrones
, which wrapped in May, and his former
Thrones
co-star Richard Madden is among the cast of
The Eternals
.
Feige brought out the cast of
Eternals
, with Angelina Jolie getting a standing ovation. He confirmed Gemma Chan was joining the cast as Sersi. Chan appeared in the MCU earlier this year in
Captain Marvel
as the Kree warrior Minn-Erva. (via
THR
)
To see a look at the
Eternals
cast on the D23 stage and in costume in stills behind them, click
here
.
'BLACK PANTHER' SEQUEL FILM SET FOR 2022 RELEASE
08/24/19 @ 4:04 pm EST
Source:
Variety
| Categories:
Marvel
|
Comments
(0) |
E-mail Article
|
Add a Comment
Black Panther
director Ryan Coogler announced the release date of the much-anticipated follow-up film at D23 in Anaheim, Calif. Saturday.
Black Panther 2
will hit theaters May 6, 2022.
"We're not taking our time, we're really trying to get it right," Coogler said of the production schedule.
Marvel Studios chief Kevin Feige said Coogler has delivered a treatment, complete with a villain and new title, though neither would give up those details.
The date will place
Black Panther 2
as the furthest out announced Marvel film, between
Thor: Love and Thunder
(Nov. 5, 2021) and an unannounced film slated for July 29, 2022 — although whether Marvel will keep that date, just two months after
Black Panther 2
, is up in the air. (via
Variety
)
'STAR WARS: THE RISE OF SKYWALKER' CAST AT D23; NEW POSTER!
08/24/19 @ 4:00 pm EST
Source:
Hollywood Reporter
| Categories:
Star Wars
|
Comments
(0) |
E-mail Article
|
Add a Comment
The cast of
Star Wars: The Rise of Skywalker
received a standing ovation as they took the stage at D23 in Anaheim Saturday. Filmmaker J.J. Abrams said the team was hard at work on a new trailer, but weren't quite ready, so they showed off a sizzle reel.
The footage included a fleet of dozens of star destroyers in the atmosphere of a planet. Rey (Daisey Ridley) and Kylo Ren (Adam Driver) appeared in a later scene, fighting on a downed ship in the middle of the ocean as waves crashed around them. The biggest crowd pleasing shot occurred at the end of the reel, with Rey wearing a dark hood, sporting a double lightsaber. The footage hasn't been released online.
The presentation also gave a first look at Keri Russell's mysterious character, who sports a helmet and a red suit. "She's very cool and a little bit shady. She's kind of a criminal, and an old friend of Poe's," Russell said.
Oscar Isaac, who plays Poe, pretended to comfort his co-star John Boyega. (Online, fans have expressed a desire for the two to have a romantic relationship.) "We were young. Everyone was experimenting," said Isaac to Boyega, who pretended to be upset.
Abrams also spoke about the late Carrie Fisher, who will appear as Leia one last time via unused footage he shot while directing 2015's
The Force Awakens
. He initially was not on board to direct
Rise of Skywalker
, and after her death he noted she had thanked him in her 2016 book
The Princess Diarist
for putting up with her "twice" as director. Abrams noted it must have been an intentional joke, as they had only worked together once. (via
THR
)
New
Rise of Skywalker
poster!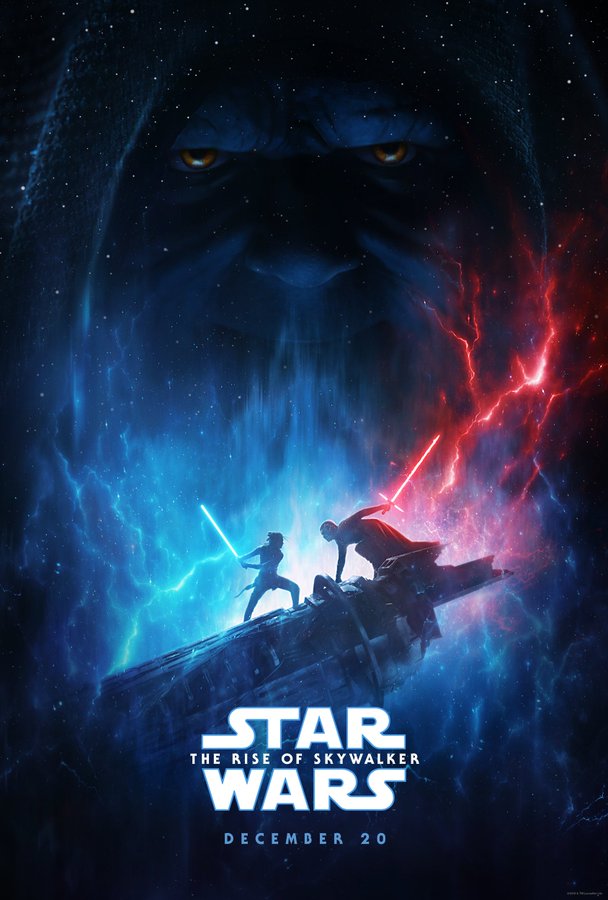 COMEDIAN STEVE AGEE JOINING JAMES GUNN'S 'SUICIDE SQUAD' GANG
08/24/19 @ 3:51 pm EST
Source:
Deadline
| Categories:
DC
|
Comments
(0) |
E-mail Article
|
Add a Comment
Deadline
reports that comedian Steve Agee is boarding Warner Bros.' James Gunn-directed sequel
The Suicide Squad.
Agee will reportedly provide the voiceover to super-villain King Shark, who is a humanoid. King Shark was created by Karl Kesel and made a brief cameo in
Superboy
vol. 3, #0 (Oct. 1994) before making his first full appearance in
Superboy
vol. 3, #9 (Nov. 1994). In the comics, when Superboy is assigned to the Suicide Squad to destroy the Silicon Dragons, King Shark gets hooked in to help.
Agee starred in Gunn's
Guardians of the Galaxy Vol. 2
as Gef, one of the members of the Ravagers.
'THE CLONE WARS': REVIVAL OF 'STAR WARS' ANIMATED SERIES GETS 2020 RELEASE ON DISNEY+
08/24/19 @ 12:25 pm EST
Source:
The Wrap
| Categories:
Star Wars
|
Comments
(0) |
E-mail Article
|
Add a Comment
The Wrap
reports that the revival of
Star Wars: The Clone Wars
has a premiere date: The animated series about the adventures of young Obi-Wan Kenobi and Anakin Skywalker will launch on Disney+ in February 2020.
The news was announced during Disney's biennial D23 Expo in Anaheim, Calif.
Originally running for six seasons from 2008-2014,
Star Wars: The Clone Wars
filled in the gaps of what happened to the characters of the Star Wars prequels between
Episode II: Attack of the Clones
and
Episode III: Revenge of the Sith
. It heavily featured the exploits of Anakin Skywalker (Matt Lanter), his Padawan apprentice Ahsoka Tano (Ashley Eckstein) and Obi-Wan Kenobi (James Arnold Taylor), as well as a group of the Republic clone troopers fighting in the war against the Separatists.
The series was canceled after Disney's purchase of Lucasfilm.
The seventh season of
Clone Wars
was announced during the show's 10th anniversary panel at San Diego Comic-Con 2018. The 12-episode revival will be exclusive to Disney+.
DISNEY UNVEILS 'NOELLE' TRAILER STARRING ANNA KENDRICK, BILL HADER
08/24/19 @ 12:12 pm EST
Source:
Variety
| Categories:
Disney
|
Comments
(0) |
E-mail Article
|
Add a Comment
Among the many announcements at the D23 Expo, Disney debuted the first look at holiday feature
Noelle
, which is set to premiere exclusively on Disney+ this fall.
"It isn't Christmas without Santa's Sister," Walt Disney Studios said of the film. Starring Anna Kendrick and Bill Hader, the Christmas flick tells the story of Santa Claus' daughter (Kendrick) who finds herself having to take over the family business after her Dad retires and her brother (Hader) is reluctant to take over.
Shirley MacLaine and Billy Eichner also star in the pic.
"My name is Noelle Kringle," Kendrick says in the trailer, which opens with the "Pitch Perfect" star singing for her reindeer. "Christmas runs in my family." (via
Variety
)
Trailer:
https://youtu.be/DBDnQkQUTGU
DISNEY+'S 'WANDAVISION' TO COSTAR DARCY FROM 'THOR', AND 'ANT-MAN'S FBI BABYSITTER
08/24/19 @ 12:04 pm EST
Source:
Polygon
| Categories:
Marvel
|
Comments
(0) |
E-mail Article
|
Add a Comment
Polygon
reports that Marvel Studios' coming Disney+ series
WandaVision
may be the most far-out, lore-breaking experiment Kevin Feige and his team of creatives has ever conceived.
Formally announced for spring of 2021, the series will bring Elizabeth Olsen's Scarlet Witch and Paul Bettany's Vision back into the Marvel Cinematic Universe fold — despite the latter being killed off by Thanos in
Avengers: Infinity War.
Feige took to the stage at the D23 Expo's Disney+ Showcase panel to dig a little deeper into
WandaVision
, describing it as heavily inspired by
The Dick Van Dyke Show
, while glitchy footage of Wanda and the Vision from past
Avengers
movies played over the stream. Knowing that it'll directly connect to
Doctor Strange and the Multiverse of Madness
, there's plenty of reason to think the series will dabble in the history of
House of M
and Tom King's iconic run on
The Vision
in ways no one thought possible.
Feige also announced additional cast for the series: Kat Dennings' Darcy will return to the MCU after her last appearance in
Thor: The Dark World
, while Randall Park's FBI goon Jimmy Woo from
Ant-Man and the Wasp
will be a series regular. It was also confirmed, at San Diego Comic-Con 2019, that a grown-up Monica Rambeau — last seen as a precocious kid in
Captain Marvel
— will also appear.
ANTHONY MACKIE WON'T BE CALLED CAPTAIN AMERICA, HE'S STILL FALCON
08/24/19 @ 11:43 am EST
Source:
Screen Rant
| Categories:
Marvel
|
Comments
(0) |
E-mail Article
|
Add a Comment
Anthony Mackie's Sam Wilson was handed the symbolic Vibranium Captain America shield from an elderly Steve Rogers (Chris Evans) at the conclusion of
Avengers: Endgame
, effectively becoming the next Captain America himself. Fans of comics know that it's actually Bucky Barnes (Sebastian Stan) who took up that mantle first in Marvel Comics, but stories and character arcs of the Marvel Cinematic Universe played out different -- and the directors, the Russo brothers, explained why that is by saying his mind is too damaged.
What's interesting then is the fact that Anthony Mackie is consistently telling the media that he's "not Captain America," that he's still -- and always will be -- the Falcon, in the upcoming
Falcon and The Winter Soldier
miniseries. He said it right after appearing with Sebastian Stan last month at Comic-Con International in San Diego, and he said it Friday at the D23 Expo after again appearing on stage to promote the series during the Disney+ presentation. (via
Screen Rant
)
But Sam Wilson is Captain America, or will probably be soon. Stay tuned.