CREATE YOUR OWN VAMPIRELLA COMIC WITH SPECIAL BLANK EDITION IN JULY!
05/17/19 @ 1:31 pm EST
Source:
Dynamite
| Categories:
Dynamite
|
Comments
(0) |
E-mail Article
|
Add a Comment
Dynamite is making a giant splash in July 2019 with a new Vampirella series by top tier creators like Christopher Priest, as well as reprints and collections of highly sought after recent and classic material, and lots of special items for fans. But in addition to celebrating the 50 years of Vampi, Dynamite looks to the future of Vampirella comics with a blank comic for aspiring creators!
Dynamite is offering the Vampirella Blank Comic Book. This standard length comic book sports sketch-quality blank interior pages and a cover with just logo treatment. Dynamite is embracing the extraordinary talents of their fanbase and the comics community to experiment and produce their own Vampi stories.
People can take on the project solo or collaborate with friends to write, draw, ink, color and letter a full length story. Or split up the pages for an anthology in the vein of the original magazine. Another challenge would be to follow the famous 24-hour comic challenge. An artist drawing in this book could be the next José González, Amanda Conner, Mike Mayhew or Ergün Gündüz, finding themselves professionally drawing the Daughter of Drakulon someday. Or writing, in the footsteps of Archie Goodwin, Kurt Busiek, Mark Millar or Christopher Priest.
"This IS the year of Vampirella! It's her 50th Anniversary, and as we were looking at exciting new projects to do, we thought to join the current trend of creating near completely blank books for fans to be creative and write and draw their own adventures!" said Nick Barrucci, Dynamite CEO and Publisher. "Whether fans will write and draw comics to practice their craft, or just for the fun of it, this is a great book to try and fulfill your artistic aspirations."

The Vampirella Blank Comic Book will be solicited in Diamond Comic Distributors' May 2019 Previews catalog, the premier source of merchandise for the comic book specialty market, and slated for release in July 2019. Comic book fans are encouraged to preorder copies with their local comic book retailers.
CLAREMONT & SIENKIEWICZ REUNITE FOR 'NEW MUTANTS' ONE-SHOT
06/15/19 @ 1:21 pm EST
Source:
Comics Beat
| Categories:
Marvel
|
Comments
(0) |
E-mail Article
|
Add a Comment
Comics Beat
is reporting that legendary
New Mutants
creators Chris Claremont and Bill Sienkiewicz are reuniting for a one-shot adventure with the team debuting this September. Titled
New Mutants: War Children
, the story will be a real treat for fans of the original 1980s run.
Here's the full solicit text:
STRONG AND FREE! Don't miss this momentous event as legendary creators CHRIS CLAREMONT and BILL SIENKIEWICZ reunite with Magik, Wolfsbane, Cannonball, Cypher, Mirage, Karma, and Sunspot to share this never before told story of the New Mutants' past! When Warlock experiences a nightmare, he begins going haywire, and it's up to his friends to save him! But as Warlock grows more frenzied, they should be worrying about being able to save themselves…and doubly so when Magik's inner demon, Darkchylde, threatens to break free! Also, a special guest appearance by none other than Kitty Pryde!
We may never see
New Mutants
on the silver screen, but this comic might just make up for that. Check out Sienkiewicz's cover art below.
New Mutants: War Children
hits shelves Sept. 18.
'YOUNG JUSTICE: OUTSIDERS' EPISODES RETURN JULY 2
06/15/19 @ 1:13 pm EST
Source:
Batman News
| Categories:
DC
|
Comments
(0) |
E-mail Article
|
Add a Comment
Batman News
reports that
Young Justice: Outsiders
has announced when episodes are returning, and DC Universe celebrated with a new trailer.
Starting July 2, new episodes of
Young Justice: Outsiders
will hit DC Universe every Tuesday. Here's the first trailer for the second half of the season:
https://youtu.be/KYBfKbx1Xlg
The first 13 episodes of
Young Justice: Outsiders
are currently available on DC Universe.
AQUALAD SWIMS UP TO DC UNIVERSE'S 'TITANS'
06/15/19 @ 1:04 pm EST
Source:
DC Comics
| Categories:
DC
|
Comments
(0) |
E-mail Article
|
Add a Comment
So, how far is Detroit from Atlantis?
While it's a bit unlikely that DC Universe's grounded and gritty take on DC's premiere young superteam is going to spend much time in the legendary underwater kingdom, one of its most famous residents will be making an appearance. Actor Drew Van Acker has been cast in the role of Aqualad on
Titans.
According to the official character description, Garth is a founding member of the Titans and was Aquaman's eager sidekick known as Aqualad. Also born in Atlantis and a member of the royal court, young Garth was trained by Aquaman as a protector of life above and below the ocean. He would eventually step out from the shadow of his mentor to become his own hero as a Titan along with many other former sidekicks.
Introduced in
Adventure Comics #269
back in 1960, Garth was the first hero to use the Aqualad name. Originally banished from Atlantis due to what was seen as a genetic defect, he'd later befriend Aquaman, who would go on to train him as his sidekick. In the comics, much like in the
Titans
character description, Garth eventually came into his own as a champion for justice, forming the Teen Titans with other former sidekicks and becoming the hero known as Tempest. Over the years, his powerset has varied, from sharing Aquaman's ability to communicate with ocean life to obtaining powerful magical abilities making him formidable both in and out of the water.
As for Van Acker, he's probably best known for his role as Jason DiLaurentis on
Pretty Little Liars
and recently played the role of Tommy Campbell on CBS's
Training Day
TV series.
Titans
will be his first foray into the realm of comic book TV and superheroes.
THIS SEPTEMBER, THE ULTRON AGENDA BEGINS
06/15/19 @ 12:58 pm EST
Source:
Marvel
| Categories:
Marvel
|
Comments
(0) |
E-mail Article
|
Add a Comment
One of Marvel's mightiest mechanical menaces is set to return this September in the pages of TONY STARK: IRON MAN #16...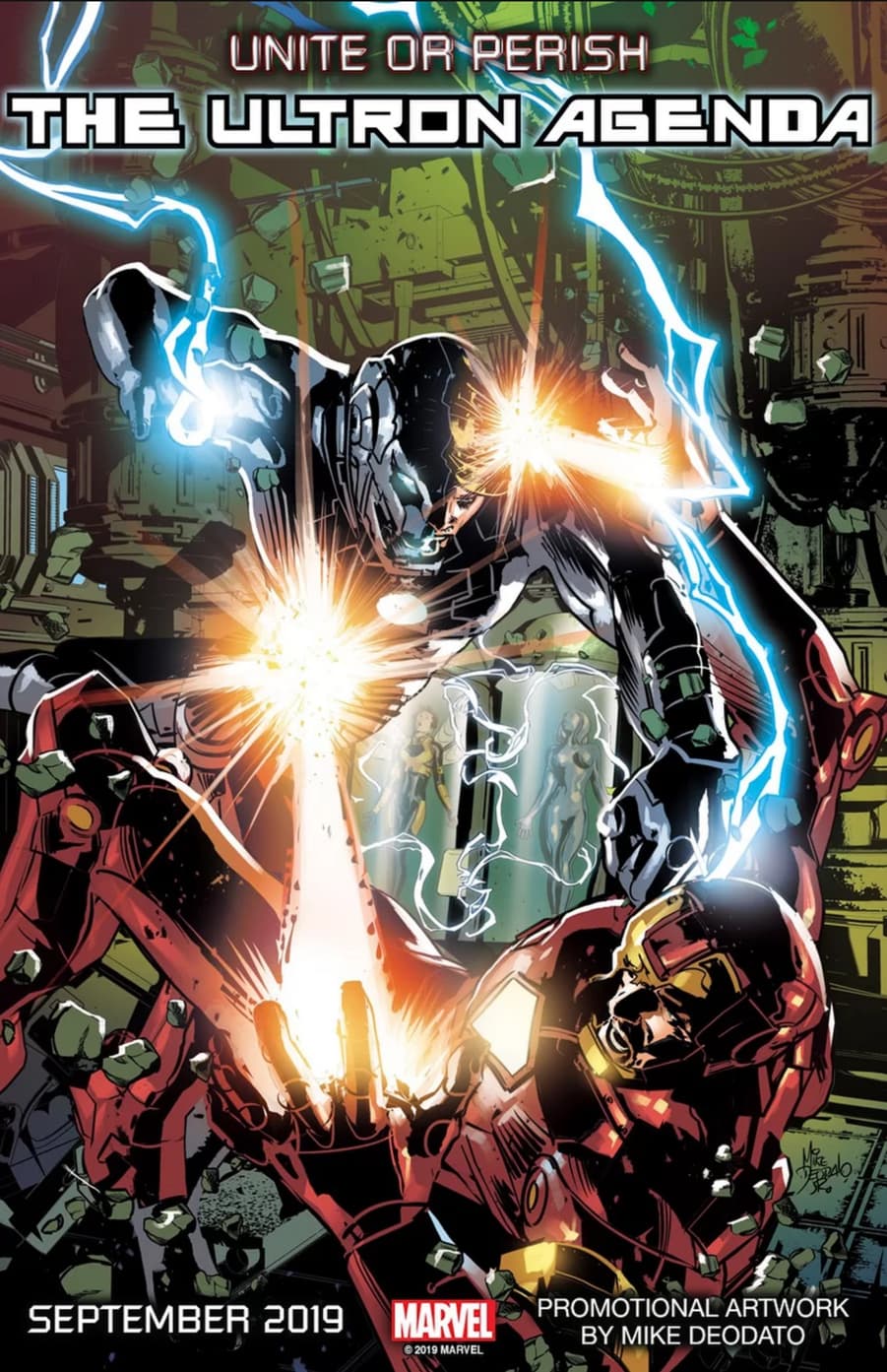 Yes, we're talking about Ultron! Coming to your local comic shop on September 18, the issue marks the first part of a story arc titled "The Ultron Agenda"! Written by Dan Slott and Jim Zub with art by Valerio Schiti, the Robot Uprising of the Marvel Universe begins! But it's
not
Ultron leading the charge; it's...Machine Man?! The A.I.'s are on the attack—and they might be in the right. Battle lines are being drawn, and it's time for Tony Stark, Jocasta, Andy Bhang, and the rest of the cast to pick sides!
Get your first look at Alexander Lozano's cover for TONY STARK: IRON MAN #16 right here.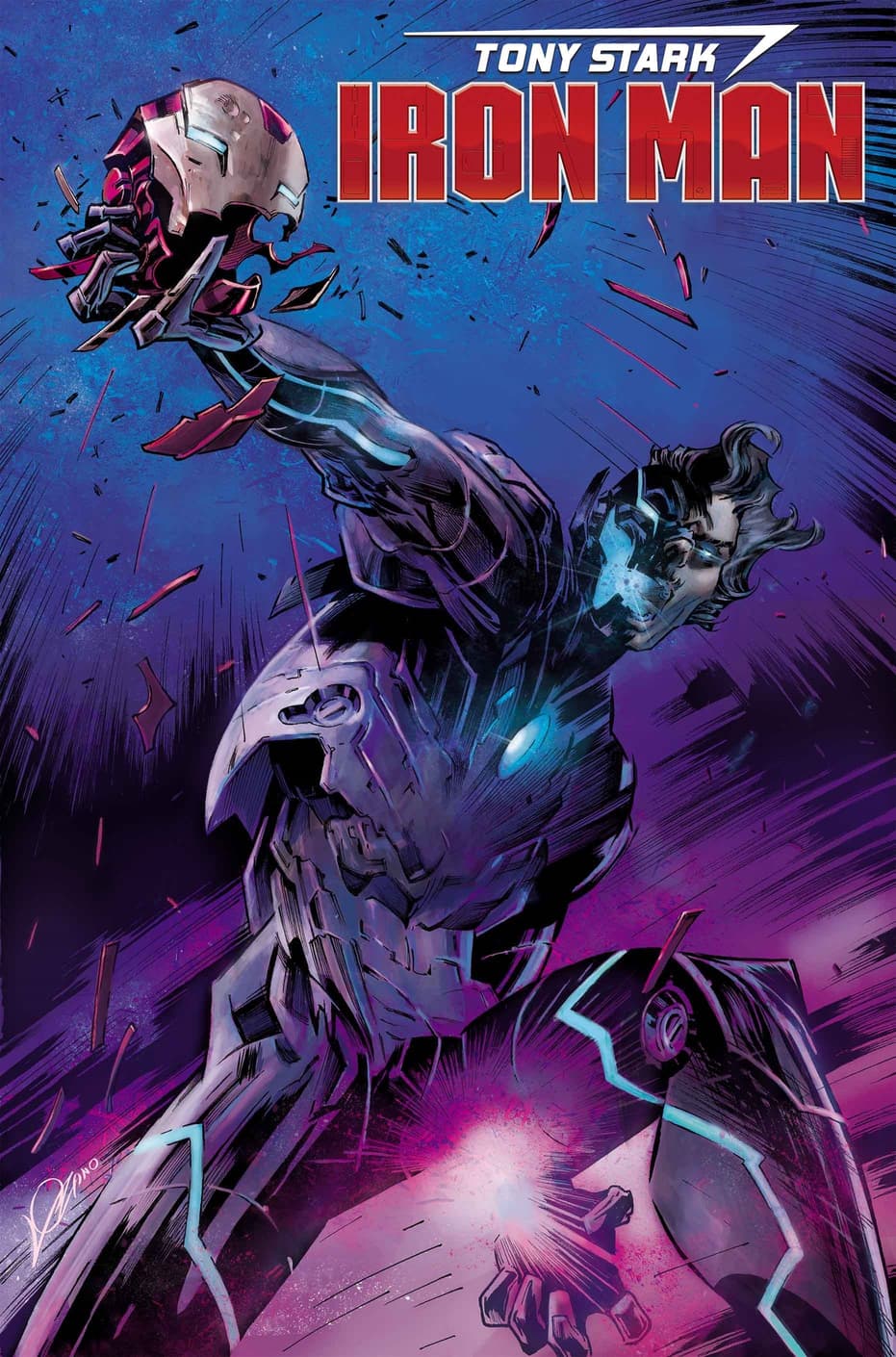 'THE TICK' CREATOR FAILS TO FIND NEW HOME FOR CANCELED SUPERHERO SHOW
06/15/19 @ 7:43 am EST
Source:
MSN.com
| Categories:
MIsc
|
Comments
(0) |
E-mail Article
|
Add a Comment
MSN.com
reports that
The Tick
creator Ben Edlund has announced that he has been unable to find a new home for his superhero-comedy show. Last month, cast member Griffin Newman insisted on Twitter that the show was "very much alive," despite it being canceled by Amazon after two seasons.
Today, however, Edlund admitted that was no longer the case.
"After much door-knocking we have found no new home for the
Tick
series in this current market," Edlund tweeted Friday afternoon. "#SaveTheTick & #LunaTickArmy I'm sorry we could not reward your glorious support with better news. I am so proud of the show, of the cast and crew and writers, and so warmed by the fans."
"We will look for other opportunities to continue this story with this cast," Edlund wrote in a subsequent tweet, "but the current series must I'm afraid come to its end."
TAP INTO THE POWER COSMIC IN SILVER SURFER: BLACK #1 WITH A LIMITED-TIME DIGITAL DIRECTOR'S CUT
06/15/19 @ 7:35 am EST
Source:
Marvel
| Categories:
Marvel
|
Comments
(0) |
E-mail Article
|
Add a Comment
The Sentinel of the Spaceways embarks on a life-changing journey! Spinning out of GUARDIANS OF THE GALAXY #1, almost all of the galaxy's defenders have been blown through a black hole, including the Silver Surfer! In order to fight back the oblivion, Surfer will battle to save his own soul and not lose himself to the void. Superstars Donny Cates (VENOM, GUARDIANS OF THE GALAXY) and Tradd Moore (ALL-NEW GHOST RIDER, VENOM) deliver a galactic trip through cosmos light-years away! And, for a limited time, you can get a behind-the-scenes peek at this buzzed about series!
Those who have preordered or purchased a digital copy of SILVER SURFER: BLACK #1 before 6/25, 11:59 PM ET, will instead receive the DIRECTOR'S CUT edition of SILVER SURFER: BLACK (2019-) #1!*
This exclusive content will feature a draft of #1's script, pencil pages, inked pages, color pages, a variant cover gallery, never-before-seen character sketches and MORE! Not only will you receive this mind-blowing issue – you'll see the building blocks of its creation! Limited time offer, act now!
SILVER SURFER: BLACK (2019-) #1 DIRECTOR'S CUT $3.99 Written by DONNY CATES Art by TRADD MOORE, DAVE STEWART, NICK BRADSHAW, RON LIM, GERALD PAREL, MIKE ZECK, VARIOUS Cover by TRADD MOORE On Sale NOW!
Offer Details
* Limited time offer. You must purchase or pre-order a digital copy of Silver Surfer: Black (2019-) #1 before 11:59 p.m. ET June 25, 2019 to receive the Silver Surfer: Black (2019-) #1 Director's Cut. On June 26, 2019, 12:01 a.m. the Director's Cut is available for purchase at $7.99. Those who subscribe to the series will receive the standard edition of Silver Surfer: Black (2019-) #1. Offer is limited to one per person. The offer expires on 11:59 p.m. ET, June 25, 2019. Marvel and ComiXology reserve the right to modify or cancel the offer at any time. Offer is valid for one-time use only, is non-transferable and may not be resold. If any of the products or content related to this offer are returned, your refund will equal the amount you paid for the product or content, subject to applicable refund policies. If you violate any of these terms, the offer will be invalid.
MIKE MIGNOLA VARIANT COVER REVEALED FOR THE WEATHERMAN, VOL. 2 #2
06/15/19 @ 7:29 am EST
Source:
Image
| Categories:
Image
|
Comments
(0) |
E-mail Article
|
Add a Comment
Image Comics is pleased to reveal artwork for Jody LeHeup (
Shirtless Bear-Fighter!
) and Nathan Fox's
The Weatherman, Vol. 2 #2
variant by Mike Mignola (
Hellboy
) featuring colors by Dave Stewart. It will hit stores on Wednesday, July 24.
The Weatherman, Vol. 2 #2
, introduces Pace and Pickles—an exciting and strange new ally guarding a horrible secret! Nathan, Cross, and the crew of the Disco Queen scour the ruins of Earth for the woman responsible for wiping Nathan's mind, only to find themselves in a fight to the death against mysterious genetic monstrosities… and not everyone makes it out alive.
The Weatherman, Vol. 2 #2
Cover A by Fox (Diamond Code MAY190113),
The Weatherman, Vol. 2 #2
Cover B by Robinson (Diamond Code MAY190114), and
The Weatherman, Vol. 2 #1
Cover C by Mignola (Diamond Code MAY198072) will hit stores on Wednesday, July 24. The final order cutoff for comic shop retailers is Monday, July 1.
YOUR FIRST LOOK AT SABAN'S GO GO POWER RANGERS #21
06/14/19 @ 2:14 pm EST
Source:
BOOM! Studios
| Categories:
MIsc
|
Comments
(0) |
E-mail Article
|
Add a Comment
​
BOOM! Studios, under license by Hasbro, Inc. (NASDAQ: HAS), today revealed a first look at one of the biggest mysteries in Power Rangers history as the
GO GO POWER RANGERS
series joins the epic Necessary Evil event in July 2019.
GO GO POWER RANGERS #21
, from the writing duo of Ryan Parrott (
Mighty Morphin Power Rangers
) & Sina Grace (
Iceman
) and artist Francesco Mortarino (
Mighty Morphin Power Rangers
), begins to reveal new secret history behind the Mighty Morphin Power Rangers with the introduction of all new characters, new alliances and jaw-dropping answers to some of the biggest questions that fans have always asked.
The Mighty Morphin Power Rangers are back on Earth after the incredible events of
Shattered Grid
, but they don't seem to remember the details of their epic battle with Lord Drakkon, the twisted alternate-reality version of Tommy Oliver, who threatened to destroy the very fabric of the universe before the combined might of Power Rangers from across the galaxy ended his nefarious plan. So why don't the Power Rangers recall exactly what happened? And what does that have to do with the strange events occurring around them? The answers to these game-changing questions will reveal the untold story behind one of the most explosive reveals in Mighty Morphin Power Rangers history.
SABAN'S GO GO POWER RANGERS #21
features a main cover by Amelia Vidal (
Buffy the Vampire Slayer
), a Yearbook variant cover by acclaimed artist Miguel Mercado (
Buffy the Vampire Slayer
), a '90s Album Cover variant cover by Gleb Melnikov (
Angel
) that pays homage to No Doubt's 1995 album Tragic Kingdom, and a Social Feed variant cover by Johanna the Mad (
Fence
).
Print copies of
SABAN'S GO GO POWER RANGERS #21
will be available for sale on July 10, 2019 at local comic book shops (use
comicshoplocator.com
to find the nearest one), or at the BOOM! Studios webstore. Digital copies can be purchased from content providers like comiXology, iBooks, Google Play, and the BOOM! Studios app.
Currently, Power Rangers is celebrating 26 continuous years on the air, making it one of the longest running kids' live-action series in television history with nearly 900 episodes aired to date. Created by Haim Saban and launched in 1993 with
Mighty Morphin Power Rangers
, the franchise celebrates its milestone anniversary year with the 26th season, "Power Rangers Beast Morphers" currently airing on Saturdays at 8 a.m. (ET/PT) on Nickelodeon in the U.S.
SABAN'S GO GO POWER RANGERS #21
is the newest release from BOOM! Studios' eponymous imprint, home to critically acclaimed original series, including
Once & Future
by Kieron Gillen and Dan Mora;
Faithless
by Brian Azzarello and Maria Llovet;
Abbott
from Saladin Ahmed and Sami Kivelä;
Bury The Lede
from Gaby Dunn and Claire Roe;
Grass Kings
from Matt Kindt and Tyler Jenkins; and
Klaus
from Grant Morrison and Dan Mora. The imprint also publishes popular licensed properties including Joss Whedon's
Firefly
from Greg Pak and Dan McDaid; and
Mighty Morphin Power Rangers
from Ryan Parrott and Danielle Di Nicuolo.
Softcover collections of
SABAN'S GO GO POWER RANGERS
, Mighty Morphin Power Rangers and other Power Rangers releases from BOOM! Studios are available now, everywhere books are sold.
GAIL SIMONE'S RED SONJA RUN REPRINTED IN HARDCOVER OMNIBUS
06/15/19 @ 7:14 am EST
Source:
Dynamite
| Categories:
Dynamite
|
Comments
(0) |
E-mail Article
|
Add a Comment
Dynamite announces a deluxe all-in-one oversized hardcover volume of Gail Simone and Walter Geovani's history-making Red Sonja run.

Red Sonja by Gail Simone Omnibus reprints Red Sonja #0-18, as well as various extras. The 528-page premium hardcover tome is 8.2 by 12.2 inches and features a dust jacket. The book sports a Jenny Frison cover and reprints all of the series covers from Frison, Nicola Scott, Fiona Staples, Amanda Conner, Stephanie Buscema and more! This beautiful book deserves a place on every comic fan's shelf!

Gail Simone is a titan of the comic book industry. She played a prominent role in defining and calling attention to the "Women in Refrigerators" trope. Through a prestigious two decades career she has written such critically acclaimed titles as Batgirl, Birds of Prey, Wonder Woman, Deadpool and Secret Six. As well as original properties like Clean Room and Crosswind. With Dynamite, Gail also engineered and wrote the epic Swords of Sorrow crossover and is currently reuniting with her Sonja partner Walter Geovani on the upcoming Death-Defying 'Devil. This diverse bibliography has lead to both Eisner and GLAAD Award nominations.

In this iconic run, Simone gives the iconic fantasy heroine a fresh new attitude! A revamped origin story and supporting cast round out a nearly unanimously lauded title which Newsarama called "A highly accessible re-introduction to a storied character that entertains from beginning to end."

Gail Simone could go on for days about this project, "Dynamite essentially said I could do any book I wanted, and I was frankly leaning towards Vampirella a bit. And my mom, who doesn't read comics, begged me to take Red Sonja. We're both redheads, and for some reason, Sonja meant a lot to her, something about a woman with red hair who takes no $#!+ from anyone really resonated. I wanted a Sonja who was bawdy and crass and a bit of a hot-blooded wild child. We see this kind of male character often but they're still pretty rare for females to this day. The idea that this Sonja sometimes gets a little dirty and smelly and can STILL throw down hard made me happy. But it was artist Walter Geovani who made her one of my all-time favorites. He could draw whatever complex emotion I requested, and I learned to trust him and love him like few other artistic partnerships I have been blessed to be part of. I'm proud that we helped put a shine on her chain-mail bikini again. I adore her, I adore Walter, I adore the wonderful team at Dynamite and I love everything about Sonja."

"When Gail came aboard, I had already been working on Sonja books for about 5 years, but she made me feel like I was drawing something new," said artist Walter Geovani. "One thing I remember is that a Brazilian fan wrote to me sayng that he had counted more that 100 Sonja cosplayers and he had never seen so much of them before Gail became the writer. I think this proves how the popularity of the character grew so much, and I am proud of being part of that."
The Red Sonja by Gail Simone Omnibus will be solicited in Diamond Comic Distributors' July 2019 Previews catalog, the premier source of merchandise for the comic book specialty market, and slated for release in September 2019. Comic book fans are encouraged to preorder copies with their local comic book retailers. It will also be available for individual customer purchase through digital platforms courtesy of Comixology, Kindle, iBooks, Google Play, Dynamite Digital, ComicsPlus, and more!



'BANANA SPLITS' HORROR MOVIE TRAILER
06/14/19 @ 1:42 pm EST
Source:
SyFy.com
| Categories:
MIsc
|
Comments
(0) |
E-mail Article
|
Add a Comment
As a very young kid in the 1960s, the costumed group of manamals known as The Banana Splits scared me anyway. So, now that I am over that (kinda?) it seems the right time for
Syfy
to turn that property into an R-rated horror film and release a first trailer.
To recap for Millennials,
The Banana Splits Adventure Hour
ran on Saturday mornings on NBC for two seasons from 1968-1970. The hour-long series marked Hanna-Barbera's first foray into a mixture of animation and live-action. The film will certainly deviate from the show, as it follows a young boy named Harley and his family, as they attend a taping of
The Banana Splits
TV series for his birthday. Unfortunately for them, things to south rather quickly.
The film is going straight to a Blu-ray/VOD home release this summer. Later in the year,
The Banana Splits
will make its TV debut on Syfy.
Trailer:
https://youtu.be/0R1-ZZTcTBY