DYNAMITE REUNITES RUSSELL & Q FOR RED SONJA ONE-SHOT & UPCOMING ARC
04/24/19 @ 7:05 am EST
Source:
Dynamite
| Categories:
Dynamite
|
Comments
(0) |
E-mail Article
|
Add a Comment
This July, Dynamite will once more reunite the acclaimed creative team of Mark Russell and Bob Q for the special one-shot Red Sonja: Lord of Fools.


Lord of Fools features a captivating cover by Christian Ward (Thor, Black Bolt), who has been stunning with his covers on the ongoing series. Spinning directly out of June's Red Sonja #6, the oversized issue includes two special, can't-miss stories.

First, in the eponymous tale, Mark Russell and his The Lone Ranger collaborator Bob Q execute a full length story further developing the swords and sorcery political intrigue that has fans savoring the series. While Dragan the Magnificent is busy warring with Sonja the Red, his son Cyril is back at the capital palace of the Zamoran Empire. The high priest Oracon regales him with the philosophy of the Lord of Fools, and this may yet reveal a deep secret that could unravel Dragan's entire house of cards.


In a second short tale, Russell joins artist Katie O'Meara to tell the lore building story of Cerkus, Sonja the Red's tongue of fire. Both stories are complemented by the unparalleled talent of series regular colorist Dearbhla Kelly and letterer Hassan Ostmane-Elhaou.

Following Lord of Fools, Bob Q will take take over as the primary artist on Red Sonja from Mirko Colak for issues 7-9, then for Colak to return for issue 10. With the seeds planted in Lord of Fools and perhaps even some hints in his prior flashback scenes, fans will not want to miss Bob Q's upcoming arc on the series.

"I'm really happy to be working with Bob Q again, especially on such an epic story that leans more heavily into the fantasy element of this world," said writer Mark Russell. "This issue ends with a bombshell which will change what readers thought they knew about the first six issues and sets them up for the next six, more fantasy-heavy, issues."

Bob Q, the artist that iFanboy referred to as "the heir to Jack Kirby, had this to say, "I've been hoping to do some big time, butt-kicking, barbarian bombast, and along came the opportunity to work on Red Sonja. I took it the moment it was offered. I've been following this series since issue one, and I can only hope to continue the extremely high artistic benchmark set by Mirko Colak. As if the pot weren't already sweet enough, I get to team up with Mark Russell and Dearbhla Kelly again. Who's the winner? Bob's the winner!"

Meanwhile, relative newcomer artist Katie O'Meara shared, "Getting to contribute to the long-running mythos of Red Sonja has been such a wonderful honour, particularly for a one-shot so focused on character and world building, a great love of mine. I feel so lucky to have been given this opportunity by the Dynamite crew, after Nate so deliberately went out of his way to take a chance on a newcomer such as myself."

Summing it all up is editor Nate Cosby, "It's a one-shot, but not a one-off. What happens here connects to what we've seen, and what's to come. Mark, Bob, Katie, Dearbhla & Hassan are crafting two tales of trust, tragedy, family and power, that should not be missed."

Check out a handful of work in progress pages from both Bob and Katie, with letters by Hassan.


Red Sonja: Lord of Fools will be solicited in Diamond Comic Distributors' May, 2019 Previews catalog, the premier source of merchandise for the comic book specialty market, and slated for release in July 2019. Comic book fans are encouraged to preorder copies with their local comic book retailers. It will also be available for individual customer purchase through digital platforms courtesy of Comixology, Kindle, iBooks, Google Play, Dynamite Digital, ComicsPlus, and more!

WEREWOLF BY NIGHT TO APPEAR IN AN UPCOMING MARVEL STUDIOS PROJECT?
08/25/19 @ 5:59 pm EST
Source:
Geeks WorldWide
| Categories:
Marvel
|
Comments
(0) |
E-mail Article
|
Add a Comment
Geeks WorldWide
is reporting that Marvel's classic shape-shifting anti-hero Werewolf by Night, aka Jack Russell, will soon make his debut in the Marvel Cinematic Universe.
The site's sources weren't clear on where Werewolf will first appear, but the freshly-announced Disney+
Moon Knight
series is a possibility since Moon Knight made his comics debut in
Werewolf by Night
#32 and they have had strong ties ever since.
Werewolf also has major connections to Blade and Dracula, and with the former due to get his own solo MCU film soon, it wouldn't be shocking to see him show up there.
GWW also reports a spin-off for Werewolf is a possibility, but whether as a TV series or film is unknown.
D23: 'BLACK MIRROR' STAR WYATT RUSSELL WILL PLAY U.S. AGENT IN 'FALCON & THE WINTER SOLDIER'
08/25/19 @ 5:49 pm EST
Source:
MCU Exchange
| Categories:
Marvel
|
Comments
(0) |
E-mail Article
|
Add a Comment
MCU Exchange
reports that Sam Wilson and Bucky Barnes will soon face a threat unlike any other in their upcoming Disney+ series
The Falcon & the Winter Soldier
in the form of John Walker aka the U.S. Agent.
Black Mirror
star and Kurt Russell's son Wyatt Russell will play the not-so-evil version of Captain America.
This isn't the first time we've heard of U.S. Agent possibly appearing in the MCU. Just a few weeks back, a leak surfaced online saying that the character would appear in this very show.
This confirmation gives us an indication of just what the story might be. In the wake of Cap's relinquishing of the shield and mantle formerly owned by the government, the powers that be are likely not too happy that they weren't consulted on the matter. Their response? To create another Cap in their image.
'MARVEL'S AGENTS OF S.H.I.E.L.D.' UNLEASHES FINAL SEASON TRAILER
08/25/19 @ 5:42 pm EST
Source:
Disney
| Categories:
Marvel
|
Comments
(0) |
E-mail Article
|
Add a Comment
The final season trailer of
Marvel's Agents of S.H.I.E.L.D.
was unveiled at
Disney
's D23 exhibition this weekend, with a guarantee for some action-packed moments for fans.
The Marvel television flagship, seen on ABC, will end after its upcoming seventh season.
Trailer:
https://youtu.be/YBkq79ACDEU
DISNEY+ SERIES 'LOKI' FINDS DIRECTOR IN 'SEX EDUCATION' HELMER KATE HERRON
08/25/19 @ 5:32 pm EST
Source:
Collider
| Categories:
Marvel
|
Comments
(0) |
E-mail Article
|
Add a Comment
Collider
reports that forthcoming Disney+ series
Loki
has found its director.
The series will see Tom Hiddleston reprising his role as Loki, the God of Mischief and baby brother of Thor (Chris Hemsworth), after he escaped from the Battle of New York in
Avengers: Endgame
.
Director Kate Herron finally revealed in a tweet that she would be directing
Loki.
"Secret is out! So happy to say I'm directing #Loki for@MarvelStudios," Herron wrote. "It's a privilege to continue his story, working with the superb @twhiddleston & @michaelwaldron. Also sorry to pals who guessed this was the secret job and I lied to your faces. Think Loki would approve though."
Herron skimped on providing any other details about her involvement with the show, but that's pretty much par for the course.
TOM HOLLAND HITS DISNEY'S D23 EXPO DAYS AFTER MARVEL'S 'SPIDER-MAN' SPLIT: "IT'S BEEN A CRAZY WEEK"
08/24/19 @ 4:36 pm EST
Source:
Deadline
| Categories:
Spider-Man
|
Comments
(0) |
E-mail Article
|
Add a Comment
Spider-Man: Far From Home
star Tom Holland made an appearance at Disney's D23 Expo in Anaheim today, just days after Disney and Sony's standoff over the Spider-Man film franchise ended with Marvel Studios and Kevin Feige no longer being involved in it.
"It's been a crazy week," Holland said from the stage, "but I want you to know I am grateful from the bottom of my heart and I love you 3,000."
Holland was there to promote Disney and Pixar's
Onward,
the upcoming animated film in which he stars with
Jurassic World
and
Guardians of the Galaxy
's Chris Pratt as teenage elf brothers who embark on a quest to discover if there is still a little magic left out there. Julia Louis-Dreyfus and Octavia Spencer also star. (via
Deadline
)
JAMIE FOXX AND TINA FEY TO LEAD PIXAR'S 'SOUL' AS CAST REVEALED
08/24/19 @ 4:29 pm EST
Source:
Deadline
| Categories:
Disney
|
Comments
(0) |
E-mail Article
|
Add a Comment
Deadline
reports that Pixar revealed Saturday at the D23 Expo that the animation studio's new film
Soul
will be toplined by Jamie Foxx and Tina Fey. The pic is set to be the second original Pixar film for 2020 after March's
Onward
, and it has a June 19, 2020 release date.
Directed by two-time Oscar winner Pete Docter, the film takes place between New York City and the cosmic realms. The tagline: Ever wonder where your passion, your dreams and your interests come from? What is it that makes you … you?"
The voice cast will also include Daveed Diggs, Phylicia Rashad and Questlove. The original score will come from Trent Reznor and Atticus Ross, with new music from Jon Batiste.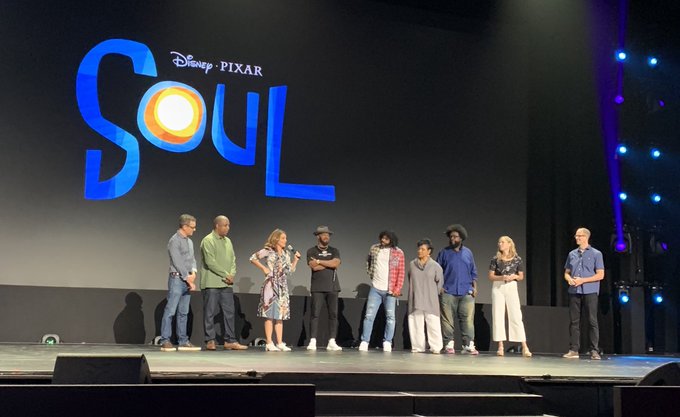 MARVEL CONFIRMS KIT HARINGTON FOR 'ETERNALS'
08/24/19 @ 4:14 pm EST
Source:
Hollywood Reporter
| Categories:
Marvel
|
Comments
(0) |
E-mail Article
|
Add a Comment
Marvel Studios president Kevin Feige at D23 has revealed that Kit Harington, who played Jon Snow for eight seasons on
Game of Thrones
, has joined
The
Eternals
.
Harington will play Dane Whitman, who in the comics is the superhero Black Knight.
Harington is nominated for outstanding lead actor Emmy for the final season of
Thrones
, which wrapped in May, and his former
Thrones
co-star Richard Madden is among the cast of
The Eternals
.
Feige brought out the cast of
Eternals
, with Angelina Jolie getting a standing ovation. He confirmed Gemma Chan was joining the cast as Sersi. Chan appeared in the MCU earlier this year in
Captain Marvel
as the Kree warrior Minn-Erva. (via
THR
)
To see a look at the
Eternals
cast on the D23 stage and in costume in stills behind them, click
here
.
'BLACK PANTHER' SEQUEL FILM SET FOR 2022 RELEASE
08/24/19 @ 4:04 pm EST
Source:
Variety
| Categories:
Marvel
|
Comments
(0) |
E-mail Article
|
Add a Comment
Black Panther
director Ryan Coogler announced the release date of the much-anticipated follow-up film at D23 in Anaheim, Calif. Saturday.
Black Panther 2
will hit theaters May 6, 2022.
"We're not taking our time, we're really trying to get it right," Coogler said of the production schedule.
Marvel Studios chief Kevin Feige said Coogler has delivered a treatment, complete with a villain and new title, though neither would give up those details.
The date will place
Black Panther 2
as the furthest out announced Marvel film, between
Thor: Love and Thunder
(Nov. 5, 2021) and an unannounced film slated for July 29, 2022 — although whether Marvel will keep that date, just two months after
Black Panther 2
, is up in the air. (via
Variety
)
'STAR WARS: THE RISE OF SKYWALKER' CAST AT D23; NEW POSTER!
08/24/19 @ 4:00 pm EST
Source:
Hollywood Reporter
| Categories:
Star Wars
|
Comments
(0) |
E-mail Article
|
Add a Comment
The cast of
Star Wars: The Rise of Skywalker
received a standing ovation as they took the stage at D23 in Anaheim Saturday. Filmmaker J.J. Abrams said the team was hard at work on a new trailer, but weren't quite ready, so they showed off a sizzle reel.
The footage included a fleet of dozens of star destroyers in the atmosphere of a planet. Rey (Daisey Ridley) and Kylo Ren (Adam Driver) appeared in a later scene, fighting on a downed ship in the middle of the ocean as waves crashed around them. The biggest crowd pleasing shot occurred at the end of the reel, with Rey wearing a dark hood, sporting a double lightsaber. The footage hasn't been released online.
The presentation also gave a first look at Keri Russell's mysterious character, who sports a helmet and a red suit. "She's very cool and a little bit shady. She's kind of a criminal, and an old friend of Poe's," Russell said.
Oscar Isaac, who plays Poe, pretended to comfort his co-star John Boyega. (Online, fans have expressed a desire for the two to have a romantic relationship.) "We were young. Everyone was experimenting," said Isaac to Boyega, who pretended to be upset.
Abrams also spoke about the late Carrie Fisher, who will appear as Leia one last time via unused footage he shot while directing 2015's
The Force Awakens
. He initially was not on board to direct
Rise of Skywalker
, and after her death he noted she had thanked him in her 2016 book
The Princess Diarist
for putting up with her "twice" as director. Abrams noted it must have been an intentional joke, as they had only worked together once. (via
THR
)
New
Rise of Skywalker
poster!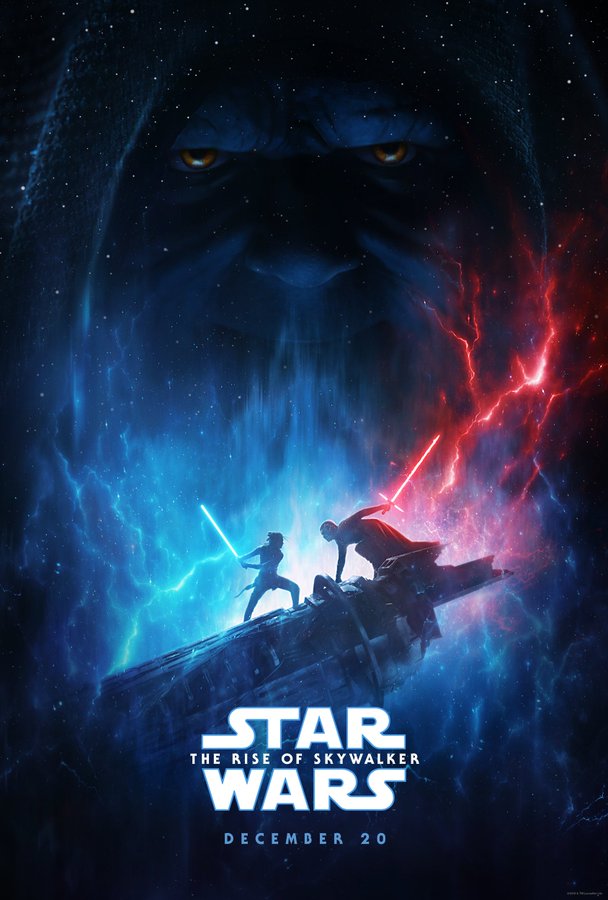 COMEDIAN STEVE AGEE JOINING JAMES GUNN'S 'SUICIDE SQUAD' GANG
08/24/19 @ 3:51 pm EST
Source:
Deadline
| Categories:
DC
|
Comments
(0) |
E-mail Article
|
Add a Comment
Deadline
reports that comedian Steve Agee is boarding Warner Bros.' James Gunn-directed sequel
The Suicide Squad.
Agee will reportedly provide the voiceover to super-villain King Shark, who is a humanoid. King Shark was created by Karl Kesel and made a brief cameo in
Superboy
vol. 3, #0 (Oct. 1994) before making his first full appearance in
Superboy
vol. 3, #9 (Nov. 1994). In the comics, when Superboy is assigned to the Suicide Squad to destroy the Silicon Dragons, King Shark gets hooked in to help.
Agee starred in Gunn's
Guardians of the Galaxy Vol. 2
as Gef, one of the members of the Ravagers.