JOSS WHEDON'S ANGEL #1 REVEALED BY BOOM! STUDIOS
04/18/19 @ 10:20 pm EST
Source:
BOOM! Studios
| Categories:
Angel
|
Comments
(0) |
E-mail Article
|
Add a Comment

BOOM! Studios in partnership with 20th Century Fox Consumer Products today revealed cover art and story details for ANGEL #1, written by Bryan Hill (Detective Comics, Killmonger) with art from Gleb Melnikov (Saban's Go Go Power Rangers), along with visionary writer and director Joss Whedon (Buffy the Vampire Slayer, Marvel's The Avengers), available in stores May 29, 2019.

Meet Angel – a vampire cursed with a soul who has spent centuries protecting humanity from the monsters that lurk in the dark in an attempt to redeem himself for the crimes committed by the monster he was when he was first turned. But now, when the trail of the most recent demonic uprising takes him to Sunnydale, he realizes that the restoration of his humanity can only come if he takes one more life: a certain Slayer from Sunnydale who he's never met…but may now be his greatest enemy. The brooding, dark vampire with a soul has just left the city of lights after marking another death on the never-ending list of debts he owes against his soul. Is he ready for one last sacrifice if it brings his long sought after peace?

ANGEL #1 features a main cover by artist Dan Panosian (Slots, Batman: Arkham Knight) and a monster-themed variant cover by illustrator Scott Buoncristiano (Buffy the Vampire Slayer) depicting the terrifying Der Kindestod, from the Buffy the Vampire Slayer season two episode "Killed By Death."

Created by visionary writer and director Joss Whedon (Marvel's The Avengers film franchise), Angel premiered on the WB Network on October 5th, 1999 and was a spin-off from Buffy The Vampire Slayer. The series ran for five seasons from 1999-2004, starring David Boreanaz as "Angel," the tortured vampire destined to walk the earth with a soul who moved to LA to set up shop as a supernatural private investigator. Despite Angel's best efforts to deal with the sins of his past all by himself, Angel Investigations soon became home to other lost souls searching for redemption and willing to fight by his side.

"We got our first taste of Angel in yesterday's game-changing BUFFY #4 and surprise release of ANGEL #0, but that's only the start of the newly reimagined vampire's story in this modern Buffyverse." said Jeanine Schaefer, Executive Editor, BOOM! Studios. "The questions weighing on Angel -- the possibility of redemption, whether or not we own our own mistakes, and how we weigh the value of the lives around us versus our own -- remain extremely relevant today. Bryan and Gleb are tackling that head on, set against the centuries long backdrop of the horrors Angel has seen and committed, revealing aspects of Angel's history that are sure to shock longtime fans."

ANGEL is the newest release from BOOM! Studios' eponymous imprint, home to critically acclaimed original series, including Once & Future by Kieron Gillen and Dan Mora;Faithless by Brian Azzarello and Maria Llovet; Abbott from Saladin Ahmed and Sami Kivelä; Bury The Lede from Gaby Dunn and Claire Roe; Grass Kings from Matt Kindt and Tyler Jenkins; and Klaus from Grant Morrison and Dan Mora. The imprint also publishes popular licensed properties including Joss Whedon's Firefly from Greg Pak and Dan McDaid; Buffy The Vampire Slayer from Jordie Bellaire and David Lopez; and Mighty Morphin Power Rangers from Ryan Parrott and Danielle Di Nicuolo.

Print copies of ANGEL #1 will be available for sale on May 29, 2019 exclusively at local comic book shops (use comicshoplocator.com to find the nearest one). Digital copies can be purchased from content providers, including comiXology, iBooks, Google Play, and the BOOM! Studios app. Print copies of the surprise drop ANGEL #0 are available now exclusively in comic book shops everywhere.



DISNEY CHANNEL GREENLIGHTS 'MARVEL'S MOON GIRL AND DEVIL DINOSAUR', ANIMATED SERIES FROM EXEC PRODUCER LAURENCE FISHBURNE – D23
08/25/19 @ 6:28 pm EST
Source:
Deadline
| Categories:
Marvel
|
Comments
(0) |
E-mail Article
|
Add a Comment
Deadline
reports that Disney Channel has ordered
Marvel's Moon Girl and Devil Dinosaur,
an original animated series based on Marvel's comic book series, from Disney Television Animation. Laurence Fishburne and Helen Sugland's Cinema Gypsy Productions (ABC's
Black-ish
), Marvel Animation & Family Entertainment, and Emmy winner Steve Loter (Disney's
Kim Possible)
will executive produce.
EP Fishburne is known to MCU fans as
Ant-Man and the Wasp's
Dr. Bill Foster, who in the comics later became Goliath and Giant-Man. The news was announced by Fishburne during Disney Television Animation's panel at Disney's D23 Expo.
The series follows the adventures of 13-year-old super-genius Lunella Lafayette and her ten-ton T-Rex, Devil Dinosaur. After Lunella accidentally brings Devil Dinosaur into present-day New York City via a time vortex, the duo works together to protect the city's Lower East Side from danger.
NEW 'FROZEN 2' POSTER REVEALED AT D23
08/25/19 @ 6:09 pm EST
Source:
Disney
| Categories:
Disney
|
Comments
(0) |
E-mail Article
|
Add a Comment
During
Disney
's D23 this weekend, new footage of the highly-anticipated
Frozen 2
was revealed as well as a brand new poster.
Frozen 2
hits theaters on November 22nd.
Here's the poster!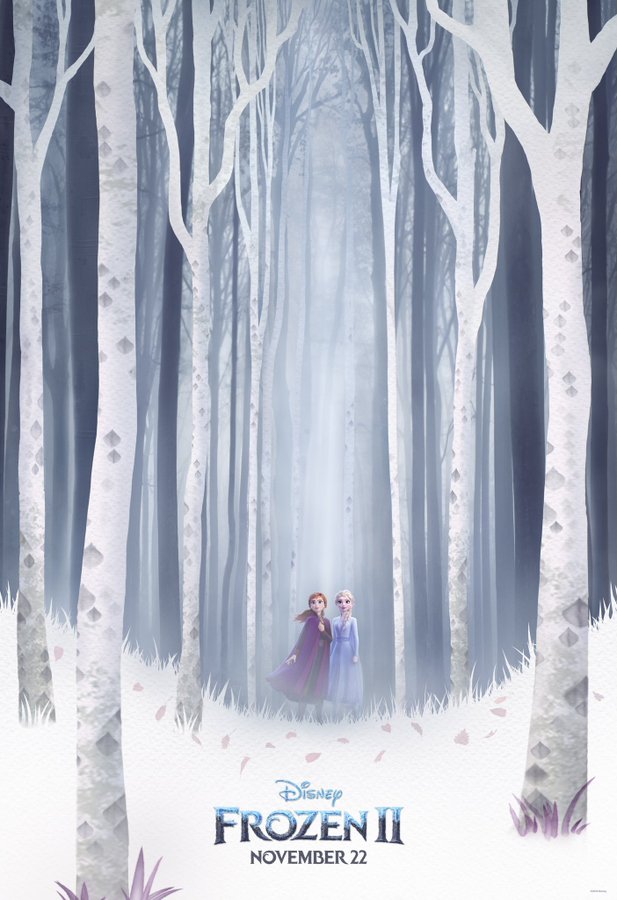 WEREWOLF BY NIGHT TO APPEAR IN AN UPCOMING MARVEL STUDIOS PROJECT?
08/25/19 @ 5:59 pm EST
Source:
Geeks WorldWide
| Categories:
Marvel
|
Comments
(0) |
E-mail Article
|
Add a Comment
Geeks WorldWide
is reporting that Marvel's classic shape-shifting anti-hero Werewolf by Night, aka Jack Russell, will soon make his debut in the Marvel Cinematic Universe.
The site's sources weren't clear on where Werewolf will first appear, but the freshly-announced Disney+
Moon Knight
series is a possibility since Moon Knight made his comics debut in
Werewolf by Night
#32 and they have had strong ties ever since.
Werewolf also has major connections to Blade and Dracula, and with the former due to get his own solo MCU film soon, it wouldn't be shocking to see him show up there.
GWW also reports a spin-off for Werewolf is a possibility, but whether as a TV series or film is unknown.
D23: 'BLACK MIRROR' STAR WYATT RUSSELL WILL PLAY U.S. AGENT IN 'FALCON & THE WINTER SOLDIER'
08/25/19 @ 5:49 pm EST
Source:
MCU Exchange
| Categories:
Marvel
|
Comments
(0) |
E-mail Article
|
Add a Comment
MCU Exchange
reports that Sam Wilson and Bucky Barnes will soon face a threat unlike any other in their upcoming Disney+ series
The Falcon & the Winter Soldier
in the form of John Walker aka the U.S. Agent.
Black Mirror
star and Kurt Russell's son Wyatt Russell will play the not-so-evil version of Captain America.
This isn't the first time we've heard of U.S. Agent possibly appearing in the MCU. Just a few weeks back, a leak surfaced online saying that the character would appear in this very show.
This confirmation gives us an indication of just what the story might be. In the wake of Cap's relinquishing of the shield and mantle formerly owned by the government, the powers that be are likely not too happy that they weren't consulted on the matter. Their response? To create another Cap in their image.
'MARVEL'S AGENTS OF S.H.I.E.L.D.' UNLEASHES FINAL SEASON TRAILER
08/25/19 @ 5:42 pm EST
Source:
Disney
| Categories:
Marvel
|
Comments
(0) |
E-mail Article
|
Add a Comment
The final season trailer of
Marvel's Agents of S.H.I.E.L.D.
was unveiled at
Disney
's D23 exhibition this weekend, with a guarantee for some action-packed moments for fans.
The Marvel television flagship, seen on ABC, will end after its upcoming seventh season.
Trailer:
https://youtu.be/YBkq79ACDEU
DISNEY+ SERIES 'LOKI' FINDS DIRECTOR IN 'SEX EDUCATION' HELMER KATE HERRON
08/25/19 @ 5:32 pm EST
Source:
Collider
| Categories:
Marvel
|
Comments
(0) |
E-mail Article
|
Add a Comment
Collider
reports that forthcoming Disney+ series
Loki
has found its director.
The series will see Tom Hiddleston reprising his role as Loki, the God of Mischief and baby brother of Thor (Chris Hemsworth), after he escaped from the Battle of New York in
Avengers: Endgame
.
Director Kate Herron finally revealed in a tweet that she would be directing
Loki.
"Secret is out! So happy to say I'm directing #Loki for@MarvelStudios," Herron wrote. "It's a privilege to continue his story, working with the superb @twhiddleston & @michaelwaldron. Also sorry to pals who guessed this was the secret job and I lied to your faces. Think Loki would approve though."
Herron skimped on providing any other details about her involvement with the show, but that's pretty much par for the course.
TOM HOLLAND HITS DISNEY'S D23 EXPO DAYS AFTER MARVEL'S 'SPIDER-MAN' SPLIT: "IT'S BEEN A CRAZY WEEK"
08/24/19 @ 4:36 pm EST
Source:
Deadline
| Categories:
Spider-Man
|
Comments
(0) |
E-mail Article
|
Add a Comment
Spider-Man: Far From Home
star Tom Holland made an appearance at Disney's D23 Expo in Anaheim today, just days after Disney and Sony's standoff over the Spider-Man film franchise ended with Marvel Studios and Kevin Feige no longer being involved in it.
"It's been a crazy week," Holland said from the stage, "but I want you to know I am grateful from the bottom of my heart and I love you 3,000."
Holland was there to promote Disney and Pixar's
Onward,
the upcoming animated film in which he stars with
Jurassic World
and
Guardians of the Galaxy
's Chris Pratt as teenage elf brothers who embark on a quest to discover if there is still a little magic left out there. Julia Louis-Dreyfus and Octavia Spencer also star. (via
Deadline
)
JAMIE FOXX AND TINA FEY TO LEAD PIXAR'S 'SOUL' AS CAST REVEALED
08/24/19 @ 4:29 pm EST
Source:
Deadline
| Categories:
Disney
|
Comments
(0) |
E-mail Article
|
Add a Comment
Deadline
reports that Pixar revealed Saturday at the D23 Expo that the animation studio's new film
Soul
will be toplined by Jamie Foxx and Tina Fey. The pic is set to be the second original Pixar film for 2020 after March's
Onward
, and it has a June 19, 2020 release date.
Directed by two-time Oscar winner Pete Docter, the film takes place between New York City and the cosmic realms. The tagline: Ever wonder where your passion, your dreams and your interests come from? What is it that makes you … you?"
The voice cast will also include Daveed Diggs, Phylicia Rashad and Questlove. The original score will come from Trent Reznor and Atticus Ross, with new music from Jon Batiste.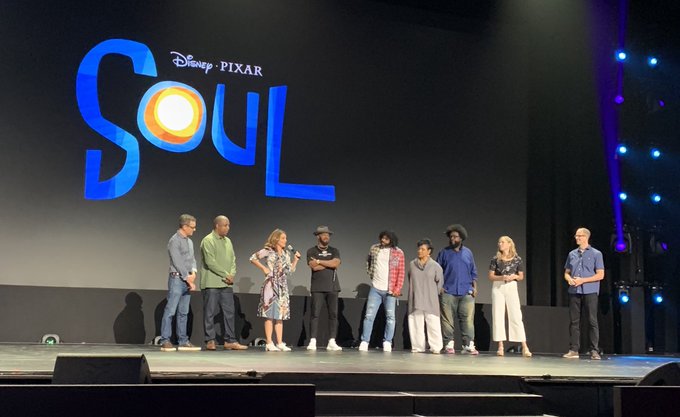 MARVEL CONFIRMS KIT HARINGTON FOR 'ETERNALS'
08/24/19 @ 4:14 pm EST
Source:
Hollywood Reporter
| Categories:
Marvel
|
Comments
(0) |
E-mail Article
|
Add a Comment
Marvel Studios president Kevin Feige at D23 has revealed that Kit Harington, who played Jon Snow for eight seasons on
Game of Thrones
, has joined
The
Eternals
.
Harington will play Dane Whitman, who in the comics is the superhero Black Knight.
Harington is nominated for outstanding lead actor Emmy for the final season of
Thrones
, which wrapped in May, and his former
Thrones
co-star Richard Madden is among the cast of
The Eternals
.
Feige brought out the cast of
Eternals
, with Angelina Jolie getting a standing ovation. He confirmed Gemma Chan was joining the cast as Sersi. Chan appeared in the MCU earlier this year in
Captain Marvel
as the Kree warrior Minn-Erva. (via
THR
)
To see a look at the
Eternals
cast on the D23 stage and in costume in stills behind them, click
here
.
'BLACK PANTHER' SEQUEL FILM SET FOR 2022 RELEASE
08/24/19 @ 4:04 pm EST
Source:
Variety
| Categories:
Marvel
|
Comments
(0) |
E-mail Article
|
Add a Comment
Black Panther
director Ryan Coogler announced the release date of the much-anticipated follow-up film at D23 in Anaheim, Calif. Saturday.
Black Panther 2
will hit theaters May 6, 2022.
"We're not taking our time, we're really trying to get it right," Coogler said of the production schedule.
Marvel Studios chief Kevin Feige said Coogler has delivered a treatment, complete with a villain and new title, though neither would give up those details.
The date will place
Black Panther 2
as the furthest out announced Marvel film, between
Thor: Love and Thunder
(Nov. 5, 2021) and an unannounced film slated for July 29, 2022 — although whether Marvel will keep that date, just two months after
Black Panther 2
, is up in the air. (via
Variety
)