'THE MANDALORIAN': FIRST LOOK AT 'STAR WARS' SERIES REVEALED
04/14/19 @ 3:33 pm EST
Source:
Variety
| Categories:
Star Wars
|
Comments
(0) |
E-mail Article
|
Add a Comment
A galaxy far, far away got a bit bigger Sunday as Star Wars fans got a first look at
The Mandalorian
.
Disney debuted four new stills and roughly three minutes of teaser footage showing Pedro Pascal's Mandalorian warrior, Carl Weathers' character Greef Carga, and Gina Carano's character Cara Dune during the Star Wars Celebration in Chicago.
Pascal's titular character is modeled after iconic bounty hunters Jango and Boba Fett from the earlier trilogies. He travels the outer reaches of the galaxy alone, far away from the laws of the New Republic.
The panel revealed that Carano's character, Cara Dune, is an ex-Rebel Shock Trooper, while Weathers' Greef Carga is the head of a guild of bounty hunters.
The series is set between "A New Hope" and "The Force Awakens," sometime after the fall of the Empire and before the rise of the First Order.
The series will premiere on Nov. 12, the launch date of the Disney+ streaming service. (via
Variety
)
See the images and watch video of the full panel below.
Mandalorian full panel vid:
https://youtu.be/GrlTosbjylA
BREAKING: DISNEY-SONY STANDOFF ENDS MARVEL STUDIOS AND KEVIN FEIGE'S INVOLVEMENT IN 'SPIDER-MAN'
08/20/19 @ 4:31 pm EST
Source:
Deadline
| Categories:
Spider-Man
|
Comments
(0) |
E-mail Article
|
Add a Comment
Deadline
is reporting exclusively that Marvel Studios president Kevin Feige won't produce any further
Spider-Man
films because of an inability by Disney and Sony Pictures to reach new terms that would have given the former a co-financing stake going forward.
A dispute that has taken place over the past few months at the top of Disney and Sony has essentially nixed Feige, and the future involvement of Marvel from the Spider-Man universe, the site reports.
There is a lot of webbing here, but it all comes down to money. Disney asked that future Spider-Man films be a 50/50 co-financing arrangement between the studios, and there were discussions that this might extend to other films in the Spider-Man universe. Sony turned that offer down. Led by Tom Rothman and Tony Vinciquerra, Sony just simply didn't want to share its biggest franchise. Sony proposed keeping the arrangement going under the current terms where Marvel receives in the range of 5% of first dollar gross, sources said. Disney refused.
Sources said Disney's top brass for the past several months has sought new terms for Feige and the Marvel cross-pollination to continue. As the Spider-Man relationship grew, Feige and Sony Pictures chief Tom Rothman spoke about the possibility of a wider involvement in the Sony-controlled Spider-Man universe, which contains 900 characters.
No comment to Deadline's report from Marvel/Disney, Feige or Sony Pictures.
'JOKER' DIRECTOR SAYS THE MOVIE COULD GET A SEQUEL
08/20/19 @ 3:00 pm EST
Source:
We Got This Covered
| Categories:
DC
|
Comments
(0) |
E-mail Article
|
Add a Comment
Joker
is a first for DC Films as it'll break out of the continuity of the DCEU and tell its own standalone take on the Clown Prince of Crime's origins, untethered to any need to start or continue a franchise. Well, at least that's what we thought.

Director Todd Phillips has now revealed that he's not ruling out following up Joker with a sequel. With one stipulation, that is: leading man Joaquin Phoenix has to return.

In an interview, Phillips was asked about the chances of a Joker 2. The director didn't commit to anything, obviously, but did make clear that if all of the elements aligned so that the opportunity was there, he'd definitely hop back in the saddle to make another. (via We Got This Covered)

But first, we need to see how Joker fares when it hits theaters on October 4th.
NEW 'RAMBO: LAST BLOOD' TRAILER RELEASED
08/20/19 @ 2:49 pm EST
Source:
Lionsgate
| Categories:
MIsc
|
Comments
(0) |
E-mail Article
|
Add a Comment
Lionsgate
has released a brand new teaser trailer for
Rambo: Last Blood
.
Official synopsis: "Almost four decades after he drew first blood, Sylvester Stallone is back as one of the greatest action heroes of all time, John Rambo. Now, Rambo must confront his past and unearth his ruthless combat skills to exact revenge in a final mission. A deadly journey of vengeance,
Rambo: Last Blood
marks the last chapter of the legendary series."
Rambo: Last Blood
hits theaters on September 20th.
Teaser:
https://youtu.be/YPuhNtG47M0
DC UNIVERSE REVEALS 'TITANS' SEASON 2 POSTER
08/20/19 @ 2:41 pm EST
Source:
DC Universe
| Categories:
DC
|
Comments
(0) |
E-mail Article
|
Add a Comment
DC Universe
has released a new poster for the second season of its flagship show,
Titans
.
Titans
Season 2 hits DC Universe on September 6th.
LIONSGATE NABS 'THE MONSTER' FILM PITCH FROM 'CHAOS WALKING' SCRIBE PATRICK NESS
08/20/19 @ 2:37 pm EST
Source:
Deadline
| Categories:
MIsc
|
Comments
(0) |
E-mail Article
|
Add a Comment
Deadline
reports that Lionsgate has picked up an original feature pitch titled
The Monster
, from Patrick Ness, who co-wrote the studio's forthcoming sci-fi film,
Chaos Walking
, directed by Doug Liman and starring Tom Holland and Daisy Ridley.
Temple Hill is attached to produce the film, which is being described as a sparky contemporary horror film with a new take on the Frankenstein mythology.
Ness will serve as an executive producer. Temple Hill producers are Marty Bowen, Isaac Klausner, and John Fischer, while Jim Miller and Aaron Edmonds are the execs who will oversee production on behalf of the studio.
NEW JAMES BOND MOVIE FINALLY GETS A TITLE
08/20/19 @ 2:33 pm EST
Source:
Deadline
| Categories:
James Bond
|
Comments
(0) |
E-mail Article
|
Add a Comment
Deadline
reports that the 25th James Bond movie officially has a title, with the latest film returning Daniel Craig as the superspy to be called
No Time To Die
.
The pic will be directed by Cary Fukunaga and is keeping its release dates despite a couple of on-set setbacks, with the UK rollout beginning April 3, 2020 and the U.S. bow April 8.
MGM is releasing the movie domestically via its United Artists Releasing banner, with Universal Pictures International handling foreign.
SAGA: COMPENDIUM ONE SURPRISE DROPS IN STORES TOMORROW
08/20/19 @ 2:28 pm EST
Source:
Image
| Categories:
Image
|
Comments
(0) |
E-mail Article
|
Add a Comment
Image Comics is pleased to announce that the highly anticipated
Saga: Compendium One
trade paperback by Brian K. Vaughan and Fiona Staples, which was initially announced with a September release date, has arrived in stores early and will be available for sale tomorrow Wednesday, August 21.
Longtime fans of the series need not wait any longer to snap up the binge-worthy tome which clocks in at over 1,200 pages of epic, space operatic, award winning adventure.
Collecting the first nine volumes of the full color, critically acclaimed,
New York Times
bestselling series into one massive paperback, the
Saga: Compendium One
tells the entire story (so far!) of a girl named Hazel and her star-crossed parents.
The
Saga: Compendium One
(ISBN: 978-1-5343-1346-0, Diamond Code MAY190044) includes a new cover from Eisner Award winning
Saga
co-creator and artist Fiona Staples along with issues #1-54 of the series. It will be available at your local comic shop tomorrow. It can also be ordered on Amazon, Barnes & Noble, Books-a-Million, Indiebound, and Indigo.
GET AN EARLY PEEK INSIDE 'KING THOR' #1
08/20/19 @ 10:20 am EST
Source:
Marvel
| Categories:
Marvel
|
Comments
(0) |
E-mail Article
|
Add a Comment
On September 11, a seven-year-long journey comes to an end.
In 2012, Jason Aaron and Esad Ribić introduced the Thor of the far future, All-Father of a broken realm and a dying universe, as he stood in battle against the Butcher of Gods, wielder of All-Black the Necrosword. And in three weeks, that nefarious blade returns in the hands of Thor's all-time greatest enemy—his brother, Loki—for one final, cataclysmic showdown. This is KING THOR #1.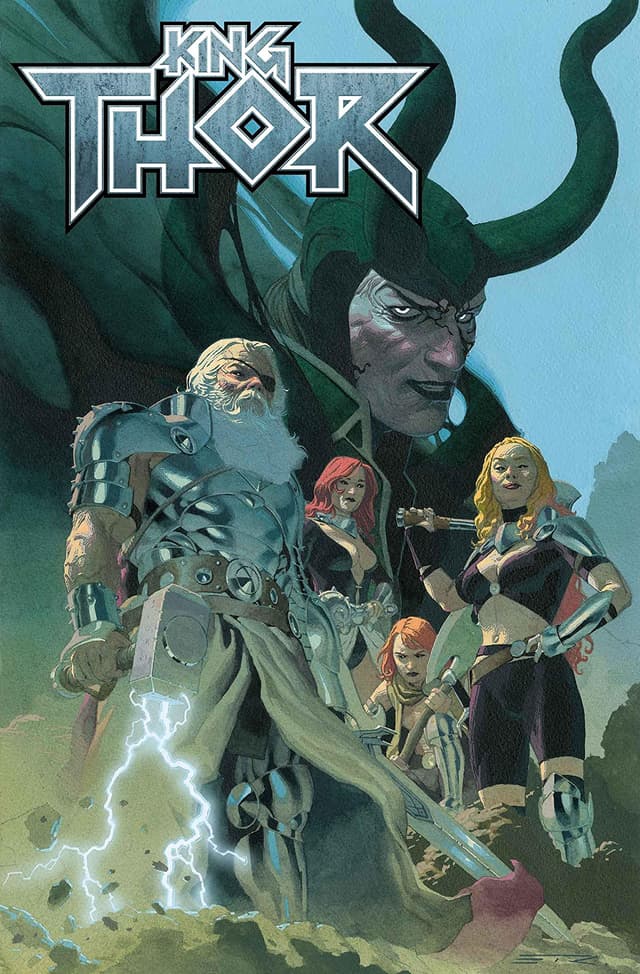 KING THOR #1 cover by Esad RibićThe creators of the legendary THOR: GOD OF THUNDER (2012) series that kicked off one of the most epic runs in Marvel history are back together for one last ride with the almighty Lord of Asgard! Behold the book no comics fan should miss—the celebration of the end of a truly Marvelous era.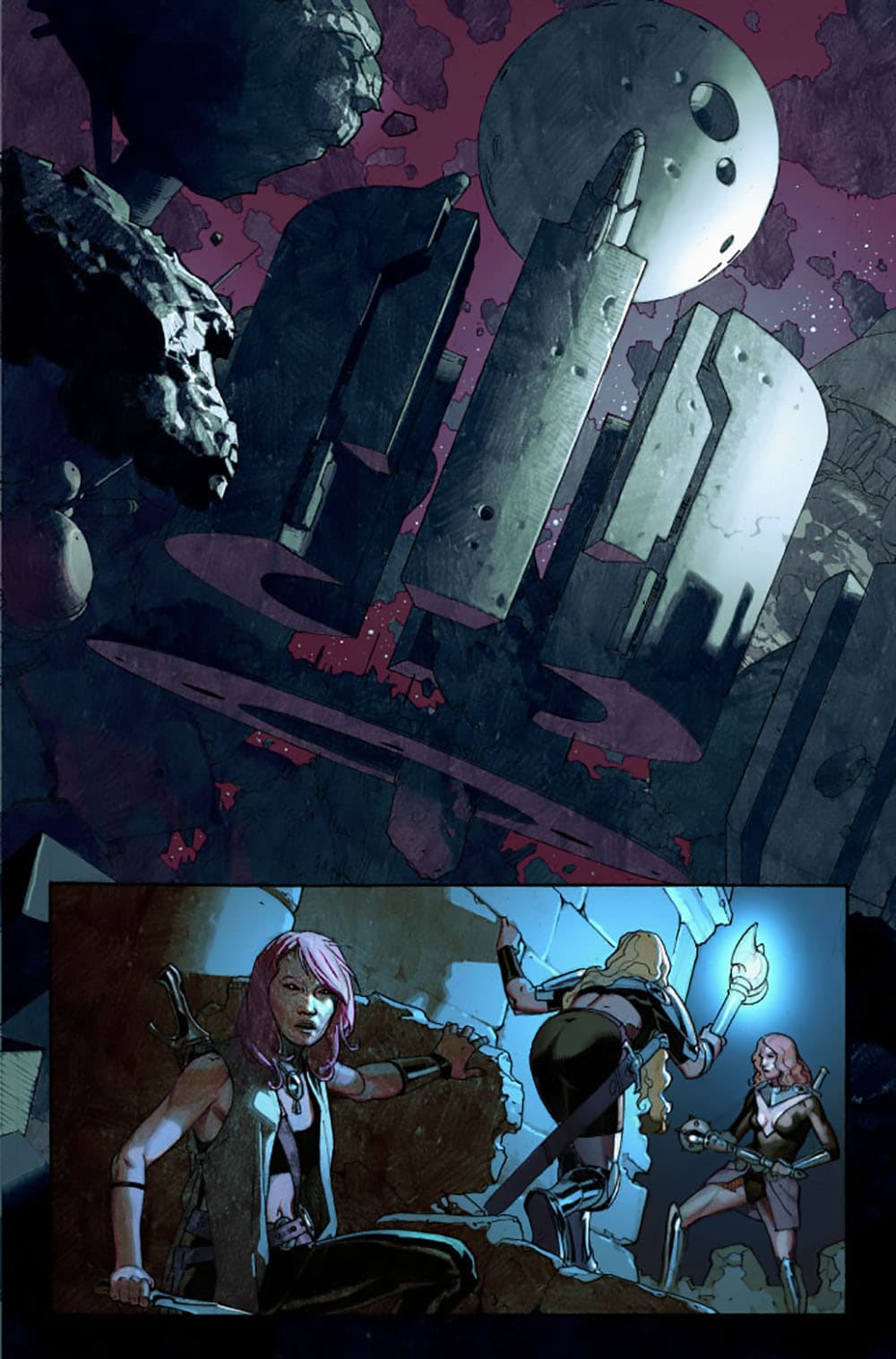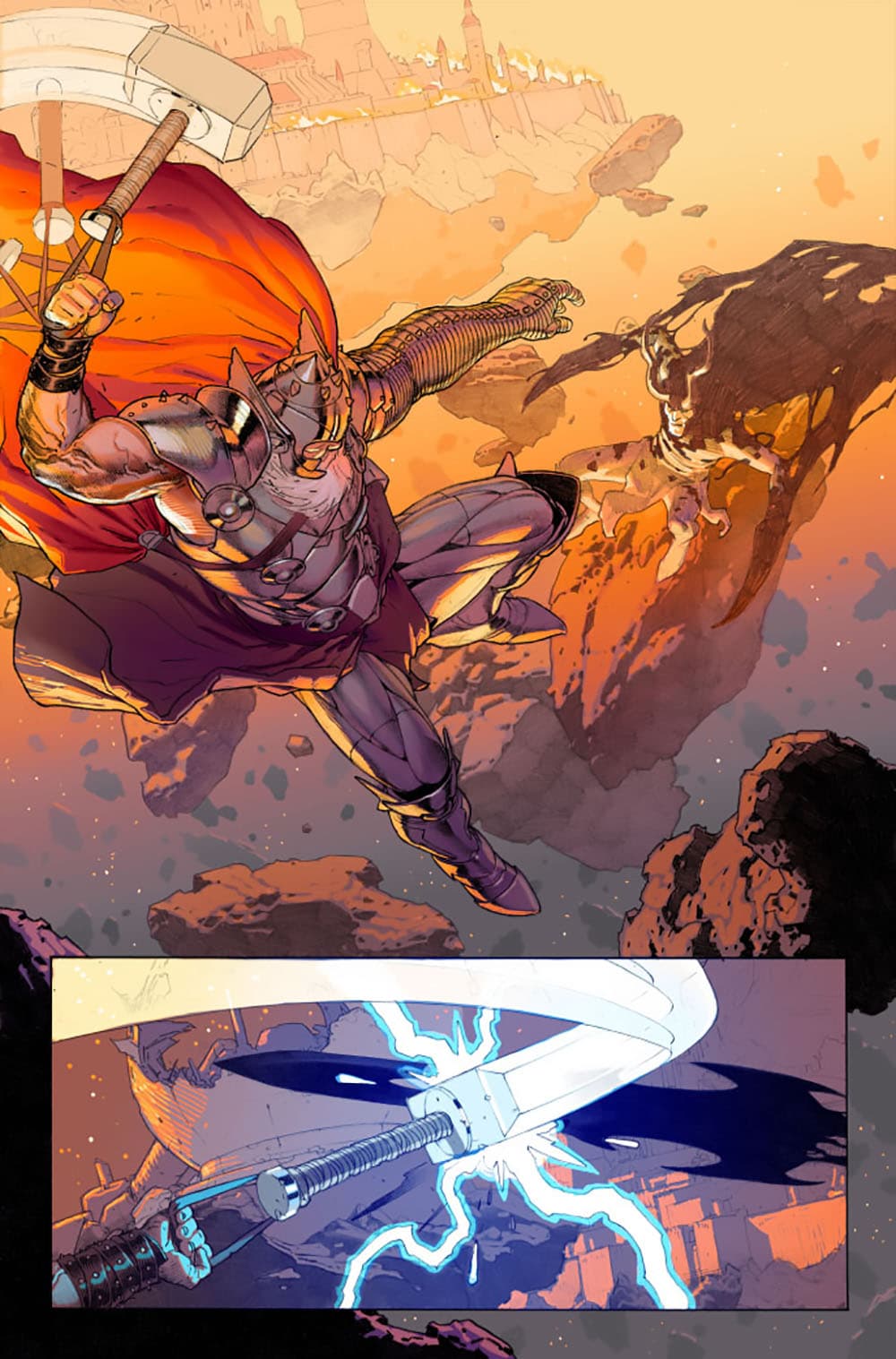 'ARROW' STAR STEPHEN AMELL TO HEADLINE STARZ WRESTLING DRAMA SERIES 'HEELS'
08/20/19 @ 9:52 am EST
Source:
Deadline
| Categories:
MIsc
|
Comments
(0) |
E-mail Article
|
Add a Comment
Deadline
is reporting that
Arrow
star Stephen Amell has signed on to topline
Heels,
an hourlong drama set in the world of independent professional wrestling, which had been eyeing an eight-episode series pickup at Starz. With him on board, the project has received a series greenlight and an eight-episode order.
Heels
is about the men and women who chase their dreams in the world of small town pro wrestling. Set in a close-knit Georgia community, it follows a family-owned wrestling promotion as two brothers and rivals — one of them played by Amell — war over their late father's legacy.
In the ring, somebody must play the good guy and somebody must play their nemesis, the heel (Amell). But in the real world, those characters can be hard to live up to — or hard to leave behind.In the ring, Amell's Jack Spade is the charismatic villain, or heel, of the Duffy Wrestling Association. In the real world, he's its hard-working owner, a husband and father trying to make ends meet while fighting to realize his impossible dreams. He has the mind of an artist in the body of a warrior and a Steve Jobs-ian need for perfection — and for control. He says he'll do whatever it takes to build the DWA into an empire.
FAN EXPO BOSTON: 'BOY MEETS WORLD' CREW REUNITES
08/20/19 @ 9:42 am EST
Source:
Today
| Categories:
MIsc
|
Comments
(0) |
E-mail Article
|
Add a Comment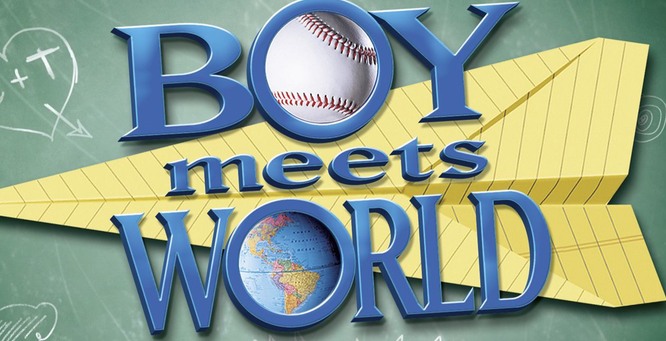 Class was back in session over the weekend when the cast of
Boy Meets World
— including the great William Daniels (Mr. Feeny!) — reunited at Fan Expo Boston.
Will Friedle, aka Eric, took to Instagram to post a photo with Danielle Fishel (Topanga), Ben Savage (Cory), Rider Strong (Shawn) and everyone's favorite teacher.
"We're baaaaaack!," Friedle wrote, along a series of hashtags, including "#nanananananana #fanexpoboston #crewsbacktogether #thiswasbillsidea." (via
Today
)