MOVIE REVIEW: HELLBOY (NO SPOILERS)
04/13/19 @ 2:27 pm EST
Source:
Dan Wickline
|
Comments
(0) |
E-mail Article
|
Add a Comment


I got to see the new Hellboy yesterday and really enjoyed it. I'm a Hellboy fan, I've read most of the comics, seen the previous films and animated movies which meant I had a lot to compare the film with and high expectations.

This adaptation felt the most like the Mike Mignola comics to me. The Andrew Cosby script brought in a lot of the lore and handled each of the characters well. The story was fast paced and gave us a lot of information without hand-holding the audience nor overwhelming newcomers.

David Harbour, Daniel Dae Kim and Sasha Lane were all great. Ian McShane was his usual great self, Thomas Hayden Church was brilliant and I've had a crush on Milla Jovovich since she was in Kuffs and this was one of my favorite performances from her.

The film has some pacing issues and doesn't feel as polished as the previous films, but I don't think it was supposed to. It's grittier, more violent and in your face and a good outing for director Neil Marshall.

If you read the on-line critics, they don't seem to be fans of the film. But this isn't a film for the critics. This is the type of film that should build through word of mouth and will likely get a cult following. I sincerely hope it gets a sequel as there is a lot to build on here and some future threads left to make it a lot of fun.
'FALCON AND WINTER SOLDIER' POSTER TEASES SAM'S NEW CAP-INSPIRED SUIT
08/25/19 @ 7:24 pm EST
Source:
Disney
| Categories:
Marvel
|
Comments
(0) |
E-mail Article
|
Add a Comment
Disney
+'s first official poster for its
Falcon and Winter Soldier
original series, a hot item at D23 Expo this weekend, just may put you in mind of a third MCU hero who has been partners to both these characters in the comics. (Check out Sam.)
The Falcon and The Winter Soldier
will hit Disney+ next Fall.
TOM HOLLAND OPENS UP ABOUT SPIDER-MAN'S FUTURE IN WAKE OF DISNEY-SONY RIFT
08/25/19 @ 7:10 pm EST
Source:
Entertainment Weekly
| Categories:
Spider-Man
|
Comments
(0) |
E-mail Article
|
Add a Comment
Tom Holland opened up about Spider-Man's future in the Marvel Cinematic Universe, following news that Disney and Sony have failed to reach a deal on new films,
Entertainment Weekly
reports.
Holland stopped by EW's studio backstage at Disney's D23 Expo where he addressed the news that Disney has no new plans to include Spider-Man in future MCU films.
"Basically, we've made five great movies," Holland told EW. "It's been five amazing years. I've had the time of my life. Who knows what the future holds? But all I know is that I'm going to continue playing Spider-Man and having the time of my life. It's going to be so fun, however we choose to do it. The future for Spider-Man will be different, but it will be equally as awesome and amazing, and we'll find new ways to make it even cooler."
Marvel Studios President Kevin Feige also spoke to EW about his reaction to the Spider-Man news. He served as producer on Holland's two solo films and will not produce any future films for Sony.
"I'm feeling about Spider-Man gratitude and joy," Feige said. "We got to make five films within the MCU with Spider-Man: two standalone films and three with the Avengers. It was a dream that I never thought would happen. It was never meant to last forever. We knew there was a finite amount of time that we'd be able to do this, and we told the story we wanted to tell, and I'll always be thankful for that."
'MARVEL'S HERO PROJECT' HEADING TO DISNEY+ ON NOVEMBER 12
08/25/19 @ 6:51 pm EST
Source:
Marvel
| Categories:
Marvel
|
Comments
(0) |
E-mail Article
|
Add a Comment
During the D23 Expo, Marvel announced more details on the previously announced non-scripted Marvel's Hero Project series heading to Disney+.

The first-produced non-fiction, unscripted series by Marvel New Media, Marvel's Hero Project, will premiere with the launch of Disney+ on Tuesday, November 12. The remaining episodes will be released weekly on Fridays, starting with Episode 2 on Friday, November 15.

In life, it doesn't take wearing a suit of iron, carrying a mythical hammer or swinging from spider webs to be a real hero. Sometimes the person who can make a positive difference in the world is the person who simply sees a problem and has the passion to find a creative solution. The first of its kind for Marvel Entertainment, the 20-episode series shares the remarkable, positive change several young heroes are making in their own communities across the country. These inspiring kids have dedicated their lives to selfless acts of bravery and kindness, and now, Marvel celebrates them as the true Super Heroes they are by welcoming them into Marvel's Hero Project.

"There's so much of what Marvel is, what it stands for. These kids are changing the world in simple ways. Doing great work, and not letting their age be a deterrent," said series executive producer Sana Amanat. During the panel, the producers all agreed that these stories were important to share on a platform like Disney+ because these individuals embodied the spirit of our Marvel characters in that we can all overcome challenges to do good in the world. Stephen Wacker added, "Taking the story of a normal kid who is living their life and now having them face these hurdles. That's what we do. We find out what all these kids' powers are." These special kids that were highlighted to prove that heroes and inspirations are everywhere around us, and you don't have to have any special powers to become a hero yourself.

The series will tackle subjects such as Hailey who helps loved ones with Alzheimer's make connections through puzzles to a young boy who grows an urban garden to feed the hungry despite his own family's financial hardships. Sarah Amos, series producer shared on the panel, "Anyone can watch this show and feel like they can go out and do something. It helps families talk about difficult issues."

Before wrapping up the panel, the creatives behind the series revealed that not only will each young Hero will receive their very own personalized comic book starring them. Steve Wacker explained, "Marvel Comics is the heart of what we do, and to see yourself on one of those covers is truly one of the coolest surprise for these kids." And viewers can expect some very special guests surprising them as well. Sana Amanat added about the kids featured on the show, "They are truly Marvel Super Heroes now, and they deserve to be."

Marvel's Hero Project is produced by Marvel New Media in partnership with Maggievision Productions. Executive Produced by Sana Amanat, Sarah Amos, Joe Quesada, Shane Rahmani, Stephen Wacker, and Liza Wyles for Marvel and Maura Mandt and John Hirsch for MaggieVision Productions. Disney+ launches on November 12.
NATHAN FILLION BOARDING JAMES GUNN'S 'THE SUICIDE SQUAD'
08/25/19 @ 6:34 pm EST
Source:
Deadline
| Categories:
DC
|
Comments
(0) |
E-mail Article
|
Add a Comment
Deadline
reports that Nathan Fillion will be starring in James Gunn's
The Suicide Squad
at Warner Bros.
The actor's role is being kept under wraps.
Fillion has a long history of working with Gunn: He played the voice of a monstrous inmate in
Guardians of the Galaxy,
Bill Pardy in Gunn's 2006 horror comedy
Slither,
and the Holy Avenger in the filmmaker's 2010 pic
Super.
The actor is no stranger to DC, playing the voice of the Green Lantern in a number of DC animated features, including
Reign of the Superman
and
Justice League: Doom. The Suicide Squad
opens on Aug. 6, 2021. Production starts on Sept. 23.
DISNEY CHANNEL GREENLIGHTS 'MARVEL'S MOON GIRL AND DEVIL DINOSAUR', ANIMATED SERIES FROM EXEC PRODUCER LAURENCE FISHBURNE – D23
08/25/19 @ 6:28 pm EST
Source:
Deadline
| Categories:
Marvel
|
Comments
(0) |
E-mail Article
|
Add a Comment
Deadline
reports that Disney Channel has ordered
Marvel's Moon Girl and Devil Dinosaur,
an original animated series based on Marvel's comic book series, from Disney Television Animation. Laurence Fishburne and Helen Sugland's Cinema Gypsy Productions (ABC's
Black-ish
), Marvel Animation & Family Entertainment, and Emmy winner Steve Loter (Disney's
Kim Possible)
will executive produce.
EP Fishburne is known to MCU fans as
Ant-Man and the Wasp's
Dr. Bill Foster, who in the comics later became Goliath and Giant-Man. The news was announced by Fishburne during Disney Television Animation's panel at Disney's D23 Expo.
The series follows the adventures of 13-year-old super-genius Lunella Lafayette and her ten-ton T-Rex, Devil Dinosaur. After Lunella accidentally brings Devil Dinosaur into present-day New York City via a time vortex, the duo works together to protect the city's Lower East Side from danger.
NEW 'FROZEN 2' POSTER REVEALED AT D23
08/25/19 @ 6:09 pm EST
Source:
Disney
| Categories:
Disney
|
Comments
(0) |
E-mail Article
|
Add a Comment
During
Disney
's D23 this weekend, new footage of the highly-anticipated
Frozen 2
was revealed as well as a brand new poster.
Frozen 2
hits theaters on November 22nd.
Here's the poster!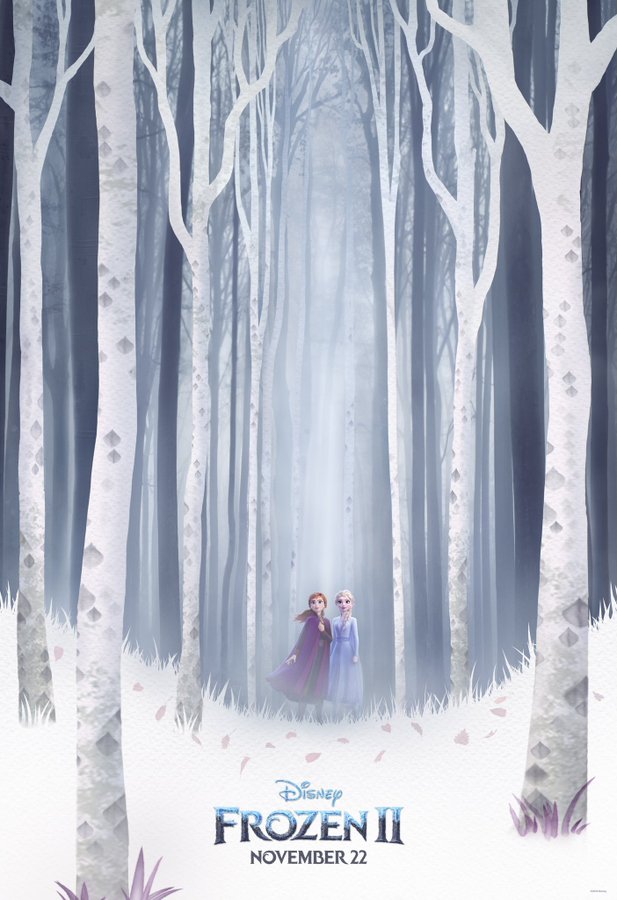 WEREWOLF BY NIGHT TO APPEAR IN AN UPCOMING MARVEL STUDIOS PROJECT?
08/25/19 @ 5:59 pm EST
Source:
Geeks WorldWide
| Categories:
Marvel
|
Comments
(0) |
E-mail Article
|
Add a Comment
Geeks WorldWide
is reporting that Marvel's classic shape-shifting anti-hero Werewolf by Night, aka Jack Russell, will soon make his debut in the Marvel Cinematic Universe.
The site's sources weren't clear on where Werewolf will first appear, but the freshly-announced Disney+
Moon Knight
series is a possibility since Moon Knight made his comics debut in
Werewolf by Night
#32 and they have had strong ties ever since.
Werewolf also has major connections to Blade and Dracula, and with the former due to get his own solo MCU film soon, it wouldn't be shocking to see him show up there.
GWW also reports a spin-off for Werewolf is a possibility, but whether as a TV series or film is unknown.
D23: 'BLACK MIRROR' STAR WYATT RUSSELL WILL PLAY U.S. AGENT IN 'FALCON & THE WINTER SOLDIER'
08/25/19 @ 5:49 pm EST
Source:
MCU Exchange
| Categories:
Marvel
|
Comments
(0) |
E-mail Article
|
Add a Comment
MCU Exchange
reports that Sam Wilson and Bucky Barnes will soon face a threat unlike any other in their upcoming Disney+ series
The Falcon & the Winter Soldier
in the form of John Walker aka the U.S. Agent.
Black Mirror
star and Kurt Russell's son Wyatt Russell will play the not-so-evil version of Captain America.
This isn't the first time we've heard of U.S. Agent possibly appearing in the MCU. Just a few weeks back, a leak surfaced online saying that the character would appear in this very show.
This confirmation gives us an indication of just what the story might be. In the wake of Cap's relinquishing of the shield and mantle formerly owned by the government, the powers that be are likely not too happy that they weren't consulted on the matter. Their response? To create another Cap in their image.
'MARVEL'S AGENTS OF S.H.I.E.L.D.' UNLEASHES FINAL SEASON TRAILER
08/25/19 @ 5:42 pm EST
Source:
Disney
| Categories:
Marvel
|
Comments
(0) |
E-mail Article
|
Add a Comment
The final season trailer of
Marvel's Agents of S.H.I.E.L.D.
was unveiled at
Disney
's D23 exhibition this weekend, with a guarantee for some action-packed moments for fans.
The Marvel television flagship, seen on ABC, will end after its upcoming seventh season.
Trailer:
https://youtu.be/YBkq79ACDEU
DISNEY+ SERIES 'LOKI' FINDS DIRECTOR IN 'SEX EDUCATION' HELMER KATE HERRON
08/25/19 @ 5:32 pm EST
Source:
Collider
| Categories:
Marvel
|
Comments
(0) |
E-mail Article
|
Add a Comment
Collider
reports that forthcoming Disney+ series
Loki
has found its director.
The series will see Tom Hiddleston reprising his role as Loki, the God of Mischief and baby brother of Thor (Chris Hemsworth), after he escaped from the Battle of New York in
Avengers: Endgame
.
Director Kate Herron finally revealed in a tweet that she would be directing
Loki.
"Secret is out! So happy to say I'm directing #Loki for@MarvelStudios," Herron wrote. "It's a privilege to continue his story, working with the superb @twhiddleston & @michaelwaldron. Also sorry to pals who guessed this was the secret job and I lied to your faces. Think Loki would approve though."
Herron skimped on providing any other details about her involvement with the show, but that's pretty much par for the course.