SWEET VALLEY HIGH ADDS FIRST EVER GRAPHIC NOVEL TO 400+ BOOK FRANCHISE!
03/19/19 @ 12:20 pm EST
Source:
Dynamite
| Categories:
Dynamite
|
Comments
(0) |
E-mail Article
|
Add a Comment
Dynamite is honored to publish the first ever
Sweet Valley High
original graphic novel in Francine Pascal's juggernaut all-ages soap opera franchise.
The $14.99 136-page
Academic All-Star?
reinvents the nostalgic saga of the Wakefield twins for a new era of readers, while paying tribute to the originals that captivated so many. Rising star writer Katy Rex (
Charmed Magic School
,
Jade Protection Services
) enrolls in Sweet Valley with artist Devaki Neogi (
The Skeptics, Curb Stomp
) and colorist Pippa Mather (
Charmed Magic School
).
Sweet Valley High
debuted in 1983 from writer Francine Pascal and evolved into an incomparable success. The core series of novels has 181 installments and counting spinoffs adds up to over 400 books - amounting to hundreds of millions of copies. Fans will also remember the TV show from the 1990s which ran for four seasons starring Brittany and Cynthia Daniel.
The usually impulsive and rash Jessica develops a crush on her new Shakespeare teacher, motivating her to model herself on her regimented and sincere sister Elizabeth. Will people start mixing the two girls up? Will Jess fall back on her ways only for Liz to straighten everything out?For writer Katy Rex,
Sweet Valley High
is a lifelong love, "I have been an absolute bookworm my whole life and I transitioned from Sweet Valley Twins to Sweet Valley High, and in a lot of ways I grew up alongside Jessica and Elizabeth. They're timeless characters, so much so that it's practically intuitive to see how they would feel and act in any era. My lifelong experience with the books really allowed me to nail the voices and the feeling of the series. This is absolutely classic Sweet Valley and it's equally absolutely 2019."
"Sweet Valley High is a book I read as a teenager and to actually be on art duty in the translation to the graphic medium is a dream to me!," said artist Devaki Neogi. "I have spent the large part of a year on this book and the entire team of Katy, Pippa, Cathy and Joe (Rybandt – editor) have been fantastic to work with.
"Sweet Valley High is such a prolific hallmark of young readers fiction and we are proud to be bringing it to graphic novels for the first time," said Nick Barrucci, Dynamite Publisher/CEO. "Francine Pascal has been a joy to collaborate with and we're lucky to have such a passionate writer like Katy. Sweet Valley Fans of all ages will love this book!"
Sweet Valley High: Academic All-Star?
will be solicited in Diamond Comic Distributors' March 2019 Previews catalog, the premier source of merchandise for the comic book specialty market, and slated for release in May 2019. Comic book fans are encouraged to preorder copies with their local comic book retailers. It will also be available for individual customer purchase through digital platforms courtesy of Comixology, Kindle, iBooks, Google Play, Dynamite Digital, ComicsPlus, and more!
'STRANGER THINGS' STAR BEING EYED FOR ADAM WARLOCK IN 'GUARDIANS OF THE GALAXY VOL. 3'
07/16/19 @ 9:51 pm EST
Source:
We Got This Covered
| Categories:
Marvel
|
Comments
(0) |
E-mail Article
|
Add a Comment
One of the new characters fans are most excited to see join the MCU in
Guardians of the Galaxy Vol. 3
is Adam Warlock. Not that we're uninterested in seeing the likes of Nova, Moondragon and those other rumored individuals enter the franchise, of course, but we've been waiting for Warlock to make his mark on the MCU for a long while.
Here's one actor's name that
We Got This Covered
has heard being connected to the character behind the scenes:
Stranger Things
and
Power Rangers
star Dacre Montgomery.
Reports are pointing to
Guardians of the Galaxy Vol. 3
heading into production in 2020, ahead of a 2021 release date.
DF News will follow the Warlock casting saga as it develops, and we discover who will be ... er uh, Him.
MARVEL ANNOUNCES NEW GHOST RIDER SERIES
07/16/19 @ 9:40 pm EST
Source:
Marvel
| Categories:
Marvel
|
Comments
(0) |
E-mail Article
|
Add a Comment
In a special previews announcement on Marvel.com, the House of Ideas reveals, among other things, a new
Ghost Rider
series coming in October!
Written by Ed Brisson, with art and cover by Aaron Kuder, in this new iteration of the hellspawn the Brothers Ghost Rider are back!
Johnny Blaze ain't just the king of Hell—he's the warden too. He's the first line of defense between the demonic hordes trying to escape the joint and the lords of other hells making a play for his throne and all the power that comes with it—including a certain evil queen from his past!
Meanwhile, Danny Ketch never wanted to be a Ghost Rider. Now that his brother's in charge downstairs, Ketch must take on the duty of Earth's Spirit of Vengeance full-time—no matter how much he'd rather be doing anything else.
Coming your way in October, True Believers!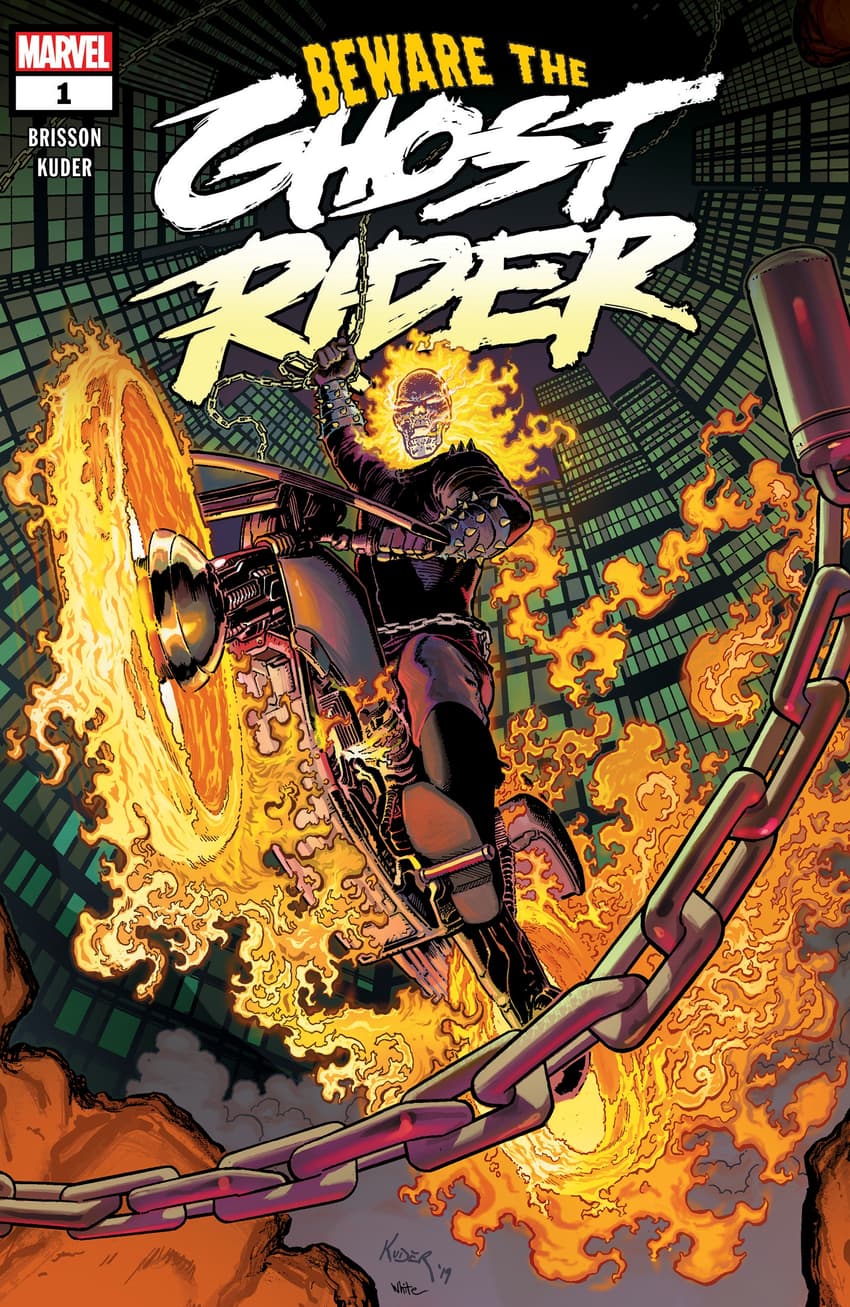 'THE KING'S MAN': NEW POSTER RELEASED
07/16/19 @ 9:25 pm EST
Source:
20th Century Fox
| Categories:
MIsc
|
Comments
(0) |
E-mail Article
|
Add a Comment
20th Century Fox
has released the first poster for the coming Kingsman franchise prequel,
The King's Man
.
The King's Man
is set to debut on February 14, 2020.
'RICK AND MORTY' FIRST PHOTOS FROM SEASON 4 REVEALED
07/16/19 @ 5:07 pm EST
Source:
Entertainment Weekly
| Categories:
Rick and Morty
|
Comments
(0) |
E-mail Article
|
Add a Comment
EW
has revealed the very first photos from
Rick and Morty
's long-awaited Season 4.
The Emmy-winning series returns to
Adult Swim
in November.
The
Rick and Morty
panel at San Diego Comic-Con is slated for this Friday.
THE JOURNEY TO THE RISE OF SKYWALKER BEGINS WITH STAR WARS ADVENTURES #27
07/16/19 @ 9:15 pm EST
Source:
IDW
| Categories:
Star Wars
|
Comments
(0) |
E-mail Article
|
Add a Comment
IDW Publishing
proudly announces that October's
Star Wars Adventures #27
will debut a three-part storyline telling an untold chapter set between
The Last Jedi
and the thrilling conclusion to the Skywalker saga,
Star Wars: The Rise of Skywalker
!
Issue #27 will debut a three-part monthly storyline by writer
John Barber
and artist
Derek Charm
, featuring the mighty Wookiees. With the New Republic devastated, the First Order launches an attack on the planet Kashyyyk, and Chewbacca takes up arms to defend his people!
"It's a thrill and an honor to get to tell this story with the amazing Derek Charm," says Barber. "Chewie's one of my favorite characters ever, for as long as I can remember. Having the opportunity to tell his story to a new generation of
Star Wars
fans – and all this leading up to the conclusion to the Skywalker saga — is one of the biggest thrills of my career."
Charm says, "I've been lucky enough to work within a lot of
Star Wars
eras in this series, but doing something in the current, post-
Last Jedi
landscape is really exciting. The fact that it focuses on Chewbacca and what he's been up to between these movies is more so."
A backup tale by writer
Michael Moreci
and artist
Tony Fleecs
will see a team-up between the beloved droids of the
Star Wars
series – R2-D2, C-3PO, and BB-8 – as they embark on a desperate recruiting campaign for the Resistance.
"What I love so much about this story is that it gives the droids a mission that's specific to who they are as characters and not just droids," says Moreci. "This is a fun, fun adventure, but I also think it's important to these characters as they, like everyone else, find their way in the galaxy."
Fleecs says, "I probably don't love anything more than I love
Star Wars
– and in particular, the 1985
Droids
cartoon and the accompanying comic book featuring art by the great John Romita Sr. That's the energy I'm bringing to this project – vibes from 1985, Star Comics, John Romita, Nelvana Animation, and Marie Severin, with a healthy dollop of Tony Fleecs thrown in for good measure."
Star Wars Adventures
#27 will feature regular covers by Derek Charm and Tony Fleecs, with a special retailer incentive variant available by
Manuel Bracchi
.
For information on how to secure copies of
Star Wars Adventures
, please contact your local comic shop or visit
www.comicshoplocator.com
to find a store near you.
HARRY STYLES IN TALKS TO PLAY PRINCE ERIC IN DISNEY'S LIVE-ACTION 'LITTLE MERMAID'
07/16/19 @ 4:40 pm EST
Source:
Hollywood Reporter
| Categories:
Disney
|
Comments
(0) |
E-mail Article
|
Add a Comment
THR
reports that Harry Styles is the latest actor to go under the sea.
The singer-turned-actor is in early negotiations to play the iconic role of Prince Eric in Disney's live-action remake of
The Little Mermaid.
The pic, which is being directed by Rob Marshall, is in the throes of casting, having recently found its Ariel with R&B singer Halle Bailey of Chloe x Halle fame. Melissa McCarthy, Jacob Tremblay and Awkwafina are also in talks to be part of Disney's world.
Eric is the human prince who catches Ariel's eye. The mermaid saves the prince from drowning and then makes a deal with the sea witch Ursula to exchange her voice for legs in order for a chance to make him love her. He is key in the final battle against Ursula.
The casting of Styles and Bailey show the studio's intent of making the music a central component of the remake.
MARVEL WINS COPYRIGHT INFRINGEMENT LAWSUIT OVER 'IRON MAN 3' MOVIE POSTER
07/16/19 @ 4:34 pm EST
Source:
The Wrap
| Categories:
Marvel
|
Comments
(0) |
E-mail Article
|
Add a Comment
Marvel Entertainment won a copyright infringement lawsuit on Monday that had claimed the company copied the design of their movie poster for
Iron Man 3
from another comic.
Horizon Comics Productions sued Marvel in April 2016 saying the image of Robert Downey Jr. kneeling in his Iron Man suit was copied from an image of their character Caliban, also in a crouched, kneeling position for their comic book series
Radix
.
Horizon claimed in their lawsuit that six Marvel employees were aware of
Radix
and the drawing of Caliban, with two who have had a "working relationship" with the comic's creators, and influenced the designers of the
Iron Man 3
poster.
However, a U.S. district judge in New York, J. Paul Oetken, wrote in his ruling that "there is virtually no evidence in the record that shows any one of these individuals either would have seen the Caliban Drawing or would have been involved in the 'Iron Man 3' Poster design, let alone both." (via
The Wrap
)
Here are the two images side by side, as recreated in the lawsuit:
Marvel Studios/Horizon Comics
VAMPIRELLA ADDS COLLECTIBLE COINS TO BIRTHDAY EXTRAVAGANZA!
07/16/19 @ 3:49 pm EST
Source:
Dynamite
| Categories:
Dynamite
|
Comments
(0) |
E-mail Article
|
Add a Comment
Vampirella has dominated the comic book page, and now sets her sights on collectible coins! Dynamite is releasing two coins, and each features a stunning artistic take on Vampirella by top artists Stanley "Artgerm" Lau and Lucio Parrillo!
Dynamite's limited edition coins use an innovative colorization technique over top a base of authentic US John F. Kennedy Half-Dollars plated in real 24-karat gold. Packaged with a full-color Certificate of Authenticity and within an acrylic capsule to protect the coin, this currency is in fact legally able to buy a newspaper or bag of chips - but you won't want to do that!
The coin featuring superstar Lucio Parrillo takes its design from Vampirella (2010) #15, with a classic image of Vampi staring down a skull. One of the hottest artists in comics and pop culture illustration today, Artgerm, has his image originating from Vampirella (2019) #2!
The recommended retail price of these coins are $29.99 each. Though to celebrate Vampirella's big 50th anniversary Dynamite is offering them at a special introductory price of $19.69, denoting the year of Vampi's iconic creation and first appearance.
"In our 15 year history, Dynamite has always strived to offer fans not only the highest quality comic books, but also collectibles of all types," said Nick Barrucci, CEO and Publisher. "Fans were excited about the Red Sonja coins we offered recently, so we knew had to bring our other flagship heroine to this category, with all of the Vampirella hype around Christopher Priest's series, the Vampirella/Red Sonja ongoing and the just announced Vengeance of Vampirella revival."
The
Vampirella Lucio Parrillo Collectible Coin
and
Vampirella Artgerm Collectible Coin
will be solicited in Diamond Comic Distributors' July 2019 Previews catalog, the premier source of merchandise for the comic book specialty market, and slated for release in September 2019.
STEPHEN KING & OWEN KING'S SLEEPING BEAUTIES COMES TO IDW PUBLISHING
07/16/19 @ 3:47 pm EST
Source:
IDW
| Categories:
IDW
|
Comments
(0) |
E-mail Article
|
Add a Comment
IDW Publishing is proud to announce the early 2020 launch of
Sleeping Beauties
, a captivating comic book series based on the bestselling novel by
Stephen King
and
Owen King
. Author
Rio Youers
(
The Forgotten Girl
) and artist
Alison Sampson
(
Winnebago Graveyard
) will adapt the rich narrative of
Sleeping Beauties
to a ten-issue limited series under the watchful gaze of Stephen and Owen.
"We are so excited about Rio and Alison's vision for
Sleeping Beauties
," says Owen King. "We've been fans of Rio's for years and Alison's artwork is simply extraordinary. IDW couldn't have found a better pairing."
To which co-author Stephen King adds, "We're looking forward to seeing our work in this exciting format."
Sleeping Beauties
explores a world where women have sunken into a deep, cocooned slumber, their dreams taking them to an idyllic other place. They can only wake if disturbed, which results in violent, feral behavior. Meanwhile, the men have inherited the Earth, their society devolving into barbarism. Provocative and absorbing,
Sleeping Beauties
is a gripping dark fantasy of gender dynamics, individuality, and toxic masculinity.
"To work on anything with the King name attached is surreal, dizzying, and somewhat terrifying," says Youers. "As soon as my feet touch terra firma, I will focus on my goal: to stay true to the novel's spirit, and to deliver a page-turning, visually impacting experience that will appeal to readers of both Stephen and Owen King's fiction, and to comics fans the world over."
"I'm thrilled to be able to work on
Sleeping Beauties
," says Sampson. "The story is very suggestive for interesting art, with magical themes interwoven through a very real place setting in Appalachia, and the opportunity to draw some truly diverse people. Places, spaces, gender, bodies, character, relationships, political themes, emotions, a challenging (and almost certainly innovative) design job, and a great story – it's all here. I cannot wait to share what we are making."
"There was something magical about the combination of Stephen King's and Owen King's specific skills on the pages of the
Sleeping Beauties
novel, an alchemy that resulted in a story so of the moment and yet so timeless," says IDW President & Publisher,
Chris Ryall
. "Rio and Allison are fashioning a graphic retelling that synthesizes that same sense of wonder while very much making the comic its own thing entirely. We're ecstatic to be doing this with all involved."
TAIKA WAITITI TO DIRECT 'THOR 4'
07/16/19 @ 3:46 pm EST
Source:
Hollywood Reporter
| Categories:
Marvel
|
Comments
(0) |
E-mail Article
|
Add a Comment
THR
reports that Taika Waititi is returning to the many worlds of Thor.
Waititi has inked a deal to write and direct a follow-up to his 2017 smash,
Thor: Ragnarok.
But his boarding of what would be a fourth installment of the Marvel franchise comes at a cost: Warner Bros.' long-gestating adaptation of Japanese manga
Akira.

That project, which was penciled for a May 21, 2021 release and had Waititi testing actors in a worldwide search for talent, is being put on pause indefinitely as the two projects' production dates began to bump up against one another. Script development concerns caused Akira to push back its shooting start, and while some of those have been addressed, say sources, the dates were now too close for comfort.

Chris Hemsworth is expected to reprise his career-defining role as the Asgardian God of Thunder.